Elk + Avenue Hotel on Banff Ave is one of the best places to stay in Downtown Banff. If you're wondering where to stay in Banff, you should put this hotel on your shortlist.
Downtown Banff combines a laid-back mountain town and a small nightlife community in the evening. People come here all year round for various reasons, including world-class skiing, top festivals and events, year-round outdoor leisure, and fantastic dining and shopping.
In Banff, you'll meet people from all over the world coming to enjoy the mountains. Hiking, scenic drives, stargazing, whitewater rafting…you name it, Banff has it.
You can enjoy the best of both worlds from your cozy and convenient base at the Elk and Avenue Hotel. This is the first hotel we ever stayed in when we first visited Banff years ago. Elk and Avenue hotel is situated right on Banff Ave, the main street in Banff. It's also surrounded by spectacular mountain scenery, and Mount Rundle Mountains may be the first thing you see in the morning and the last thing you see at night.
---
Elk and Avenue Quick Details
---
Why You Should Book the Elk + Avenue Hotel in Banff
---
You Don't Have to Leave the Hotel to Search for Great Dining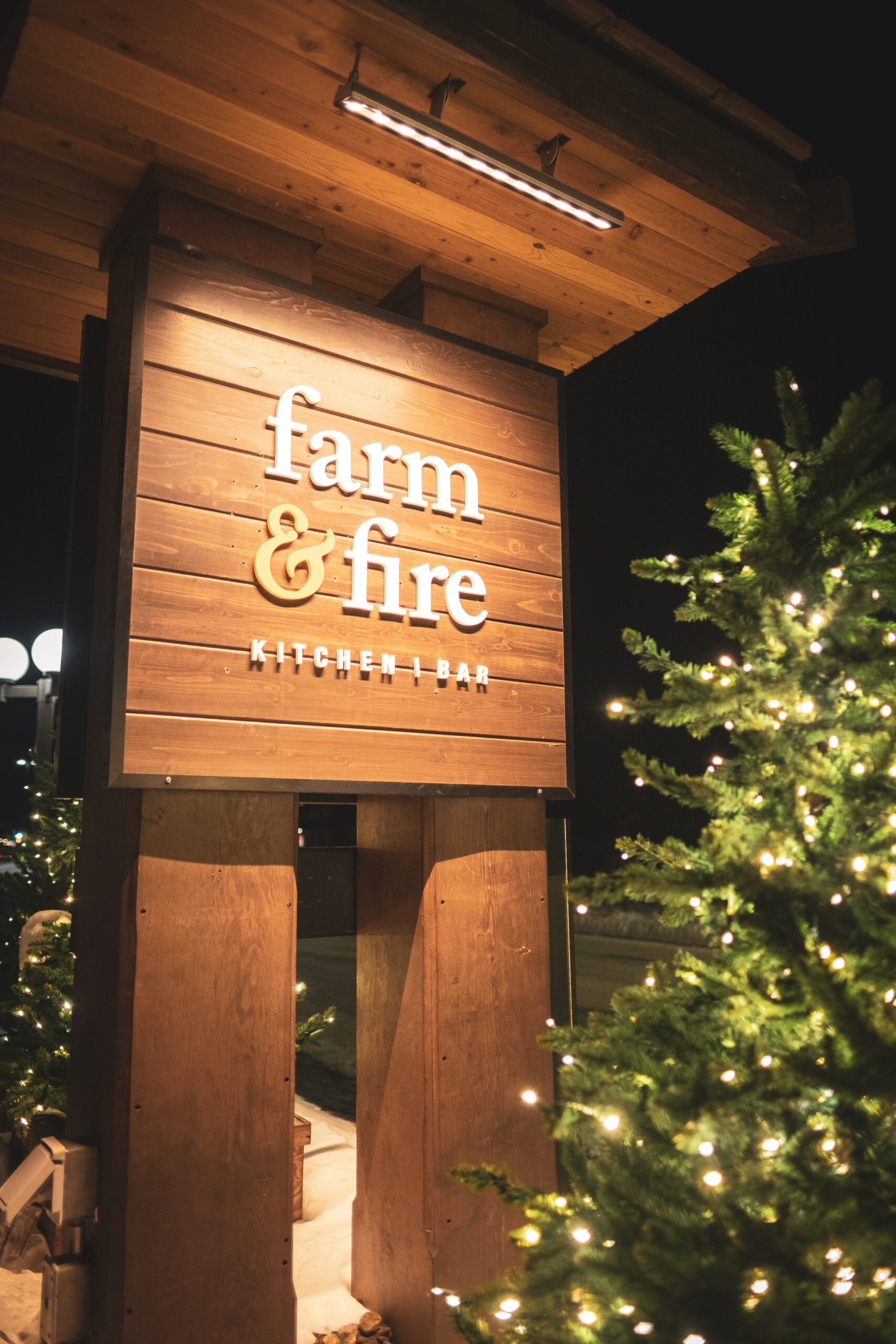 While it's true that the town of Banff has many fantastic restaurants, sometimes you just want to stay in and enjoy a meal at your hotel without having to fuss over parking or wandering out into the cold.
At the Elk + Avenue Hotel, you don't have to worry about finding great dining because great dining is right on-site. Delicious, fresh, relaxing, and quintessential Canadian Rocky Mountain charm, are some of the words that describe the hotel's signature restaurant, Farm & Fire.
At this popular dining establishment, the claim to fame is the wood-fired dishes made with Canadian-grown ingredients. The Fireside Lounge is the perfect place to enjoy a post-adventure nightcap next to a roaring fire.
If it's caffeine you crave, the attached Good Earth Coffeehouse is where you'll find fresh, top-quality coffee, espresso and tea. It's a great place to grab a coffee in Banff before you head out on your adventures.
---
Elk+Avenue has a Variety of Comfortable, Well-Equipped Rooms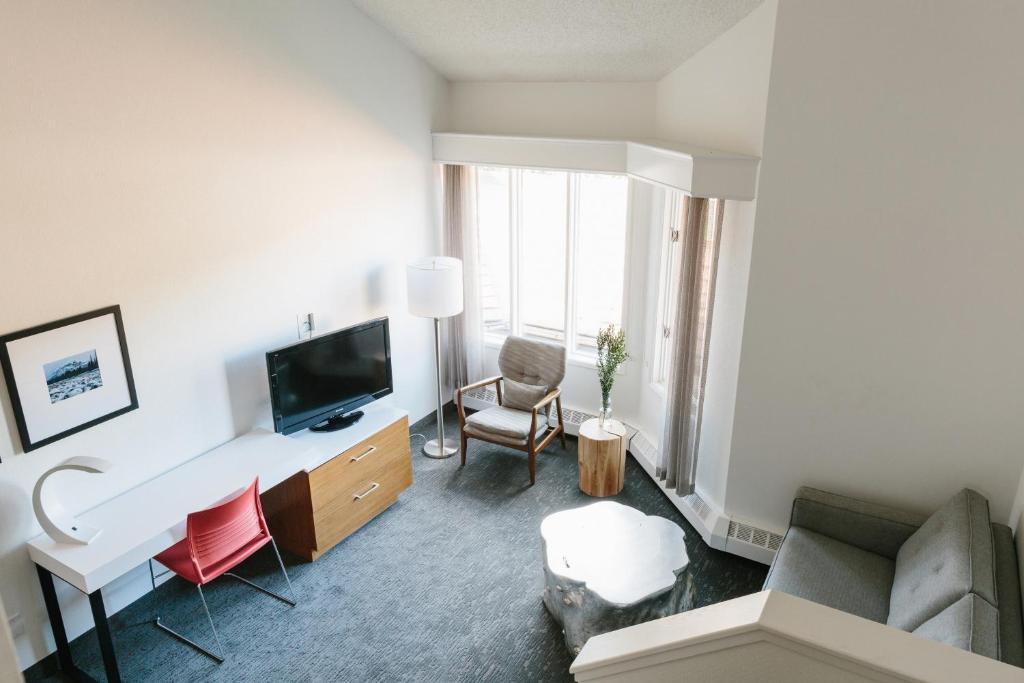 The Elk + Avenue Hotel understands that every guest has unique needs when it comes to amenities, space and budget, so that's why the hotel offers a variety of rooms to suit those individual needs.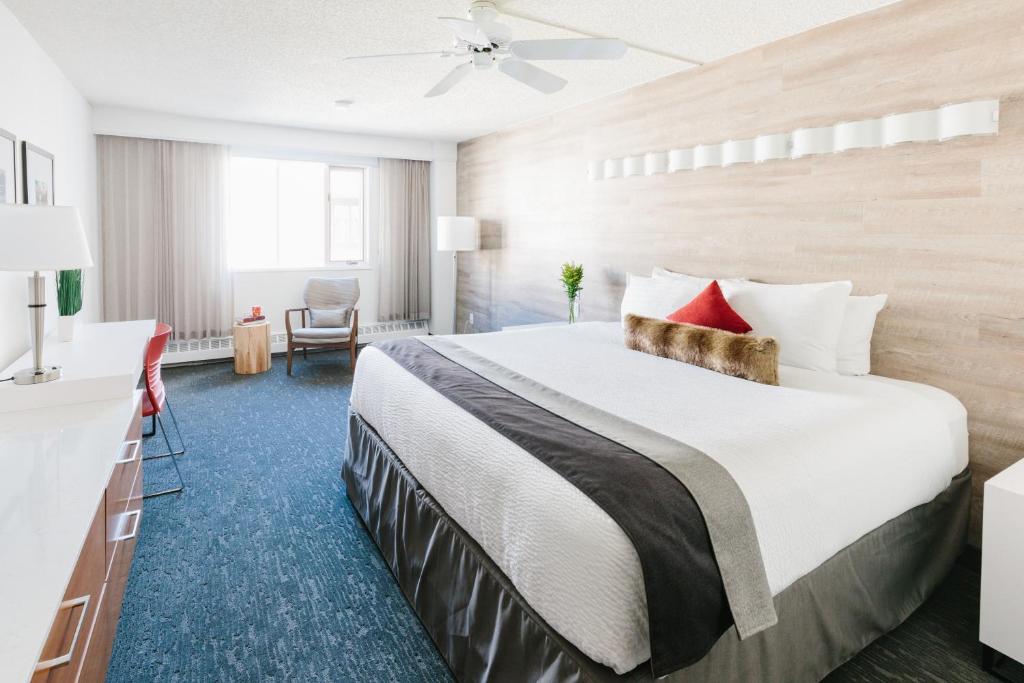 Regular, loft, deluxe and suite rooms are available and each one features a modern and simple design paired with superior comfort. All rooms feature en-suite bathrooms, air-conditioning, luxury toiletries, hairdryers, a desk and free Wi-Fi service. The deluxe rooms and junior suites feature mountain views and extra space.
---
Enjoy Access to Plenty of Amenities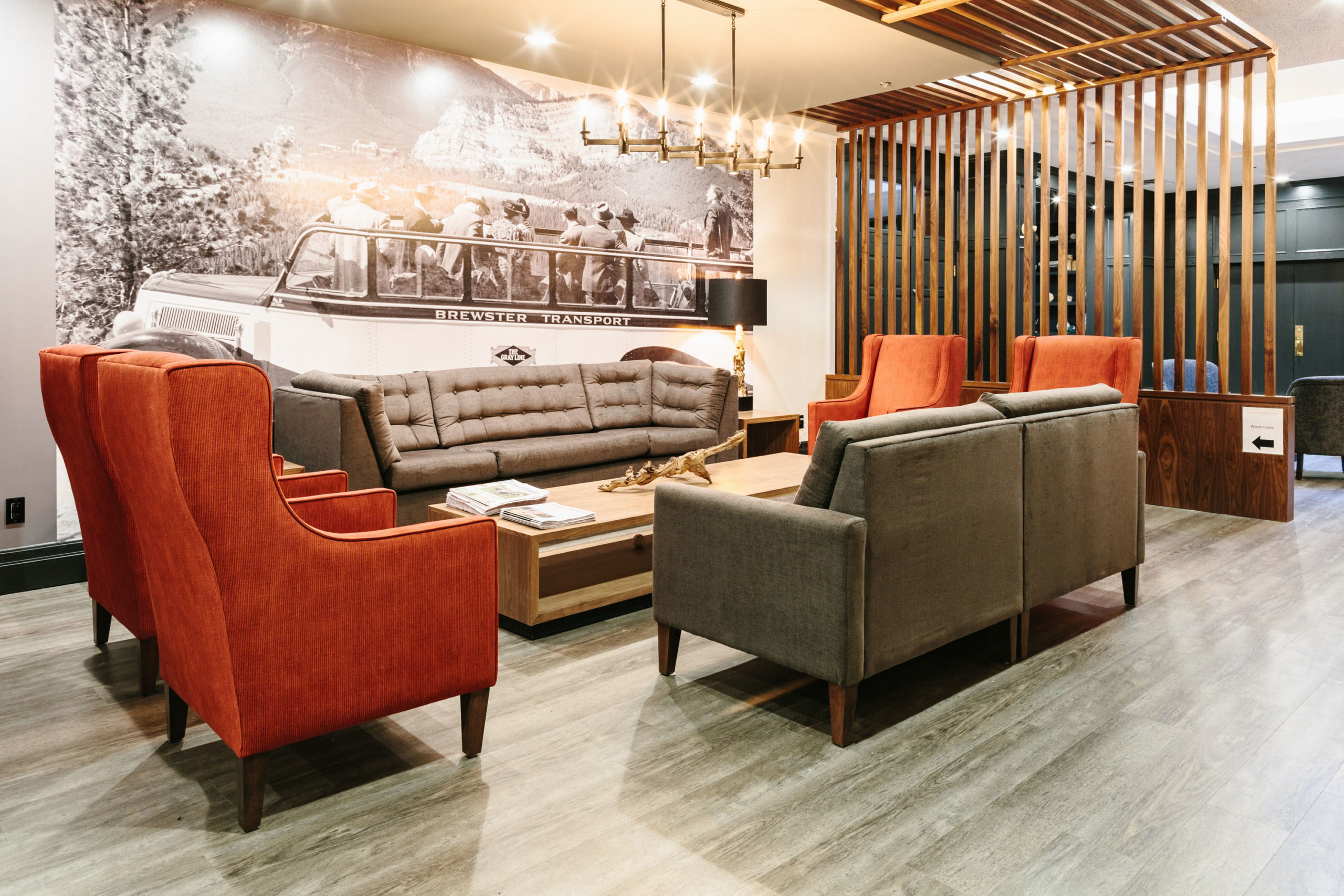 At the Elk + Avenue Hotel in Banff, you'll also enjoy a range of amenities and facilities that will help make your stay that much more enjoyable.
We all know that things can go wrong during a vacation but there's no need to worry when you have a 24-hour front desk service with staff who are ready to help out any time of the day or night. If you need to do laundry during your stay, coin-operated laundry facilities are also on-site.
In Banff, it's widely known that finding a parking spot downtown can be difficult. However, when you stay at the Elk + Avenue Hotel, you'll have access to free heated underground parking area. This comes in particularly handy in the winter when it's -30 outside.
If you don't feel like driving you can just walk onto the main street and explore the lively town of Banff on foot, which we always recommend over driving. Banff Ave is completely walkable and there's really no reason to drive anywhere Downtown once you park your car! We loved that we could park at Elk+Avenue at night and walk right to dinner every night.
There are many gift shops around the town but there's also a gift shop located in the hotel. This is ideal if you just want to do a quick shopping excursion to pick up a few items to take back home without having to wander all around town searching.
If you happen to be staying in Banff during the winter, chances are you're there to ski. With full-size ski equipment lockers on-site at the hotel you won't need to worry about tripping over your skis in your room!
---
You Can End a Busy Day With a Relaxing Soak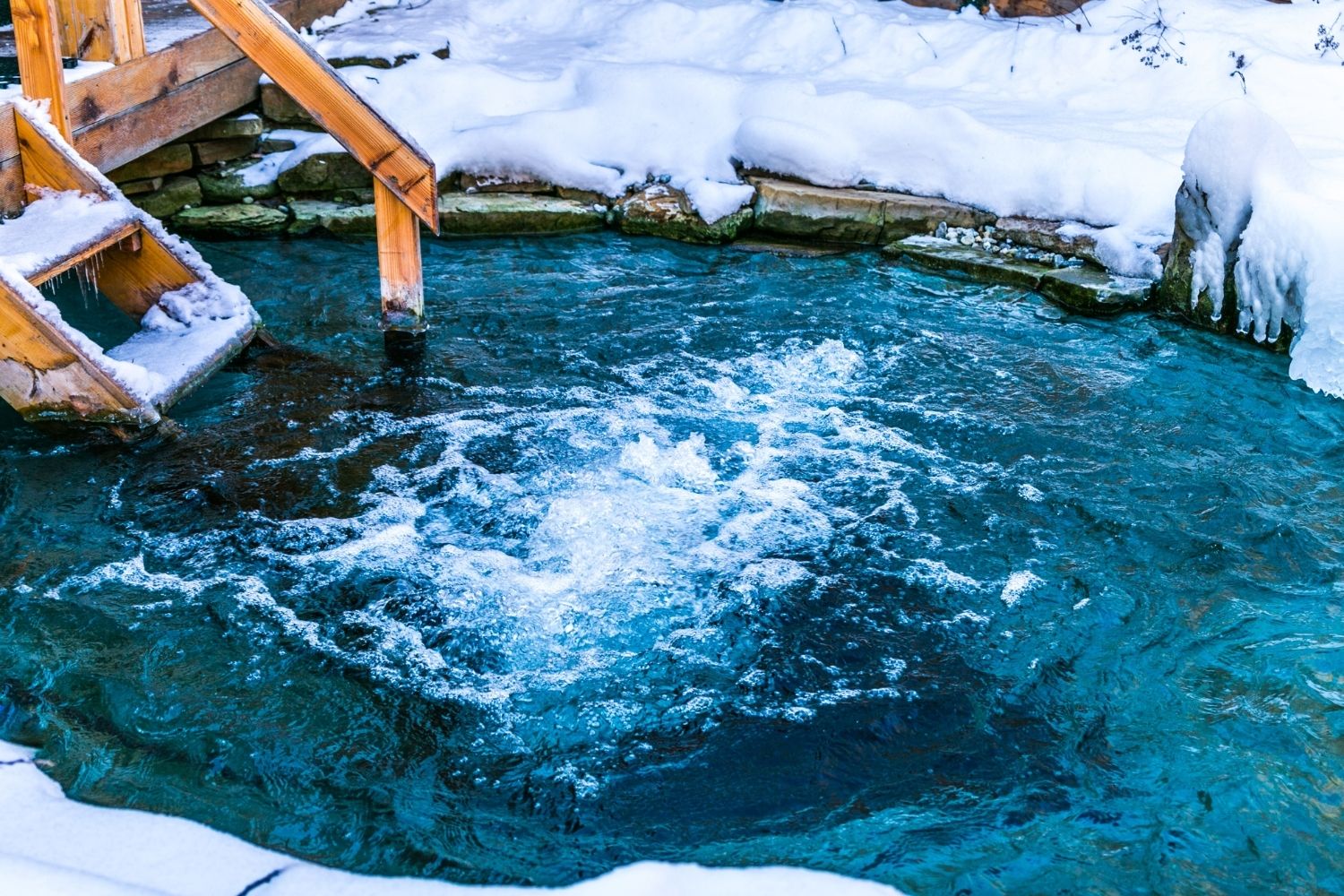 Banff is an exciting place with so much to see and do and no doubt, you'll be exhausted by the time you finally make it back to your room at the end of the day.
However, you won't want to head straight to bed when a relaxing and rejuvenating soak in the hotel's Jacuzzi awaits. After your soak, you can enjoy an equally relaxing session in the dry sauna at the hotel.
---
You Can't Ask for a Better Location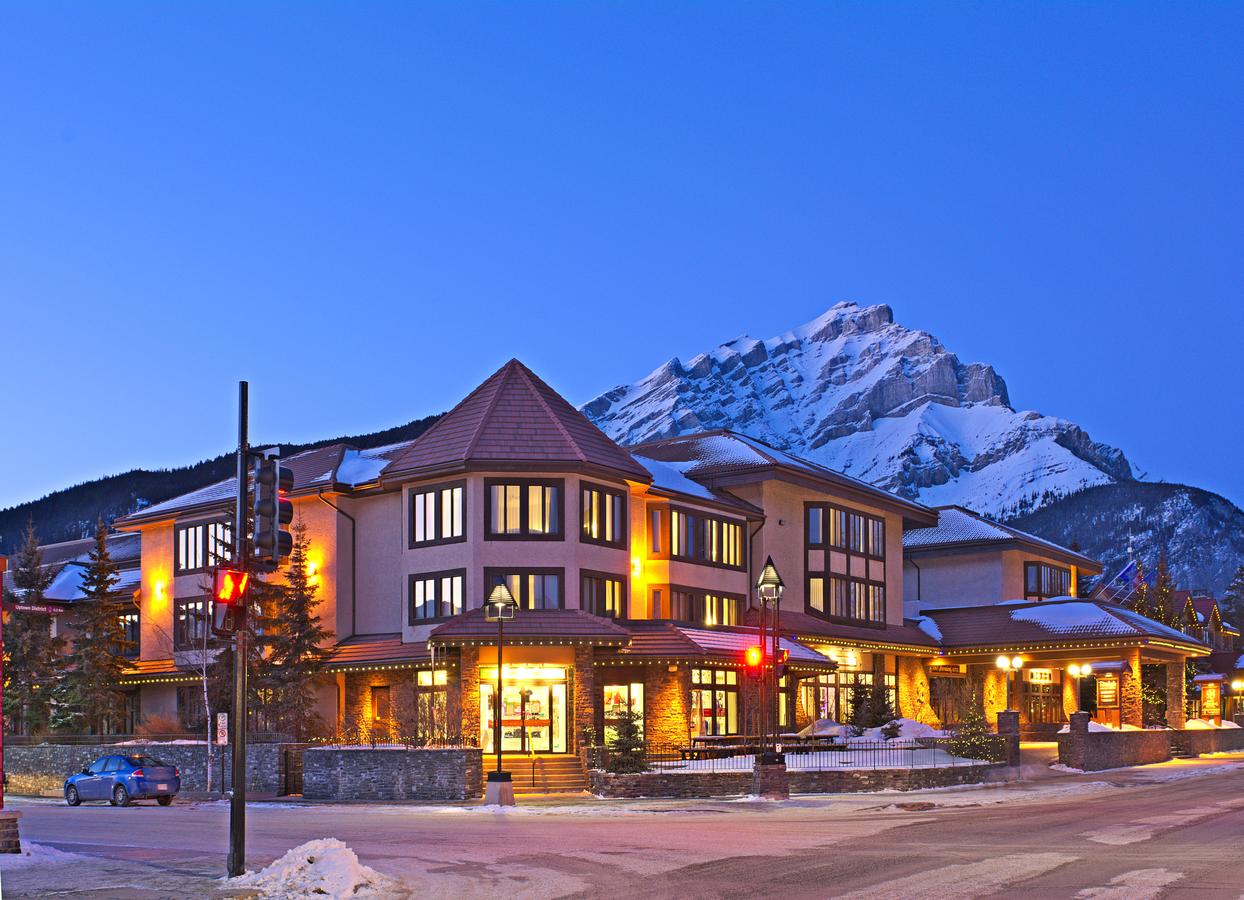 The location of Elk + Avenue Hotel is in the heart of Banff, right on Banff Ave. Its location makes it easily one of the best hotels in Banff. You can walk out of the hotel and onto the main street of the town where you'll have easy access to many cafes, restaurants, shops, entertainment venues, bars, and community green spaces. An outdoor gear shopping spree or a big night on the town only steps away from the hotel.
If you want to take a road trip outside of Banff the possibilities are endless! The beautiful sights of Lake Louise, Moraine Lake, Canmore, and Kananaskis are all less than an hour's drive away. Stunning Jasper National Park is just over three hours away and the bustling city of Calgary is about an hour and a half away from Banff.
Banff and the surrounding national park have some of the most spectacular scenery in North America. As you explore the area, you'll find hiking trails, fascinating museums where you'll learn about the history, people and culture of the area, and an abundance of wildlife including bears, bighorn sheep, mountain goats, and elk.
---
Your Four-legged Friend is Welcome to Stay With You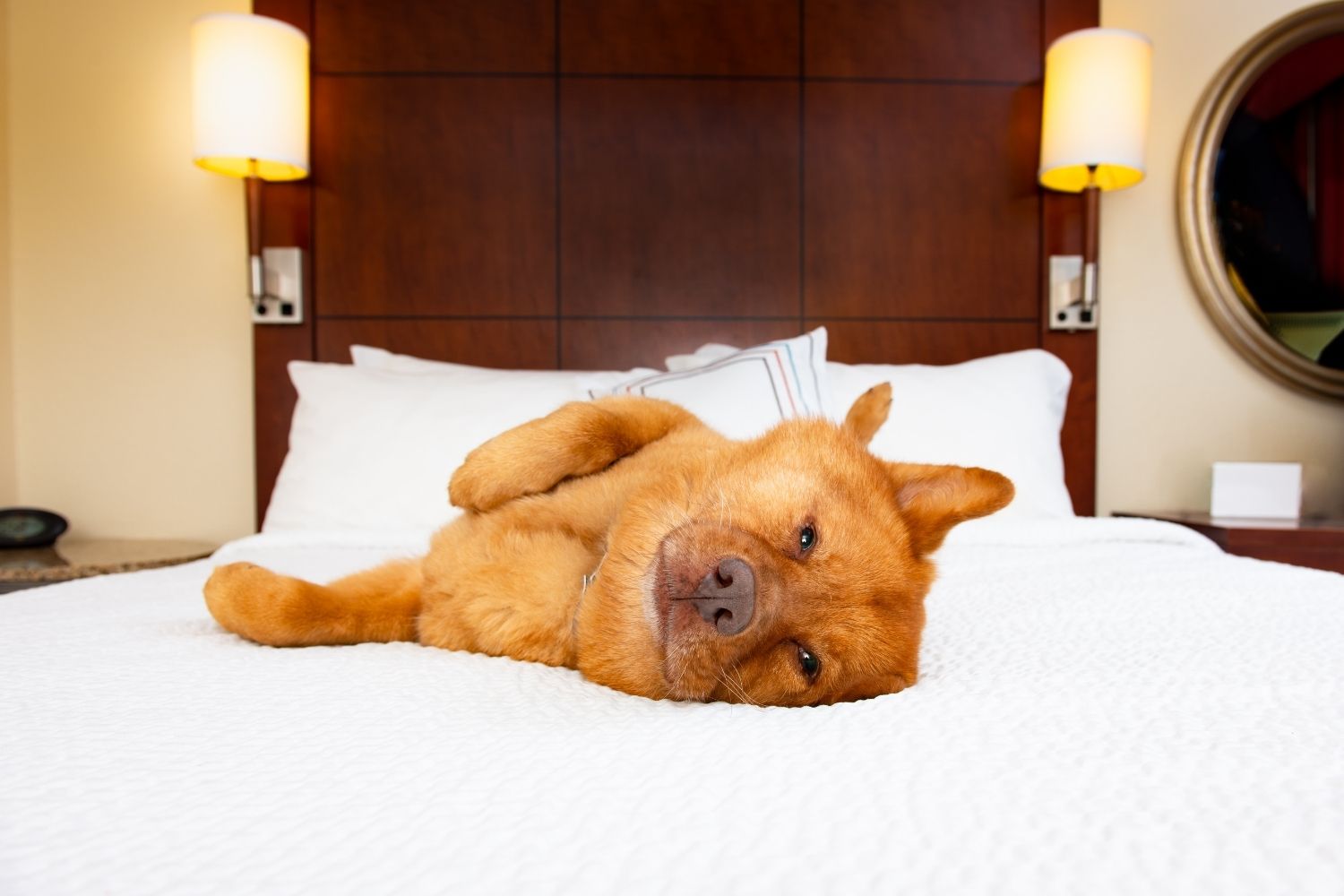 At the Elk + Avenue Hotel, management understands that guests hate to leave home without their best friend. Whether it be a dog, cat, or other furry companion, your four-legged friend will be treated much the same way as the two-legged guests.
Upon arrival, you'll receive a free package with items to help you and your pet have the best possible stay. The package includes a pet bed, a food dish and some treats. It's a fantastic pet-friendly hotel in Banff. Make sure to inform the hotel upon booking that you will be traveling with a pet.
---
Staff are Friendly and Knowledgeable About the Area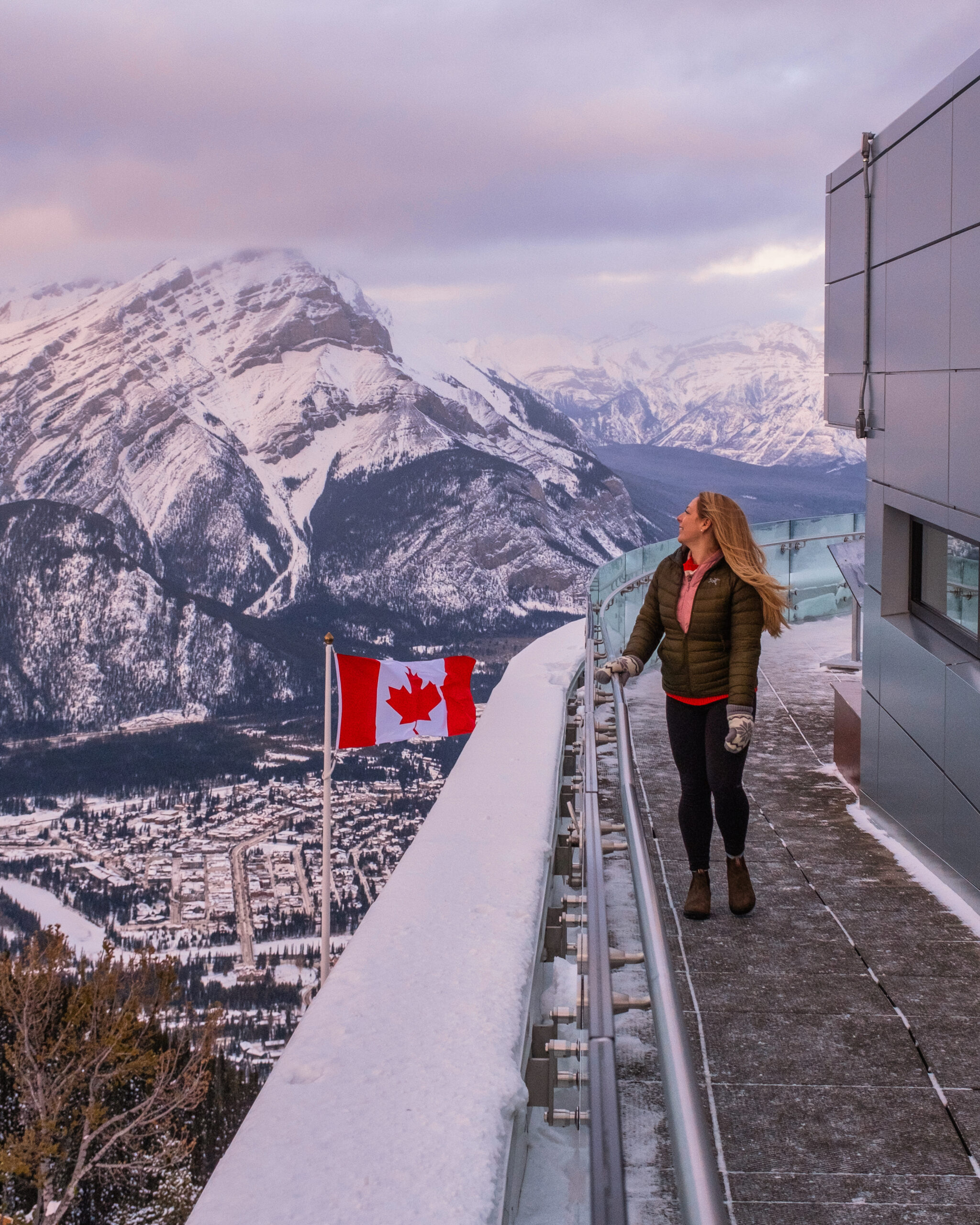 Staff at the Elk + Avenue Hotel know that guests are seeking one-of-a-kind experiences both in the great outdoors and in the bustling mountain town of Banff. They also understand that it can be overwhelming trying to figure out the best things to see and do while trying to fit it all into one trip. And if you don't scour our blog (yes the one you are reading right now) you may not know where to start.
Friendly staff members are knowledgeable about the area and love sharing that knowledge.
These experts can help you find the best restaurants and attractions and they can make recommendations on things you should see and do based on your personal preferences. At the hotel's Pursuit Adventure Center, obliging staff can also book guided tours and experiences for you.
---
The Hotel is Located in an Outdoor Lover's Paradise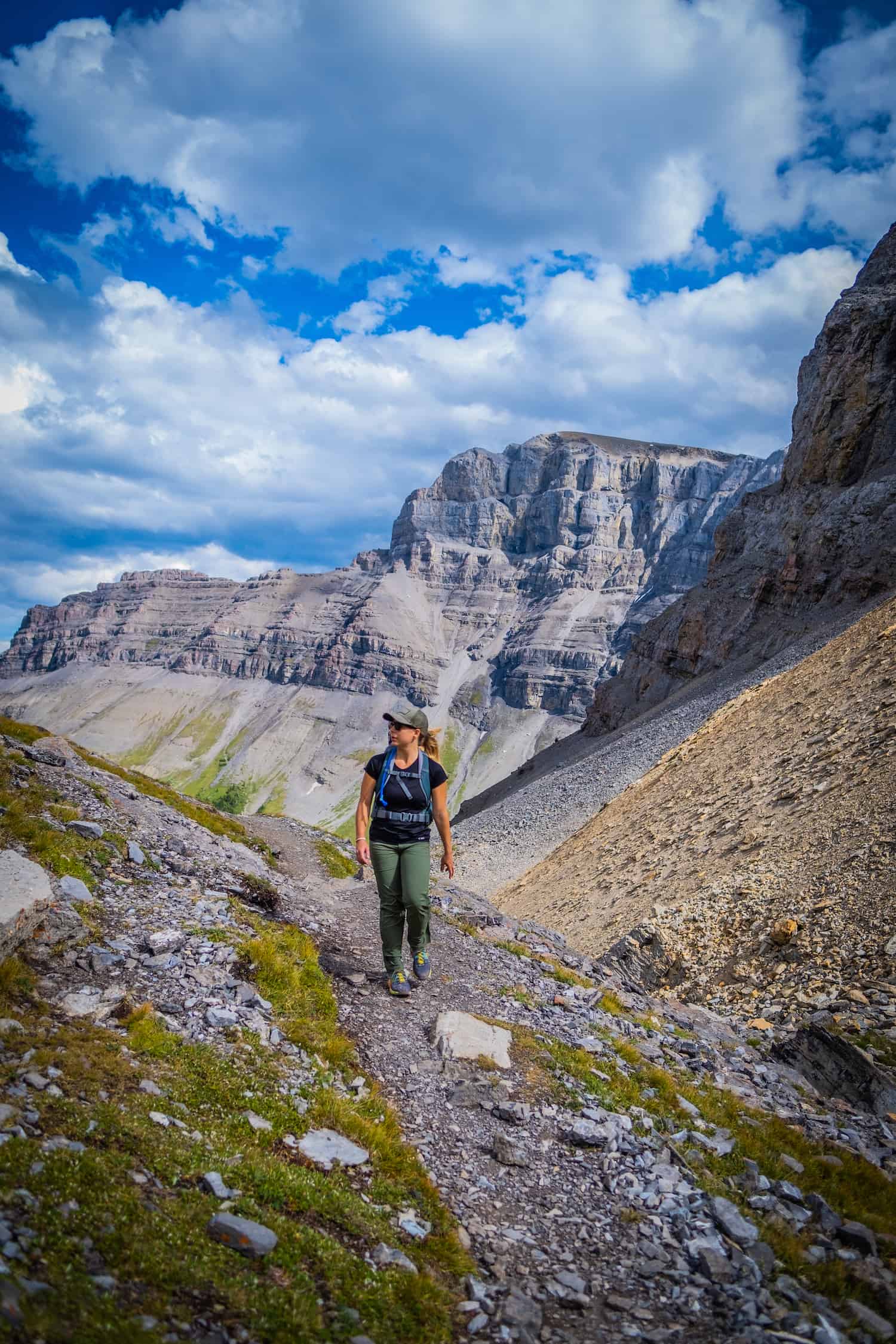 If you're planning a trip to Banff National Park, you're likely seeking some kind of outdoor adventure. After all, Banff, along with the rest of the Canadian Rocky Mountain region, is known for being an outdoor adventurer's paradise in every season.
Banff is the perfect place to take a little summer getaway. The days are longer and the temperature is warm. During these warmer months, hiking, mountain biking, camping, backcountry trekking, canoeing, kayaking, horseback riding, rock climbing, stand-up paddle boarding, and whitewater rafting are popular activities.

Just being in the great outdoors, watching the sun go down over the mountains, admiring the stars in the night sky without light pollution or roasting marshmallows over a fire, Banff is a place where you become one with nature.
You've likely heard the song "Walking in a Winter Wonderland". As you walk around the town of Banff in winter, that's likely the tune that'll be stuck in your head! Crisp, calm nights outside, the soft lighting of fireplaces inside. A quaint mountain town set to the backdrop of towering snow-capped mountains.
In winter, Banff is just as much alive, or perhaps even more so, than it is in the summer. This is mostly due to its reputation for having some of the best downhill skiing resorts in the region, including Banff Sunshine, Lake Louise Ski Resort, and Ski Norquay.
Dog sledding, cross-country skiing, snowmobiling, skating and snowshoeing are some of the popular outdoor winter activities in Banff. If you're particularly adventurous, you may opt to try some ice climbing.
If you're looking to take it easy after a long day or take a break from exploring, hot spring bathing is a thing in Banff. And yes, you can bathe in the hot springs in the Banff Hot Springs all year round, even in sub-zero temperatures!
---
Things to Note Before you Book You Stay at Elk+Avenue

Of course, no review is complete without discussing some of the negative things you may come across during your stay at Elk + Avenue in Banff:
The walls are not very soundproof and you can hear a lot that goes on in nearby rooms. This can especially be a problem on weekends, during spring break, and when there are major events going on in town. You'll have larger crowds and people tend to stay out later during these times.
Sometimes the free parking can be a hassle and you may have to loop a bit for a parking spot. This shouldn't be an issue if the hotel isn't very crowded during your stay, but the spots can fill up during the summer. That being said it's much better than wandering around the town for parking.
The air-conditioning malfunctions from time to time. This can be particularly problematic during the warmer months if you really want AC. Although, we've never needed Air Conditioning even in August in the Rockies as it's pretty cool at night no matter the month.
The hot tub also tends to break occasionally. If this is one of the amenities that is important to you during your stay, you may want to double-check that it's working before you arrive.
---
Getting to Elk + Avenue Hotel in Banff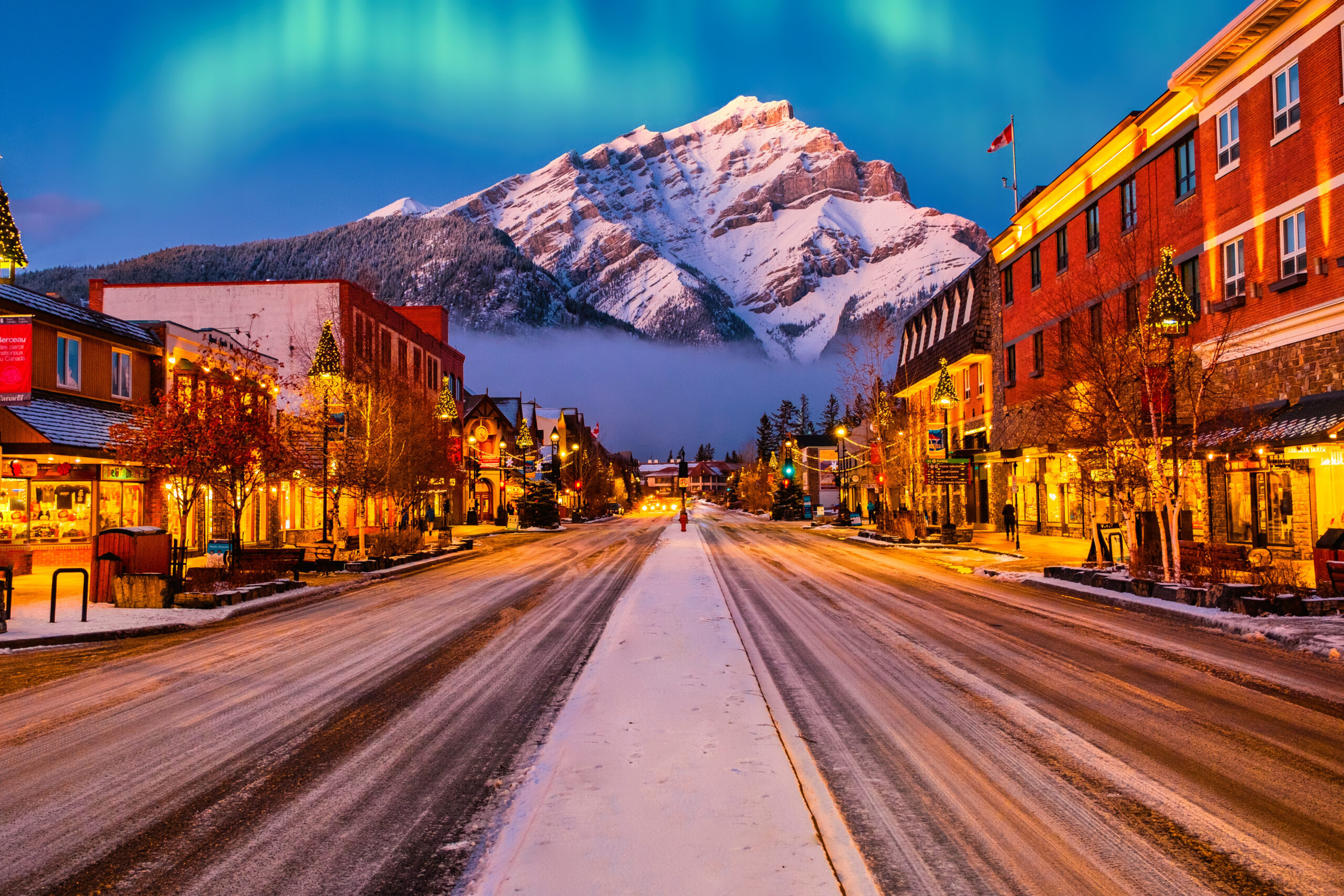 From Calgary, travel north for two and a half miles on the Deerfoot Trail before taking the exit onto Stoney Trail West. After approximately 15 miles, exit onto the Trans Canada Highway West. You'll drive along this stretch for about 50 minutes. The views will get great once you hit the Stoney Nakoda Casino near Kananaskis. You'll know you're getting close when you make it to Canmore.
When you reach the gates of the national park, this is where you'll purchase any permits you need for your stay, including a park pass, if you haven't done so before online. Drive for another 15 minutes and take the first exit into the town of Banff. This whole trip takes about an hour and a half from Calgary. See the rest of our Banff travel tips.
↓ Join the community ↓
The Banff Blog Facebook Group is your headquarters for the Canadian Rockies' travel advice and information. Including hike info and off-season travel information. You can also meet new adventure buddies.

Plan Your Trip to the Canadian Rockies