Seeking out the best restaurants in Banff or wondering where you should eat in Banff? We share our favorite spots in the picturesque mountain town. While most mountain towns might struggle to supply visitors with a wide selection of restaurants that is certainly not the case in Banff.
You can find a wide range of cuisines, restaurants, price points, and places to eat in Banff. It's the perfect place to fill yourself up after a long day out exploring the wild Canadian Rockies.
---
Best Restaurants in Banff
---
The Bison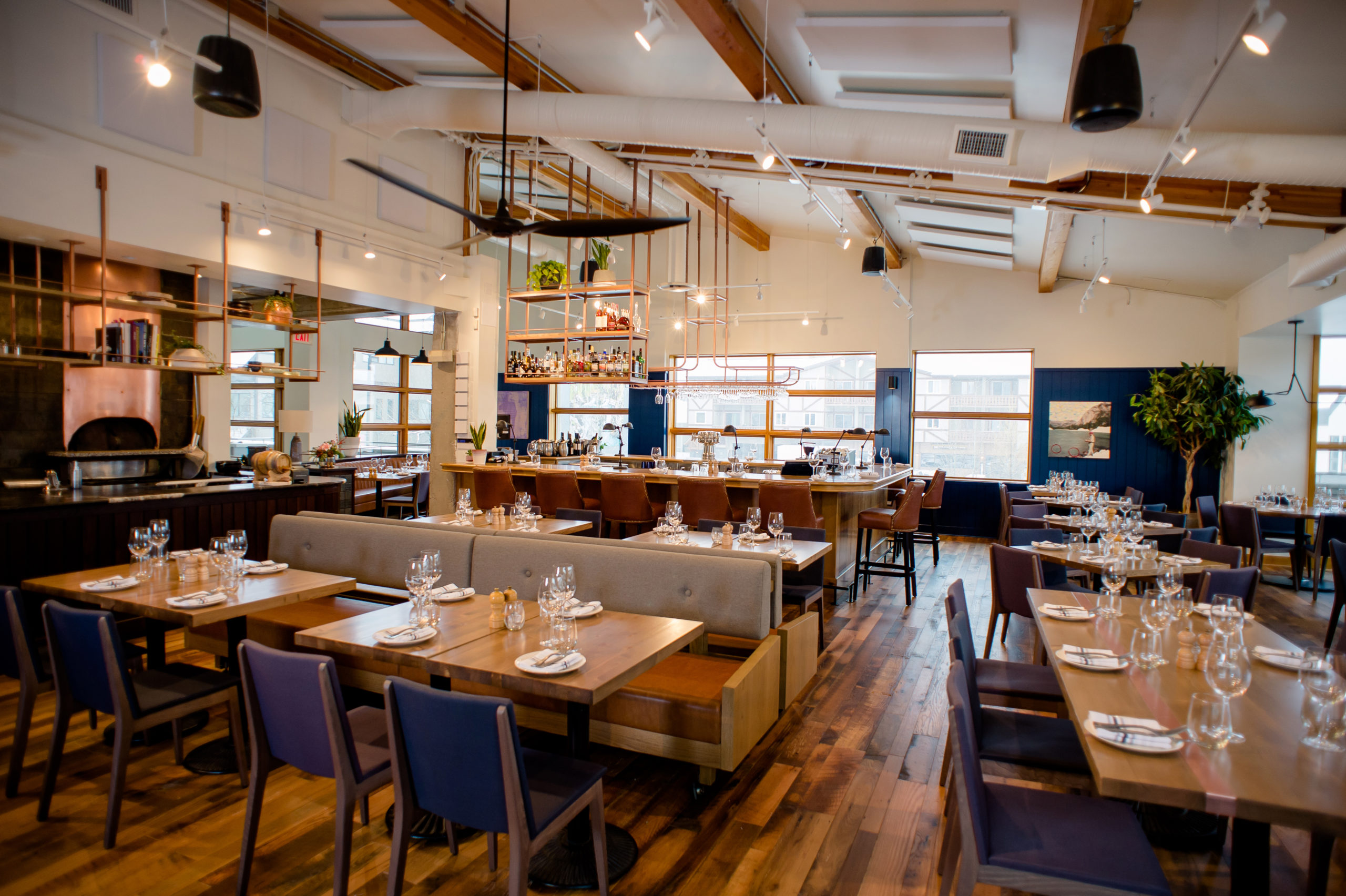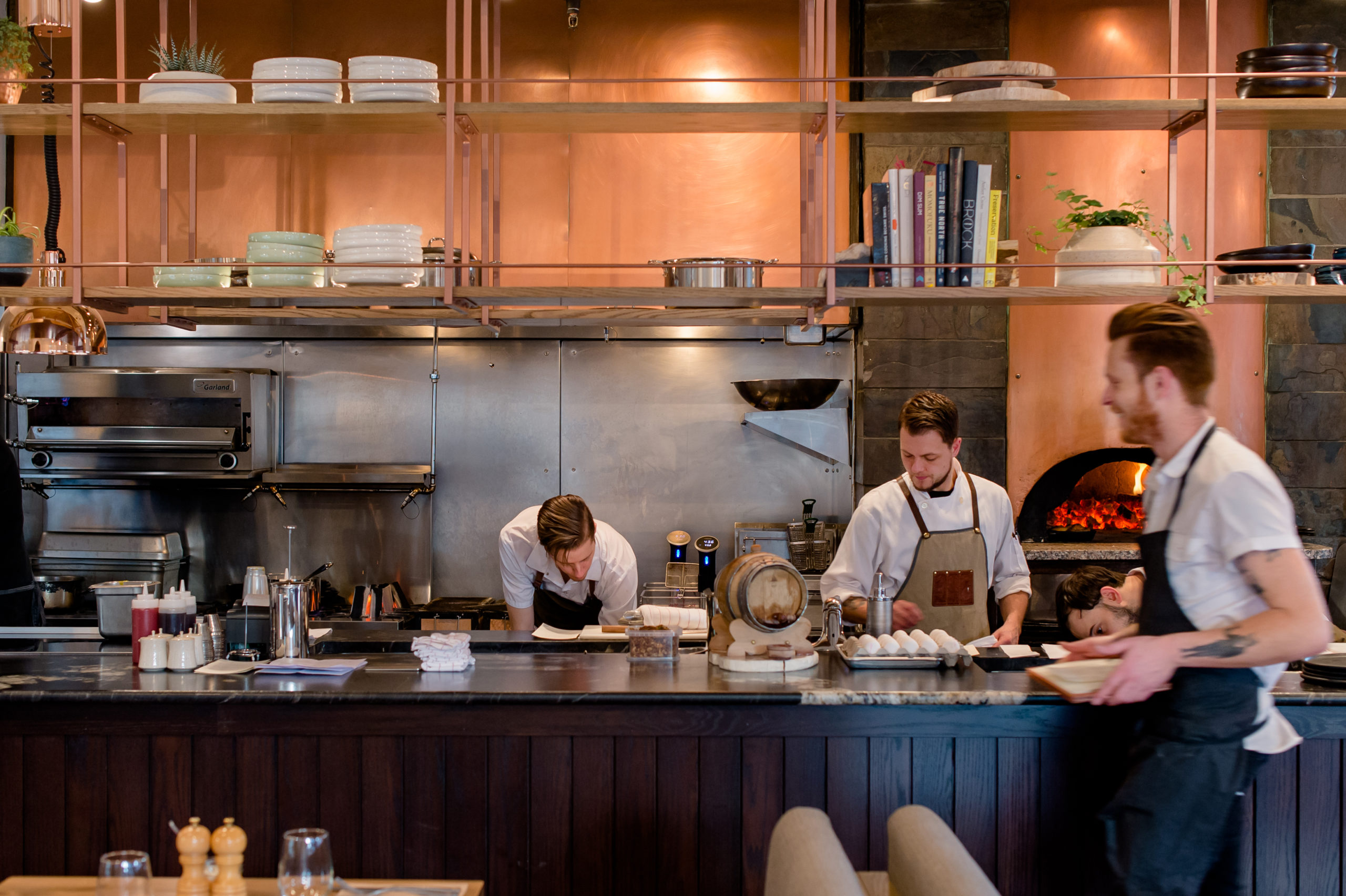 Location: 211 Bear Street
Cuisine: Canadian/ Americana
Price: $$$
Our favorite restaurant in Banff with a great atmosphere and high-quality farm-to-table food. They have a seasonal menu and won several national awards in Canada for exceptional service. It's well known as the best spot in Banff for brunch on Sundays.
The menu is more varied than several other restaurants in Banff with a number of options for vegans or vegetarians. You'll find options like elk poutine, butternut bruschetta, duck breast, steelhead trout, and roasted cauliflower.
It's a hip restaurant with tasty cocktails and wonderfully creative food options. Long has it been our go-to for date nights and the perfect spot for couples or special occasions.
---
Eden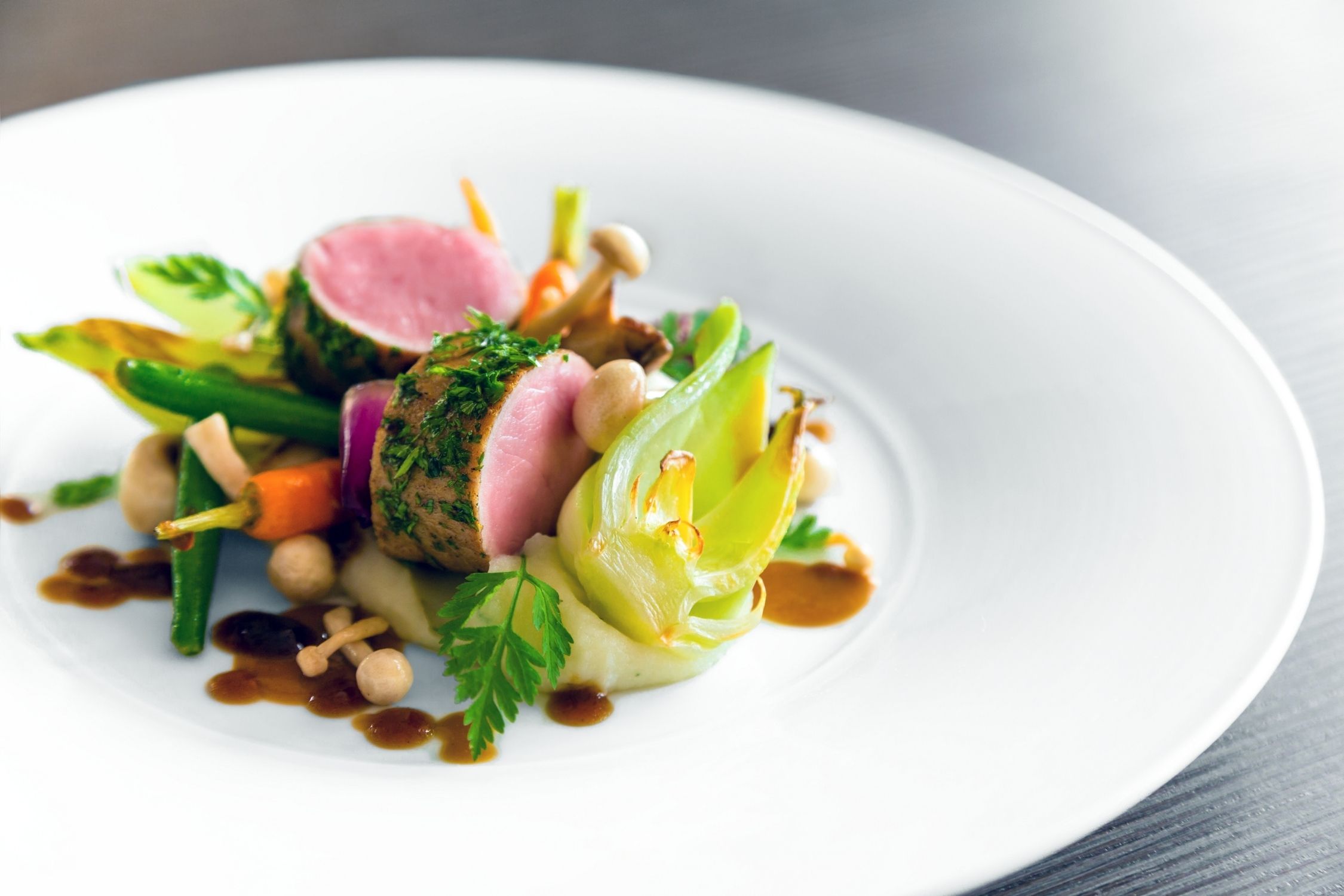 Location: The Rimrock Resort Hotel
Cuisine: Modern French
Price: $$$$
Experience fine dining with incredible views at Eden in the Rimrock Hotel. The restaurant serves up some of the best food in the province let alone Banff, as it is the only Five-Diamond Restaurant in all of Western Canada. The modern French restaurant serves up playful and delicious dishes that leave a lasting impact much like the views.
The menu operates with several tasting menu options ranging from 4, 6, and 10 plate chef tasting meals. To pair, they have an extensive wine menu that is curated by a team of sommeliers. If you're looking for an extraordinary dining experience this is an excellent selection. It's one of the most romantic restaurants in Banff.
---
Magpie & Stump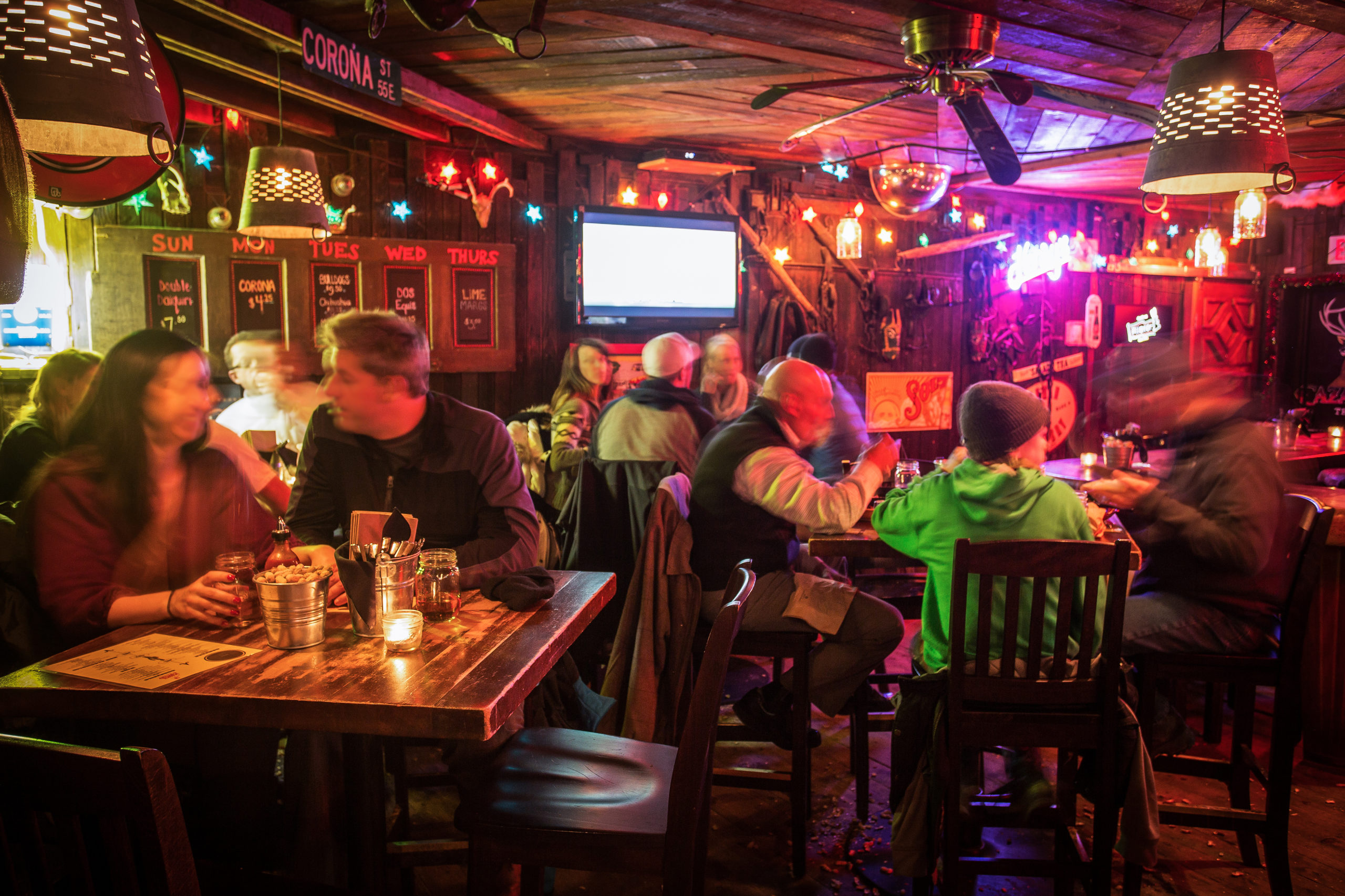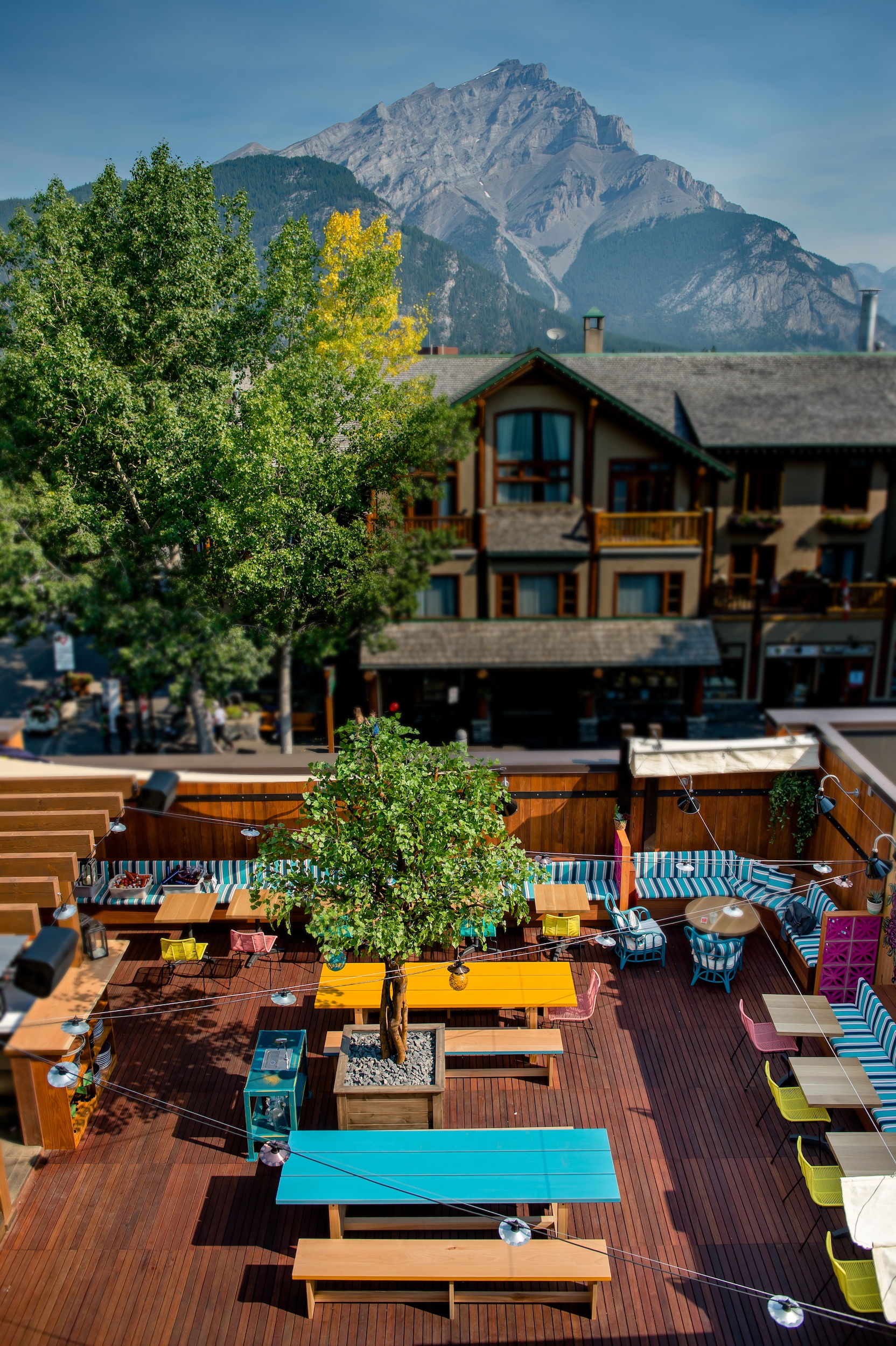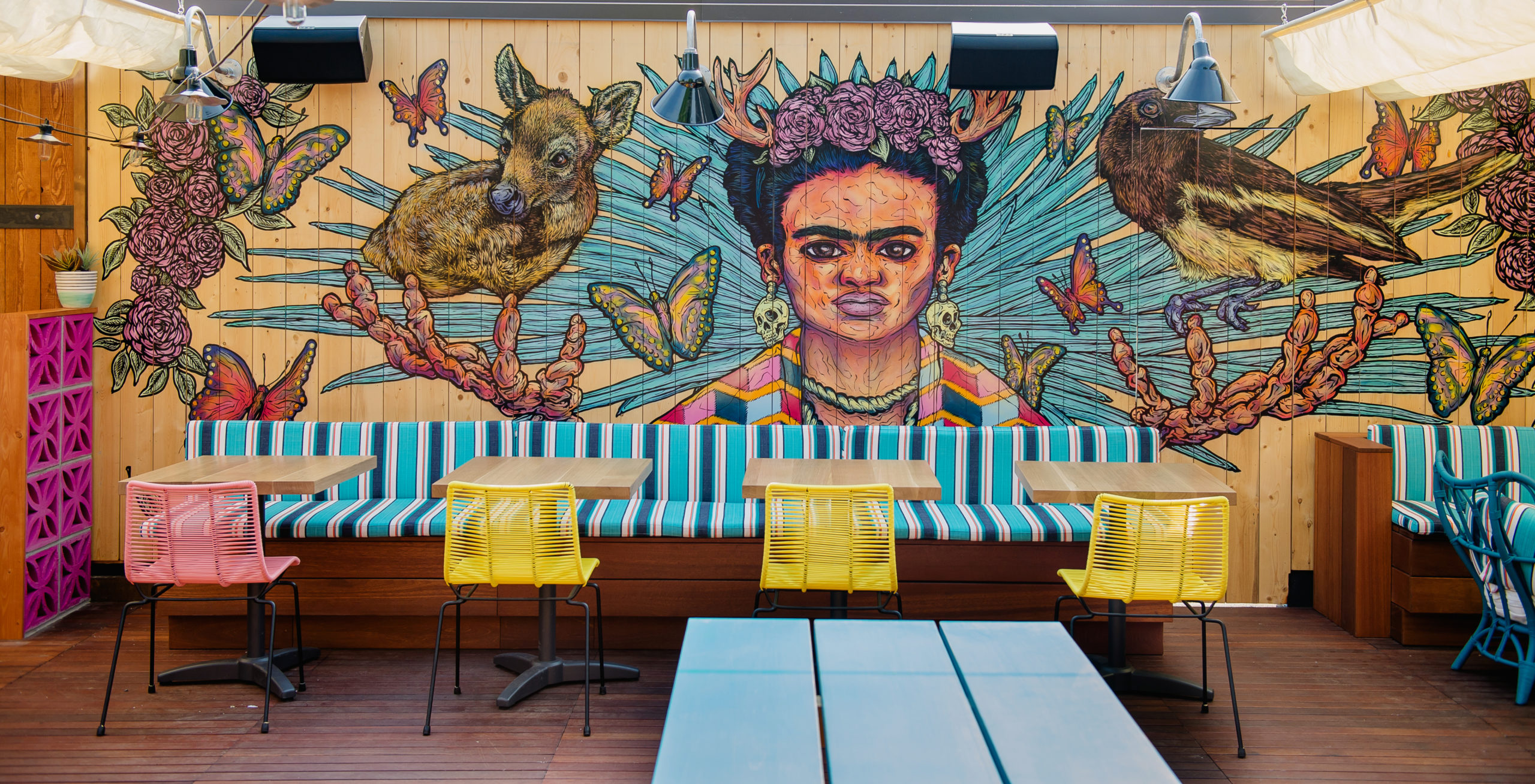 Location: 203 Caribou St
Cuisine: Mexican
Price: $$
This is a local hotspot and serves up delicious Mexcian dishes. Mexican food has long been my favorite cuisines so they get the nod for my favorite restaurant in Banff.
The interior is rustic and you get a Mexicana cantina vibe the moment you set foot inside. Order a hearty burrito and pair it with a cerveza for a tasty apres-ski or snowshoe meal.
They also launched a rooftop patio for the summer months called El Patio that serves modern Mexican street food like tacos and margaritas. It's an amazing place to soak up the gorgeous weather we have in Banff during the summer months.
In the summer months, this is my go-to spot. I love the environment creative margaritas, paletas (popsicles), and fresh tacos. Who doesn't love a margarita in the sunshine?
---
Whitebark Cafe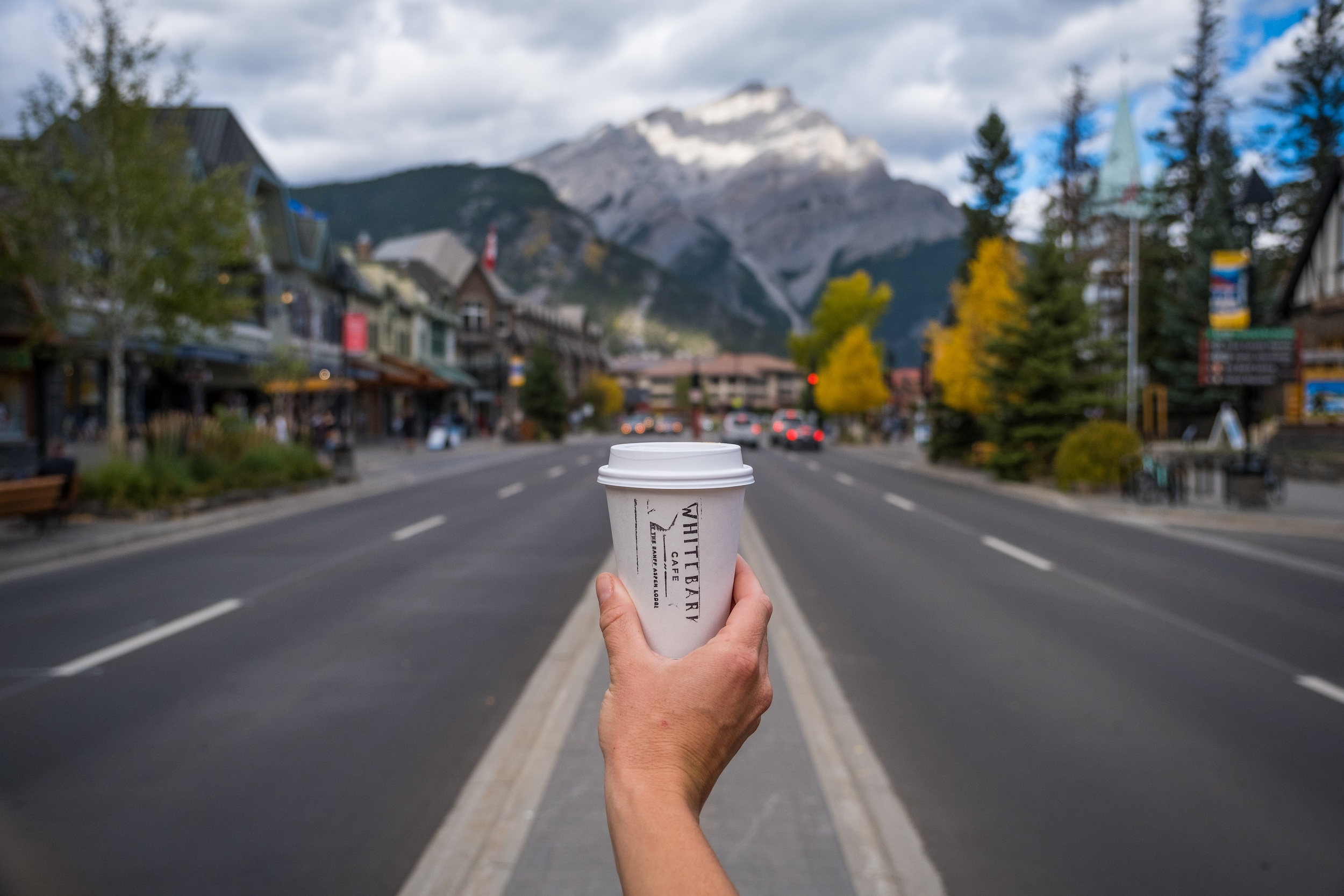 Location: 401 Banff Ave
Cuisine: Coffee
Price: $
Not so much a restaurant, but it is the best coffee shop in Banff. Whitebark has been known to deliver the best coffee in Banff for a while now. On our first trip to Banff before we made the move here, we stopped by for several top-ups. They serve fair-trade organic coffee from Moja Coffee in North Vancouver and loose leaf teas from Banff Tea Co.
They serve a number of nice pastries that include the occasional vegan or gluten-free option. If you like a light breakfast pick up pastry before you set off to tackle some of Banff's fantastic hiking trails. As far as espresso-based drinks like a cappuccino or flat white they definitely serve the best in the Banff. However, it's more a takeaway joint with only a small counter to sit and a few outdoor tables.
---
Storm Mountain Lodge
Location: Highway 93 South, Banff National Park
Cuisine: Americana/Canadian
Price: $$$
Not inside the town of Banff, but a half-hour away from town is the Storm Mountain Lodge. The lodge restaurant serves up meals with freshly baked sourdough bread, braised short ribs, and fondue. A great menu that changes seasonally so check their website for the latest offerings. It's the perfect spot to go have a meal in a quiet cozy setting amongst nature.
It feels truly special in the winter months when it's covered in a fresh blanket of snow with roaring fireplaces inside. Winter restaurant hours are limited to the weekends.
---
Farm & Fire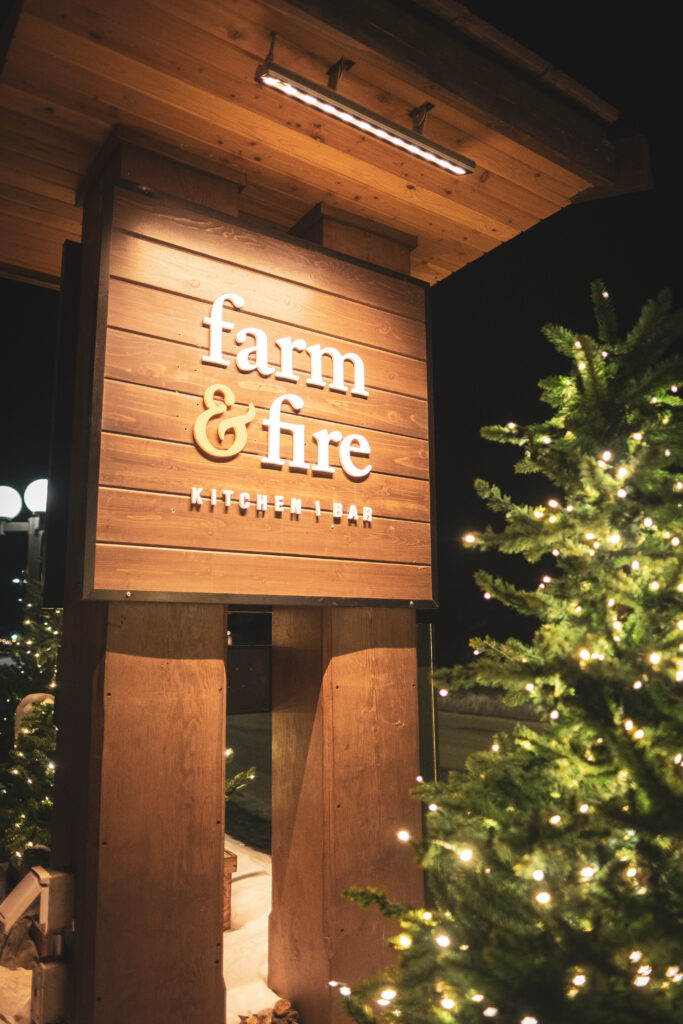 Farm & Fire is a new restaurant in Banff that serves up new Canadian cuisine with a focus on farm-to-table. Open for brunch and dinner they have a mouth-watering menu with a good selection of options for most diets. We haven't had brunch here yet, but highlights from our dinners include the fried brussel sprouts, rotisserie chicken, and forno carrots.
It a fantastic spot for dinner thanks to a well-decorated interior and full-service bar. It's located in the Elk & Avenue hotel which is convenient for those staying in the nearby hotels.
Location: 333 Banff Ave.
Cuisine: Americana/Canadian
Price: $$$
---
Park Distillery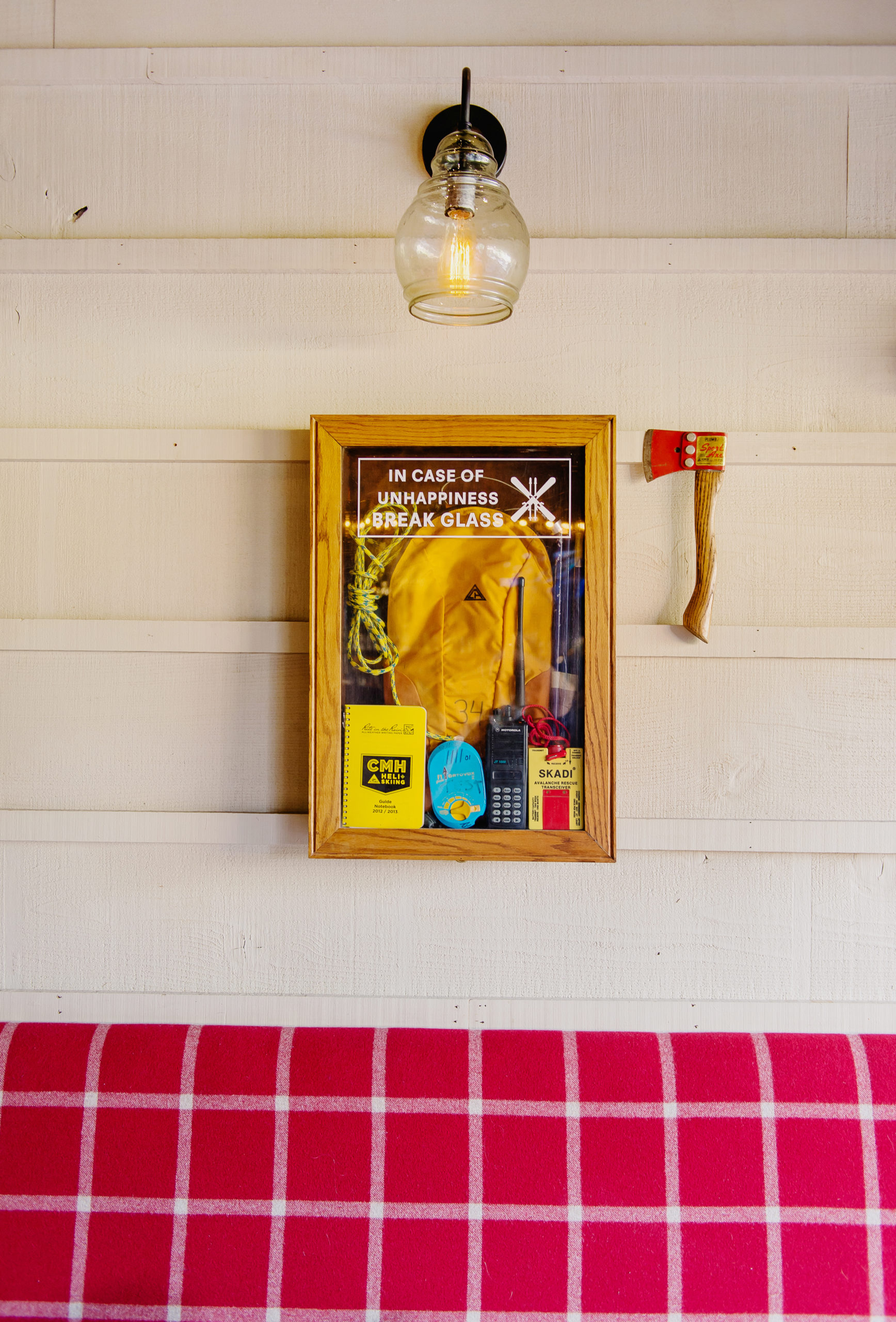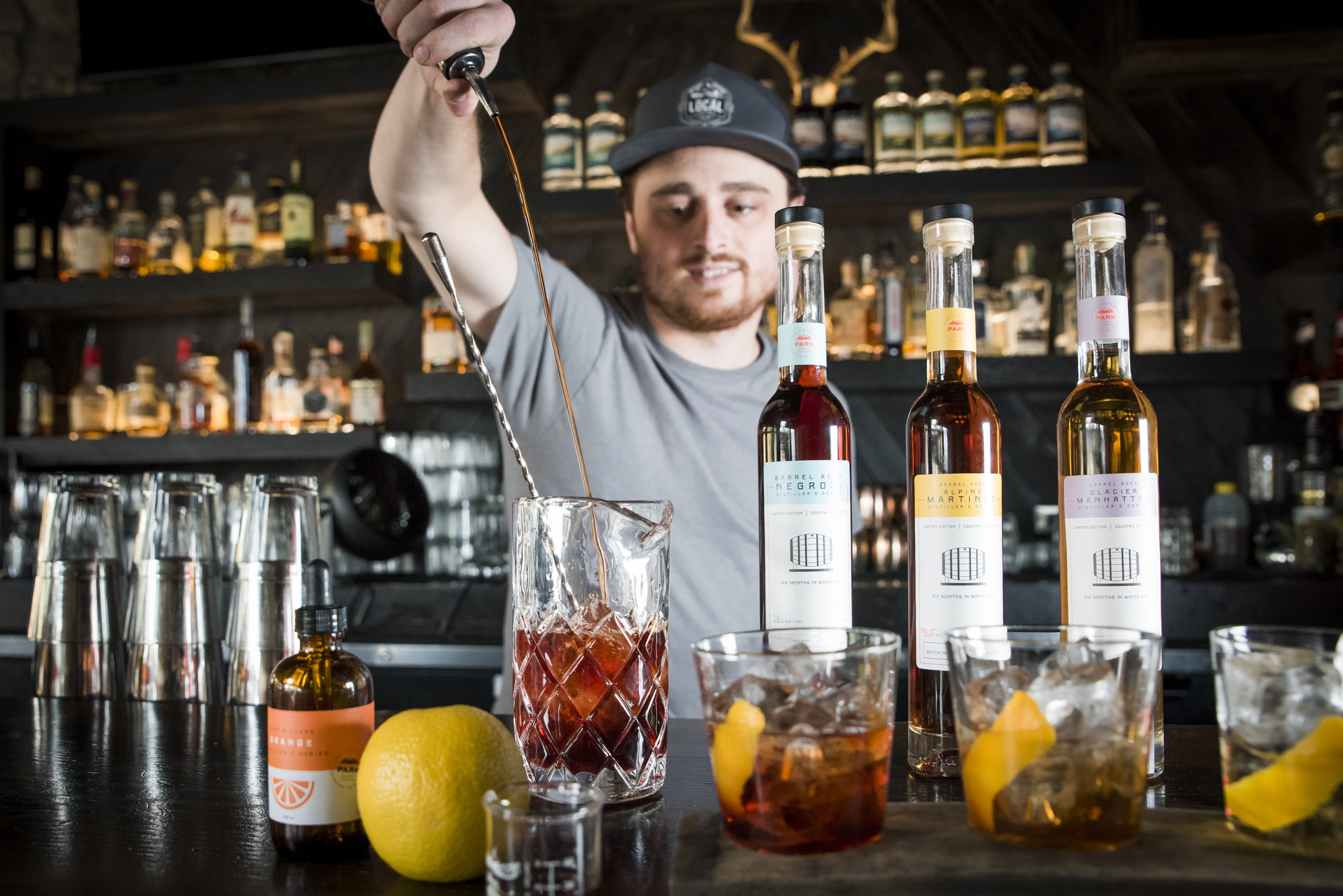 Location: 219 Banff Ave
Cuisine: Modern Camp Food / Canadian / Distillery
Price: $$
With a prime location on Banff Ave, it's tough to miss the local distillery. Park Distillery is where we take friends and family to eat when they're in town. Park Distillery has quickly made a name for itself in town for their spirits such as Gin and Vodka distilled with Rocky Mountain water. We love the modern mountain interior and they have large garage doors to open up the restaurant to fresh mountain air in the summer months.
The food here follows the theme of the camp and Canadian mountain food along with a number of vegan options. You'll find everything from tofu bowls to cornbread, short ribs, burgers, and baked beans, or a modern twist on s'mores for dessert on the menu. They also have an extensive cocktail list of inventive cocktails made with their spirits.
If you're looking for a classic try their Caesar made with chili vodka at brunch. For the international crowd, caesar is a classic Canadian cocktail similar to a bloody mary but made with Clamato juice, tomato juice mixed with a bit of clam juice.
It's a popular spot and draws a crowd so expect to wait in peak summer or call ahead for reservations. Take a bottle of one of their spirits home for a gift or souvenir, perhaps both.
---
Seed N Salt
Seed N Salt is a fairly new restaurant in Banff that serves up healthy and affordable bowls and smoothies. You can choose from a combination of bowls that start with a base of greens or grains.
They have several tasty combinations of healthy dressings and toppings such as a selection of veggies, tofu, beans, falafel, and lean meats. You can build your own, but I prefer to select from their menu.
I've had their "Be Well" and "Samurai" bowl and were both fantastic! Oh and we both added on their "Hulk" smoothie. They're open all day and serve up some breakfast options like avo toast and quinoa bowls.
Location: 202 Caribou St
Cuisine: Vegetarian, Health Conscious
Price: $
---
High Rollers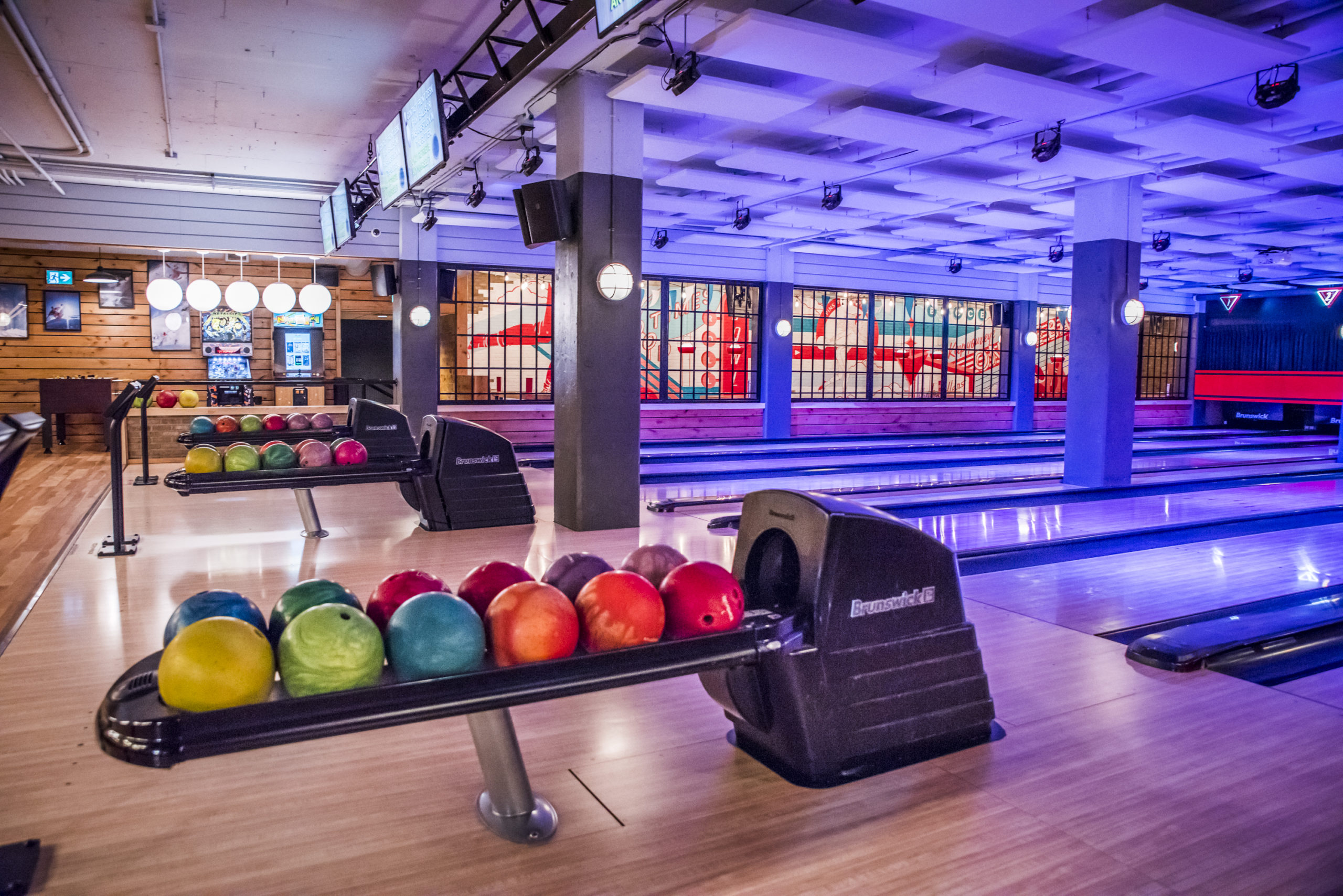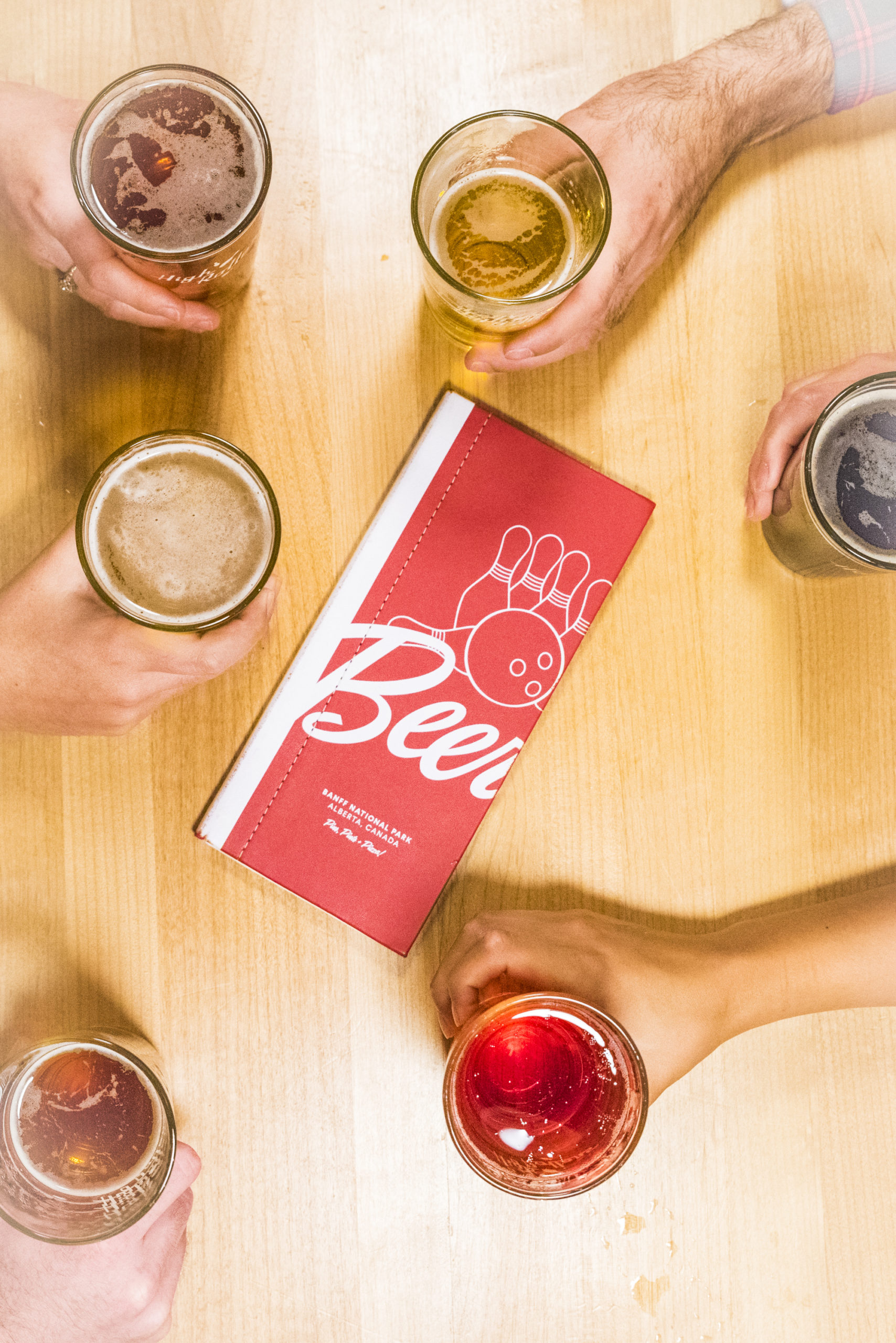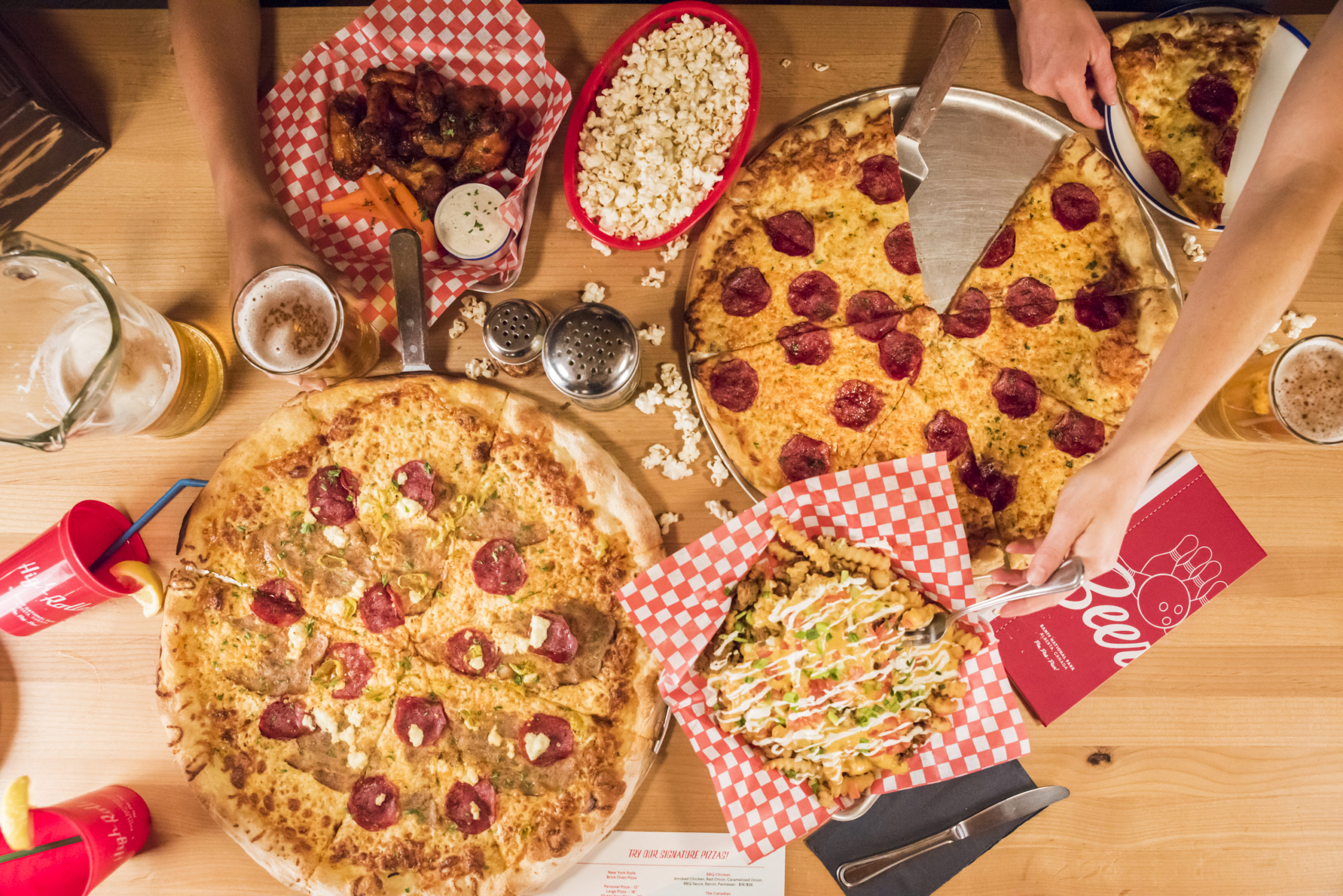 Location: 110 Banff Ave
Cuisine: Pizza / Bowling
Price: $ – $$
If you're after the best pizza in Banff head to High Rollers for some bowling. It's your old school bowling alley that feels grungy, instead, you'll find modern decor, craft beer, wings, and delicious NY style pizza. Don't miss out on their super tasty waffle fries or poutine.
Perfect for a relaxed evening with friends or family, they do have limited hours to kids in the evening as it shifts towards a bar. However, during the day and early evening it's definitely family friendly.
---
Banff Ave Brewing Co.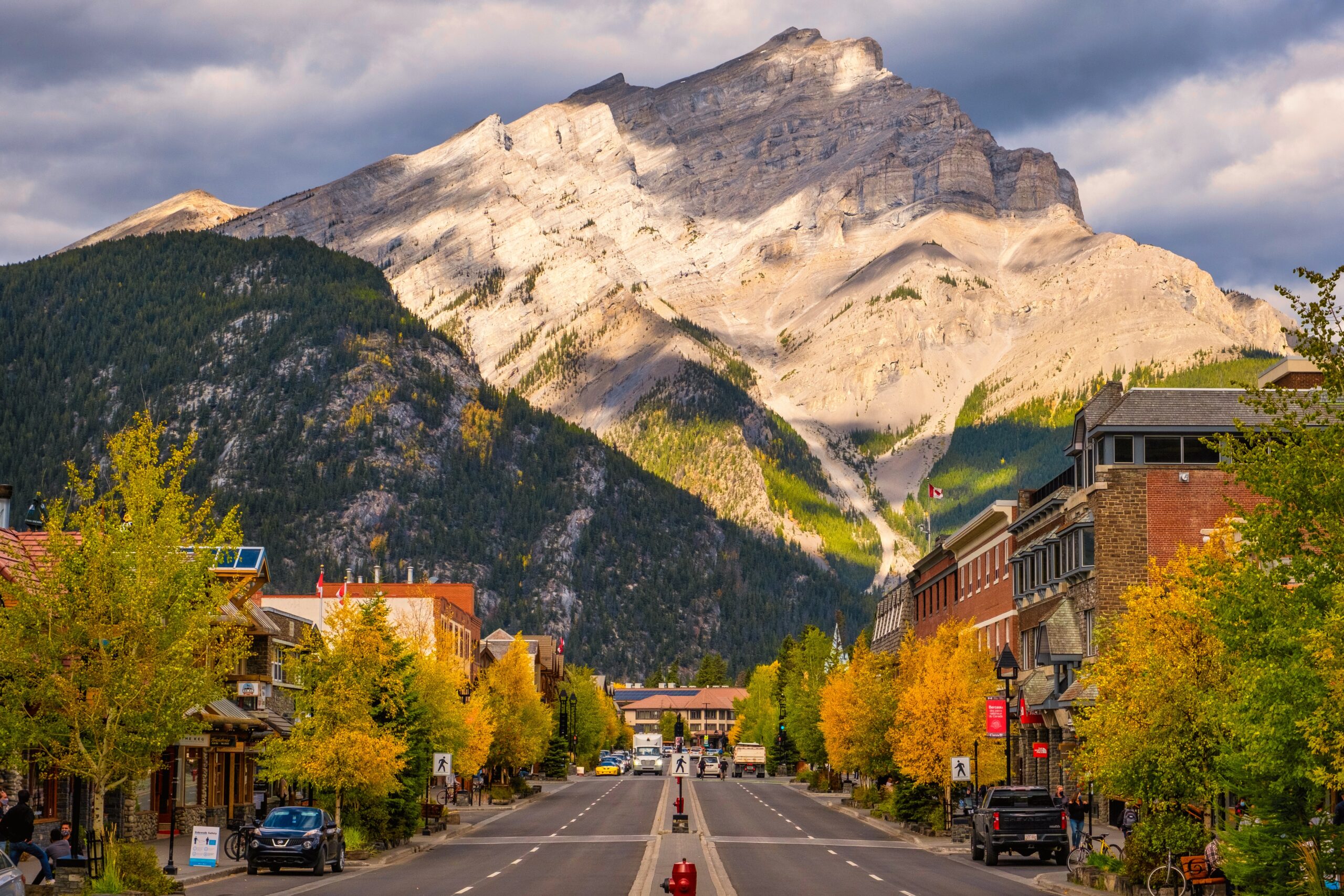 Location: 110 Banff Ave
Cuisine: Brewery Pub
Price: $
If you're not much for cocktails at Park Distillery then go down the street to Banff Ave Brewery. This Banff brewery was opened by the same crew who opened the Jasper Brewing Co (Canada's first National Park Brewery) after great success.
Located on Banff Avenue this two-story restaurant and bar serve up delicious food and great beer. It's an updated take on bar food with a nice selection of options like nachos, smoked bbq cauliflower, buffalo chicken sandwiches, halloumi fries, and bison burgers.
It's well worth a stop for anyone visiting Banff. Try to get a seat outside in the summer and watch life go by! Warning, the deck space is pretty limited so you're lucky if you snag a seat on the weekend. They're also our favorite local brewery beating out the Grizzly Paw and Canmore Brewing in the neighboring town of Canmore.
---
Ramen Arashi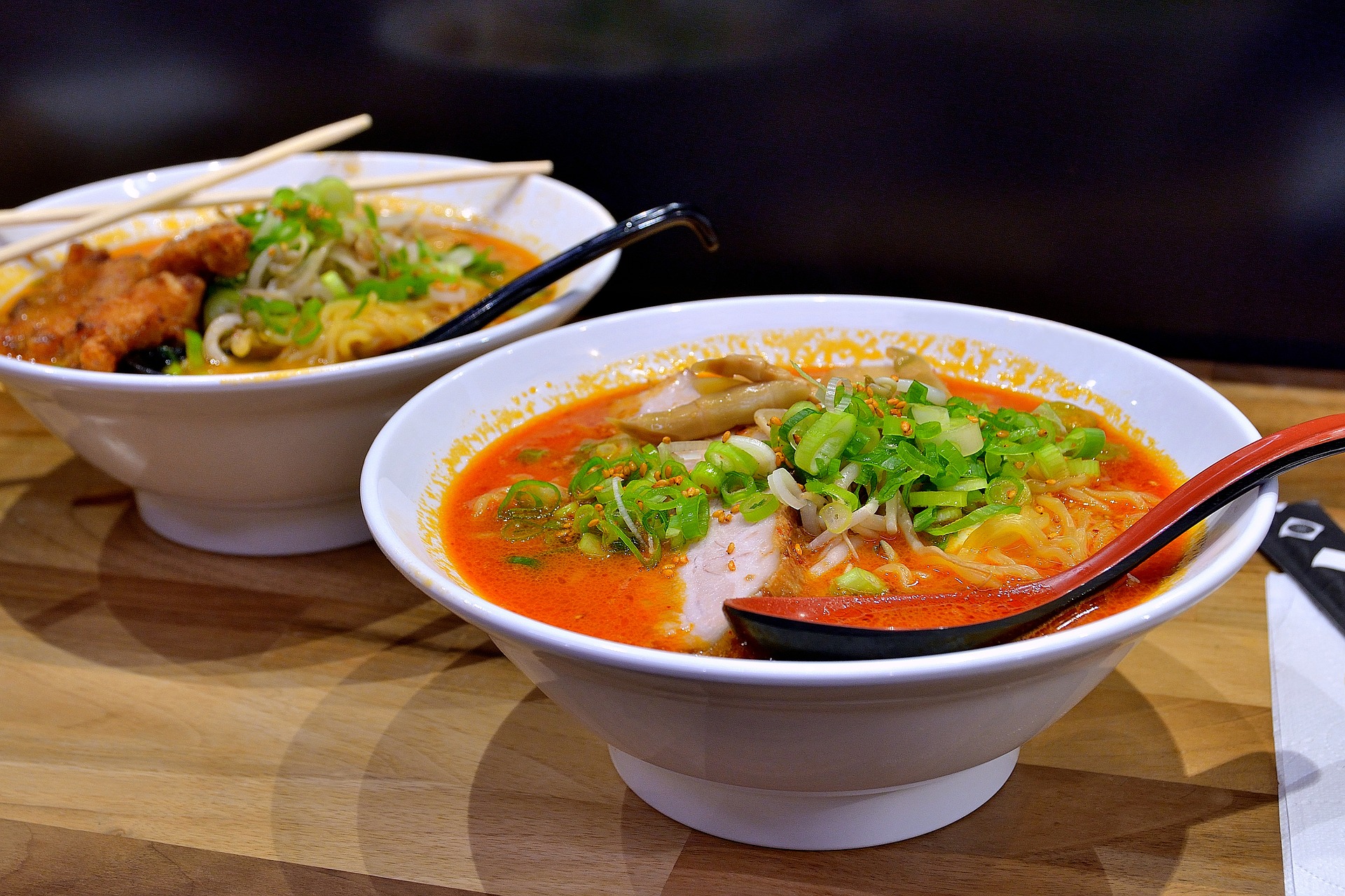 Location: 2nd floor Sundance Mall, 215 Banff Ave
Cuisine: Ramen / Japanese
Price: $
This is an excellent and cheap spot to eat in Banff. We love to have ramen after a cold day in the mountains as it's one of our favorite comfort foods from Japan. It's a small location on the second floor of the Sundance Mall so it's good if you're a small group or if you want to order some takeout.
It's pretty authentic ramen with your usual base and topping options. We love Tan Tan Black Veggie and Devil's Arashi ramen. Japanese food is our favorite cuisines so it shouldn't be much of a surprise that Ramen Arashi and Banff Sushi House are two of our most frequented restaurants in Banff.
---
Sushi House Banff
Location: 304 Caribou Street
Cuisine: Sushi Train
Price: $
For cheap sushi that is authentic and high quality check out Banff Sushi House. It's a pretty small hole in the wall spot and there isn't much of an ambiance. However, the sushi is cheap, delicious, and the staff is very friendly. Plus we love the fact the sushi plates ride around on a Canadian Pacific toy train.
It's a local spot that's been around for decades now. We love to stop in for a quick bite to eat as the food is ready pretty much immediately if you can get a seat. They offer take-away if you feel like grabbing sushi to go, but we personally prefer it fresh.
---
The Eddie Burger Bar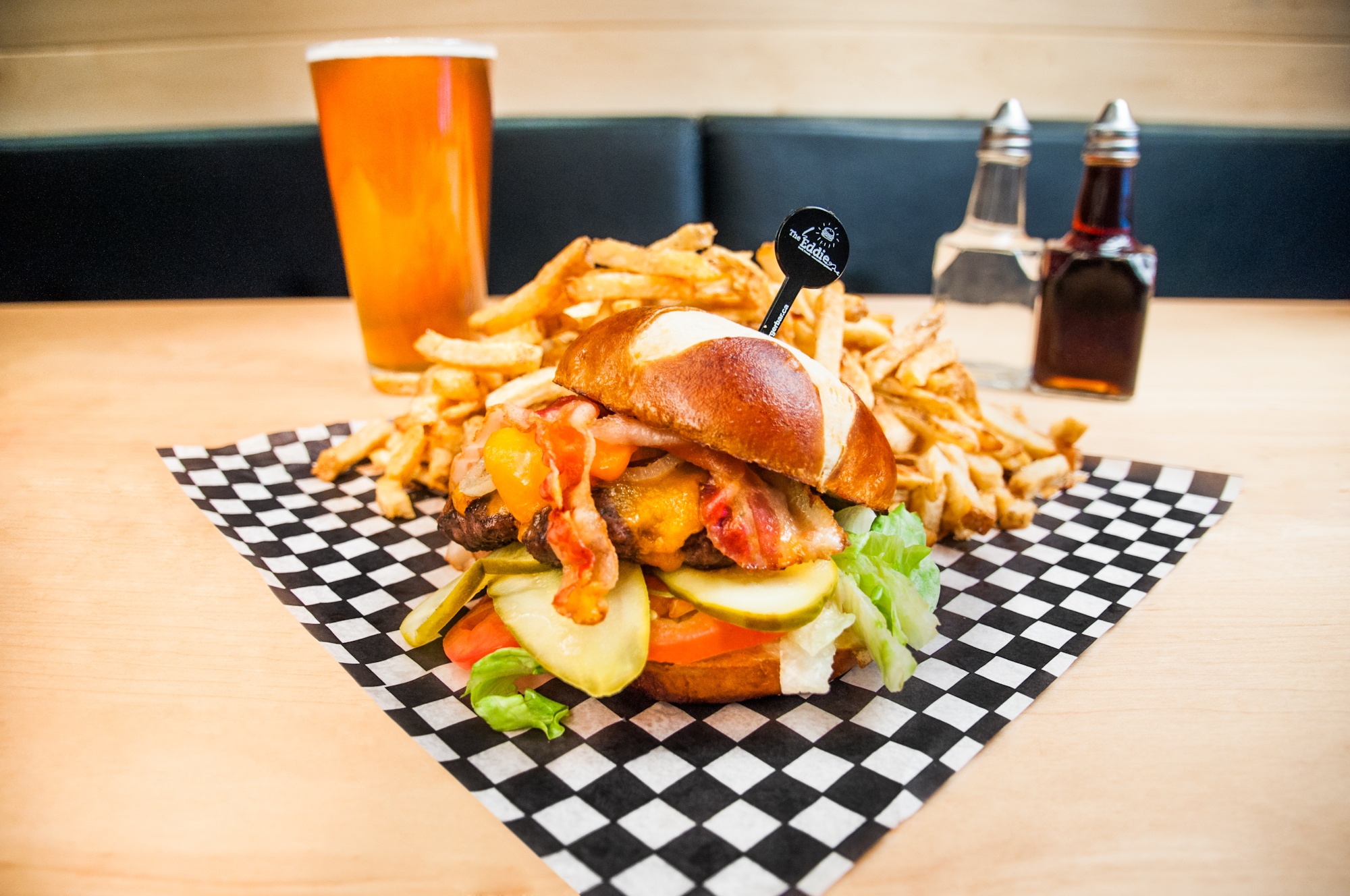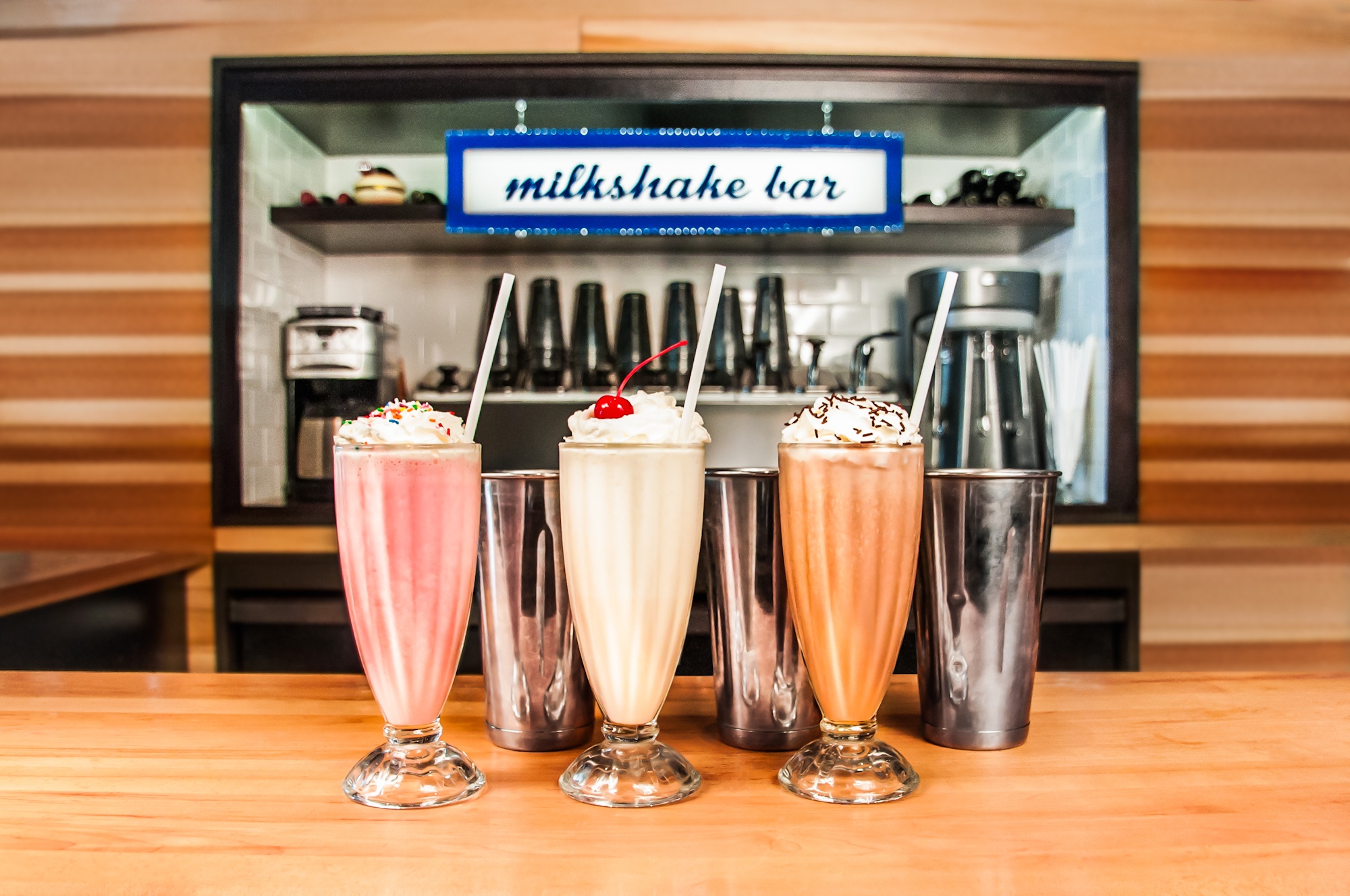 Location: 137 Banff Ave
Cuisine: Burgers
Price: $$
If you're after the best burger in town than The Eddie Burger Bar is naturally the spot, unless you're in Canmore. It's a small bar that fills up pretty fast so you'll either have to wait or get their early. It's great for small groups looking for a burger. The Eddie Burger Bar is definitely more or a bar so probably not as family-friendly as other restaurants in Banff. They serve up tasty milkshakes, mouthwatering burgers, and of course poutine.
---
The Grizzly House
Location: 207 Banff Ave
Cuisine: Fondue / Steak House
Price: $$$
If you can't tell by its exterior The Grizzly House is a little quirky. However, the food here is delicious and they do offer some great fondue. While we're on fondue if you're surprised to find it at so many restaurants in town it's due to the Swiss mountaineers who helped pioneer the mountaineering in the Canadian Rockies. The Swiss influence is easy to find throughout Banff National Park.
The fondue experience is paired followed by a meat course that has a wide selection from beef to elk, bison, or even ostrich. Similar to the fondue they bring out a pot of oil to cook the meats at your table. To drive home that Swiss influence, even more, they finish off the meal with a Toblerone fondue. The one downside to this feast is you'll leave stinking like food.
---
The Maple Leaf Grill and Lounge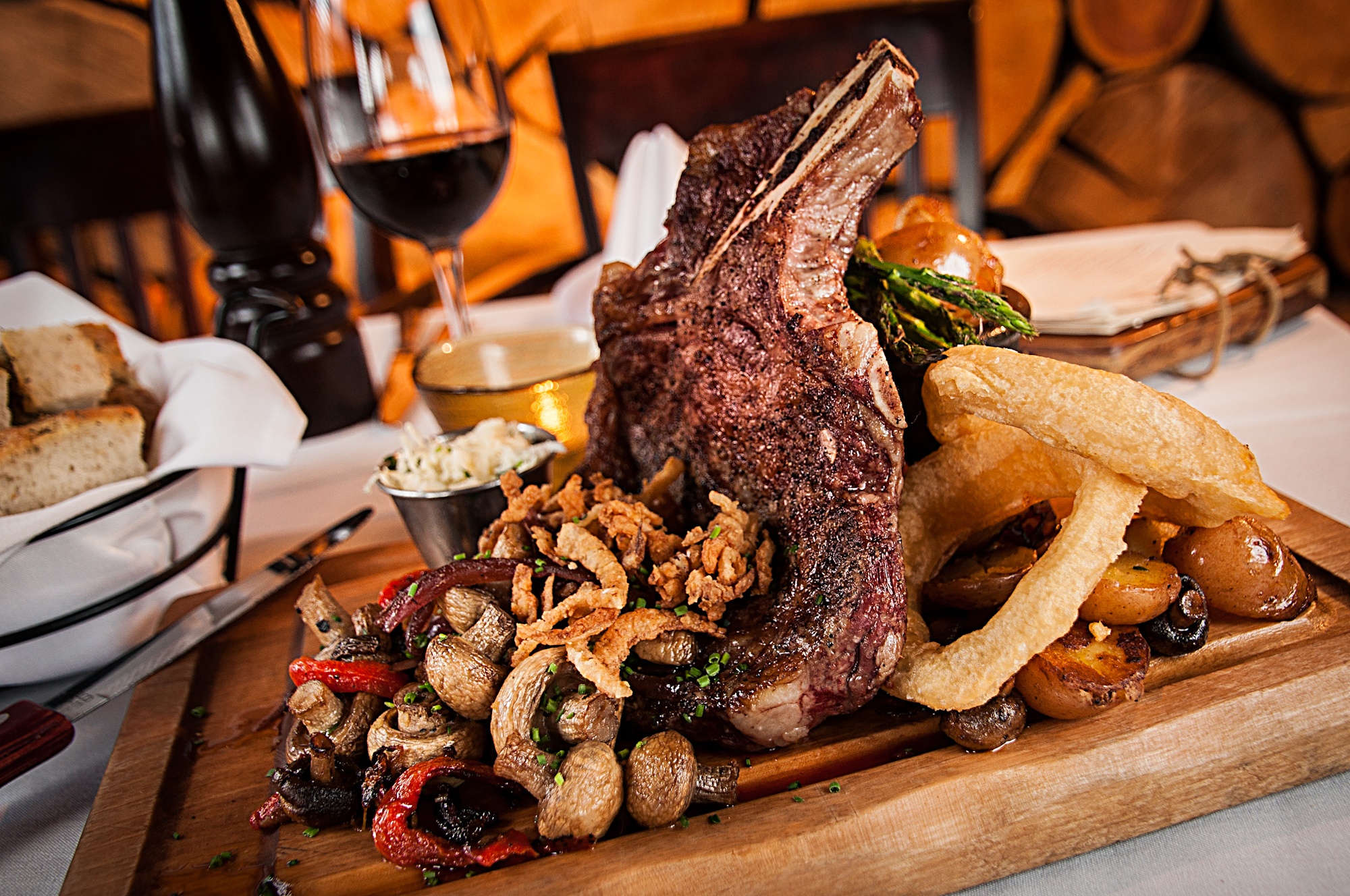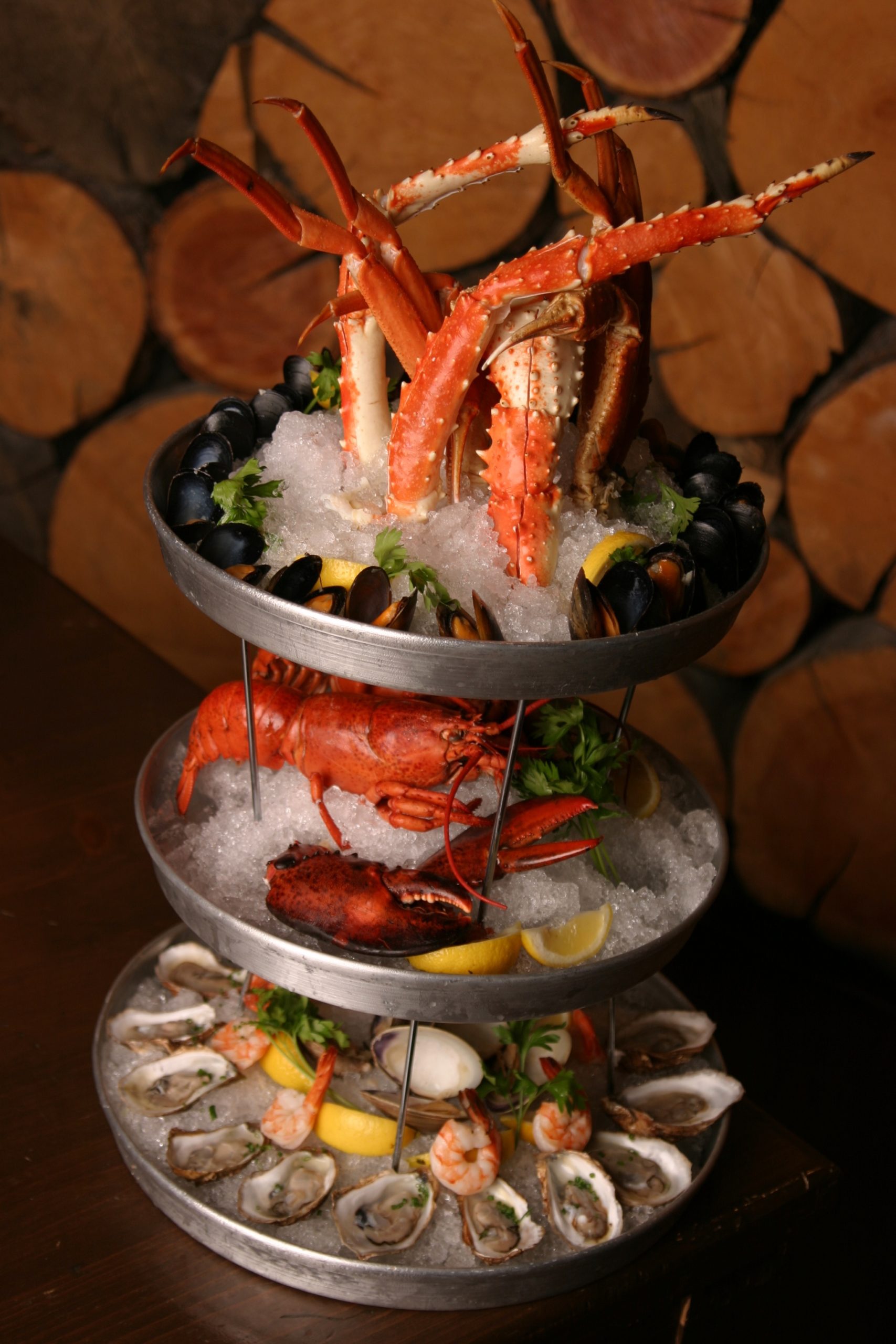 Location: 137 Banff Ave
Cuisine: Canadian/Americana
Price: $$$
The Maple Leaf Grill and Lounge has a warm mountain atmosphere with a lot of Canadian Inspired dishes. They use local Canadian ingredients such as an Alberta beef ribeye and or maple dijon B.C. salmon. Steaks are a real specialty here along with their impressive seafood towers. An extensive wine list is great to pair with your meal. You can expect great service and delicious food here in a cozy atmosphere.
---
Sky Bistro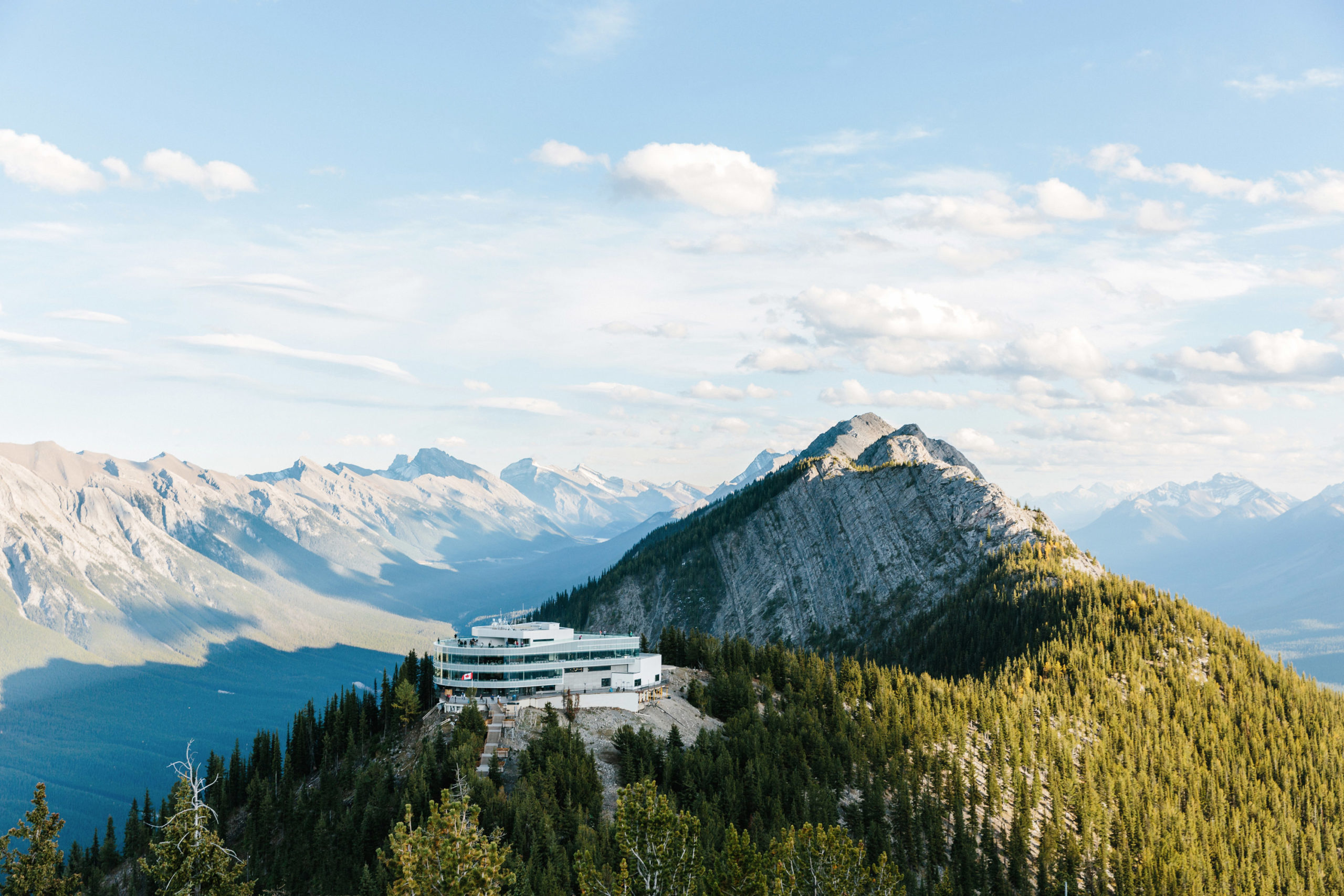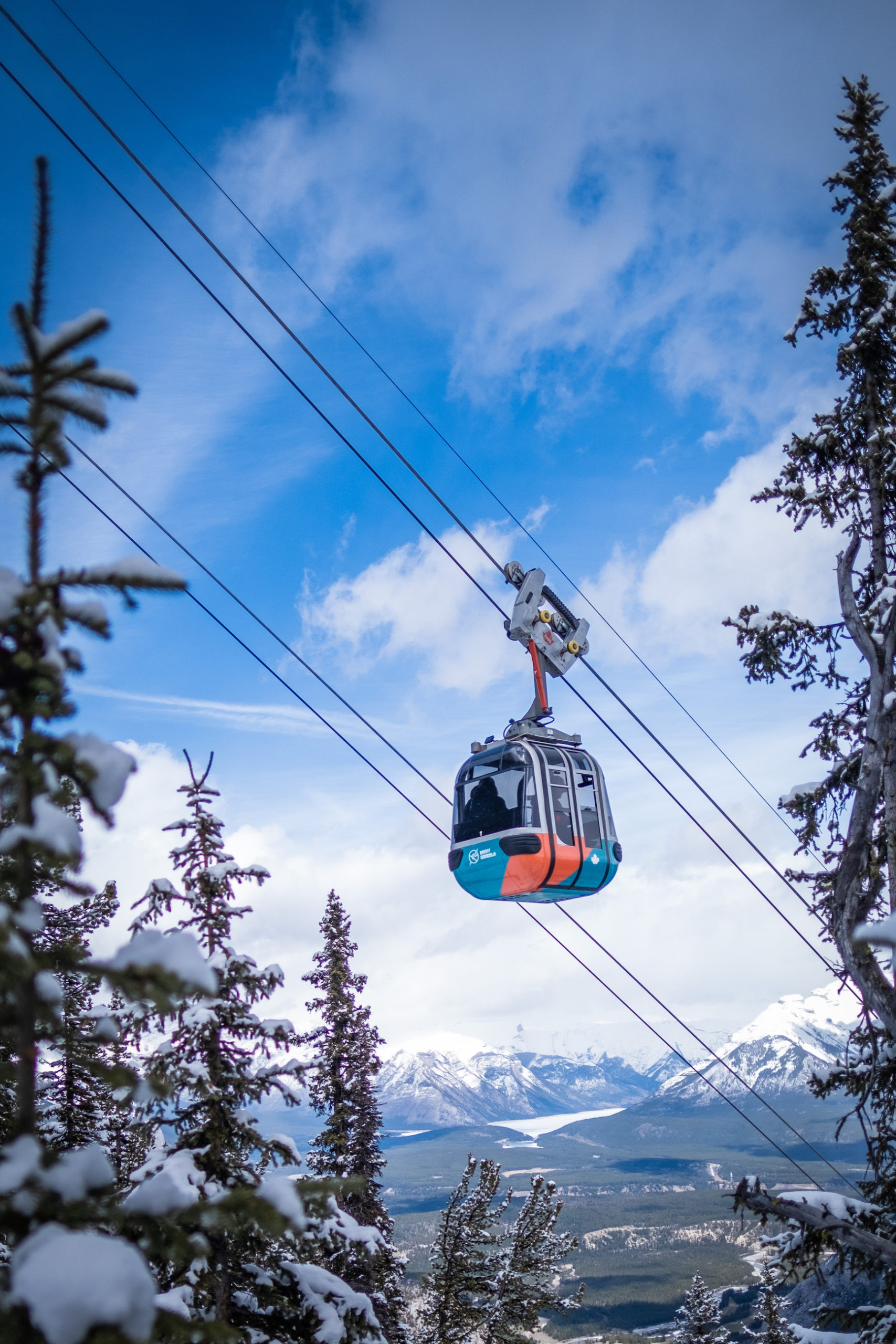 Location: Banff Gondola Summit
Cuisine: Canadian
Price: $$ – $$$
For most jaw-dropping views from a restaurant in Banff, you can not do better than the Sky Bistro at the top of Banff Gondola. The restaurant operates on a "farm to summit" premise and when available sources as many local ingredients as possible. If you book one of their dining experiences it's a pretty good deal if you had plans to head up the Banff Gondola anyways.
They offer two unique combo tickets one a day time Banff lunch for around $85 and the other their "Northern Lights Experience" for around $69. Keep in mind they do use dynamic pricing based on demand, so it's possible you find different price points. We've never done the experience personally. However, it has great reviews and we've climbed to the top of Sulphur Mountain many times and can attest to the view.
---
Nourish Bistro
Location: 211 Bear Street
Cuisine: Vegetarian
Price: $$
If you're after some delicious vegetarian food you can't do better than Nourish Bistro. Most of the restaurants in town have at least have a couple vegetarian options, Nourish Bistro is dedicated to vegetarian food so you'll be spoilt for options.
It's amazing vegetarian food that is in more the line of a gourmet restaurant with a wide range of creative dishes. There are also options for vegan, raw, and gluten-free dietary requirements as well. To top it off they craft cocktail menu with a number of wonderful drinks. Head to this Banff restaurant if you're in search of a healthy meal!
---
Saltlik
Location: 221 Bear Street
Cuisine: Steakhouse
Price: $$$
Saltlik is one of two great steakhouses in town. They deliver sumptuous high quality certified Angus Beef and a nice selection of tasty sides. On the menu, you'll find cuts like filet mignon, bison tenderloin, and ribeye.
Sides are a real plus with options like truffle mac & cheese, maple roasted brussels sprouts, or lobster mashed potatoes. The interior is mountain modern and to pair with your steak you'll a nice selection of cocktails.
---
Balkan Restaurant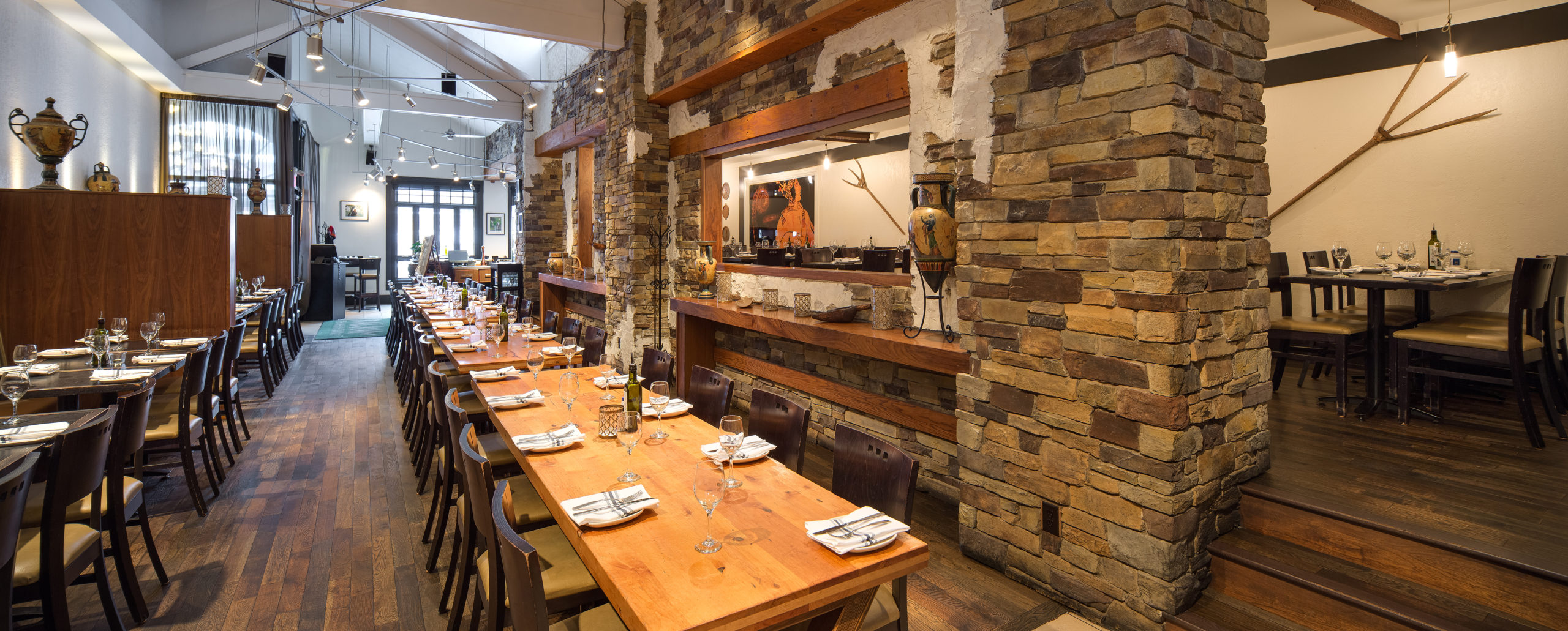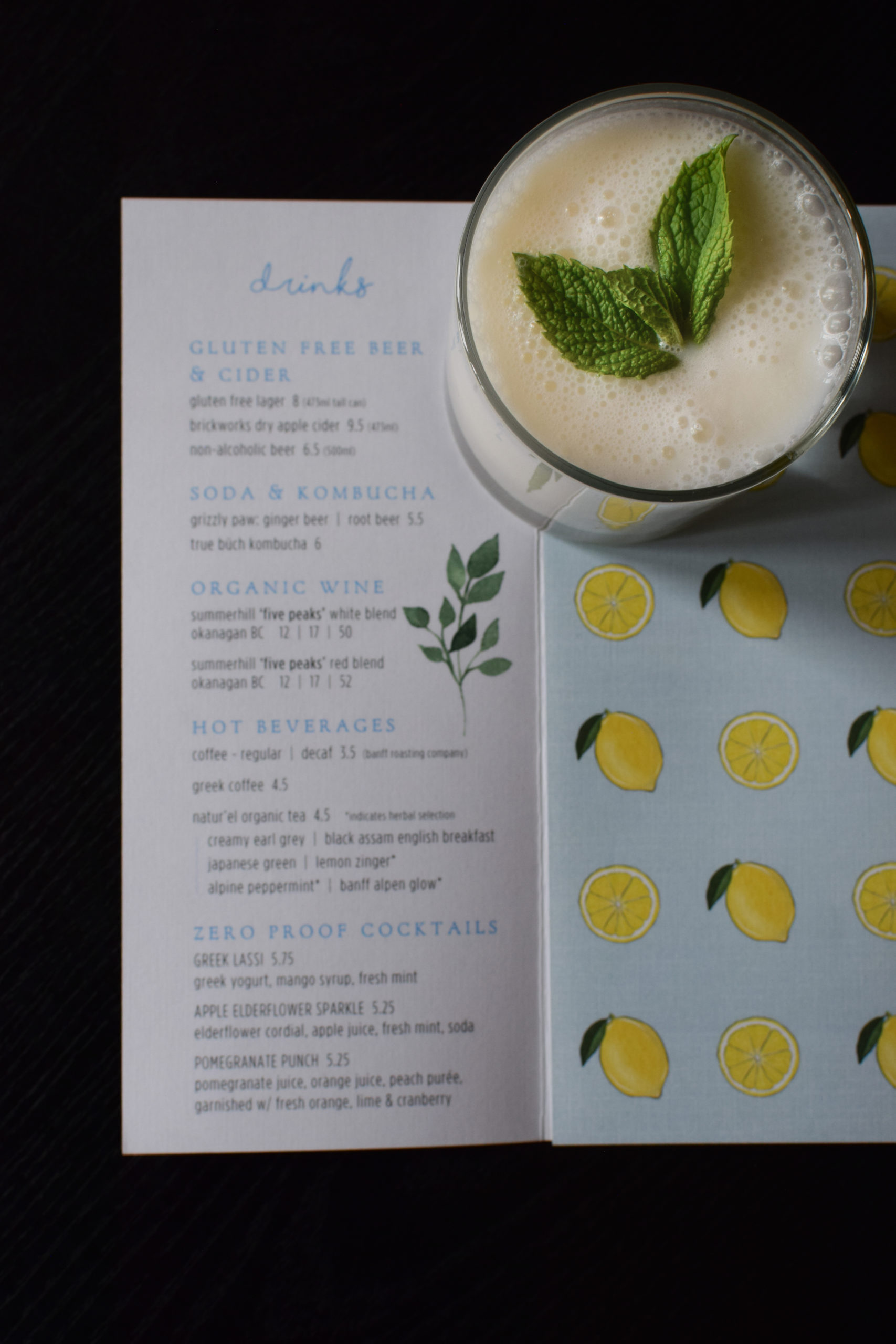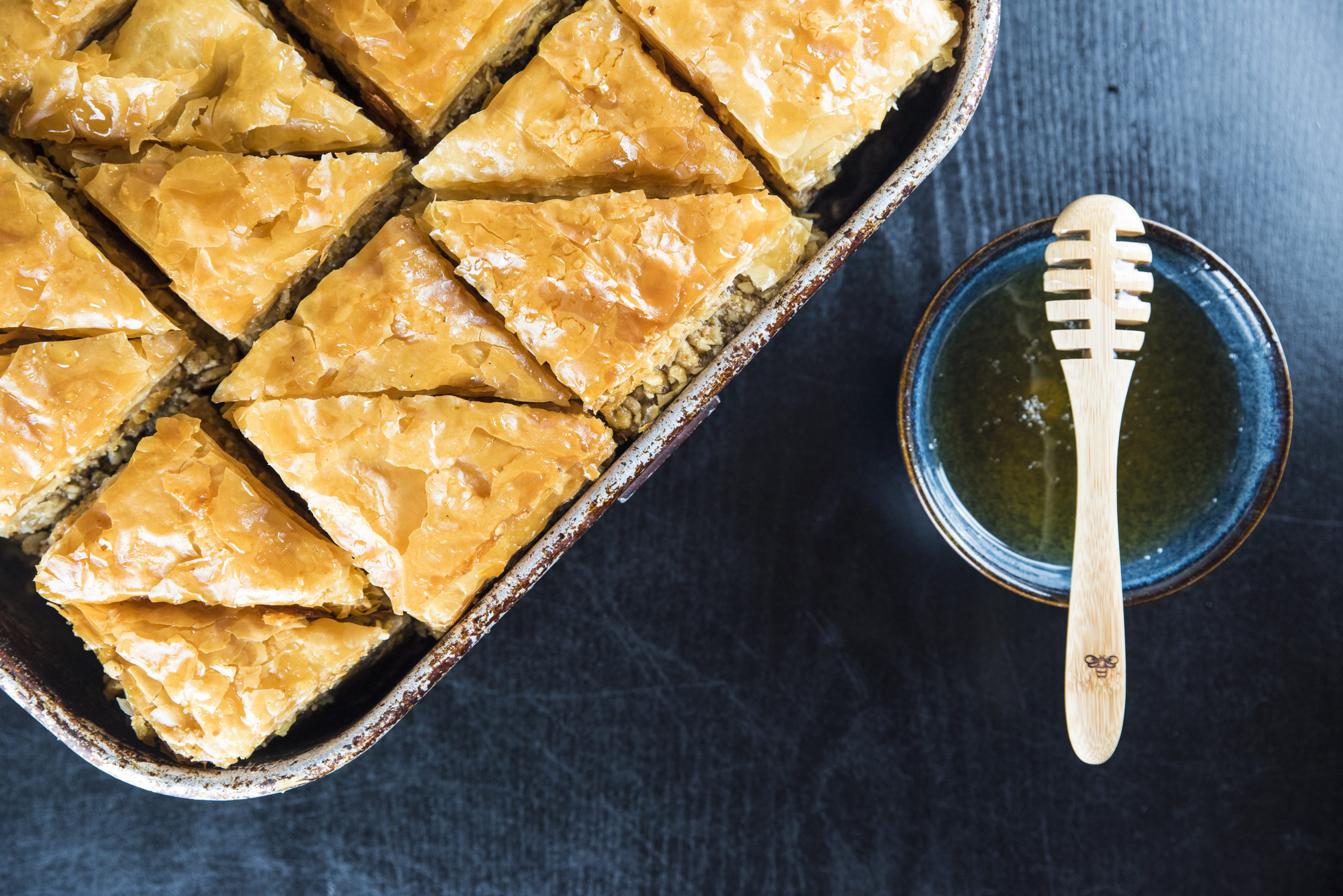 Location: 120 Banff Ave
Cuisine: Greek
Price: $$
We love Greek food and the best place to find it in town is the aptly named Balkan Restaurant. You'll find all the usual fixings such as homemade pitas, gyros, greek salad, and baklava. It's a large restaurant so it's great for large families or groups.
A particular highlight is the greek fries, saganaki, and gyros. Every Tuesday and Friday night they host a Greek Night with live entertainment belly dancing, ouzo, and plate smashing.
---
Tooloulous
Location: 204 Caribou Street
Cuisine: Cajun
Price: $$
This is an unassuming spot because not many expect to find cajun food in the Canadian Rockies and the restaurant has an unassuming decor. However, Tooloulous has some solid cajun food on offer and serves up some of the best breakfast in Banff.
Expect spicy food and lots of comfort food items. Since I'm from the South I always love some good comfort food, like tasty cornbread. Prices are pretty affordable too when you consider Banff can be pretty expensive for dining.
---
Chuck's Steakhouse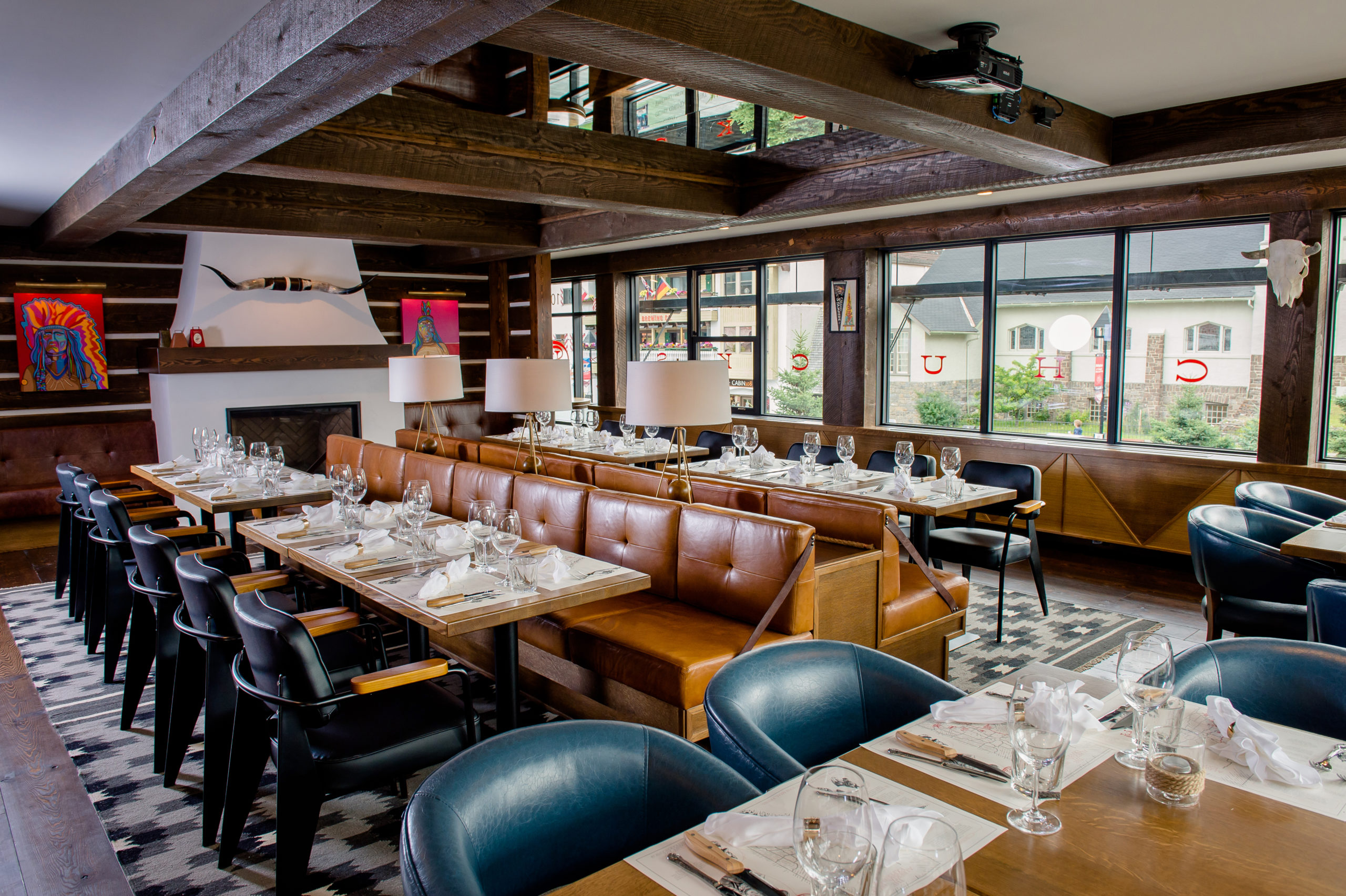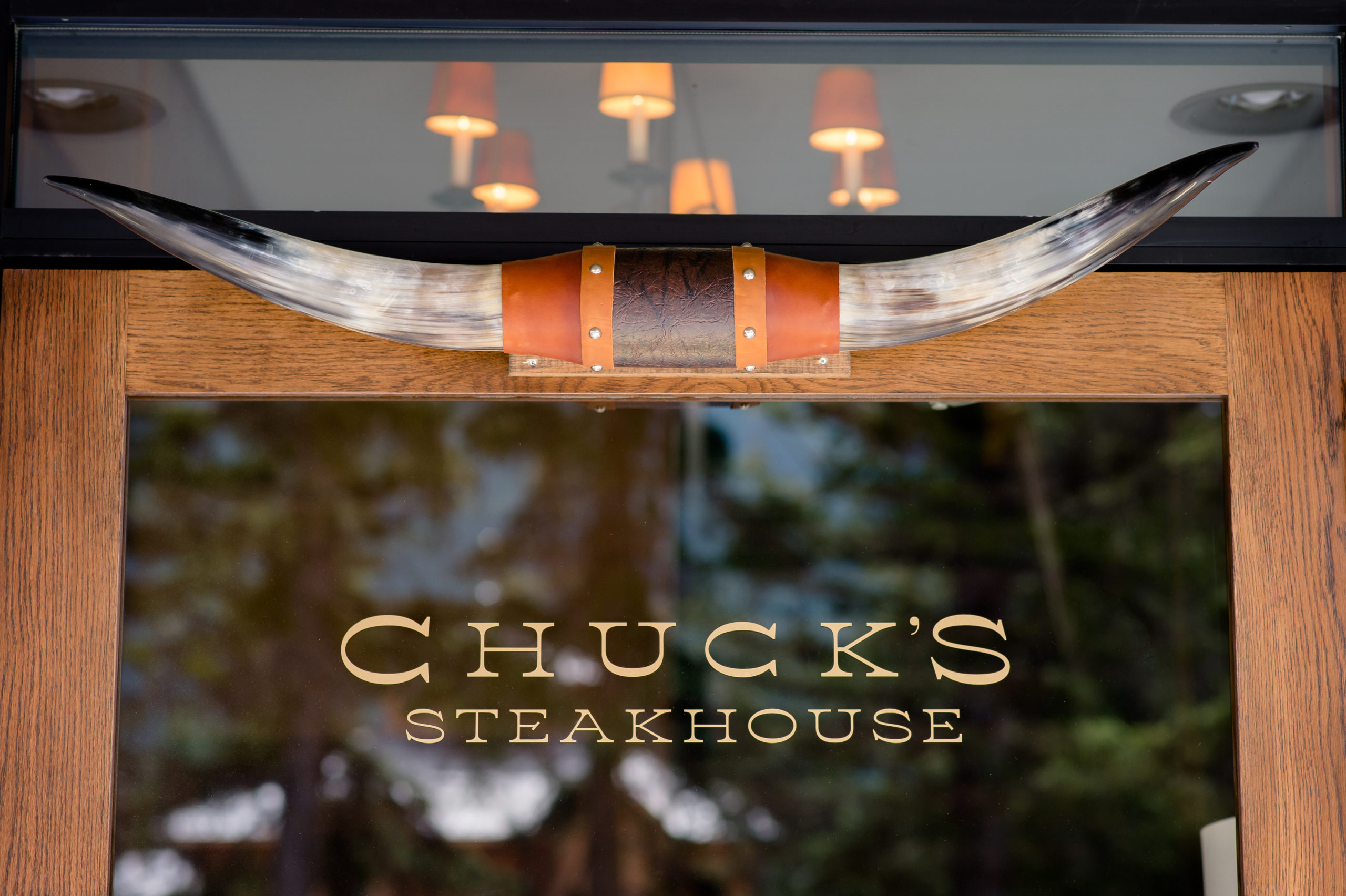 Location: 101 Banff Ave
Cuisine: Steakhouse
Price: $$$-$$$$
Chuck's Steakhouse is one of two great steakhouses in town. It's arguably the best steakhouse in town. That being said we prefer the location and dining room of Chuck's Steakhouse. Its decor includes eclectic cowboy artifacts with exposed wood and plush leather, a fresh look that remains rustic and at home in Alberta.
They use high-quality steaks and beef and the price reflects that quality. However, it's all perfectly done with a wide selection of cuts and a delicious spread of sides. Complimen the meal with one of the most extensive wine lists in town.
---
The Waldhaus Restaurant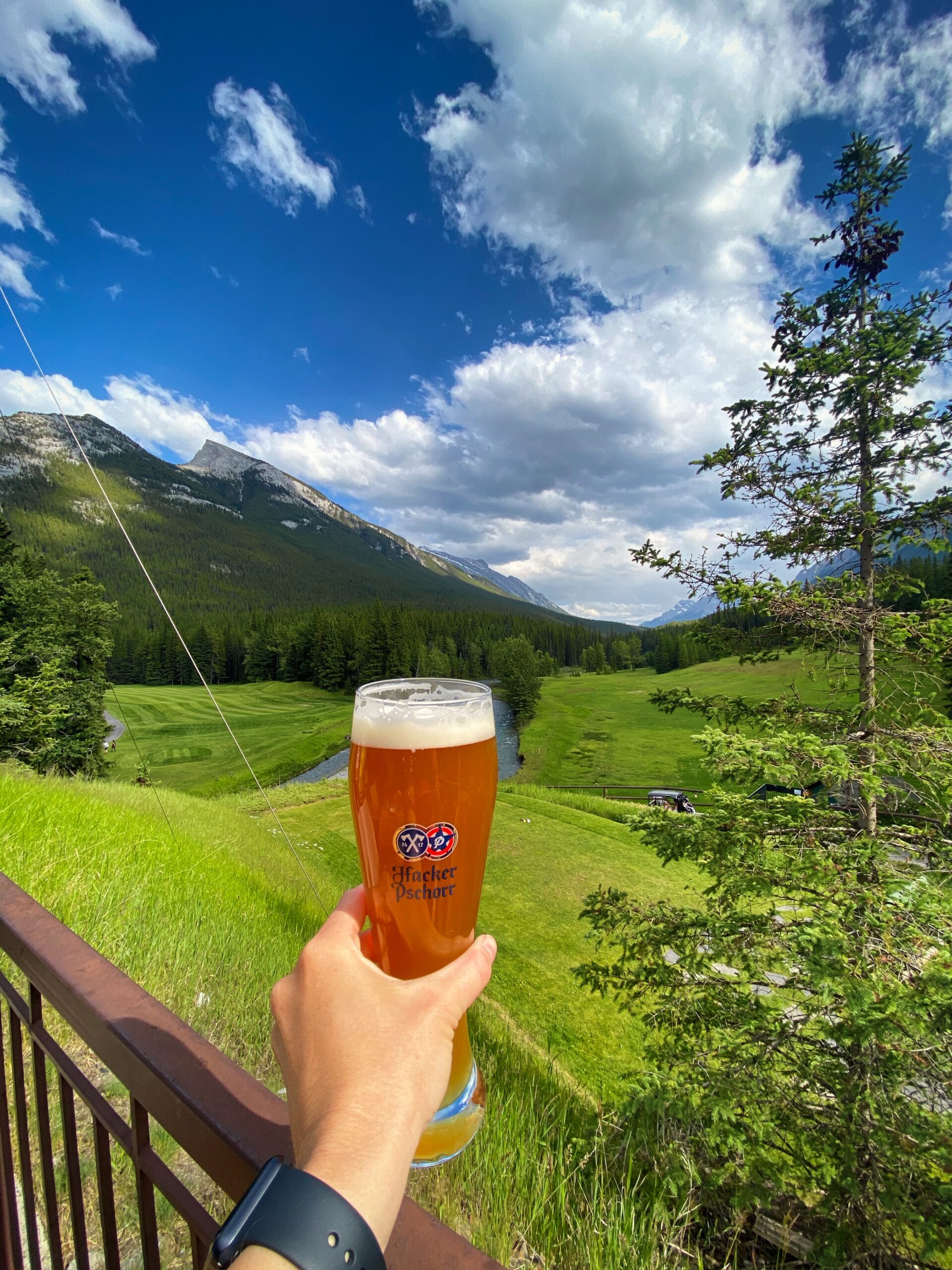 Location: Banff Springs
Cuisine: Fondue
Price: $$$-$$$$
If you're after a more refined setting that celebrates Banff's Swiss connections check out the Banff Spring Hotel Waldhaus Restaurant for fondue. They serve an incredible Alpine Cheese Fondue for $88 that consists of gruyere, emmental, kirsch, and white wine.
We love fondue in the mountains it's particularly on a cold evening as it's tough to beat the hearty calorie-rich mountain food. We also love it for the german beer and amazing views on a summer afternoon! It's the perfect spot for a scenic Banff lunch!
---
Three Ravens Restaurant and Wine Bar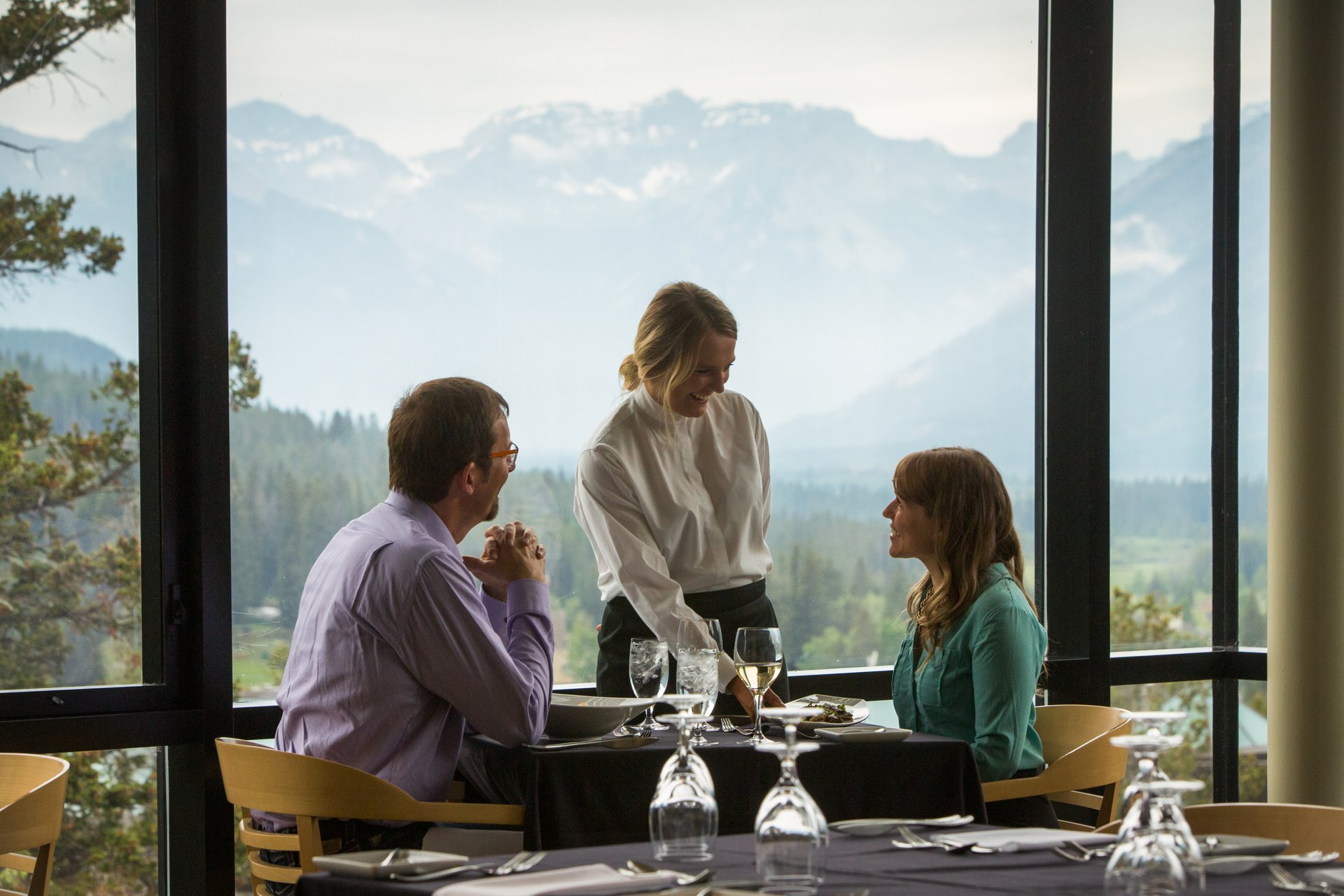 Location: 107 Tunnel Mountain Dr
Cuisine: Wine / Bistro
Price: $$$
Fantastic service, excellent food, great views, and an extensive wine menu is just outside the main part of town the Three Ravens Restaurant and Wine Bar. It's been rated a top restaurant in Canada a few times over including making Opentable's top 100 list. It's a great restaurant for a romantic night with wonderful views. Call ahead and ask for a reservation around by the window if you want to woo over your significant other.
Travel Planning Resources
Packing Guide — Check out our Banff packing list to help pack your bags and ensure you don't leave anything at home.
↓ Join the community ↓
The Banff Blog Facebook Group is your headquarters for the Canadian Rockies travel advice and information. Including hike info and off-season travel information. This is also a place where you can meet one another when you're in need of adventure buddies.