Visiting Banff in the summer season comes with endless perks when considering everything the warm months have to offer, but the plethora of fun Banff patios in this bustling mountain town is a summer highlight. In this article, we share the best Banff patios that must be added to your summer trip itinerary.
Banff is known for its endless mountain adventures and scenic landscape, but the vibrant restaurant scene in Banff should not be overlooked. Banff's downtown core offers a patio to suit every visitor, whether it's for the unbeatable view, tasty eats and brews, or all-around ambiance – find your ideal Banff patio in this article!
---
The Best Banff Patios
---
Rose and Crown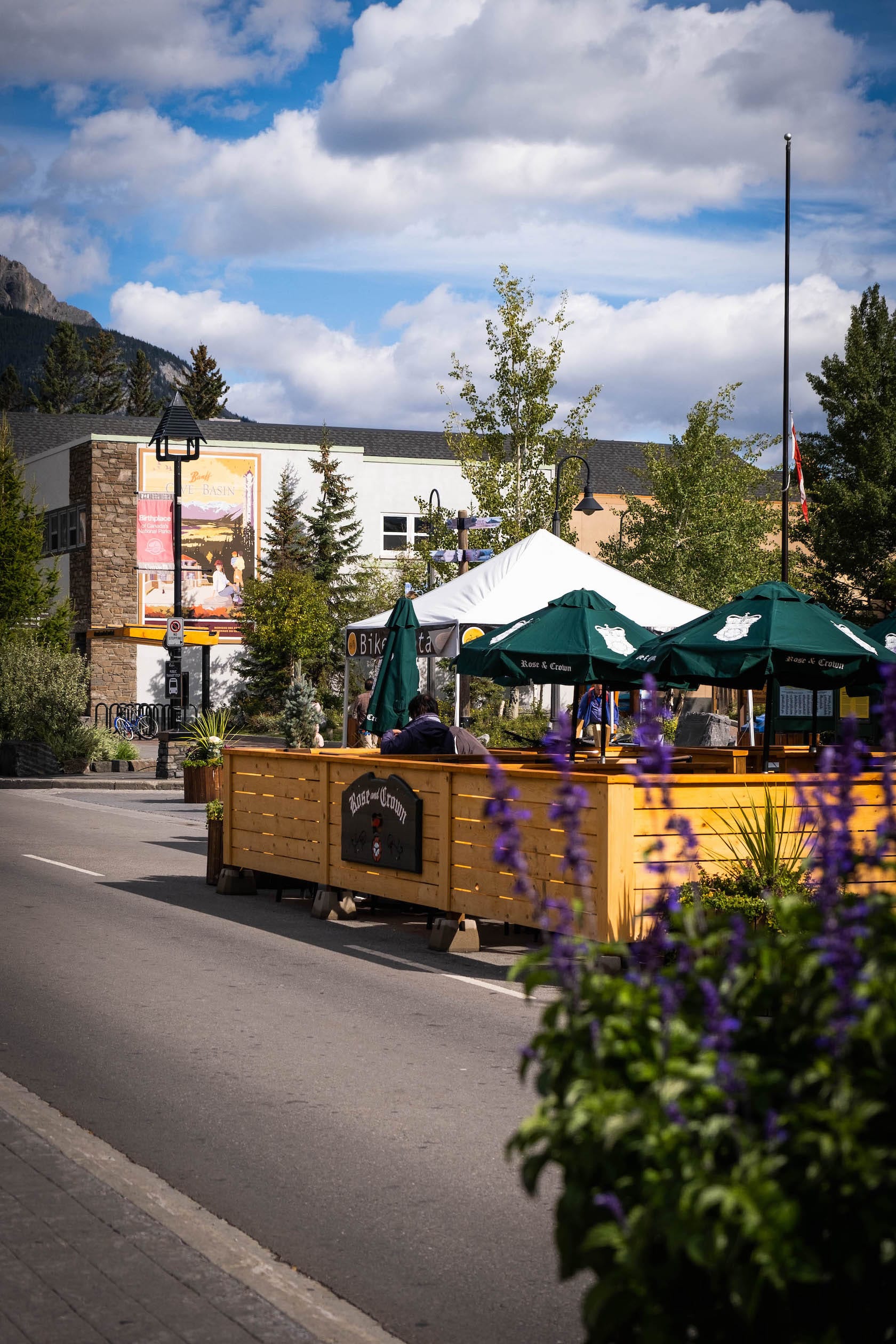 Location: 202 Banff Ave
Cuisine: Bar Food
Price: $$
Wheelchair Accessible?: No
At the top of my Best Banff Patios list is the rooftop patio offered by Rose and Crown. This third-story roof top offers 360-degree views from every table, allowing you to enjoy each of the infamous Banff mountains while you sip on a summer cocktail. This rooftop patio easily offers one of the best views in the town of Banff.
This restaurant offers a casual, laid-back vibe that is perfect for enjoying a refreshing beverage or pub-food style lunch on a summer day. The food offered by Rose and Crown covers a wide range, making it a great spot for larger groups or families with young kids – everyone should be able to find something on this casual menu.
The Rose and Crown offers daily drink and food features and specials that change every day, which are always worth checking out.
---
The Juniper Bistro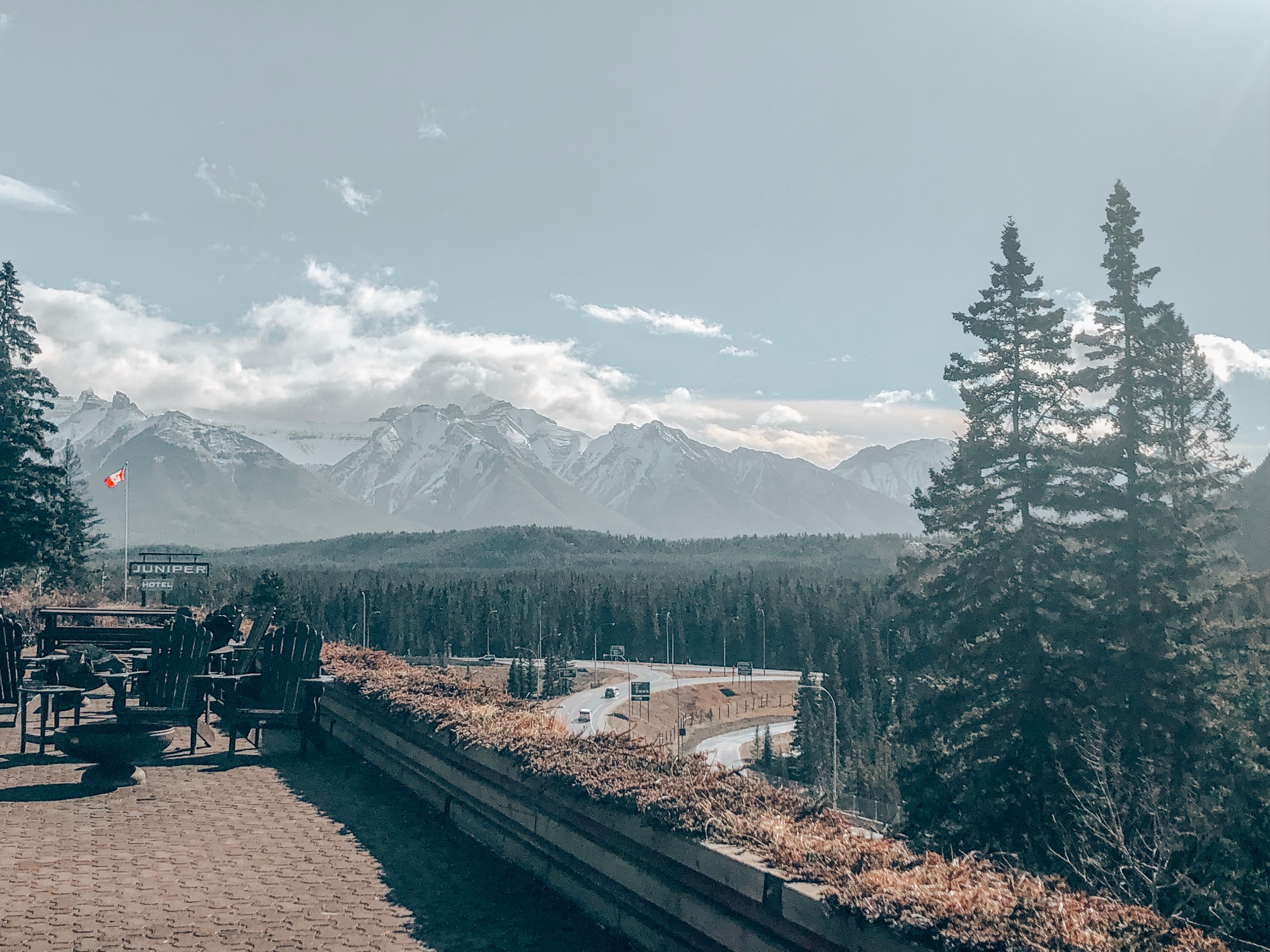 Location: 1 Juniper Way
Cuisine: Canadian
Price: $$ – $$$
Wheelchair Accessible?: Yes
The Juniper Bistro located at the Juniper Hotel offers a secluded, picturesque patio that often goes unnoticed by Banff's many visitors. The Juniper's patio arguably offers the best brunch location in Banff – from their delicious, local menu to the views of the surrounding landscape, this patio is a must-visit.
Since it's located just beyond walking distance from the town of Banff, at the base of Mount Norquay, this patio is often referred to as Banff's hidden gem. When visiting this patio, you get a taste of how the locals live. With tall, lush trees hiding the patio from the highway, and the perfect mountain backdrop in the distance, this is easily one of the best Banff patios.
The Juniper offers an award-winning brunch and dinner menu featuring plenty of traditional Canadian food, made from locally and sustainably sourced ingredients. The Juniper Benny from their brunch menu is a must-try! Check out this full-article of the Juniper Hotel and Bistro.
---
Waldhaus Patio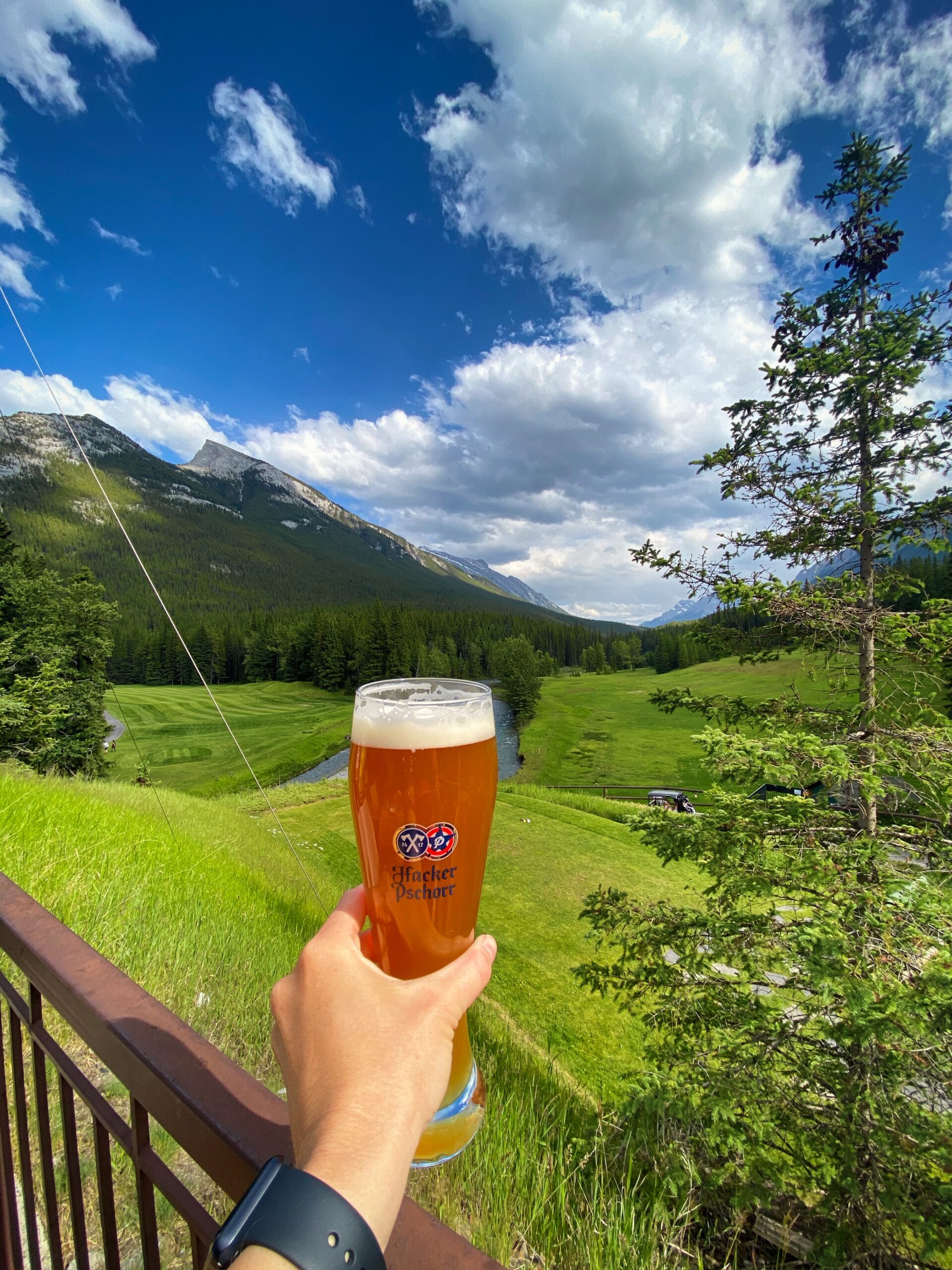 Location: Banff Springs
Cuisine: German-Inspired
Price: $$$-$$$$
Wheelchair Accessible: No
The Waldhaus Patio is located at the cozy, yet elegant, cottage in the woods of the Fairmont Banff Springs Hotel. This unique dining location is off the beaten path, and often overlooked by many due to its refined setting.
The Waldhaus offers unique German-style cuisine, with a special focus on fondue. Enjoying their Alpine Cheese Fondue is a fun, involved way to connect with friends in this relaxing environment. The patio offers scenic views of Mount Rundle and the Bow River, while overlooking the infamous Banff Springs Golf Course.
One of our favorite things to do in the summer is ride our bikes from Canmore to Banff and finish with a beer here! Do not miss the opportunity to indulge in the unique experience offered by the patio.
---
Three Bears Brewery and Restaurant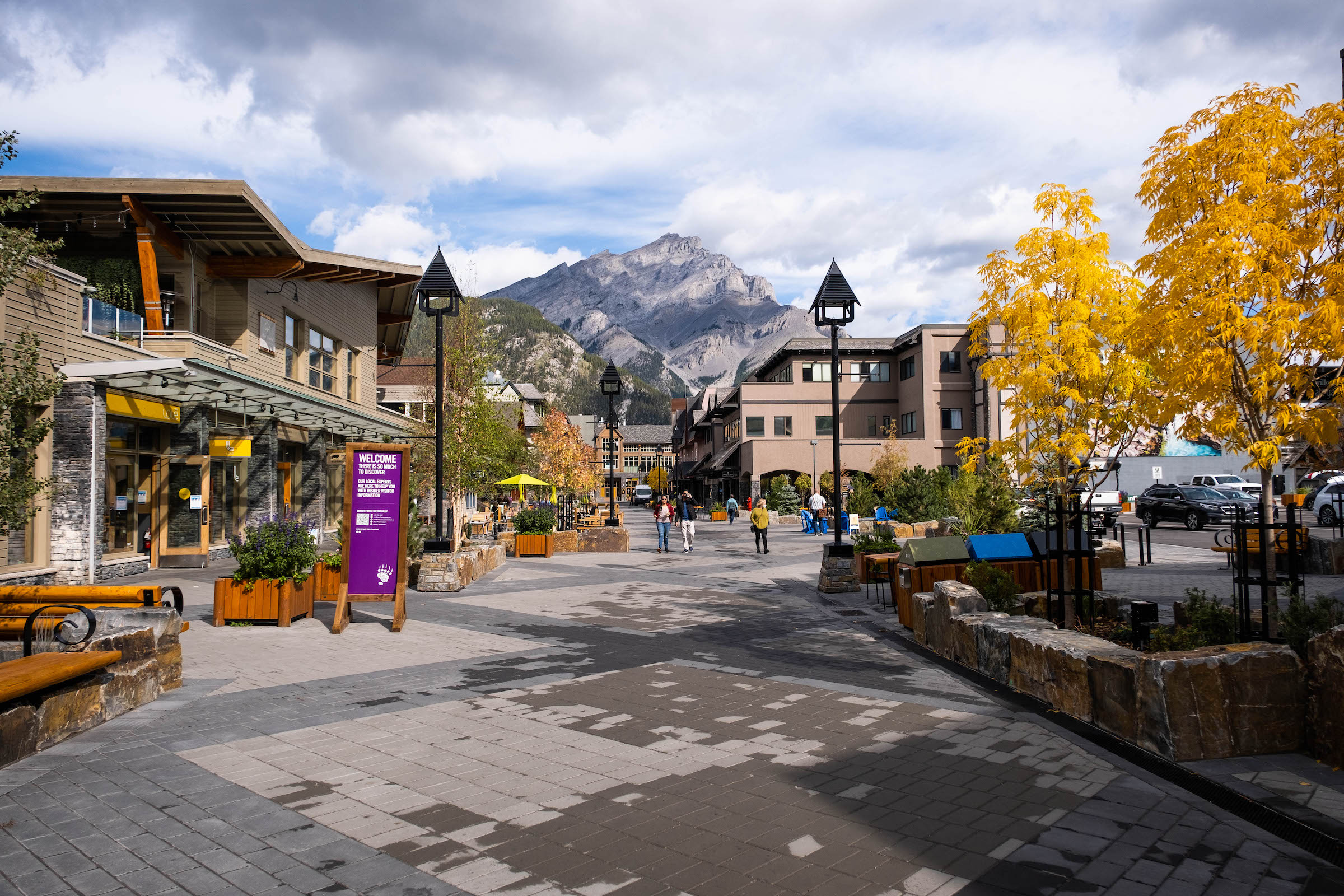 One of the newest breweries in the Canadian Rockies is Three Bears, right on Bear Street. One block away from Banff Avenue, strolling Bear Street is one of the best things to do in Banff.
This is a pedastrian-only street with cute art galleries, shops, and restaurants galore. Three Bears has a fabulous patio that is perfect for taking in the views of Cascade. They have some fun and quirky brews on tap and their pizzas are to die for!
---
Elk and Oarsman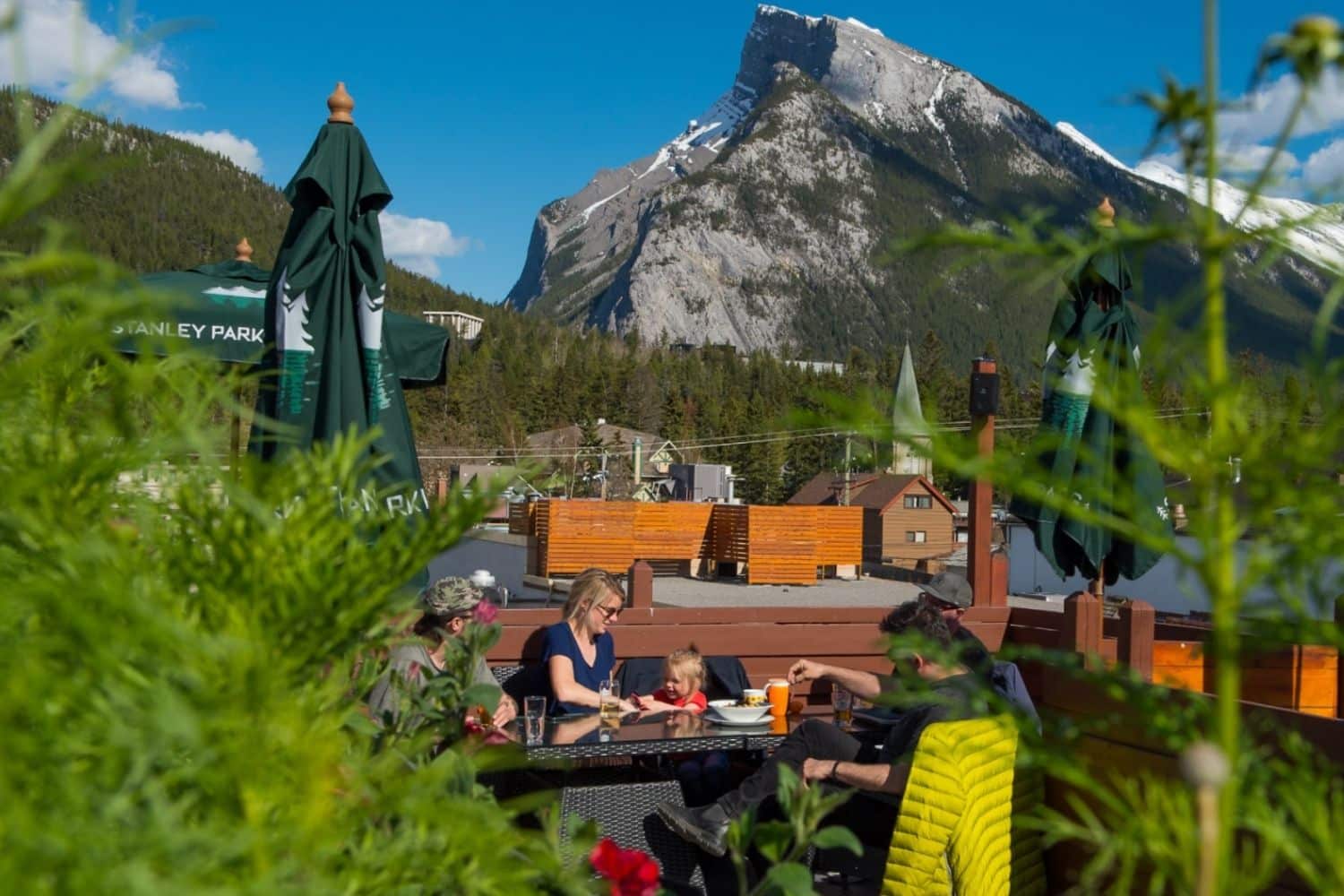 Location: 119 Banff Ave
Cuisine: Bar Food
Price: $$
Wheelchair Accessible?: No
The Elk and Oarsman offers a similar patio as the Rose and Crown – a third-storey, rooftop patio with epic views. This patio puts you above the hustle of Banff Ave, giving you 360-degree views of the surrounding mountain landscape.
"The Elk," as the locals refer to it, offers a casual menu, from bar snacks to a burger bar – be sure to try their Elk Burger for a truly local experience. This is the perfect spot to share appetizers and drinks with friends after your mountain adventures, or to watch the town light up at night over dinner.
---
Banff Ave Brewing Co.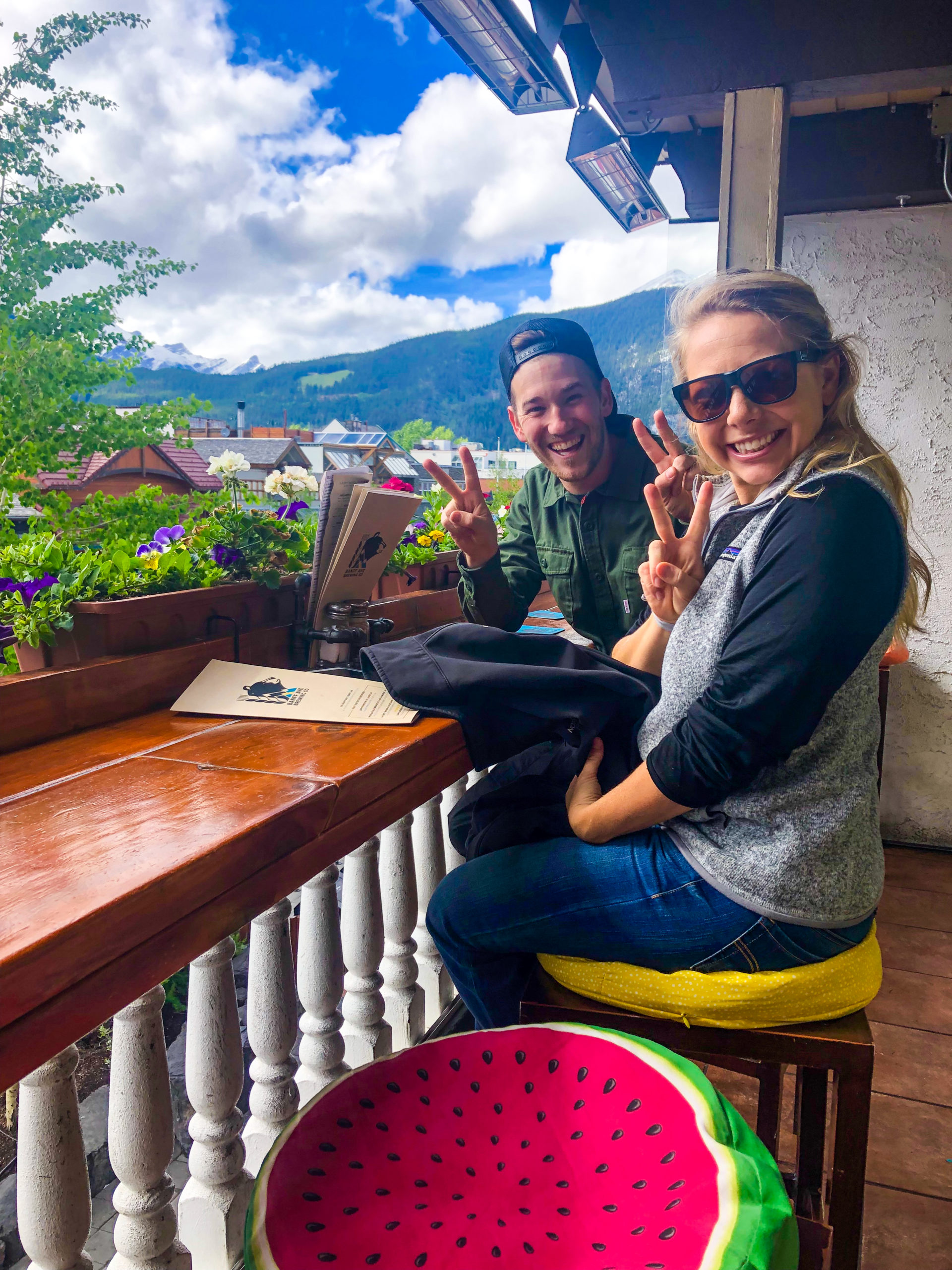 Location: 110 Banff Ave
Cuisine: Pub Food
Price: $$
Wheelchair Accessible?: Street-level patio is, second-story patio is not
The Banff Ave Brewing Co., also known as the Brew Pub by Banff locals, is the towns original brewery. The Brew Pub offers two unique patios on the infamous Banff Ave.
The brewery's main patio is their second-story balcony that faces Mount Norquay and looks out over the busy Banff Avenue – this patio only offers a few seats, so you may need some luck and patience to score one.
Over the last two summers, Brew Pub has also been able to host a street-level patio thanks to Banff Ave being pedestrian access only. This is a fun patio, with a handful of large picnic tables, that places you right in the heart of Banff Ave.
The Brew Pub offers delicious beer brewed on-site, with a casual menu that pairs well with the fresh pints. I'm sure most locals will argue that Brew Pub offers one of the best Banff patios in the summer season!
---
Chucks Steakhouse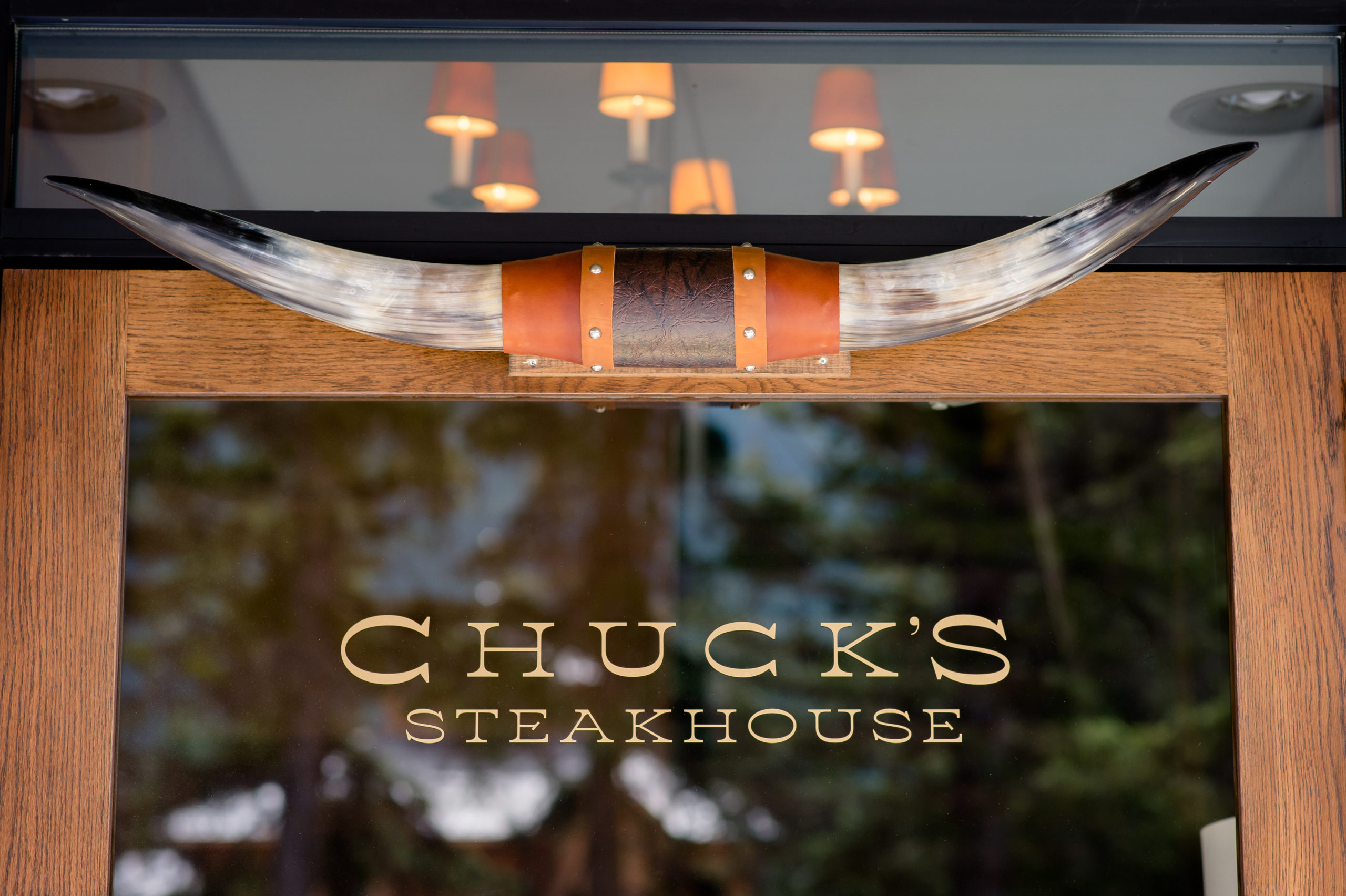 Location: 101 Banff Ave
Cuisine: Steakhouse
Price: $$$-$$$$
Wheelchair Accessible?: No
Chuck's Steakhouse is arguably the best steakhouse in town, with their cozy rooftop patio also adding them to the list of best Banff patios. Chuck's serves high-quality steaks and beef, with a wide selection of cuts and delicious sides. The style of this local restaurant encompasses the beauty of Alberta, from the décor to the dishes, to the servers.
The rooftop patio doesn't go unnoticed from Banff Ave, with its large canopies and glowing string lights. This is a romantic spot to enjoy an eclectic meal, as you take in the gorgeous view of Mount Rundle and Sulphur Mountain from this rooftop Banff patio.
---
Magpie and Stump's "El Patio"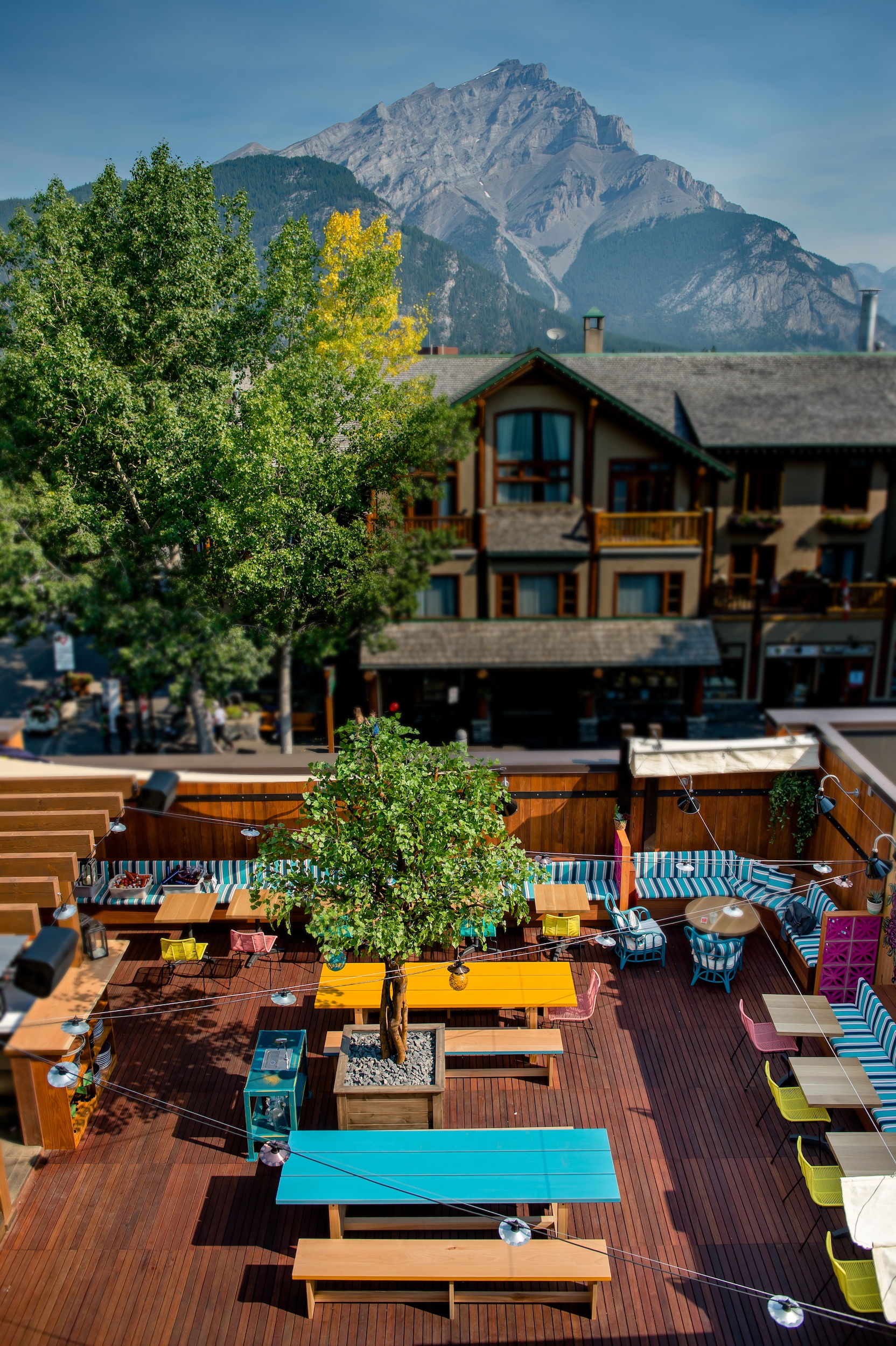 Location: 203 Caribou Street
Cuisine: Mexican
Price: $$
Wheelchair Accessible?: No.
If you are looking for the patio that offers the most upbeat, lively atmosphere in Banff, Magpie and Stump's El Patio is the spot to go. This bright and tropical rooftop patio offers you an island oasis in the heart of the Rocky Mountains.
With their Mexican-style menu, there is no better place to enjoy a margarita or an infamous "Bulldog". El Patio is always vibing with fun music, friendly staff, and happy customers. Grab a couple tacos and your favorite island-style drink to kickback for a perfect summer afternoon on one of the best Banff patios.
Just to note – this rooftop patio has walls built up on all sides, so this is not the best spot to go for mountain views. However, they have done an excellent job making this a prime-patio for other reasons!
---
Peak Patio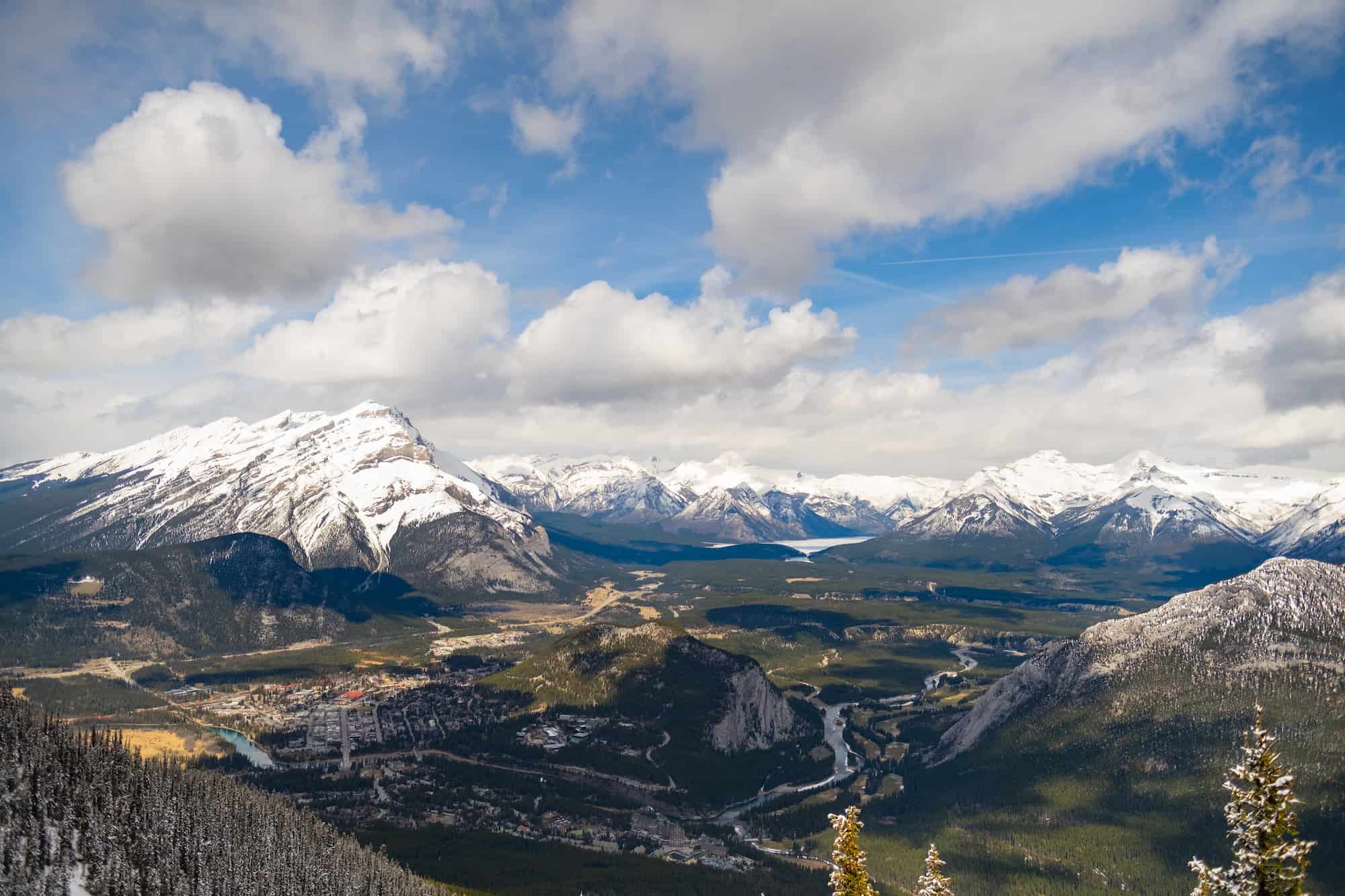 Easily the most unique patio in all of Banff, Peak Patio is located at the summit of Sulphur Mountain. To enjoy all that this patio has to offer, you will have to ride the scenic Banff gondola or test your endurance on the Sulphur Mountain hike. Once atop this famous Banff mountain, soak up the views of Banff from the incomparable Peak Patio.
Peak Patio is a stunning location to enjoy the sunset while you sip on a cocktail, wine, or beer, and enjoy a light bite to eat. This unique mountain top patio is a once in a lifetime experience, making it one of the best Banff patios that is a must-visit this summer season.
---
Bison Terrace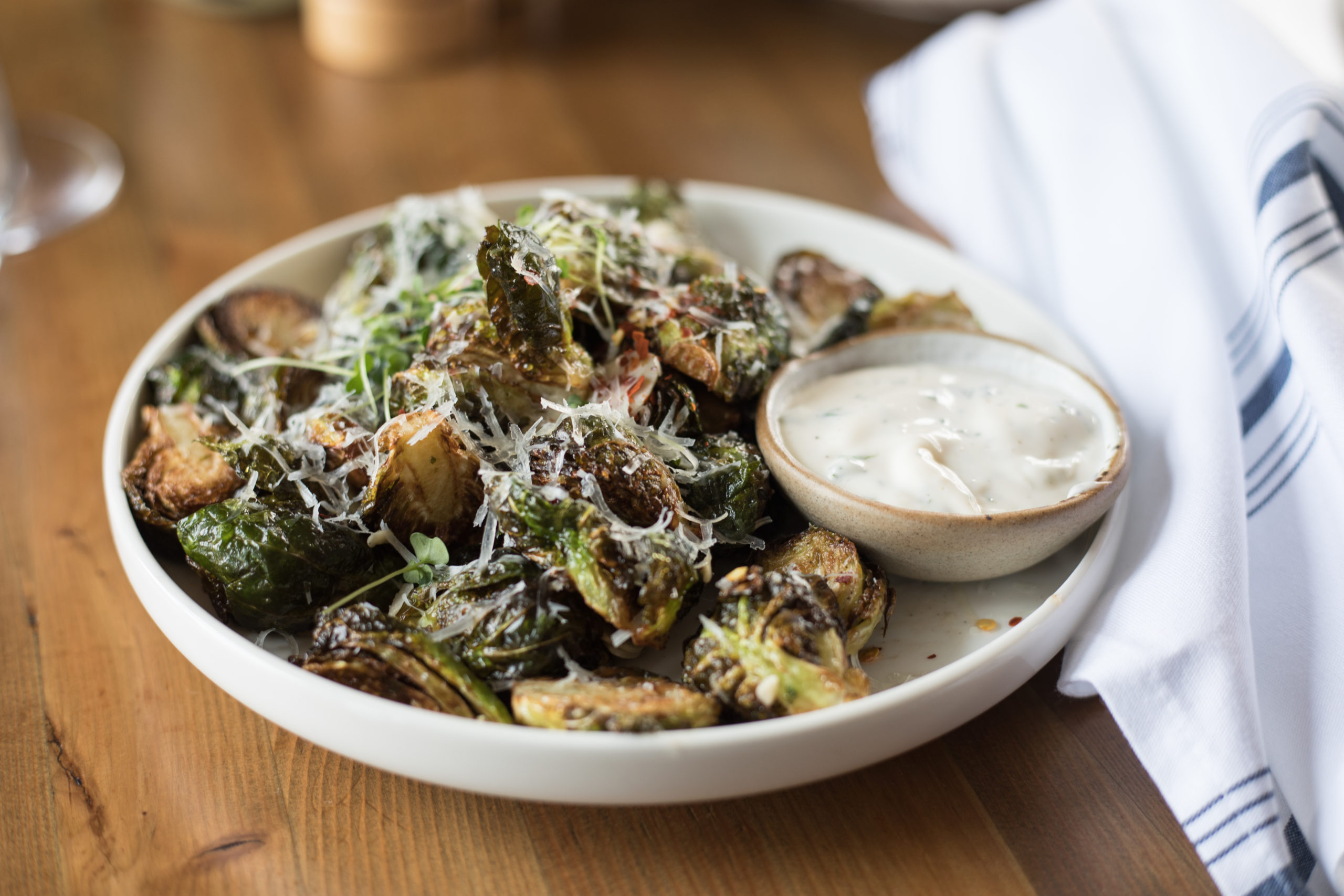 Location: 211 Bear Street
Cuisine: Canadian/American
Price: $$$
Wheelchair Accessible?: Main restaurant is, terrace unknown
The Bison offers impressive farm-to-table dishes inspired by local ingredients that suit each season. This extensive menu is only made better by their stylish rooftop terrace. Atop The Bison terrace, enjoy mountain views and a vibrant atmosphere.
The rooftop terrace overlooks the newly updated Bear Street, where night life is calm yet exciting. With a welcoming ambiance and Mount Rundle vistas, what better place to enjoy one of the most creative menus in Banff.
---
Maclab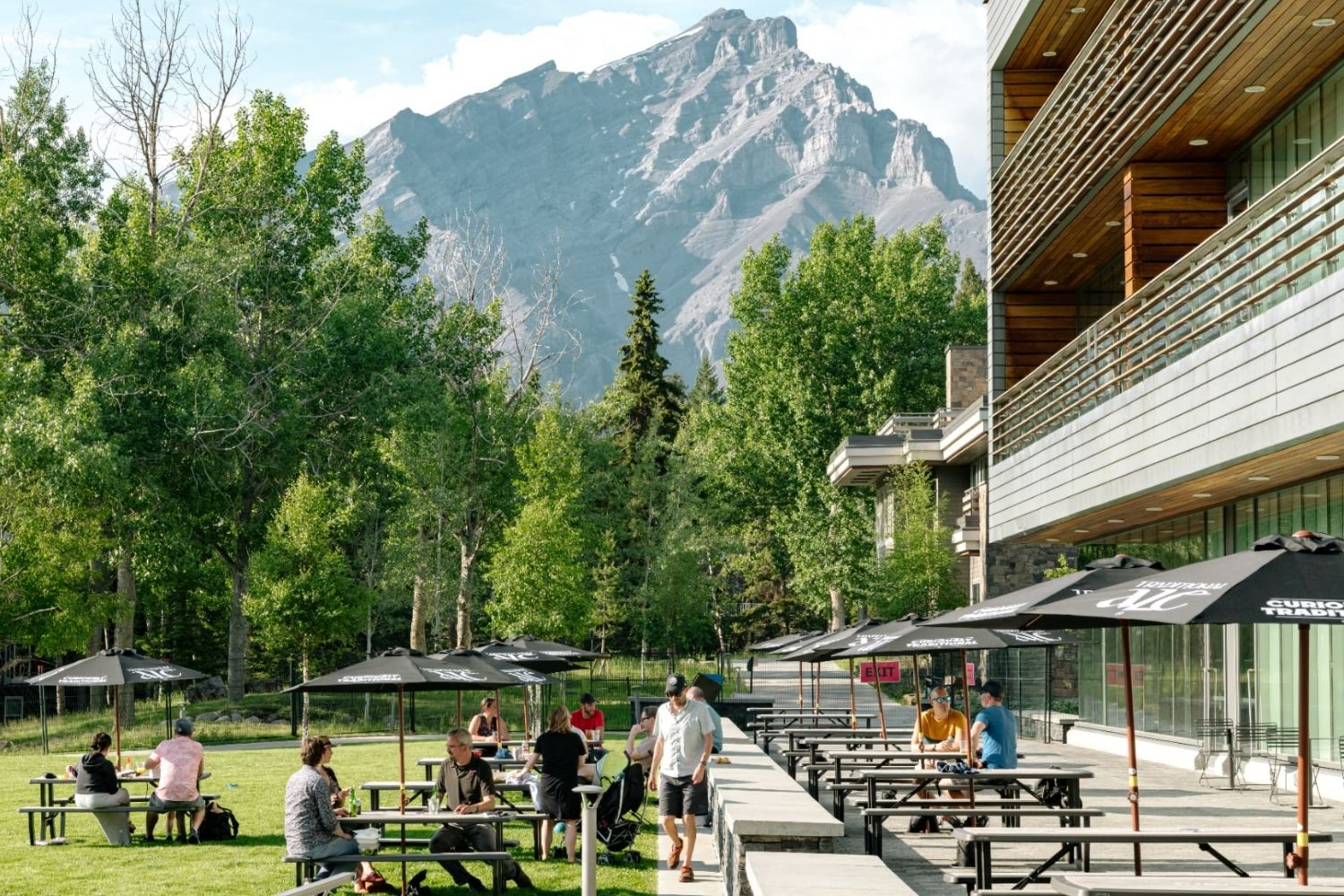 If you want to escape the hustle of downtown Banff while still enjoying Banff's stunning landscape, Maclab Bistro's patio is the spot for you. This quiet bistro is tucked away in the Banff Arts Centre on Tunnel Mountain and often goes unnoticed despite its impeccable offerings.
The Maclab Bistro offers a plentiful "Summer Food Menu" with fresh salads, flatbread pizzas, and sandwiches, all of which are inspired by local ingredients. Enjoy this tasty menu from their gorgeous patio, that overlooks the beautiful Bow Valley.
The patio at Maclab Bistro is easily one of the best Banff patios, thanks to its unique location and superb atmosphere.
---
Whitehorn Bistro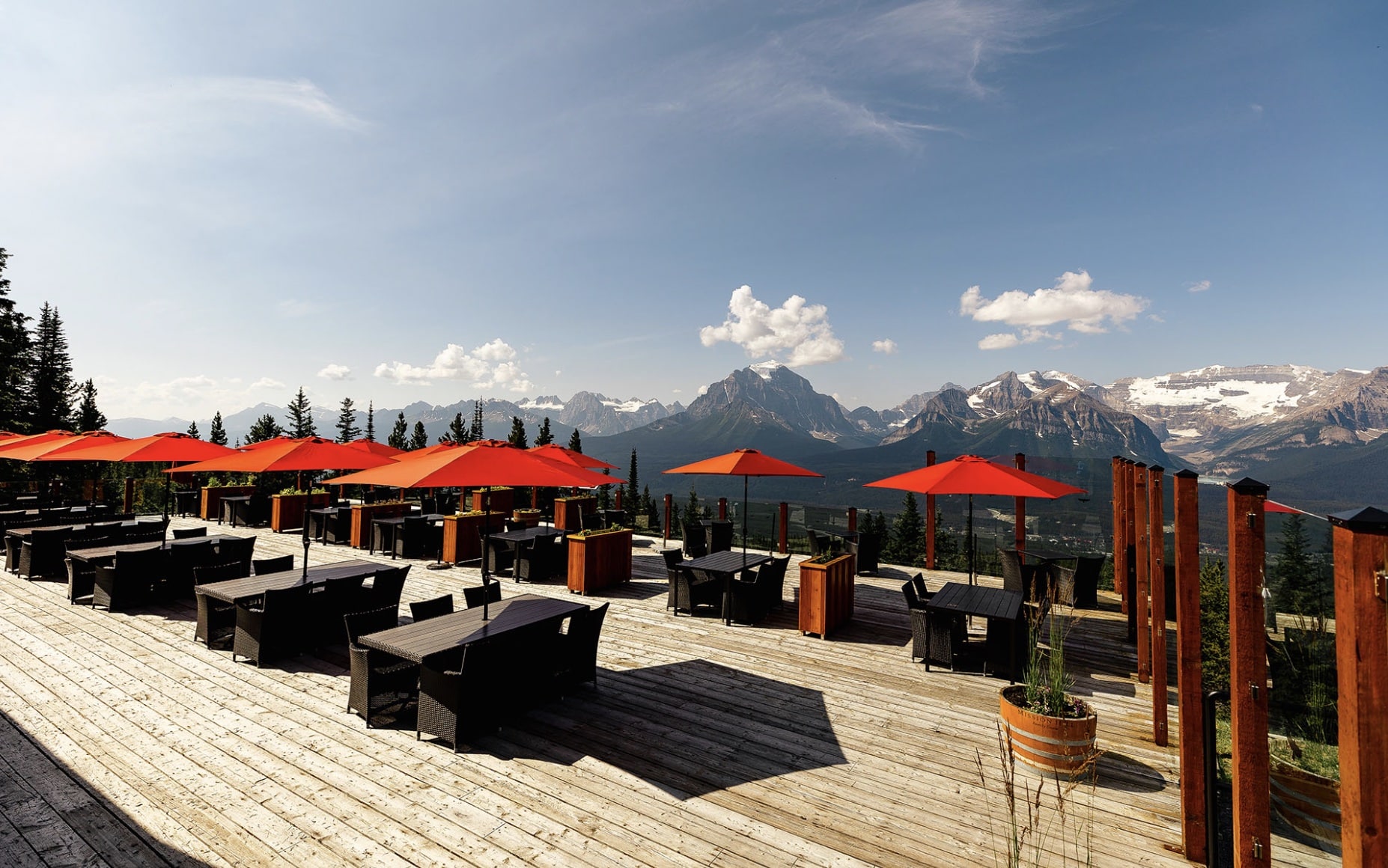 Location: Lake Louise Ski Resort
Cuisine: Canadian Lunch
Price: $$
Limited reservations are available between 11:00 am and 1:00 pm. Call 1 (403) 522-1310 to make a reservation.
There aren't many restaurants on Lake Louise Ski Resort, but Whitehorn Bistro is the absolute best out of the ones there! It's where you'll head on a winter day in Banff when the sun is shining and snow is glistening. It's truly one of the best places to enjoy Banff patio time in the summer and winter.
You can enjoy a light meal here like Cauliflower Wings with King Mushrooms or an Alberta Whitehorn Burger!
Whitehorn Bistro is also open in the summer during lunch hours, though you'll need to hike to it or take the Lake Louise Gondola. Consider purchasing a Gondola and Gourmet ticket which gets you a discount on the combination.
---
Lakeview Lounge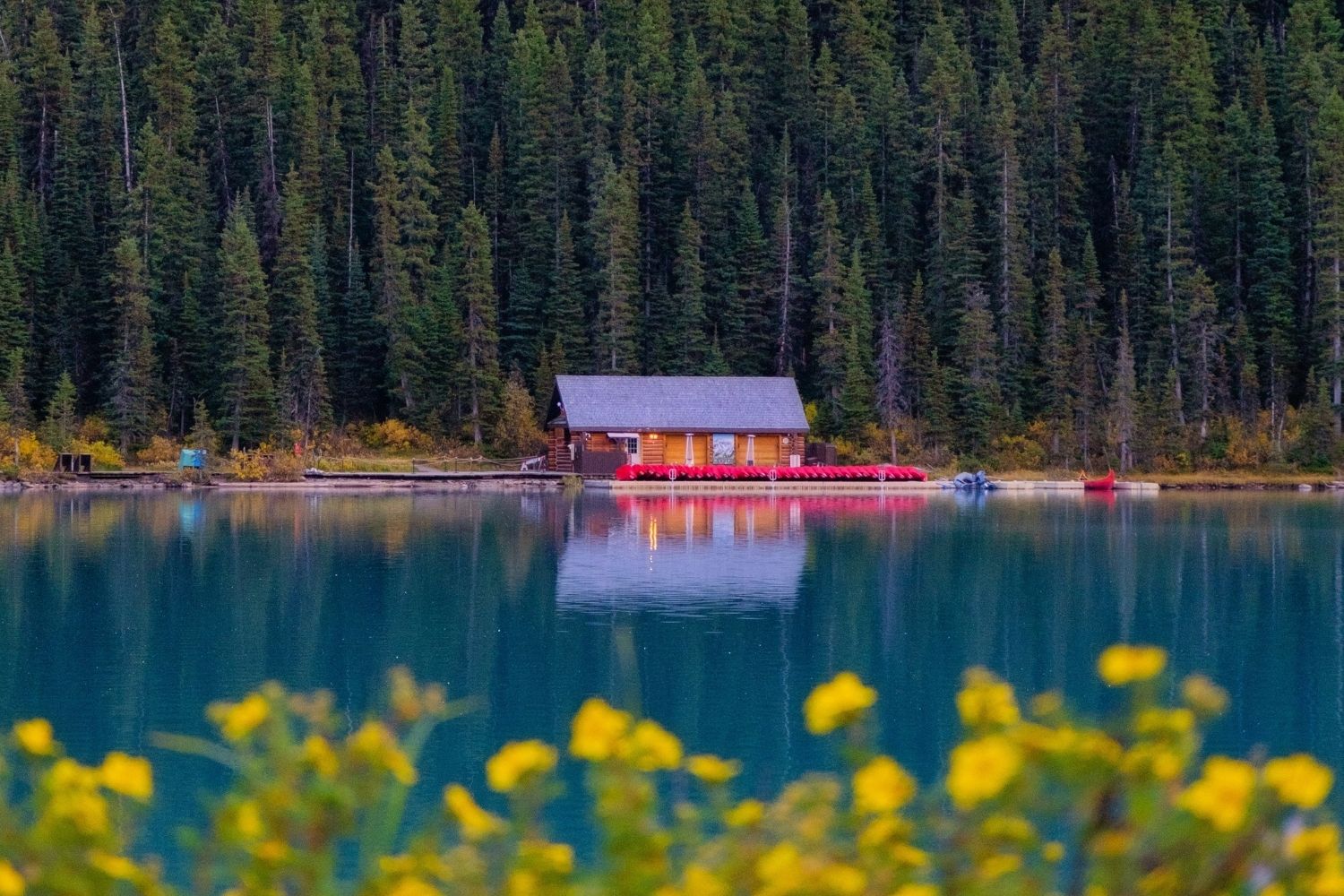 The Lakeview Lounge is easily one of the most scenic restaurants in Banff and they have a beautiful patio right on Lake Louise that you can enjoy in the summer. Seating here is given priority to hotel guests so make sure to reserve a table in advance.
---
Hopefully this helped you determine which Banff restaurants with a patio to go to.
If you have any other questions leave a comment or see our Canadian Rockies travel guide for more articles about photography spots, lakes, hikes, and everything else.
---
↓ Join the community ↓
The Banff Blog Facebook Group is your headquarters for the Canadian Rockies' travel advice and information. Including hike info and off-season travel information. This is also where you can meet one another when you need adventure buddies. 

Plan Your Trip to the Canadian Rockies