For a mountain town, Banff has many really great restaurants. However not all of them provide diners with jaw-dropping views while they eat. If you seek a meal with an epic view, consider dining in one of these delicious restaurants in Banff!
---
Banff Restaurants With a (Killer) View
---
Cliffhouse Bistro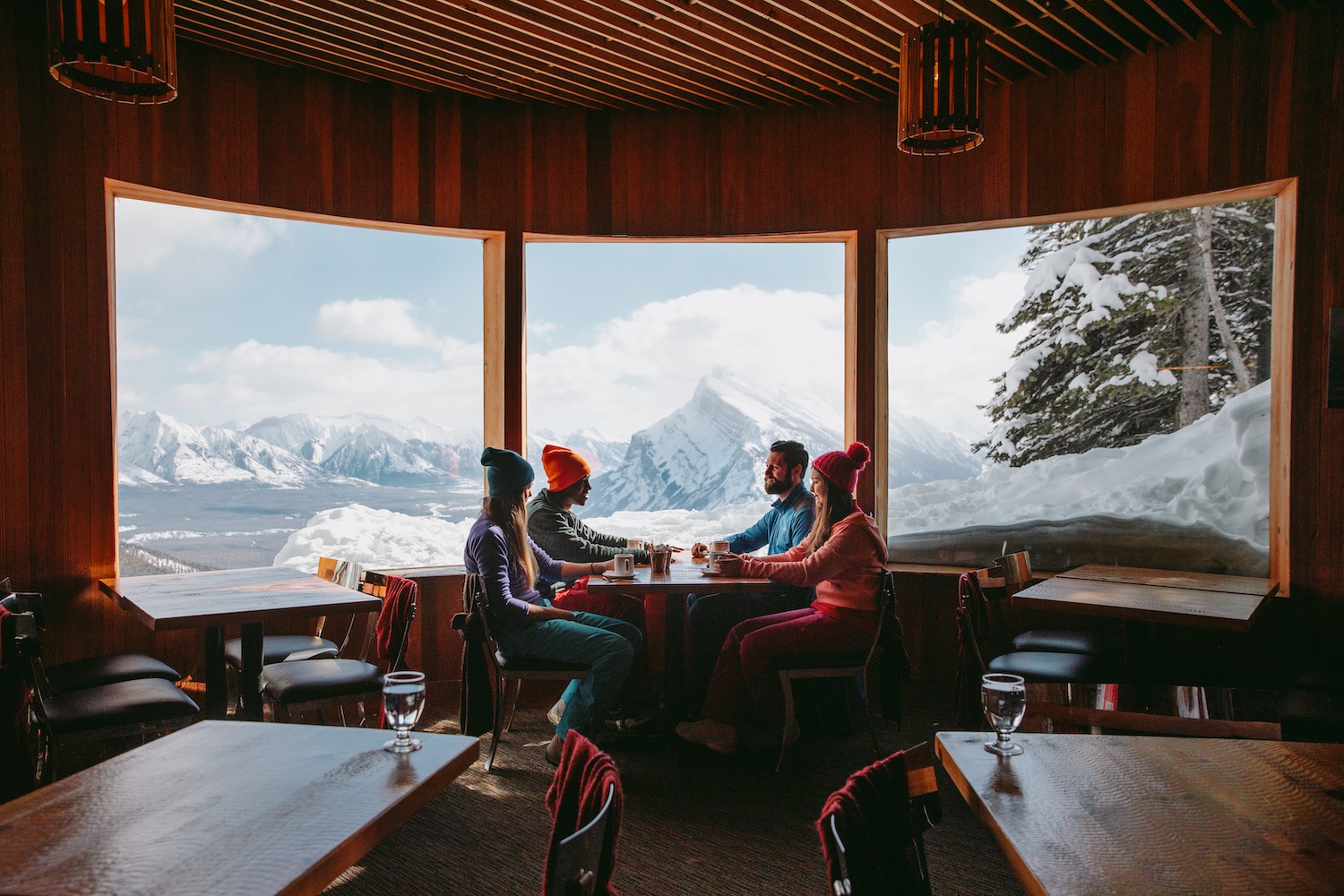 Location: Mount Norquay
Cuisine: Light Lunch
Price: $$-$$$
Reservations: Mt Norquay
The Cliffhouse Bistro is a 1950s tearoom turned into a modern bistro and is one of the most scenic restaurants in Banff in the summer. The Cliffhouse Bistro has some serious history.
In the 1950s, it was where hikers and outdoor enthusiasts met to socialize, even including a visit from Marilyn Monroe! Sitting on Mount Norquay, you may feel like you're in Europe instead of the Canadian Rockies when having a meal here.
There are only 50 seats here at an elevation of 6900 feet, with each table looking to the iconic Mount Rundle. You can access the bistro by riding the Norquay sightseeing chairlift. Once here, expect a delicious mountain casual lunch.
---
Whitehorn Bistro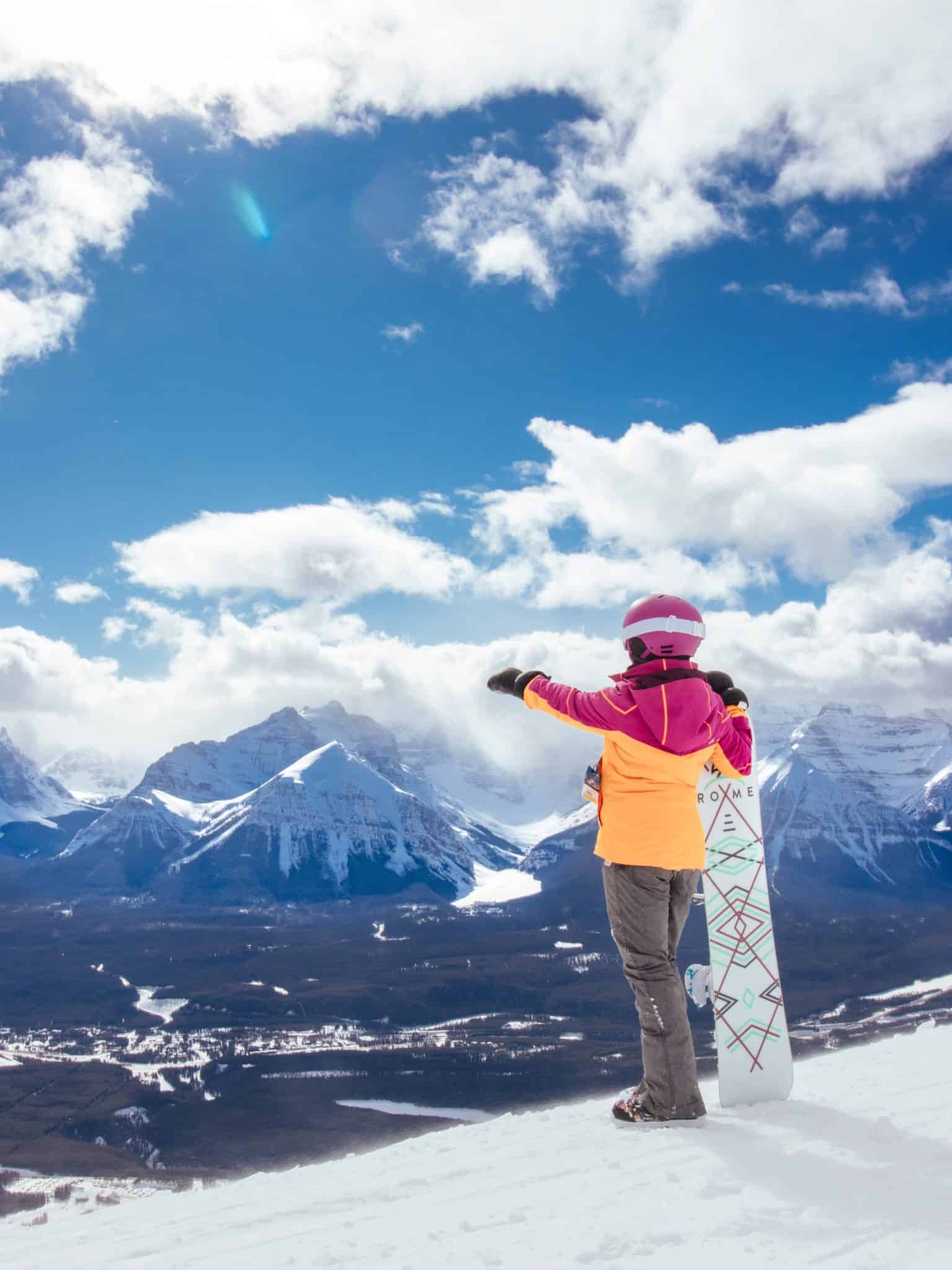 Location: Lake Louise Ski Resort
Cuisine: Canadian Lunch
Price: $$
Limited reservations are available between 11:00 am and 1:00 pm. Call 1 (403) 522-1310 to make a reservation.
There aren't many restaurants on Lake Louise Ski Resort, but Whitehorn Bistro is the absolute best out of the ones there! It's where you'll head on a winter day in Banff when the sun is shining and snow is glistening. If you are skiing at Lake Louise, it's best to stop here for an epic mid ski lunch.
You can enjoy a light meal here like Cauliflower Wings with King Mushrooms or an Alberta Whitehorn Burger!
Whitehorn Bistro is also open in the summer during lunch hours, though you'll have to take the Lake Louise Gondola to get to it. Consider purchasing a Gondola and Gourmet ticket which gets you a discount on the combination.
---
Sky Bistro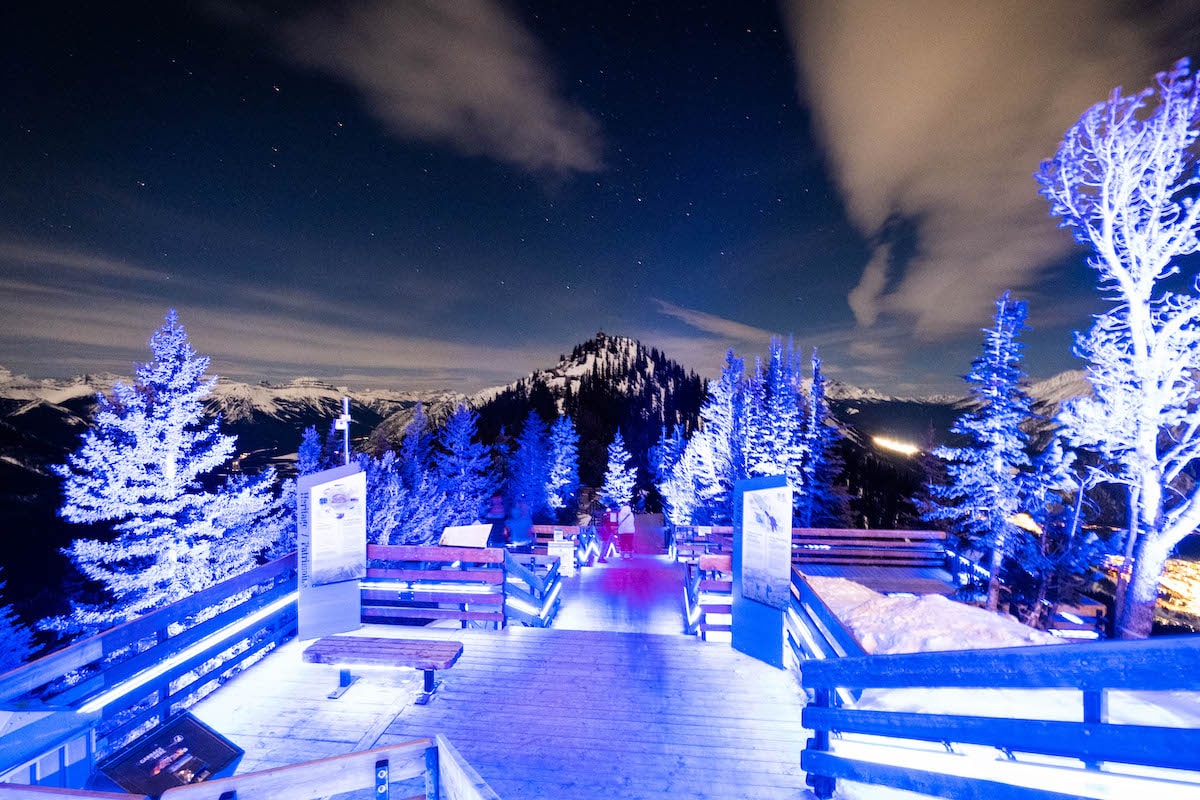 Location: At the top of Banff Gondola (Banff Gondola Upper Terminal)
Cuisine: Canadian, Farm-to-table, Contemporary Canadian
Price: $$$
Reserve Online (Reservations are only available 30 days in advance and they book up fast)
You can not do better than the Sky Bistro at the top of Banff Gondola for the most jaw-dropping views from a restaurant in Banff. The restaurant operates on a "farm to summit" premise and, when available, sources as many local ingredients as possible.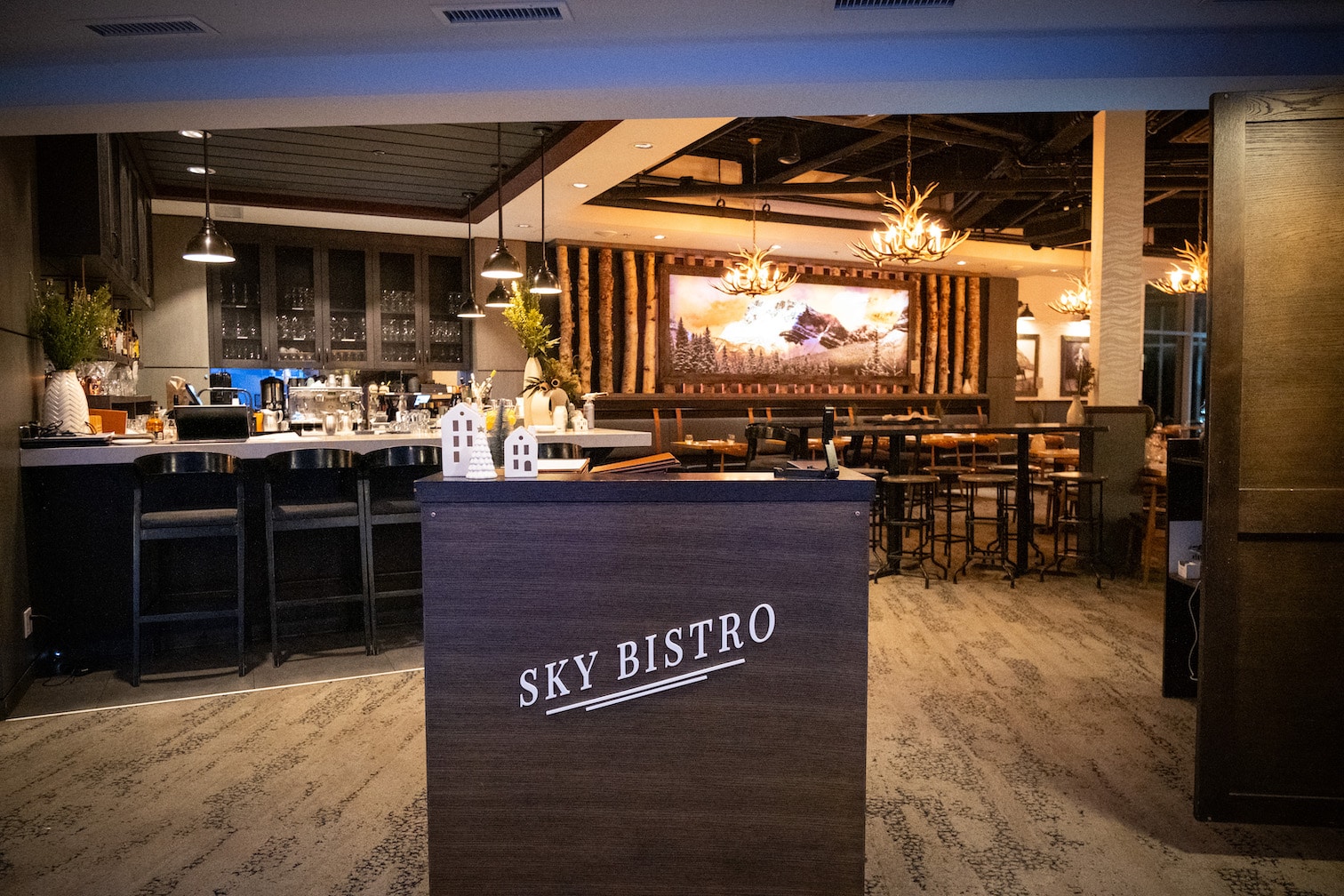 If you book one of their dining experiences, it's a pretty good deal if you had plans to head up the Banff Gondola anyways. Though you don't have to take the Banff Gondola up to enjoy the Sky Bistro (you can hike instead!)
They offer two unique combo tickets, one a daytime Banff lunch for around $90 and the other their "Northern Lights Experience" for approximately $69. They do use dynamic pricing based on demand, so you may find different price points. Though you can also order Ala Carte!
After you are done with dinner, take a walk around the platform. You'll get killer views of Cascade Mountain and Downtown Banff. On a clear night, enjoy the epic stargazing.
---
Lake Louise Railway Station & Restaurant
Location: Lake Louise Village
Price: $$
Address: 200 Sentinel Rd
Not so much a scenic Banff restaurant but rather a genuinely unique restaurant around Lake Louise. It's here you can dine inside an old train cabin. Wondering why you would go to a train station for a meal? Well, this is no ordinary train station. This former train station serves Canadian cuisine in multiple areas, including in an old dining car!
You'll be able to get some classic Canadian staples here or enjoy different enjoy food items like the Paradise Bowl (soba noodle dish) and a Spinach Herb Lasagna.
Because of this not-so-obvious location, the Railway station often gets overlooked. You have to know this Lake Louise restaurant is even there to really enjoy it, but once you experience dining in a historic rail cart, you may not want to go anywhere else!
---
Waldhaus Restaurant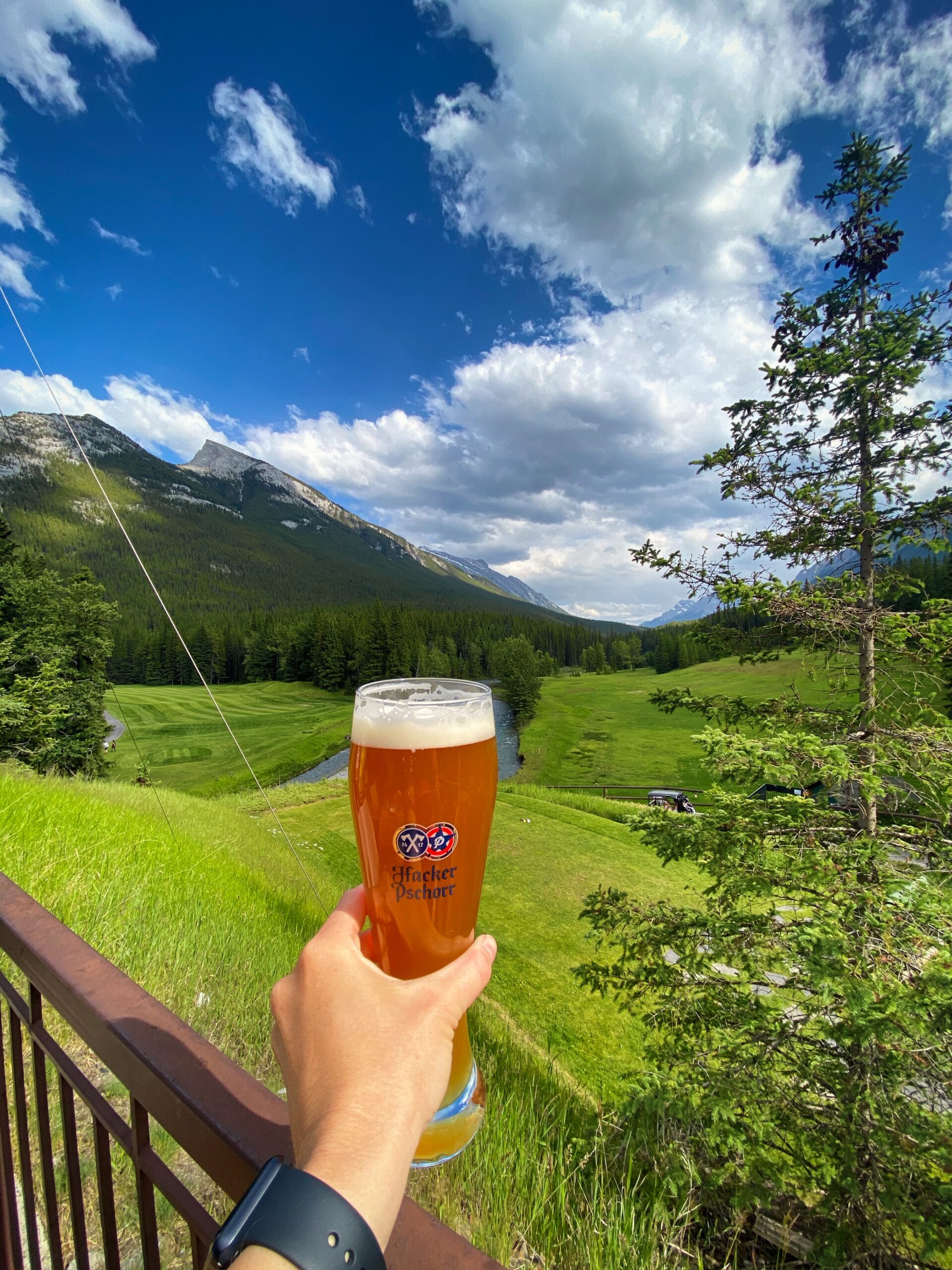 Location: Banff Springs (405 Spray Ave)
Cuisine: Fondue
Price: $$$-$$$$
Reservations: Opentable
If you're after a more refined setting that celebrates Banff's Swiss connections check out the Banff Springs Hotel Waldhaus Restaurant for fondue. They serve an incredible Waldhaus Fondue Experience for $95 that consists of gruyere, emmental, kirsch, and white wine, but there ae plenty of other delicious renditions you can order.
We love fondue in the mountains; it's particularly on a cold evening as it's tough to beat the hearty calorie-rich mountain food. We also love it for the german beer and amazing views on a summer afternoon.
It's the perfect spot for a scenic Banff lunch. If you get a table overlooking the golf course outside, you'll enjoy the many golfers teeing off!
The Waldhaus is where we always go when we ride our bikes from Canmore to Banff!
---
Eden at Rimrock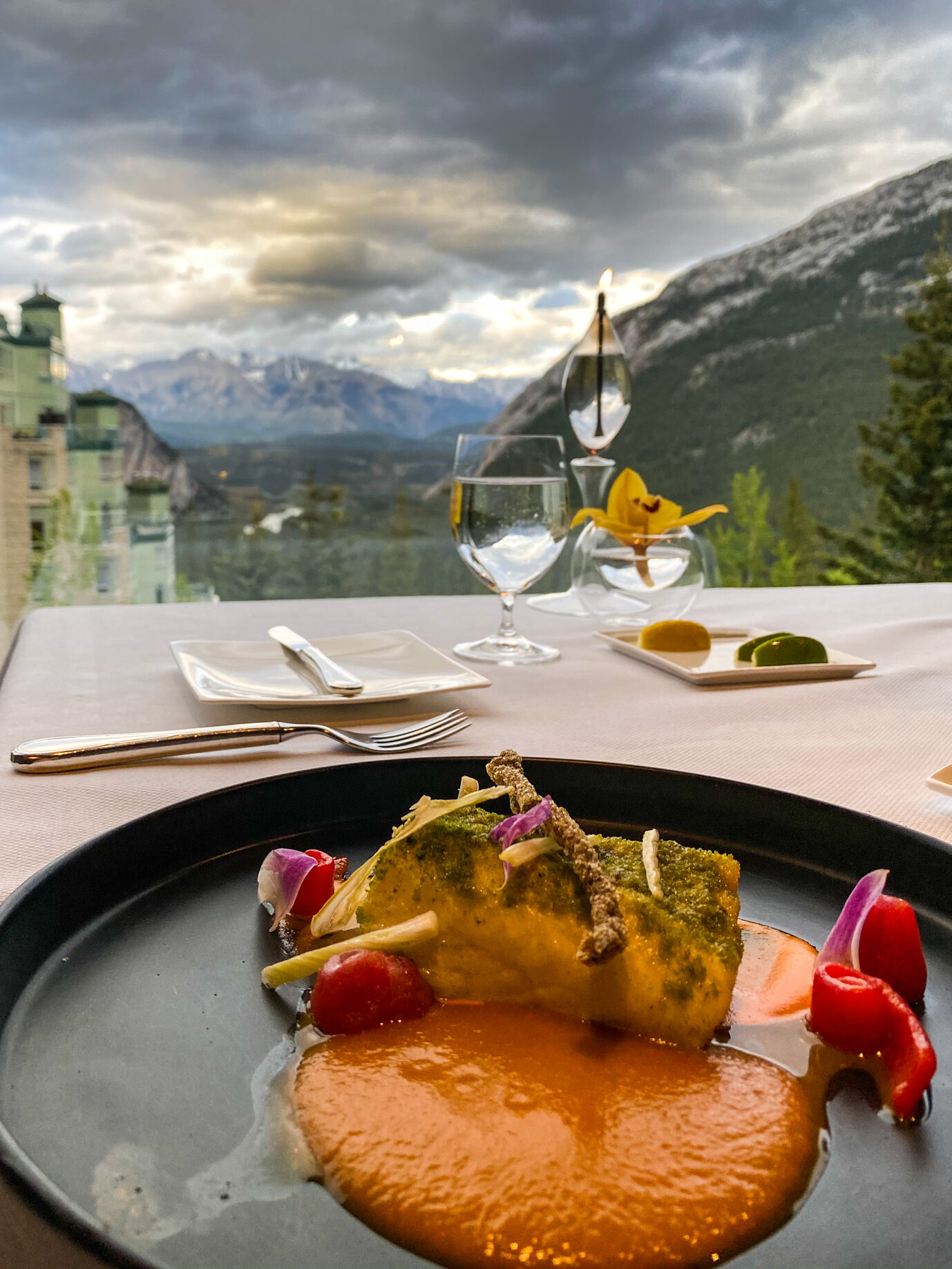 Location: Rimrock Hotel (300 Mountain Ave)
Cuisine: Fine Dining
Price: $$$-$$$$
Reservations: Opentable
Eden is one of the nicest restaurants in Banff, and reservations here are essential. This Banff restaurant serves up some of the best food in the province, let alone Banff.
Eden is the only Five-Diamond Restaurant in all of Western Canada. The modern French restaurant is located in the Rimrock Hotel near Sulphur Mountain. They serve delicious dishes that leave a lasting impact thanks to the views out towards Mount Rundle.
The menu operates with several tasting menu options ranging from 4, 6, and 10 plate chef tasting meals. To pair, they have an extensive wine menu that is curated by a team of sommeliers.
Don't miss having dinner at Eden if you are having a romantic night out, on a honeymoon, or looking for a truly memorable experience.
---
Juniper Bistro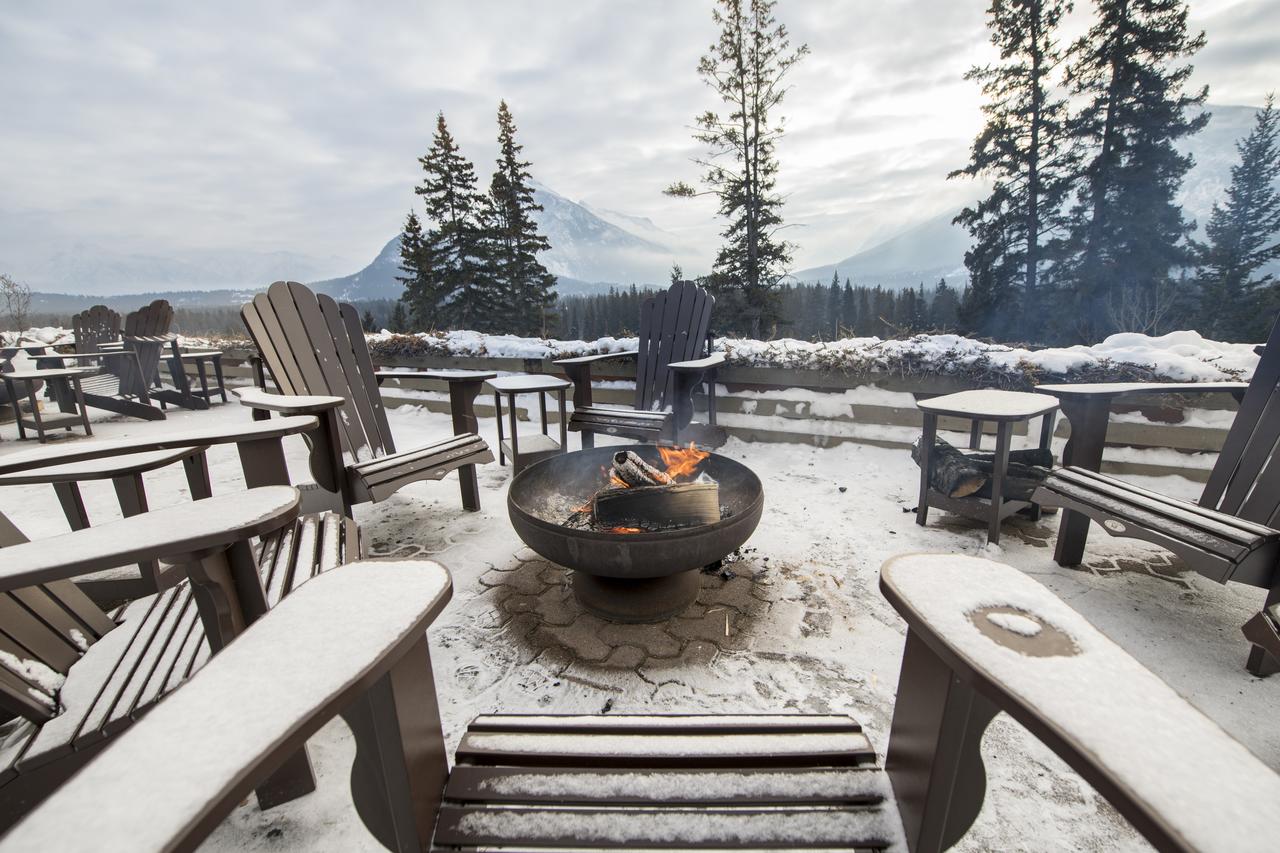 Location: In the Juniper Hotel (1 Juniper Way)
Cuisine: Contemporary Canadian & American
Price: $$-$$$
Reservations: Opentable
The Juniper Hotel and Bistro is set on a hill, perched above the Trans-Canada highway, surrounded by endless mountains. The views of Mount Norquay are stunning from the hotel. Juniper Hotel is about two kilometers from Banff Avenue, and six kilometers from Mount Norquay Ski Resort. It's a very short drive away from the hustle and bustle of downtown Banff.
The Juniper Hotel is a fantastic place to stay, but it's perhaps best known for its wall-to-wall glass at the Bistro. Juniper Bistro looks out over one of the most renowned vistas in the Canadian Rockies, and you'll get great views out towards Mount Rundle as you enjoy lunch or dinner here.
You don't have to be a Juniper Hotel guest to have dinner here, but reservations are recommended. At the Juniper Bistro, you can enjoy fantastic cuisines like a warm mushroom salad and spinach and artichoke dip with mesmerizing views of the Bow Valley.
In the evening, as long as the weather permits, guests can enjoy the pit fire with cocktails under the starry skies in one of the most beautiful places on earth.
---
Lakeview Lounge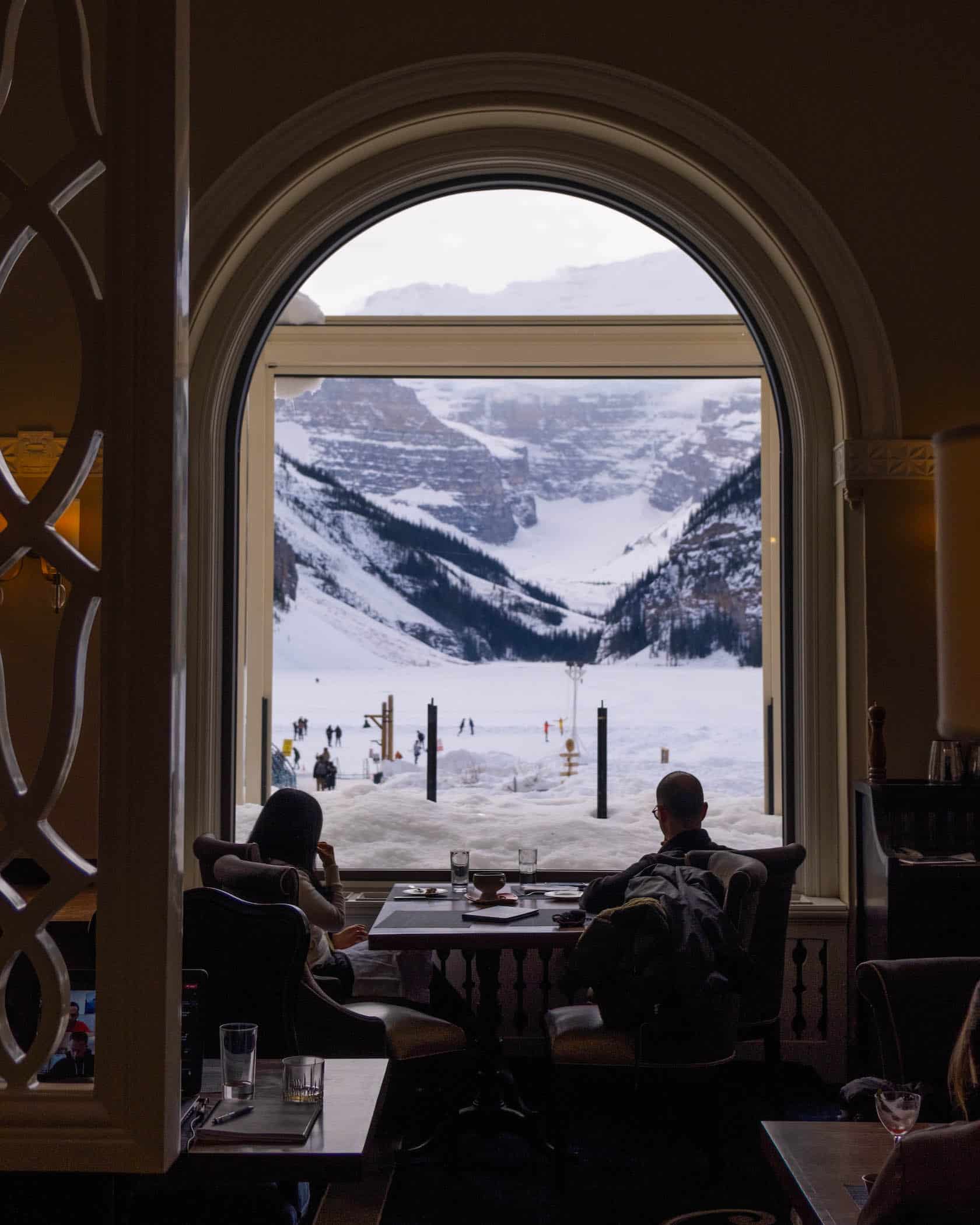 The Lakeview Lounge is easily one of the most scenic restaurants in Banff. Looking out towards Lake Louise and Mount Victoria, there aren't many places you can dine with better views.
You don't have to be a hotel guest to dine here either, as the restaurant is for all that want to enjoy the views!
For those who wish to dine outside in the summer, you can take a seat on the stunning outdoor patio.
The Lakeview Lounge has various dishes, although my absolute go-to is the Apple Smoked Chicken on Butterfly Pea Sourdough Sandwich. If you can try to get a seat next to the big oval windows, though you may have to wait extra long to get this seat, it's beyond worth it.
---
The Iron Goat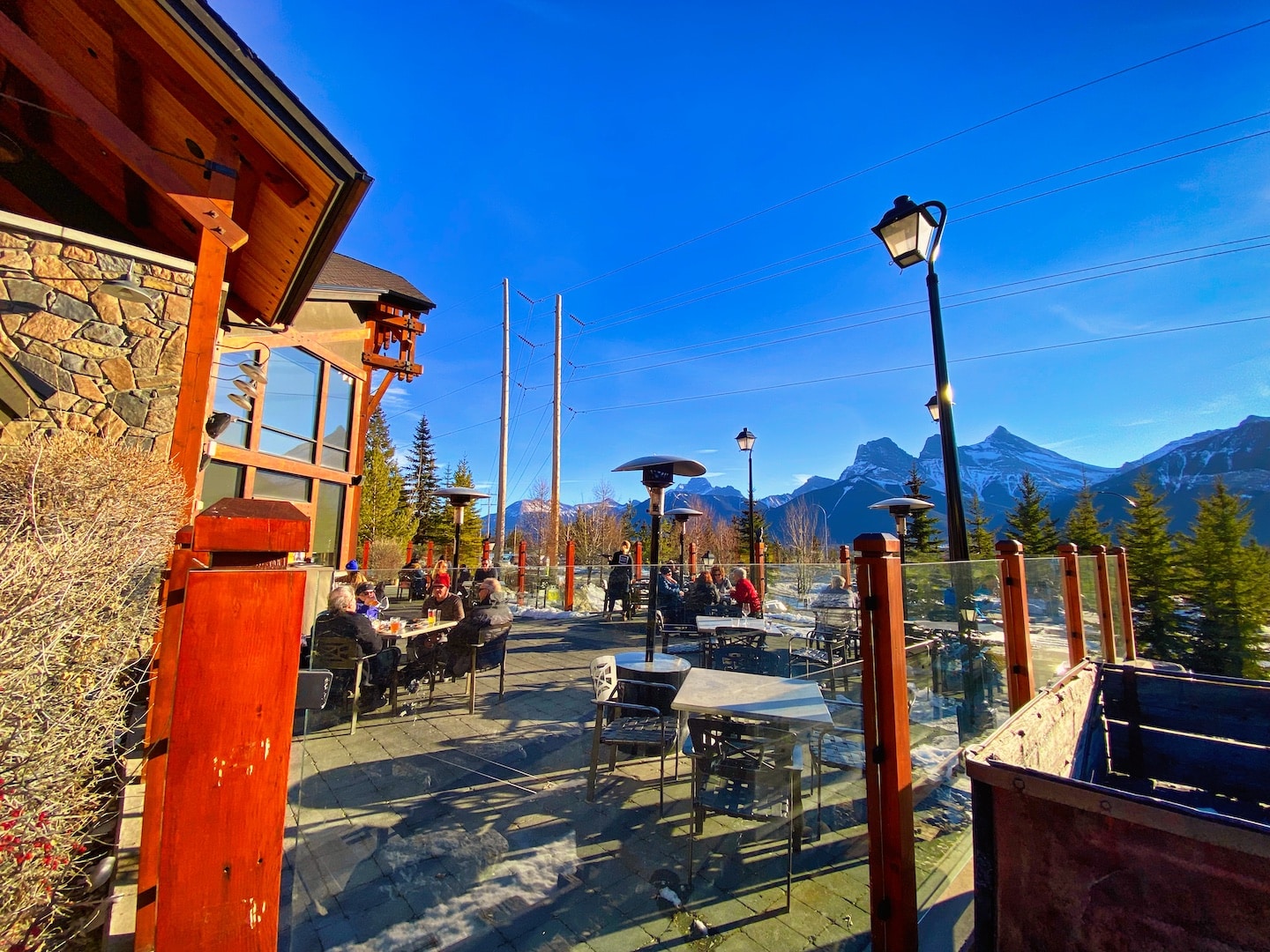 Location: Canmore (703 Benchlands Trail)
Cuisine: Pizza and Pub
Price: $$
Okay, okay I know this isn't a scenic Banff restaurant, but it's in the nearby town of Canmore. There aren't many scenic restaurants in Canmore, but if I had to choose the best one, it would be The Iron Goat.
Sit on the patio here for epic views over the Three Sisters Mountains. Here you can expect Canadian mountain food with a stunning view of the Bow Valley. Although be forwarned on a beautiful summer weekend day, this place draws a serious crowd.
You'll find tasty food items like an Alberta game meatloaf, cornbread, or chipotle mango duck wings at the Iron Goat.
---
Mount Engadine Lodge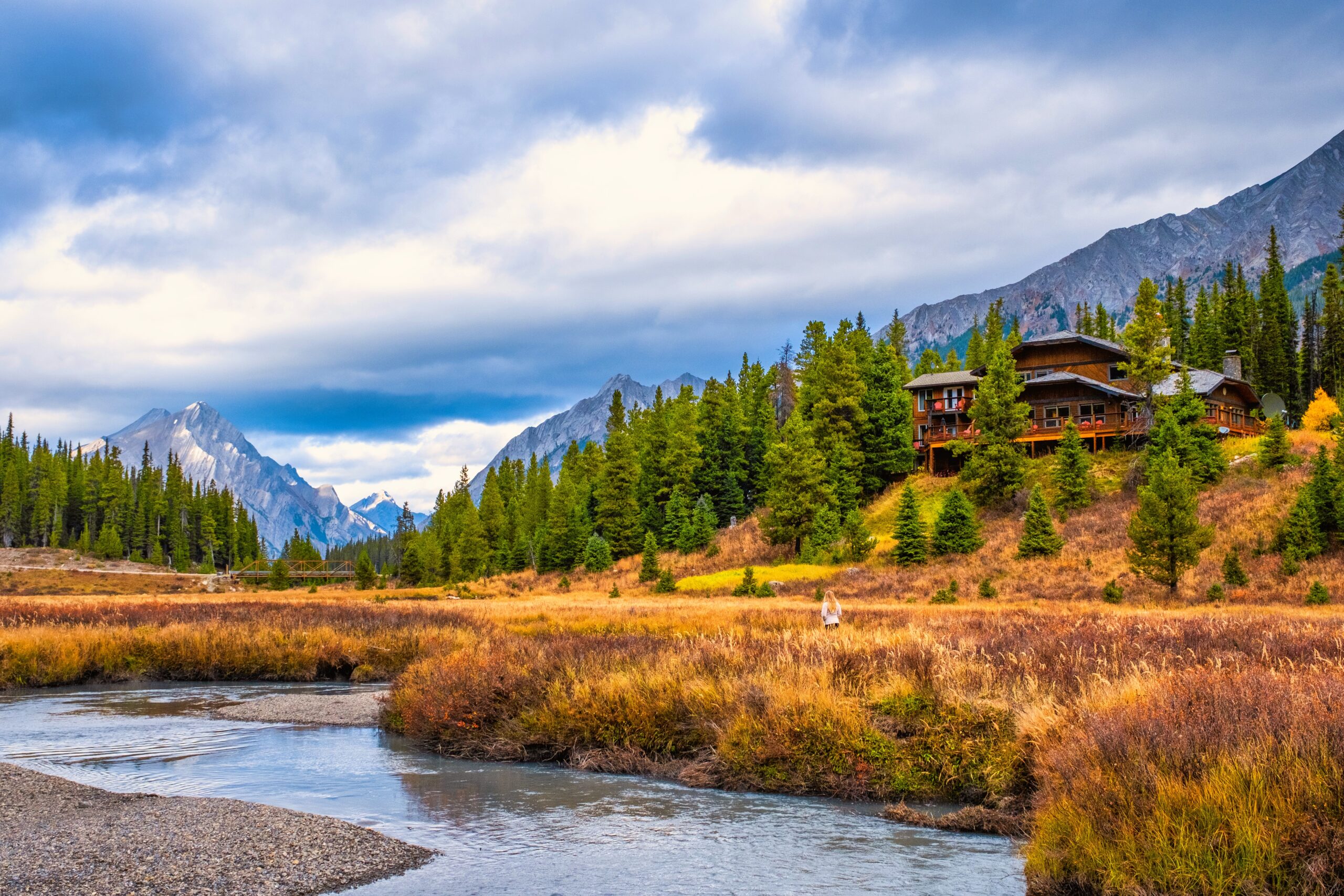 Location: Kananaskis Country (1 Mount Shark Rd)
Cuisine: Pizza and Pub
Price: $$
Call directly at 587.807.0570 for reservations
Mount Engadine Lodge is one of the best cabins to stay in all of the Rockies. These cabins, tents, and yurts are located off the Spray Lakes Rd with great views of Tent Ridge, Commonwealth Peak, and Mount Birdwood.
Guests can enjoy all-inclusive meals with their booking, but nonguests can also stop by the bistro and enjoy a fabulous afternoon tea. Prices for afternoon tea are $35.00 per person (daily from 2:00pm to 5:00pm), while Sunday brunch is $55 per person.
We were seriously impressed by the food at Mount Engadine. Every meal was on point, especially dinner, which rotates daily and can be enjoyed in your room or communal dining room. Reservations are highly recommended.
---
Hopefully, this helped you determine which scenic restaurants in Banff to try!
If you have any other questions leave a comment or see our Canadian Rockies travel guide for more articles about photography spots, lakes, hikes, and everything else.
---
↓ Join the community ↓
The Banff Blog Facebook Group is your headquarters for the Canadian Rockies' travel advice and information. Including hike info and off-season travel information. You can also meet new adventure buddies.

Plan Your Trip to the Canadian Rockies