The Mt. Norquay summer chairlift is what we consider one of Banff's hidden gems. It is one of the best things to add to your Banff itinerary when visiting Banff this summer.
With great views of the Town of Banff and Mount Rundle, you can point out your favorite restaurants, hotels and shops from a new perspective. The top of Mt. Norquay chairlift allows you to enjoy time outside in nature, all while appreciating the views of your favorite peaks from a fresh perpective.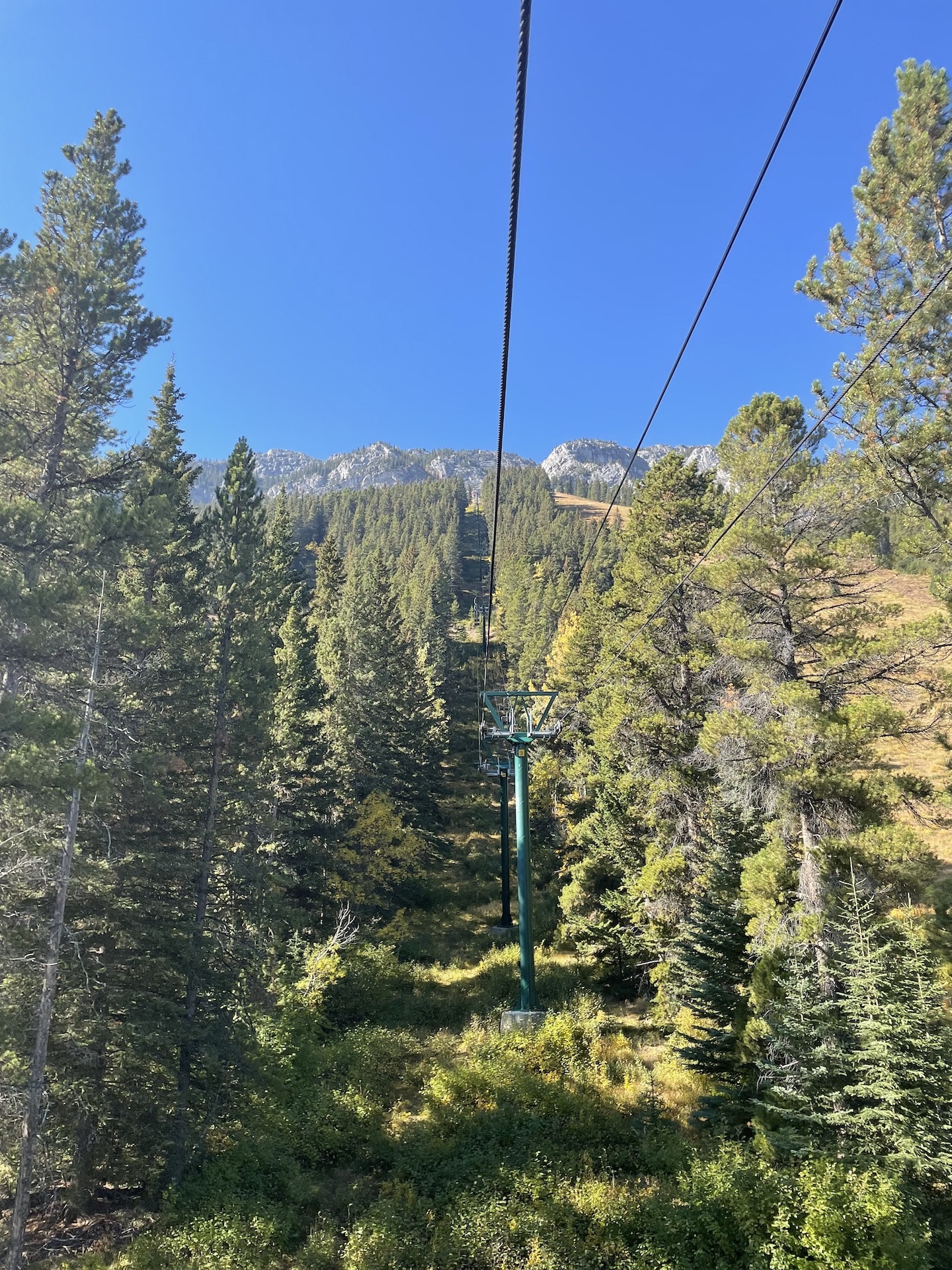 Gaining 7000 ft of elevation during a 10-minute ride, you are sure to enjoy the fresh mountain air, the iconic views, and maybe even spot some wildlife below.
---
The History of Mt. Norquay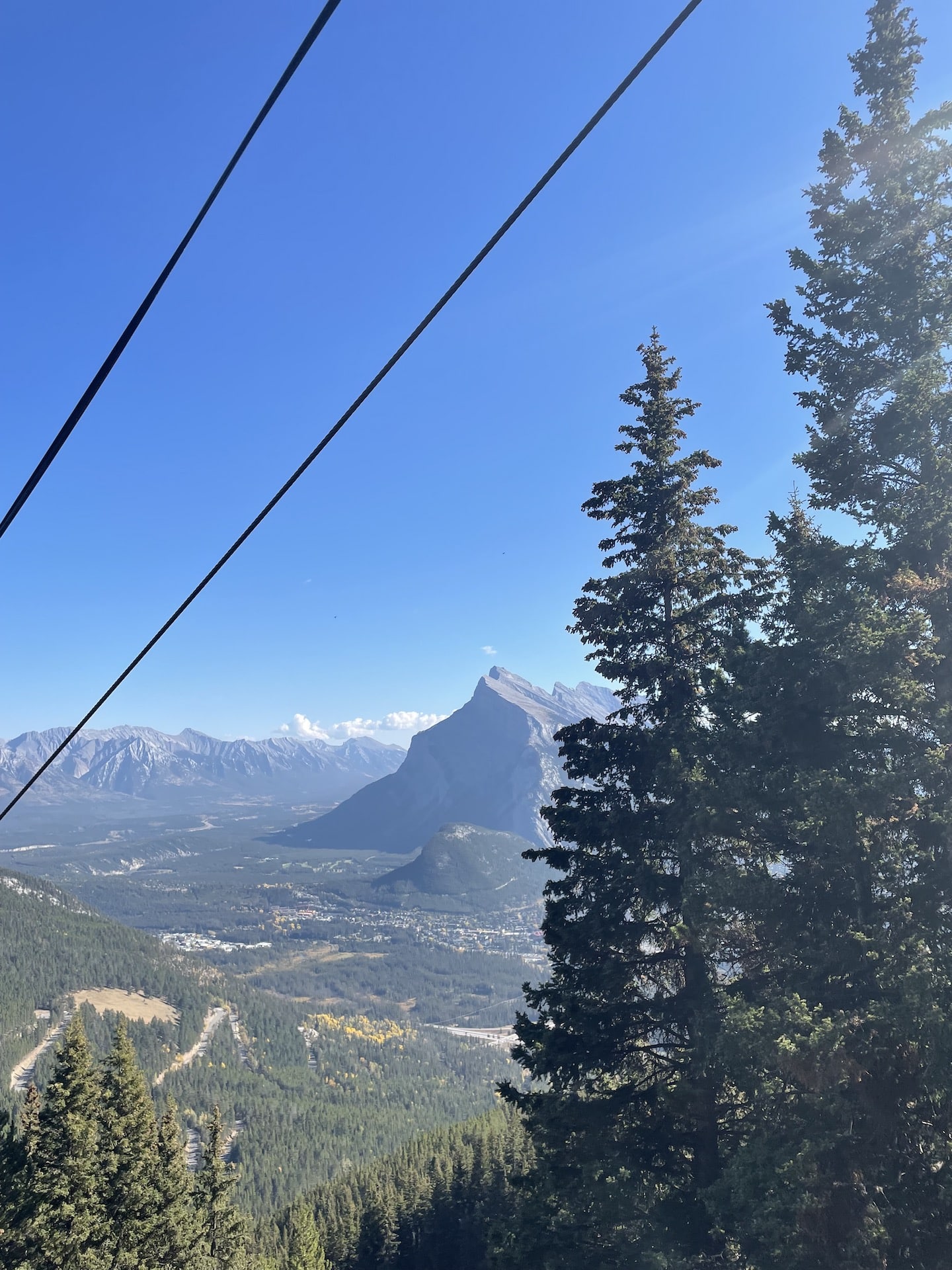 Mt. Norquay is a Banff ski resort, part of the SkiBig3 collection. Mount Norquay had a big part to play in Canadian ski culture, rooting from Australian and Swiss mountain guides who arrived in the early 1900's, bringing with them, a deep passion for skiing.
Gus Johnson sought out Mt. Norquay for its elevation of one thousand feet above the Town of Banff. From there, the first ski runs were prepared in 1926.
After Johnsons' death, Cliff White and Cyril Paris led the Banff Ski Club, building the first ski cabin in 1928 as well as their first rope tow, installed in 1941.
In 1948, George Encil, the owner of Norquay at the time, installed what locals referred to as the "Big Chair". This lift was iconic, being the second chair in Canada and leading up to both the steepest and longest terrain in North America at that time. Over time, there were 26 runs that stemmed from the "Big Chair". Renovations were underway in 1966, when the original chair was removed.
Since then, Mt. Norquay has welcomed anyone from beginners to ski racers in the winter months. In the summertime, it is the ideal opportunity to enjoy the Banff summer sightseeing chairlift.
---
Where is the Mt. Norquay Chairlift Located?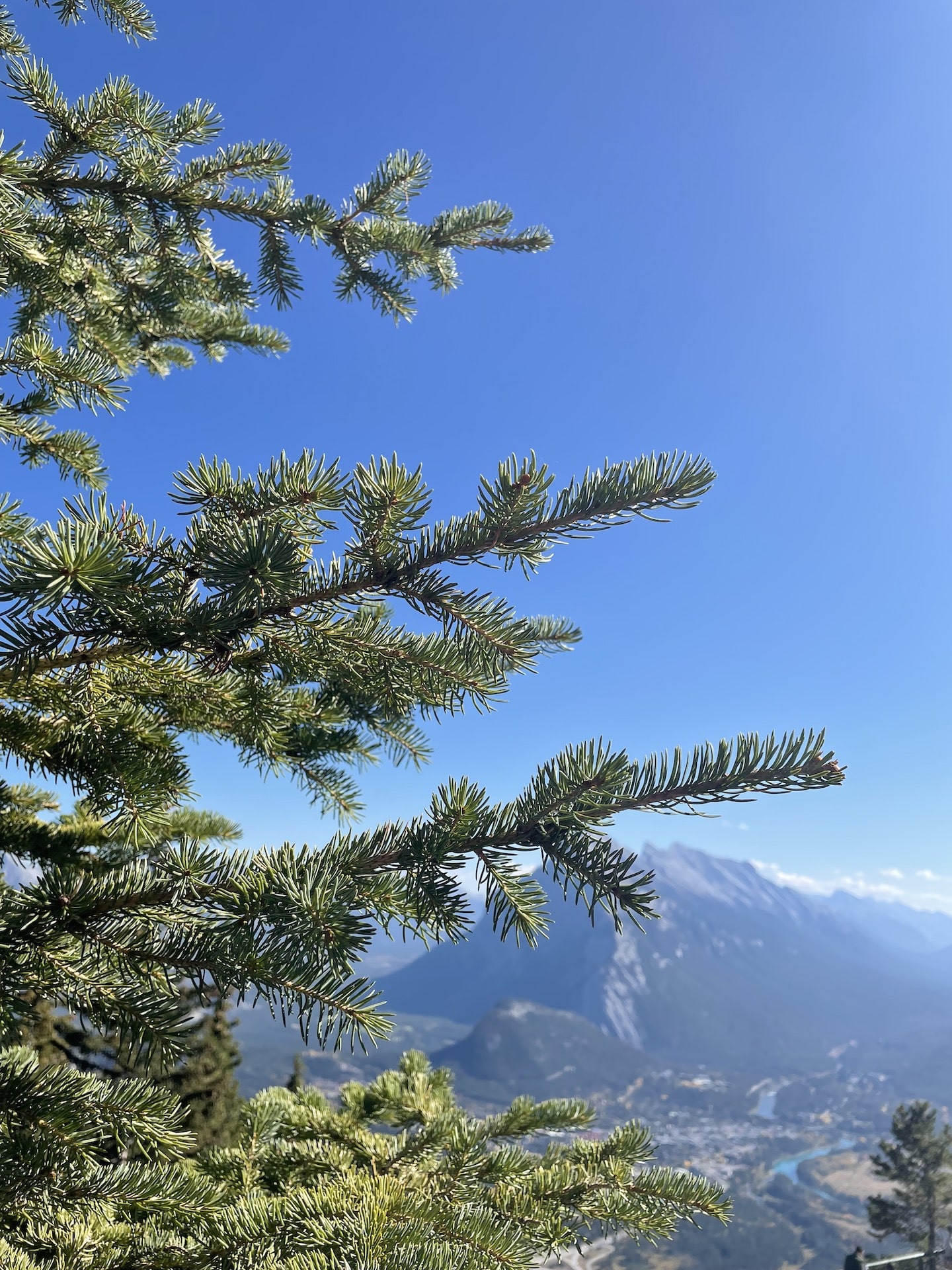 The Mt. Norquay chairlift can be found at 2 Mt Norquay Rd in Banff, Alberta. To get there, simply follow Mt. Norquay scenic drive up its windy curves. Be sure to make a slight right when you've reached Mt. Norquay Road. Once you approach the ski hill, ample signage leads you in the right direction.
Once you have arrived and parked, enter the building at the entrance of the parking lot to purchase your tickets. We enjoyed taking a peek at the apparel for sale while we were there!
With your tickets in hand, follow the clearly marked path and be greeted by one of their friendly staff that will instruct you in getting on the chairlift safely.
---
Distance Between the Town of Banff and Mt. Norquay Chairlift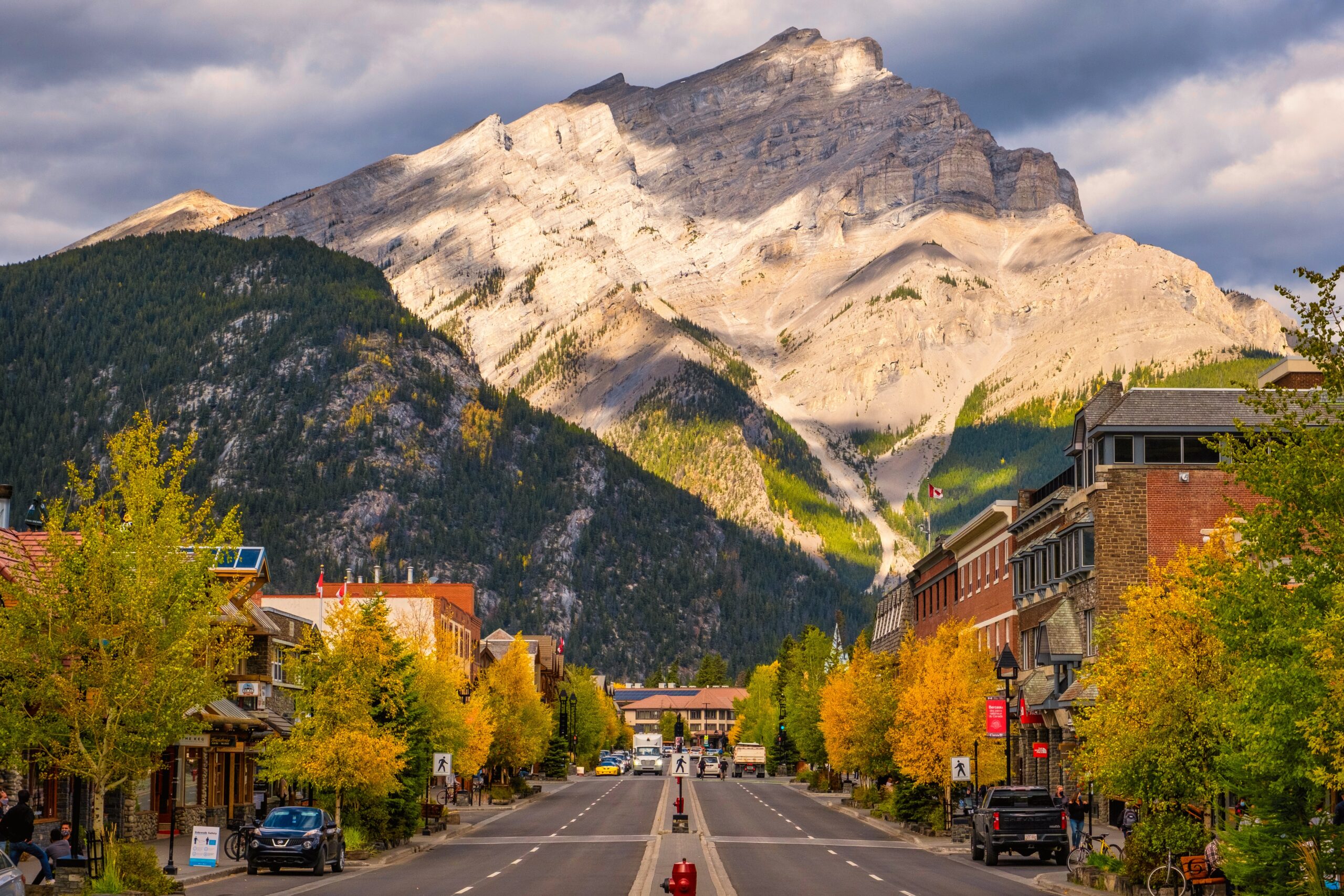 From the center of downtown Banff to Mt. Norquay, it should take you approximately 12 minutes by car. The distance between these two locations is 7.4km. From Canmore, expect the drive to take just under 30 minutes.
Even if you don't plan on riding the Norquay summer sightseeing lift, the drive is still worthwhile. With its stunning views of the Rockies, glimpses of the Town of Banff from above as you turn the corners, and the chance of seeing some wildlife along the way it's a great way to spend a morning.
---
Transportation Options to the Norquay Chairlift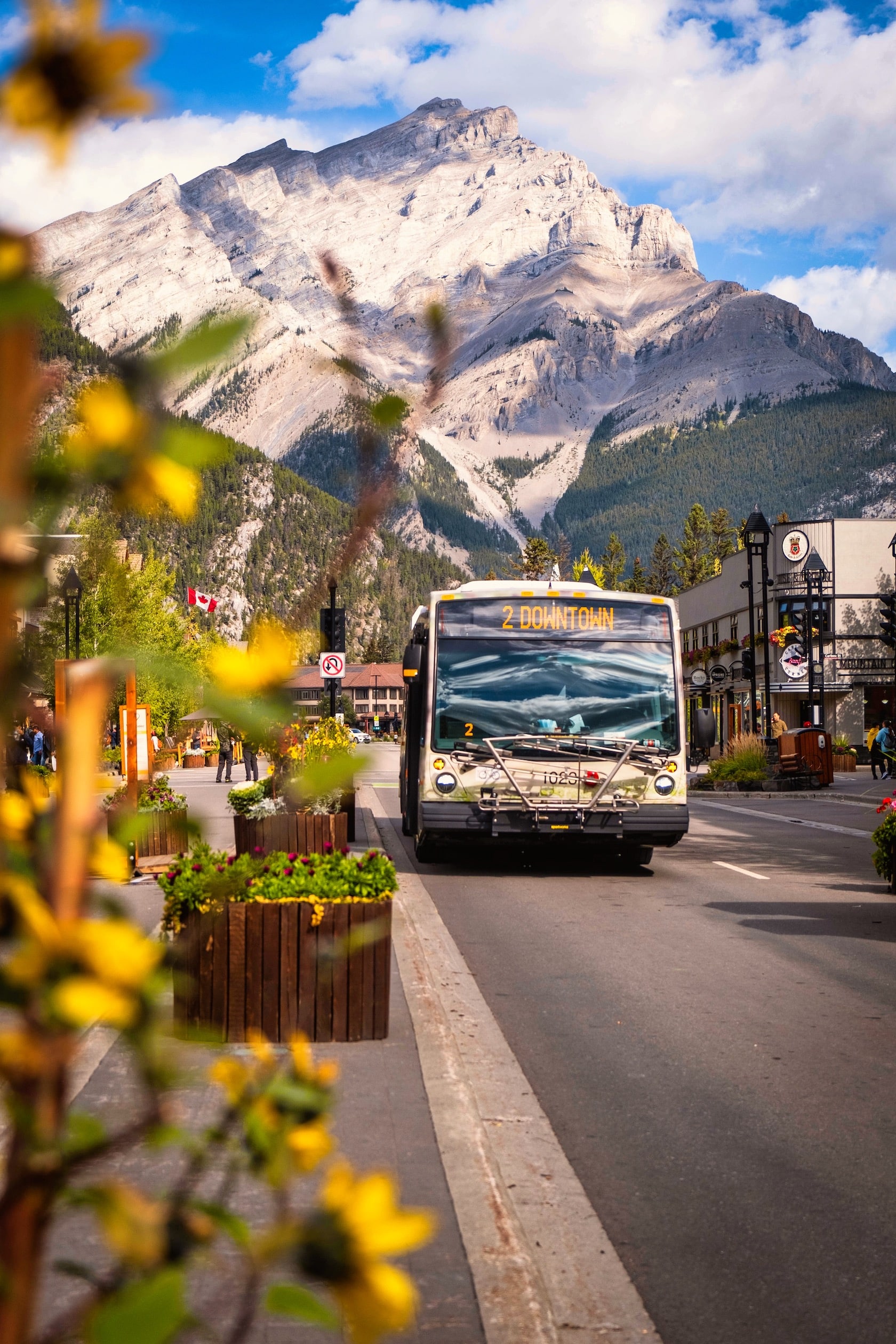 There are many transportation options to get you to Mt. Norquay. Using your car or grabbing a rental car makes for the most convenient option, allowing you to build your own itinerary and make any necessary stops along the way. Here are the Google Maps directions.
If accessing a car isn't a possibility, not to worry, there are other cost-effective and convenient ways to get you there!
If you are an avid biker, some enjoy taking on the challenge of biking up to the hill. Be sure to bring lots of water, snacks and your bear spray. Staying bear safe is essential in Banff National Park. If looking for bike rentals check out Banff Adventures, Banff Cycle and Sport or Snowtips Bactrax.
Another alternative would be to take a taxi. Though this can be a more costly option, it might just be worth the ease of arriving and leaving as you please.
---
When Does the Mt. Norquay Summer Chairlift Operate?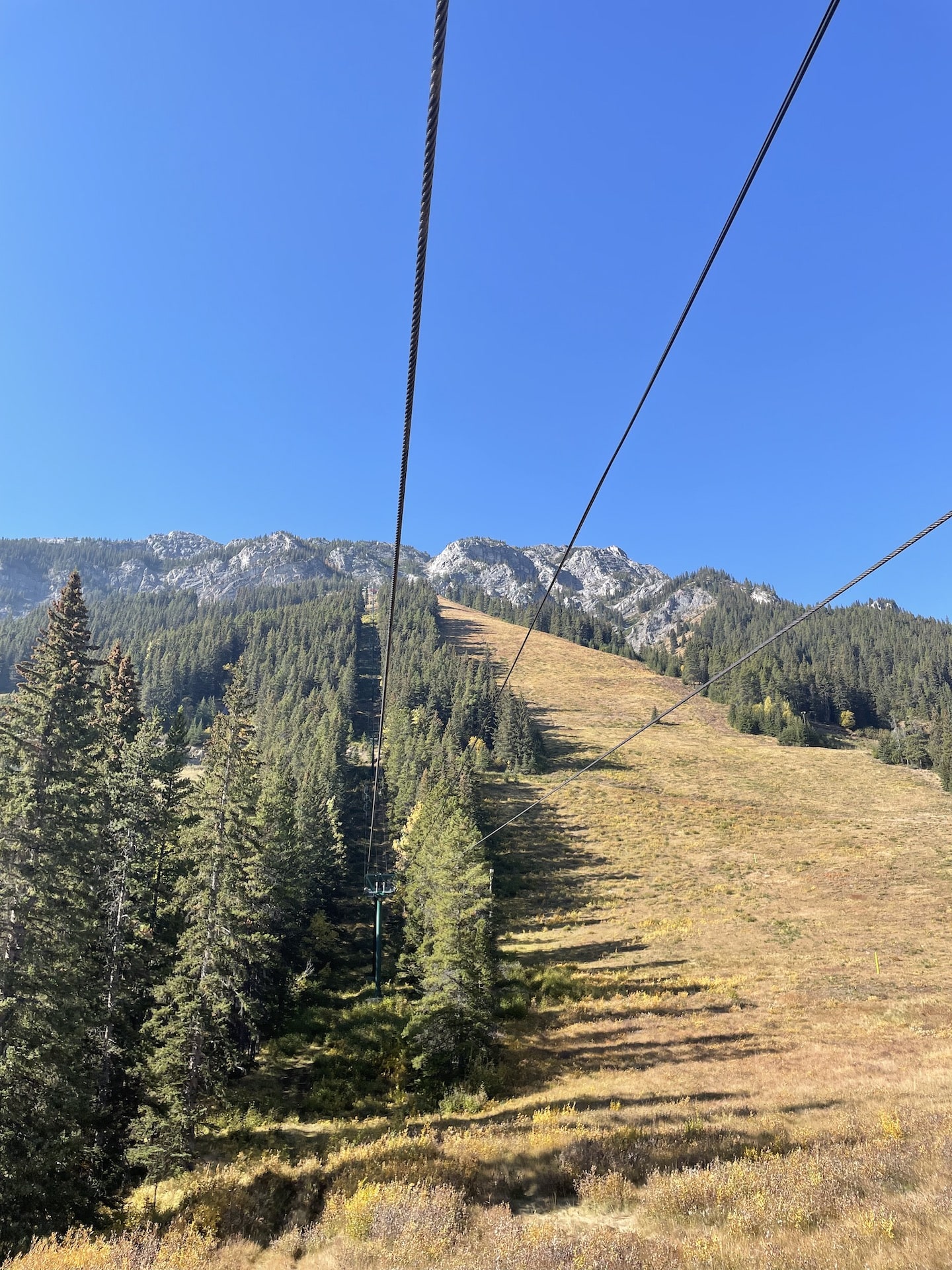 June 10 to Sept 9: 9 am 7:00 pm Last ride down 7:30 pm
Sept 10th to Oct 8th: 10 am 6 pm Last ride down 6:30 pm
If you require additional information, the staff at Mt. Norquay can be reached by phone at (+1) 403-762-4421 or by email ([email protected]).
They also have a strong presence on social media. Find out their latest updates by checking out their accounts:
Instagram: @mtnorquay
Facebook: Mt. Norquay Banff
---
Mt. Norquay Chairlift Pricing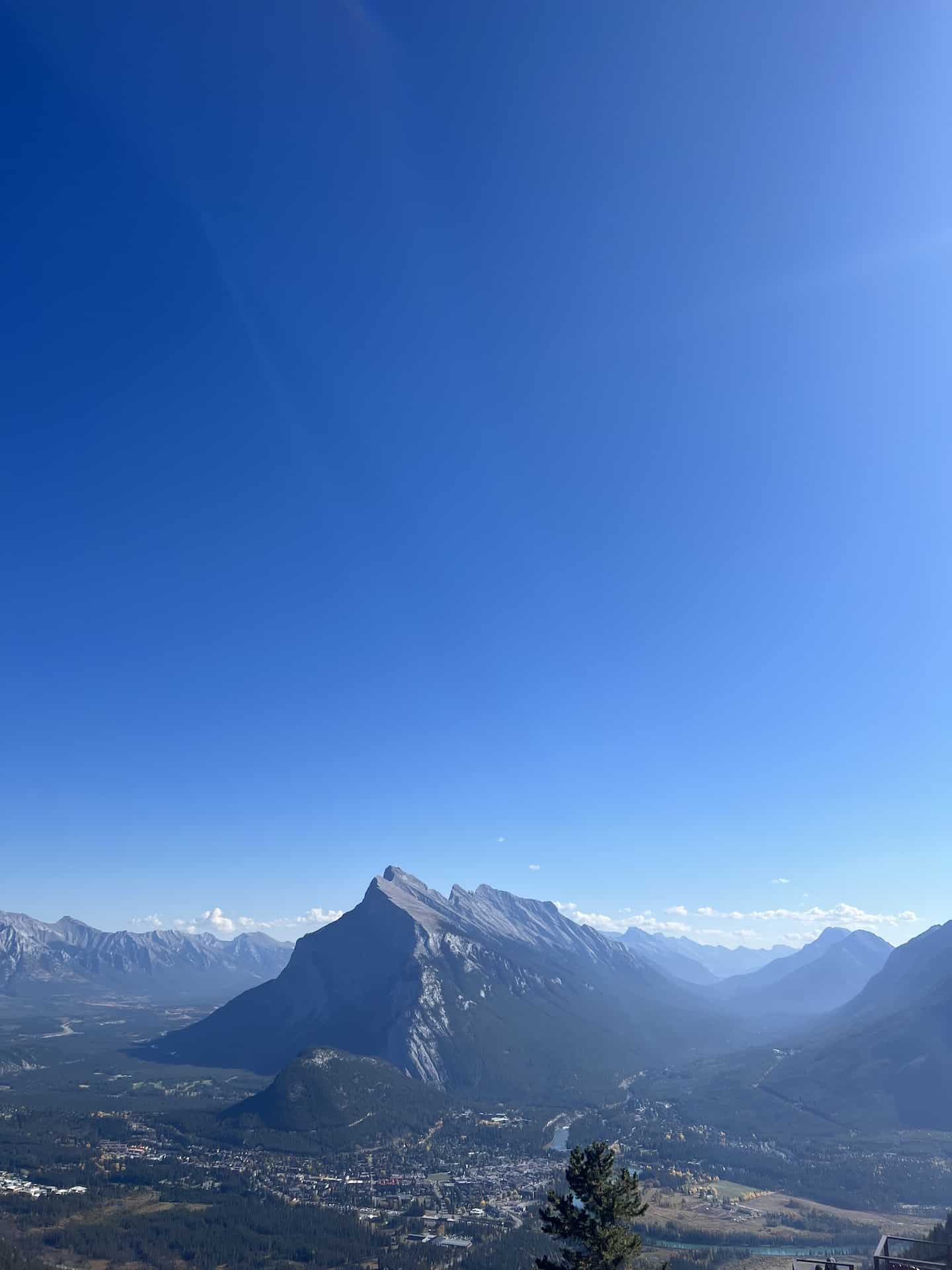 The Mt. Norquay chairlift has the "best bang for your buck," compared to other gondolas and chairlifts in the area. It offers a reasonable price for the experience, isn't overcrowded and has different pricing for adults and children, making it a good family option.
2023 Pricing (Canadian Dollars)
Adults (16+) – $41
Child (6-15) – $26
Infant (2-5) – $0.00
---
A Hidden Gem in a Busy Mountain Town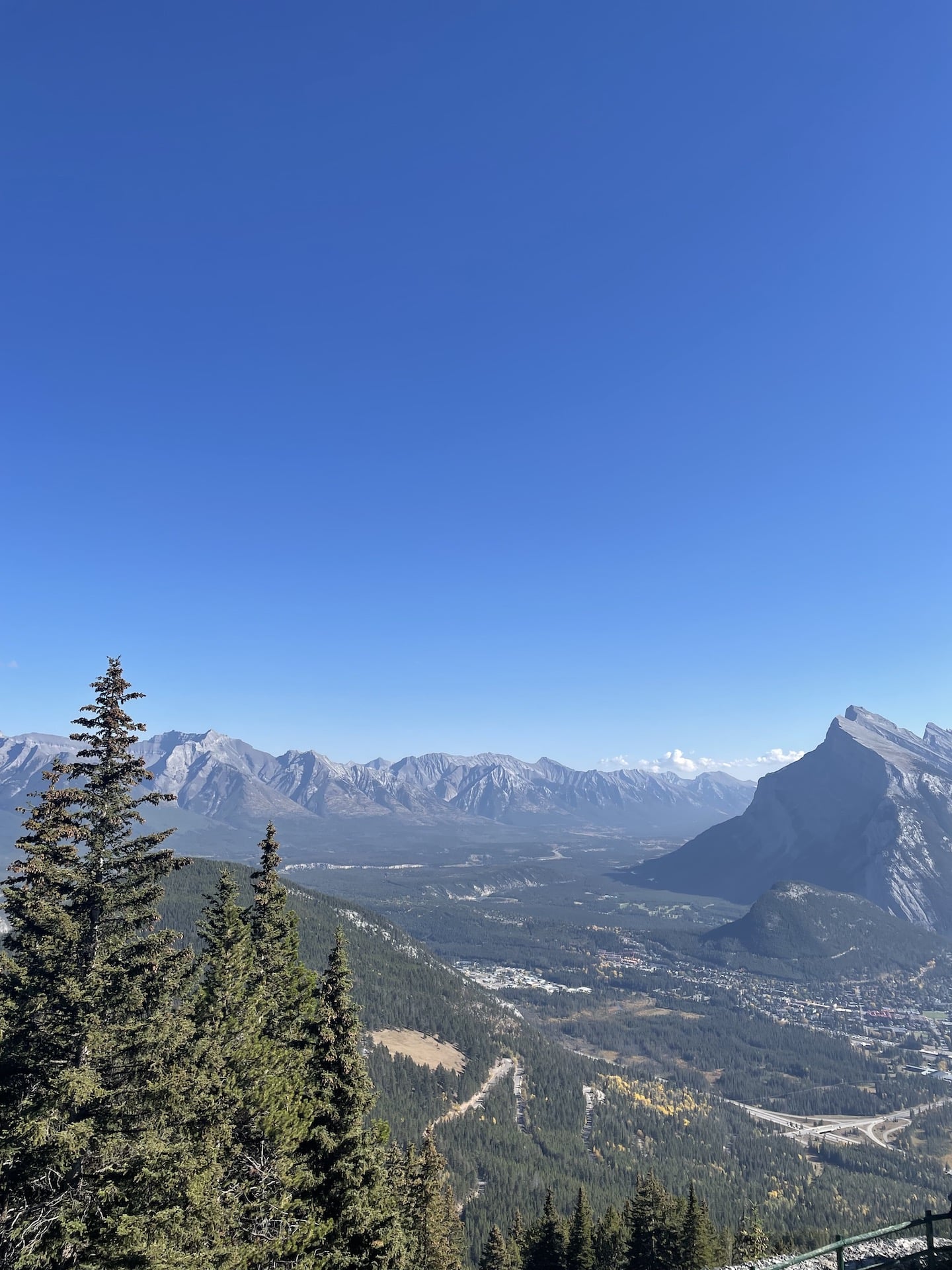 The Mt. Norquay chairlift is one that's oftentimes overlooked. That said, we believe that it is not to be missed. With many of Banff's tourist attractions often busy and costly, this chairlift experience offers the best of both worlds.
We have gotten the opportunity to experience this wonderful lift on a few occasions, and the pleasant things that have remained consistent are:
No big lineups
Reasonable prices
Friendly staff
Available parking
---
Parking at Mt. Norquay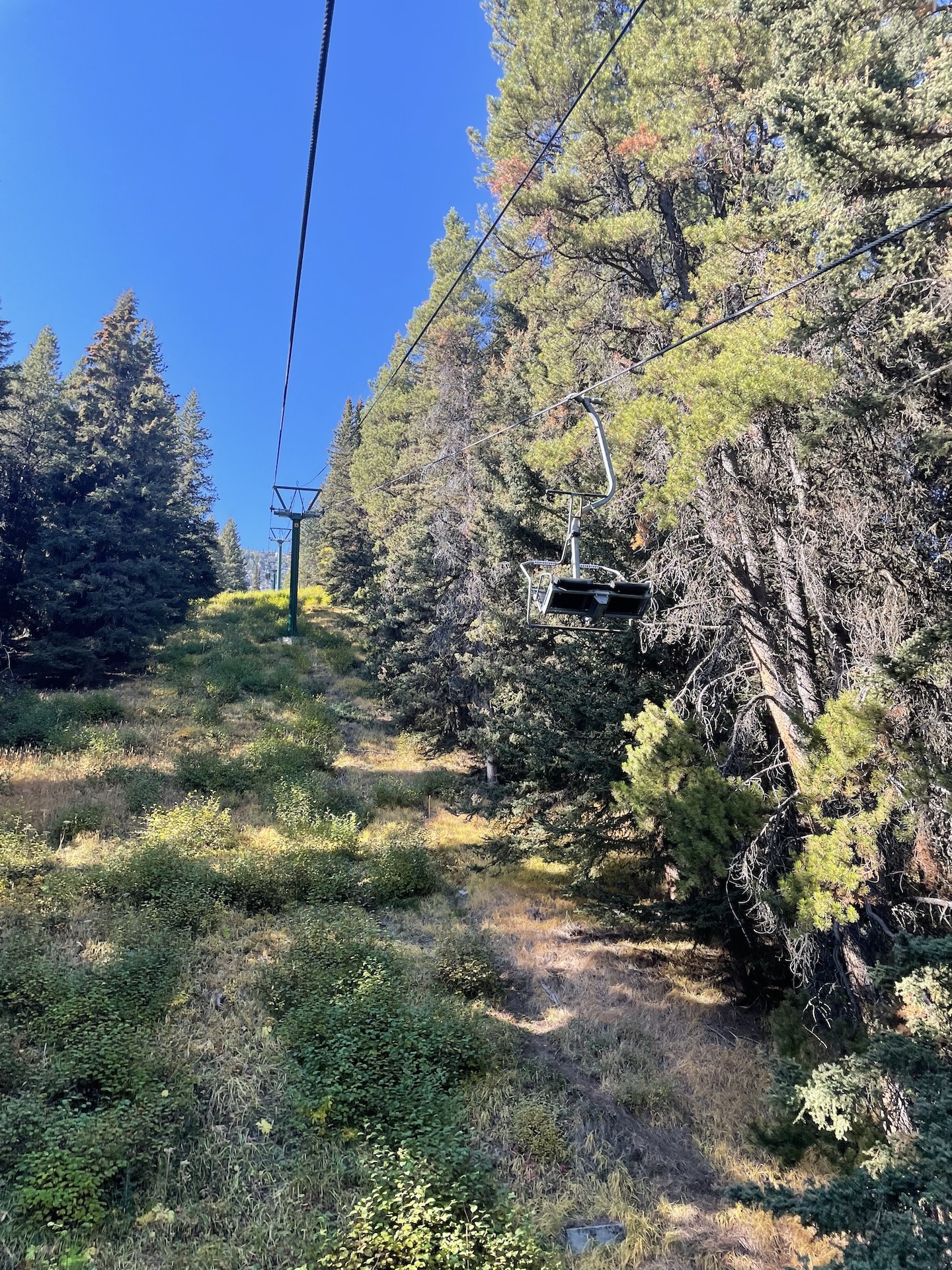 Parking can be a stressful experience when travelling to new destinations. That said, we found this component very simple and stress-free. Upon arrival to the hill, there was ample parking. The spots are within close proximity of the main lodge, and parking is free.
---
Do You Need a Banff National Park Pass?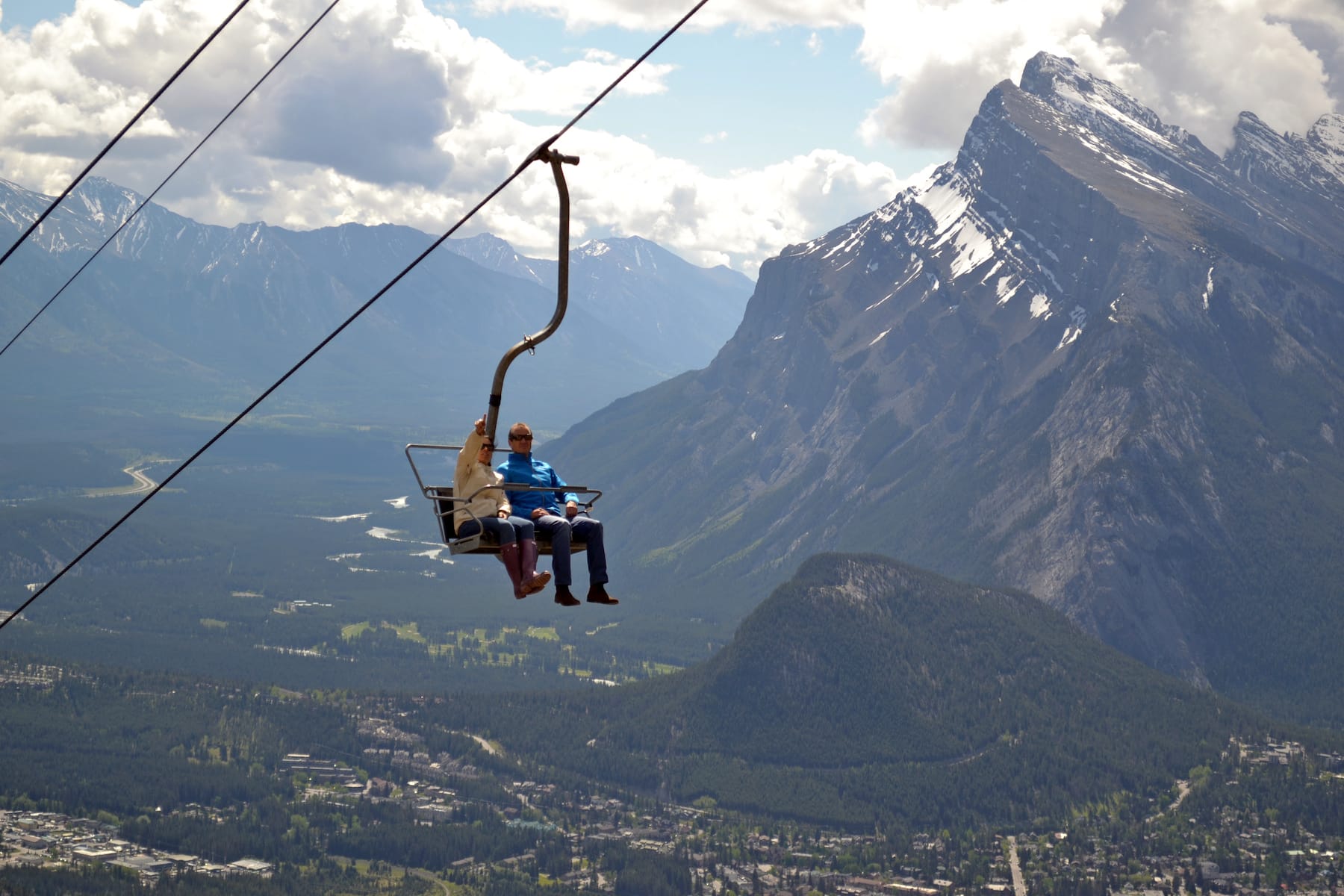 Before heading up to the Norquay chairlift, be sure to grab your park pass! All visitors of Banff National Park must hold a park pass in order to enjoy all that the park has to offer.
Why do they charge a fee to all visitors? The fee goes towards the upkeep and the improvement of the National Parks, Canada-wide. Thanks to your contribution, these Parks can be maintained and enjoyed as the years pass.
Here is everything you need to know about purchasing a Banff Park Pass.
---
Lions and Tigers and Bears, Oh My!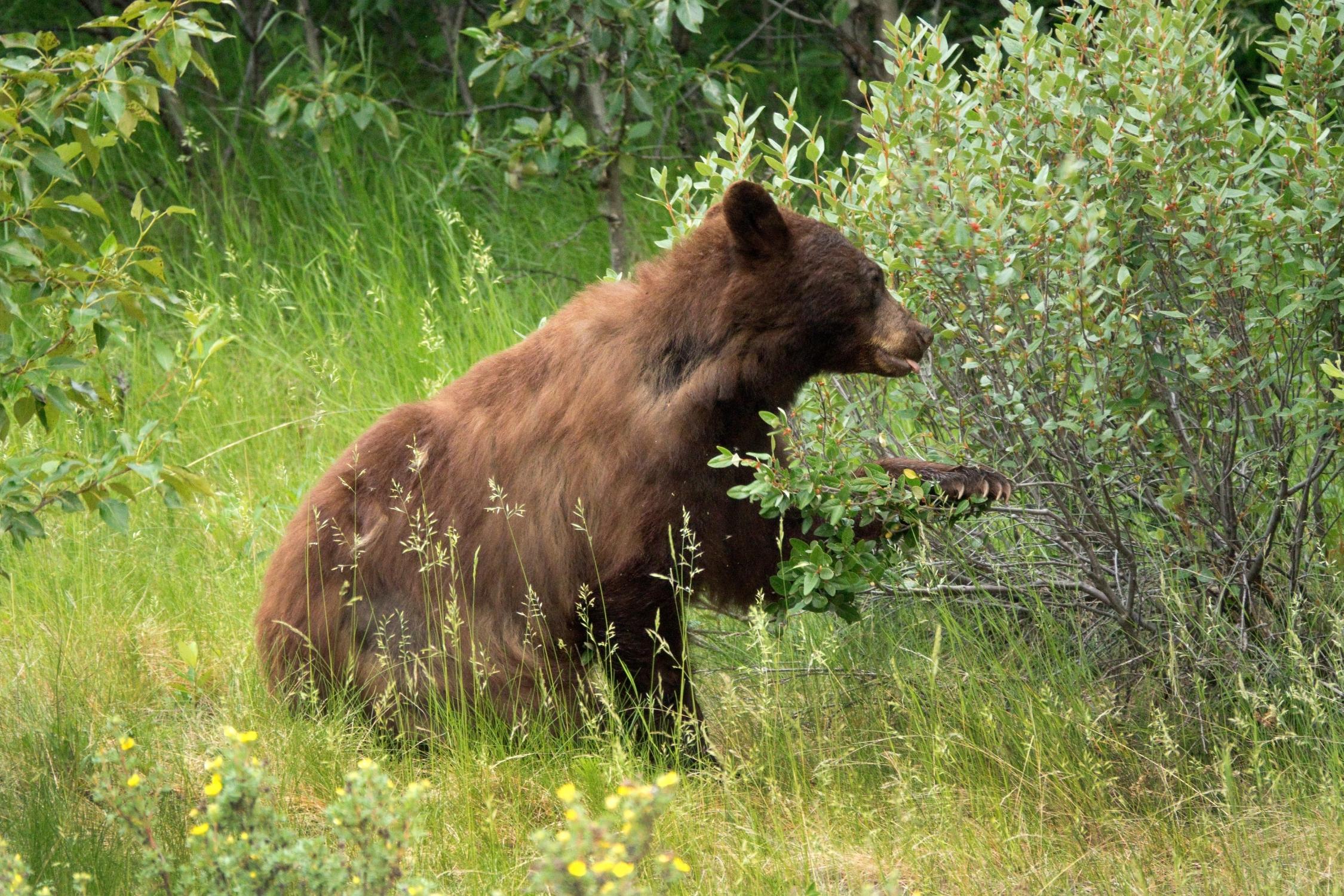 Ok, so maybe we're exaggerating with the "lions and tigers" part, but let's talk about bear and wildlife safety in the Rockies.
You might be lucky enough to spot a bear from the safety of your chairlift. Then again, you might encounter one before or after your ride. Banff National Park is rich in wildlife, and it is essential to stay bear safe.
Though bears and most other wildlife prefer to avoid human contact, as they increase interaction with humans, they become more curious.
It's best to always carry bear spray and be aware of your surroundings. Informing yourself is key help you feel prepared and stay safe around any wildlife you may encounter on your adventures at Norquay.
---
Layers, Layers, Layers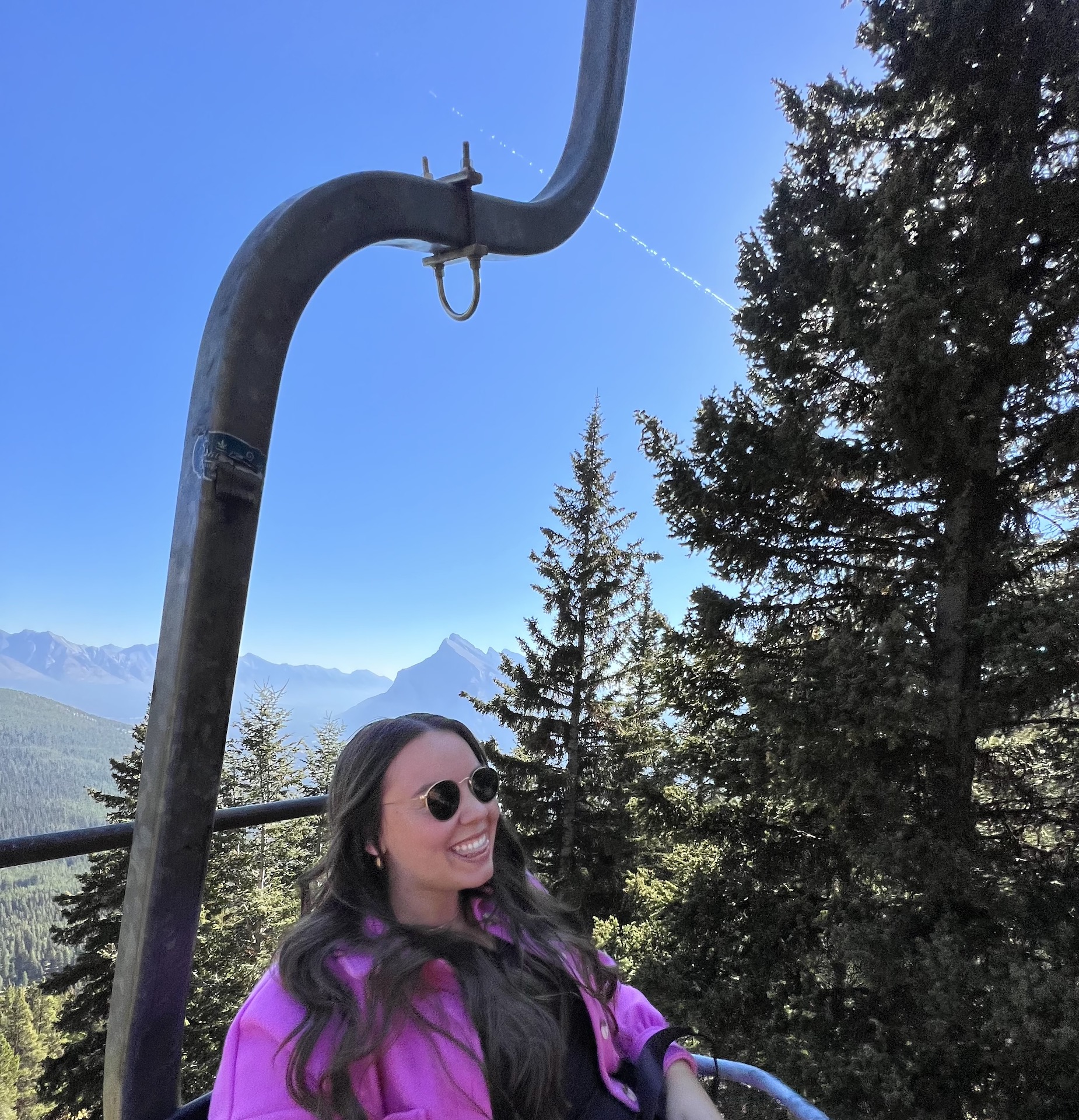 If you speak to a local, they will tell you that the key to enjoying your time in Banff is to dress in layers. The Mt. Norquay chairlift is no different.
Gaining 7000 ft in altitude typically means a shift in the temperature. From our experience, we have noticed a lowering in temperature at the top of the mountain, even on a warm and sunny day.
What does dressing in layers look like for us? We found that wearing comfortable shoes, light pants or shorts (weather dependant), a short sleeve t-shirt and pack a sweater or light jacket made for the perfect combination.
To add, in an area like Banff National Park, it is not uncommon for us to see 3 seasons in one day. It is always helpful to pack layers to make the most of your experience from start to finish.
ULTIMATE Banff Packing List (Covering Winter and Summer)
---
Restaurants Around the Mount Norquay Chairlift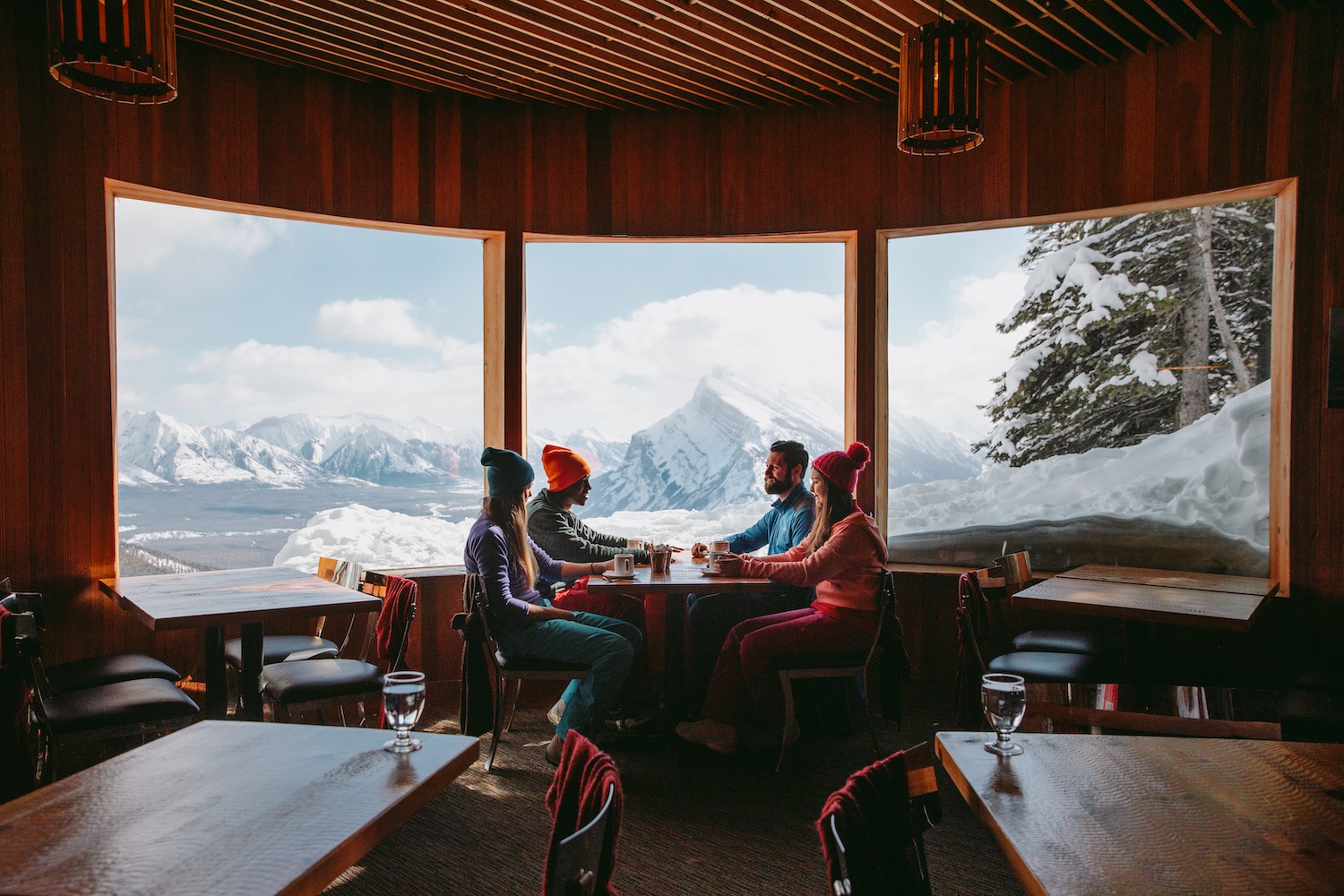 The Cliffhouse Bistro is situated at the top of the Mt. Norquay Chairlift and is one of the most scenic restaurants in Banff. The Bistro started out as a meeting place for skiers that would brave some of the steepest slopes.
Since then, this 1950's tearoom has been restored and transformed into a modern bistro. The decor offers cozy cabin vibes, all while keeping its rich history.
Some of our favorites from the summer menu were:
Meat & Cheese Board
Fungi Flatbread
Caesar (though this classic Canadian drink wasn't found on the menu- it was one of the best ones we've ever had)
---
Mount Norquay Via Ferrata

The Via Ferrata is a great option for thrill seekers. This guided and assisted climbing experience brings you along the cliffs above Mt. Norquay. They offer four different routes, where you will be climbing ladders, crossing suspension bridges and breathing in the fresh mountain air.
They offer different experiences, depending on the length of time you are able to commit to and the level of difficulty you are ready to take on.
Explorer Route
2-2.5 hours
Shortest time
Intro to Via Ferrata
Ridgewalker Route
3.5-4 hours
Half day experience
Full Via Ferrata experience
Skyline Route
4.5-5 hours
High traverse on a sheer rock wall
55m suspension bridge
Scenic ridge-crest descent
Alpinist Route
4-5 hours
Longer than the Ridgewalker but done in same amount of time
Brisk pace with fewer stops
Continuous moderate to strong exertion
Summiteer Route
6 hours
Longest adventure
Traverse the alpine ridge
Additional 3-wire suspension bridge
360-degree views of the Rocky Mountains
---
Comparable Experiences in the Area
The Canadian Rocky Mountains have so much to offer. The Rockies can be appreciated both from the ground looking up, or on top of peaks, thanks to the offered chairlift and gondola experiences.
Undoubtedly, they each offer unique experiences, with new peaks to see, restaurants to try and activities to enjoy while you are there.
Banff Gondola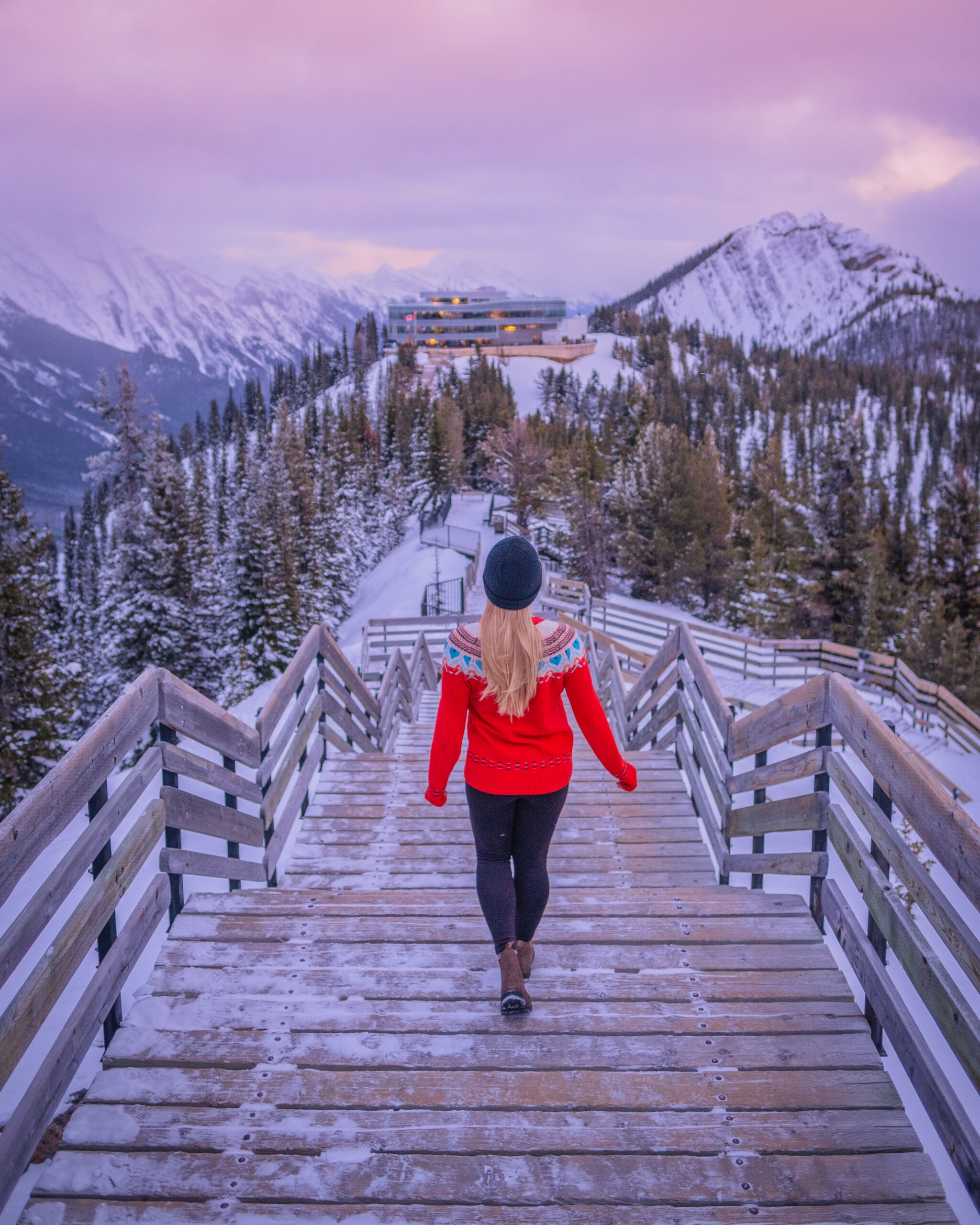 The closest gondola to Mt. Norquay is the Banff Gondola. Located on the opposite side of the Town of Banff, this experience brings you up Sulphur Mountain. It is known for its panoramic views, its year-long accessibility as well as its variety of food options to choose from.
The Banff Gondola is wheel chair and stroller accessible throughout the main building, but not on the boardwalk. There is accessible parking found 30 meters from the front entrance.
The pricing of the gondola tickets varies based on the season. The typical ranges are:
Adult: $50-70
Ages 6-17: $25 and up
Children under 5: free
It is recommended to book in advance, as the Banff Gondola is one of the top attractions in Banff and tickets do sell out fairly quickly in the summer months.
Lake Louise Gondola
The Lake Louise Gondola is another great option summer option. This lift brings you up Whitehorn Mountain, allowing you to enjoy a new perspective of the area and of the beautiful Lake Louise.
Gaining 2101 m of elevation, you can enjoy the tranquility of the mountain top, grab a bite to eat and have a stroll along the mountainside.
These are various pricing options based on age and number of people attending.
Adult (14-64): $60
Senior (65+): $49
Youth (13-17): $25
Child (6-12): $13
5 & Under: Free
Family (2 adults and 2 kids): $140
Jasper Gondola/Skytram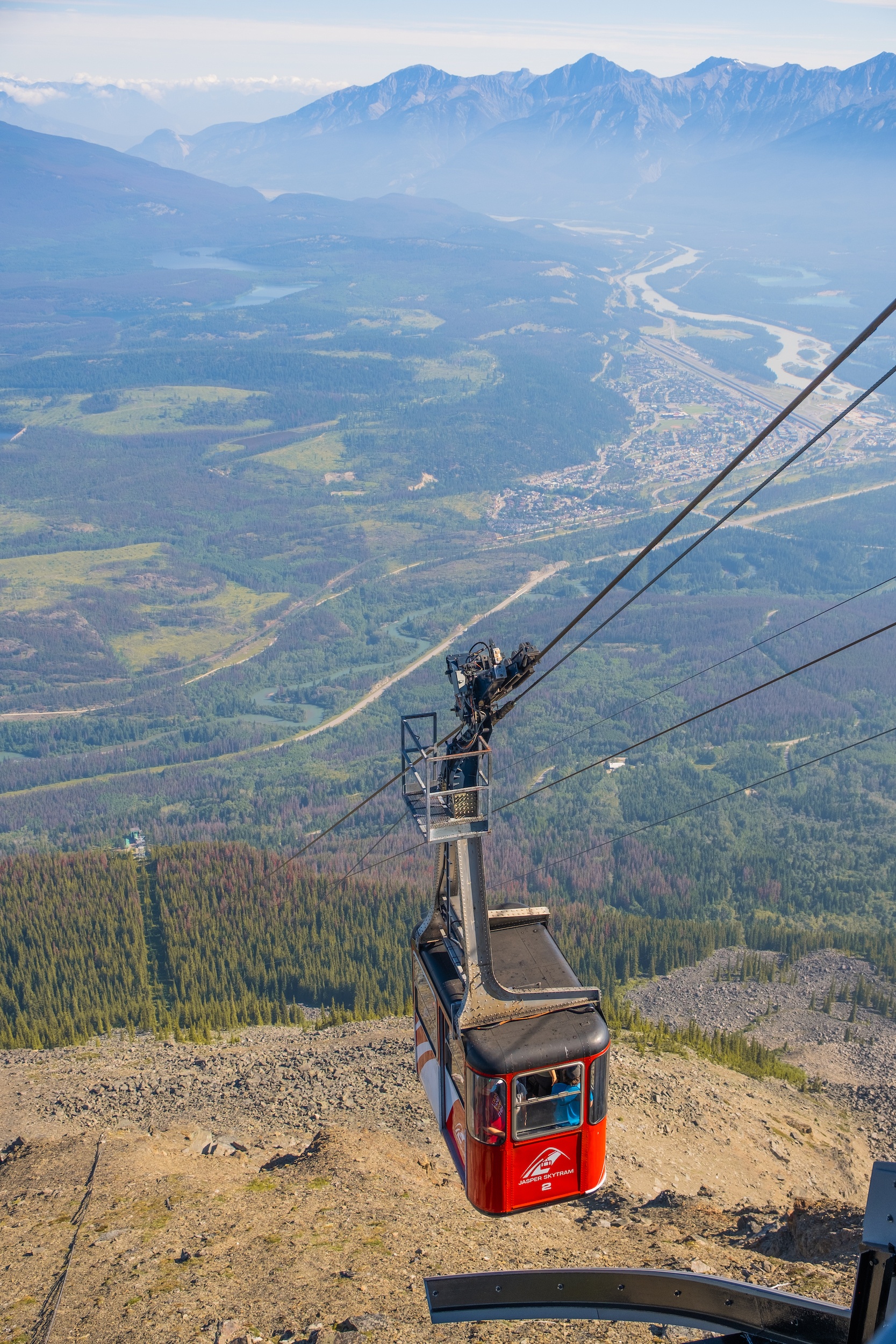 The Jasper Gondola is among the best things to do in Jasper. It is a great option during the summer months, as it has some of the most iconic views of Jasper.
Once at the top, there is a small gift shop and a restaurant to enjoy. Though it isn't as elaborate as your other gondola options, the views make this experience worthwhile, and skytram visitors also have the option of hiking to Whistlers Summit, one of the best Jasper hikes.
The prices for the Jasper Gondola are quite comparable to those at the Lake Louse gondola, with the delightful possibility of bringing your furry friends along by purchasing a dog ticket.
Adults (16+ years): $57.30
Youth (6-15 years): $30.35
Child (Under 6 years): Free
Dog Ticket: $6
Family Package (2 Adult + 2 Youth): $131.50
Read More: ULTIMATE Banff Gondola Comparison Guide: Lake Louise, Sunshine, Banff, Norquay? Which is Best?
---
Mt. Norquay in the Winter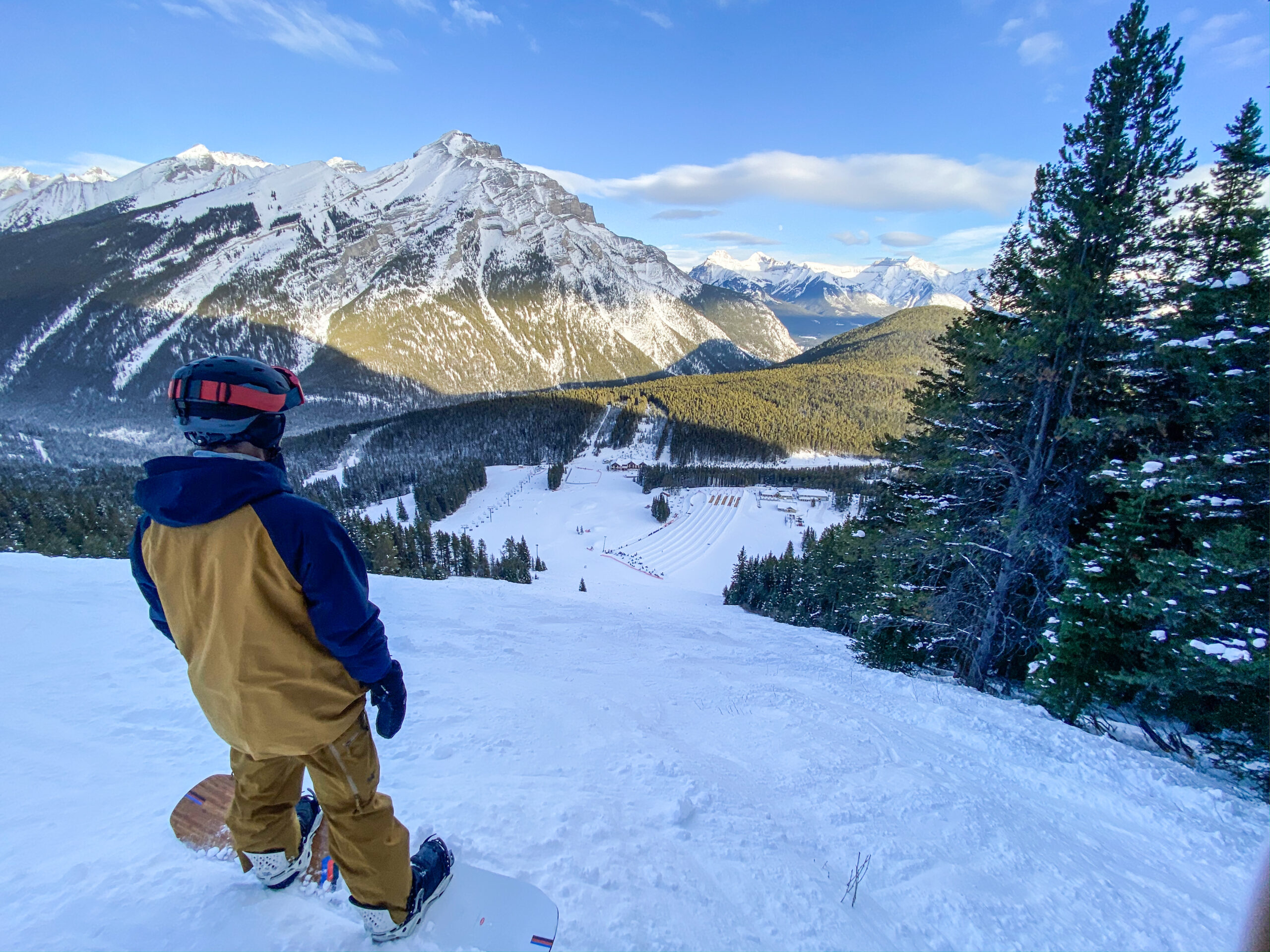 Mt. Norquay is not only a fun experience in the summer with its chairlift, restaurant, and Via Ferrata experience, but it has a lot to offer in the winter.
It is amongst the top ranked ski resorts in Canada and is known for being a family-friendly resort. We find this ski hill to be best suited for beginners, while more expert skiers may want to head to Banff Sunshine or Lake Louise.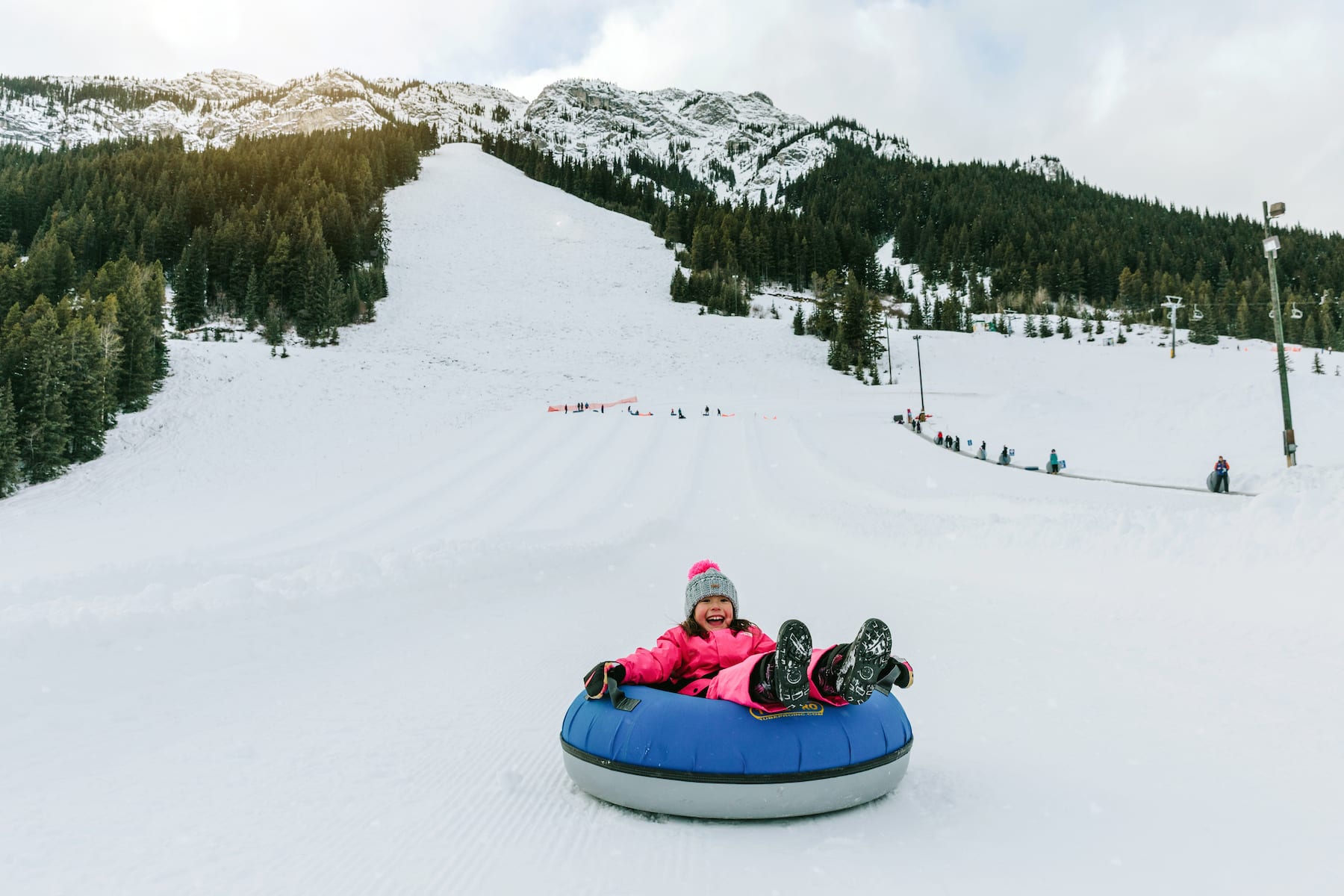 On top of offering a family-friendly ski hill, Mt. Norquay offers snowtubing. Their snow park has the longest snow tube lanes in all of Alberta which makes for a fun experience for people of all ages. The best part? There is a magic carpet surface lift that will carry you back up the hill! Enjoy a fun experience with family and friends without even breaking a sweat.
---
Is Mt. Norquay Summer Chairlift Worth It?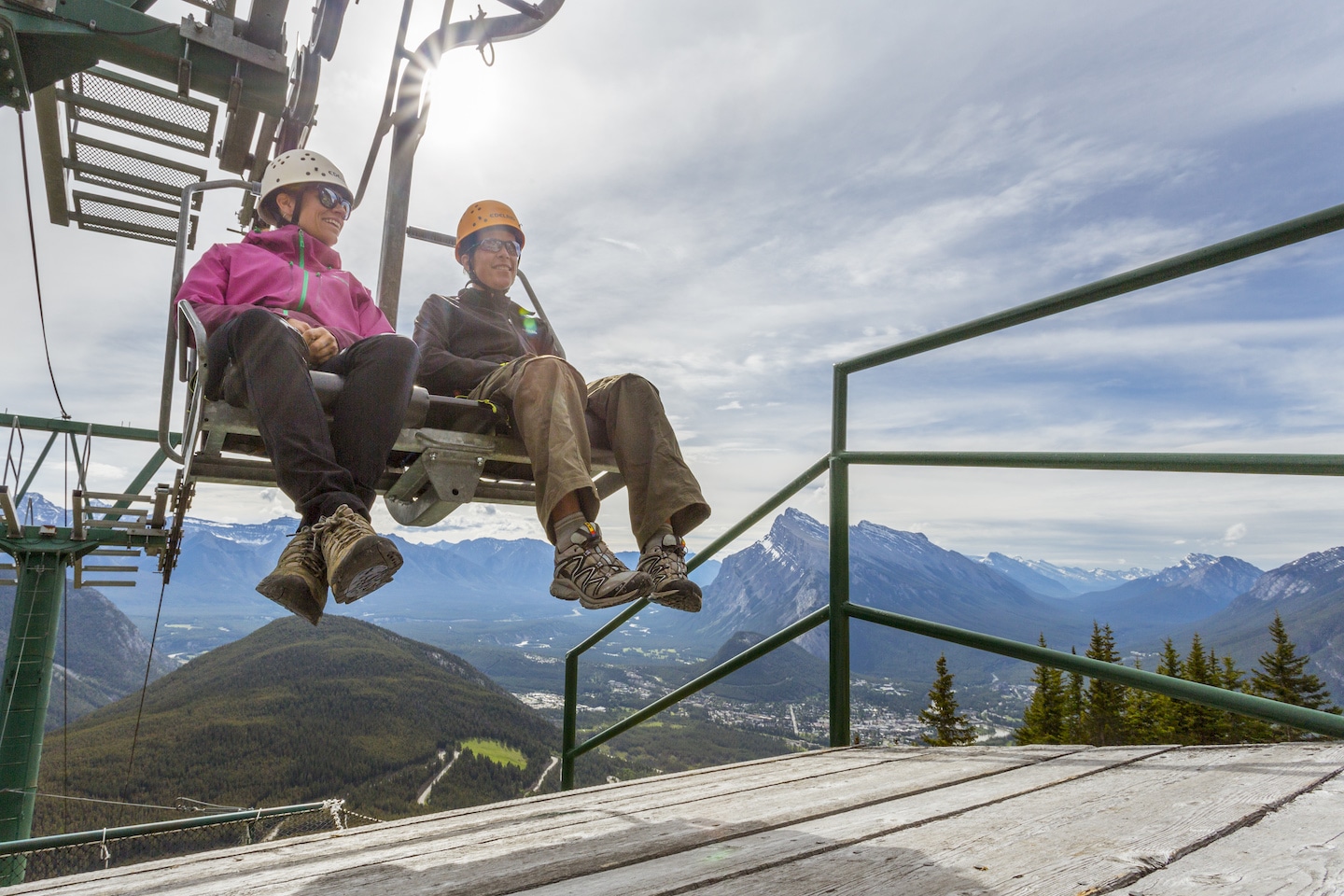 Hopping on the Mt. Norquay summer chairlift is one of our all-time favorite things to do in Banff in the summer. It offers the most reasonable pricing of all lifts/ gondolas in the area, has a scenic restaurant that combines rich local history with modern cuisine, and a Via Ferrata experience to feed the adventurous side.
You won't regret adding the Mt. Norquay Summer Chairlift to your 2023 bucket list!
---
Mt Norquay Lookout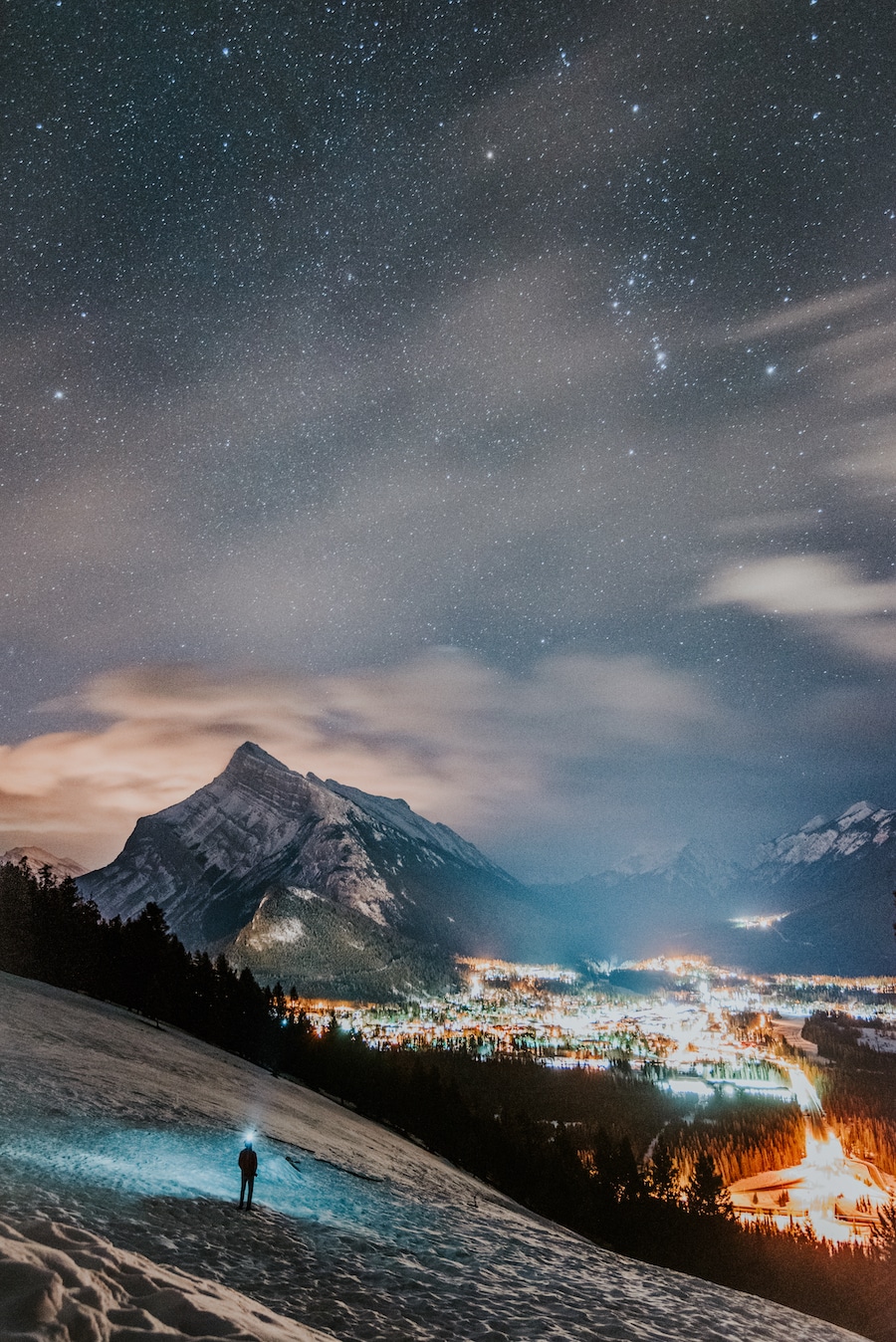 On your way up to Mount Norquay, keep an eye out for the Mt Norquay Viewpoint, as it gives exceptional views over Mount Rundle. You know it's exceptional because Parks Canada has put a few of its iconic red chairs there for visitors to sit and marvel at the view.
To reach this destination, you'll need to drive to Mt. Norquay for about 4.8 km till you reach a pull-off point on your right-hand side. The best time to photograph the Mt. Norquay Viewpoint is at sunrise or sunset as the light hits Mount Rundle.
BEST Banff Photography & View Point Spots (and How to Get To Them)
**Cover photo courtesy of Paul Zizka
Plan Your Trip to the Canadian Rockies