For many, canoeing on Lake Louise is a highlight of their trip to Banff National Park. There is likely no place more quintessential to rent a canoe in Banff than Lake Louise. It's one of the most spectacular scenes in the world. It's tough to find a more spectacular scene to paddle through as you look out to Mount Victoria and the hanging Victoria glacier.
No need for fancy edits on your photographs the water in Lake Louise, like Moraine Lake, is indeed that radiant turquoise blue. While we don't all bring a canoe with us to Banff, you can get a Lake Louise canoe rental at the boathouse.
If you do own a canoe, you'll have to arrive very early in the morning to secure parking close enough to carry the canoe.
See Also:
---
Lake Louise Canoe Rental Information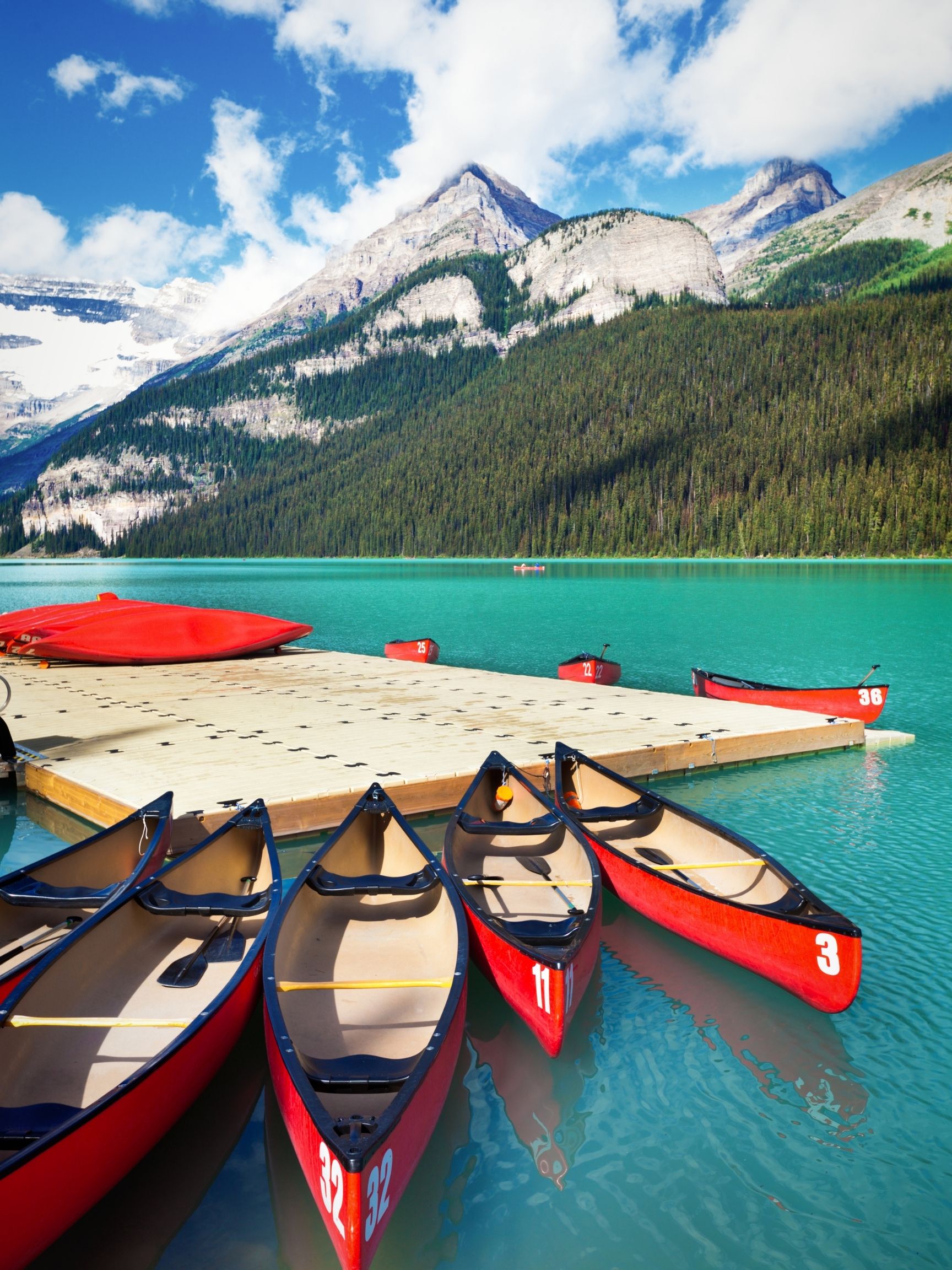 Lake Louise is the most popular attraction in Banff National Park and draws a crowd in the summer months. The trails around Lake Louise fill up and thousands of people grab their photo in front of spectacular scenery.
It is a magnificent setting, but it can be a little difficult to escape the crowds. One of the best ways to escape the crowds is to take to the water with a canoe.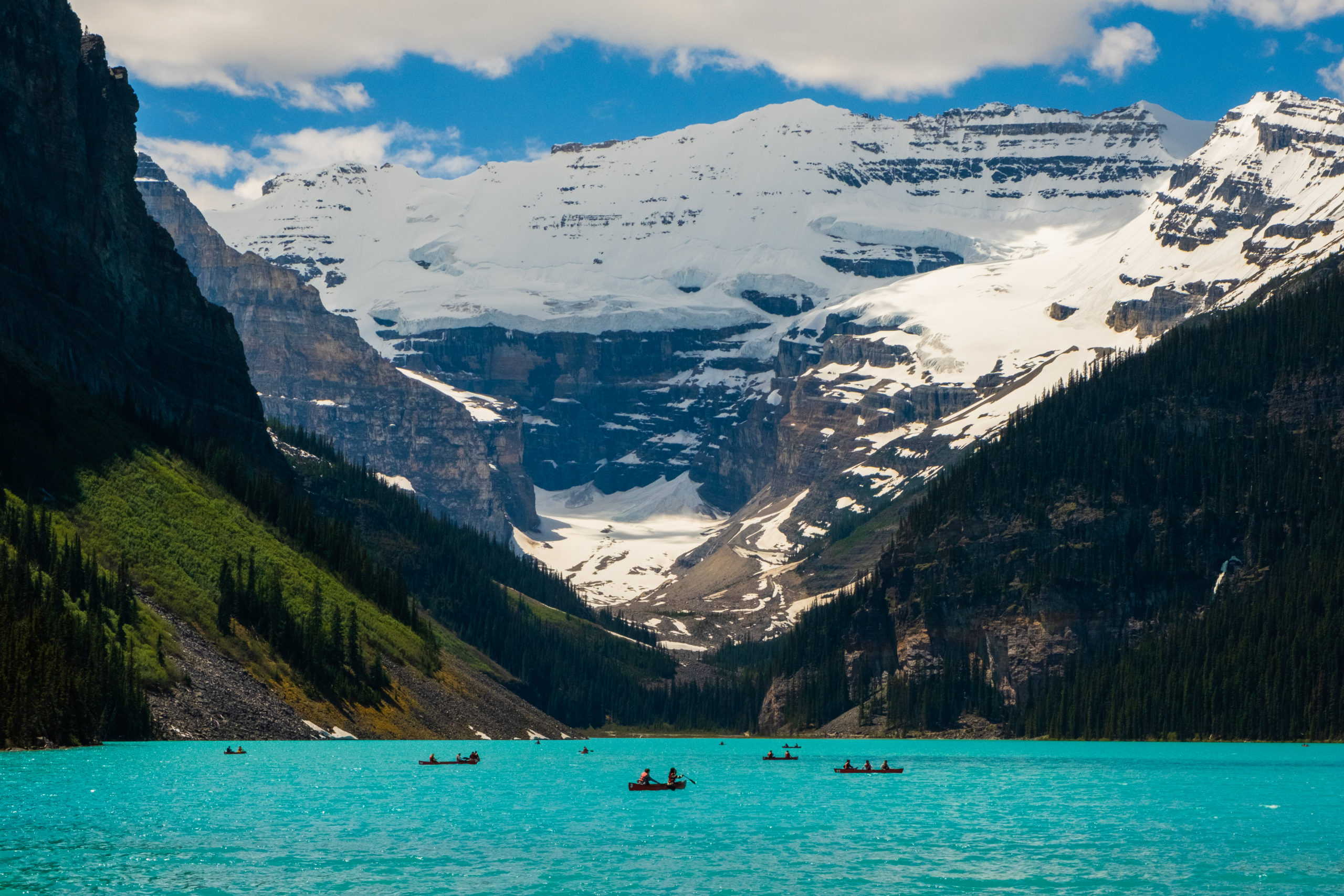 That being said, outside of early morning or late evening there will likely be a wait for a canoe rental at Lake Louise, and securing a Lake Louise canoe is first come first serve.
Once you're out canoeing on Lake Louise, you won't have the lake to yourself, but it's easy enough to keep your distance from other canoes on the lake.
This is particularly easy if you aim to paddle the whole lake as most people tend to stick close to the dock and the middle of Lake Louise. If you want to paddle the entire lake plan for around one hour, depending on your ability.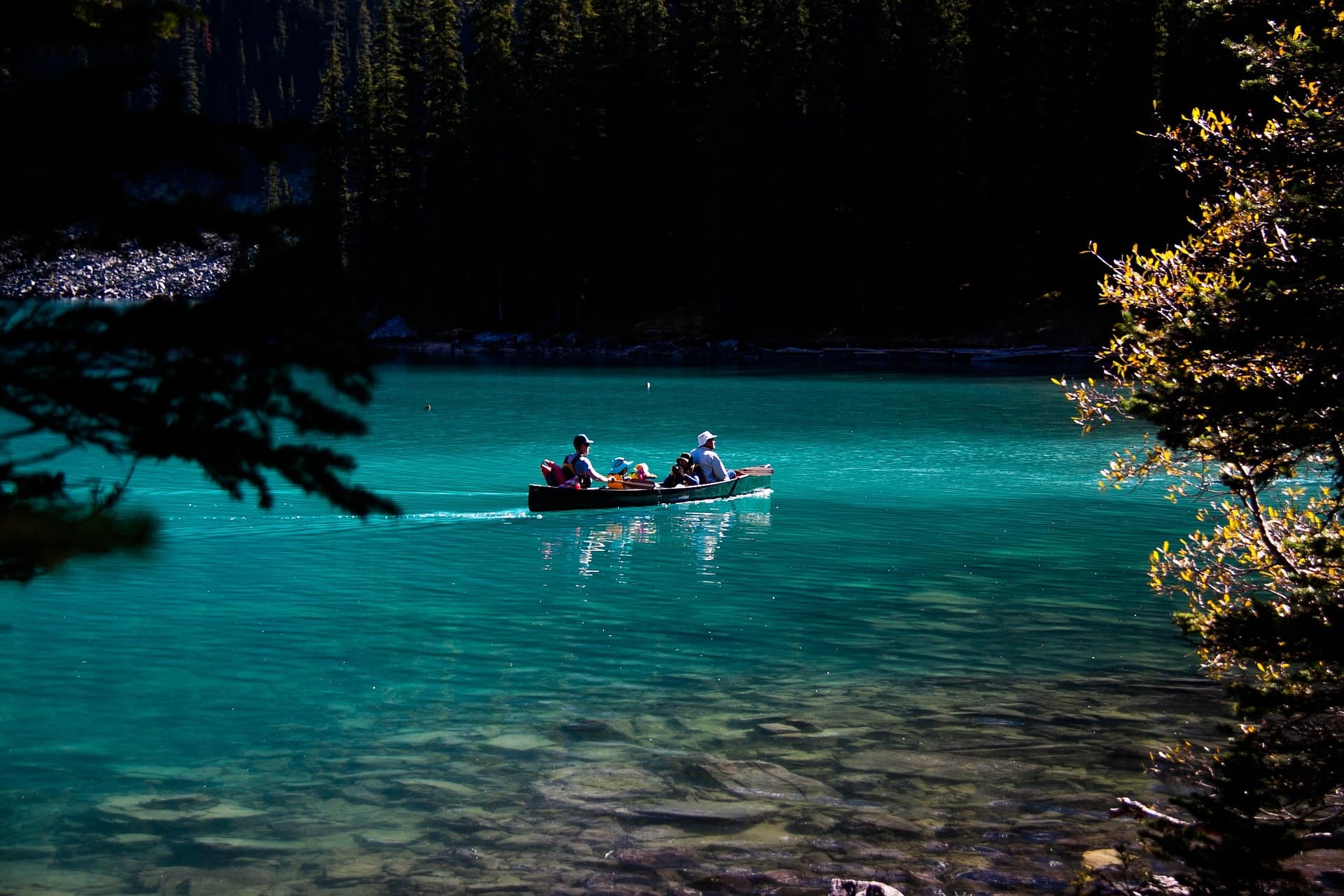 You can bring your own canoe or kayak to Lake Louise, but there is no public boat launch. That means most visitors will have to rent canoes from the boat dock at Lake Louise. The dock is run by the Fairmont Chateau Lake Louise and its open daily in-season from 11 a.m. to 6 p.m.
Canoe rentals operate on a first-come-first-serve basis so expect to wait in a line during peak summer. Each canoe rental must have at least one person 16 years old and the maximum number of passengers is 3.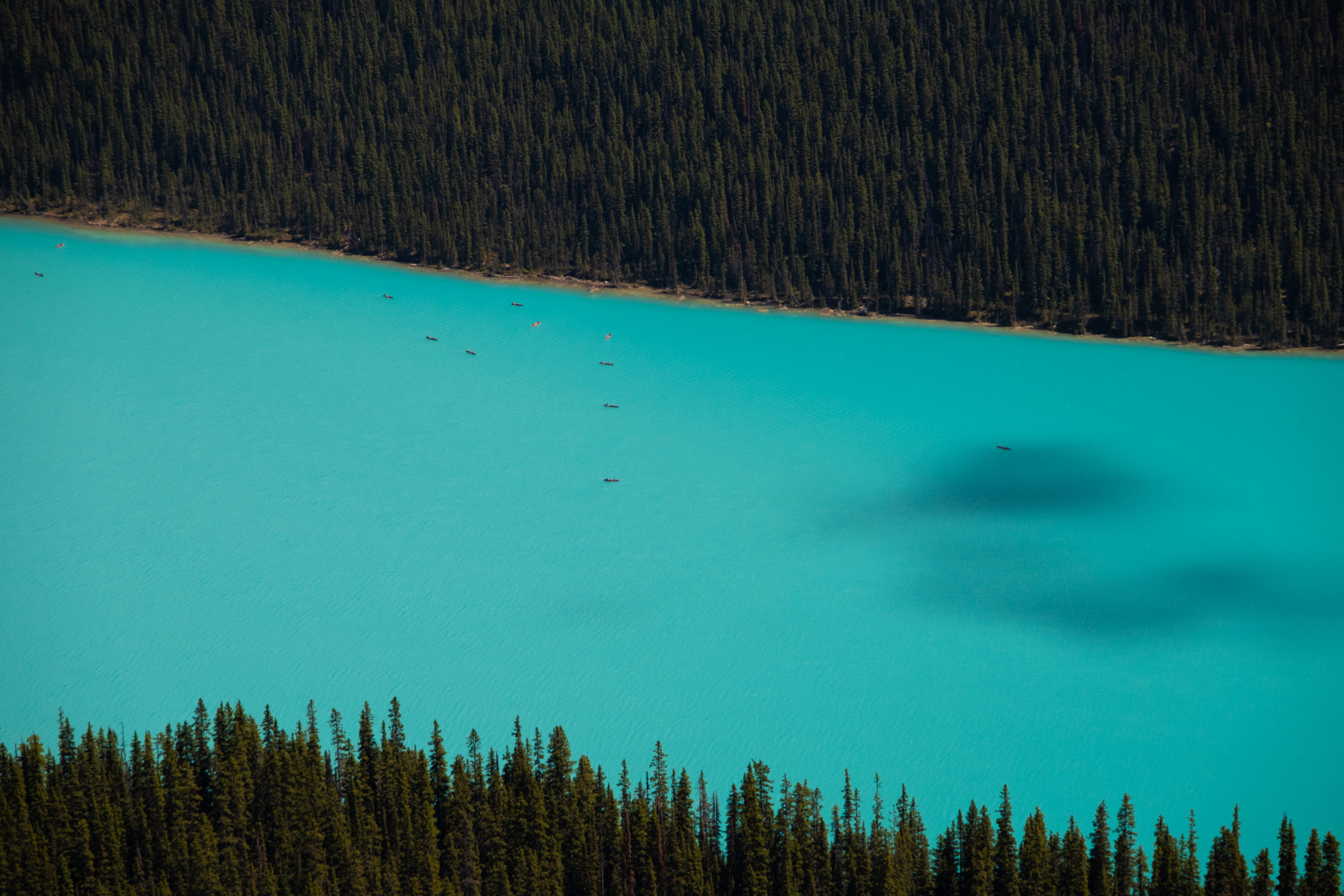 As the hotel operates the boat dock hotel guests are given priority treatment with a priority line and reduced rental rates. Hotel guests can also take advantage of a sunrise canoe experience where they can exclusively rent canoes for the early morning and experience Lake Louise before the crowds set in. Reservations for this are required by 10:00 PM the day prior.
As additional experience guests can book the Voyageur Canoe Experience from a 26' cedar strip group canoe. The guided canoe trip is great for families, and the guide will supply an ample amount of information about the history of the park's early explorers and wildlife.
---
Lake Louise Canoe Rental Season and Rental Hours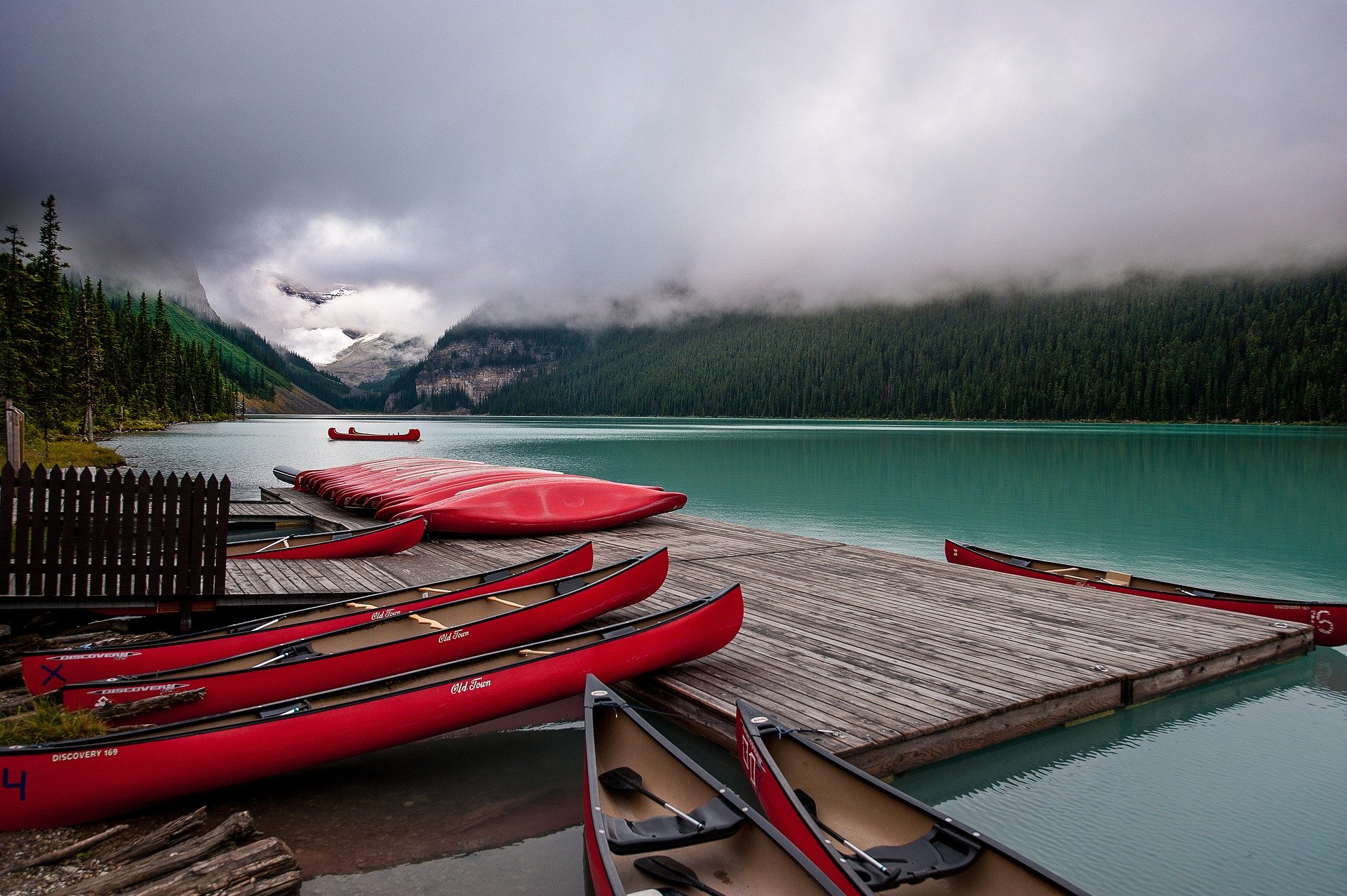 Every season is different as it's entirely dependent on seasonal weather. Generally, the lake thaws around mid-June and the canoe rentals run until the end of September, when the snow begins to fall.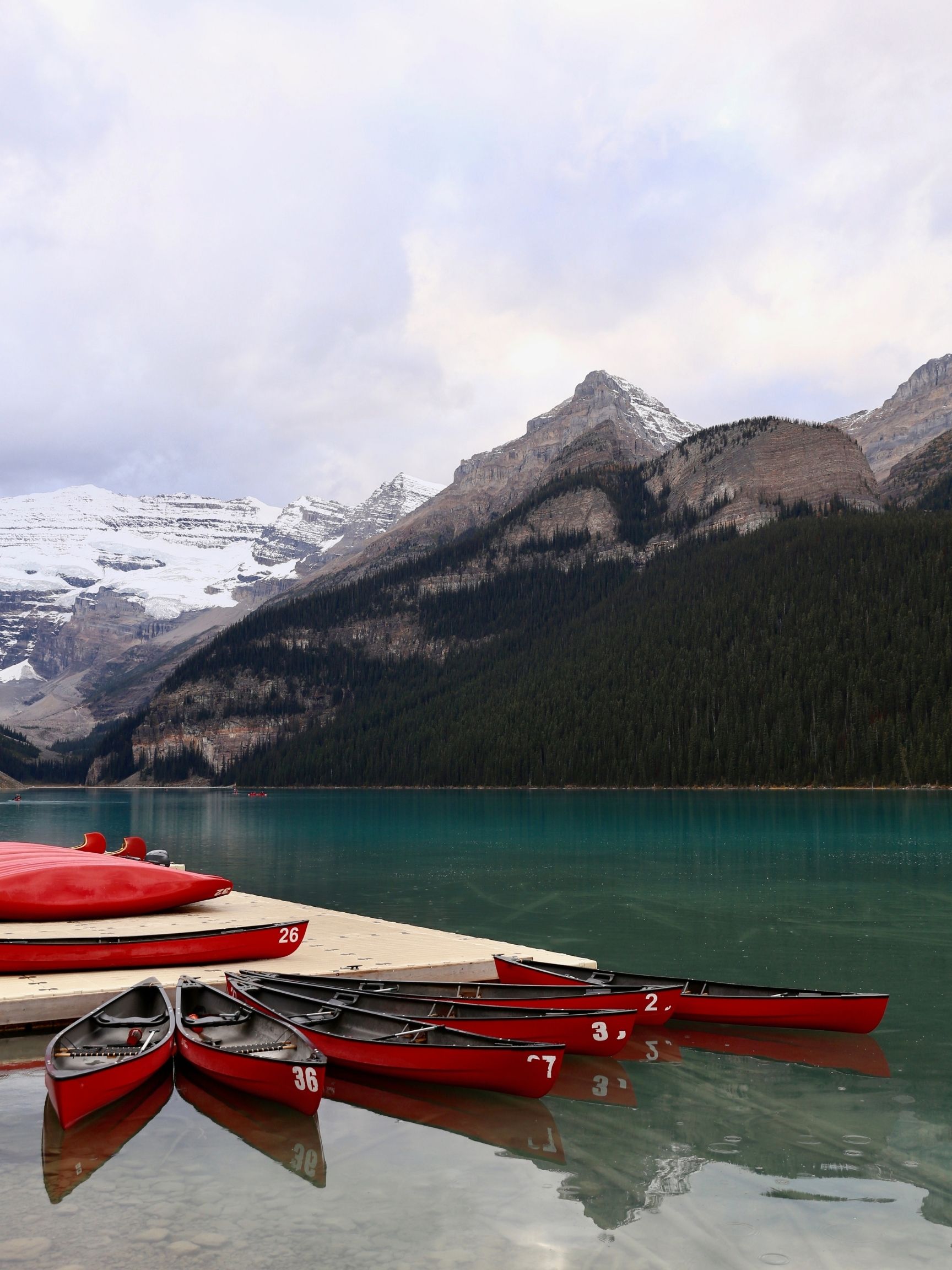 The daily hours are from 11 a.m. to 6 p.m., weather permitting as they will close with severe inclement weather. Keep in mind the last boat is around 6 p.m. as the boat dock closes to the public at 6 p.m.
In 2023, the Lake Louise Boathouse is scheduled to open on June 2.
---
Lake Louise Canoe Rental Rates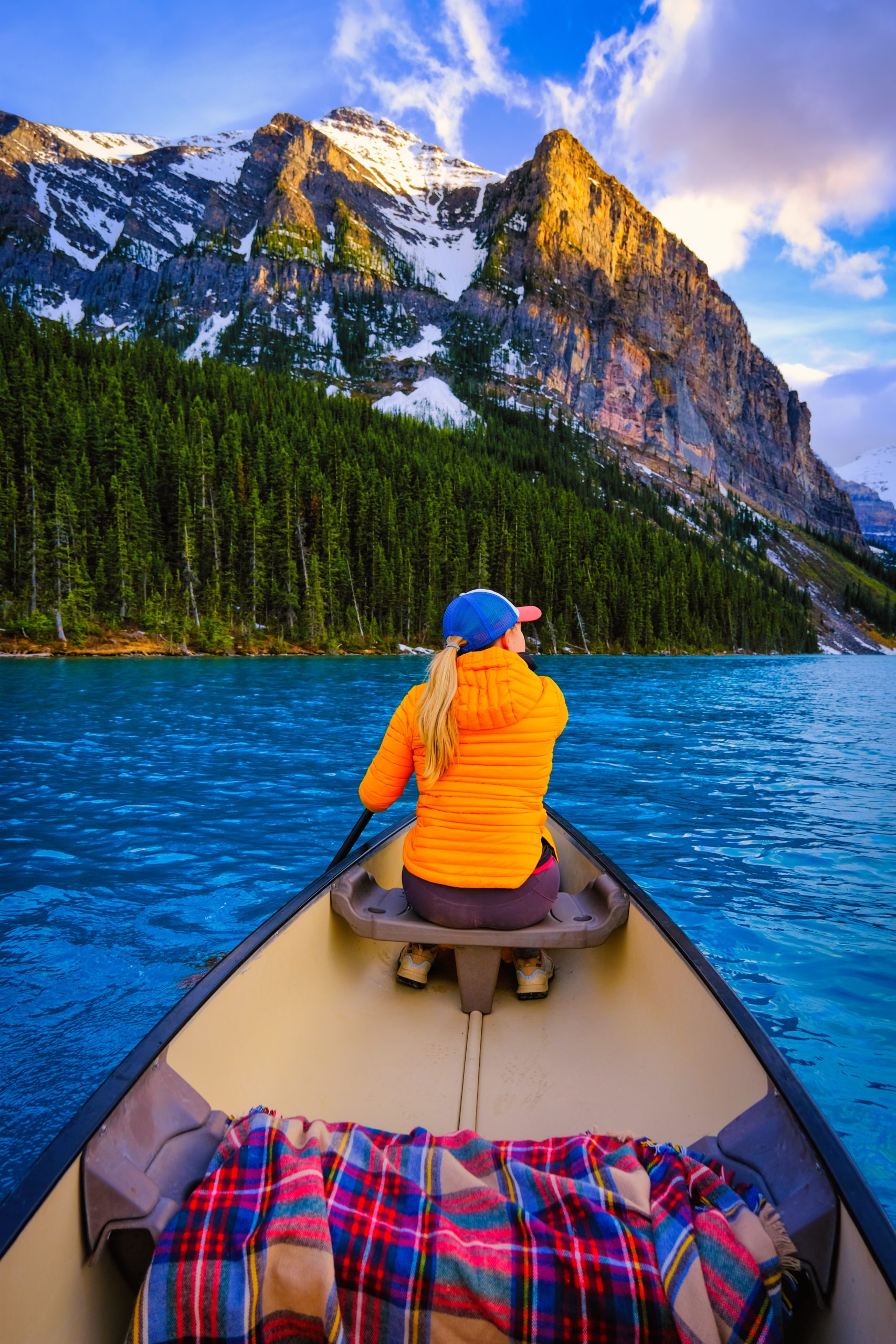 | Experience | Price |
| --- | --- |
| Canoe Rental For Public | $155 per hour / $145 per half hour (+tax) |
| Canoe Rental For Hotel Guests | $95 per hour / $85 per half hour (+tax) |
| Voyageur Canoe Experience For Hotel Guests | $60 per adult / $30 for youth |
| Voyageur Canoe Experience For Non Hotel Guests | $75 per adult / $40 for youth |
HOURS OF OPERATION (2023): Friday, June 23 – Onwards: 8:30 a.m. – 9:00 p.m.* (last boat out at 8:00 p.m.)
---
How Long Can You Canoe on Lake Louise?
Lake Louise canoe rental rates are charged by the hour and half-hour, though they are only $10 cheaper for 30 minutes so it's best to canoe on Lake Louise for the entire hour. An hour on Lake Louise should give you plenty of time to take in the views and canoe around the lake.
---
Why Are Canoe Rentals at Lake Louise Expensive?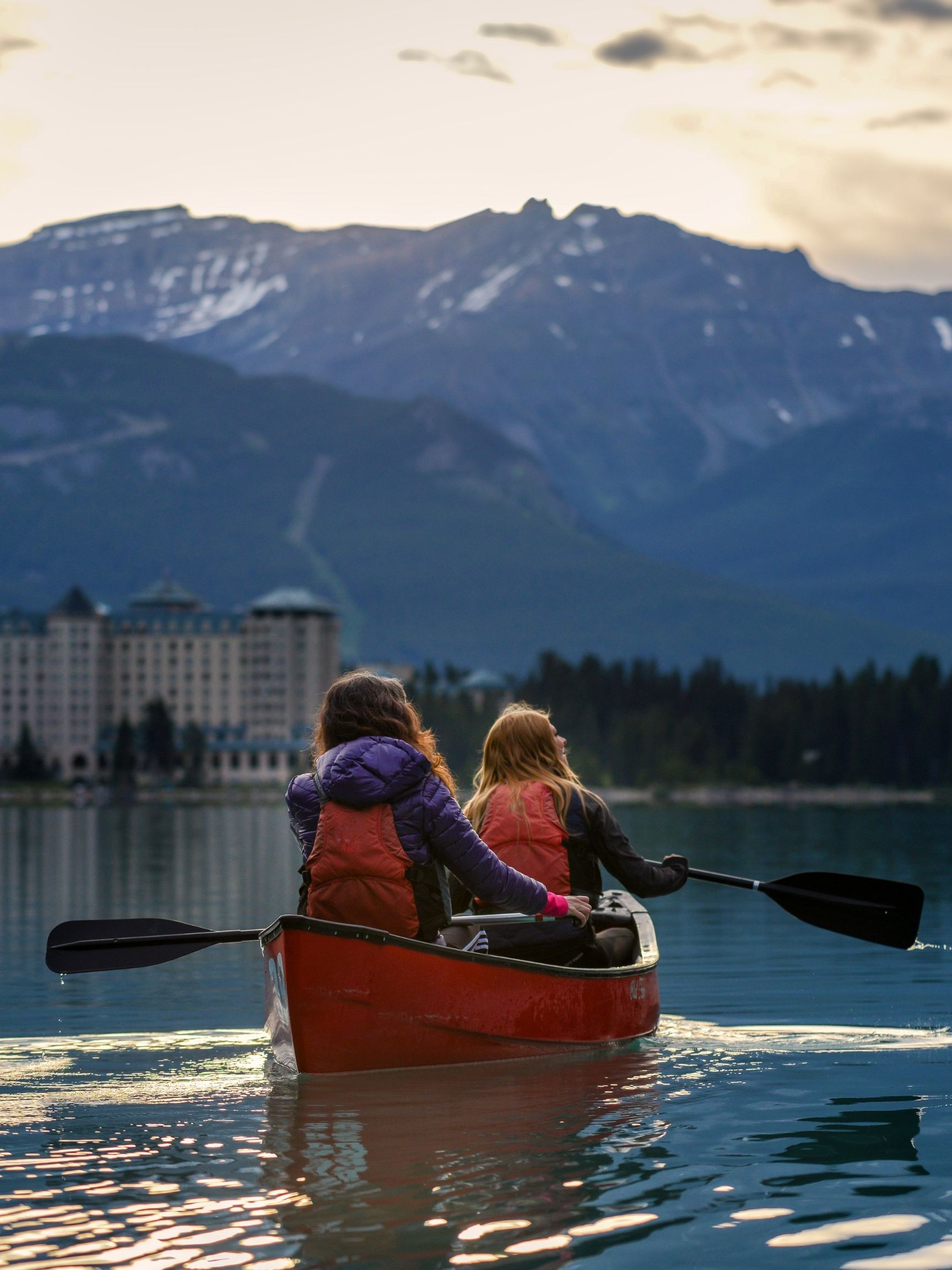 I'm sure by now you realize canoe rentals in Lake Louise are pretty expensive. There are several reasons for the prices of canoe rentals. The first is the short season the operators have to recoup their investment as it's only a couple of months that the Banff lakes are unfrozen.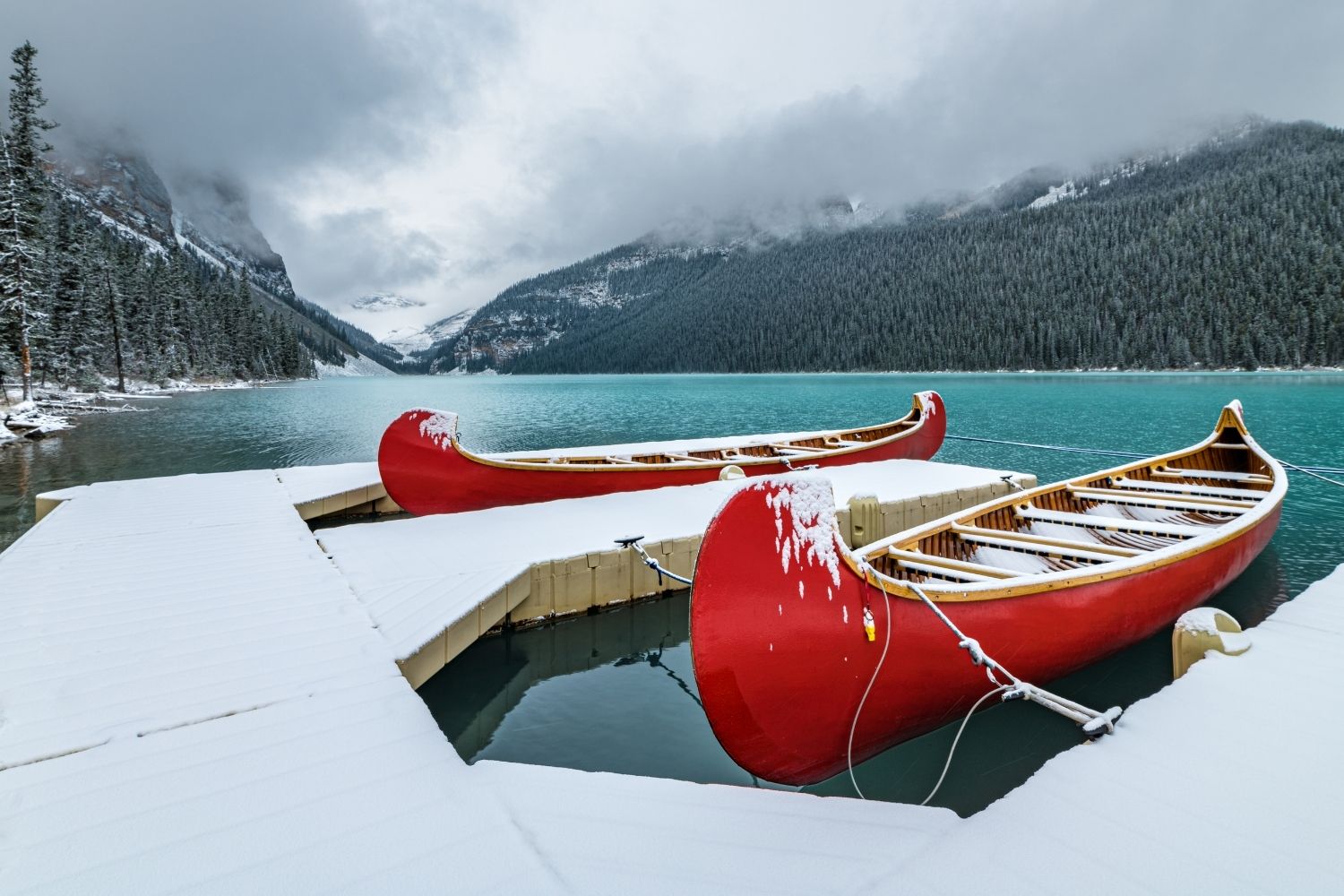 You also have zero competition, so the Fairmont can set whatever price they see fit, which happens to be the highest in the park. On top of all that, the liability insurance for operating in the park and renting canoes is costly.
If you are looking for a more reasonably priced canoe experience, we recommend canoeing on Emerald Lake nearby.
---
Can You Reserve a Canoe at the Lake Louise Boathouse?
Canoes are rented on a first-come/first serve basis. If you are a non-Fairmont guest, you can expect to stand in line for well over an hour to rent a canoe at Lake Louise.
---
Lake Louise Boathouse Things to Know
Anyone visiting Lake Louise can rent a canoe at the Lake Louise boathouse. The rental house is not just for Fairmont guests. Though Fairmont guests have a separate line and are given priority over nonguests.
Up to 3 adults can use one canoe at the boathouse. Any person weighing more than 55lbs is considered an adult at the boathouse.
Lifejackets are provided at the boathouse for every guest on the canoe. Everyone must wear a lifejacket while paddling with a rental.
Dogs and children are allowed on the Lake Louise canoes.
Stand-up paddleboards and kayaks are not available at the Lake Louise boathouse. The only flotation device you can rent here is a canoe.
---
Tips For Canoeing on Lake Louise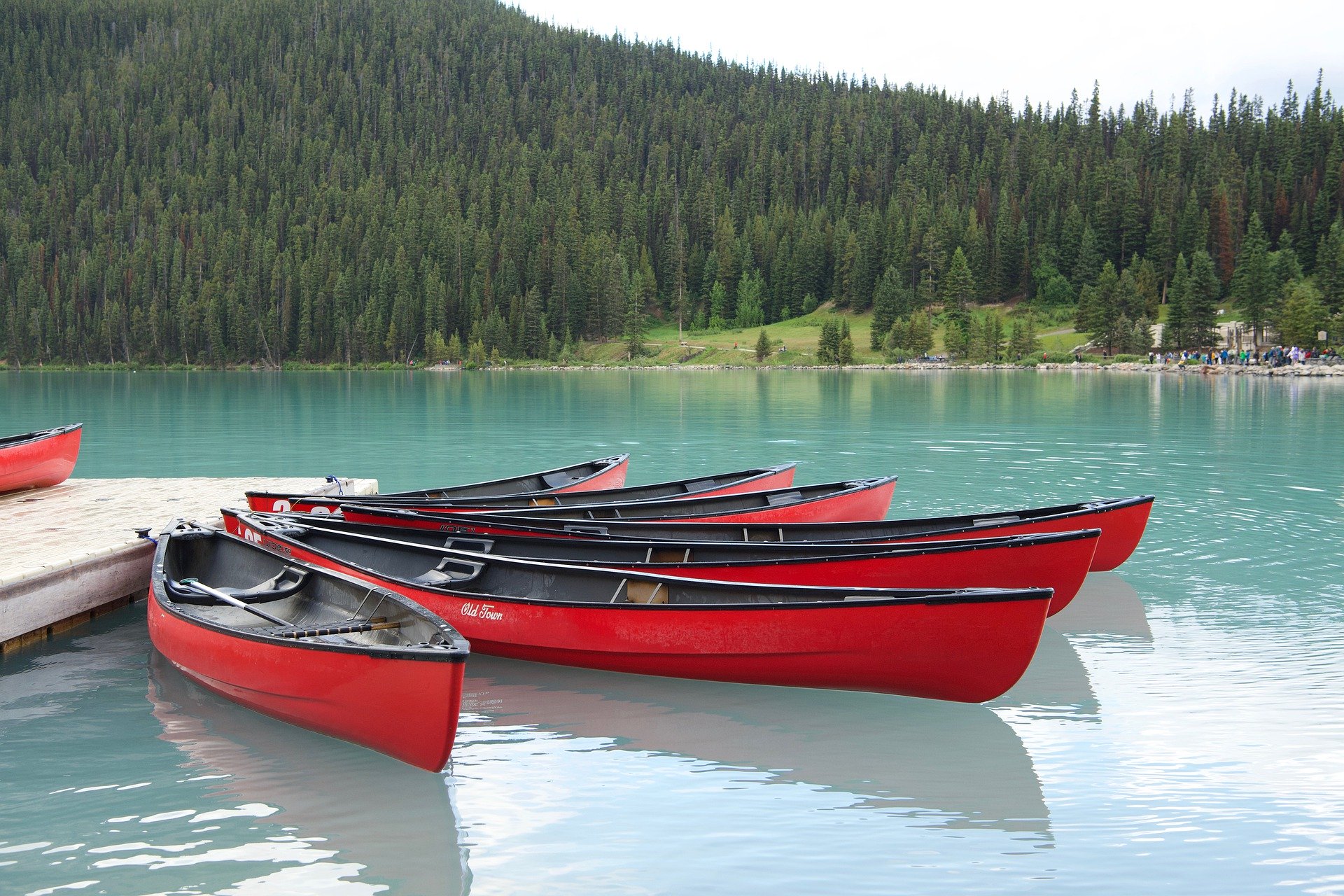 Temperatures are very cool in the shoulder months of June and September. When you go out on the water, be sure to pack in layers to remain warm.
Weather on the lakes particularly the large bodies of water can change rapidly. Keep an eye on the horizon if it's looking like a storm or the wind starts to pick up it may be time to get off the water.
Take sun protection seriously on warm days as the water reflection is very strong. We suggest making sure you have a hat, long sleeve shirt, and sunglasses.
Bring a water bottle in case you start heating up in the peak summer.
Remain calm and don't rock the boat when out on the water. The glacial-fed Lake Louise is frigid all year round and you're not going to be a happy camper if you end up in the water and require rescue.
Canoe rental operators provide life jackets so make sure to take advantage.
---
The Voyageur Canoe Experience at Lake Louise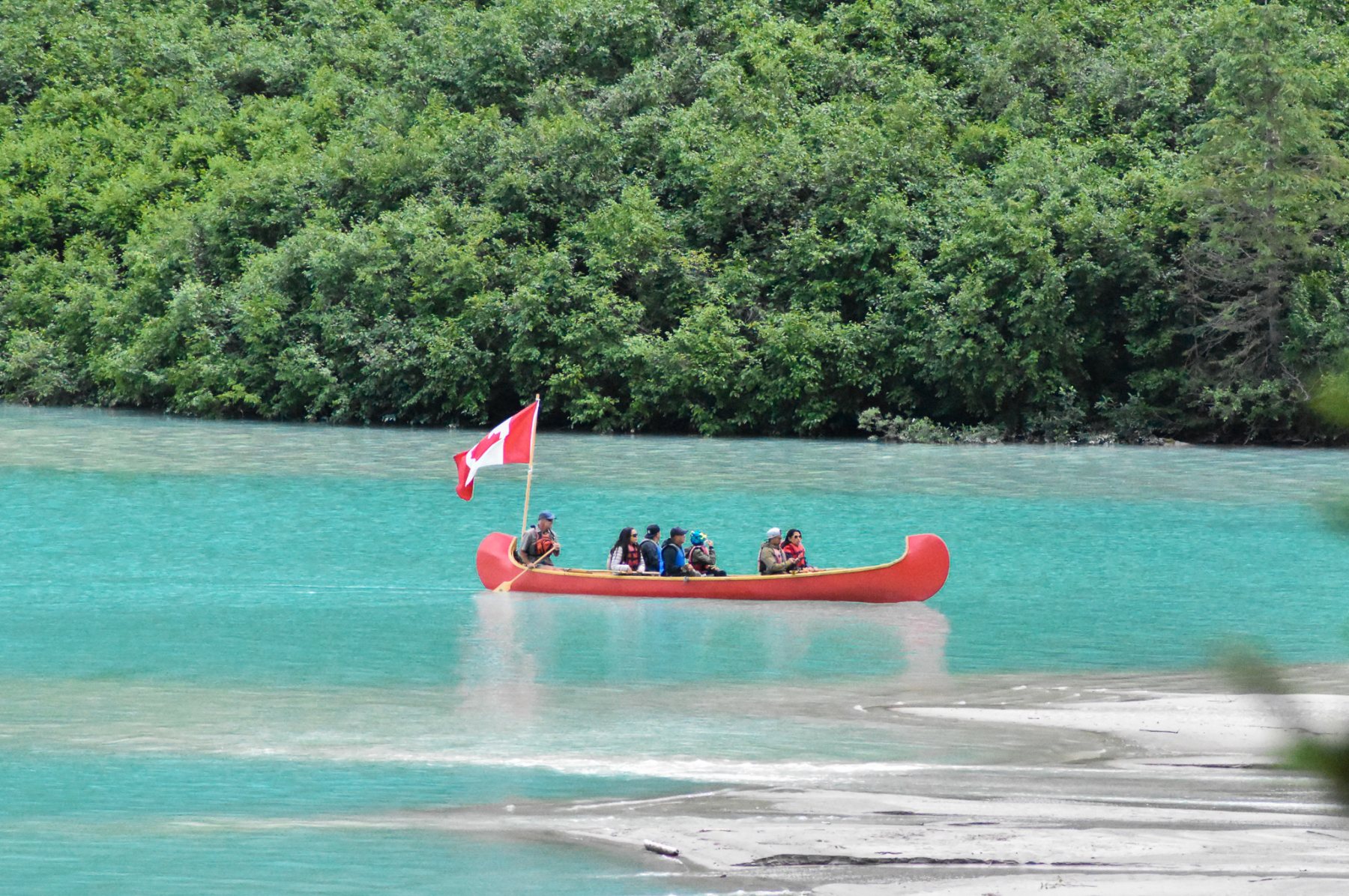 The Voyageur canoe experience is offered through the Fairmont for $60 per adult and $30 per child (for hotel guests). This allows groups up to 12 to enjoy canoeing on Lake Louise in an authentic 26' cedar strip canoe with a guide.
The guides will be able to tell the group all about the area and the history of the land. This experience must be reserved in advance through the Fairmont.
Non hotel guest rate: $75+GST per adult, $40+GST per youth (ages 8-12)
---
Can You Bring Your Own Canoe Or Kayak on Lake Louise?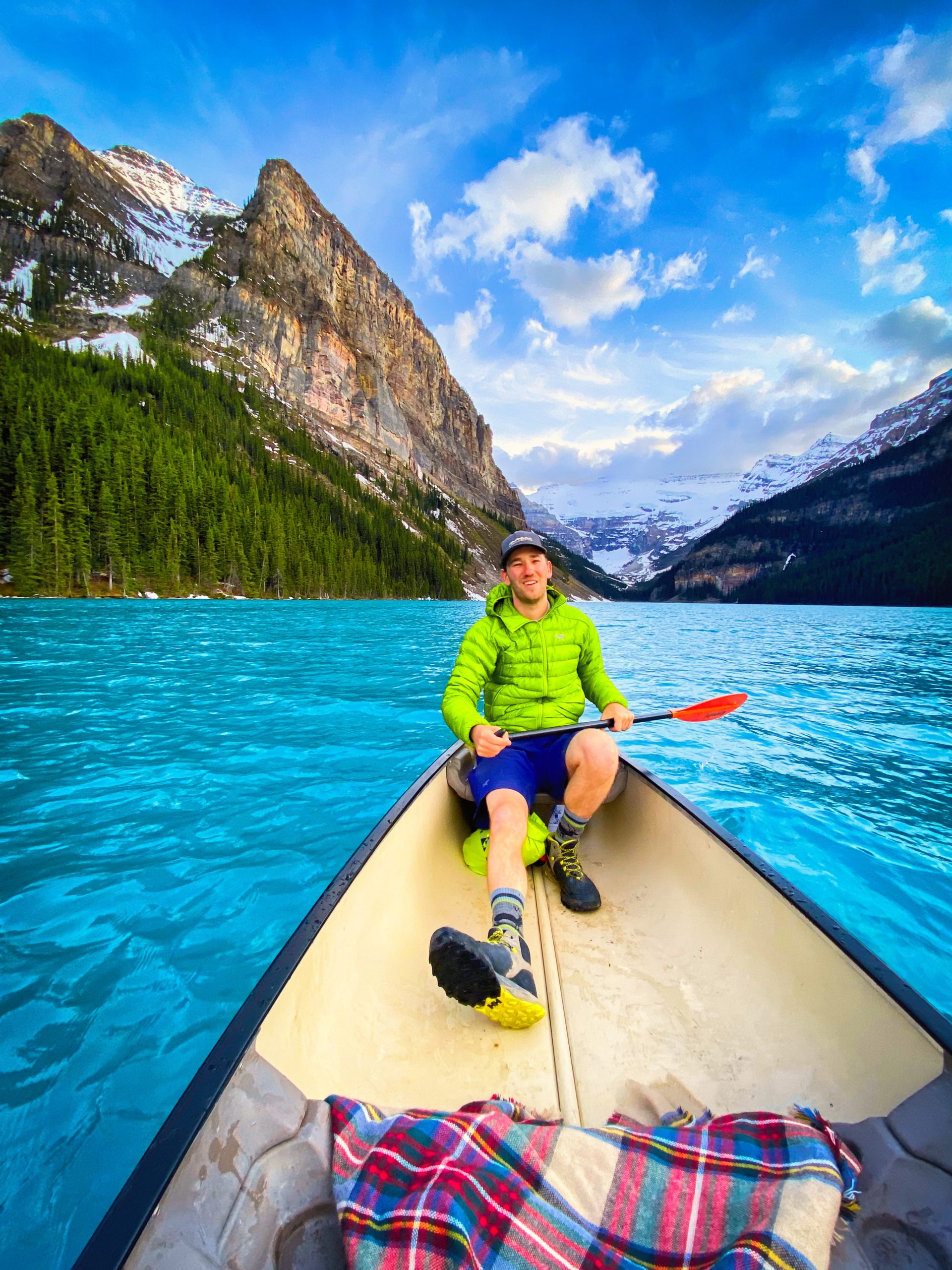 Yes, you can bring your own canoe or kayak to Lake Louise or any body of water within Banff National Park. As stated earlier, there is no public boat launch at Lake Louise which means you'll have to carry your canoe from the public parking lot, and then awkwardly launch your water device from the lakeshore with plenty of people around. It's certainly doable, we've done it several times and it's no big deal, just as long as you're prepared to do so.
We've found the best place to launch a canoe or kayak yourself is just past the bridge walking towards the hotel. On the left are a few significant steps that make accessing the water easier.
This is all, of course if you can get a parking spot at Lake Louise, as they fill up fast in the summer months. We love to go for a SUP on the lake by arriving early in the morning for a hike and then relaxing on the water in the afternoon.
To prevent the spread of Aquatic invasive species visitors must now fill out a Self Certification Permit with Parks Canada for any nonmotorized watercraft entering the water. This includes kayaks, canoes, and paddleboards. The Self Certification Permits can be found online.
---
Alternatives to Renting a Canoe at Lake Louise
Canoeing on Lake Louise is a fantastic experience, but renting one can eat up a lot of time if you have to wait in line, and it's pretty pricy. We use our own personal canoe to enjoy the lakes in the Rockies. Though, we know this isn't possible for most visitors. Some alternatives to renting a boat at the Lake Louise boathouse are:
Rent a kayak or stand up paddleboard for the day with Banff Canoe Club and drive to Lake Louise.
Canoe on Emerald Lake, Emerald Lake is another magical lake nearby to canoe on, and is a fraction of the cost of Lake Louise.
Buy a stand-up paddleboard. I am not kidding when I say that our inflatable stand up paddleboards are one of our best purchases. If you plan on doing lots of paddling for your trip, it may be worth buying one.
---
Should You Canoe on Moraine Lake or Lake Louise?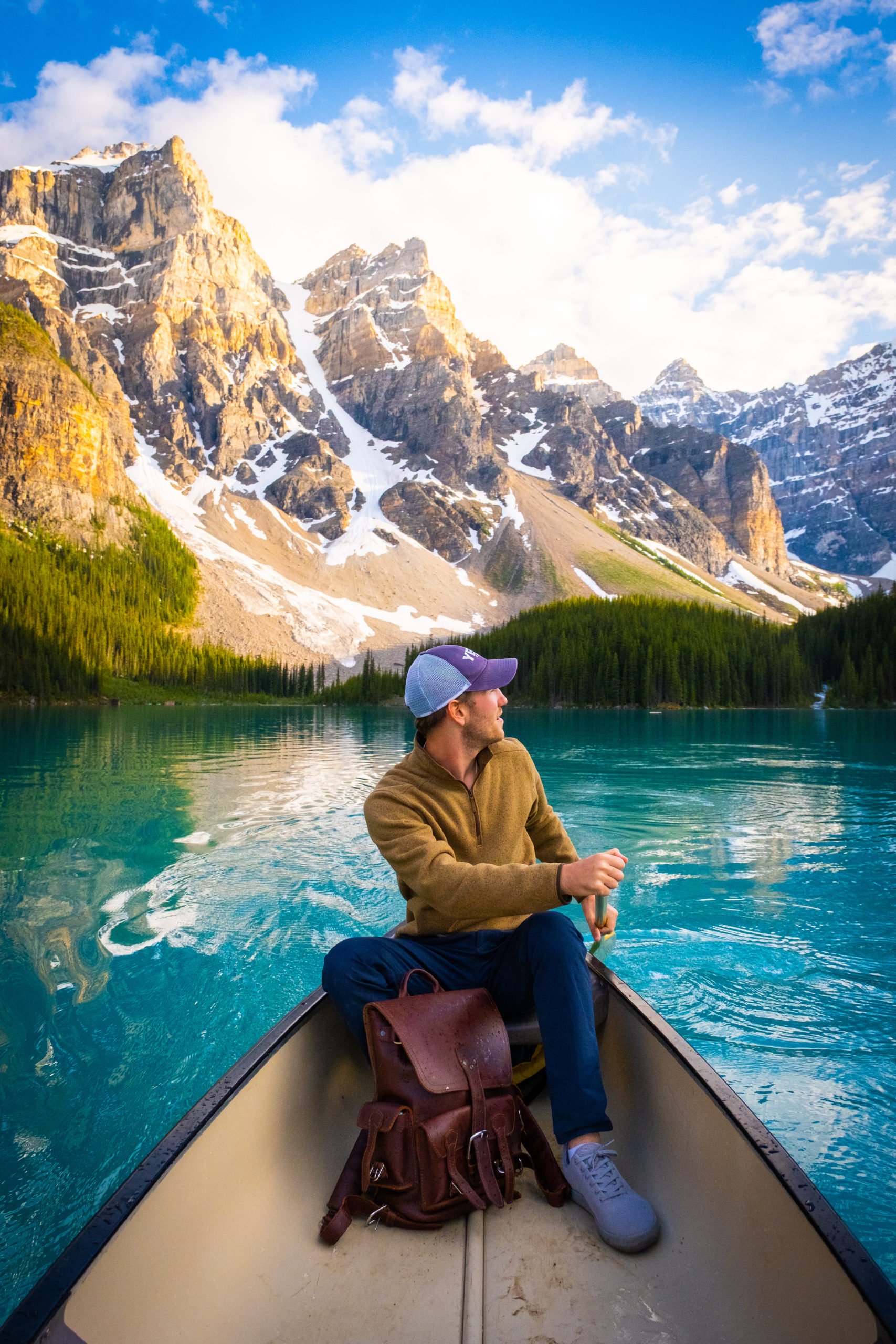 Of course, canoeing on both lakes is ideal! Though we know that not everyone has the time or budget to canoe on both lakes. We have canoed on both Lake Louise and Moraine Lake and have no preference over the other.
They are both fantastic places to take in from the water. Because of parking restrictions at Moraine Lake, I would say that canoeing on Moraine Lake is less busy.
---
Canoes in Banff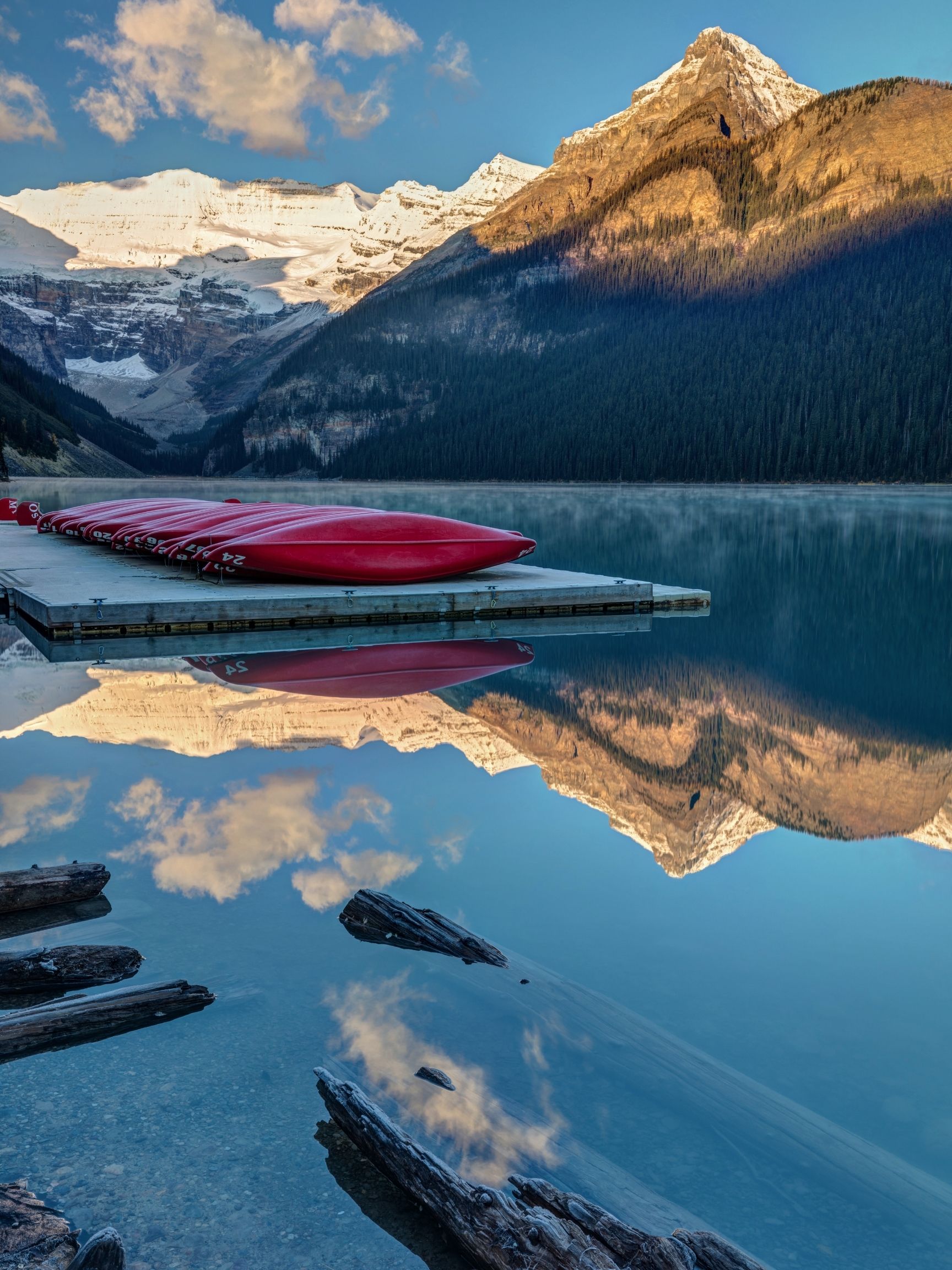 If you're not keen on waiting in line or paying the high prices for a canoe rental at Lake Louise, there are other locations that you can head to in the Banff National Park. You can check out our post on canoe rentals in Banff for more information.
Our Favorite Tours and Excursions in Banff
---
Where to Stay in Banff
For a small mountain town, Banff has a plethora of accommodation options. Some of our favorites are:
---
↓ Join the community ↓
The Banff Blog Facebook Group is your headquarters for the Canadian Rockies' travel advice and information. Including hike info and off-season travel information. This is also where you can meet one another when you need adventure buddies.