If you plan to visit Banff in June, be prepared for unpredictable weather. In general, Banff in June is a lovely time to visit, and one of the best times to visit Banff. Early June is shoulder season, so crowds are lower than in July and August, but it quickly picks up towards the end of the month.
While June in many other parts of the world means summertime, in the Canadian Rockies, it means sun, rain, cold temperatures, and a whole lot of changing weather that is very unpredictable to predict.
That being said, most of the snow has melted at lower elevation points, and many of the glacial lakes have completely thawed by now, making it a great time to enjoy plenty of activities in Banff.
---
Things to Know Before Visiting Banff in June
---
What's the Weather Like in Banff in June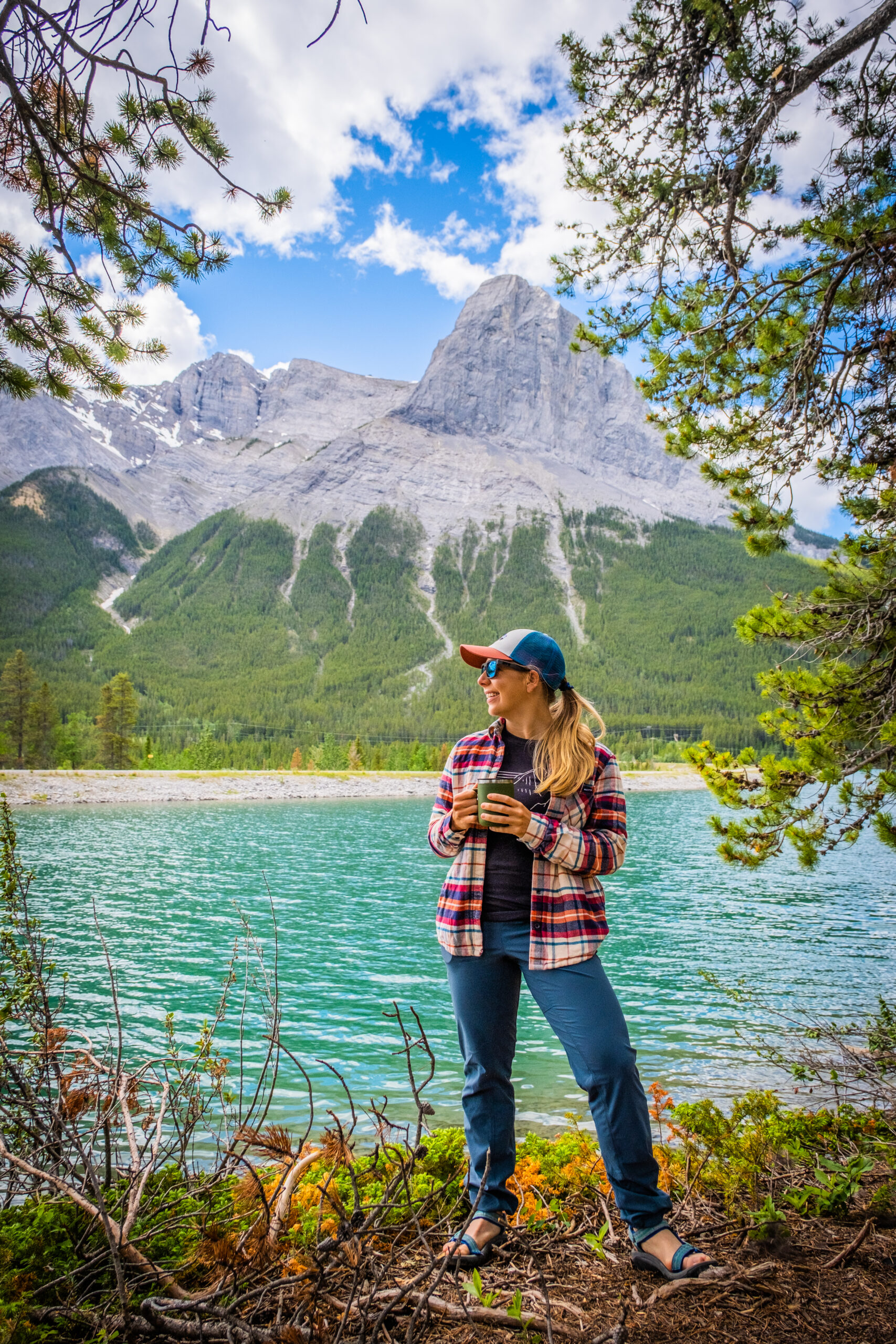 It's starting to feel like summer by the time June arrives. June is officially the end of the ski season (boo), but that doesn't mean Banff isn't without anything to do (yay).
June is an excellent time to visit Banff for hiking; the trails start to get popular in June. Though many are still wet and muddy, the higher elevation peaks requiring scrambling will still have plenty of snow on them, so they are best left to hiking in July.
June is often the wettest month of the year and when it rains most in the Rockies. Though, the rain may be annoying while on vacation, it is often desperately needed in the Rockies (which are very dry). The rain now helps fight the chance of forest fires later on in the season.
Even though day temperatures are pretty high (we're talking highs of 19°C), it's still very cold once the sun goes down, hovering just above 5°C. The good news is that most of the glacier lakes are now thawed.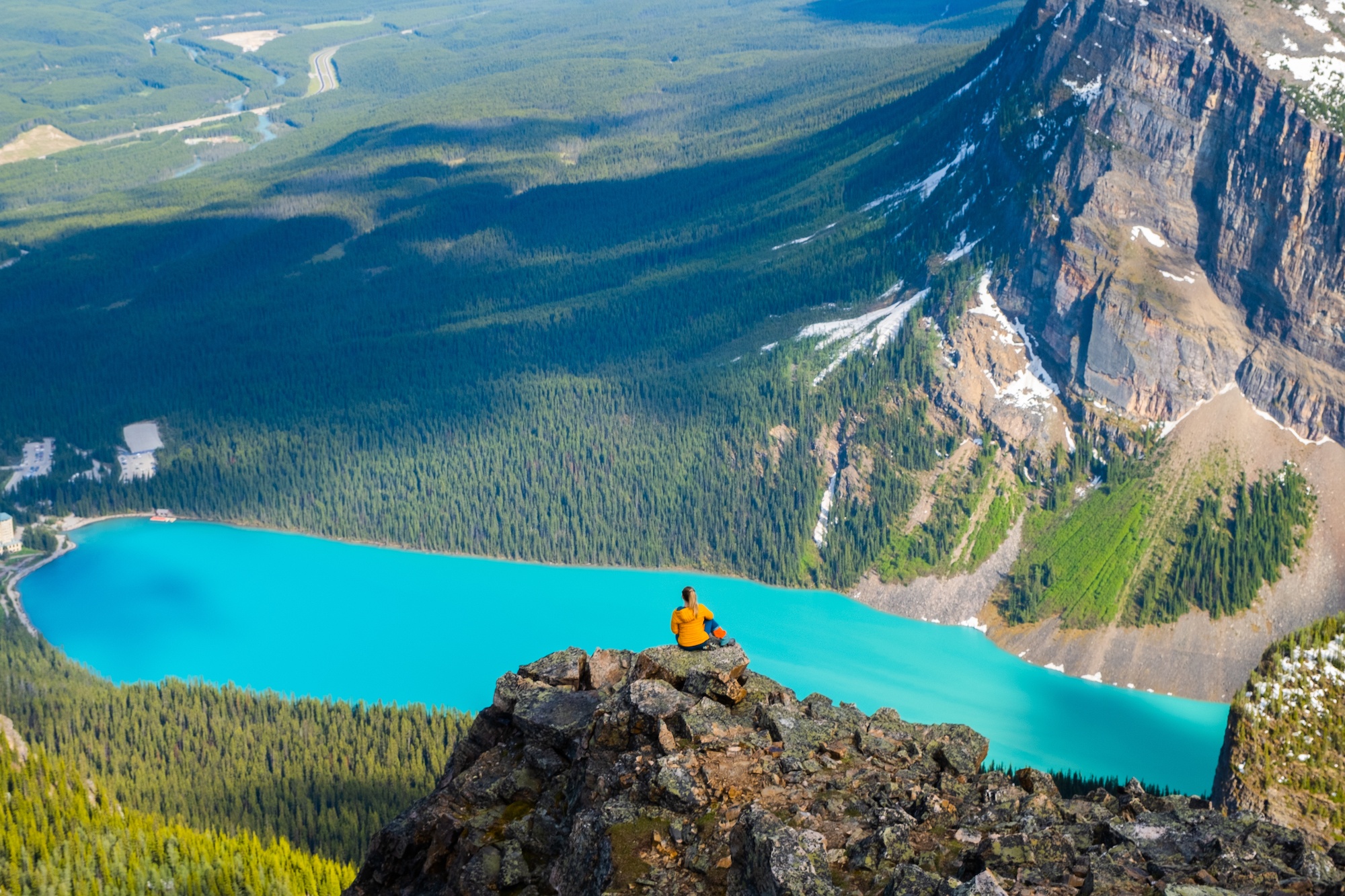 Moraine Lake Rd opens by early June, and you'll finally be able to see the magnificent body of water. The bad news? Crowds are coming.
Early June is your last time to score a few shoulder season prices; once late June and July hits, accommodation options narrow, and prices in Banff creep up. If you plan to go camping in June, it's best to book your camp reservations early.
Banff can still be quite rainy and wet in June. So when it's nice out, you better get outside and play! Rain jackets and water-resistant shoes are your friends during this month!
---
What to Pack for Banff in June?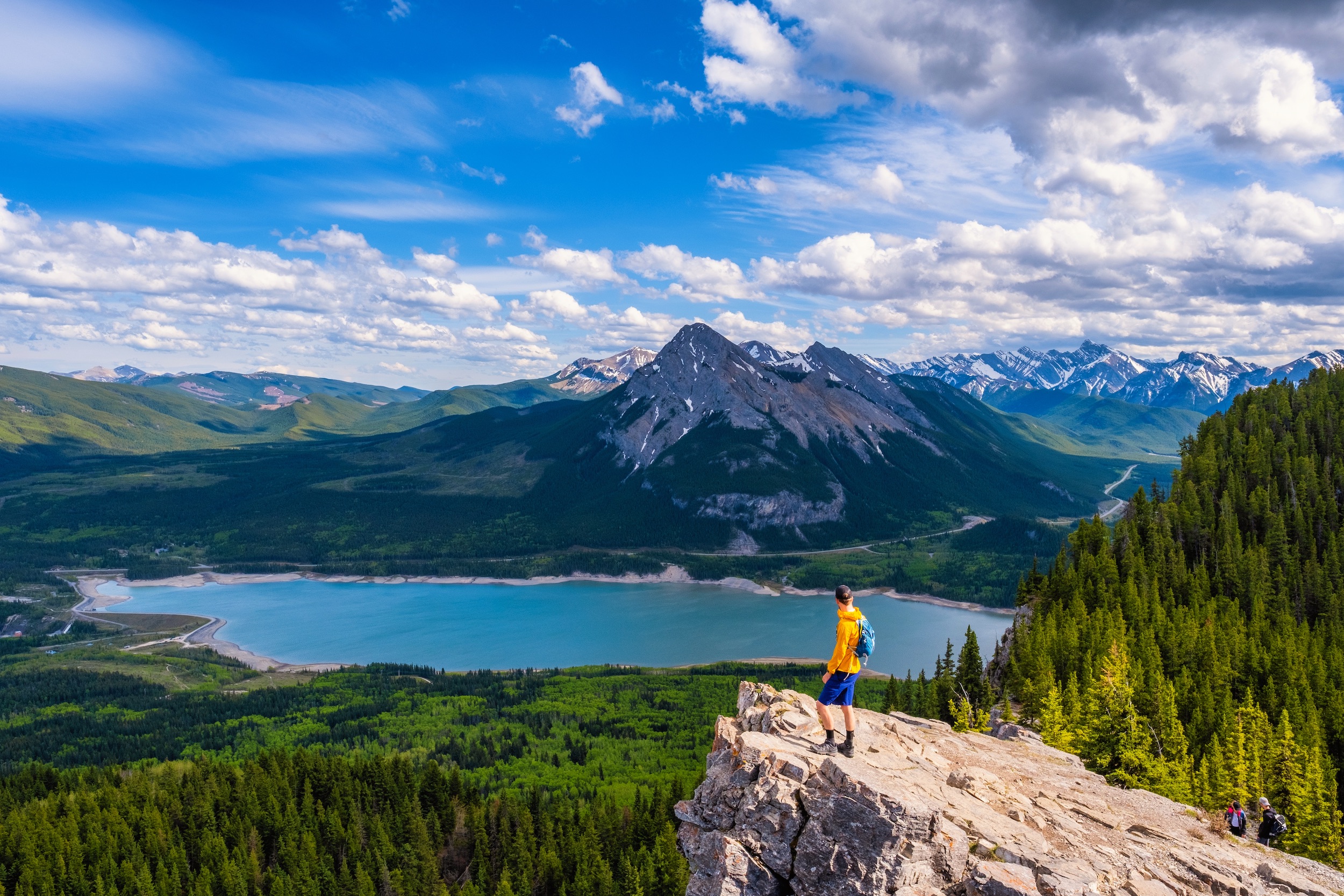 Don't plan on busting out the shorts and flip-flops quite yet. June is truly a mixed bag. Some days you can get away with Tevas and Chacos, while others, you'll want to put a toque on.
Leggings and fleeces will come in handy, as well as a packable rain jacket and hiking boots. However don't hesitate to bring warm weather clothes – you never know what the mountains have in store for you this time of the year.
I know you probably want to pack one style of clothing, but if I'm being honest I would pack for both cold weather and spring weather. If you are visiting towards the last week of June, it just might feel like a true summer. This is Alberta after all!
Packing layers and lightweight, breathable hiking clothing will keep your bag light! For ideas of what we love in the Rockies, see our recommended gear section.
---
Can You Visit Lake Louise in June?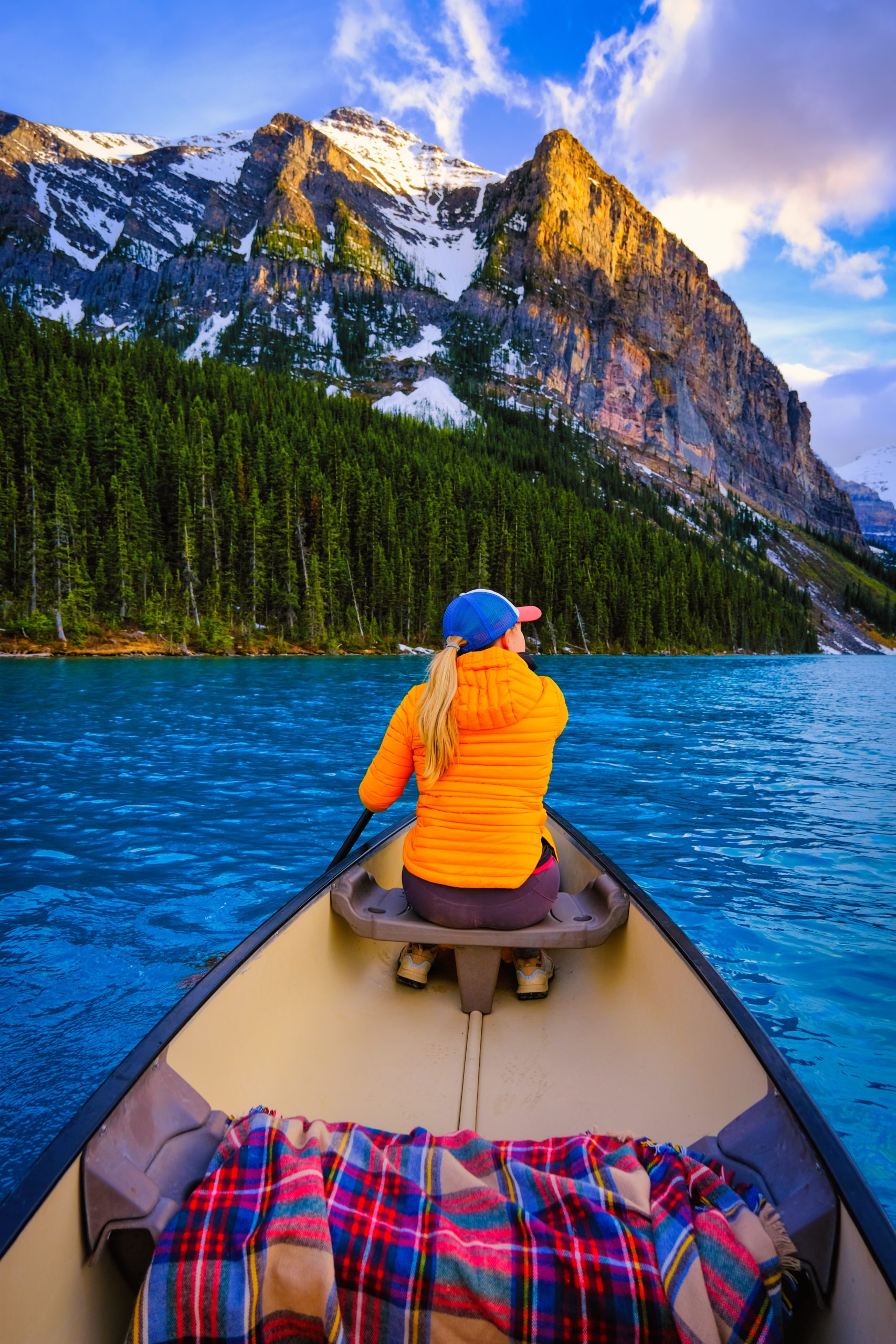 Lake Louise should be completely thawed by early June unless it's been exceptionally cold. Visit Lake Louise in June, and the water will be so blue your eyes may hurt!
Hiking to the Fairview Lookout, Lake Agnes Teahouse, and even the Beehives is attainable now as the snow has melted in many higher elevation places. Although attempting summits like Devils Thumb, Mount Niblock, Fairview Summit, and Mount Whyte will need a few more weeks.
I love visiting Lake Louise in June because it's summer, the weather is terrific, the water is Kool-Aid blue, and the crowds aren't at their peak…yet. You'll probably still be able to get parking at Lake Louise without all the hassle of arriving at the crack of dawn too.
It's possible to rent a canoe at Lake Louise now and hit up the water. Or you can always bring your own as well. Moraine Lake Road will be open in June. A fun thing to do is combine Lake Louise with Moraine Lake for the day!
30 AWESOME Things to do in Lake Louise in Summer
---
Can You Visit Moraine Lake in June?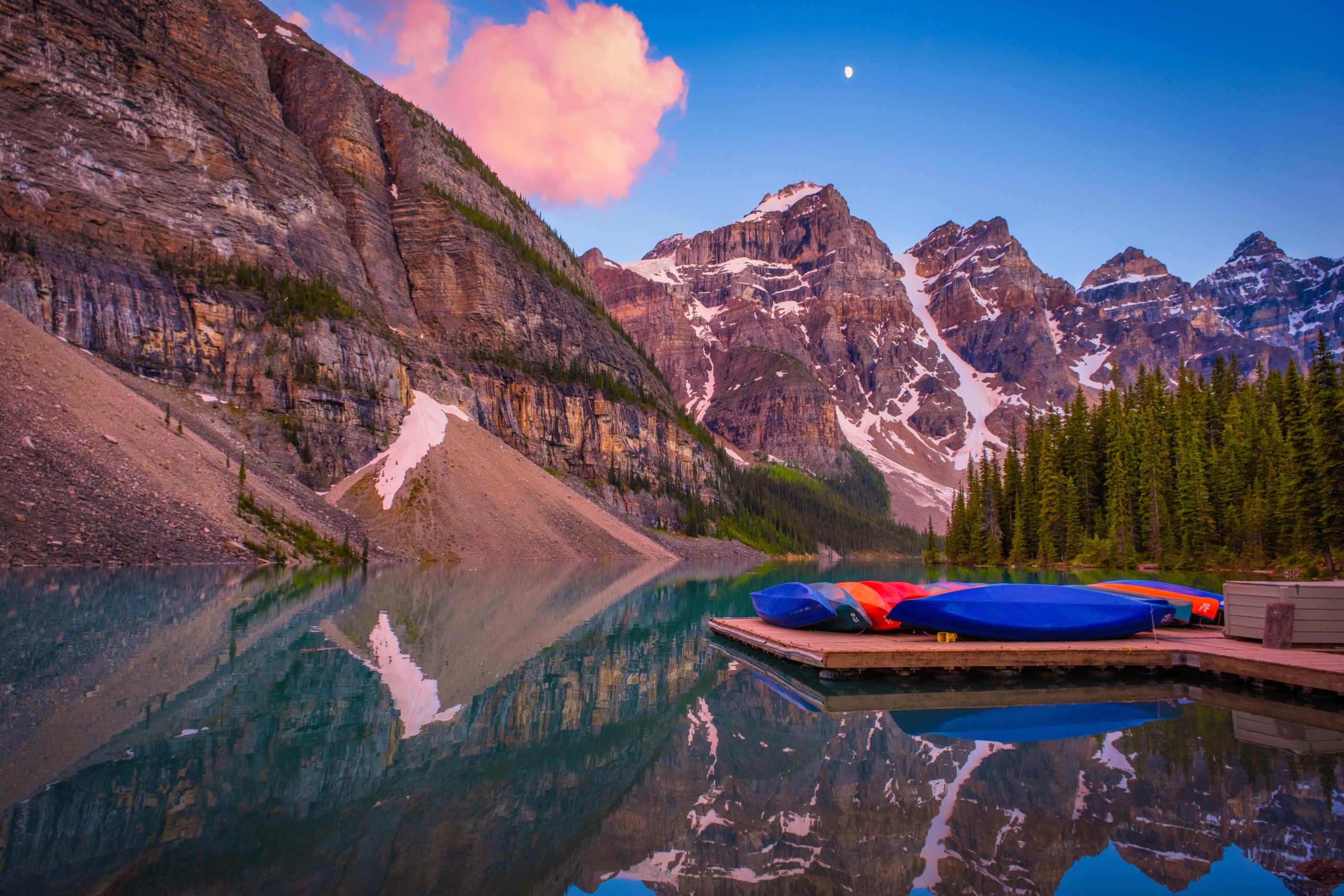 The access road to Moraine Lake is typically open by June 1st, making it a great time to visit. Moraine Lake should be thawed entirely by mid-June, although there may still be a few ice patches floating around.
Moraine Lake is a glacial lake meaning it recedes in the winter. This means that early June may not be as blue or full as you have seen in photos. Though come mid to late June, Moraine Lake is shining in all her splendor.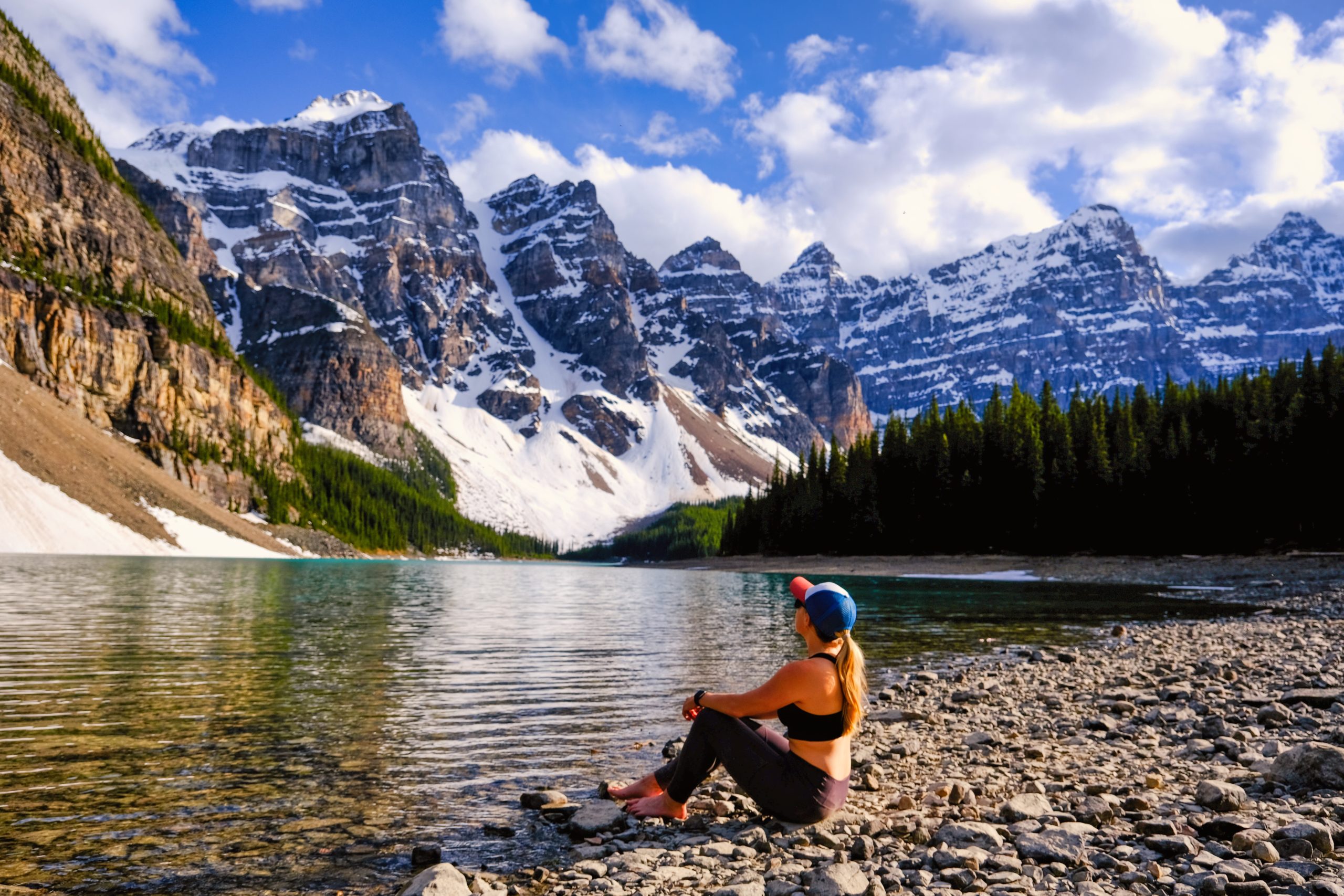 Once Moraine Lake Lodge opens up, you'll be able to rent a canoe and paddle around the beautiful lake. Scrambles like the Tower of Babel are also safe and good to go by Mid June, though you'll have to wait for the high summits like Effiel Peak and Mount Temple. There's still quite a bit of snow lingering about.
10 Moraine Lake Hikes With Amazing Views
---
Things to do in Banff in June
---
Bike the Legacy Trail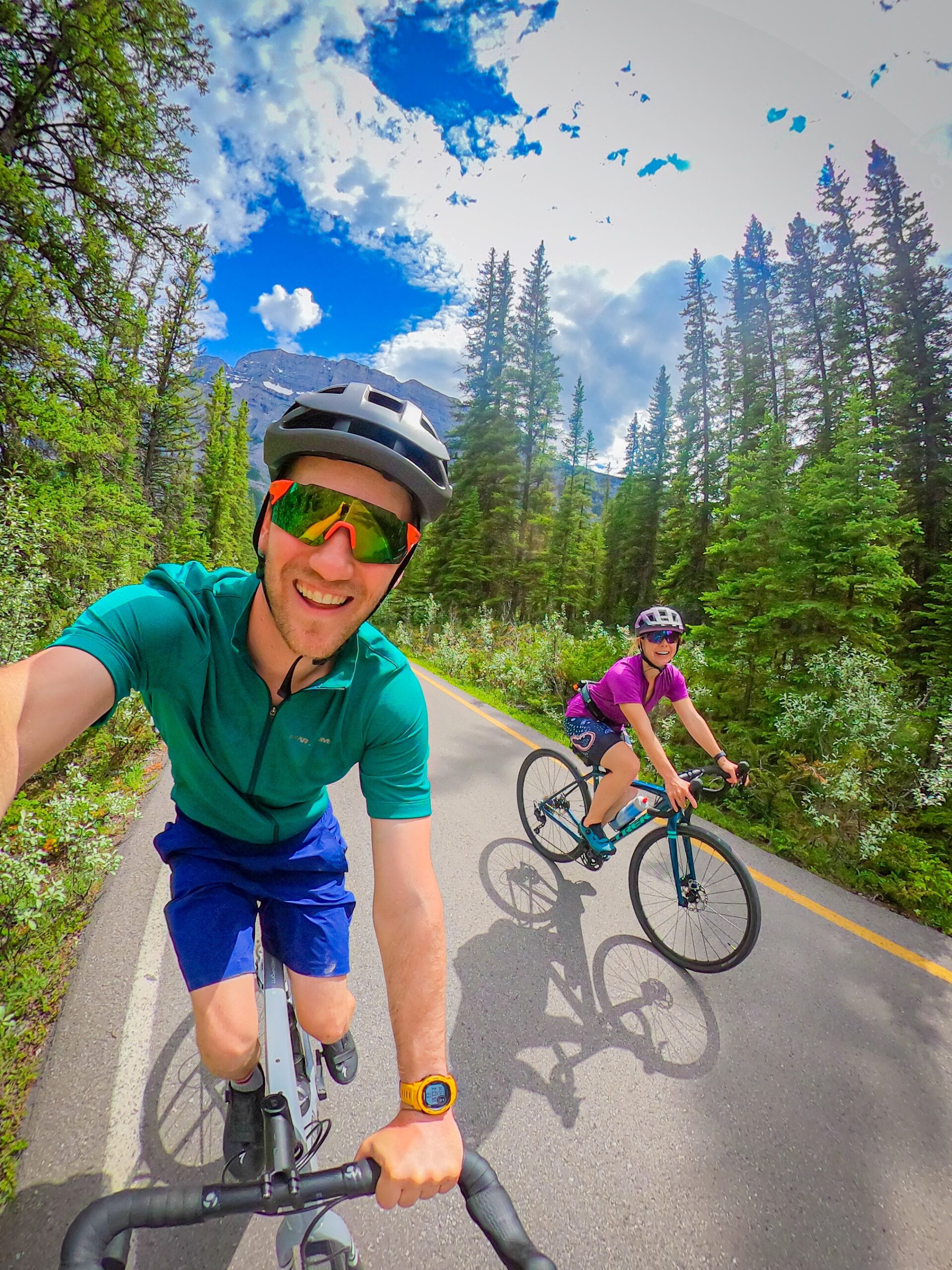 The Legacy Trail is a 27 km paved trail that runs between Banff and Canmore and is an excellent way to get active and take in the views. It's one of the best things to do in Banff in June as the trail is snow-free.
I bike the Legacy Trail a few times a week and love the challenge and workout. The views never cease to amaze me. If you have your own bike, that's ideal, but you can also rent bikes for the day at Rebound Cycle in Canmore or Banff Cycle in Banff.
Expect the trail to take a little over 2 hours on a road bike and 4 hours on a mountain bike round trip (Banff to Canmore and back). It all depends on your fitness level. It's best to break it up with a beer in Banff or Canmore before heading back!
35 Best Canmore and Banff Bike Trails
---
Hike in Kananaskis Country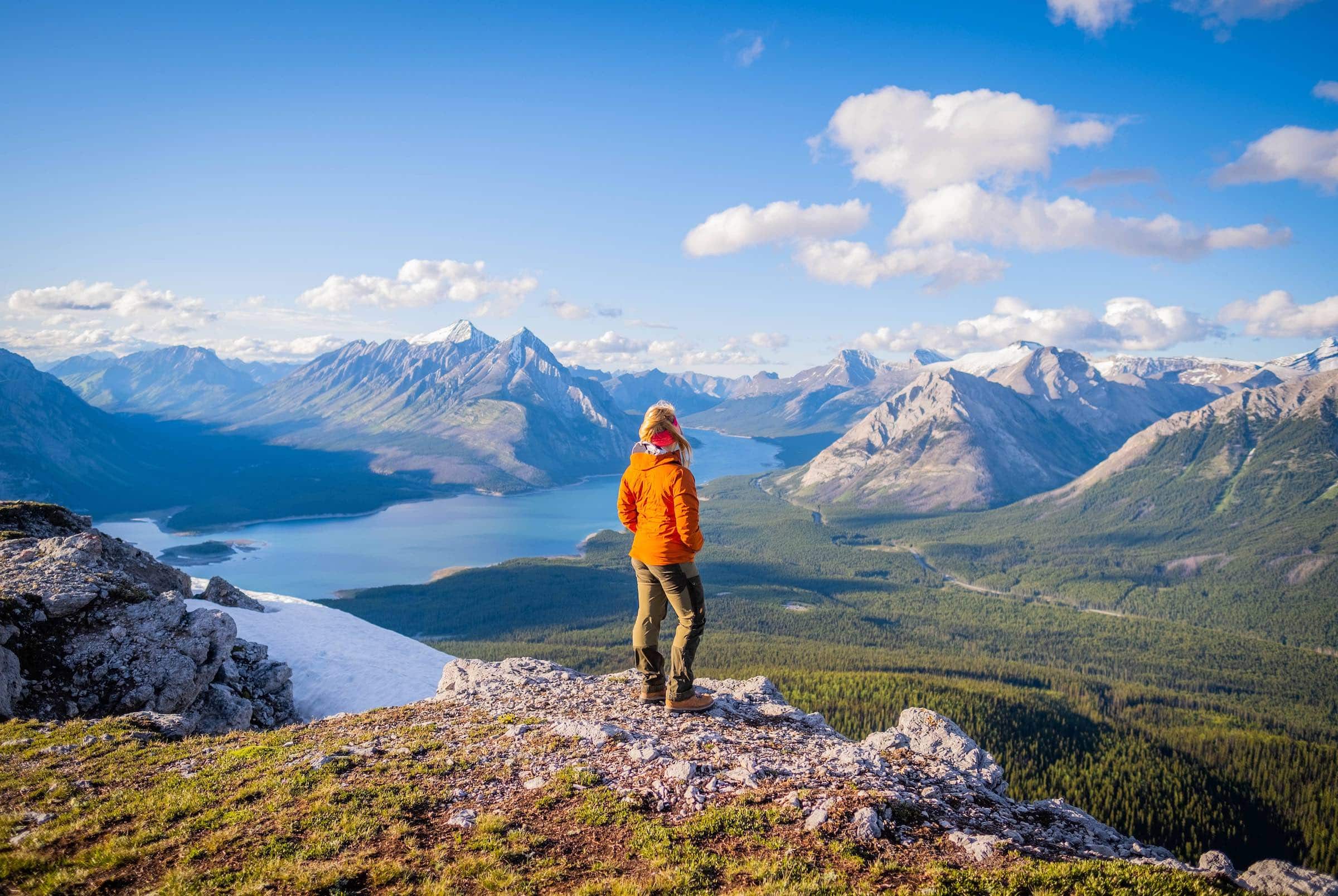 Kananaskis Country is a provincial park right next to Banff National Park. It's lower in elevation, so when the snow isn't quite melted in Banff yet, you can head to this part of Alberta.
There are some fantastic hikes in Kananaskis, and the mountains are just as beautiful. Some of my favorite early season hikes in Kananaskis are Prairie View Lookout, Porcupine Ridge, Wasootch Ridge, and Read's Tower.
21 BEAUTIFUL Kananaskis Hikes To Tackle This Summer
---
Drive the Icefields Parkway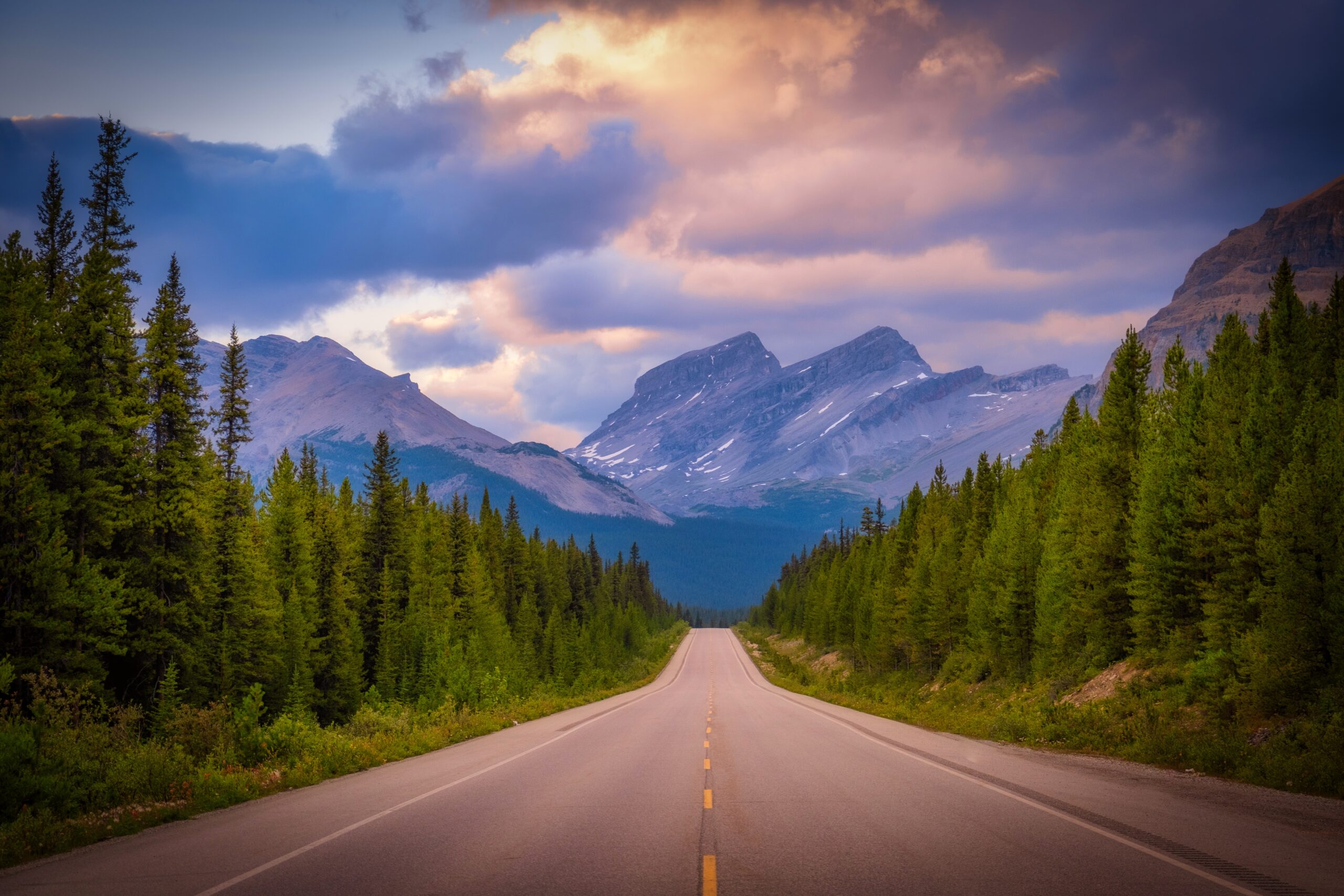 The Icefields Parkway is said to be one of the most beautiful drives in the world. And after driving it many times, I would have to say I agree. It honestly never gets, no matter how many times you make the journey.
The Icefields Parkway runs from Banff to Jasper and has plenty of lakes to stop at, waterfalls, and photo points along the way.
20 Icefields Parkway Stops You Need to Make!
---
Hike Johnston Canyon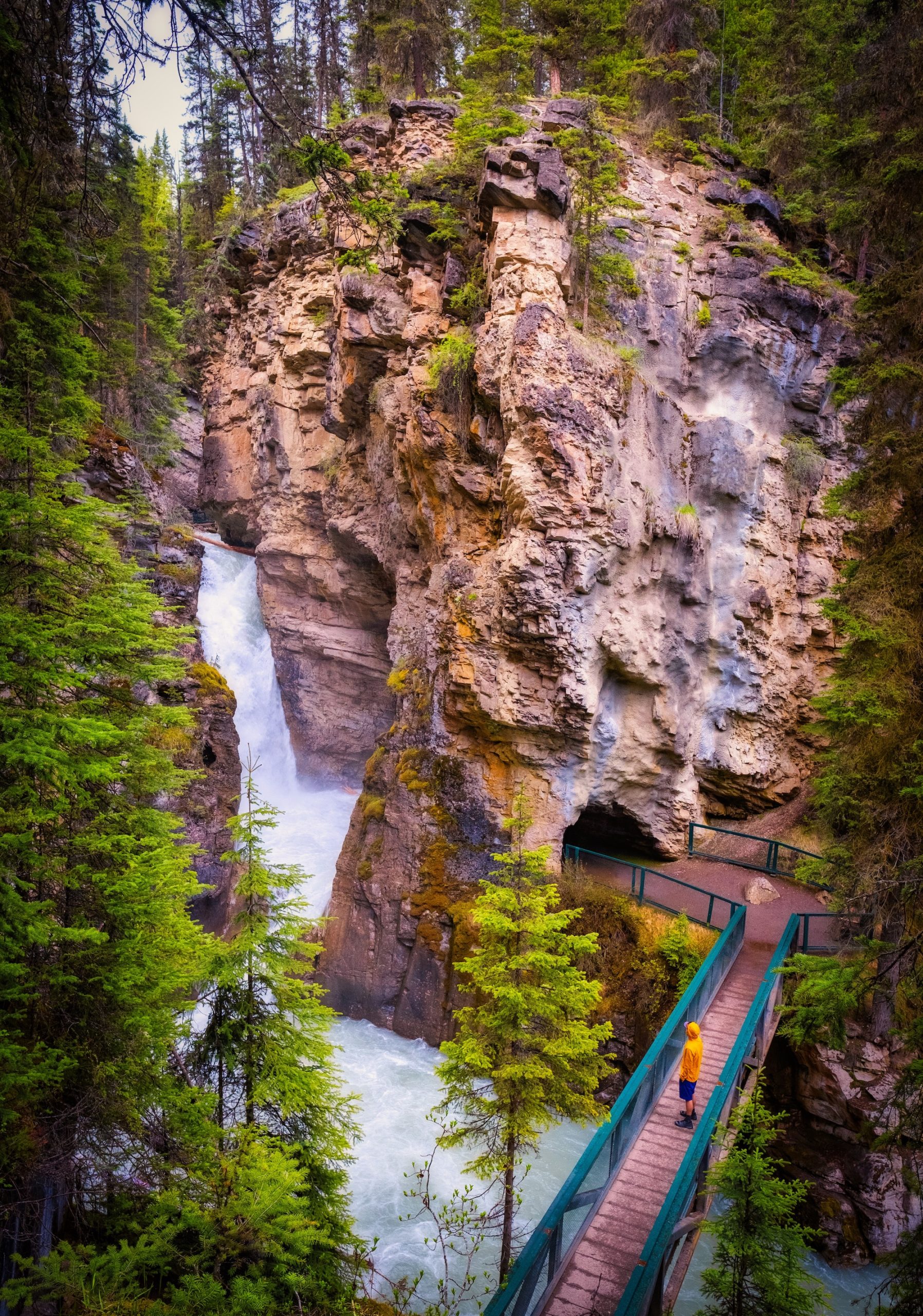 Johnston Canyon is a highlight for many on their trip to Banff, and it's an easy Banff hike that's good for families and those with limited mobility. The trail through Johnston Canyon moves through the center of the small canyon until reaching the Upper Falls.
It's possibly the busiest trail in all of Banff, so in peak season, you'll need to arrive early if you want to avoid the crowds, even in June. That being said, Johnston Canyon offers some splendid natural features, and its accessibility to everyone makes it a stand out.
---
Canoe on Lake Minnewanka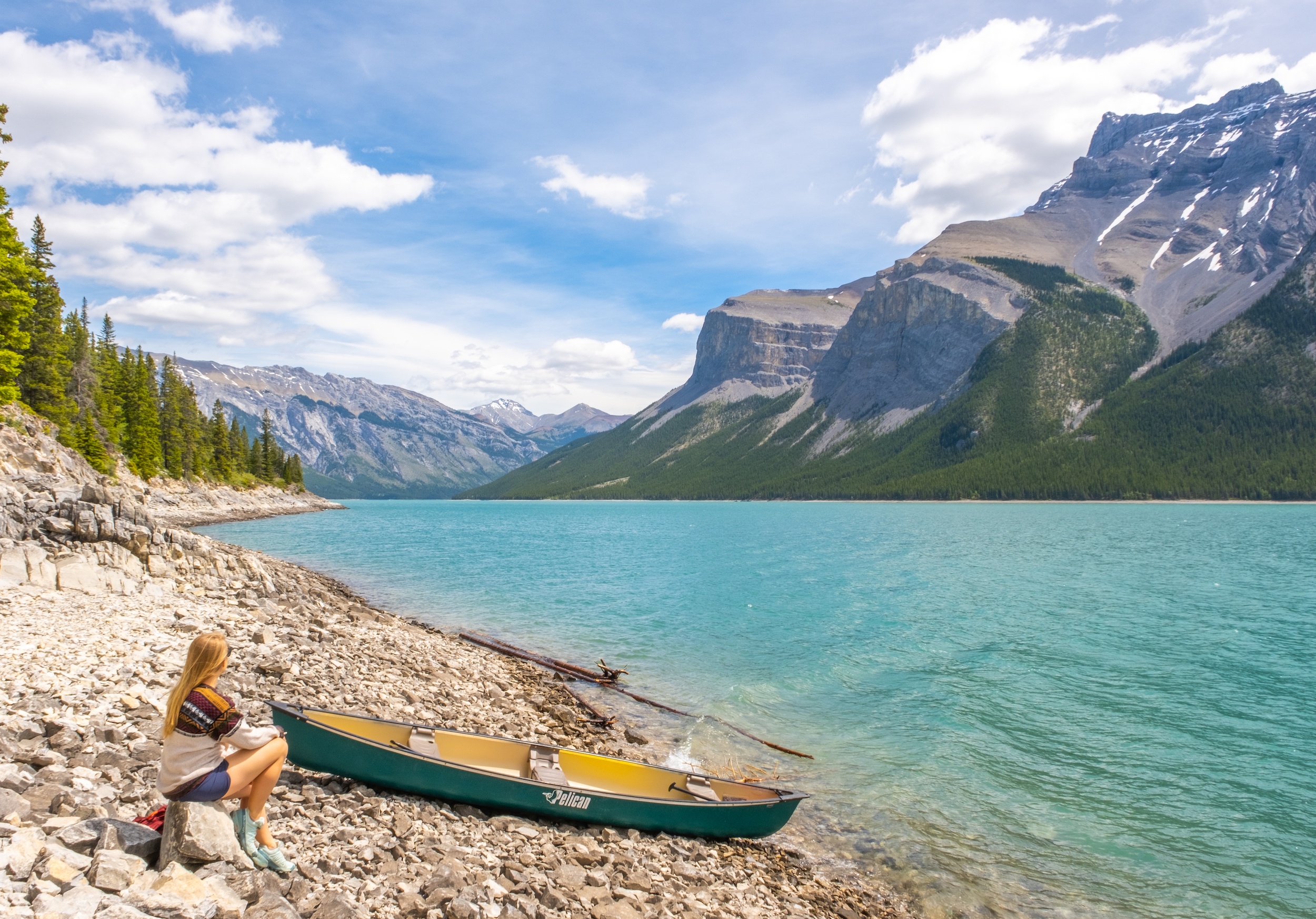 Lake Minnewanka is the largest lake in Banff and is located just 20 minutes from the town of Banff. It's a great lake to head to if you just want to chill by the water for the day, but it's also great for canoeing or renting a motorboat. Though please be safe, the winds are strong here.
Lake Minnewanka is one of the only lakes in the park where you can rent yourself a motorboat with a group and enjoy the views from the lake!
---
Stand Up Paddle on Two Jack Lake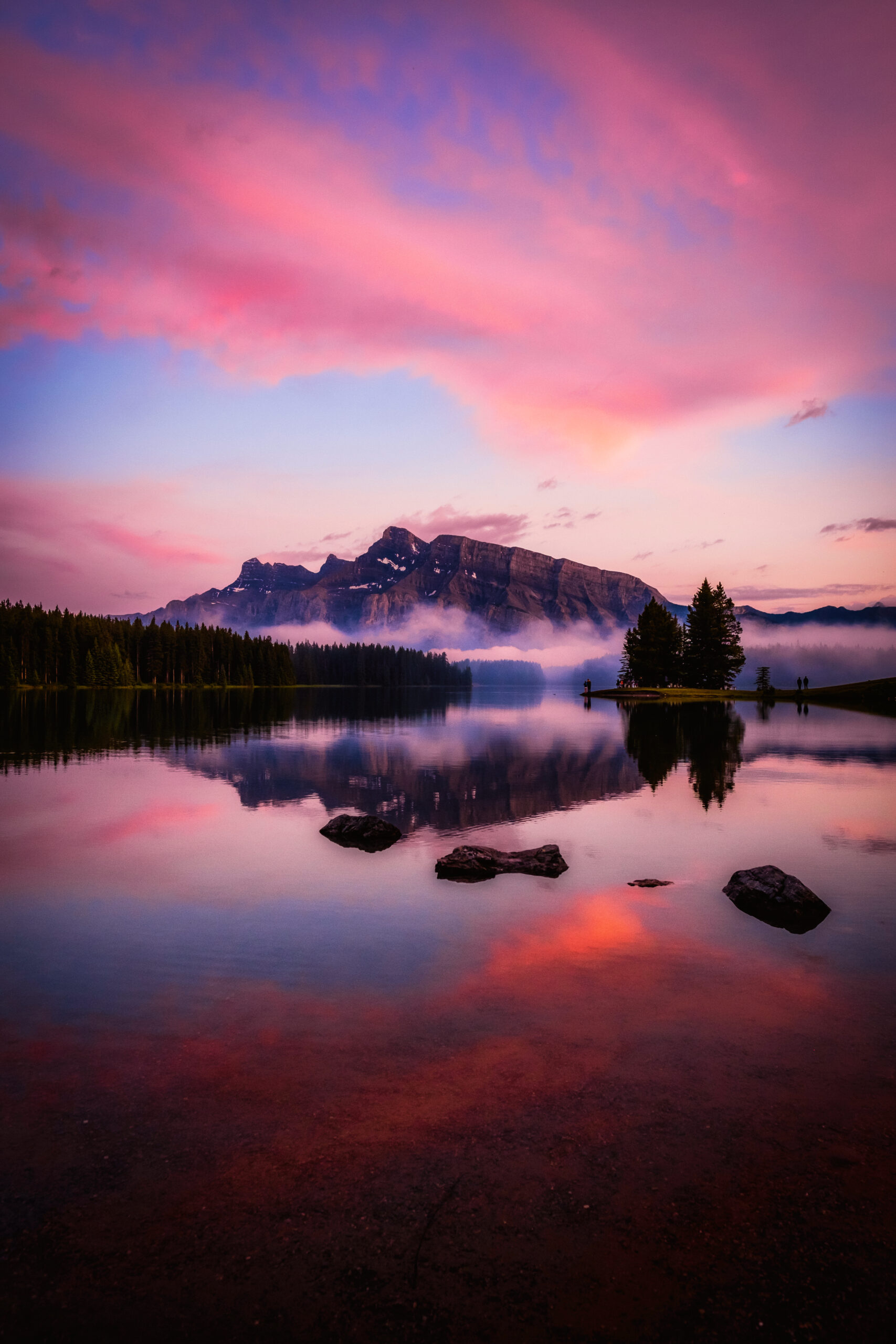 Two Jack Lake is another great lake that is a beloved stand-up paddle boarding spot. Head here with a paddleboard, kayak, or canoe and take to the water. There's ample parking here on weekdays in June that makes it easy to launch a boat from.
Make sure to wear your life jacket as falling in the water in June would surely shock you. These lakes in Banff are freezing, and hyperthermia can set in quickly.
Two Jack Lake • ULTIMATE Guide to Visiting This Classic Lake in Banff
---
Enjoy Patio Season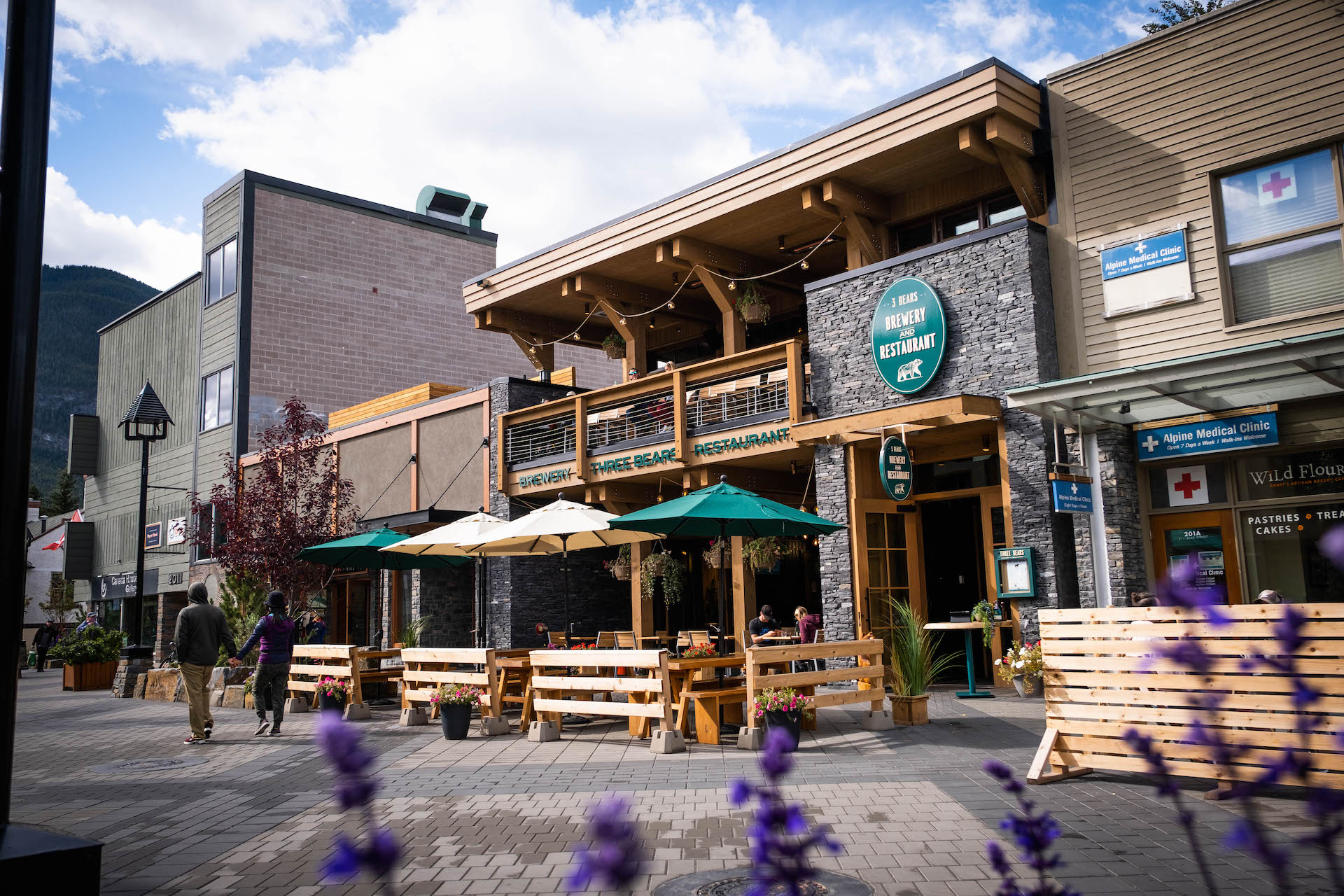 June in Banff means patio season is starting! Long days and warmer weather mean it's the perfect time to enjoy a beer at one of the best breweries in Canmore or Banff on their patio.
I particularly love the patio at Grizzly Paw as well as Three Bears Brewery in Banff. However, every patio is perfection when you have the Rocky mountains in front of you.
13 Amazing Banff Patios to Enjoy this Summer
---
Have a BBQ on Cascade Ponds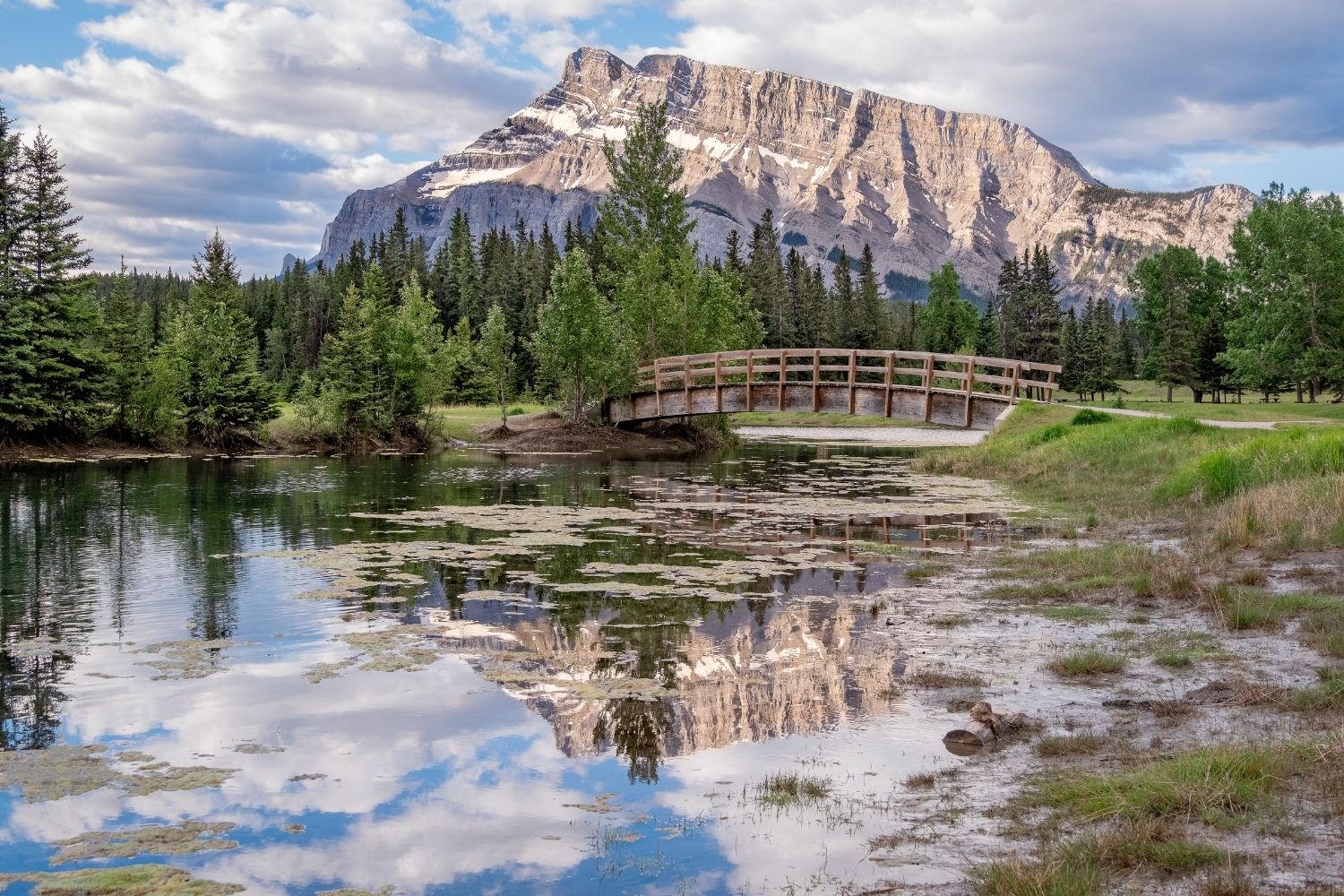 One of my favorite things to do when summer rolls around in Banff is enjoy a fire at Cascade Ponds. There are firepits and picnic tables all around the ponds; all you have to do is bring firewood and marshmallows.
Before building any fires, it's a must to see if there is a fire ban. If it's been dry there, you have a high chance of starting a wildfire. You can double-check on the Parks Canada Bulletin page.
---
Enjoy Peyto Lake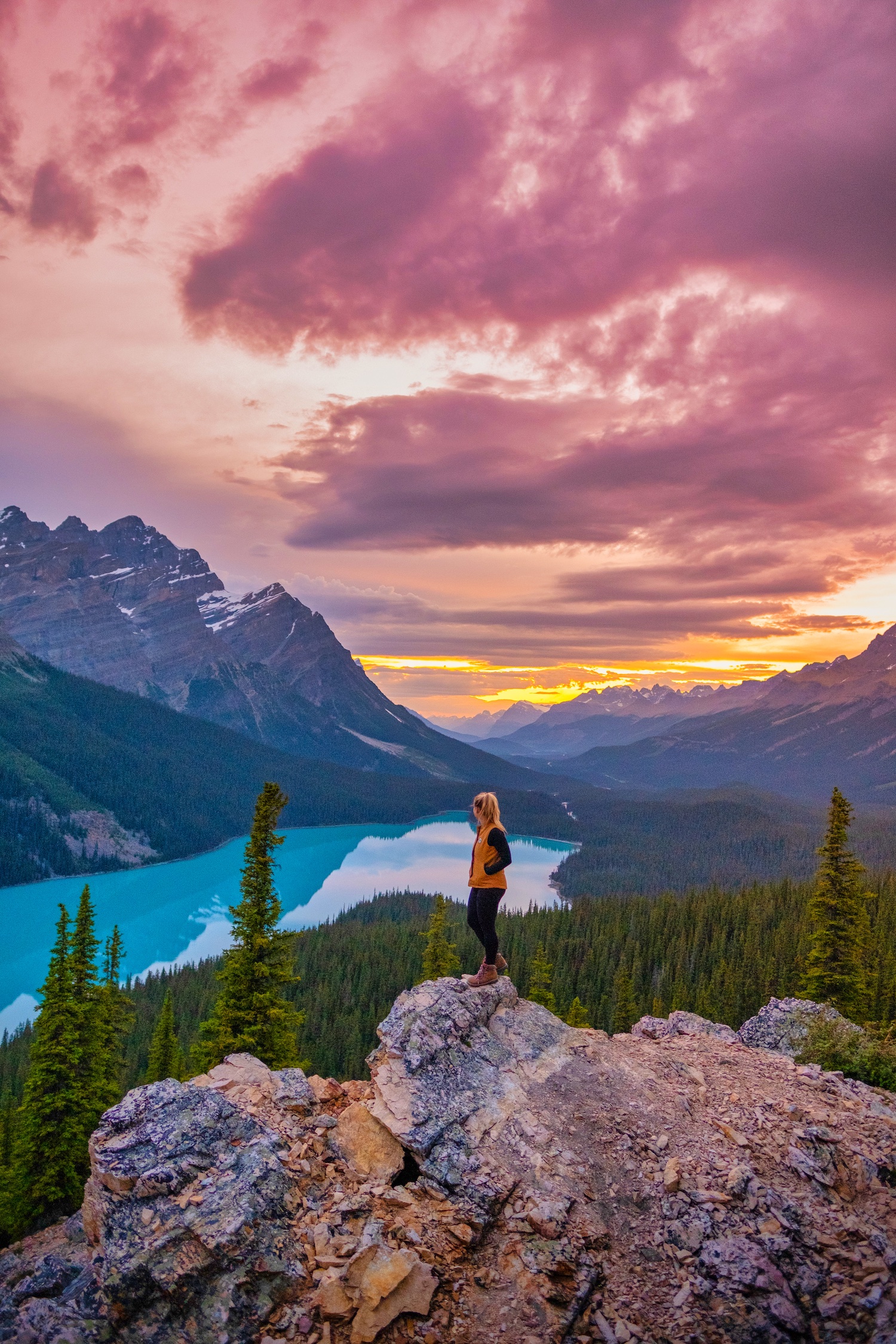 Peyto Lake is one of the most beautiful lakes in the Canadian Rockies. Located on the Icefields Parkway past Bow Lake is this bright blue lake that almost resembles a fox head. To reach the viewing platform is an easy 10-minute hike!
---
Get into the Backcountry Via Horseback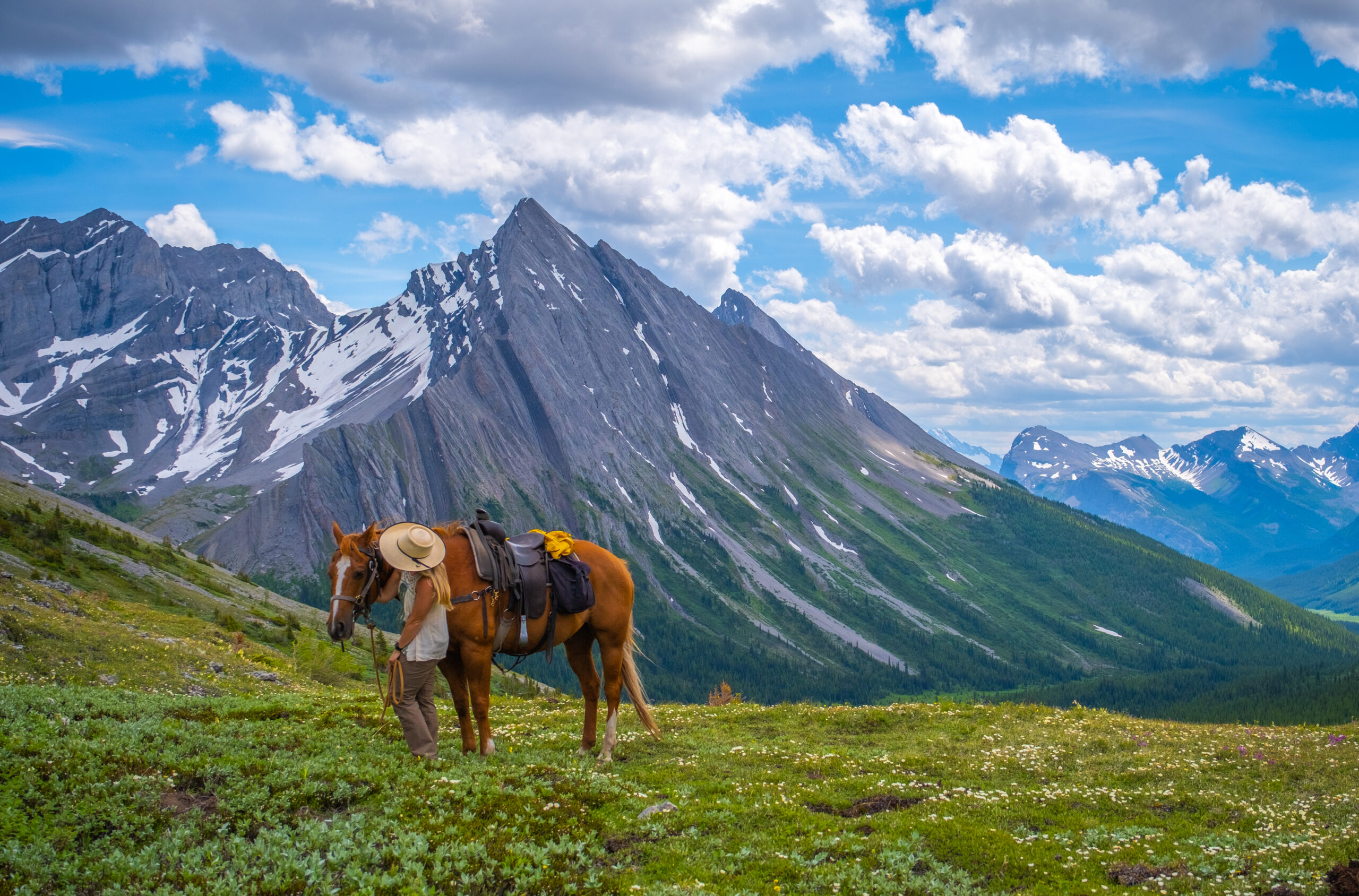 Come late June, Banff Trail Riders will start their backcountry tours again. Enjoying one of these tours is a once-in-a-lifetime experience not many get to have. If you can, I would highly suggest booking the 5-night trip back to Halfway Lodge.
You'll enjoy getting back into the backcountry on one of their gorgeous houses, sleeping in a cozy Banff cabin, and eating delicious home-cooked food, all while seeing views few in the park get to see.
Horseback Riding in Banff With Banff Trail Riders
---
Mt Norquay Via Ferratta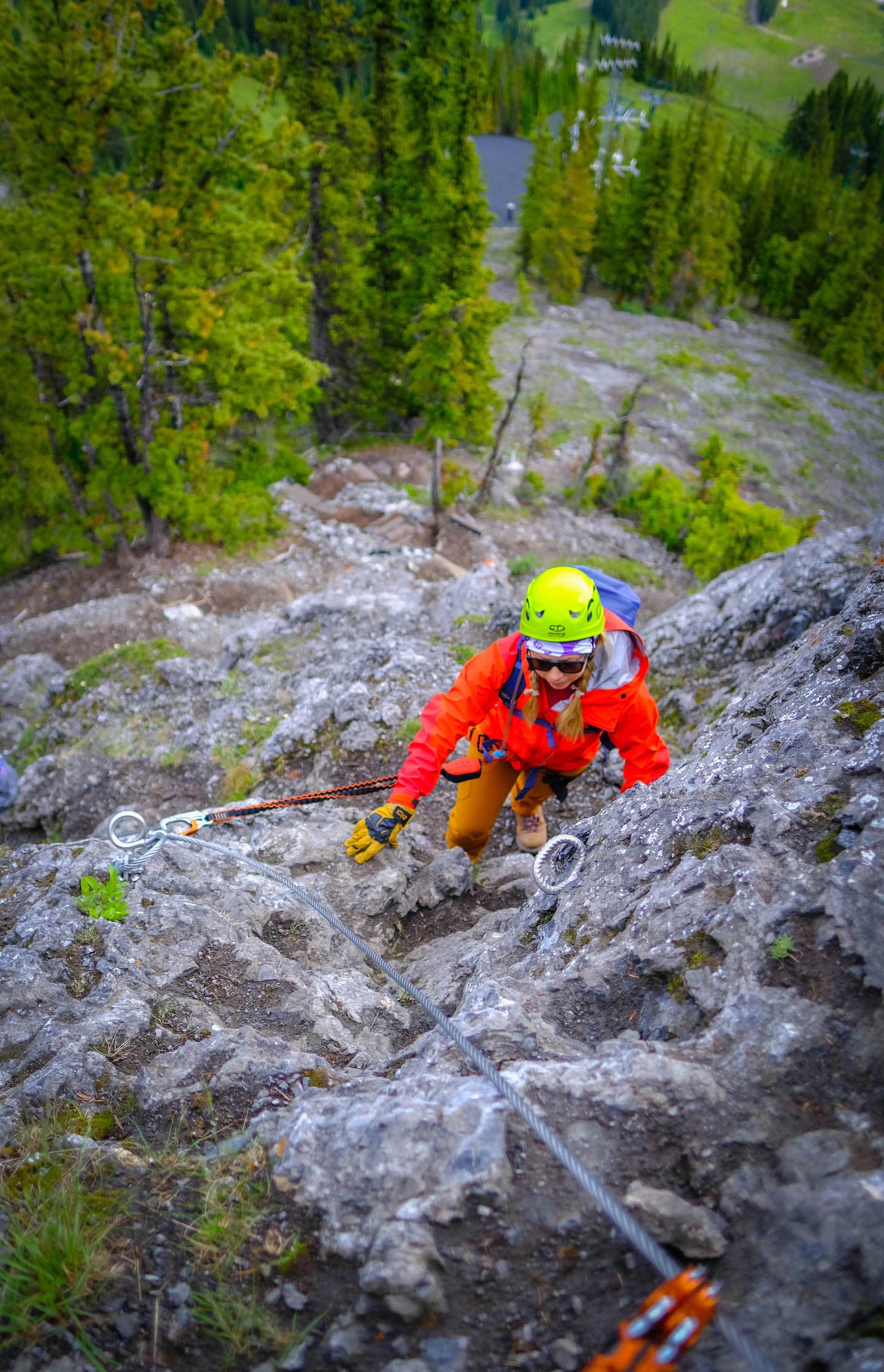 Want to get into the mountains, but have the safety of a harness, cable, and a mountain guide? Mt. Norquay's Via Ferrata is the perfect thing to do for those looking for a real adventure in the Canadian Rockies.
This is an assisted climbing experience up Mount Norquay. Four different routes vary in length and difficulty. Perfect for any visitor in Banff with many different options for families too.
---
Is June a Good Time to Visit Banff?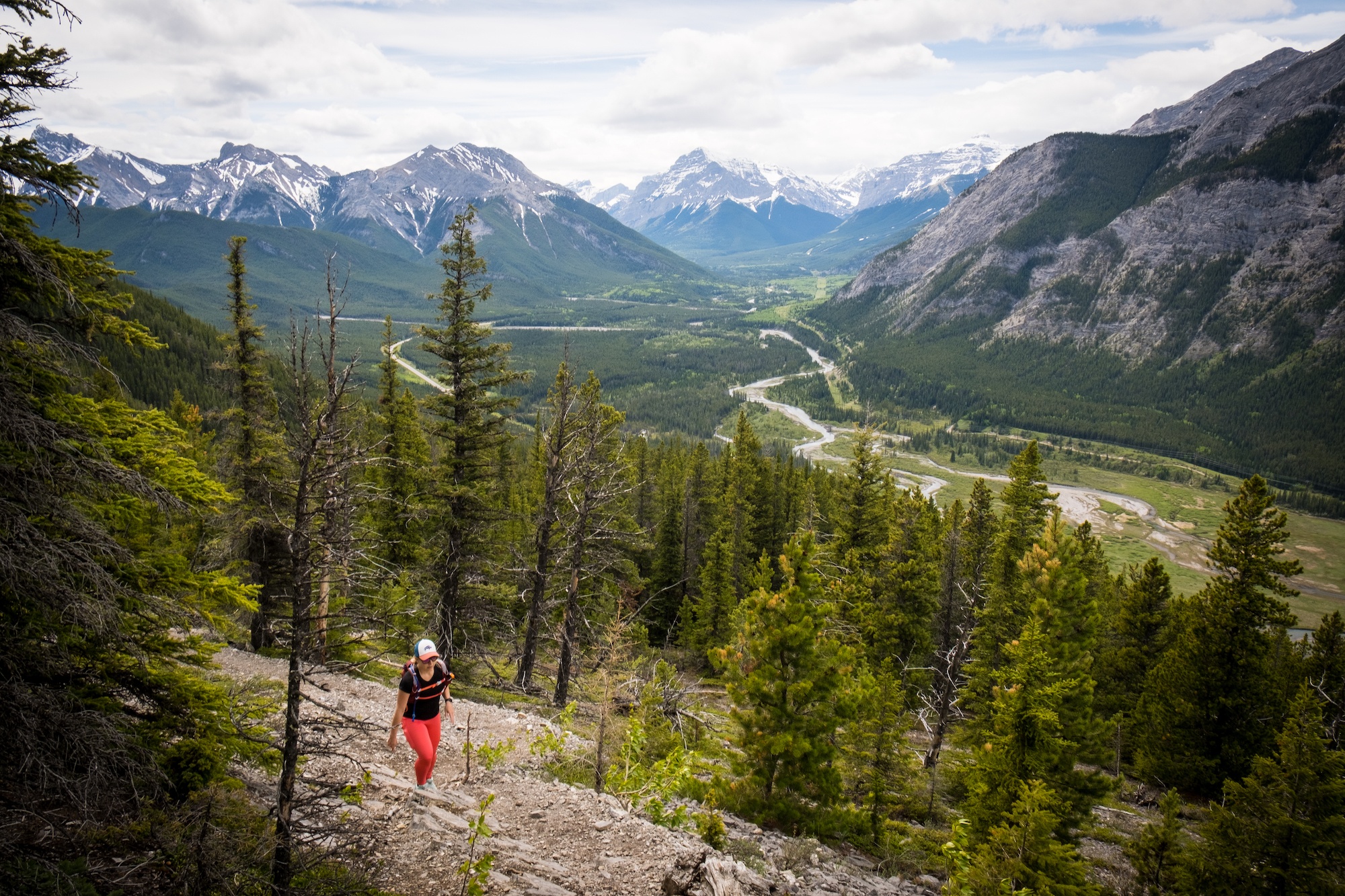 June is a fabulous time to visit the Rockies. The weather is starting to get warm, the lakes are thawed, and everyone is excited for a few months of summer after a long cold winter.
Crowds have yet to arrive in masses, and plenty of hikes are attainable now. In early June, you'll even be able to score some lower prices on Banff accommodation before the summer season is in full swing.
The only downside is that it can still be unpredictably cold. You certainly won't be jumping in any lakes yet, and many mountain summits will still have snow lingering about.
---
Is Banff Rainy in June?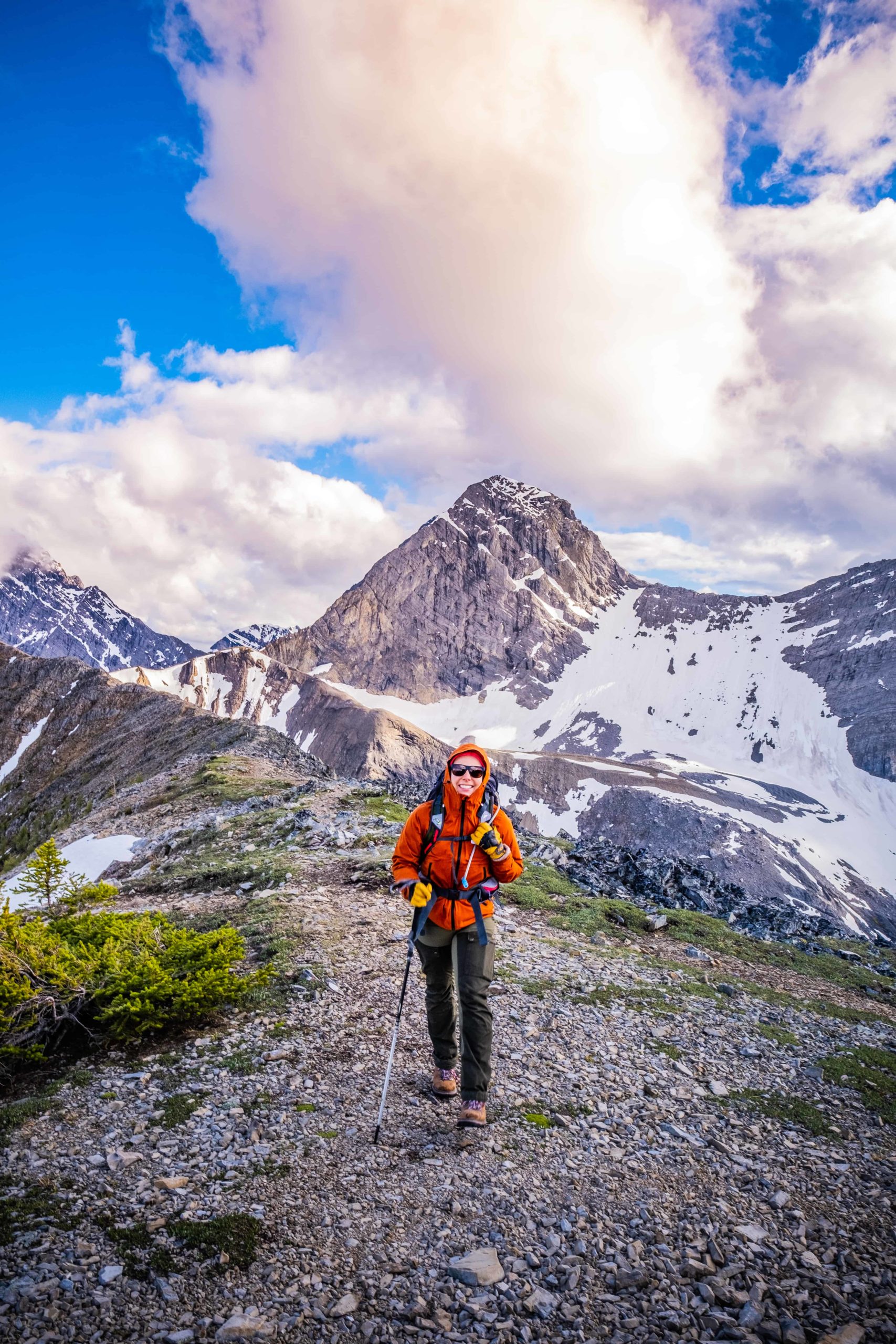 May and June are the rainiest months in the Rockies, so I would advise packing an excellent rain jacket, weatherproof hiking pants (we love our Kebs!), and waterproof hikers. An average vacationer in June will likely see half sunny days and half overcast/mixed days. It's best not to rely on weather apps too much. Mountain weather is extremely unpredictable and can change at a moment's notice.
I know rain can really suck on vacation, but if it's raining in Banff in June, that means there is a lower risk of wildfires for the summer. And rain is better than smoky skies any day of the week!
If it's raining on your vacation some great things to do are check out the Cave and Basin National Historic Site, soak in the Banff Hot Springs, or go bowling at High Rollers.
---
Our Top Banff Travel Tips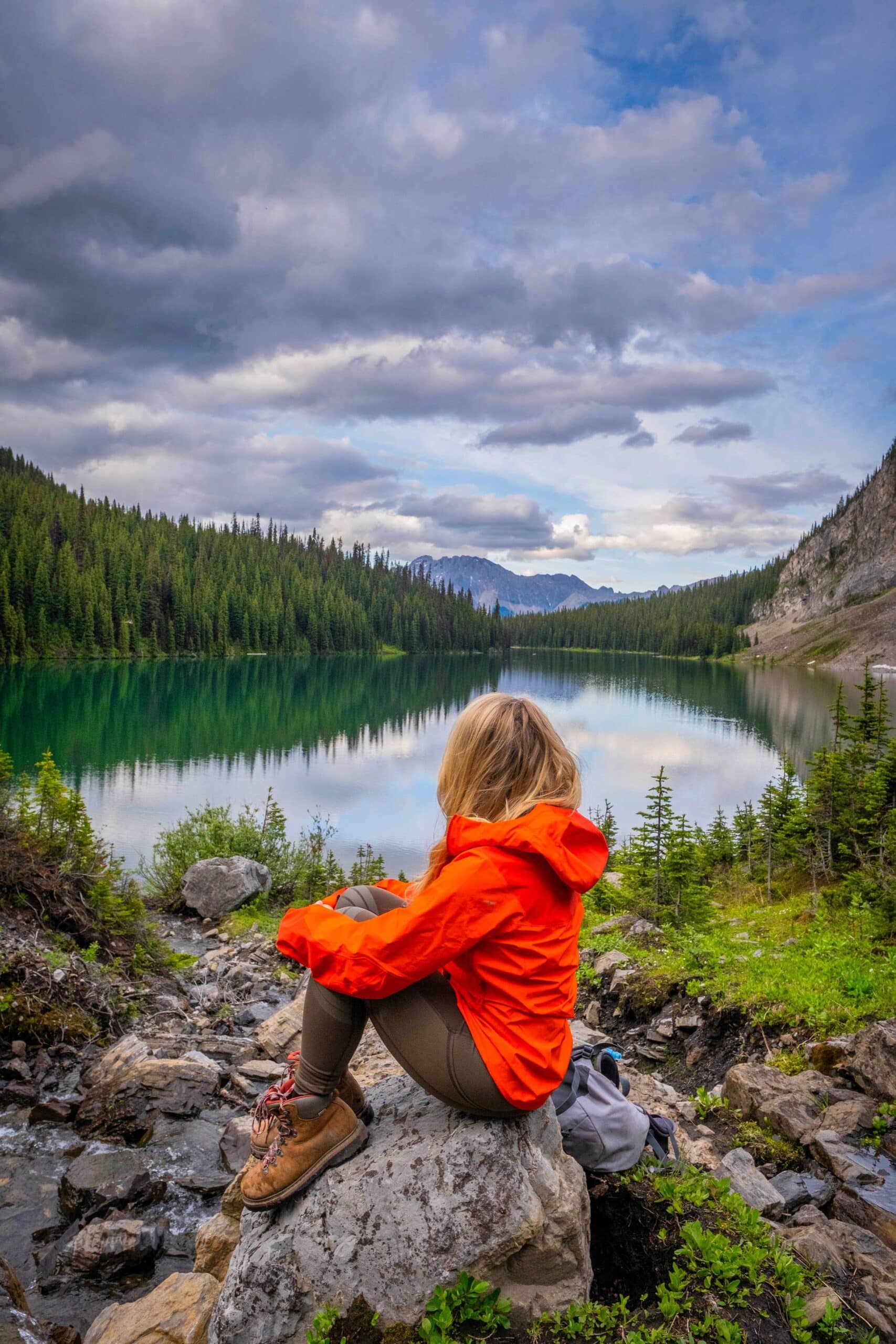 If you plan to do any hiking (including the hikes mentioned on this list), download AllTrails first. Alltrails gives you the latest review of a hike, as well as all the logistical information you may need.
If you pay for AllTrails Pro, you'll also be able to download offline trail maps to your phone. We use AllTrails for every hike. It's not the end all be all of hiking information, but it's a great resource to use in conjunction with hiking guidebooks and websites.
---
Consider Renting a Car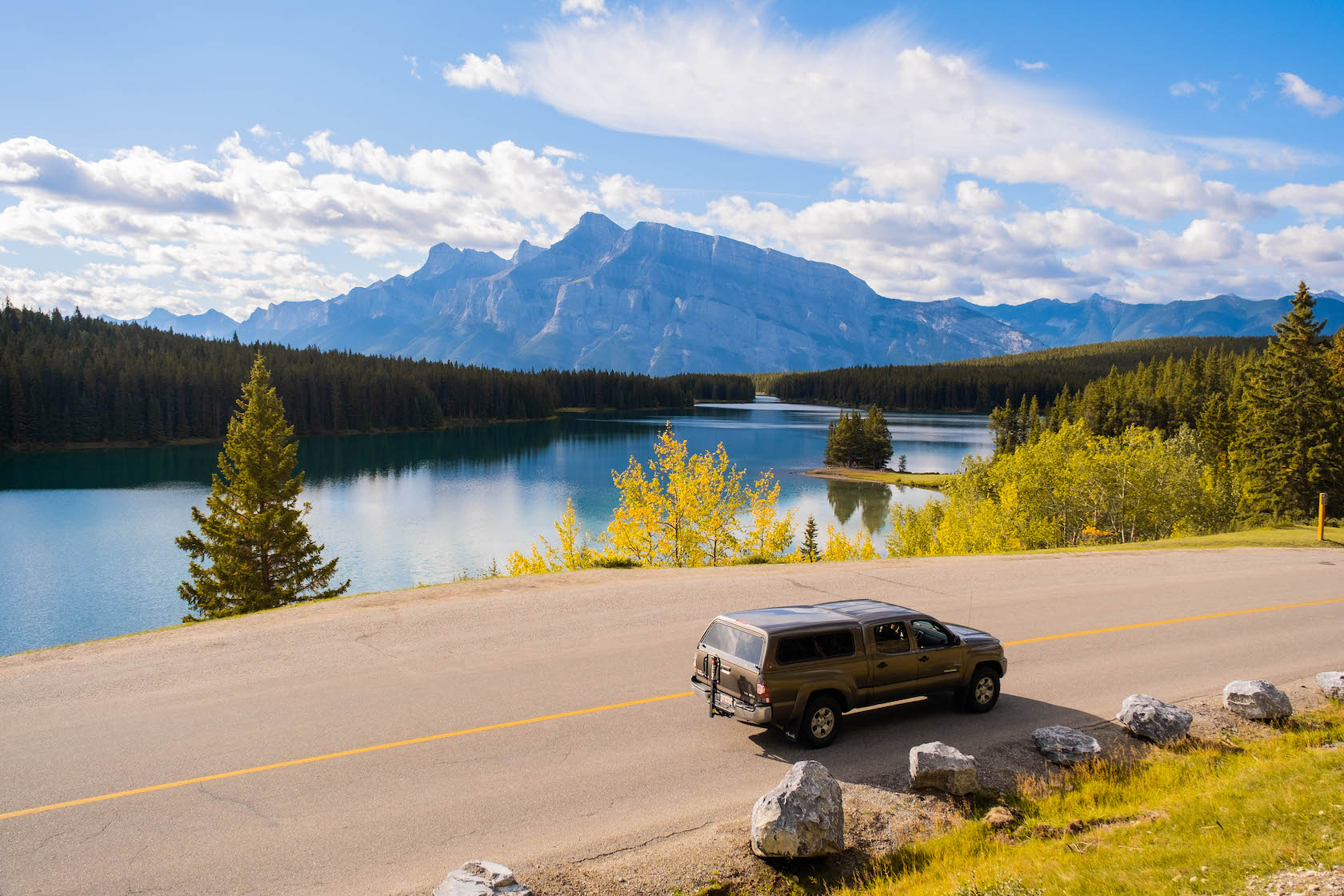 Being in North America, your options for transport are limited. Most visitors to Banff will rent a car in Calgary, which is the easiest way to get around. Renting a car in Banff ensures that you can get to where you want to go on your own schedule.
Depending on your travel season, car rentals in Calgary can be quite affordable. In June, you may be able to find shoulder season rates if you book well enough in advance.
Check Car Rental Rates
---
Other Transport Options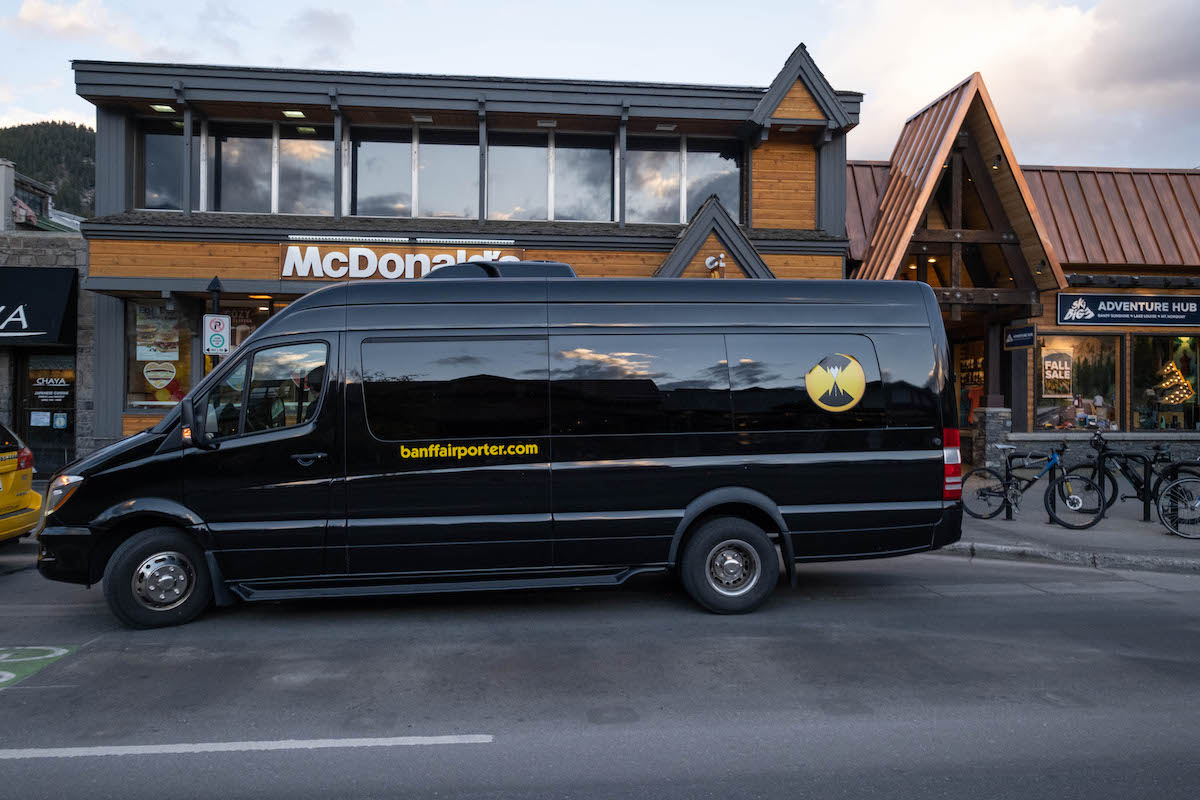 You may not feel comfortable driving in Canada, and that's okay! There are other options to get to and from Banff and around the town. However, they are limited, so keep that in mind.
To get from YYC to Banff, the Banff Airporter is a good option.
Once in Banff, there is the Roam bus system to get around town, and in the summer, it runs to Lake Louise, while in the winter, it will easily get you to Lake Louise Ski Resort and Banff Sunshine Ski Resort.
---
Where to Stay in Banff in June
For a small mountain town, Banff has a plethora of accommodation options. Some of our favorites are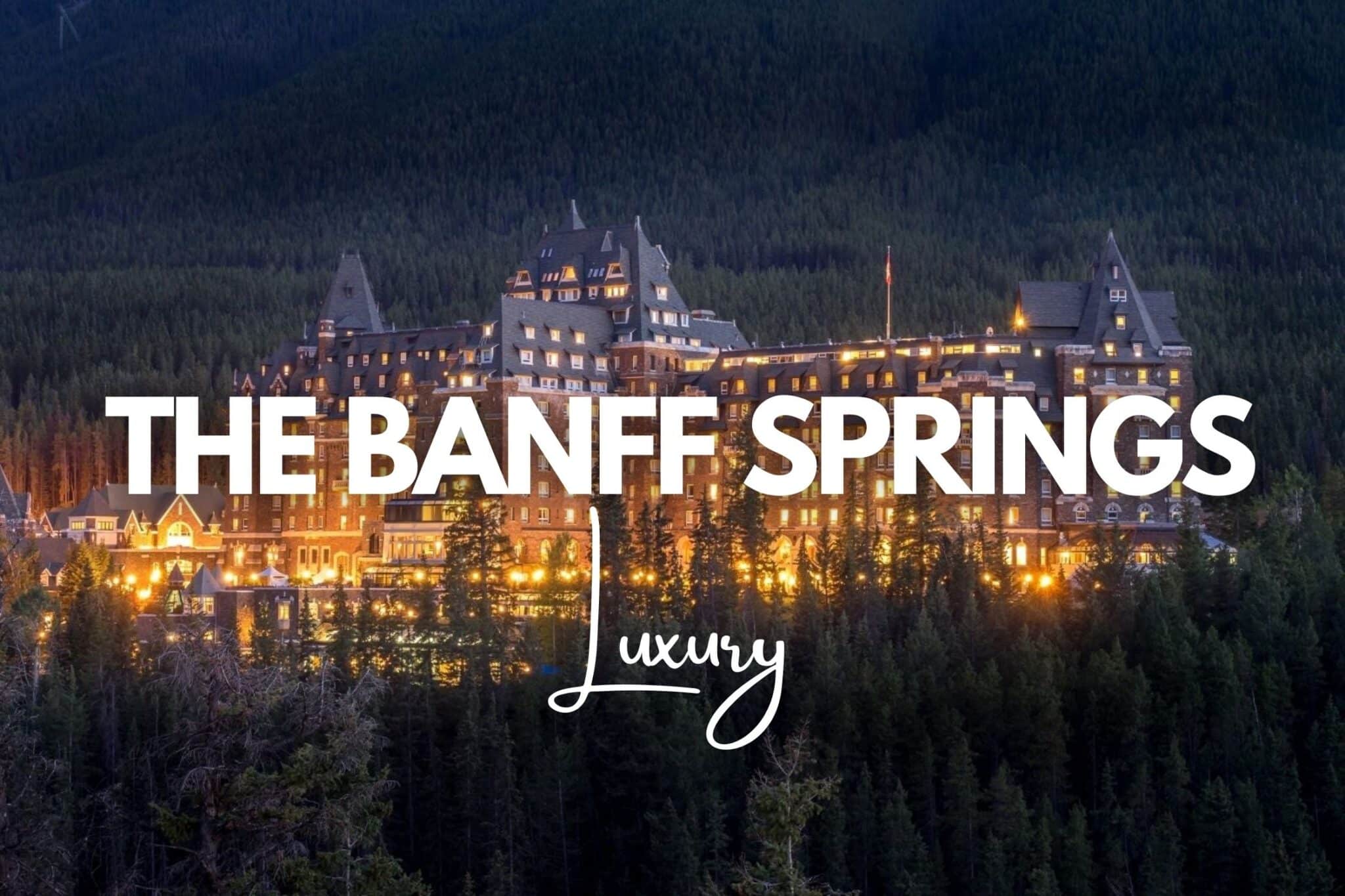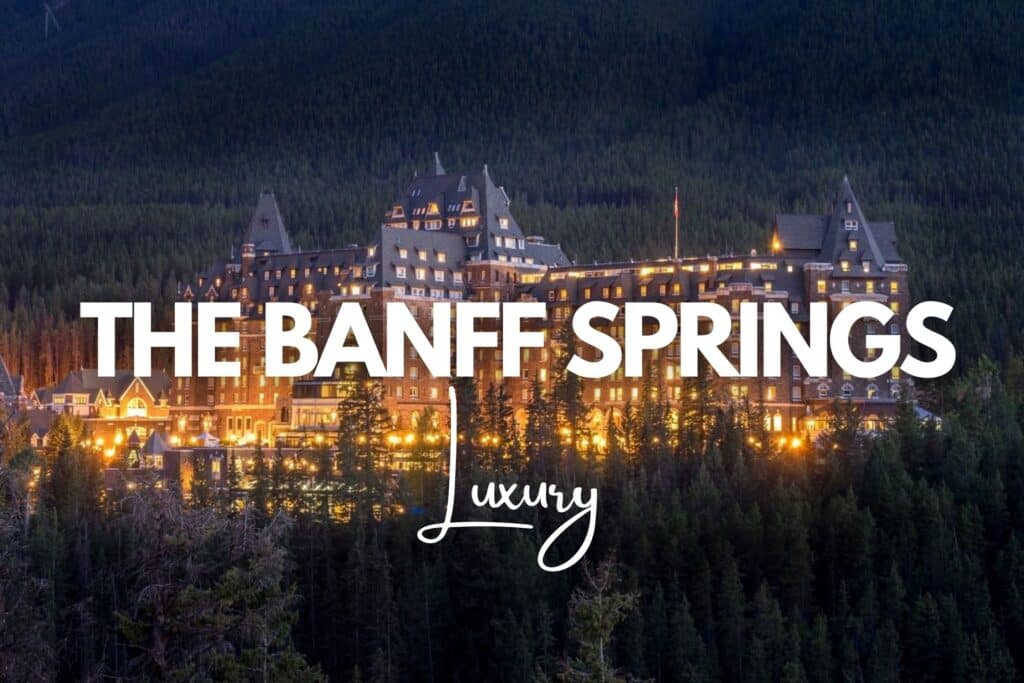 The most luxurious place to stay in Banff. Definitely a splurge, but worthwhile if you are celebrating a special occasion.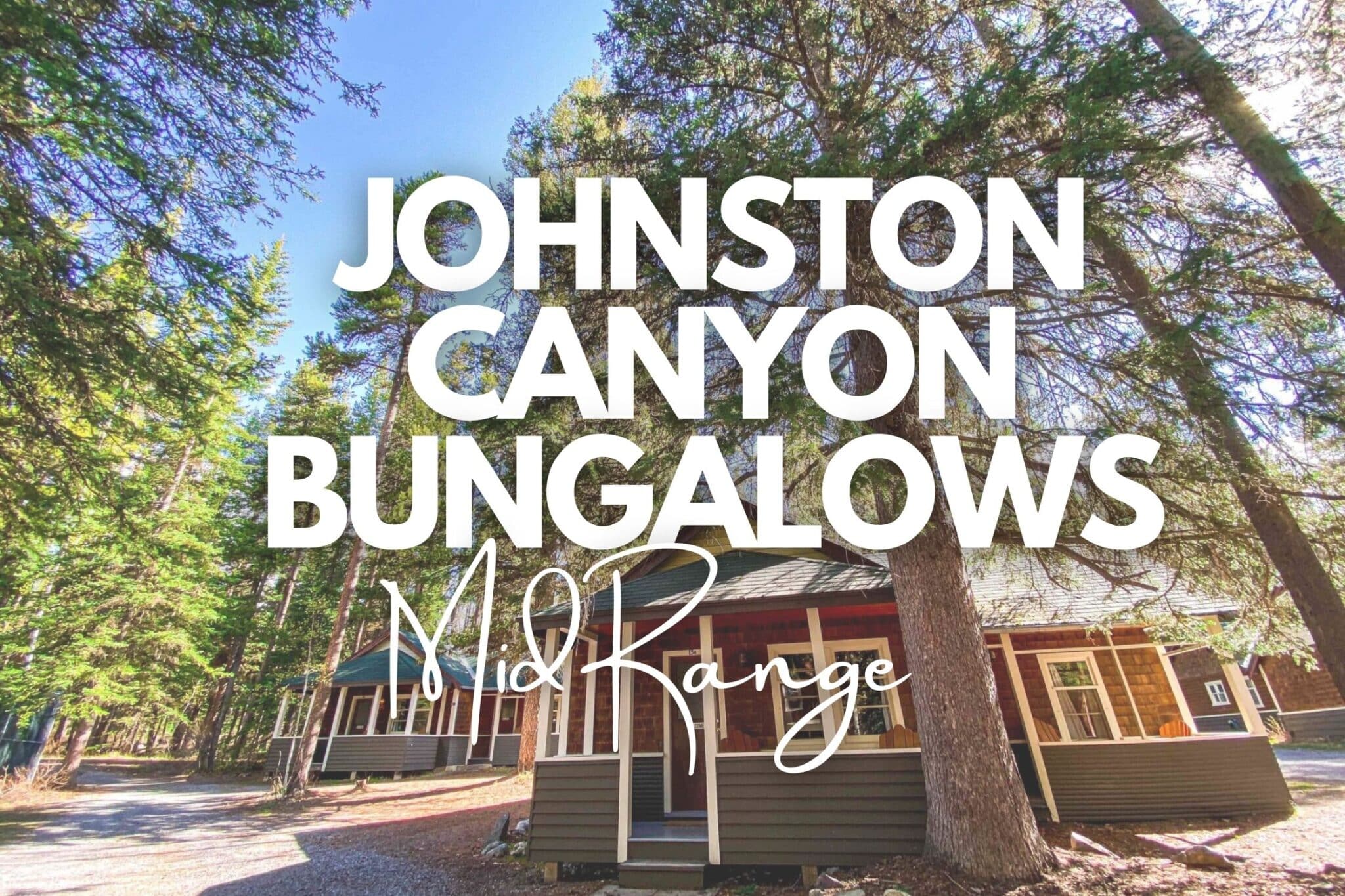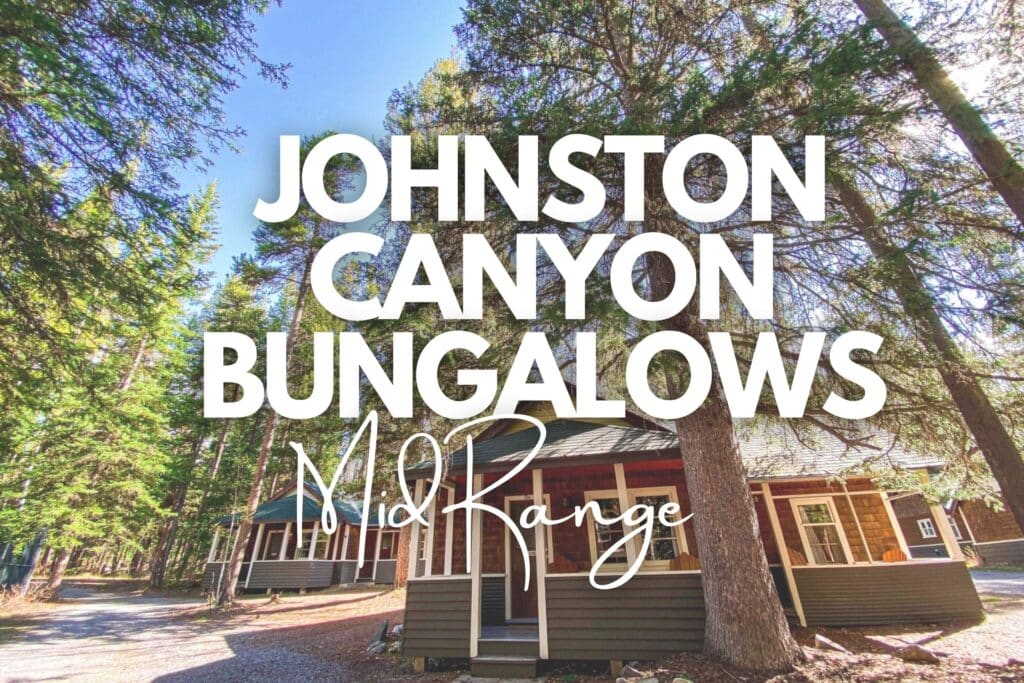 Cabins at the base of Johnston Canyon! These are a fantastic getaway for a few nights that will have you away from the noise of Downtown Banff.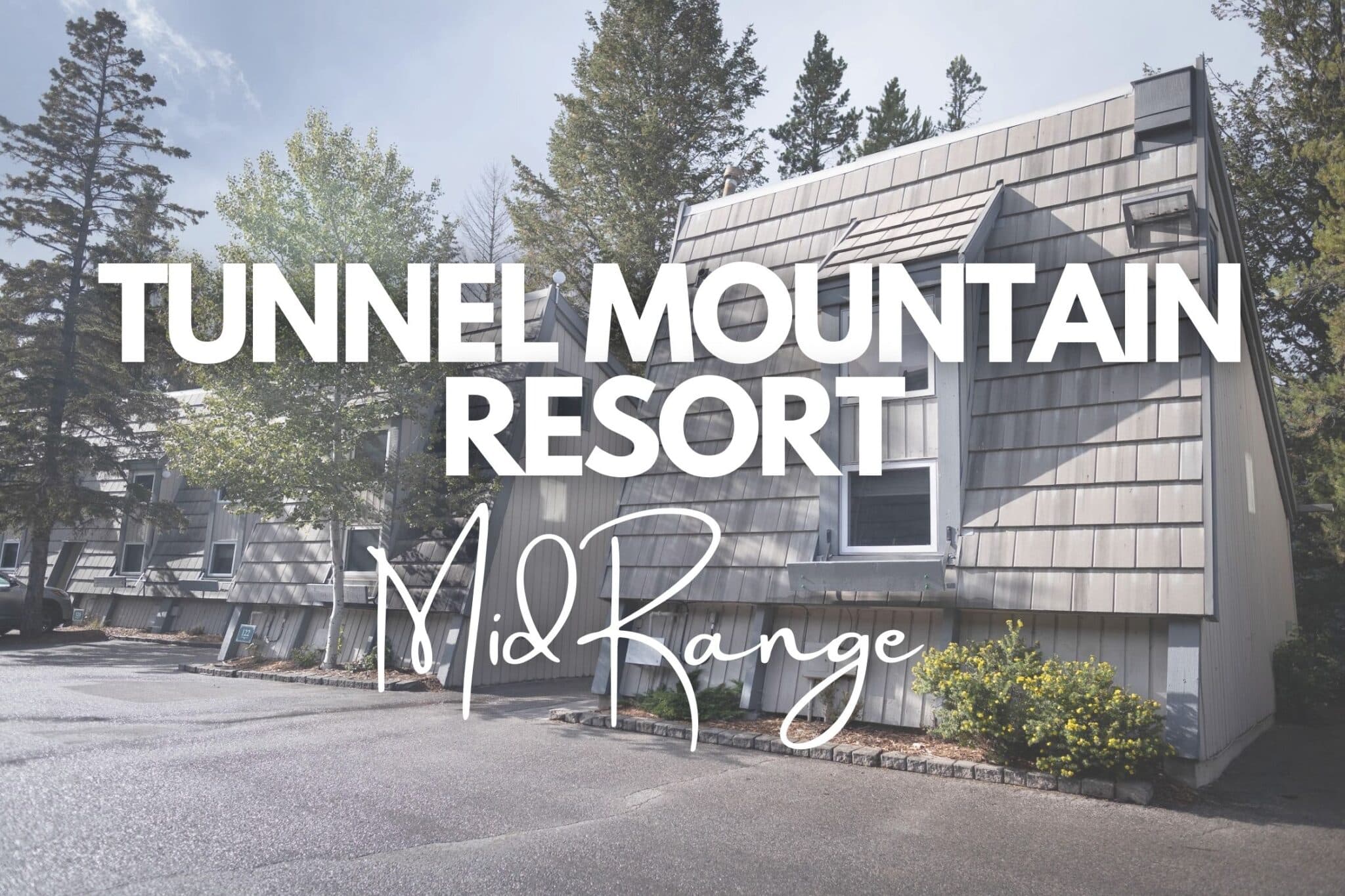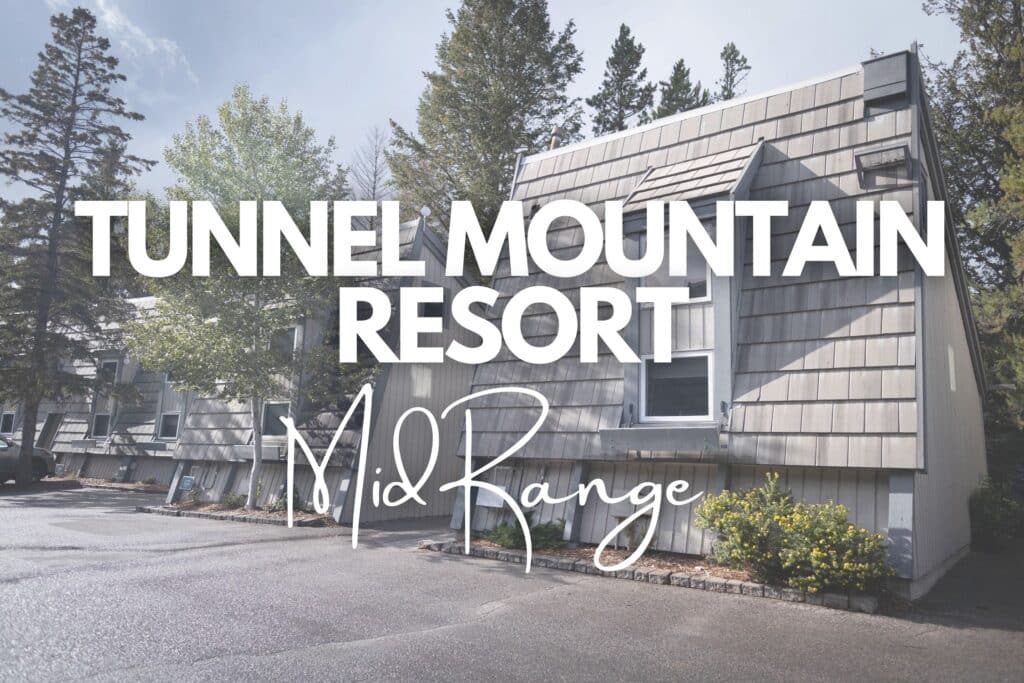 A no frills, but super comfortable place to stay in Banff. It's not on Banff Avenue, but a short drive, bike ride or walk away. Very quiet!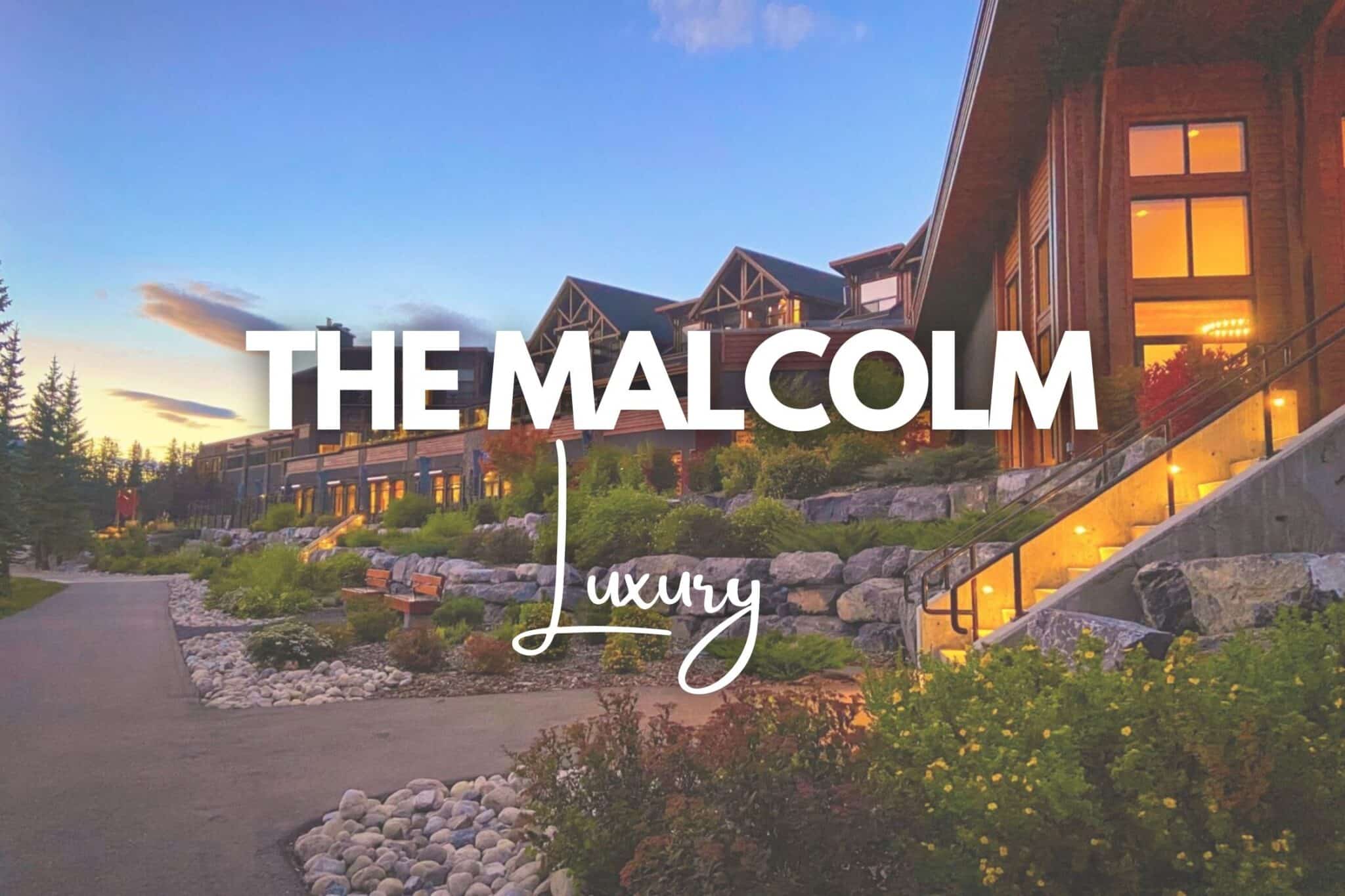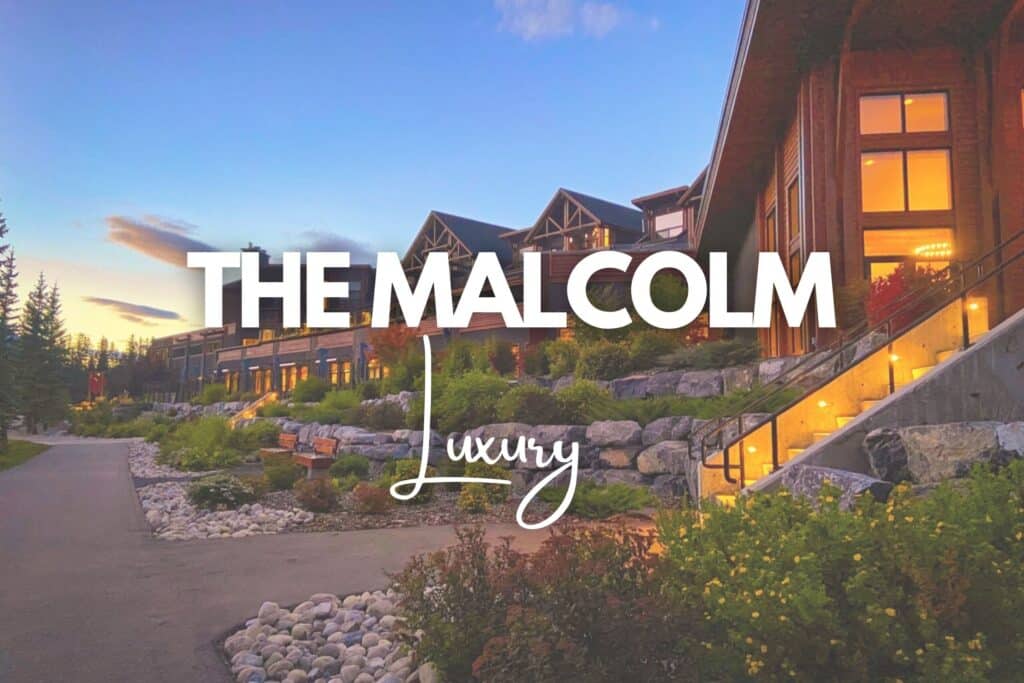 ---
---
↓ Join the community ↓
The Banff Blog Facebook Group is your headquarters for the Canadian Rockies' travel advice and information. Including hike info and off-season travel information. You can also meet new adventure buddies.

Plan Your Trip to the Canadian Rockies