Open Top Touring is an experience new to Banff that transports visitors back in time, exploring the town in a vintage-style 1930s automobile. This is the most unique way to see Banff while learning about its rich history. An Open Top Tour is the perfect way to begin your Banff vacation and one of the best things to do in Banff.
Open Top Touring puts a spin on the common bus tour, allowing you to ride in luxury and receive 1930s royalty-style treatment. If you are visiting Banff between May and October, adding this 1.5-hour tour to the start of your Banff itinerary will provide you with historical facts, the best viewpoints, and an overall greater understanding of this beautiful mountain town!
---
The Banff Open Top Tours Experience
---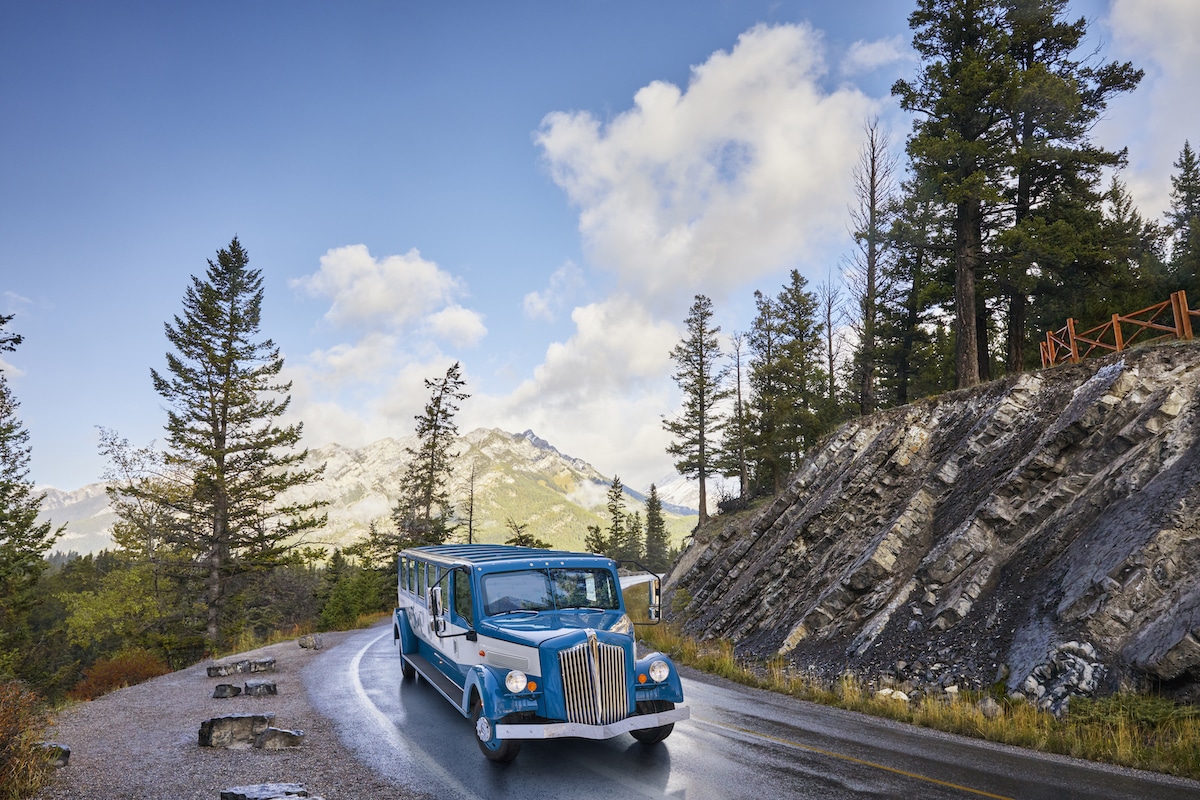 The Open Top Touring experience is fairly new to Banff and is the only one of its kind in this area. The tour's purpose is to show you the best sights in Banff while providing you with informative, fun facts about the town and all of the fascinating people who have enjoyed it before us.
The tour is inspired by the original Brewster brothers led-tour that was developed in the 1930s – the stylish automobile is modeled after the iconic, original vehicle that hosted the rich and famous who traveled to Banff almost 100 years ago.
Along with the vintage vehicle, the knowledgeable tour guides are dressed to fit the decade to give the full immersive experience.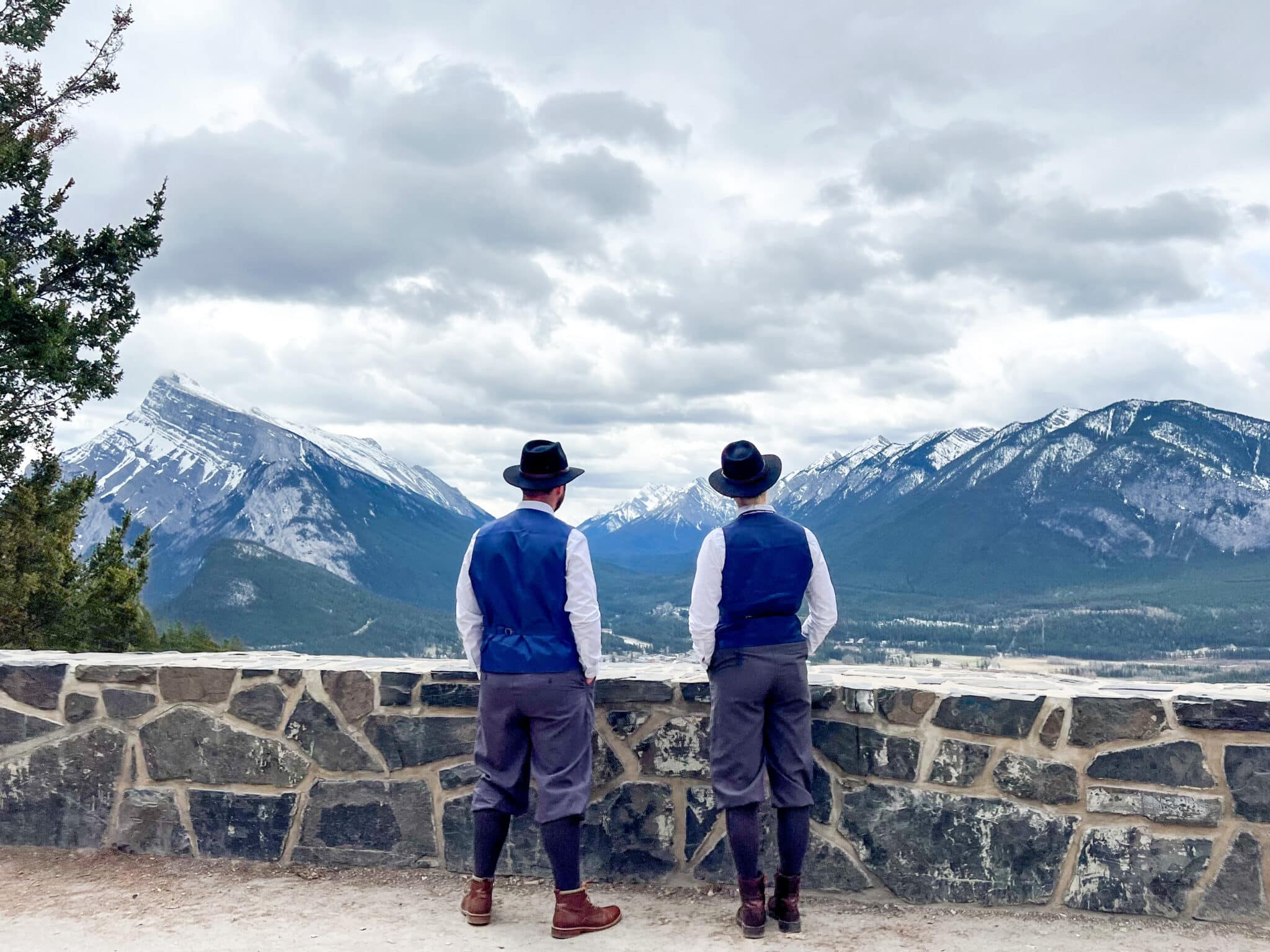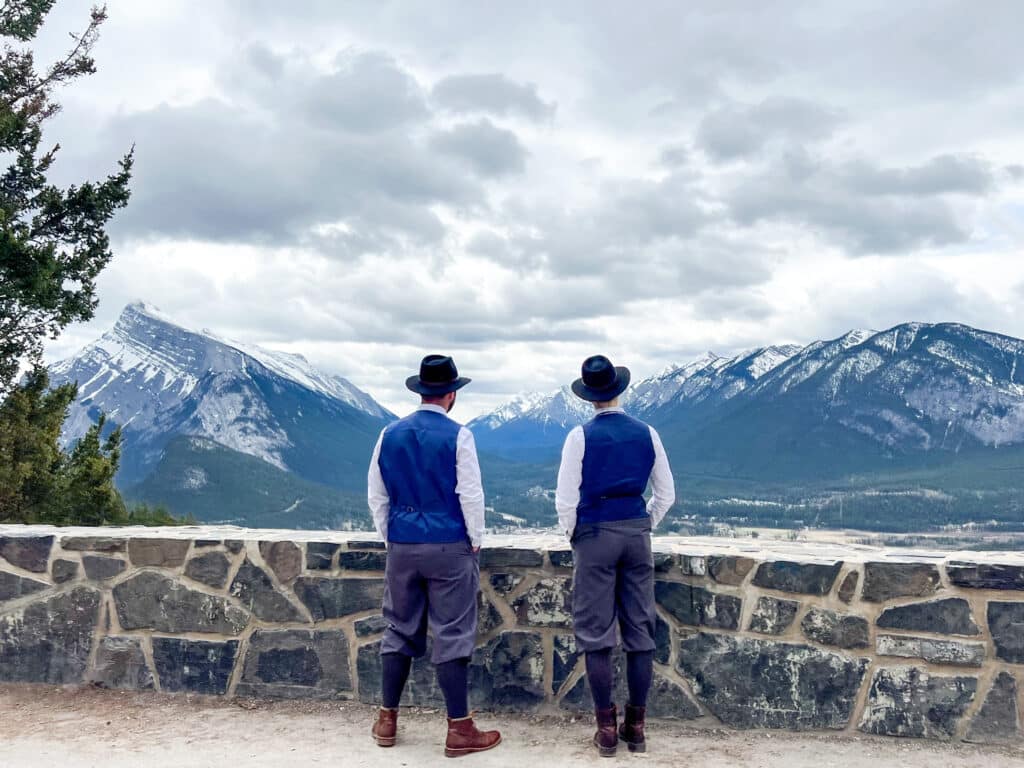 ---
Banff Open Top Tour Types
Different tours are available depending on the season. Two different tours are available in Banff, and one unique tour is available in Jasper.
The Legendary Banff Tour

Dates: April to October
Duration: 90 minutes
Cost: $42 for Adults; $24 for ages 6-15; free for kids under 6
Key Attractions: Two gorgeous viewpoints that are often missed by the common tourist

Castle, Gardens & WaterfallsTour

Dates: June to September
Duration: 90 minutes
Cost: $42 for Adults; $24 for ages 6-15; free for kids under 6
Key Attraction: Launches from the infamous Banff Springs Hotel and focuses on the Bow Falls and colorful Cascade Gardens.

Legends of Jasper Tour

Dates: July to early September
Duration: 90 minutes
Cost: $42 for Adults; $24 for ages 6-15; free for kids under 6
Key Attraction: The only tour offered in Jasper! Enjoy the best of nature's beauty with lakes, lookouts, and rivers.
---
My 'Legendary Banff Tour' Experience
I had the pleasure of enjoying the Legendary Banff Tour this past May. Read on to hear my honest review, and all about the tour!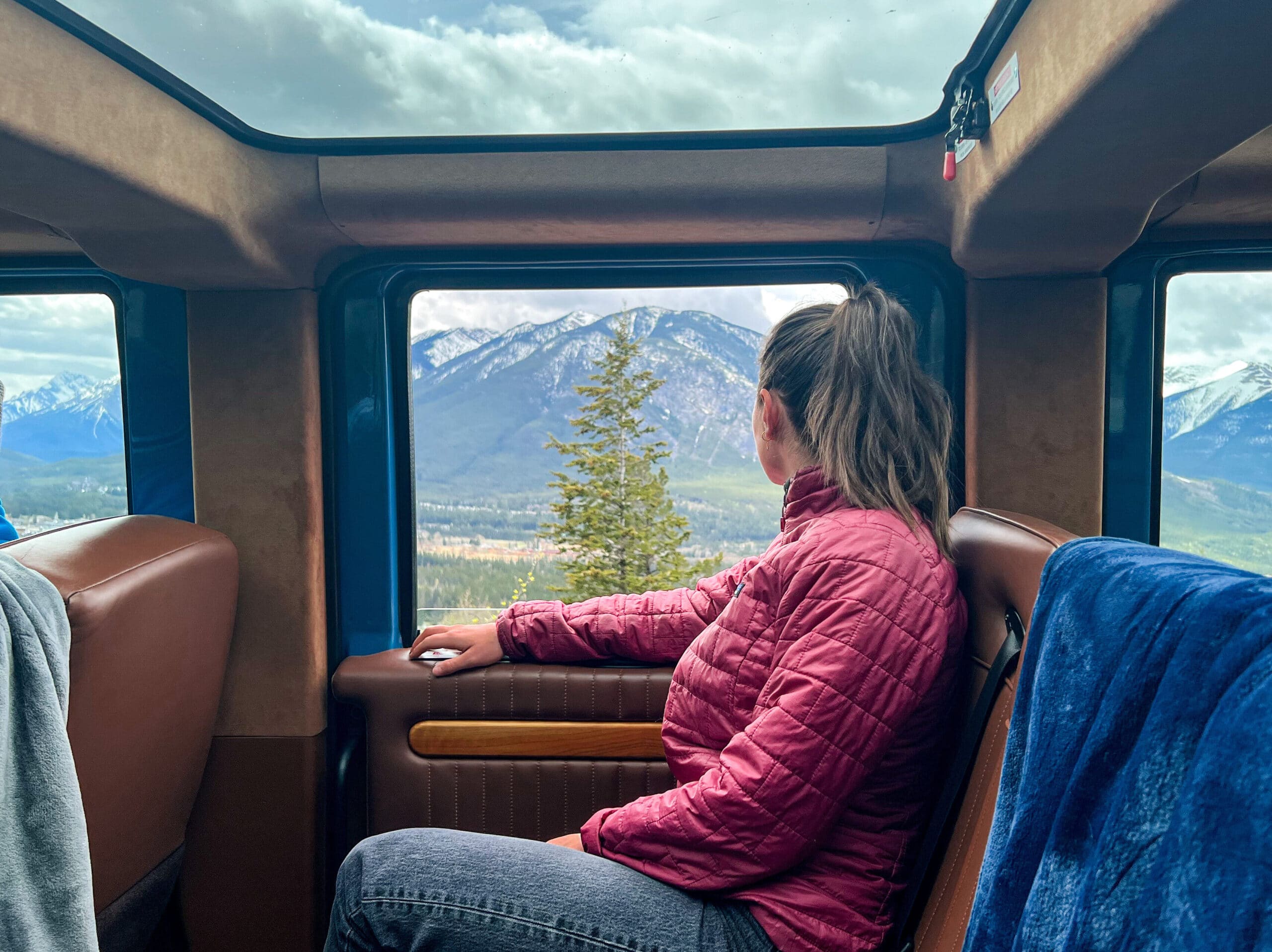 ---
Open Top Tour Honest Review
After living in Banff for the past few years, I was skeptical that the Open Top Tour would be able to teach me new facts, or that seeing the sites that I've now seen several times would be anything special. But wow, was I wrong!
Open Top Touring around Banff in this luxurious automobile, with an entertaining guide and lively jazz music, was truly an amazing experience. The large open top (with glass ceiling at the time of our tour) and big windows provided 360-degree views and a new perspective of the mountains towering overhead.
Our guide shared countless stories and facts that allowed me to learn so much about this beautiful mountain town, all while being toured around in style!
The automobile itself was spacious and stylish, and we felt like royalty as our guide opened doors for us and treated us as so.
The viewpoints are some of the best in Banff, many of which tourists and short-time visitors often do not know. At 90 minutes, the tour is the perfect length of time, including two opportunities to get out and walk around the viewpoints.
---
Checking into the Tour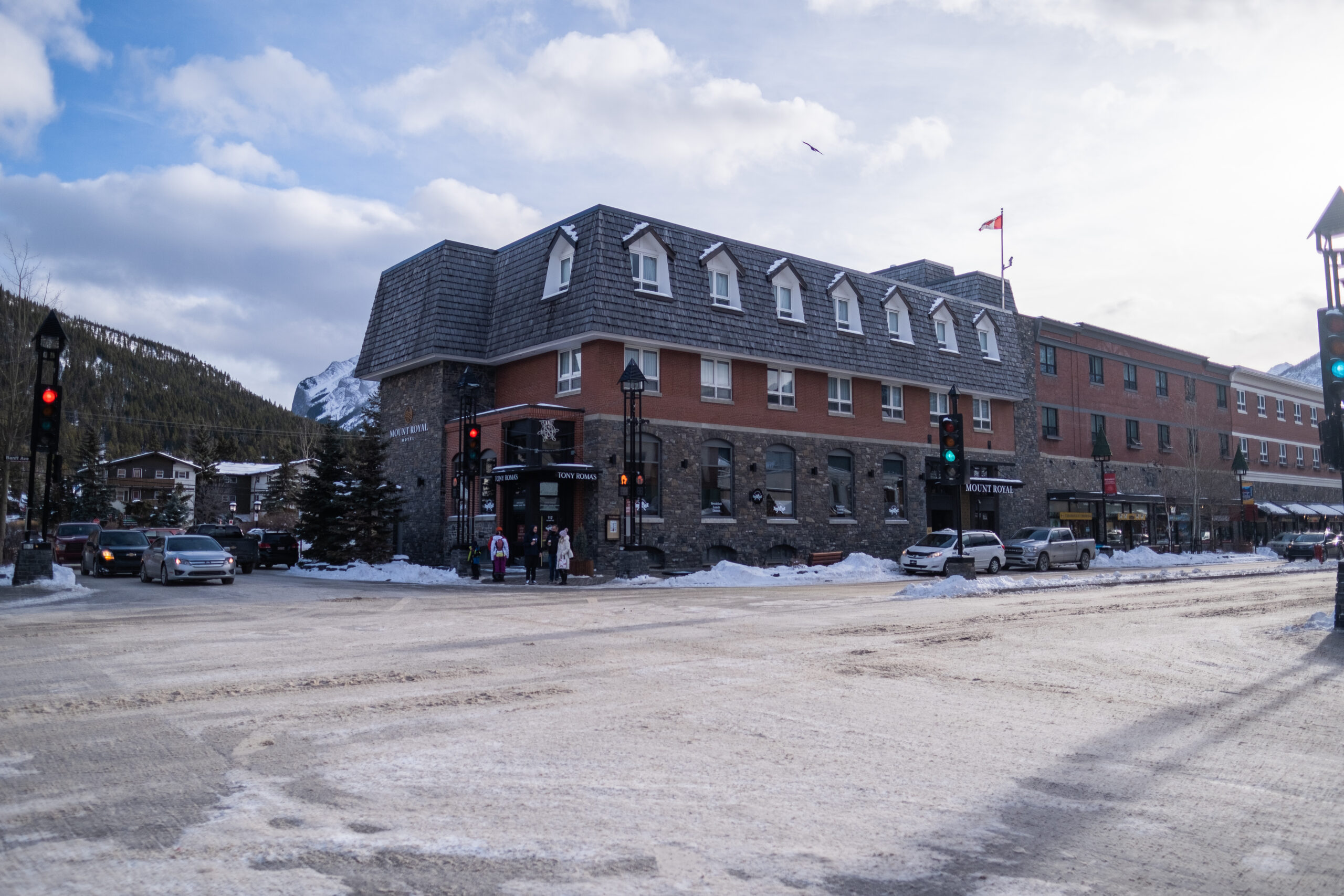 Getting to the tour start point is quick and easy, as it's located within the Mount Royal Hotel on Banff Ave – one of the best hotels in Banff, at the heart of downtown Banff. No matter where you're staying in Banff, this is a central destination that's easy to find.
The tour check-in is located in the hotel lobby, marked by retro-style ticket booths and in-character staff members.
Upon booking online in advance, they asked that we arrive 10 minutes early and allow you to lounge in the lobby until the tour is ready to begin.
---
The Tour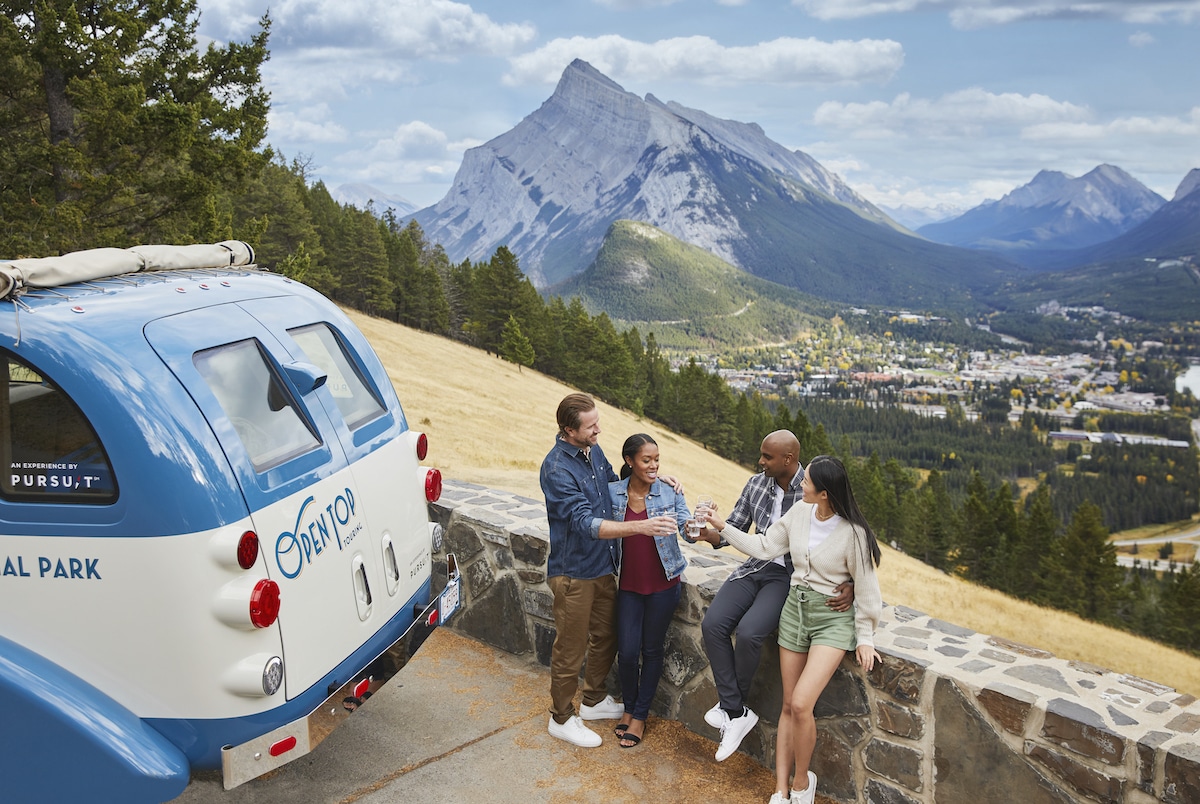 Leaving right from the hotel, our tour started with a Land Acknowledgement to recognize and honor the Indigenous Peoples of the land on which we are touring. This automatically started the tour off on the right foot.
With our tour taking place in May, the automobile's open top was equipped with windows. May in the Rockies can be pretty unpredictable in terms of weather, so we were thankful to feel cozy and warm while still having views through the glass ceiling. In the summer months, the glass pops out for the full open-top experience!
The automobile was equipped with blankets for any guests chilled from the mountain air, cup holders for any drinks you choose to bring aboard, and USB charging ports in case your camera or phone loses charge from all the photo opportunities.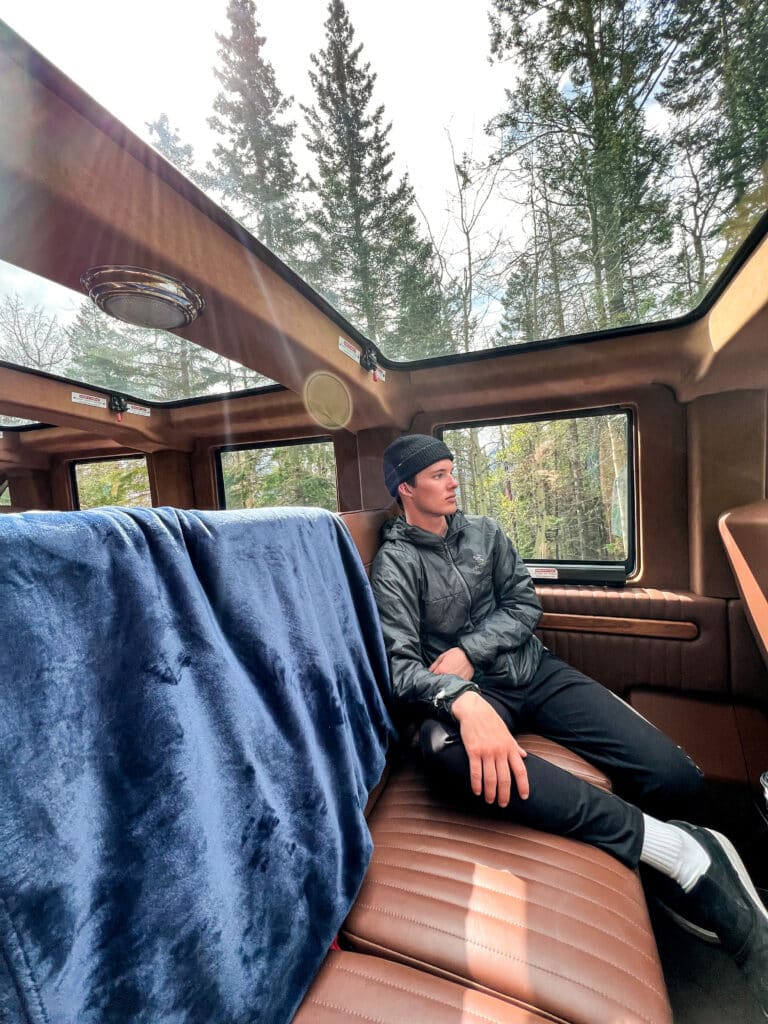 We toured through Banff and to our two marvelous viewpoints. The guide told stories of royalty and celebrities that visited this gorgeous town all the way back to the 1930s, intertwined with facts about every site, mountain, and wildlife that we came across. Lessons of local indigenous tribes, from historical stories to modern music, were also shared.
At both viewpoints, we were treated to a fun surprise! First, old-school view finders to get a true feel for touring back in the 1930s. Second, tasty hot chocolate to enjoy with one of the best views in Banff!
After 1.5 hours, we finished our circuit back at the Mount Royal Hotel doors. We thanked our guide with a gratuity before continuing down Banff Ave to reminisce on this luxurious experience.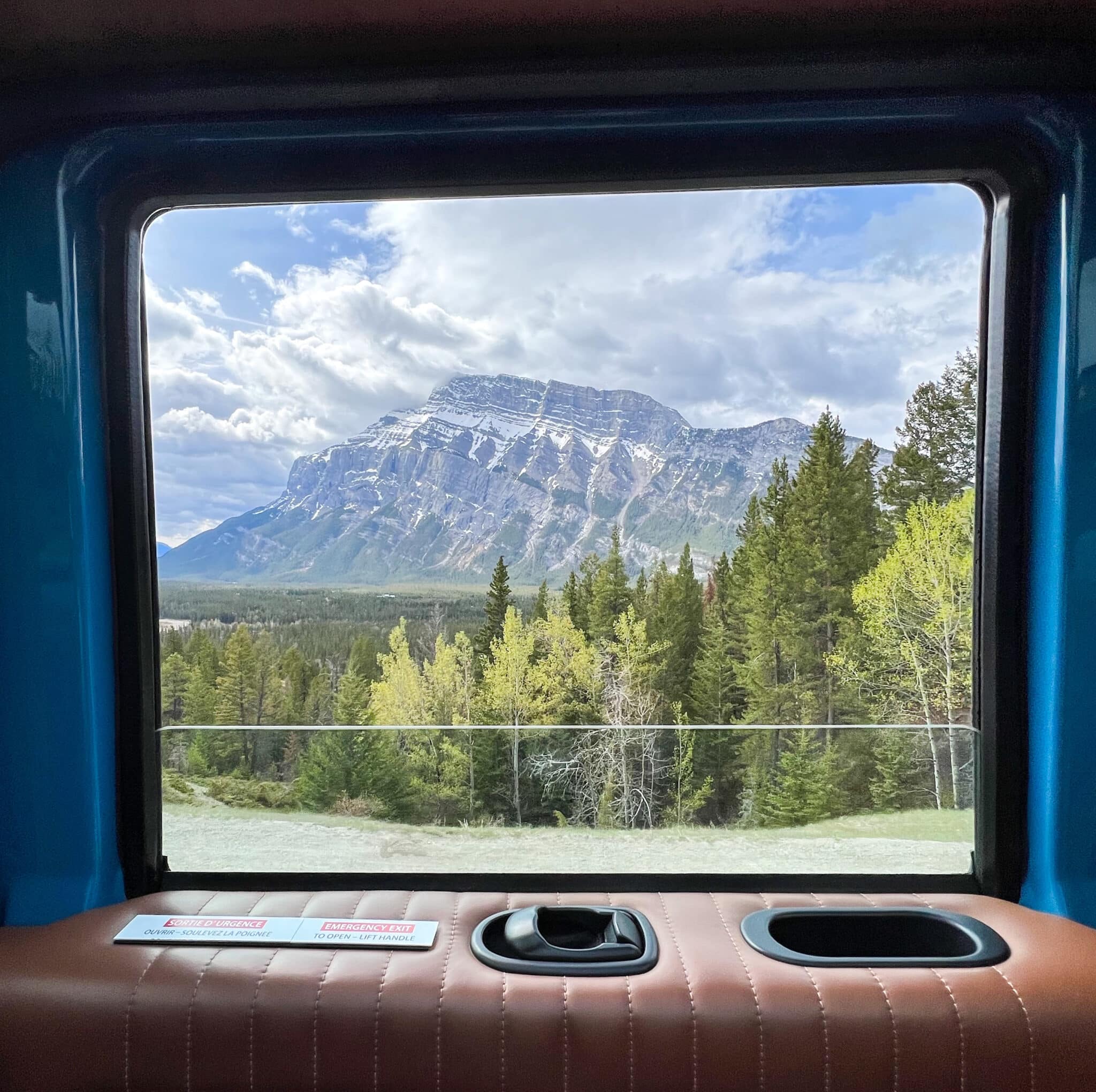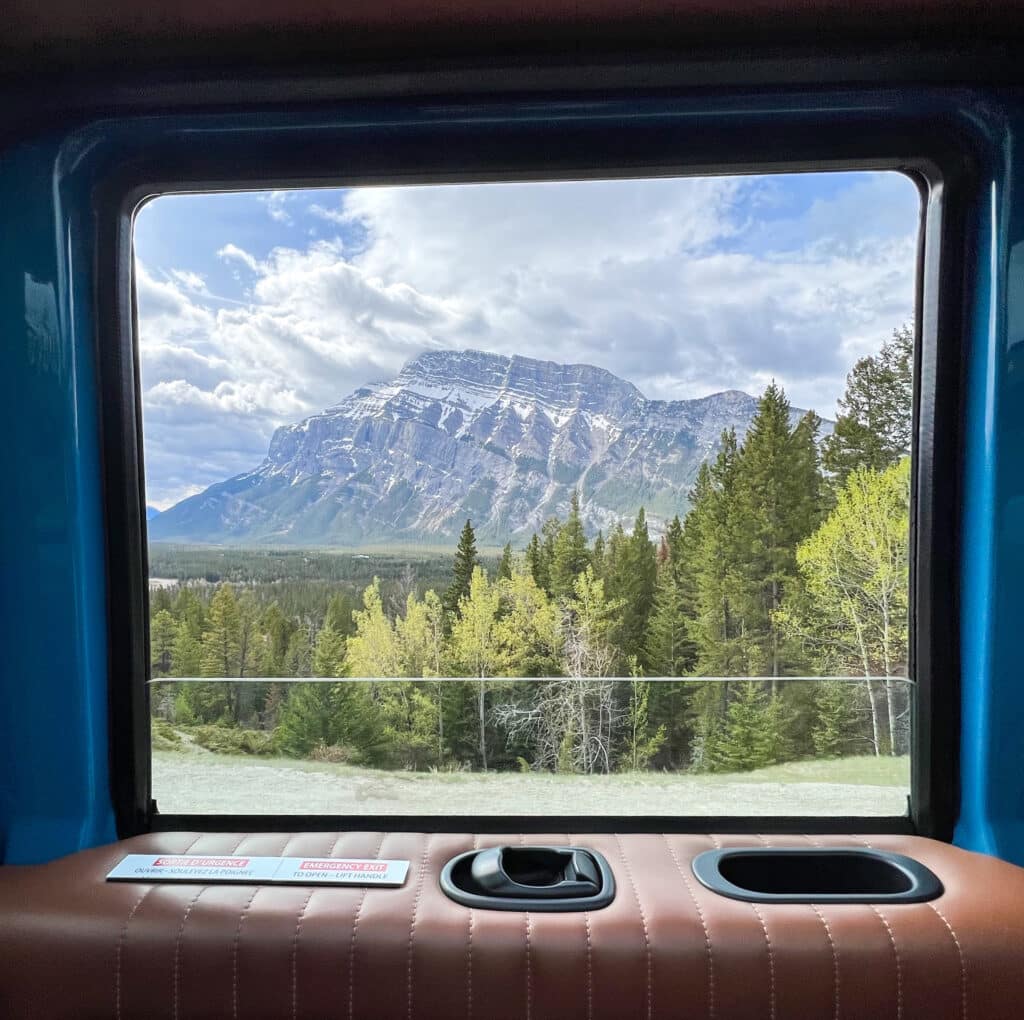 ---
Banff Open Top Tours: Good to Know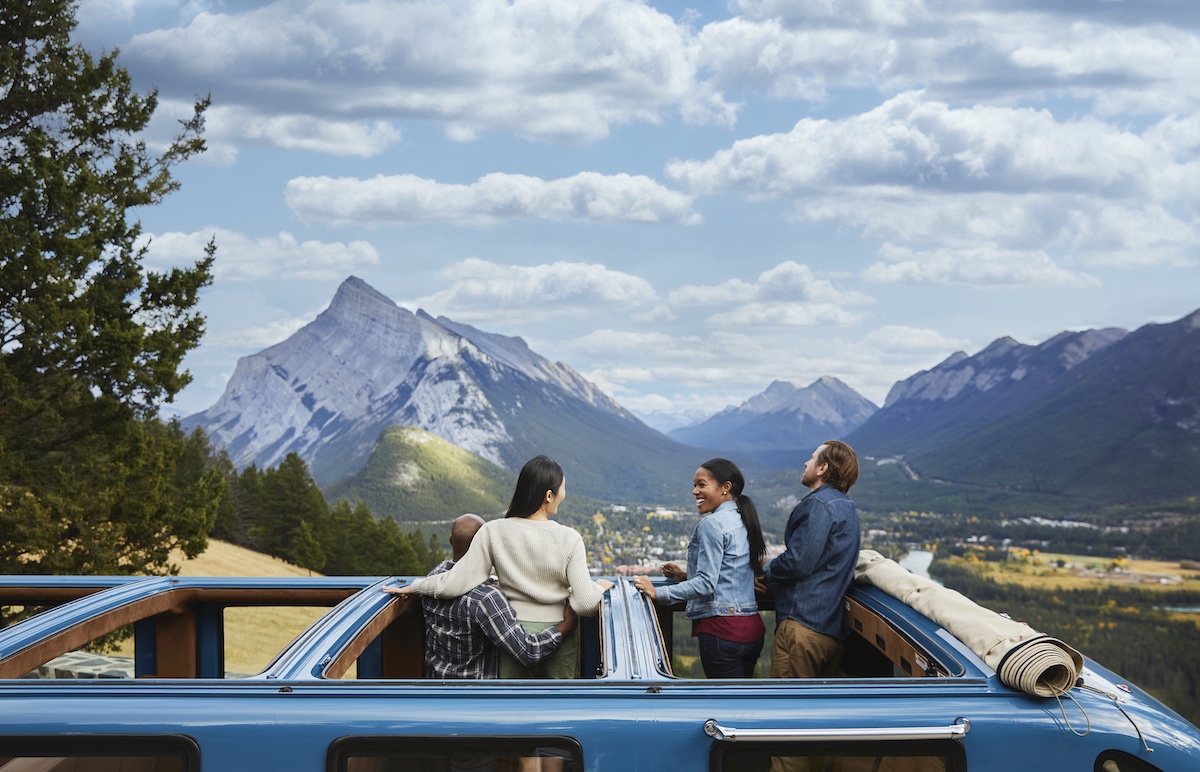 Accessibility: There is a high step to get into the vehicle, for which the guide and driver will provide a step stool. The two viewpoints are flat, paved/gravel landings. Unfortunately, the automobiles are not wheelchair accessible.
Best time to go: There are pros and cons to any season. Though touring in May meant we had to have the windows in the ceiling, it also meant the tour was very quiet! We were 1 of only 2 groups on the tour. May and June have the most unpredictable weather – this is when you're more likely to experience overcast or rainy days. Whereas in July and August, the sun is shining more frequently. I personally think touring during a Banff fall, with crisp mountain air and potential snowy mountain tips, would be beautiful. No matter the season, weekdays are always less busy than weekends. Check out this article for the best time to visit Banff!
What to Wear: Be sure to include layers in your wardrobe for this tour. Mountain weather changes quickly, no matter the month. With an open top, you'll want to be sure you can adjust your wardrobe with the weather if needed.
Gratuity: It is customary to thank your guide and/or driver in the form of a tip after experiences like this. A tip is always appreciated by Banff locals who work hard in a very expensive town to keep the tourism industry flourishing, so that tours like this are possible!
---
The Open Top Touring in Banff is a unique, exciting way to see the town. For anyone visiting Banff, I recommend adding this to your itinerary – preferably at the start of your trip, so you get a lay of the land!
The open top tours will truly provide you with a great base knowledge of the area to take with you throughout the rest of your vacation.
---
Other Things to do in Downtown Banff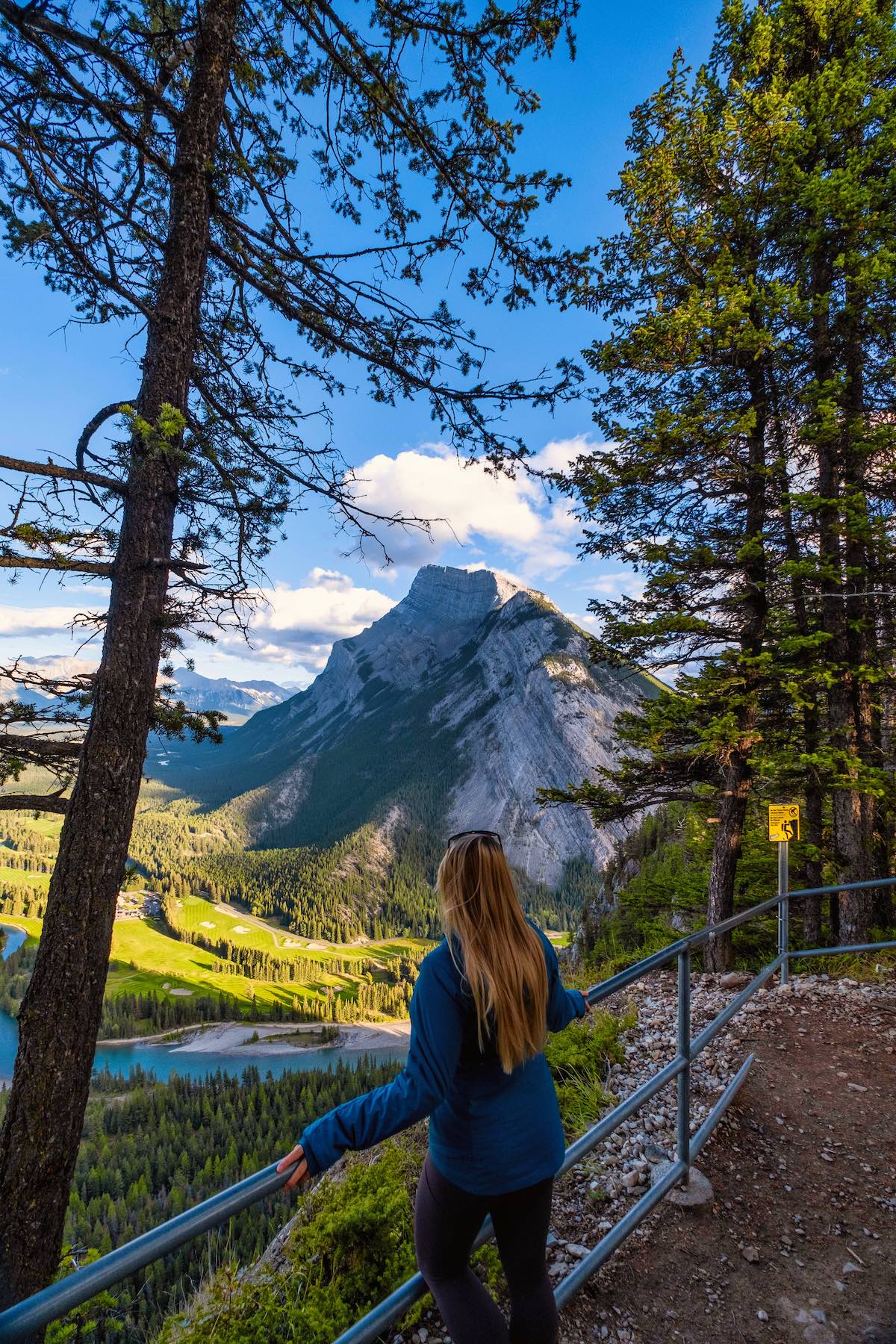 Hike Tunnel Mountain: Tunnel Mountain is a fun hike for all ages and abilities and gives fantastic views over the Bow Valley and Mount Rundle.
Stroll Through Cascade Gardens: Cascade Gardens are stunning gardens at the end of Banff Avenue. Enjoy a leisurely walk through here after your tour.
Bow Falls: Head to Bow Falls, one of the most scenic waterfalls near Downtown Banff. There's even a nice walking path nearby, and if you're up for a longer walk you can walk here from Banff Avenue.
---
↓ Join the community ↓
The Banff Blog Facebook Group is your headquarters for the Canadian Rockies' travel advice and information. Including hike info and off-season travel information. This is also where you can meet one another when you need adventure buddies. 

Plan Your Trip to the Canadian Rockies
Cover Photo Image Courtesy of Pursuit