Looking for the best Moraine Lake hikes? We share the most popular hikes around the lake and all of the details in this guide to experience the best hikes around Moraine Lake.
I've attempted to rank these Lake Moraine hikes in difficulty based on my own personal experience on them. If you want to add some more hikes to your Banff itinerary, check out our list of the best Banff hikes.
All of these Moraine Lake hiking trails actually start right from Moraine Lake and are certain to have views of the stunning turquoise lake, Valley of Ten Peaks, surrounding mountains, and awe-inspiring glaciers.
See Also:
---
Amazing Moraine Lake Hikes
---
Moraine Lake Shore Trail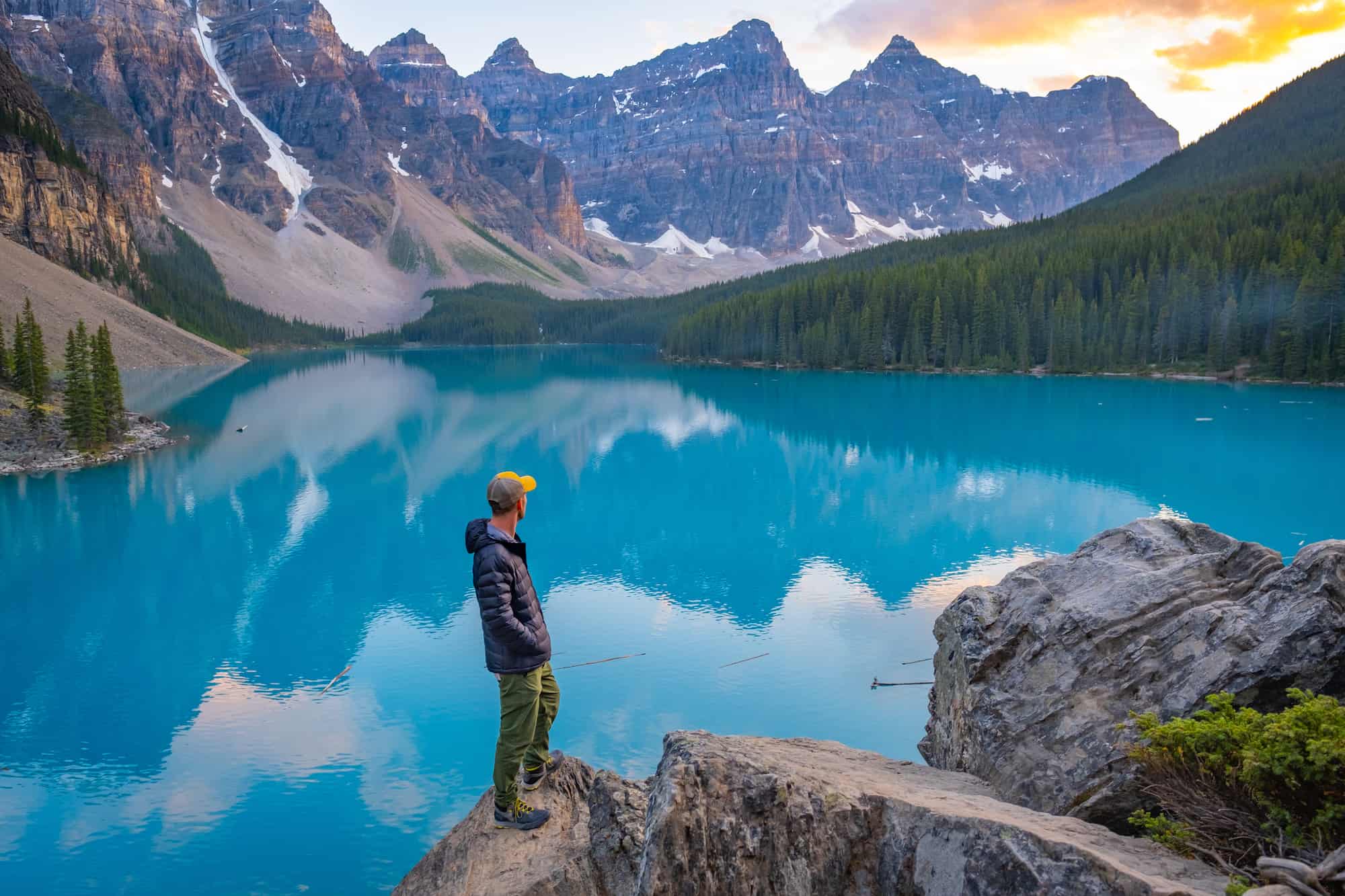 Trailhead: Begins at the canoe docks.
Distance: 2.9 kms
Elevation: 162 meters
Time: 45 to 60 minutes (return)
Anyone visiting Moraine Lake will likely embark on this easy Moraine Lake trail. From the Canoe docks, this is a flat trail that works its way along the lake's shoreline and back. It's a wonderful trail that moves in and out of the forest with great lake views and mountains.
You'll be shocked at how few visitors to Moraine Lake venture on this trail. Insead most just stick to the Rockpile trail, get their photo, and leave. However you'll find fewer crowds and still spectacular scenary on just this short trail around the lake. It's the easiest Moraine Lake trail that almost any visitor to the lake can accomplish. At the end of the hike is a boardwalk near the waters flowing down from Wenkchemna pass.
---
Consolation Lakes Trail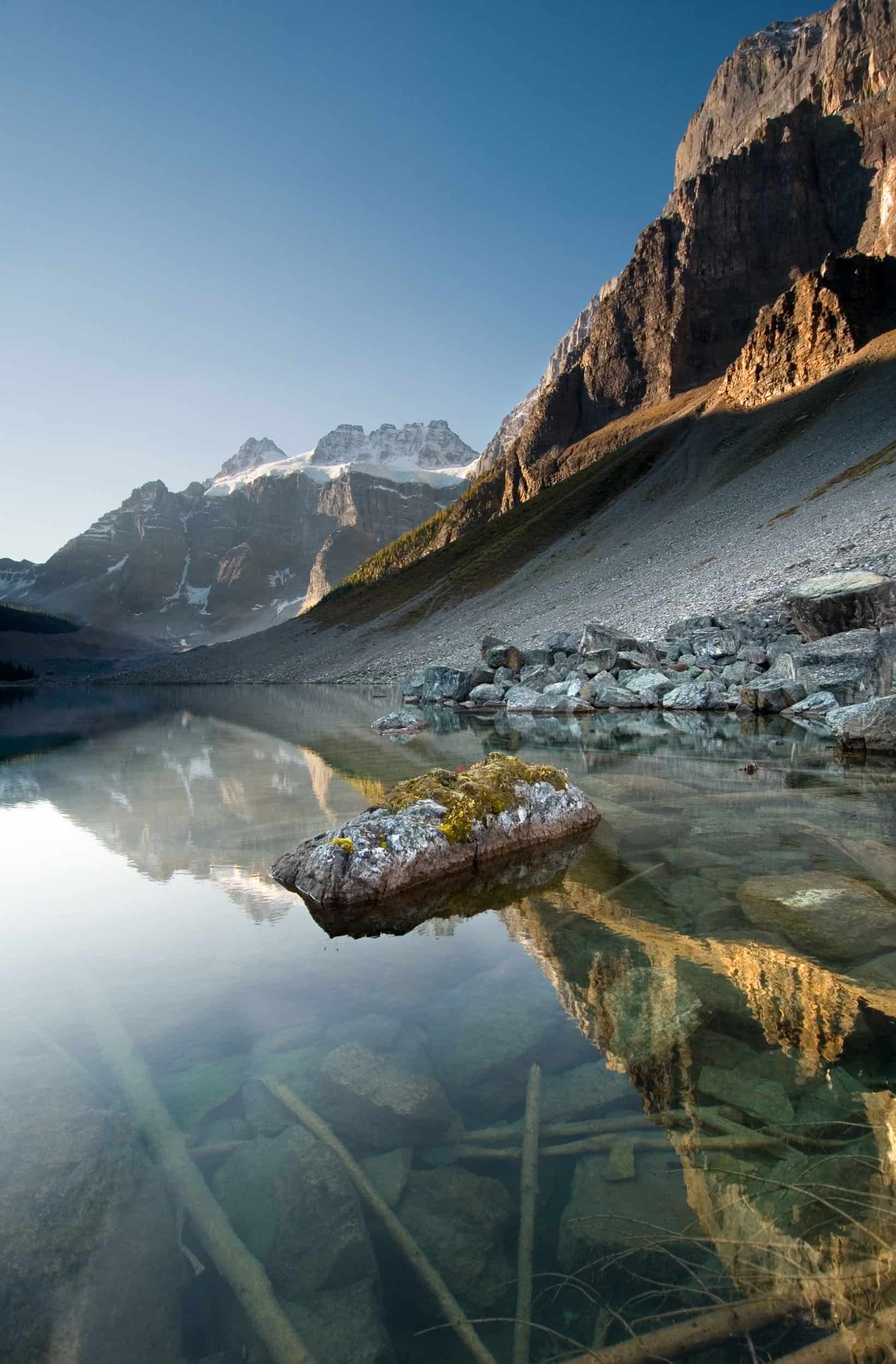 Trailhead: Begins from the Rockpile Trail
Distance: 5.8 km
Elevation: 255 meters
Time: 1.5 to 2 hours (return)
This is a family favorite in Banff as it can be paired with the Moraine Lake Rockpile, and it's pretty easy with a little elevation gain. It's a nice step up from the Lakeshore Trail as the terrain is more difficult with greater elevation gain and a short section that crosses over a boulder field. You also get the bonus of seeing Consolation Lakes in addition to Moraine Lake.
Along the hike, you get views of the scree slopes from the Tower of Babel. The hike passes through the old-growth forest before arriving at an alpine field and wetlands with the consolation lakes at the end. You get tremendous views of the backside of the Ten Peaks Mount Babbel and Mount Fay, topped by glaciers from the lakes.
---
Eiffel Lake Trail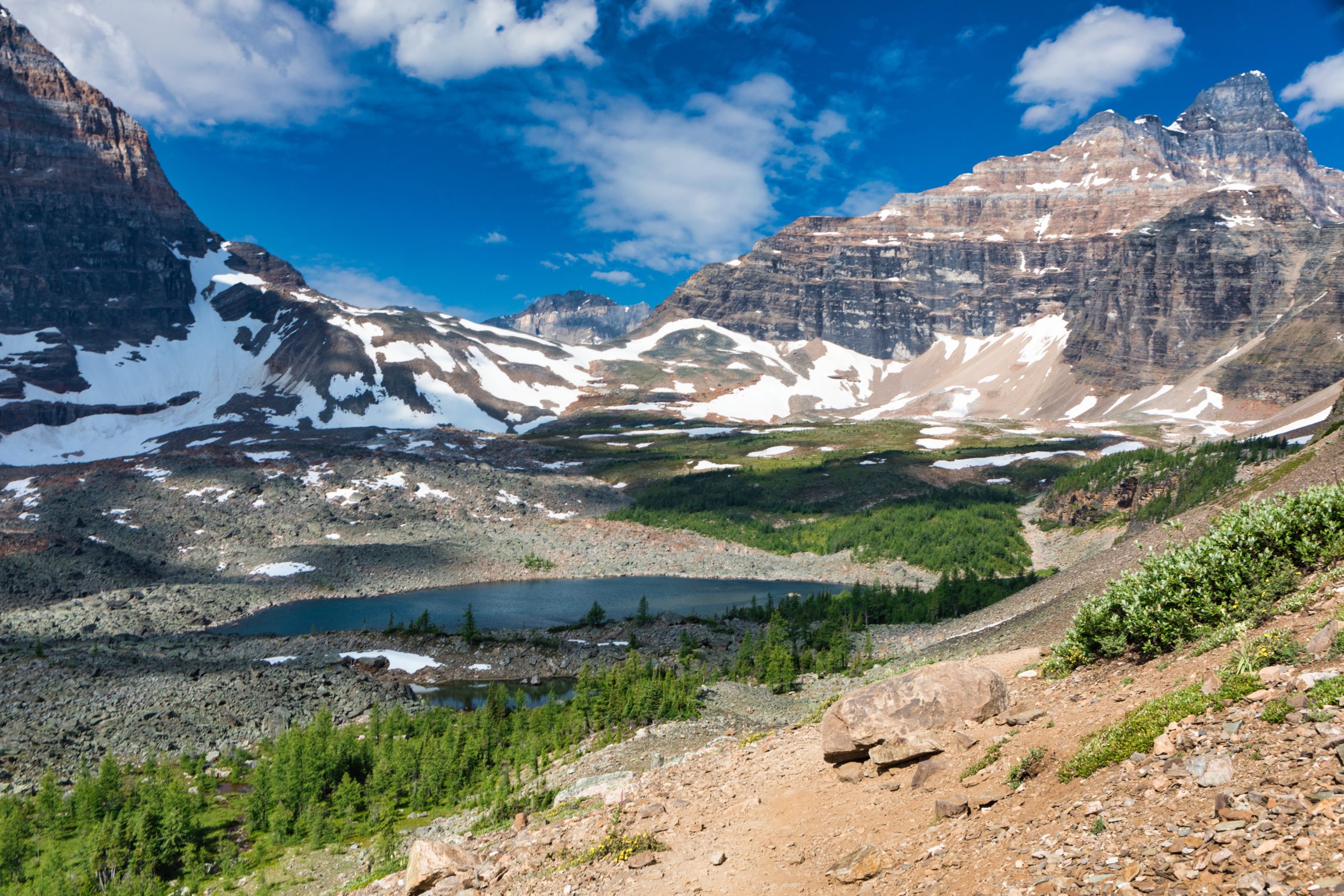 Trailhead: Begins at canoe docks
Distance: 11.7
Elevation: 570 meters
Time: 3 to 4 hours
Witness amazing views of the Valley of Ten Peaks as you climb to two mesmerizing glacial lakes on the Continental Divide. The trail from Moraine Lake is pretty easy to follow up to the fork for Eiffel Lake or Sentinel Pass.
The route up to the fork is pretty demanding as it climbs 350m at a relatively high grade for about 40 minutes. From the fork, you take the less-traveled path to the Eiffel Lakes (there's a sign ensuring you don't miss it). Past the lakes lies Wenkchemna Pass Trail that passes through the mountains into Yoho National Park. The top of the pass provides stunning views of the Ten Peaks.
---
Sentinel Pass via Larch Valley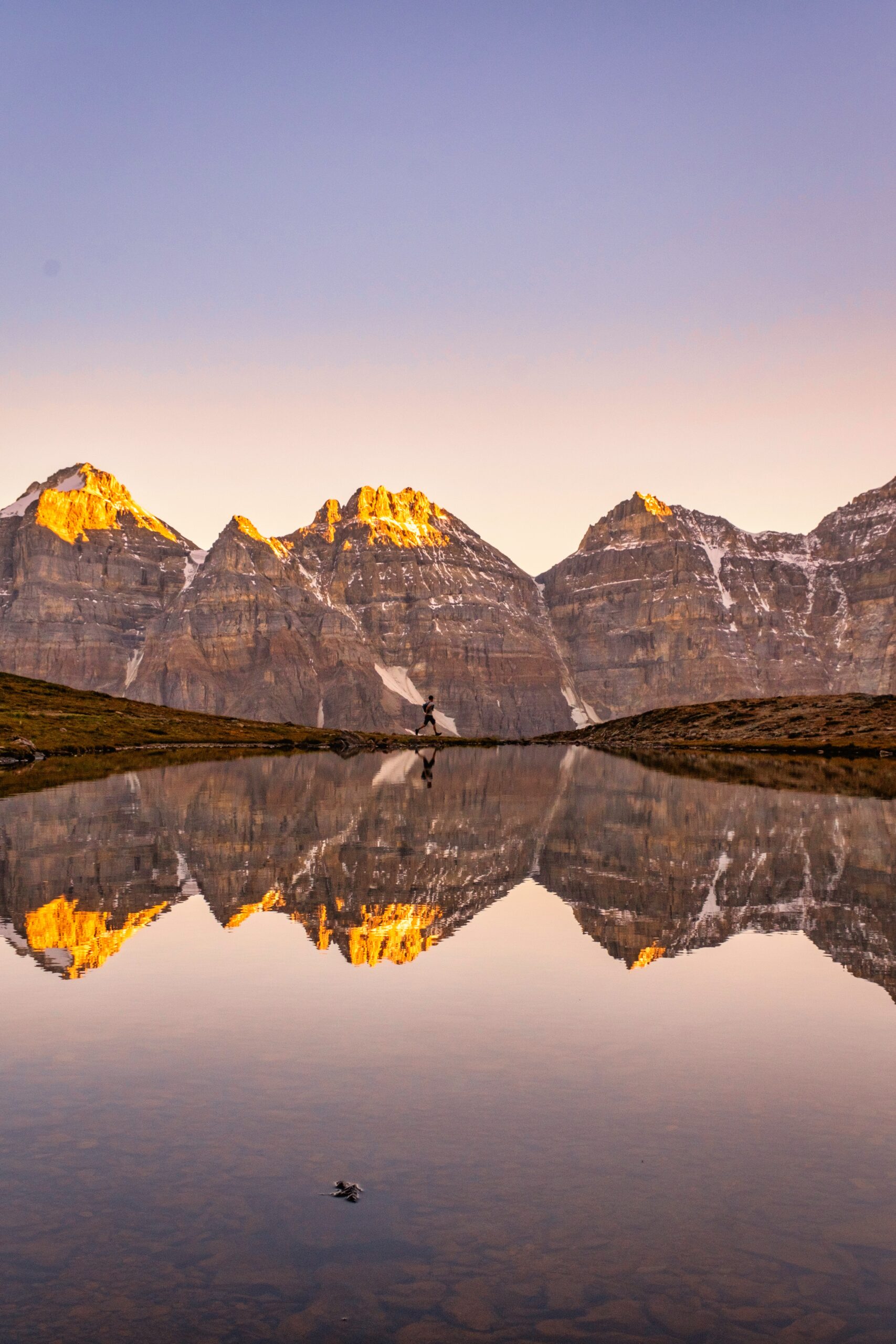 Trailhead: Begins at canoe docks
Distance: 10.9
Elevation: 792 meters
Time: 2.5 to 4 hours
This is the quintessential Canadian Rockies hike. It's fairly challenging, hugely popular, and offers some of Canada's most stunning natural scenery. This Moraine Lake hike follows a similar route at the Eiffel Lakes hike but departs at the fork before it veers up into the Larch Valley.
The pass is most well known and attracts hundreds of photographers and hikers during the larch season in late September. During this period, the valley trees turn to a bright golden color, and the mountains are topped with the first signs of the new season's snow. It's a soul-stirring scene that can easily be considered one of the best day hikes in the world.
---
Hiking Gear We Recommend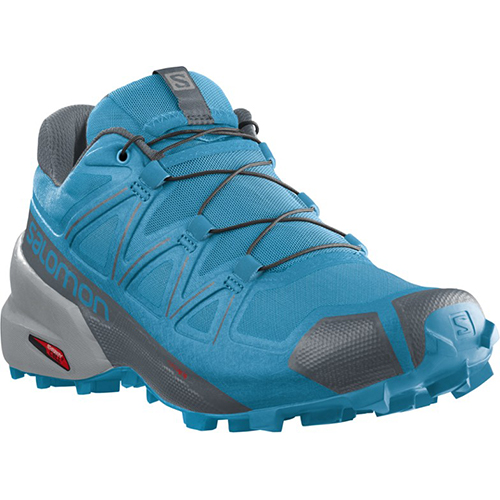 The vast majority of hikes and easy scrambles in the Rockies, you'll find us in our trusty Salomon Speedcross.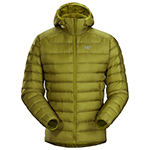 Arc'teryx Cerium is our pick for the best down jacket. It's incredibly light, and we bring it on almost every hike in the Rockies.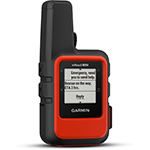 There is not much in terms of cell phone service around the Canadian Rockies. In case of emergencies, we carry an emergency beacon.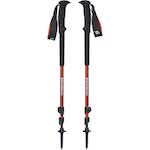 A pair of durable and lightweight hiking poles are a great asset on the hiking trail. We'll always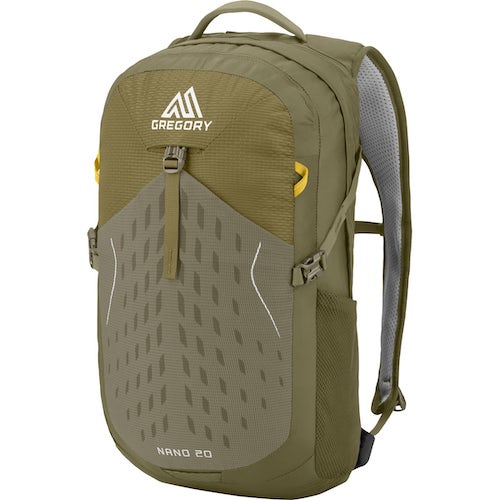 20L feels like the ideal size for quick hikes and scrambles. We love the Nano from Gregory with a hydration reservoir.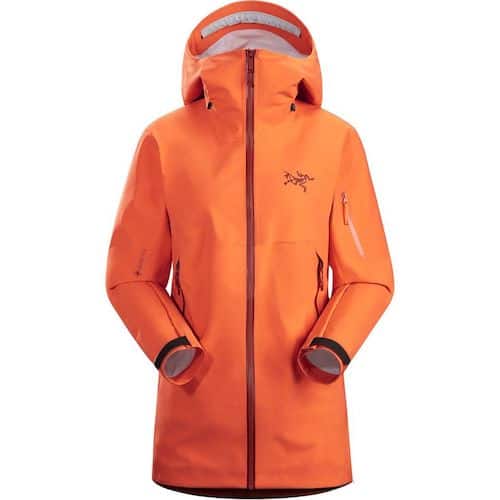 At only 10 oz, the Zeta is an excellent shell jacket that blocks out the elements without too much weight in the backpack.
---
Scrambles Around Lake Moraine
This is for experienced hikers and people who have spent their fair share of time in the outdoors. These hikes are easy to moderate scrambles but occur on very serious mountains with real hazards that can result in death. Every year tourists are evacuated by Search and Rescue on one if not all of these hikes/routes. If you plan to tackle any of these, please plan accordingly and be prepared for the elements — also wear a helmet to protect yourself from the loose rock.
---
Tower of Babel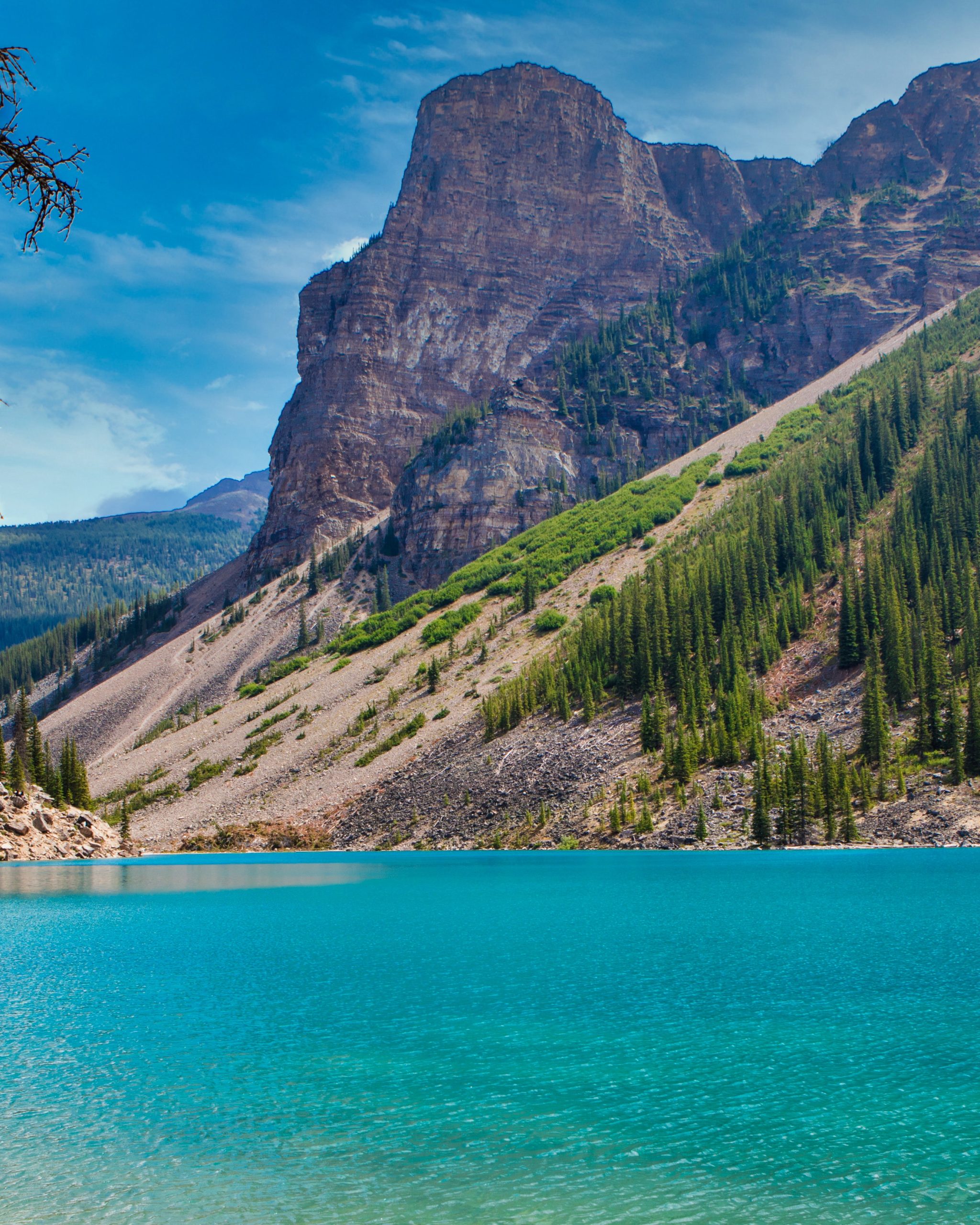 Trailhead: Begins at Rockpile Trail
Distance: 2.9 km
Elevation: 518 meters
Time: 2.5 to 4 hours
This is the most well-known scramble in the Moraine Lake area, and it's appropriate for entry-level scramblers. You're guaranteed some awesome views too of Moraine Lake, Consolation Valley, and the Bow Valley. Tower of Babel is a sub-peak that's pretty easy to access.
The route heads up a gully right off of Moraine Lake and has a steep, consistent climb to the top. It's a bit of a scree bash (loose rock), but it's a pretty well-worn trail due to its popularity. It's a tough workout for novice hikers who may underestimate the 518m climb to the top as it's literally straight up.
The biggest threat on this route is a loose rock falling down the gully from a party above; I strongly recommend wearing a helmet! It's also best to start early and to try to be one of the first to the top in the morning, so you don't have loose rock falling on you from hikers above.
Don't look at the elevation and length and take this Moraine Lake trail lightly. However since it's a quick route you can opt for a light backpack, like a trail runner pack to go with you to the top.
The reward at the top of the Tower of Babel is some amazing views of Moraine Lake and Mount Temple. It's probably one of the best views for the effort required in all of Banff.
---
Eiffel Peak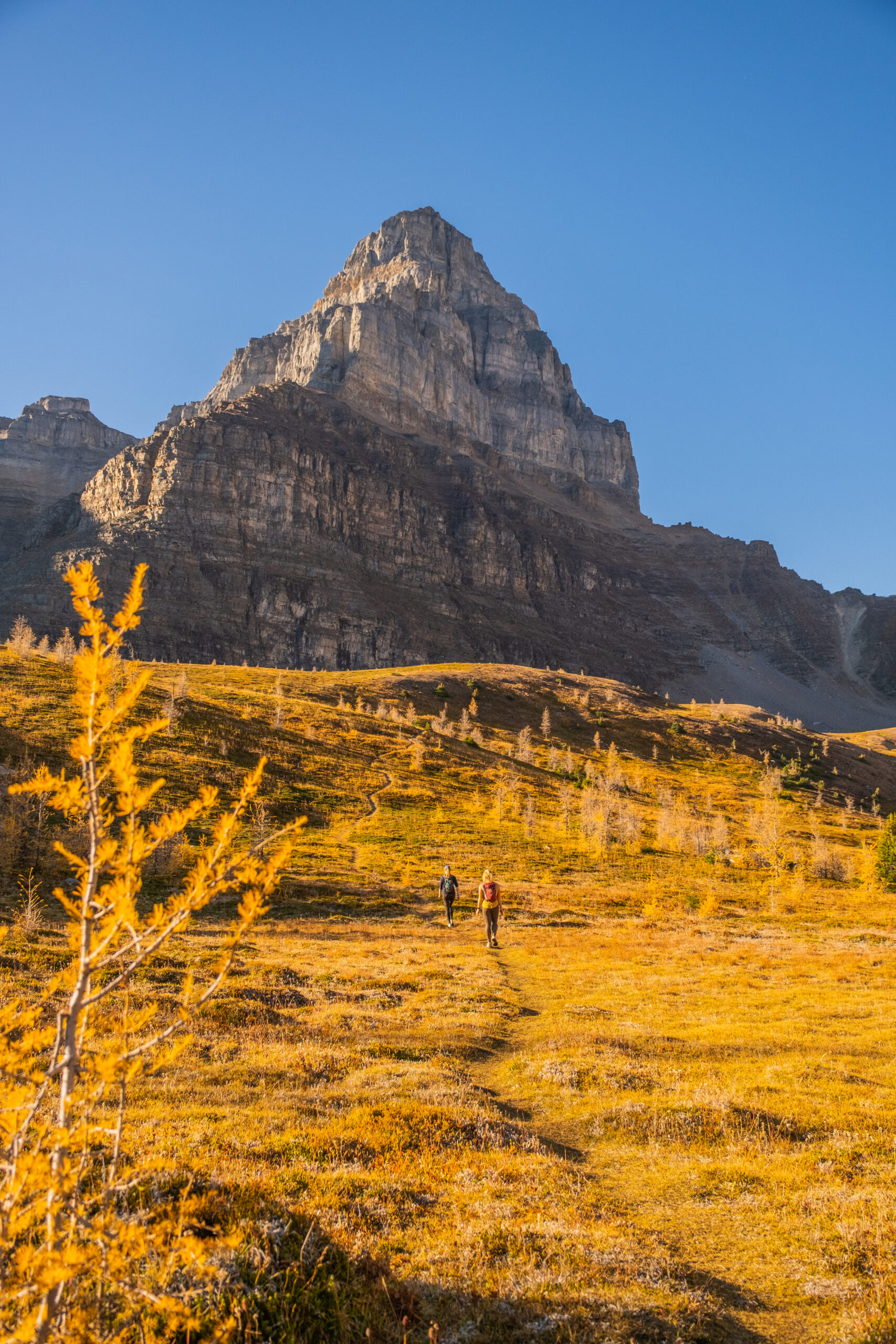 Trailhead: Begins at canoe dock
Distance: 11.3 km
Elevation: 1,270 meters
Time: 5 – 8 hours
The climb to the top of Eiffel Peak is one of our favorite Moraine Lake hikes. It's an amazing hike with astounding views of Paradise Valley, Valley of the Ten Peaks, Mount Temple and Moraine Lake. At 10,095 ft in elevation, it's no little mountain and is one of the highest in the region.
The views at the top are astounding at the summit and it's a worthy challenge for hikers and scramblers. Next to Mt. Temple, it's one of the highest mountains in the area you can climb without mountaineering or rock climbing experience. That being said, it's a moderate scramble as the elevation and the use of hands are a real considerations you shouldn't take lightly.
---
Mount Temple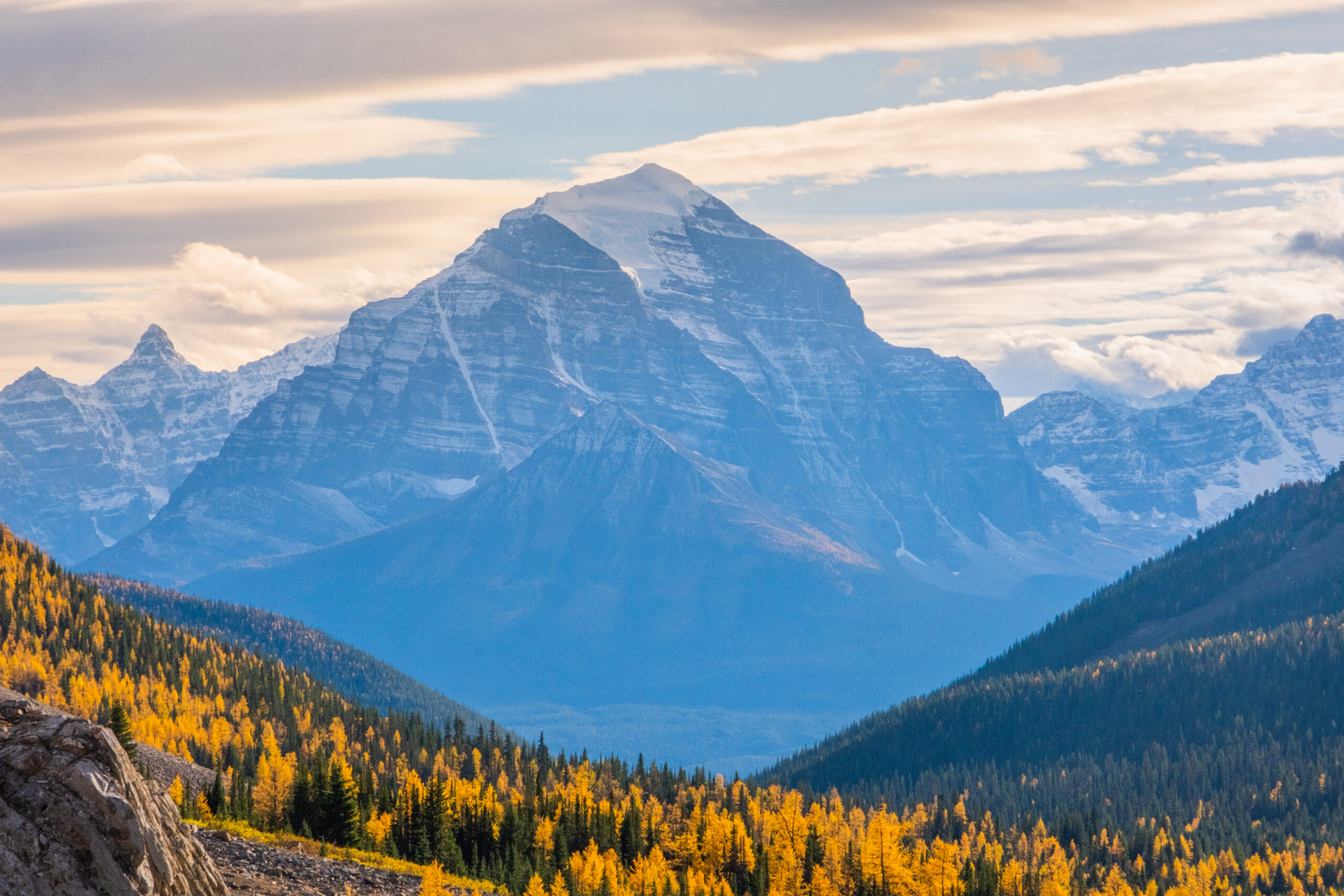 Trailhead: Moraine Lake Parking
Distance: 14.6 km
Elevation: 1,682
Time: 8-12 hours
For many hikers and scramblers who enjoy the Canadian Rockies, Mount Temple is a source of accomplishment. It's a gorgeous mountain in Banff and an endless source of inspiration in the Canadian Rockies. At 11,627 ft in elevation, it's the second-highest mountain in Alberta.
It's well known as a proving ground for various sports, whether that's a hike/scramble to the summit, ski descent of the Aemmer Couloir, or climb up the East face.
The scramble is a gorgeous day out in the mountains, and at 1,682 meters in elevation gain along with high altitude make this a very serious mountain that only people with experience scrambling in the Canadian Rockies should attempt. It's a long day out and needs to be summited at the right time of year.
Typically Mount Temple has a very short window for summiting as scramblers have to wait for the snow to melt off enough for a safe summit and also time it right before the next season's snowfall in late September/October. If you hope to summit Mount Temple, August would be the best time, but it's important to keep an eye out on trip reports before attempting.
---
Advice on Hikes in the Canadian Rockies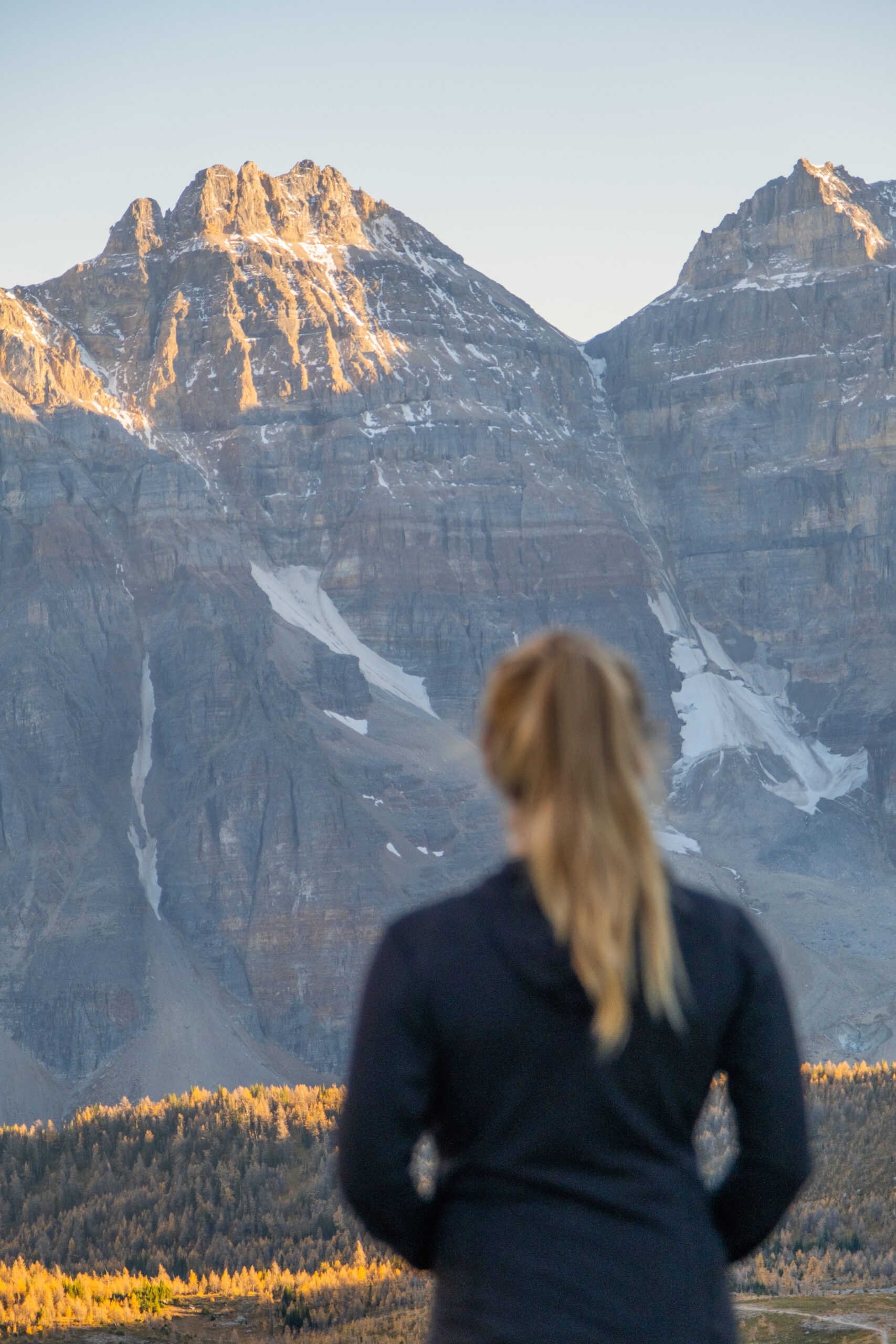 If this is your first time hiking in the Rockies take a conservative approach. Pick an adequate hike for your fitness, plan for plenty of time, pack water and food, and don't be afraid to turn around. If you want to learn more about what to wear hiking we have a great post.
For long hikes, set a turn around time at the departure. Any time we set out for an objective I determine a time at which we need to turn around in order to arrive at the parking lot or campsite by dark. I would recommend not hiking in the dark as it's easy to get lost and it's not fun in bear country.
Always carry bear spray if you plan to hike in the park. We carry ours in the neighborhood and bears have been known to stroll through town and busy parking lots. Always practice wildlife awareness when you're on a trail, and please give animals space.
Keep in mind your mountain fitness in mind — as it's different than the gym. The low end of the times in this post is a constant fast pace uphill with little to no breaks and a brisk pace downhill. Most hikers should plan for a middle of the road time with the estimated duration.
A GPS tracker could save your life – it's one of those backpacking essentials I like to have on me just in case I need to hit SOS.
Alltrails is our favorite app to have on a hike. It shows the correct trail way, elevation, and other hiker reviews. It's not always 100% accurate, but it's a great tool to use with other guidebooks and trip reports and we love that we can access it right on our phone. We paid the subscription fee so that we could download all the data we need to our phones.
---
---
Other Banff National Park Hikes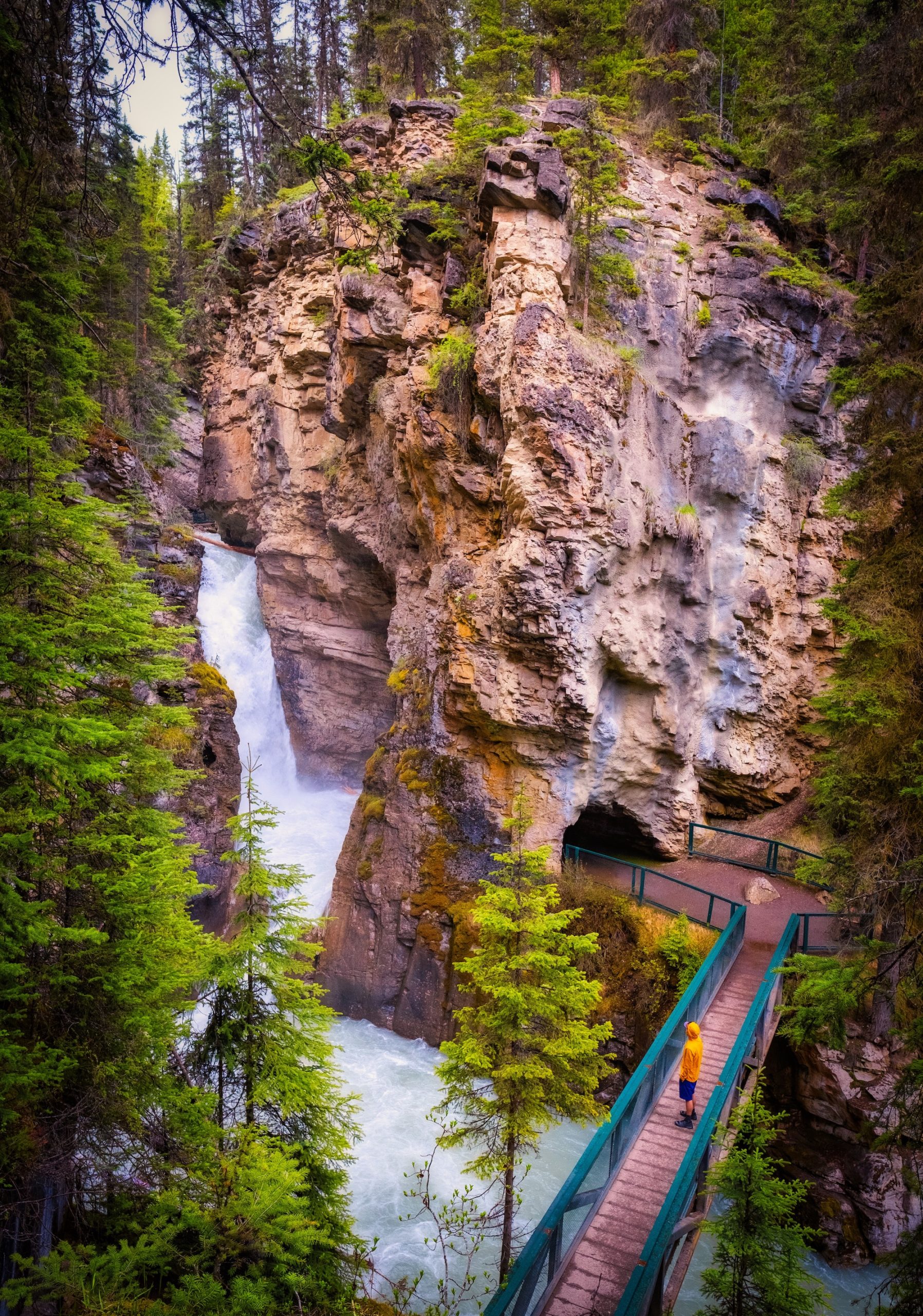 Of course, there are so many more hikes in Banff and tons of exploring. We have a great guide, if you're looking for some easy Banff hikes for the family. We rank our favorite hikes around the park and share all of the details in this guide to experience the best in the park.
You'll find on many of these hikes in Banff high alpine passes lined with wildflowers, jagged peaks topped by glaciers, and a healthy dose of turquoise blue Banff lakes.
↓ Join the community ↓
The Banff Blog Facebook Group is your headquarters for the Canadian Rockies travel advice and information. Including hike info and off-season travel information. This is also a place where you can meet one another when you need adventure buddies.

Plan Your Trip to the Canadian Rockies