Two Jack Lake is a picturesque emerald green lake in Banff National Park with a sweeping view of Mount Rundle. The sweeping landscape attracts both visitors and locals in search of some fresh air. Its easy accessibility from the town of Banff makes it a great place to catch sunset or sunrise.
No matter the season Two Jack Lake is always a great stop in Banff. During summer visitors can enjoy swimming, kayaking, stand up paddleboard, and hiking. In the winter go for an ice skate, take some photographs, or snowshoe along the surrounding trails.
See Also:
---
A Guide to Visiting Two Jack Lake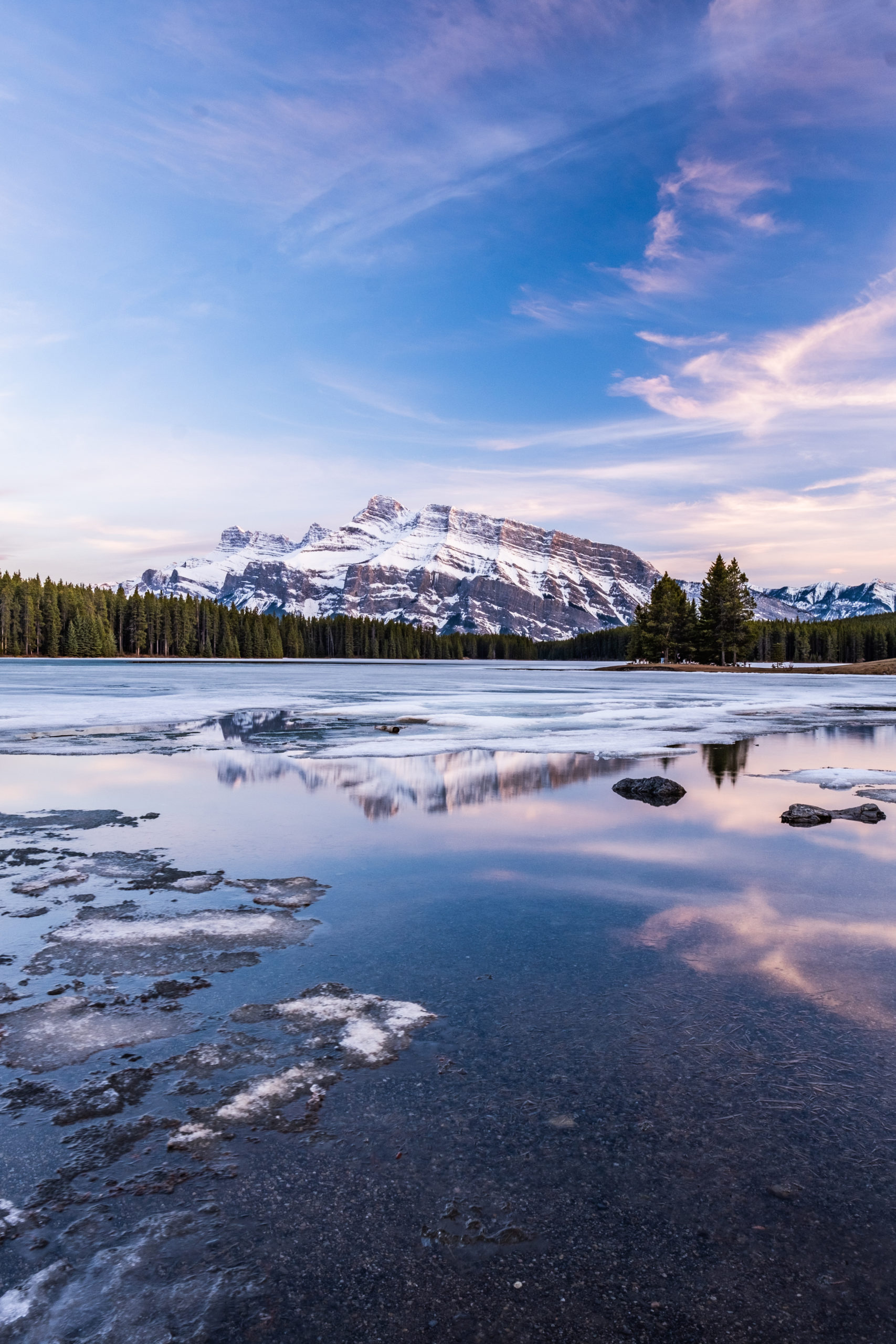 Just a five-minute drive away from Lake Minnewanka is Two Jack Lake. It's another fantastic lake with Mount Rundle views. Two Jack is one of the most photographed lakes in the Canadian Rockies, due to its proximity to Banff and sweeping views of Mt Rundle.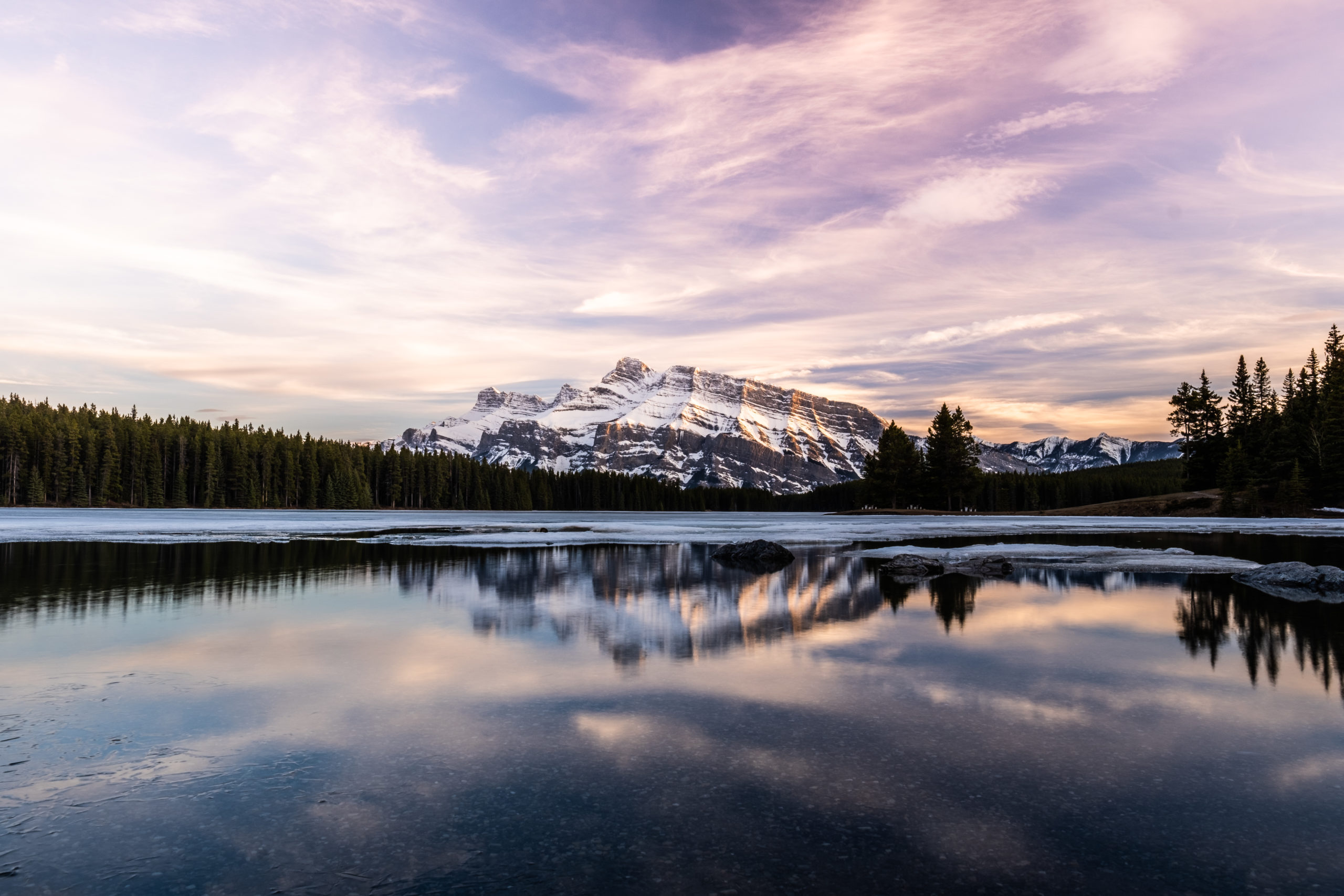 Two Jack Lake is about 10km from Banff and a 15-minute drive from the town center. You can also bike in on the Minnewanka Lake Loop Road in about 30-45 minutes for a more active route.
In the summer months, the lake is a great spot to spend an afternoon. However on weekends the lake's banks are often crowded with people out to enjoy the sunshine, so I prefer to get out on the water in some form. Two Jack Lake is great for water sports like kayaking, canoeing, SUP, swimming, and fishing.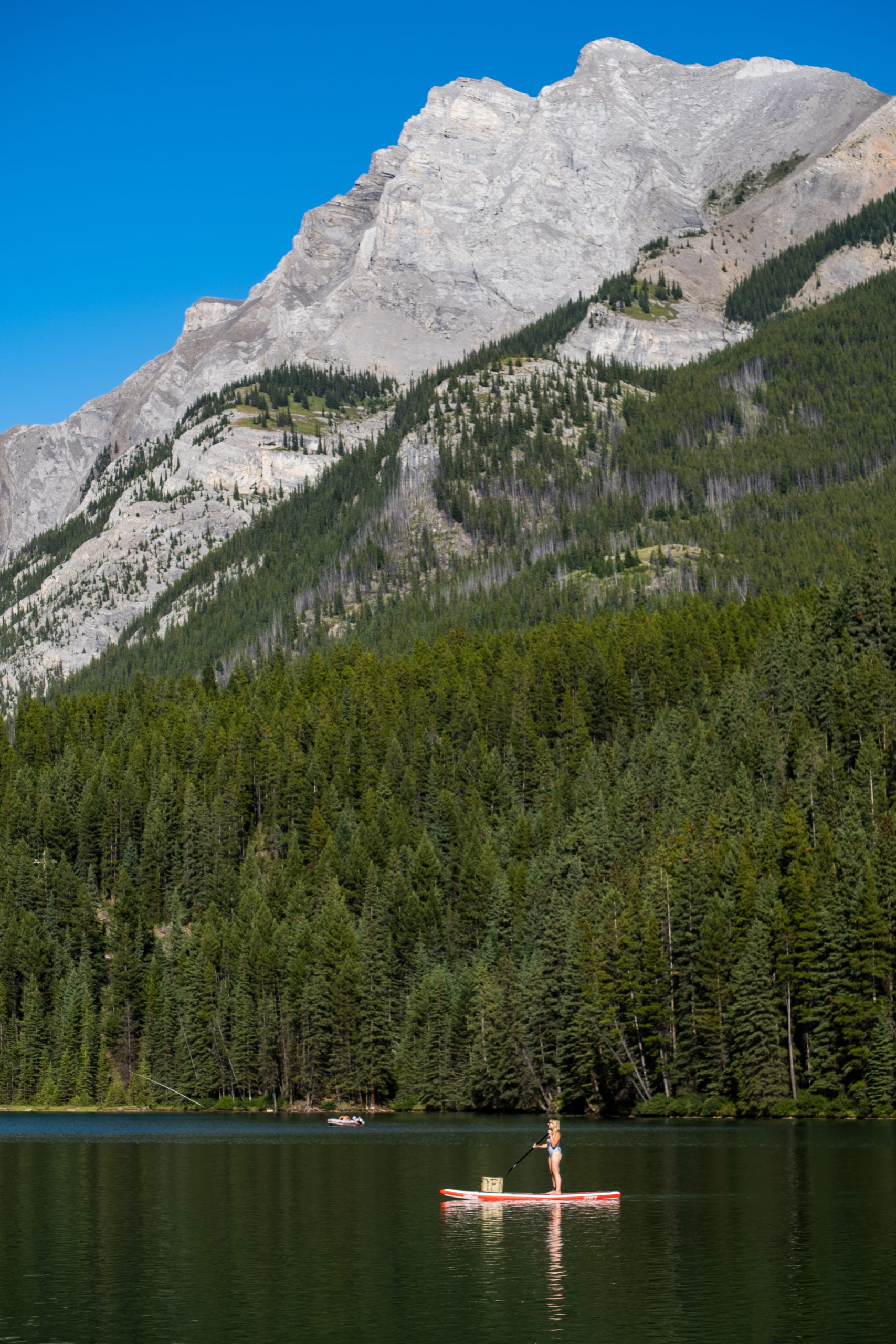 On a nice summer day, you'll find a mix of visitors and locals alike who are after some time on the water. Since moving to the area it's the one lake we've spent the most time at because it's accessible and a great spot to relax.
While it's easy to let the larger or more scenic lacial lakes like Moraine Lake, Lake Louise, or Emerald Lake steal the show Two Jack Lake is well worth a stop for visitors.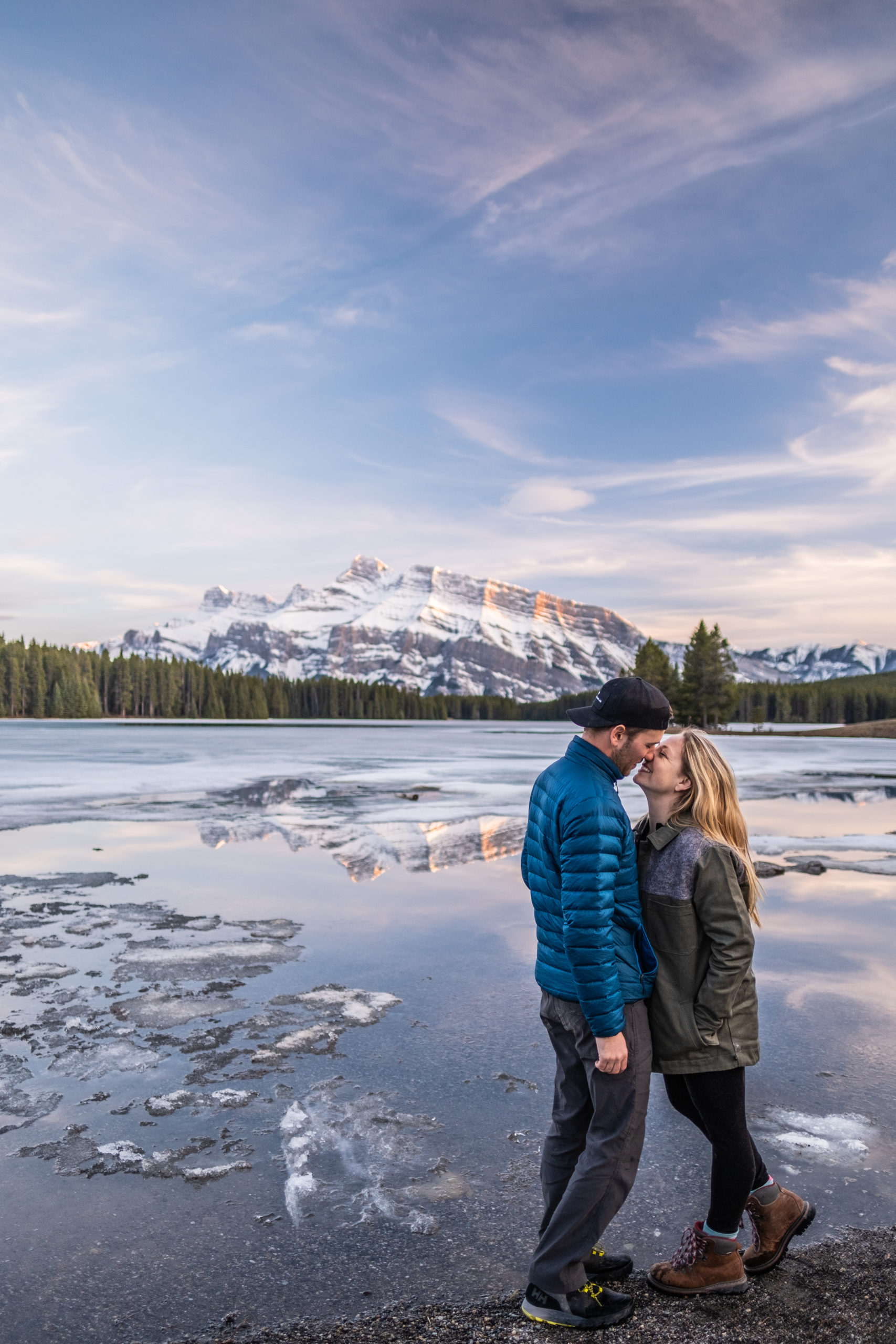 Two Jack Lake is one of the most scenic views in Banff National Park and always makes for a great photograph, especially if you catch Two Jack Lake at sunrise or when the evening light hits Mt. Rundle.
In the winter months, the lake still makes for a fantastic scene. Early in the winter when the lake first freezes over it's possible to go ice skate on the lake.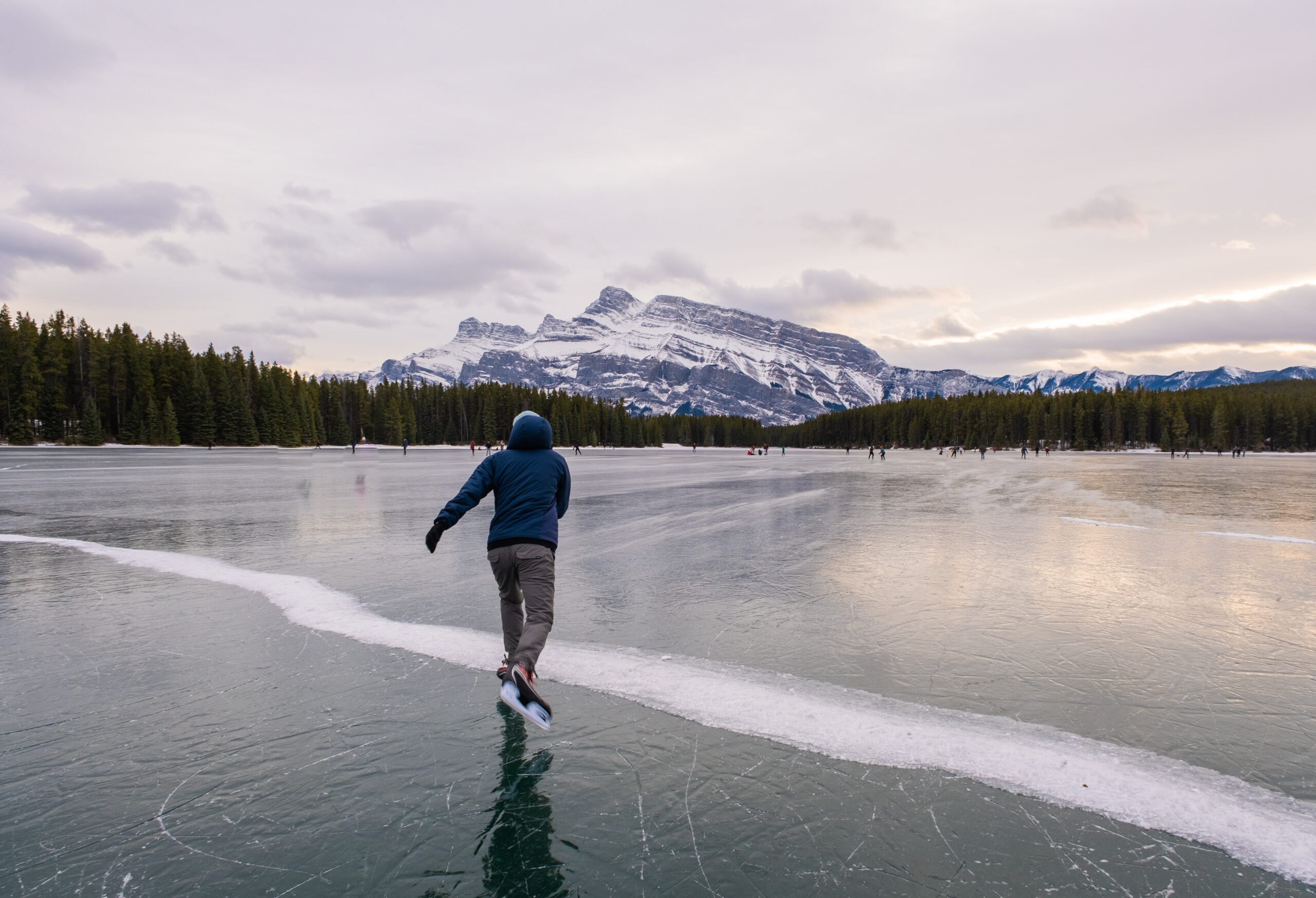 Aside from ice skating you can explore a bit on snowshoes, but in our opinion there are far better places in Banff to snowshoe in the winter. It's best in winter simply for the amazing landscape that makes for tremendous photographs.
---
When Is The Best Time to Visit Two Jack Lake?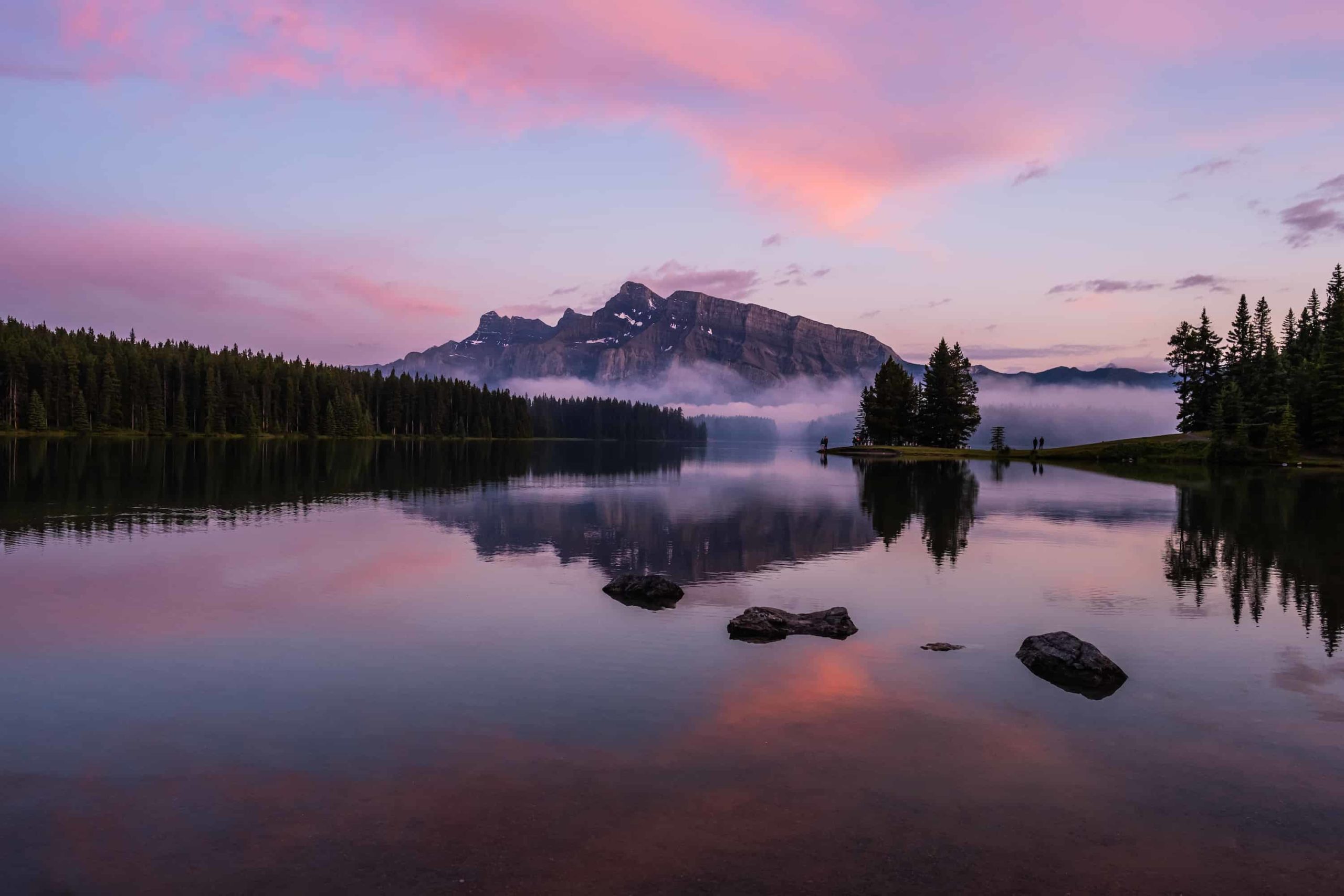 Two Jack Lake is technically a year-round destination, but to really enjoy the lake it's best visited in the summer months. During the winter months, the lake remains frozen and covered in a heavy layer of snow/ice. The lake begins to freeze around December and will remain frozen until the end of May when the lake unfreezes.
By mid-June, the lake is unthawed and the waters begin to warm. By July you'll be able to take full advantage of everything that Two Jack has to offer for the short summer window. We don't get long summers in the Canadian Rockies, but when it rolls around we make sure to take full advantage.
---
Facilities at Two Jack Lake
There are two lots for parking at Two Jack Lake that have a limited number of parking spots. On an average day, it's not too difficult to get parking, but in the summer months on the weekend the parking lot can fill up. The peak times are from 10 a.m. to 3 p.m. You can still visit during these times, but be forewarned parking may be a struggle.
At the lake, there are some toilets, picnic benches, trash receptacles, and a small stone beach perfect for launching a canoe, SUP, kayak, or even a pool float. There are no canoe rentals at Two Jack Lake, but you can rent SUP for transport in Canmore at Bow Valley SUP or the Banff Canoe Club.
If you're coming from Canmore or the in the area you'll get far better daily rates, almost half that of the Banff Canoe Club.
You have several options for easy access to the lake. You can park at the Minnewanka Park & Ride or the Banff Train Station and hop on the Roam Transit (route 6) which will take you to the lake.
The bus route also stops at Lake Minnewanka, Johnson Lake, and Cascade Ponds. Rides are $2 for adults and $1 for children. The bus only operates in the summer months from May 17th to September 15th.
---
Hiking Around Two Jack Lake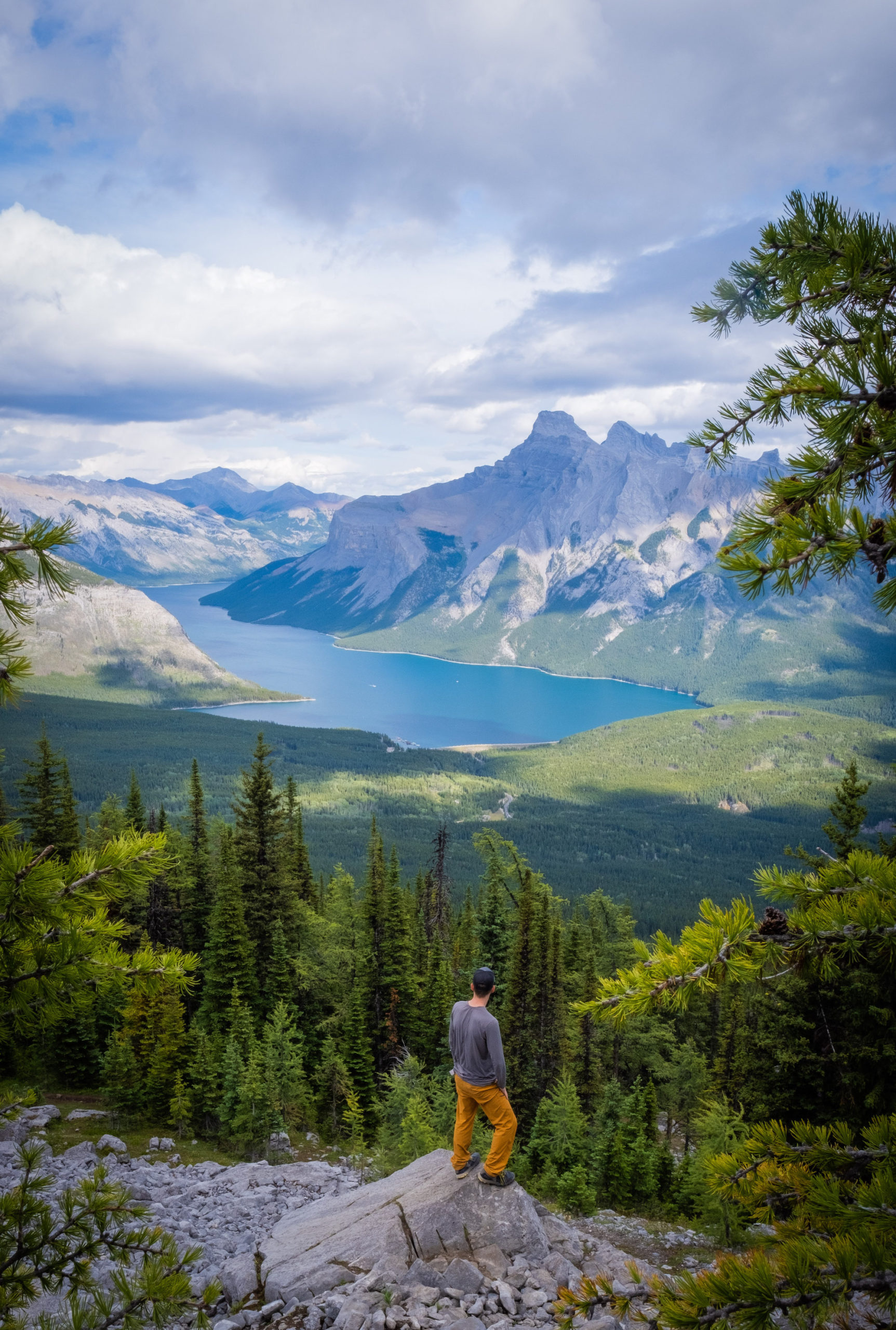 There is a small trail that goes along the shoreline of Two Jack Lake, but it's not really anything to note. It's best enjoyed as an easy walk while enjoying a cup of coffee or taking in the views. There are a number of great hikes around this area.
You can take a nice hike along Lake Minnewanka, hike to the Alymer Lookout, summit Mt. Alymer on its shoreline, or make a multiday backpacking trip out of it. One of our favorite hikes in the area is C-Level Cirque a nice challenge that provides astounding views of the Bow Valley. If you're after an easy hike in Banff check out nearby Johnson Lake as it receives fewer visitors and has a really nice trail that circumnavigates the lake.
---
Ice Skating on Two Jack Lake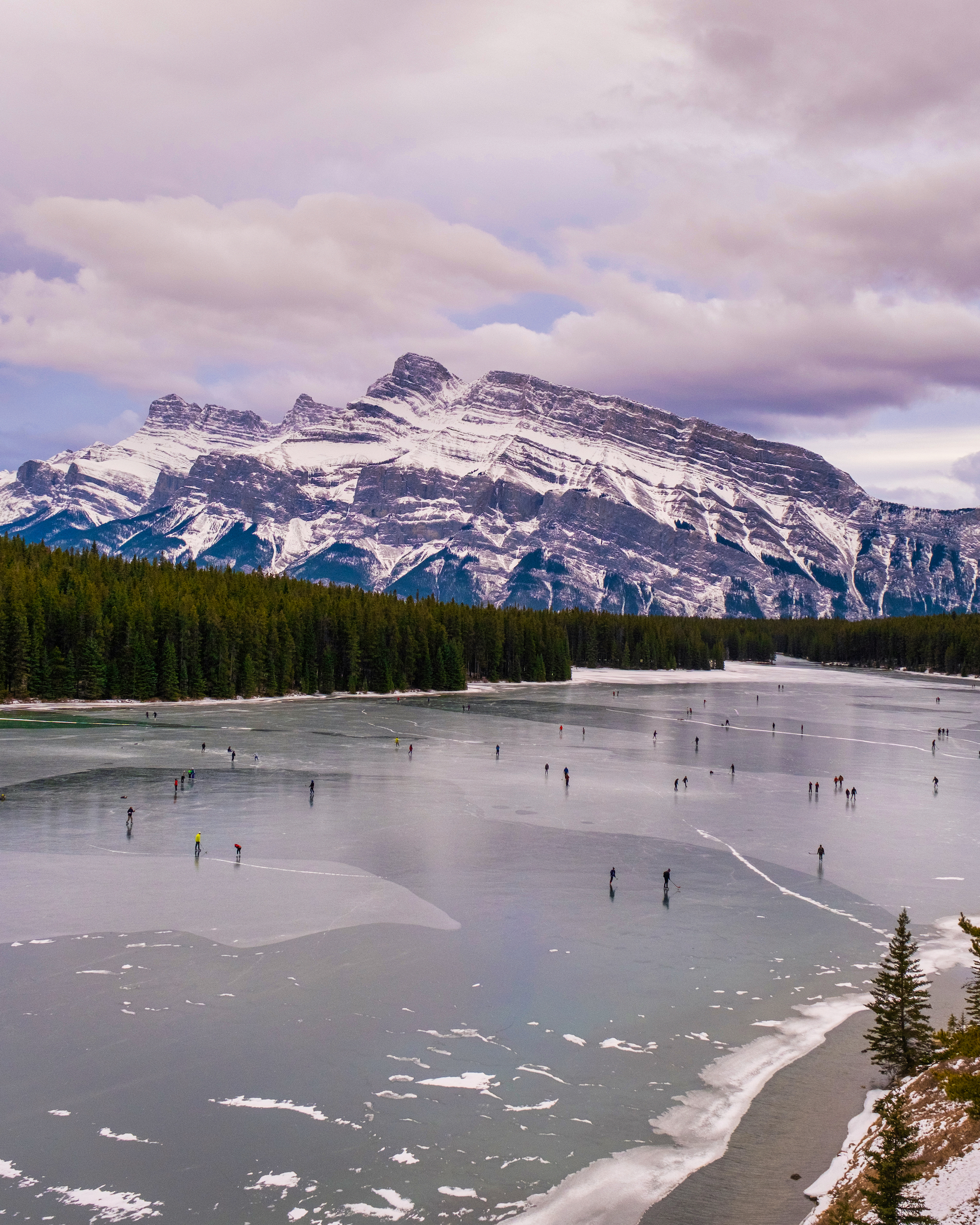 If you're in Banff around December make sure to keep an eye on Two Jack Lake as it typically freezes over enough to ice skate during this time. This is before snow builds up on the frozen lake surface so you can skate. The entire surface looks like a piece of glass and the surrounding landscapes make for one incredible spot to go ice skating.
---
Fishing at Two Jack Lake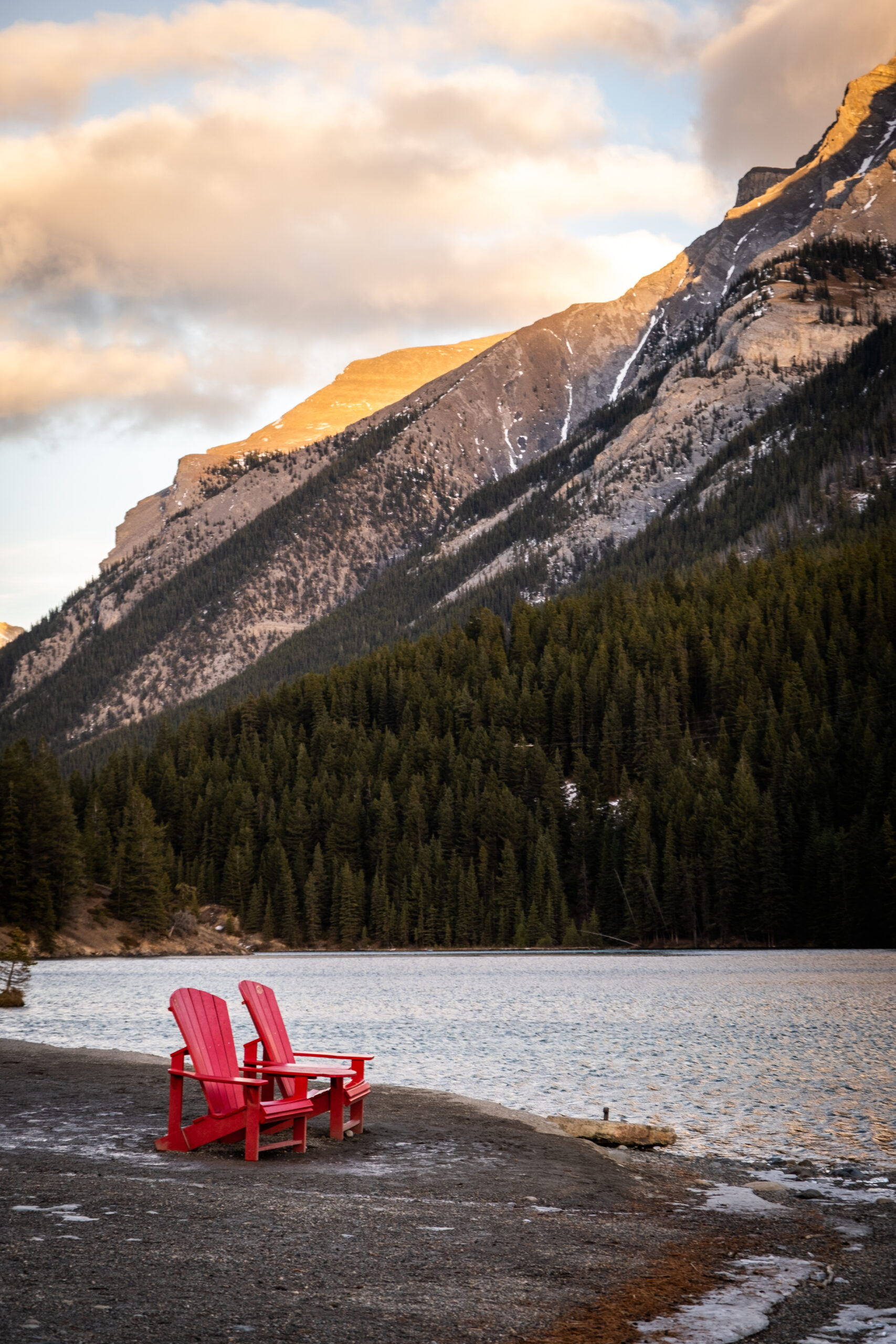 You're permitted to fish on Two Jack Lake. To fish in the park you are required to have a Park pass, fishing permit, and be aware of current regulations. This means you know fishing limits and can identify the various fish within the park. No live bait fishing is allowed in the park.
Kids under the age of 16 are allowed to fish on their accompanied pass, but their catch is included within the permit holders' daily limit. For the most up to date fishing information please reference Park Canada's website as it changes seasonally.
Fishing permit price:
Daily – $ 9.80
Annual – $ 34.30
---
Camping at Two Jack Lake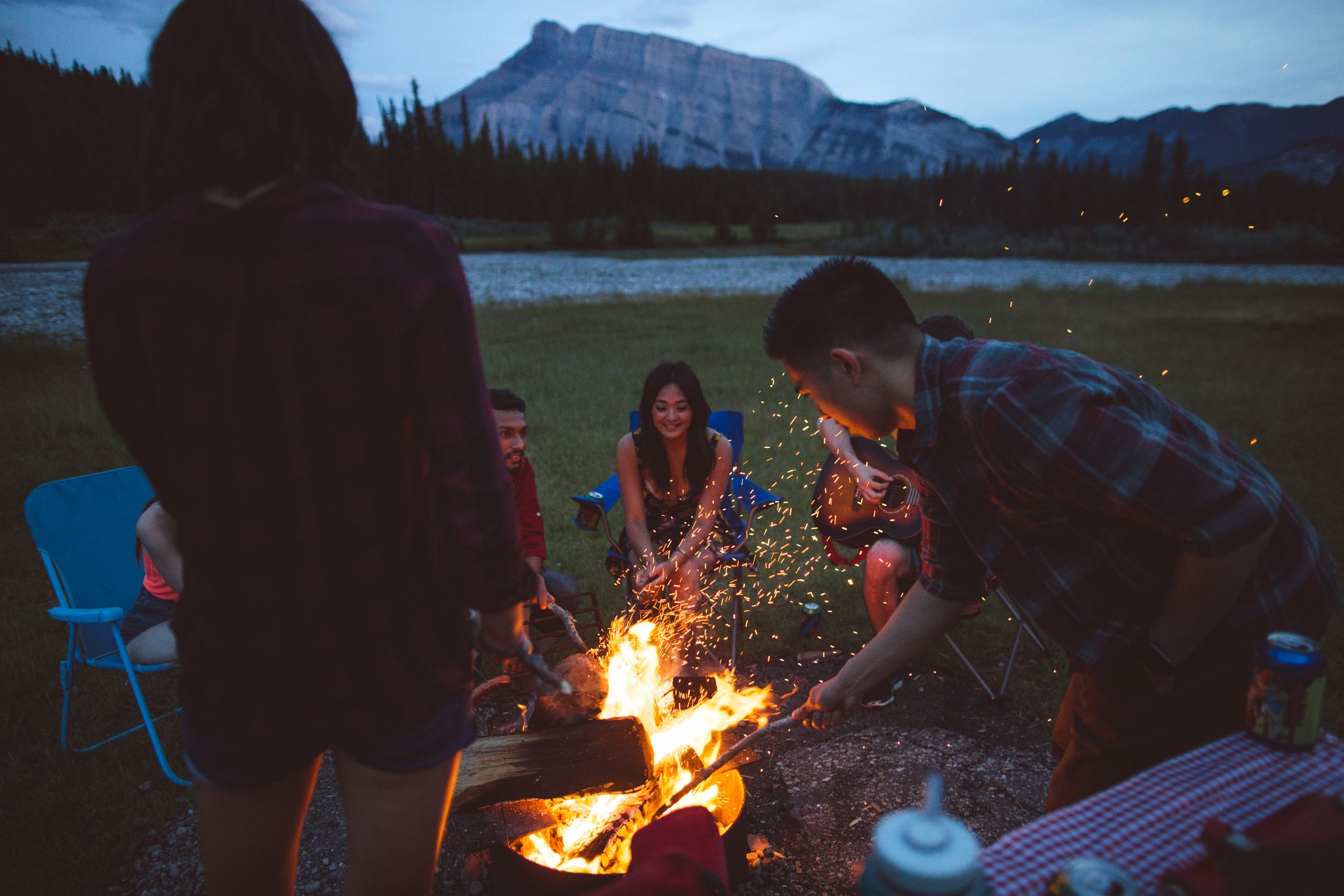 The Two Jack Lake Campgrounds are the second closest campgrounds to Banff town. These campgrounds have a more natural feel to them and the sites are well spread out. Two campgrounds are located here the more desirable Two Jack Lakeside Campground and the Two Jack Campground Main. The Lakeside Campground is smaller, has hot showers, and includes several choice campsites located on the banks of Two Jack Lake. You'll have to be pretty lucky to score a reservation at those sites though, try as soon as reservations open in January.
However, the whole area is really wonderful as Two Jack Lake is gorgeous and nearby Lake Minnewanka is good fishing, water sports, and hiking. The Two Jack Lakeside campground also has several equipped campsites for $70 a night and includes everything you could need for camping. These equipped campsites have a 6 person tent, 6 sleeping pads, stove, propane, and a lantern. Visitors only need to bring a sleeping bag, food, and hiking clothes.
Operating dates: May 7 – October 5
Amenities: Hot showers, flush toilet, sanitation dump, disabled access, fire pits, food lockers, potable water, sheltered camp kitchens
Fees: $28.00
Number of sites: 455 mixed sites
---
Holidays to Be Aware of at Two Jack Lake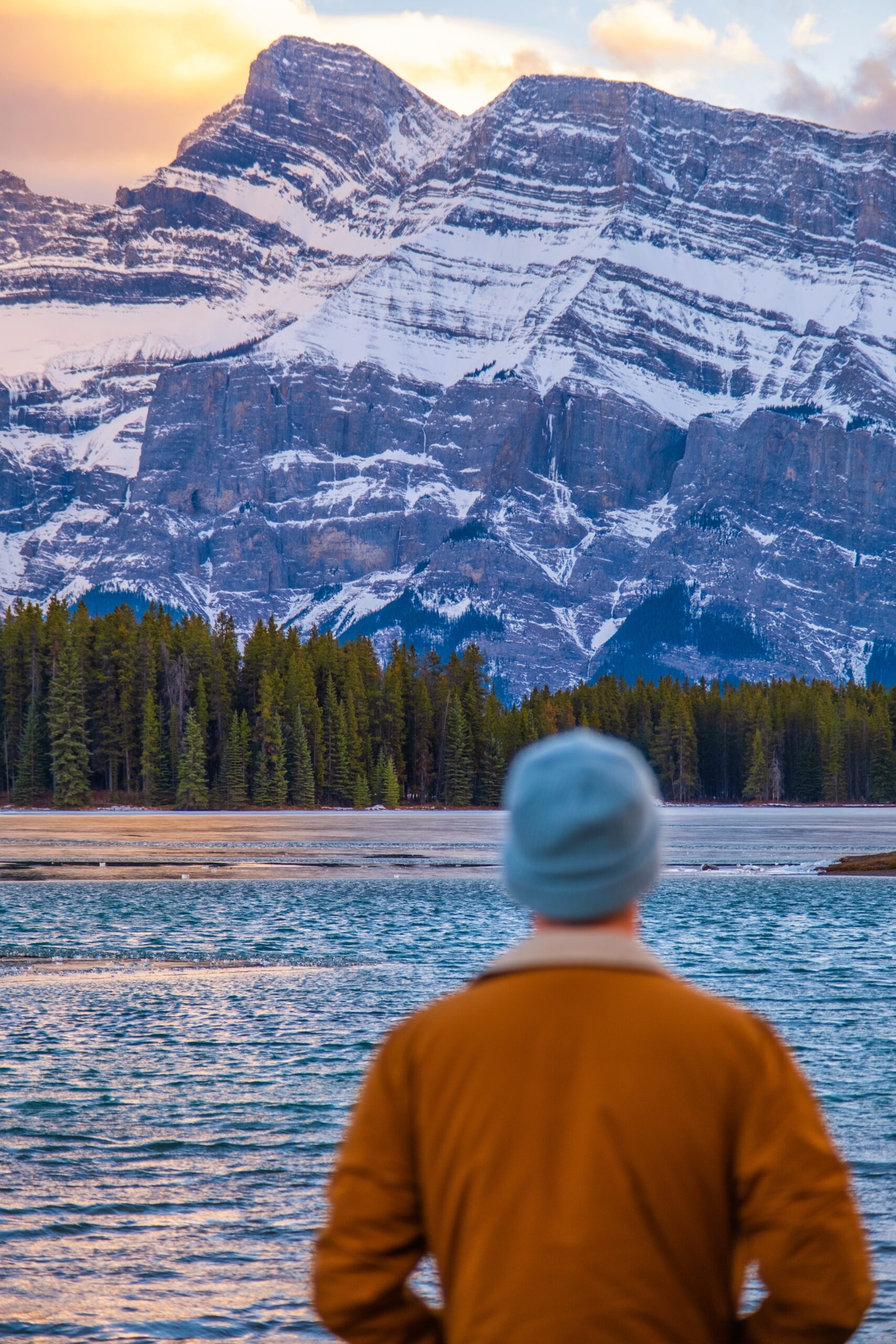 Two Jack Lake is always busy in the summer, but you should take note of the following holidays as it's even busier. It's really packed on Canada day when everyone heads to the picnic area for a BBQ in the park.
Victoria Day Long Weekend – 1st Monday of May.
Canada Day – July 1st
Heritage Day Weekend – 1st Monday of August.
Labour Day Weekend – 1st Monday of September.
---
Things to do in Banff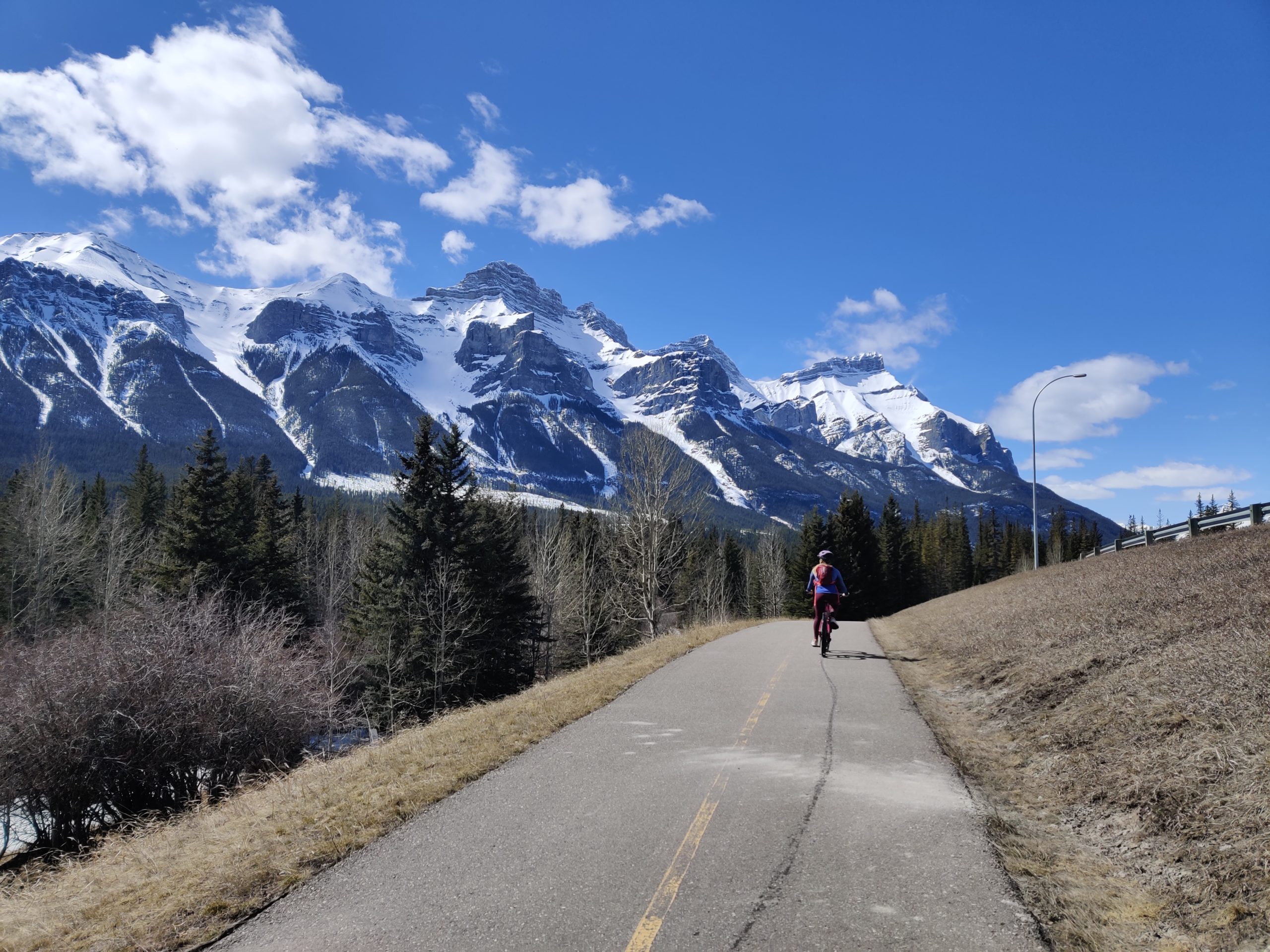 If you are looking for the best things to do in Banff we have you covered! We visited this little mountain town a few years back and fell in love so much that we decided to move to the Canadian Rockies. Check out what else you should add on to your visit to Two Jack Lake.
There's really nowhere quite as special as Banff National Park. Whether it's the winter or summer in Banff there is so much to do in Banff it's impossible to get bored. We could spend a lifetime exploring these spectacular mountains.