Snowshoeing in Banff is one of the best winter activities to enjoy in the Canadian Rockies. Come December, the whole region is covered in a fluffy layer of beautiful snow and all you will want to do is get outside and enjoy!
We love the sounds of wilderness in the winter, and you'll be shocked at just how quiet a winter scene can be with a few birds chirping off in the distance and most sounds muffled by the snow.
Snow-laden trees are gorgeous and you'll be forced to stare up along forested trails until you reach open lakes or meadows. The sheer scale of the monstrous Canadian Rockies in the winter will humble you. We may be biased, but the mountains in Banff look way more impressive when blanketed in a thick layer of snow. Snowshoeing in Banff is a real treat, so you should get out and experience the magic of the Canadian Rockies in the winter. Here are our favorite snowshoe trails in Banff.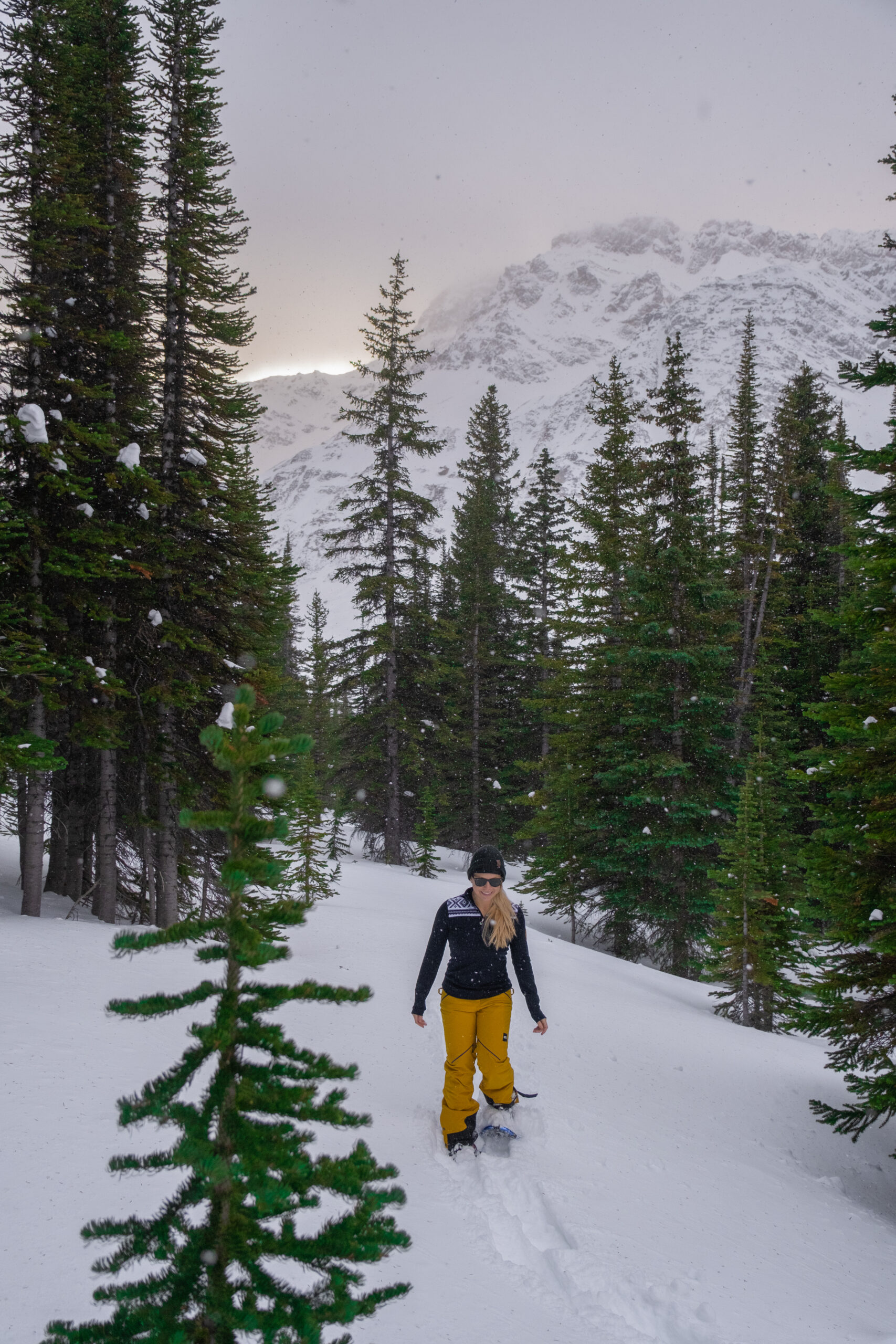 ---
Avalanche Awareness in the Canadian Rockies
Almost every winter season, there is a loss of life in the Canadian Rockies due to avalanches. While this tragedy mostly befalls athletes in backcountry skiing, winter mountaineering, and ice climbing, snowshoers can enter avalanche terrain (many times without even knowing it).
We do not recommend any snowshoes entering avalanche terrain and strongly advise snowshoers to remain aware of where they go. Many of these snowshoes end near avalanche terrain, such as Taylor Lake and Chester Lake.
We have heard multiple stories of people witnessing inexperienced snowshoers walk up avalanche terrain or stand directly in their avalanche runout zones without realizing it. Always be aware of your surroundings and the forecast. Avalanche Canada is an excellent resource in the winter, and if you decide to get really into snowshoeing, backcountry skiing, splitboarding, or ice climbing it's recommended to take an Avalanche Safety course.
---
Where to Go Snowshoeing in Banff
---
Taylor Lake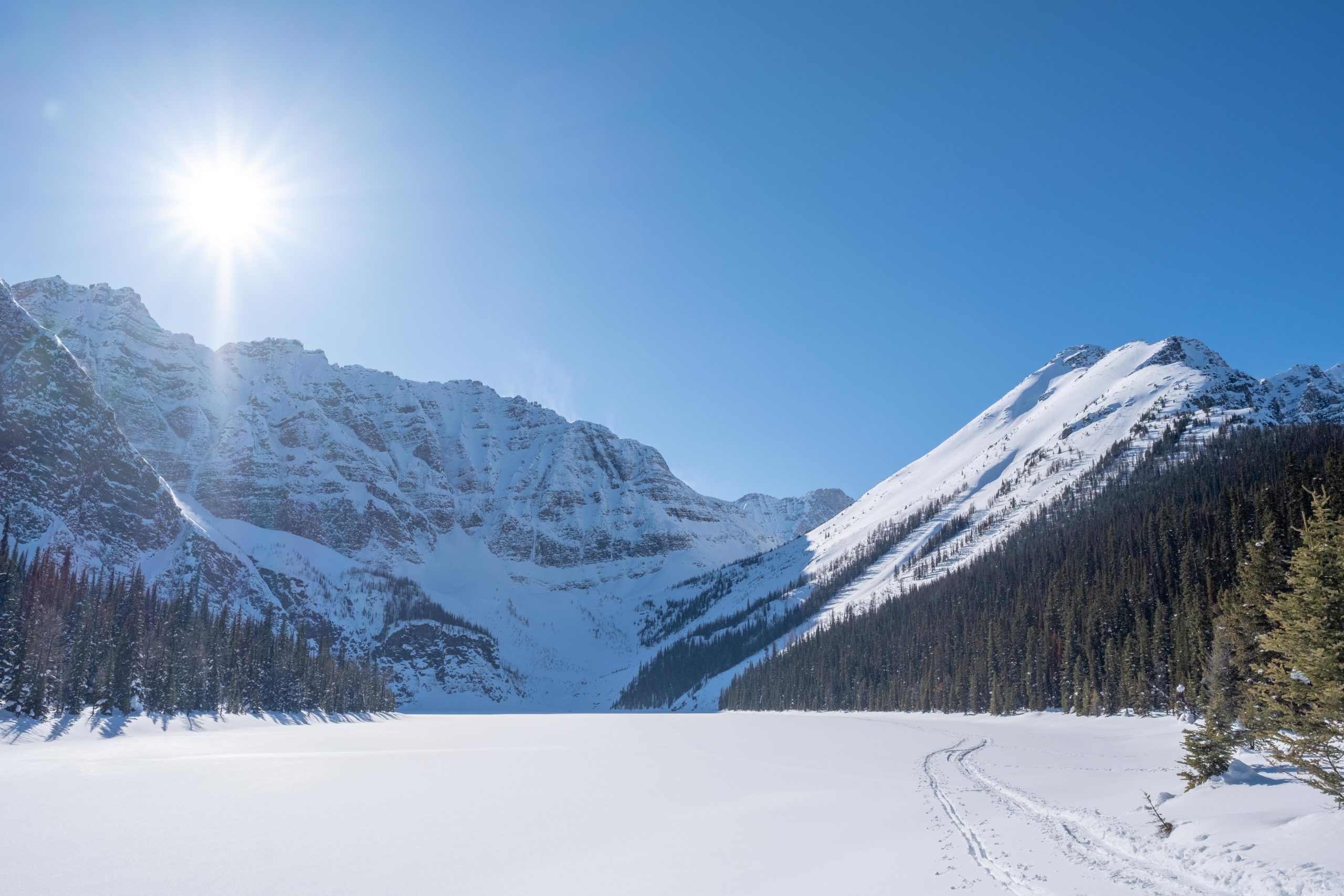 Length: 14 km
Duration: 5 – 7 hours
Elevation Gain: 924 meters
Difficulty: Moderate-Difficult
Parking: Taylor Lake Lot
This is likely the most audacious snowshoe in Banff you can tackle as it is 7 km one way and climbs nearly 1,000 meters in elevation. The lake sits at the base of Mt. Bell and opens up to some spectacular views. It's a really serene place and a fantastic day out in the mountains of Banff for active visitors who come to Banff in the winter.
Continue on the trail and enjoy the nearby Panorama Meadows as the widely spaced trees and piles of snow feel like another world. The one downside to this hike is that the vast majority takes place in the forest so there isn't much for views until the end. It's a great payoff though!
Trail conditions can be pretty mixed. Some days it's possible to hike all the way to Taylor Lake other days it'd be near impossible to reach without snowshoes. We recommend snowshoes as it's best not to posthole (make deep footsteps) as skiers don't appreciate a ruined trail. Also, it allows you to explore the meadow or walk on the lake. Keep in mind the surrounding slopes are avalanche terrain so you do not want to be near the runout.
Speaking of skiers, Taylor Lake is very popular for backcountry ski and splitboarding and you will see tracks from those touring going up Panorama Peak and through the meadows.
DO NOT follow their tracks uphill in these areas as they enter avalanche terrain, and you should have avalanche training and gear (beacon, probe, and shovel).
As you make your way up or down the trail keep an eye/ear out for descending skiers as they can move fast down the trail.
---
Johnston Canyon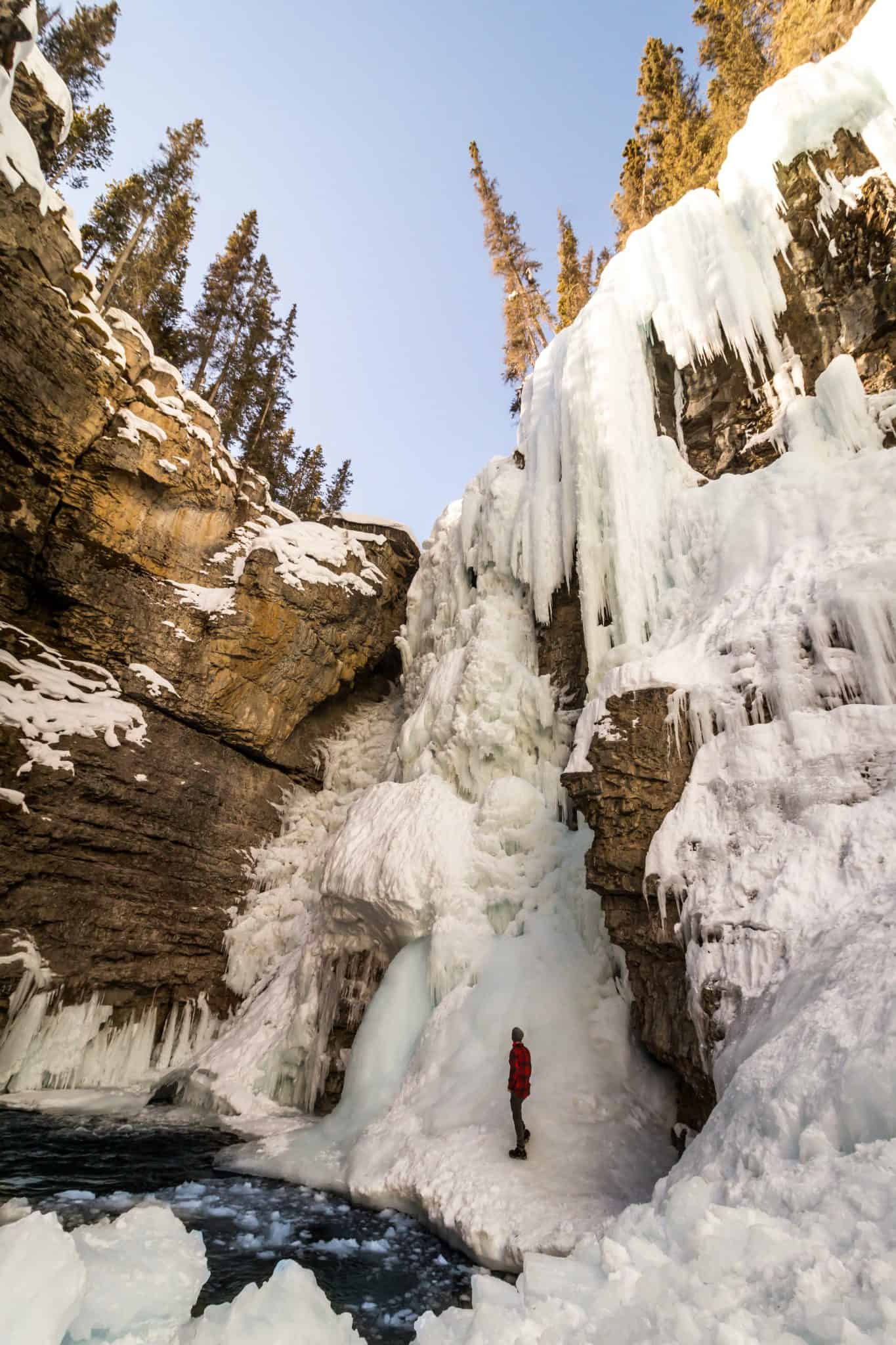 Length: 11.7 km
Duration: 2 -5 hours
Elevation Gain: 608 meters
Difficulty: Easy-Moderate
Parking: Jonhston Canyon Parking Lot
The Johnston Canyon walk is the best thing you can do in Banff in the winter or summer for free. In the winter it's truly magical and has fewer tourists (but still busy).
Have you ever stood on a frozen waterfall before? Neither had we until the Johnston Canyon hike. Due to the region's elevation and the sub-zero temperatures of winter, the waterfalls of Johnston Canyon freeze in time. It's a pretty surreal experience and entirely accessible for all.
Once you reach the end of the trail and the most impressive frozen fall, you'll probably find some ice climbers. If you're feeling adventurous book an ice climbing tour yourself. With fresh snow, it's the perfect time to don a pair of snowshoes and be the first to break trail to this popular natural feature in Banff. Though it's perfectly possible to hike Johnston Canyon without snowshoes, but a pair of boots with microspikes will be helpful!
---
Tunnel Mountain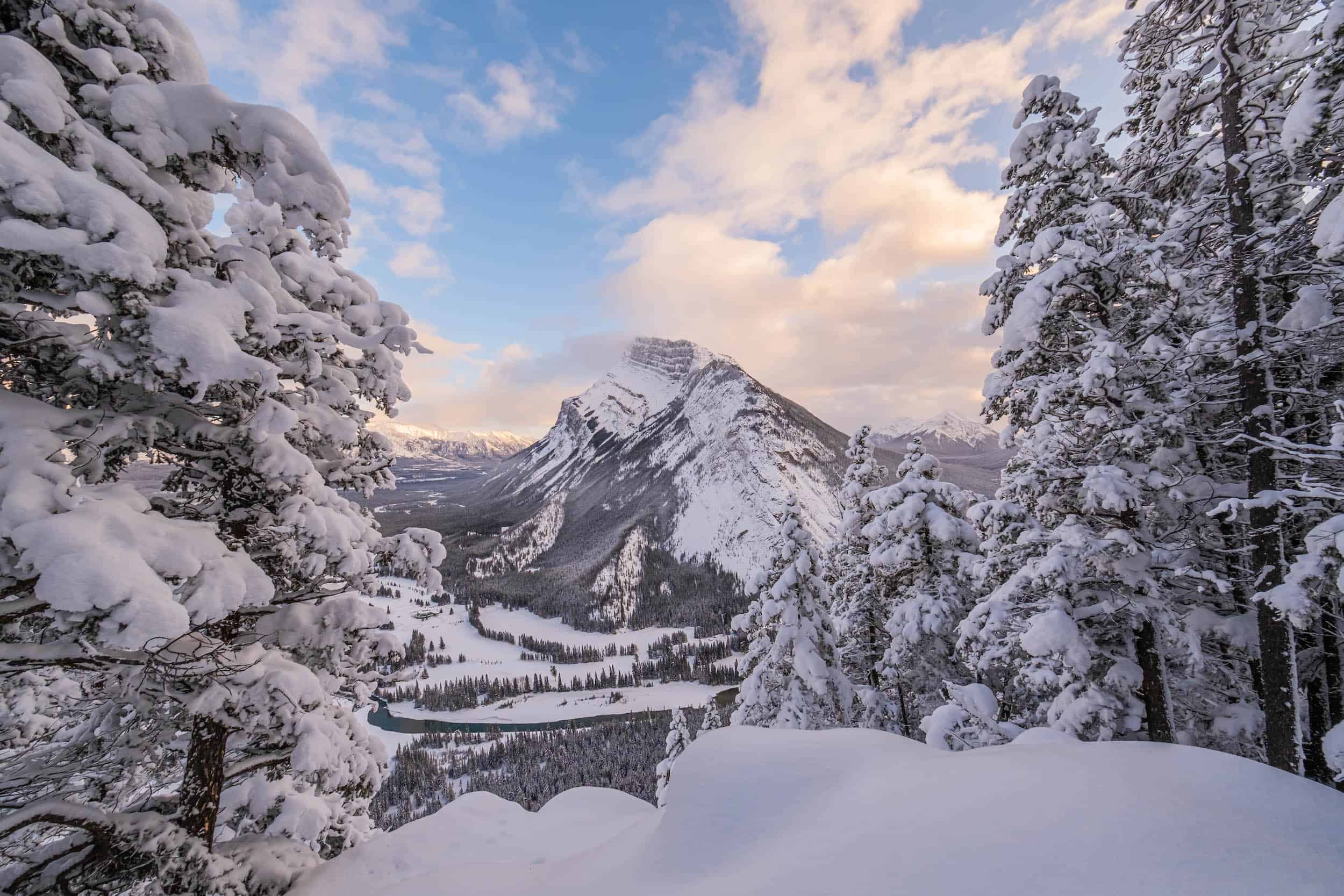 Length: 4.5 km.
Duration: 1 hour+
Elevation Gain: 266 meters
Difficulty: Easy-Moderate
Parking: Three official parking lots or Banff Town Center.
Tunnel Mountain is awesome because it's right in the heart of Banff. It's beloved by locals for its accessibility, and you can snowshoe or easily hike to its peak in the winter. It may be one of the smallest mountains in Banff National Park, but it still offers tremendous views of the surrounding valleys.
This Banff snowshoe moves slowly up the mountain through several switchbacks and offers various viewpoints out into the Bow and Spray Valleys. It's great for sunrise or sunset and it rarely disappoints. Most days it's possible to hike the path without snowshoes as it only takes a day or two after a fresh snowfall for a well-trodden trail to get packed.
---
Peyto Lake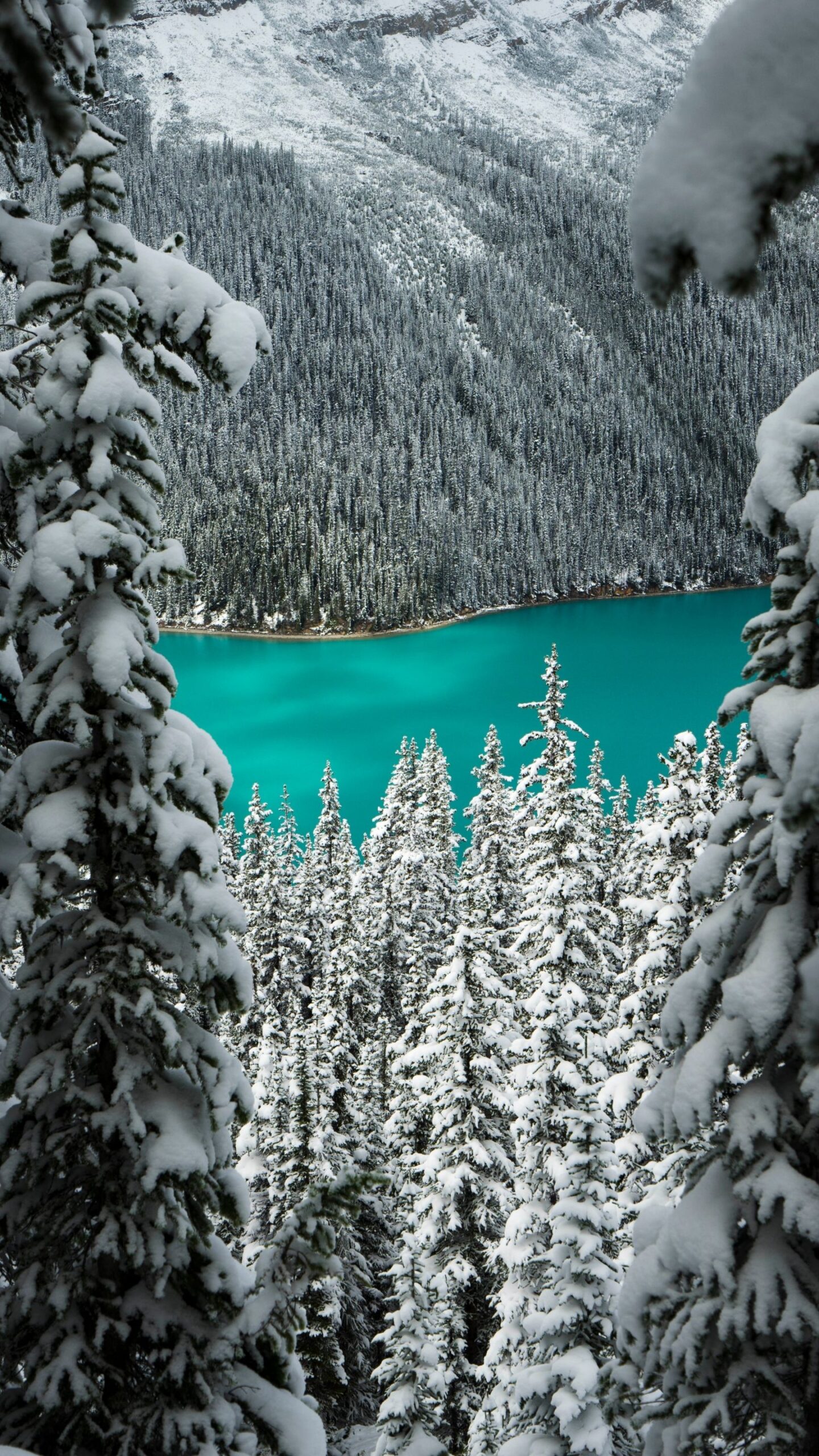 Trailhead: Peyto Lake Lower Parking Lot
Distance: 2.7 km
Elevation: 115 meters
Difficulty: Easy/Moderate
Time: 45 – 60 minutes (depends on how long you enjoy the view)
This is a great snowshoe in Banff that is accessible for any skill level. It involves walking to the first viewpoint and then continuing on past the viewpoint to an overlook that sits on Bow Ridge. The elevation gain past the first viewpoint is only about 50m and worth the little effort as it provides better views out to the Peyto Glacier, the source of Peyto Lake.
However, you should be mindful and careful to stay away from Bow Summit, which enters avalanche terrain. It's a busy area and you should not be surprised to find a lot of backcountry ski tourers as it's the most accessible ski tour in the park.
---
Emerald Lake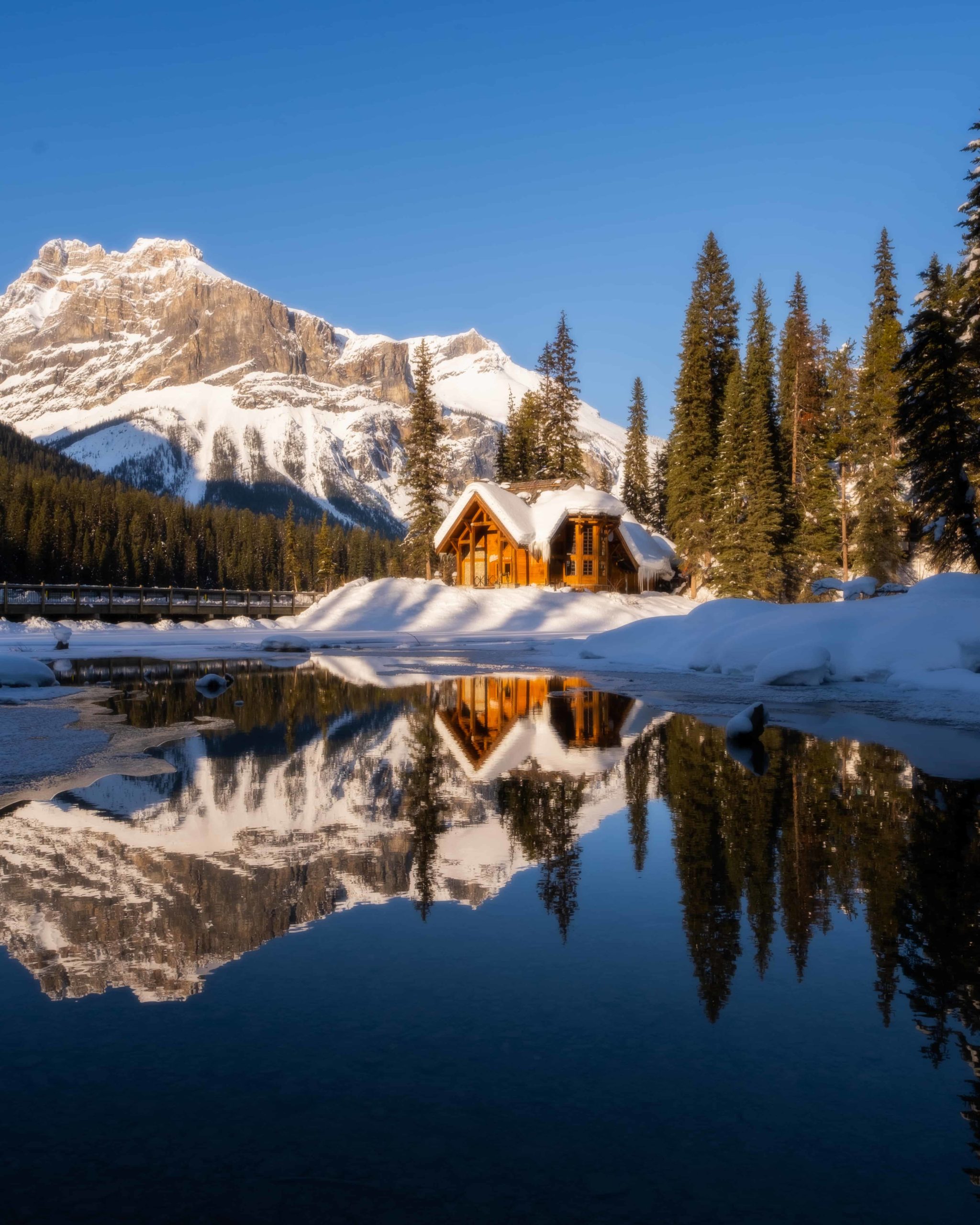 Trailhead: Emerald Lake Parking Lot
Distance: (N/A)
Elevation: (N/A)
Time: Depends on how long you enjoy the view
Emerald Lake in Yoho National Park is one of the most iconic winter scenes in the Canadian Rockies and makes for a great snowshoe location. You can walk across the frozen lake or enjoy some of the maintained trails around the lake. You have some fantastic scenic views, and it's a breathtaking scene.
It's kind of a pick-your-own flavor adventure, but do keep in mind the Emerald Avalanche Slide Path that is well marked by Parks Canada. After, you make your way around the frozen lake warm up with a hot chocolate at the Cilantro Cafe part of the Emerald Lake Lodge.
---
Bow Lake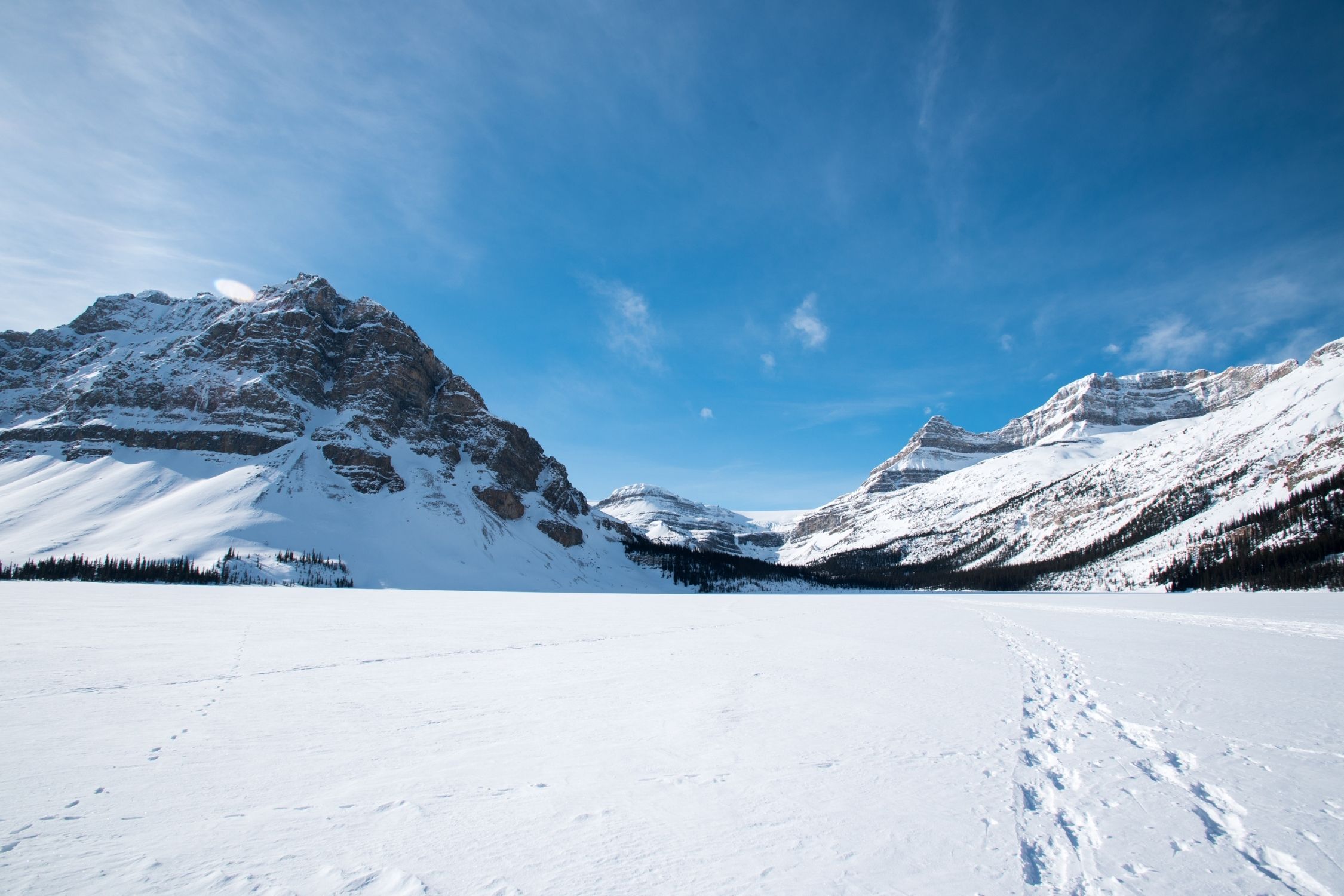 Trailhead: Bow Lake Parking Lot
Distance: N/A
Elevation: N/A
Time: Depends on how long you explore
Bow Lake is a tremendous location for a snowshoe on the Icefields Parkway. There is no set trail across the frozen lake, but it has an ample supply of astounding views and plenty of fresh snow. What's more, there is no avalanche risk on the safe flat lake.
---
Chester Lake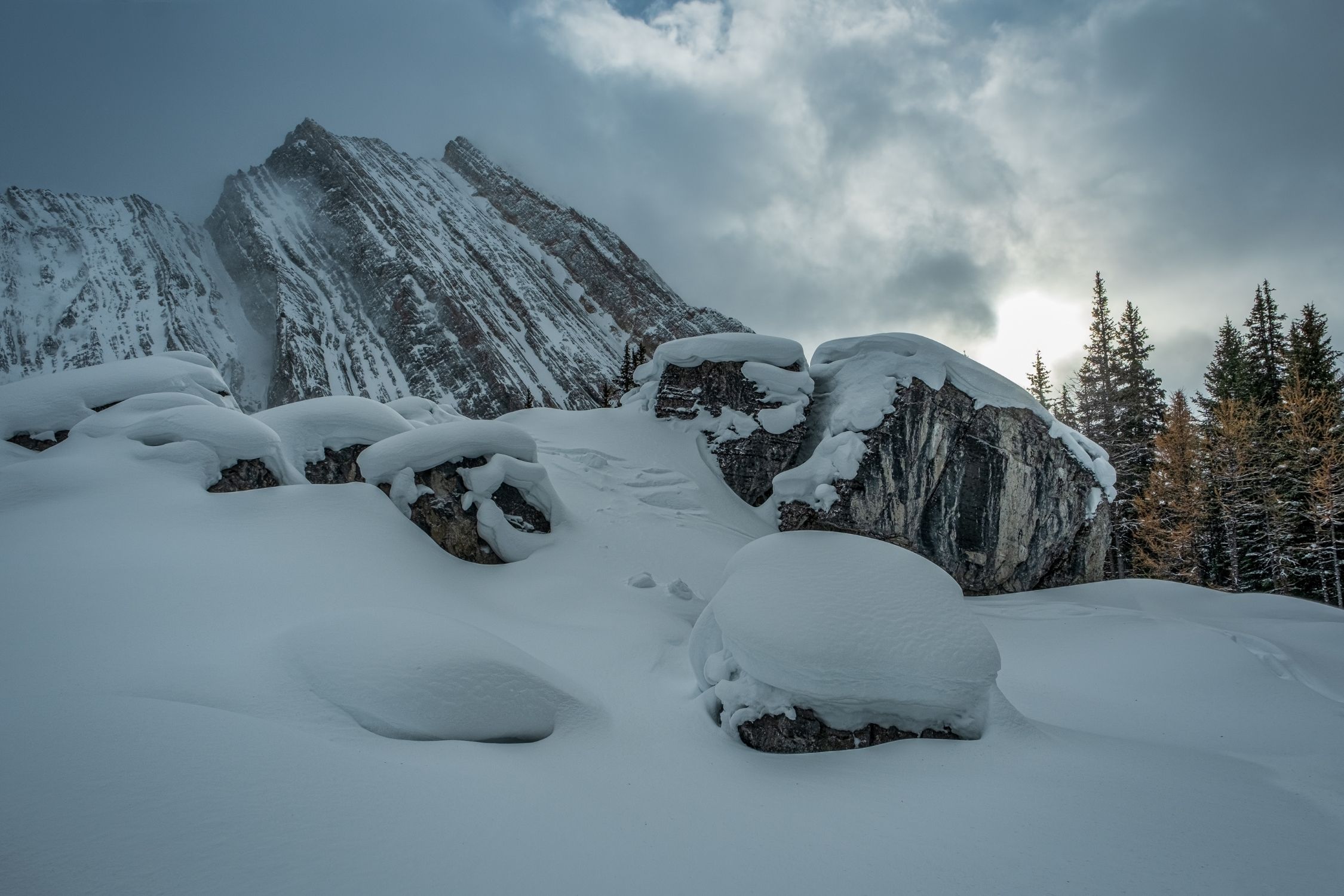 Trailhead: Chester Lake Trailhead
Distance: 9.7 km
Elevation: 424 meters
Difficulty: Moderate
Time: Depends on how long you enjoy the view
Chester Lake is not based in Banff National Park and is instead in Kananaskis Country Provincial Park so it makes more sense for those who chose to base themselves in Canmore over Banff. It's a fantastic Canmore snowshoe and very popular.
So it's possible if it hasn't snowed in a while to make it a wintertime hike, but if you plan to make it to the lake it helps to have snowshoes as the snow softens at elevation. It starts out a little steep at the beginning so be prepared to climb a bit of elevation. It's a wonderful spot to get outside in the winter and enjoy Kananaskis Country.
---
Sulphur Mountain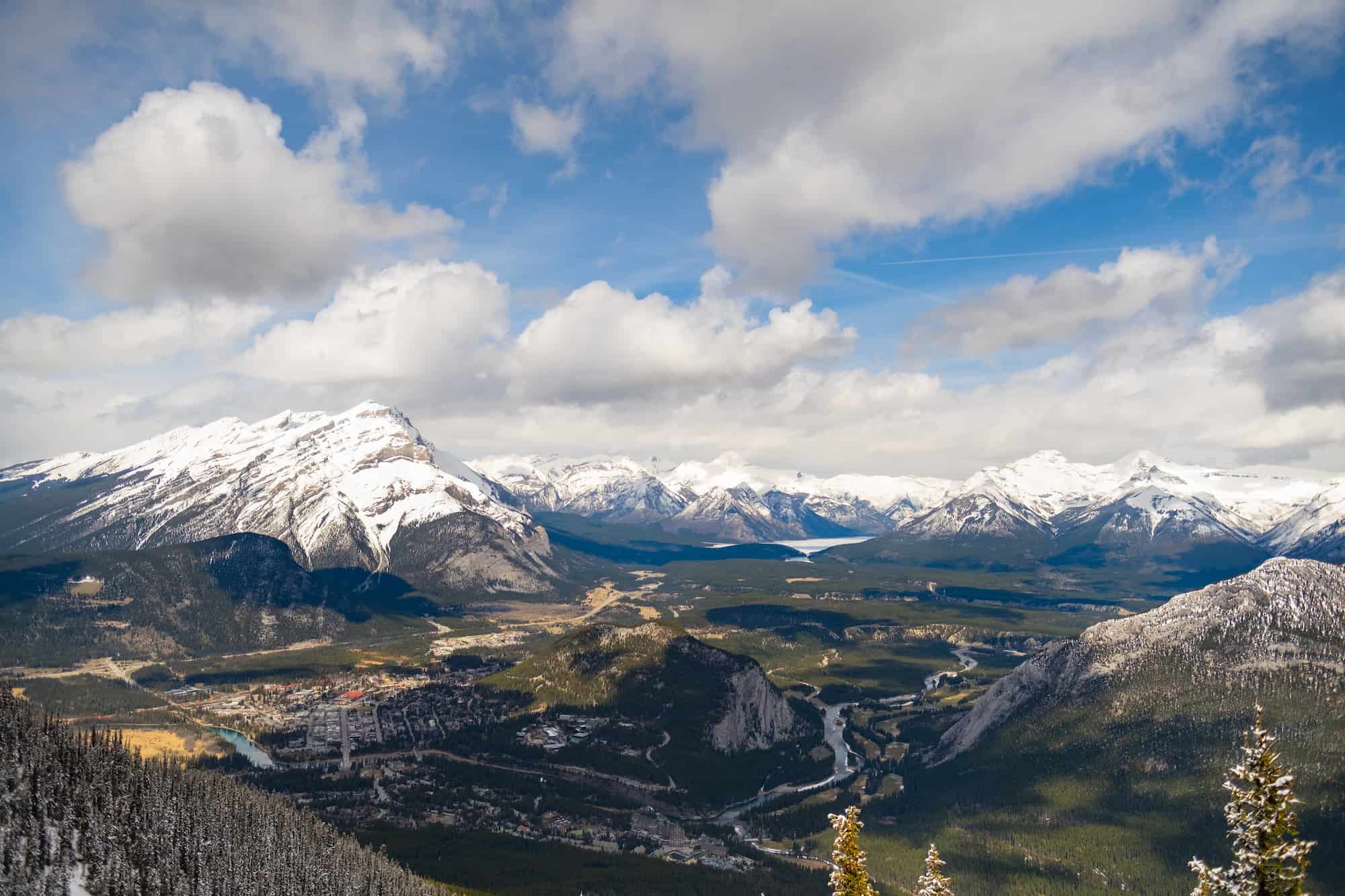 Length: 10.1 km
Duration: 2 – 4 hours
Elevation Gain: 744 meters
Difficulty: Moderate
Parking: Banff Gondola / Hot Springs
Sulphur Mountain is easily one of the most popular hikes in Banff National Park. It's a beautiful hike up that provides visitors with astonishing views over the Bow Valley and Spray Valley.
The trail leaves from the Banff Gondola or Banff Hot Springs parking lots and follows a series of switchbacks up Sulphur Mountain until reaching the Gondola Station. Follow the boardwalk along the ridge to the peak and stunning views out across the valley and Banff.
Although you can hike it, many people love to get their snowshoes out to enjoy the winter scene.
Due to its proximity to Banff town, and the fact that you can take the Banff Gondola up to the peak instead of sweating it out on the trail means that Sulphur mountain becomes very busy, particularly the peak.
---
Lake Louise Area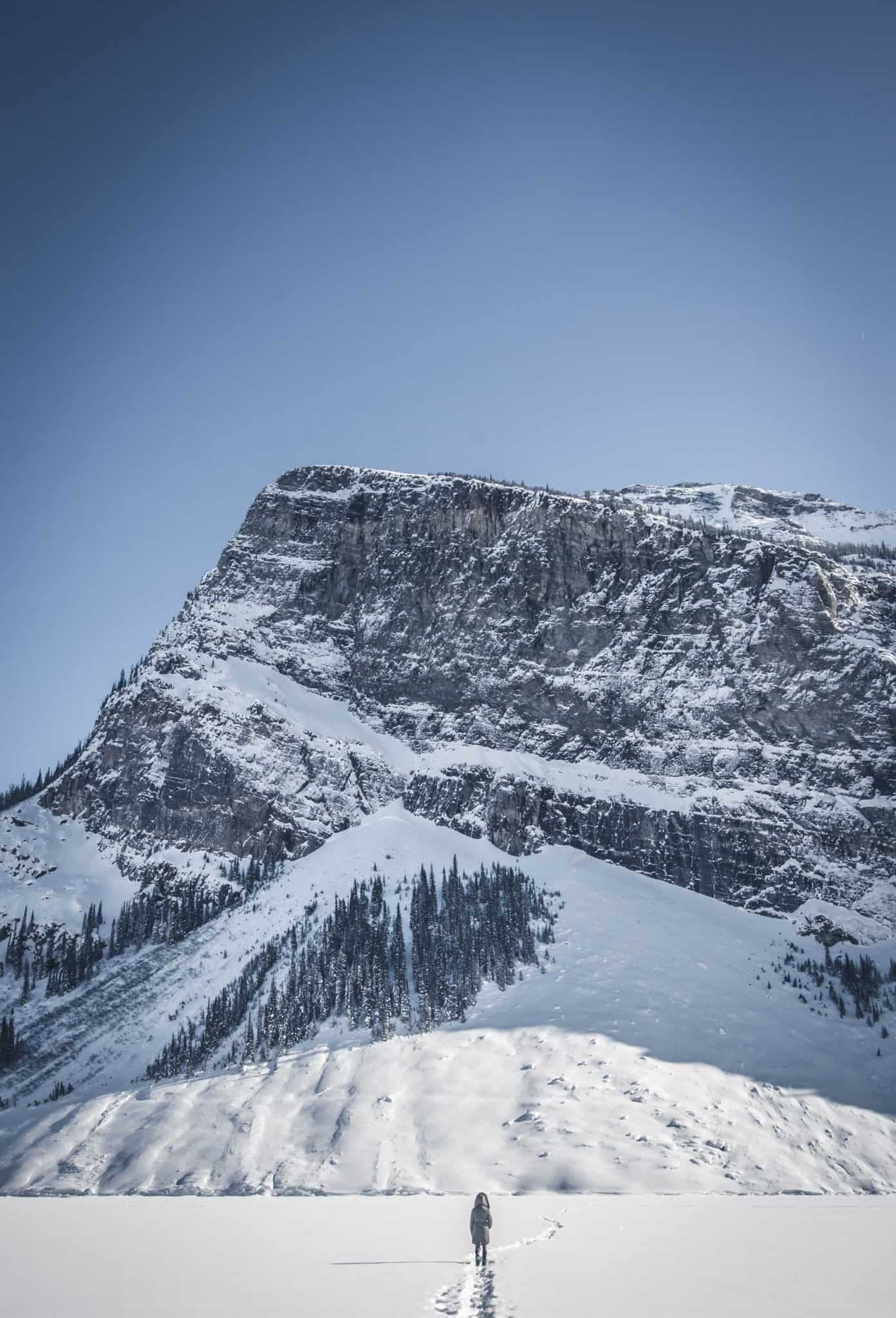 Lake Louise is a great place for a snowshoe tour. You'll be hard-pressed to find a more scenic location in the world for a snowshoe than Lake Louise. Every year Lake Louise freezes over and there are a number of winter trails along with ice skating and horse-drawn sleigh rides.
The most popular snowshoe is along the Northern side of Lake Louise, but you can also head up to Mirror Lake or over to Paradise Creek. Or enjoy the Lake Louise Lakeshore, Fairview Lookout, or Louise Creek.
---
Ski Louise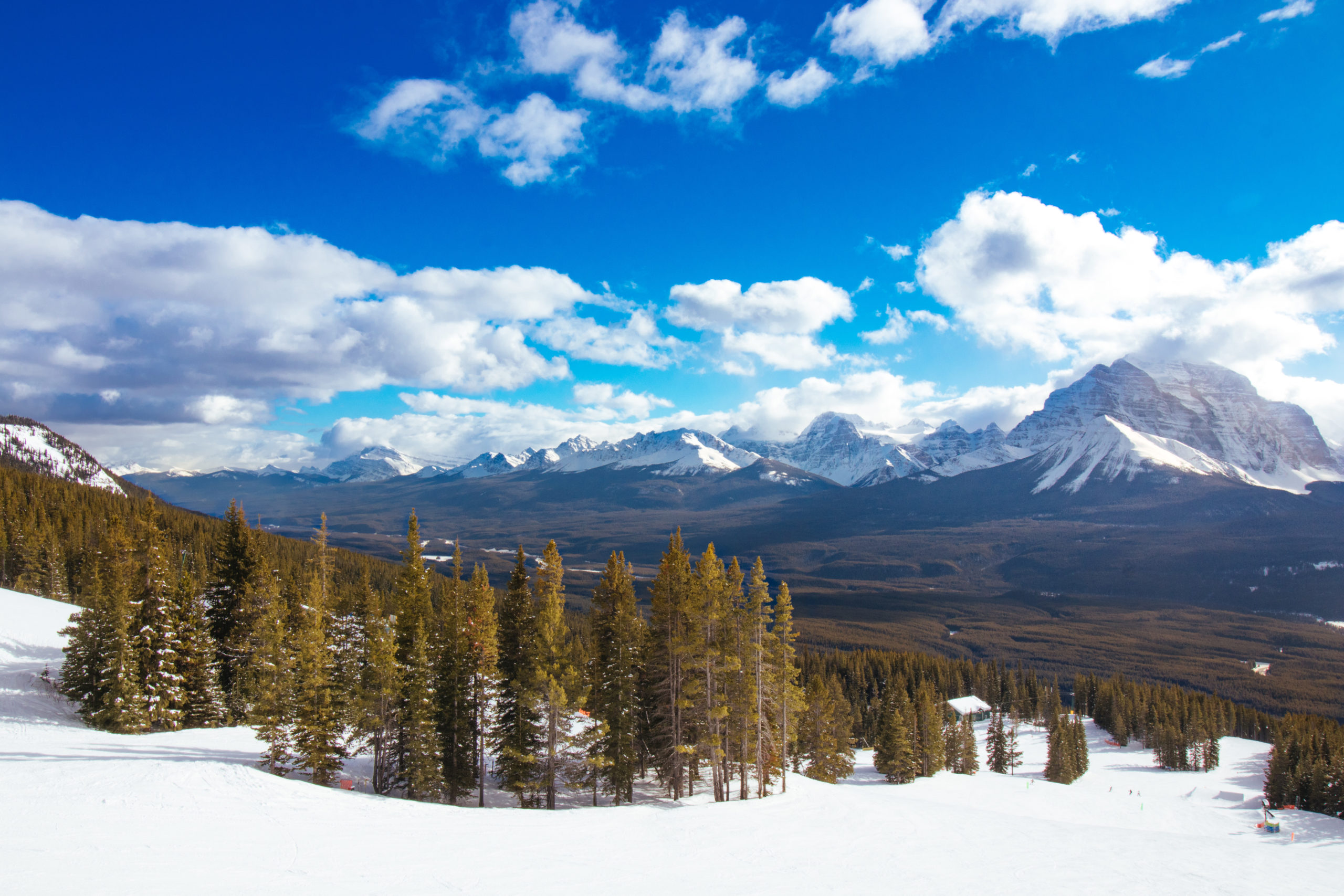 If you'd like to experience a snowshoe at elevation Lake Louise Ski Resort offers guided snowshoe tours. We've never taken part in these snowshoe tours, but we do ride at Lake Louise and we often see visitors out on tour near the Lake Louise gondola. Book a tour here.
---
Paint Pots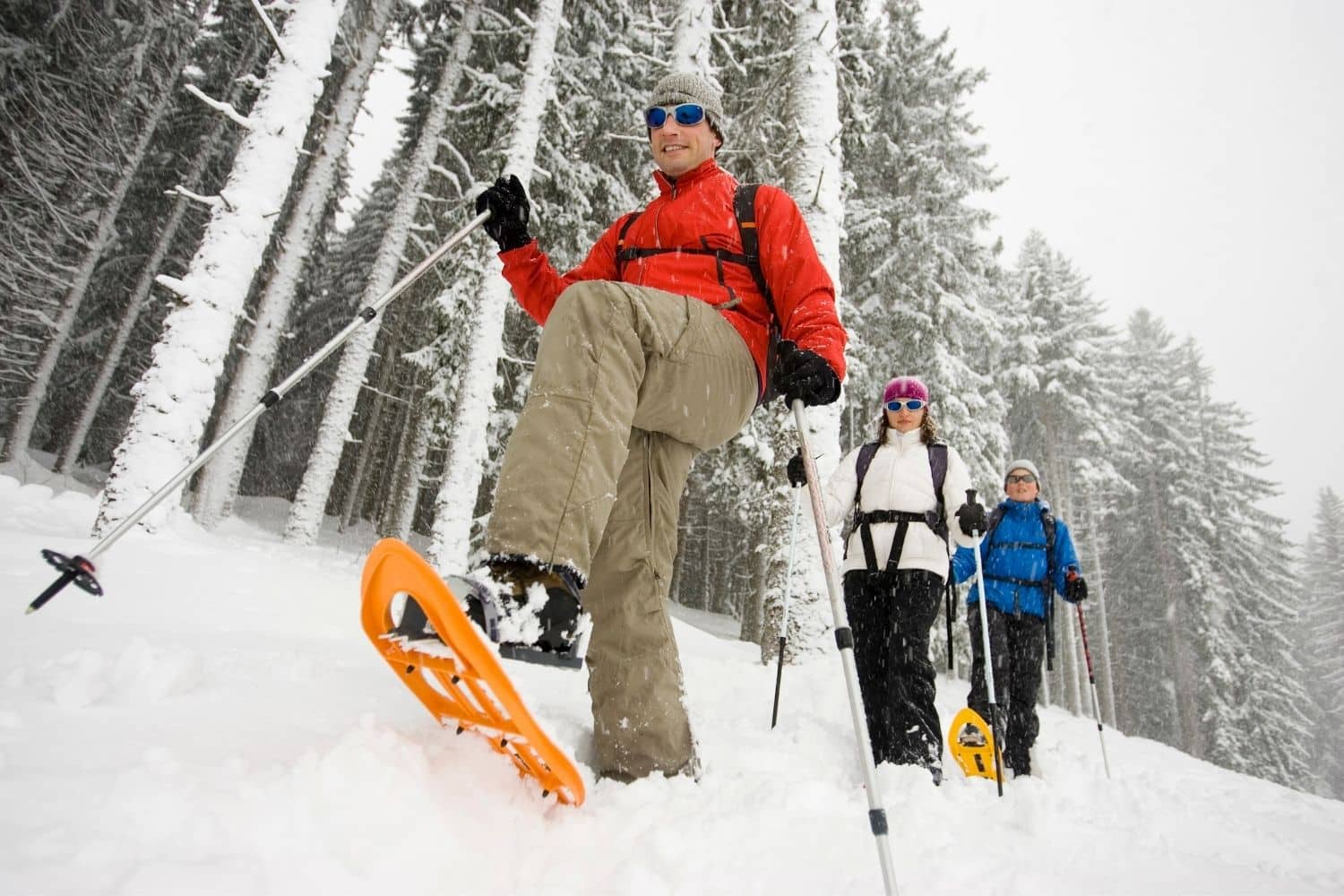 Length: 2.1 km
Duration: 2 hours
Elevation Gain: 59 m
Difficulty: Easy
Parking: Paint Pots parking off Highway 93
The Paint Pots is another short and sweet trail with minimal elevation gain just off of Highway 93 south in Kootenay National Park. 19 km west of Castle Mountain Junction is this wonderful area that receives significant snowfall. It's a great snowshoe to combine with Marble Canyon to make a full day.
---
Wapta Falls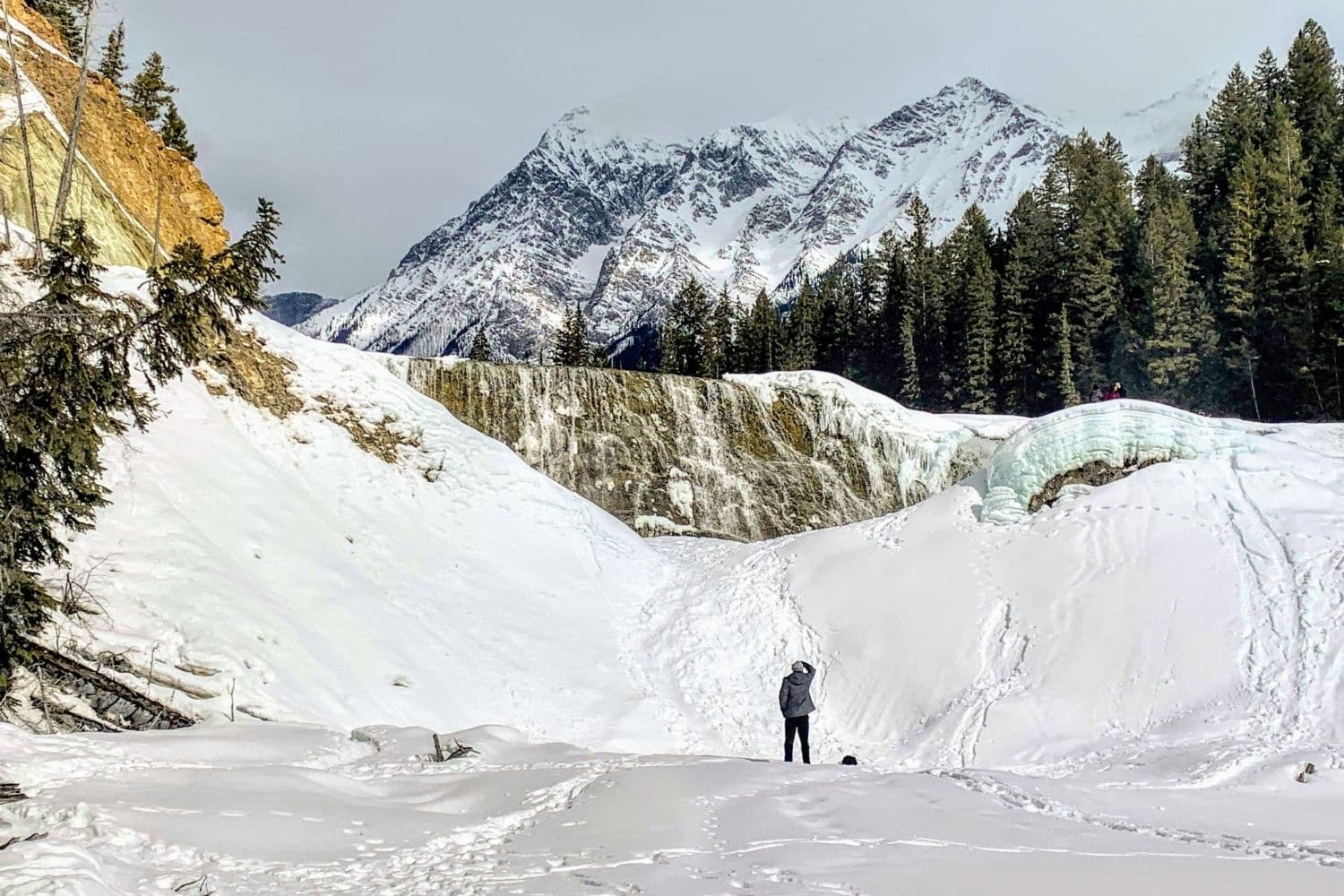 Length: 4.8 km
Duration: 2 hours
Elevation Gain: 125 m
Difficulty: Easy
Parking: Wapta Falls Rd.
Wapta Falls is another snowshoe that is just outside of Banff. It's the largest waterfall of the Kicking Horse River and one of the best things to do in Yoho. It's 18 meters high and a whopping 107 meters wide, making it one of the most impressive sights in the Canadian Rockies. It's an awesome and short hike in the summer, but I personally think it's most magical in the winter when the water turns to ice.
While this is a fabulous winter hike, it can also be a great snowshoe. The trail is longer and winds through the woods most of the way, but once you get to Wapta Falls you are in for a treat.
---
Marble Canyon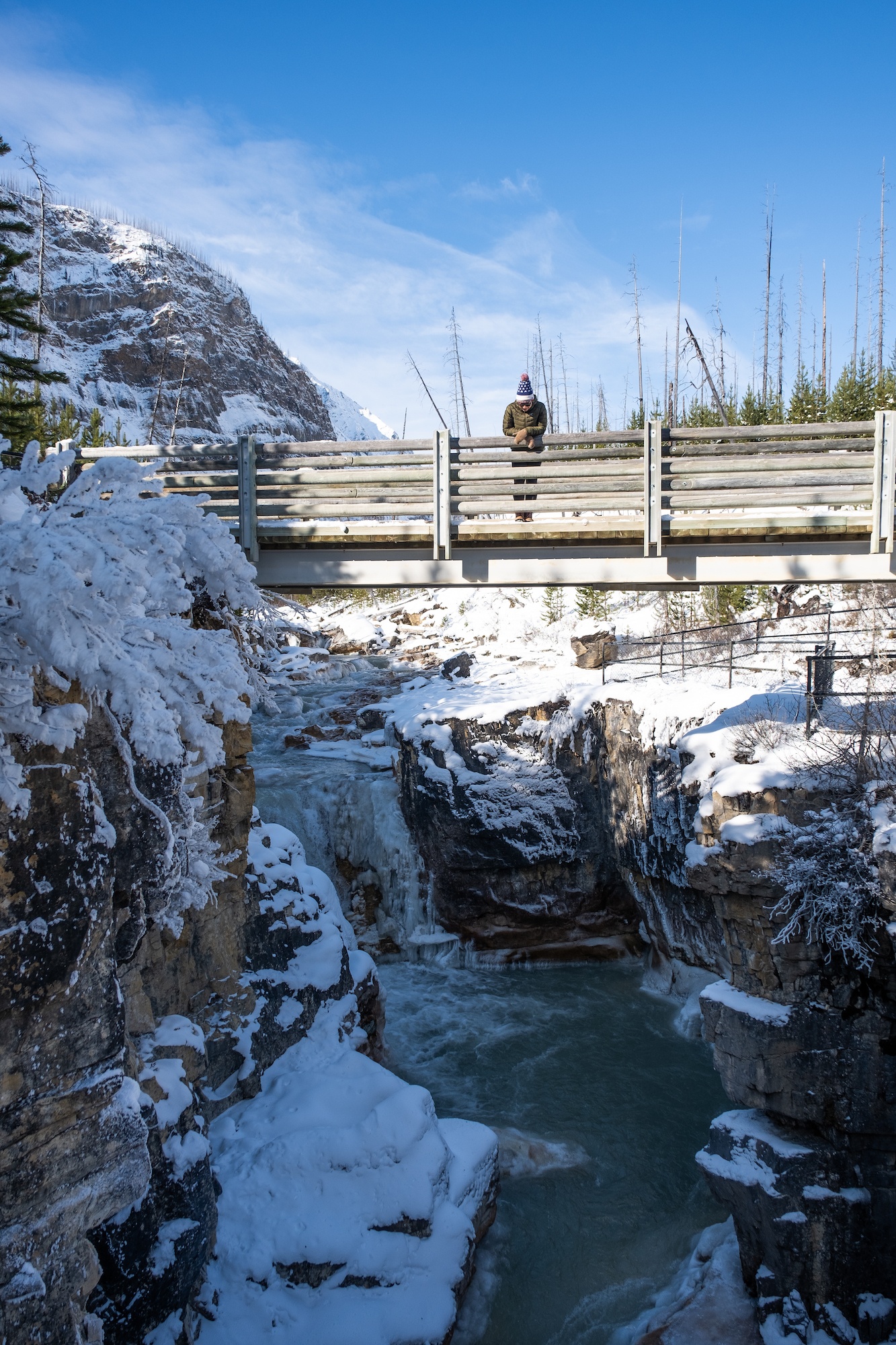 Length: 1.4 km
Duration: 1 hour
Elevation Gain: 54 meters
Difficulty: Easy
Parking: Marble Canyon
Marble Canyon is in Kootenay National Park, not far from Banff National Park on Highway 93. If you are staying at nearby Storm Mountain Lodge this is a fantastic place to head.
This is an easy snowshoe to see the beautiful colors of Marble Canyon. The frozen waters of Tokumn Creek have eroded a deep limestone gorge which is impressive to see.
There are walkways to make the viewing around Marble Canyon easier, and with snowshoes, you can walk through the forest to try your luck at seeing a hare. This snowshoe can also be done as a hike, though the trail does get slick so microspikes are recommended if you only have winter boots.
---
Expert Snowshoes in Banff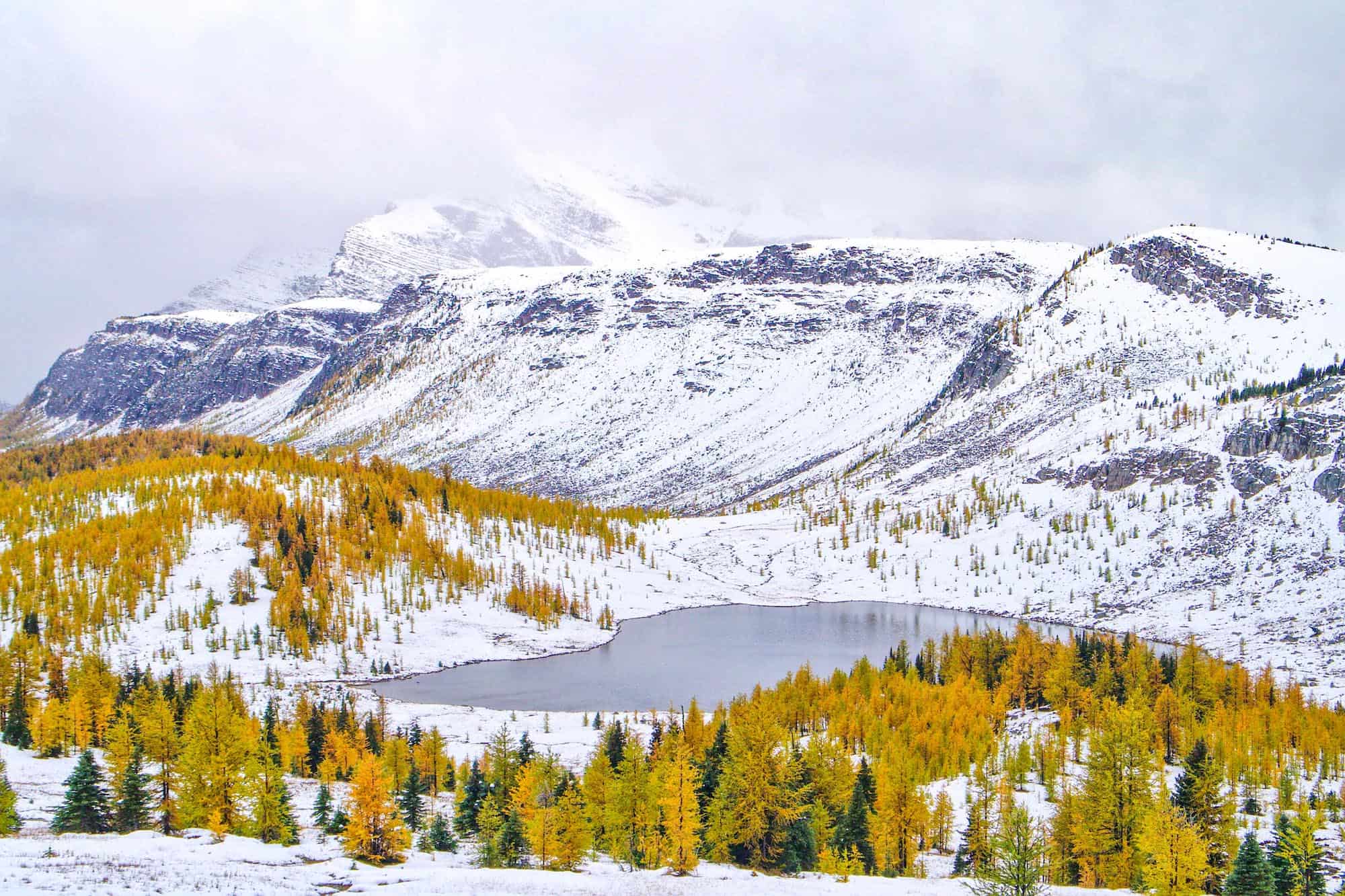 These Banff snowshoes pass through avalanche terrain or at the very least an avalanche runout. Please know and understand how to read avalanche reports and have a good understanding of the conditions that can cause an avalanche.
If you're set on getting out to bigger snowshoes in the Canadian Rockies, I'd strongly advise taking an AST 1 course to gain a foundation of the science behind avalanches and what to do in the event of one. Yamnuska Mountain Adventures runs avalanche courses often.
Personally, I do not take part in these snowshoes and prefer ski touring if I'm going to take the risk. However, I'm familiar with a number of the routes from the ski touring, so I can comment on them.
Paradise Valley
Boom Lake
Deception Pass
Crystal Ridge
---
Snowshoe Winter Safety in Banff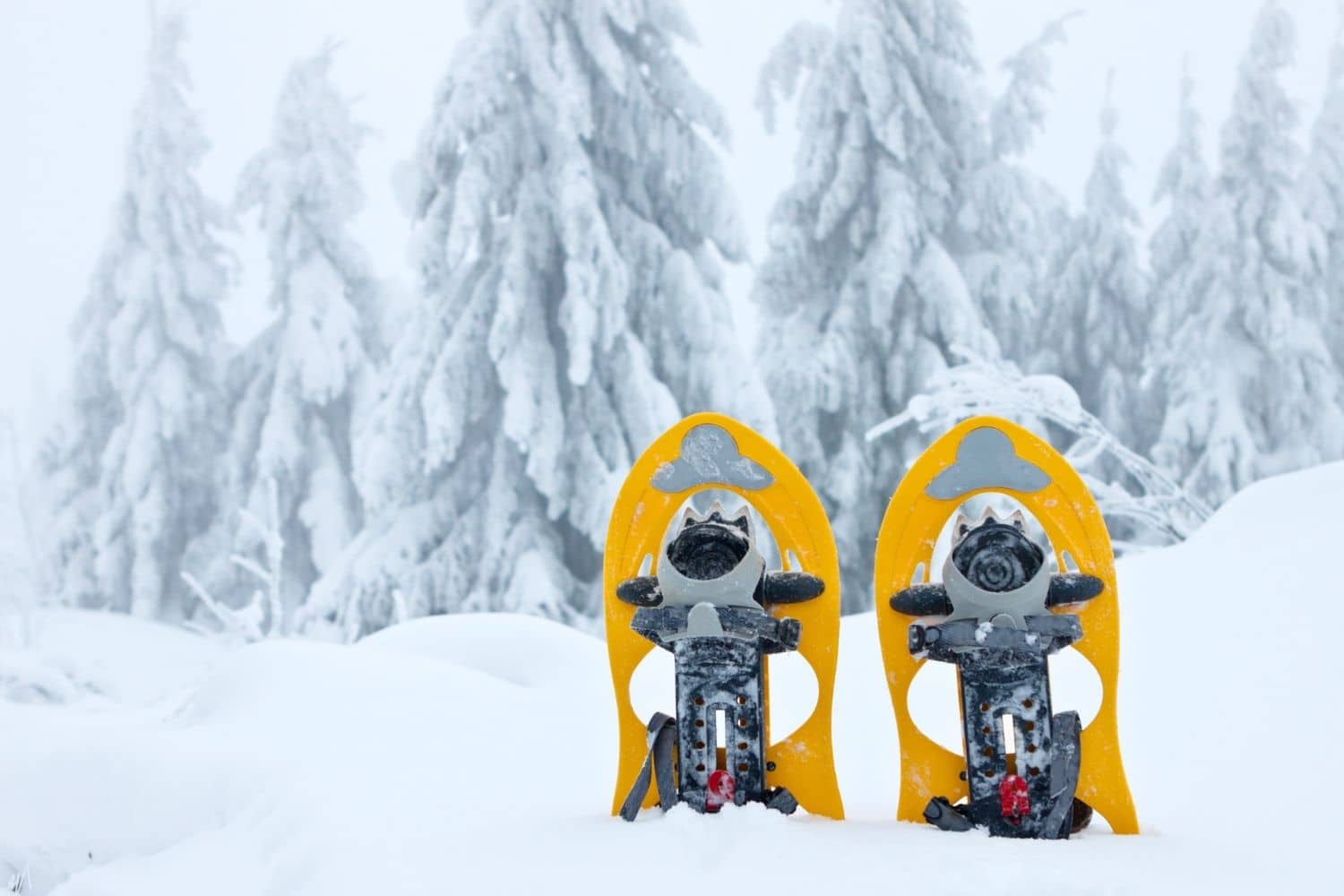 You are responsible for your own safety in the park and even around town. Snowshoeing and spending time in the wilderness can have serious consequences, so always remain prepared.
Check Parks Canada, Avalanche.ca, and the Avalanche Bulletin for up to date details on trail conditions and the avalanche forecast.
When trails are icy a pair of poles or cleats may be more helpful than snowshoes.
Always bring a map on longer snowshoes.
Pack emergency layers, we always have an extra layer in case we need to weather the cold.
Let someone know where you're heading in case of an emergency.
There are a lot of winter hazards to be aware of such as avalanches, disorientation, thin ice, hypothermia, and frostbite.
---
What to Wear for Snowshoeing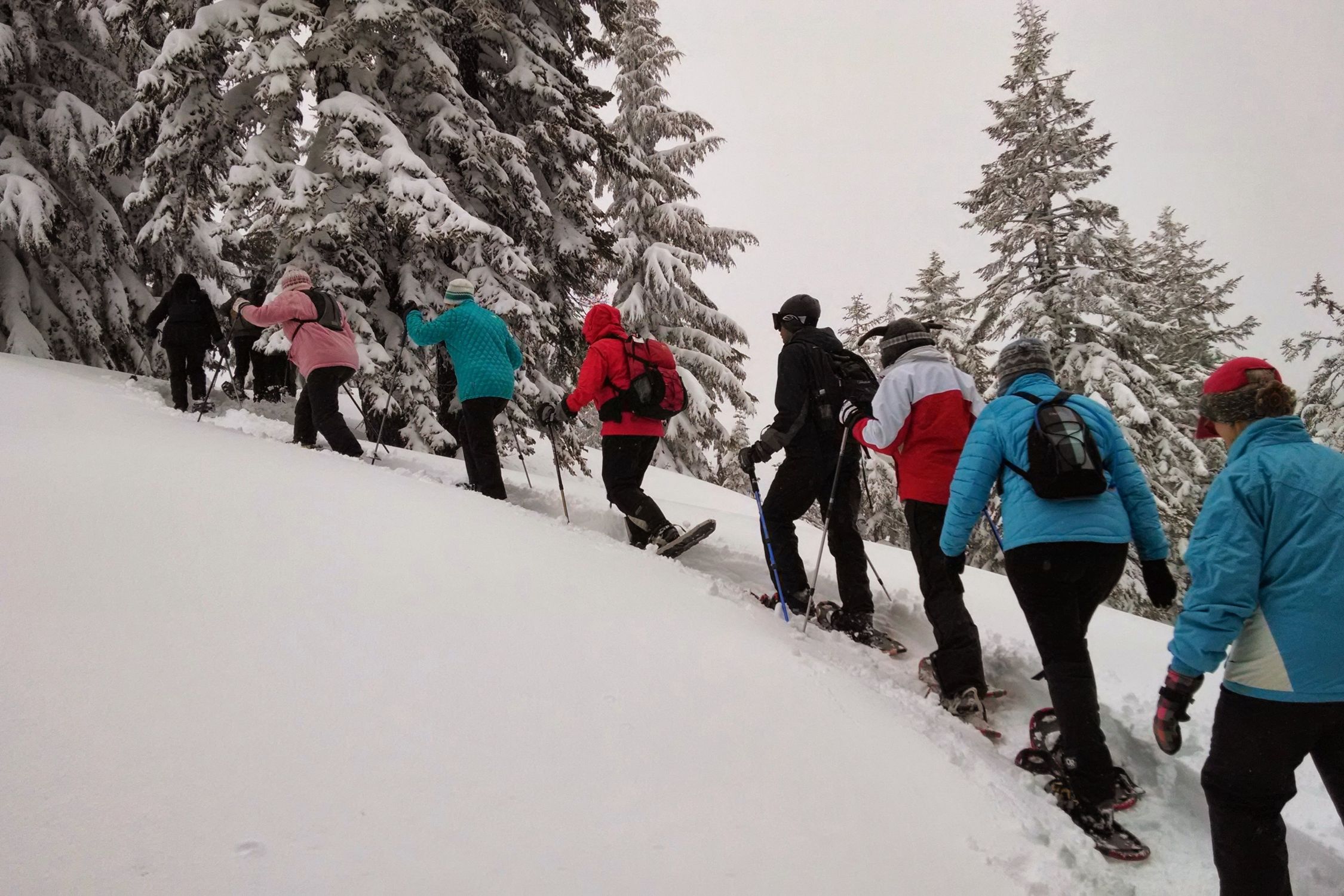 Pack for winter in Banff when preparing for your snowshoe. We dress in layers when heading out in the mountains. Here is a general list of what you should bring:
Snacks and protein bars
Bear Spray
Hiking Poles
First aid kit
Emergency blanket
Sunscreen and sunglasses
Headlamp
Hand warmers
Hat, mittens, and neck warmer
Cell phone and Garmin In Reach
Banff Winter Packing List: What to Pack for Canada in Winter
---
Wildlife Awareness in Banff in Winter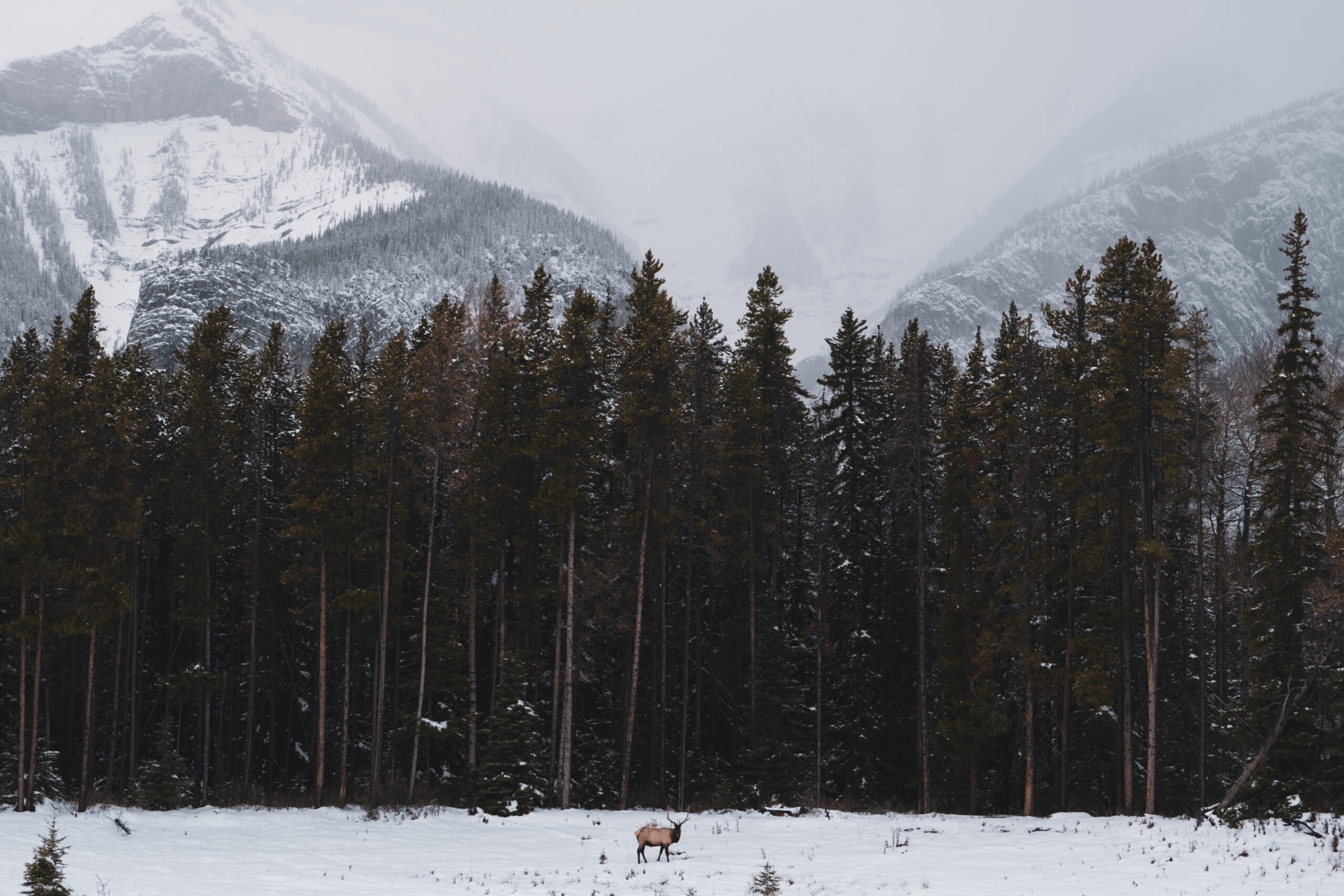 Although it's winter, I still like to have bear spray on me while hiking in the winter. Bears are not true hibernators and can awaken at any time. Cougars, coyotes, wolves, and moose stay active throughout the year. Keep your eye out for foxes, elk, deer, and owls as well!
If you see wildlife do not approach it. Give them lots of space, and don't make them change their course. The general rule is if you make wildlife change their course or move, you are too close.
---
Where to Rent Snowshoes in Banff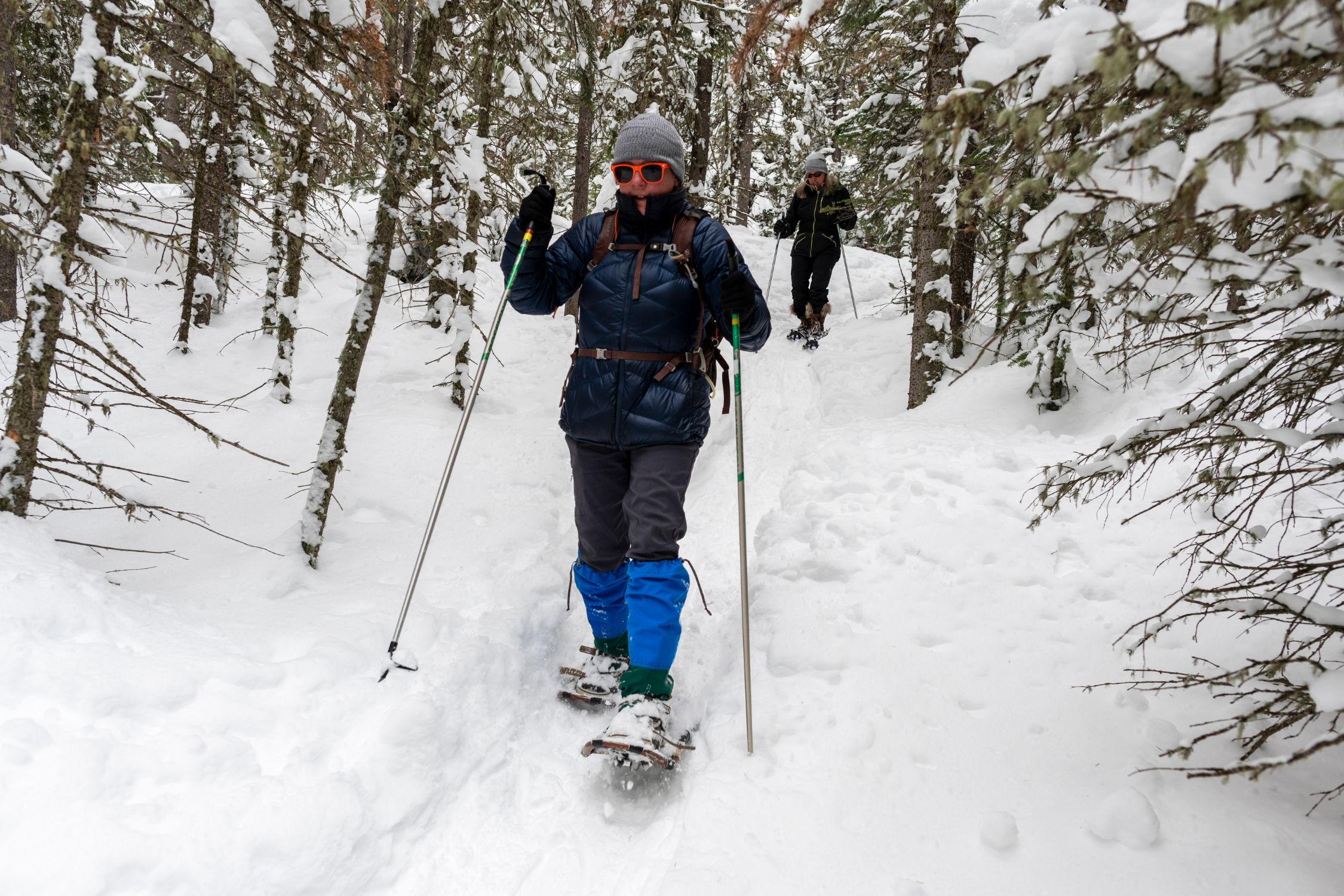 There are a few areas in Banff, Canmore, and Lake Louise to rent snowshoes. If you think you will be snowshoeing a lot, it may be worth buying a pair at Canadian Tire in Canmore.
Banff Snowshoe Rentals
Banff Adventures
Chateau Mountain Sports
Lake Louise Snowshoe Rentals
---
---
Plan Your Trip to the Canadian Rockies