Let's dig into one of the most hidden gems in the beautiful Canadian Rockies. Wapta Falls, is one of the most stunning waterfalls in BC, and without a doubt one of the coolest spots to check out in Yoho National Park.
Wapta Falls is no joke. It's so wide that it'll leave you speechless with its stunning beauty and raw power. You can find it not too far from the towns of Field and Golden. It's one of the biggest waterfalls around these parts, but sees far less foot traffic than Tak Falls, another popular Yoho waterfall. The water here cascades down with such force that it creates a mist surrounding the whole area, giving you all the feels.
Wapta Falls is more than just a pretty sight. It's a crucial part of the ecosystem, providing habitat for tons of fish and wildlife.
If you're road-tripping through the Canadian Rockies, or on your way from Banff to Golden, you can't miss out on this short hike to Wapta Falls. It's a peaceful little oasis compared to the more popular tourist destinations like Emerald Lake or Lake Louise. Sure, it might take a bit more effort to get to, but trust me, it's worth it!
---
Key Points
---
Wapta Falls Stats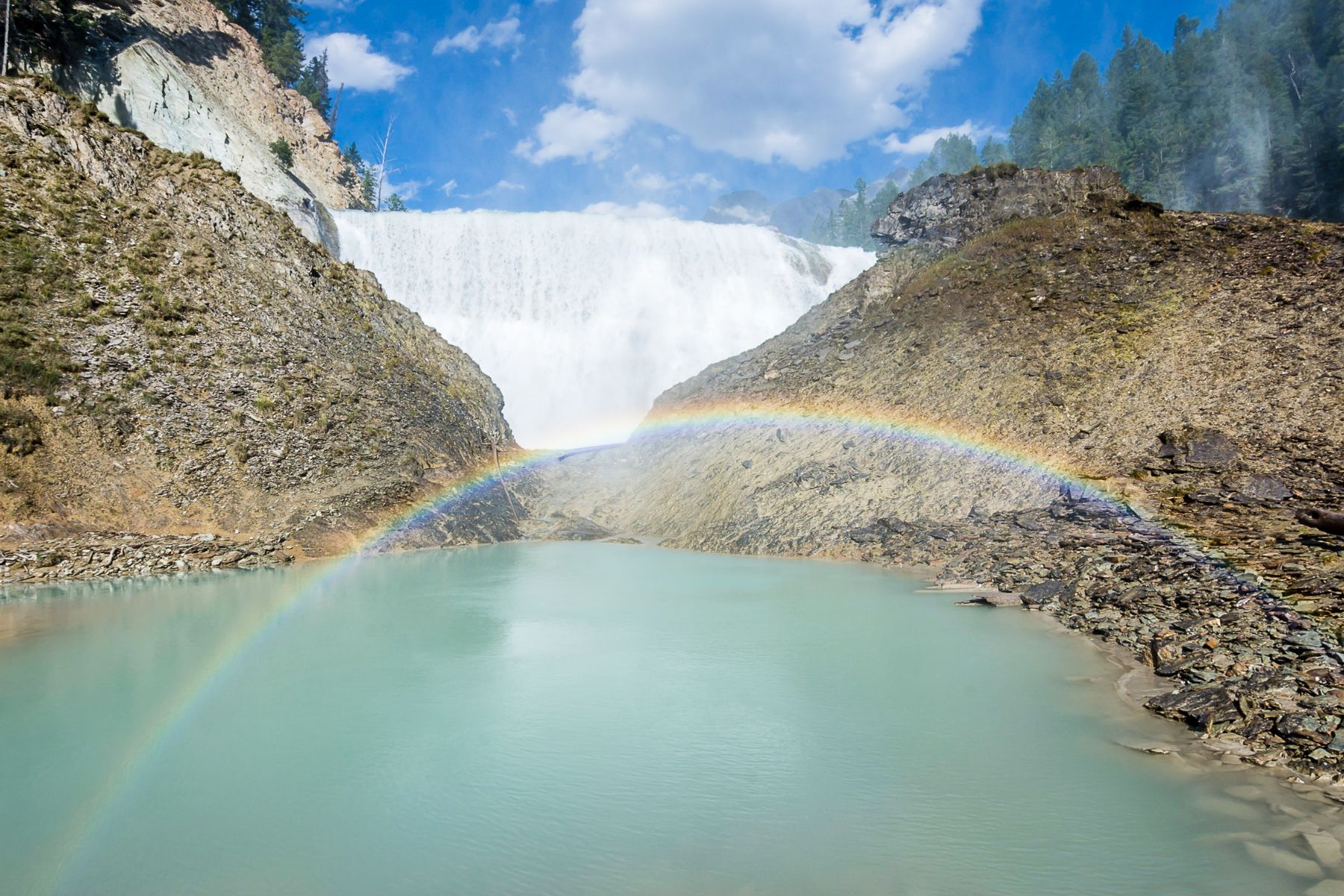 Wapta Falls is the largest waterfall on the Kicking Horse River and is located in Yoho National Park. It is 18 meters high and a whopping 107 meters wide. It is easily one of the most beautiful waterfalls in BC, and its average flow can reach 96 cubic meters per second (3,400 cu ft/s).
---
How to Get to Wapta Falls
From the junction of Highway 95 and Highway 1, drive east on the Trans Canada Highway for 31.8 kilometers to the Wapta Falls trail turnoff. Turn right and drive 1.8 kilometers on Wapta Falls Rd (gravel road) to the parking area at the trailhead.
---
About the Wapta Falls Trail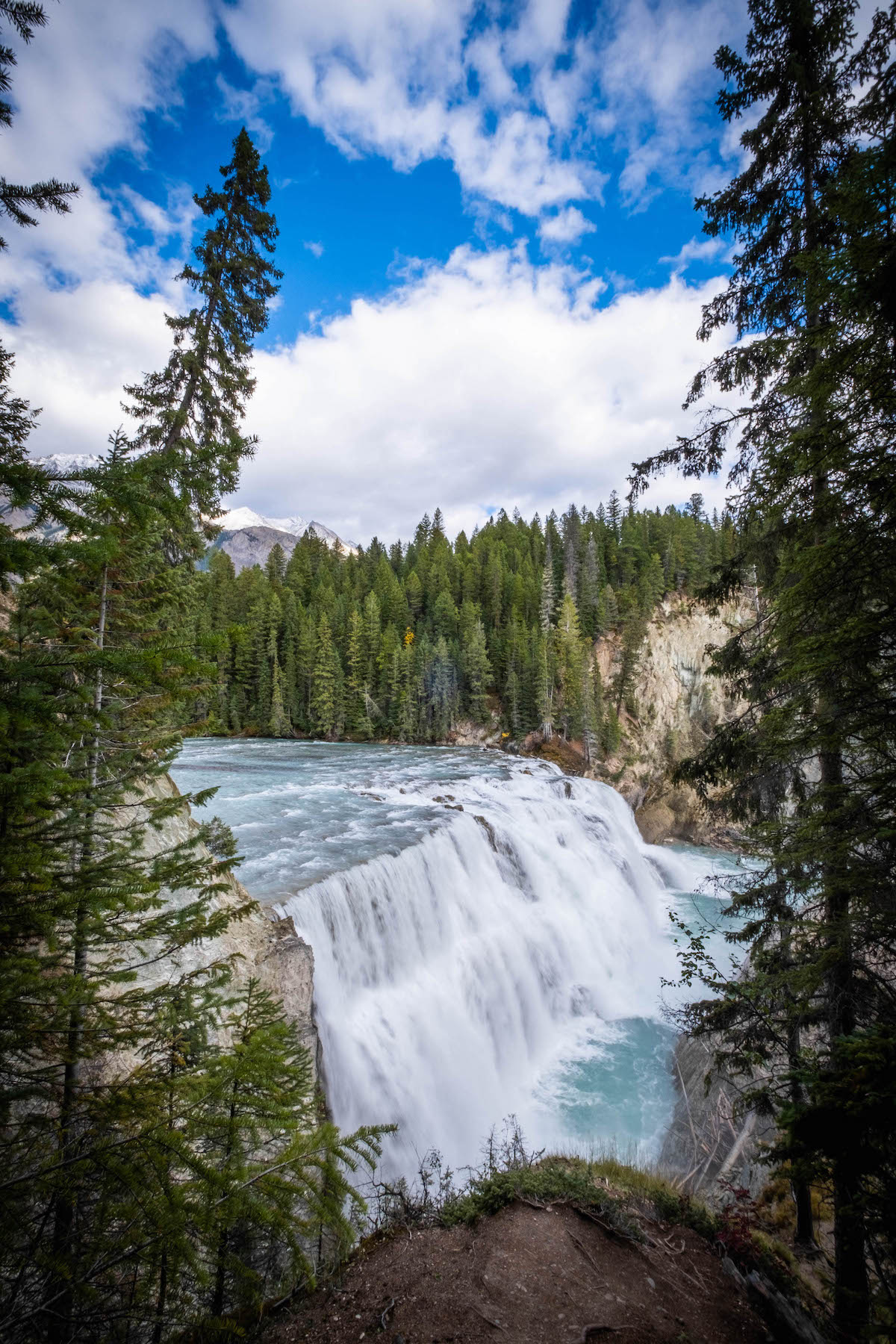 The Wapta Falls is a short and easy 2.3 km trail (one way) through level forest. Along the trail you'll hear the water flowing from the Kicking Horse River. After gaining about 50 meters gradually you'll start to get a glimpse of the magnificent Wapta Falls, the trail then starts to drop down to the falls
Head down the trail about 40 meters for the Top of Falls Viewpoint. It's here you'll get a viewpoint over the falls. There is a railing here to keep hikers from slipping to their death. You can see that some hikers have hopped the rail for a better photo opportunity, please don't do this. Not only is it incredibly dangerous but it also causes trail erosion.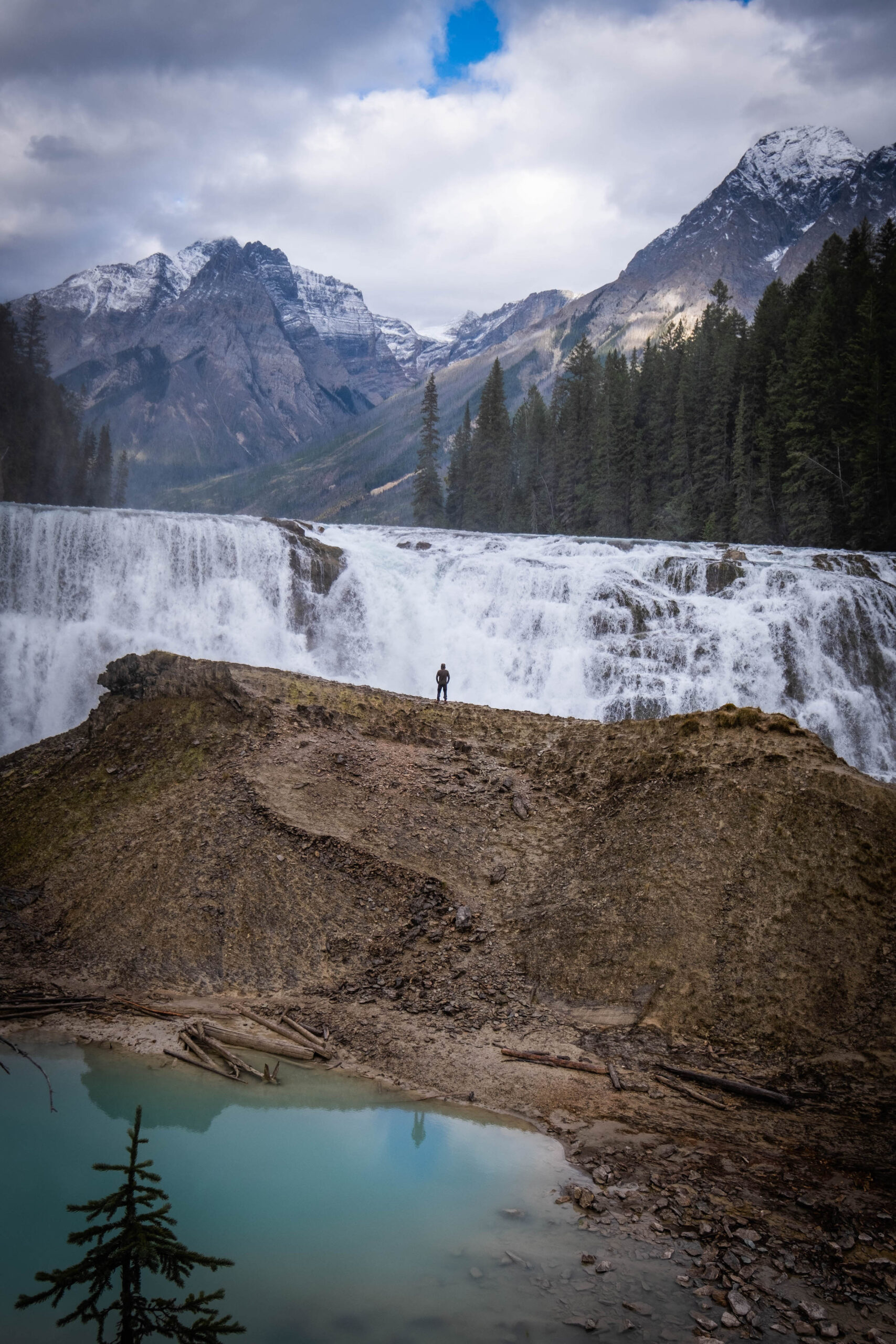 The trail continues to wind down the base of the falls where you can feel the power of the gigantic waterfall. There's a large mound in front of the falls, that has a faint trail at the top of the ridgeline. If you don't mind getting a little wet from the spray or have a waterproof jacket on, you can head up here for an epic photo and an incredible view. A good option on a hot July or August day. If hiking Wapta Falls in the winter you'll want microspikes for this section.
Although you'll lose the elevation heading down to the falls and have to climb back up, we promise it's well worth it.
---
Gear We Recommend
---
Wapta Falls Trail Duration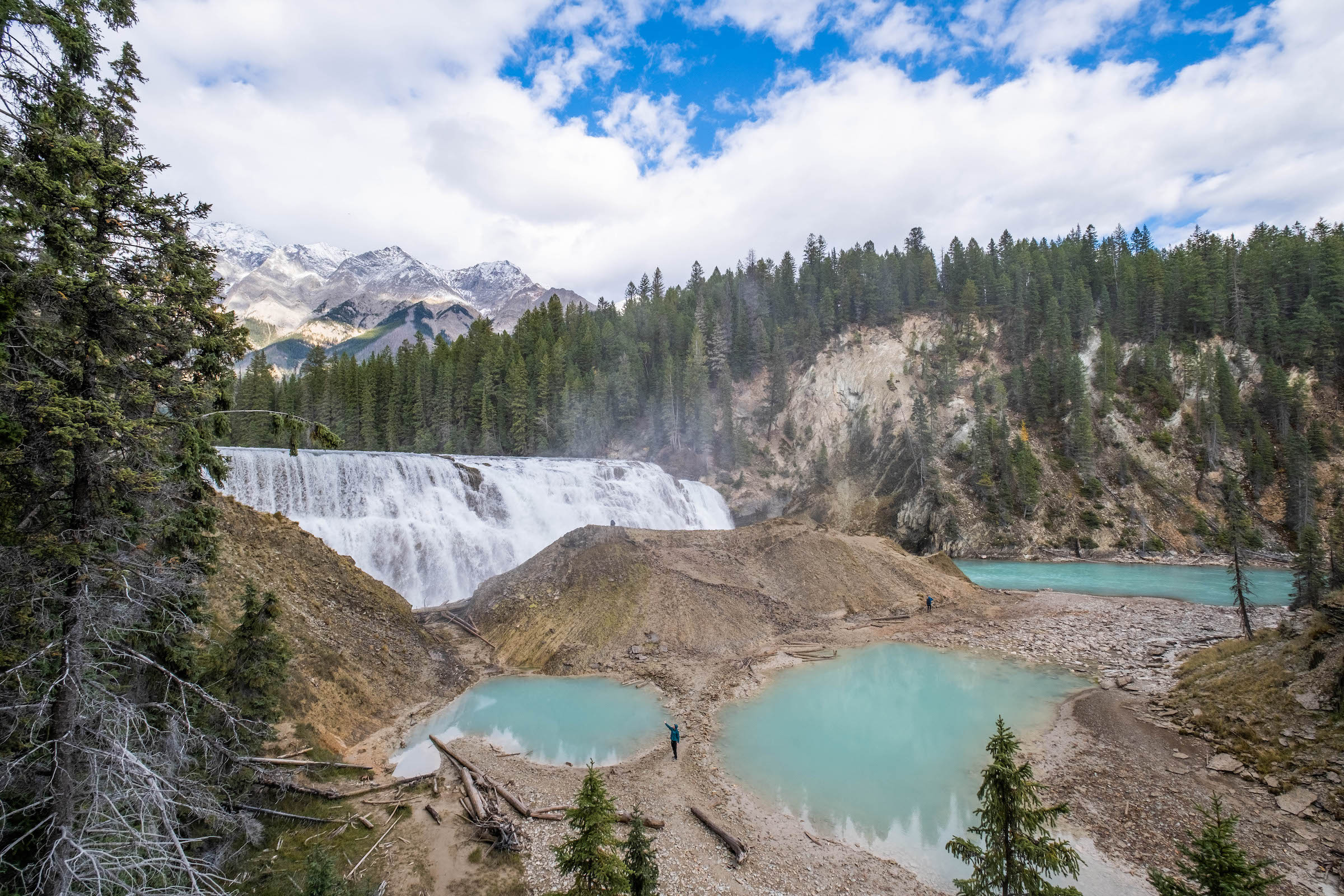 The hike to Wapta Falls is a quick and easy one. You can easily complete this hike in 1 – 1.5 hours return, leaving plenty of time for all the other things to do in Yoho. We recommend combining Wapta Falls with a stop at the Natural Bridge, Emerald Lake, and Tak Falls nearby. Wapta Falls is not far from Field or Golden, which make for great base or a place to have lunch.
---
When Can You Hike to Wapta Falls?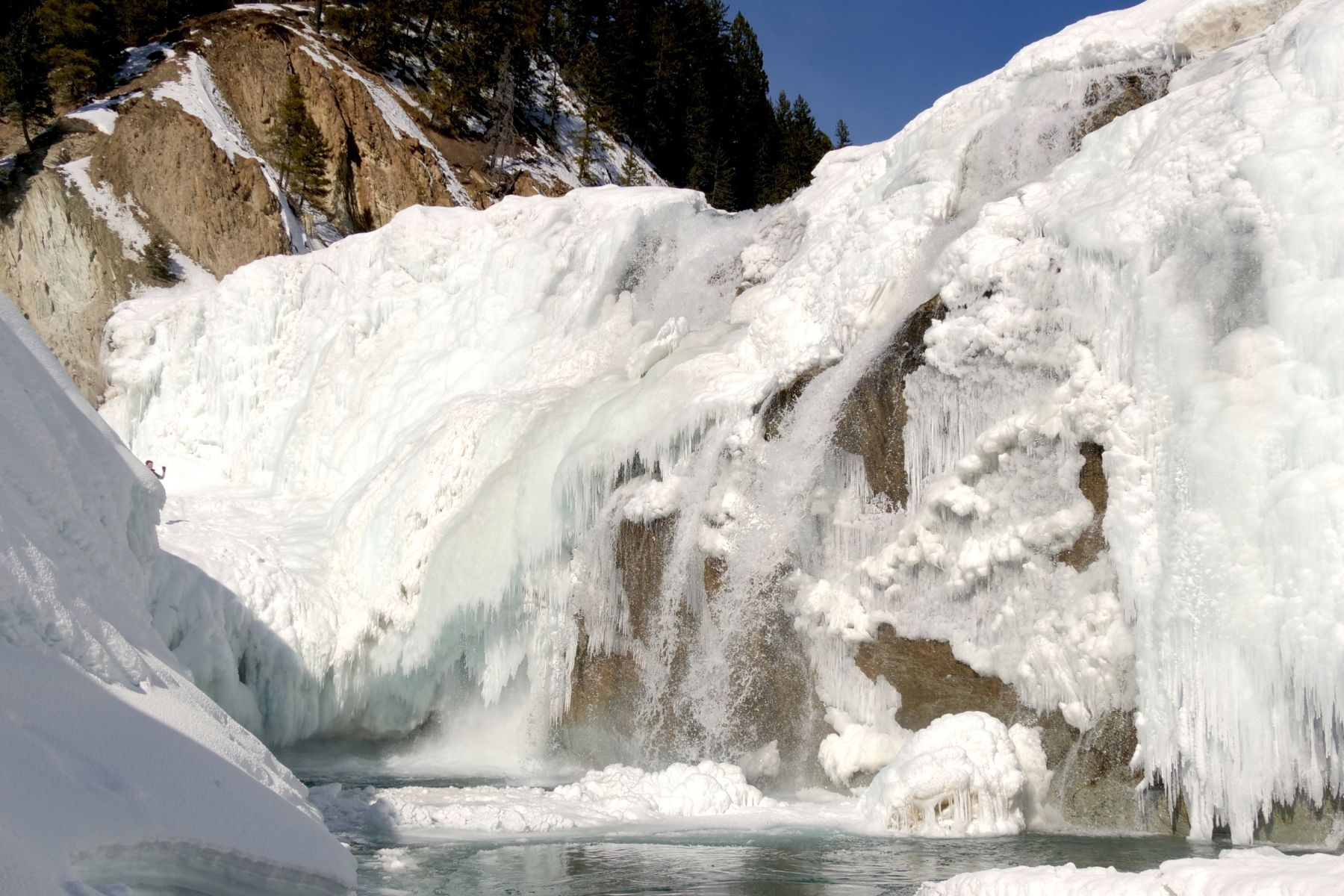 The great thing about Wapta Falls is that you can hike it in both the summer and winter. If you're hiking in the winter, microspikes and a pole may be helpful for those slippery sections.
---
How Hard is the Wapta Falls Hike?
The hike to Wapta Falls hike is one of the easier hikes in Yoho With minimal elevation gain and just 5 km in length it's well suited to hikers of every ability.
---
How Long Does it Take To Hike Wapta Falls?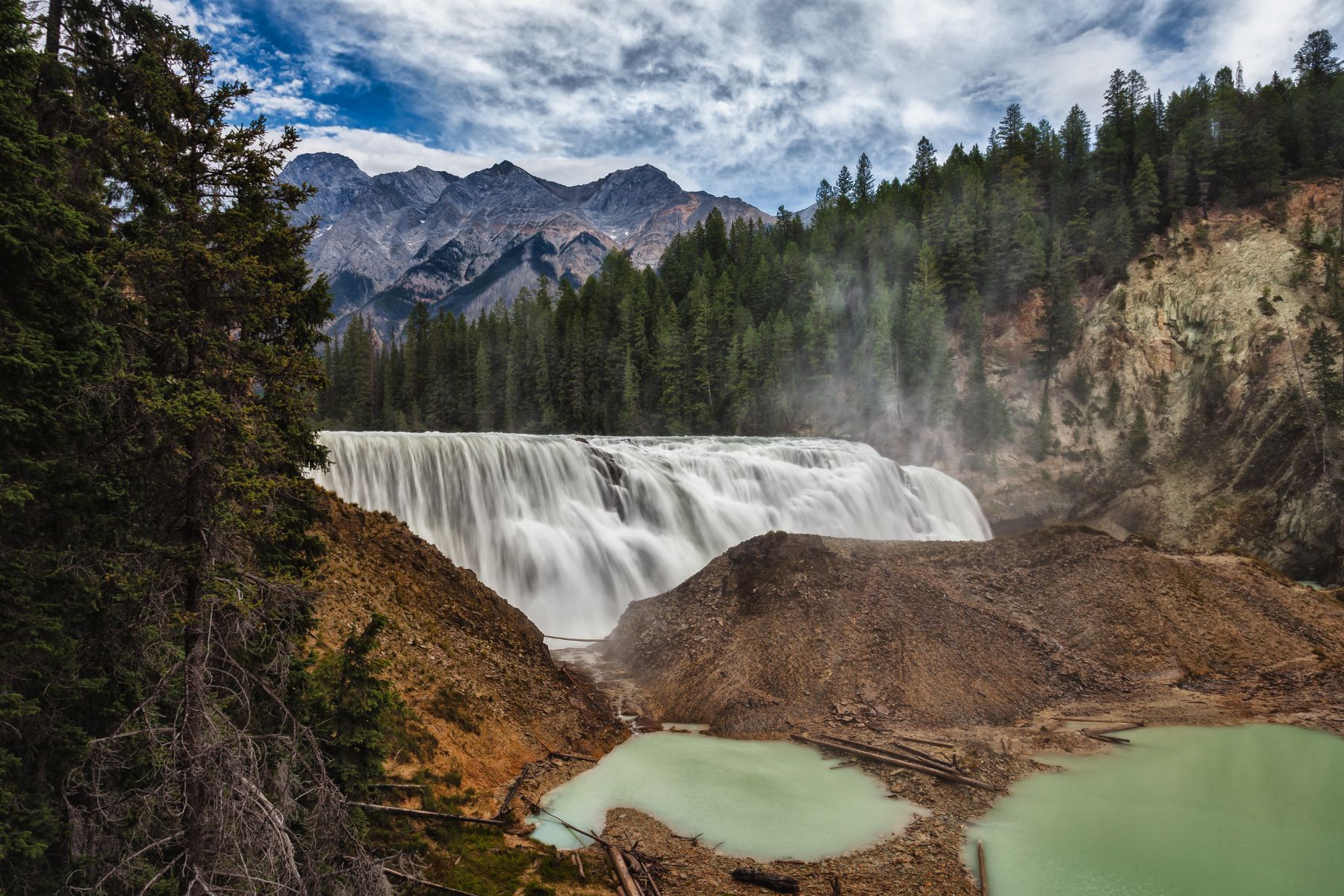 Depending on your pace and fitness it's possible to hike to Wapta Falls and back in an hour. If you plan to hike down to the falls and take photos add in some time for that. We recommend allocating at least two hours of your day to Wapta Falls.
---
Should You Bring Dogs and Kids to Hike Wapta Falls?
Dogs and kids are suitable for this hike. Dogs must be kept on a leash at all times. Strollers are not recommended for this hike.
---
Wapta Falls Trail Notes
Wapta Falls Rd, the road to the trailhead, is not in great shape, watch out for potholes and drive slow.
Don't expect to be alone on this trail, it's a popular one!
If you plan on getting close to Wapta Falls, wear hiking boots that you don't care about getting dirty. It's wet and muddy down there!
Wapta Falls is located in Yoho National Park, and therefore a Parks Pass is needed to hike here.
The Hoodoo Creek Campground is nearby, this is Yoho campsite operates on a first come first serve basis.
---
Wildlife Awareness On the Wapta Falls Trail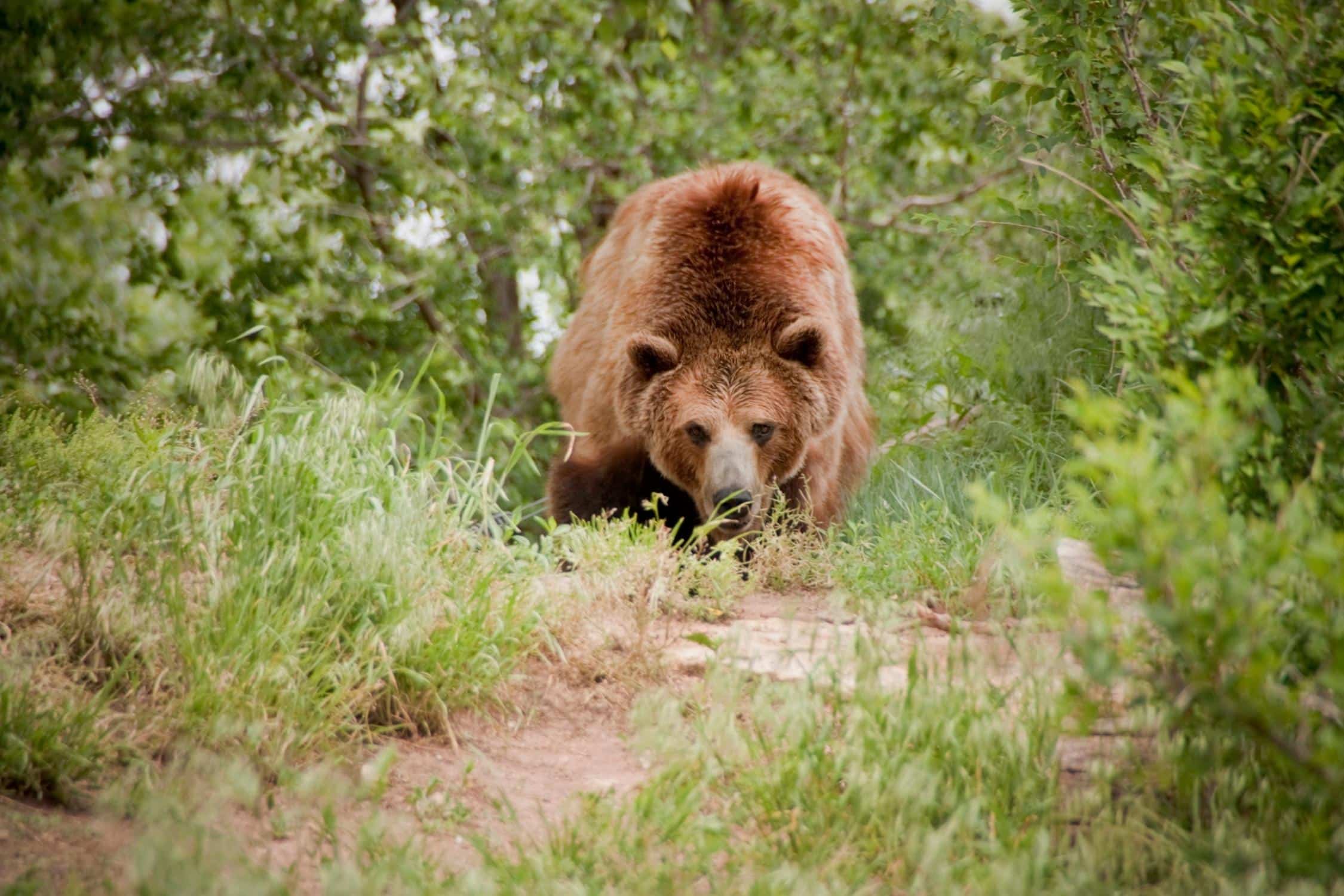 While hiking in the area, you should practice good wildlife awareness. There are frequent sightings of black bears, grizzly bears, moose, coyotes, and cougars in the region. They all present a threat to humans, and we should reduce our impact on their natural lives.
Before any hike in Yoho, pack bear spray, check the park websites for wildlife information (Parks Canada), and then check again for notices at the trailhead.
When you're on the trail, make noise by banging hiking poles, talking, whistling, clapping, or singing. This is particularly important around blind bends and corners, although there aren't many on the Wapta Falls Trail. It's also a busy trail, so you generally don't need to make too much noise, but always be bear aware.
This means staying alert, traveling in a group, minding children and pets, and finally carrying bear spray and knowing how to use it. If you've come to the park without bear spray, there are plenty of places in Golden, Canmore, and Banff that sell spray and holders with employees who will demonstrate how to use it properly.
ULTIMATE Guide To Purchasing A Banff Park Pass (Parks Canada Pass)