The majestic Johnston Canyon in Banff National Park is a family-friendly walk featuring beautiful Banff waterfalls and catwalks extending above the rushing turquoise waters. The sites offered by this canyon are a must-see on any Canadian Rockies visit. The best way to visit this highly sought-after destination is by staying at the family-owned and operated Johnston Canyon Cabins.
The Johnston Canyon Lodge & Bungalows are a series of cozy cabins that have been perfected over the last ~100 years of their operation. These idealistic Banff cabins range from studio-style for those romantic getaway weekends to multi-room cottages that the whole family will enjoy!
Located in the heart of the Rocky Mountains, with access to some of the most scenic trails in Banff National Park and just a quick drive to the town of Banff, Johnson Canyon Lodge is one of the best places to stay in Banff!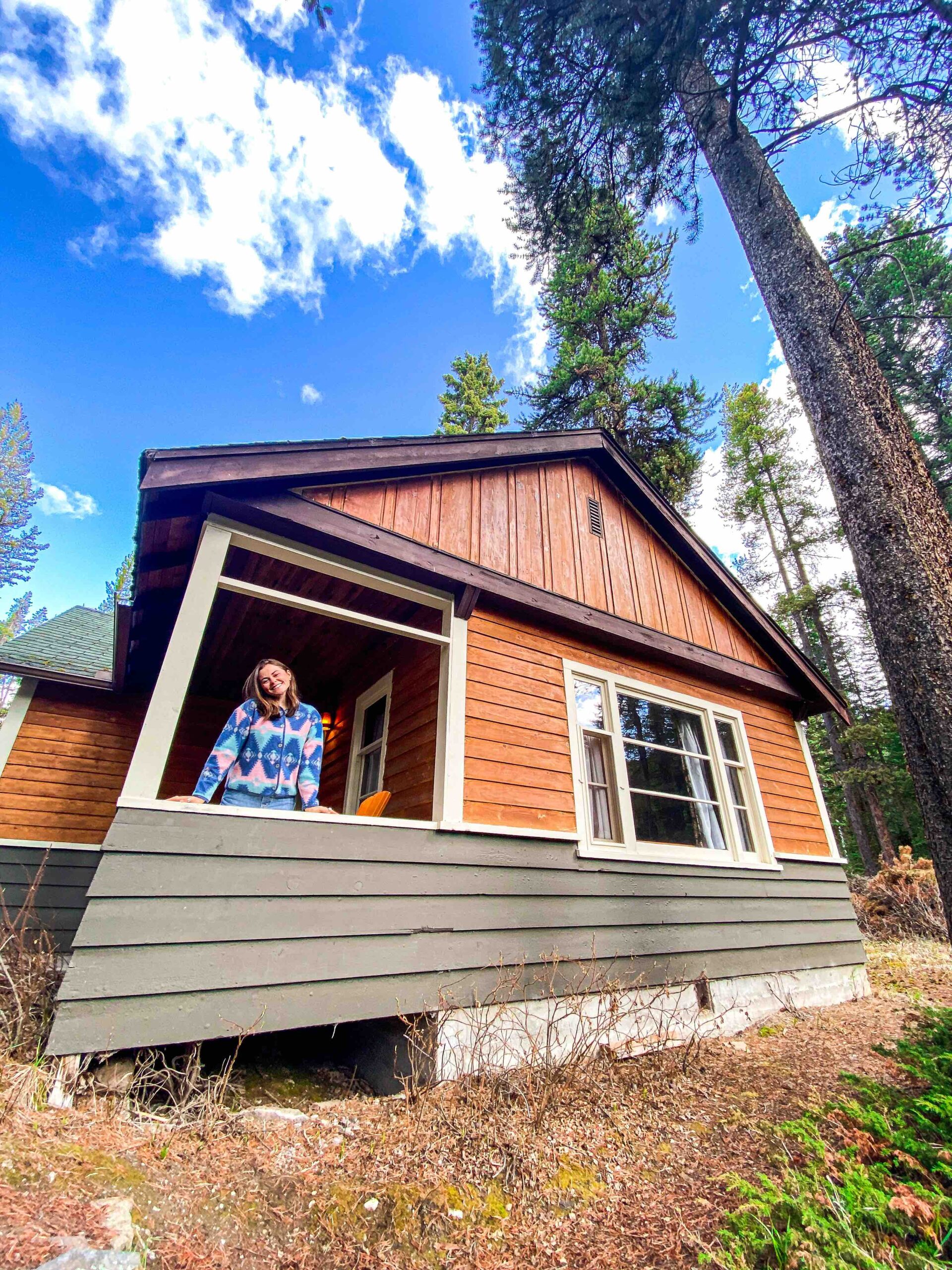 ---
Johnston Canyon Cabins: Quick Details
---
Why You Should Book a Stay at Johnston Canyon Cabins and Bungalows
---
A Great Location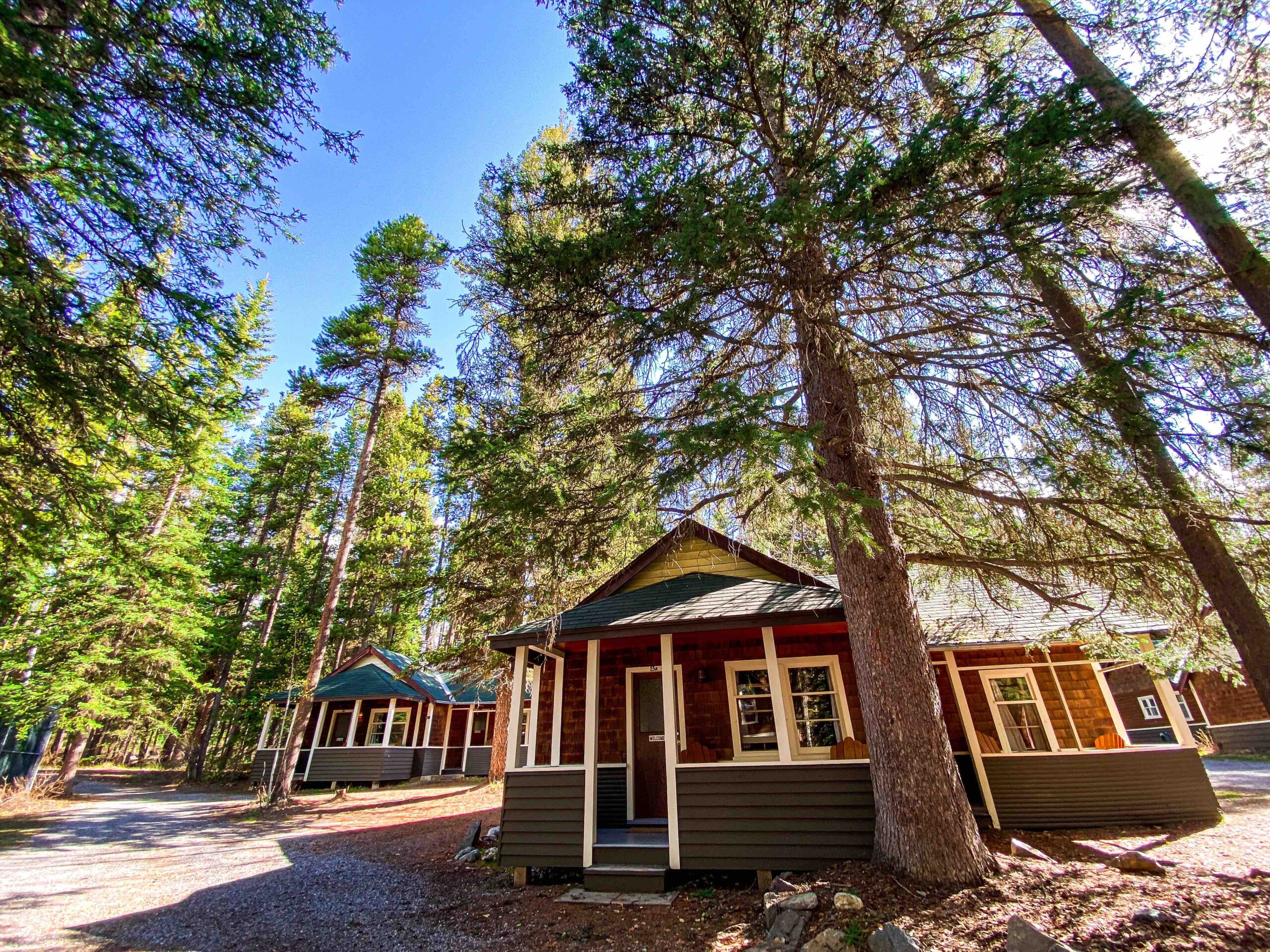 The Johnston Canyon Lodge & Bungalows offer an unbeatable location – close enough to the Town of Banff and Lake Louise Village for day trips, yet remote enough that you can embrace the natural environment of the Rocky Mountains.
The bungalows are placed throughout tall, lush trees in a cozy village setting at the base of Johnston Canyon. The trees provide a perfect sound barrier between your cozy cabin and the scenic Bow Valley Parkway that borders the resort, ensuring the main sound you hear from your porch is the flowing river down below you.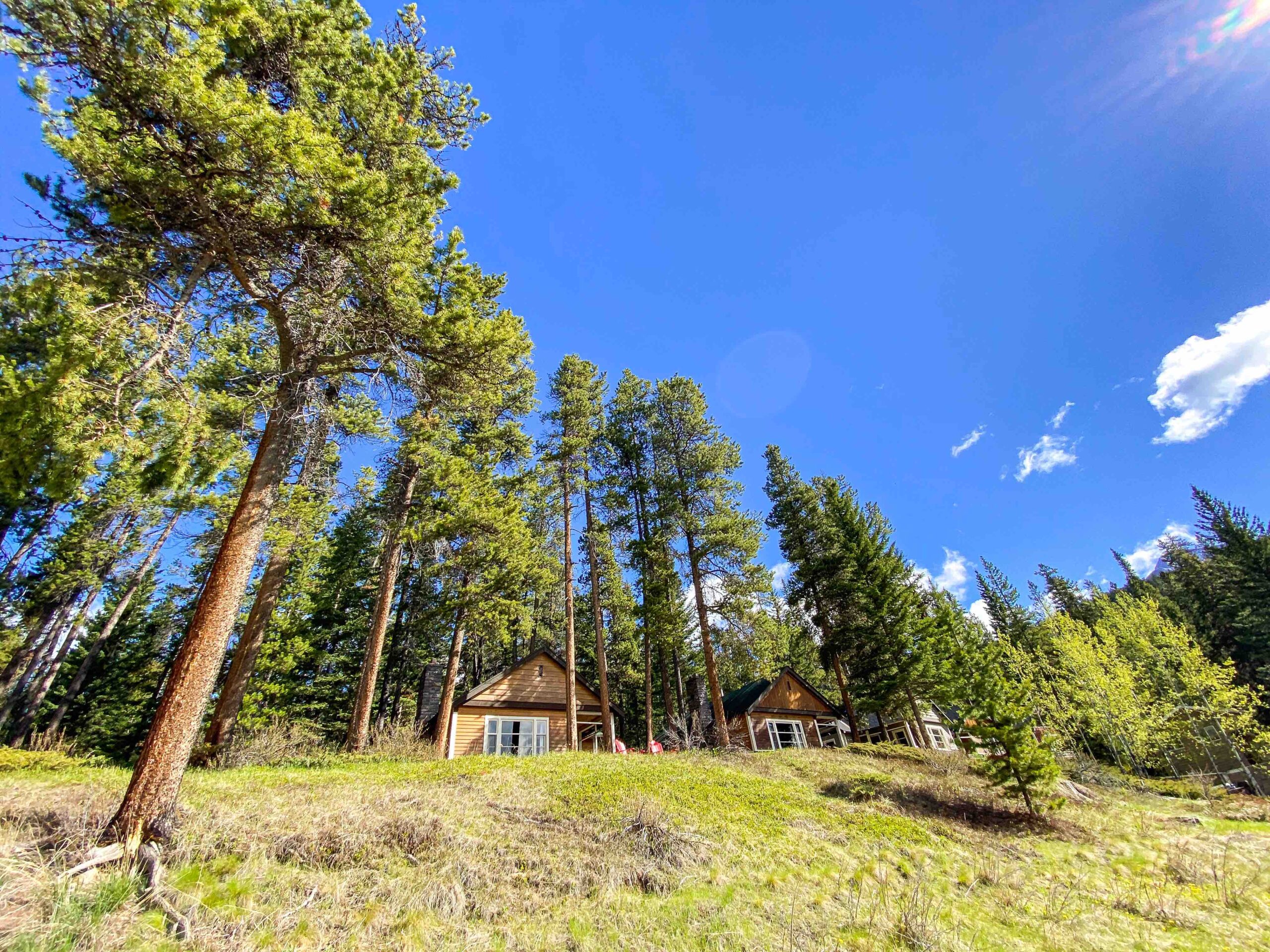 Each bungalow is just a quick walk to the main Johnston Canyon Trail but is placed far enough back that you still have privacy from the many tourists who frequent the trail each day. Between the beautiful forest, mountain views, and easy canyon access, this is the ideal spot for anyone looking to enjoy nature from the comfort of a cozy cabin!
Despite the peace and quiet that the resort offers, it is still just a short drive from many must-see Banff National Park destinations:
---
Premium Access to One of the Most Popular Spots in Banff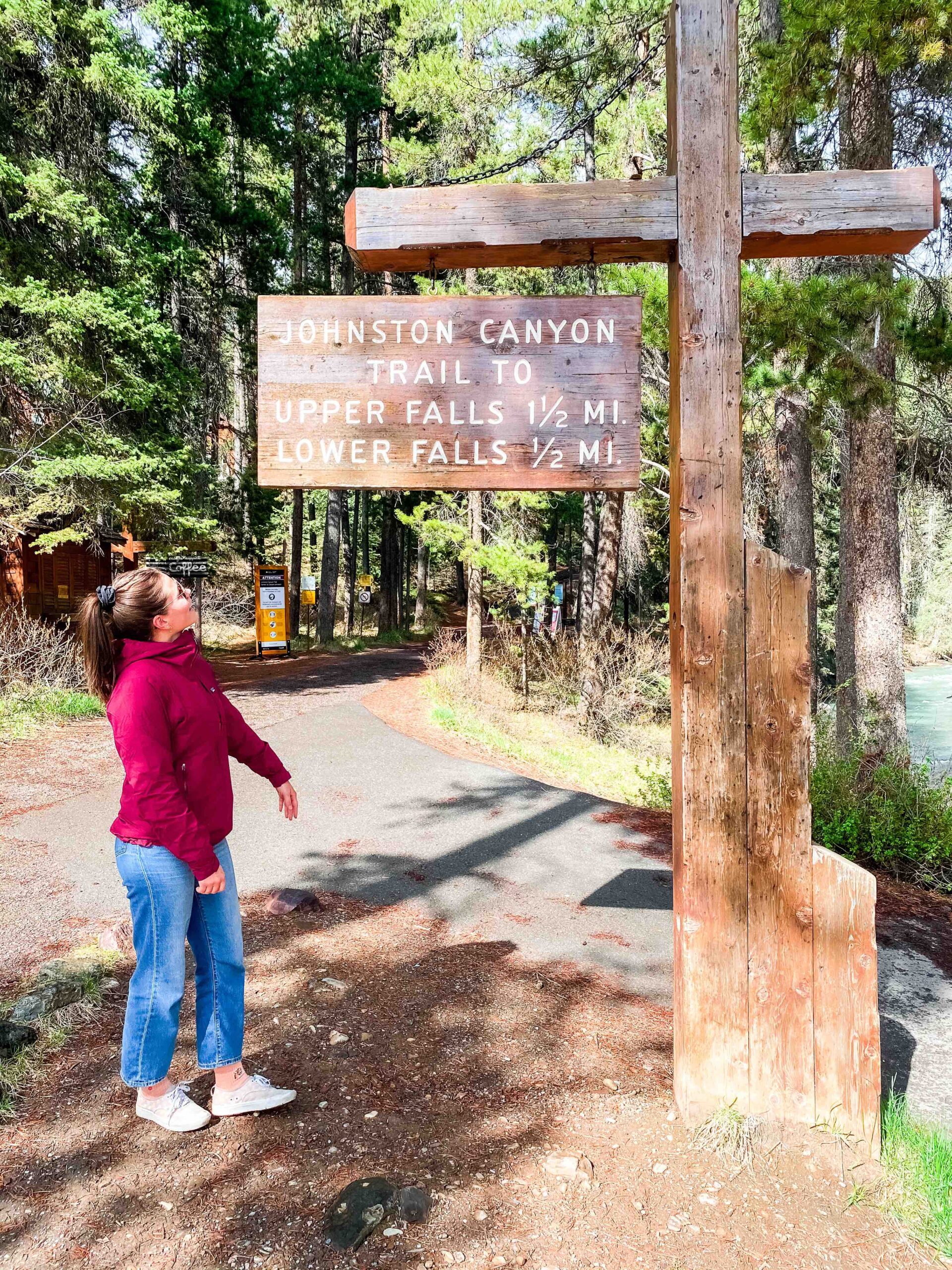 Johnston Canyon and its well-known hiking trails is one of the most popular hikes in Banff National Park. This Canyon is loved by all ages and is kid friendly, making it a great addition to any Banff vacation itinerary. With powerful waterfalls, a turquoise river, a cave tunnel, and mesmerizing rock formations, how could you pass up a visit?
By staying at the Johnston Canyon Resort, you gain access to this incredible hike at any time of day! You can beat the crowd by strolling the Canyon with your morning coffee before breakfast or can wait until the crowds disperse to enjoy a quiet evening in the Canyon.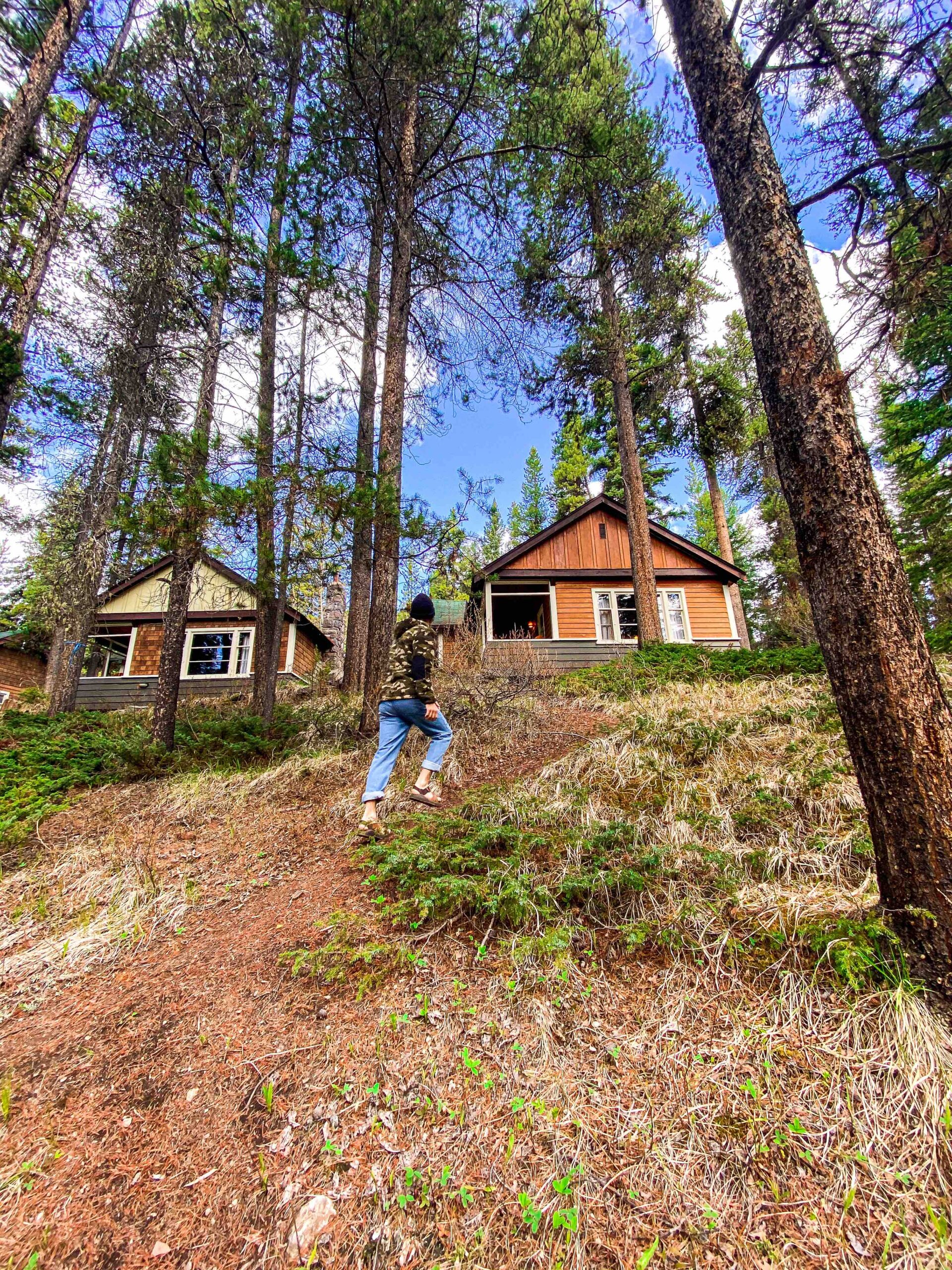 Before my stay at Johnston Canyon Lodge & Bungalows, I had visited the gorgeous Canyon several times as a day trip. However, it wasn't until I stayed at the resort that I got to experience all that Johnston Canyon has to offer – its true beauty shines when you are the only person around to see and enjoy it!
---
Prepare for Full Relaxation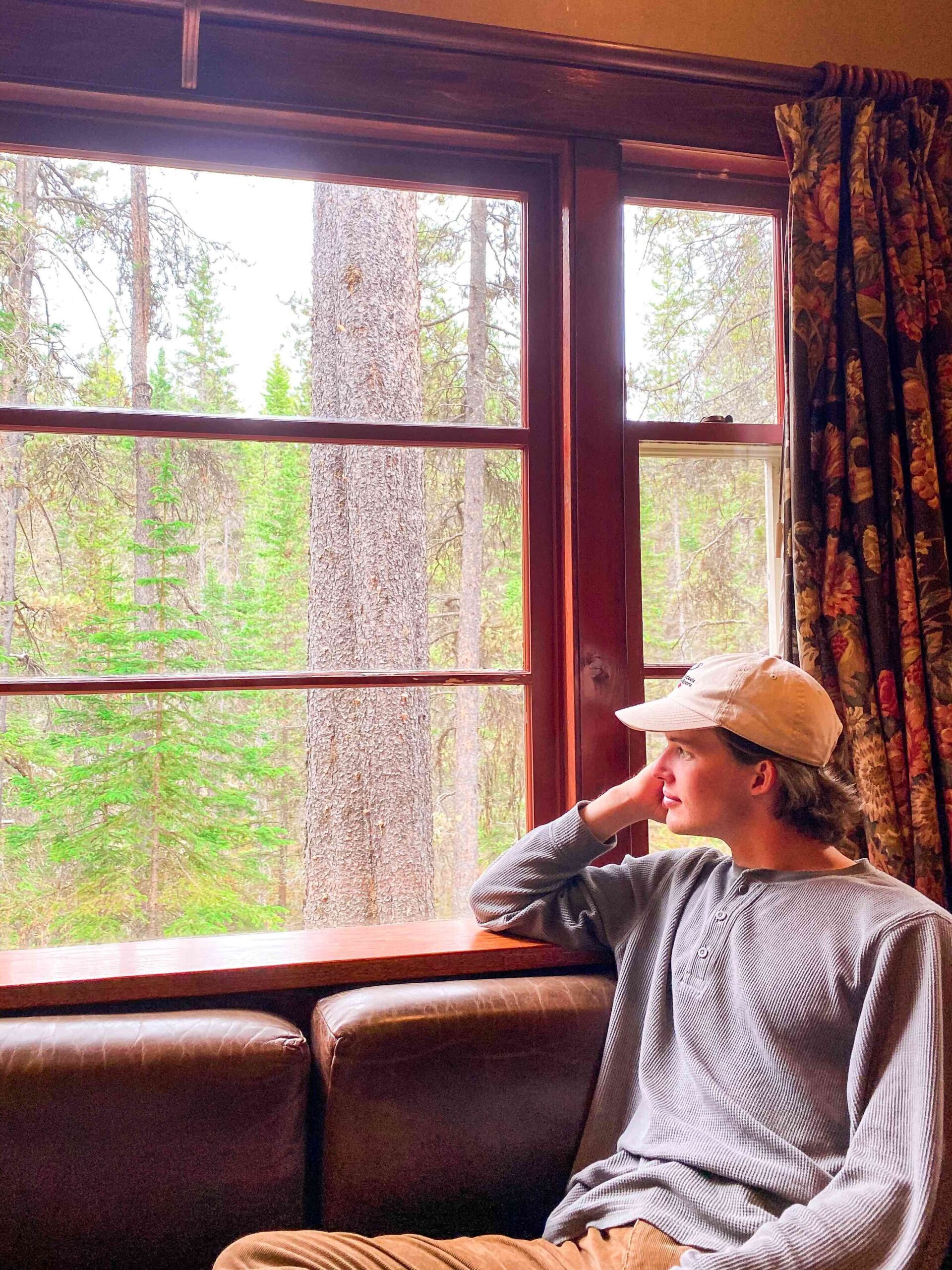 When staying at the Johnston Canyon Lodge & Bungalows, you can expect to reach a new level of relaxation and contentment. The location of the bungalows paired with the adorable village setting allows you to feel remote and connected to nature. Meanwhile, hubs of fun and liveliness are just a quick drive away.
Being immersed in this Alberta cabin setting allows you to truly disconnect from the hustle and bustle of everyday life. Though the resort does have cell phone signal, the lack of WIFI on site paired with the calming environment ensures you forget to check your phone.
In the time of all-things-digital, it is a great feeling to be present in the moment, and Johnston Canyon Lodge & Bungalows will definitely help you achieve this.
---
Cozy Cabin Atmosphere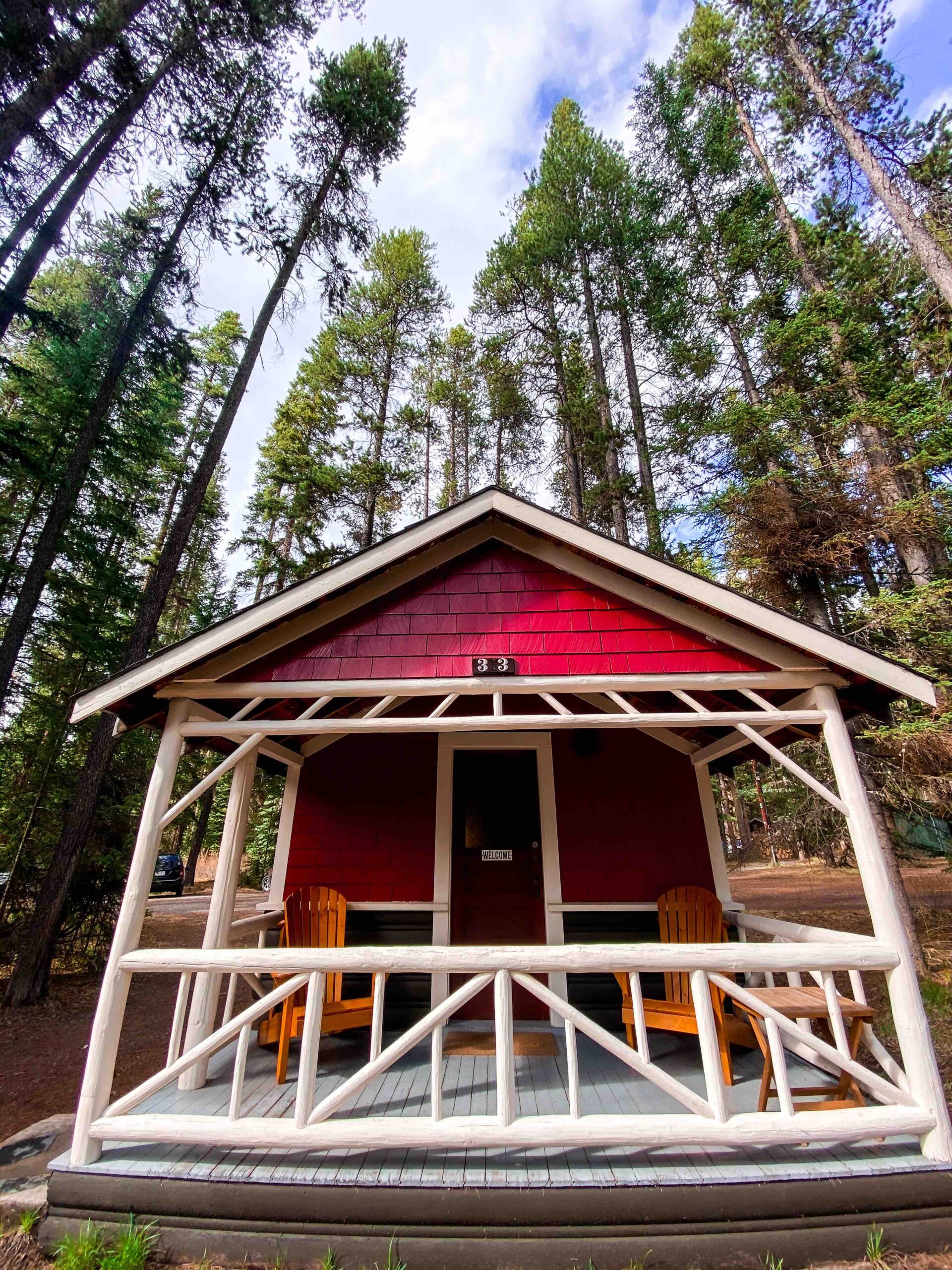 The Johnston Canyon Lodge & Bungalows team has done an excellent job at creating a cozy cabin atmosphere. We enjoyed staying in one of the Large Bungalows, which provided all the necessities for a perfect cabin getaway.
The cabin is rustic, with a beautiful wood-themed interior, stone fireplace, and vaulted ceilings. There is something about lighting a fire in your stone fireplace while the morning air is still brisk or after the sun sets that makes every moment more special!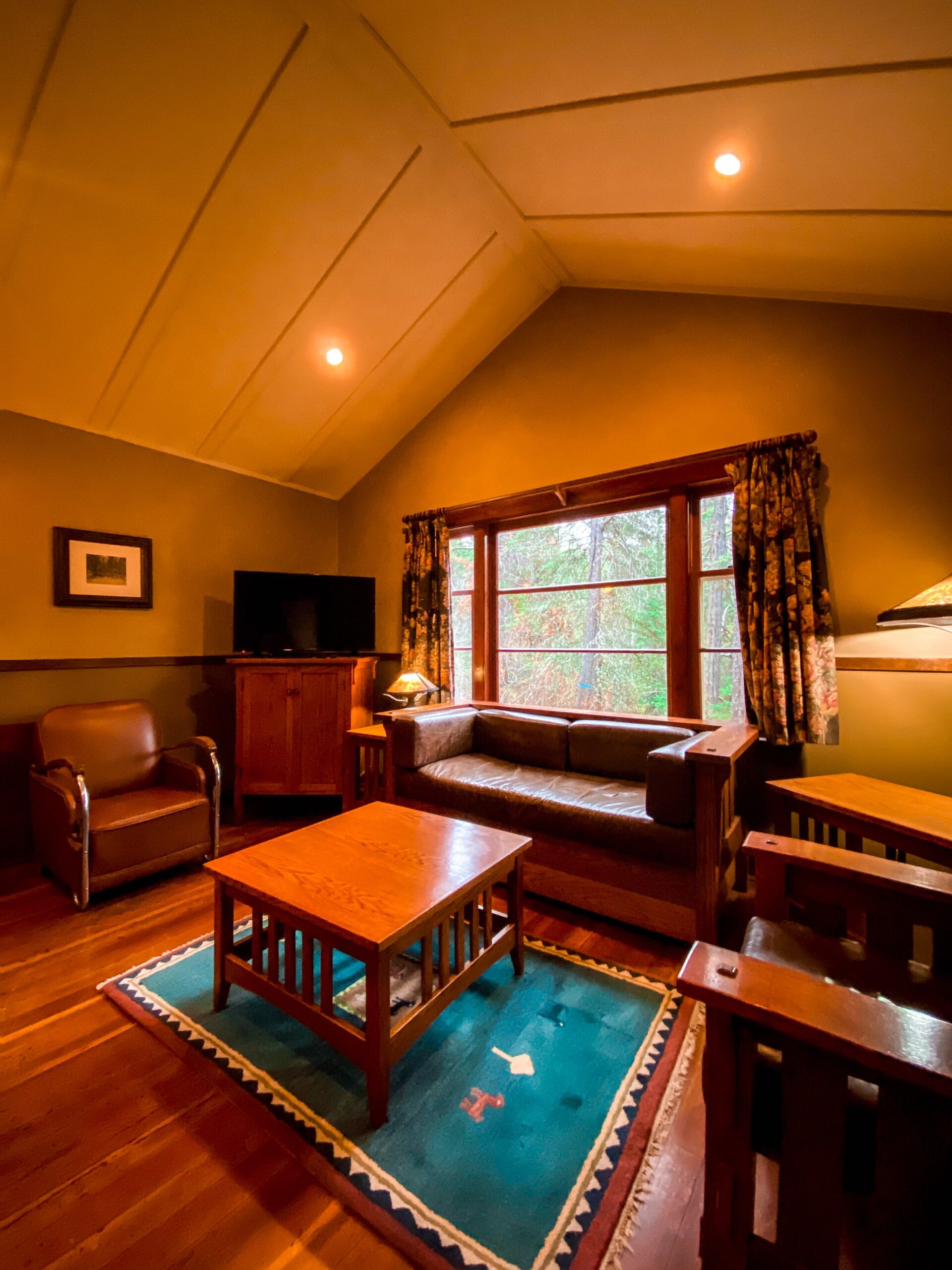 No matter where you are in the cabin – the covered porch looking to the river, the couch in front of the fireplace, the spacious clawfoot bathtub, looking out the kitchen window to the forest – feelings of comfort and relaxation are bound to follow!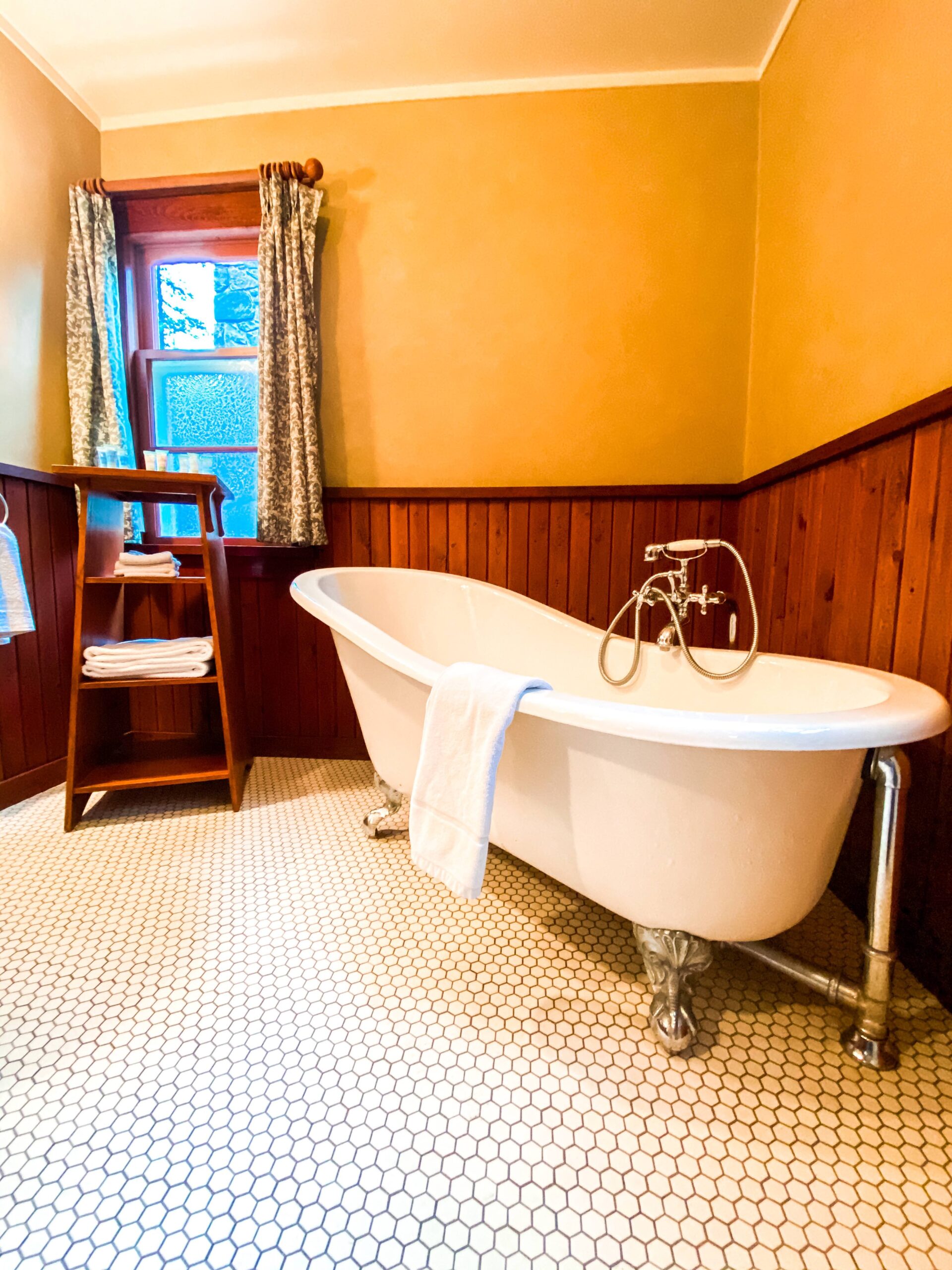 ---
Johnston Cabins Have Many Different Room Types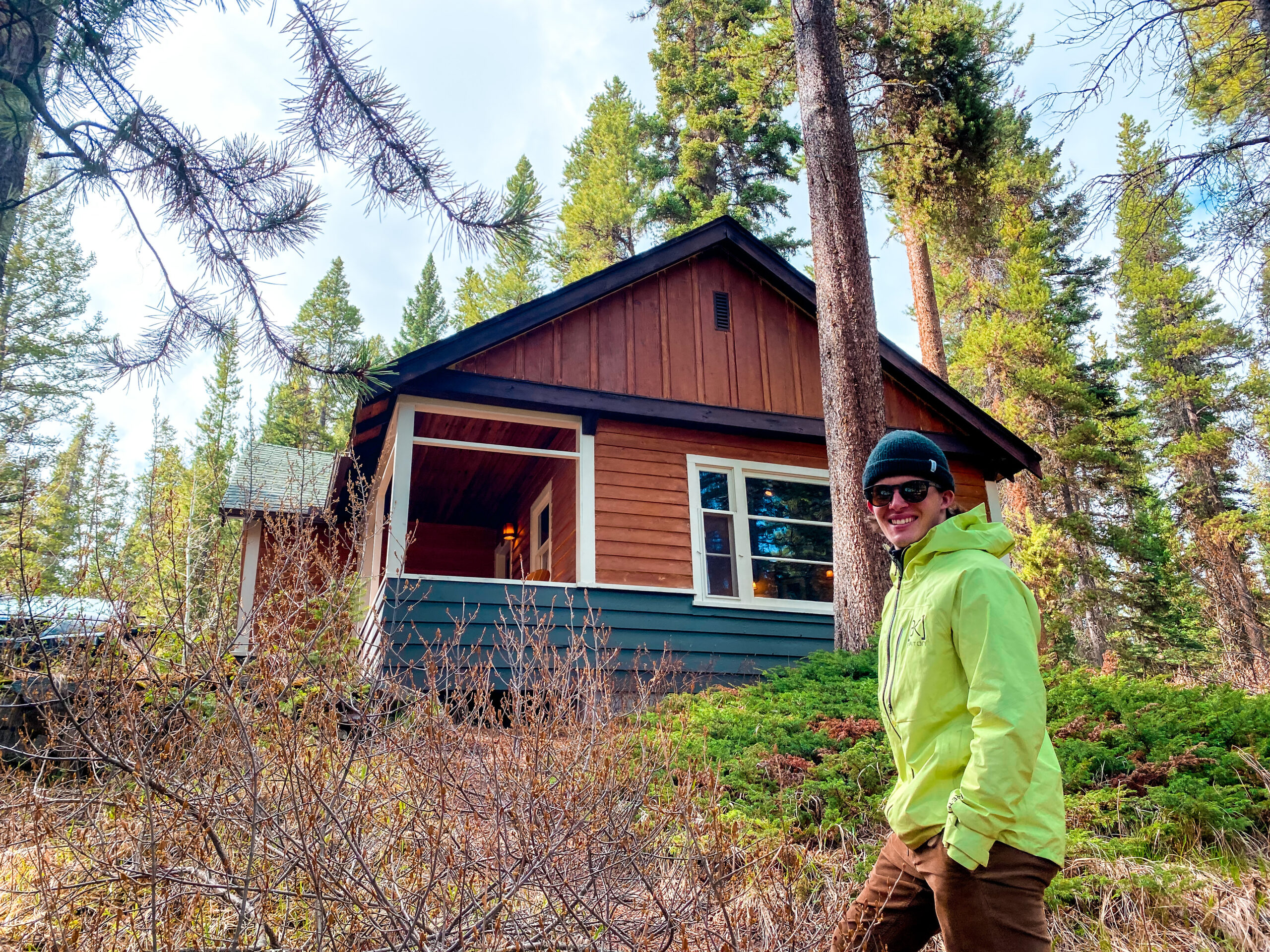 Johnston Canyon Lodge & Bungalows has a room type to suit any visitor. Ranging from studio-style cabins to multi-room cottages, the bungalows cater to couples, groups of friends, and families.
The company website lists the accommodations as either 2 or 4 person, but you can add a cot or hide-a-bed to up the sleeping capacity if needed!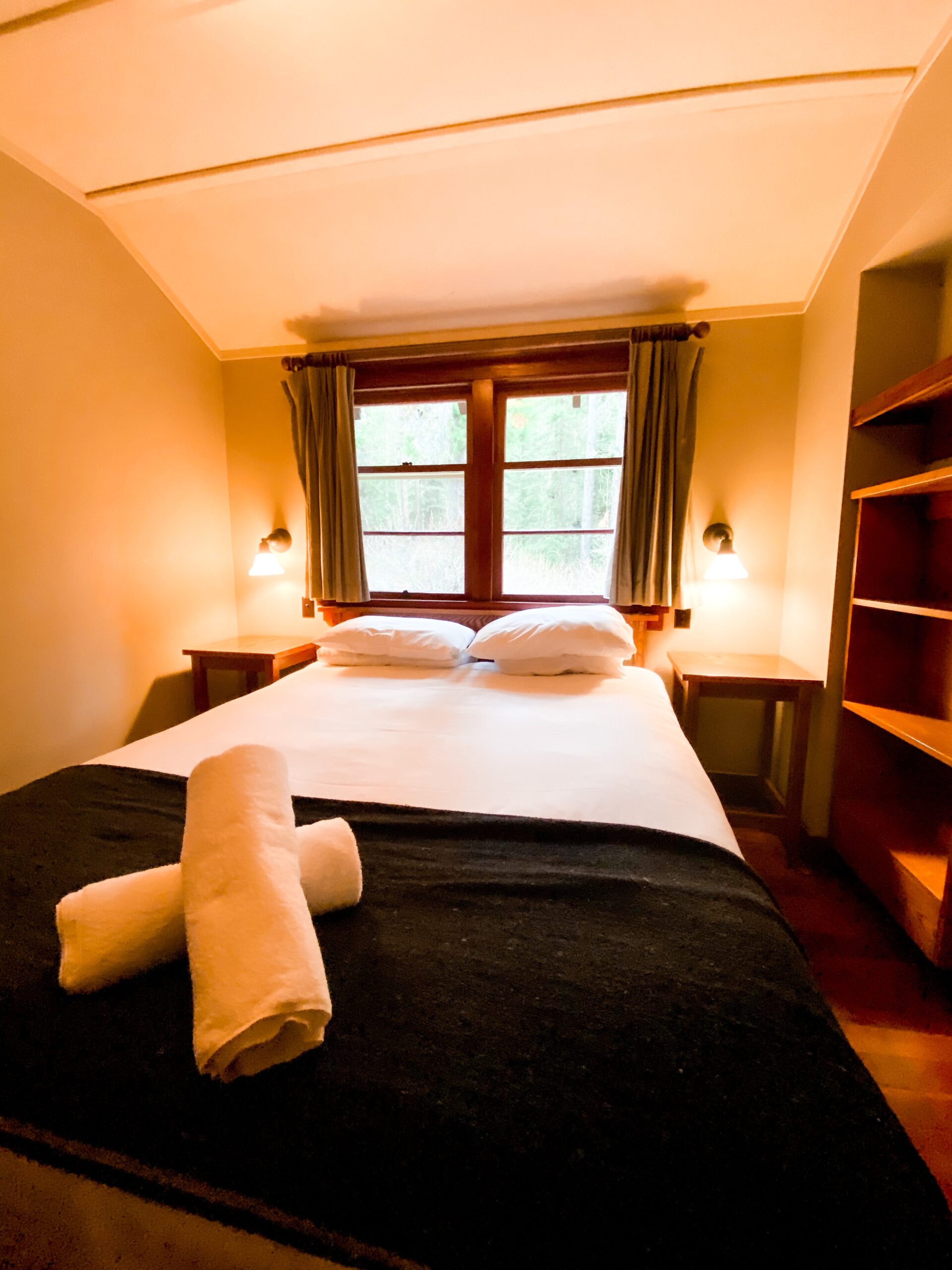 The company website has great photos and descriptions of each accommodation type, but in my opinion: the Studio is the most economical option (perfect for a romantic getaway or solo retreat), the Family Cottage is ideal for families with young kids, and the Large Bungalow is their largest offering that is perfect for a small group of friends or larger families!
---

There Are a Long List of Activities Nearby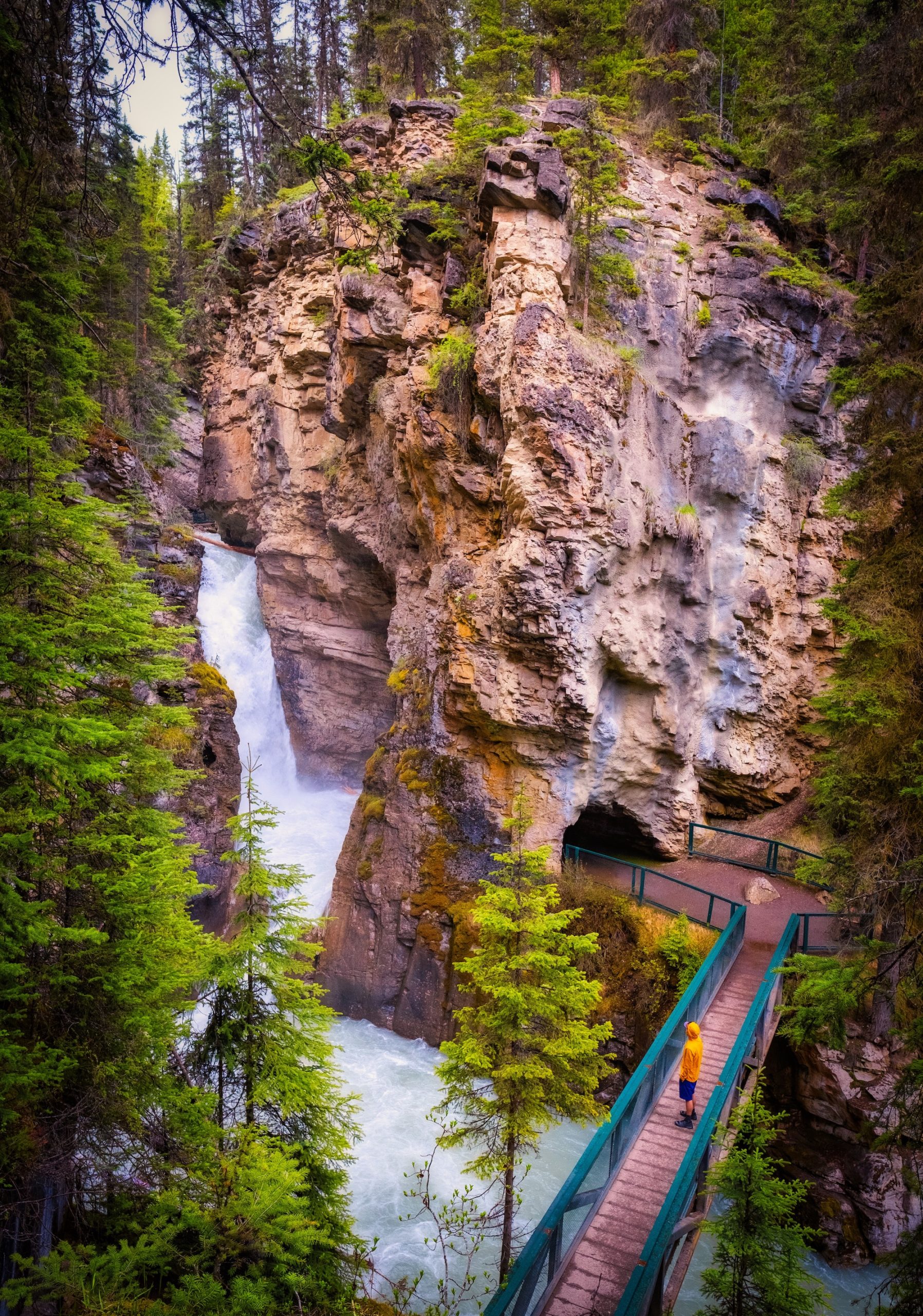 No matter where you are in Banff National Park, there will always be a never-ending list of activities to do nearby. But when you stay at Johnston Canyon Lodge & Bungalows, you are definitely in the middle of some of the best offerings in Banff!
Right at your finger tips, you have the one and only Johnston Canyon walk, as well as an Icewalk in the winter! Check out this detailed article to gain a great idea of what to expect when setting on an adventure into the Canyon!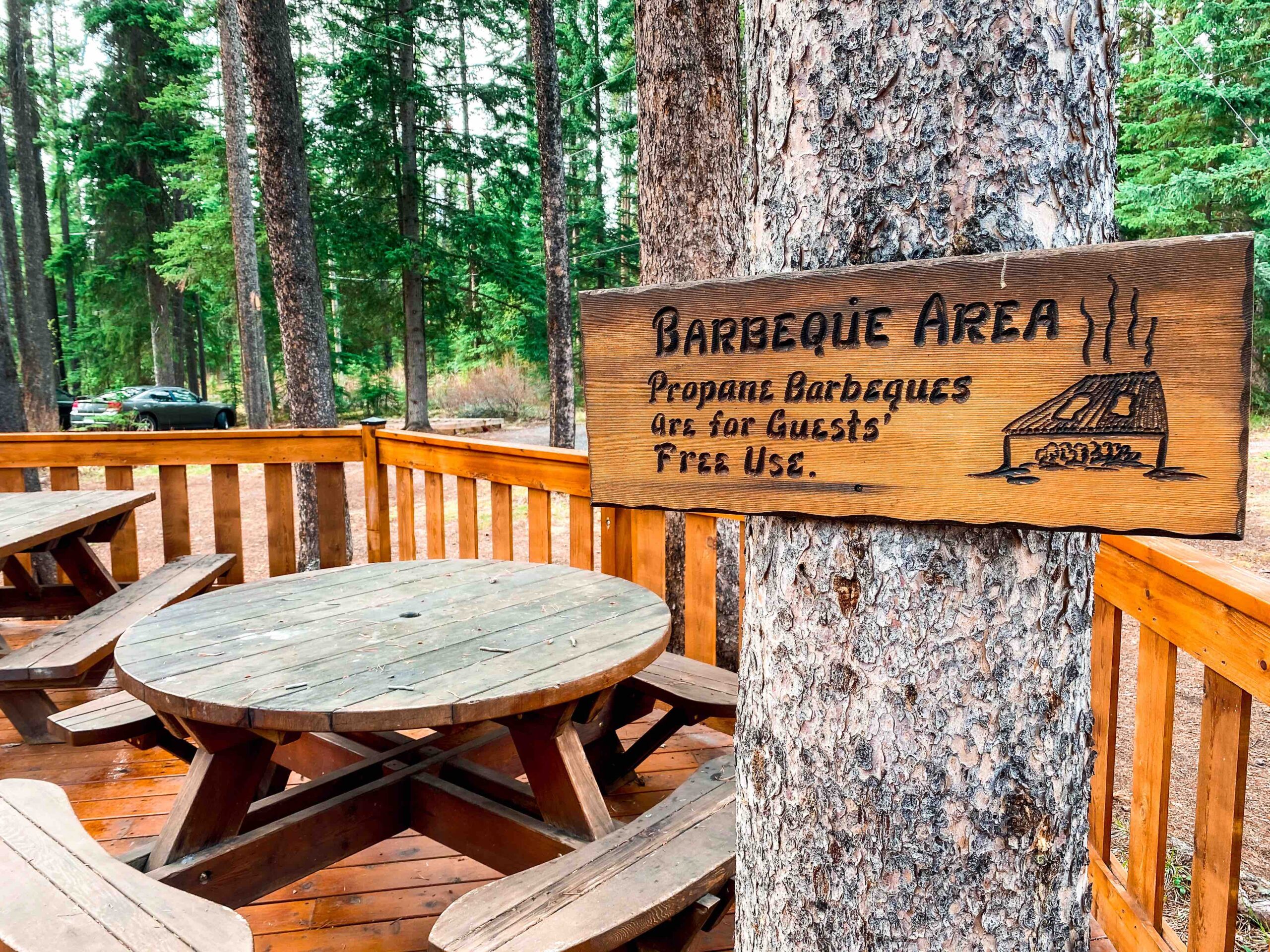 The resort has a large BBQ and eating area which is the perfect way to spend a summer evening. There is also a beautiful tennis court on site, so be sure to bring your rackets – we weren't able to find tennis gear rentals, so be sure to come prepared to enjoy this awesome court!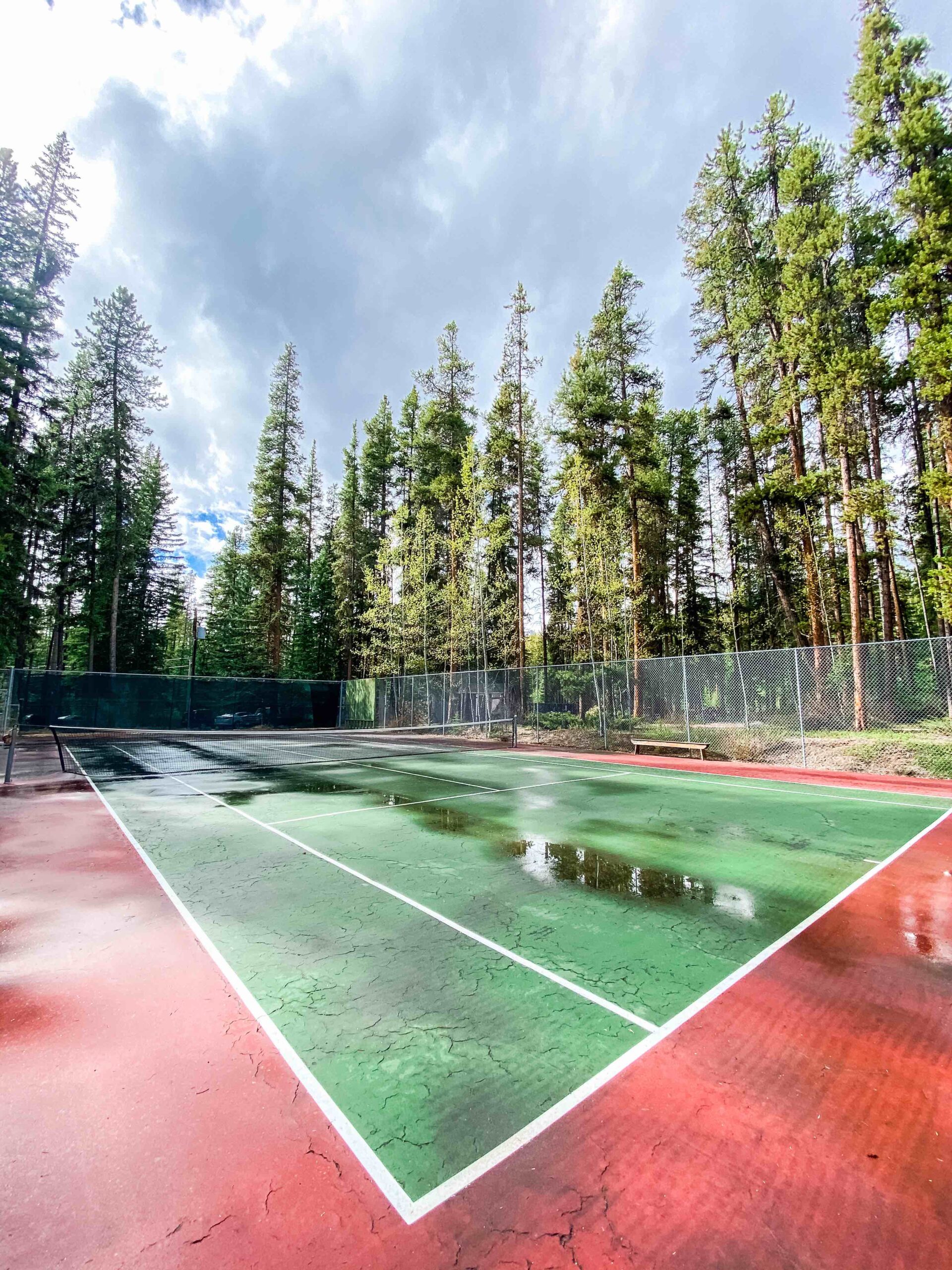 Next up is the gorgeous Bow Valley Parkway! The best mode of transport for exploring the Parkway is by bike, so be sure to bring yours along or head to the front office to grab a rental bike. The Parkway is a long, winding road with lots of scenic pit-stops that are worth checking out.
The Johnston Canyon Lodge & Bungalows is placed nicely between the Town of Banff and Village of Lake Louise – both of which are worth your time! Some great day-trip activities between Banff and Lake Louise include:
---
Delicious Food Options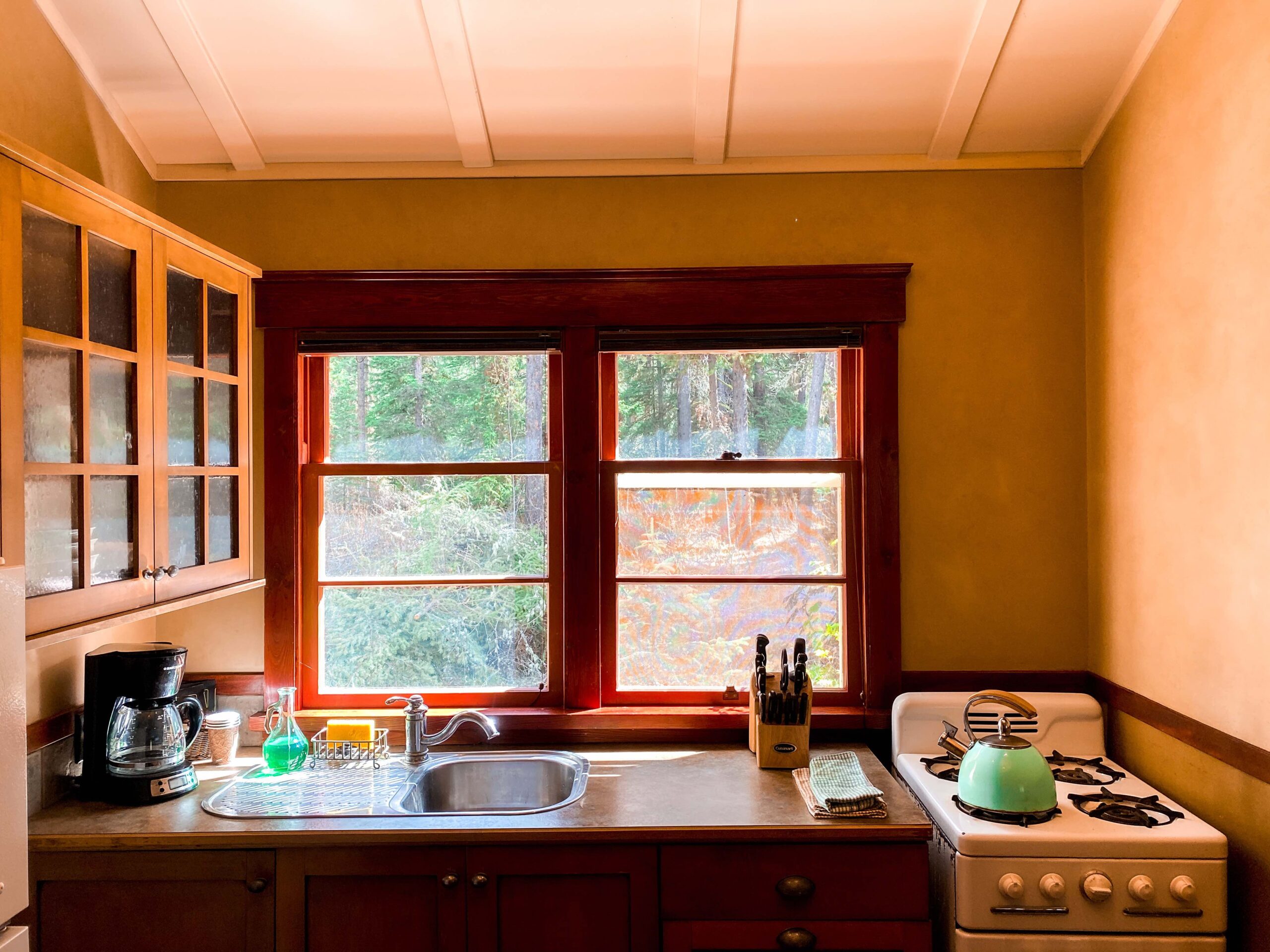 At the Johnston Canyon Lodge & Bungalows, you have plenty of options for enjoying some tasty eats! The Market Cafe, located in their adorable gift shop, is the perfect spot to grab a specialty coffee or a baked good. It's one of the best Banff coffee shops not in Downtown Banff. The Cafe also has some grab-and-go options that are perfect for taking with you on your day trips!
For a more substantial meal, you will need to check out the Blockswift Bistro! This Bistro is just a minute's walk from your front door and offers breakfast, lunch, and dinner.
Whether you want to cozy up by the fireplace after a long day's adventure or enjoy the views from the riverside patio, this is an excellent spot for some locally inspired dishes!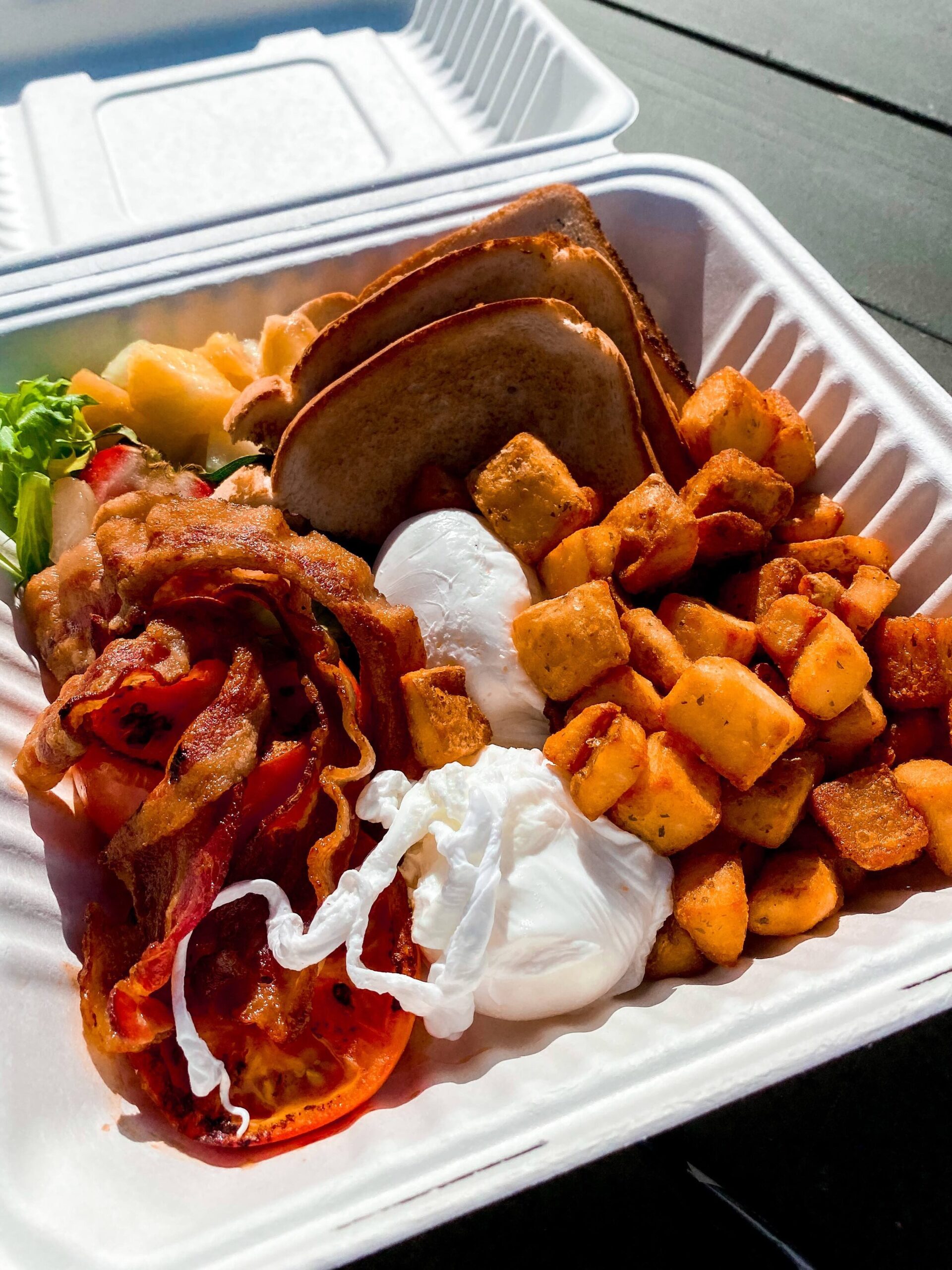 If you are planning a multi-night stay, it is always nice to enjoy some home-cooked meals, too! Their outdoor BBQ area is a great place to cook up your own meals or choose an accommodation type that offers a kitchen.
In our Large Bungalow, we had everything we needed, from appliances to utensils, to create tasty meals.
---
Things to Note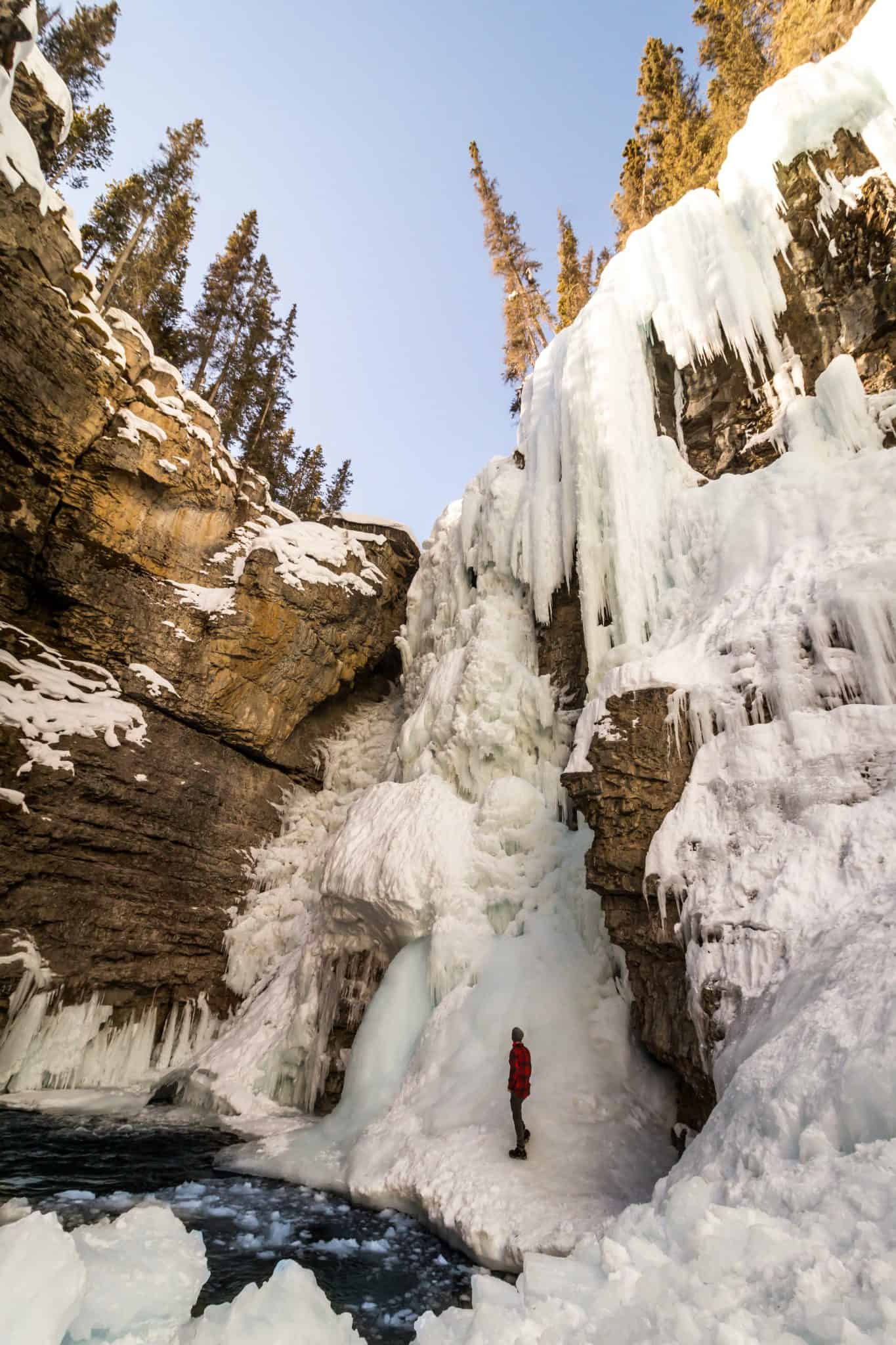 When first looking into Johnston Canyon Lodge & Bungalows, there are some mixed reviews. One common review mentions issues with the cleanliness of the cabins – we found our cabin to be clean and well-prepared for our arrival, with no housekeeping issues to note.
The great thing about these cabins is their rustic appeal! The company has been running for nearly 100 years, which gives the cabins a unique sense of character that cannot be found in newer developments.
I personally love the original hardwood flooring that is chilly on your feet in the early morning or the old (but fully functional) kitchen appliances, but I can appreciate that that may not be everyone's cup of tea.
These bungalows are meant to be enjoyed as a rustic cabin getaway rather than a luxurious hotel stay (that's up the road at the Chateau). However, I definitely still felt spoiled by all the offerings at our cozy cabin. I wouldn't change a thing!
---
Know Before You Go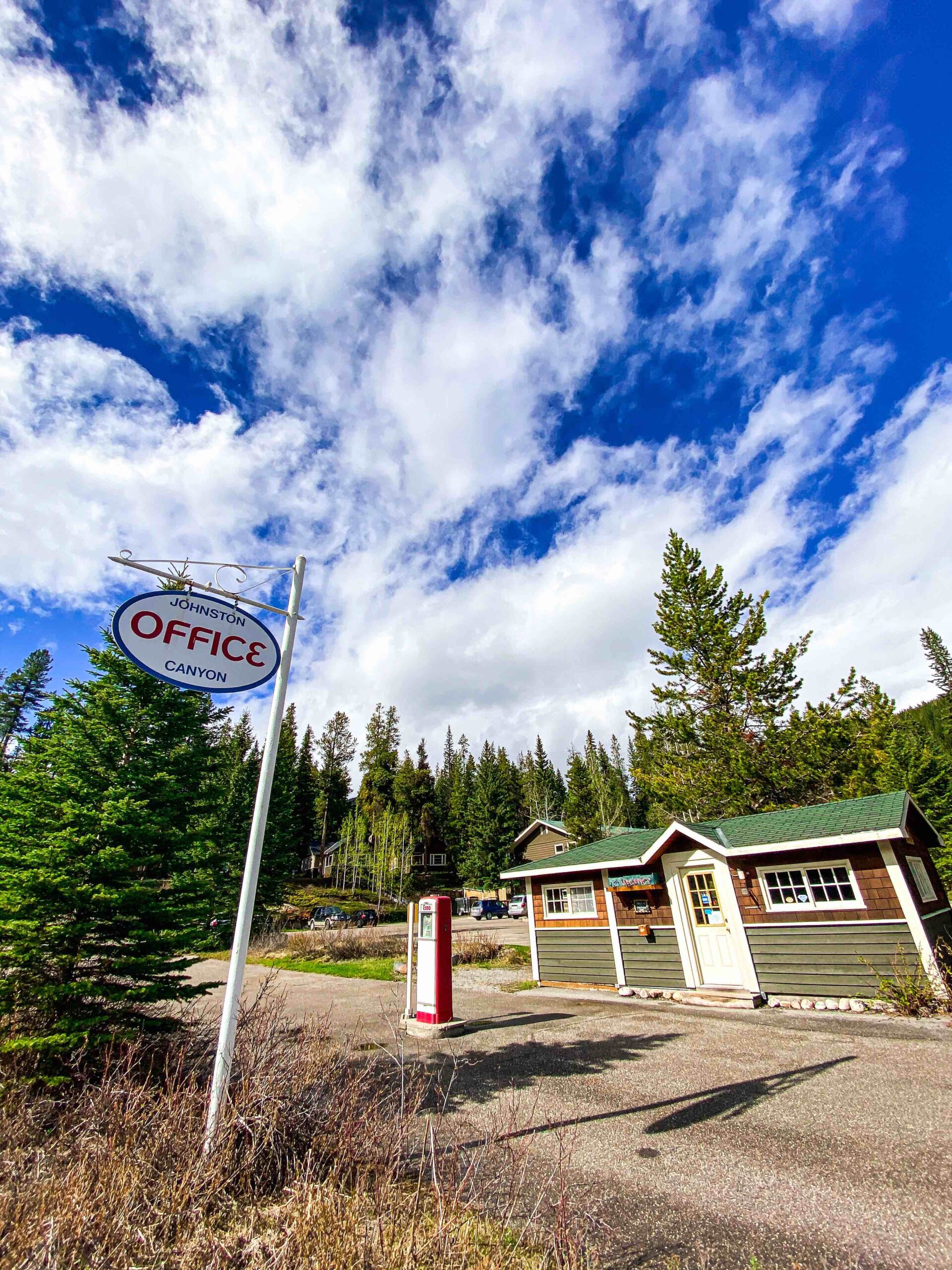 Bow Valley Parkway: Sometimes the Bow Valley Parkway is closed for vehicle access. If you are staying at the resort, you simply need to show proof of your stay to the gate attendants and they will happily let you through. The Parkway being closed is a great perk when staying at the resort, as the Parkway is open to enjoy by foot or bike! And it's one of the best places to bike in all of Banff! Not to mention, the Canyon is much quieter than when the Parkway is open to vehicles.
Located in Banff National Park: With Johnston Canyon Lodge & Bungalows located in Banff National Park, you will need a National Parks Pass for your vehicle. This can be purchased at the park gate, or online before your arrival. 
On Site Rentals: The front desk offers bike rentals at a reasonable fee. They also have board games and countless DVDs to borrow for your stay! Be sure to bring along any outdoor activities (frisbee, baseball, yard games, etc.), as there is lots of open space to enjoy them and they were not available to borrow on site.
Drinking water: The water at the resort is drinkable. There is no need to bring your own water, but don't forget your reusable water bottles to fill up before your adventures.
Kitchen supplies: The kitchen in the Large Bungalow is fully stocked with pots, pans, dishes, and eating and cooking utensils for your stay. It also has a full fridge, 4 burner stove, small oven, microwave, kettle, and coffee maker. Be sure to check out how the kitchens vary with each accommodation type!
Come prepared: Other than the cafe and restaurant on site, the closest grocery store is back in the Town of Banff. Be sure to come prepared with any groceries you may need so that you can fully relax upon arrival!
---
↓ Join the community ↓
The Banff Blog Facebook Group is your headquarters for the Canadian Rockies' travel advice and information. Including hike info and off-season travel information. You can also meet new adventure buddies.

---
Plan Your Trip to the Canadian Rockies