Just because summer is over and snow is falling doesn't mean hiking is over. There are some fantastic winter hikes in Kananaskis Country and Canmore, perfect for enjoying the beautiful snow and fresh mountain air.
Summer hiking season typically winds down around the end of September in the Canadian Rockies. Come mid-October, it will likely be winter conditions in Kananaskis, especially at elevation. Sometime in early November, Canmore will also see significant snowfall.
Winter in the Rockies lasts until April, and sometimes into May. So while you may be waxing the snowboard and polishing the cross-country skis, keep in mind you can also put on a pair of waterproof hiking boots and get out there!
Winter hiking in Canmore and Kananaskis is a great way to enjoy the magic of the Rockies without the crowds of Downtown Banff and other popular attractions. We'll break down some of our favorite winter hikes here.
Unless otherwise noted, all are nice half-day outings that don't require avalanche gear or training. From frozen waterfalls to snow-covered lakes, these winter hikes in Kananaskis all offer something amazing for all!
---
A Kananaskis Conservation Pass is Needed to Hike in Kananaskis
Visitors are required to hold a Kananaskis Conservation Pass. The area covered in the pass includes Kananaskis and the Bow Valley corridor. Passes may be purchased online and are attached to a license plate number. Requirements are around vehicles and parking, not the individual. This includes parking at the Canmore Nordic Center or Grassi Lakes.
Kananaskis Conservation Pass Prices
Daily Pass: $15 (registers one vehicle)
Annual Pass: $90 (registers two vehicles)
---
The Best Winter Hikes in Kananaskis
---
Chester Lake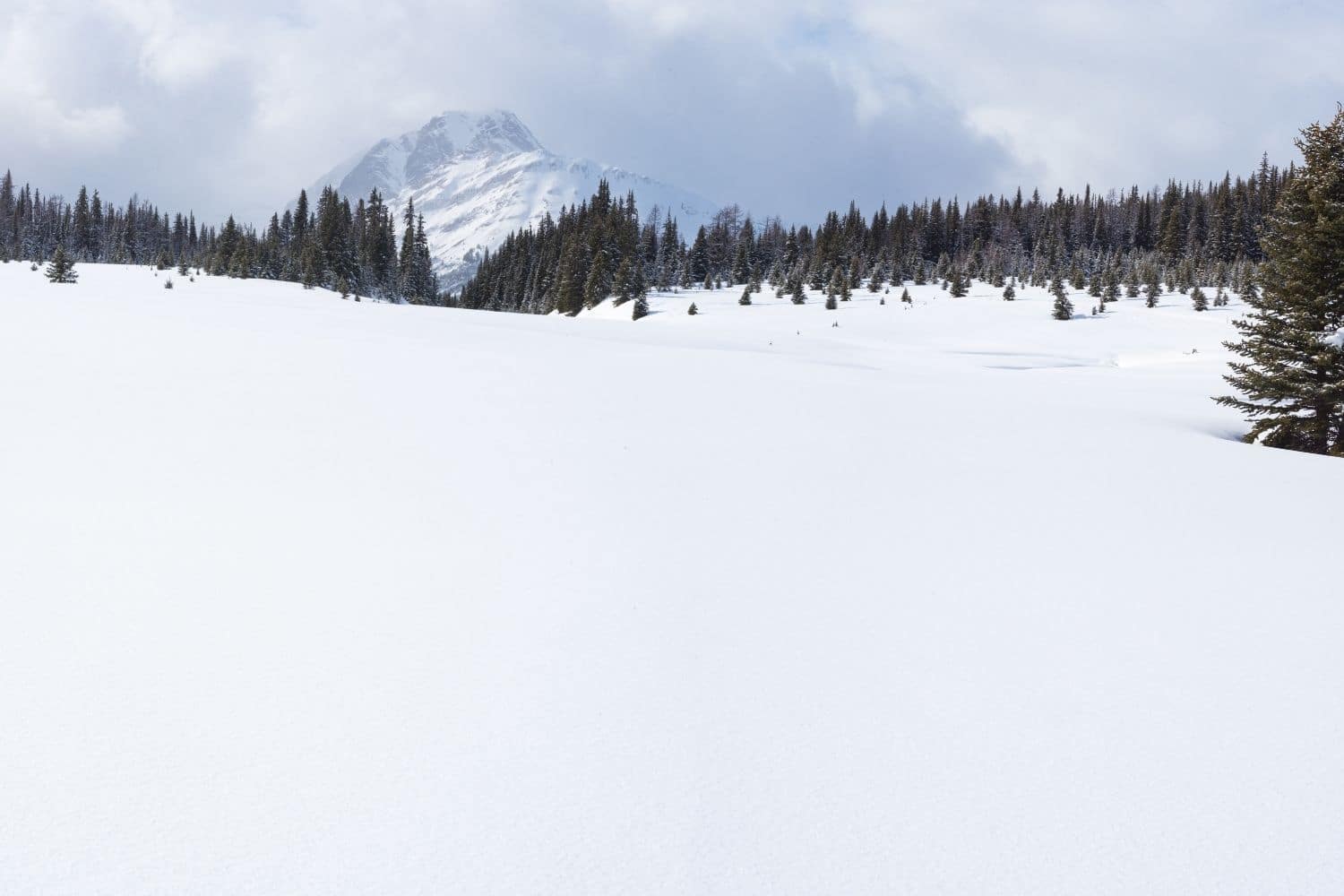 Trailhead: Chester Lake Trailhead
Distance: 9.7 km
Elevation: 424 meters
Difficulty: Moderate
Time: 2-3 hours
Chester Lake is one of the most popular winter hikes and snowshoes in Kananaskis Country Provincial Park. The trail up to Chester Lake is wide and well marked. It starts out mildly steep on a wide trail. While it's uneventful at first, once you get to Chester Lake, about 4km in, you'll enjoy all the views of Mount Chester and Mount Galatea.
Note that the summer hiking trail to Chester Lake is actually a ski trail in the winter. Hikers and snowshoers should stay off this trail and stick to the snowshoe trail. Please don't ruin the track that is set, or a guarantee you will hear it from skiers passing by.
---
Troll Falls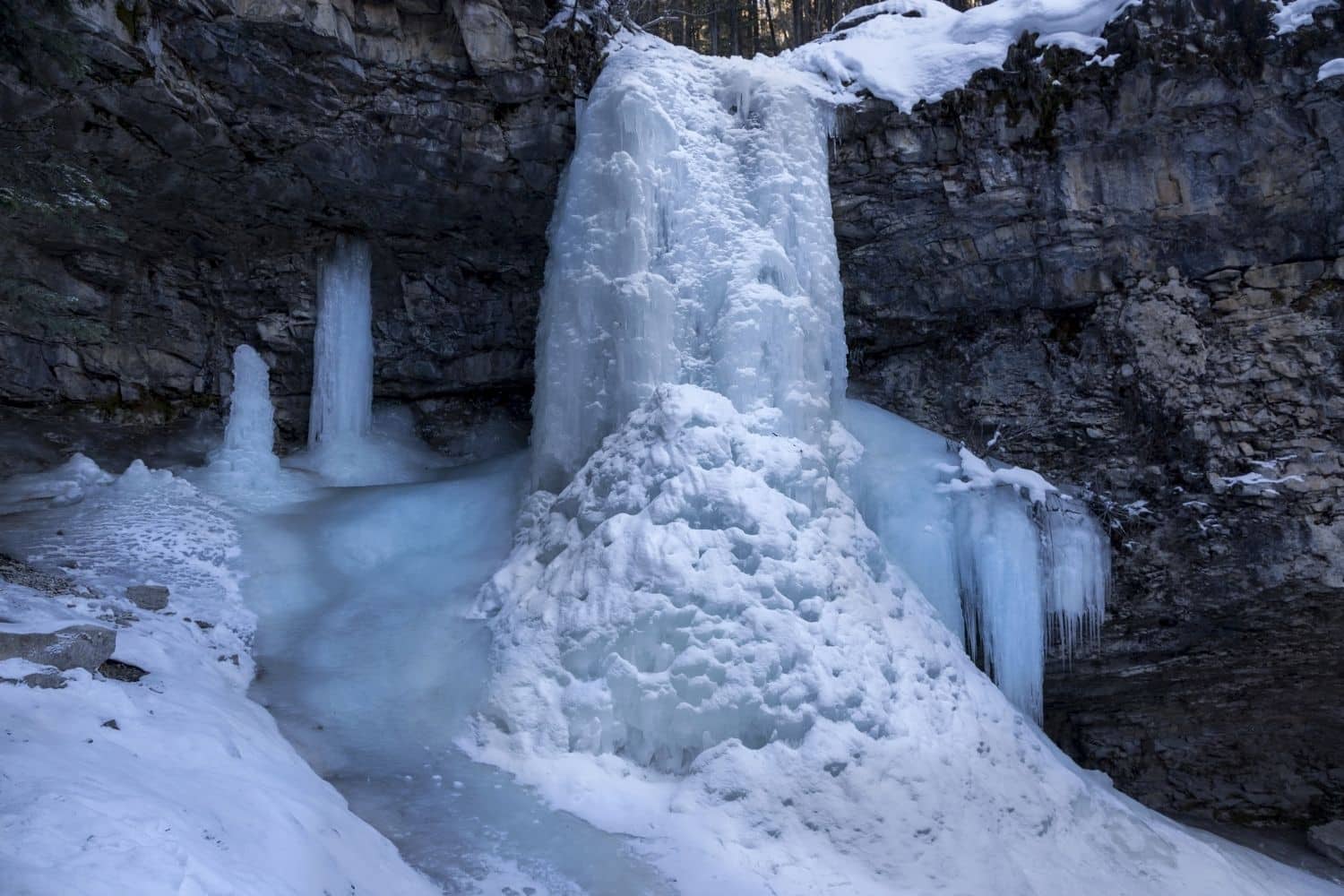 Trailhead: Troll Falls Trailhead Day Use
Distance: 3.4 km
Elevation Gain: 151 meters
Difficulty: Easy
Time: 1 hour
Troll Falls is a popular winter Kananaskis hike for families as it's short, easy, and will lead you right to a frozen waterfall. If planning a trip in the winter, hiking poles and microspikes may be helpful for you.
You can expect a beautiful trail through a peaceful pine forest on a wide, snow-packed path. As you get closer to the first falls, the trail will narrow. Although these falls are beautiful, keep going on the trail across the wood bridge over the creek to see the Upper Falls, which are gorgeous.
Although this trail is one of the busiest in Kananaskis in the summer, come here on a weekday winter day, and you might have the place all to yourself. Some families like to combine Troll Falls with a half day skiing at nearby Nakiska.
---
Burstall Lakes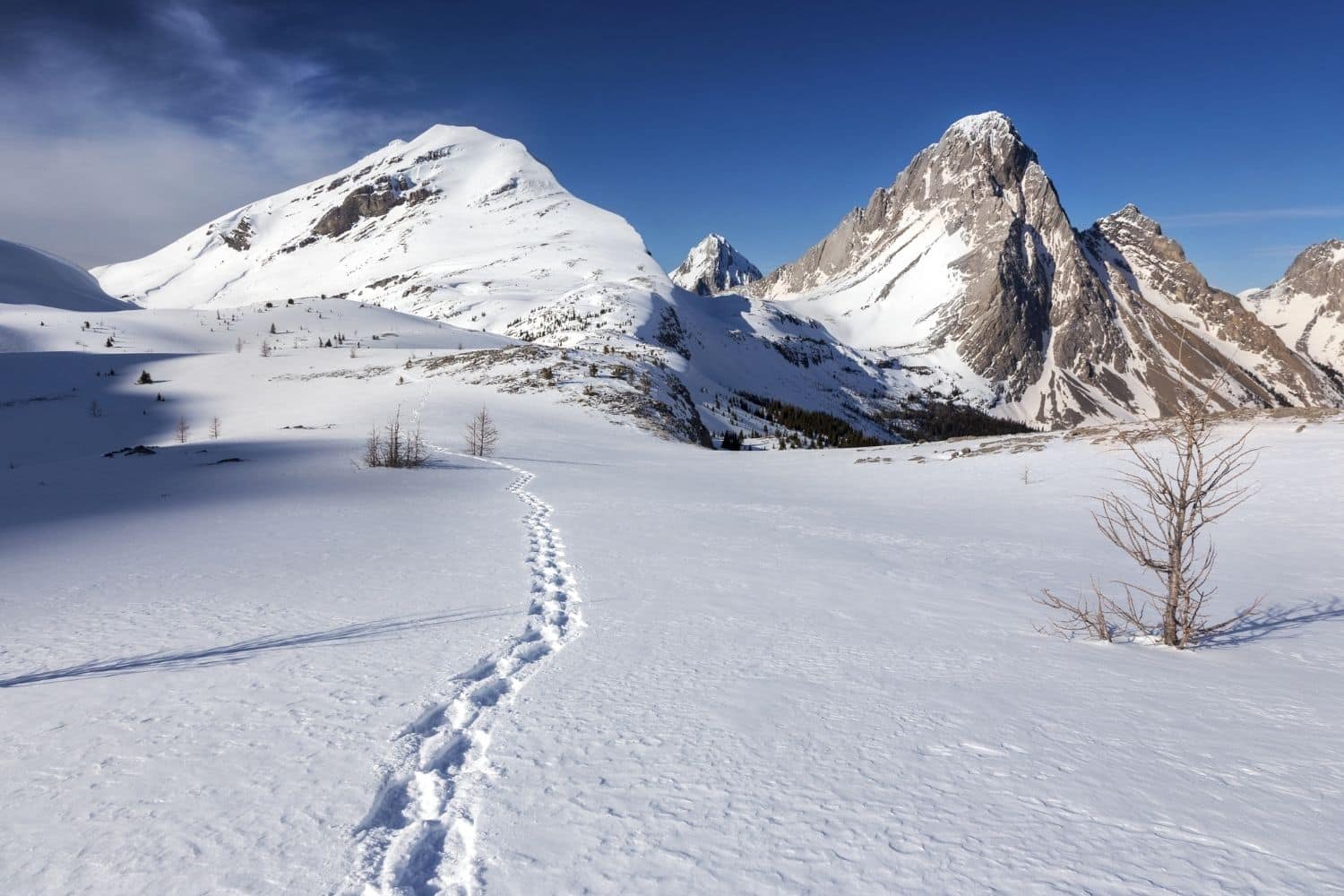 Trailhead: Burstall Pass Day Use
Distance: 9.2 km
Elevation: 244 meters
Difficulty: Easy
Time: 2-4 hours
Near the Chester Lake trailhead is the trailhead to Burstall Pass. In the summer, this entire route is a moderate hike; however the whole route in the winter would be a ski tour.
That being said, you can still enjoy a nice and easy winter hike to Burstall Lakes. While it may start out a little boring until you get to the lakes, you'll get great views of Mount Robertson.
It's very straightforward to reach Burstall Lakes and unless you have avalanche training and gear, you should stop at Burstall Lakes. Don't continue on to the pass as it gets complicated in winter conditions and falls into avalanche terrain, deaths have occurred here.
This hike is best done with a mixture of snowshoeing and microspikes. It's not the most well-trafficked trail in Kananaskis, meaning you could have to break a lot of trail, especially if you are the first one at the trailhead after a significant snowfall. Without snowshoes, this could make for a very tiring day. Consider a side trip to Hogarth Lakes if you aren't too cold and want a little more.
---
Rawson Lake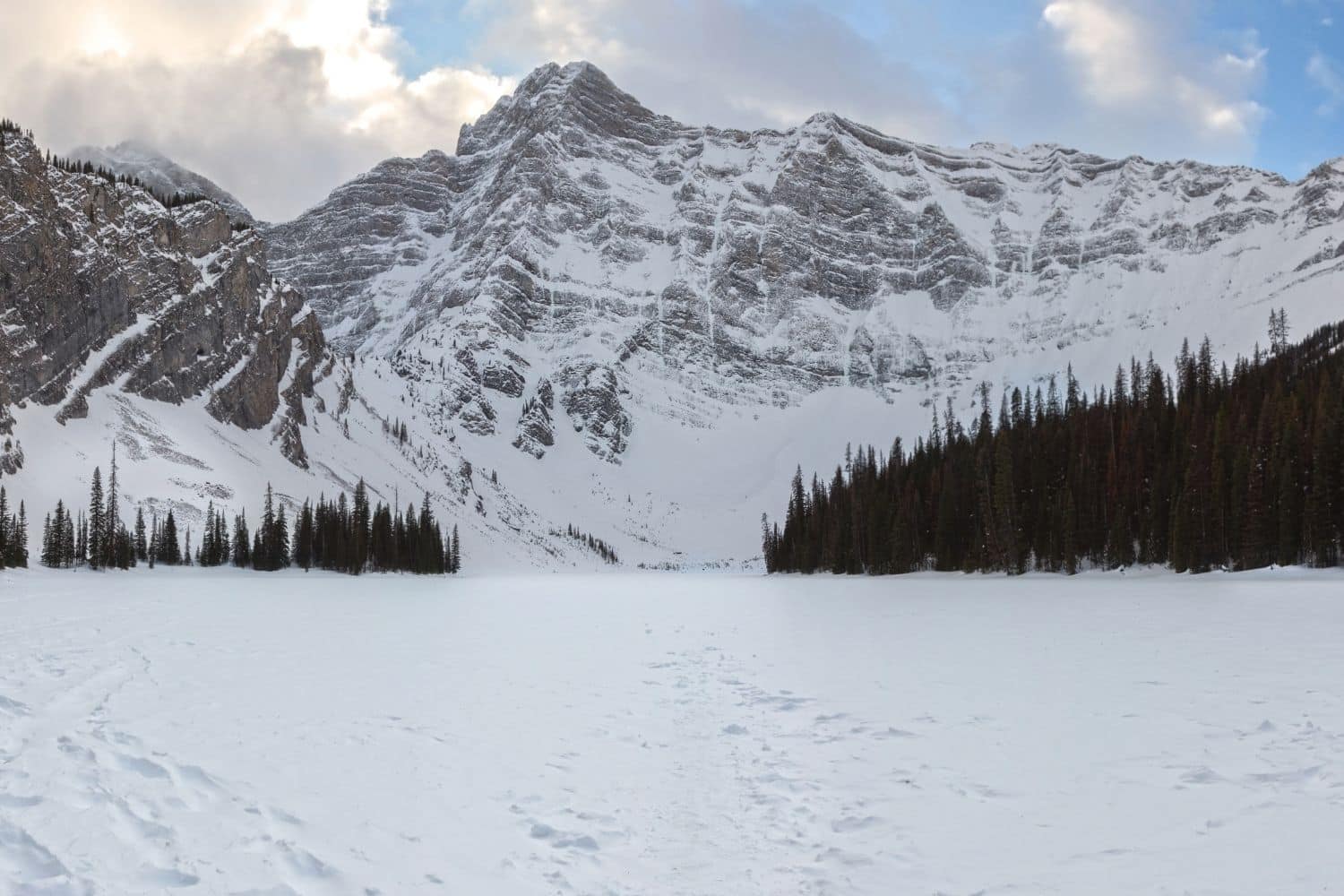 Trailhead: Upper Lake Day Use
Length: 6 km
Elevation Gain: 300 m
Difficulty: Moderate
Duration: 3-5 hours
Starting at the beautiful Kananaskis Lakes, the trail to Rawson Lake is popular in the summertime. Enjoy the views of Upper Kananaskis Lake for the beginning of this trail, passing by frozen waterfalls and streams along the way. The elevation gain starts around the 1.3 km mark, and keeps climbing until Rawson Lake.
Once you make it to Rawson Lake, it's best to stop here and enjoy the views of Mount Sarrail ahead of you. While it's great to walk around Rawson Lake in the summer, doing so in the winter will put you in avalanche terrain.
I've also seen many people walk across the lake in the winter; not only does this put you in the line of an avalanche, but on possibly unsafe ice.
---
West Wind Pass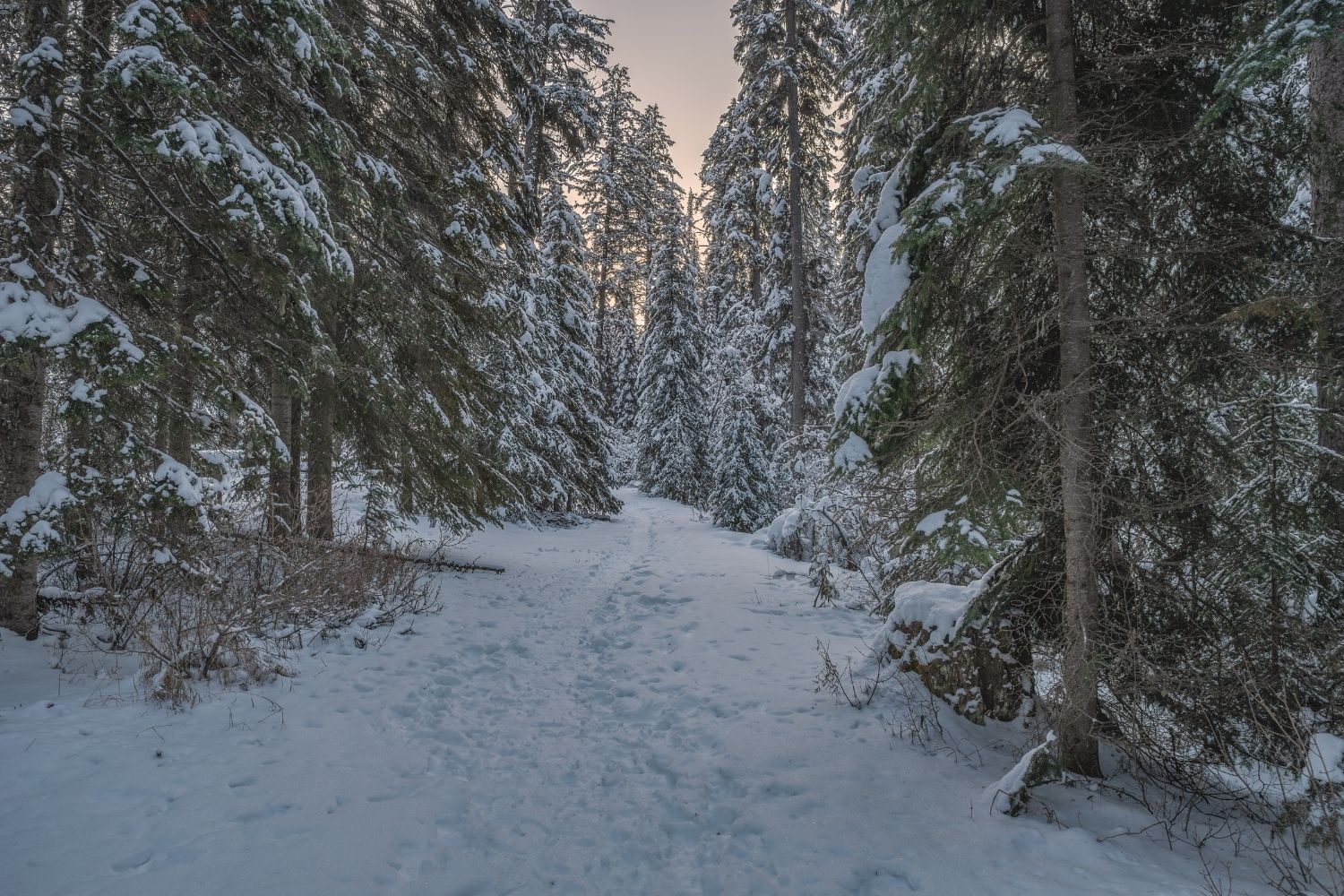 Trailhead: West Wind Pass Trailhead
Length: 4.7 km
Elevation Gain: 356 meters
Difficulty: Moderate
Duration: 2-3 hours
A fun and rewarding Kananaskis winter hike that gives you superb views of Spray Lakes is West Wind Pass. Some of the elevation gain on the trail may really get your heart pumping – it gets pretty steep in some sections! Because of the steepness, it's best to have poles and microspikes in the winter.
When you make it to West Wind Pass, you'll have great views towards Canmore on one side and epic views of the Spray Lakes. This trail is not called West Wind Pass for nothing, either. Bring a good shell and down jacket; the winter winds will surely freeze your face.
---
Prairie Mountain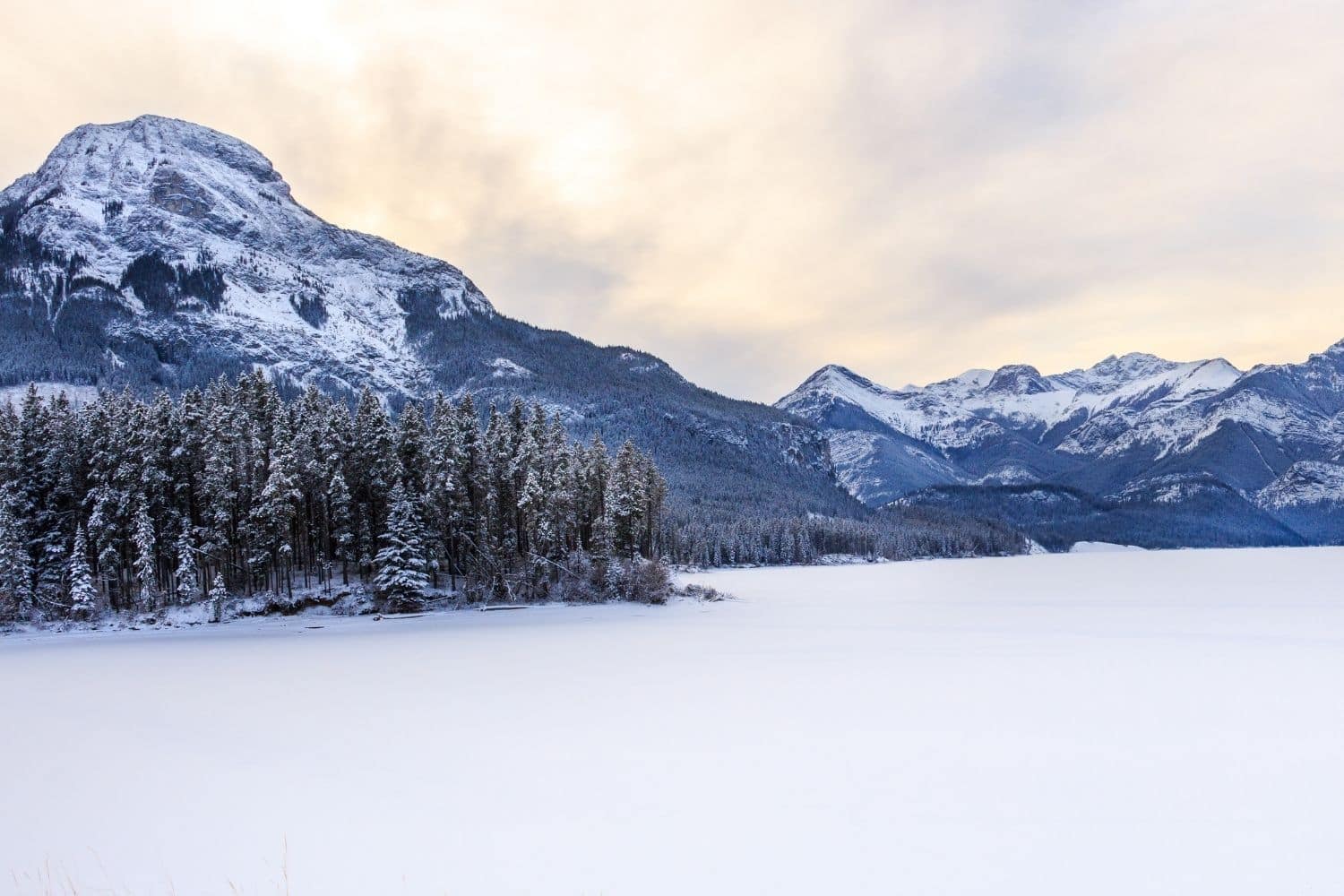 Trailhead: Prairie Mountain Trailhead
Length: 6.6 km
Duration: 2-4 hours
Elevation Gain: 666 m
Difficulty: Moderate
This is one of the steepest winter hikes in Kananaskis on this list. I love the hike up to Prairie Mountain as it's a well-trafficked trail that is wide and easy-going, though it does get steep in sections and will undoubtedly be a workout!
The best part about this hike is the view towards Barrier Lake from the top! Many hikers love to do this hike at sunrise for the gorgeous mountain glow you'll get from the overlook, and in the winter, instead of starting your hike at 4am, you can begin at 7am as the sun rises late!
Overall this is an excellent half-day hike with superb views that is close to Calgary. If you want an entire 16km loop, you can head down the Jewell Pass Trail.
---
Watridge Lake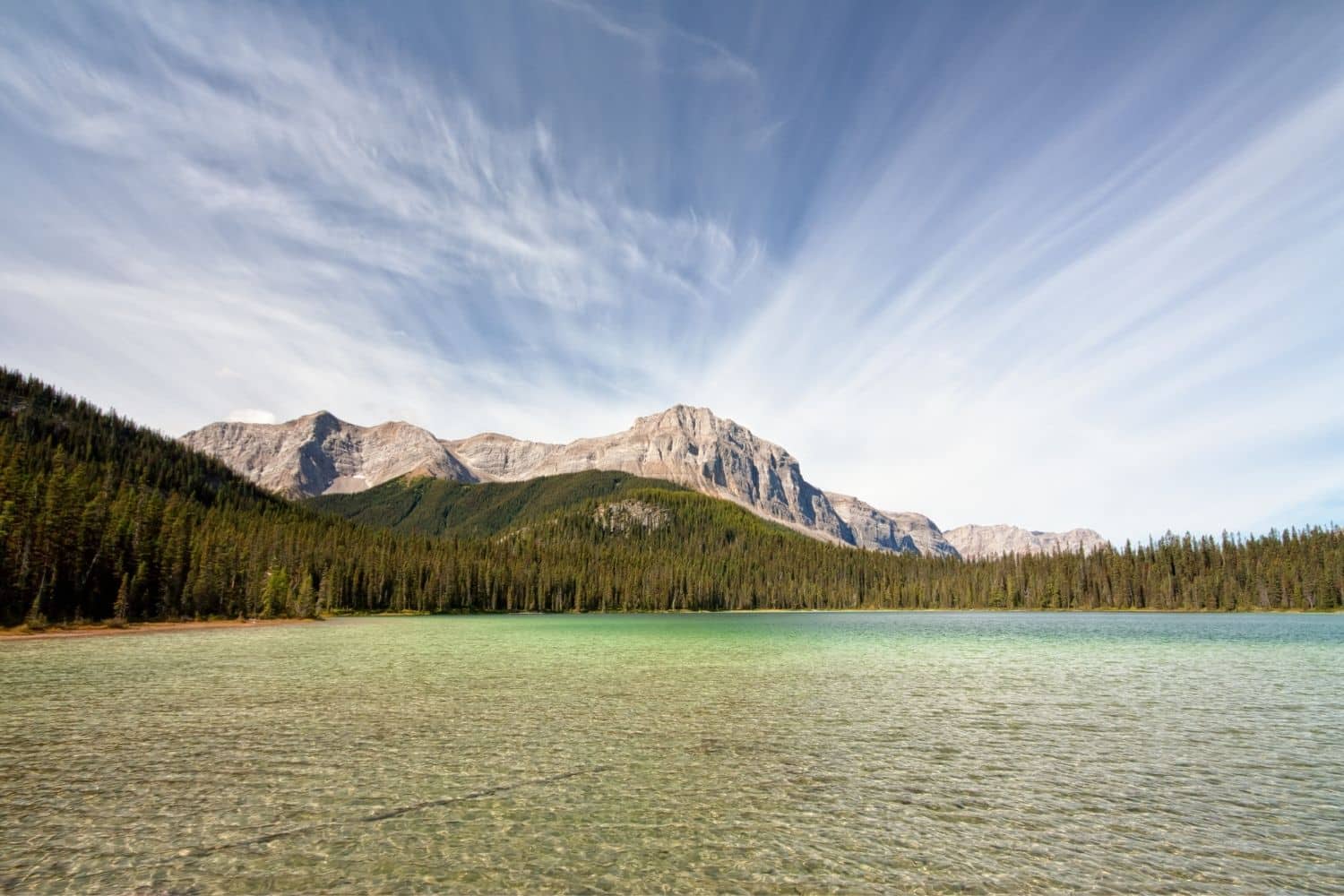 Trailhead: Mt Shark Day Use
Length: 8.2 km
Elevation Gain: 194 meters
Duration: 2-3 hours
Difficulty: Moderate
This beautiful and easy hiking trail near Mount Shark and Mount Engadine Lodge is great for anyone wanting to hike over 5km. This easy and well-marked trail in the Spray Valley Provincial Park is great for hiking, snowshoeing, fat biking, and cross country skiing!
The Watridge Lake trail is wide and flat. It allows for hikers to take in the mountain views in all directions. With a total elevation gain under 200 meters, you'll never feel like you are putting too much work in. If you are up for it, you can add on the short and steep hike to Karst Spring, which highlights the entire area.
---
Warspite Lake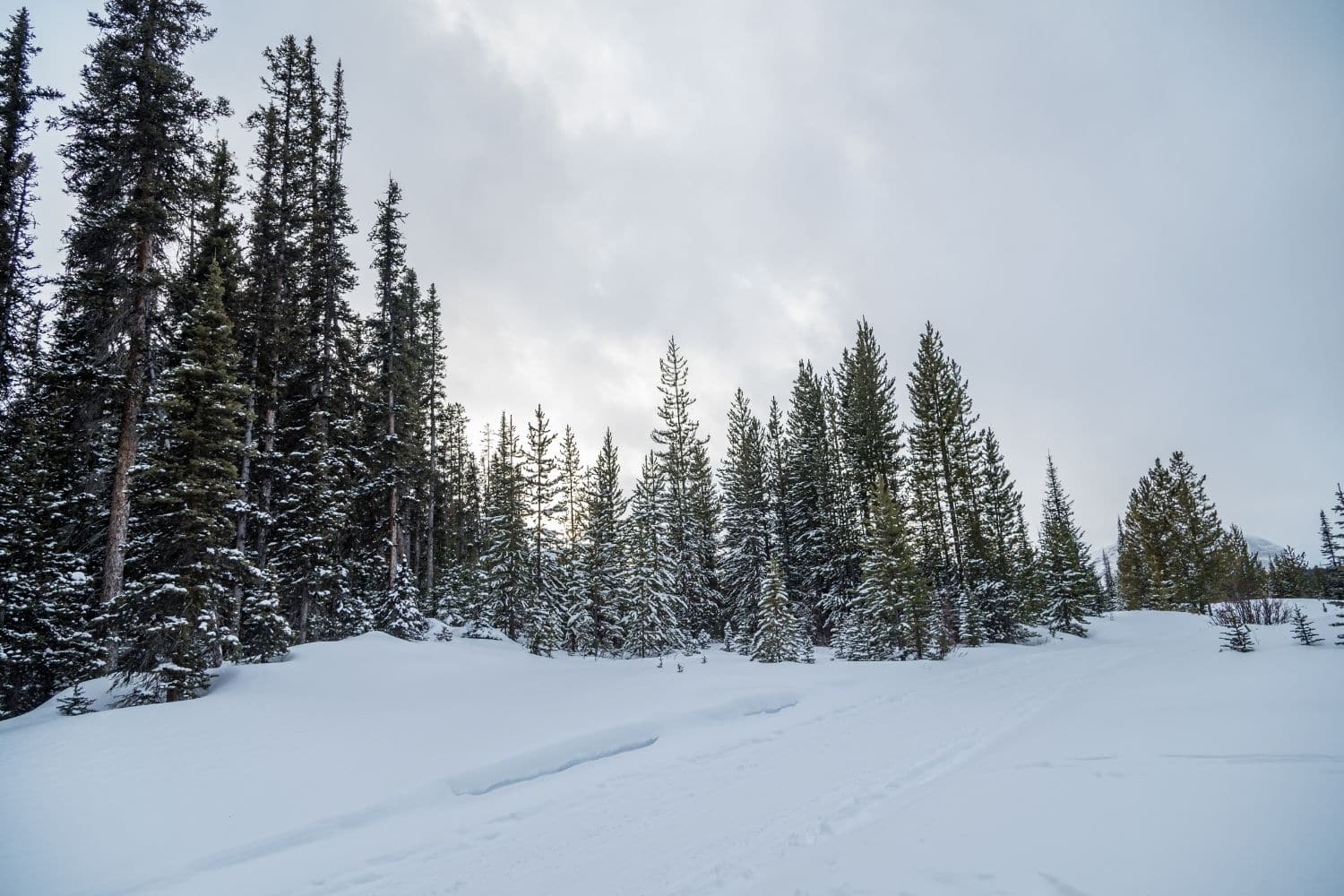 Trailhead: Black Prince Day Use
Length: 4.2 km
Elevation Gain: 90 meters
Time Estimate: 1-2 hours
Difficulty: Easy
If you are looking for one of the easiest winter hikes in Kananaskis, that's family approved; head to Peter Lougheed Provincial Park and enjoy the hike to Warspite Lake along the Black Prince Lake trail.
The hike to Warspite Lake is easy to access off the Smith Dorrien Road, and just a few km from the trailhead will get you to the very photogenic lake, which you will likely reach quicker than expected.
After you climb the initial hill, the rest of the hike through the sub-alpine forest is easy peasy. The trail is typically well packed in the winter, but snowshoes may be beneficial if you want to complete the entire loop.
---
The Best Winter Hikes in Canmore
---
Grassi Lakes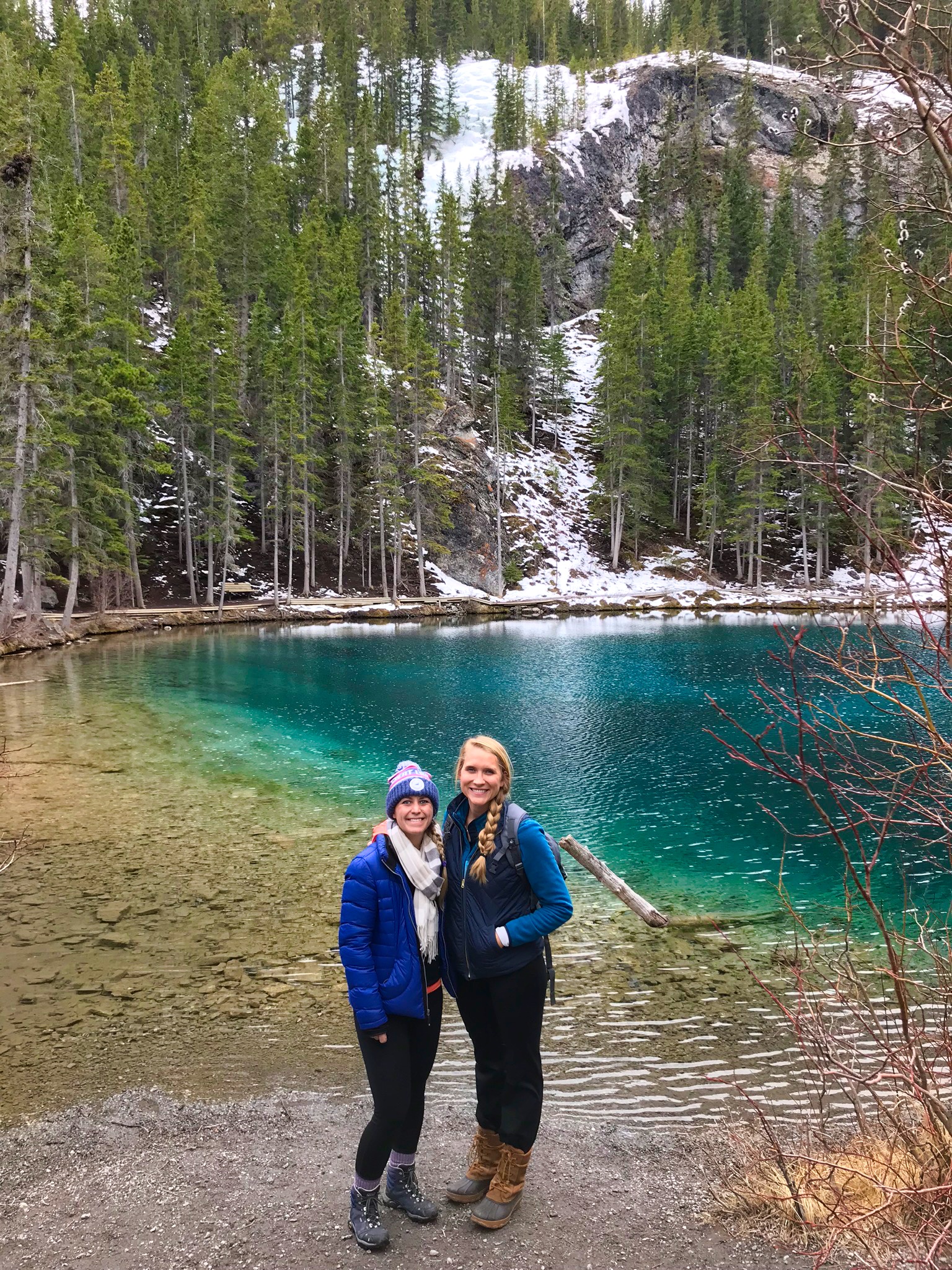 Trailhead: Grassi Lakes Day Use
Distance: 4.3 km
Elevation: 203 meters
Difficulty: Easy
Time: 1-3 hours
Grassi Lake is one of our favorite Canmore hikes and one we typically take friends and family on when they visit. It is an easy hike that is great year-round, and everyone loves reaching the mesmerizing blue lakes.
It's well-packed with a gradual elevation gate that can often be hiked without microspikes and poles. Unless you have caught it on an incredibly icy day.
The lakes are easy to get to, with a well-defined, easy-to-follow trail. If you are staying at Canmore hotel, definitely consider adding Grassi Lakes to your Canmore bucket list.
---
Heart Creek Bunker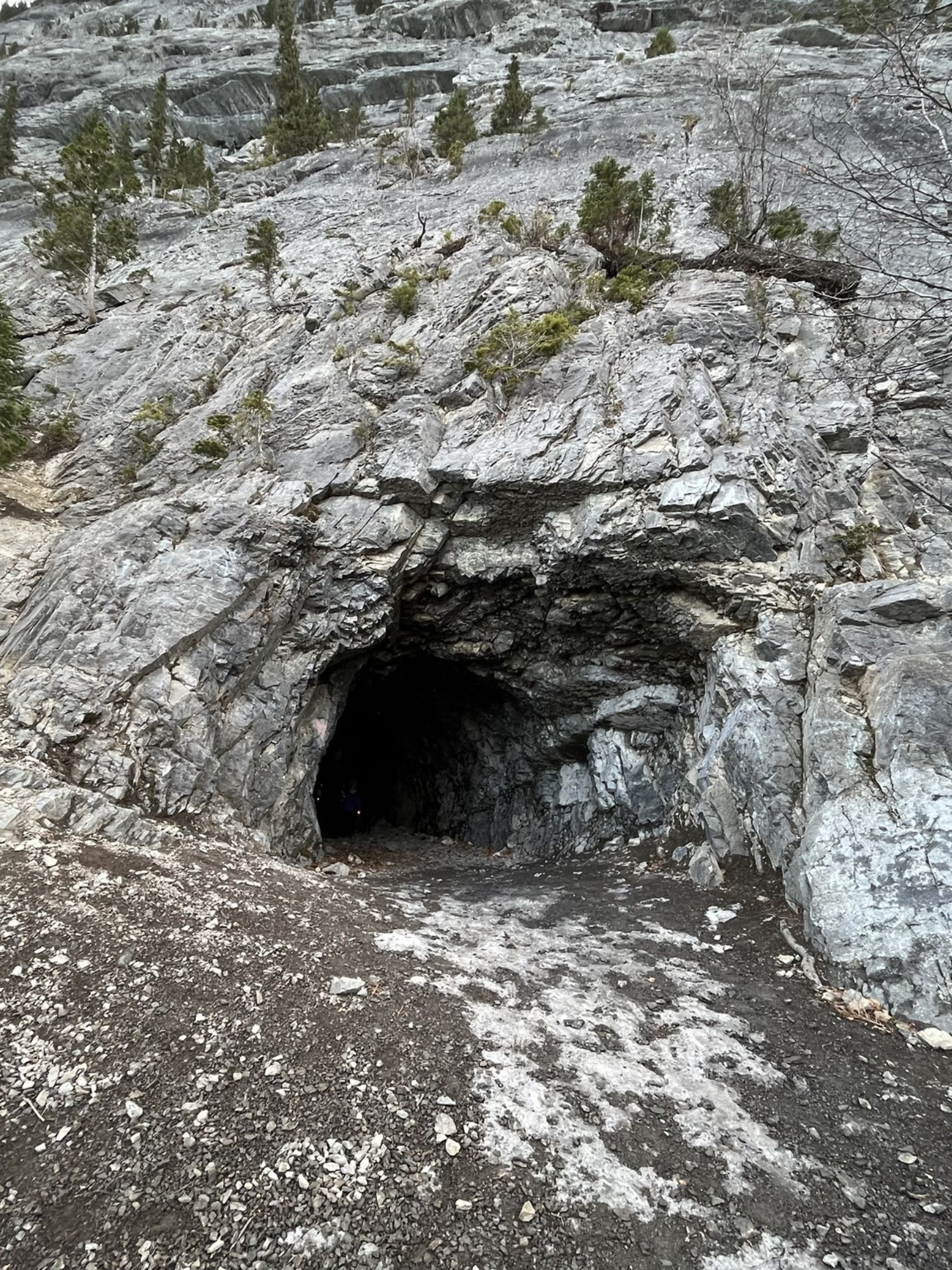 Trailhead: Heart Creek Day Use
Distance: 4 km
Elevation: 212 meters
Difficulty: Easy
Time: 1-2 hours
Near Lac Des Arcs is this short and sweet hike along the Trans Canada Trail. It's a neat trail that ends at a bunker, and makes for one of the best Canmore winter hikes, especially if you want to WOW the kids.
These large caverns in Mount McGillivray make for a unique hiking opportunity that not many know about. This bunker is an abandoned cold war bunker originally intended to house critical Canadian documents in an emergency. You wouldn't know it upon first glance, but the bunker goes more than 50 meters deep into the mountain.
It's certainly not the most impressive Canmore winter hike on this list, but kids will probably ooh and ahh when they see it. Bring headlamps for this one – inside the bunker is incredibly dark!
---
Policemen's Creek Boardwalk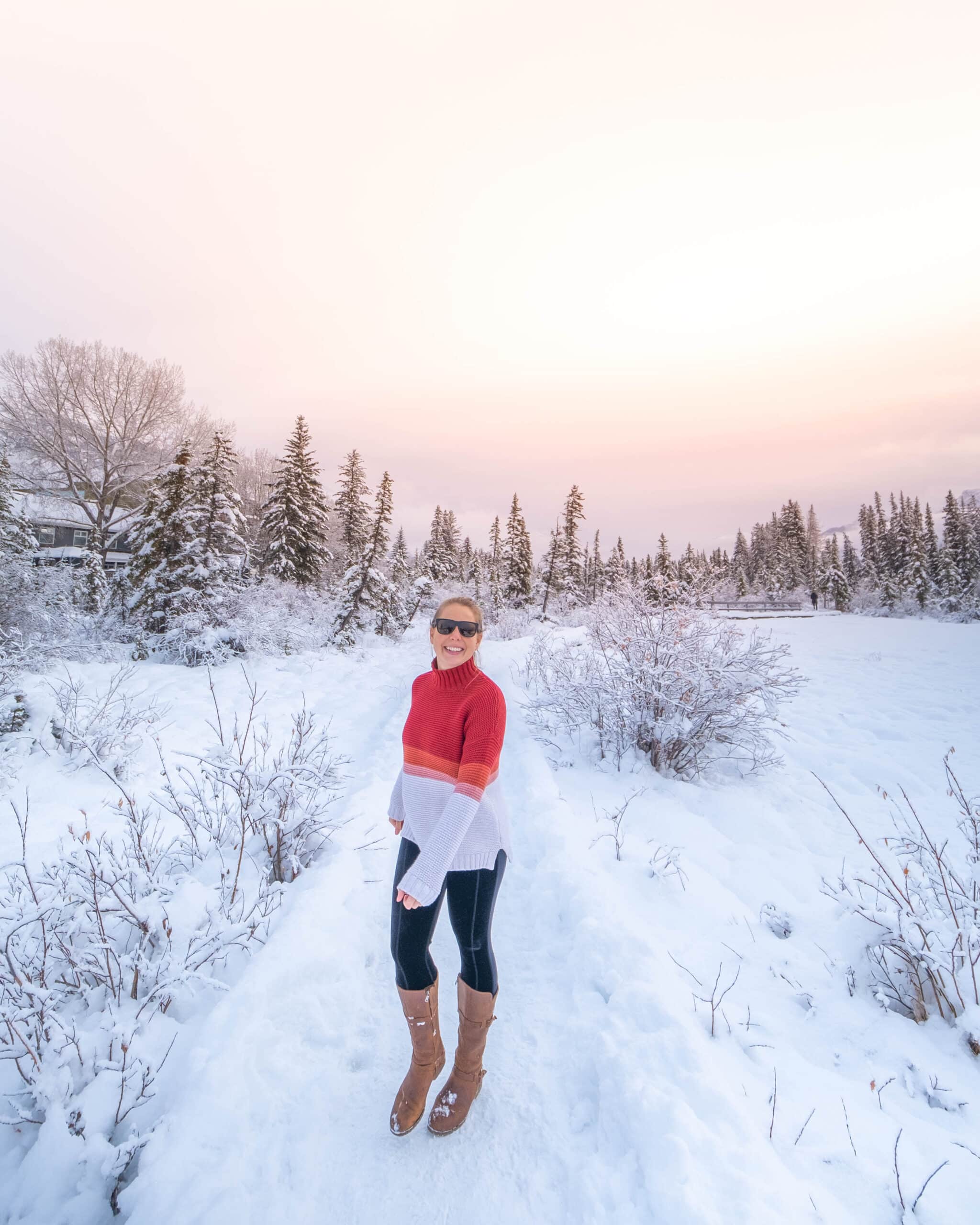 Difficulty: Easy
Elevation: minimal
Distance: 4 km
Time: 45 minutes
The Policeman's Creek Boardwalk is one of our favorite Canmore walking trails! The raised boardwalk along Policeman's Creek is a scenic and quintessential Canmore walk ideal for a winter saunter.
The boardwalk is open year-round perfect for witnessing the various seasons in Canmore. Policeman's Creek is a small branch off of the Bow River, and the walk stretches from the Canmore High School and down to the Spring Creek neighborhood.
The whole route is a lovely walk, but the most popular route is to simply walk along the raised boardwalk from Main Street and down to Spring Creek, and around to The Malcolm Hotel. It's a short stroll, great for those super chilly days where you don't want to spend too much time outside.
---
Grotto Canyon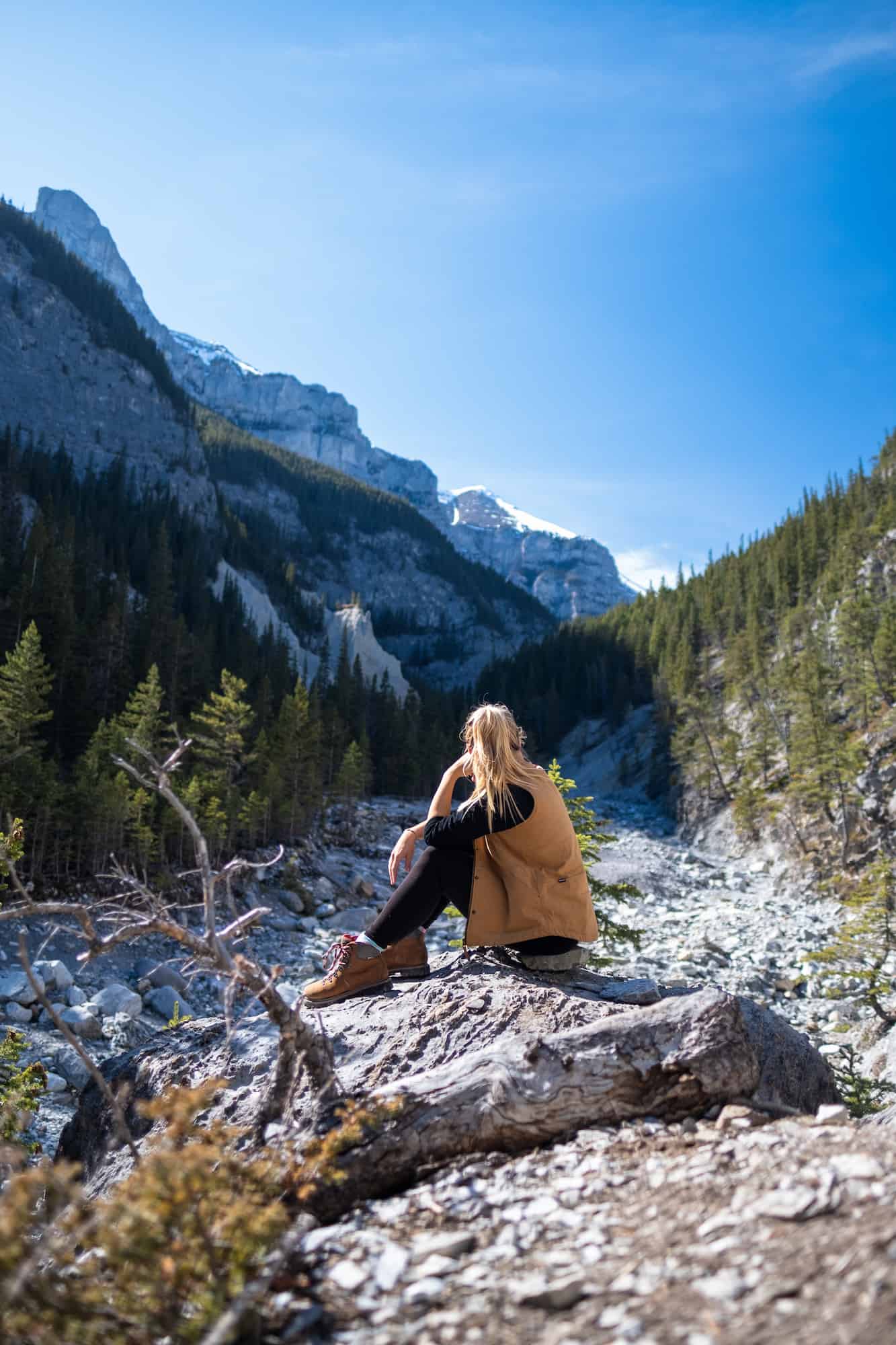 Trailhead: Grotto Canyon Trail Head
Difficulty: Easy
Elevation: 390 meters
Distance: 7.1 km
Time: 2-3 hrs
An easy Canmore hike that's another year-round option is Grotto Canyon. Even in the winter, this famous canyon with rock art can walk along the frozen creek.
Time Grotto Canyon at the right time, typically January and February, and there is good ice build-up and minimal snow cover, which is impressive to see. You may even get lucky and see some ice climbers. At only 4km in length, you can check this one off the list in an hour or two.
Don't let the first 1km of this hike deter you, be forewarned it's quite underwhelming. For the first portion of this hike, you'll be walking along a power line near the extremely noisy magnesium oxide plant. Once you get this section out of the way, you can get into the fun and beautiful stuff – including frozen waterfalls!
---
Rundle Forebay Reservoir (Canmore Reservoir)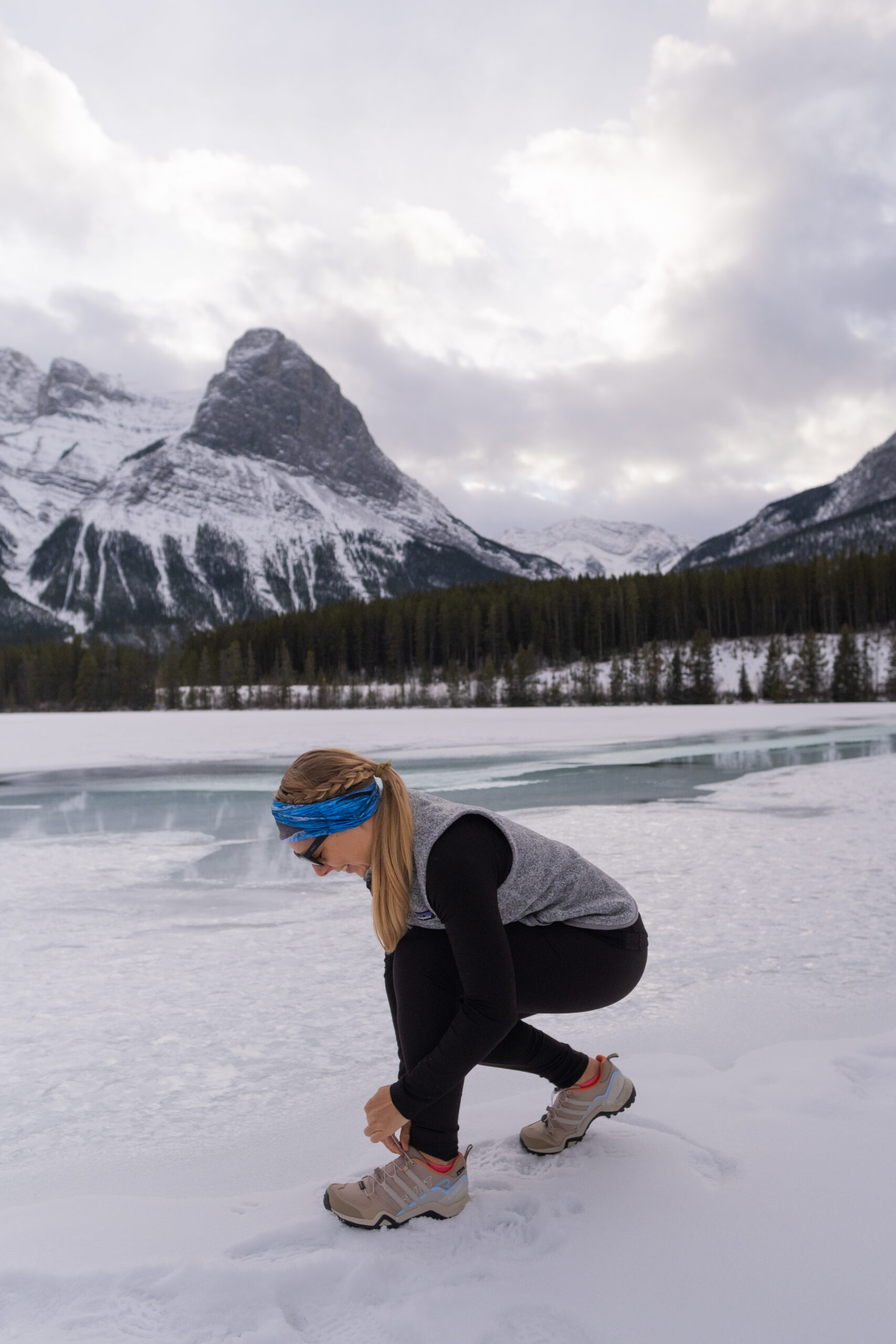 Difficulty: Easy
Elevation: minimal
Distance: 1-2 km
Time: 30 minutes
The Rundle Forebay Reservoir, or Canmore Reservoir, as locals call it, is a fantastic place to canoe, sup, kayak, and even swim in the summer. It also supplies the Town of Canmore with its water. While it's not possible to canoe or kayak on the reservoir in the winter, it's certainly possible to walk or trail run along the pathway to the left of the lake.
Not only is it a practical place to visit, but it's one of the most beautiful as the magnificent Ha Ling Peak towers over it, and if you look to your left, you'll get great views of the Little Sister.
This pathway will take you to the end of the reservoir, where you can either turn around or take the Powerline Trail for a longer walk. The Powerline Trail will connect you to Quarry Lake or go further to the Three Sisters Mountain Village. Even if you're not up for a hike, seeing the reservoir is one of the best things to do in Canmore in the winter.
---
Ha Ling Peak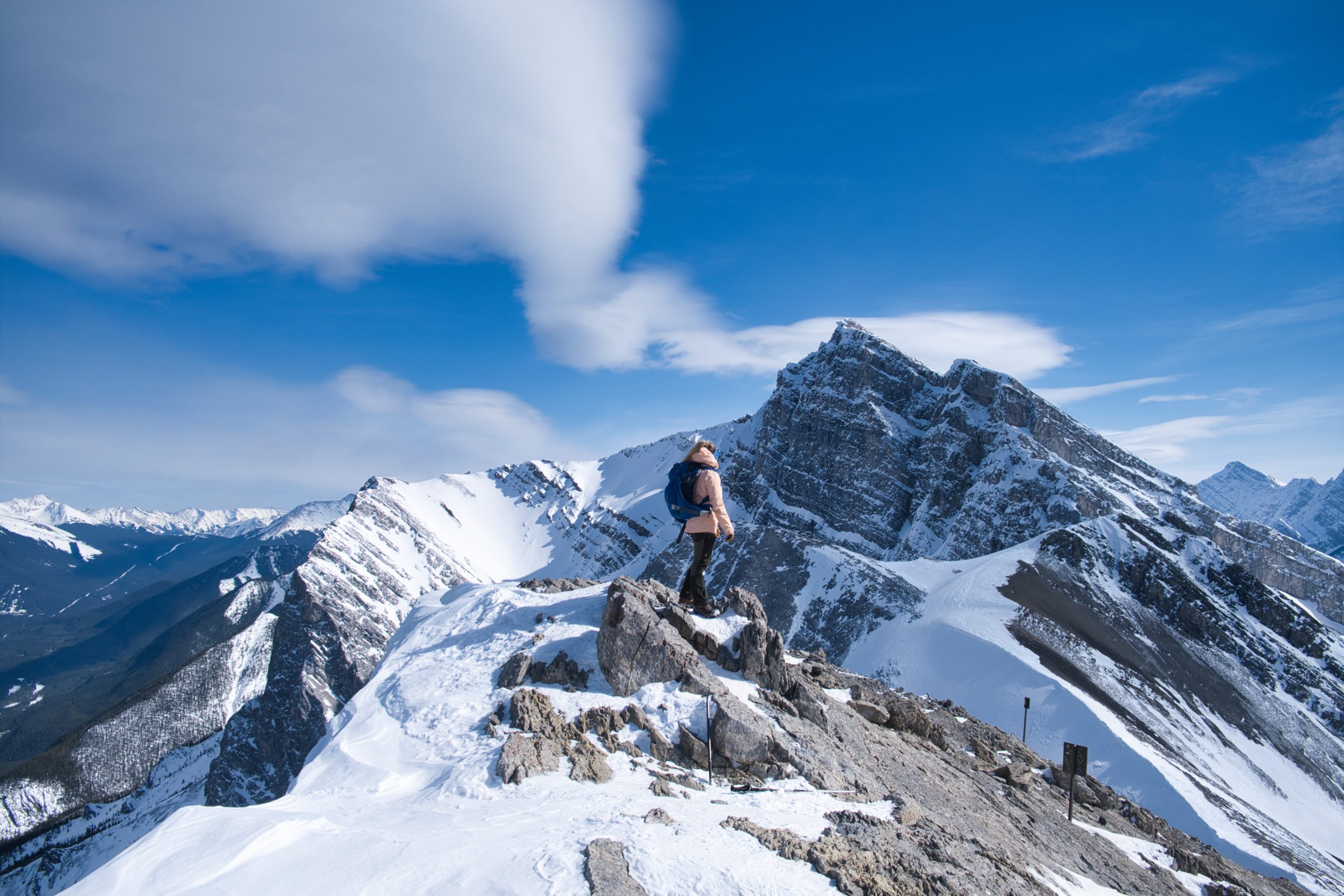 Trailhead: Goat Creek Day Use
Difficulty: Moderate
Elevation: 790 meters
Distance: 7.9 km
Time: 3-4 hrs
Ha Ling Peak is impossible to miss from Downtown Canmore and is the most famous peak in the area to climb. Nearly every local in town has likely clambered up to its peak, and over the years, it has grown to be one of the most popular hikes in the Canadian Rockies.
While Ha Ling's peak may look daunting from Canmore, the hike up the backside is not much more than a physical challenge. If you want to bag a mountain summit in the winter, Ha Ling is a good option. Though be forewarned, it is the most challenging hike on this list and crosses a few avi paths on the way up.
As far as winter mountain summits go, Ha Ling is very attainable and relatively straightforward, especially if you have done a lot of hikes in the Canadian Rockies. Alberta Parks even invested in the trail with an extensive trail overhaul in 2019 that added steps and handrails.
Many choose to hike up Ha Ling for sunrise in the winter, as you'll see the gorgeous alpine glow on a clear winter day. If you're up for a bit of challenge, you'll love this summit. Don't forget warm clothes and microspikes!
---
Hiking in Kananaskis Winter Safety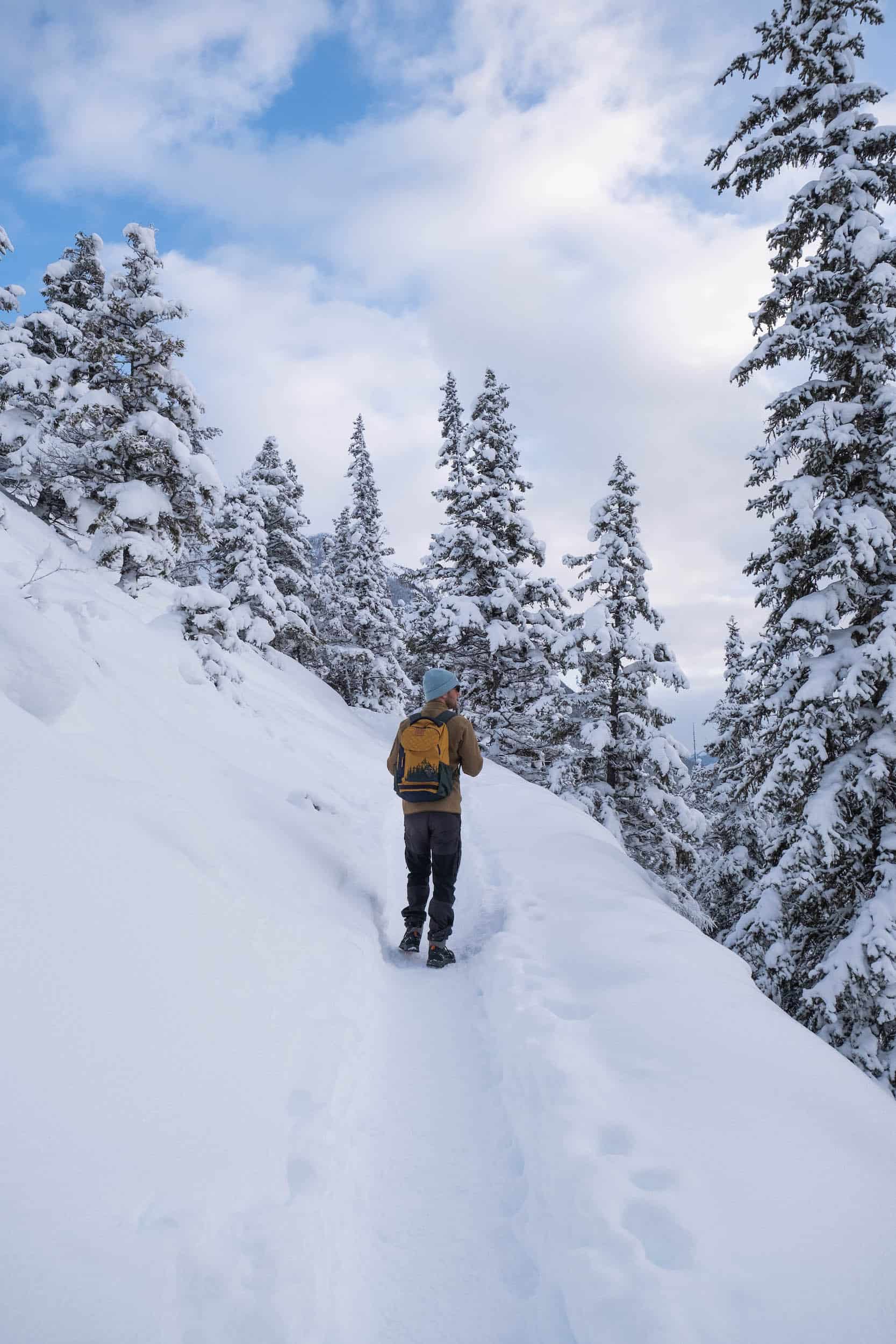 Check Alberta Parks and Avalanche.ca for up to date details on trail conditions and the avalanche forecast.
Be aware of the terrain you are hiking into and only venture into avalanche terrain if you have had avalanche training and gear. Learn the basics from Avalanche Canada, but if you want to do extensive winter hiking in complex terrain it's best to take an AST1 with Yamnuska in Canmore. Most of the trails noted in this article are not in avalanche terrain, unless you venture past the main destination (besides Ha Ling Peak).
Don't forget the bear spray. Just because there's snow on the ground doesn't mean the bears are tucked in, sleeping for the winter. Bears can awaken at any time.
Keep in mind that days are short in the winter, especially in December. It's best to start earlier in the day rather than later so you have ample time to complete you hike.
When trails are icy a pair of poles and microspikes will come in handy. They are a great investment and I keep them in my backpack during any hike in the winter. You can buy microspikes on Amazon, at Canadian Tire (cheaper ones), or at Vertical Addiction (nicer ones) in Canmore.
Pack emergency layers, we always have an extra layer in case we need to weather the cold. It's also best to pack extra snacks and a emergency blanket should the worst happen.
Let someone know where you're heading in case of an emergency.
There are a lot of winter hazards to be aware of such as avalanches, disorientation, thin ice, hypothermia, and frostbite. It's freezing in Alberta, especially at night.
Many of the hikes mentioned on this list have cell phone service, but some don't, a Garmin Inreach is a valuable asset if you plan to hike a lot.
You are responsible for your own safety during winter hiking in Kananaskis and Canmore. Hiking in the winter and spending time in the wilderness can have serious consequences, so always remain prepared.
---
What to Wear for Kananaskis and Canmore Winter Hiking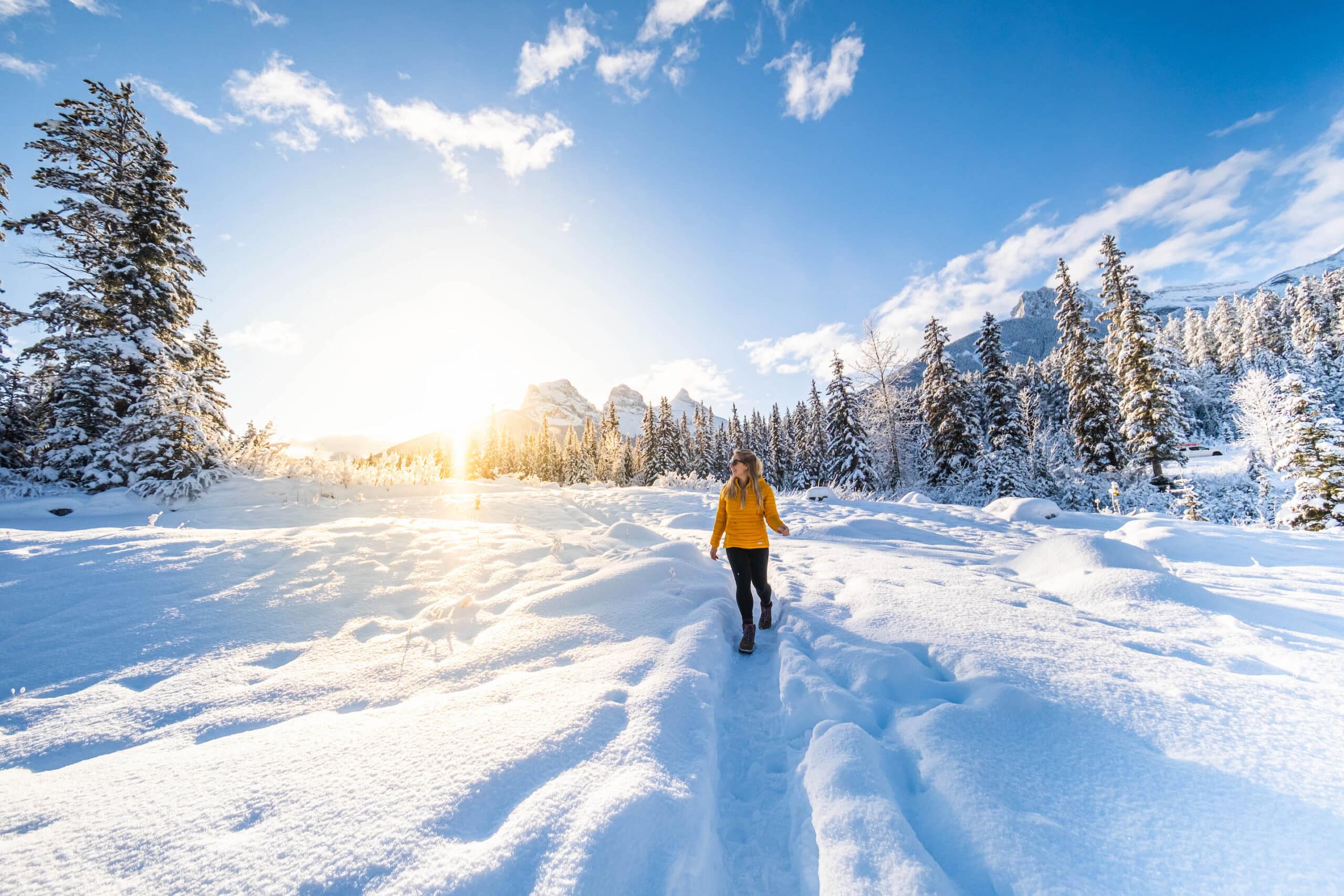 Pack for winter in the Canadian Rockies when preparing for your hike. We dress in layers when heading out in the mountains. Here is a general list of what you should bring:
Snacks and protein bars
Bear Spray
First aid kit
Emergency blanket
Sunscreen and sunglasses
Headlamp
Hand warmers
Hat, mittens, and neck warmer
Lined tights/leggings/shell pants
Goretex hiking boots
Cell phone and Garmin In Reach
---
Winter Gear We Love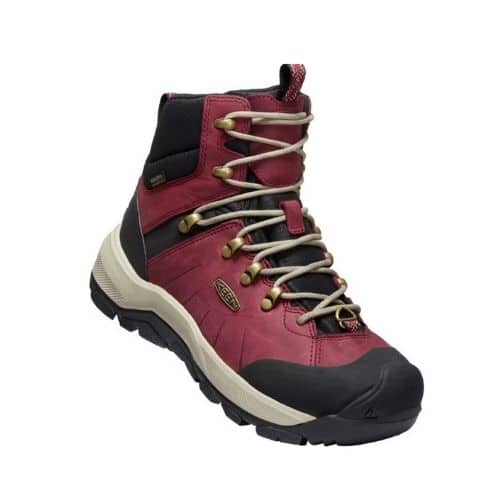 Pick up a solid pair of Gore-tex warm boots for any winter adventures.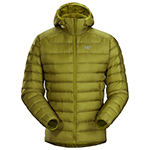 Arc'teryx Cerium is our pick for the best down jacket. It's incredibly light, and we bring it on almost every hike in the Rockies.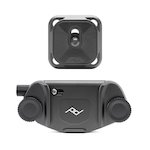 This nifty clip from Peak Design secures a camera to my backpack strap for easy reach. No more digging in the backpack!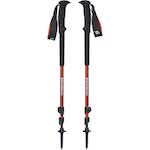 A pair of durable and lightweight hiking poles are a great asset on the hiking trail.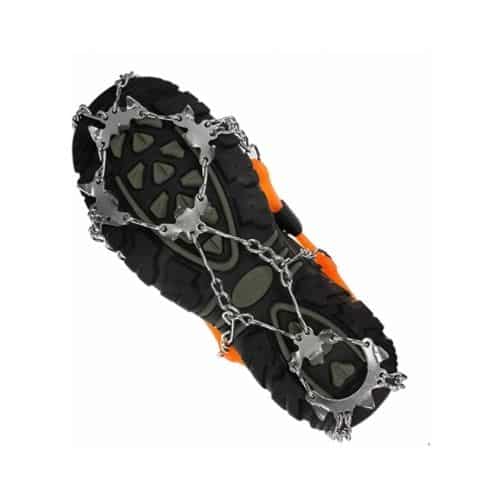 If you're doing any hiking in the winter you won't regret having these in your pack.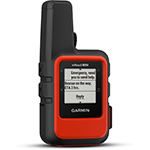 There is not much cell service in the Canadian Rockies. In case of emergencies, we carry an emergency beacon with GPS.
---
Wildlife Awareness in Kananaskis in Winter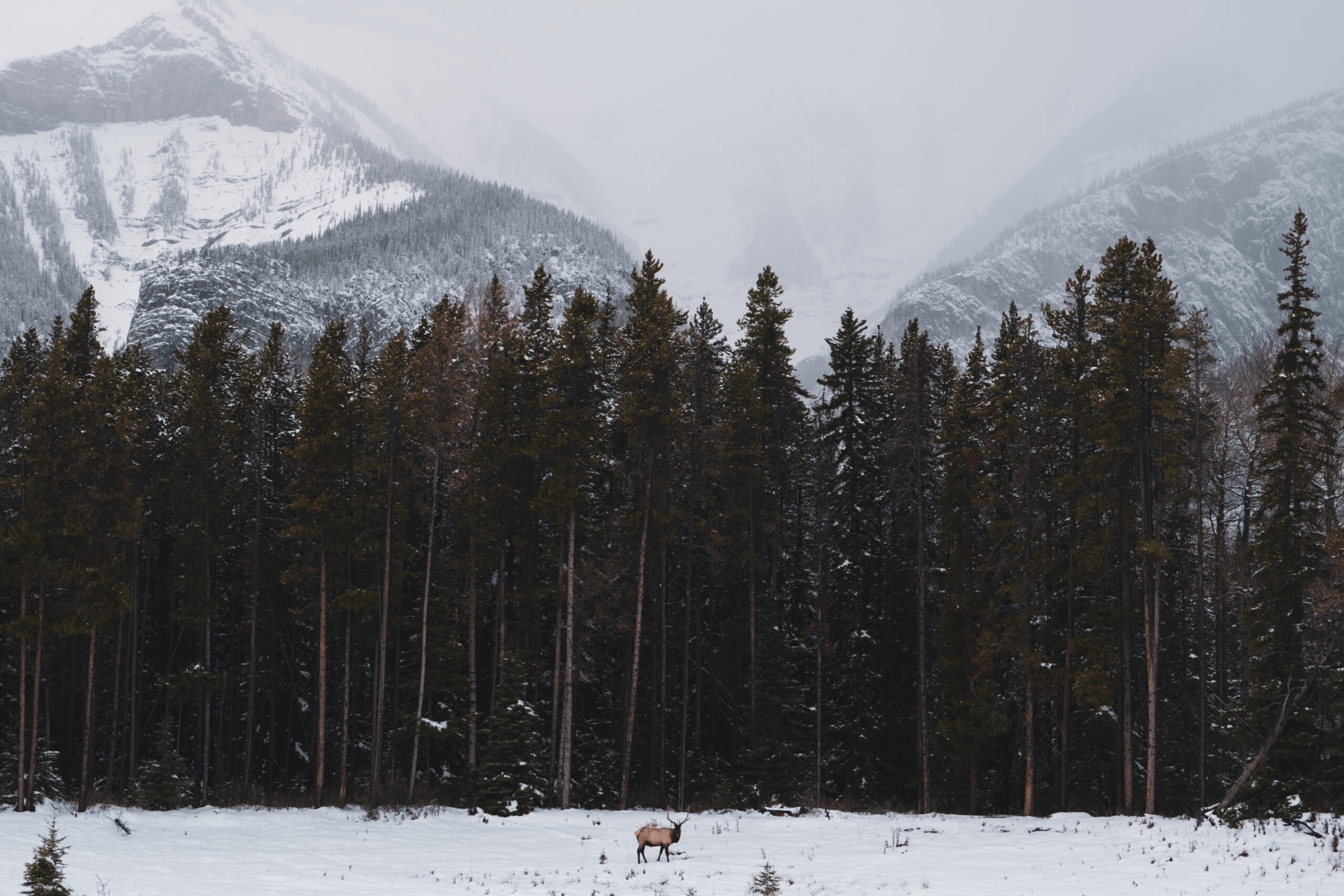 Although it's winter, I still like to have bear spray on me while hiking in the winter. They can awaken at any time. Cougars, coyotes, wolves, and moose stay active throughout the year. Keep your eye out for foxes, elk, deer, and owls as well!
If you see wildlife, do not approach it. Give them lots of space and don't make them change their course.
---
Where to Rent Microspikes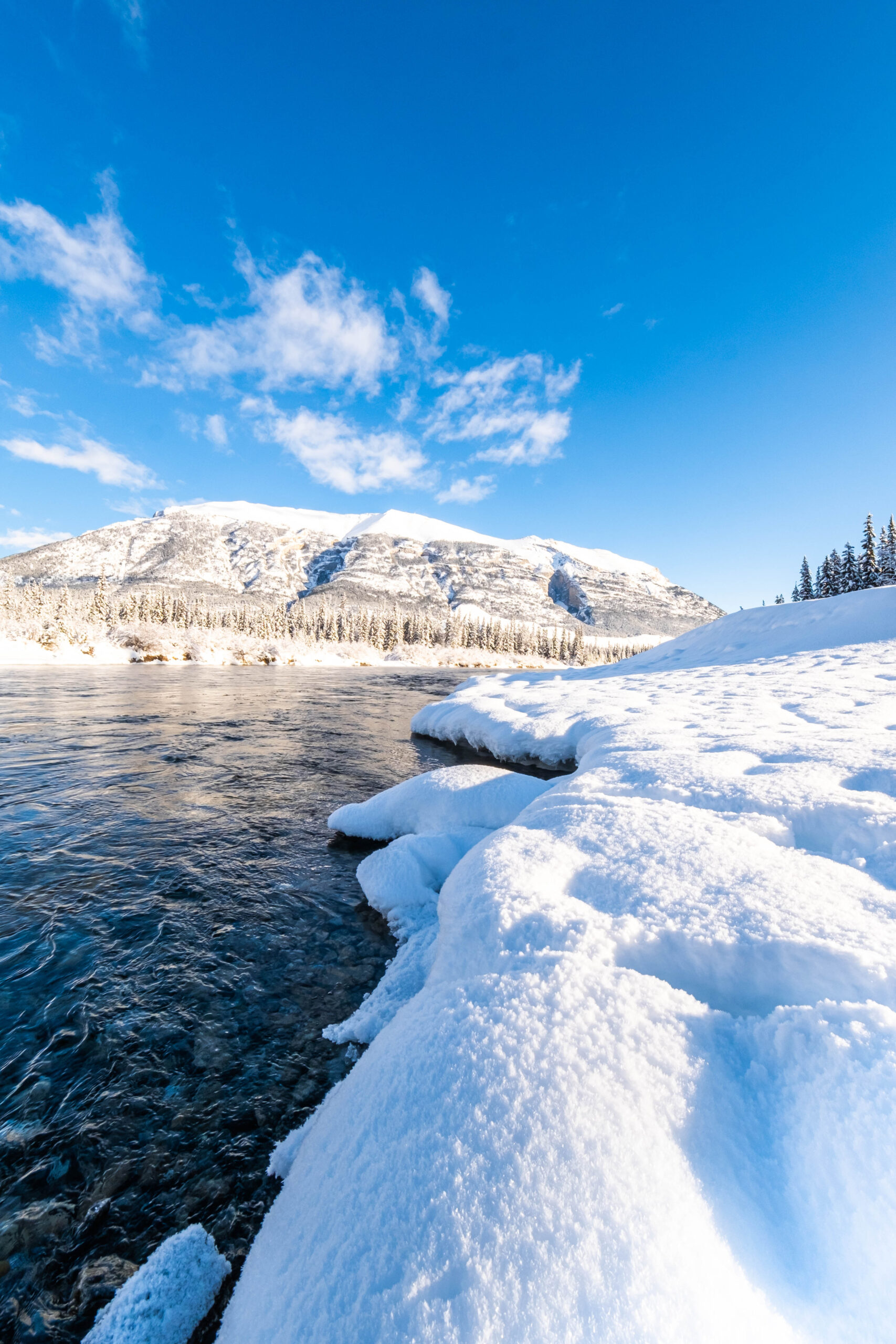 There are a few areas in Banff, Canmore, and Lake Louise to rent microspikes which come in handy hiking in the winter. If you think you will be hiking a lot, it's worth it to buy a pair at Canadian Tire or Vertical Addiction in Canmore or beforehand online on Amazon. They are inexpensive and will last you years.
Banff Rentals
Banff Adventures
Chateau Mountain Sports
---
Hopefully, this helped you determine what Kananaskis winter hikes and Canmore winter hikes to complete.
If you have any other questions leave a comment or see our Canadian Rockies travel guide for more articles about photography spots, lakes, hikes, and everything else.
---
Plan Your Trip to the Canadian Rockies
---
↓ Join the community ↓
The Banff Blog Facebook Group is your headquarters for the Canadian Rockies' travel advice and information. Including hike info and off-season travel information. You can also meet new adventure buddies.