Located right next to Banff National Park, Canmore is the more internationally unknown town when compared to the famed Banff. There are so many things to do in Canmore, we actually think it's a better place to stay than Banff many days.
You can hike, cross-country ski, mountain bike, and participate in many other activities. In between these activities you'll want somewhere nice and convenient to stay in Canmore. So we wanted to put together this list of awesome Airbnbs in Canmore. You'll also find some cute Canmore rentals on VRBO as well as a few beautiful Canmore chalets!
Both Canmore and Banff have strict zoning laws when it comes to short term rentals. Meaning there aren't a lot of options on offer in Canmore like you may find in other towns. Because of the zoning, most Canmore Airbnbs are all in the same area and are very similar looking. However, if you check them all out closely you'll be able to pick out the perfect Canmore Bed and Breakfast for you as reviews, interiors, and hosts are all different!
See Also:
---
Airbnbs in Canmore – Quick View
---
But First, Why Should You Stay in an Airbnb in Canmore?
Unique Stays: Don't get me wrong. I love the Canmore hotels, but staying in an Airbnb allows you to find more unique properties. We do our best to show you the best townhouses, lofts, cottages, and cabins. Not just standard hotel rooms so that your stay is extra special.
Stay Local: By staying with a local host, you are choosing local businesses. This is not only great for them, but it gives you a chance to get the lowdown on the best things to do, where to eat, etc. No one knows best besides a local.
Affordable: Airbnbs range in price and can be found all over in different neighborhoods.
Flexibility: What I love about Airbnbs is that you can choose places that are fit for not just two people, but four, six, and so on making them great for families and even more cost-effective. We find full apartment units unite groups better than having everyone in separate hotel rooms.
Privacy: Most Airbnbs now let you check-in and check out without any human interaction if you don't want to. Keypads, lockboxes, and door codes make this all possible.
---
The Best Canmore Airbnbs
**Please note that Airbnb has abruptly discontinued its partnership with bloggers and online publishers. As a result, many of these properties are linked to Canmore VRBOs and other Canmore rental sites like Booking.com, which are great alternatives with lower service fees for guests.
---
The Canmore Cabin (Top Recommendation)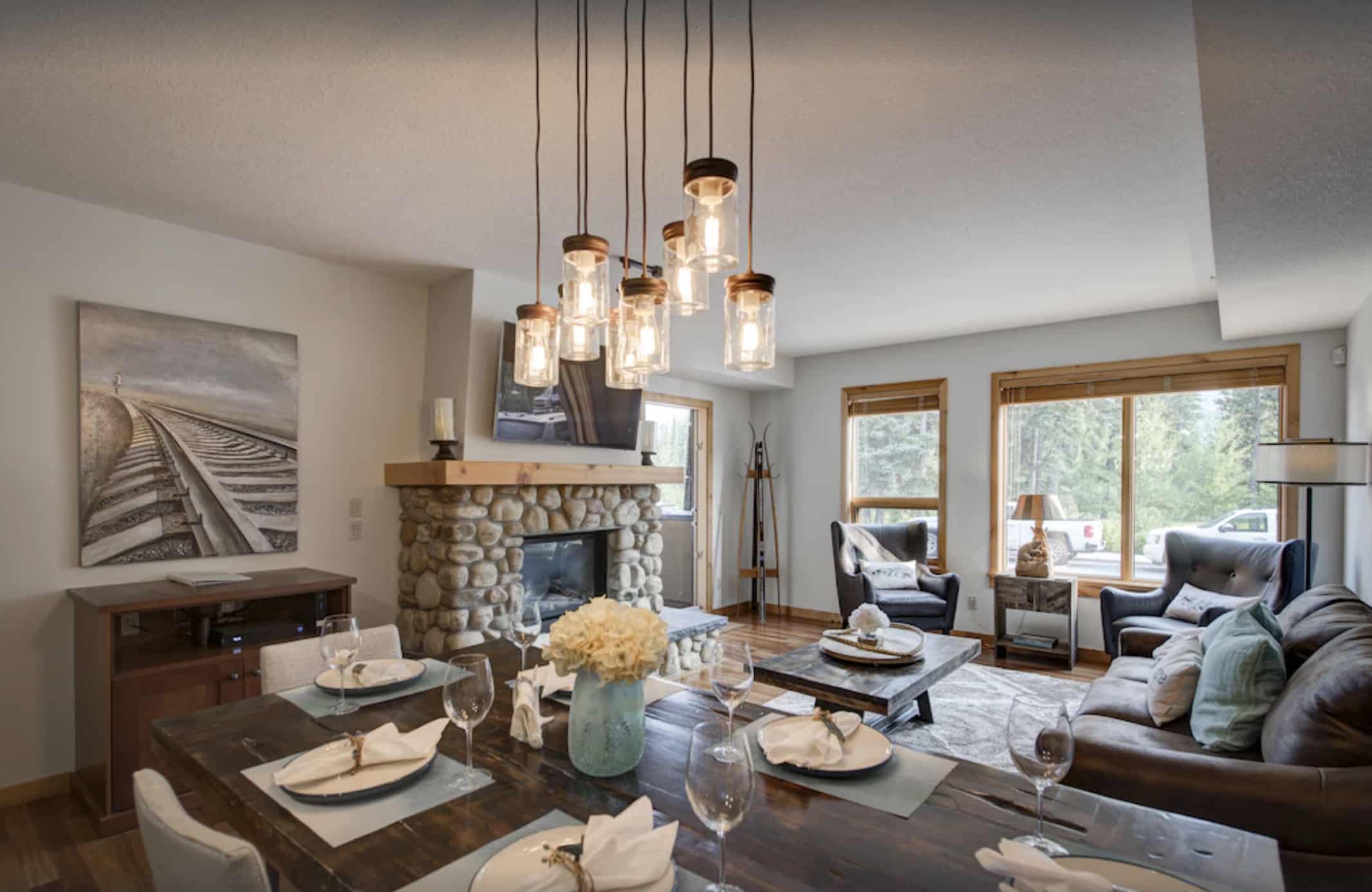 Location: Canmore
Superhost: No
Price: $200+
Guests: 6
Beds: 2
Pets Welcome
This cabin in Canmore is an Airbnb rental in Downtown Canmore, just a 10-minute walk from the main street. It's one of the only cabins on Airbnb in Canmore and is an amazing place to stay. It fits up to six people making it the ideal place for friends and family to enjoy together. I would highly suggest booking this Canmore cabin around Christmastime when the whole area is blanketed with snow.
Inside this Canmore cabin is a huge natural rock fireplace that uses Enirologs, an oversized sofa for relaxing, work-from-home amenities, and hot tub access. It's tastefully decorated and is easily one of the best Airbnbs in all of Canmore to call home.
---
Osprey Nest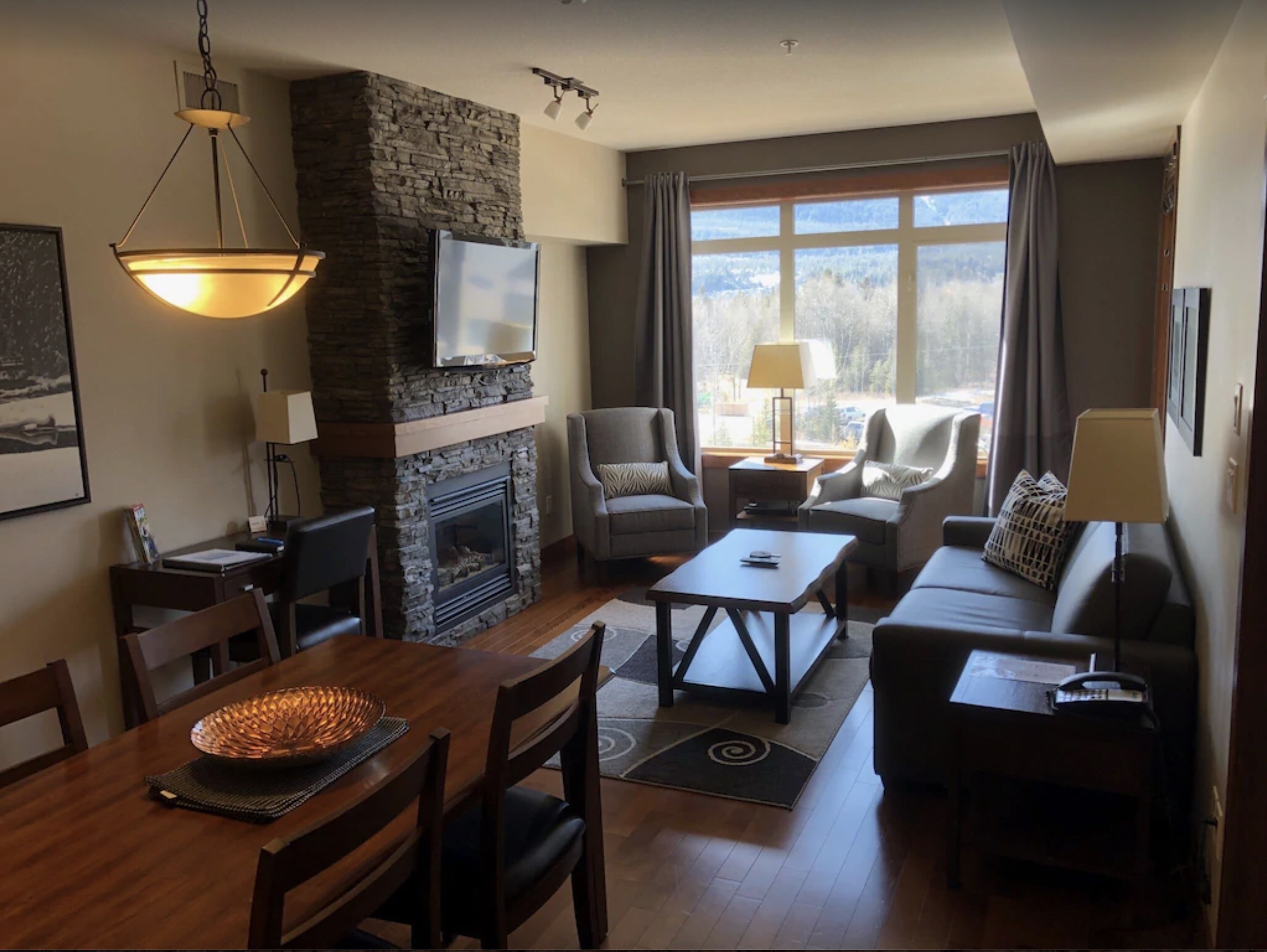 Location: Canmore
Superhost: Yes
Price: $150+
Guests: 6
Beds: 2
No Pets
This is a beautiful two bedroom Airbnb in Canmore that has the capability to handle up to five guests. It sits inside the Stoneridge complex meaning it has tons of amenities.
This is a modern apartment with a fully equipped kitchen, fireplace, in-suite laundry, and office space. However there is only one bedroom with one real bed, but the couch pulls out into a double bed, and there is space for a cot (provided by the hosts).
The best part about this Airbnb is the location. Easily walkable to Downtown Canmore, perfect if you don't want to drive too much. You'll also have access to a waterslide, hot-tub, gum, and underground parking (needed in the winter in Canmore!).
---
Perfect Stay in Canmore – Close to Town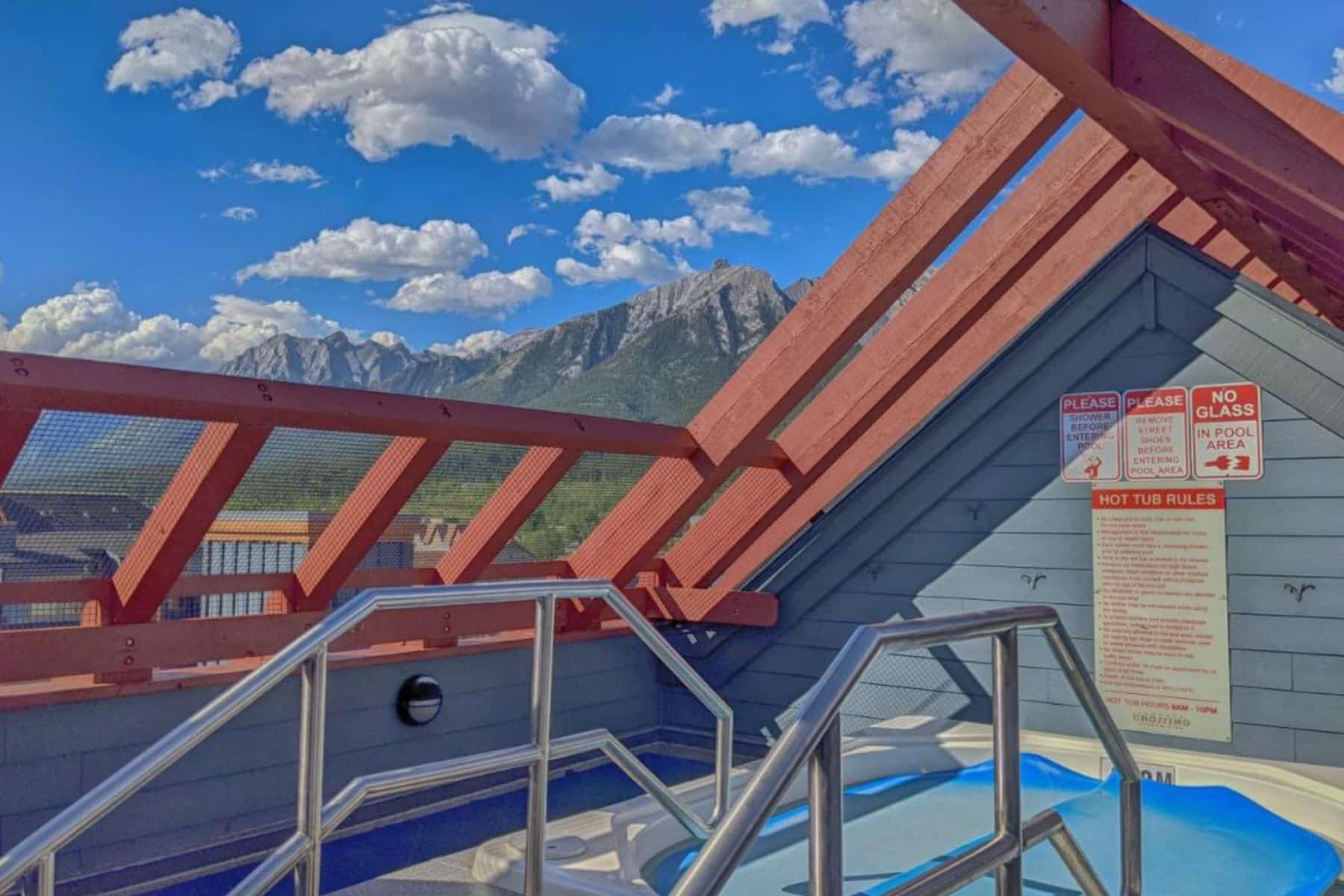 Location: Canmore
Superhost: No
Price: $200+
Guests: 9
Beds: 2
No Pets
This chic 3-bedroom condo in Canmore, Alberta, offers stunning views of Mount Cascade and is just a short walk from downtown. Recently renovated with attention to detail, the unit comes with 2 underground parking spaces, a hot tub, and gym access.
The master bedroom features a king bed and ensuite bathroom, while the second bedroom has a king bed and adjoining deck. The third bedroom has a bunk bed with mountain views. Additional sleeping arrangements are available with a sofa bed. Cable TV, WiFi, and in-suite laundry are included.
Complimentary Park Passes provide access to Banff's attractions. Centrally located, this condo is just minutes from Canmore's restaurants and shops and across the street from grocery and liquor stores.
---
Luxury Vacation Corner Penthouse Suite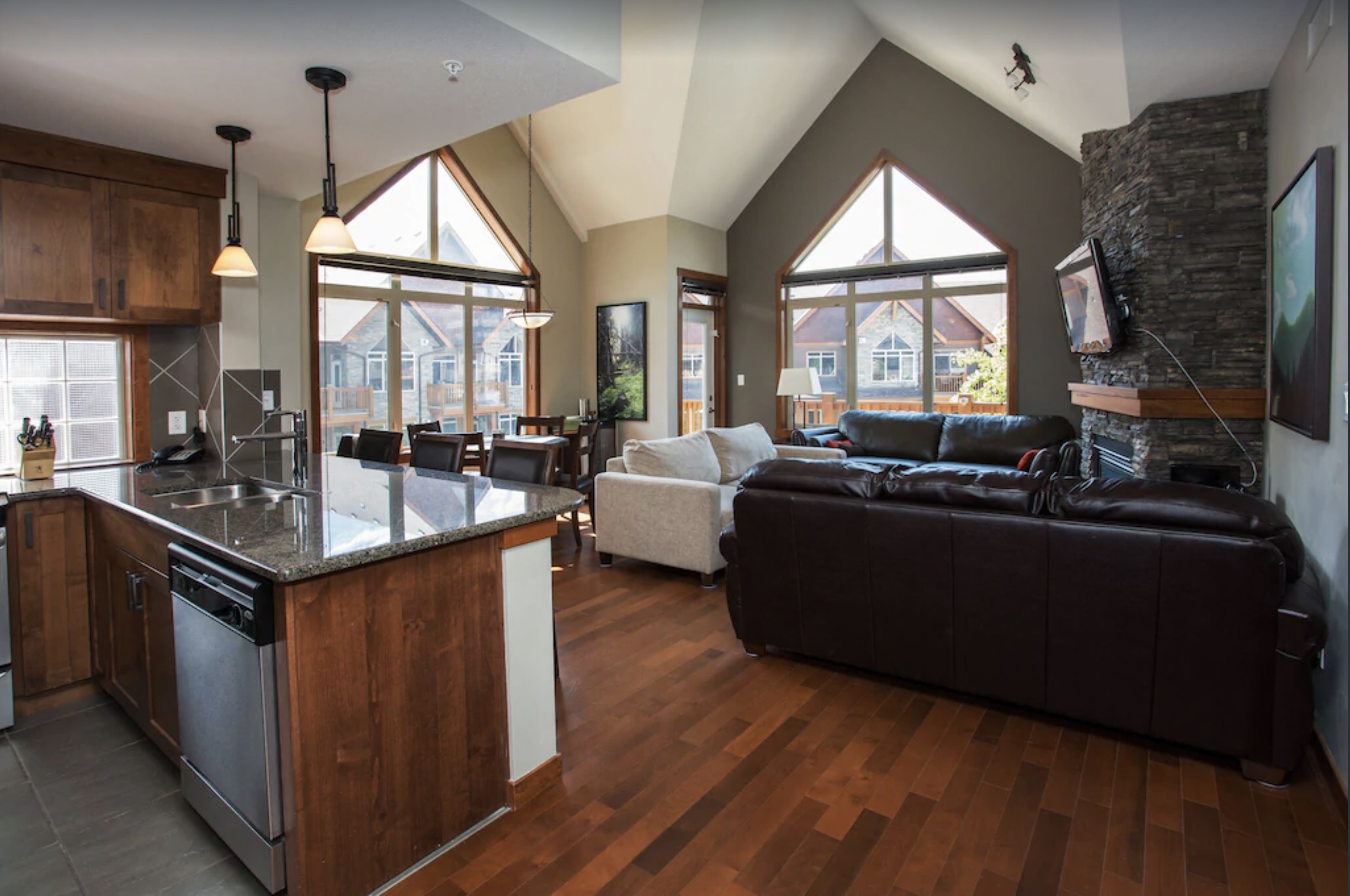 Location: Canmore
Superhost: Yes
Price: $350+
Guests: 6
Beds: 2
No Pets
This is one of the best Canmore Airbnbs for children and families as it has a high chair, safety gates, pack and play, infant sleep cot and even some toys. This is a two-story penthouse condo in Canmore and one of the only of its kind. It's super unique inside and will certainly make your trip to Canmore memorable.
Both bedrooms have king-size beds, and a queen pullout is in the living room. My favorite perks are the gas fireplace and an epic deck with a bbq. Canmore has excellent WiFi and a Smart TV to enjoy your favorite movies and shows.
For an extra $50 you can bring your pet to the Rockies! There's also underground parking available for one vehicle, which comes in super handy in the winter as you won't have to get into a chilly car in the morning.
I love how stylish and un-generic this unit is. It will certainly make for a comfortable stay in the Rockies.
---
Canmore Chalet
Location: Canmore
Superhost: Yes
Price: $170+
Guests: 8
Beds: 4
No pets
This super modern Canmore Chalet is tastefully decorated and has all the amenities you need for a comfortable stay. It's a great place for large groups as it has enough room for eight guests spread across four beds.
If you want a nice Airbnb in Canmore with a pool you don't have to venture too far. The pool at this place is literally right outside the backdoor. There's a full kitchen, with two rooms and three beds, plus a sofa bed pull out in the living room.
It's only steps away from a few easy and pleasant walks in Canmore making for a great base for families and friends. though, you'll likely never want to leave the fireplace and nice big comfy couch.
---
Magpie's Nest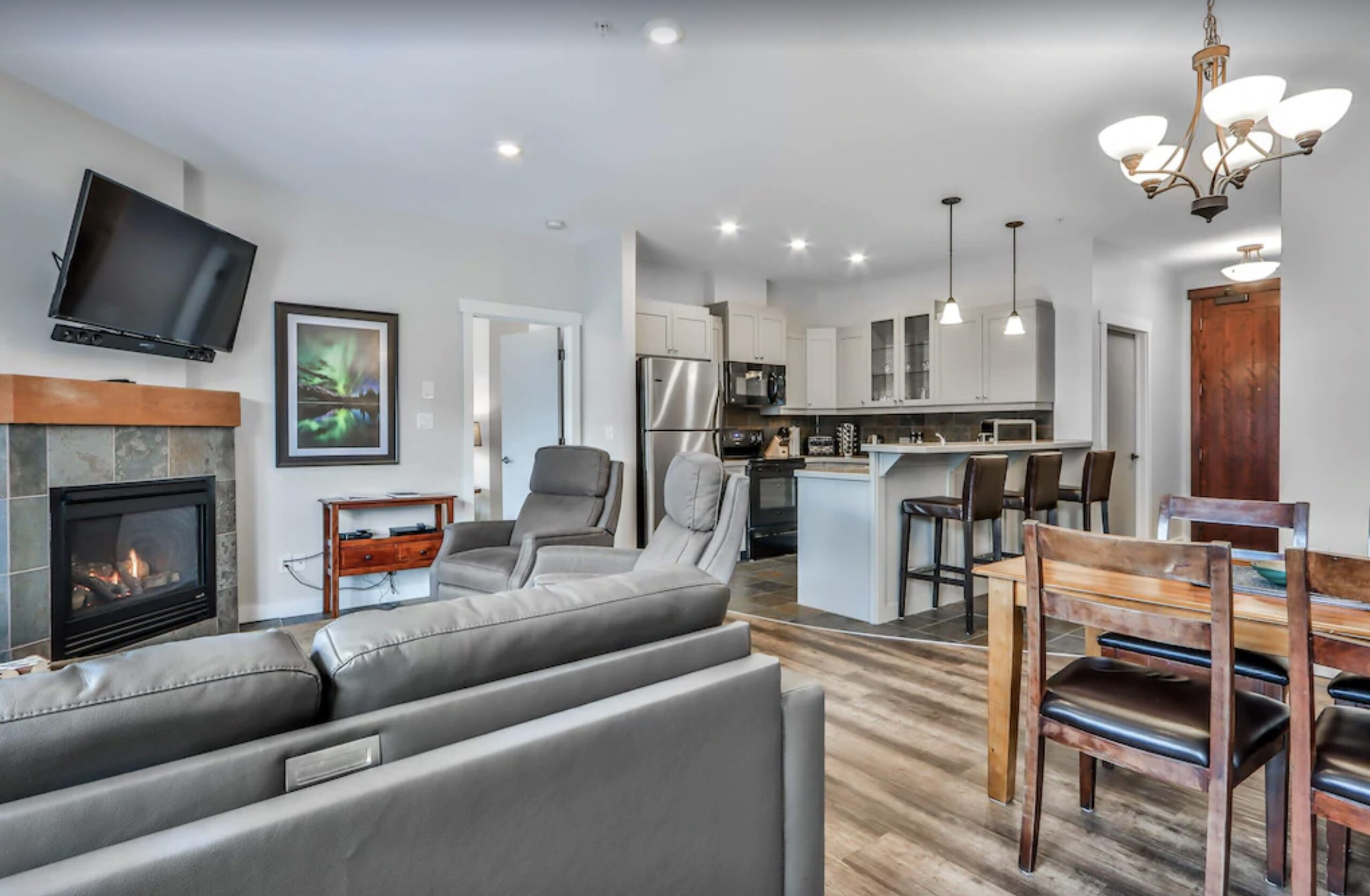 Location: Canmore
Superhost: Yes
Price: $495+
Guests: 6
Beds: 2
Pet Friendly
If you are looking for an extremely cozy Airbnb in Canmore set up for two people this one is for you. This one bedroom Canmore Airbnb is set up in a resort condo community with views of the Three Sisters, Ha Ling, and Mount Rundle.
All the furnishings are modern, plush, and comfortable. There's in-suite laundry available with detergent as well as a completely stocked kitchen.
Go skiing at Lake Louise during the day and come back to relax with a Smart TV with Netflix and fast WiFi in the evening. There's also free access to heated underground parking and a Eucalyptus steam room and gym. This Airbnb is right off the Trans Canada making exploring the Rockies quick and easy.
---
Epic Suite with Hot Tub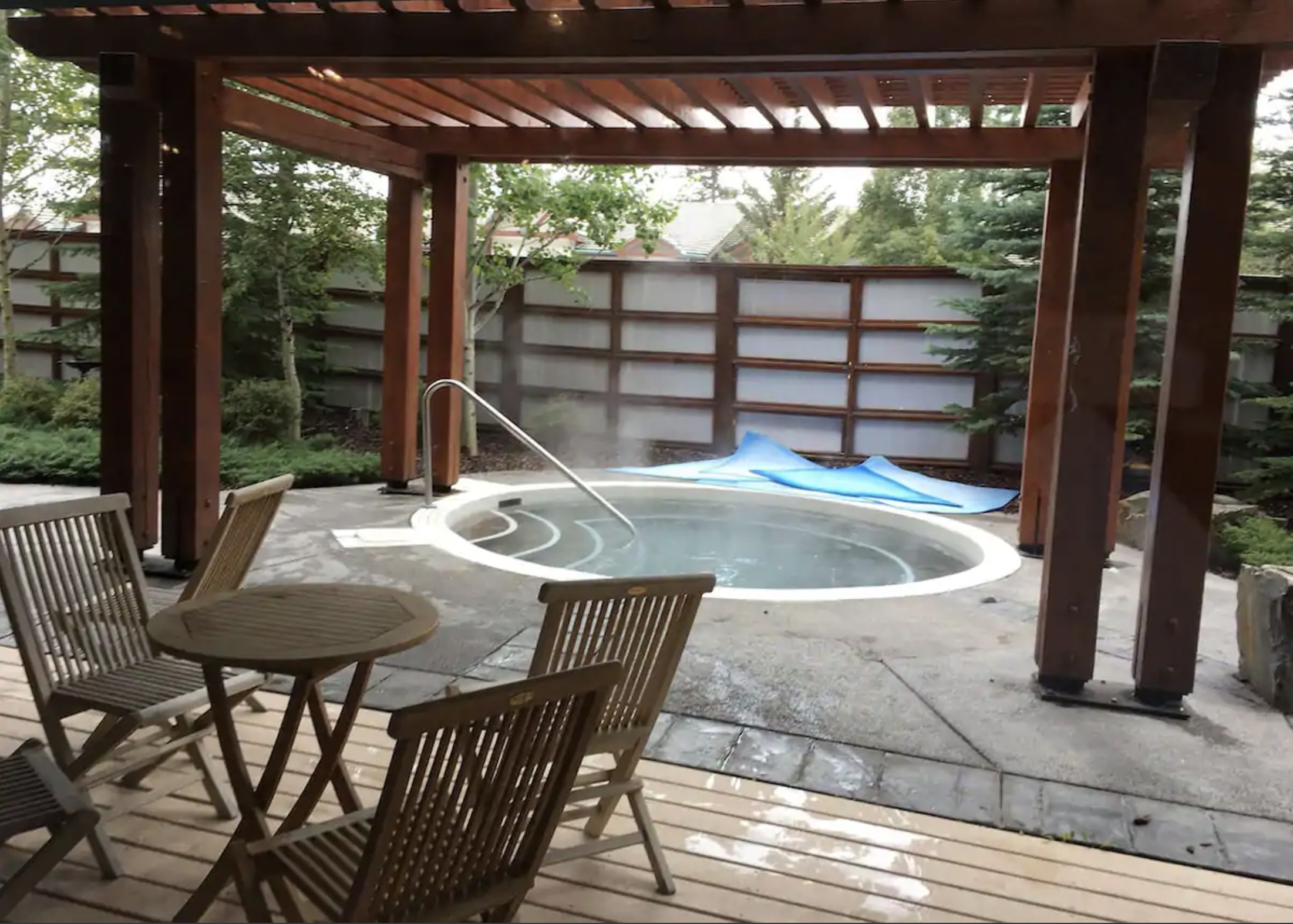 Location: Canmore
Superhost: Yes
Price: $125+
Guests: 6
Beds: 2
Pet Friendly
If you're looking for a Canmore Airbnb with a hot tub look no further. This is a stunning Airbnb in Canmore with a steam room, hot tub, and an onsite spa. In the building, there's also an Asian fusion restaurant to enjoy!
Out the window, you'll get fantastic views of Grotto Mountain and Lady MacDonald, as well as the famous Three Sisters Mountains (my favorite ladies of Canmore!).
There's really nothing not to love about this Airbnb. It's comfortable, cozy, and the perfect place to say on any vacation in the Canadian Rockies.
---
Mountain View Condo with Gym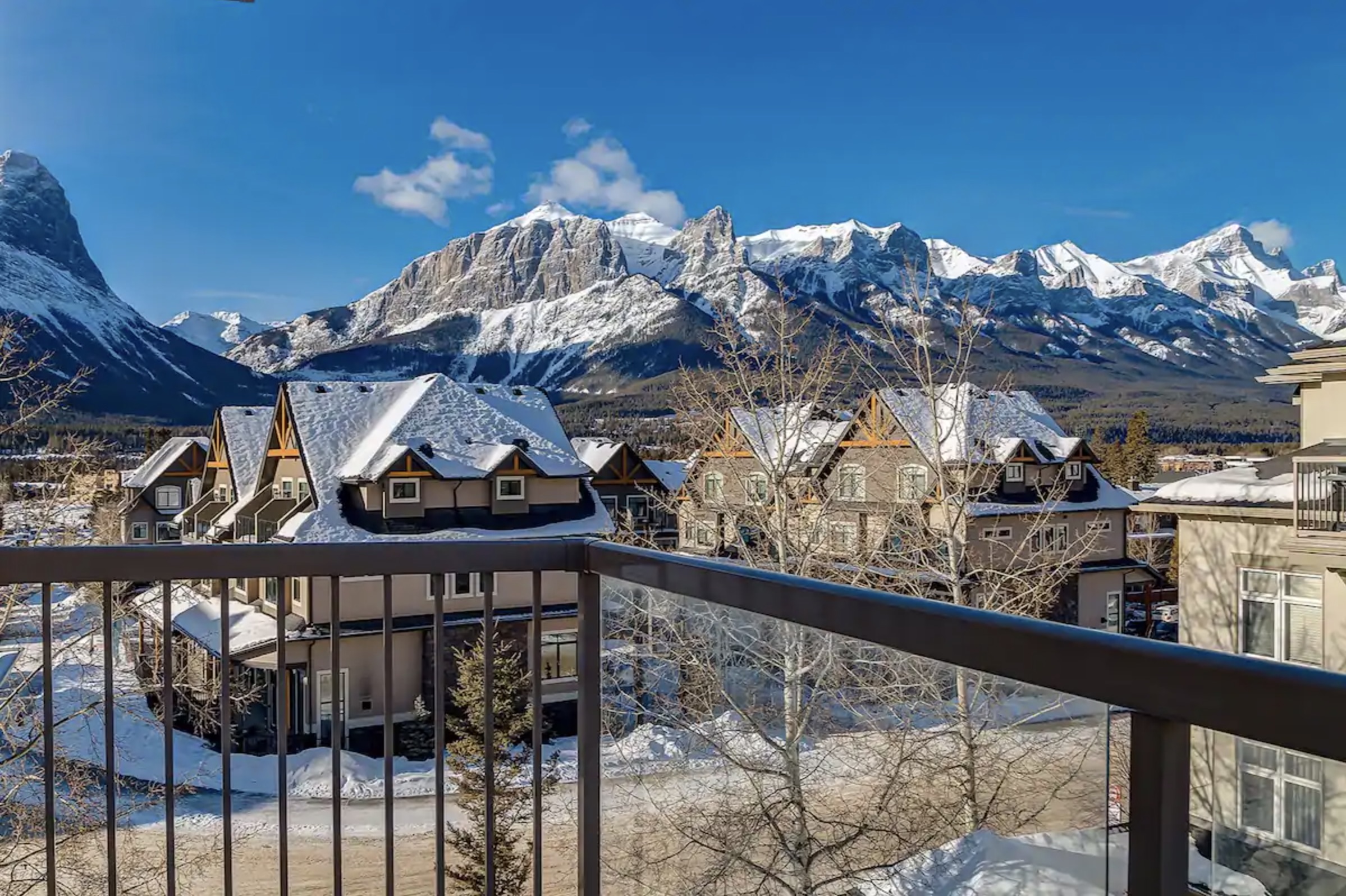 Location: Canmore
Superhost: Yes
Price: $100+
Guests: 6
Beds: 3
Pet Friendly
If you have more than a few people in your party this is the Airbnb in Canmore located in Solara is for you! Set up for up to six people this Airbnb has two bedrooms, and a large table to enjoy communal dinners.
There are two bathrooms so you're not fighting for space while getting ready for a hike in the morning, and there is a full kitchen set up.
It's lovely and a great place to relax after a day out hiking to Grassi Lakes or enjoying the town of Banff.
---
Silver Creek Lodges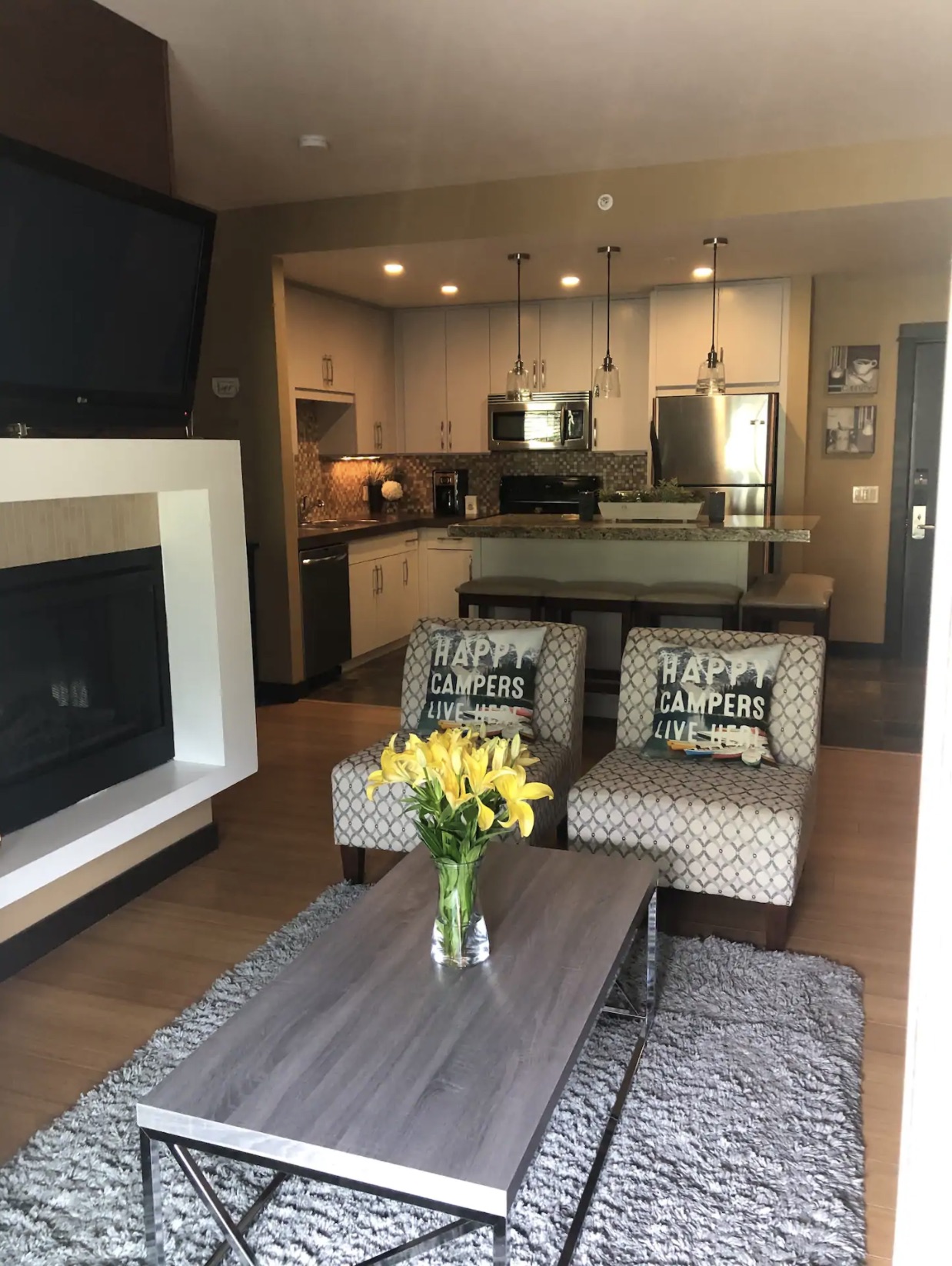 Location: Canmore
Superhost: Yes
Price: $125+
Guests: 6
Beds: 3
Pet Friendly
This is a great Canmore Airbnb located in Silver Creek Lodges for those that want to be in the center of the action downtown. From this Airbnb, you can pretty much walk anywhere. It's also one of the best Canmore Airbnbs for pets, as the hosts allow small pets on approval.
The inside of this Airbnb is luxurious and two queen size beds, and a pull out in the living area. The kitchen is well stocked and allows you to cook anything you want to. There are two TVs to enjoy after a day out enjoying Ha Ling Peak or EEOR.
The balcony is one of the best parts of this Airbnb and provides epic mountain views, ensuring you won't be disappointed. Building amenities include a restaurant with bar, lounge area, sauna, gym, and two outdoor hot tubs for residents.
There's underground heated parking available for multiple cars. Great for two families who plan to meet in Canmore!
---
Lofted Penthouse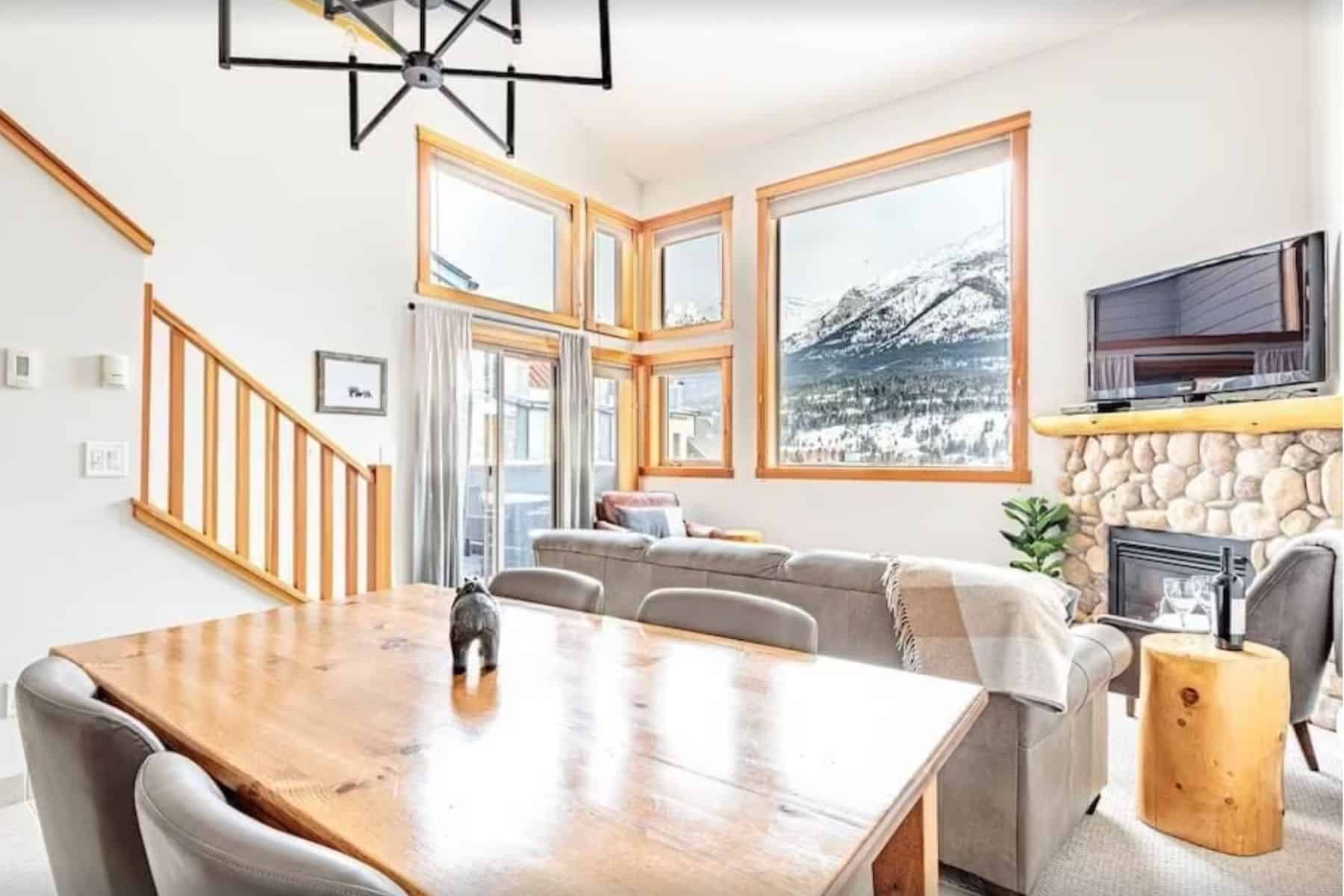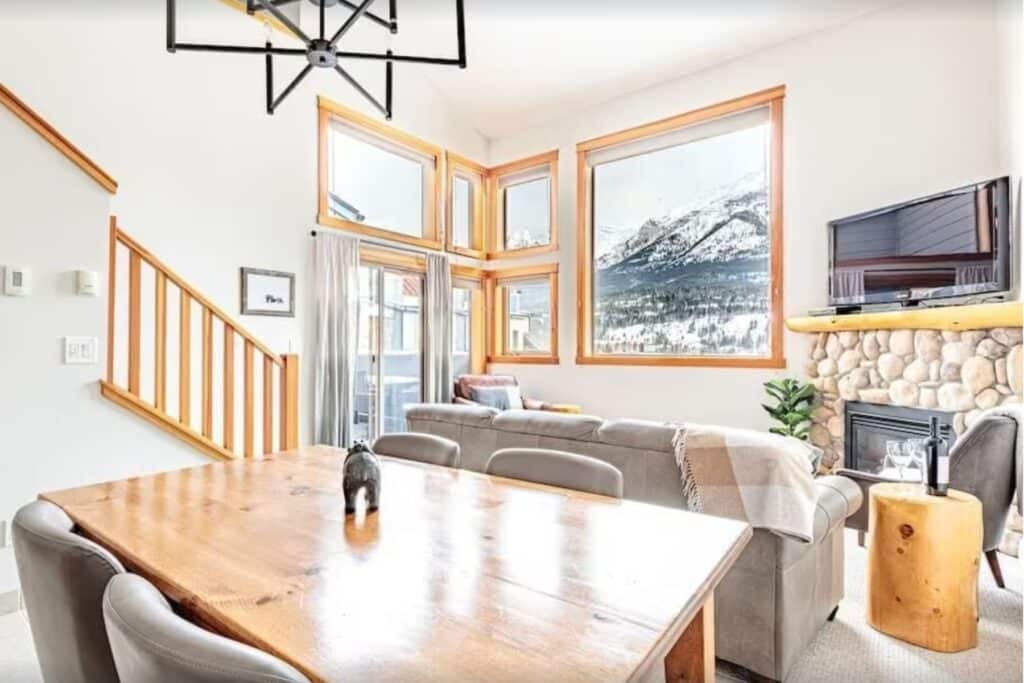 Location: Canmore
Superhost: Yes
Price: $400+
Guests: 6
Beds: 3
Pet Friendly
This is a conveniently located Canmore Airbnb right next to the grocery stores, Canadian Tire, Starbucks, and just a quick hop across the street to Mainstreet where the best shops and restaurants are.
I love this top floor unit because it has open huge windows that look out towards the Three Sisters and Mount Lawrence Grassi.
This is another fantastic place with secured, heated parking. Again this may not seem like a big deal, but it comes in super handy in the cold Alberta winters, and also fantastic in the summer when space in town gets limited.
This renovated loft is the perfect mountain retreat for couples or families and their furry friends. The condo is stocked with locally made bath and body products, and the kitchen has everything you need, including complimentary coffee and tea. Enjoy the private deck with a BBQ and amazing views, or cozy up in the living room with a gas fireplace.
The master bedroom is a loft, open to the main living area below, and the bathroom in the loft is also open to the bedroom. The building has two rooftop hot tubs and one indoor hot tub, as well as a small gym.
This rental is pet friendly!
---
Mystic Luxury Chalet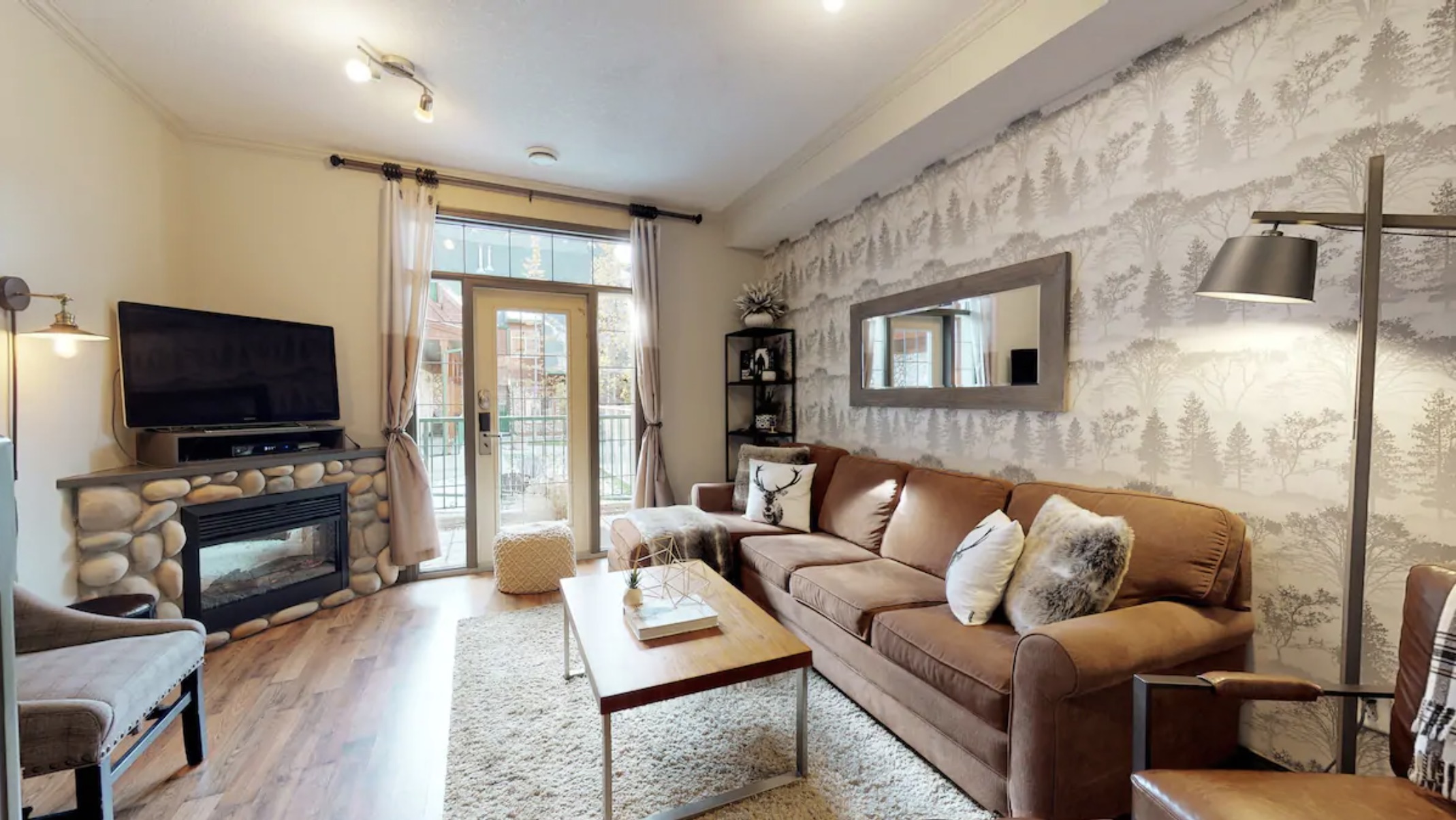 Location: Canmore
Superhost: Yes
Price: $150+
Guests: 6
Beds: 3
Pets Allowed
This is a super-luxurious townhouse and one of the best Canmore Airbnbs with a pool! Mystic Springs is a great neighborhood in the area with a pool that is heated! There's a 12 person hot tub you can head to after a day out skiing in Banff with your family and friends.
I love the patio here that overlooks the pool, so you can let the kids swim while you enjoy a drink watching them from the deck. You're only steps away from some of Canmore's best restaurants. In addition, there is a free Parks Canada pass to get you into Banff included in your stay!
The bedrooms are located on the second story with the living room on the main story, creating a nice separation. The master bedroom has a comfortable king size bed to stay cozy in on Saturday morning.
---
Entire Townhouse in Harvey Heights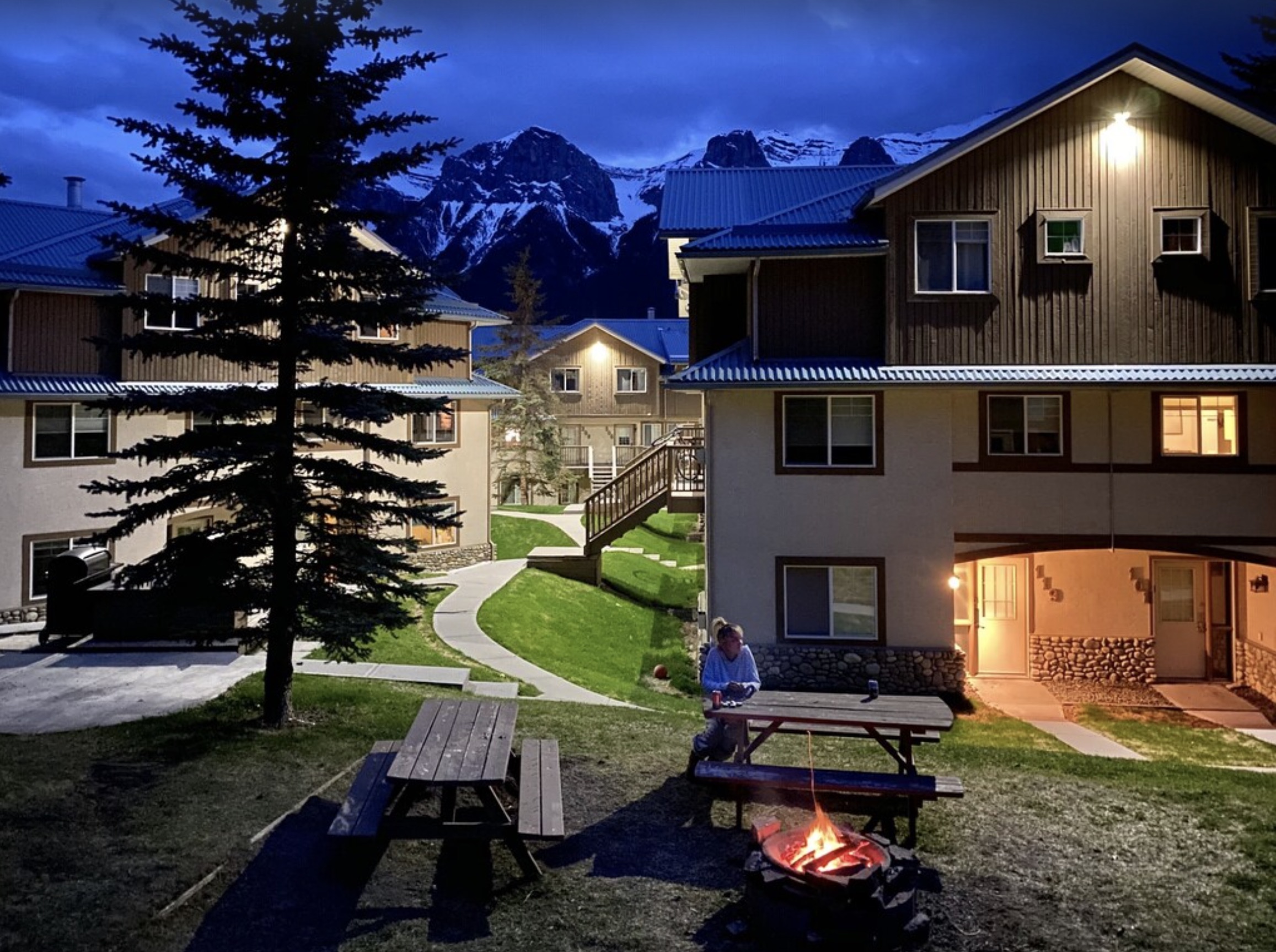 Location: Harvey Heights
Superhost: Yes
Price: $100+
Guests: 8
Beds: 4
Pet Friendly
For better value, I would suggest getting an Airbnb in Harvey Heights. Harvey Heights is a small community just five minutes away from Canmore and offers much better value, some nicer places, and the opportunity to house more people than most of the Airbnbs in Canmore.
I swear you still get amazing views in Harvey Heights, the only difference is it's not walking distance to Downtown Canmore like the other Airbnbs on this list. So you'll need a car or a bike to get to Main Street and all the restaurants, bars, and boutique shops that go with that.
This is a 2 bedroom townhome that is suitable for eight people and pets. It has a gas fireplace and all new furniture. There's also free parking, a public hot tub, bbq facilities, and a laundry room (coin-operated)
---
The Best Things to do in Canmore
---
Hike East End of Rundle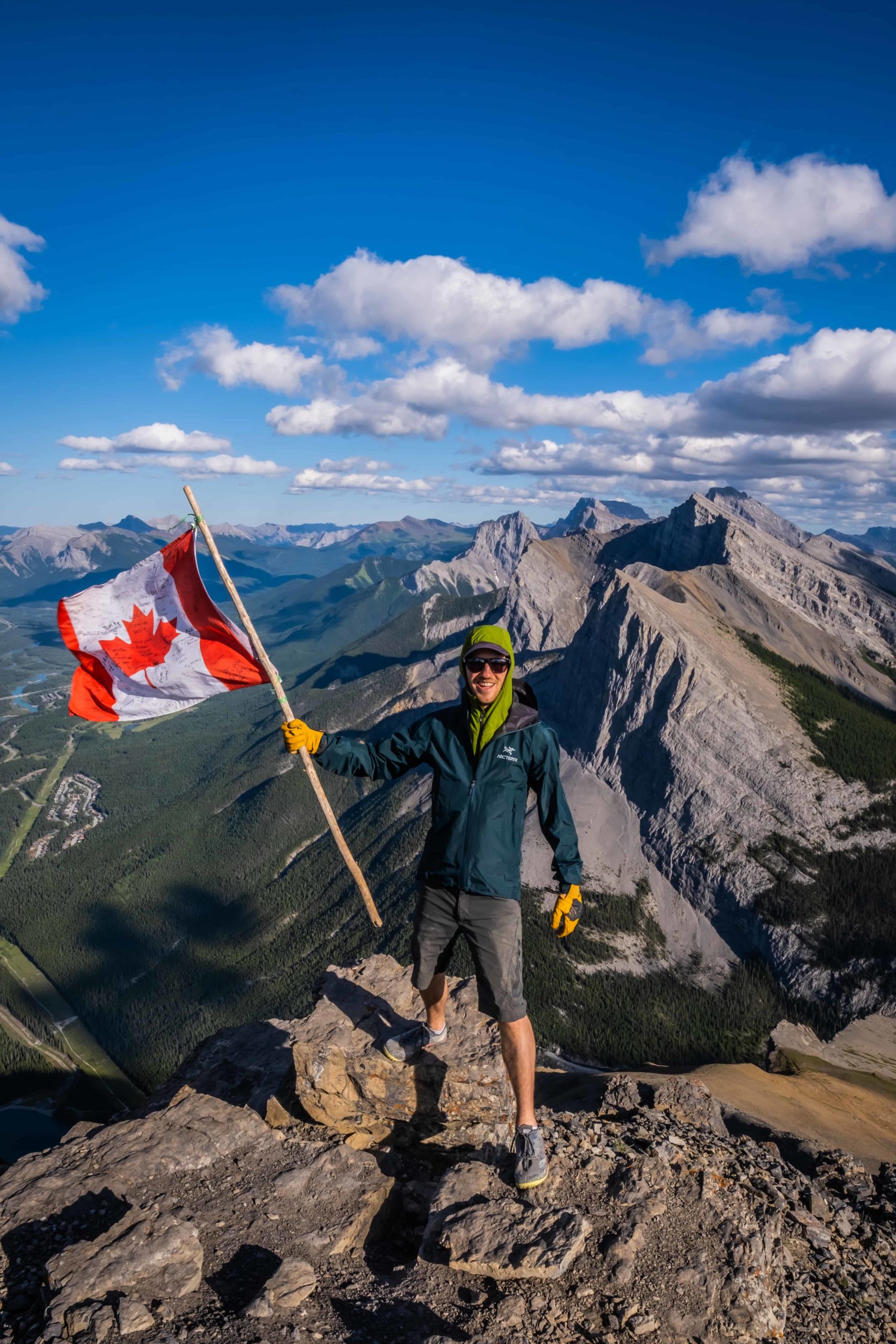 East End of Rundle (EEOR) mentioned above is one of the most popular hikes in Canmore. It's a beautiful hike up that provides visitors with astonishing views over Canmore, the Bow Valley, and Ha Ling Peak. Although, just because East End of Rundle (or EEOR, or "Eeyore" as locals like to call it) is close to town doesn't mean it's an easy climb up to the summit.
EEOR trail is a 5.8-kilometer out and back trail. It's a steep and strenuous uphill battle for almost the entire hike. There are hardly any flat parts and the climb starts right from the car park. There are moderate exposure and some scrambling required, but nothing too scary or difficult for the average to the advanced hiker.
---
Grab a Beer at Grizzly Paw Brewing Pub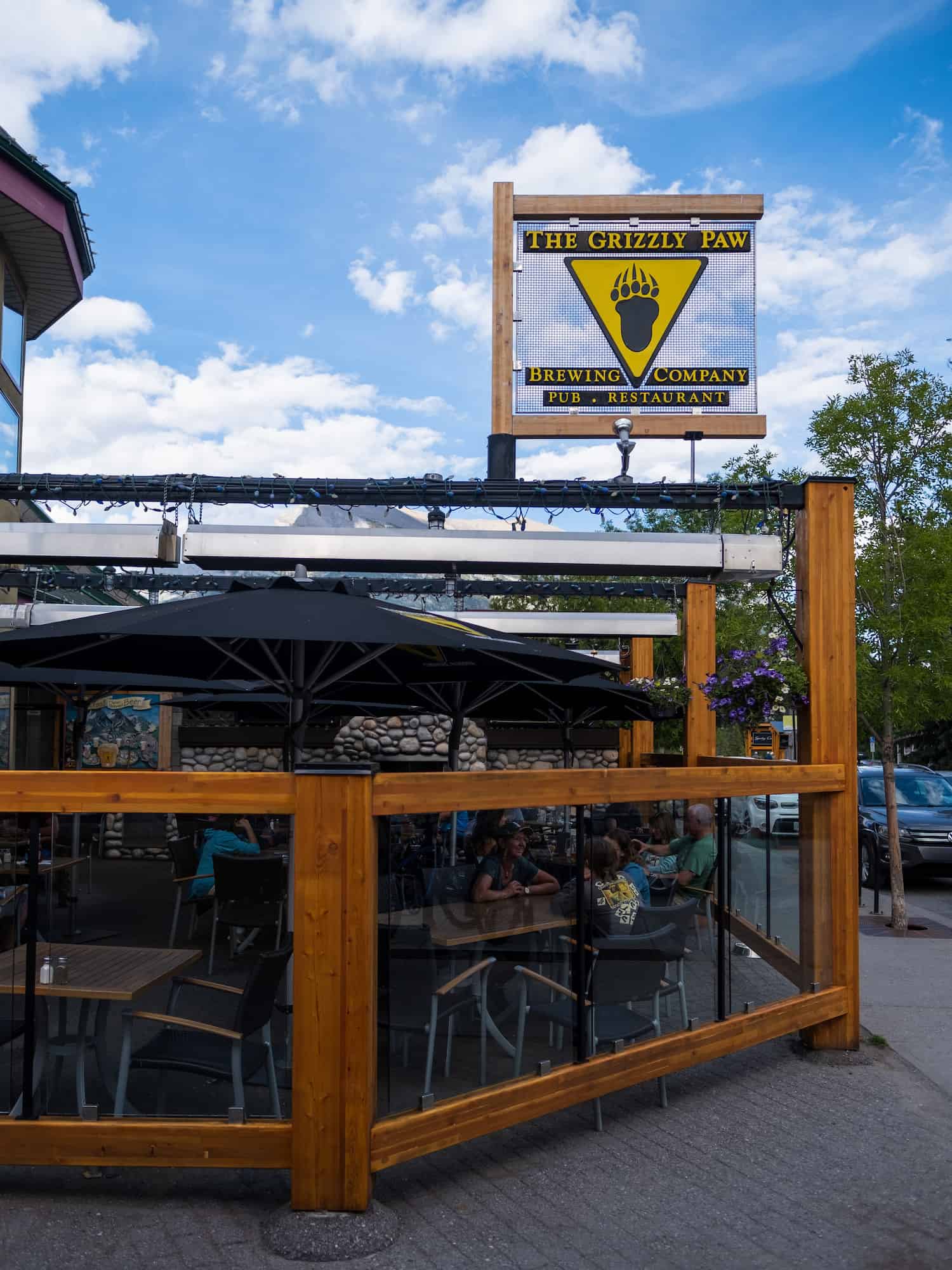 Our favorite apres ski ritual is to check out the local brewery, something you can only find in North America. It doesn't matter the season, but to end any day with a local beer in the stunning Rockies is the perfect day.
The drink and food here are great and we loved their Grumpy Bear Honey Wheat and Rundlestone IPA. There are also seasonal draughts on offer, like gose, wheat, specialty IPA, and other guest brewers.
---
Morning Coffee At Eclipse Coffee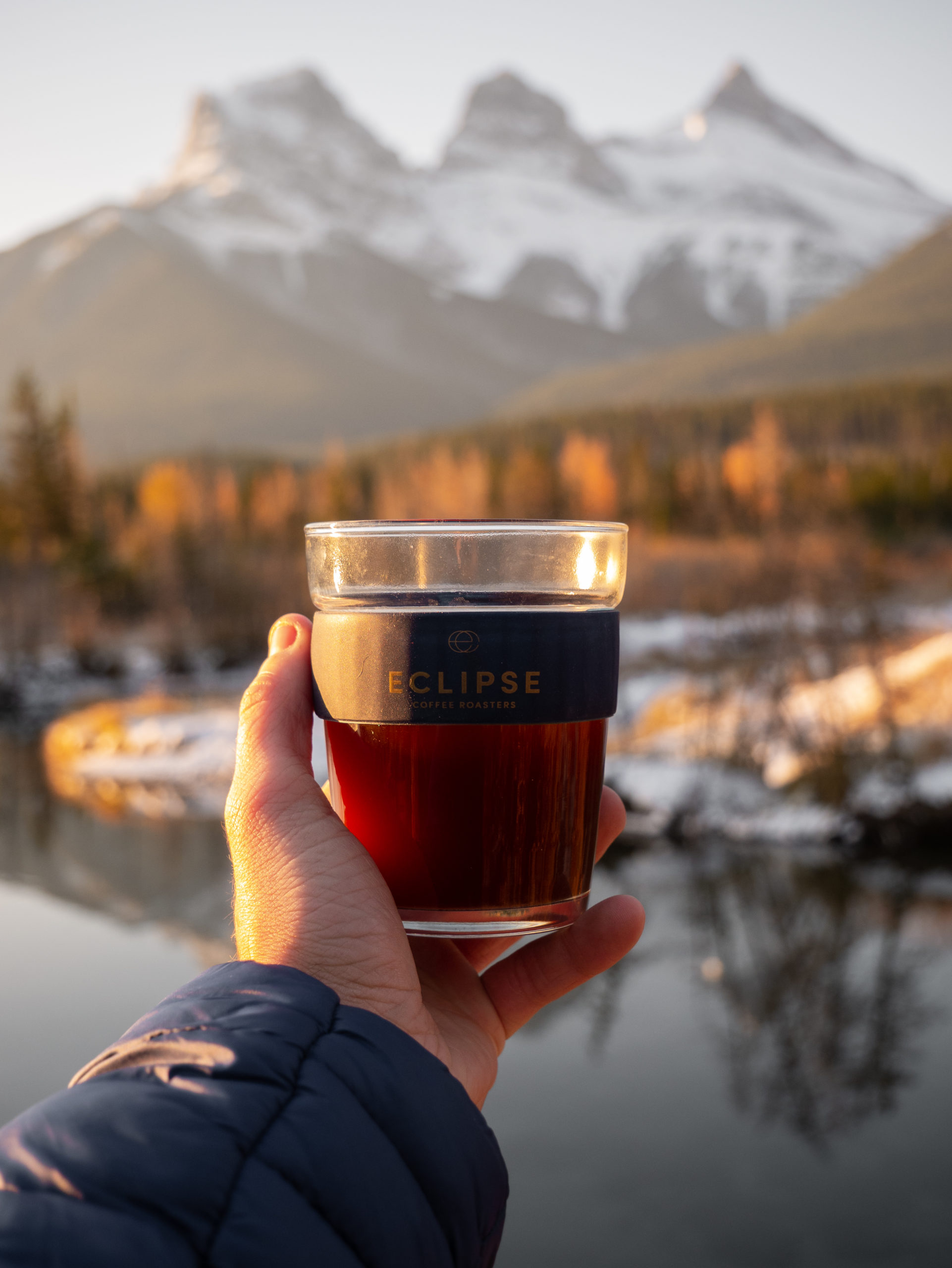 If you're looking for the best coffee around Banff then you need to head to Canmore and visit the Eclipse Coffee Roasters. They now have two locations one downtown and the original at the main intersection off Bow Valley Trail.
At the shop, you can find artisan roasts made in house or order a range of specialty coffees. Expect to find the usual ranging from a flat white to a latte and even a nice pour over for true coffee aficionados. This is our favorite spot and where we like to pick our coffee roast for home.
It's also a great place to pick up a local roast for camping or a coffee before tackling a hike in Kananaskis off Smith Dorrien Trail or on your way to Banff.
---
Hit The Trails on a Mountain Bike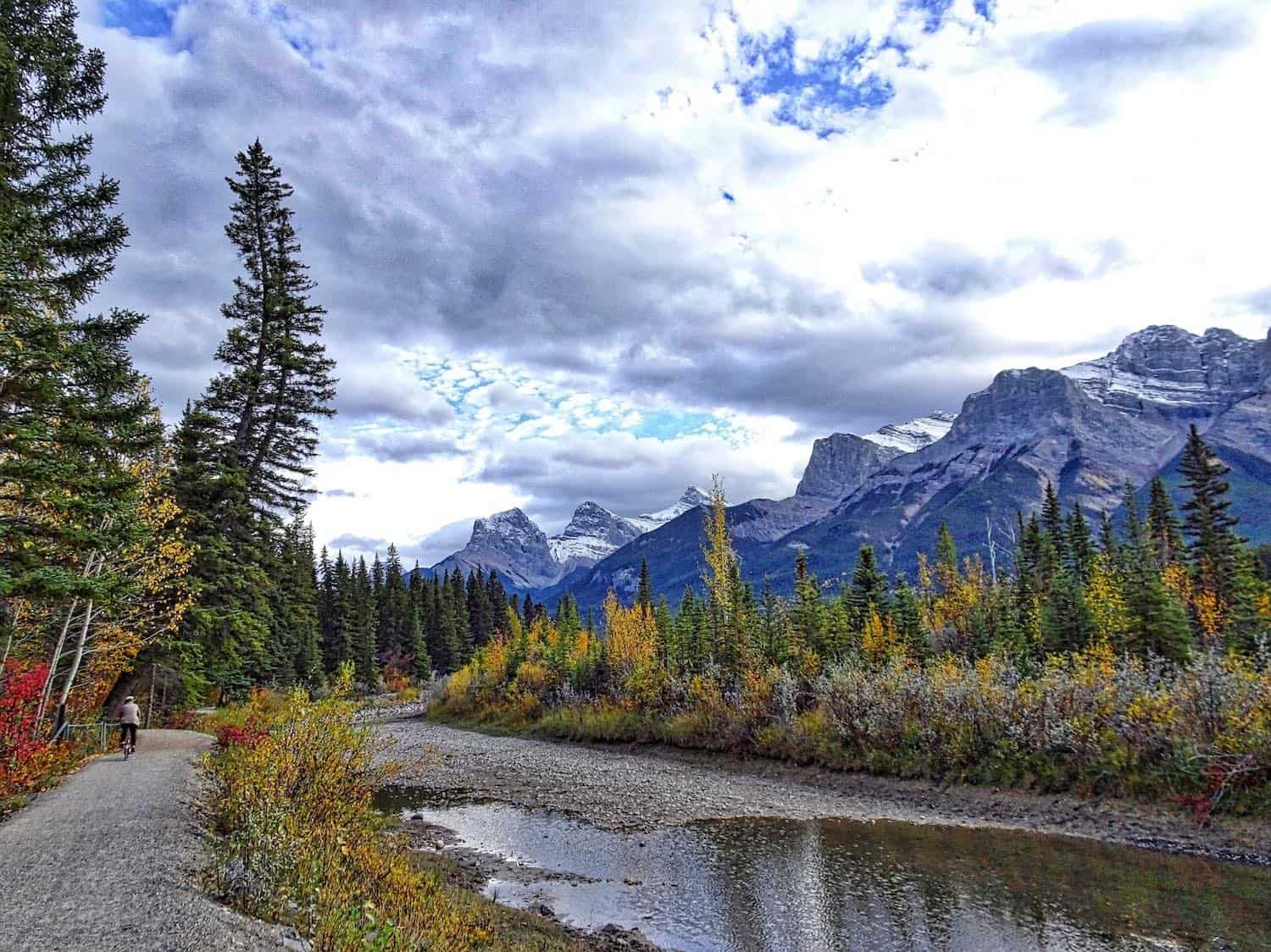 Once the snow melts so do the trails and there are myriad trails for mountain biking that cater to any skill set. That could mean a nice mellow bike ride through a field with gorgeous views or screaming down a ridgeline on a white-knuckle ride. The Canmore Nordic Center transitions in the summertime to a network of trail for mountain bikers with a wide range of difficulties.
Mountain biking has caught on all over North America and the opportunities and trails continue to grow every season. For the most current information on trails in the area stop in a local shop or check out the tourism board's website.
---
Climb Ha Ling Peak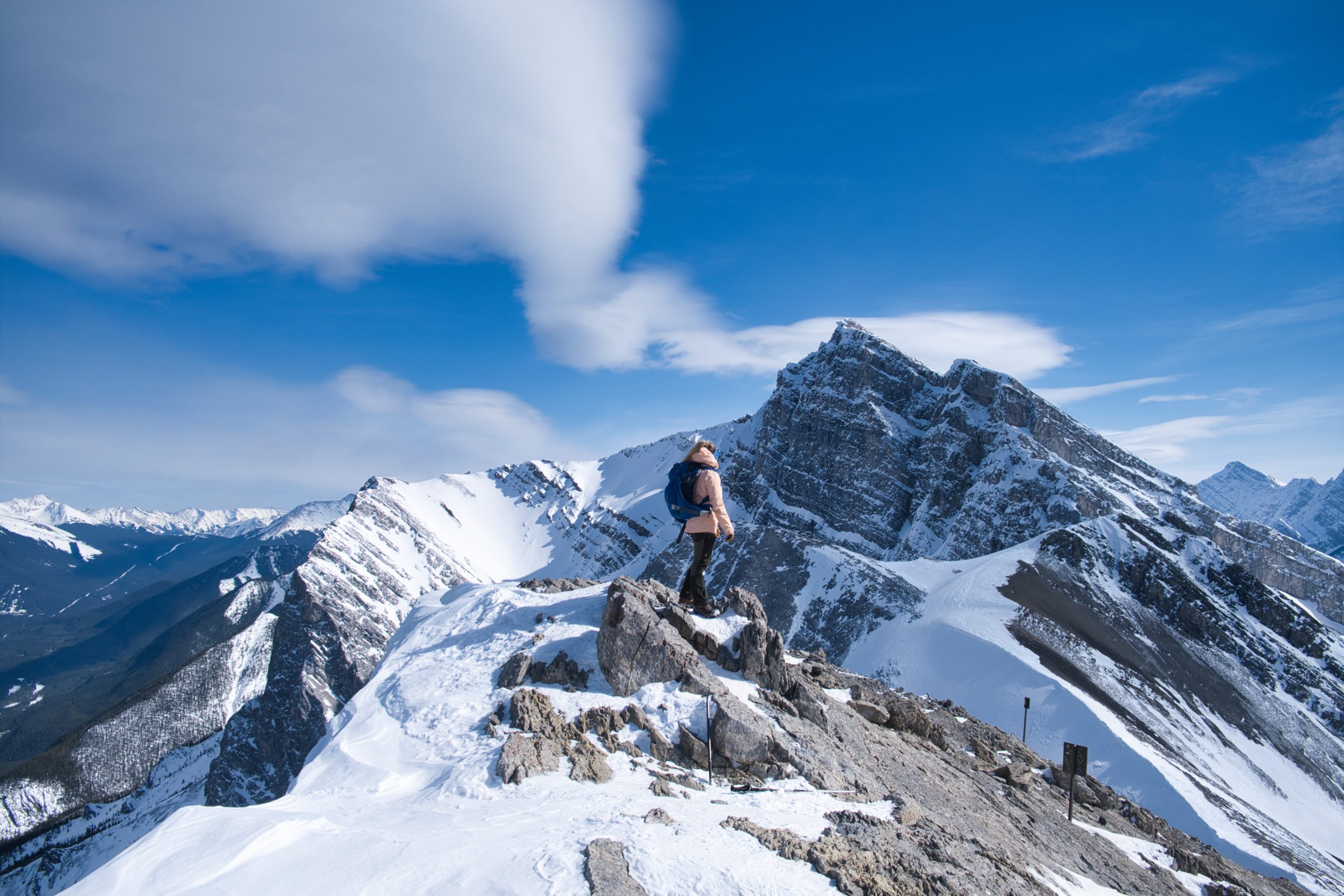 Head to the top of the most notable mountain in Canmore, Ha Ling Peak. It also happens to be the most approachable mountain in the region with a recently revamped trail that includes steps, informational signs, viewpoints, and a clear trail.
The downside of HaLing is its popularity on a nice summer weekend the parking lot and trail are packed with thousands climbing the short trail to the peak. It's still a pretty difficult hike as you gain over 800m in just under 4km.
See the Full List of Things to do in Canmore Here!
---
↓ Join the community ↓
The Banff Blog Facebook Group is your headquarters for the Canadian Rockies' travel advice and information. Including hike info and off-season travel information. This is also where you can meet one another when you need adventure buddies. 

Plan Your Trip to the Canadian Rockies