If you're heading to Calgary and looking for a fantastic Airbnb to call home we have you covered. There are many options in Calgary, just searching for Calgary Airbnbs can feel overwhelming. So we decided to do that work for you and narrow down the absolute coolest and most comfortable Airbnbs in Calgary here.
Calgary is a fantastic place to stay. Whether it's your first time in Alberta and you want to see the city, or you're here for your annual Calgary Stampede, or you want to see the city before heading to Banff you will definitely have a great time in one of Canada's largest cities.
You may think of Calgary as some dreadful winter place, but there is actually a lot of unique things to do in Calgary, some fantastic Calgary restaurants, and even better bars. Whether you are here for work, play, or a bit of both you need a great place to stay. Here we've scoured the internet for it all – Calgary lofts, townhomes, penthouses, and even cabins and these are your best options for Calgary Airbnbs!
See Also:
---
But First, Why Should You Stay in an Airbnb in Calgary?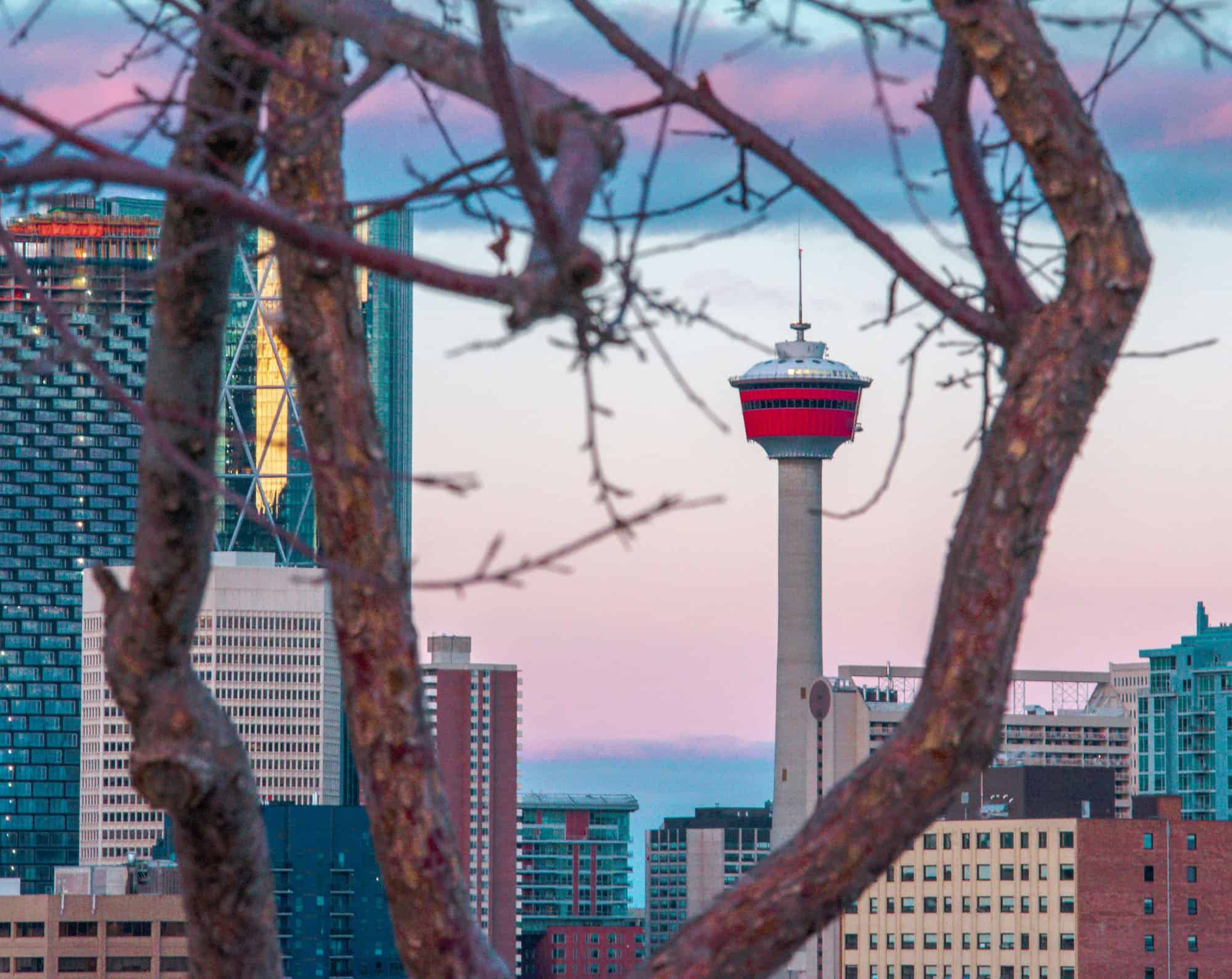 Unique Stays: Don't get me wrong. I love hotels, but staying in Airbnb gives you the chance to find more unique property. We do our hardest to show you the best townhouses, lofts, cottages, and cabins. Not just standard hotel rooms so that your stay is extra special.
Stay Local: By staying with a local host you are choosing local businesses. This is not only great for them, but it gives you the chance to get the lowdown on the best things to do, where to eat, etc. No one knows best besides a local.
Affordable: Airbnbs range in price and can be found all over the city, not just in one area (like a downtown area). You can stay in local neighborhoods which typically mean cheaper.
Flexibility: What I love about Airbnbs is that you can choose places that are fit for not just two people, but four, six, and so on making them great for families and even more cost-effective.
Privacy: Most Airbnbs now let you check-in and check out without any human interaction if you don't want to. Keypads, lock boxes, and door codes make this all possible.
---
The Best Airbnbs in Calgary
**Please note that Airbnb has abruptly discontinued its partnership with bloggers and online publishers. As a result, many of these properties are linked to Calgary VRBOs, which are great alternatives with lower service fees for guests.
---
Loft 112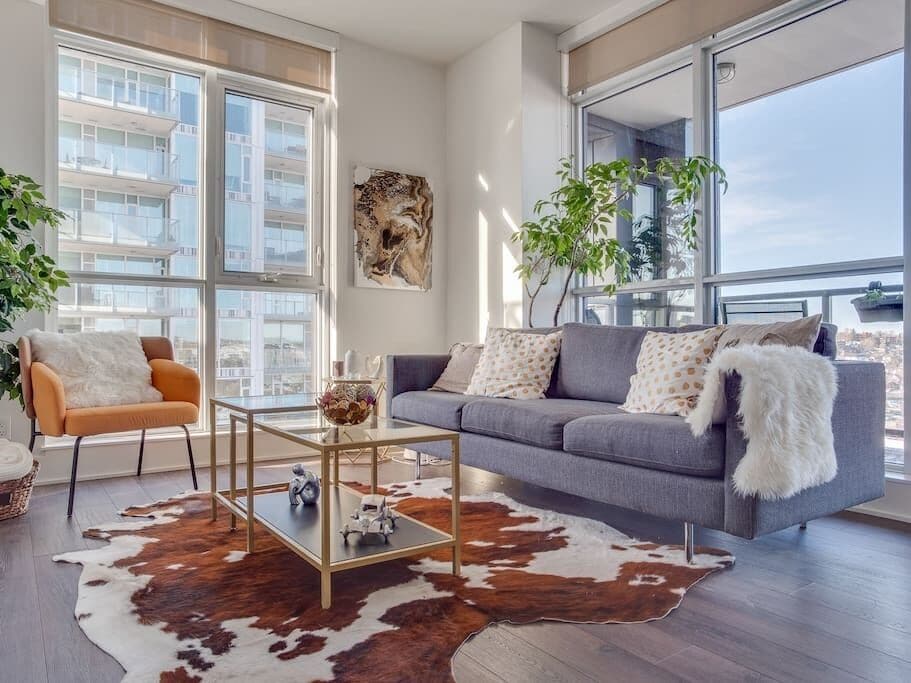 Location: East Village
Superhost: No
Price: $100+
Guests Allowed: 2
This is a loft set up for two people in a hip area of the city. It's a fantastic Airbnb in Downtown Calgary and is a vibrant creative hub where writers and artists come together in the community. By renting the loft you actually support local writers and artists – how cool!
This Calgary Airbnb includes a full creative space and art, books, and soaps from local artisans. Loft 112 has a micro-apartment up the stairs making the rental have two bathrooms and two kitchens. What's even better is that the apartment complex has a rooftop terrace and cocktail bar! Oh, and there's a parking stall which is so helpful as parking is extremely expensive in Calgary.
Loft 112 is in a great location only a few blocs away from the Riverwalk, live music venues, and the Stampede.
Guest Review: Perfect Place to visit Calgary. Lisa was a great host! She very friendly and gave us a lot of tipps. Very nice location! Very close to the Stampede. Everybody should go there!
---
Huge Penthouse Loft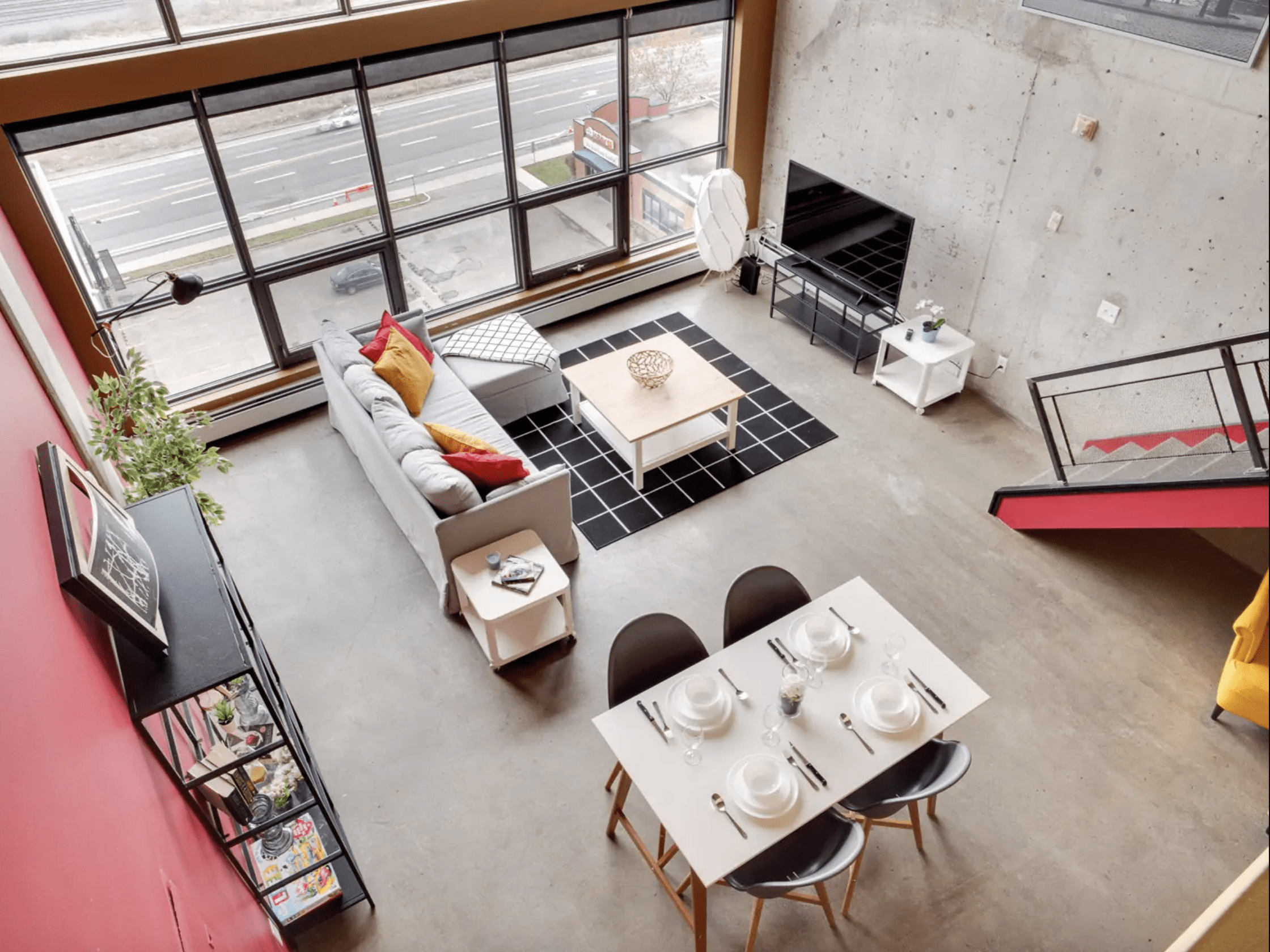 Location: East Village
Superhost: No
Price: $100+
Guests Allowed: 6
This is the most beautiful Airbnb in Calgary with a great location. This huge penthouse is ideal for six people, with 1 Queen bed & 1 Single bed & 1 couch. Everything about this Airbnb in Calgary is stunning, from the kitchen to the living room with wide-open windows you won't ever want to leave. There's a massive Smart TV and fiber internet to relax by at night and a full kitchen so you can do all your cooking in if you want.
This Calgary Airbnb has in-suite laundry, underground (free) parking, and is accessible by self-check-in. What's best is the location. It's surrounded by everything you could need like a coffee shop, Calgary breweries, bakery, and a shopping center. It's also close to the Stampede Train Station, the Calgary Tower, and East Victoria Park!
---
Cozy Home by the River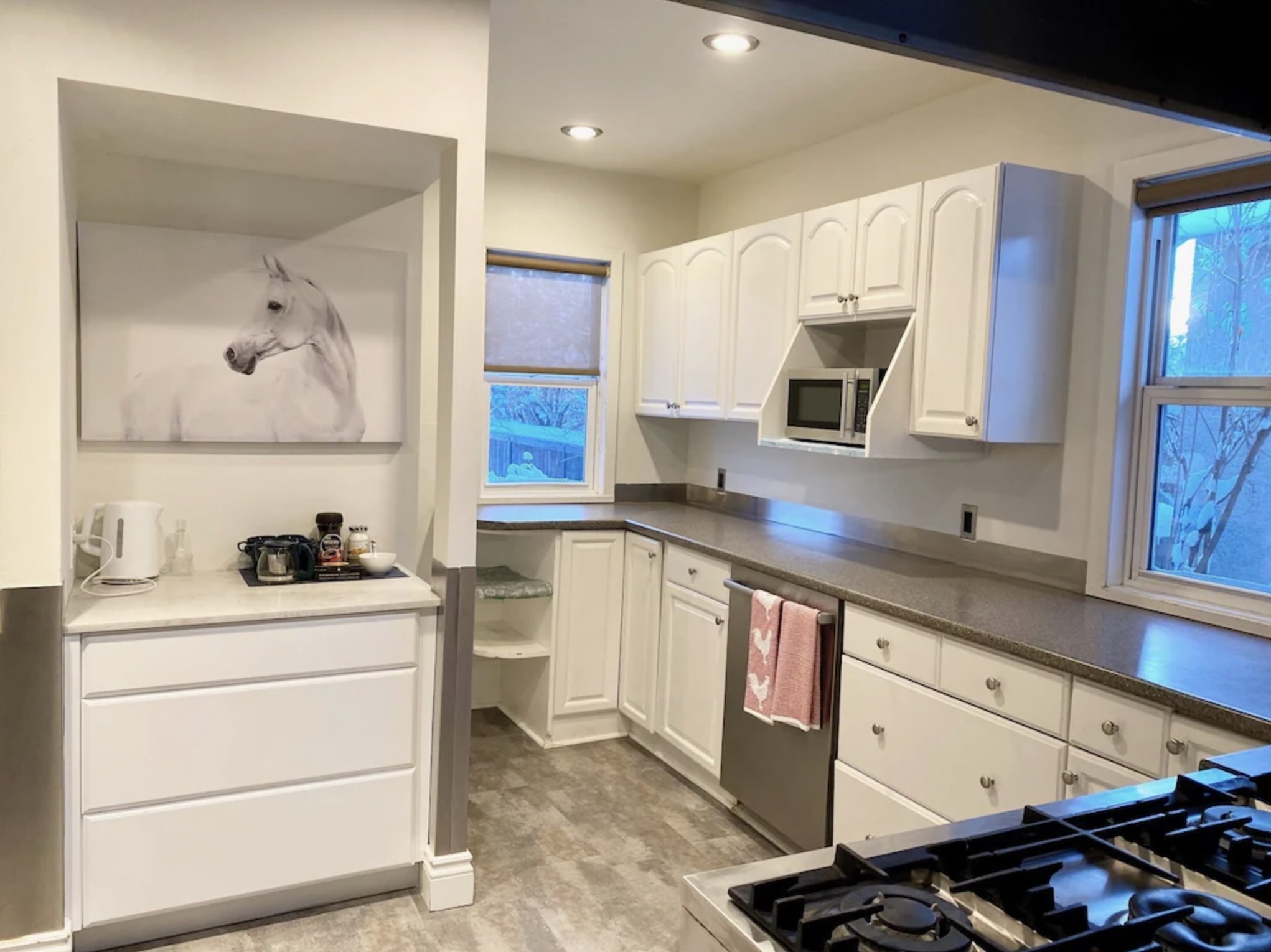 Location: Crescent Heights
Superhost: No
Price: $150+
Guests Allowed: 6
This is by far one of the coolest Airbnbs in all of Calgary. With two bedrooms and 1.5 baths, this is a perfect spot for four people. Whether you are a pair of couples, friends, or family you'll be super comfortable in this modern Airbnb.
This Calgary Airbnb was built by Calgary's Studio North, an award-winning design + build practice based in Calgary. This is a modern Airbnb filled with lots of light and has exceptional views of the city. It's a whopping 800 square feet with a lawn to enjoy on summer nights.
The house is just a 10-minute walk to Calgary's Chinatown and a 20-minute walk to the C-train, which will connect you to the rest of beautiful Calgary.
Guest Review: Hands down the best Airbnb I have ever stayed in. Absolutely beautiful. Do not hesitate to book this place. It is unreal. Brenda was so kind and took out the time to suggest local food and shops. The attention to detail is unreal. If I ever come back to Calgary this is the only place I would stay.
---
Beltline Townhouse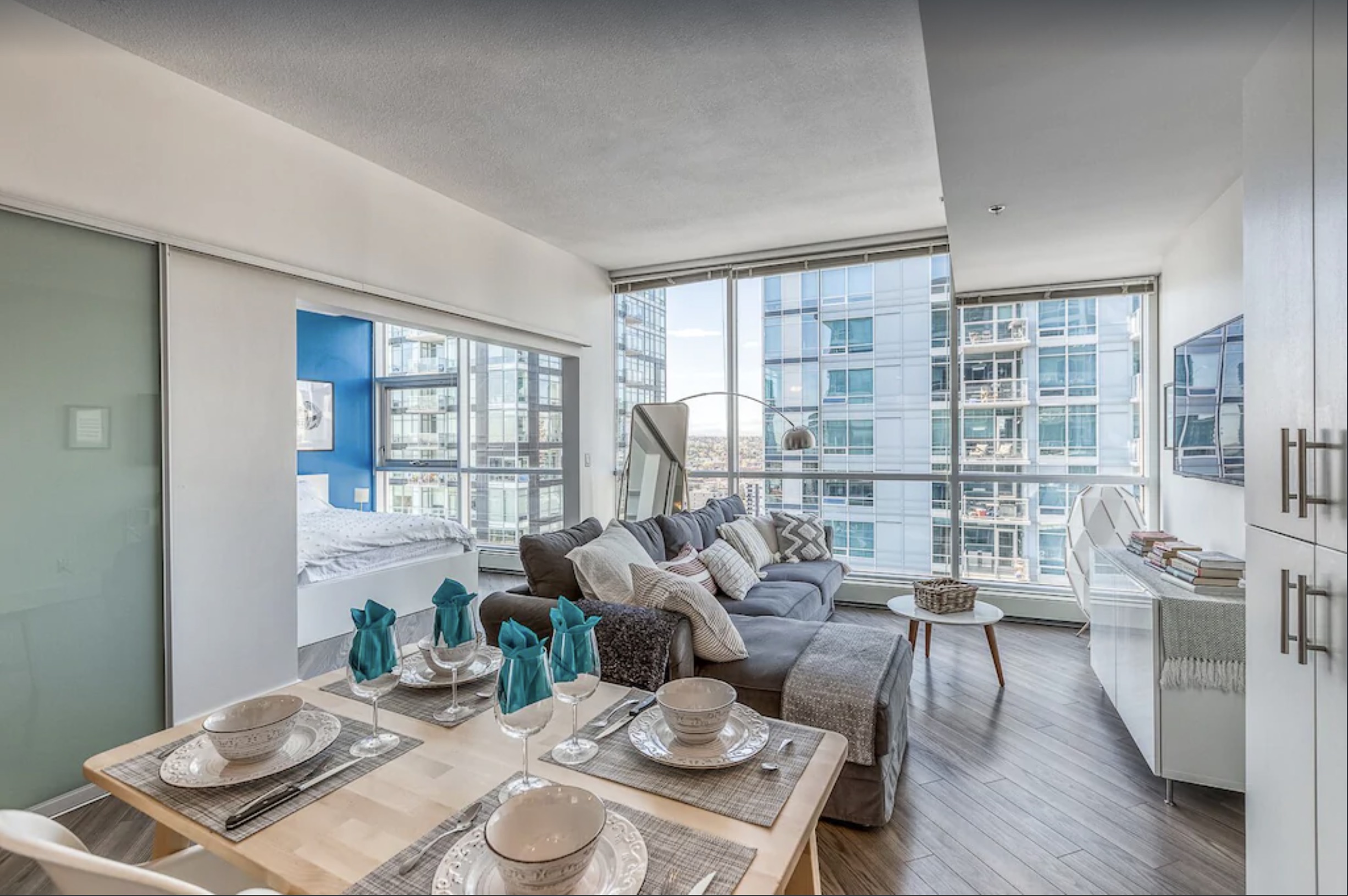 Location: Beltline
Superhost: No
Price: $80+
Guests Allowed: 4
This is a beautiful townhouse in the Beltline district of Calgary that has its own entrance and has all the modern touches. This townhouse is tastefully decorated with a beautiful kitchen, living area, and even a laundry room. It's set up for up to four people with two bedrooms and two paths.
There is free on-street parking here, something rare in Calgary. At the same time, it is just three blocks away from 17th avenue and the Calgary Stampede Arena as well. Guest love how convenient this townhouse is to the YYC International Aiport for those guests flying out close to their stay.
This Calgary Airbnb is accessible via code so you can arrive whenever you please. There's also a wonderful outdoor area to enjoy on those nice Calgary days.
Guest Review: This apartment is the perfect place to stay in Calgary! It was in a great part of town, tons of space, washer and dryer, and had everything you could need for a great stay. Geoff was also quick to respond and made the check-in process super easy. Thanks so much for a great stay, we can't wait to come back!
---
Victoria Park Penthouse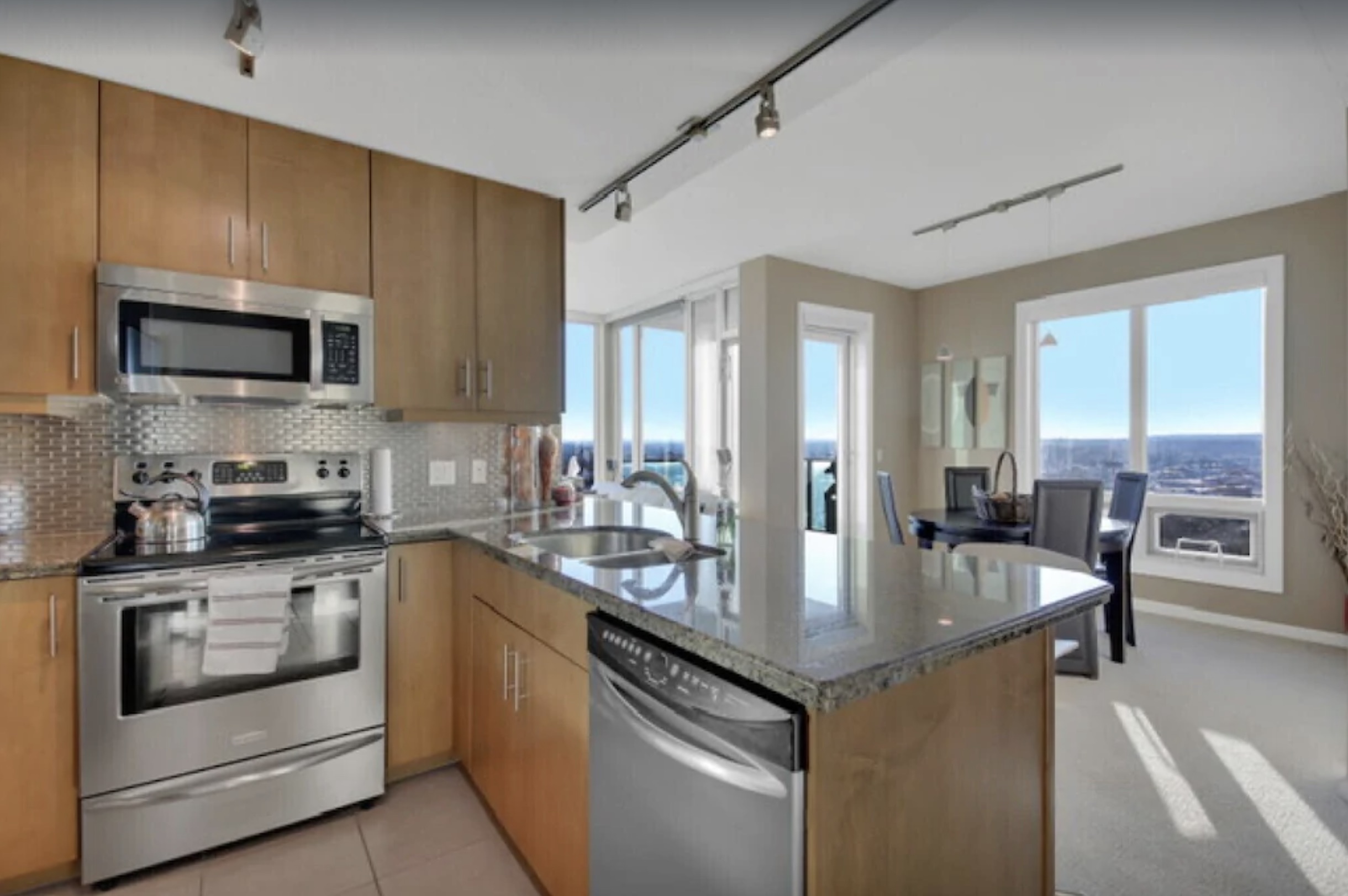 Location: Victoria Park
Superhost: Yes
Price: $100+
Guests Allowed: 2
This is another beautiful penthouse that is right in the heart of everything in Calgary. Seriously, even the Calgary Tower is just a 5-minute walk away, and it is steps away from Studio Bell.
This Calgary Airbnb can accommodate two people with one bedroom and one bathroom. Inside the complex is a fully equipped gym, 24-hour security, and an underground (free) parking stall. Of course there is also free WiFi and a washer and dryer in the unit. You can either go out to eat at all the Calgary restaurants or stay in and cook in the fully equipped kitchen. If you want to feel like you're truly staying in a city I wouldn't hesitate to book this high-rise condo.
Guest Review: This apartment is FANTASTIC! Unbelievable views. Perfect location. And sparkly clean. MJ is a very nice host and quick to respond. Located right in the middle of downtown Calgary, it's a perfect hub to explore the whole city. My friend and I couldn't believe the views waking up every morning. Highly recommend this stay. Pictures don't do it justice!
---
Downtown Condo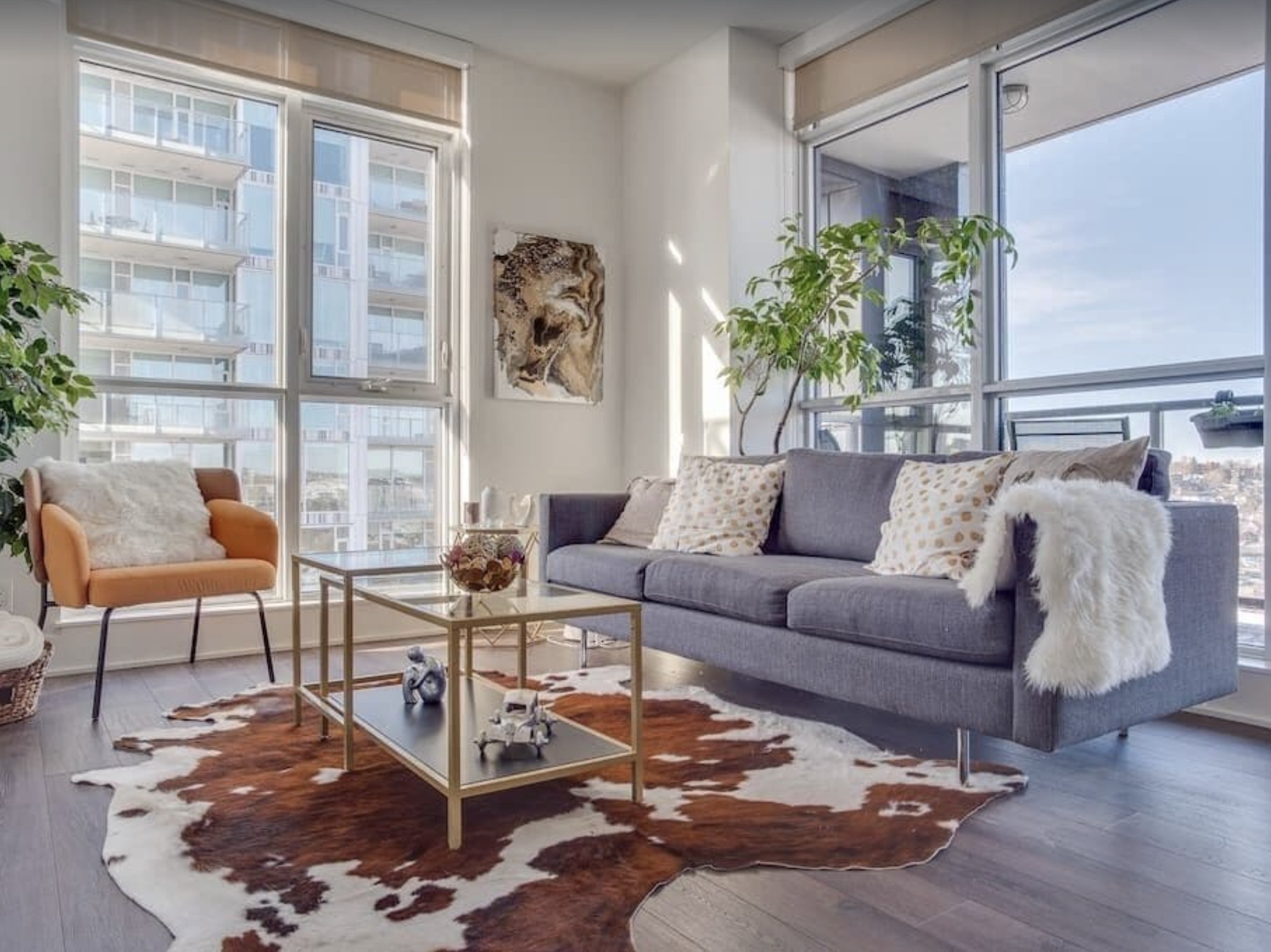 Location: Downtown Calgary
Superhost: Yes
Price: $120+
Guests Allowed: 4
This Calgary Airbnb is located on the 26th floor in downtown Calgary. All around you here you will have amazing views of the entire Calgary Skyline. This is an 800 sq ft apartment that is cozy and has windows everywhere. That being said it has blackout curtains to give you a good night's sleep on those long Alberta summer days when the sun rises at 5 am.
The kitchen is fully equipped for any kind of cooking and even has things like spices, olive oil, and coffee. Not only is the kitchen well equipped by the bathroom even has shampoo and conditioner so you don't have to travel with your own big bottles. You can also expect High-Speed Wifi Connection and a 65 inch Smart TV equipped with instant Netflix and YouTube.
This Airbnb in Calgary is suitable for four guests to stay comfortably. Building amenities include an exercise room, sauna, squash/basketball court, and parking space.
You can seamlessly check in here with a code and lock entry pox however it should be noted that check-in is only available between 3-6 pm. This is due to the lobby front door automatically locking at 6pm. Something very important to note.
Guest Review: The balcony view is insane, and the location was in the middle of so many fun spots. We were able to walk or ride the train to so many awesome spots. Something about a candle lit balcony over looking the tower and ice skaters was so wholesome.

---
Rustic River Cabin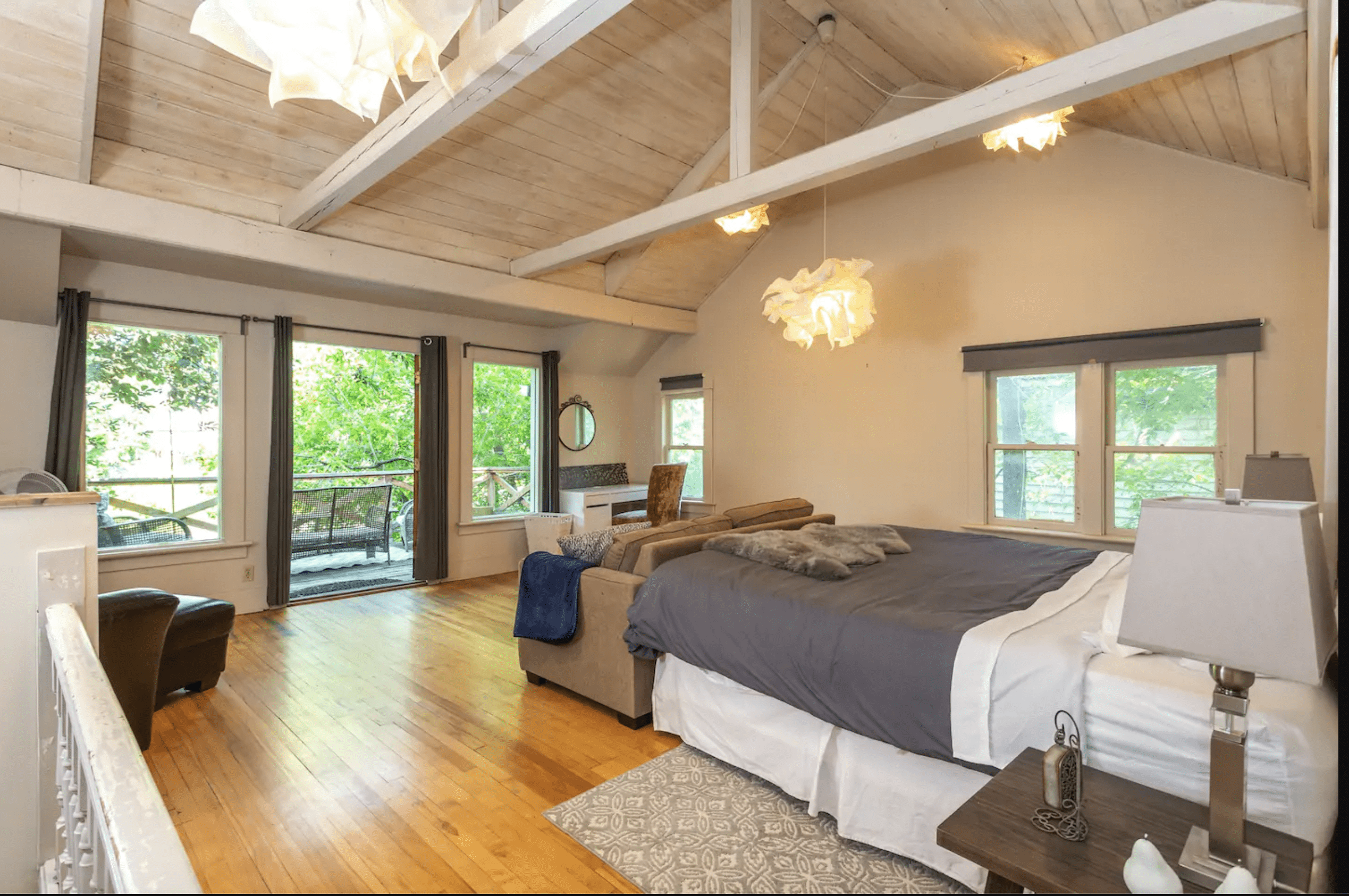 Location: Mission District
Superhost: Yes
Price: $200+
Guests Allowed: 6
This is truly one of the most beautiful and historic cabins you could stay in. And when I say historic I mean historic, it was built in 1909 and has seen many winters. Although it's old it still has heat and electricity – don't worry!
This Airbnb is well preserved, with no major renovations and has character at every turn. There's even a 100-year-old clawfoot bathtub and an open concept loft bedroom. This Calgary Airbnb is fit for six people with one bed, and a queen pullout couch, as well as a second pullout couch in the living area. What I love the most is that there is a wood fireplace for those winter days in Alberta
There is also a nice outdoor space right on the water's edge, great for BBQs and listening to the sounds of the river. Although it's just outside of Downtown Calgary it's easily accessible to the Calgary Stampede, Saddledome, Downtown, and many clubs, shops, and cafes.
Guest Review: This is an Amazing getaway right in the city. The cottage is gorgeous. Easy communication, highly recommended!
---
Modern Loft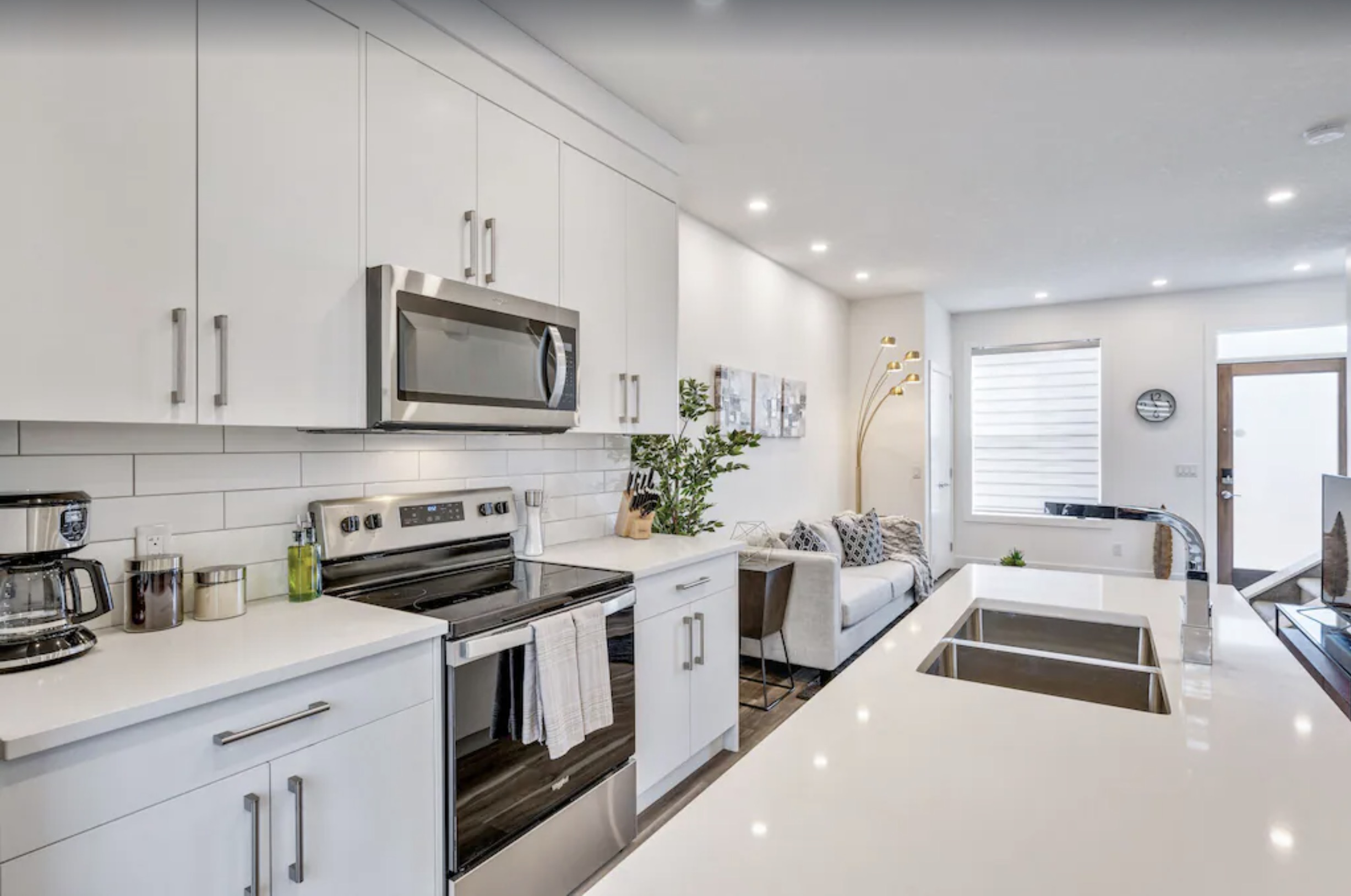 Location: Bridgeland
Superhost: No
Price: $75+
Guests Allowed: 5
This one-bedroom townhouse is great for five people to enjoy together! This loft is super modern and tastefully decorated in Bridgeland. It has a comfortable living room area, a fully equipped kitchen, and a loft bedroom. There are pedal bikes available for free to use, which are great for getting around Calgary on a nice summer day. The hosts also have electric kick scooters for rent fr their guests.
I love that this is one of the nicest pet friendly Airbnbs in Calgary and is fully suitable for families.
Guest Review: We had a great time at Matthew's place! The place was so clean and stylish. Great location, we walked downtown several times, to the dog park, and to several restaurants! We'd love to return!
---
Cabin in the Woods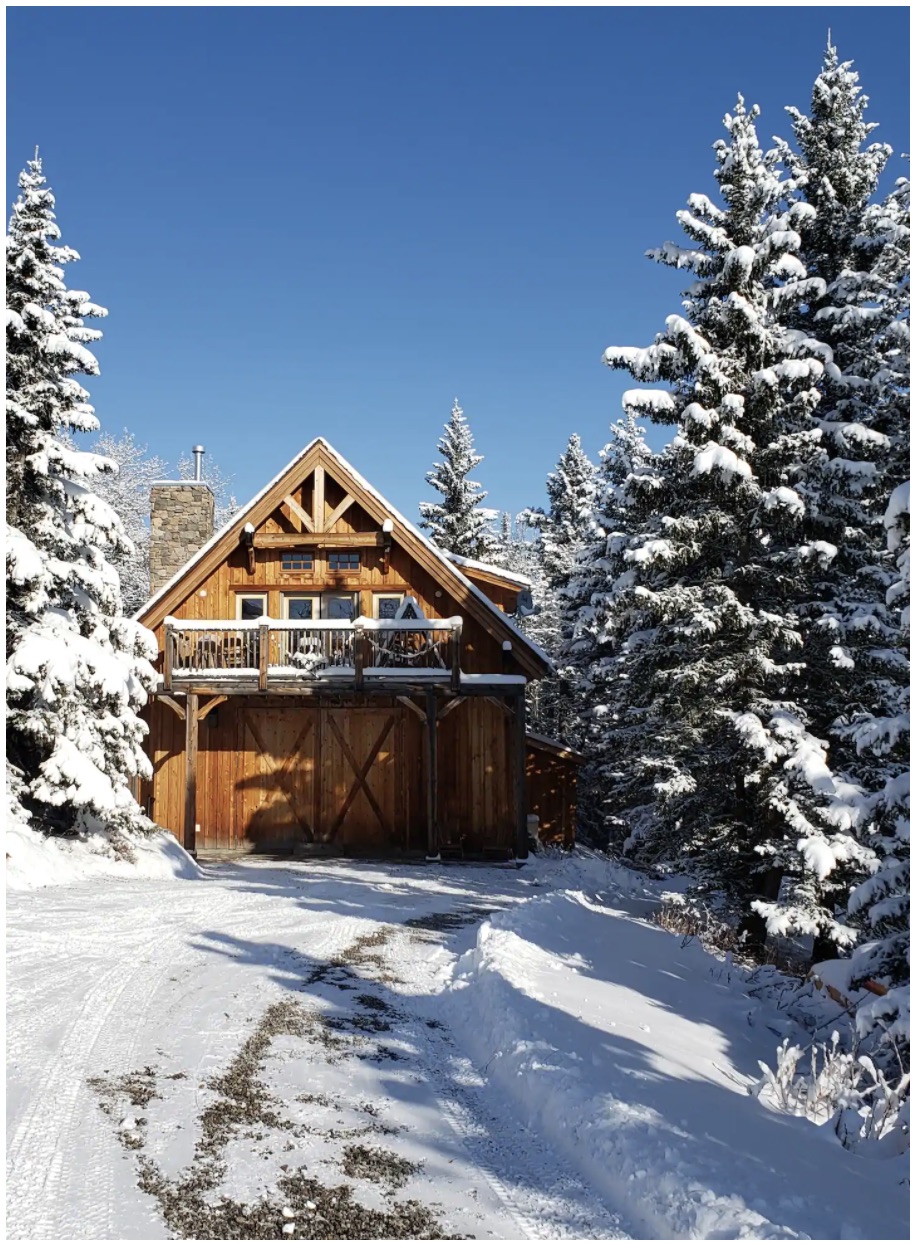 Location: Foothills
Superhost: Yes
Price: $115+
Guests Allowed: 2
If you are okay staying out of Calgary and in the foothills this is the perfect Airbnb for you. Cabin in the Woods is quite literally a cabin in the woods with amazing mountain views. This Calgary Airbnb is set up for two people, so great for couples to enjoy together. It's a secluded cabin that sits on 80 acres and is where you should book if you really want to get away from the city, but not too far.
It's a peaceful place to stay that gives you the best of both worlds. Easy access to the city when you want, and easy access to the hiking trails in the mountains too.
Guest Review: Kathie's place is a dream stay. It's hands down the best Airbnb we've had the pleasure of staying at, and we'll definitely be back soon.
---
Private Cozy Cottage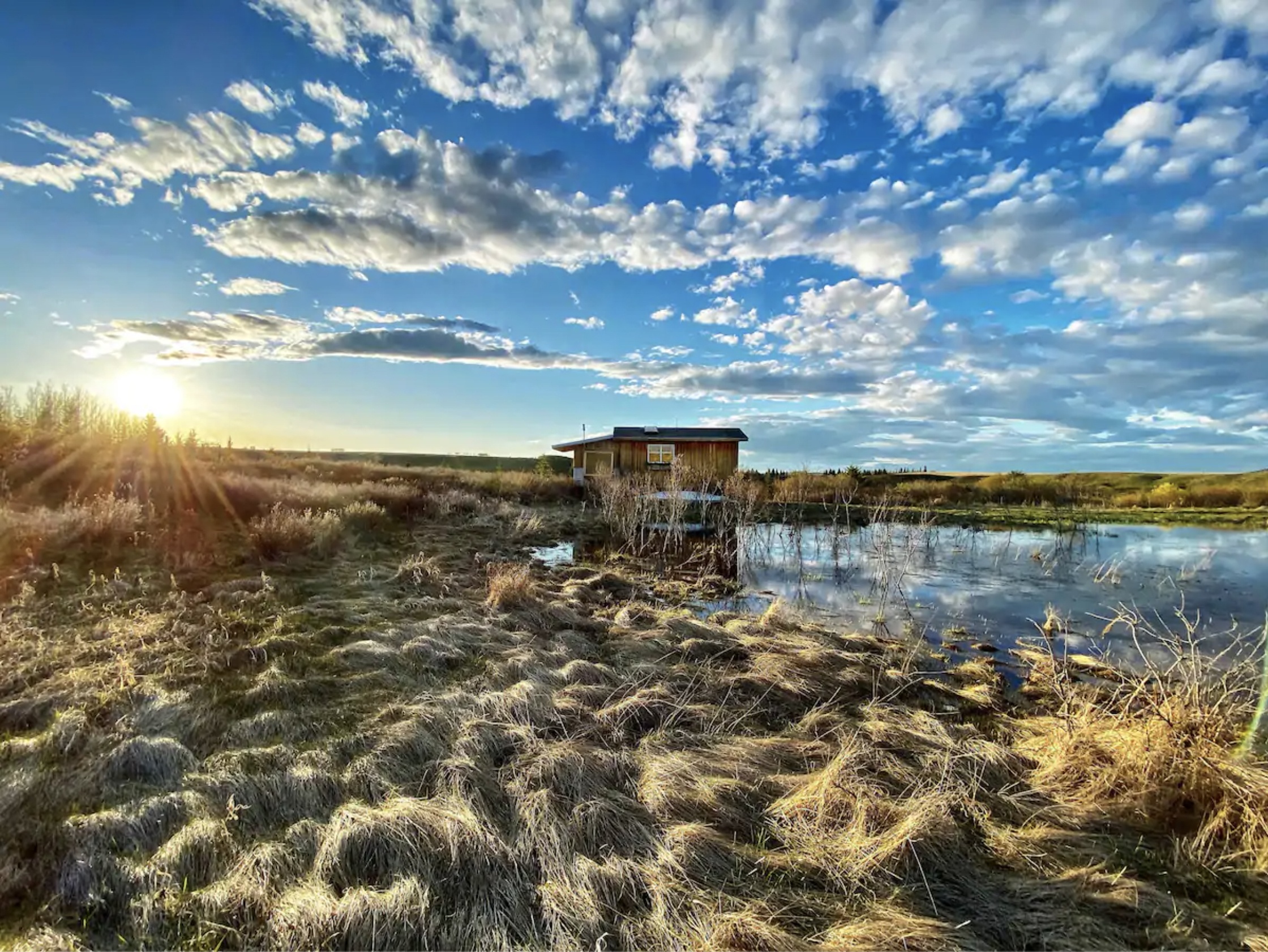 Location: Cochrane
Superhost: Yes
Price: $150+
Guests Allowed: 2
Now I know this Airbnb is not actually in Calgary and is 40 minutes outside, but I had to mention it because it's truly special and you won't be able to find anything like it in Calgary.
The Willow Ridge Ranch is a private rustic cottage that overlooks Jumping Pound Creek outside of the city. It's where you can head to enjoy a swing on the porch or a campfire. It's a beautiful ranch that sits on the foothills of the Rockies.
It's a romantic place for two adults to enjoy and take a step away from the hustle and bustle of life. If you are planning to spend time in both Calgary and places like Banff and Canmore this may be a good option for you as it's in the middle of the two.
Here you'll find cozy comforts like a memory foam mattress, a skylight to watch the stars, and even an electric fireplace for the winter.
There's also a space for traditional board games, card games, and books to stay entertained. Oh, and a delicious breakfast is included in the rate!
Guest Review: Beautiful cottage with eco-friendly touches. Lots of natural sunlight and spectacular views. Wonderful hosts who ensured that we had a wonderful experience. 100% recommend.
---
Great Things to do in Calgary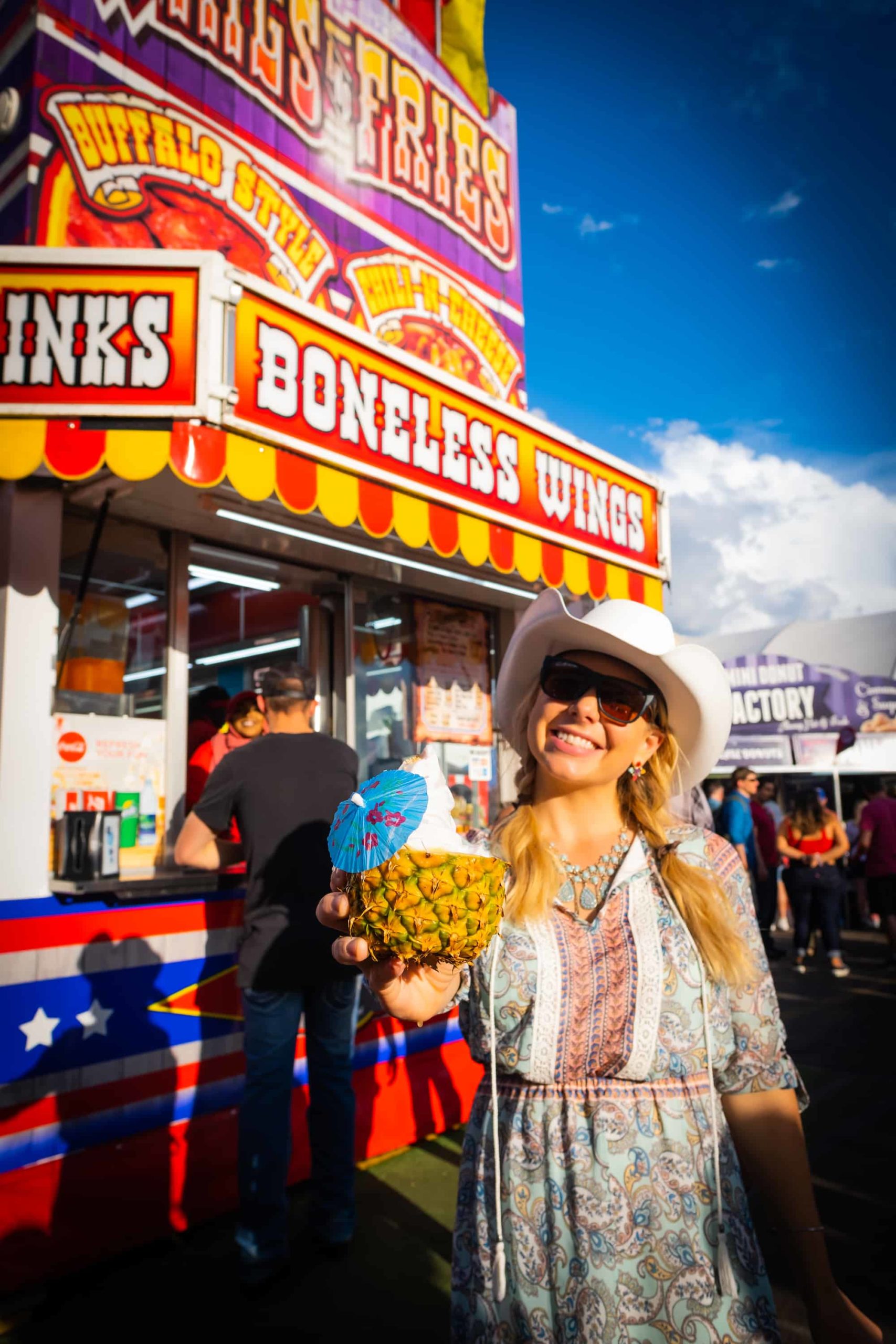 Visit the Calgary Tower: Calgary Tower has a lot to offer, so it was a natural addition to the list of best things to do in Calgary. The tower itself provides the best views of any building in the city, and once inside the tower, the multimedia tour includes a virtual presentation that delves into Calgary's location – from its skyscrapers to its Rocky Mountain range, and everything in between.
Heritage Park Historical Village: This is your opportunity to step back in time and see the raw beauty of western Canada in its earliest stages. The park covers nearly 130 acres and examines centuries of history across 200 attractions, including a recreated historical village with a functioning steam train, printing press, and blacksmith, and fun attractions like a bakery and ice cream shop. Don't miss the Fur Trading & First Nations Encampment, a recreated meeting place for explorers, original peoples, fur traders, and all those who passed through this part of Canada in the country's earliest decades.
Studio Bell: Studio Bell, home of the National Music Centre is a non-profit museum and performance venue. You can check their website to see what is going on, but it's also fun to go to Studio Bell and check out the impressive architecture!
Calgary Pedal Pub: Ever wanted to ride a cycle around a major city with friends while drinking fresh cold beer? Us too! Well, the good news is you can do this on Calgary's Pedal Pub. Pedal Pub is a fun, safe, and eco friendly way to spend a day out on the town. It's one of the best things to do in Calgary in the summer months!
---
↓ Join the community ↓
The Banff Blog Facebook Group is your headquarters for the Canadian Rockies' travel advice and information. Including hike info and off-season travel information. You can also meet new adventure buddies.