If you are looking for cheap hotels in Banff and think you are out of luck, don't fear. A decent deal can be had in Banff! However, you'll have to be strategic with planning and booking to save some real money in Banff.
It's a dream destination in the world and one of the most sought-after places to travel in all of Canada. With that comes high prices – especially in the high season.
That being said, we've done our research to check out some nice affordable accommodation options in Banff. Let's dig into some Banff hotel deals!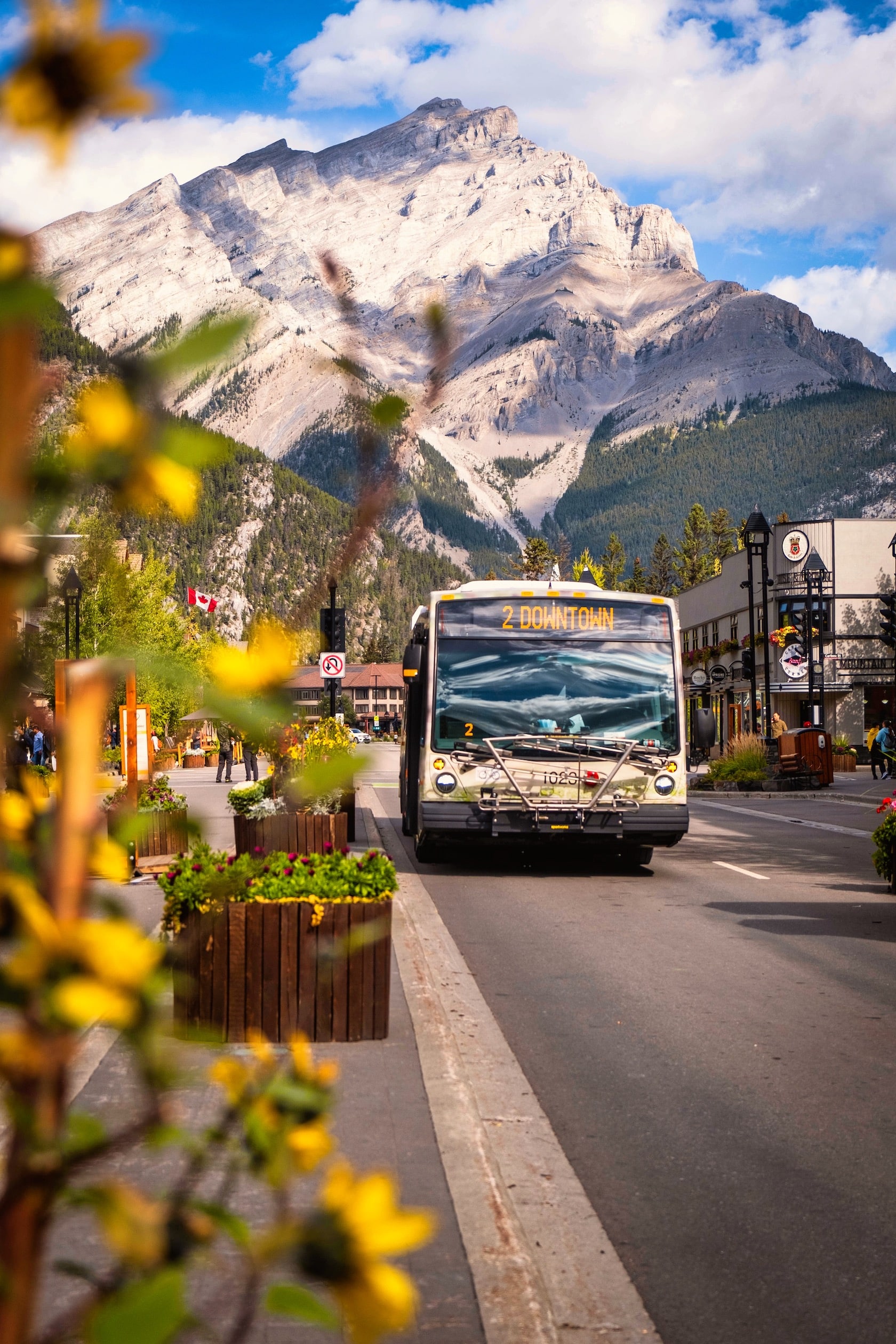 ---
How to Find the Best Cheap Hotels in Banff
The best way to find cheap hotels in Banff is to open Booking.com and search for your dates. Once the search has calculated the dates, hit the price option and search low to high.
We never book properties with a review score under an 8. Thankfully on Booking.com, you can filter these through. Usually, the lower the review score is, the cheaper the property. So you'll need to assess how important your comfort is for the price.
Everything we recommend in this article is rated an 8 or higher on Booking.com.
---
Things to Consider When Booking a Hotel in Banff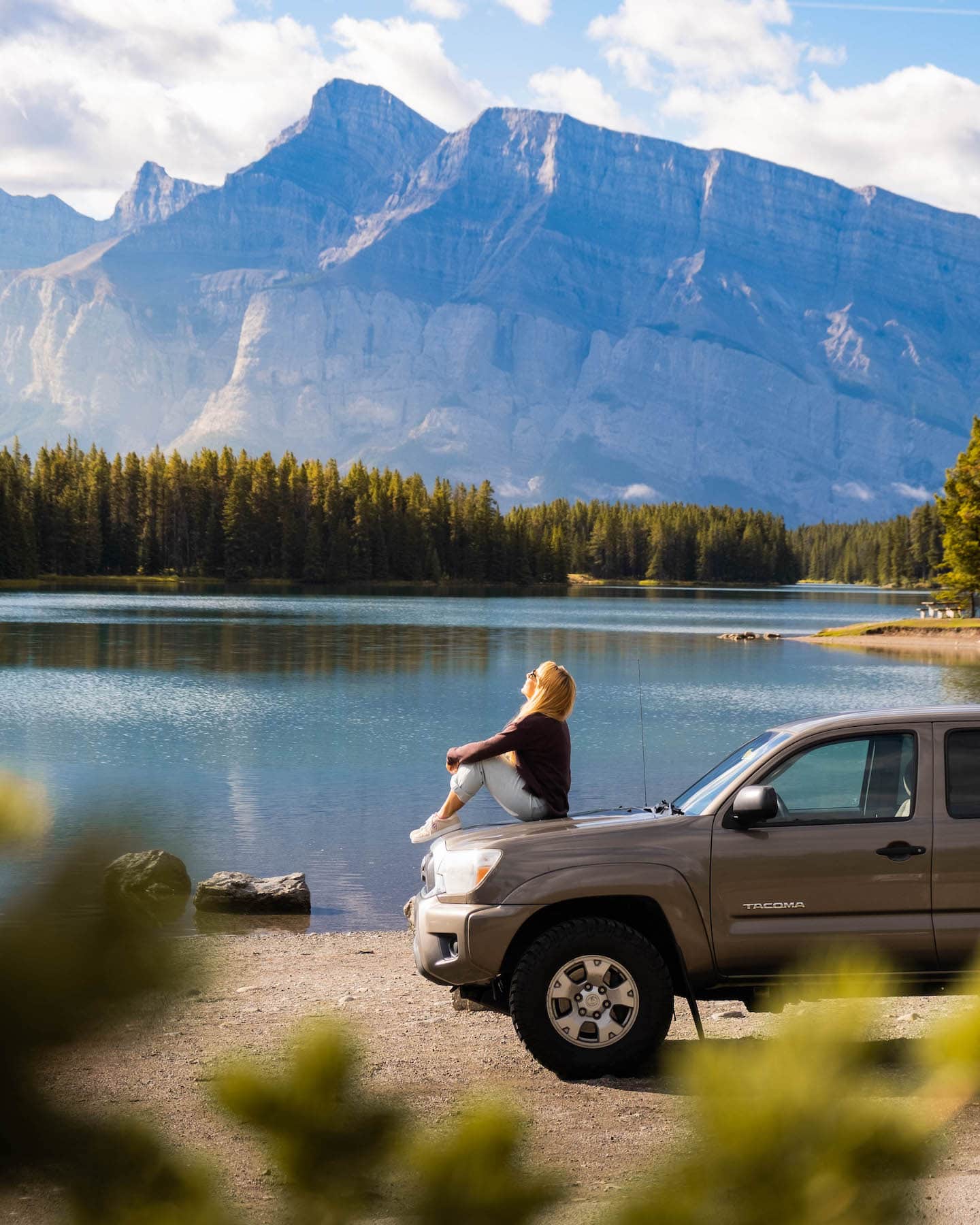 It's crucial to analyze how much time you'll spend in the hotel room on your Banff vacation. We are out from morning until night in Banff in the summer, meaning we spend very little time in hotel rooms; aside from sleeping and getting ready, we are never there.
However, when the sun sets at 4pm in Banff in the winter, you'll likely be spending a bit more time in your room, so where you stay may be more important to you.
When we book hotel rooms around the globe, we like to factor in food costs and determine if we need a kitchen. For instance, when we travel around Switzerland, we know that food is insanely expensive, so it's worth it for us to pay a little more for a hotel room with a kitchenette so that we can cook our own food.
While Banff isn't as expensive as Switzerland, it can get costly to eat out at all the Banff restaurants. A few of the hotels on this list have kitchenettes, and it may be worth it for your group to book one of those to save money.
---
What is Considered a Good Deal in Banff?
Banff is far from the cheapest place in the world to have a vacation, though it's also not the most expensive, and you can find decent value in Banff. In general, in the low and shoulder season, if you find accommodation for around $100 CAD a night, I would consider that a pretty great deal (excluding hostels).
In July and August, prices like this are nonexistent, and you may want to raise your budget to at least $250 a night for a basic hotel room, but expect to pay at least $300 a night. The rates go up from there.
---
What's the Best Way to Save Money on Accommodation in Banff?
Travel in the Off-Season: Accommodation prices in April, May, and November are significantly lower than high season.
Book sooner: The sooner you book, the better the rate. Rates rarely plummet last minute, and waiting to book will often just cost you. If you find something you like, book it! You can often cancel for free later. We can tell you from experience running our private Facebook group, that visitors are booking their accommodation well in advance in the summer and for the holidays (like more than 6 months to a year). Wait until the last minute and it will cost you dearly.
Travel in the winter: Although winter is high season in Banff, it's not nearly as high as in summer and you'll be able to find some decent rates even during the winter months.
Book in advance: It's best to book in advance for the best rates.
Check for VRBOS and Airbnbs: If you are traveling in a group, consider looking at Airbnbs in Banff and Airbnbs in Canmore to book out full apartments. If you are four or more this can often be cheaper.
If you are still struggling to find a cheap hotel in Banff within your budget, you may have to look elsewhere. Canmore is almost just as expensive as Banff nowadays. Dead Mans Flats and Harvey Heights are not far from Canmore, and can provide better value. Cochrane (about 1 hour from Banff) provides better value, or you can venture as far as Calgary for the best bang for buck. We recommend visitors also look in the town of Golden, which is often cheaper and quieter and provides excellent access to Yoho National Park.
---
Other Things to Note With Cheap Hotels in Banff
Pay attention to the taxes and fees when booking one of these cheap hotels in Banff. These can add on quite a bit to the room price.
Make sure to see if breakfast is included or not. Saving on breakfast can save you extra money in the morning.
---
The Best Cheap Hotels in Banff
---
High Country Inn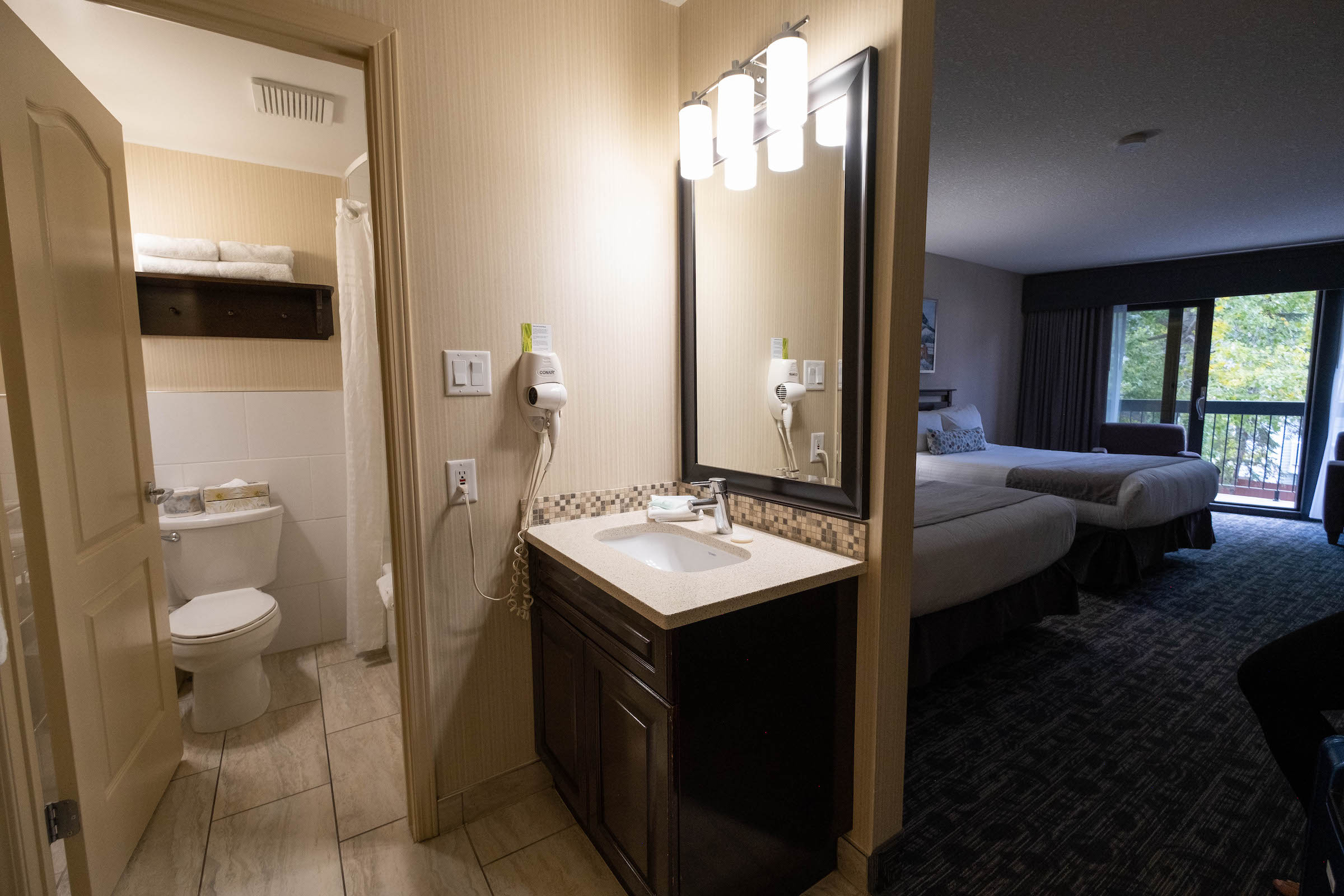 The Banff High Country Inn Offers good value for an affordable price.
We stayed here in Banff in the fall, and I was expecting an outdated old room and was pleasantly surprised when we walked in and found a modern, updated room with an extremely comfortable bed and fast WiFi.
The High Country Inn is right on Banff Avenue, just steps away from the best breakfast spots in Banff. A large heated indoor pool, two whirlpool tubs, and a dry sauna are all ideal after a long day skiing in Banff.
Private balconies give nice views of either Cascade Mountain on one side or Mount Rundle on the other.
The property offers free outdoor parking and is one of Banff's cheapest hotels by far.
---
Tunnel Mountain Resort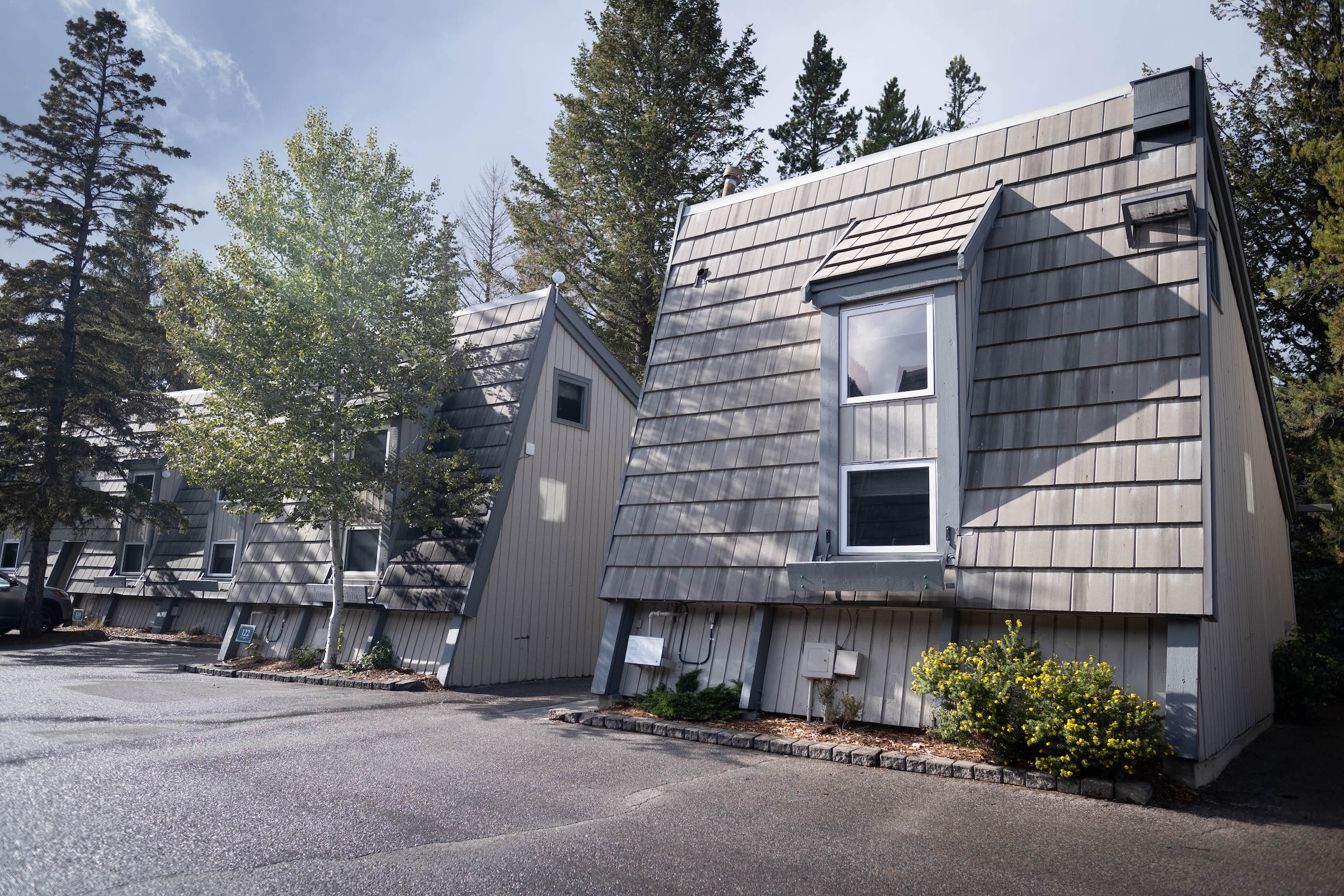 The Tunnel Mountain Resort is an excellent choice if you don't mind being situated away from Downtown Banff. The Tunnel Mountain Resort has updated rooms with a kitchenette, so you can always do your own cooking and save more money in Banff.
They have basic rooms with two queen beds, or you can opt for a studio or one-bedroom apartment if you have a group.
We loved our stay here last time and never minded being just a quick bike ride away from Downtown. Other perks include complimentary firewood and complimentary Roam bus passes. It's also a great cheap hotel in Banff for hiking Tunnel Mountain.
---
The Rundlestone Lodge
The Rundlestone Lodge is one of the best cheap hotels in Banff, located right on Banff Avenue. It's a basic hotel, but they have done quite a bit of work in making the lobby feel inviting for all.
There are 98 rooms with more than a dozen styles to choose from, some equipped with kitchenettes or jetted tubs. As it's a larger cheap hotel in Banff, there are often rooms available, and even if you need to book last-minute, you can often find accommodation options here.
You'll also enjoy access to a swimming pool, fitness area, and hot tub at The Rundlestone Lodge. When booking, I recommend not getting the most basic room option. We made this mistake last time and ended up on the bottom floor with a window opening to…the pool area. We had almost no natural light, and it was really a letdown while staying here. All we wanted to do was get outside and in the sunlight!
Patrino's Family Restaurant is connected to the hotel and specializes in pizza, pasta, and steak, among many other suitable items for all ages.
---
Dorothy Motel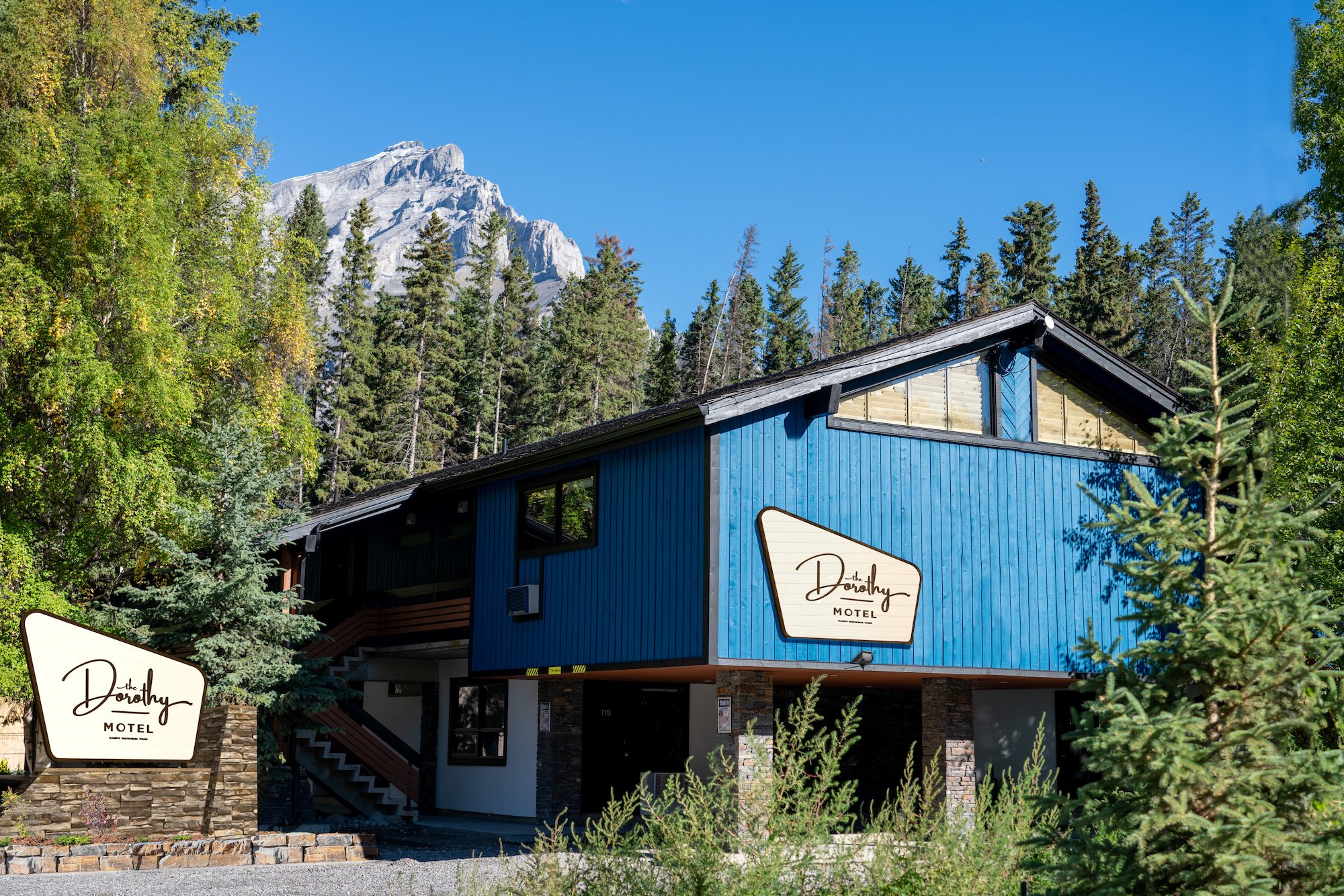 The Dorothy Motel is a newly launched and renovated motel outside downtown Banff. It's still located on Banff Ave but is just over a 10-minute walk to get to the main shops of Downtown.
The Dorothy is a boutique motel with simple rooms that are well set up to meet travelers' needs. Pets are welcome at the hotel as they are provided a bed, food and water bowls, a take-home toy, and tasty treats.
The location backs right up to the forest, so it's quiet but close enough to enjoy the amenities of downtown Banff. Beds are super comfortable, and modern appliances are included in this brand-new hotel. Room options on offer are two queen beds or a single king bed, and each room includes a mini-fridge, microwave, and coffee/tea maker.
Overall it's not the cheapest hotel in Banff but is reasonably priced. In addition, The Dorothy has fantastic reviews, definitely some of the highest on this list.
---
Banff Rocky Mountain Resort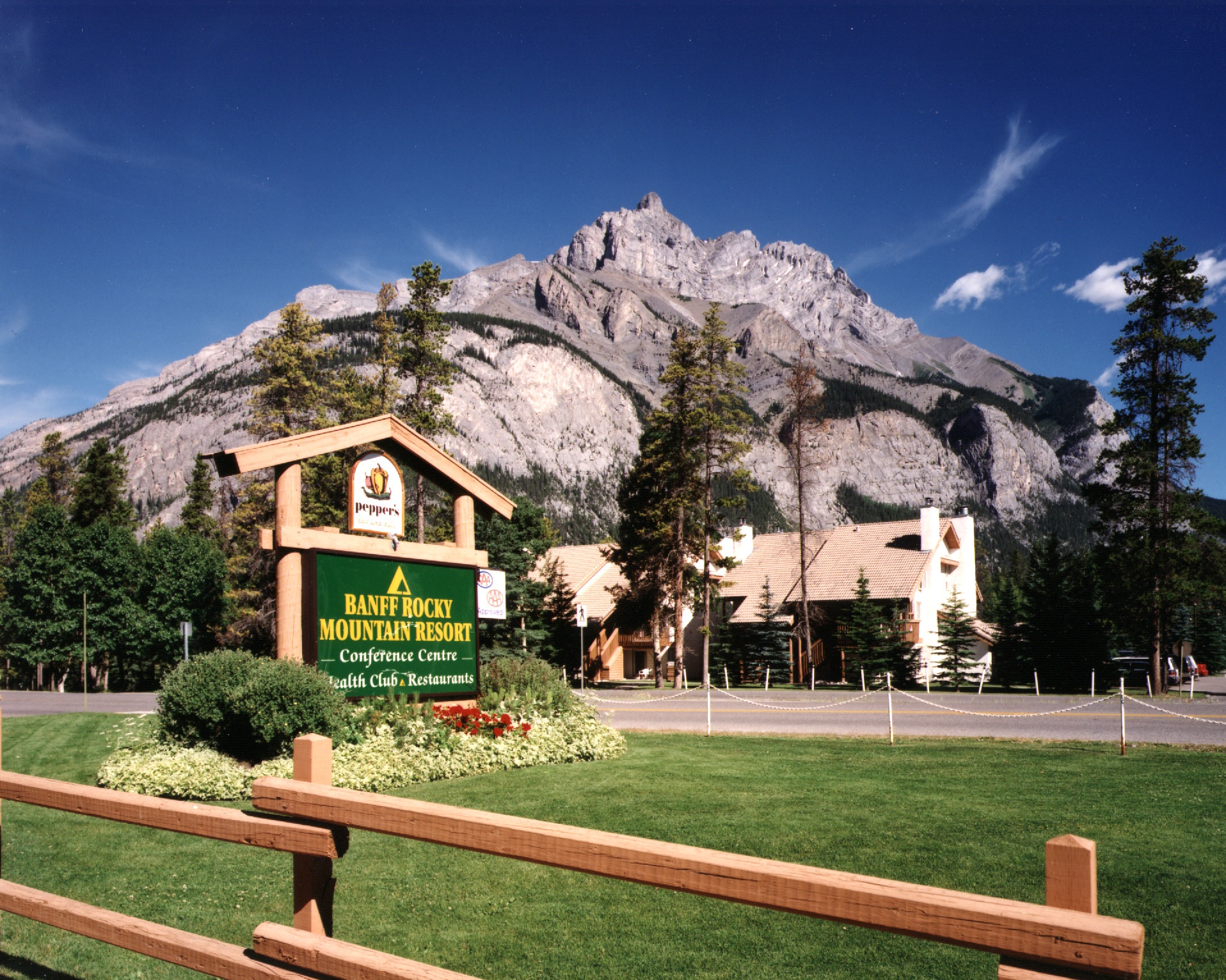 This three-star Banff hotel is pet-friendly and offers self-catering accommodation. The Banff Rocky Mountain Resort is an excellent option for families as many of the room options are two-bedroom suites with full kitchens looking to do Banff on a budget.
Facilities at the resort include an indoor pool, outdoor hot tubs, sauna, gym, coin-operated laundry facilities, ski storage, and bike rentals. So it's perfect for groups or large families.
Its location is several kilometers outside of town, so it's best for guests who plan to cook most meals and don't mind not being able to walk into Downtown Banff from their room. While the distance from the town center may not be ideal, it is the primary reason for lower rates!
---
Elk+Avenue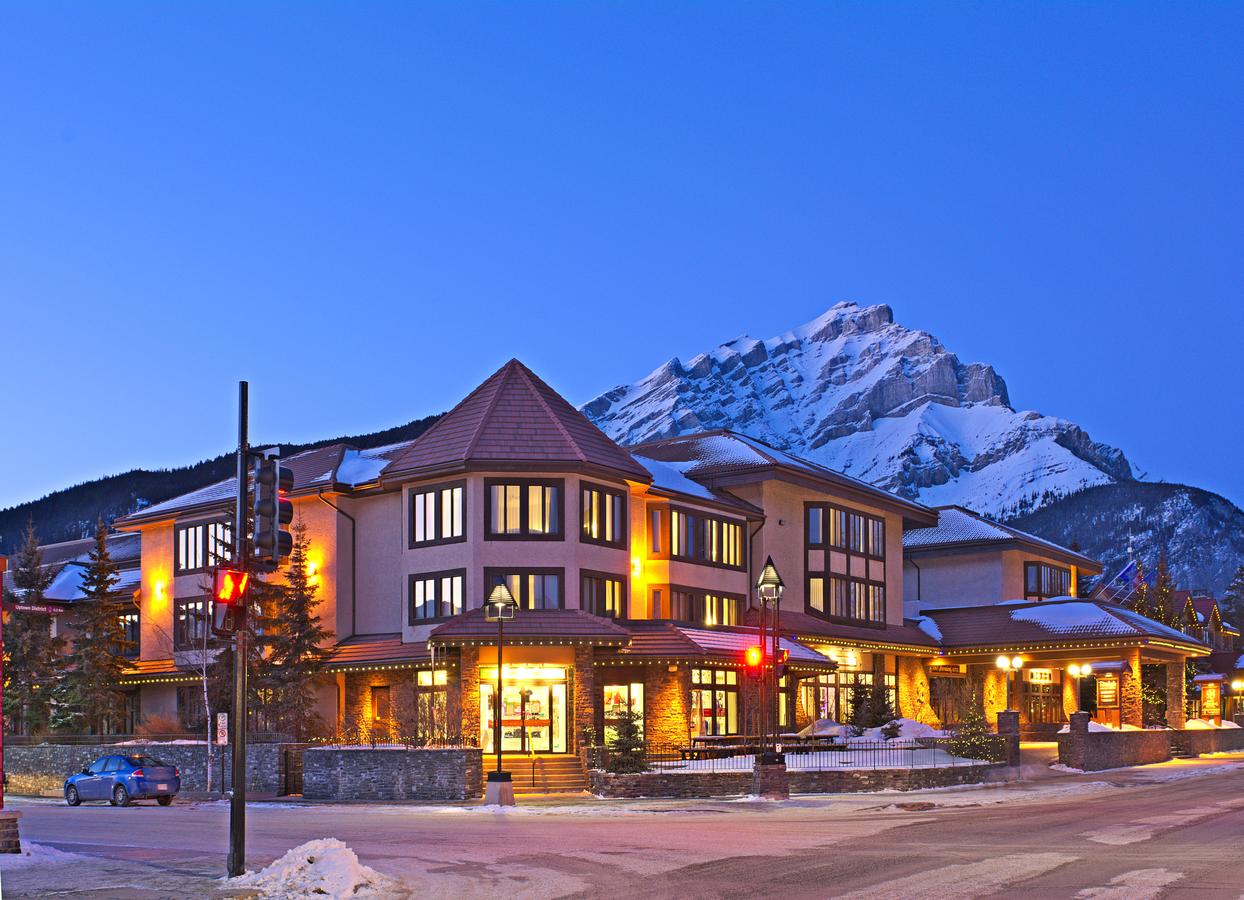 We've enjoyed staying at the Elk+Avenue a few times, and although it's not the cheapest hotel on Banff Avenue, it's far from the most expensive. Elk+Ave has a fantastic location and modern rooms that anyone will feel at home at.
On-site amenities include complimentary WiFi, a sauna, lockers for storing ski equipment, and a gift shop. A buffet breakfast is served each morning and features both hot and cold items. There's underground heated parking, a real treat in Banff in winter.
Each of the 162 rooms, including lofts and junior suites, features deluxe en-suite bathrooms with luxury toiletries and hair dryers. Elk+Avenue is also attached to Farm&Fire, one of Banff's most romantic restaurants.
---
Mount Royal Hotel
The Mount Royal Hotel is another historic hotel that dates back to 1908 and is located right in the center of Banff.
It has an ideal location, so you have quick access to anything you could want in Banff. The historic building has a beautiful exterior that likely appears in thousands of photographs down Banff Ave of Cascade Mountain. While the building may date back over one hundred years, the rooms certainly do not!
The entire hotel has undergone a recent renovation, and rooms are modern, clean, and comfortable. We loved the interiors here! It's not the cheapest Banff hotel on this list, but there is reason for that – it's significantly nicer than most of the other hotels here and much more modern. Still, compared to places like the Banff Springs and Rimrock Hotel, Mount Royal offers fantastic value for travelers to Banff.
We spent New Year's Eve here and were pleasantly surprised by how comfortable it was. Beds are luxurious and the perfect way to recharge after a day tackling the mountains. Inside the rooms are a large flat-screen TV, desk, mini-fridge, toiletries, and high-speed internet. We love the stylish rooms and the interiors, such as the big cozy fireplace in the lobby and hotel library.
---
Cheap Hostels in Banff
---
Samesun Hostel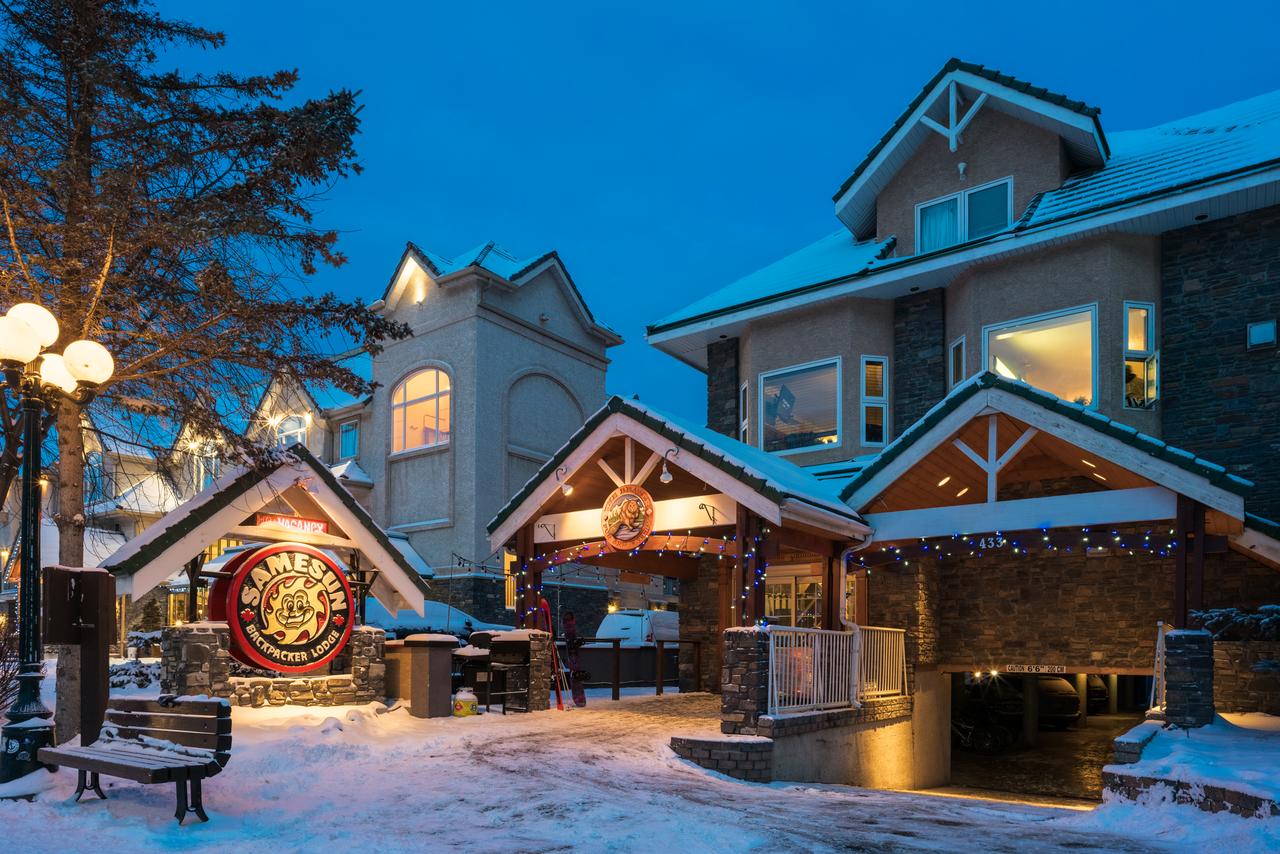 To be clear, there are no exceptionally cheap hostels in Banff, but they do offer some value, comfort, and friendly service.
That being said, room rates in the winter are nearly half what they fetch in the peak summer months. The Samesun Hostel is in a central part of town, convenient for those without a vehicle. It's a cozy little hostel with a small lounge and bar that hosts social events throughout the year.
Rooms at the hostel are ensuite and have fireplaces for a comfortable stay. The communal kitchen makes it easy to cook meals to save money. There's also an underground garage, laundry room, and barbecue facilities that make for a comfortable stay. Excellent service, a cozy setting, and a group atmosphere make Samesun a standout hostel in Banff.
---
HI Banff Alpine Center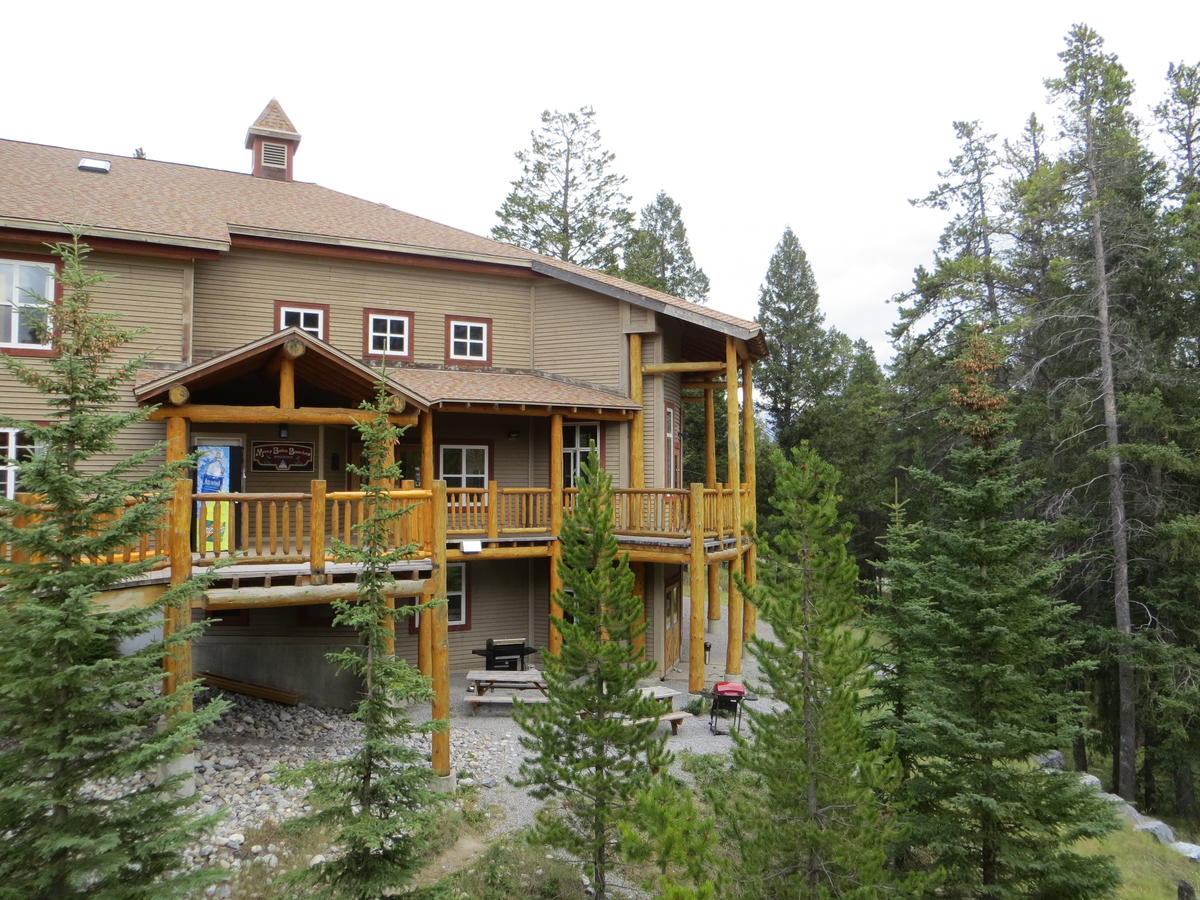 HI Banff Alpine Center is a large hostel located outside the Banff town center. It's a rustic hostel that's been offering lodging to travelers for decades who come to enjoy the natural wonders of the park.
As it's a pretty large hostel, there are several facilities that help with a comfortable stay. There are several self-catering kitchens, BBQ grills, laundry, ski storage, a full-service restaurant, and a bar with darts, billiards, and foosball.
Similar to Samesun, they host many activities that will be appreciated by groups or solo travelers, such as karaoke nights. While it's a little far to walk to and from town, the hostel does include a free ROAM transit bus pass. Rooms range from mixed and female dorm rooms to private rooms and cabins.
---
Banff International Hostel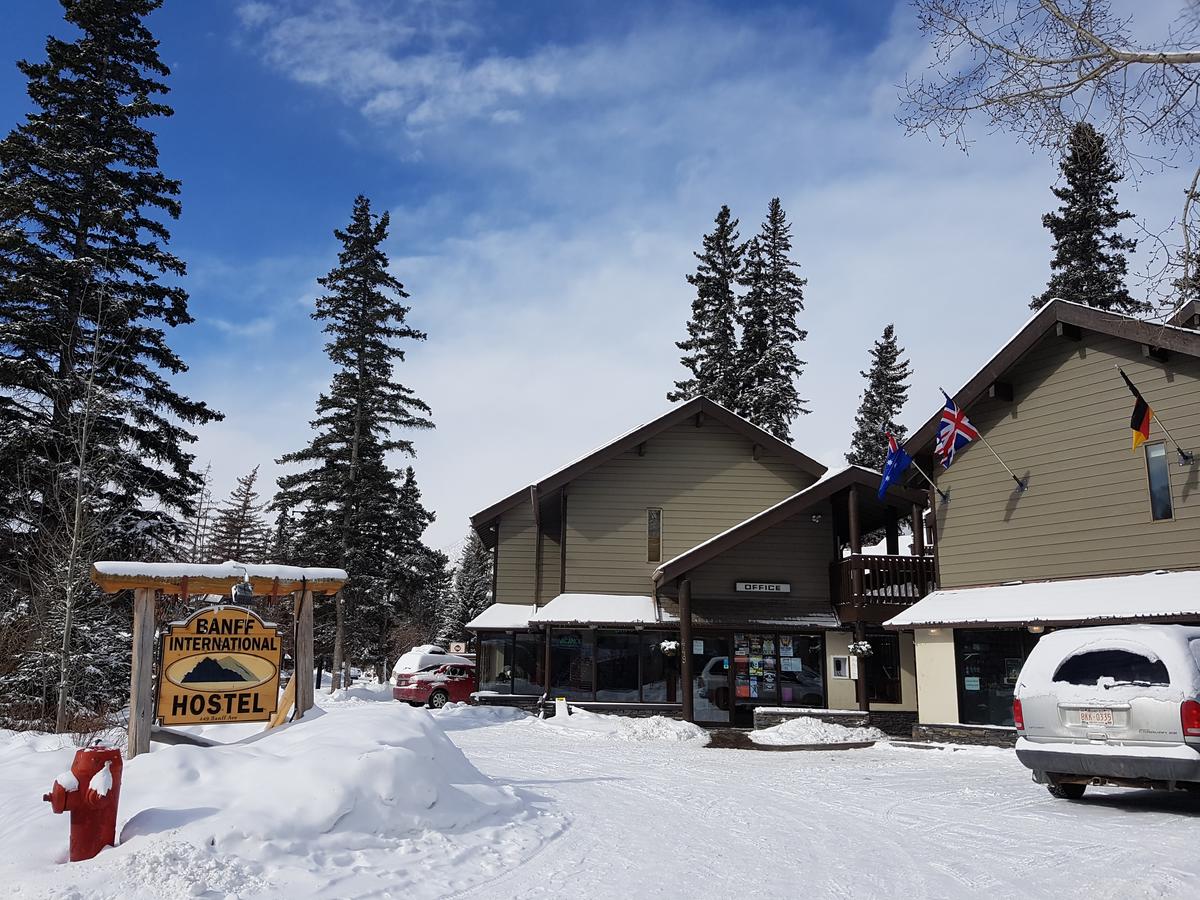 Banff International Hostel is right across from Samesun Hostel, so the location and access to the town core are great as it's only a couple minutes walk. It's a little less charming than Samesun, but it's much larger and the rooms are more spacious.
Rooms are spacious with comfortable beds, linens, privacy curtains, lockers, charging points, and reading lights. Facilities onsite include a communal kitchen, grill, lounge, picnic tables, laundry facilities, and a 24 hours front desk.
There's free parking onsite, but it is not underground, so if you're here in the winter, it might matter. Staff is super helpful and happy to recommend a hike in Banff, activity, or help with travel planning.
---
Accommodation Alternatives in the Rockies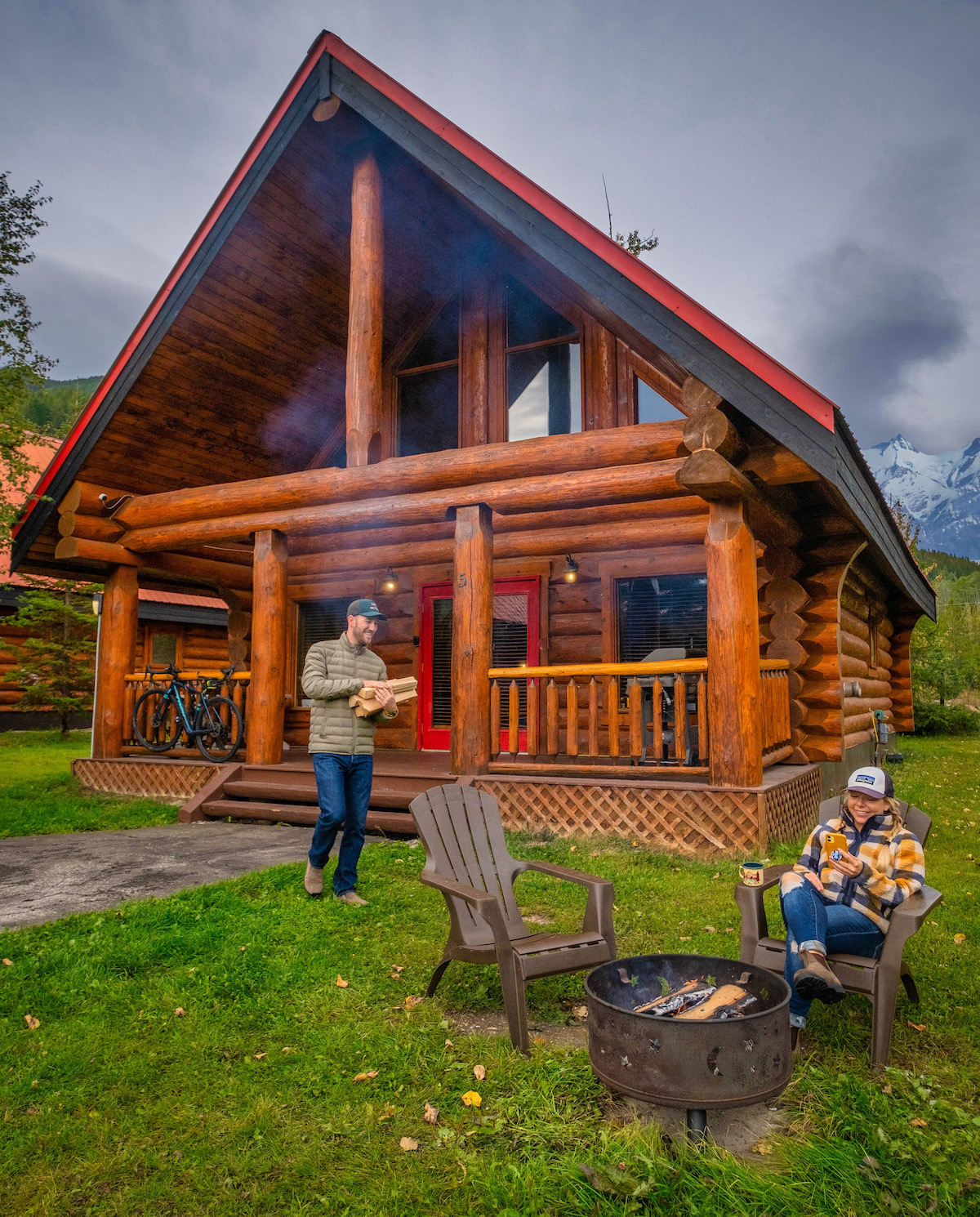 If you are not finding a great deal in Banff, you can expand your search to other areas. We often find slightly better value in nearby Canmore. Golden, BC also offers some fantastic cabins and unique stays for the same price as a cheap hotel in Banff.
15 Epic Golden BC Cabins to Cozy Up In!
---
---
Hopefully this helped you narrow down some cheap hotels in Banff
If you have any other questions leave a comment or see our Canadian Rockies travel guide for more articles about photography spots, lakes, hikes, and everything else.
Plan Your Trip to the Canadian Rockies
↓ Join the community ↓
The Banff Blog Facebook Group is your headquarters for the Canadian Rockies' travel advice and information. Including hike info and off-season travel information. You can also meet new adventure buddies.