If you are planning a family trip to Banff, chances are you are looking for kid-friendly activities that the whole family will enjoy.
Luckily, there is no shortage of things to do in Banff with kids. Read on to find out which activities might be right for you and your family!
---
Where is Banff National Park?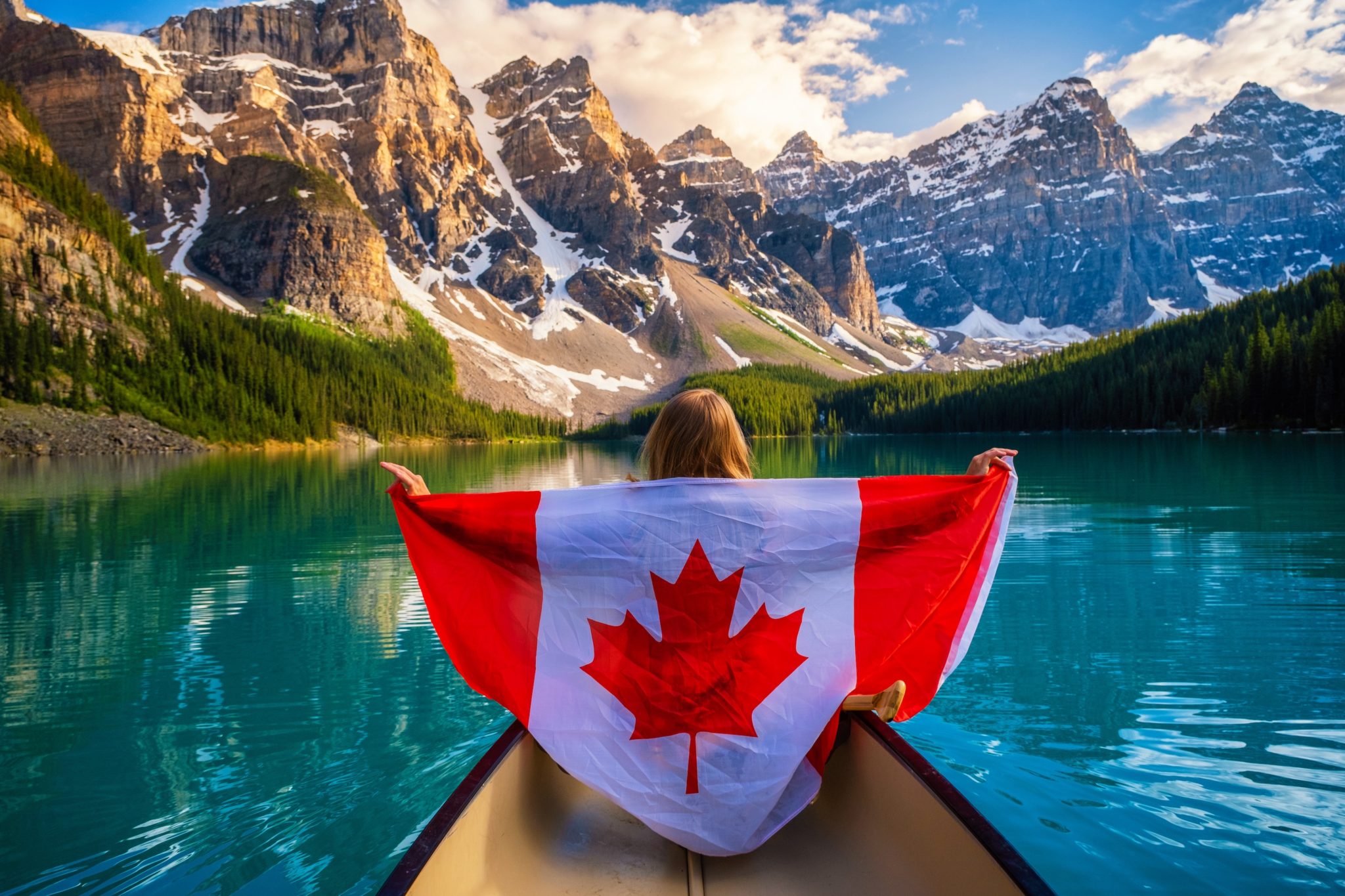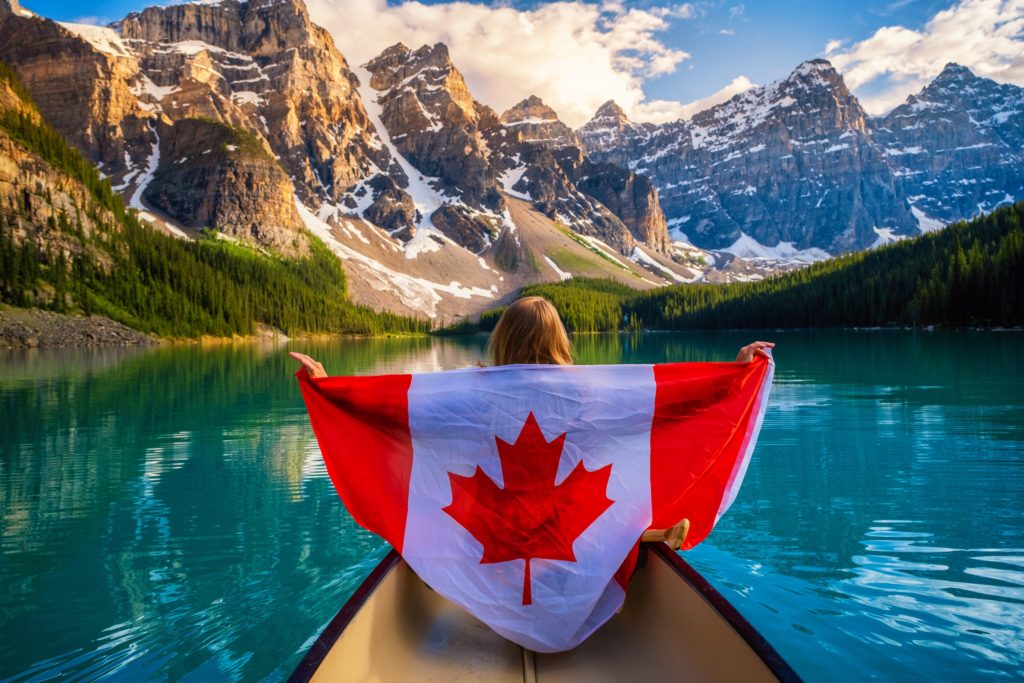 As Canada's first national park established in 1885, Banff National Park covers 6,641 square kilometers and includes scenic mountains, glacier-fed lakes, and a variety of outdoor adventures to be enjoyed throughout the year.
It is located approximately 130km west of the city of Calgary, Alberta along the Trans-Canada Highway. Note that you will need to purchase a Parks Canada Pass in order to enjoy the attractions of Banff National Park.
---
How to Get to Banff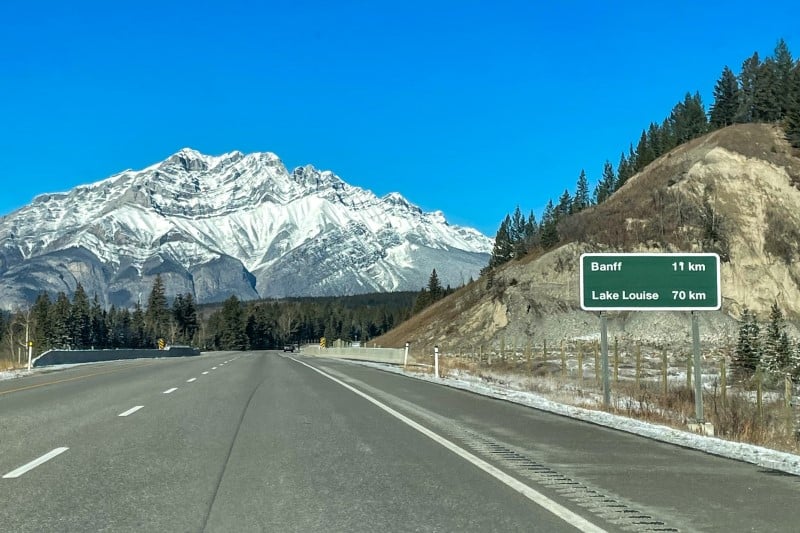 Having your own or a rental car is the easiest way to get around in Banff, offering the most flexibility to visit the many locations in the area surrounding the town. This flexibility to stop as needed and explore on your own time is convenient for families traveling with children.
The most convenient airports to fly into are in Calgary and Edmonton. From either of these airports, you can rent a car and drive to Banff. The drive between Calgary and Banff will take approximately 1.5 hours; the drive from Edmonton to Banff will take approximately 4 hours.
However, if you would prefer not to rent a car or drive in Banff, there are options for transportation between the Calgary airport (YYC) and Banff. The Banff Airporter is a great option and costs $159.98 return per adult and $79.98 return for children between the ages of 6 and 17. Once you have arrived in Banff, the Roam Transit service offers many routes between popular locations in the town of Banff and the surrounding area.
How to Get From Calgary to Banff
---
Weather in Banff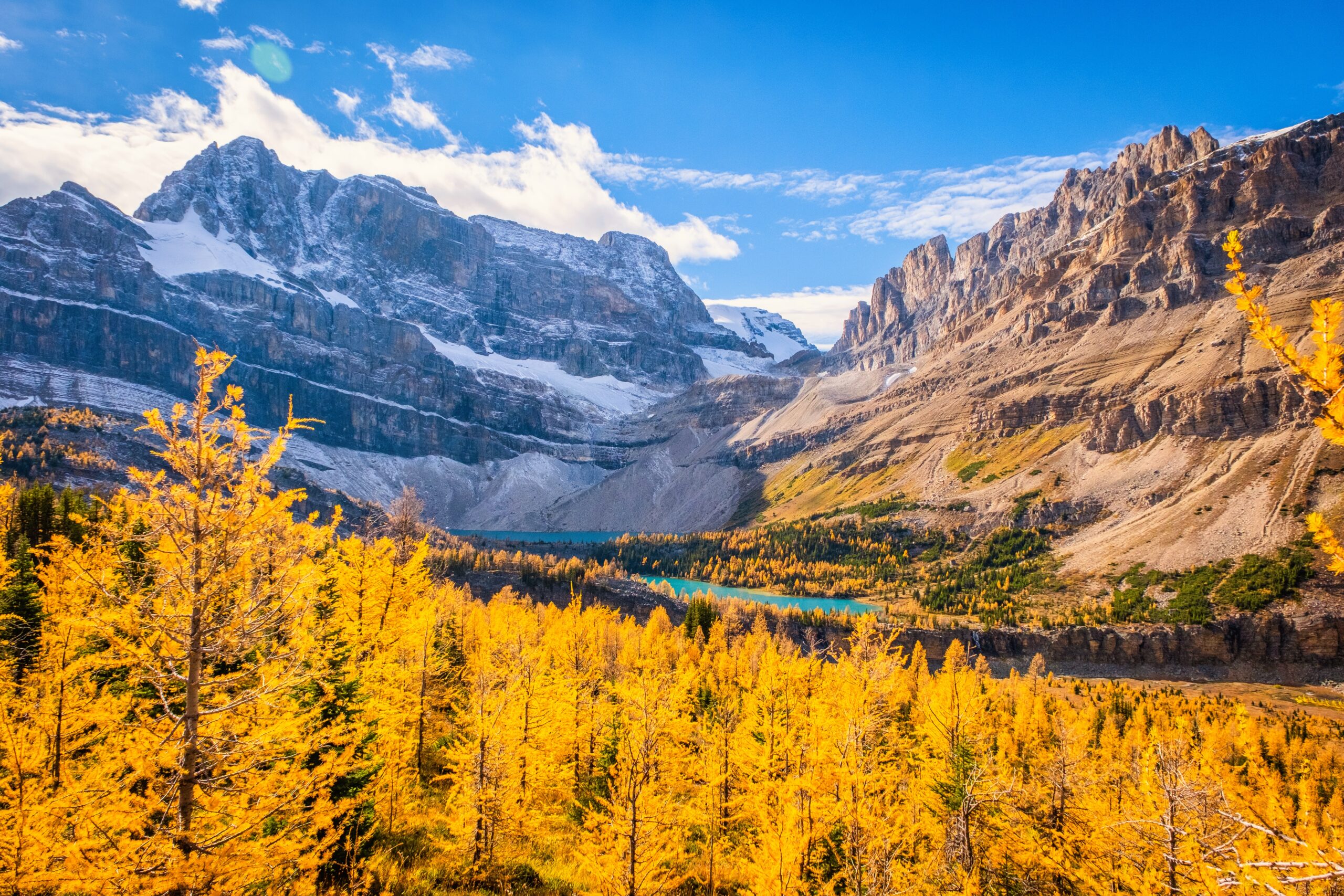 The most important thing to know about the weather in Banff is that it can vary greatly, no matter the season. It is always best to be prepared with layers such as a down jacket, waterproof jacket, and a hat or toque, regardless of when you are visiting.
When is the BEST Time to Visit Banff National Park?
---
The Best Things to Do in Banff With Kids
---
Explore Banff Avenue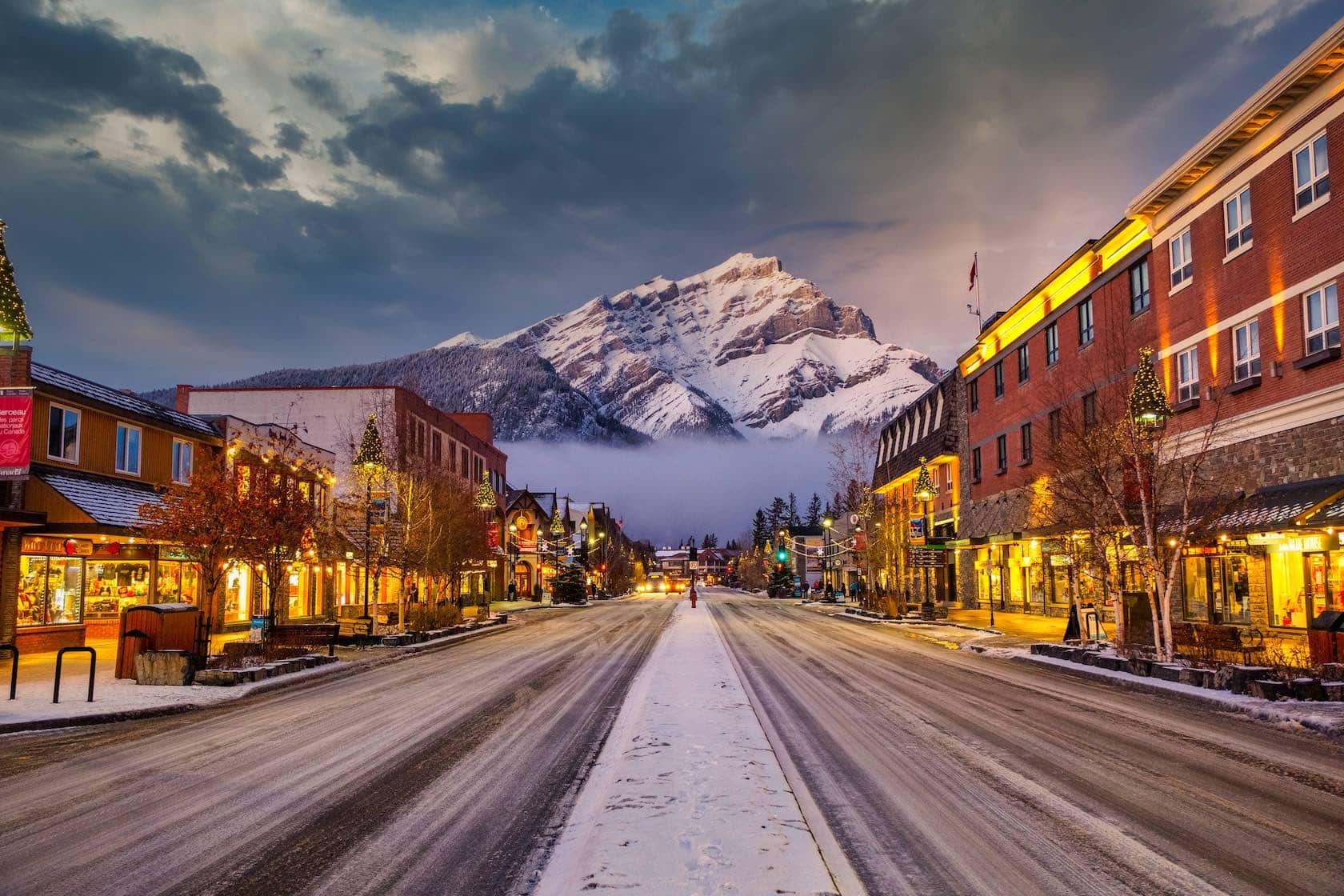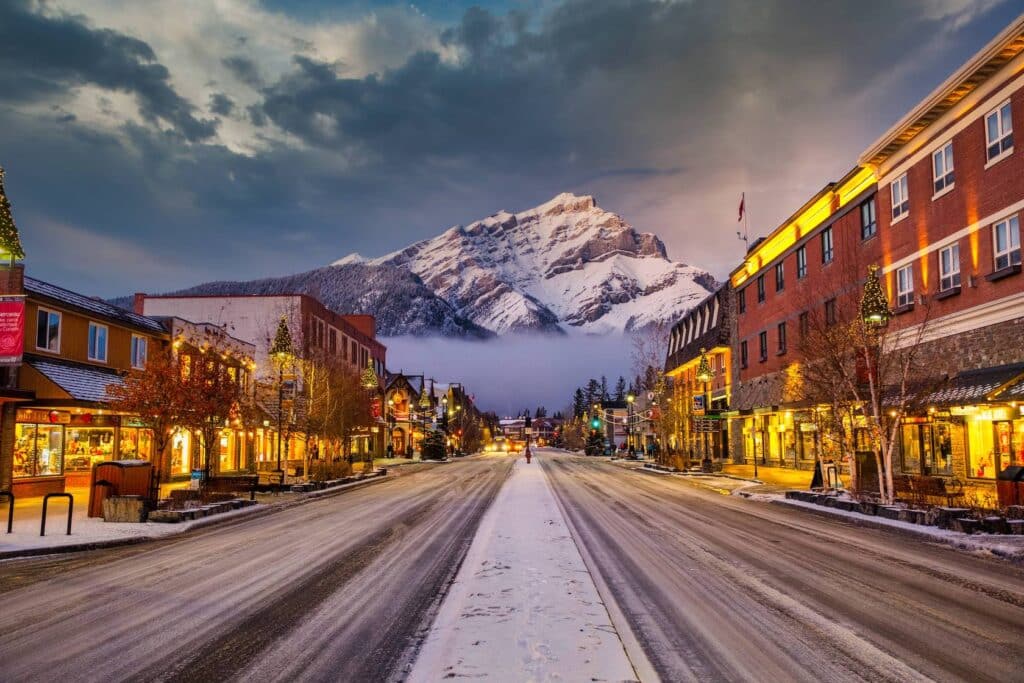 A stroll down Banff Avenue will provide access to the many shops and restaurants that this mountain town has to offer. Popular shops for children, both located on Banff Avenue, include Duck Duck Moose and Banff Sweet Shoppe. Popular treats along this charming street can be found at BeaverTails (fried pastry with your choice of sweet toppings) and Cows (ice cream).
At the south end of Banff Avenue, you will find the Cascade of Time Garden just after you cross the Bow River. This hillside garden has a variety of flowers surrounding a pretty pond, with many benches to rest and enjoy the view of Cascade Mountain. It is a worthwhile stop for families exploring the town of Banff!
---
Take Your Photo at the Banff Sign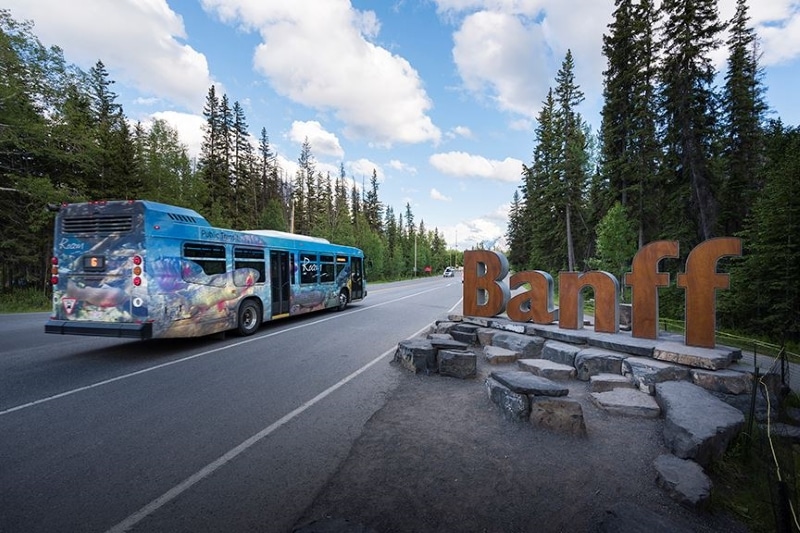 You will likely find a lineup of visitors vying for their photo at the Banff sign as you enter the town. Located along Mt. Norquay Road just before the train station, this is a quick stop that also offers easy parking access (watch for the sign indicating the turn for parking).
A nice bonus of the popularity of the sign is that you are likely to find someone nearby to take a photo of your entire family together!
---
Go Canoeing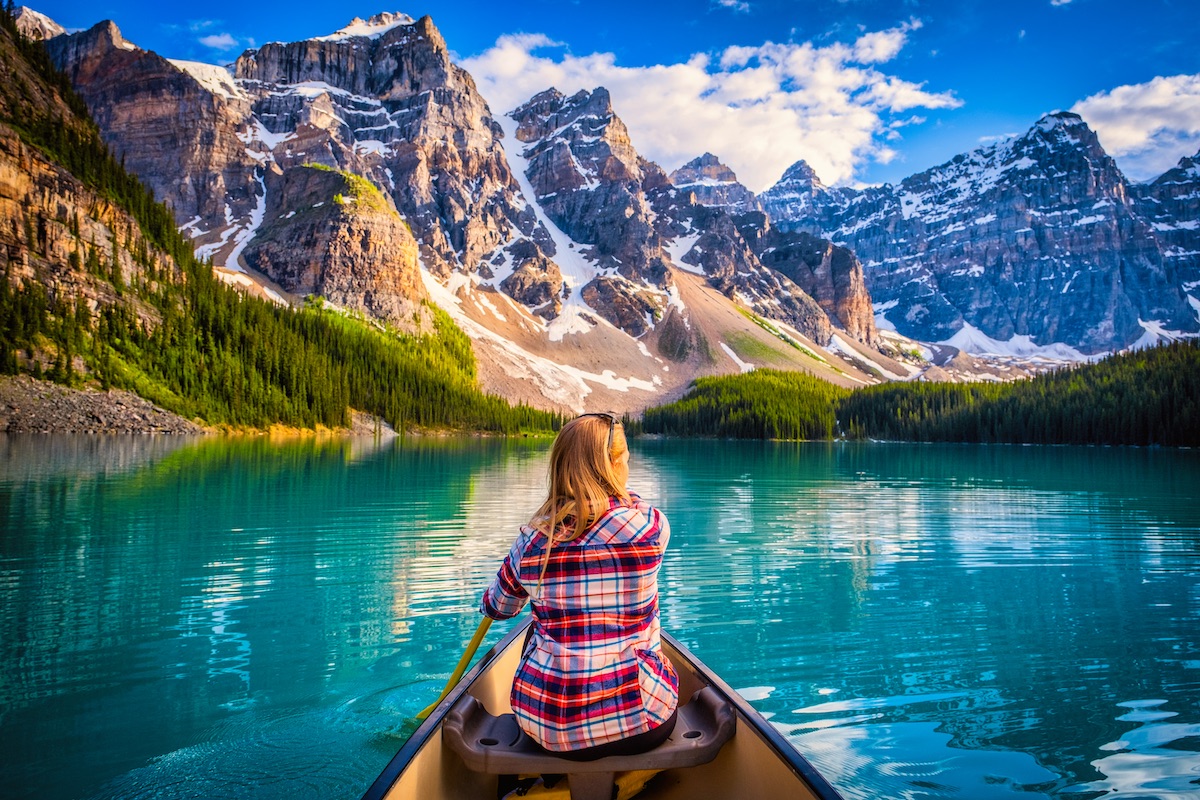 There are many places that offer great canoeing within Banff National Park. Take a few snacks and spend a day on the water enjoying this popular Canadian activity. A few places where you can rent canoes and experience scenic views include Lake Louise, Moraine Lake, Lake Minnewanka, or even Emerald Lake (located in nearby Yoho National Park). However, note that the rental prices can be steep in these areas as they are among the most picturesque canoeing locations in Canada.
It is crucial to remember water safety such as wearing a lifejacket, especially for little ones. If you would prefer to take your family on a guided canoe tour, The Banff Canoe Club is a fantastic option.
---
Visit Johnston Canyon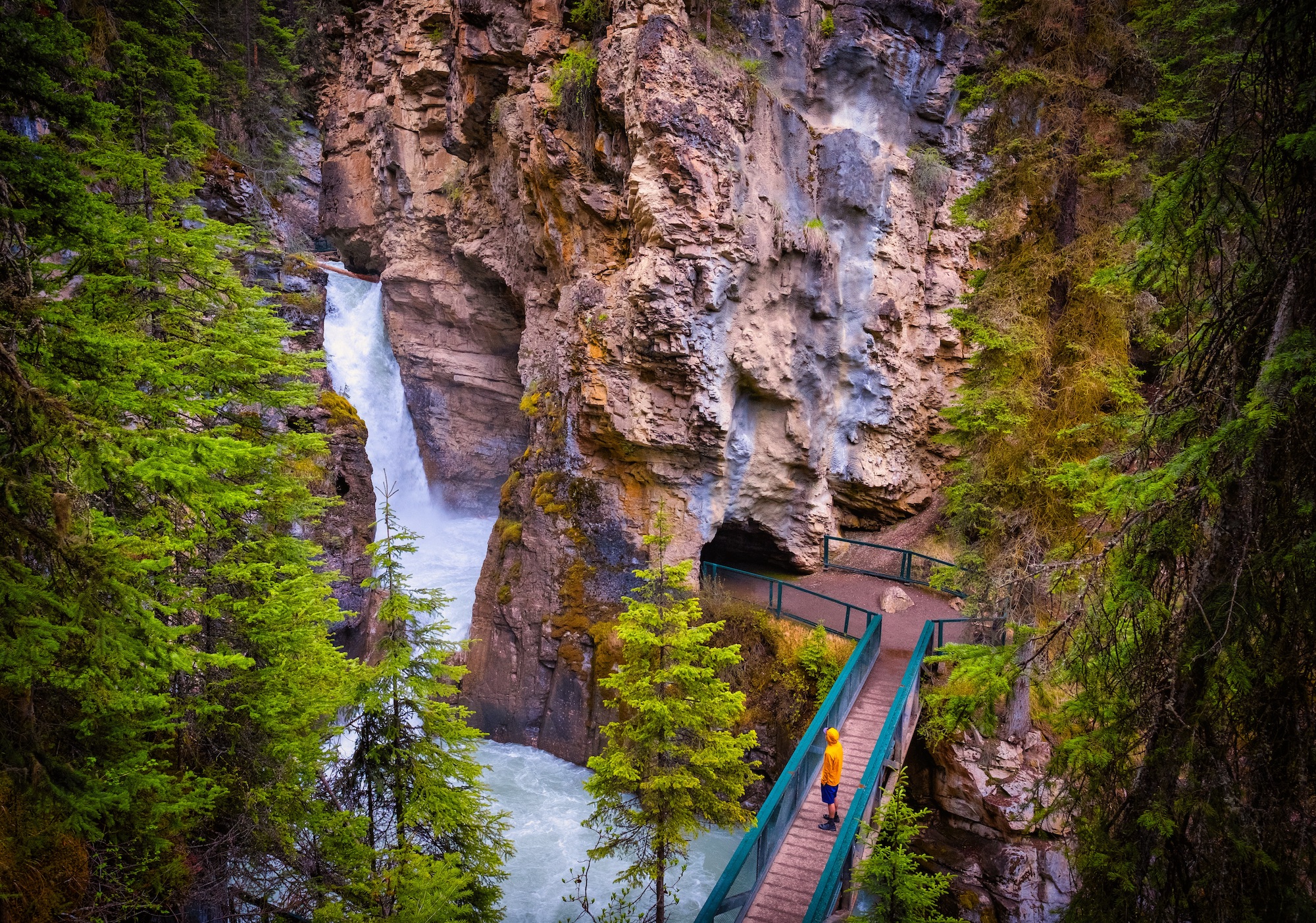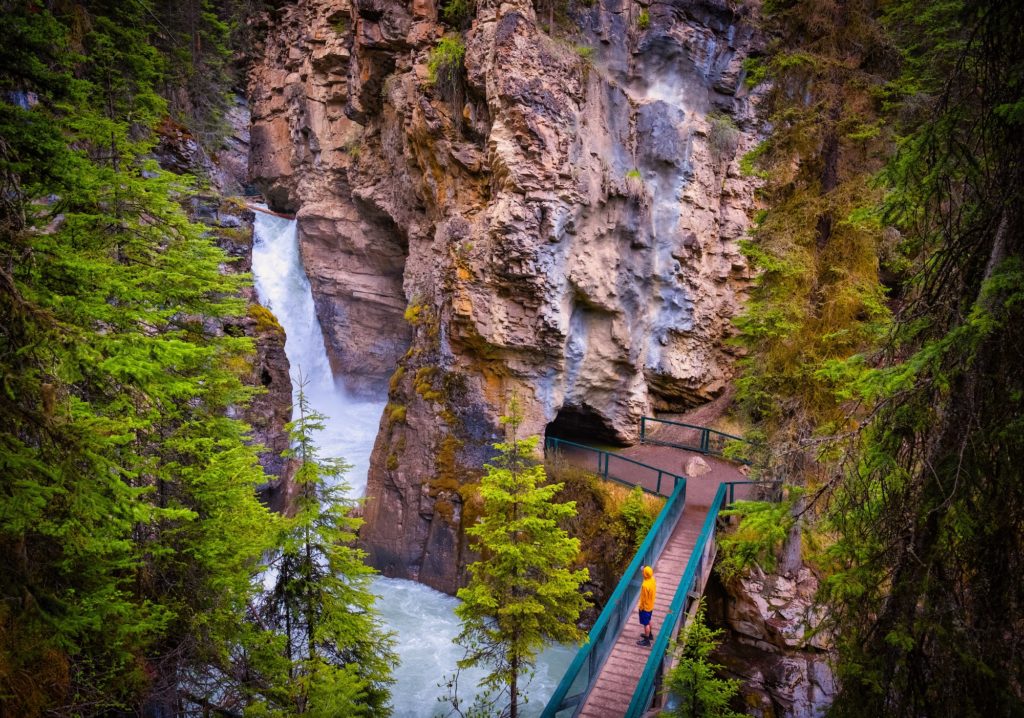 Johnston Canyon is a great family-friendly hike that can be completed at any time of the year. Much of the trail is a boardwalk that takes you through a scenic canyon to both a lower and upper falls.
In the winter, you may even see ice climbers scaling the frozen upper falls. The 5.1 km out-and-back trail is accessible for hikers of all ability levels.
While this trail is not stroller-friendly, a baby or toddler carrier may be more suitable if you have small children. Dogs are also able to complete this trail if on a leash.
30 EASY Hikes In Banff For The Whole Family
---
Walk the Lake Louise Lakeshore Trail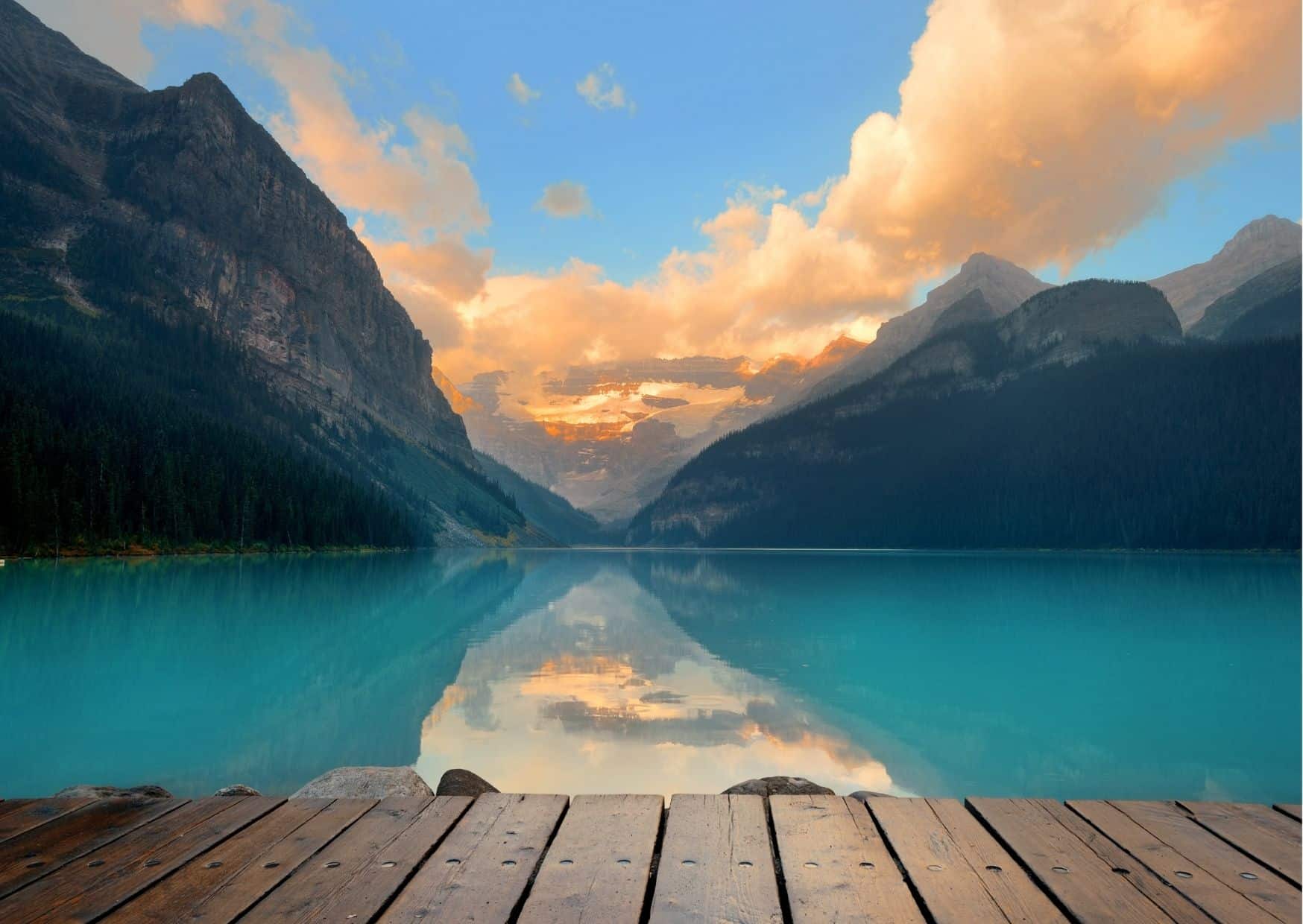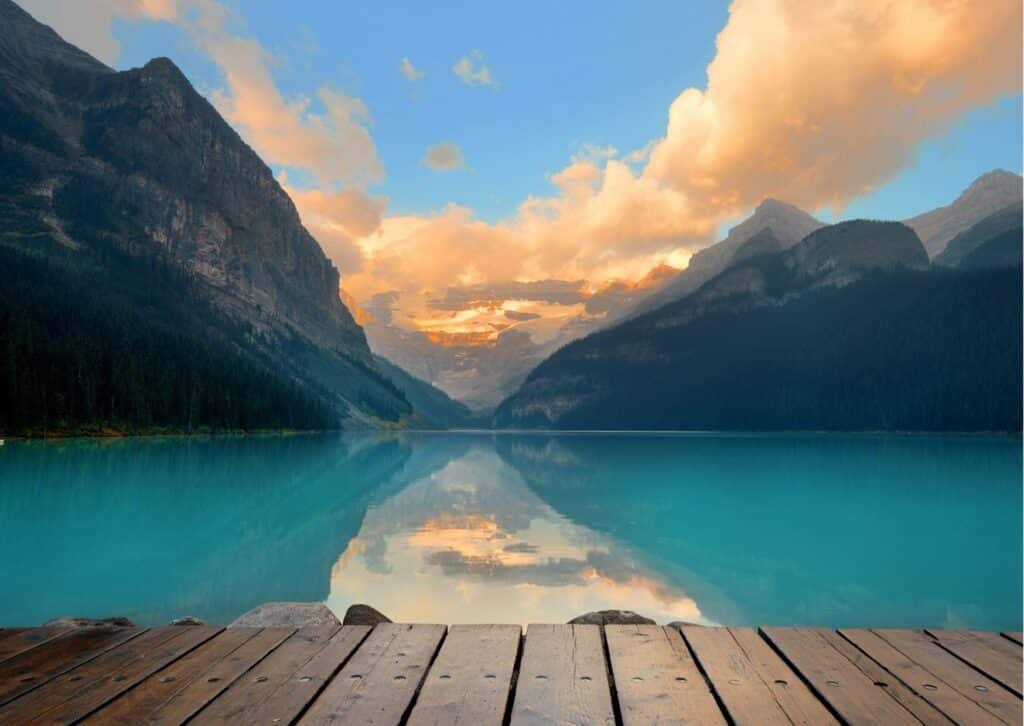 The flat 3km out-and-back walk along the Lake Louise Lakeshore trail will give you beautiful views of the turquoise waters of Lake Louise.
There are benches along the trail offering a spot to rest and watch the paddlers (or skaters!) on the lake. Many people do not complete the full trail, so you will likely find that the crowds will thin out as you get farther from the Chateau Fairmont Lake Louise. This is a walk that adventurers of all ages can enjoy!
Lake Louise is an immensely popular location within Banff National Park. The only way to avoid the crowds is to visit during the off-season, or at off-peak times (before sunrise and in the evenings on weekdays) during the summer months.
15 STUNNING Lake Louise Hikes and Trails You'll Love (from Easy to Hard)
---
Hike to Lake Agnes Teahouse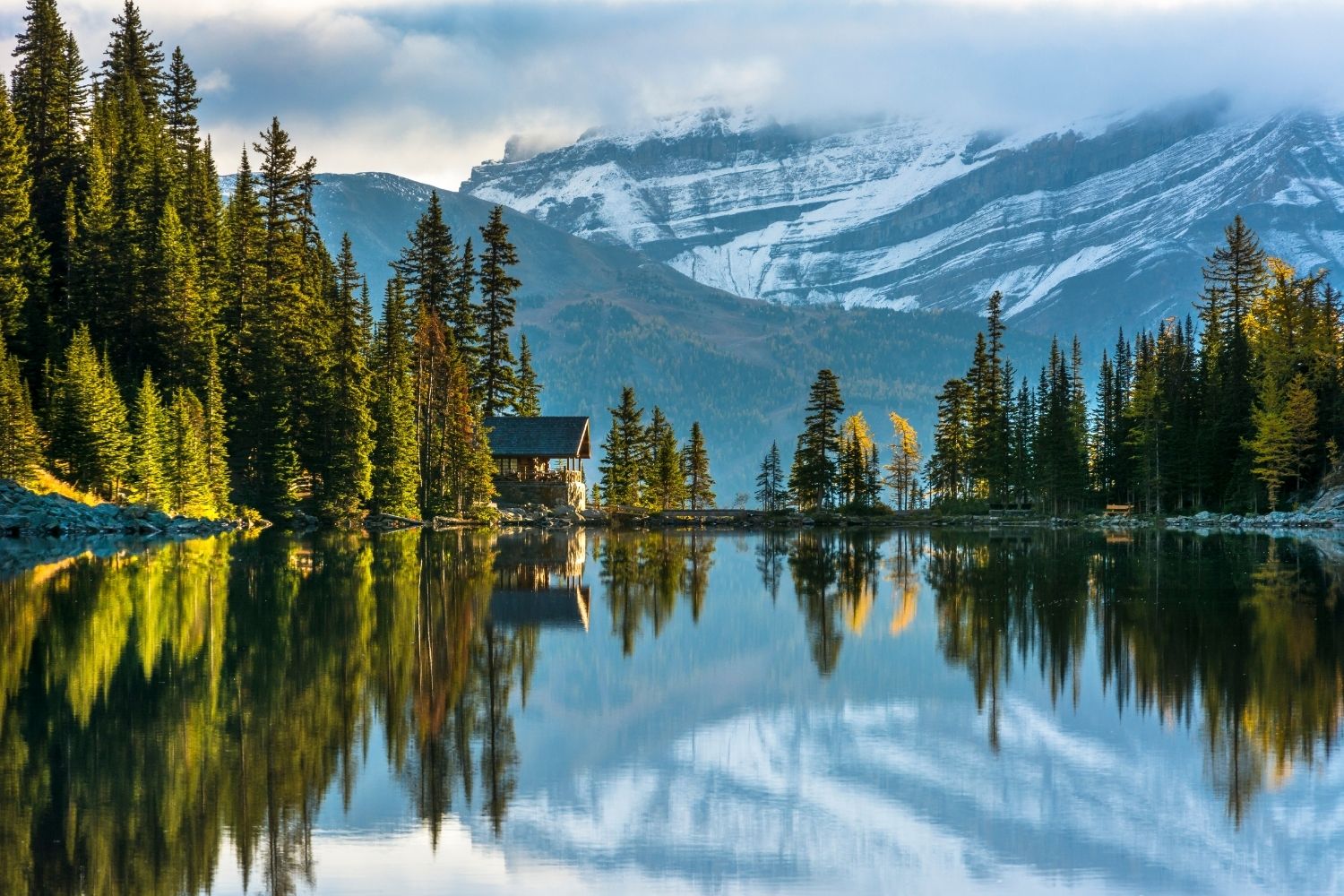 If you have older children or smaller children with hiking experience, consider hiking to Lake Agnes Teahouse. You will find the trailhead shortly after the beginning of the Lake Louise Lakeshore trail. A steep but well maintained trail ends at the historic Lake Agnes Teahouse, where you can enjoy tea and baked treats during the summer and early fall months. This hike is well worth the effort, and a great way to experience a hike in the Lake Louise area!
There is nothing technical about this trail; with a there-and-back length of 7.4km and 435m of elevation gain, this hike can be completed with a baby or toddler carrier, though a stroller may prove difficult. The trail is also suitable for dogs, but remember that dogs must always be on a leash within Banff National Park.
---
Bike Along Legacy Trail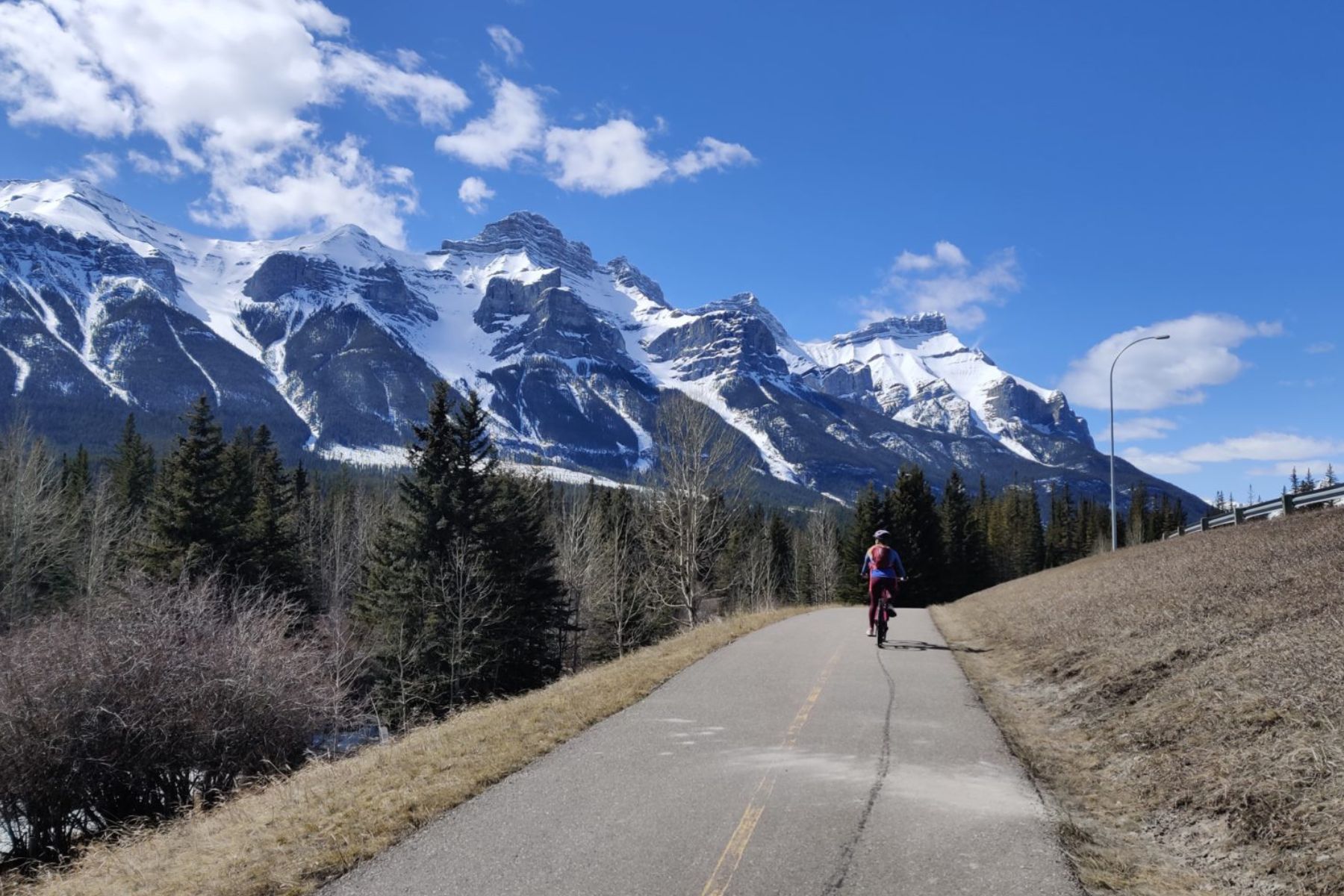 The Legacy Trail is a 26 km paved trail between the Alberta towns of Canmore and Banff. It runs parallel to the Trans-Canada Highway and is a great way to explore the area by bike. This trail is frequented by tourists and locals alike, and includes a great midpoint stop with a picnic area and the iconic red Adirondack chairs of Canada's national parks. It is important to note that the trip from Canmore to Banff is the more challenging direction with a greater incline.
If you require bike rentals, Ultimate Sports or Banff Cycle are great options. Both companies offer bikes for both adults and kids, and you can even add on a bike trailer or pedal trainer attachment for your youngest family members. Rundle Mountain Bike Rental in Canmore offers these same options and is conveniently located near the beginning of the Legacy Trail.
---
Visit Bow Falls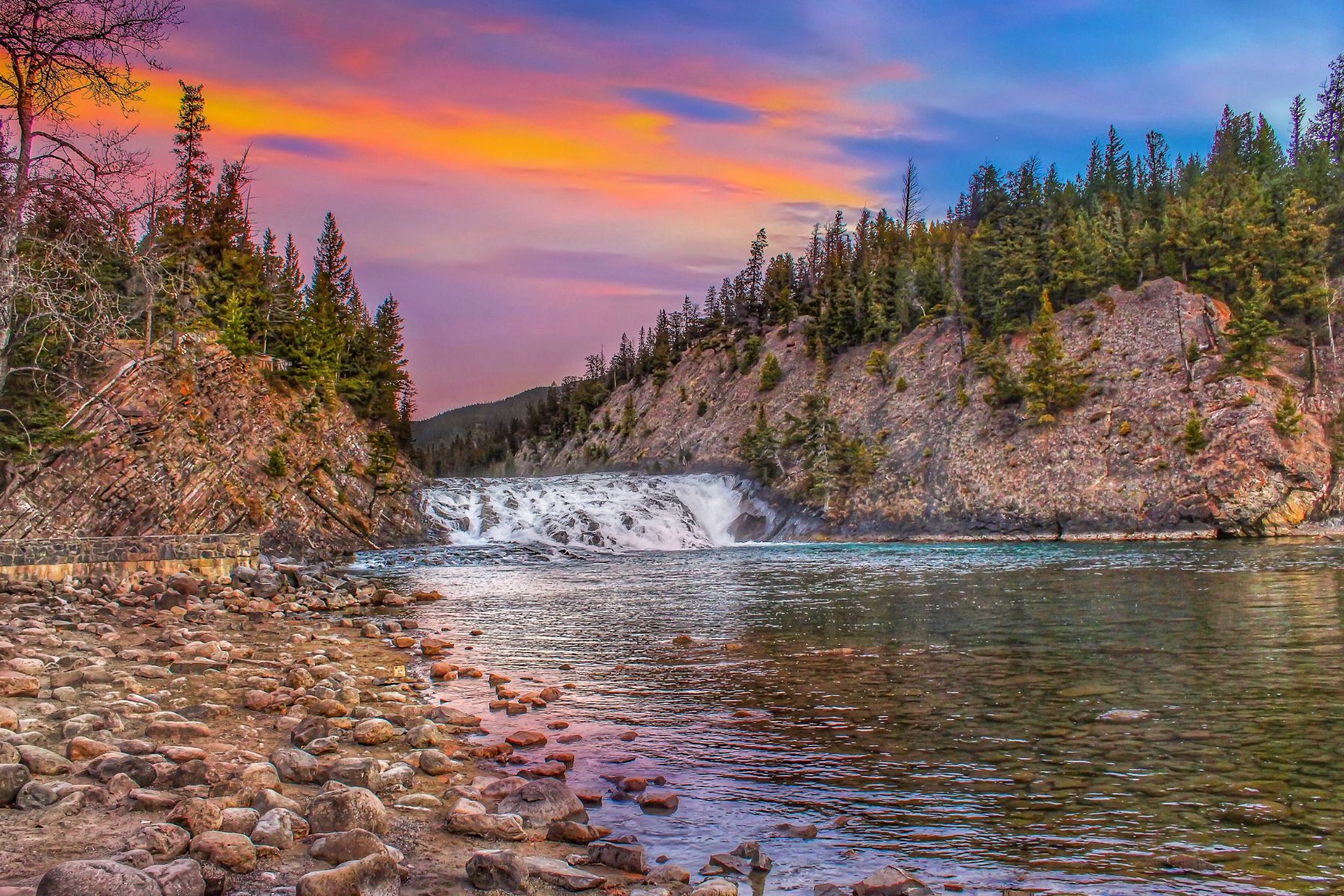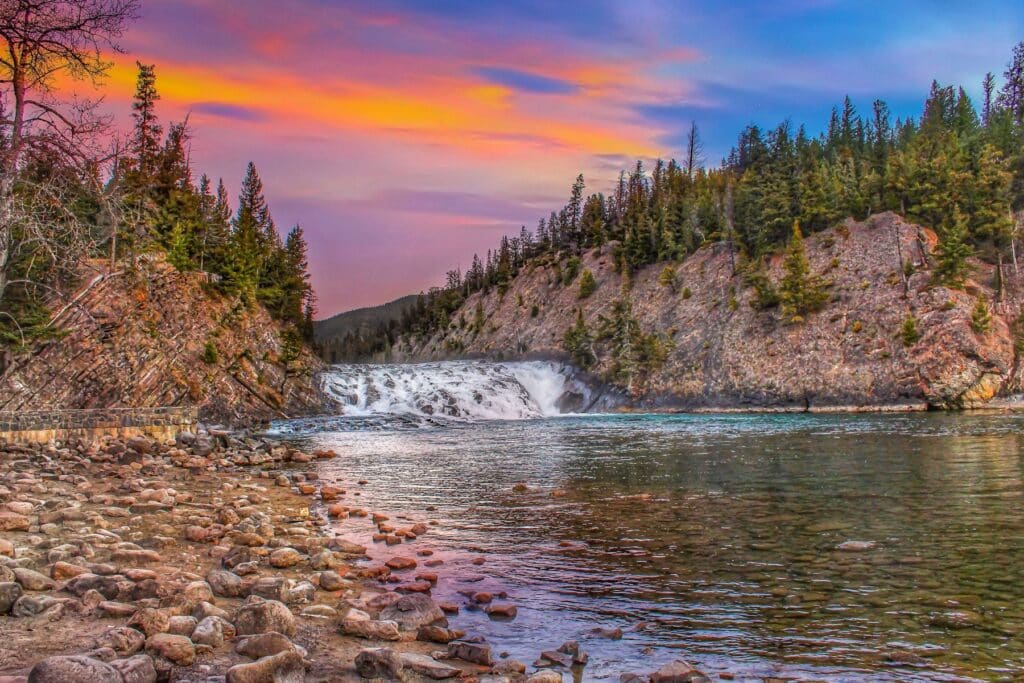 A family-friendly activity that can be enjoyed at any time of year is a visit to Bow Falls. The viewpoint is found very close to the town centre of Banff, making it a convenient way to check a waterfall off your list of things to see!
Bow Falls can be reached by driving to the designated parking lot (an approximately 5 minute drive from Banff Avenue) or enjoying a walk along the path parallel to the Bow River (an approximately 30-minute walk from Banff Avenue).
---
Have a Picnic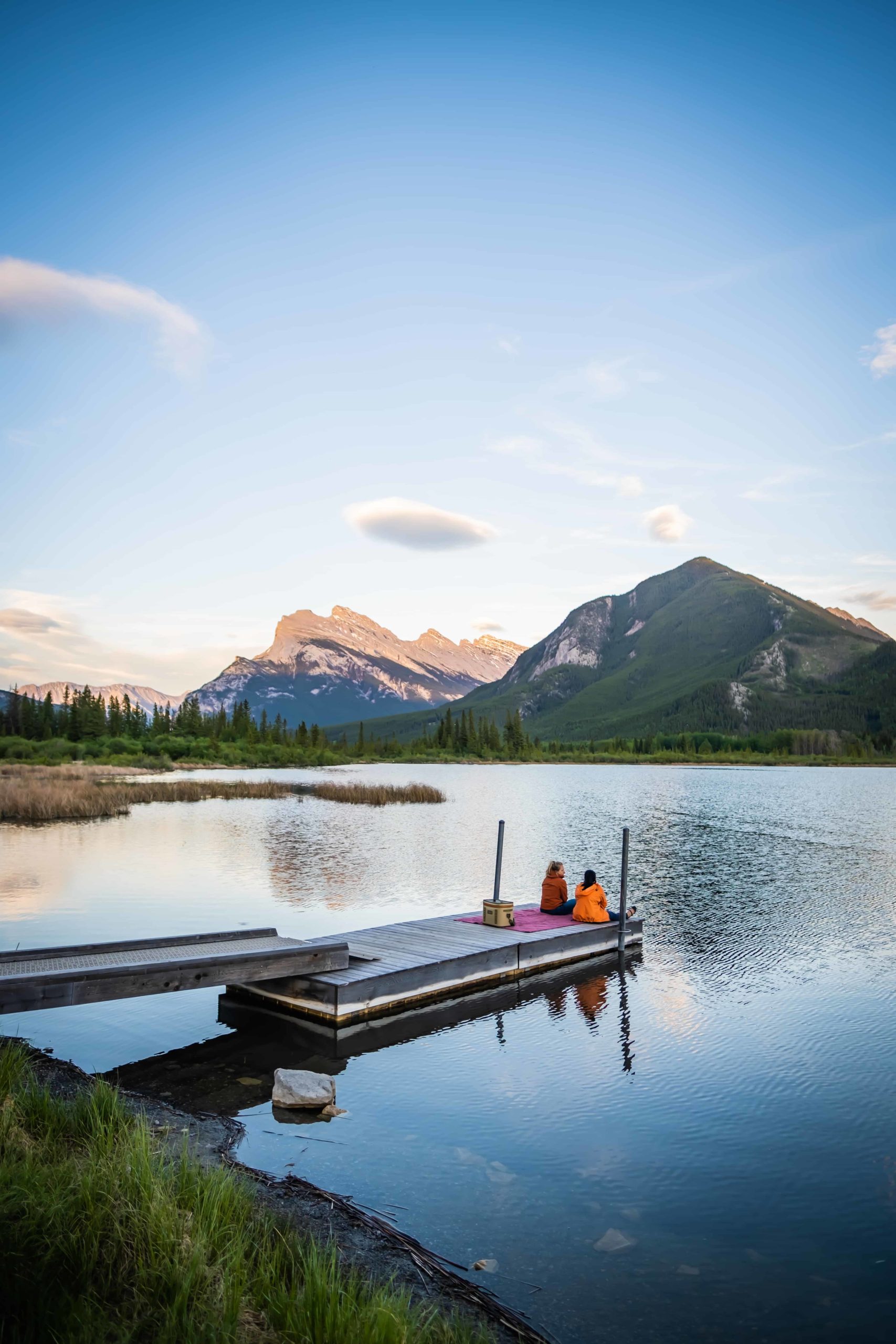 A great way to enjoy the beauty of the outdoors in Banff National Park is by packing a picnic! Families can stop at the IGA in Banff (although grocery shopping in nearby Canmore may be a cheaper option) before heading out to your picnic location.
A few locations easily accessed from Banff town are Vermillion Lakes, Cascade Ponds, or any of the three lakes on the Lake Minnewanka Loop (Johnson Lake, Two Jack Lake, or Lake Minnewanka).
---
Peyto Lake Viewpoint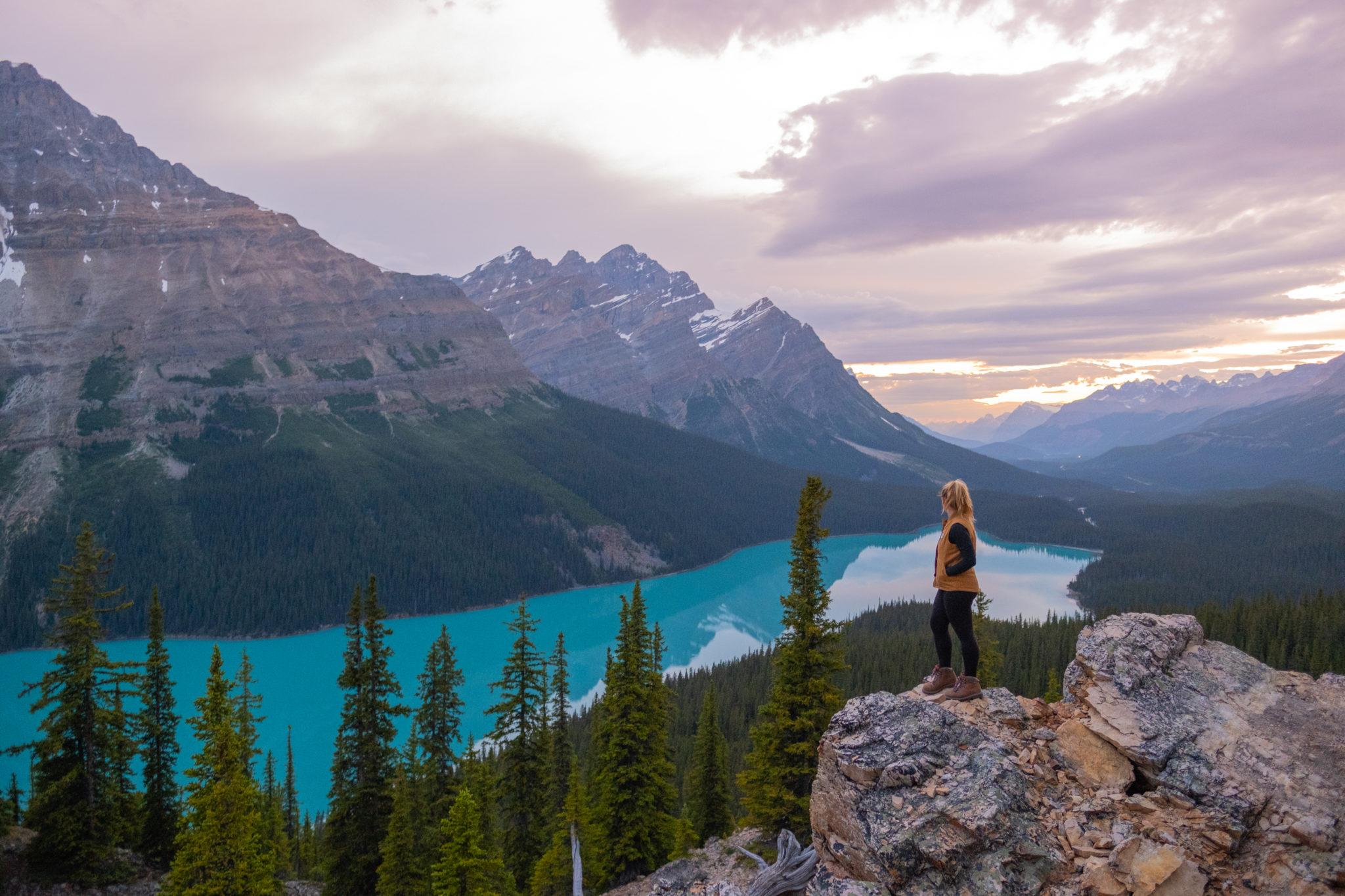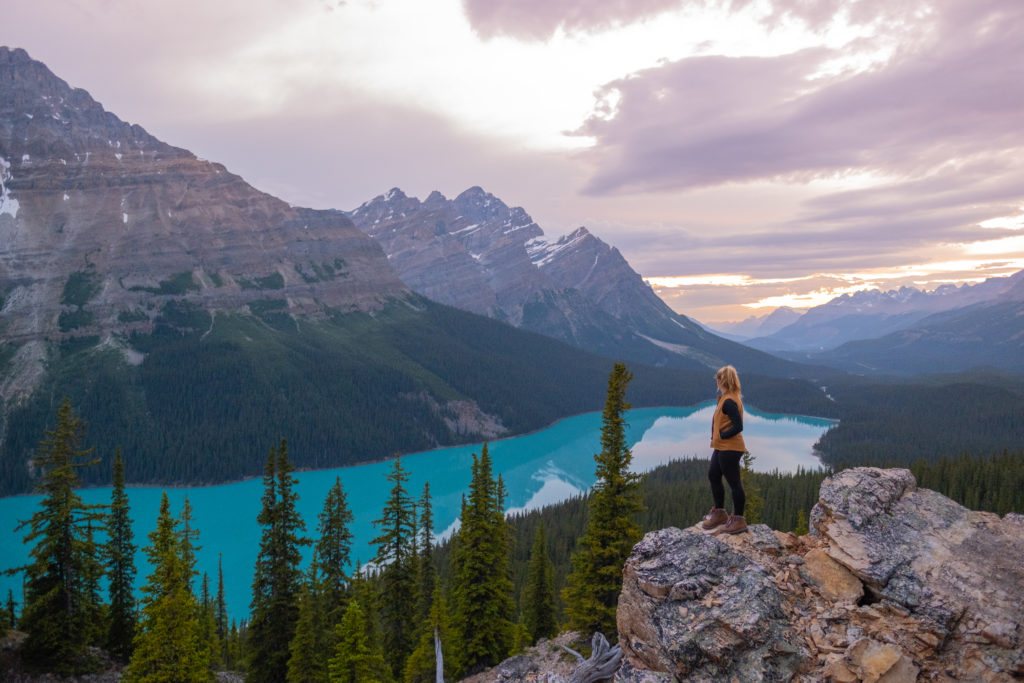 The Canadian Rockies have no shortage of beautiful glacier-fed lakes, and Peyto Lake is no exception. One of the most popular lakes in the area (including the stunning Lake Louise and Moraine Lake), the Peyto Lake viewpoint can be reached approximately 45km from Lake Louise along the Icefields Parkway (Highway 93N).
The uphill walk to the viewing platform takes around 10 minutes from the parking lot. There are also washrooms available in the parking lot. This viewpoint can be accessed year-round, but you will find it most crowded during the summer months of July and August however, the short climb is worth the effort to experience the breathtaking view of Peyto Lake!
---
Walk Fenland Trail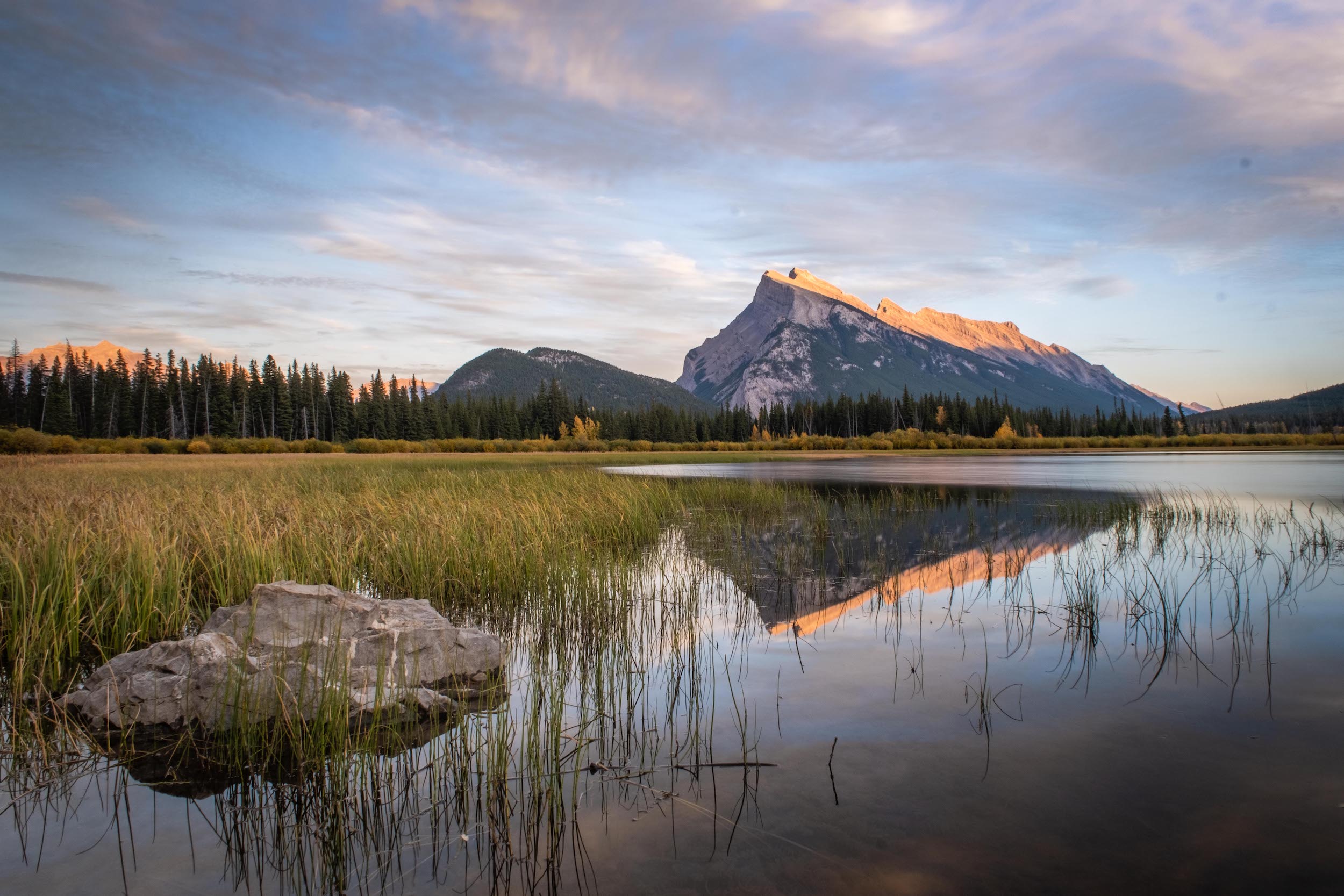 If you are looking for an easy walk located just outside of the Banff townsite, Fenland Trail is a great option. The 2km loop trail can be completed in under an hour, with minimal elevation gain through the forest along Echo Creek.
The Fenland Trailhead is just off Mt. Norquay Road near the Fenlands Banff Recreation Centre. This walk is a great, family-friendly way to enjoy the natural surroundings of Banff National Park!
---
Hike Sundance Canyon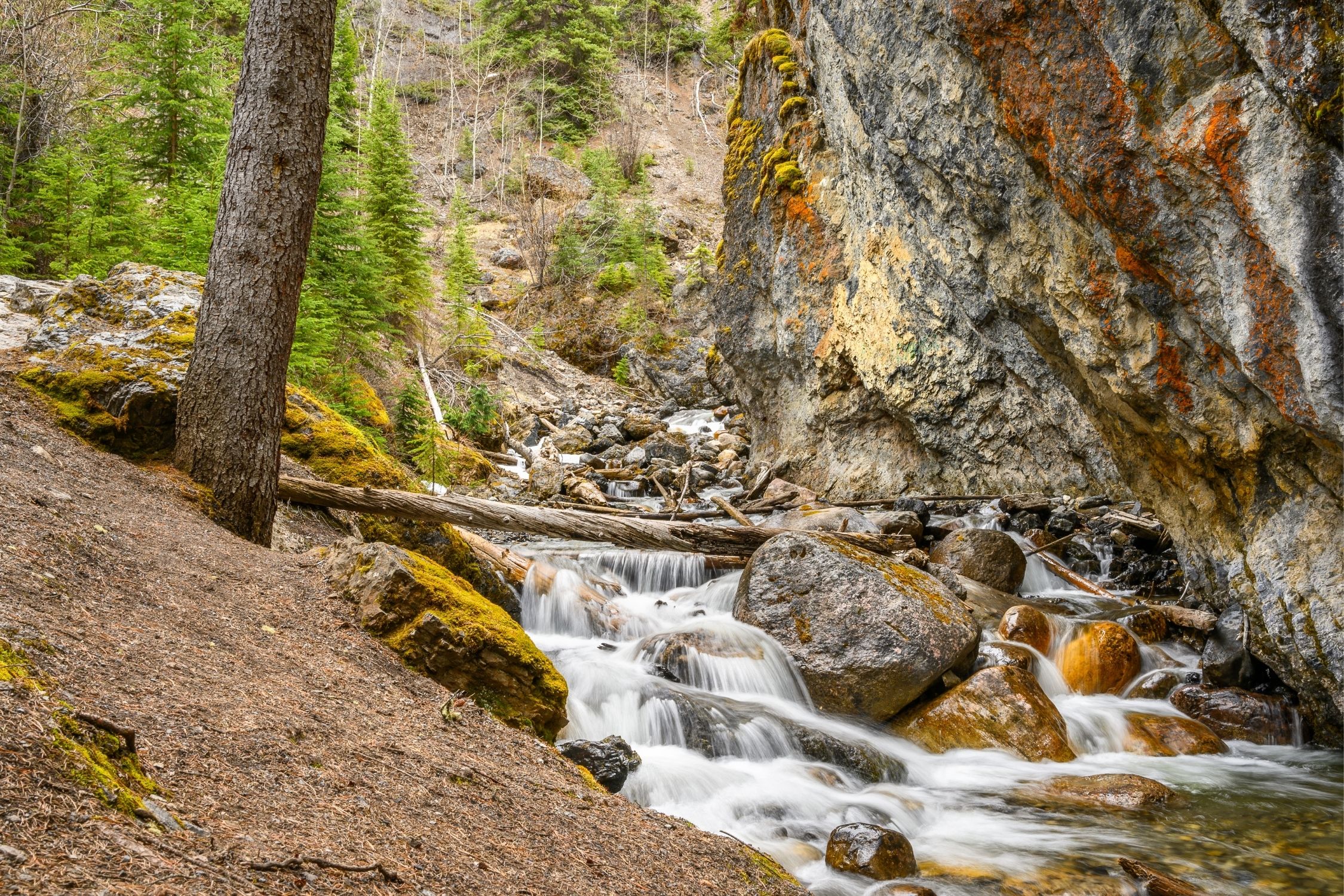 The Sundance Canyon trailhead can be found behind the Cave & Basin National Historic Site near downtown Banff. You will begin by walking along the 3.7km paved trail in order to reach the Sundance Canyon 1.6km loop.
There is a mild elevation gain of 155m and loss of 60m over the trail distance. Note that bikes and scooters are allowed along the paved trail portion if you would like to do a blend of hiking and biking. You are not able to use these along the Sundance Canyon loop as the trail gets more challenging here.
You do not need to complete the full distance in order to experience the mountain and forest views along the trail. If you are completing the full loop, plan to spend around 3 hours here, or longer if you'd like to take a picnic or stop for lots of breaks along the way. This experience is enjoyable year-round, just make sure to pack enough water, food, and dress appropriately for the weather!
---
Ride the Banff Gondola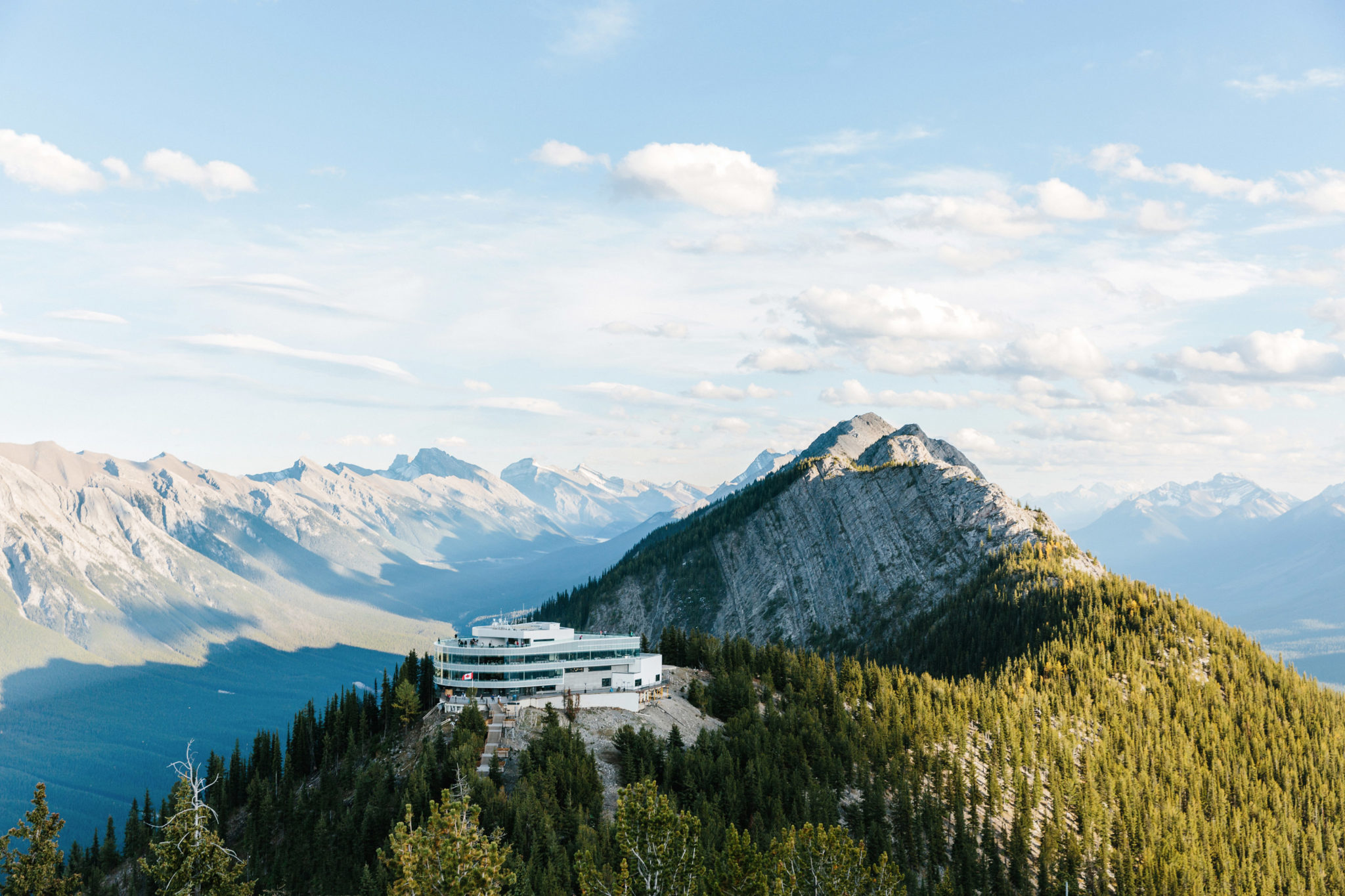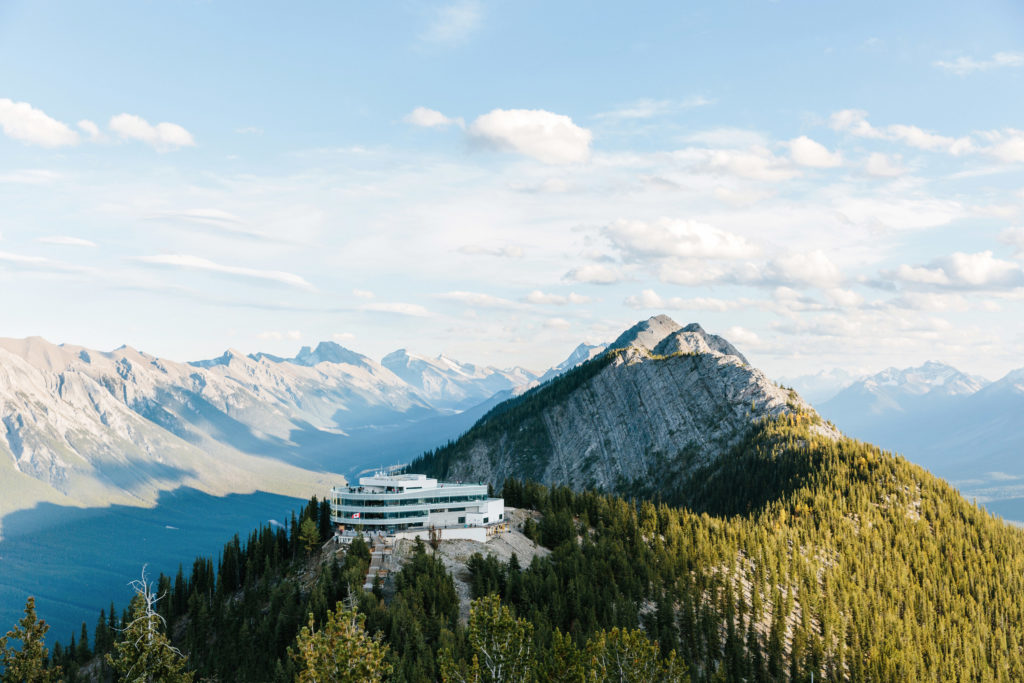 Take a ride along the 8-minute Banff Gondola to the top of Sulphur Mountain for beautiful views of Banff and the surrounding area. You can access the gondola by driving a short distance from downtown Banff or by using the shuttle transportation operated by Roam Transit.
Once at the top, explore the discovery centre, enjoy the view from the observation decks, and grab a bite at the cafeteria or Sky Bistro restaurant (reservations recommended). For the best views and an easy walk, venture out onto the Banff Skywalk, a boardwalk along the summit ridge. Visitors can expect to spend around 2 hours here before riding the gondola back down the mountain.
The Banff Gondola is a great way to experience mountaintop views without the effort of hiking, particularly for families traveling with children. It can be one of the pricier things to do when visiting Banff, but it is an experience that all ages can enjoy!
---
Visit Mt. Norquay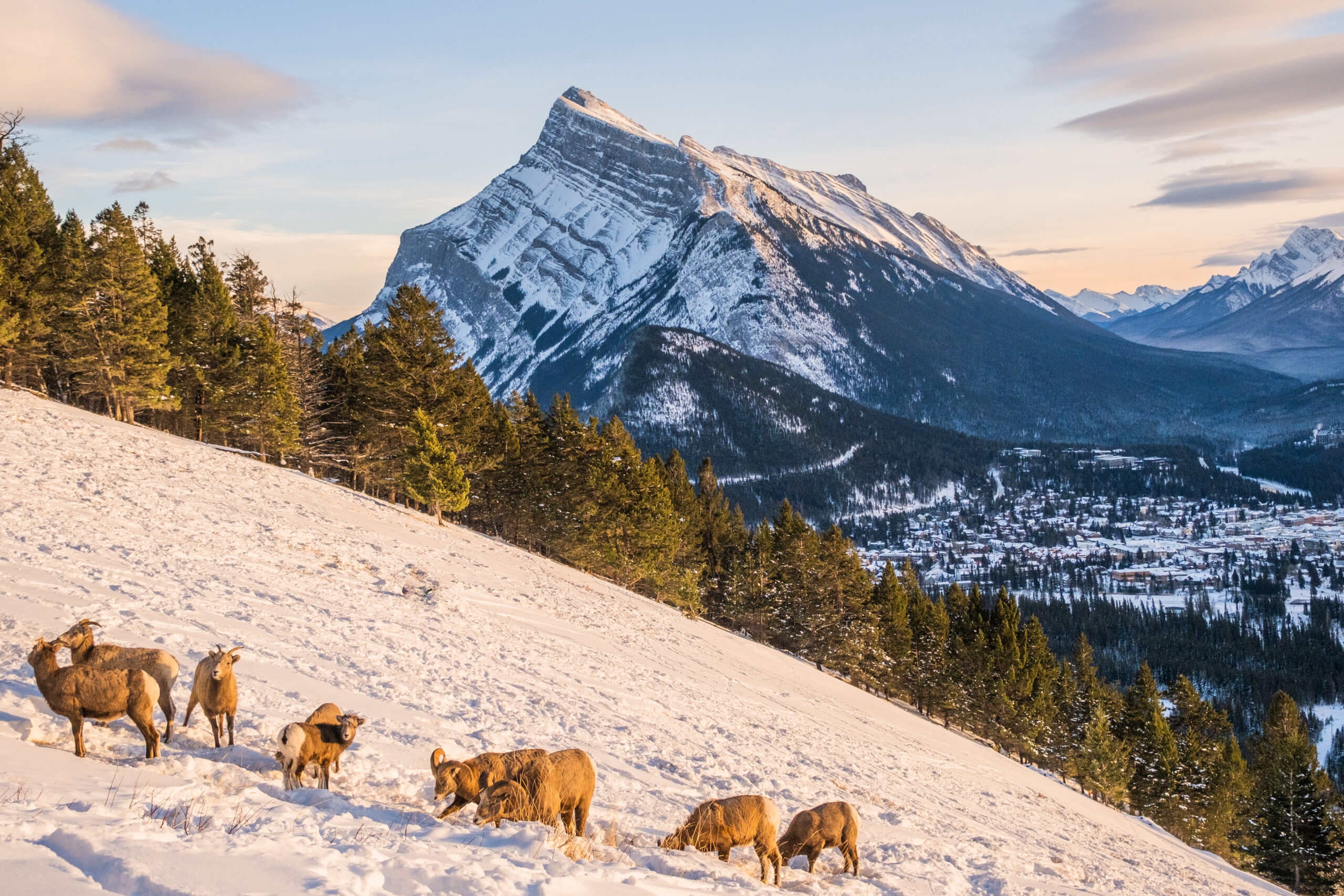 Mt. Norquay Resort is located just outside the town of Banff and is a great destination for families. In the winter months, the resort offers daily ski and snowboarding lessons at their ski school for kids of varying skill levels starting from age 3. Adults looking to take a lesson or hone their skills can also participate in lessons here. It's a great way to become more confident on the slopes!
If your family is not interested in skiing or snowboarding, Mt. Norquay also has a snow tubing park, which is one of the best things to do in Banff with kids in the winter. Participants aged 4 and up ride an inflatable tube down the plowed tube lanes on what is sure to be a memorable winter day on the mountain.
Mt. Norquay also has summer offerings, including a sightseeing chairlift. If you are traveling with children aged 12 and up, you may also enjoy the Via Ferrata tour offered in the summer months.
---
Go Skating on a Frozen Lake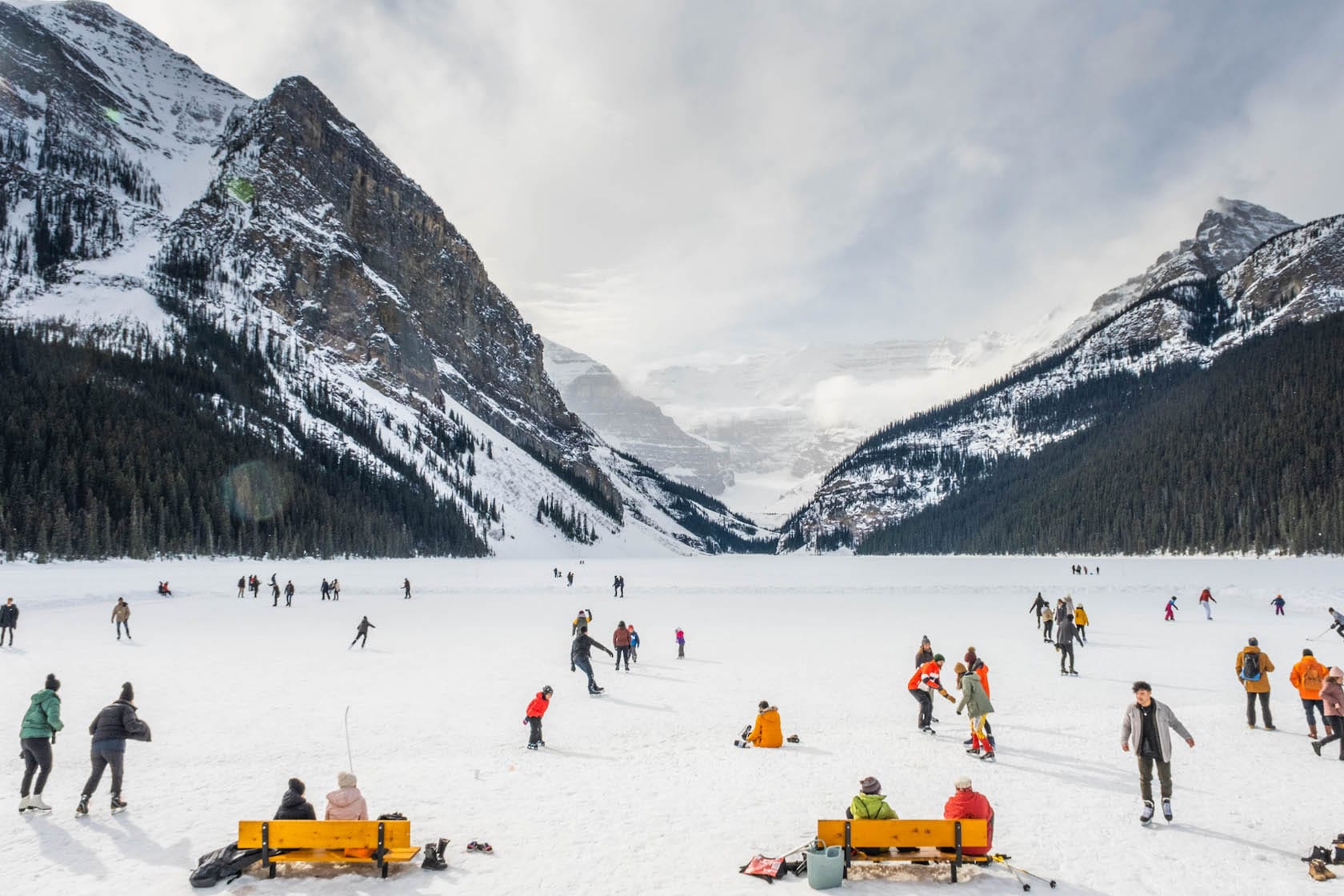 There is perhaps nothing quite as magical as skating on a frozen lake surrounded by snow-capped mountains. This is an activity that all ages can enjoy, and you do not need to be a good skater to enjoy a few laps around the lake.
One of the most popular and convenient locations for skating is Lake Louise. Here, you will have a scenic view of the surrounding mountains and access to the amenities at Fairmont Chateau Lake Louise (hot chocolate, anyone?). If you do not have your own skates, you are also able to rent a pair at the hotel. The frozen lake surface is regularly maintained and cleared, meaning that the skating conditions are almost always ideal.
There are a number of other locations for outdoor (wild) skating in Banff and nearby Canmore. These include Lake Minnewanka, Vermillion Lakes, or at the maintained ice rink at Banff High School (it's right on Banff Avenue – you can't miss it!). Options for ice skate rentals in Banff for both adults and children are listed below.
Lake Louise Ice Skating: Everything You Need to Know
---
Dogsledding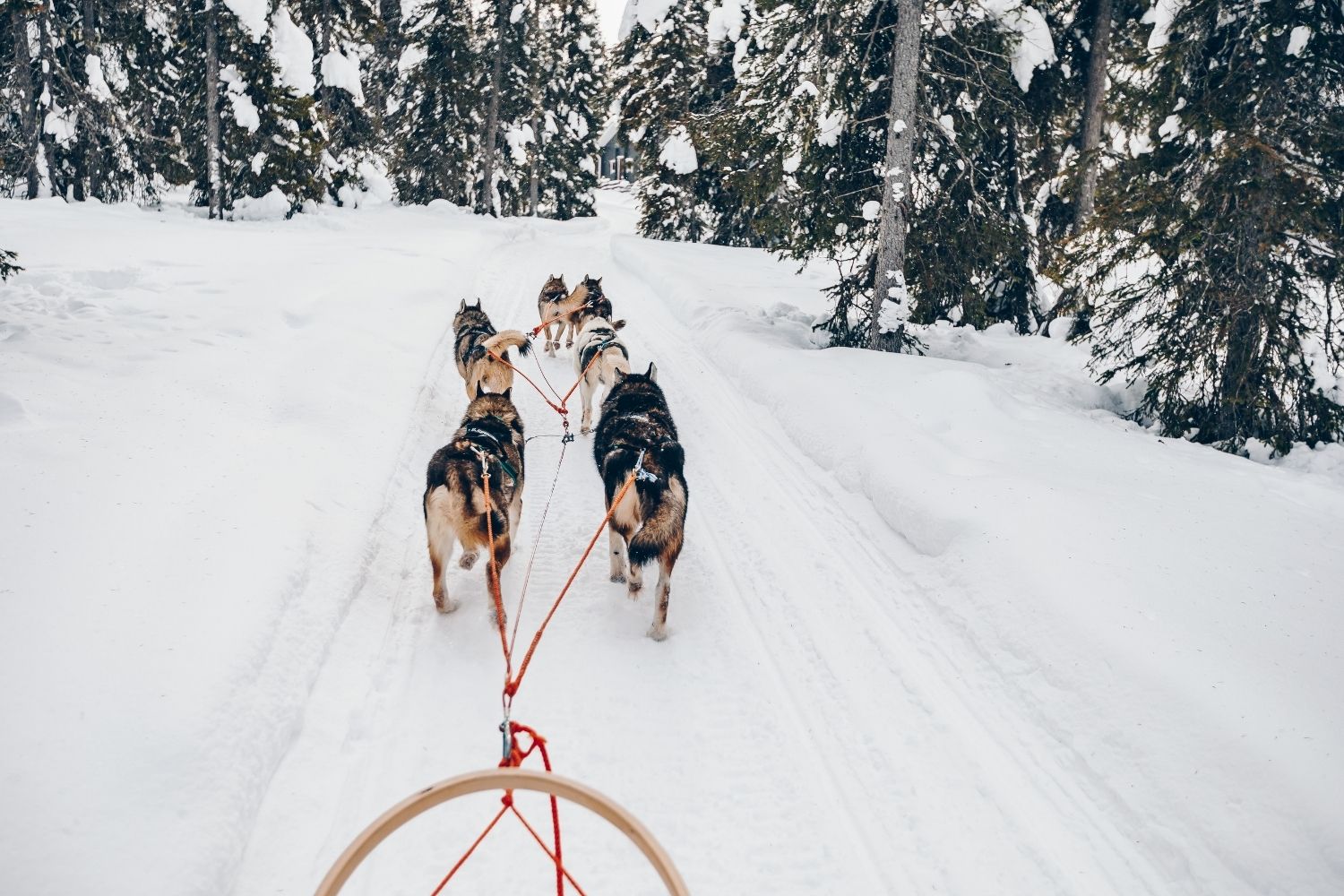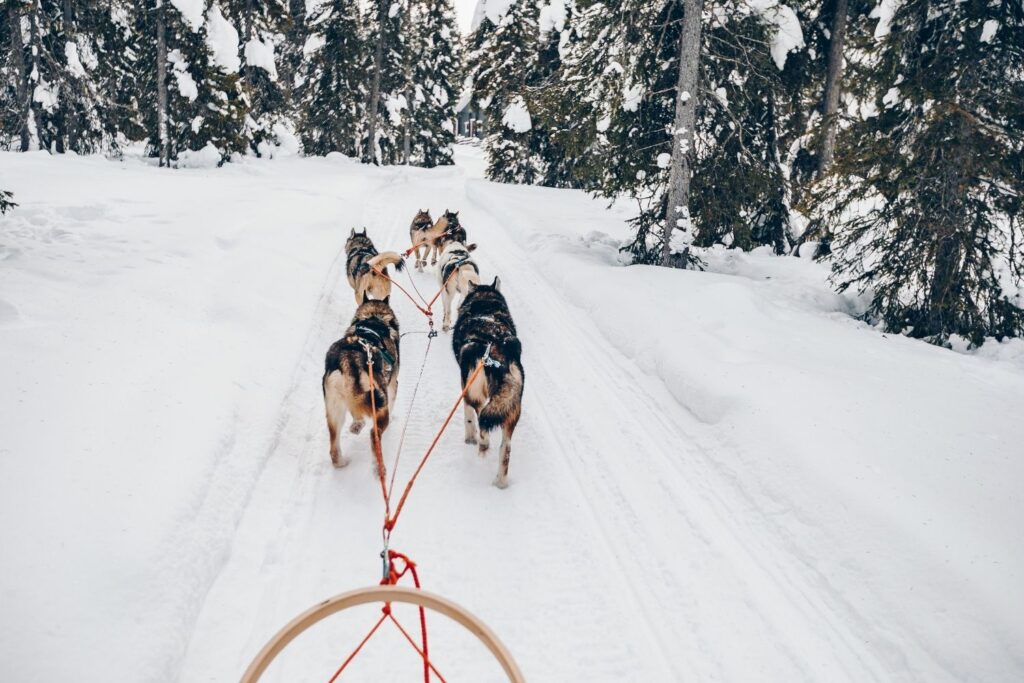 For a truly memorable family experience in Banff, head out on a dogsledding tour. Join a tour with Kingmik Dog Sled Tours, the only company to offer dogsledding tours within Banff National Park. Howling Dog Tours or Snowy Owl Tours are based in Canmore and are great options for dogsledding in the area surrounding Banff.
You can select tours of varying length and price depending on what works best for your family. The dogsled tours do not have age restrictions, leaving it up to you to decide which tour is most appropriate based on the age of your children.
---
Things to Do in Banff with Kids if the Weather is Rainy or Smoky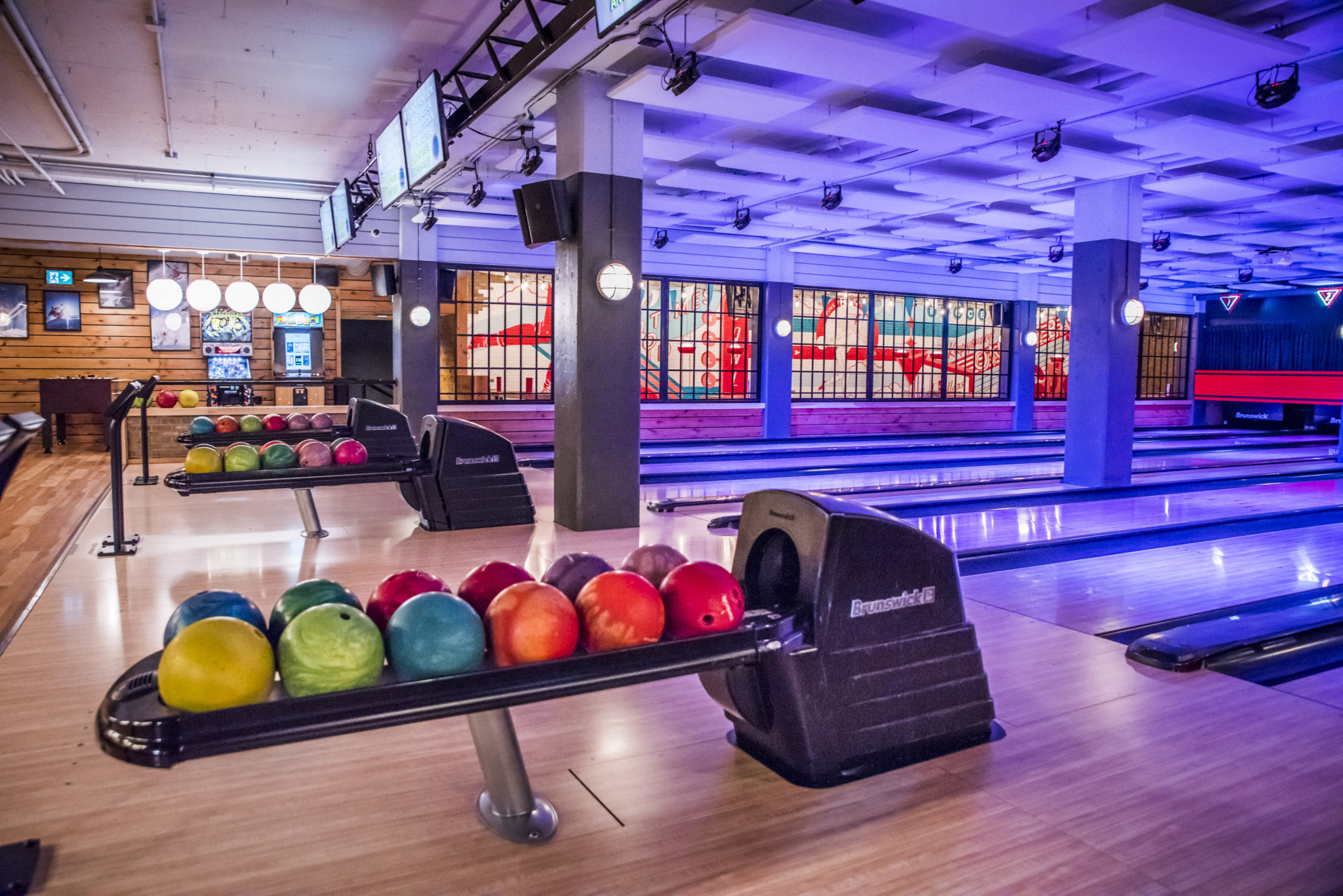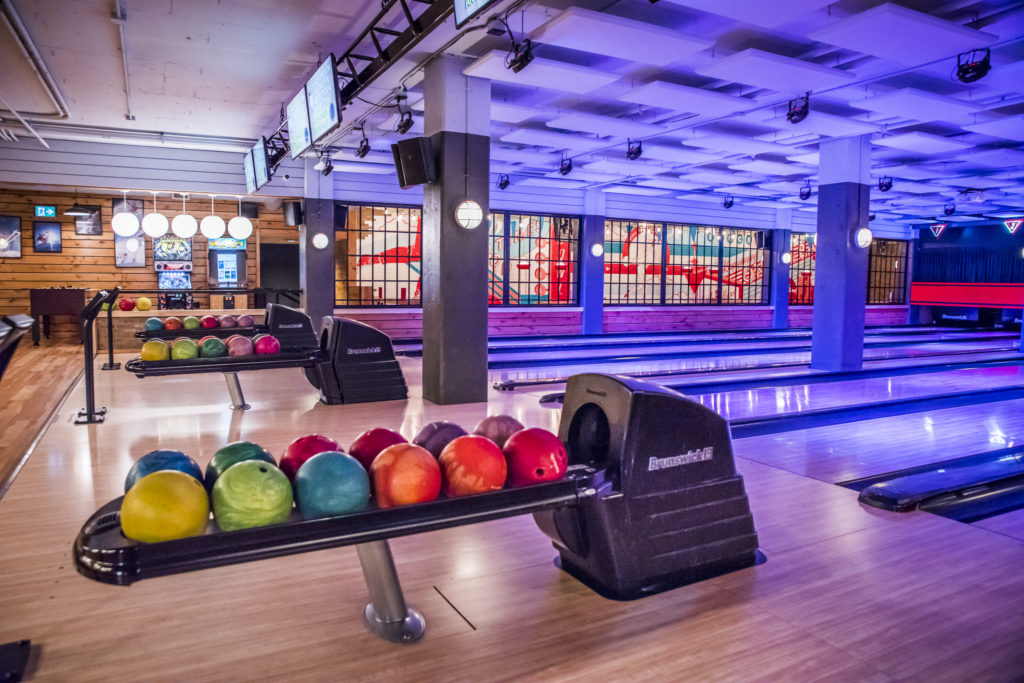 While it's best to be prepared for any kind of weather in Banff, there are some options for kid-friendly indoor activities if the weather is not ideal. In the summer months you can sometimes experience very rainy days or wildfire smoke, and in those cases, you may be looking to head inside for some family fun. Likewise, on an extremely cold winter day, you may prefer to spend some time indoors.
Lux Cinema Banff: Grab some popcorn and enjoy a movie at Banff's cinema, located on Bear Street.
High Rollers Bowling Alley: Book a lane at this bowling alley located on Banff Avenue. Note that minors are not allowed after 10pm.
Eureka Escape Room Banff: Suitable for children aged 8 and up, this location offers fun escape rooms that have you working as a team to solve a series of puzzles.
Crock a Doodle Canmore: This paint-your-own pottery studio located in nearby Canmore is a great way to exercise your creativity and design your own souvenir of your time in Banff!
---
The Best Places to Stay in Banff With a Family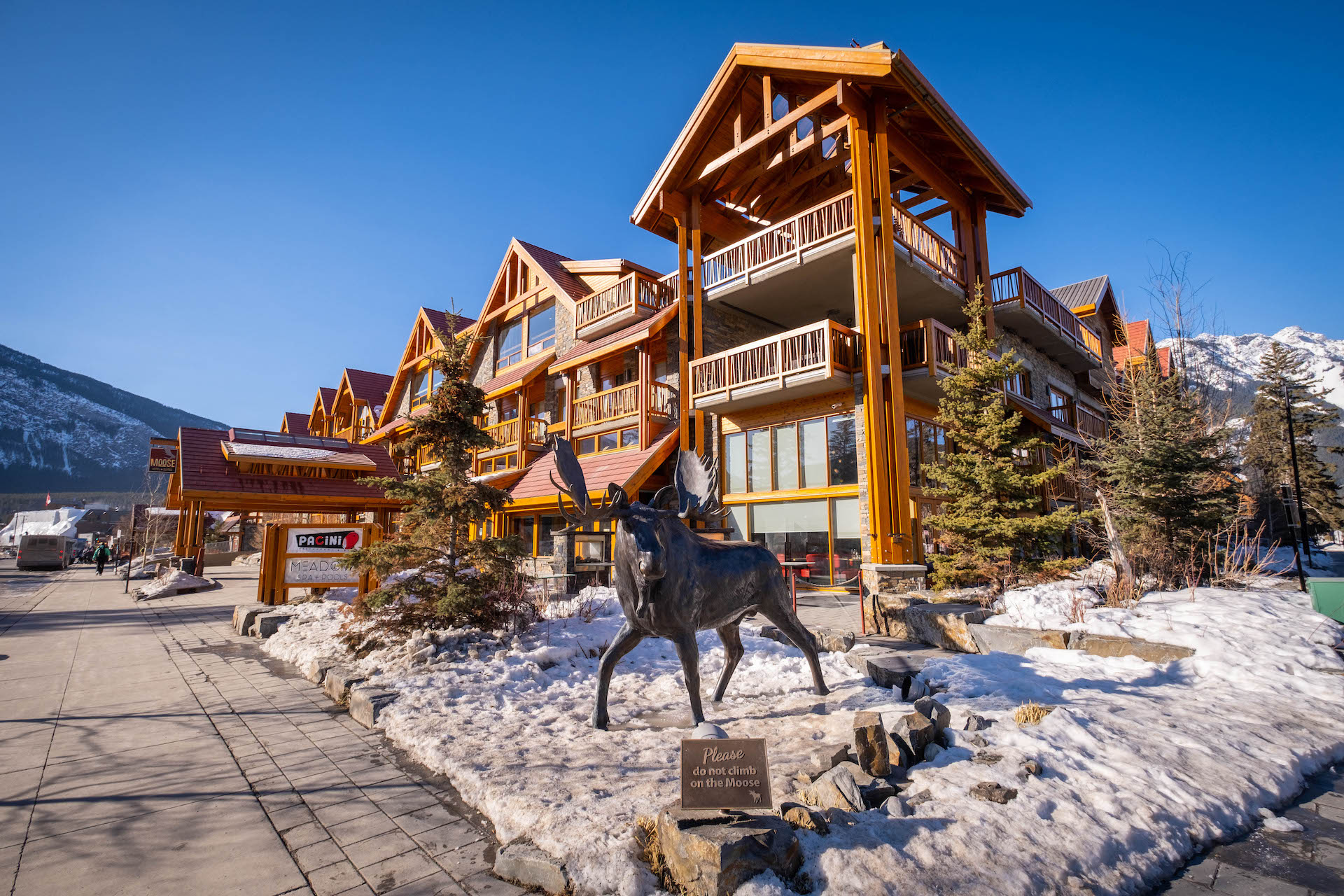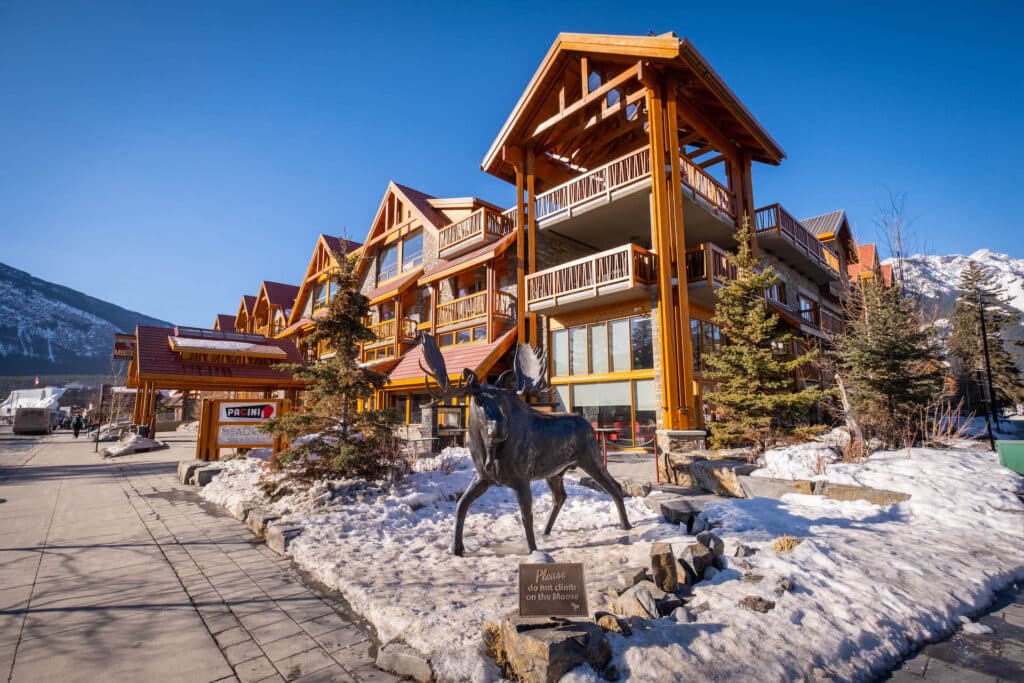 There is no shortage of great accommodations in Banff. It is highly recommended to book in advance in order to ensure the best availability. Here are a few favorites:
Moose Hotel & Suites: This hotel is conveniently located on Banff Avenue and includes a fantastic rooftop hot tub and indoor pool.
Basecamp Suites Banff: One of the newest properties in Banff, this accommodation offers one and two bedroom suites – a great option for families!
Banff Rocky Mountain Resort: This three-star Banff hotel is pet-friendly and offers self-catering accommodation and is one of the best hotels in Banff for families. The Banff Rocky Mountain Resort is a great option for families as many of the room options are two-bedroom suites with full kitchens.
10 BEST Banff Family Hotels Reviewed
---
Hopefully this helped you to plan your trip to Banff with kids! With so many wonderful activities for families, it's a great place to make memories together!
Plan Your Trip to the Canadian Rockies