There are so many things to do in Banff it can make your head hurt. With a national park as large as some countries it's no wonder that some people need a lifetime to explore it. even after a few years of living here we have only just begun to scratch the surface.
There are many "things to do in Banff" lists out there with many of the same things on there so we wanted to provide you with something different. The complete guide of things to do in the Canadian Rockies, that's things to in Banff in the winter and summer, things to do in Canmore, things to do in Kananaskis, Yoho National Park, the Kootenays, and beyond.
---
Best Things to do in Banff in the Summer
---
1. Ride Up the Banff Gondola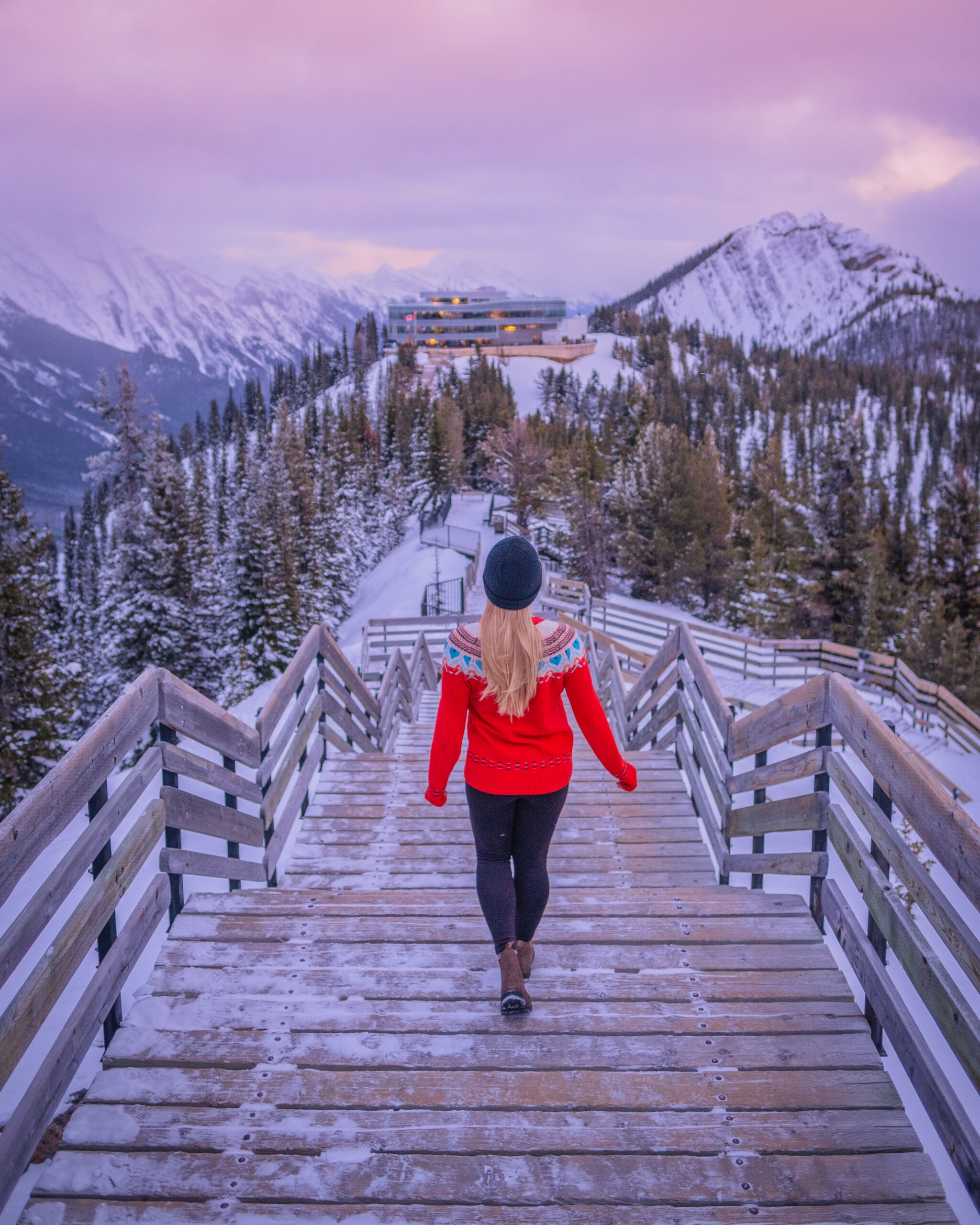 You can walk of Sulphur Mountain, or you can ride the famous Banff Gondola to the top and enjoy epic views over the Canadian Rockies. From the top, there is a viewing platform, coffee shop, gift shop, and even a restaurant.
It's the only mountain you'll get to the top of in the Canadian Rockies with all these services. Riding the Banff Gondola is a great way for people with mobility issues to experience being on top of a mountain. The views of Banff down below are utterly fantastic.
---
2. Take a Stroll Down Banff Ave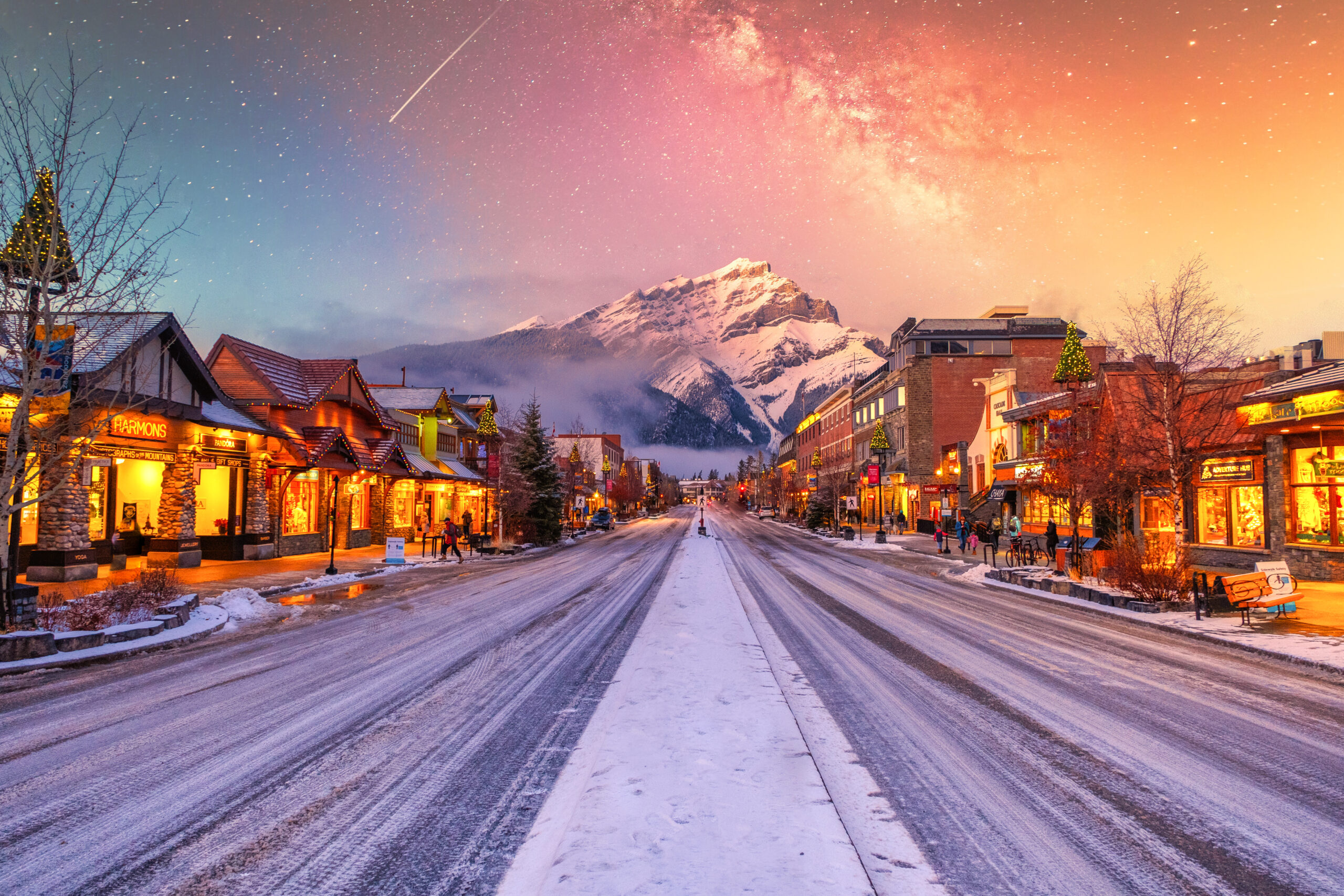 You can't visit Banff and not take a leisurely walk down Banff Ave at least once. It's one of the most scenic streets in all of Canada, and quite possibly the world. The view of Cascade Mountain towering above all the shops and restaurants is something mountain town dreams are made of.
---
3. Hike Up Tunnel Mountain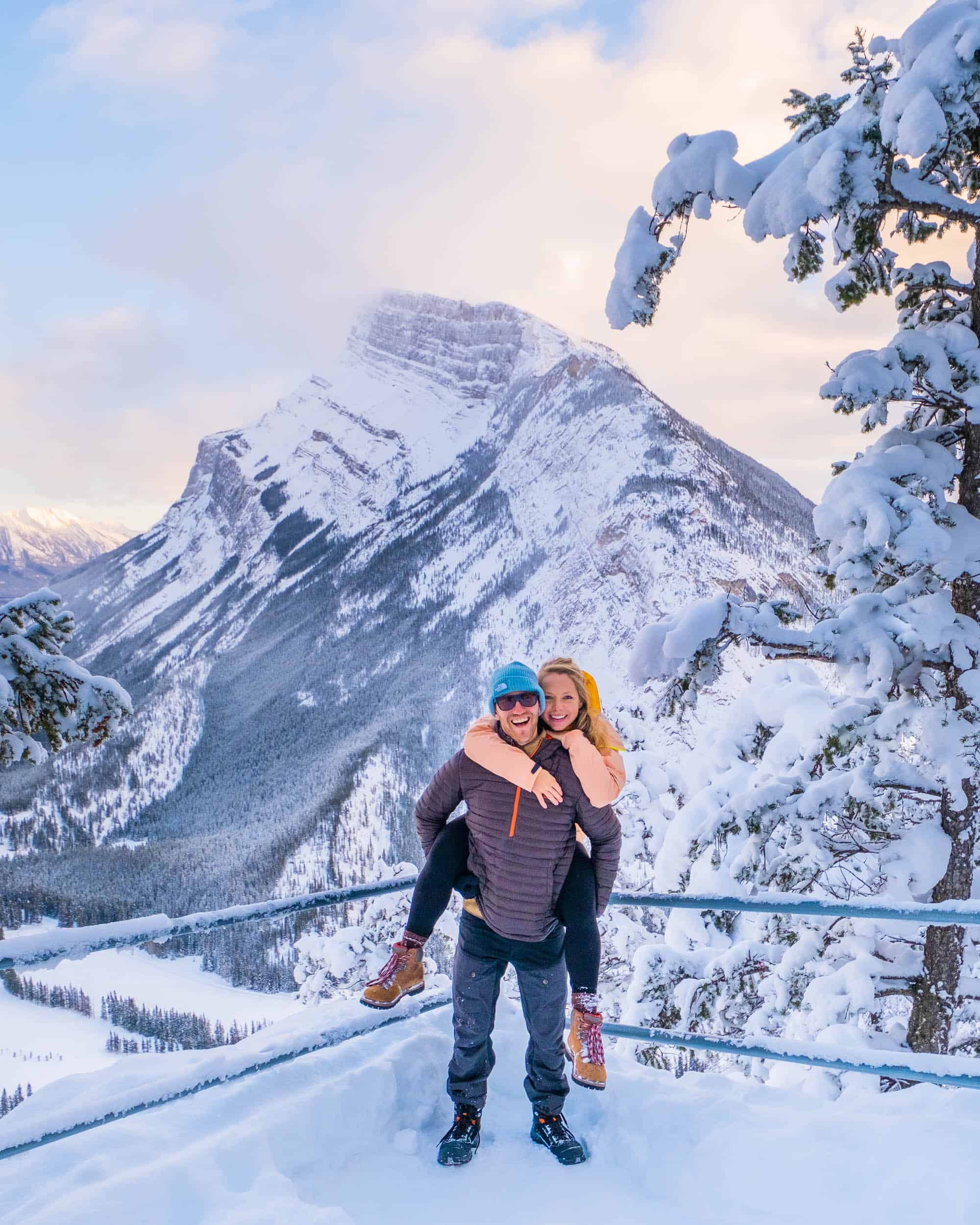 Tunnel Mountain is an easy hike in Banff that allows you to summit a mountain and get stellar views of Mount Rundle nearby. It's one of the best things to do in Banff for all ages.
---
4. Have a Drink on the Docks at Vermilion Lakes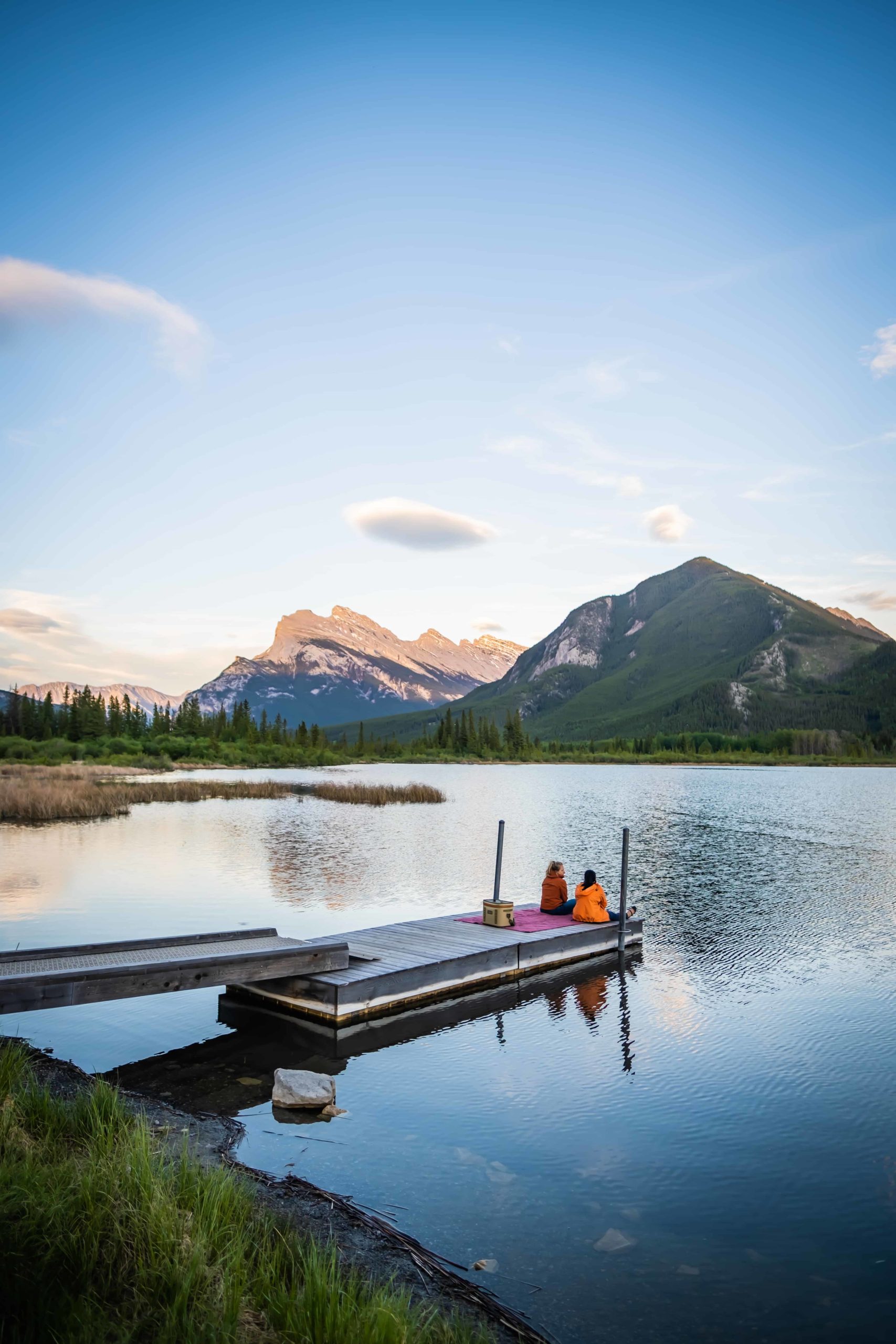 One of my favorite Banff sunset spots is at the docks at Vermilion Lakes. Vermilion Lakes is super close to the town of Banff and looks out at the towering Mount Rundle. It's an iconic spot in the entire park. One of my favorite things to do is bring some wine, or even hot chocolate and enjoy the ducks swimming by as the sunsets.
---
5. Bike the Bow Valley Parkway
The Bow Valley Parkway, or 1A, is a road that every visitor to Banff National Park should experience once. It's a great alternative to the Trans-Canada when connecting Banff to Lake Louise as it runs parallel to the highway. It's paved and a great road to bike once all the snow melts in the summer.
---
6. Canoe on Lake Minnewanka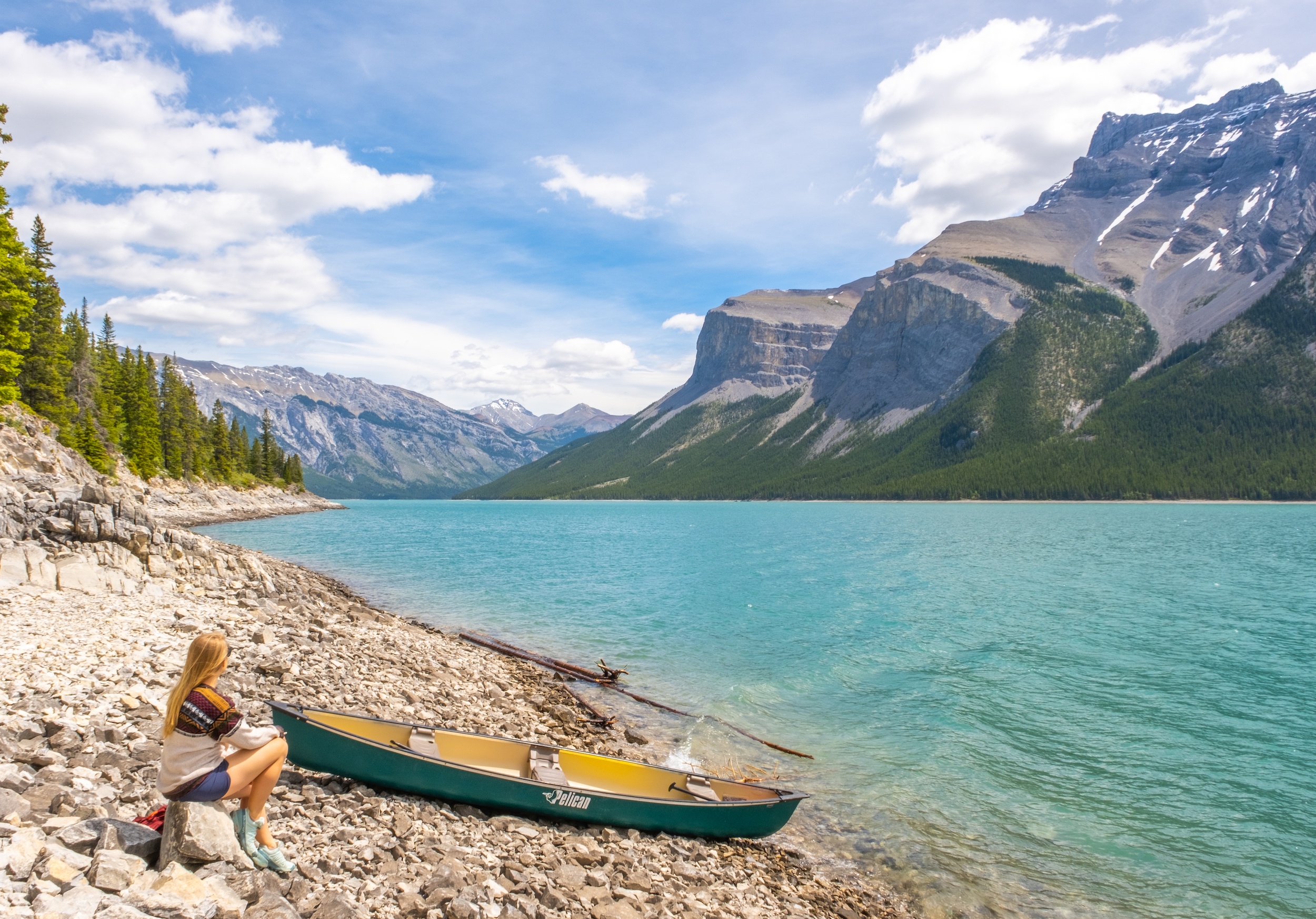 Lake Minnewanka is a beautiful lake that is just a ten-minute drive away from the town of Banff. The lake is 21 km long and 142 meters deep and helps power Banff with hydroelectric power, making it one of the largest in the Canadian Rockies.
In the summer one of the best things to do in Banff is head here for a hike, picnic, or get out on the water and canoe. Bring your own if you have it or it's possible to rent at Lake Minnewanka.
---
7. Stand Up Paddleboard on Two Jack Lake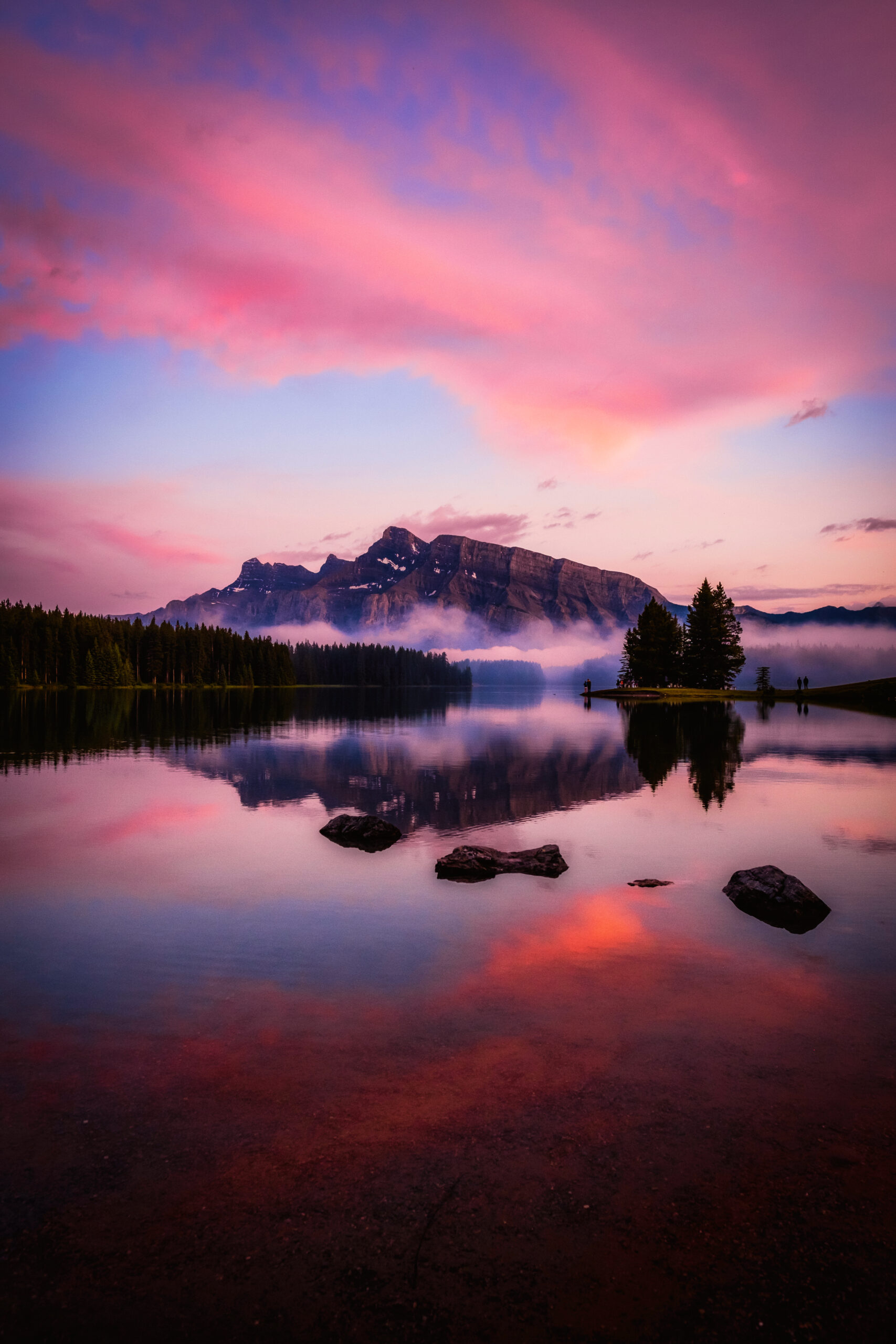 Right next to Lake Minnewanka is Two Jack Lake. Two Jack Lake is a picturesque emerald green lake in Banff National Park that offers another vantage point of Mount Rundle. It's calmer than Lake Minnewanka and often a great place to SUP on.
---
8. Take a Dip in Johnson Lake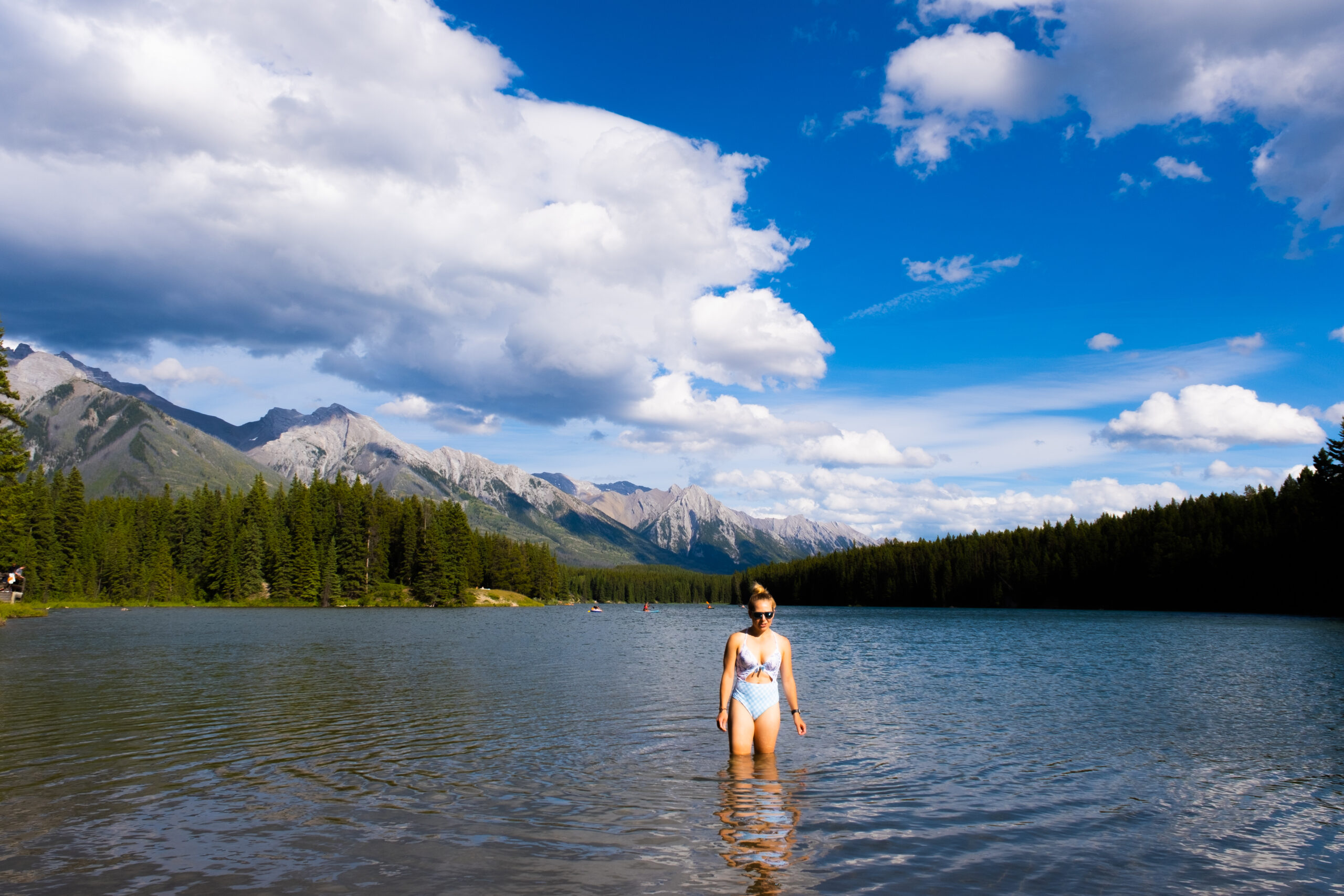 Johnson Lake is one of the warmest lakes in Banff to take a dip in. It's considered a local's spot as it's not as touristy as many of the other lakes in the Rockies. Due to its location, it's well protected from the wind.
The sun hits the lake for the majority of the day, creating a nice warm lake to enjoy. There's even a rope swing hidden on the lake for ultimate fun.
---
9. Walk the Planks at Johnston Canyon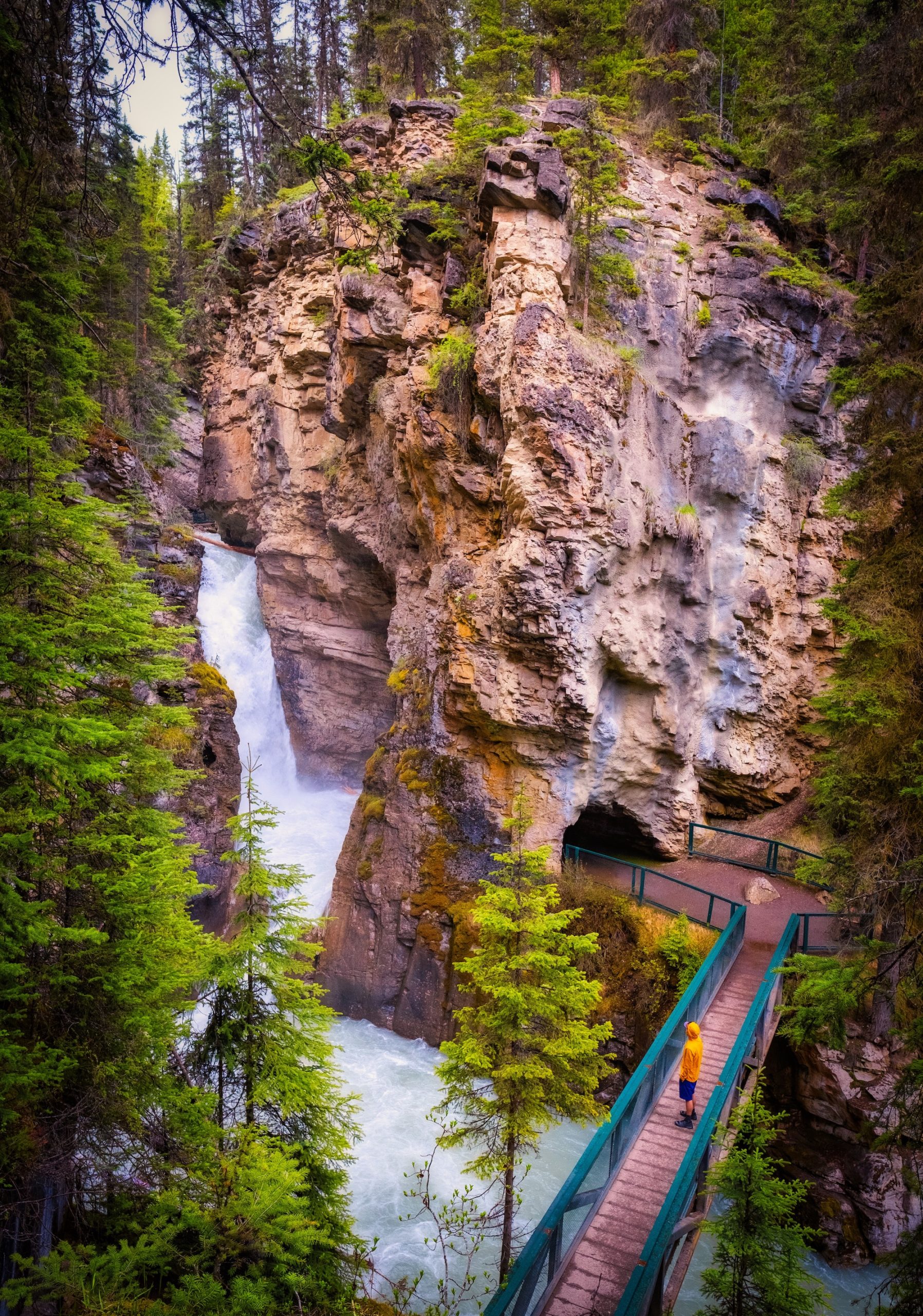 Visting Johnston Canyon is one of the best things to do in Banff. It's an easy hike that is well maintained for all groups of Banff. The hike winds 5km through the canyon gaining minimal elevation throughout the way. At the end, you'll be rewarded with epic waterfalls.
---
10. Have Lunch Under a Castle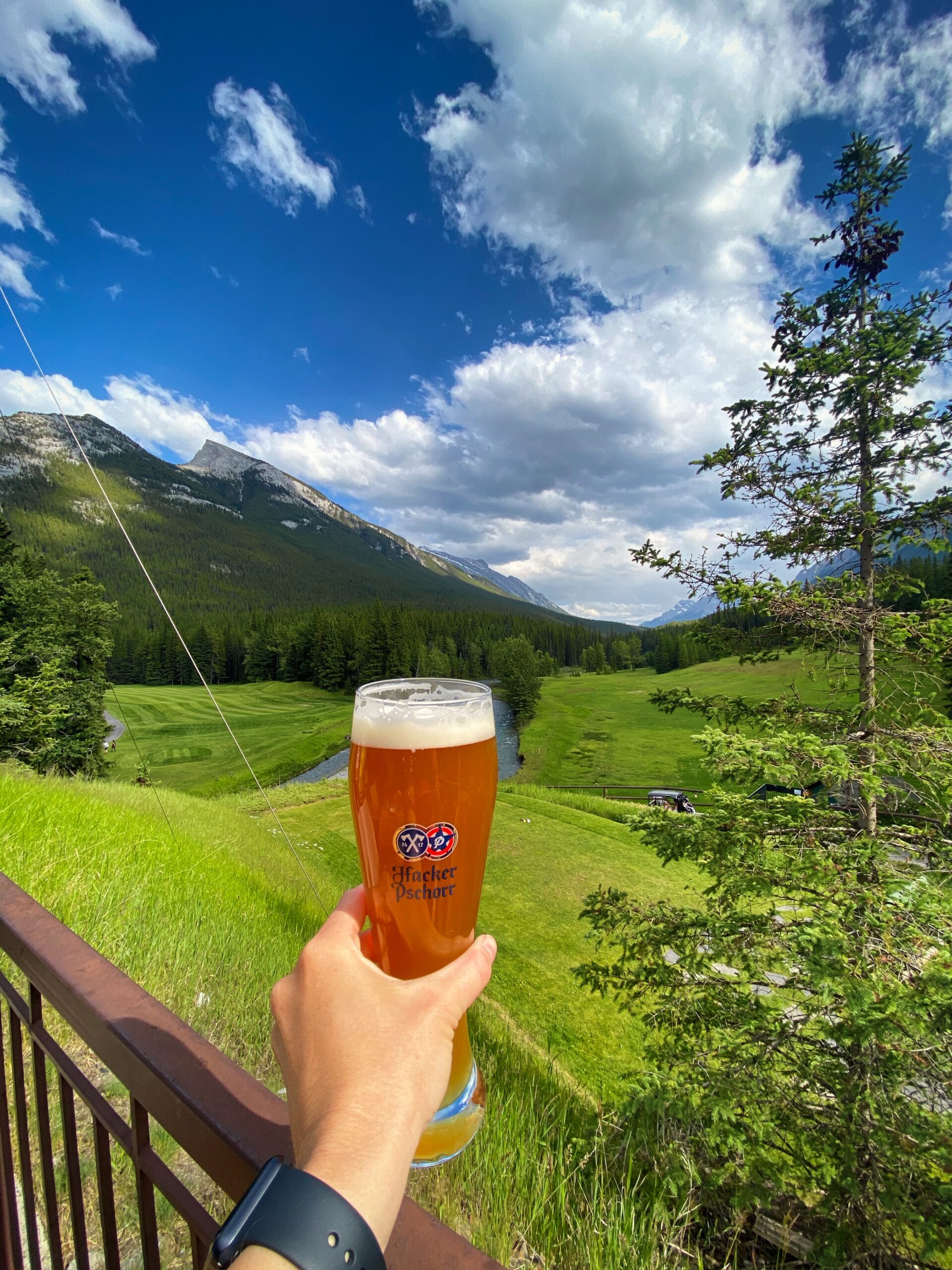 The Banff Springs Hotel is the most iconic hotel in Banff. When you get a glimpse of this grand landmark for the first time, you'll see why it's known as The Castle of the Rockies.
The hotel has seen guests from all over the world for more than 100 years and quite literally resembles a castle out of a magical movie. If you can swing a stay there, do it. If you can't head to Suprise Corner and enjoy a picnic lunch nearby.
---
11. Scramble Up Cascade Mountain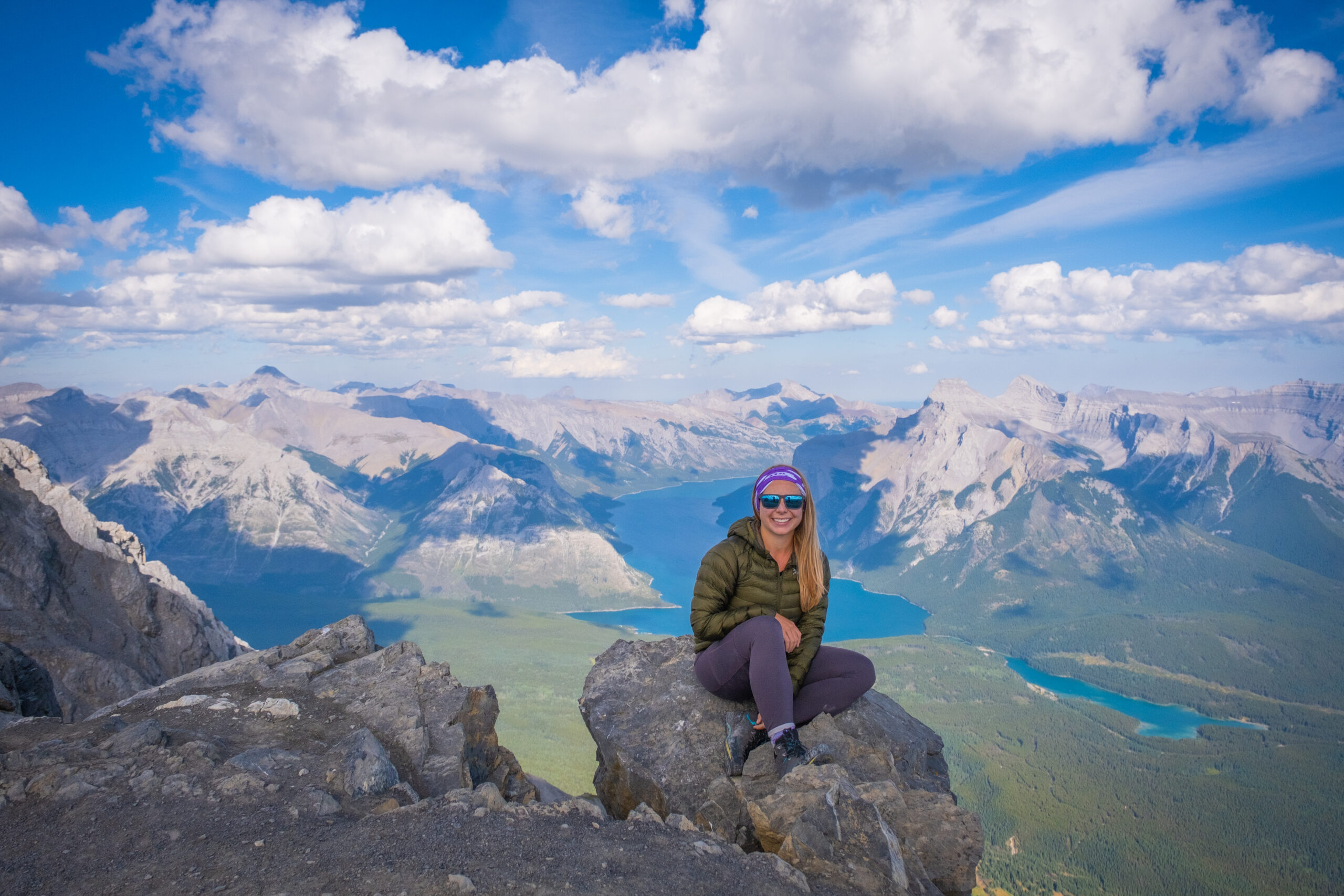 You definitely won't miss Cascade Mountain when visiting Banff. It towers over the entire town and is a symbol of the first national park in Canada. It's possible to summit Cascade Mountain. This involves an incredibly long day with significant elevation gain – but it's so worth it when you get to the top. Expert a 20 km day with over 15oo meters of elevation gain.
---
12. Raft Down the Bow River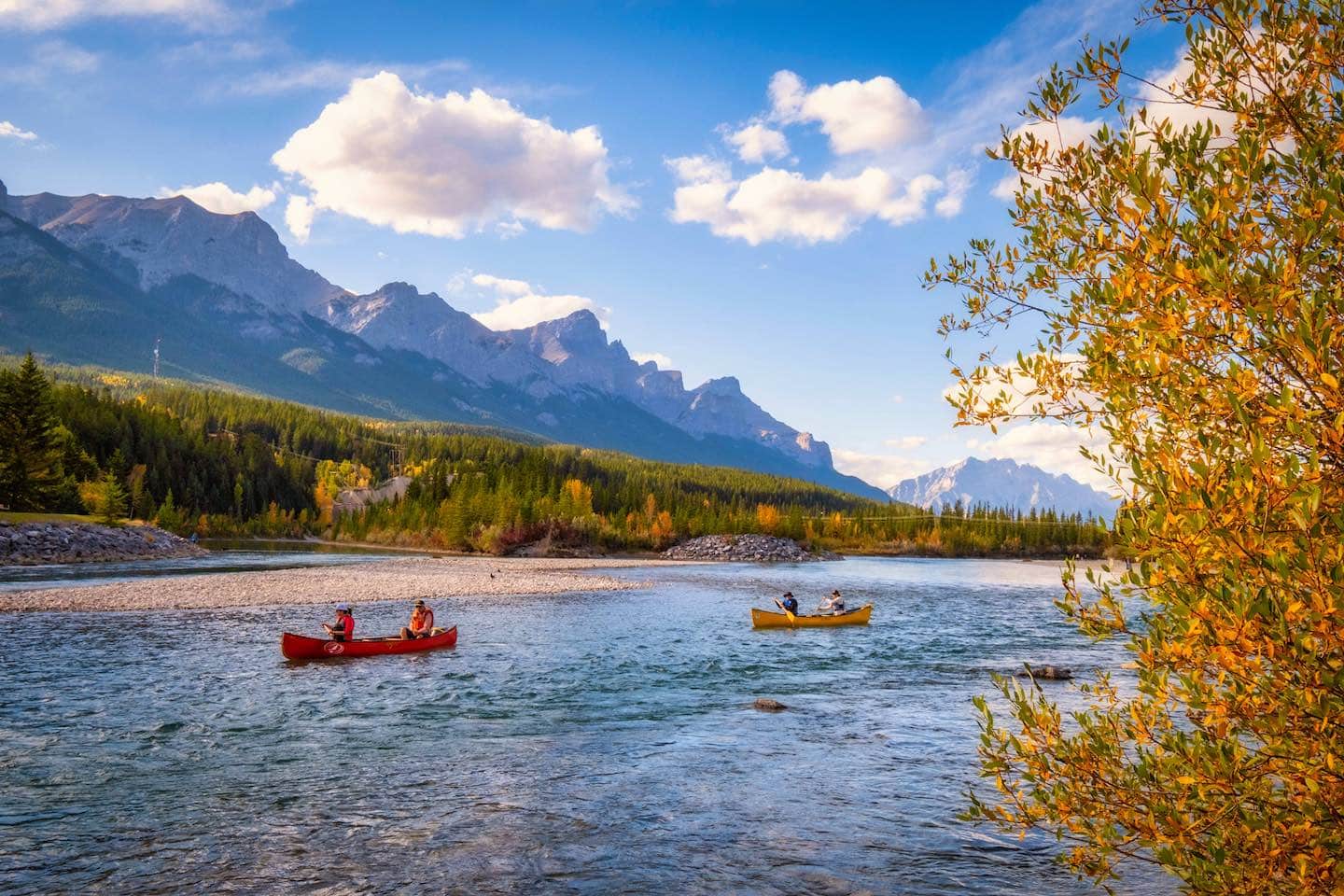 The Bow River flows right through Banff and Canmore. You can sit by the riverside and enjoy the views or you can hire out the guides at Chinook Rafting to get you down the river safely.
---
13. Bike Ride the Great Divide
The Great Divide trail is near Lake Louise and is a quiet alternative to many other bike rides in the area. You can easily grab your bike and ride from Lake Louise to Lake O Hara access road and enjoy a day out without the crowds.
---
15. Ride the Legacy Trail from Banff to Canmore (or Vice Versa)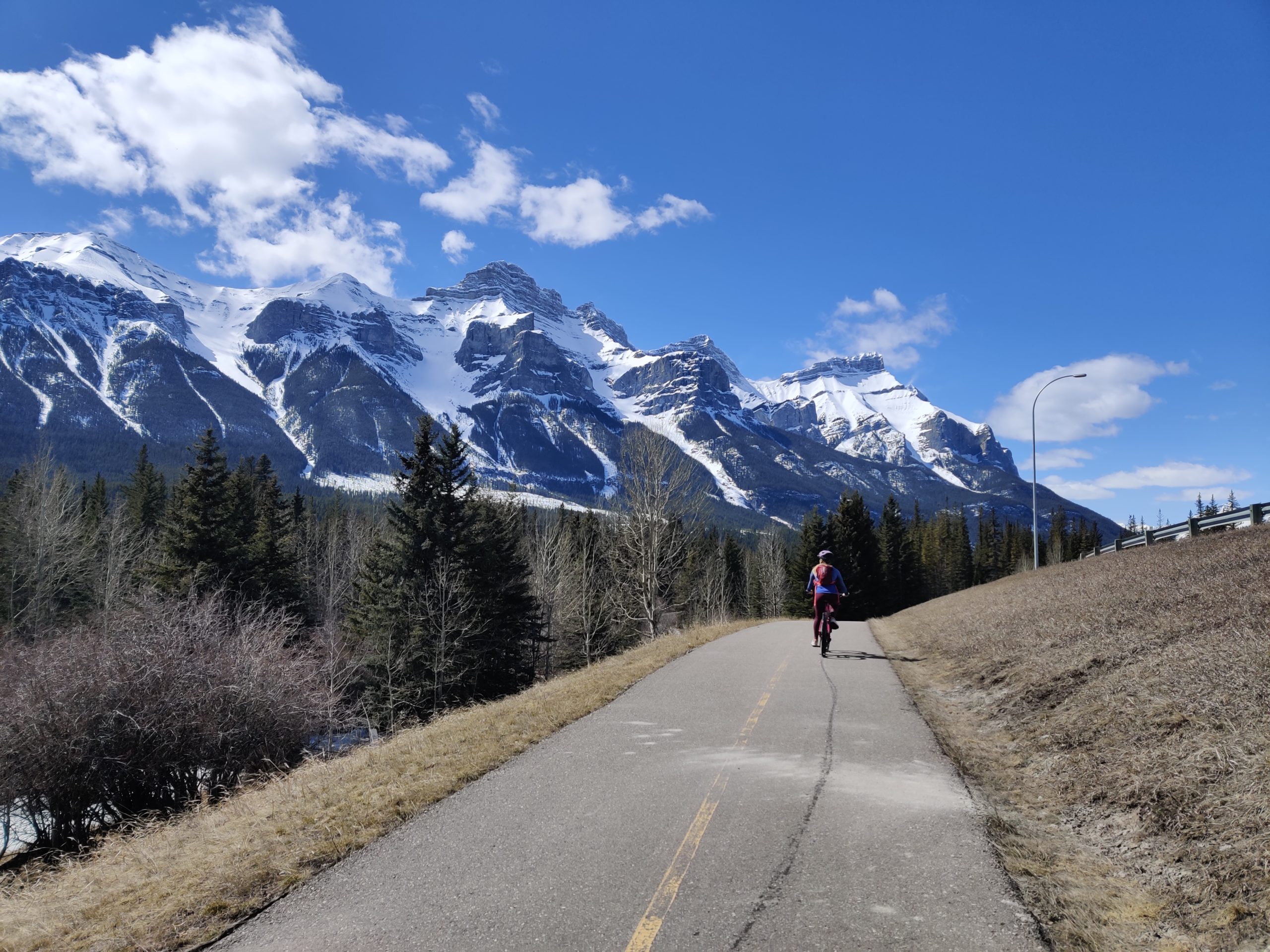 One of the best things to do in Banff come May is ride the Legacy Trail between Banff and Canmore. The Legacy Trail connects Canmore to Banff along a fantastic paved trail for 26 km. One of my favorite things to do on a sunny day is a ride to Banff for a drink and then head back home! You can rent bikes from Rebound Cycle downtown or bring your own.
---
16. Catch Sunset at Bow Lake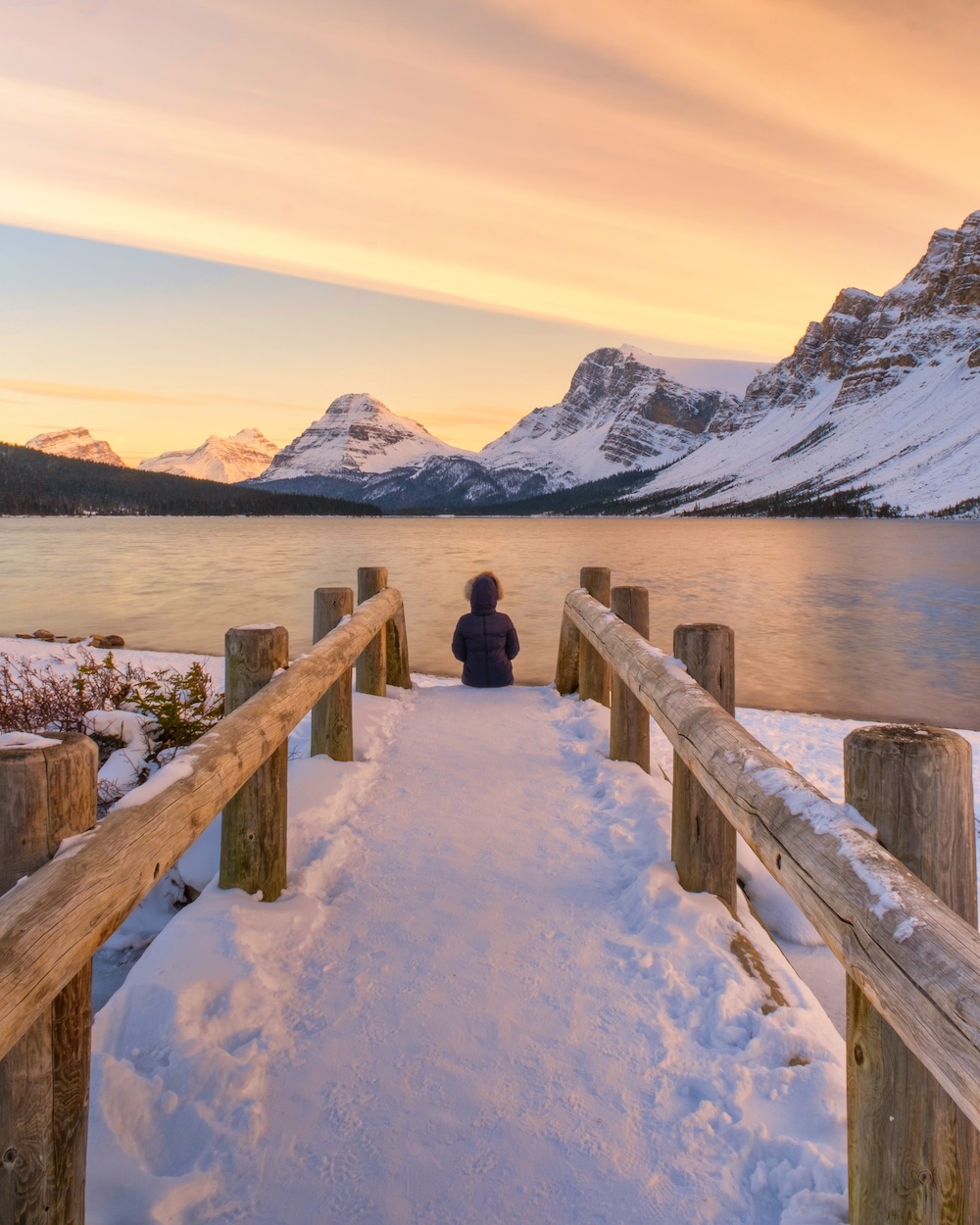 Another fantastic sunset spot in Banff is Bow Lake. Bow Lake is located along the Icefields Parkway and has a few great pull-off points to enoy the view.
---
17. Hike Up to Bow Glacier Falls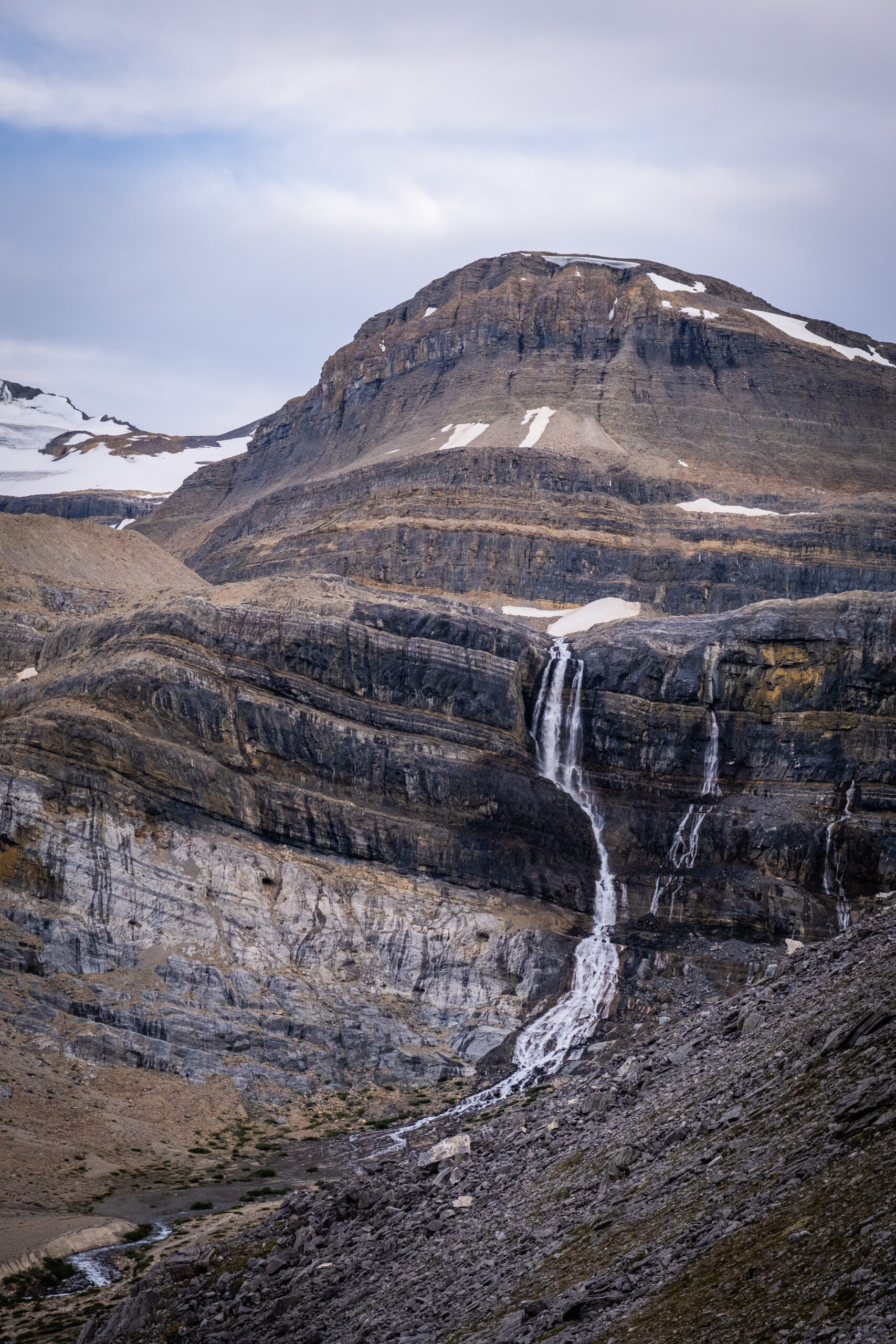 If you want more of an adventure past Bow Lake and want to stretch your legs hiking to Bow Glacier Falls is a great option. This is an 8.7 km hike that starts at Num-Ji-Jah lodge and winds you around Bow Lake and ends at one of the most beautiful waterfalls in the park!
---
18. Bike Up to Moraine Lake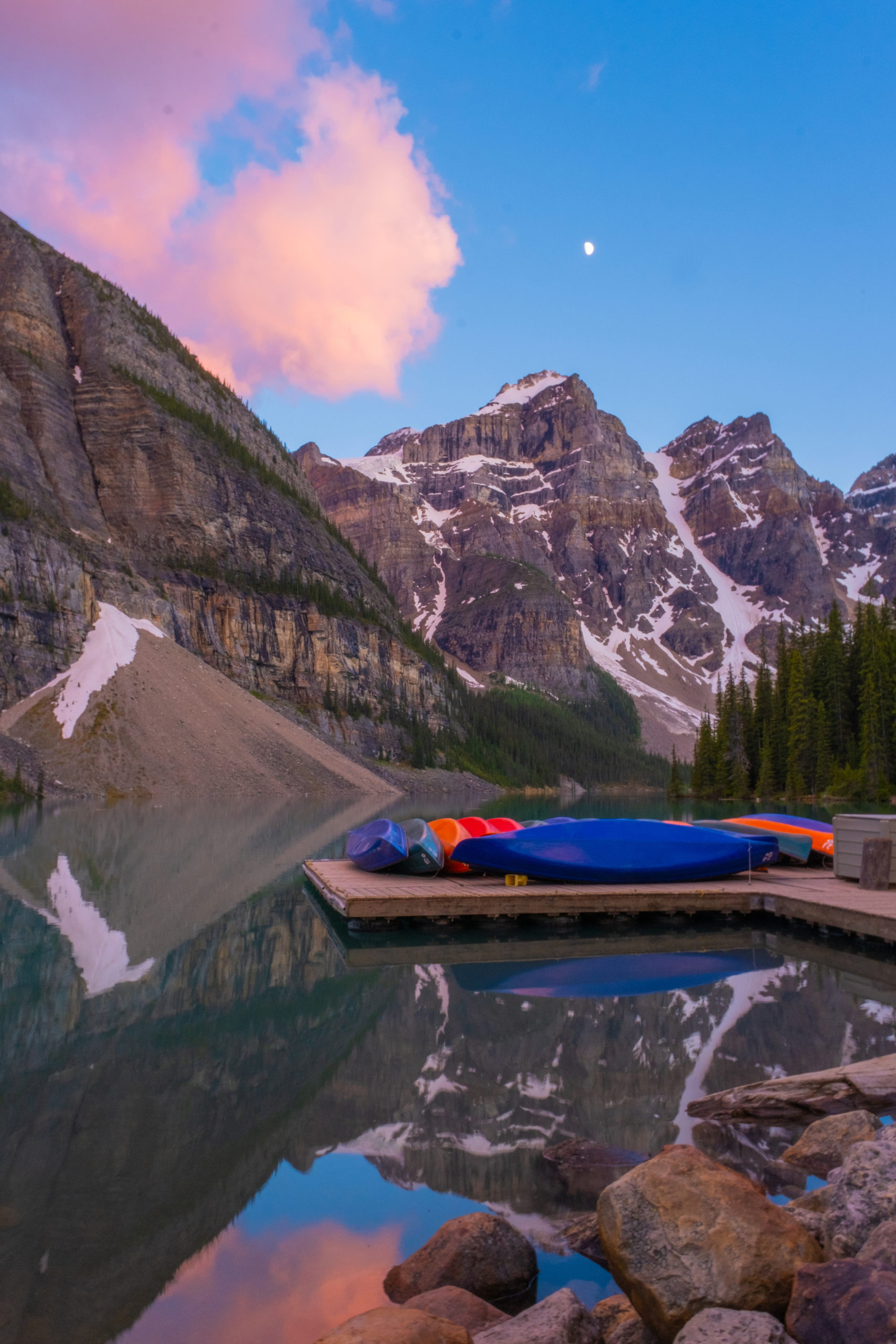 In the summer parking at Moraine Lake becomes very congested, and Moraine Lake Road often shuts down until there are spaces. However in my opinion one of the best ways to access Moraine Lake is via bike.
It's a 14 km paved road uphill to get to Moraine Lake, but once you are there you'll forget all about the work it took and be taken aback by the beauty of one of the most beautiful lakes in the world. Then you get to coast down the 14km ride, which is always really fun.
---
19. Canoe on Lake Louise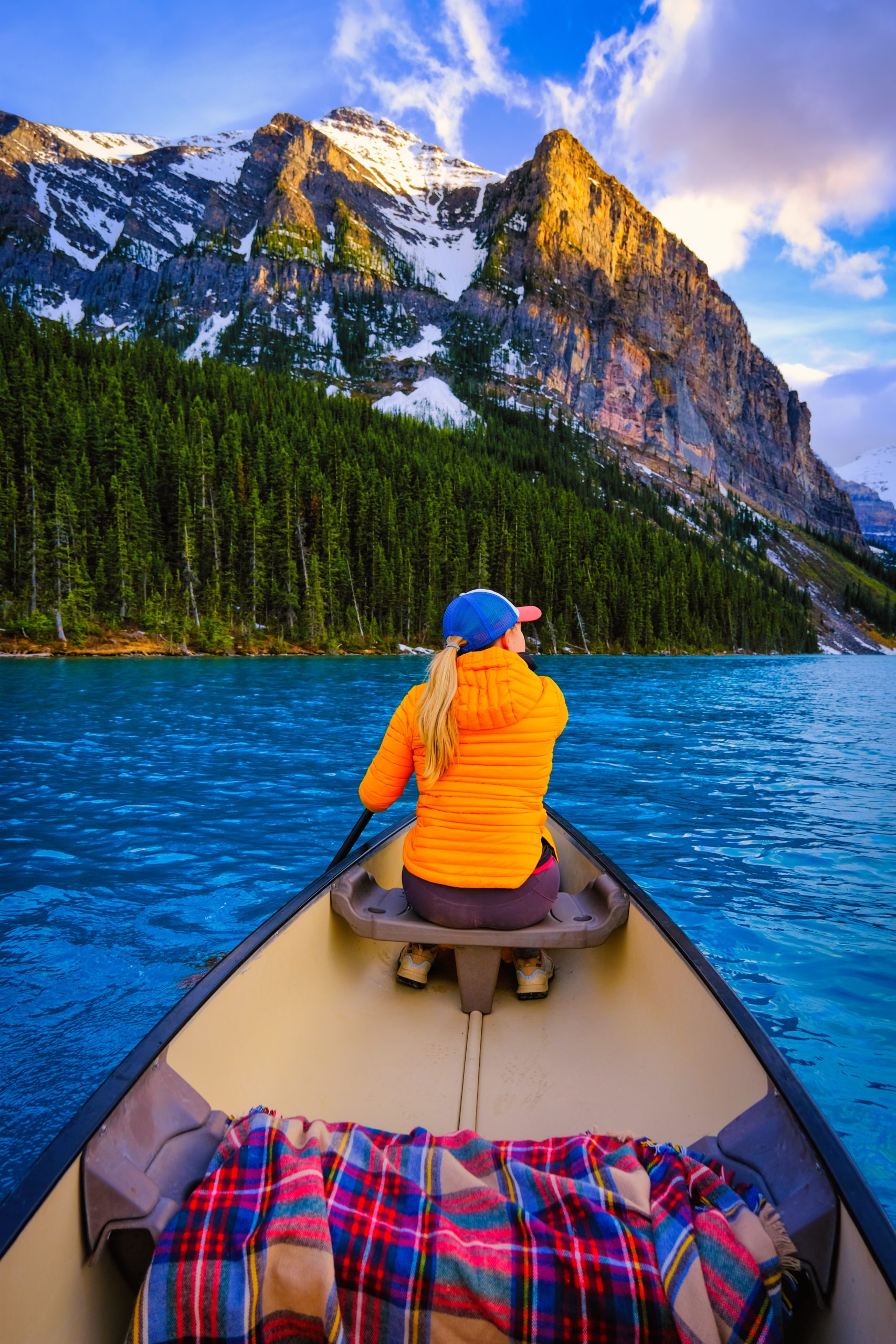 One of the best things to do in Banff in the summer is paddle on stunning Lake Louise. You can rent a canoe from the Lake Louise boathouse or bring your own and enjoy the baby blue water.
---
20. Have a Scone at the Lake Agnes Teahouse
The Lake Agnes Teahouse dates back to 1901 while the name itself takes the name of Canada's first First Lady, Lady Agnes MacDonald. The teahouse sits next to a stunning alpine lake (Lake Agnes) that is set inside a breathtaking cirque formed by the peaks of Mt Saint Piran, Niblock, and Whyte. A fantastic Banff activity to do is sit here under the sun while enjoying tea and a pastry.
---
21. Complete the Beehive Circuit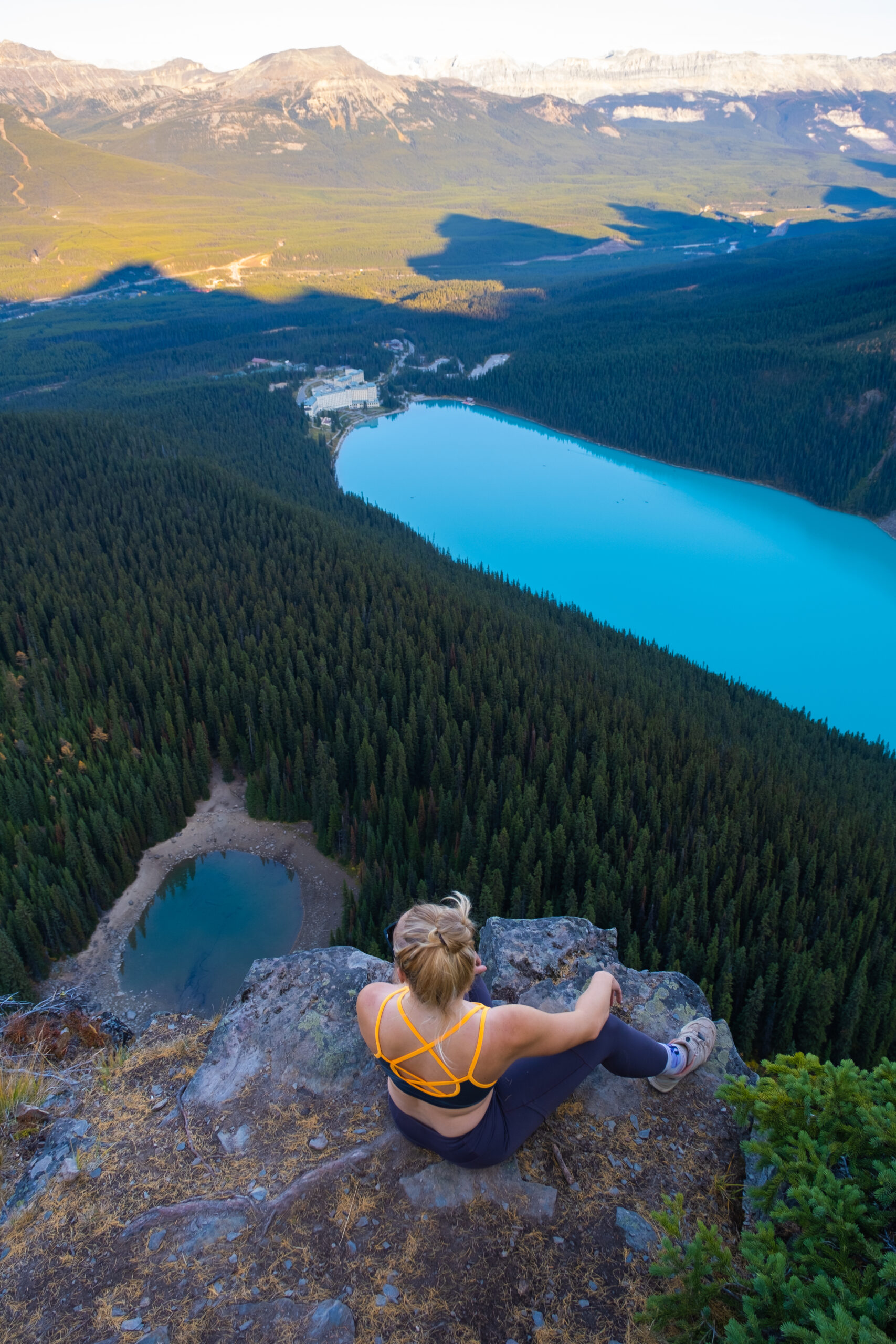 The Beehive Circuit at Lake Louise refers to a hiking route that combines the Lake Agnes Teahouse Trek, Little Beehive, and Big Beehive in one connecting hike. If it sounds like a long day, don't worry it's not too bad!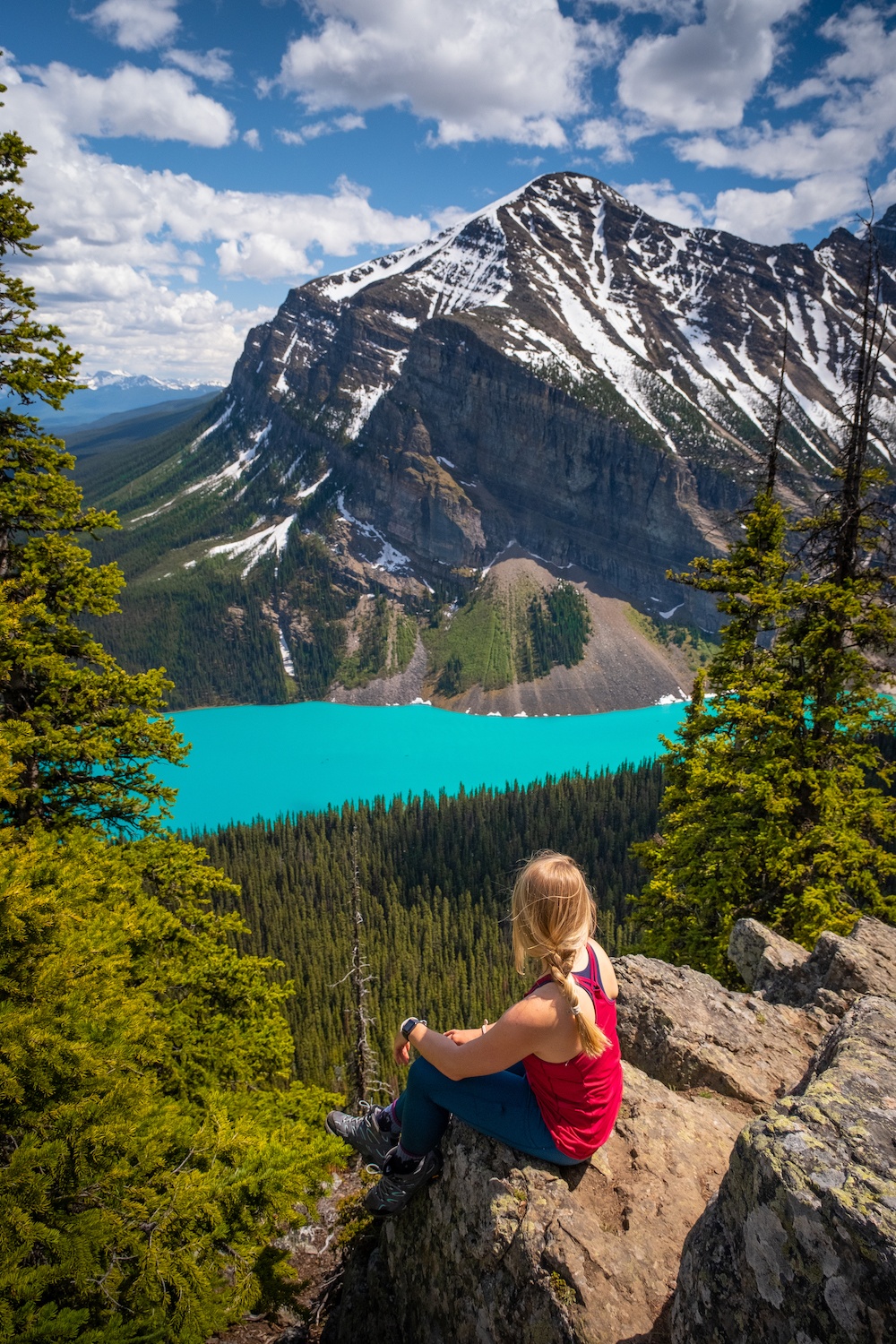 Once you make it up the teahouse it's almost smooth sailing from there. And once you get the views down on Lake Louise anyway you won't really care.
---
22. Scramble Devils Thumb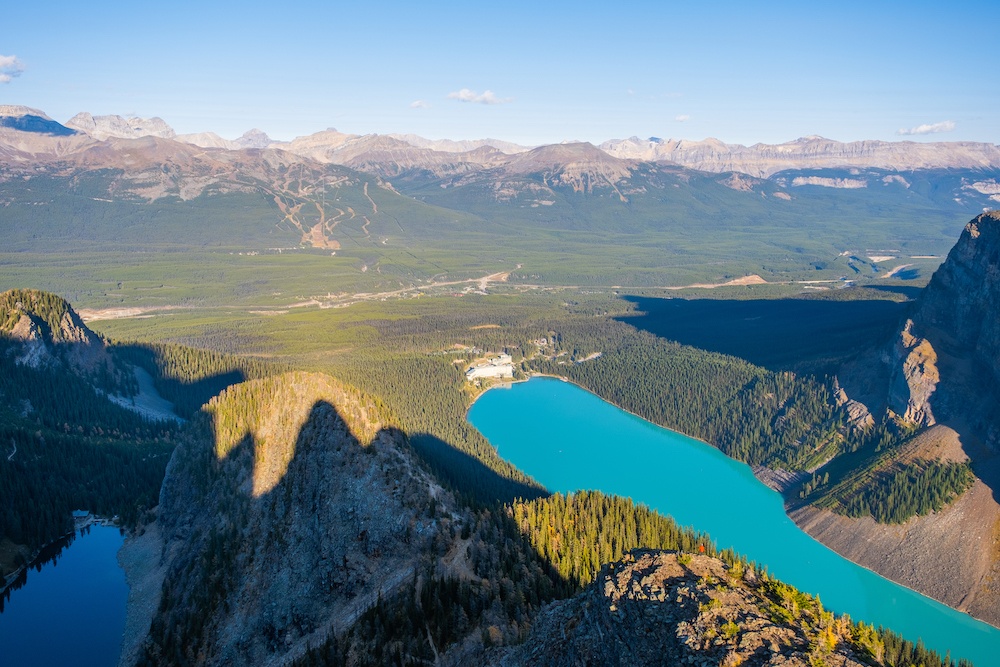 If you still have it in you to keep going after the Beehive hikes it's possible to keep going and continue your day by scrambling up Devil's Thumb past the Big Beehive. The Devil's Thumb hike is classified as a scramble.
Albeit a very easy one and a great place to start for the adventurous to test their skills. From the Big Beehive hike, this departs from the trail on the way to the overlook and heads along the ridge and then up a gully to the top of Devil's Thumb.
---
23. Stay in a Castle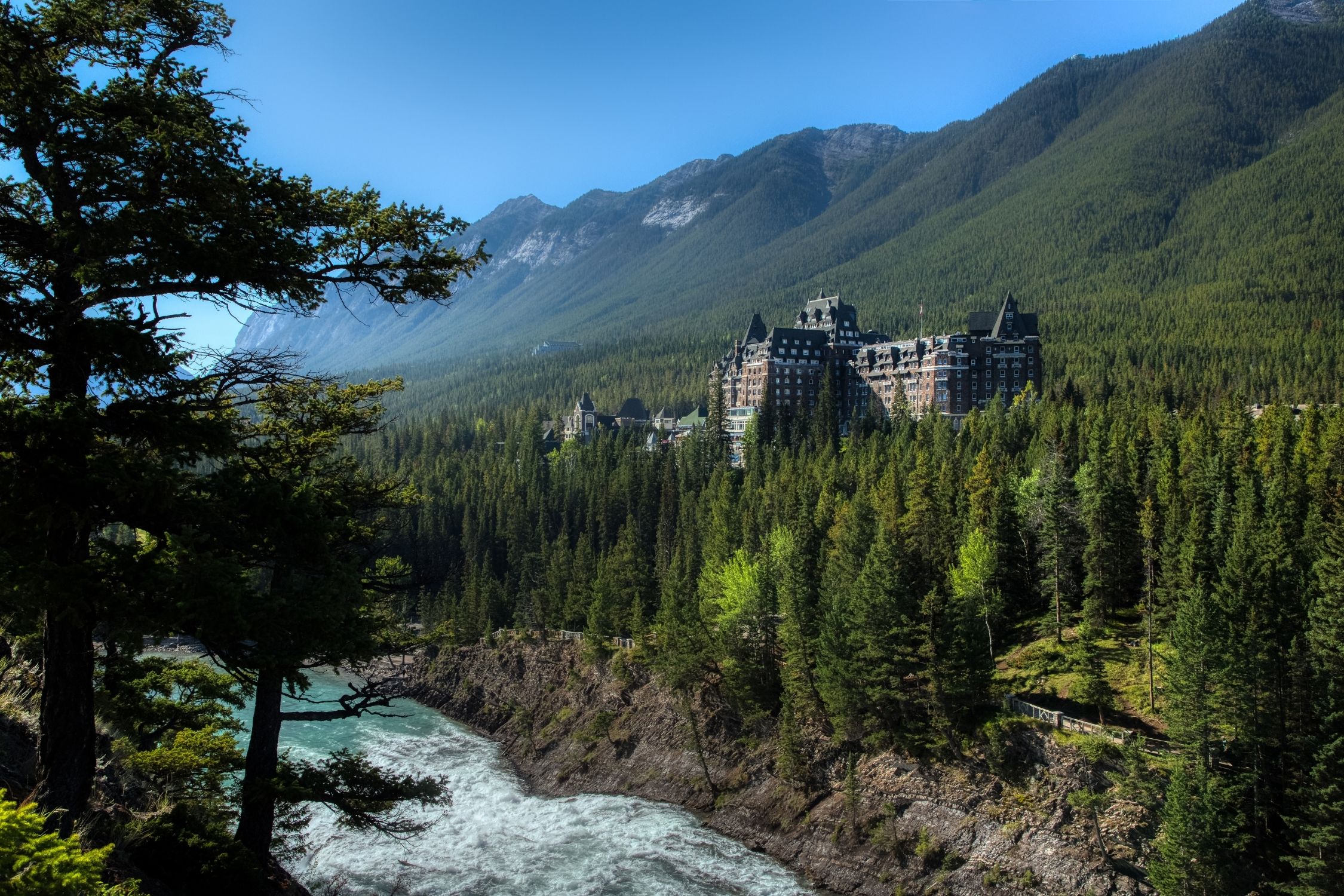 I mentioned before having lunch by the Banff Springs Hotel, but what's better than just enjoying the view from the outside is going inside and actually staying in the Banff Springs Hotel. Best reserved for special occasions the Banff Springs Hotel is a stunning property in Banff to stay at.
---
24. Ride a Horse Through the Backcountry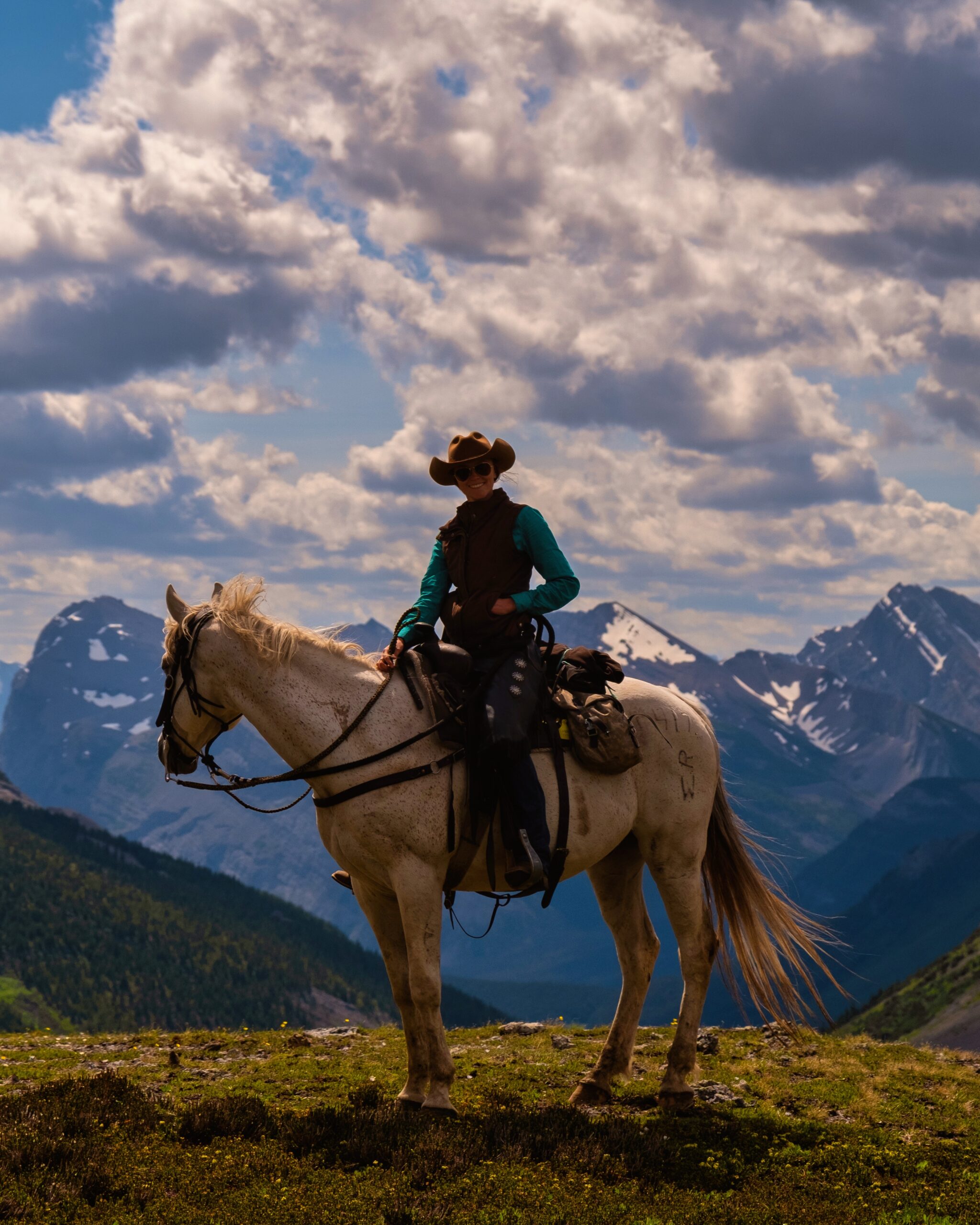 If you have a few days in Banff to go deep into the backcountry without cell service I highly highly suggest going on a trip with Banff Trail Riders who will take you deep into the park where very few people get to explore all on horseback.
There are too many words to detail how great our experience last summer with them was so I wrote a whole article on the experience for you to check out!
---
25. Take a Dip in Glacial Lake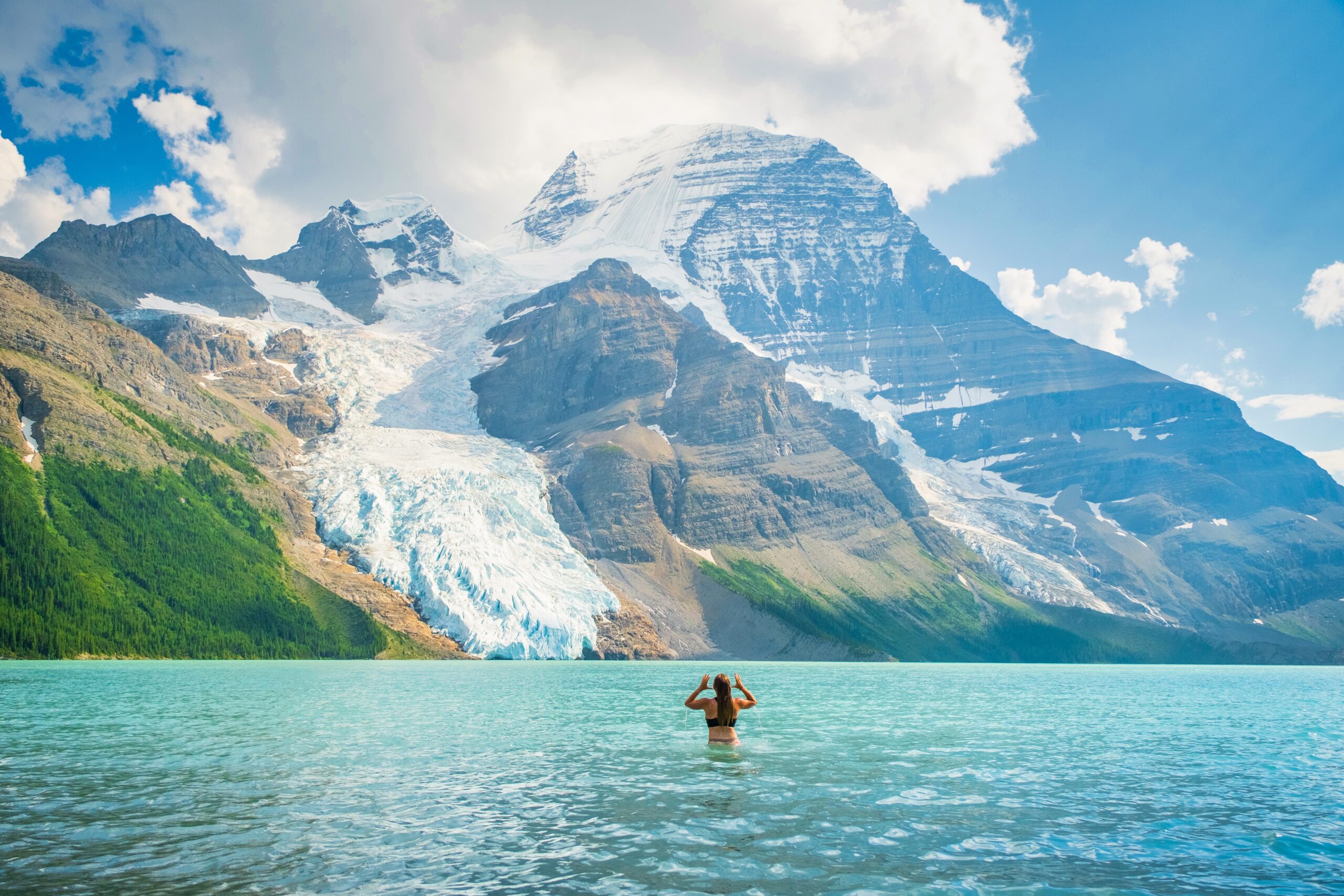 Chephren Lake, Waterton Lakes, Lake Louise, Lake Moraine…you take your pick there are plenty of glacial lakes in Canada to freeze your tuchus off in. But hey you only live once, right?
---
26. Stay Overnight in a Historic Cabin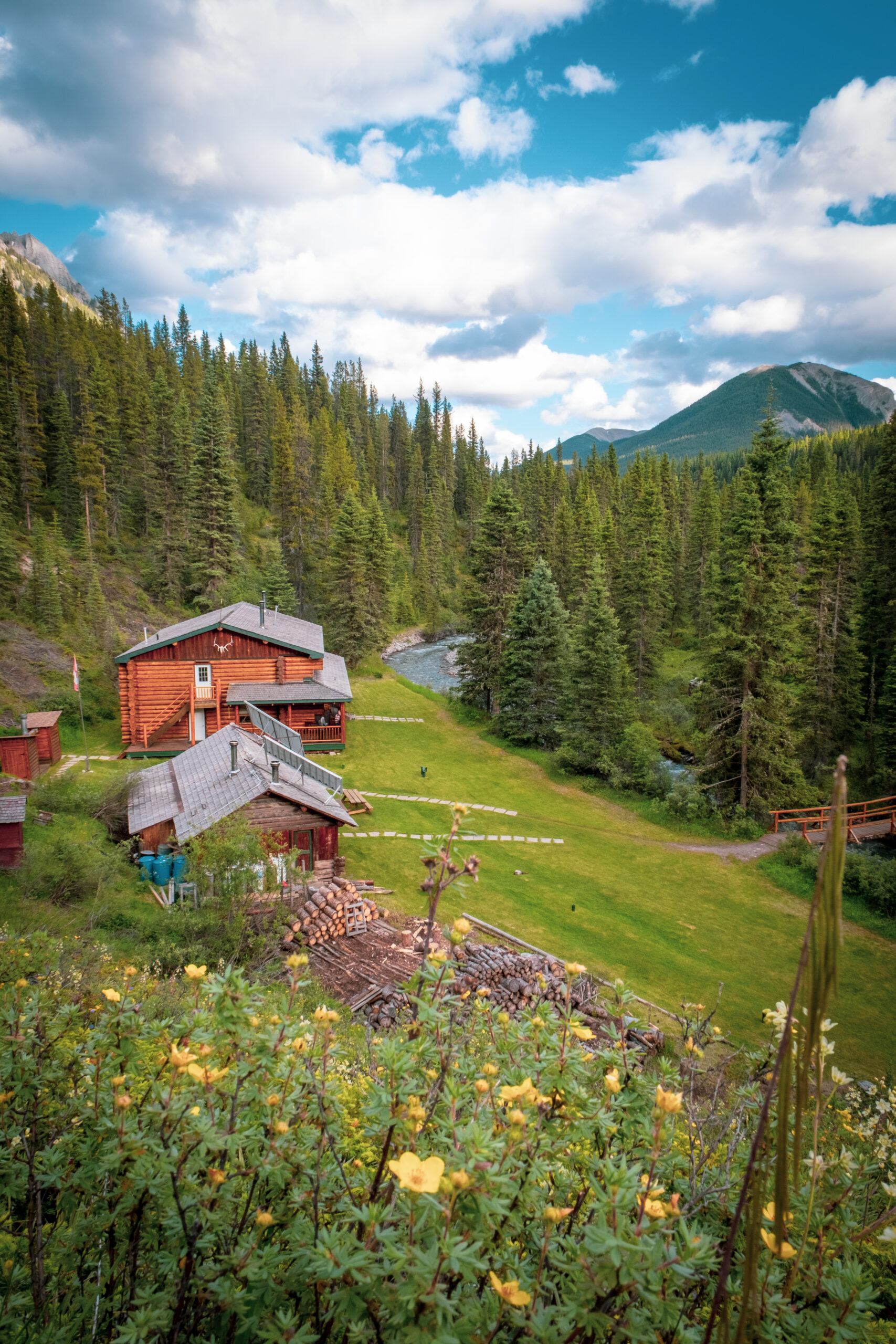 There are plenty of cabins in Banff to choose from. But my favorite cabins in Banff are the Skoki Lodge, Sundance Lodge, and Halfway Lodge! All will take you back in time and give you a true rugged wilderness experience.
---
27. Hike Up Sentinel Pass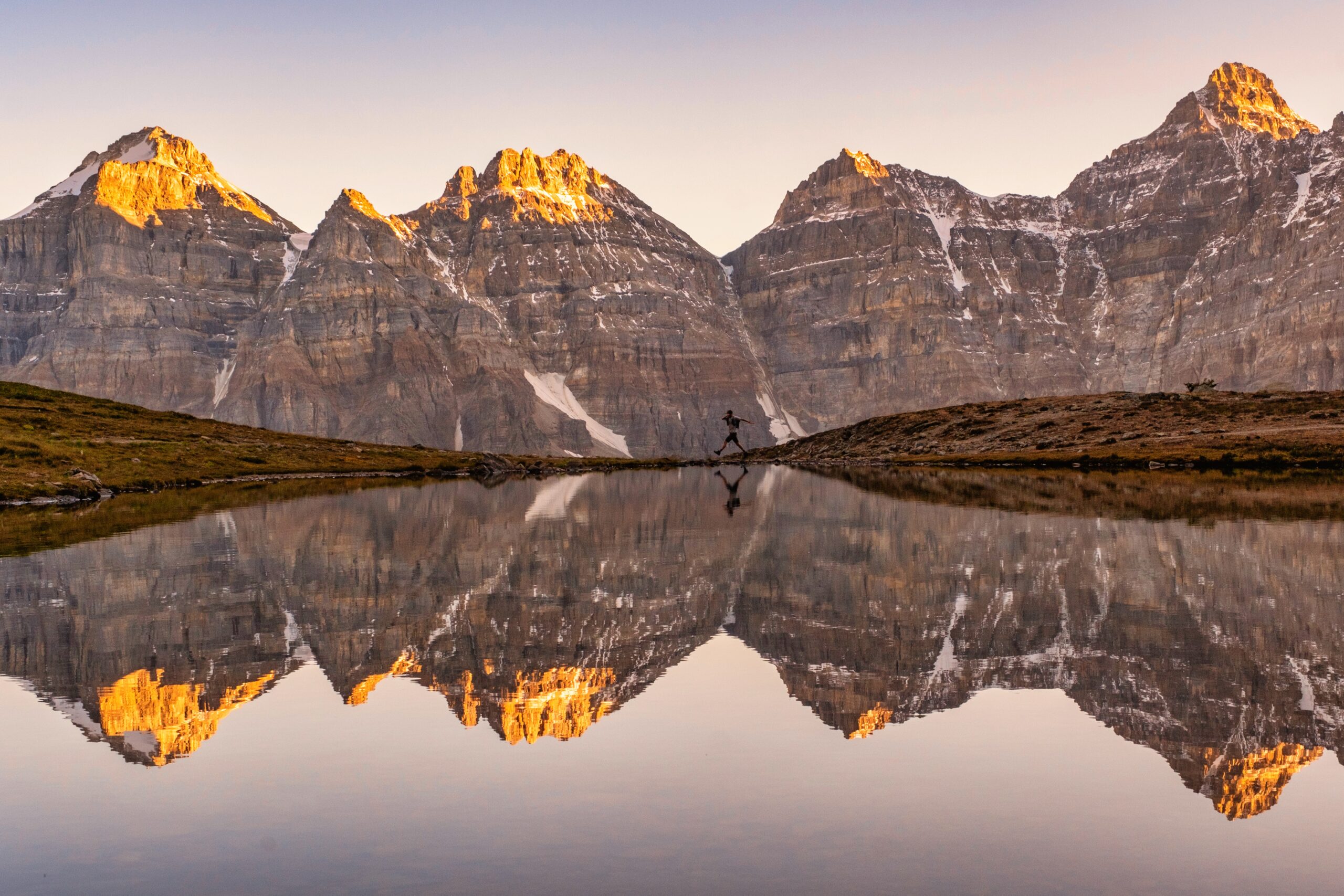 Hiking up to Sentinel Pass is one of the most popular things to do in Banff in the fall, primarily because the area is full of larches that turn a beautiful golden color in late September. Sentinel Pass is a fairly easy hike in the Moraine Lake area that is absolutely stunning and shouldn't be missed.
---
28. Canoe on Moraine Lake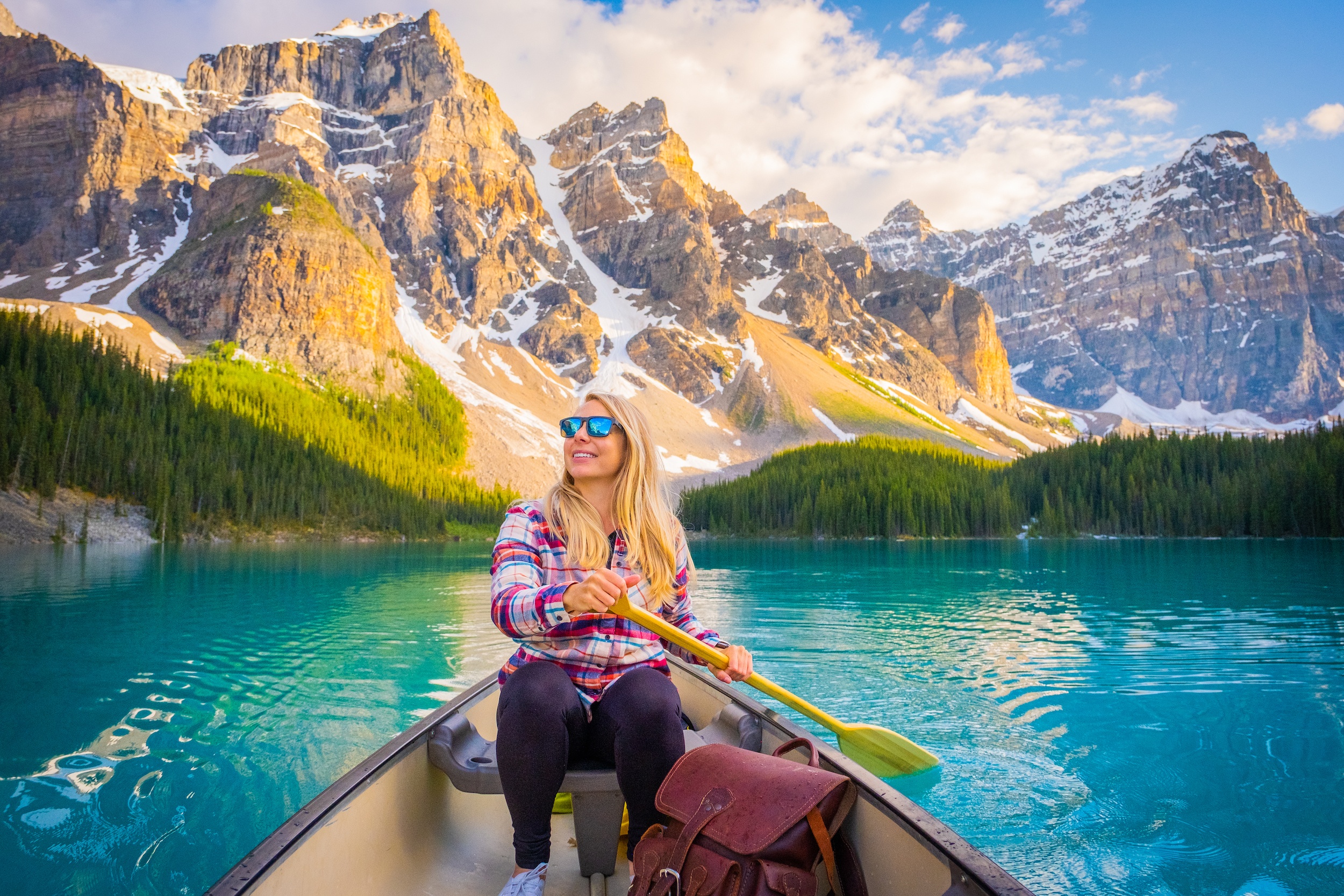 There are many ways to experience Moraine Lake in Banff. Though it's easily one of the prettiest lakes in the world and you'll want to visit and experience it in many ways. The Moraine Lake Lodge rents out canoes for visitors to take out on the blue water. If you have you're own canoe or kayak you can bring it to Moraine Lake as well!
---
29. Scramble Up the Tower of Babel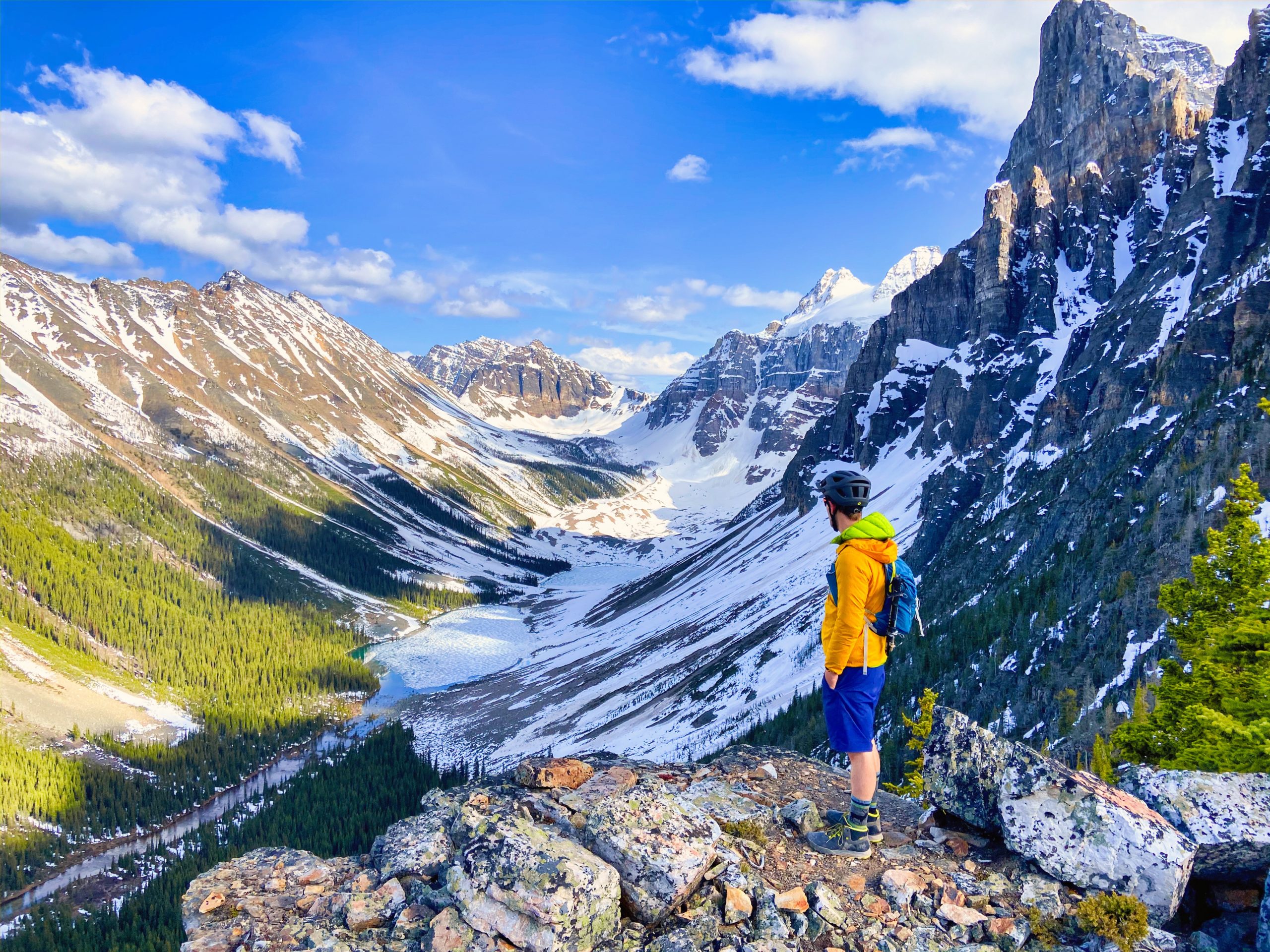 The Tower of Babel is a short and steep scramble up above Moraine Lake. It requires a helmet and proper hiking shoes to tackle and isn't for the inexperienced hiker. It's a bit of a grind through loose treadmill scree, but once you make it to the top you're rewarded with epic views over Moraine Lake and Mount Temple in front of you.
---
30. Drive the Icefields Parkway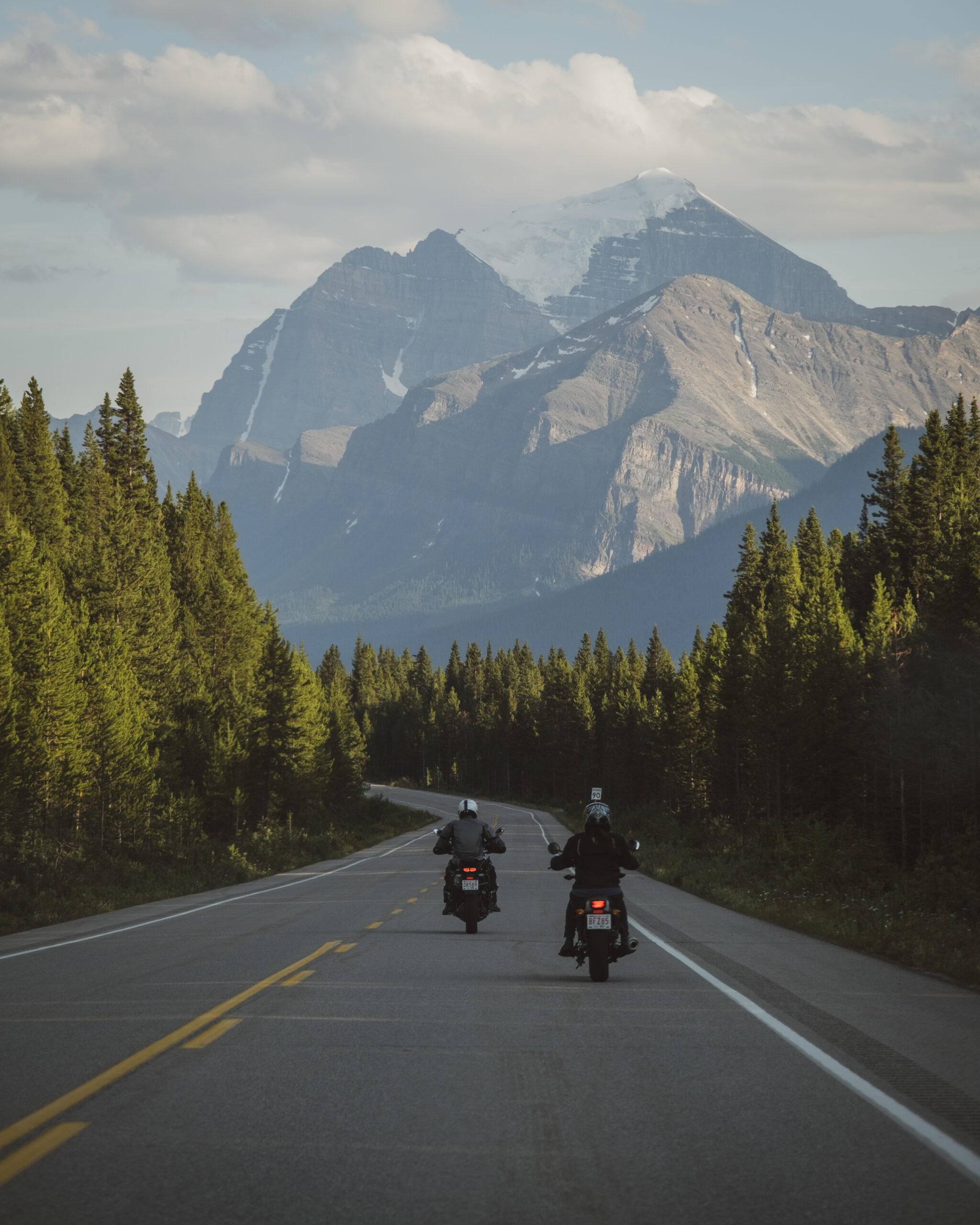 The Icefields Parkway is a 232 km stretch of double-lane highway taking you along the Continental Divide. It runs from Lake Louise to Jasper, which are both fantastic places in themselves. The Icefields Parkway has been deemed one of the most beautiful road trips in the entire world, and for good reason.
Not only are you in the Canadian Rockies, but each and every turn on this road is met with mountains, icefields, waterfalls, and tons of glorious stop-offs that will have any visitor beaming with delight. No trip to the Canadian Rockies is complete without at least driving a portion of the Icefields Parkway.
---
31. Take in the Views of Peyto Lake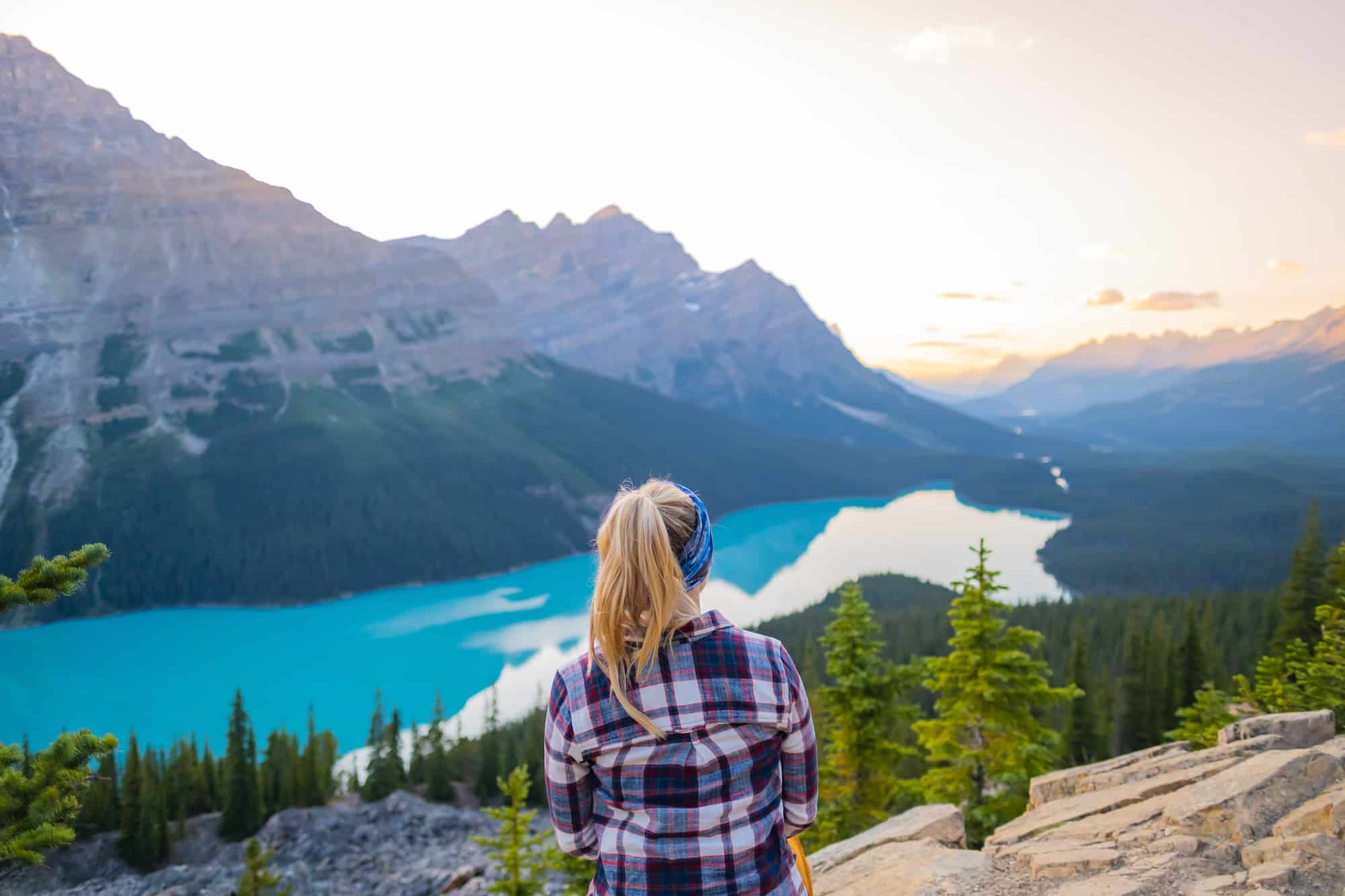 Peyto Lake is a turquoise blue glacier-fed lake 40 km north of Lake Louise and a popular stop on the famous Icefields Parkway. Right after Lake Louise and Moraine Lake, it's likely the most popular lake in Banff. The best part is you can get a great view of the lake with a short hike to the viewing platform.
---
32. Hike Up Parker Ridge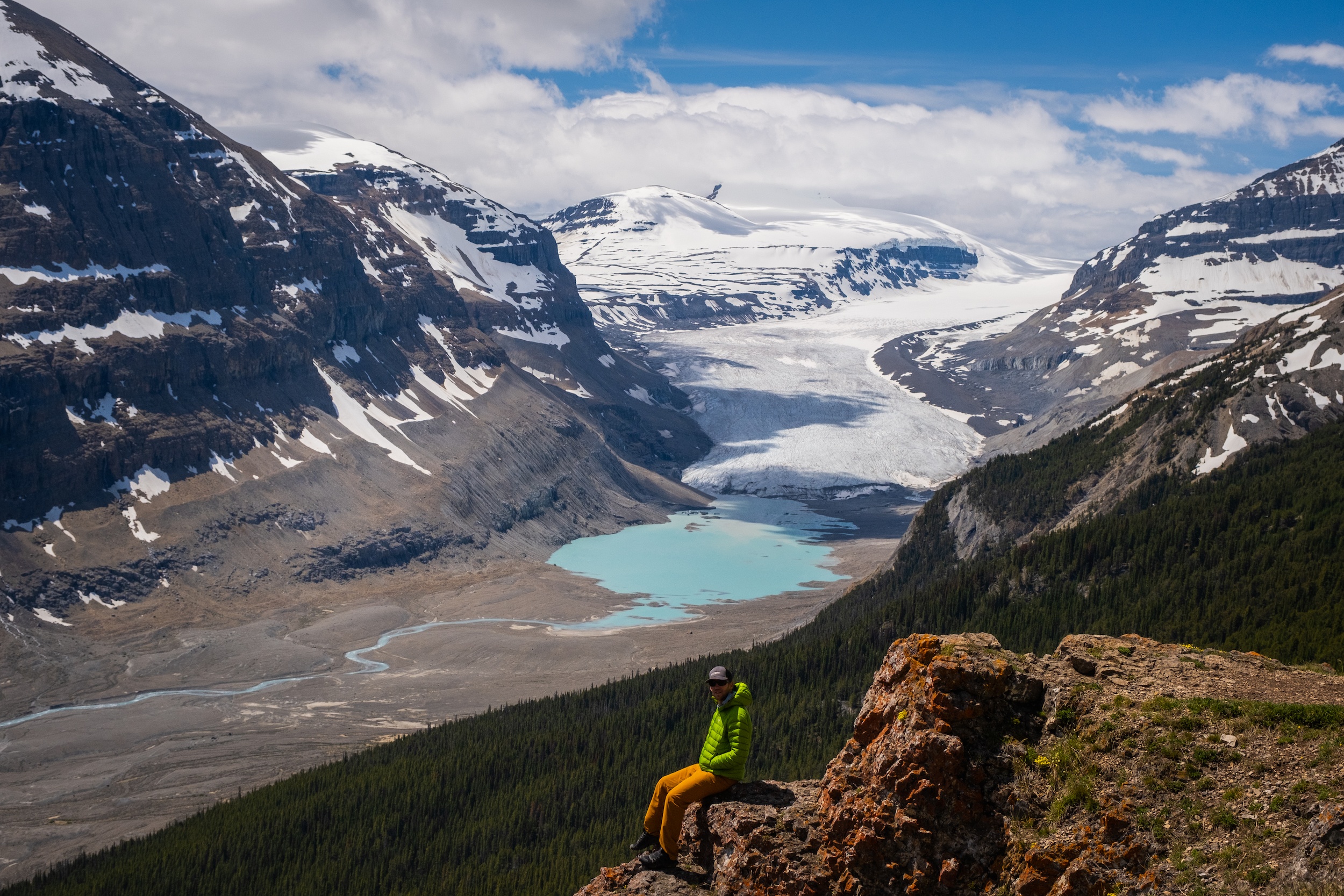 Parker Ridge is one of the most memorable and easy hikes to complete in Banff. Located along the Icefields Parkway Parker Ridge is a hike that takes you to magnificent views over the Saskatchewan Glacier. It's located just before the Columbia Icefields Center before entering Jasper.
---
33. Hike to Helen Lake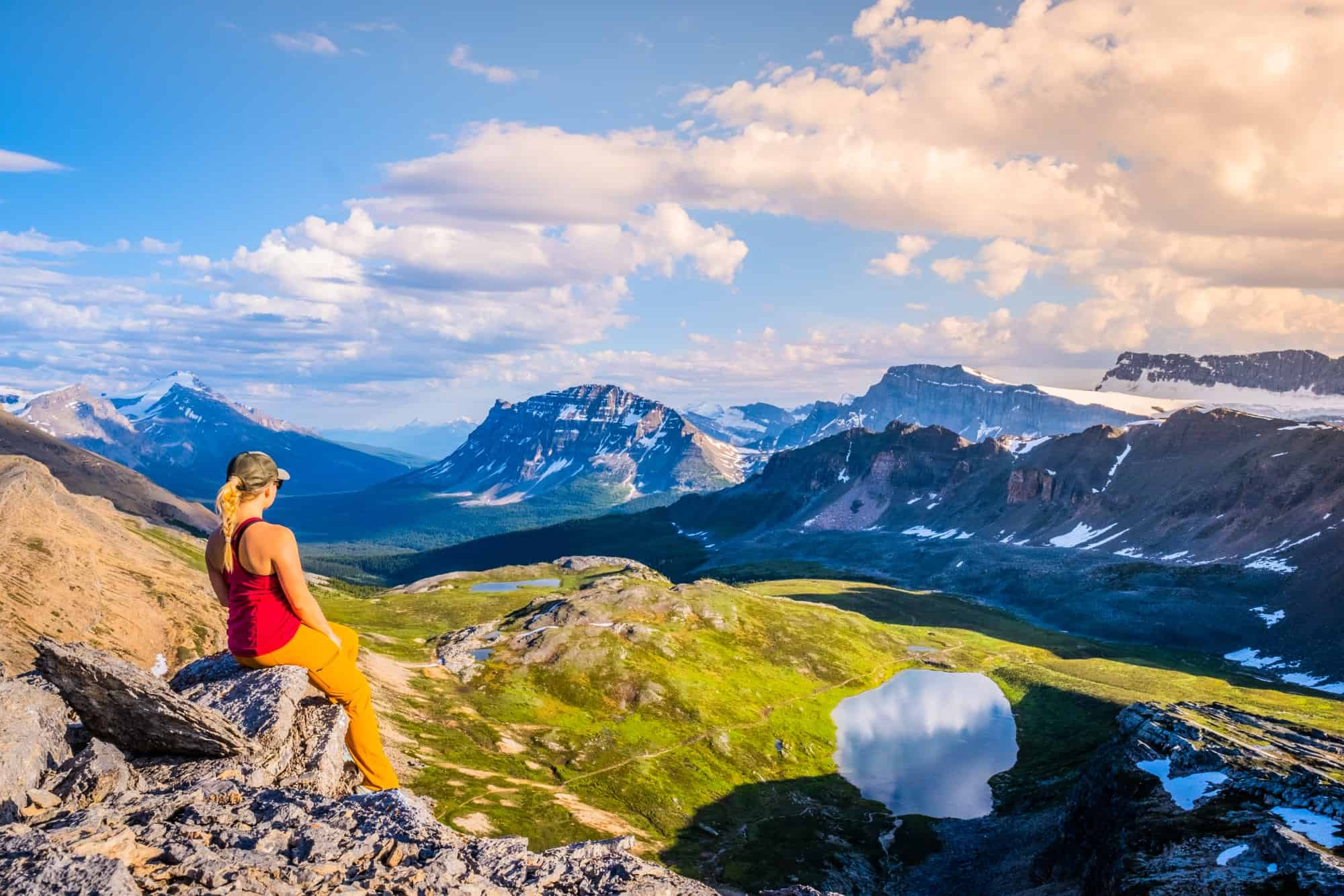 Helen Lake is one of the most popular day hikes in Banff as it provides spectacular views over an Alpine meadow with a lovely lake and stunning views of the Bow Valley and Mount Hector. The hike to Helen Lake is 13 km and is a great place to enjoy a picnic at.
---
34. Continue up Cirque Peak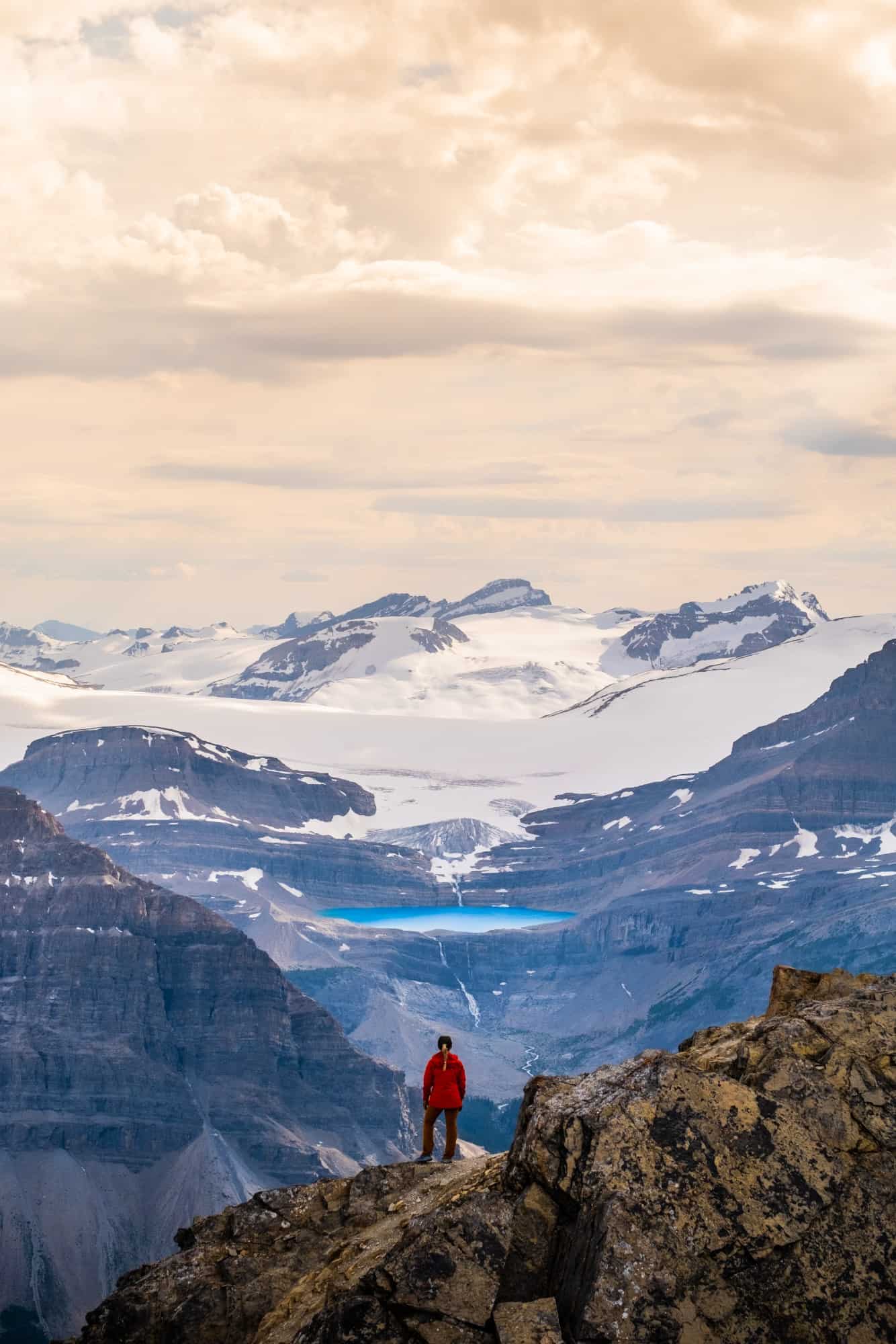 Once you're at Helen Lake you have two options, turn back for the car or scramble up Cirque Peak right in front of you. Cirque Peak is a moderate scramble through plenty of loose scree and a few important handhold sections, but the view you get from the top over Iceberg Lake is magnificent. You can read our full route description here.
---
35. Check Out Mistaya Canyon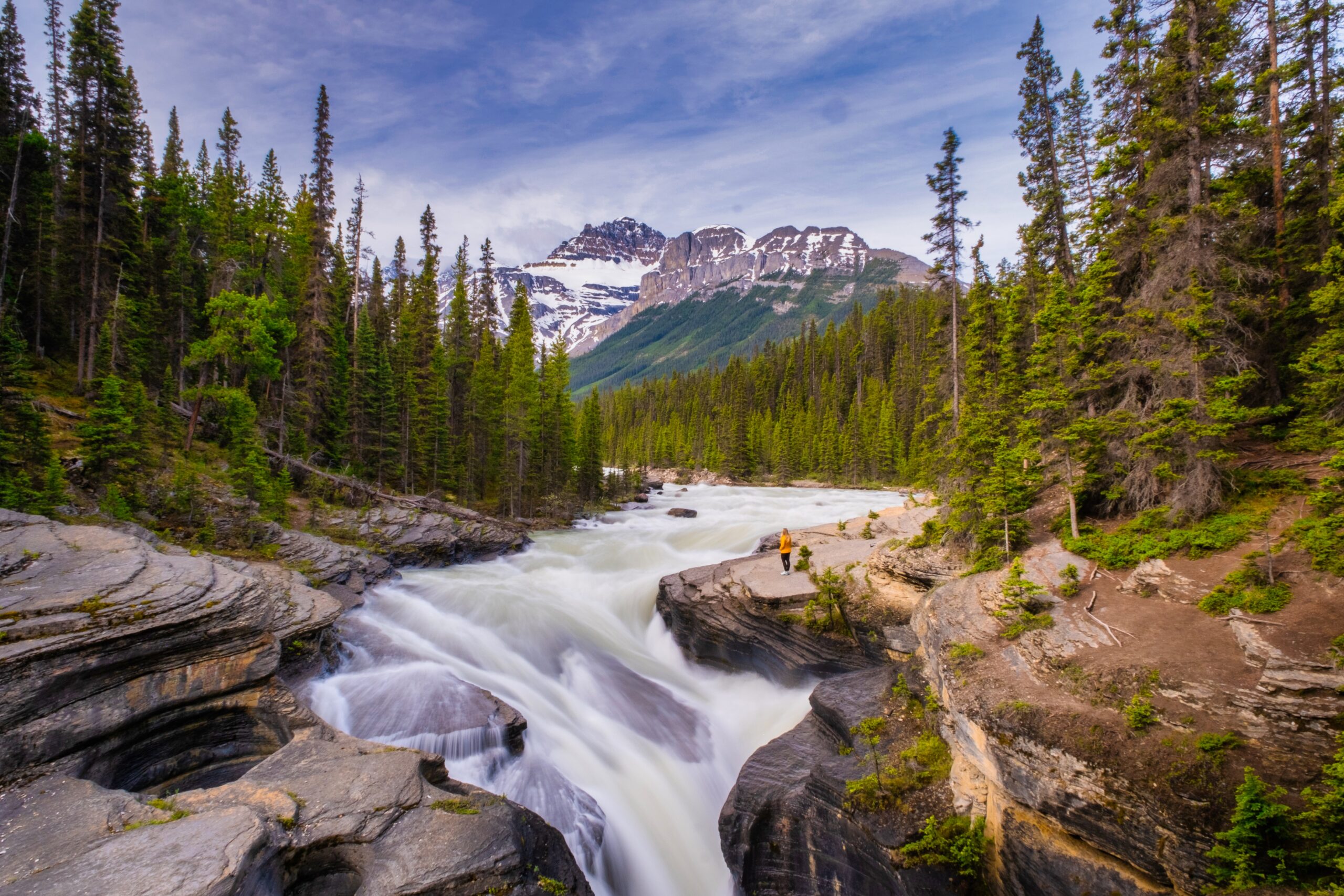 Mistaya Canyon is a popular stop on the Icefields Parkway. To reach the canyon you'll have to hike down the easy .5 km trail to a well-maintained fenced bridge. It's here you can see the roaring canyon around you. Watch intensely as the powerful water churns through the rock beneath your feet.
---
36. Find the Rope Swing at Johnson Lake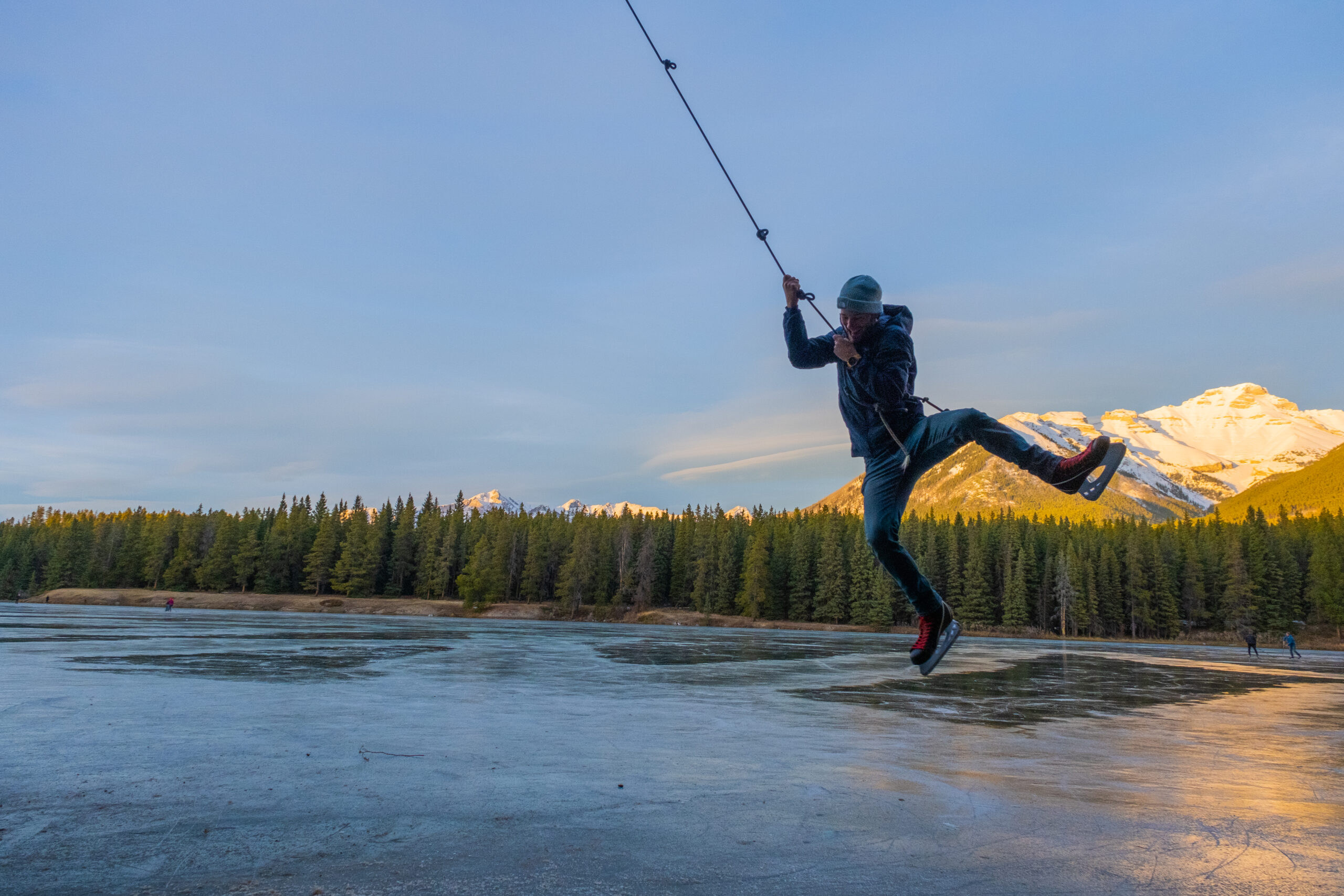 I mentioned before taking a dip in Johnson Lake, and you should! While you're at it you should try and pinpoint the hidden rope swing on Johnson Lake. It's the perfect way to cool off in an exhilarating way. Don't look like you're having too much fun or others might follow. 🙂
---
37. Find the Diving Board at Herbert Lake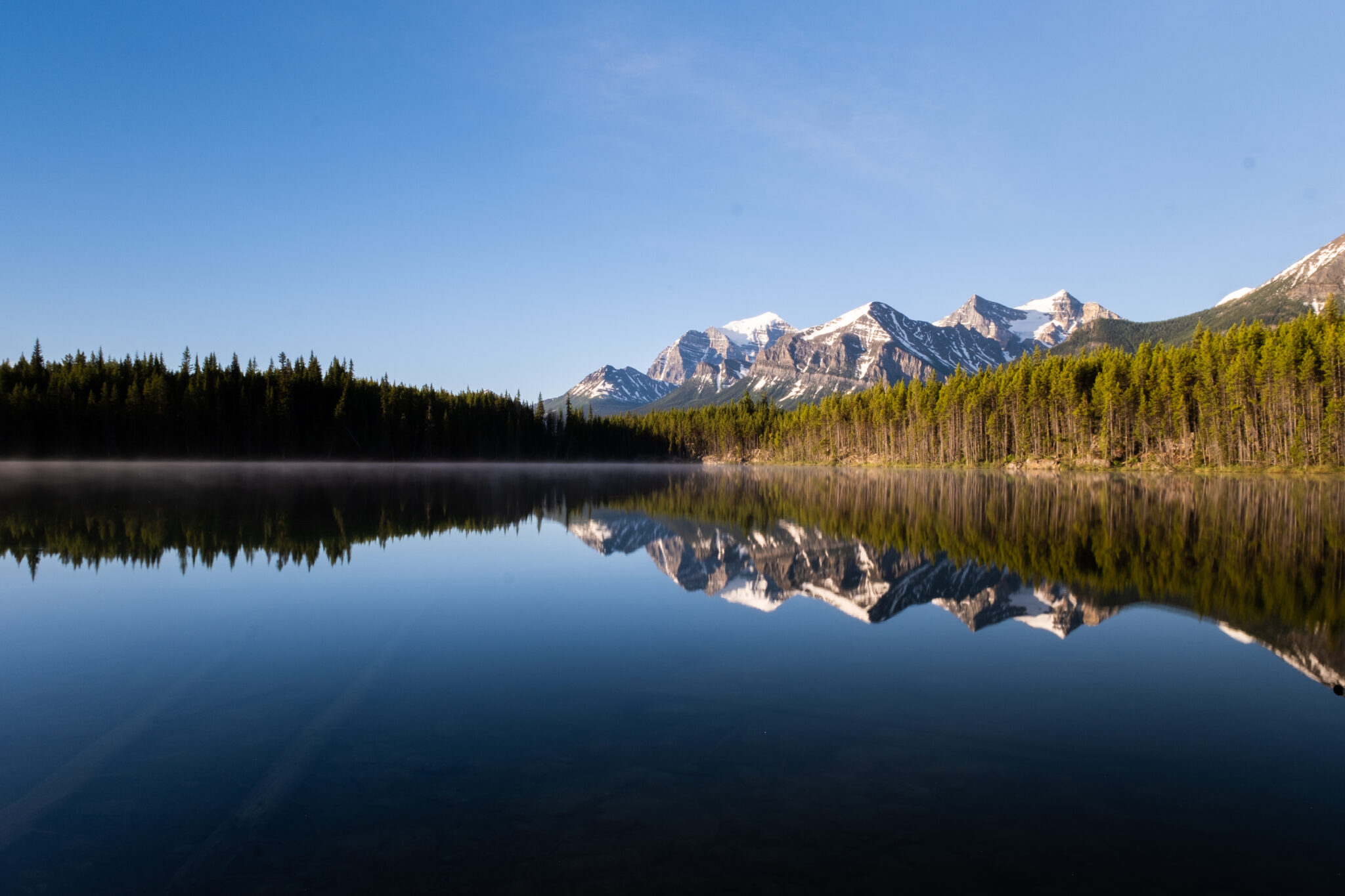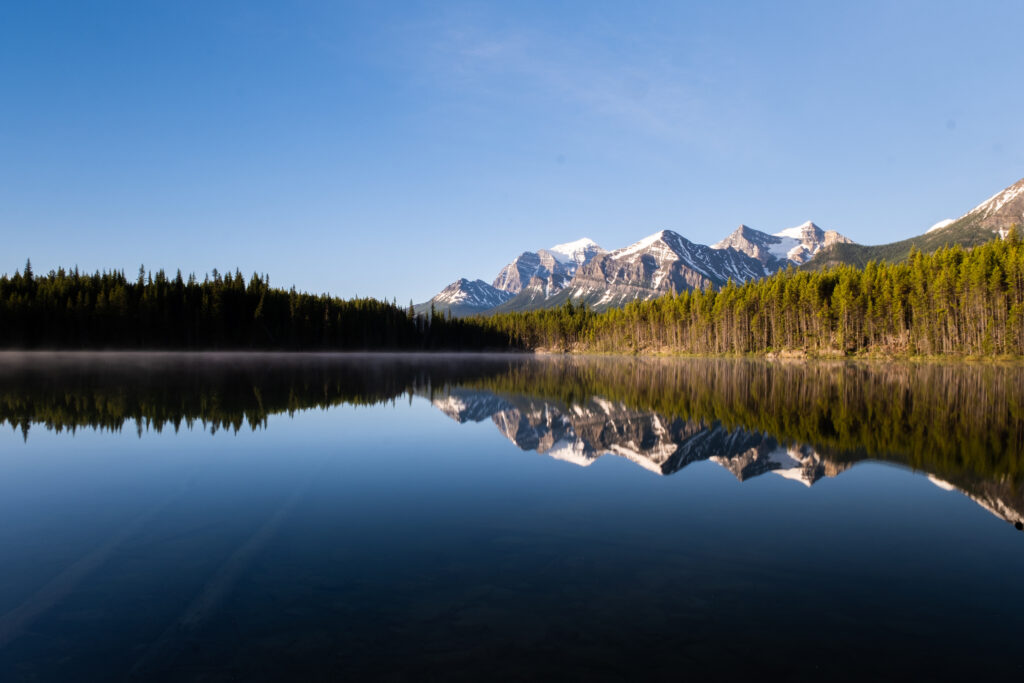 Herbert Lake is one of the lesser-known lakes in Banff. It's located on your left-hand side as you're driving from Banff to Jasper and is super easy to miss if you're not paying attention. I would highly recommend putting it on your radar and stopping when you make the drive. There's a diving board on the lake, another hidden gem you'll have to search for.
---
38. Hike to Hector Lake
Hector Lake doesn't get visited as much as many of the other lakes in Banff simply because you have to hike 2.2 km to reach it. This deters many people, but in fact, it's very short and well worth it to see this glacial-fed lake. If you don't want to hike to it no worries – there's a pullover viewpoint, but it has partially obstructed views.
---
39. Enjoy a Cocktail at The Radiant
The Radiant is my new favorite cocktail bar in Banff. The Radiant looks like something that belongs in the 1930s, a reminder of America's prohibition era, slightly different and out of place for Banff. But upon walking in you'll realize just how amazing this place is. With an extensive cocktail bar and live music often it's one of the best restaurants in Banff to check out.
---
40. Enjoy a Beer at Banff Ave Brewing
One of the best spots to grab a beer in Banff is on Banff Ave, at Banff Ave Brewing! I love heading here in the summertime and sitting outside to enjoy the views of Banff Ave from above.
---
41. Smell the Flowers at the Cascade Gardens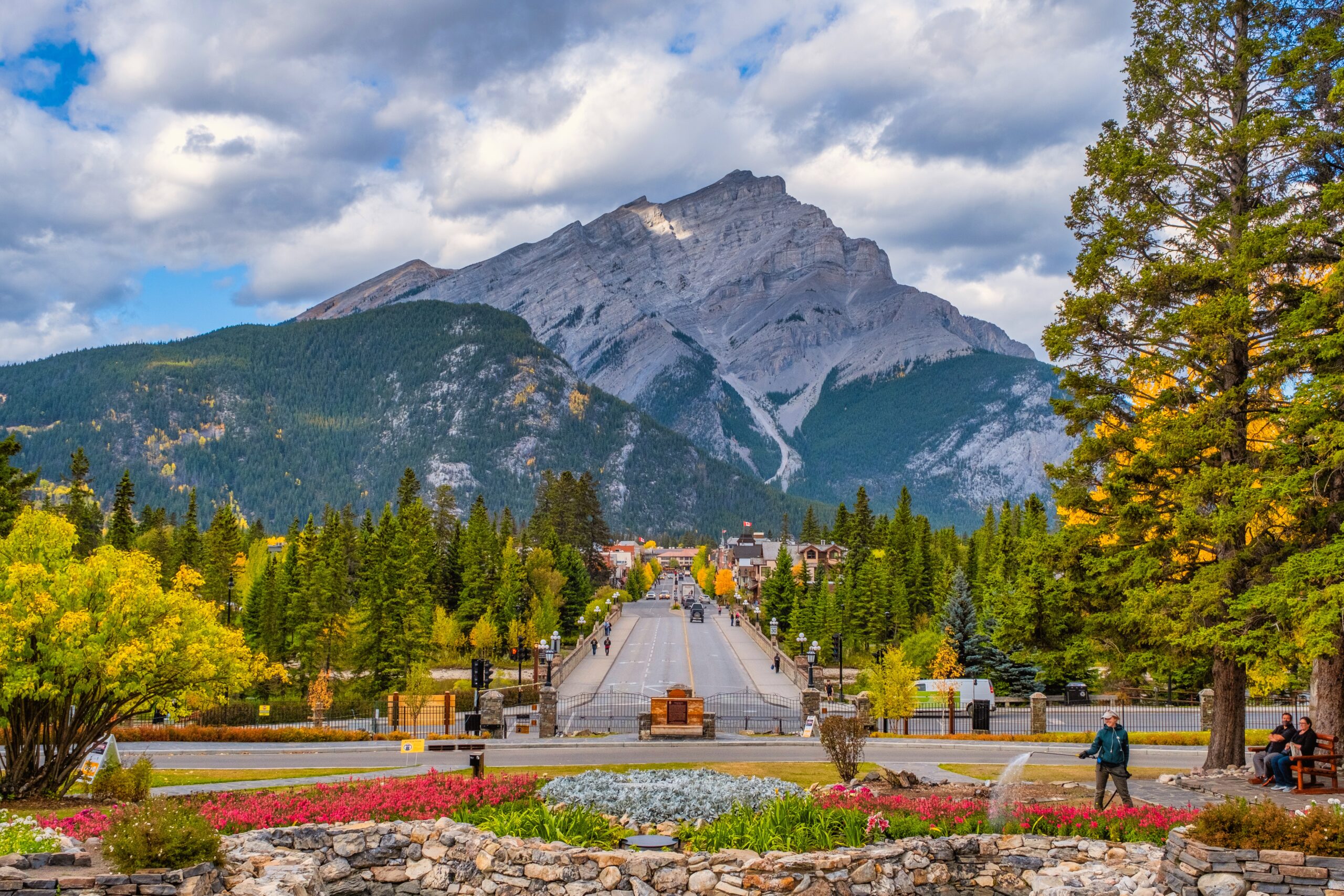 Cascade Gardens, at the end of Banff Ave, is a great place to stop in Banff for a relaxing afternoon out in the summer. The grounds are miraculously kept and may be the most scenic gardens in the entire world. The gardens are some of the best things to do in Banff for older people and those with mobility issues.
---
42. See the Larches in the Skoki Range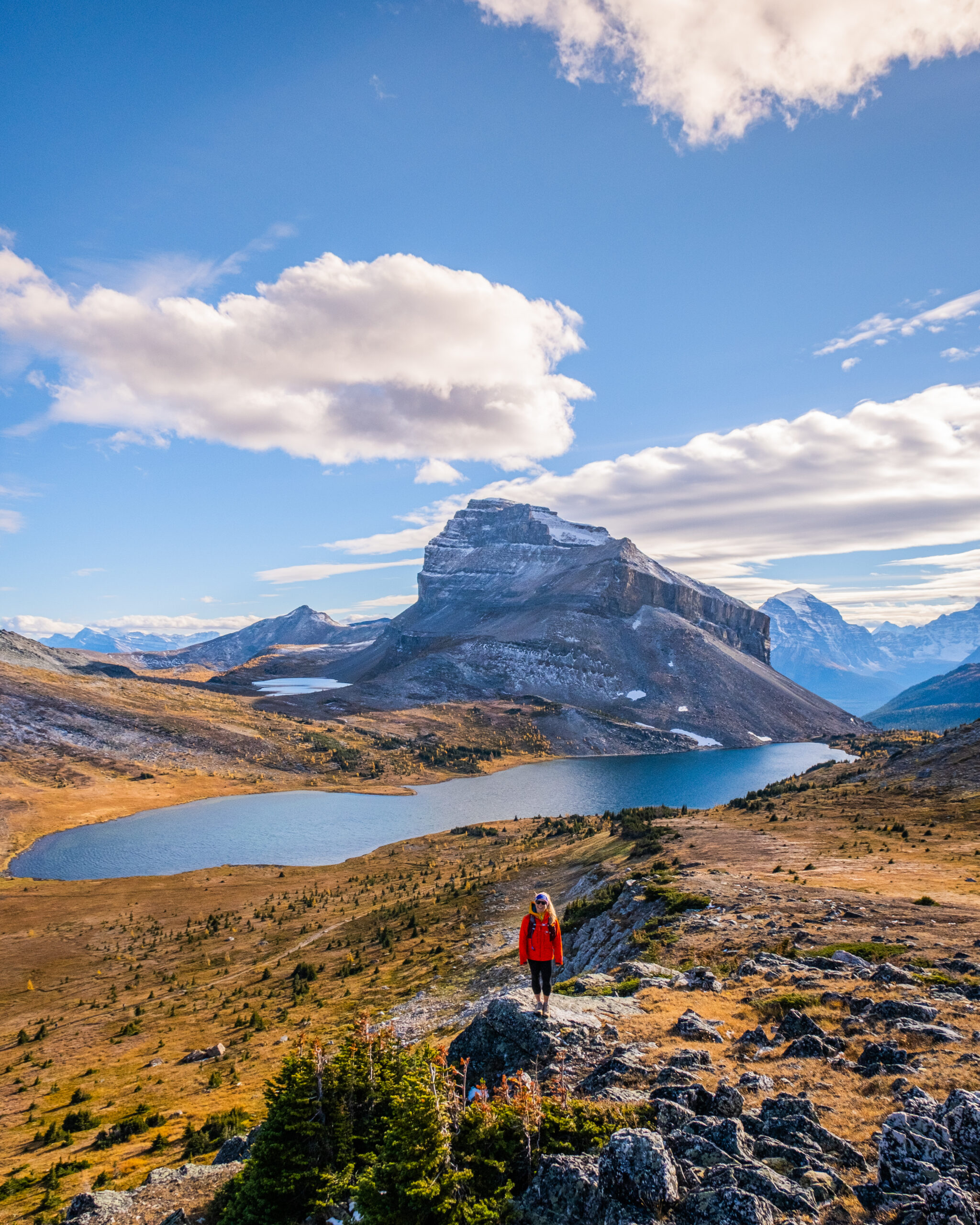 The Skoki Area of Banff is perhaps my favorite part of the park. Near Lake Louise is a magnitude of hiking opportunities. Back here is where you can visit unreal lakes like Myosotis Lake and Zigadenus Lake without the crowds. During the larch season, it's one of the best places to hike.
---
43. Have a BBQ at Cascade Ponds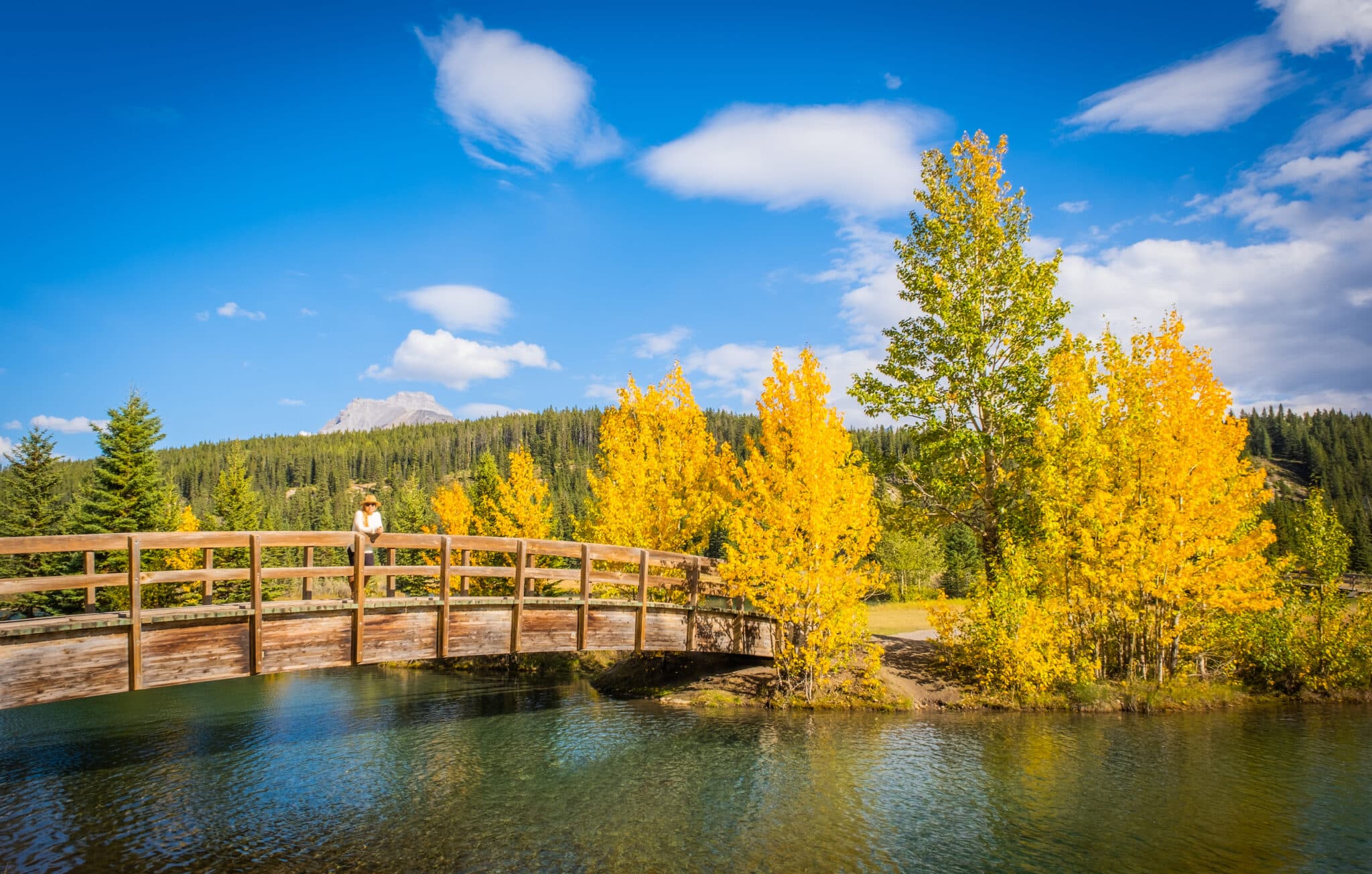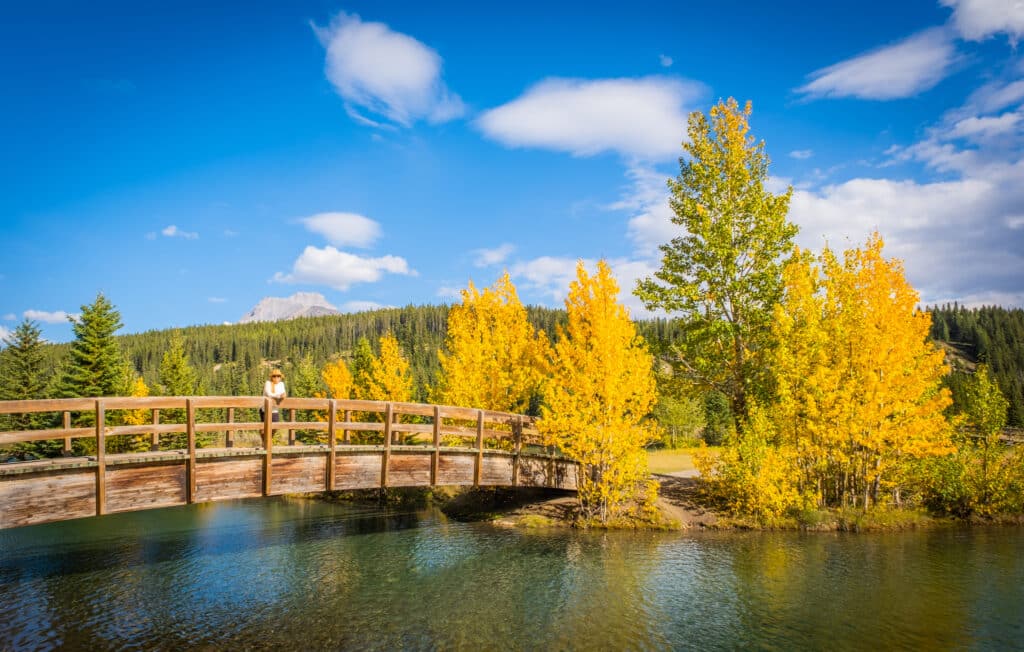 Cascade Ponds is an awesome spot near the town of Banff. It's where you'll find visitors and locals alike chilling by the water with a drink in hand. There are picnic tables and bbq pits so you can build your own fire and have a bbq!
---
44. Trail Run Up Healy Pass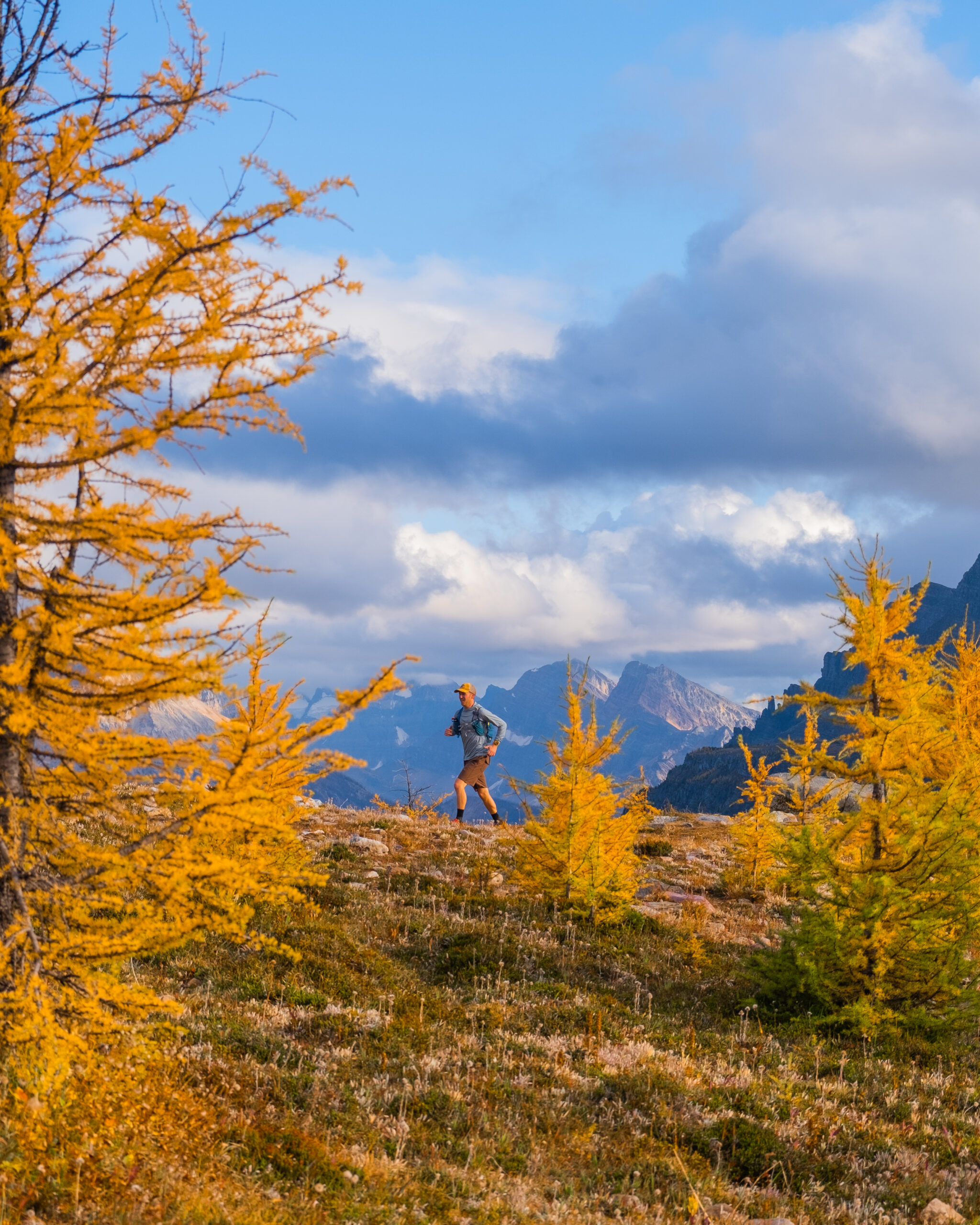 Healy Pass is a fantastic area near the Sunshine Gondola. It's a long trail that many people love to trail run. There's a surprise at the end of Healy Pass (in the form of epic views), but I don't want to spoil it so you'll just have to hike or trail run back there!
---
45. Stand Under the Weeping Wall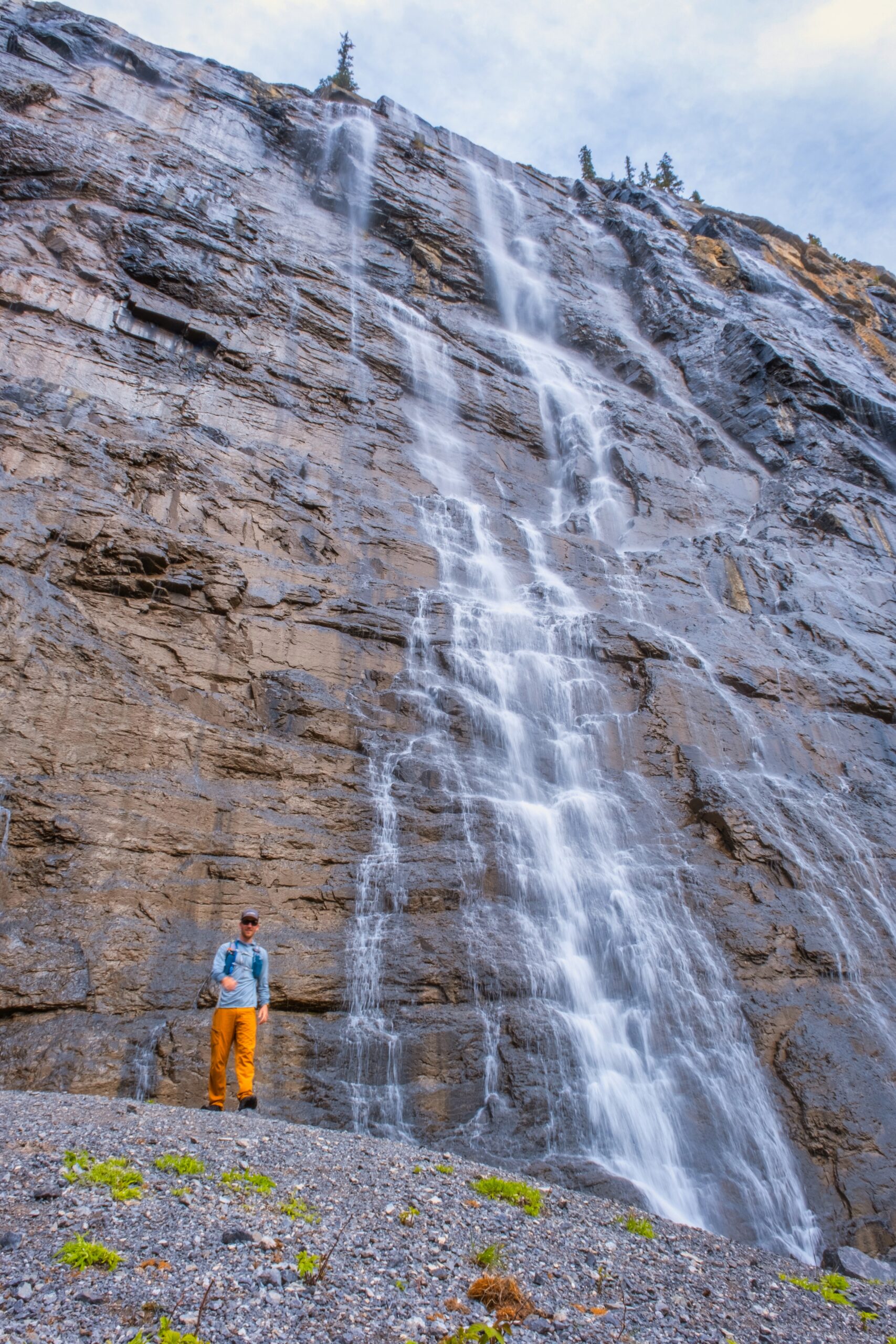 The Weeping Wall is a set of cliffs at the base of Cirrus Mountain. Look up to your right, as you are driving from Banff to Jasper. If you look towards it you'll see water cascading down in a series of waterfalls, essentially "weeping." The biggest one is called "Teardrop."
---
Things to do in Banff in the Winter
---
46. Ice Skate on Lake Louise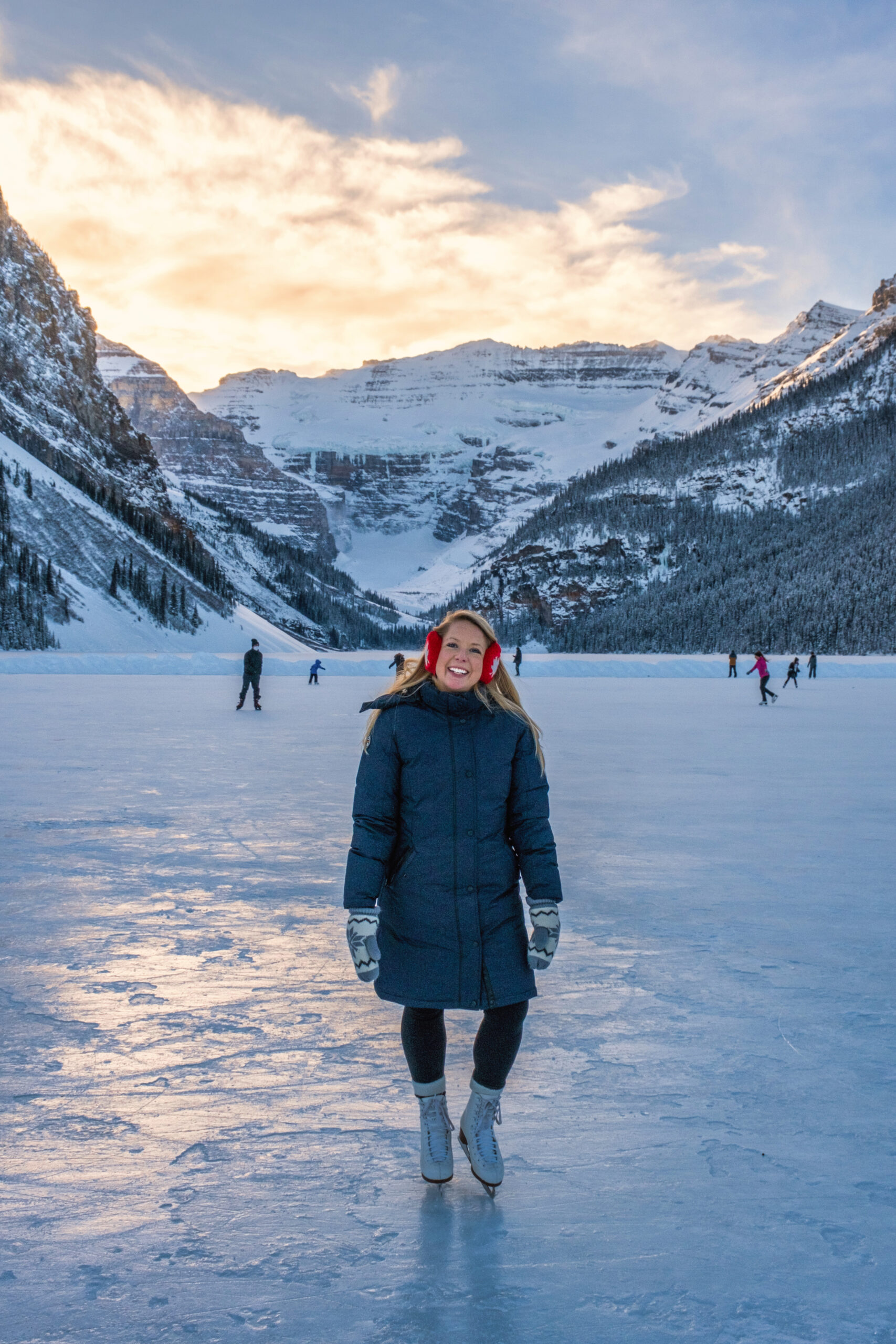 There's really no more iconic ice-skating area in the world than at Lake Louise. Heading to Lake Louise in the winter is one of the best things to do in Banff. The Chateau clears and maintains the "rink" so that visitors can enjoy ice skating here all winter long. Don't forget to check out the ice castles too!
---
47. Wild Skate On A Lake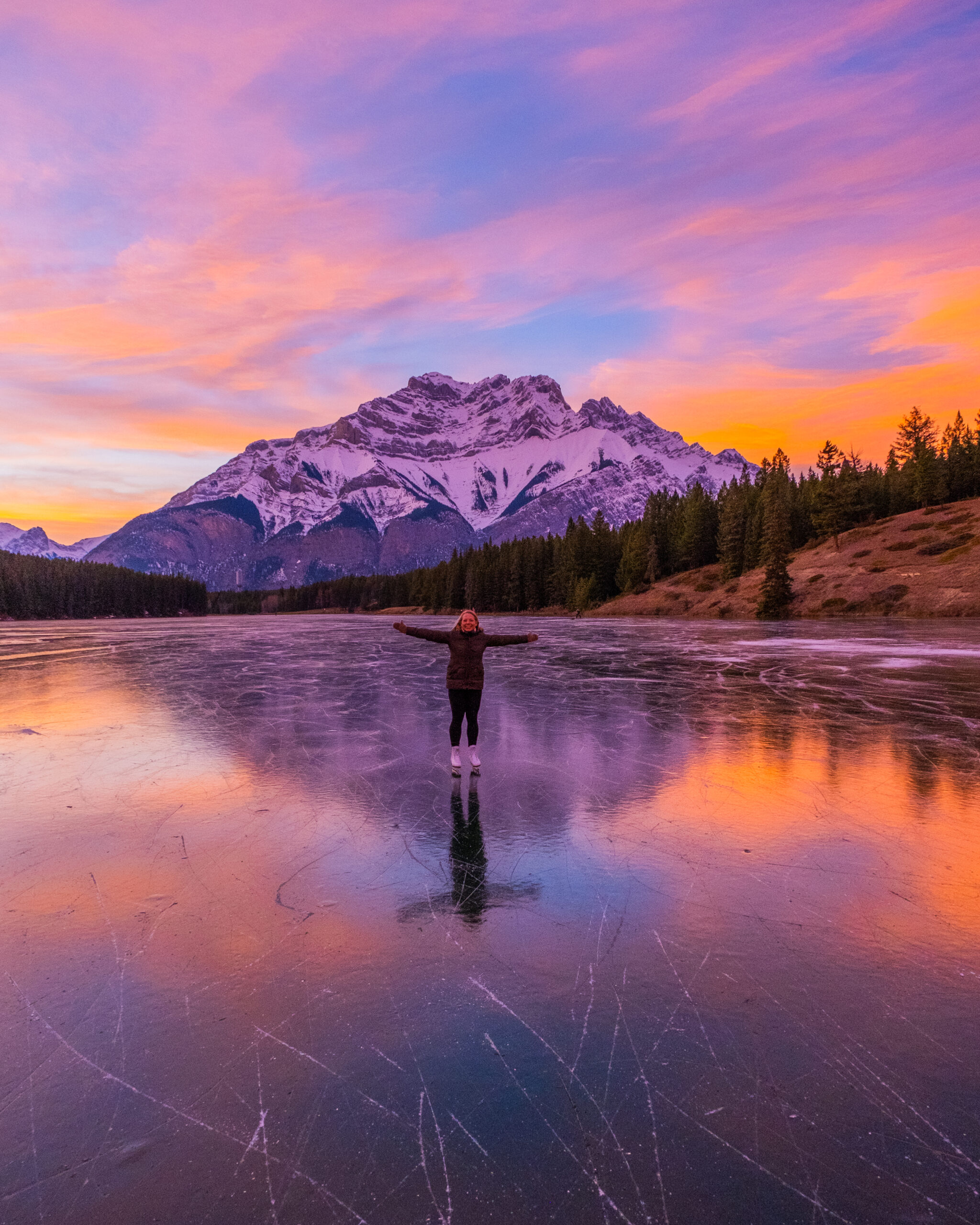 If you hit Banff just right it's possible to ice skate on one of the many lakes. My favorite is Johnson Lake, but there are so many amazing ones. The key is to hit the lake right after it freeze, but right before the next snowfall for the smoothest skate.
---
48. Go Snowboarding or Skiing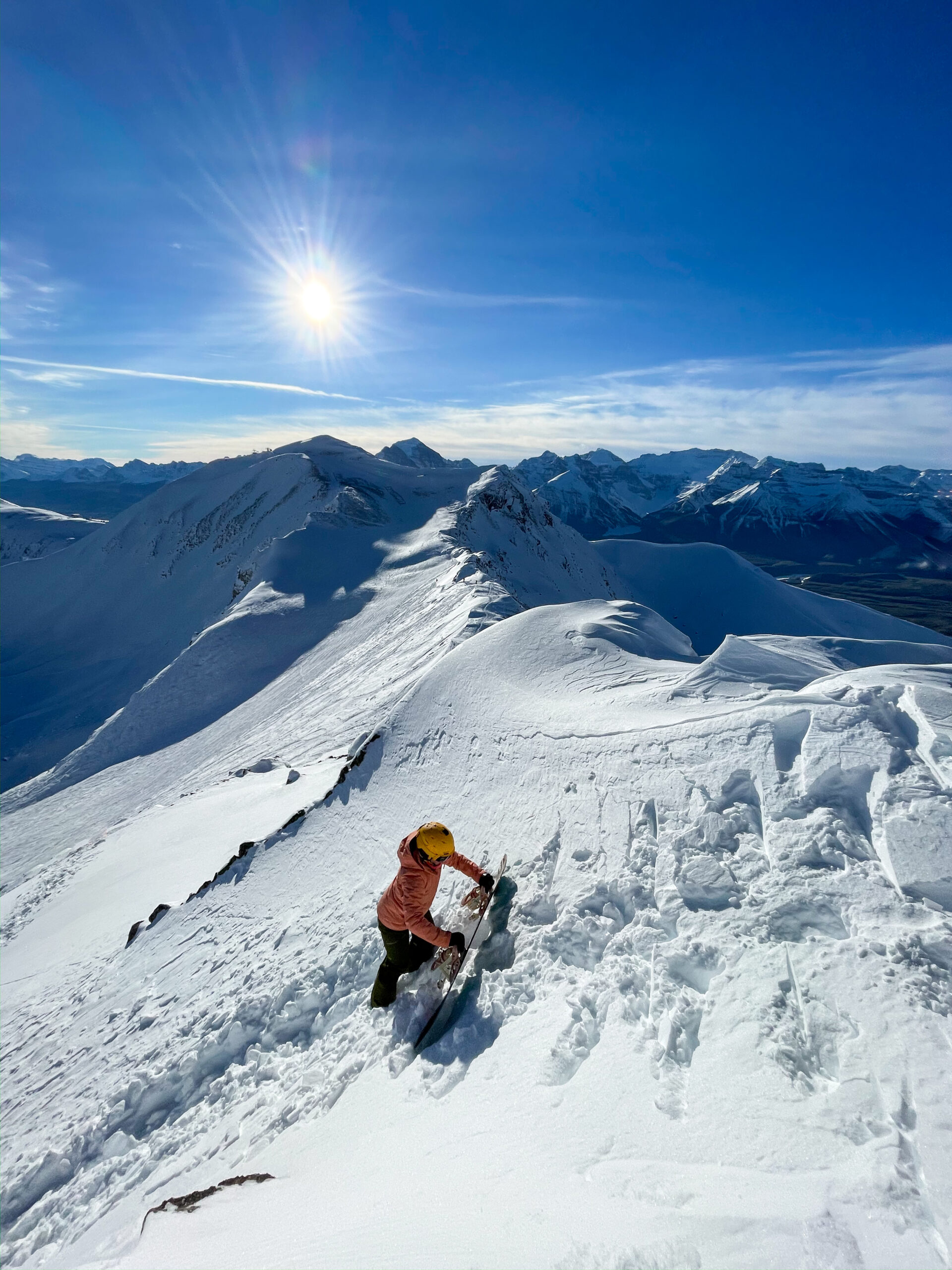 If you're coming to Banff in the winter you should definitely ski or snowboard at one of the SkiBig3 Resorts at least one of the days. My favorite place to ride is at Lake Louise Ski Resort because they have epic terrain, but Banff Sunshine is well known for its powder dumps, while Mt. Norquay has amazing views and a tube park.
---
49. Hit Up the Mt Norquay Tube Park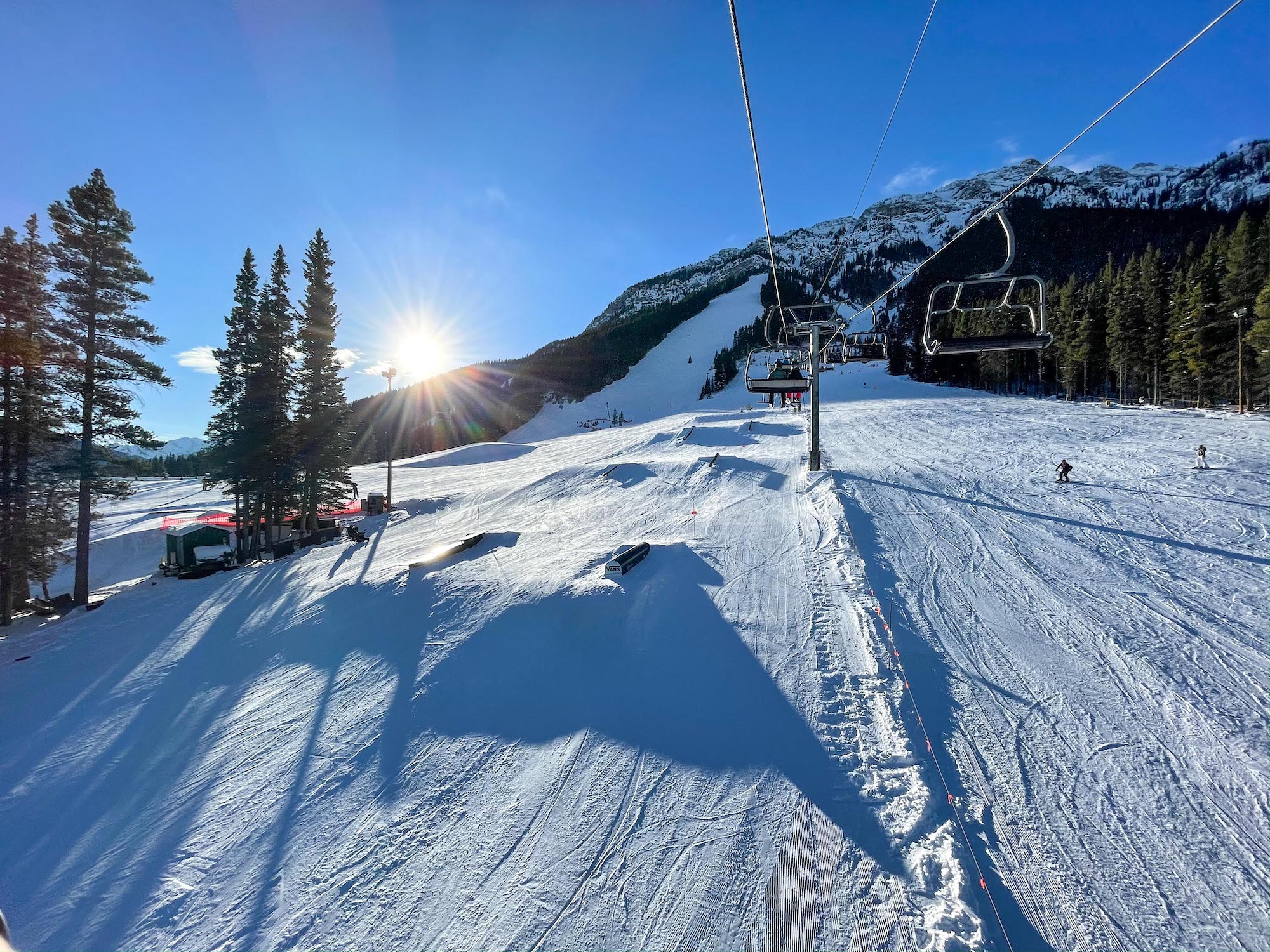 If you're not much a skier don't worry, Mt. Norquay puts together an epic tube park every winter for families to go screaming down the hill. It's one of the most thrilling things to do in Banff in the winter.
---
50. Catch the Northern Lights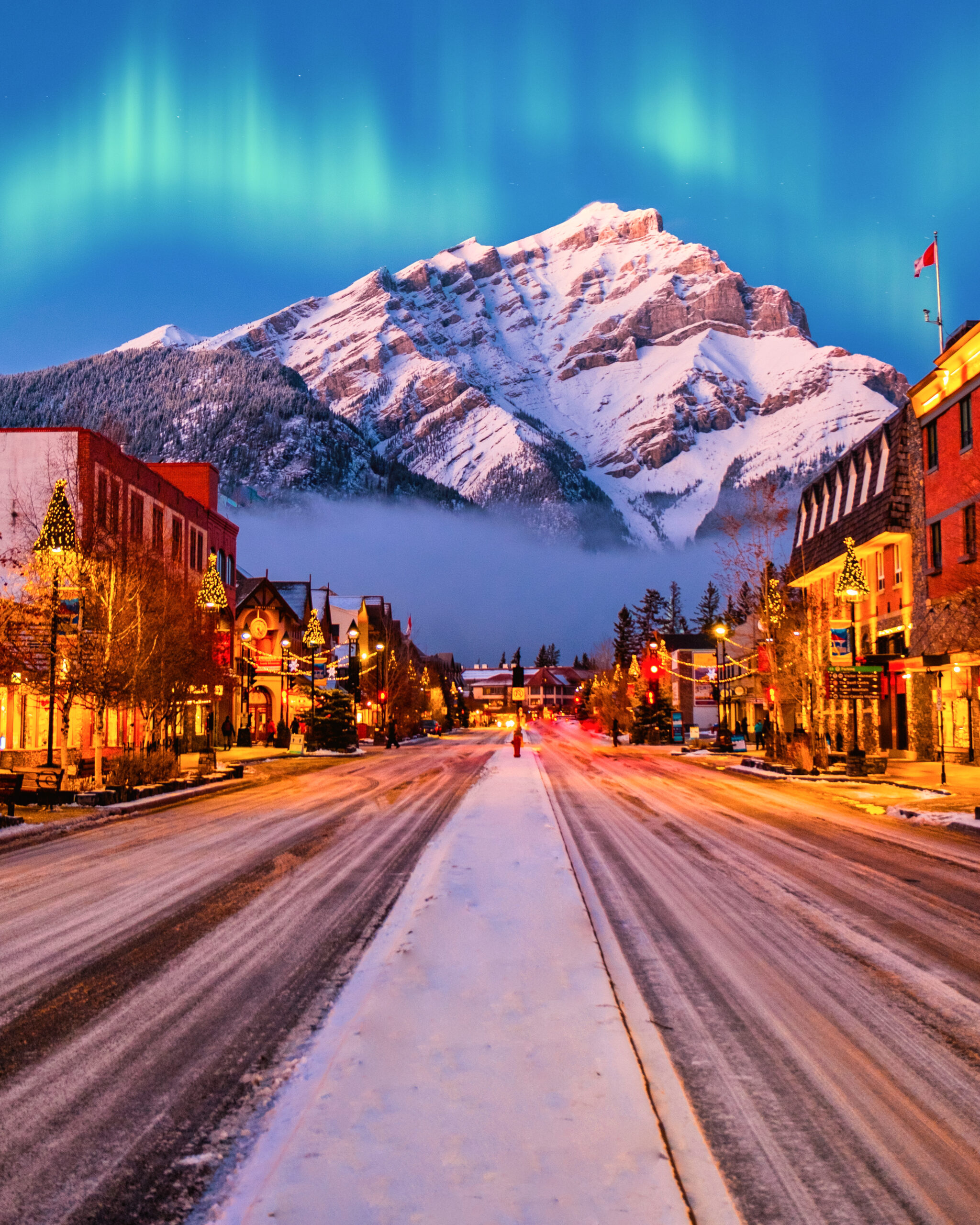 If you're lucky, and I mean really lucky, you may catch the Aurora while visiting Banff. It's rare, and I wouldn't plan on seeing the northern lights while visiting. But if the sky is clear and the aurora forecast looks promising it's best to make your way to a really dark area of the park and keep your eyes open.
---
51. Ski Tour Near Bow Summit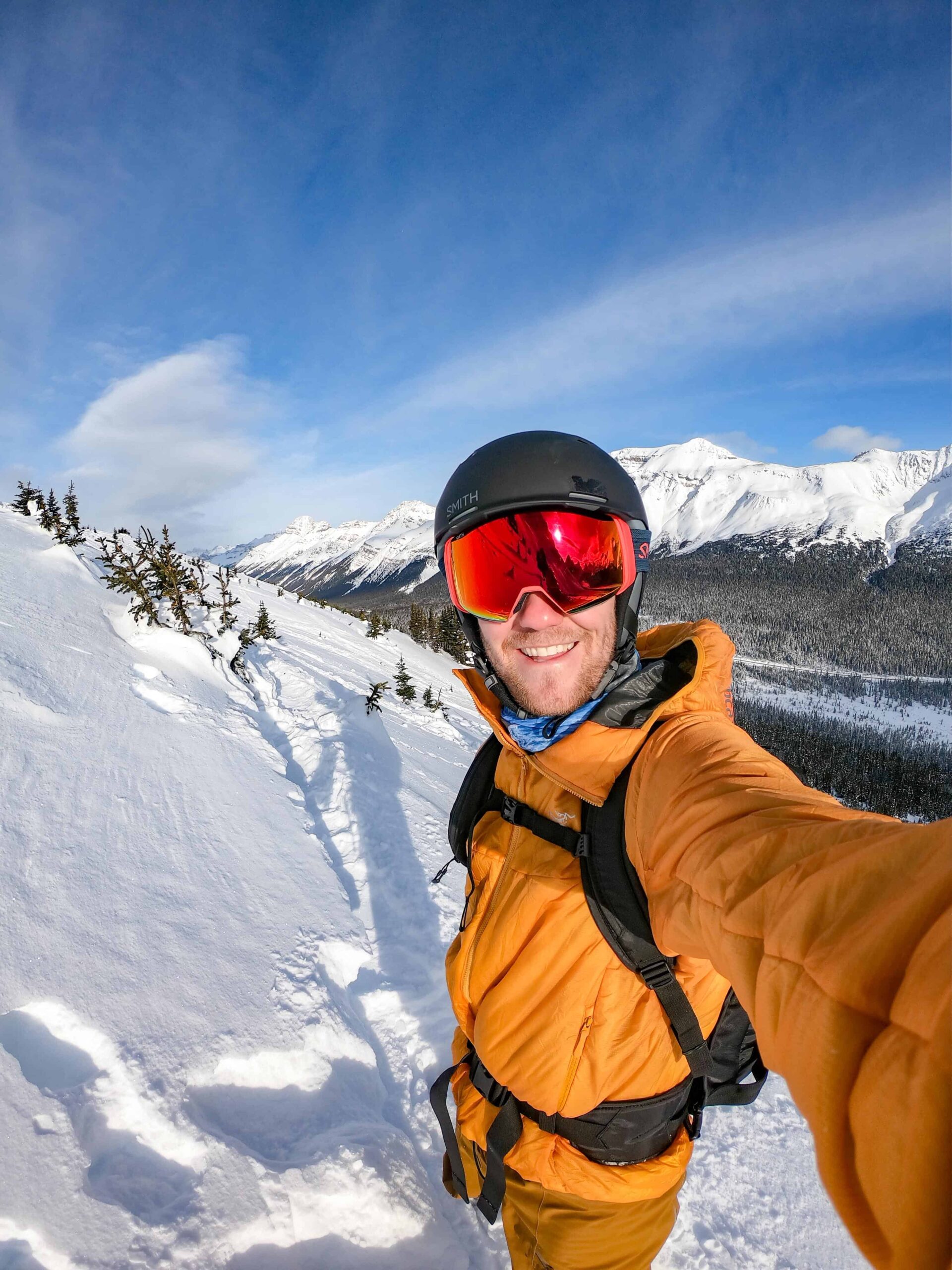 If you're into ski touring one of the most popular places to tour in Banff is Bow Summit. The terrain here is great, and fairly low risk compared to other areas in Banff. If you're heading into the backcountry make sure you are properly equipped with a beacon, probe, and shovel, a team, and of course have avalanche awareness training (AST1 and AST2)
---
52. Snowshoe Up to Taylor Lake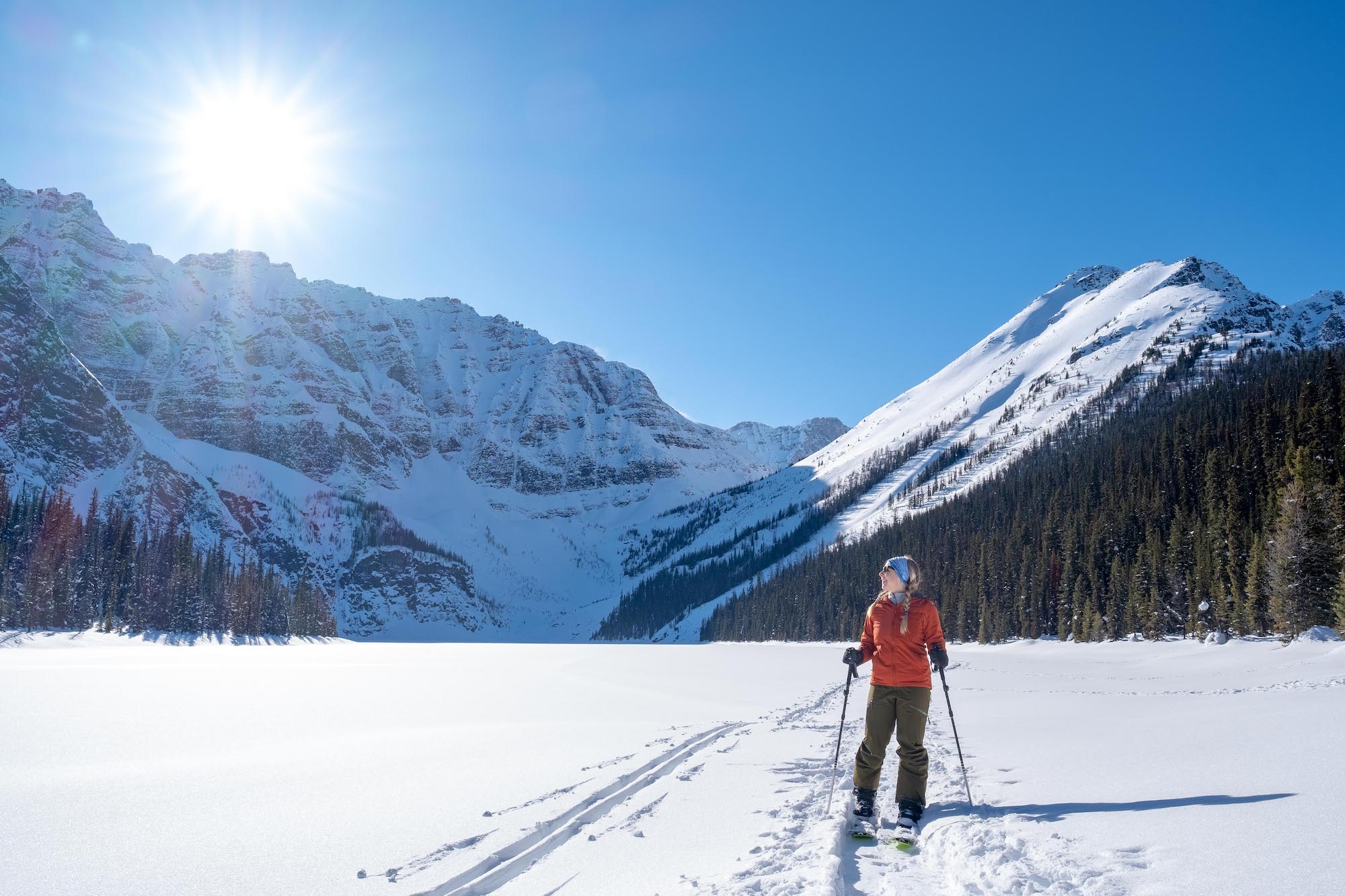 In the winter a fun thing to do is grab a pair of snowshoes and take them to the trails. A great one is Taylor Lake! Again, if heading into avy terrain you must be equipped and check the Avalanche Canada forecast.
---
53. Drive the Icefields Parkway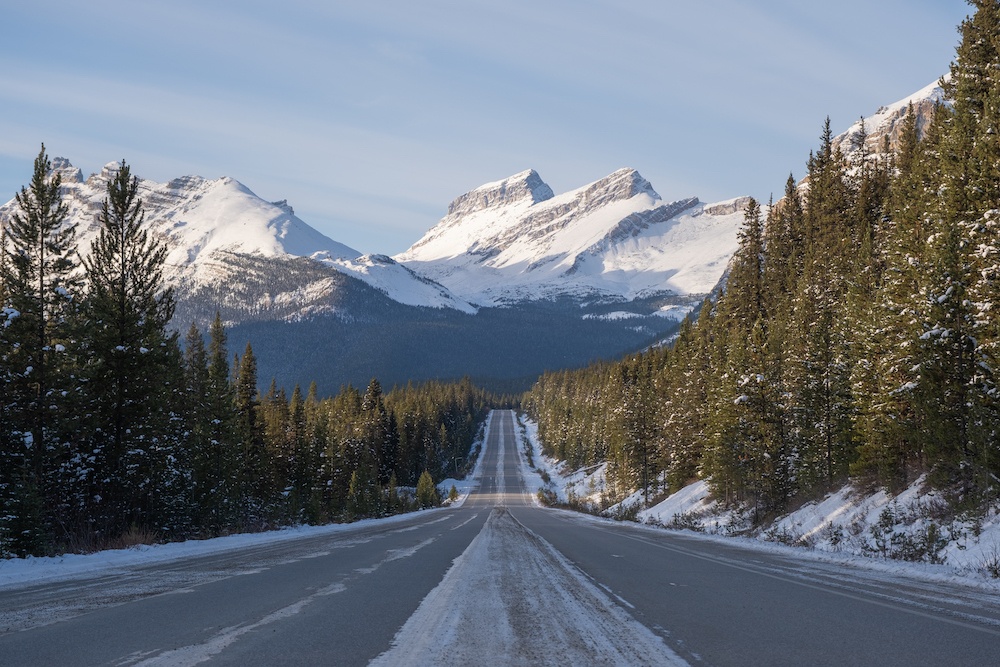 I mentioned driving the Icefields Parkway in the summer, but the road is open in the winter too. It's such a different experience compared to the summer, and I think it is even more beautiful seeing the peaks covered with snow. You'll need winter tires and should have experience driving in the winter.
---
54. See the Lakes Before they Freeze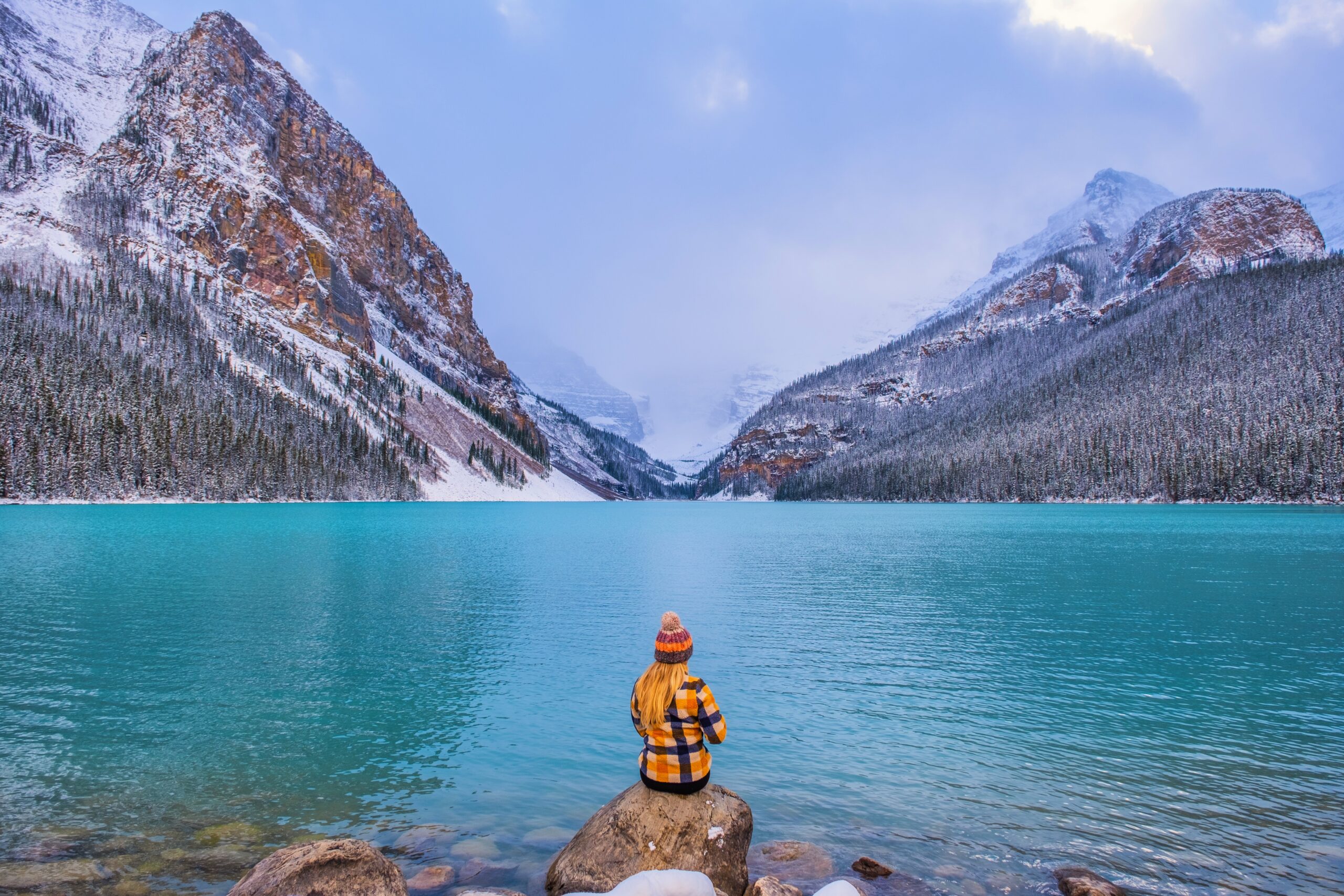 There's a special time in Banff, typically around mid-October when the lakes have yet to freeze, but the snow has started to fall. It's a short time period, but it's magical to experience such a scene.
---
55. Spot some Elk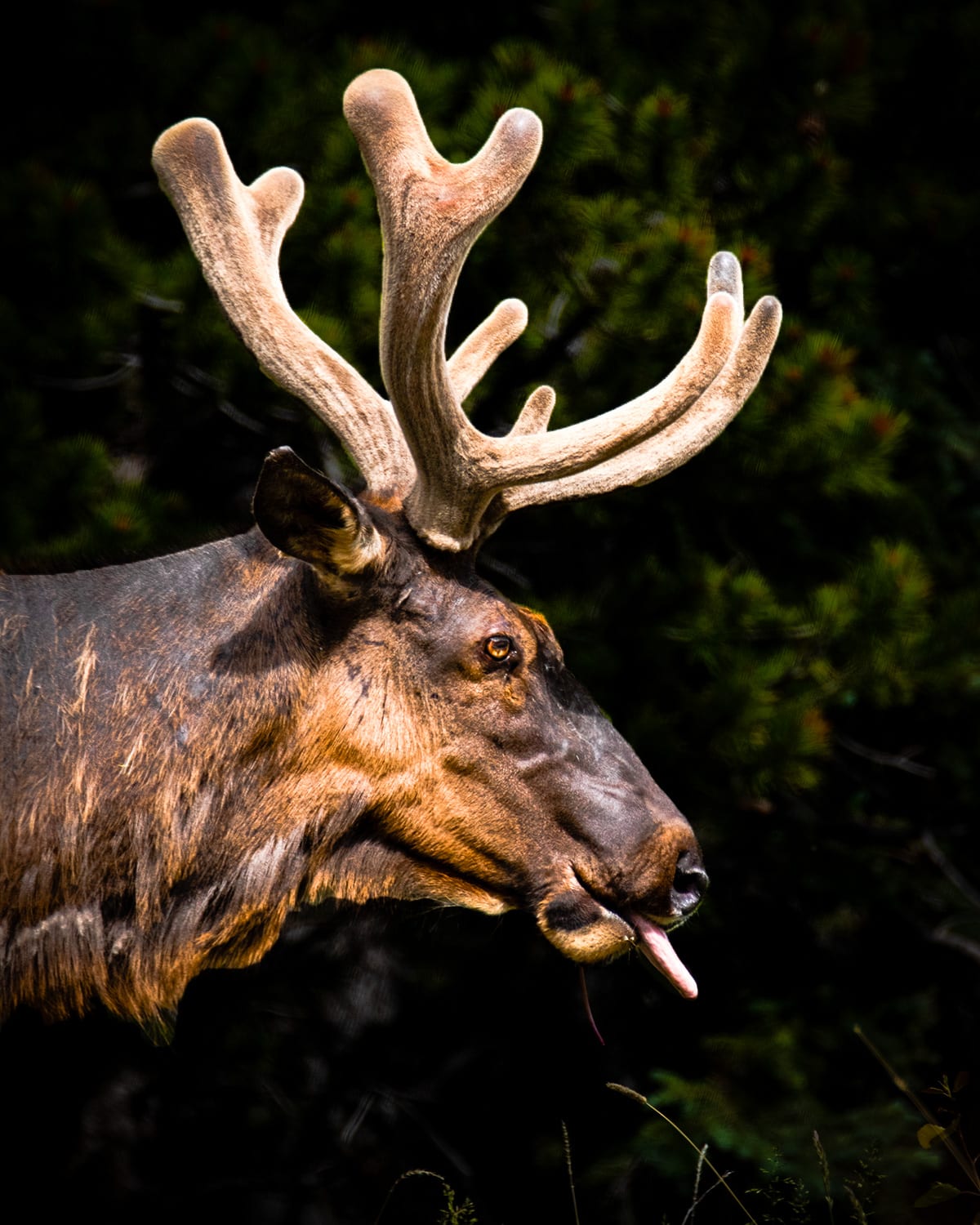 This one shouldn't be too hard in Banff. There are elk roaming around the town everywhere. They are the park's best residents and a reminder of who truly runs the beautiful landscape. They often roam in large herds so if you see one you'll likely soon see 50 more.
---
56. Drive the Bow Valley Parkway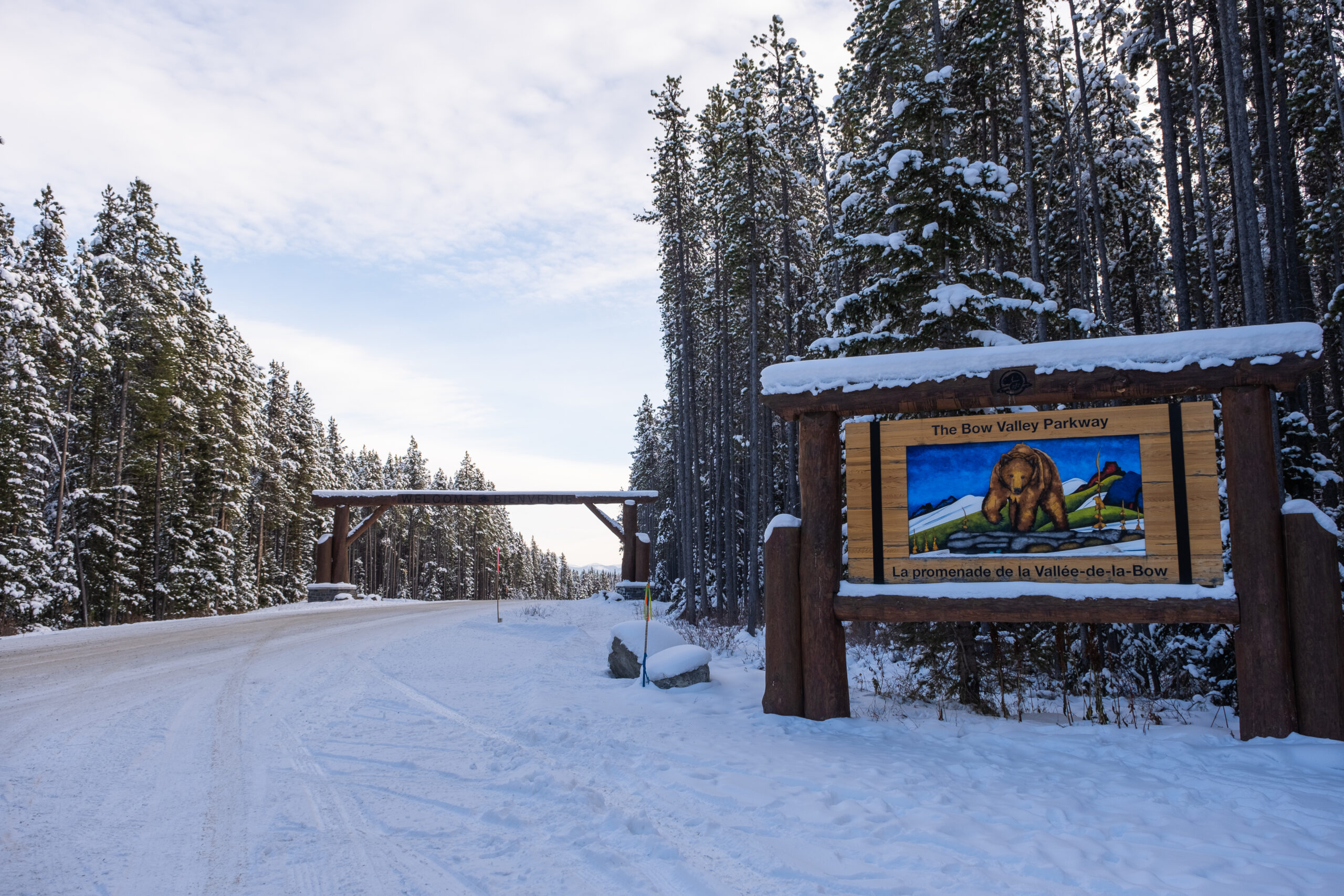 The Bow Valley Parkway in the winter is fun to drive. Especially just after a fresh snowfall when the trees are absolutely covered in white. The road is much quieter in the winter and makes me fall in love with the drive even more.
---
57. Snowshoe Back to Sundance Lodge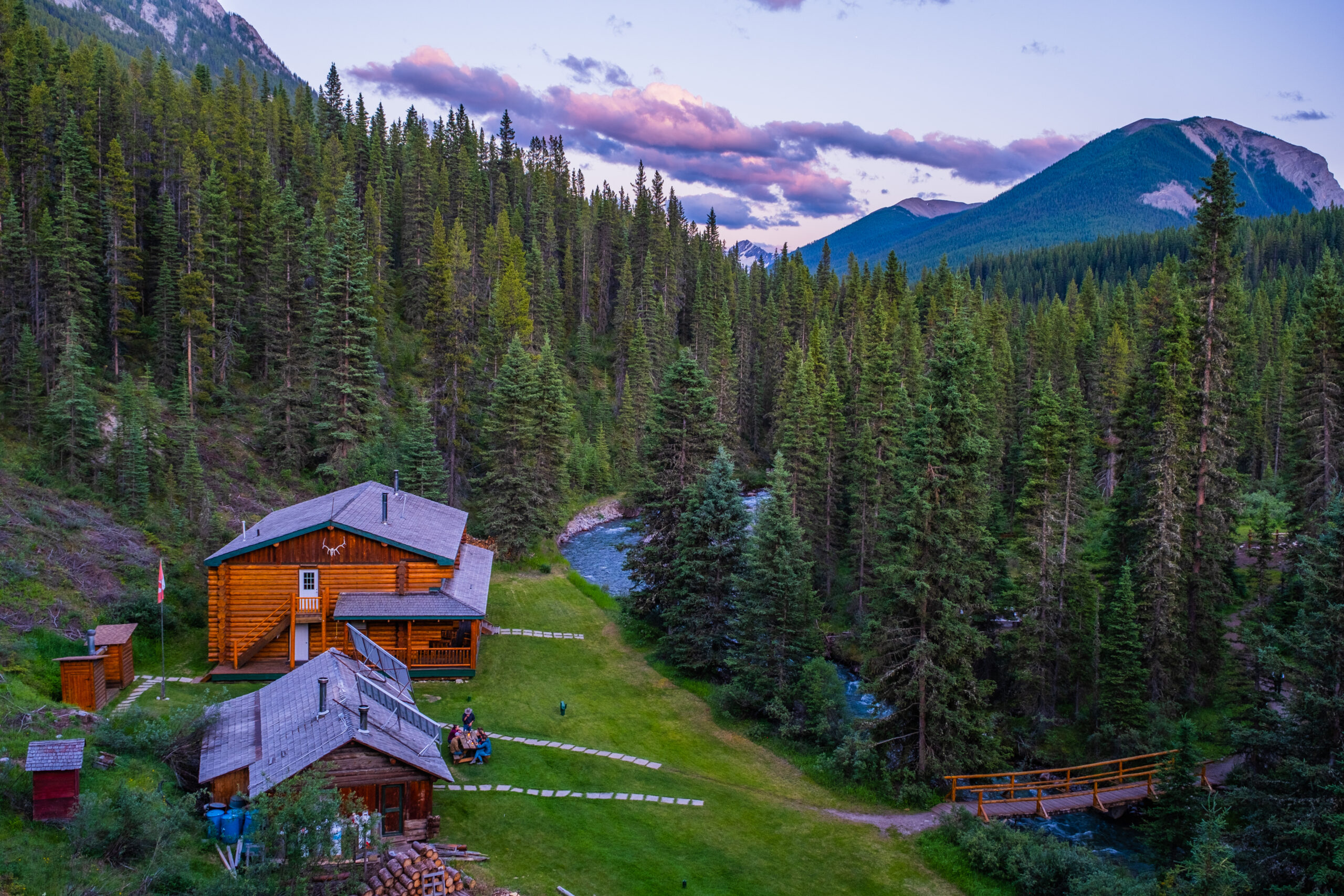 Sundance Lodge is a beautiful cabin in Banff managed by Discover Banff Tours. In the winter it's possible to snowshoe back to the lodge and stay overnight!
---
58. Enjoy a Mountaintop Christmas from the Top of Sulphur Mountain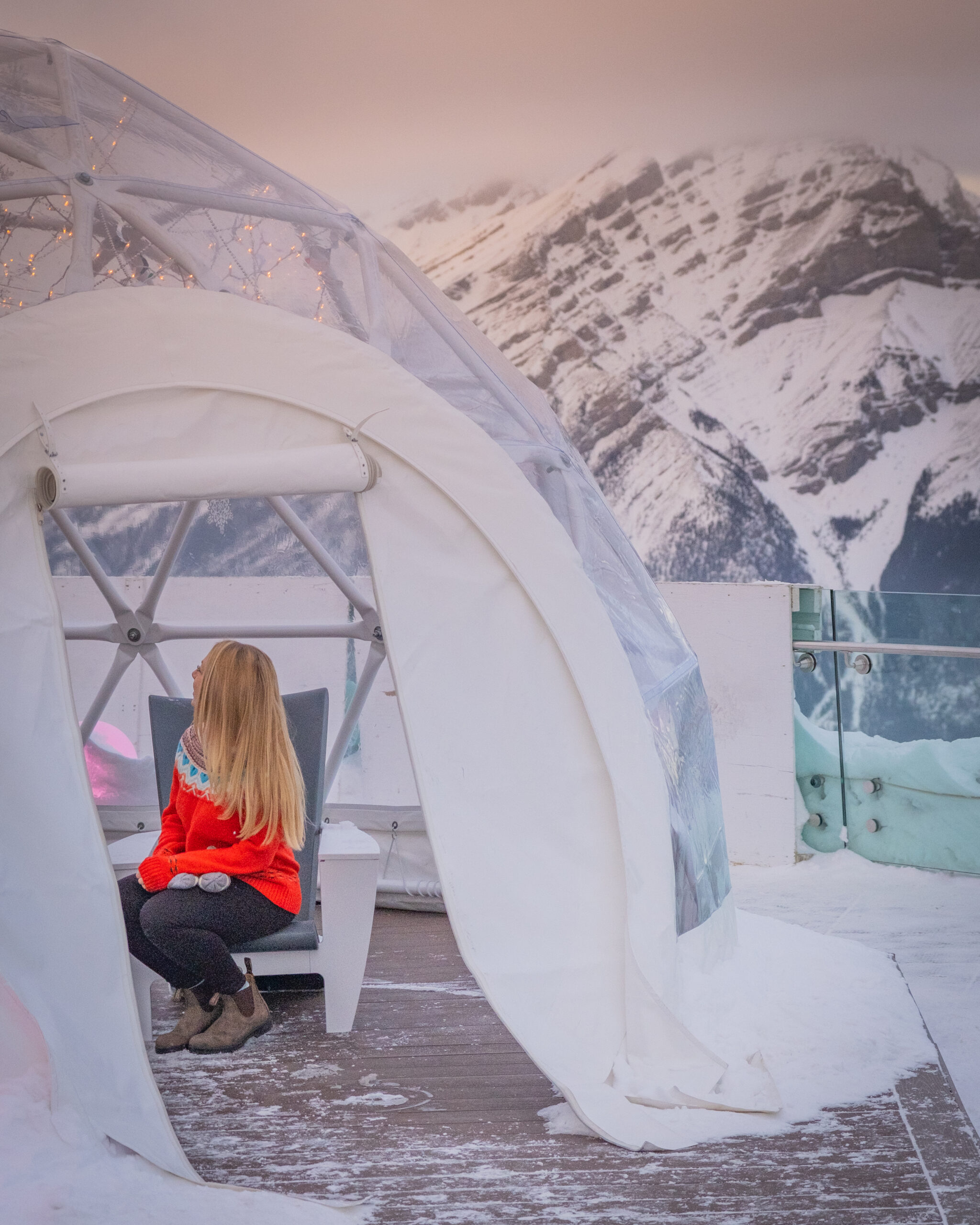 If you're spending the holidays in Banff you are fortunate. The town hosts plenty of fun events to make the season magical. One of my favorite events is the Mountaintop Christmas on top of Sulphur Mountain. Santa, cookies, and even adult Christmas cocktails await you!
---
59. Catch the Train at Morants Curve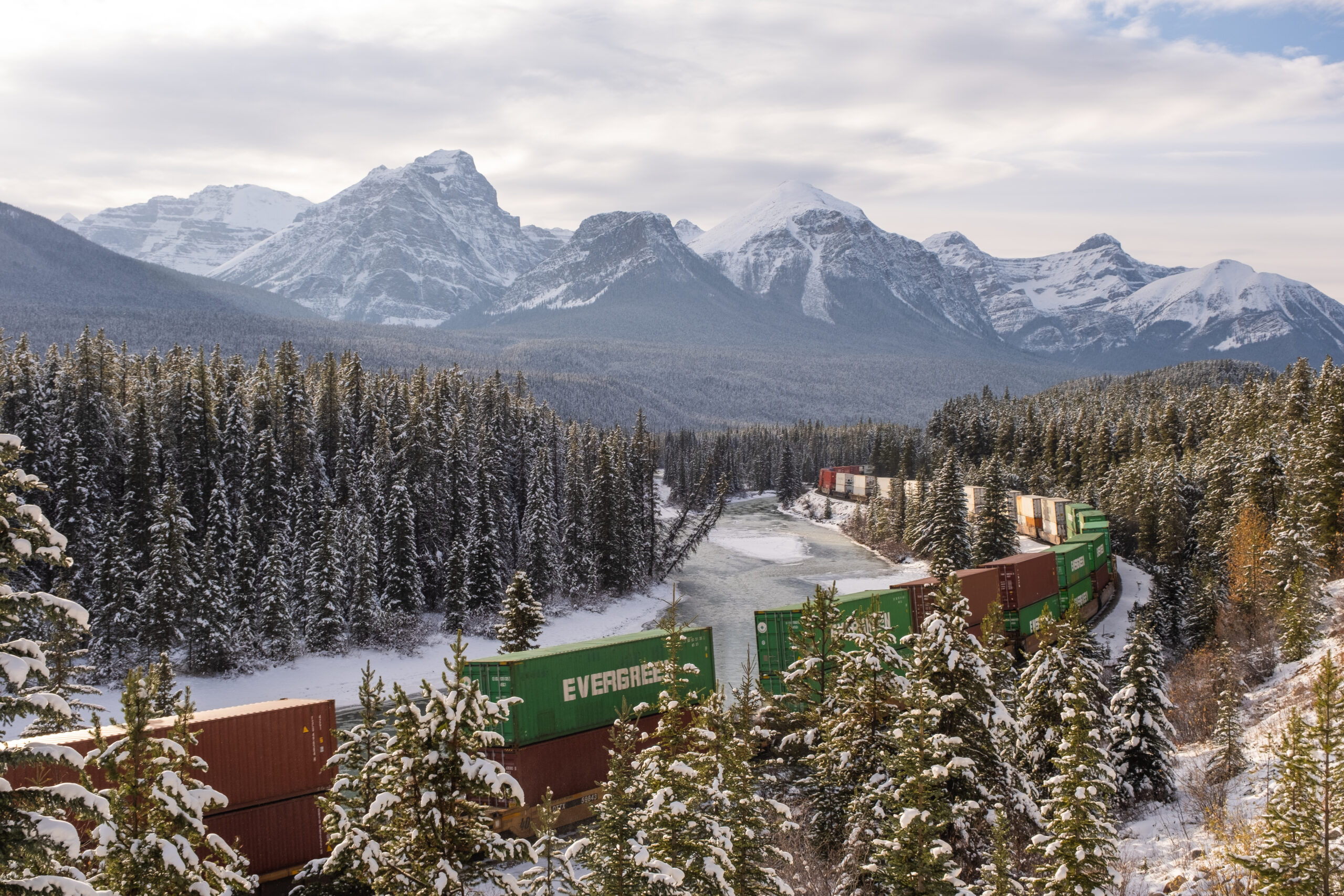 Morant's Curve is one of the best photography spots in Banff. It's a scenic overlook along the Bow Valley Parkway. The train tracks run right beneath it and if you are patient and are there at the right time you may even catch the train for the perfect photograph.
---
60. Catch the Stellar Winter Sunsets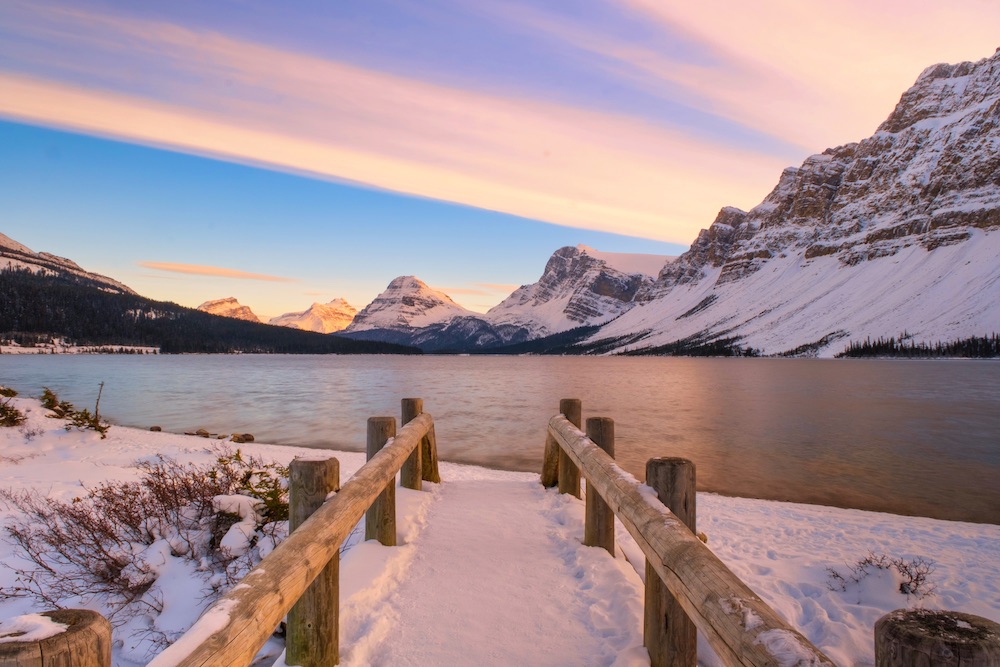 Because the mountains are so tall and so abundant it can be hard to get great sunsets in Banff. However, in the winter you can get some really good ones. Keep an eye on the clouds, if you see funicular clouds during the day you know for sure you have an awesome sunset is coming.
---
61. See the Ice Sculptures at Lake Louise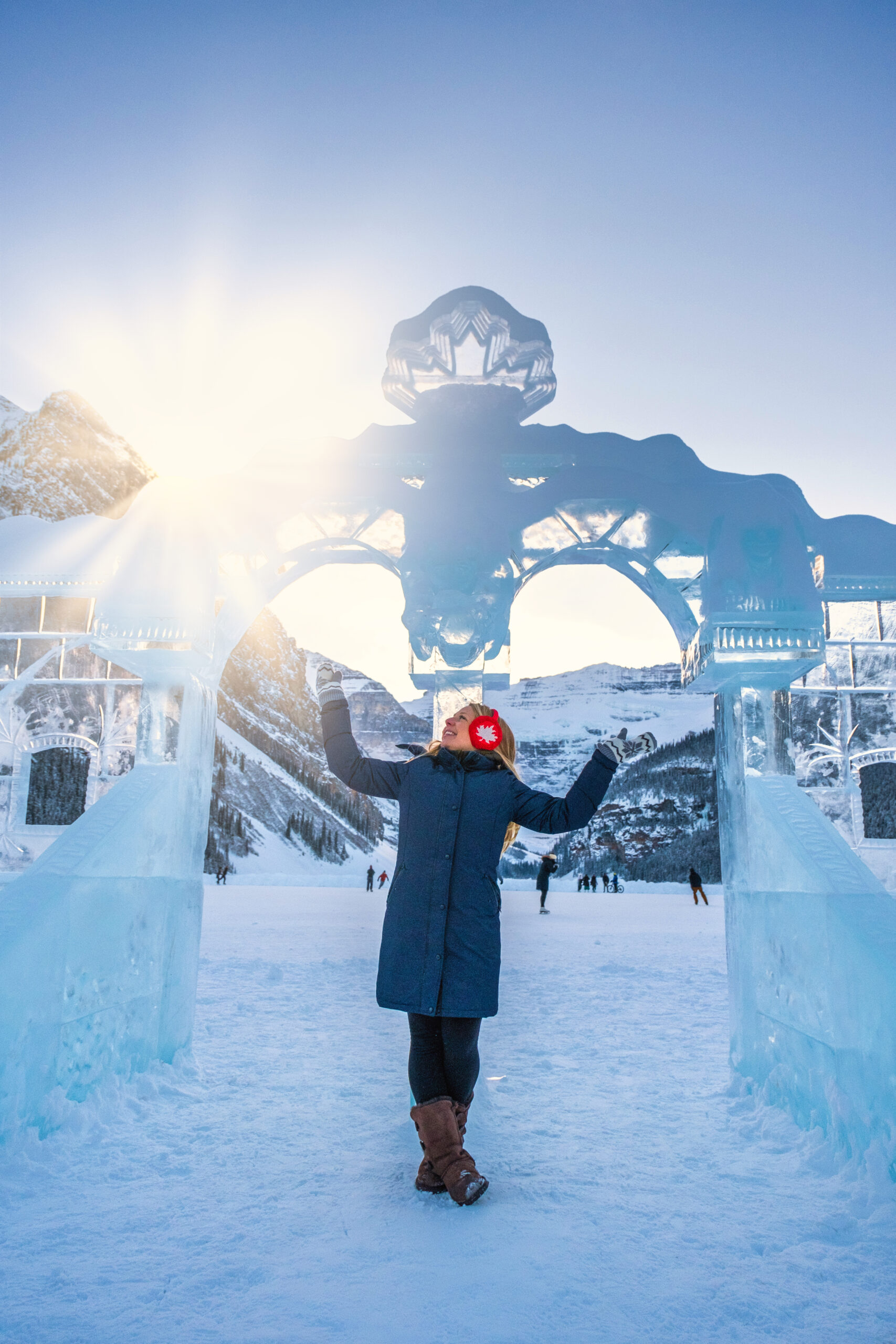 For 12 days around January 15 – 26 (check dates first though), there is a very special event at Lake Louise. The Ice Magic event is what winter in Canada is all about. This is where ice comes alive and serves as a form of art and architectural design. During this time you can watch artists from around the world carve different frozen figures.
---
62. Enjoy Christmas at the Castle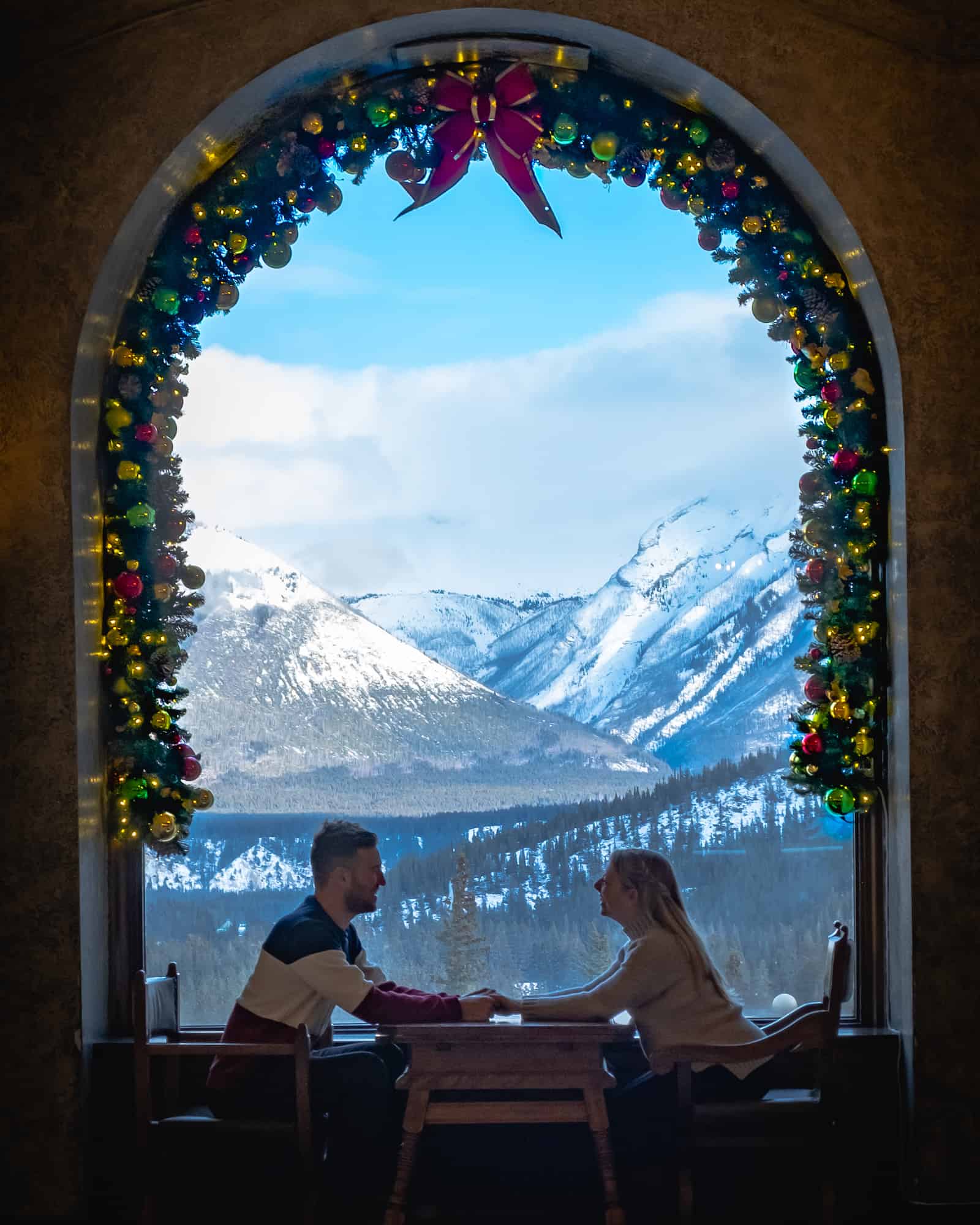 You've seen the castle mentioned a few times in this post, and yes I'm still referring to the Banff Springs Hotel. During the Christmas season, they decorate the whole castle into a Christmas wonderland. Nonguestts can go in and take a look around!
---
63. Take a Sleigh Ride Down Banff Ave
I don't think there's a more magical place in the world to take a horse-drawn carriage ride than in Banff. Specifically downtown Banff, down Banff Ave during the holidays under the lights!
---
64. Enjoy the Fire at Lake Louise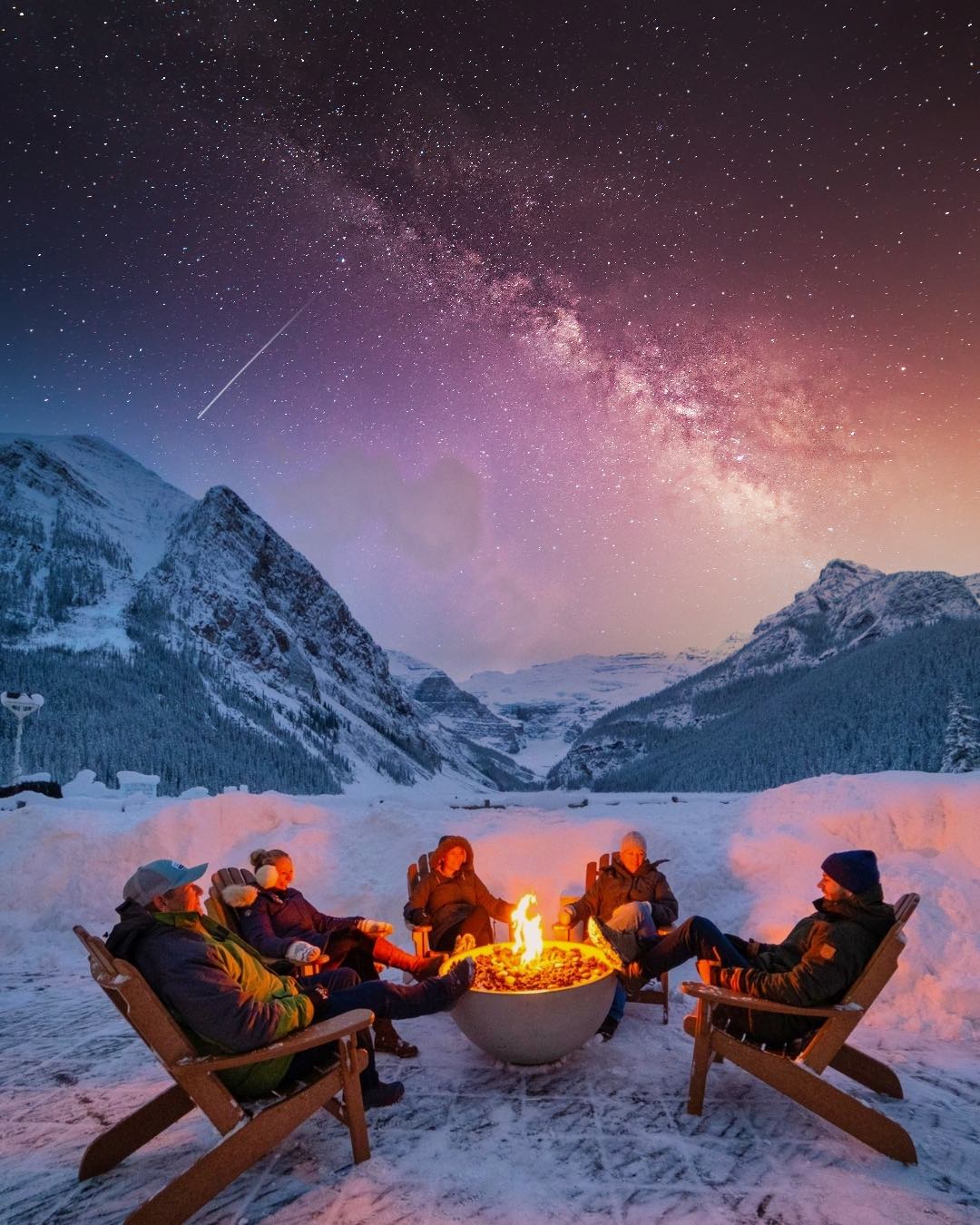 Head to Lake Louise in the winter to enjoy a perfect fire under the stars. You can dip inside the Chateau for some hot chocolate if you get cold.
---
65. Enjoy a Hot Chocolate from Wild Bark Cafe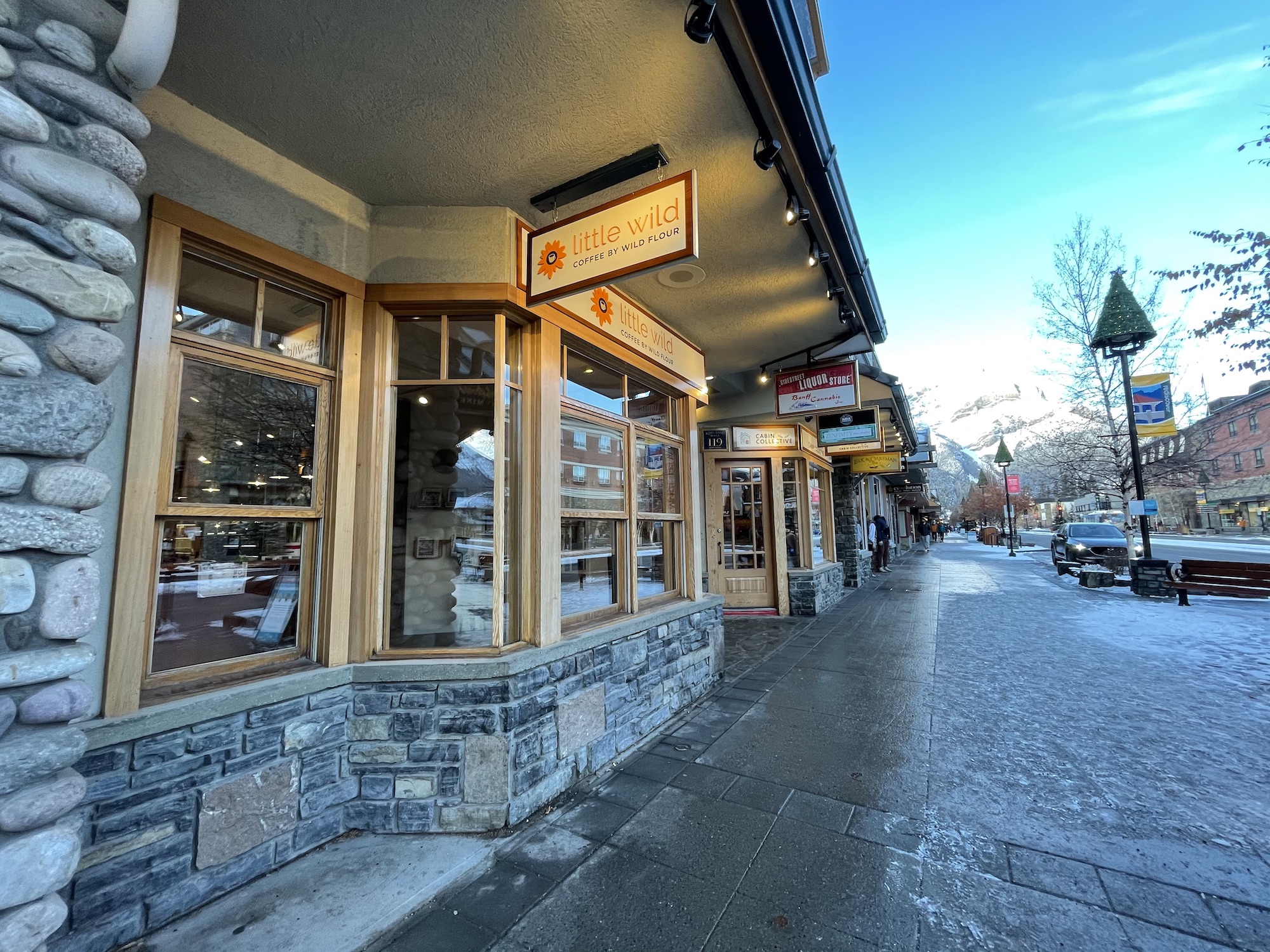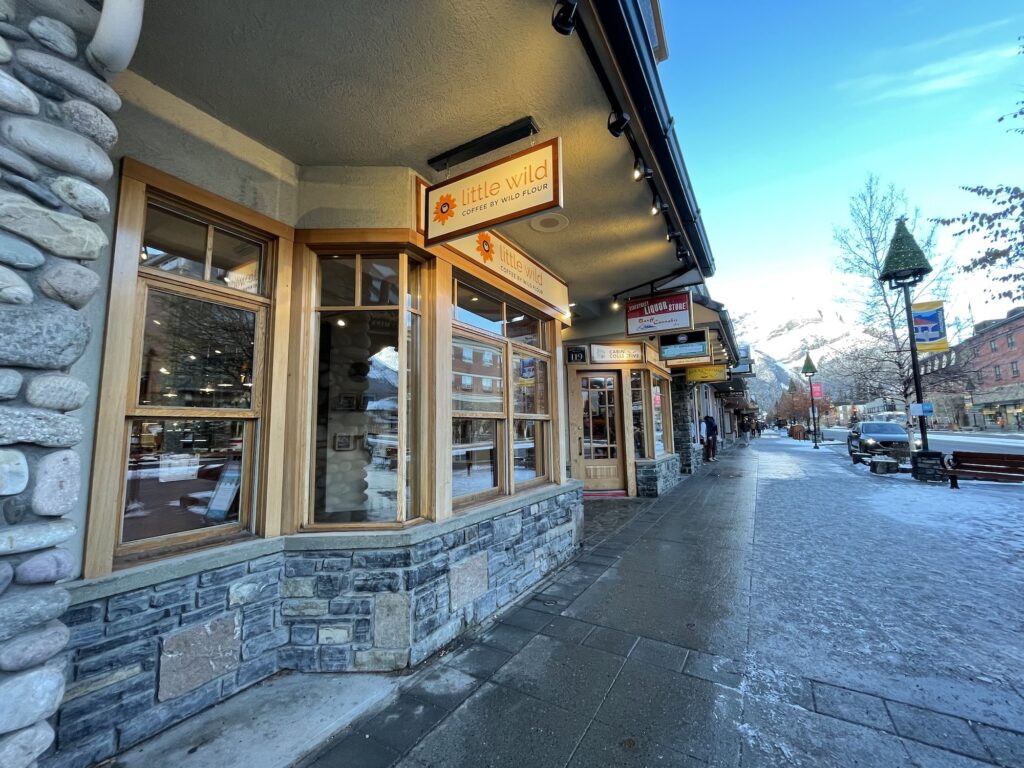 There's really nothing better to do during winter in Alberta than drink a hot chocolate. There's even a "hot chocolate trail" in Banff where you can drink some of the best hot cocoas in the Rockies. My favorite is at Wild Bark Cafe and Seed and Salt!
---
66. See the Frozen Bow Falls
Bow Falls is a major waterfall on the Bow River and can be seen right outside of town. From December to March/April you can expect to see them frozen.
---
Things to do in Canmore
---
67. SUP on the Canmore Reservoir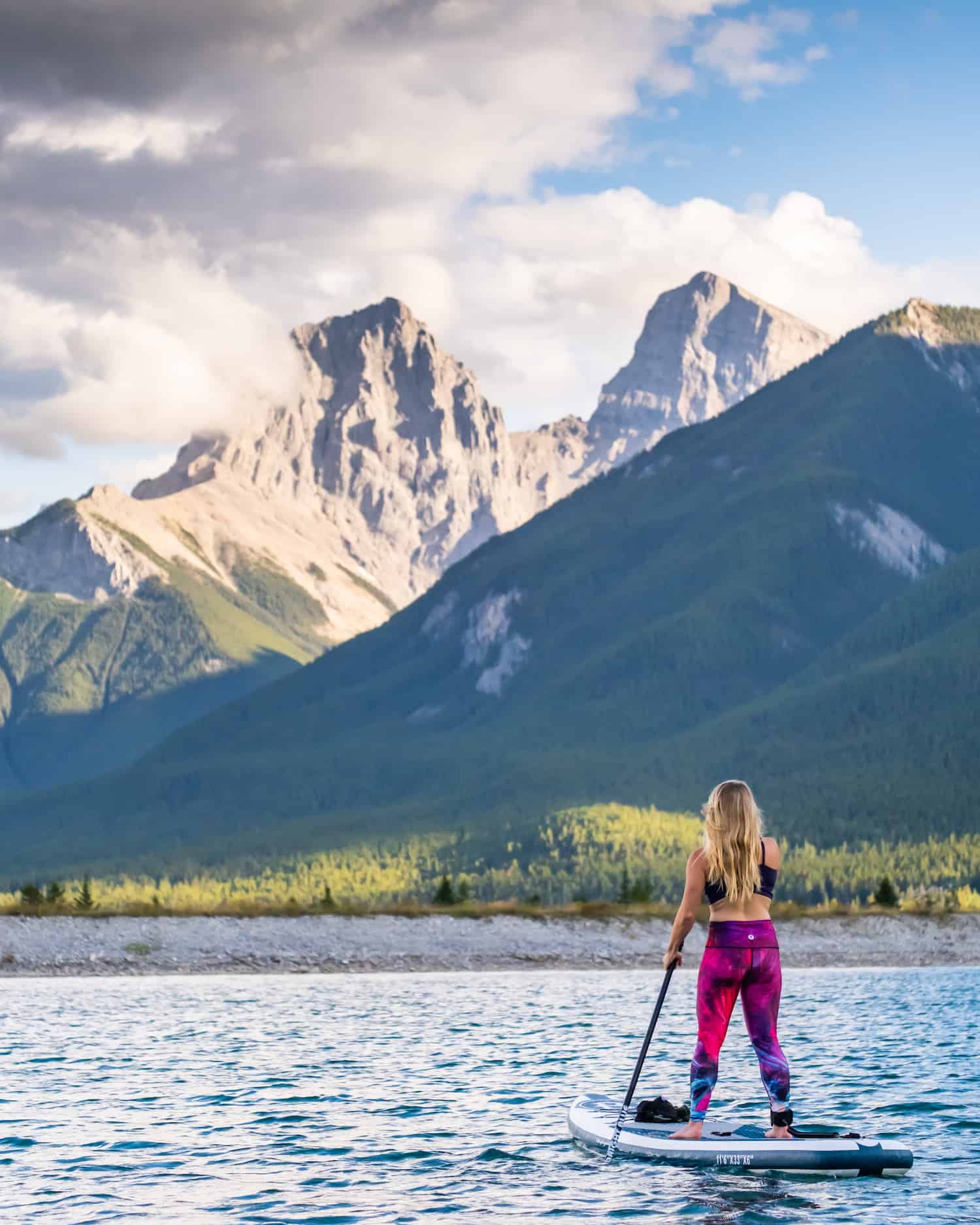 This is a local's favorite thing to do as it's so close to town. Taking a stand-up paddleboard out on the calm Canmore Reservoir while the sun sets is one of the things I love to do in the Canadian Rockies the most. There's a great spot to access the water easily especially if you are bringing a canoe, paddleboard, or kayak.
---
68. Take in the Views of the Three Sisters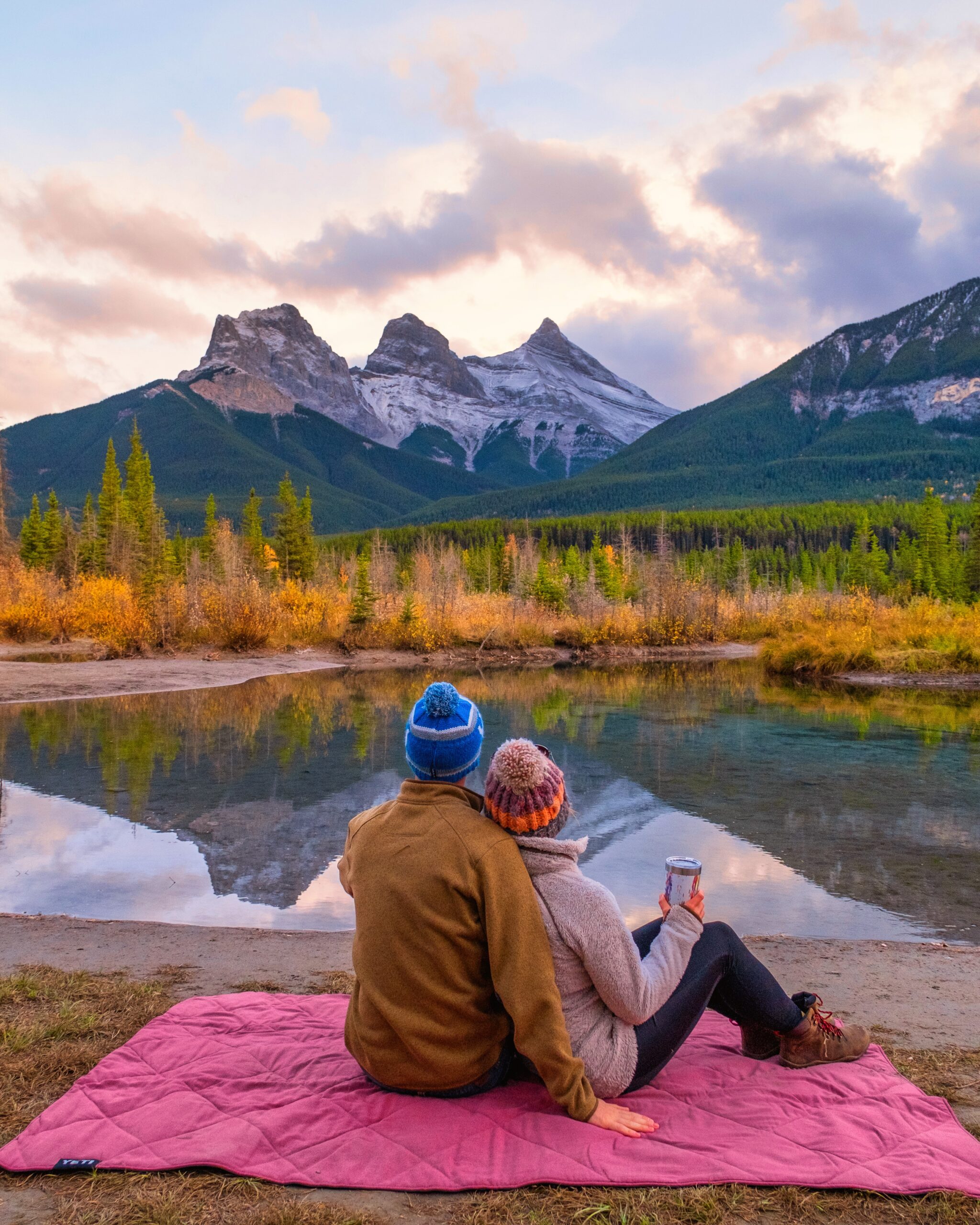 You can get the views of the famous Three Sisters Mountains from just about anywhere in Canmore. Some of my favorite spots are on the pedestrian bridge over the Bow River and also from Policemen's Creek.
---
69. Enjoy the Tranquility of Quarry Lake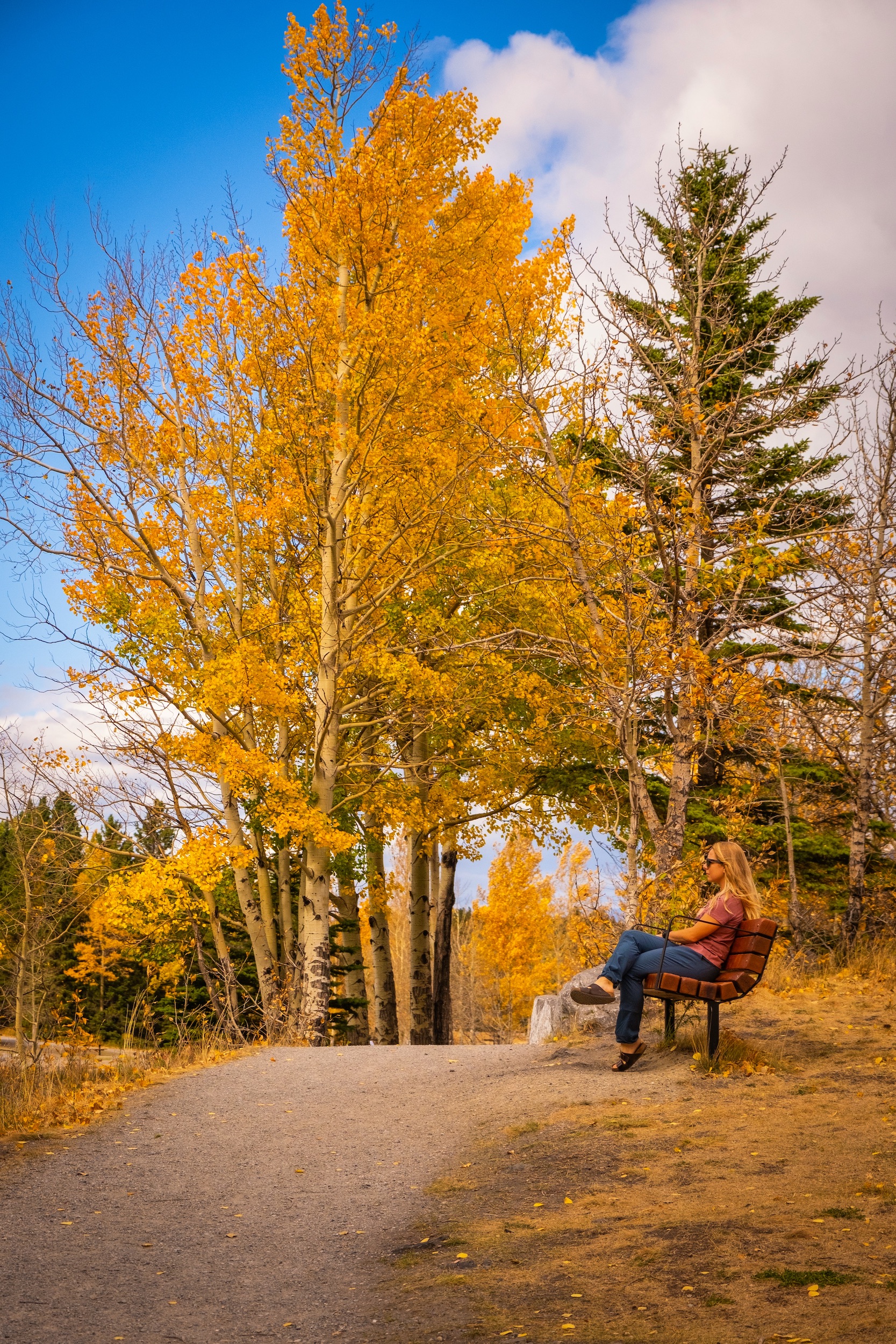 Quarry Lake is another one of those local lakes in the Canadian Rockies. It's where you'll find people walking their dogs and just enjoying the scenery. There are picnic benches and park benches to sit and look up at Ha Ling Mountain.
---
70. Mountain Bike at the Canmore Nordic Center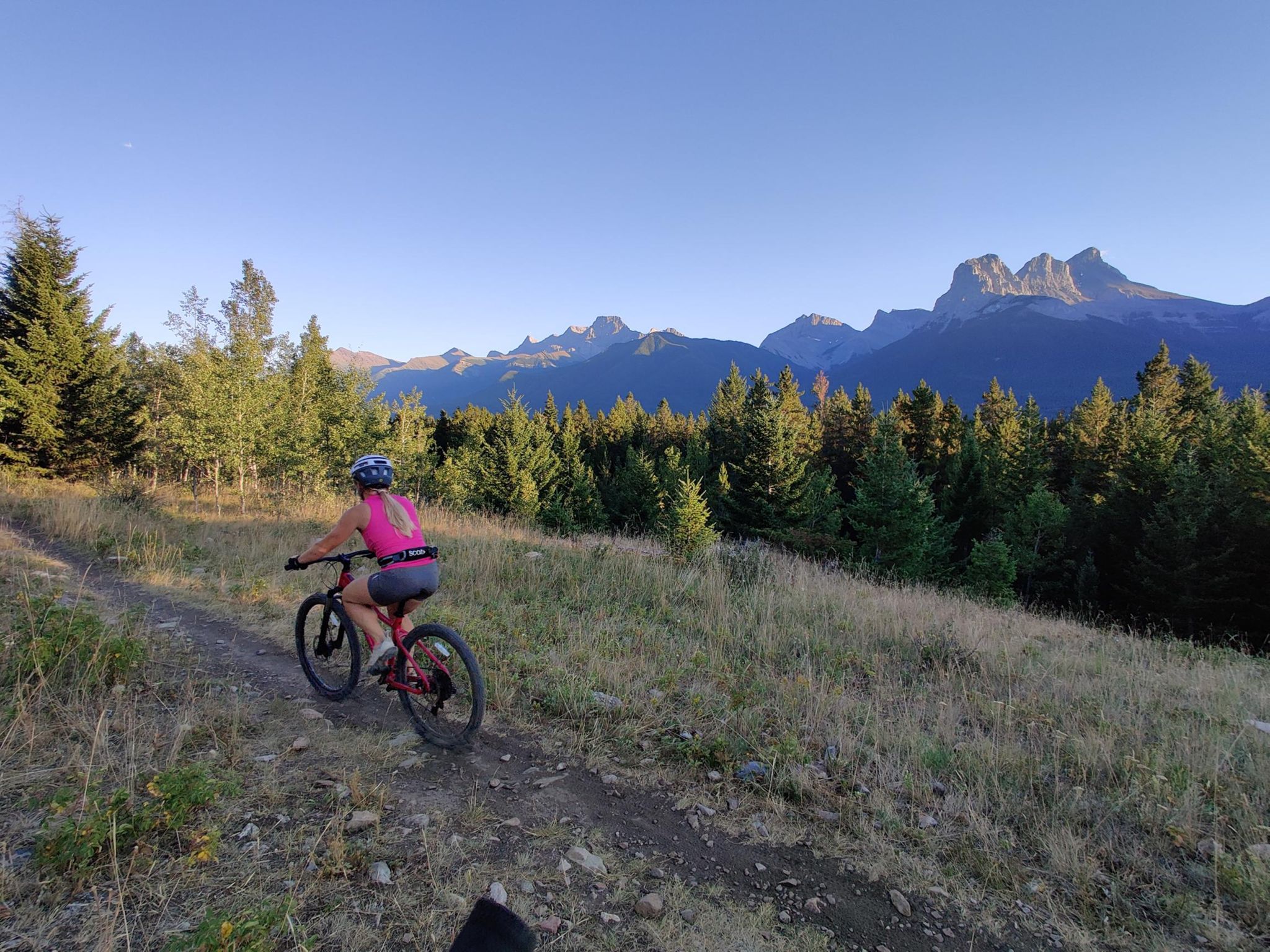 The best place to go mountain biking in Canmore is at the Canmore Nordic Center just outside of town. There are plenty of trails ranging in difficulty. They are all well maintained and enjoyable. My favorite trail is the Odyssey trail.
---
71. Enjoy the Shops of Main Street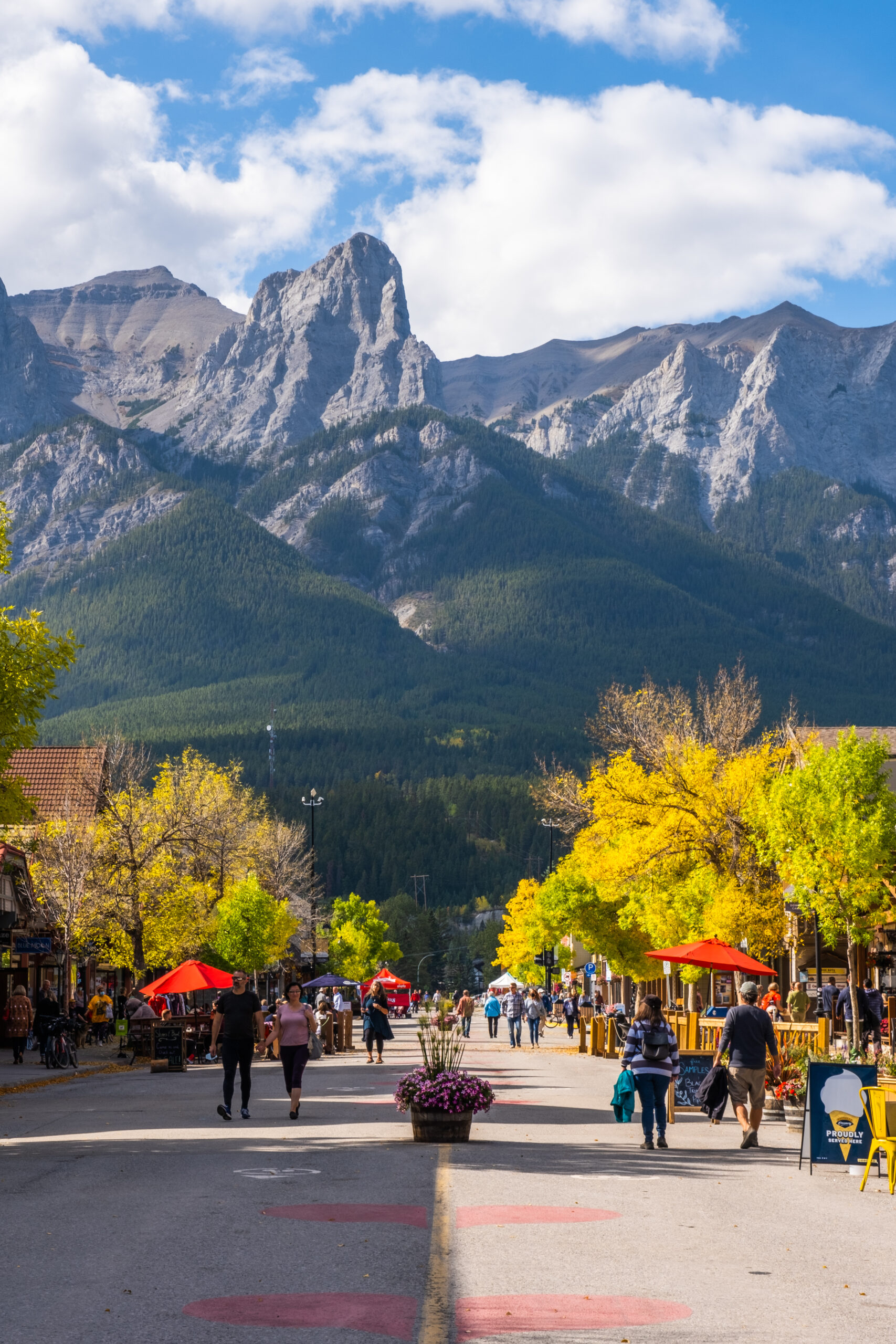 Main Street, or 8th Street, is well…the main street of Canmore. It's where you'll find many of the boutique shops, cafes, and restaurants that make up the town. I love walking up and down the main street in both the winter and summer. It's much quieter than nearby Banff. Make sure to check out Eclipse for a delicious coffee.
---
72. Have a Beer at the Legion
The Royal Canadian Legion is the Veterans organization in Canmore. Anyone can visit for an affordable beer, lunch, and just to sit outside and enjoy the day on their patio.
---
73. Enjoy the Views of Ha Ling From Below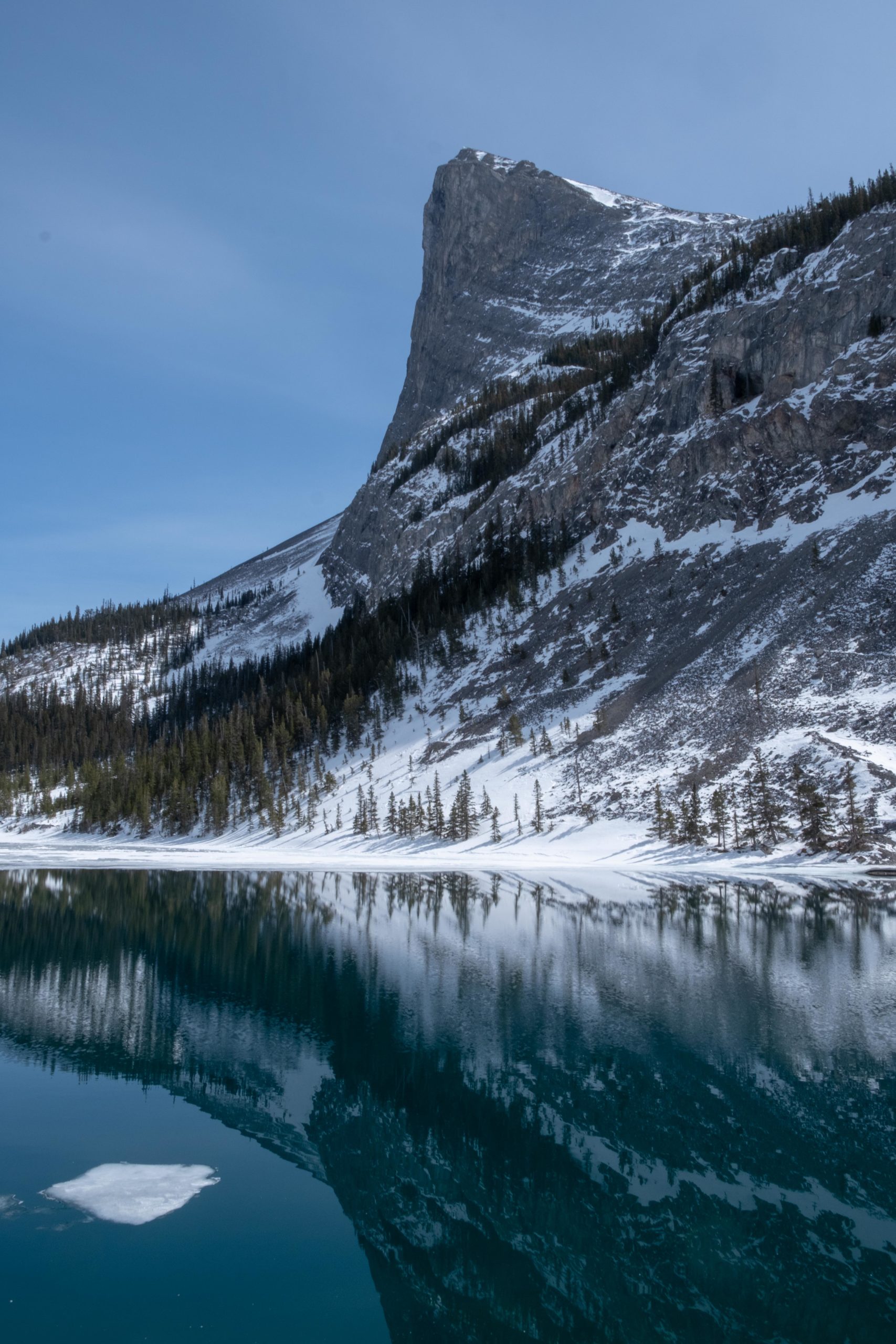 Ha Ling Peak is one of the most iconic mountains in Canmore. Its peak stands out among all the others. One of my favorite places to sit and enjoy the views is the Canmore Reservoir, Grassi Lakes, and Whiteman's pond.
---
74. Climb Ha Ling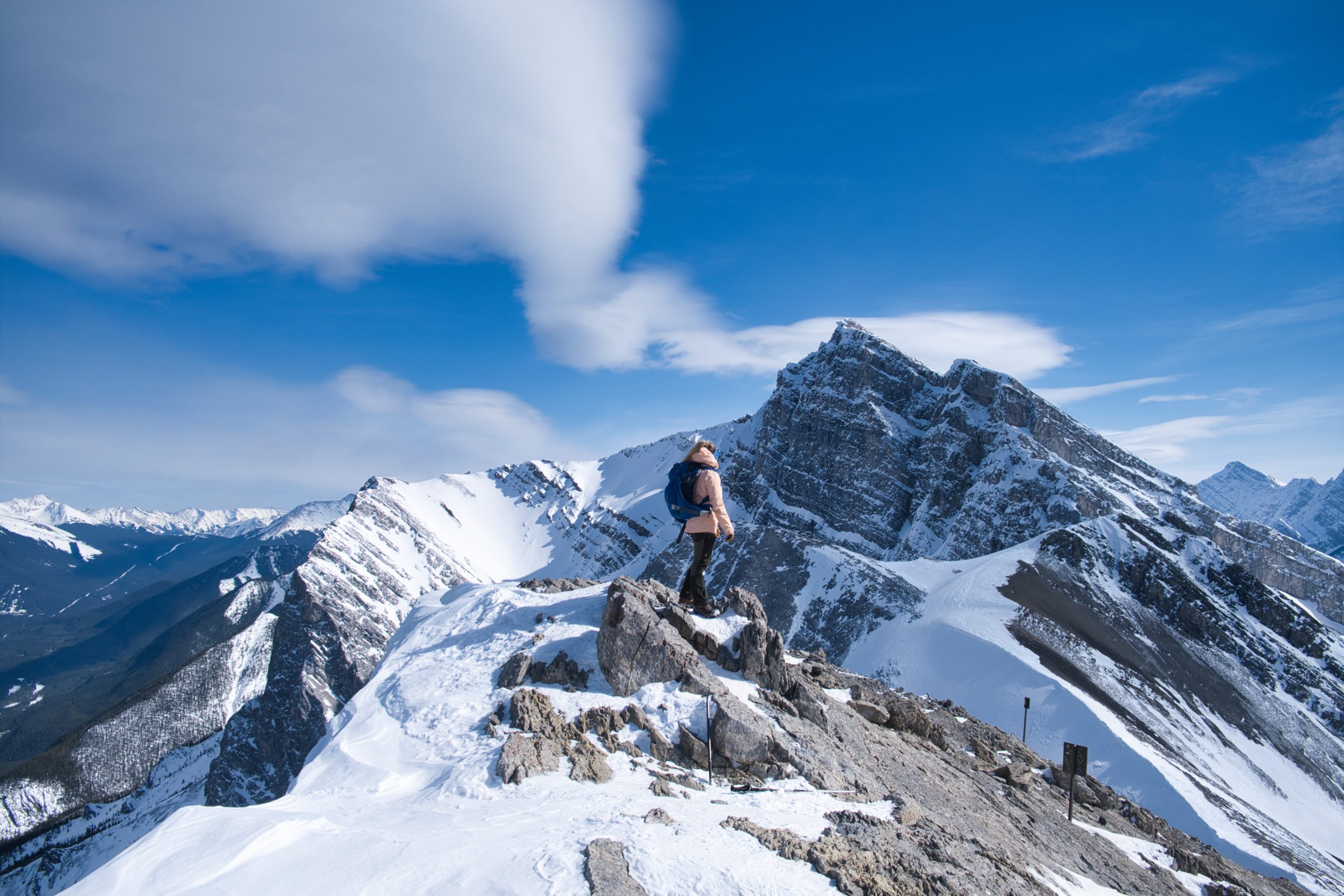 If you want a little activity it's best to start hiking the mountains rather than looking up at them. Hiking up Ha Ling Peak is one of the best things to do in Canmore and a favorite hike in the area. It's an accessible hike that gains you serious elevation. Once at the top you'll have fantastic views over Canmore and back at Mount Rundle.
---
75. Scramble Up EEOR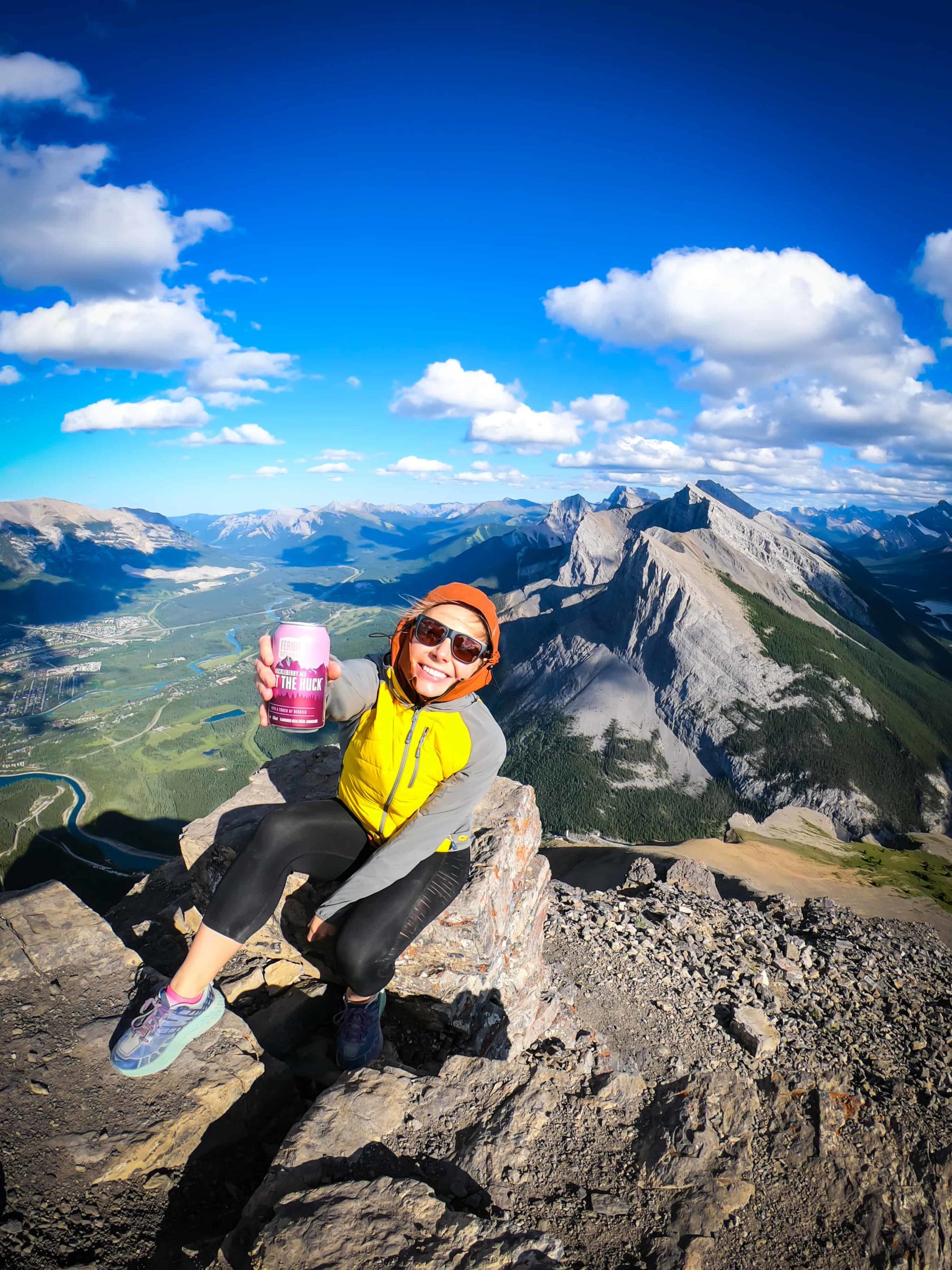 If you've hiked up Ha Ling the next mountain you should set your sights on is the East End of Rundle. It's right next to Ha Ling and is one of the most popular scrambles in the area. Beware it's a steep one that will get your heart pumping, it's also easy to get off track on EEOR so pay close attention to the trail.
---
76. Skate on Gap Lake
One of the best things to do in Canmore in the winter is hit up Gap Lake and go for an ice skate. Just make sure the ice is safe and you check the depth.
---
77. Skate on the Canmore Town Pond
If you'd rather not skate on a large frozen lake the Town of Canmore maintains the Canmore Town Pond right in town. It's not as great as skating on the wild ice, but it's safe for families and kids!
---
78. Walk the Historic Railway Bridge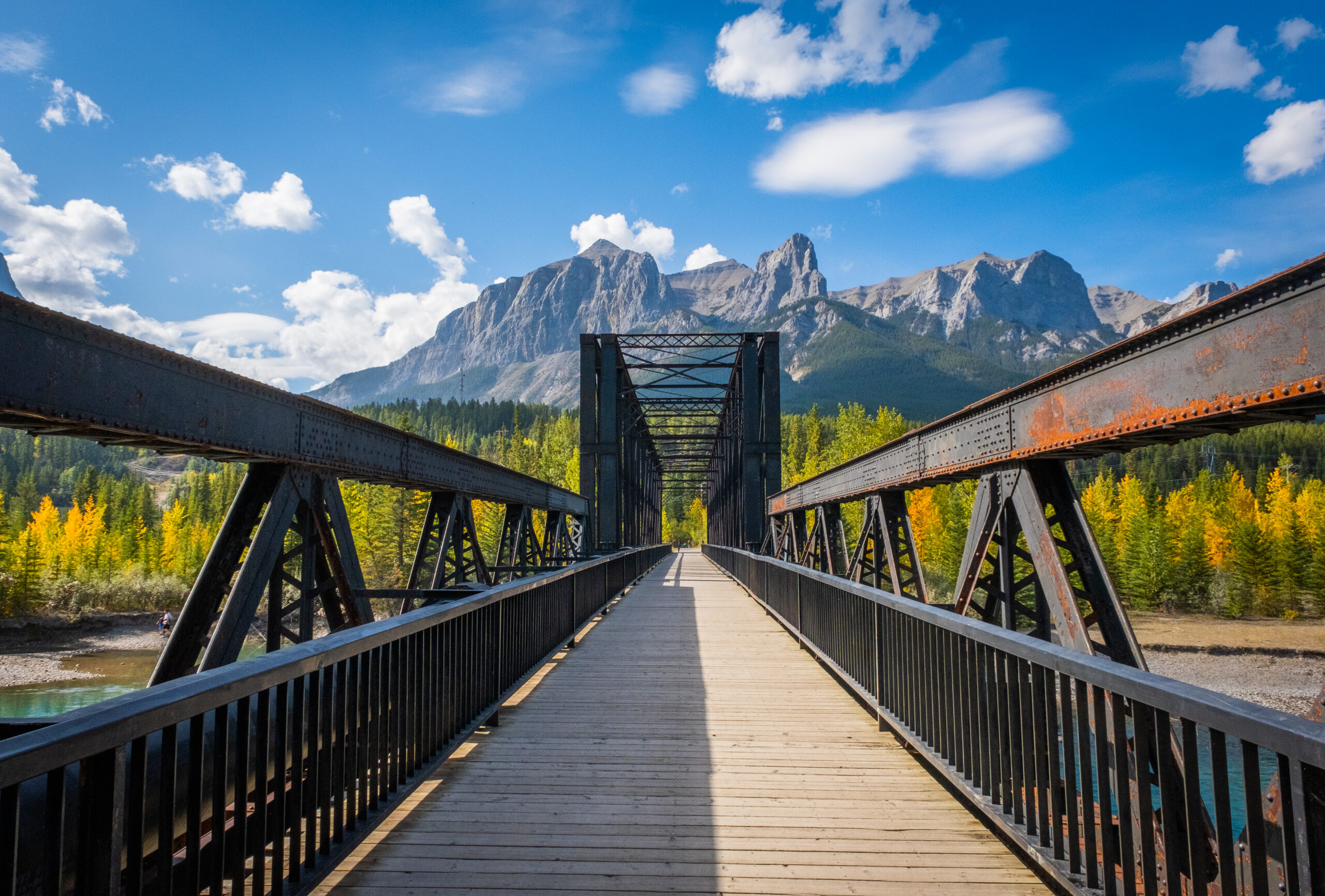 The Railway Bridge is one of the most iconic sights in Canmore. I love to walk across it and take in the views. Sometimes if you get lucky they'll be some resident elk hanging out below on the Bow River.
---
79. Spot the Canmore Bunnies
For the last four decades, a population of feral pet rabbits has hopped around Canmore. You'll likely see them if you just take a walk around downtown Canmore. Many speculate the rabbit is easy prey and draw predators such as cougars, coyotes, and bears into town.
In recent years the town council and mayor have waged an expensive war on the rabbits at a cost of $300 per rabbit. Judging by the number of young rabbits we've seen this year it's having mixed success.
---
80. Find the Giant Head
It's not hard, but if you just walk down main street in Canmore you'll see a very interesting Giant Head. He makes for a great photo stop!
---
81. Have a Picnic Along the Bow River
One of the best things to do in Canmore in the summer is sit anywhere along the Bow River, with a blanket, lunch, drink, and a book and just enjoy the views and the flowing river.
---
82. Have a Morning Coffee at Eclipse
My favorite place to grab a coffee in the Canadian Rockies is Eclipse Coffee Roasters. They roast the best coffee in the area and make fantastic lattes and cappuccinos. There are two locations in Canmore to hit up!
---
83. Hike to the Lady Mac Teahouse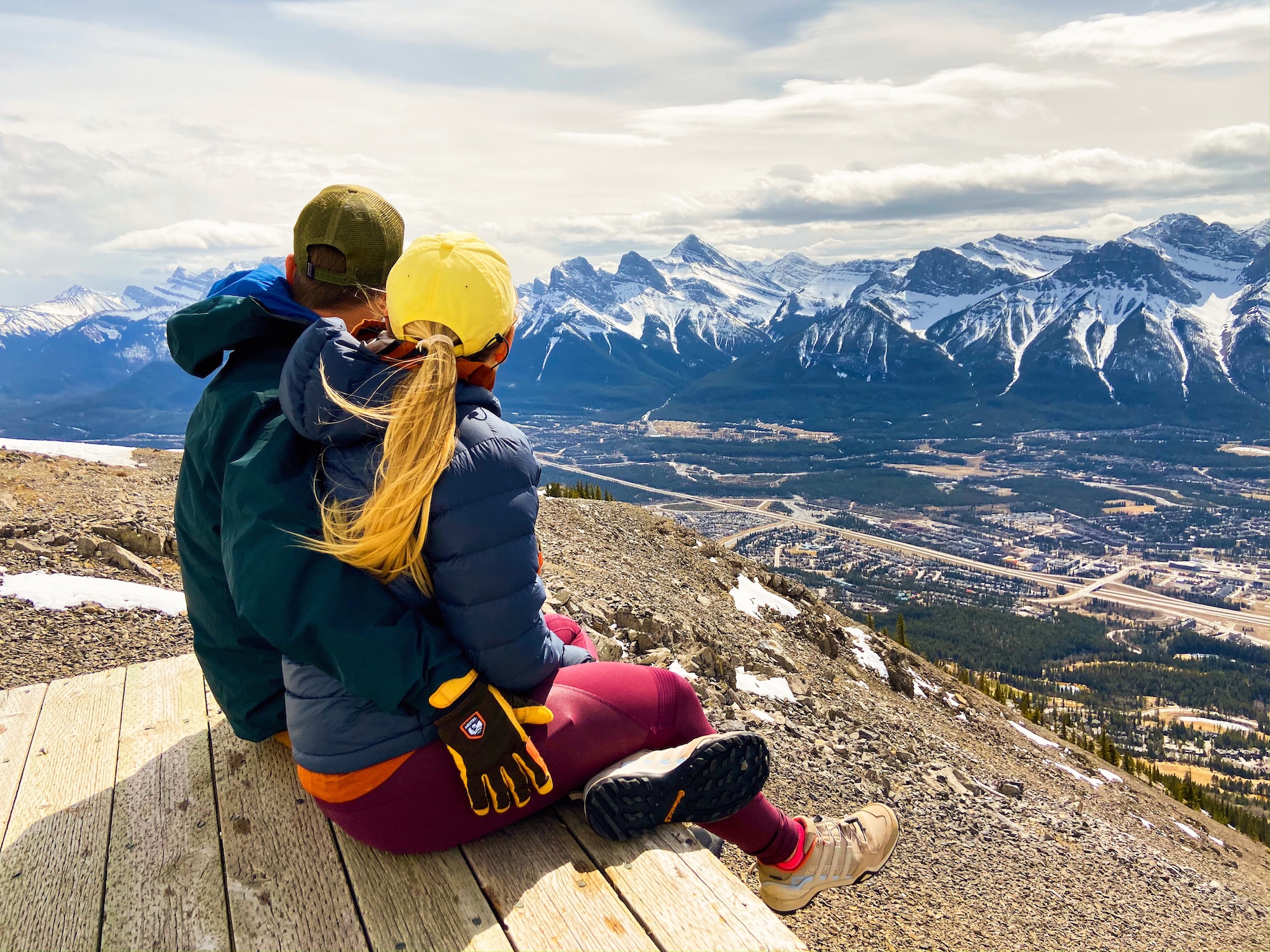 There are a number of famous peaks around Canmore that are well known for locals to the summit. Lady Mac is a wild challenger for scramblers as the ridge walk to the true summit that will make your hairs stand. However, any average hiker can make it to the Lady Mac Teahouse point, which gives you the most spectacular views of Canmore.
---
84. Take a Yoga Class at Wildheart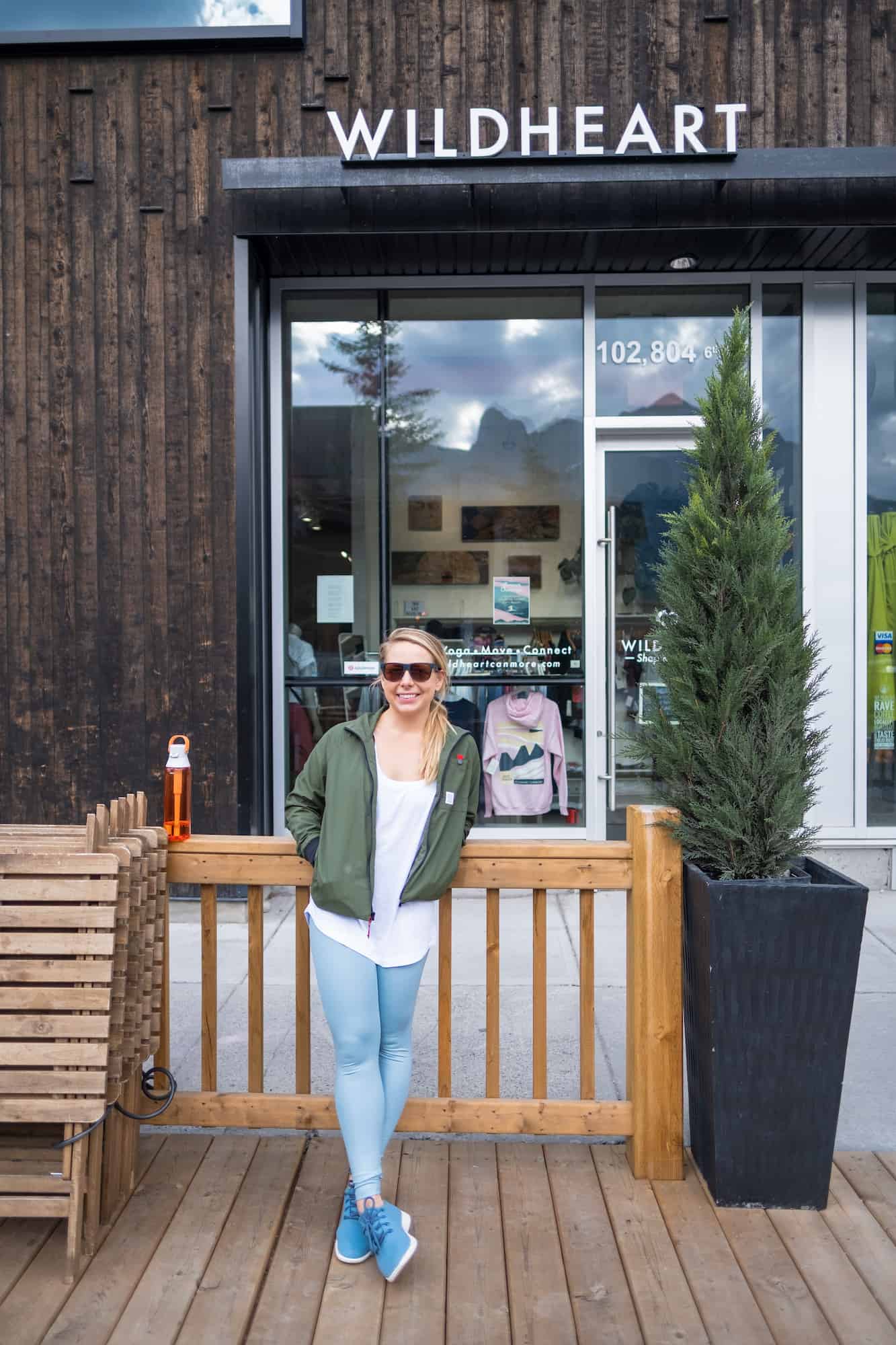 In need of a stretch? Wildheart in Downtown Canmore is my favorite place for a yoga sesh. They also have barre classes if you want to get your heart rate up a little!
---
85. Walk Through Grotto Canyon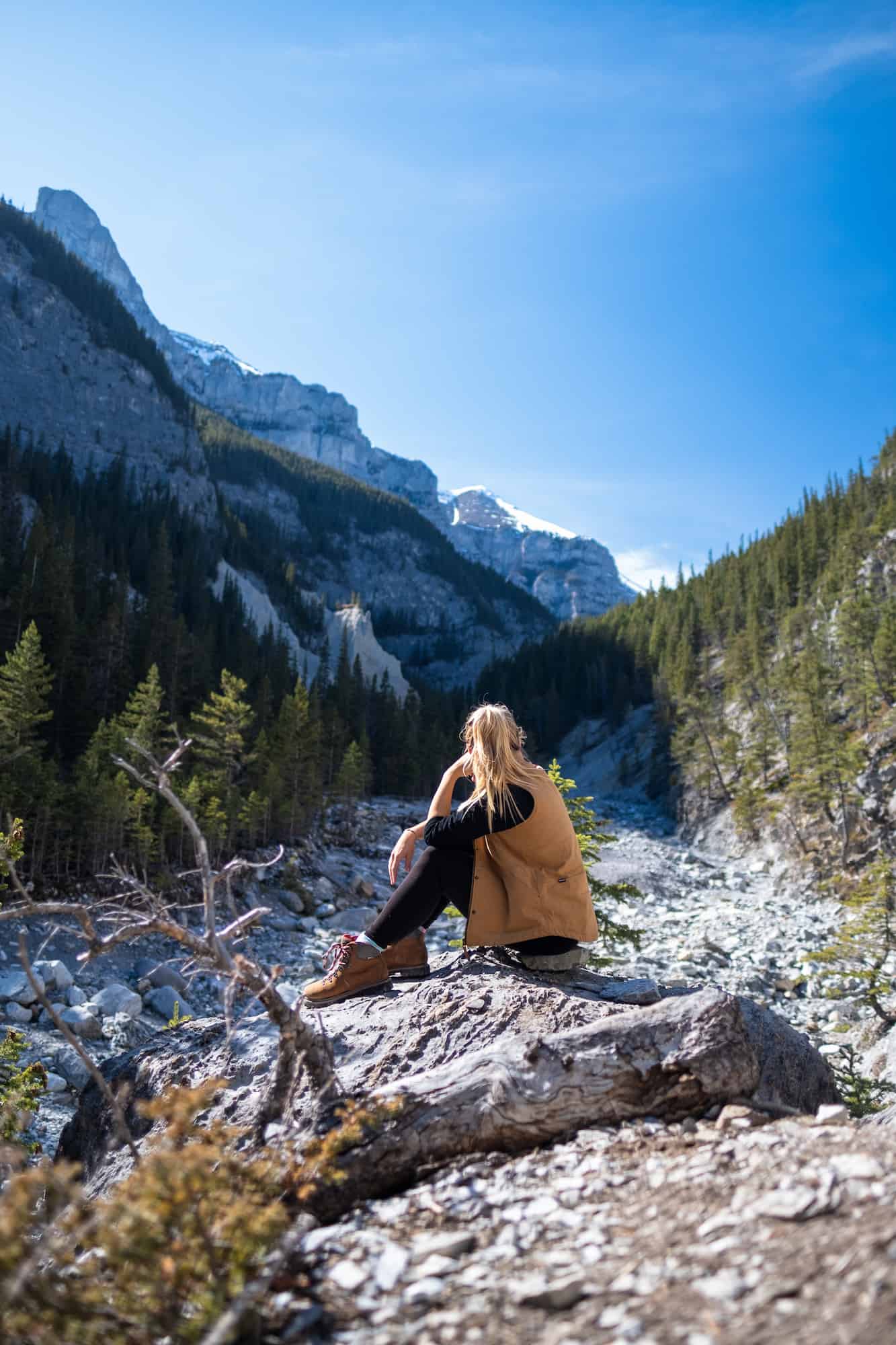 One of the best easy hikes in Canmore is Grotto Canyon. Even in the winter, this famous canyon with rock art is possible to walk along the frozen creek. In the summertime, it's popular for families seeking to enjoy the narrow slot canyon and climbers looking to scale its walls. At only 4km in length, you can check this one off the list in an hour or two.
---
86. Indoor Rock Climbing at Elevation Place
A fun thing to do in Canmore in the winter is going indoor rock climbing at the well-known rec center. They have a huge rock wall and it's perfect for beginners and intermediates.
---
87. Walk to Grassi Lakes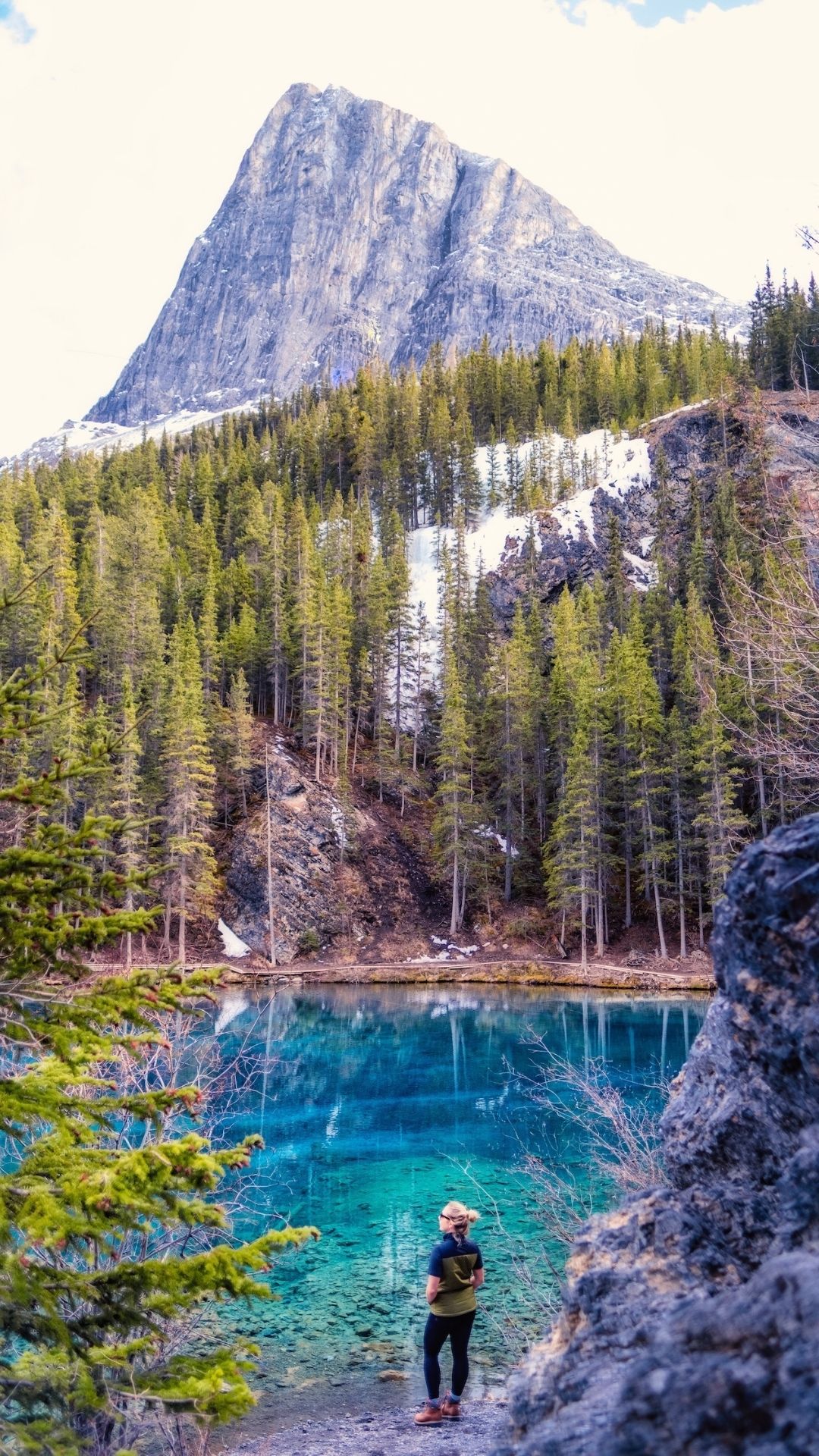 Grassi Lakes is another well-known hike in Canmore that is easy and great for all. You'll only gain moderate elevation and at the end, your reward will be stunning views over Canmore, and even better bright blue lake views that will just make you want to take a dip immediately (although that would be quite cold!)
---
88. Walk Along Policemen's Boardwalk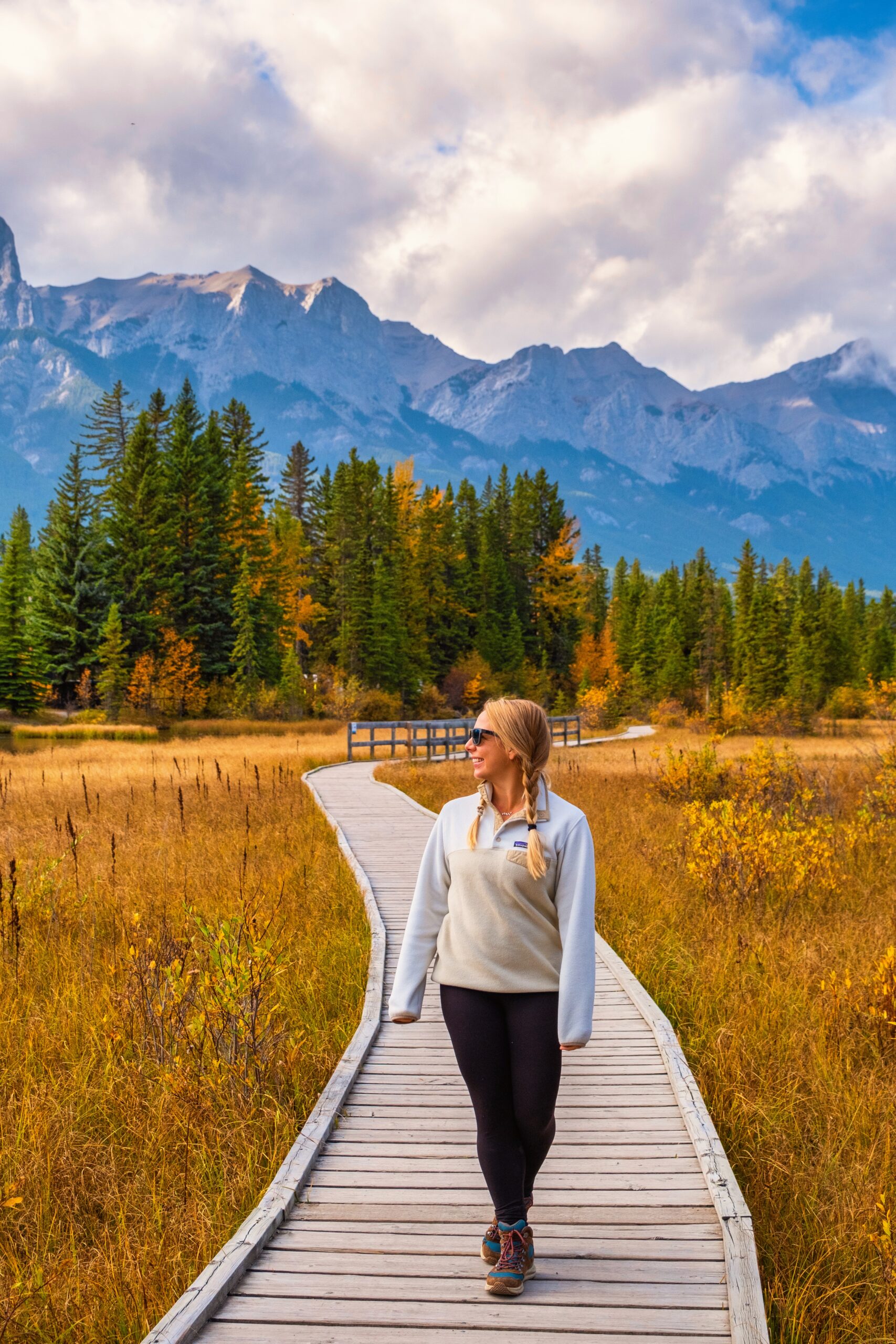 If you are wanting a nice, easy, chill walk in Canmore a great one is the Policemen's Boardwalk. It's a lovely boardwalk that is four-kilometer and well-marked, easy to follow, and will bring you right back to your starting point.
---
89. Go on a Dog Sled Tour
Howling Dog Sled tours run great tours in the winter deep in Kananaskis Country. If you're looking for a special experience in the Canadian Rockies this might be for you!
---
Things to do in Kananaskis Country
---
90. Ski at Nakiska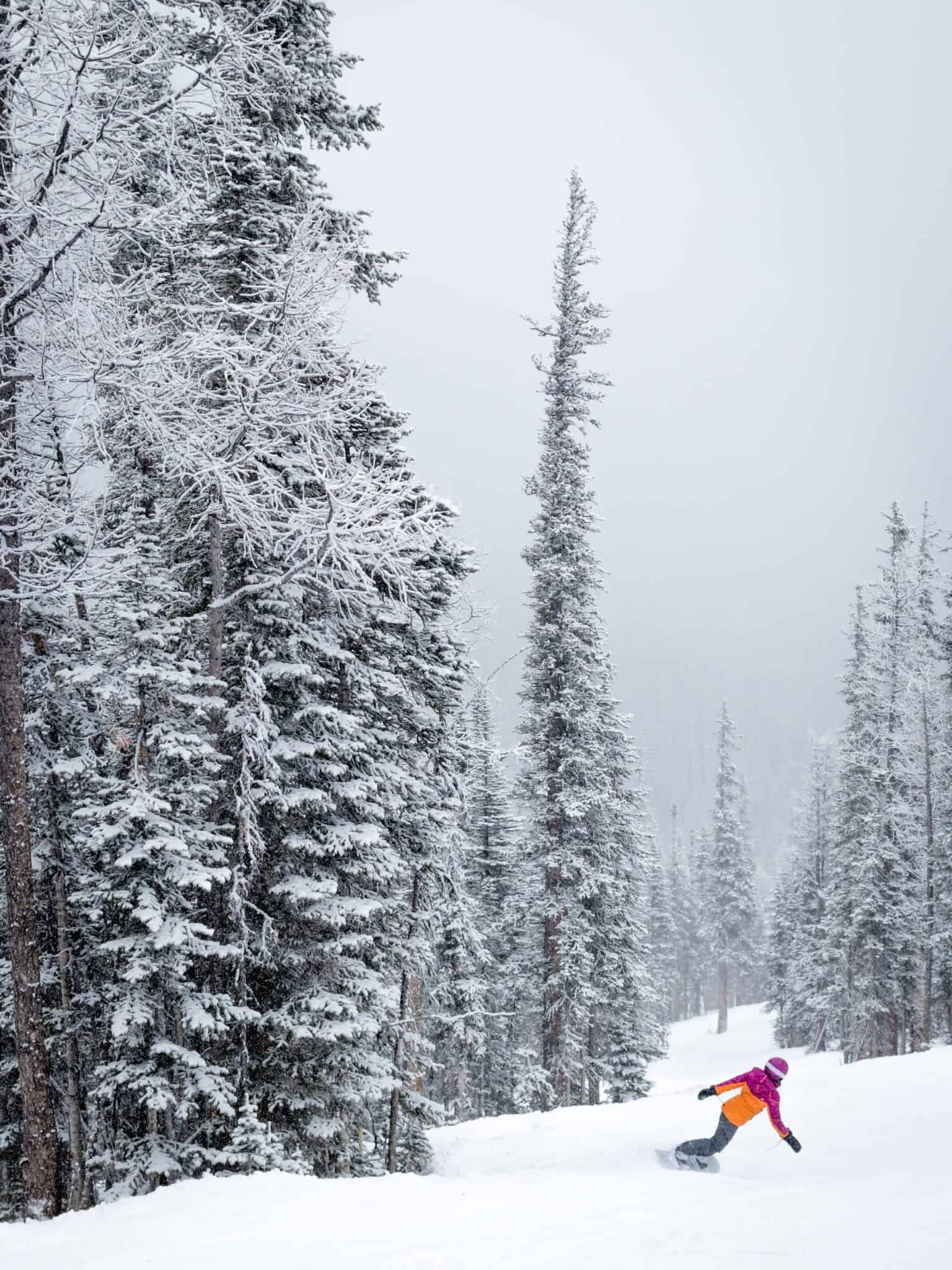 Nakiska Ski Resort has family-friendly terrain in Kananaskis Country. It's a great alternative for beginner and intermediate skiers compared to Banff Sunshine and Lake Louise. I love Nakiska, as there's typically not a soul around on the weekdays. They also have some fun tree skiing and long cruiser groomers.
---
91. Paddle on Goat Pond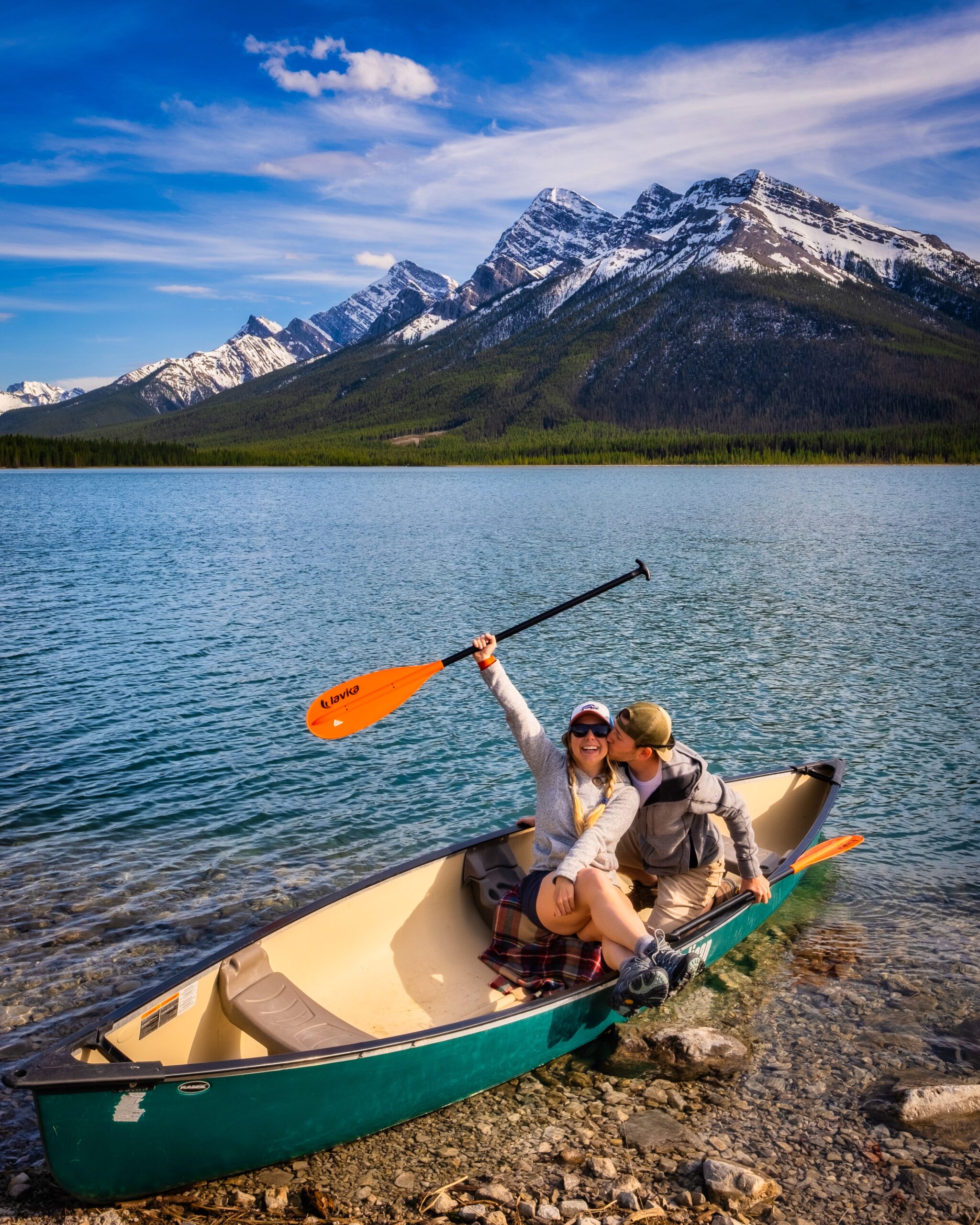 Whenever I'm looking for a nice activity close to Canmore I'll head to Goat Pond. It's a great place to bring a Canoe or Kayak as there is super easy access to get your water device in. Goat Pond is typically calm and enjoys lots of sunlight with majestic mountain views. It's also a great alternative when the other lakes in Banff are busy in the summer. A bit of a local secret!
---
92. Ice Skate on Spray Lakes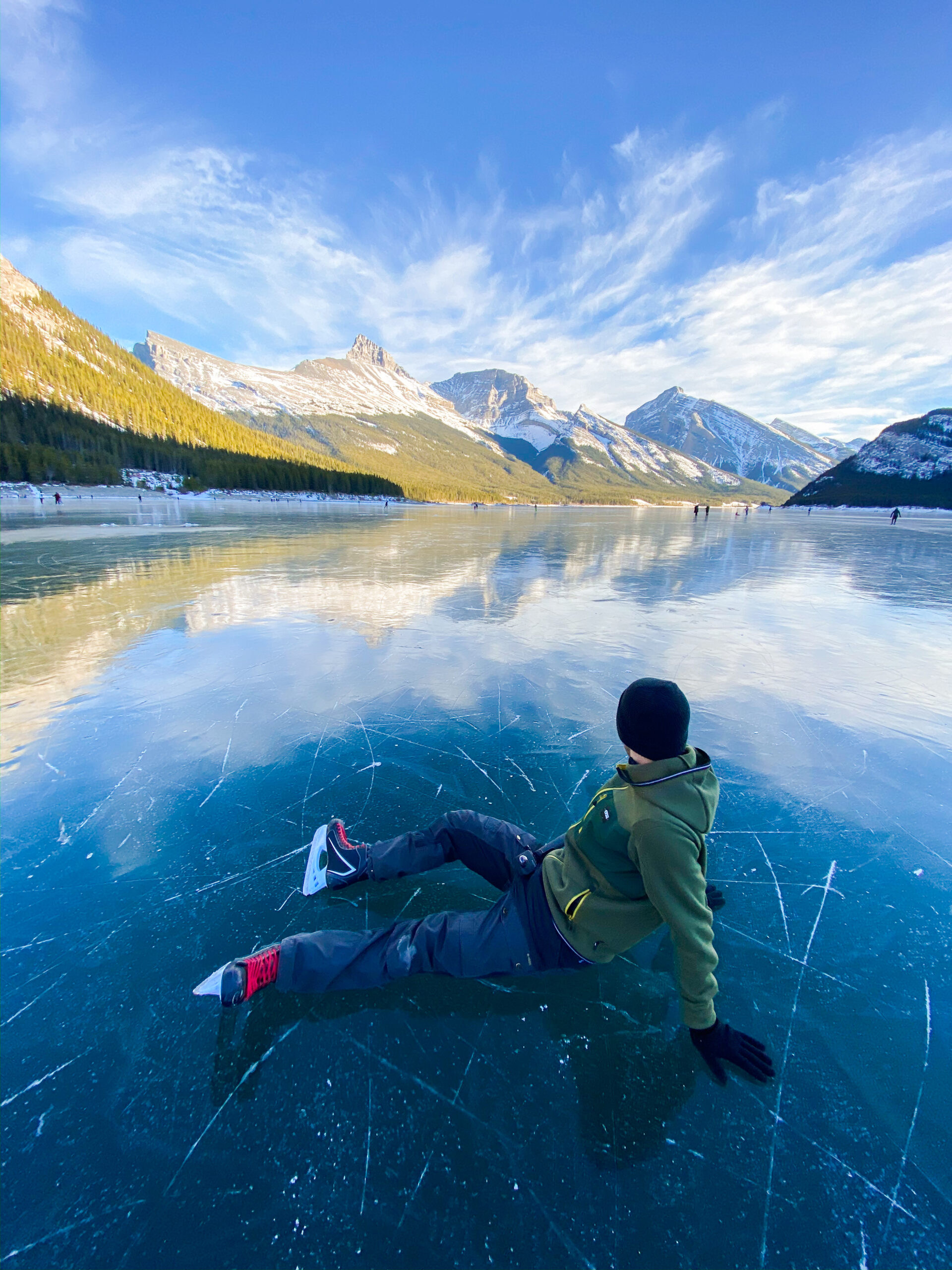 Right next to Goat Pond is Spray Lakes. This is a huge lake in Kananaskis that literally cannot be missed if you're driving down the Smith Dorrian Road. IF you catch it just right you'll be able to skate on it come December!
---
93. Hike Up Windtower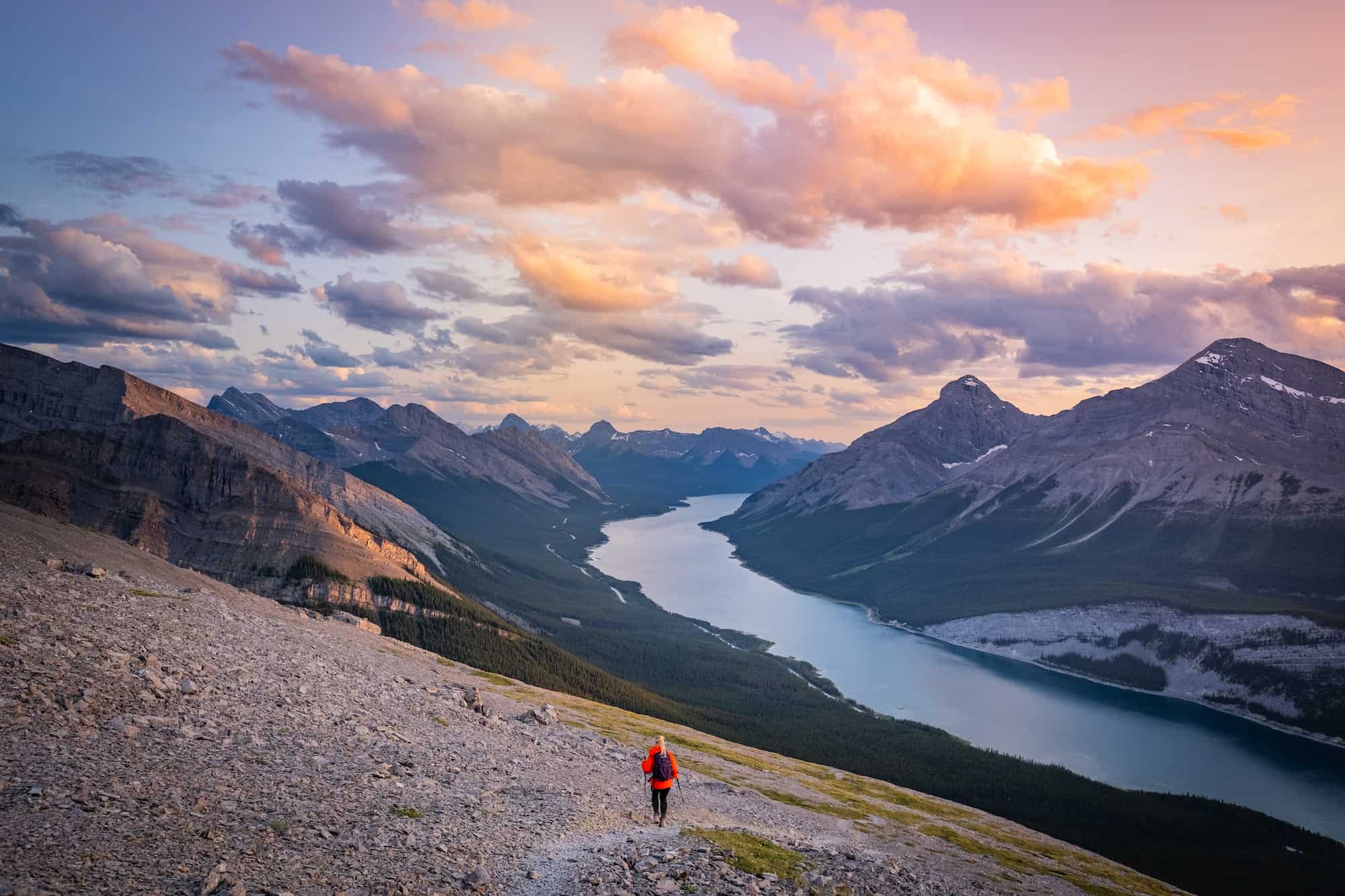 If you're looking for a difficult hike/easy scramble consider hiking up Windtower! It's one of the best hikes in Kananaskis Country and provides absolutely epic views of both Canmore from the summit and Spray Lakes from the other direction. The hike will take 4-6 hours round trip and gains some serious elevation, but the views are worth it!
---
94. Hike Tent Ridge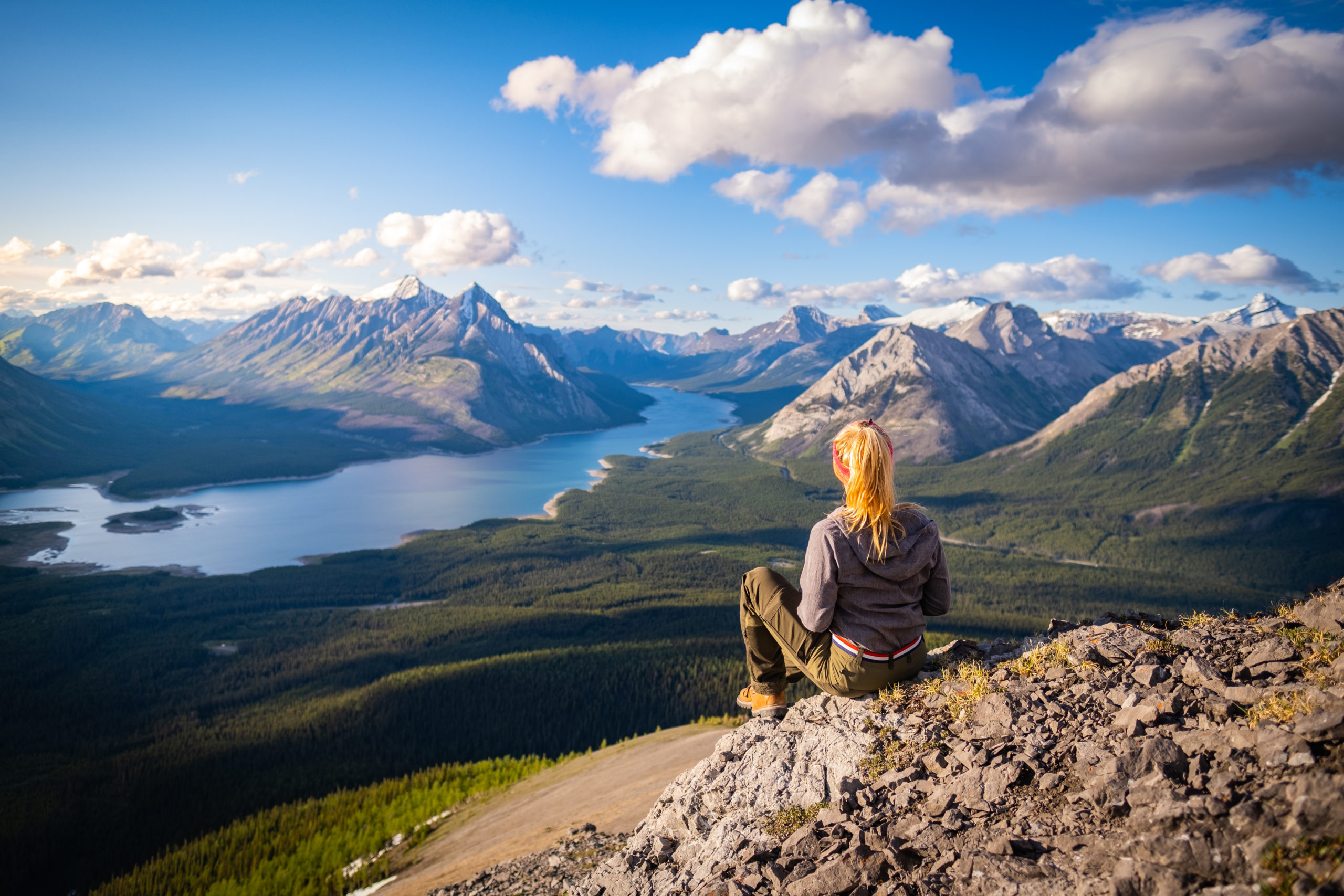 Nearby to Windtower is one of the most famous Kananaskis Hikes. Tent Ridge is a favorite for locals and visitors alike. It's a short (for the Canadian Rockies that is), easy scramble with absolutely incredible views of Spray Lakes. The best time to get up there is at sunrise or sunset for amazing photos.
---
95. Bike Highwood Pass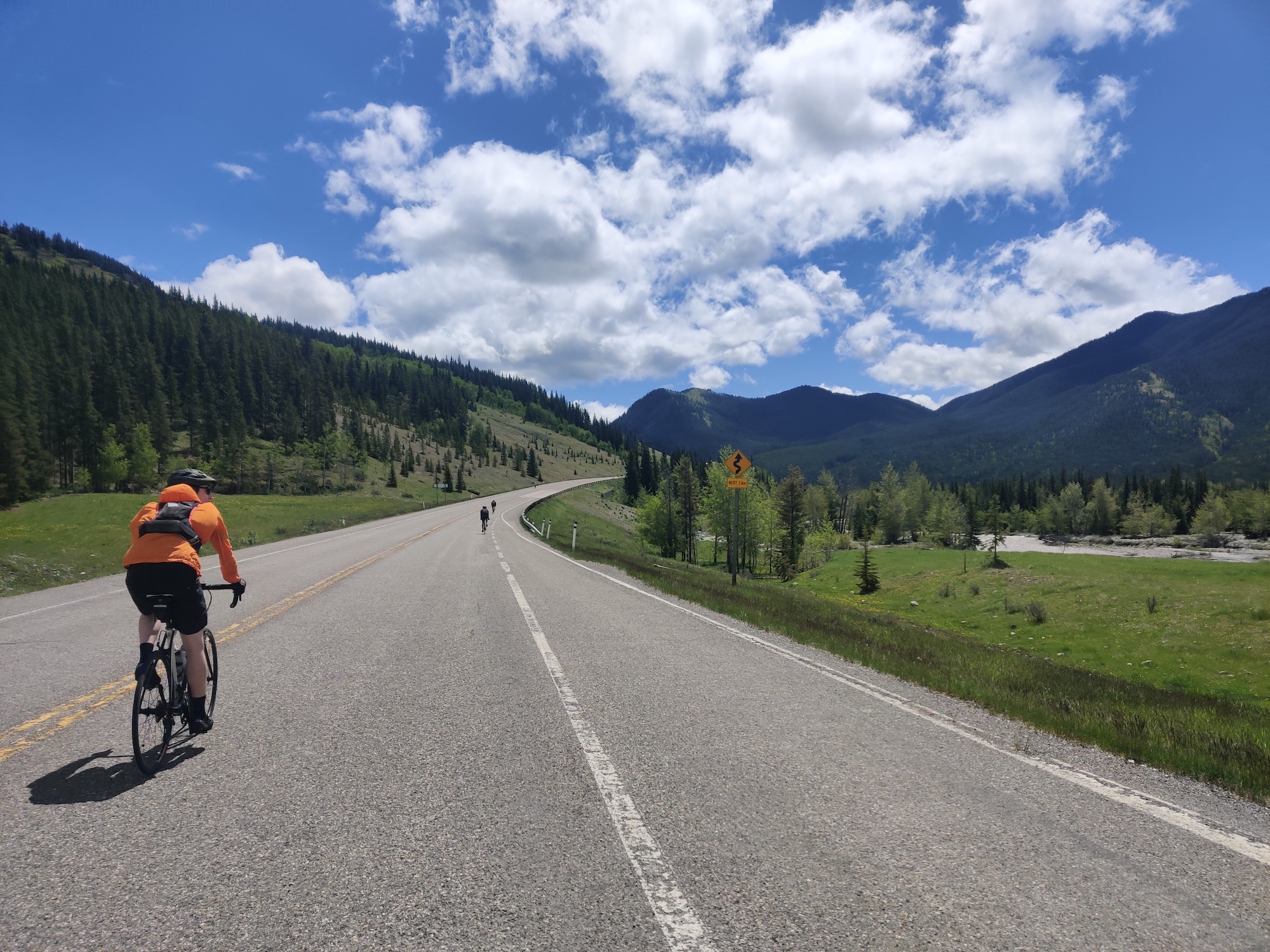 Highwood Pass is the highest highway in Canada with some astounding views of the front range. Due to the elevation and high levels of snow, the road closes in the winter months due to avalanche risk.
However, at the start of summer, the snow often melts before the official opening date for the highway (typically June 15th). It makes for an excellent route for cyclists and a pretty nice challenge if you bike the full route if you're in Banff around that time.
---
96. Enjoy Kananaskis Lakes
Kananaskis Lakes are some of my favorite lakes to enjoy in all the Canadian Rockies. The Upper and Lower Kananaskis Lakes are surrounded by colossal peaks that visitors can hike, or just enjoy from the shore. There's a large beach area here to come on a nice summer day with the family. Bring a blanket and a cooler with some treats!
---
97. Stay At Mount Engadine Lodge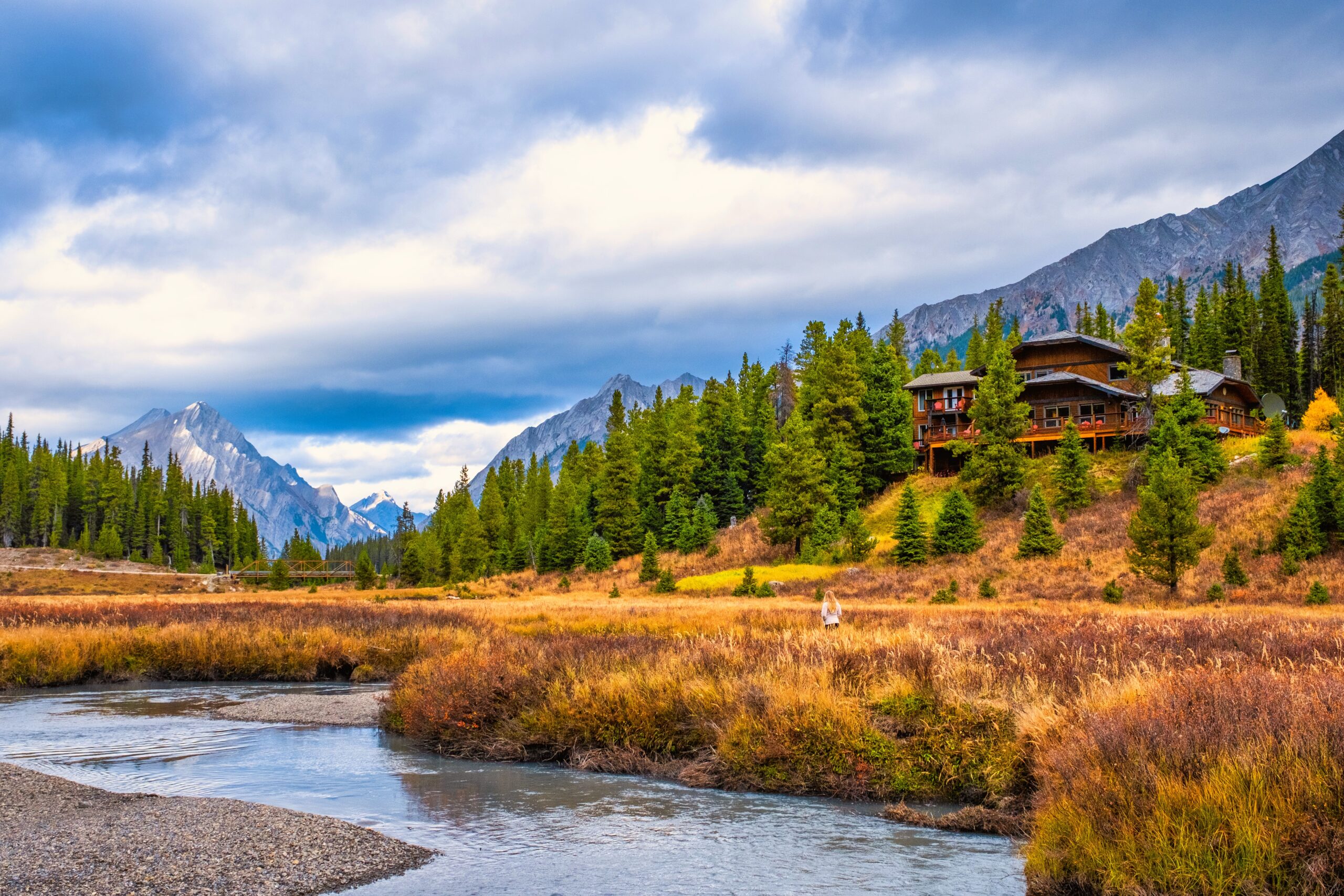 There's no better place to stay in Kananaskis than Mount Engadine Lodge! In the remote section of the park is this truly amazing place to stay, Mount Engadine has cabins, yurts, and traditional rooms. They operate all year long and offer a home away from home in the mountains. It's the closest thing to Glamping that you're going to get in the area!
---
98. Walk Across the Blackshale Suspension Bridge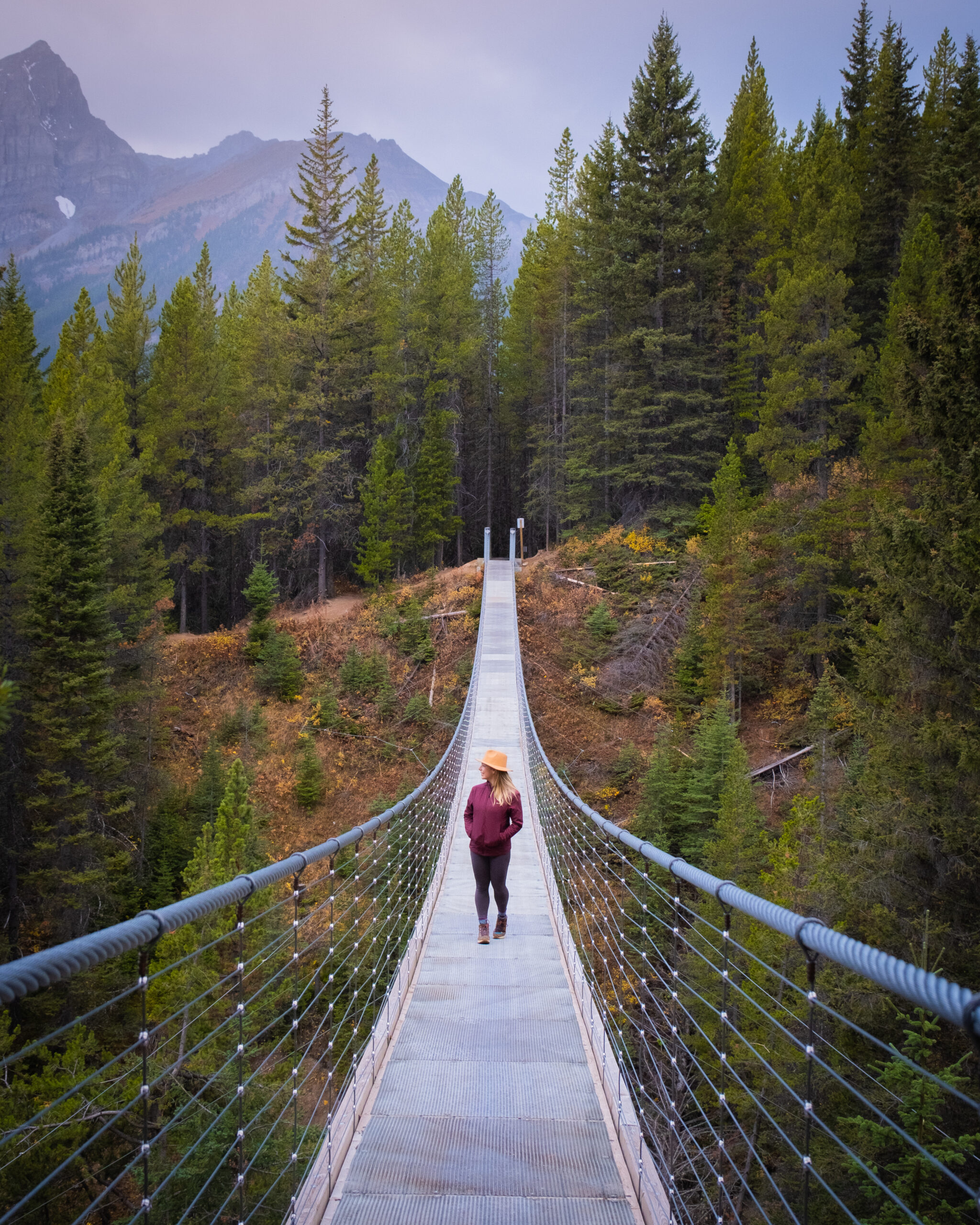 Not many people know about the Blackshale Suspension Bridge. We didn't even after more than a year of living in the Rockies! However, it's a wonderful very short hike in Kananaskis near Kananaskis Lakes that will take you high above the trees on a scenic bridge.
---
99. Hike Up to Rawson Lake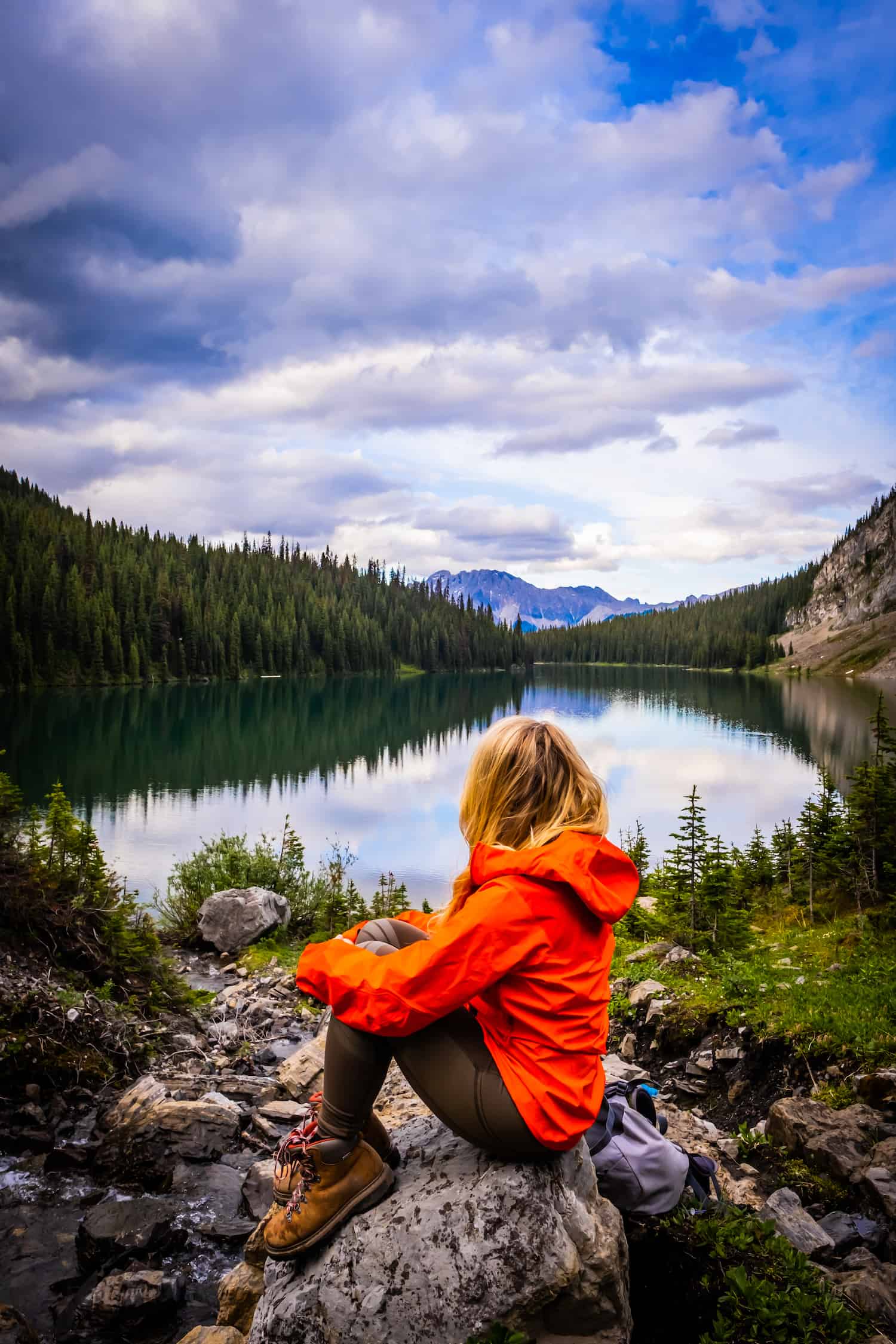 From the parking area at Kananaskis Lakes, you can actually hike up to another lake. Rawson Lake is an 8 km easy hike that is a great endeavor in the summer months.
---
100. Continue to Sarrail Ridge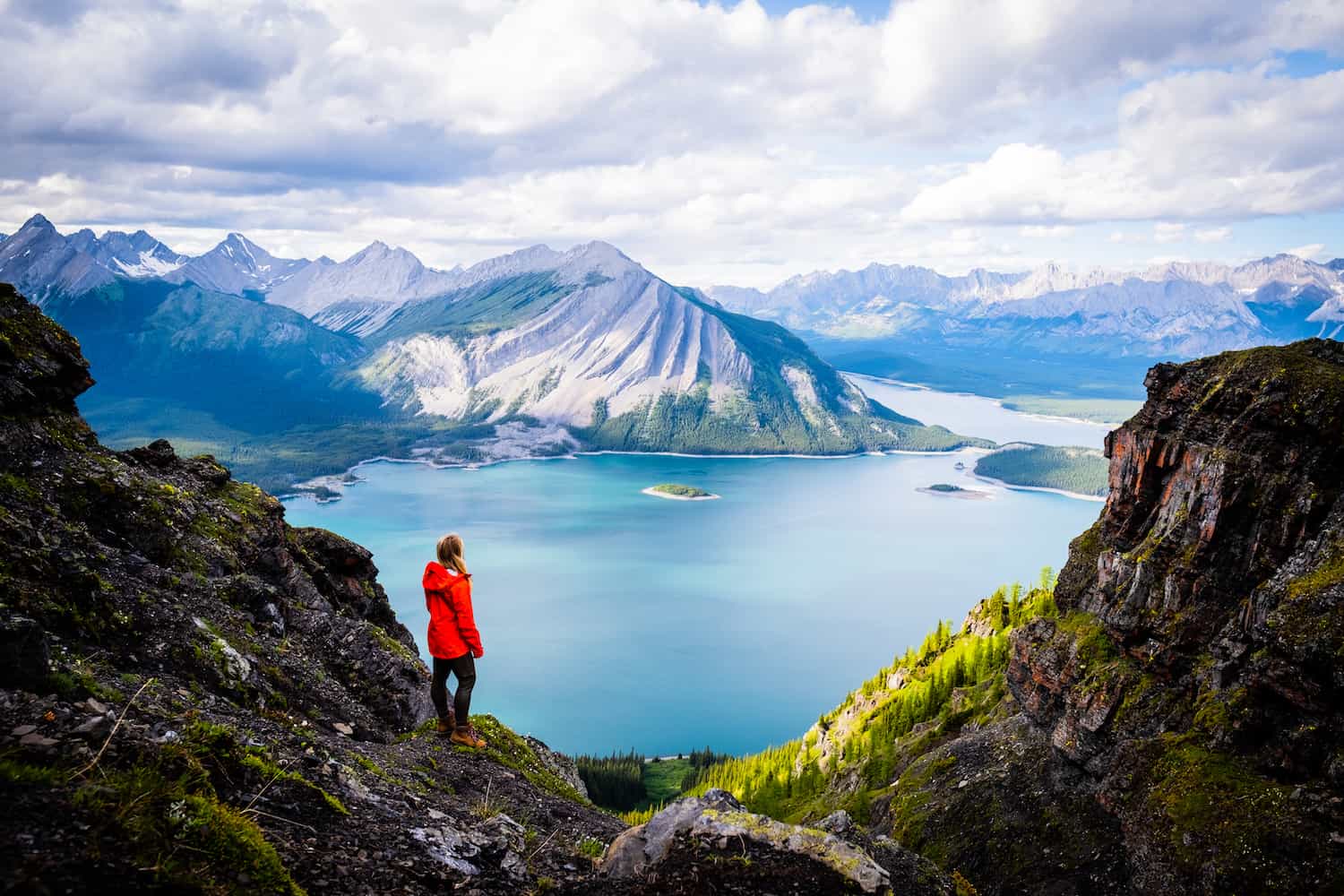 From Rawson Lake, you can either stop there or you can continue up to Sarrail Ridge. The hike up to Sarrail Ridge is a steep hike and crosses grizzly territory, but once you reach the top you get astonishing views over the lakes.
---
101. Find the Mist Mountain Hot Springs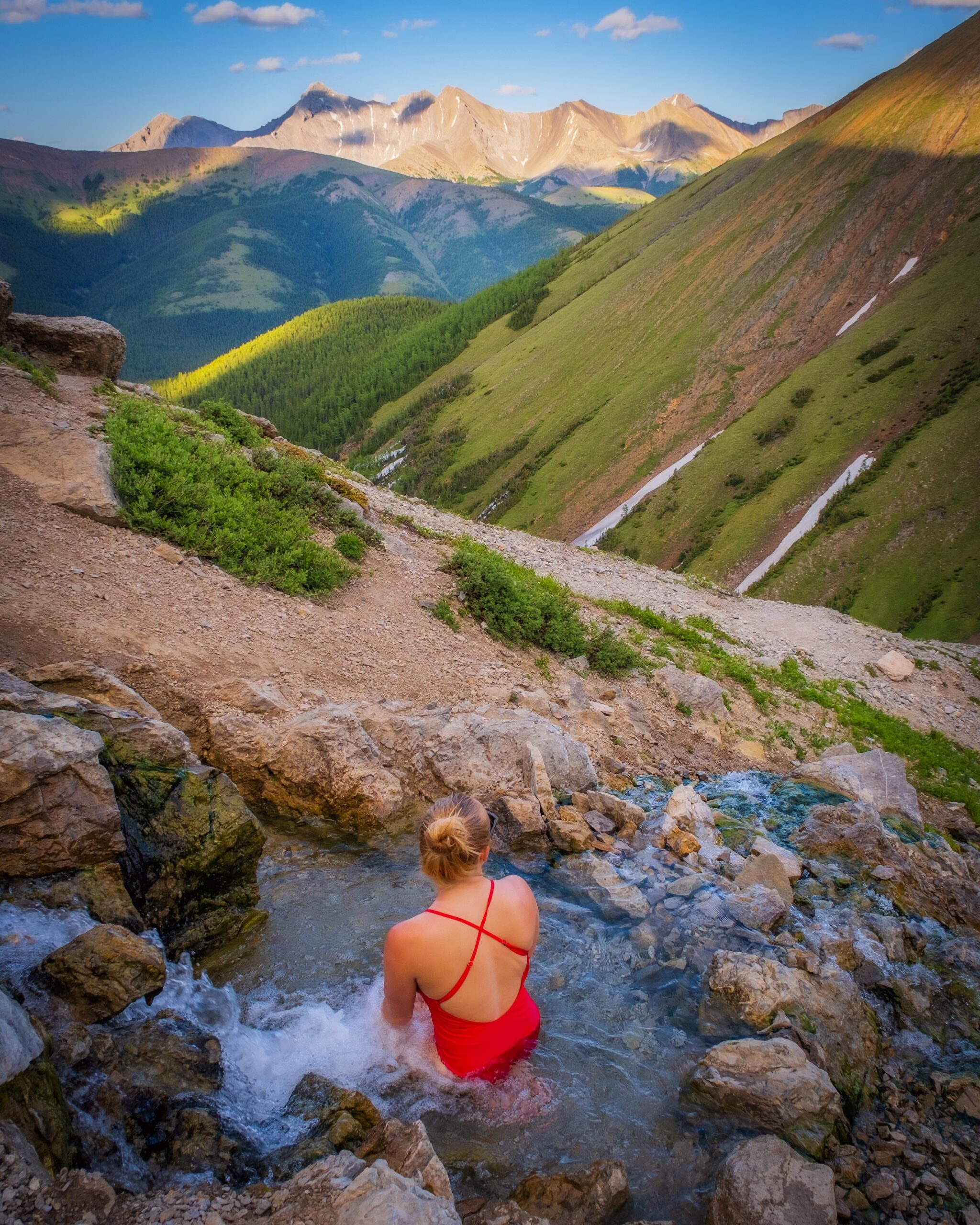 Somewhere deep in Kananaskis are the Mist Mountain hot springs. It's quite possible you have seen them on social media as they've become more popular over the years.
I don't like calling them hot springs, as they are more "warmish." Regardless it's quite literally a natural warm tub in the middle of the mountains. I don't think you'll ever find springs like this that are more scenic. Get there at sunrise in the offseason to avoid crowds.
---
102. Catch Sunrise Over Barrier Lake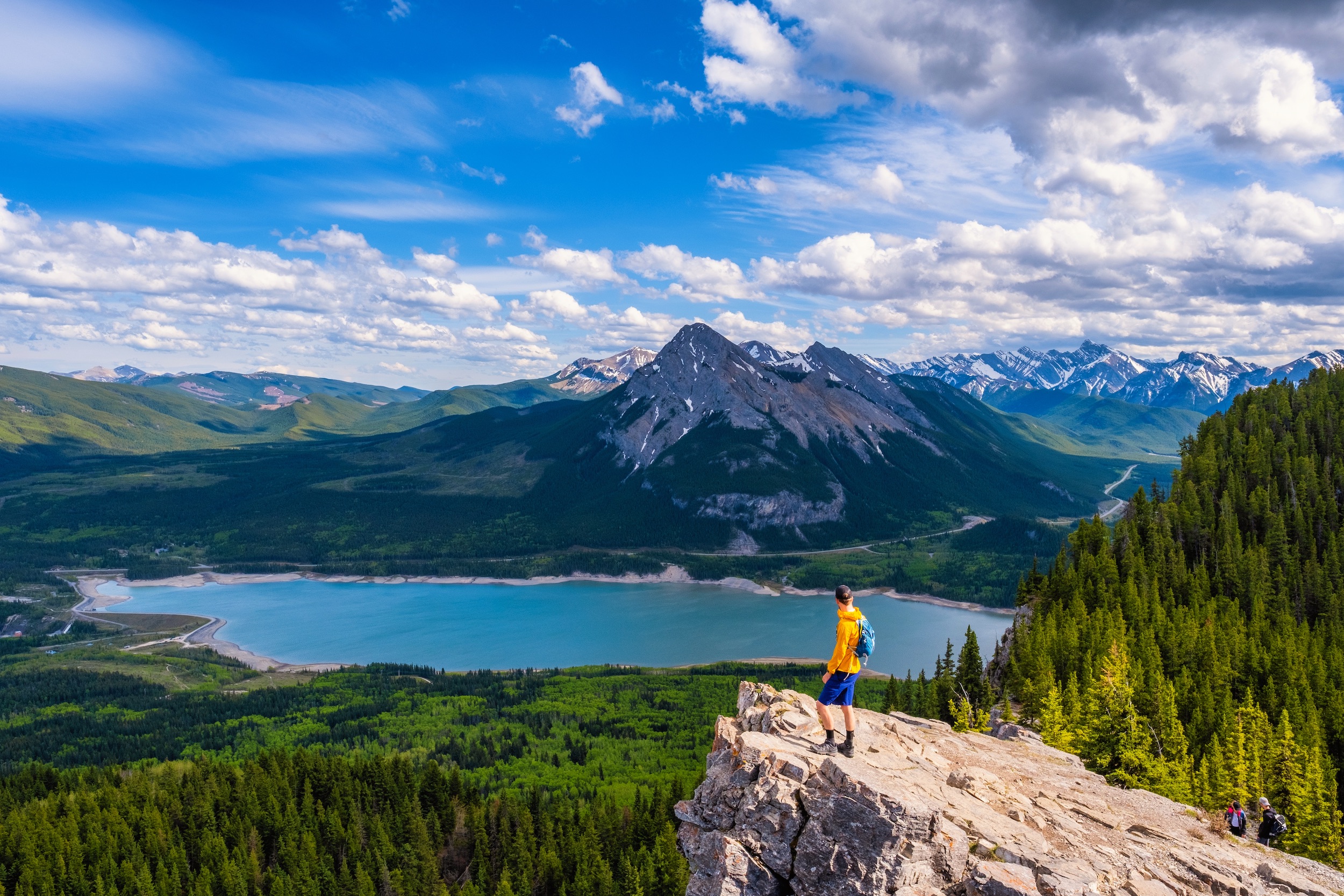 Barrier Lake is one of the most popular spots to head in the entire park. It's beautiful for one, but you can reach it in less than an hour from Calgary, as it's located right after the entrance to Kananaskis which makes it pretty well known.
Visitors can choose to either enjoy the lakeshore of Barrier Lake, or go for a moderate hike to the Prairie View lookout point, head up Jewell Pass via the Prairie View trail, or continue up to Yates Mountain and check out the Barrier Lake Fire Lookout.
---
103. Shoeshoe Around Burstall Pass
Burstall Pass is a classic hike in Kananaskis Country and off Smith Dorrien Trail. The hike moves past several marshy lakes and streams, before a steep ascent up to an alpine meadow, and then finished on a high mountain pass with grand glaciated mountain views.
---
104. Drive the Smith Dorrien Highway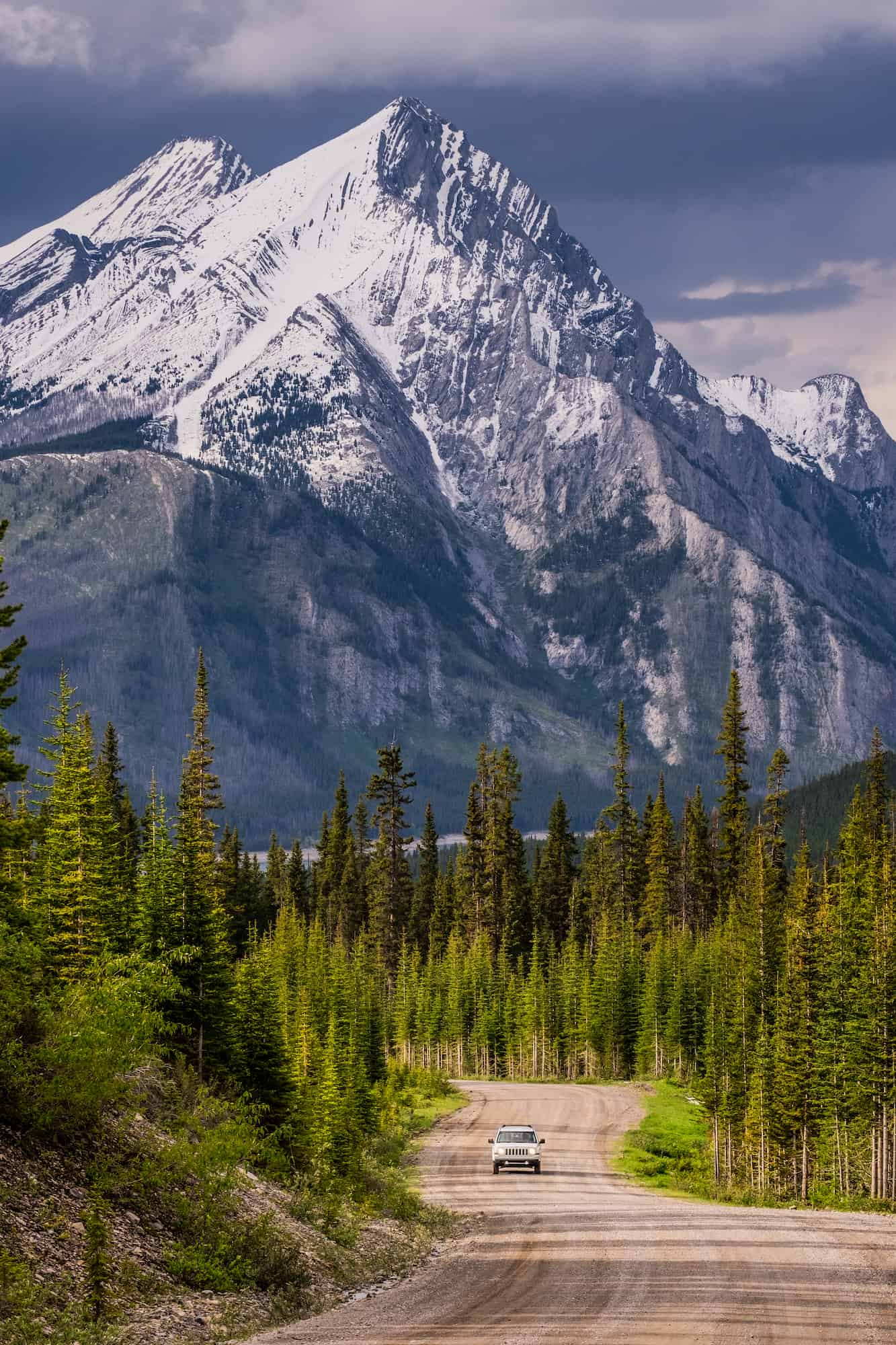 If you're just feeling a road trip day and enjoying the mountains from the car you have to drive the Smith Dorrien Highway. This drive is a gravel road that starts in Canmore and ends at Kananaskis Lakes or vice versa. Along the drive, you'll pass sights like Whiteman's Pond, Goat Pond, Spray Lakes, and so many beautiful mountains. I suggest two hours to complete the drive at a leisurely pace.
---
105. Hike Up to West Wind Pass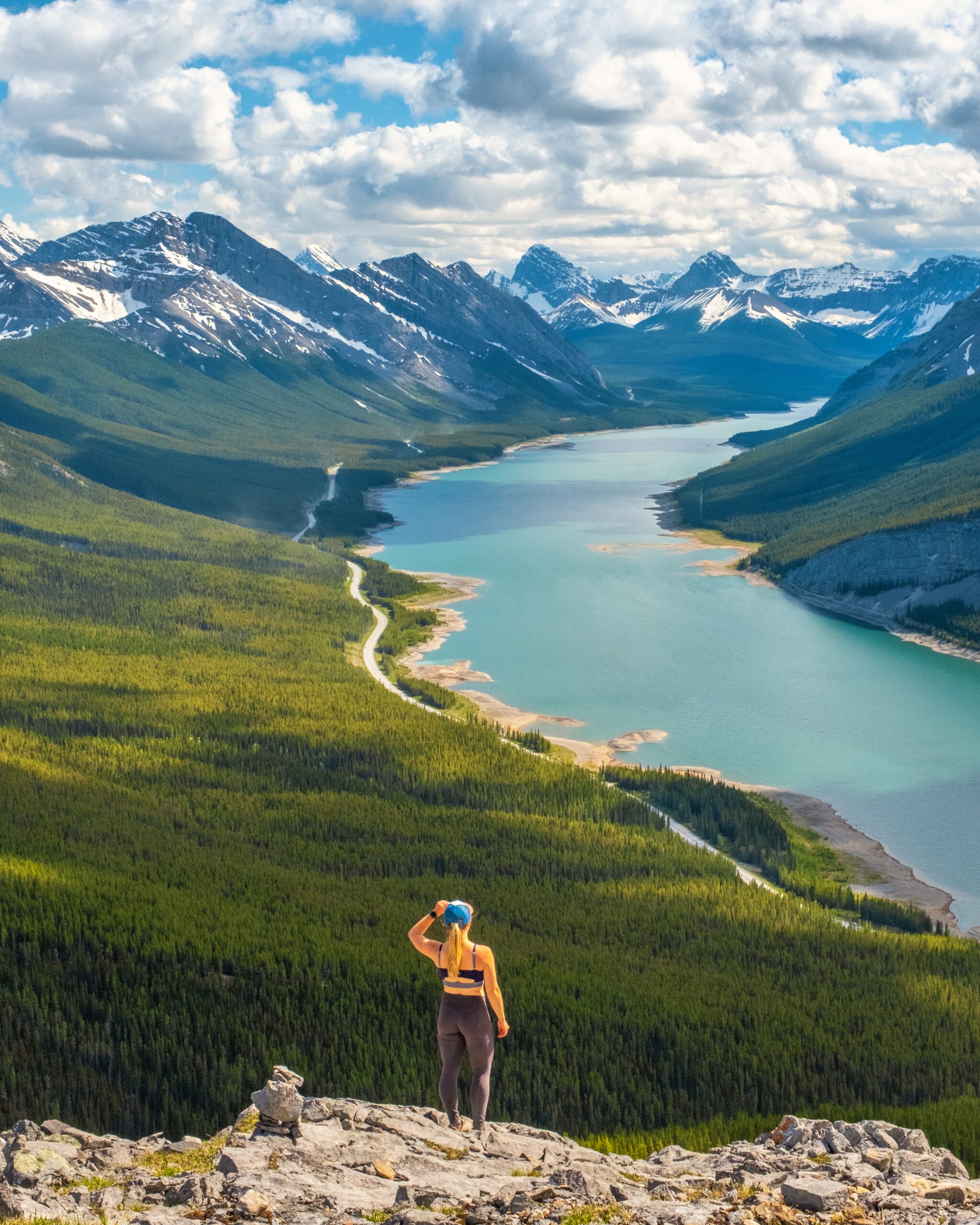 Before you make your way up to Windtower or Rimwall Summit you're going to hit West Wind Pass first. The hike starts out pretty mild. You'll hike in the treeline for the first 45 minutes or so until you reach West Wind Pass. It's a steady uphill easy climb to West Wind Pass.
If you want a nice and short hike – stop here and enjoy the views over the Bow Valley. You'll know you have reached West Wind Pass around 3km when you get above the trees and have awesome views.
---
106. Hike to Troll Falls
A fun family-friendly hike is Troll Falls. This is a 2.1 mile heavily trafficked out and back trail that brings you to Troll Falls. It's fantastic in the summer, but in the winter you'll be able to see an amazing frozen waterfall.
---
107. See the Larches on the Pocaterra Ridge Trail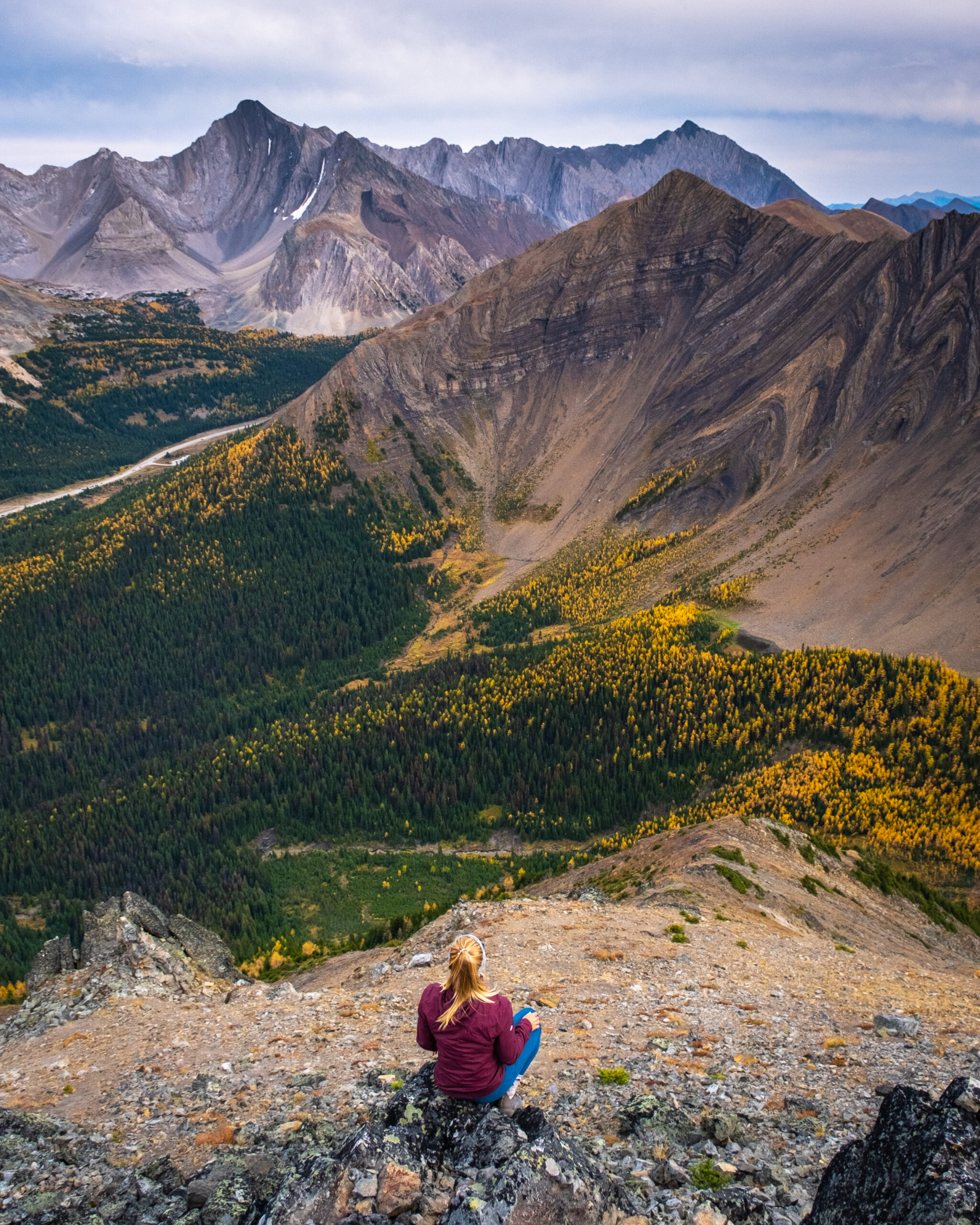 If you're visiting the Canadian Rockies in the fall you have to hike Pocaterra Ridge. This trail has literally thousands of larch trees that turn golden yellow come the last few weeks of September. It's truly a spectacular time to go hiking in the Rockies.
---
108. Hike Wasootch Ridge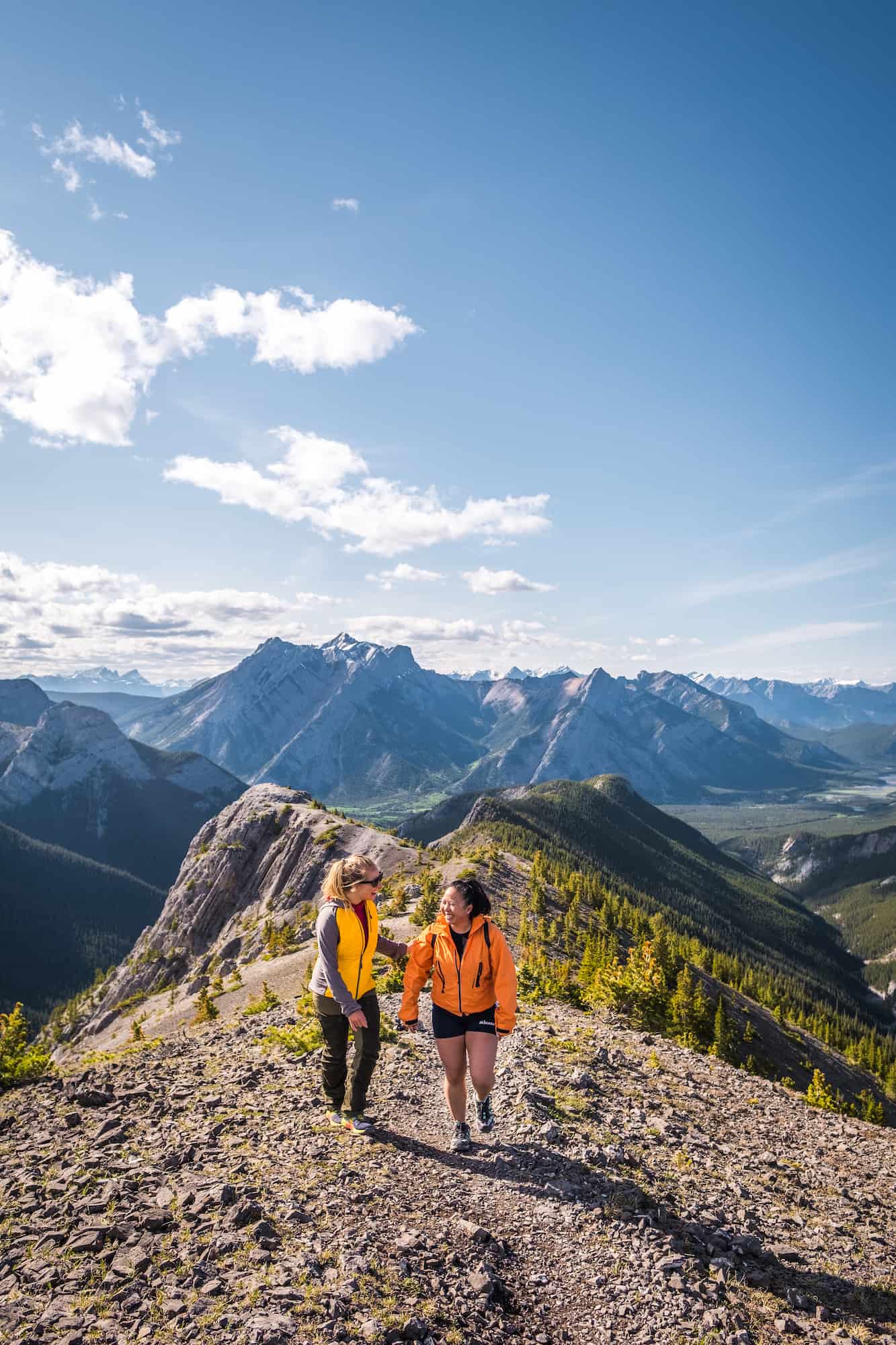 Wasootch Ridge is a favorite near Canmore in Kananaskis Country. The trail is straightforward to follow and gains quick elevation then travels along a ridge that delivers spectacular views for hours. The roadway slowly evaporates from view on the ridge before a challenging scramble to the true peak.
---
Things to do in Yoho National Park
---
109. Paddle on Emerald Lake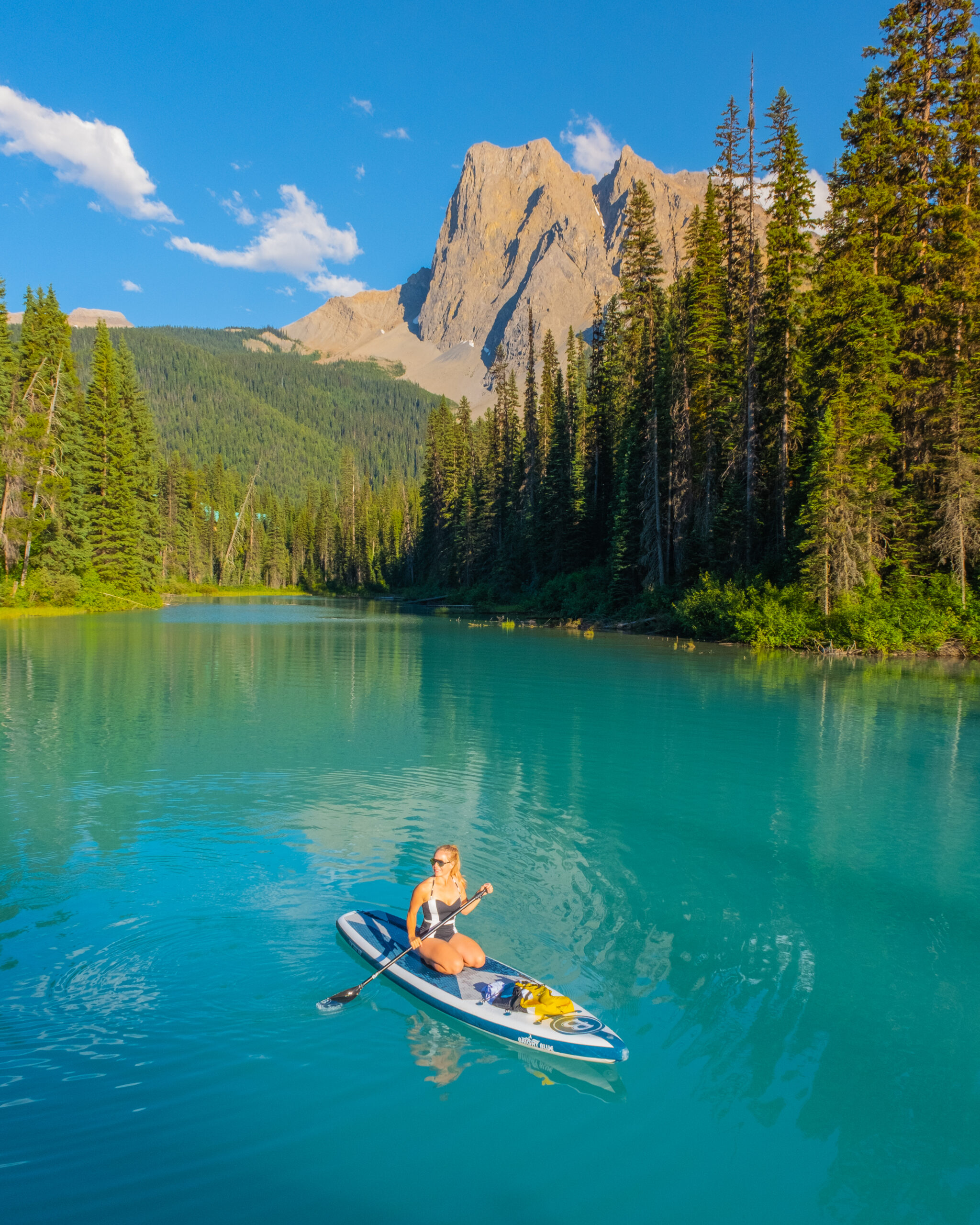 It's hard to describe the beauty of Emerald Lake in Yoho National Park. Its teal color can surely take your breath away upon first glance, and the views of the President Range mountains are to die for. I love coming here just for a walk around the lake or a stand-up paddle around the lake.
---
110. Enjoy Winter at Emerald Lake Lodge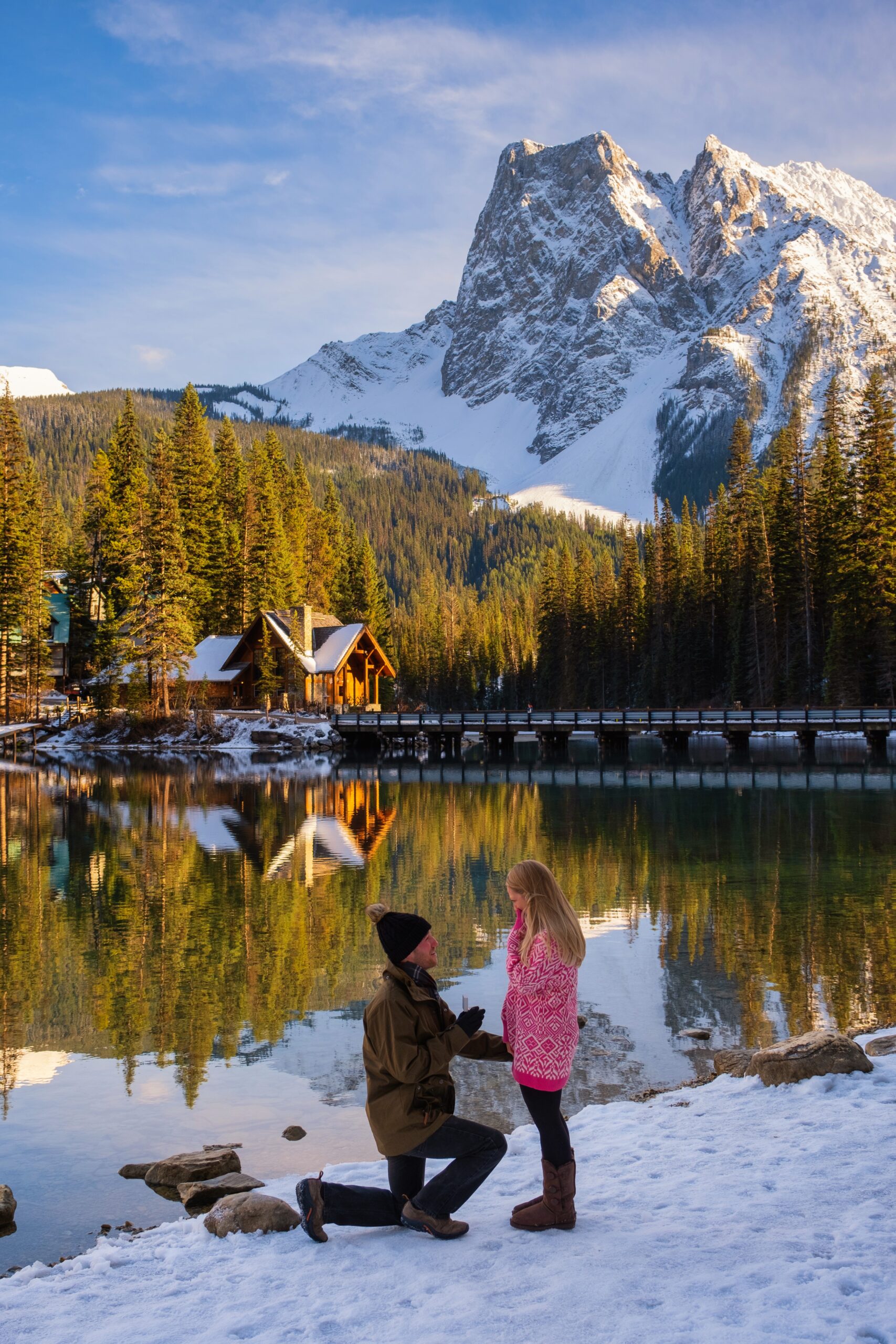 Speaking of Emerald Lake I should probably mention there is one place to stay here. Emerald Lake Lodge is the only accommodation in the area, and wow is it a beautiful one. Staying here on a cold winter day is one of the coziest things you can do in the Canadian Rockies. There is a hot tub and magical views awaiting you in the winter.
---
111. Hike the Iceline Trail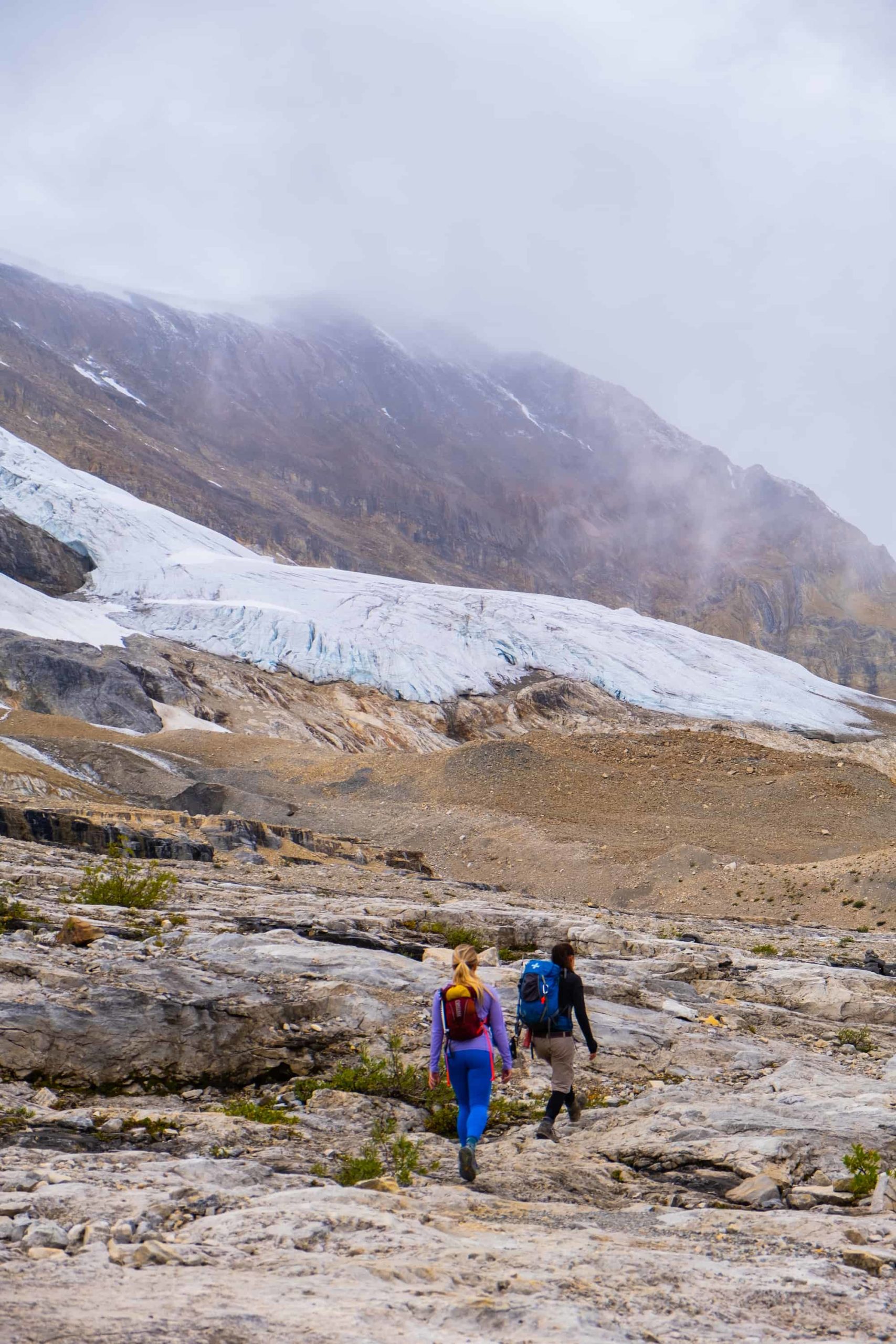 The Iceline Trail is one of the great hiking trails in Yoho National Park. The whole 14.2 km trail is simply stunning offering waterfalls, glacier views, glacier lakes, and beautiful wildflowers if you hit it in the right season. This trail is rated as moderate as there isn't much elevation gained involved and no scrambling to overcome, but it is long. Expect the Iceline to take you anywhere from 6-8+ hours.
---
112. Have Lunch in the Town of Field
The small hamlet of Field is the only town located in Yoho National Park. A small community of fewer than 200 people lives there. There's not a ton to do in Field, but it's well worth a stop and walks around. During the summer you will find a few restaurants, cafes, and artisan shops. Make sure to stop at Truffle Pigs before you head out!
---
113. Scramble Up Paget Peak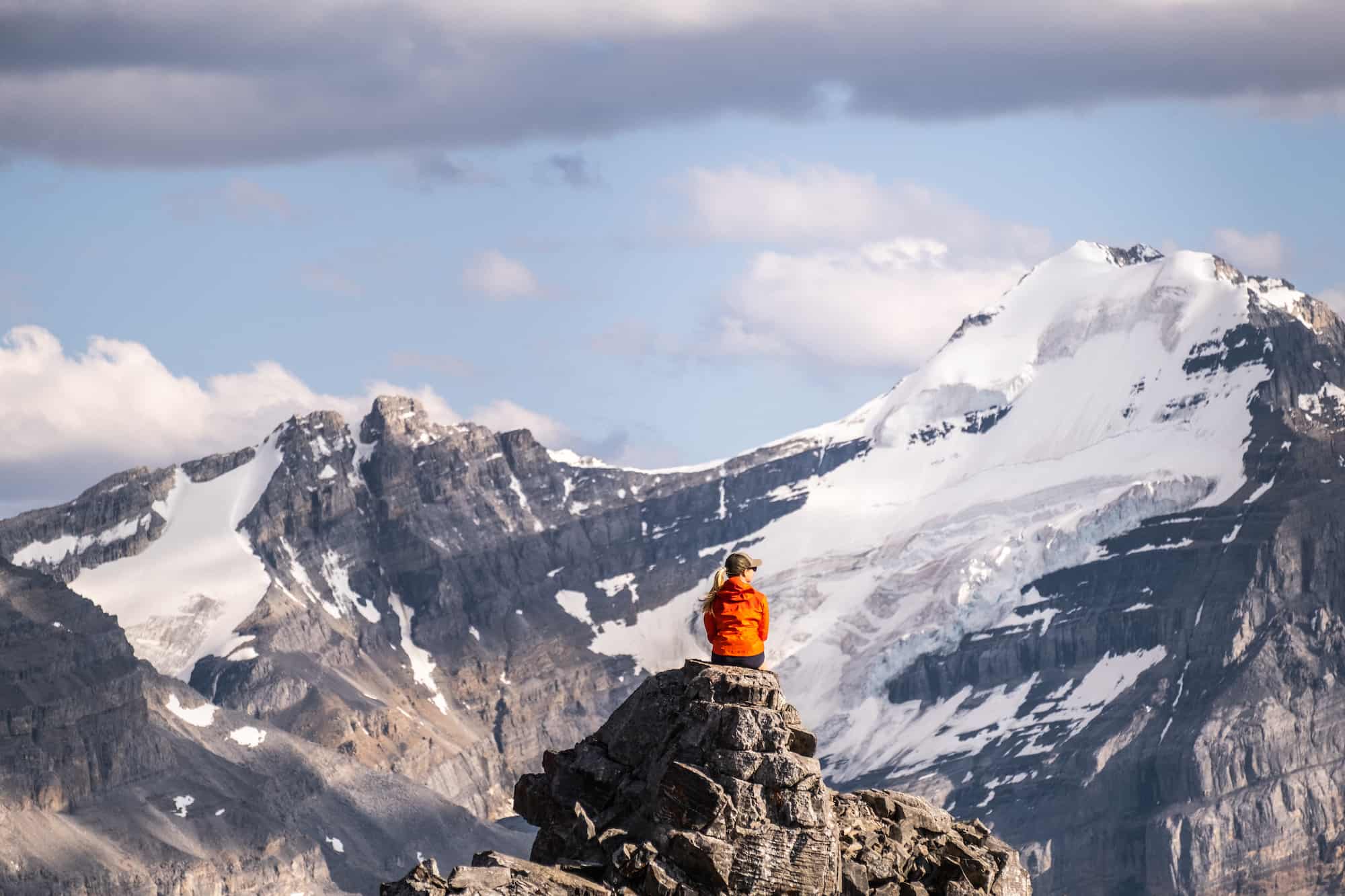 Paget Peak is an easy scramble that gives you amazing views of glaciers. At 9.5 km and almost 1000 meters of elevation gain, you'll be putting some work into summit Paget Peak.
---
114. Have Lunch at Sherbrooke Lake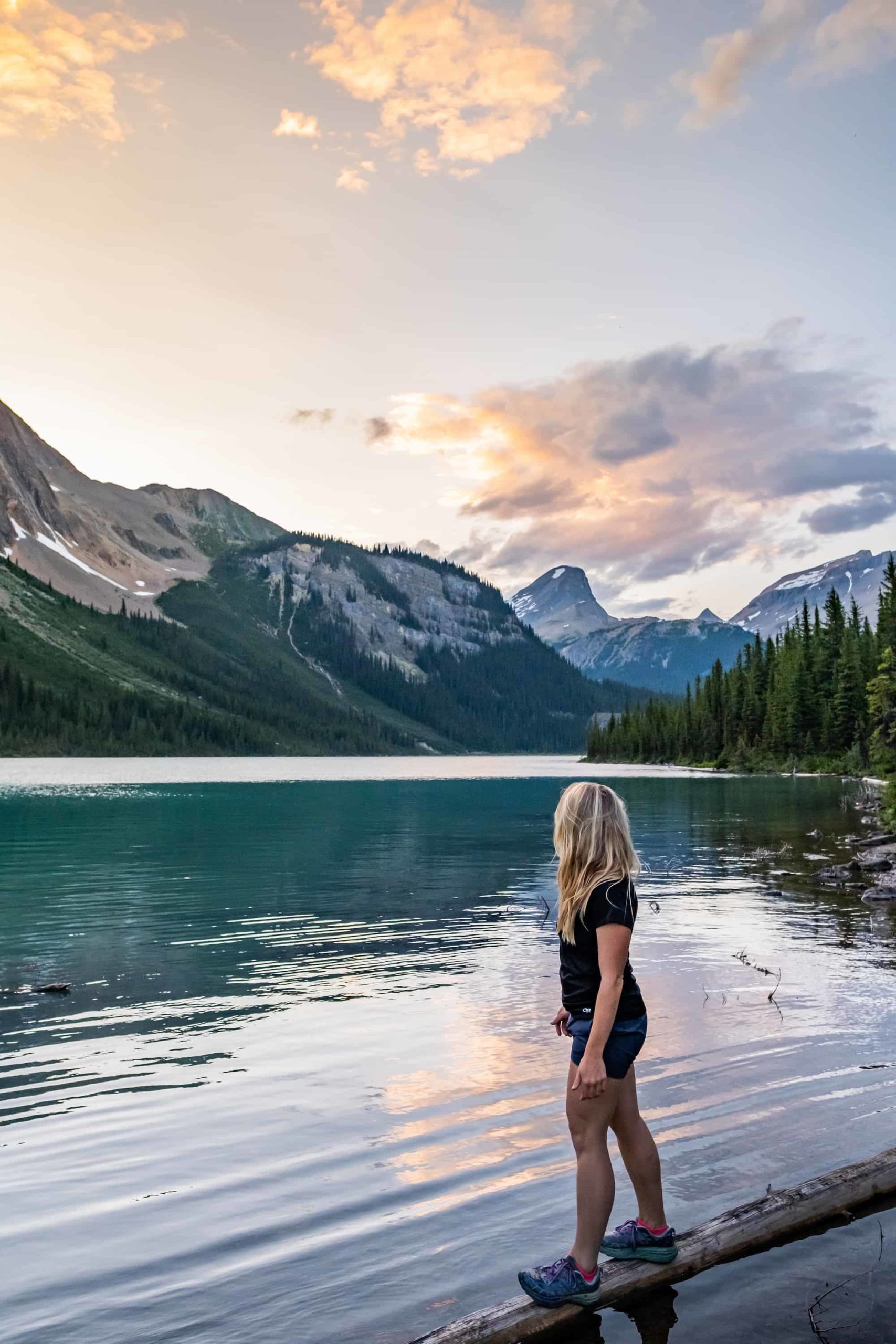 The short hike to Sherbrooke Lake starts at the same spot as Pagets Peak. Though the hike to get here is easy with minimal elevation gain. At the end of the hike is a beautiful bright blue lake that sees far fewer crowds than nearby Lake Louise or Emerald Lake. If you hike in with a picnic basket or even stand-up paddleboard, you'll be rewarded with the ultimate lake life without the crowds.
---
115. Marvel at Lake O'Hara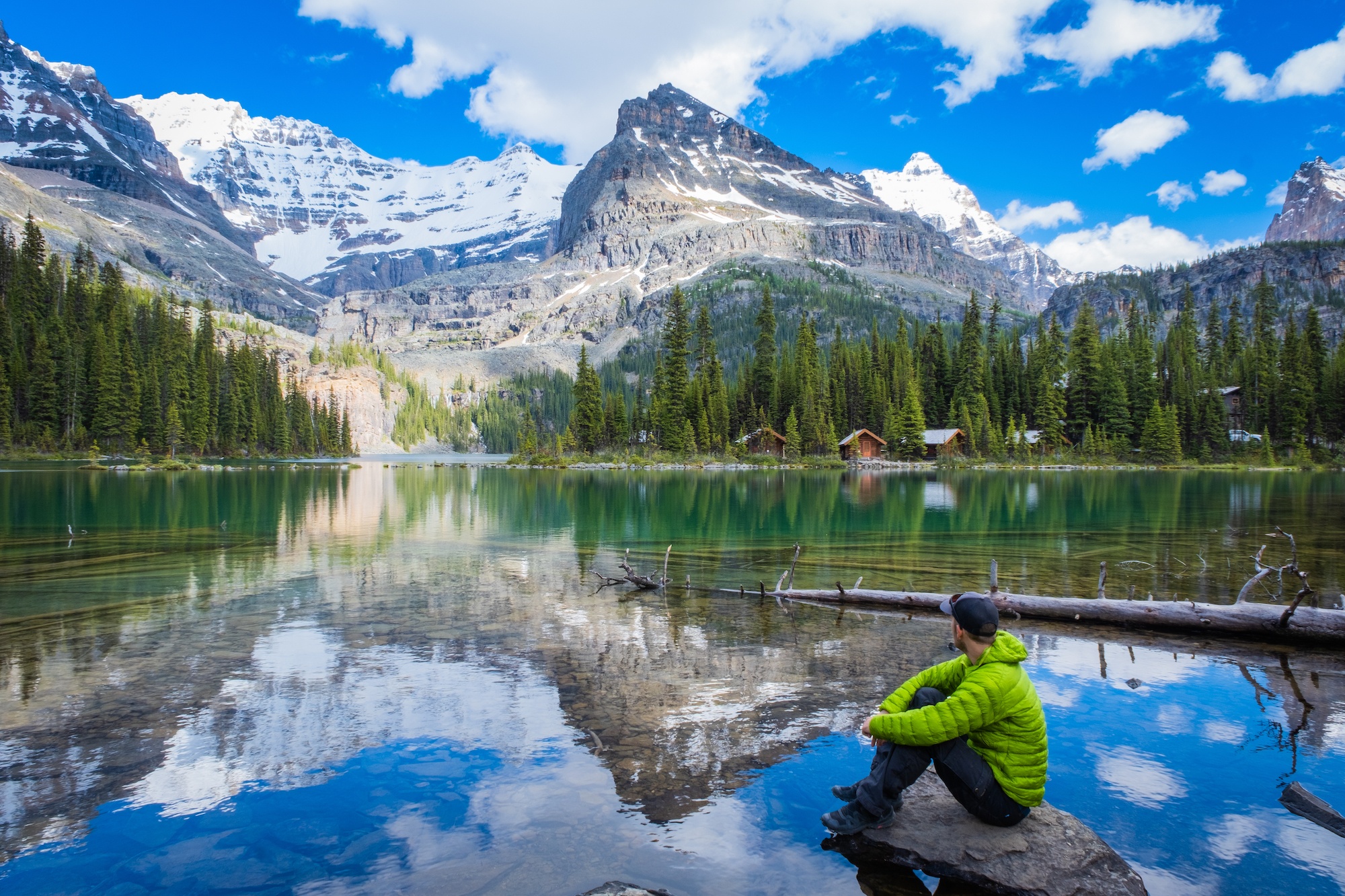 Lake O'Hara is one of the most beautiful sights I've ever seen in the world. It may even be more stunning than Lake Moraine, but that's a tough call. The area is totally untouched and provides ample hiking opportunities once back there.
Camping reservations book up months in advance and the bus system to get back there operates on a lottery. So if you haven't planned ahead the only way you are getting back to see Lake O'Hara is by walking the 11km access road there and back (we've done it, it's not too bad). Read all about how to access Lake O'Hara here.
---
116. See the Natural Bridge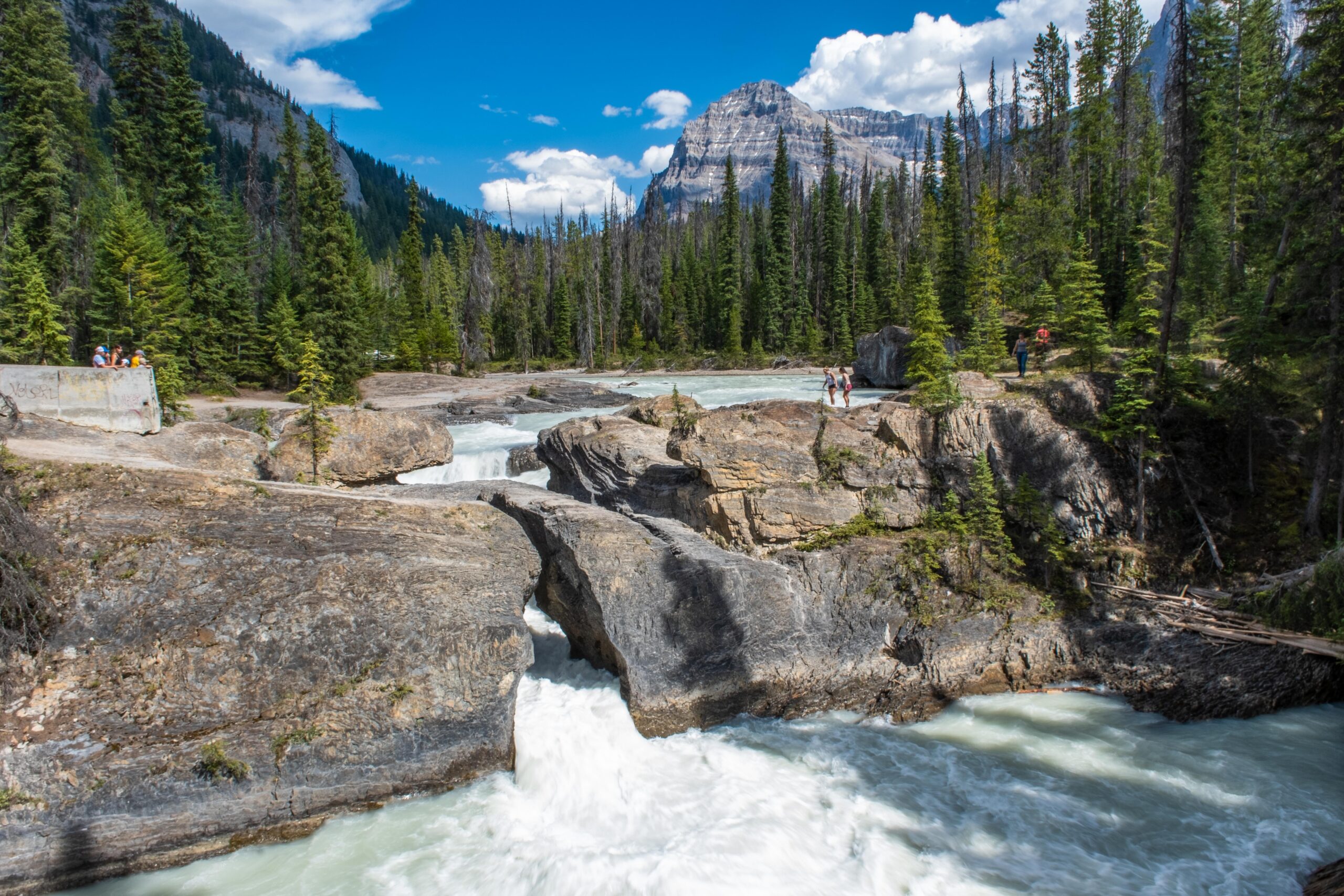 If you're heading to Emerald Lake you need to stop at the Natural Bridge on either your way in or out. The Natural Bridge is a stop off point on Emerald Lake Road. The turn off is easy to miss, so keep an eye out for it on your left as you head up to Emerald Lake. The natural bridge is what it sounds like. A natural bridge made out of rock that was cut by the Kicking Horse River. It's an unusual sight to see especially in the winter!
---
117. Look Up at the Neverending Takakkaw Falls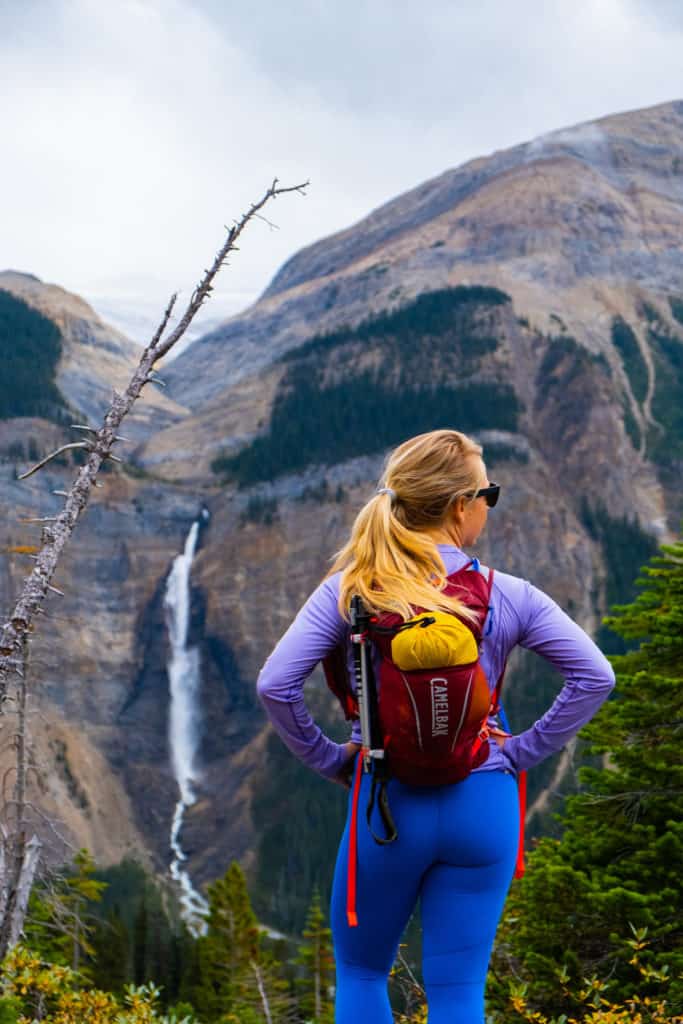 If you're looking for something short and sweet with stellar views head to Takakkaw Falls in the summer. Takakkaw Falls, or "Tak Falls" is spectacular and at a height of 373 meters, it's one of the tallest single-drop waterfalls in Canada. Its name even comes from the Cree word meaning "wonderful."
It's a dizzying sight that can be seen throughout the valley. The best time to see it is in early June when the heavy snow begins to melt. Keep in mind to get there easily you'll need to drive the Yoho Valley Road which is closed from October to June.
---
118. Stop at the Spiral Tunnels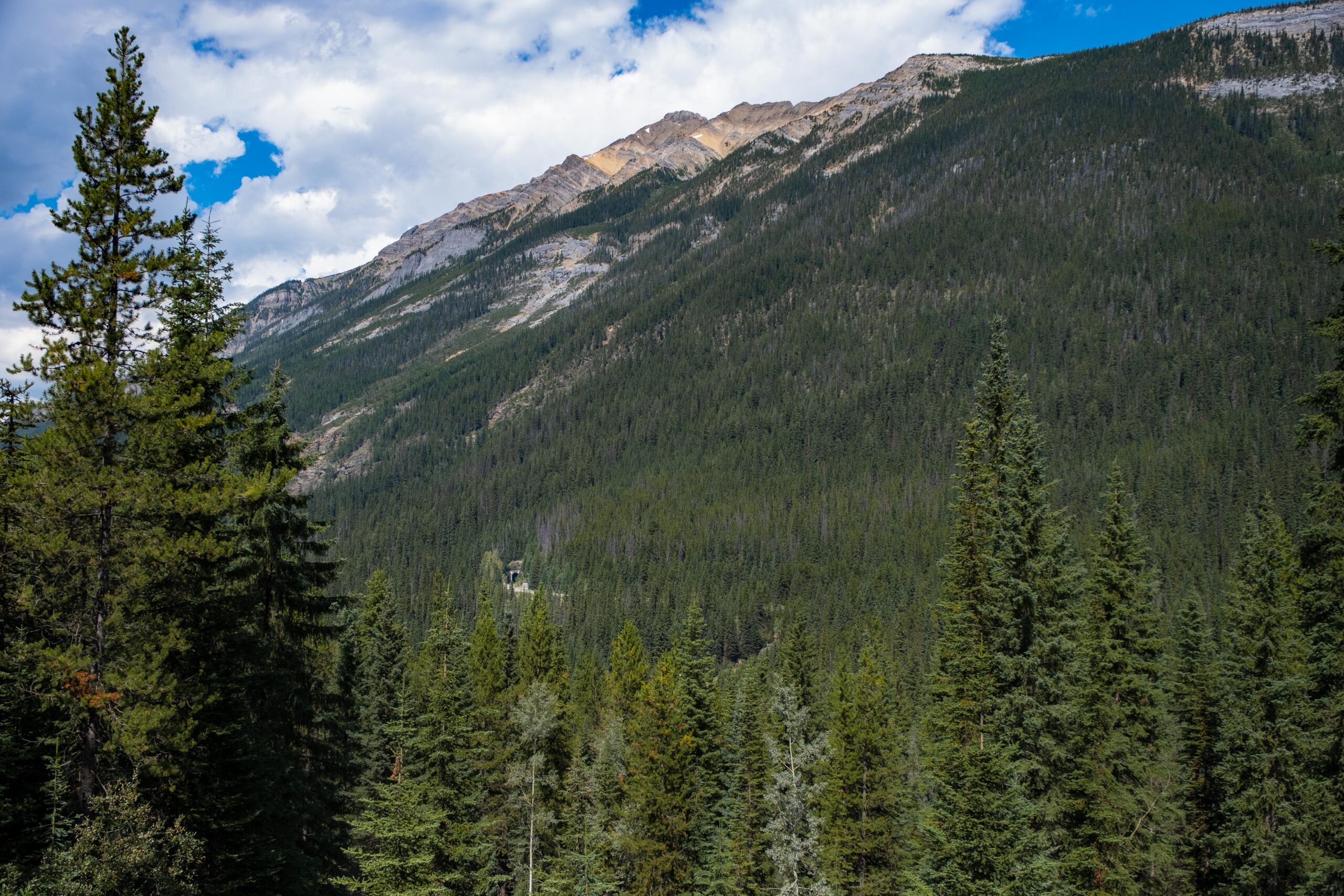 In the late 1800s when connecting British Columbia, navigating through the Rocky Mountains was proving difficult. Kicking Horse Pass was chosen because of its proximity to the US and Pacific Coast, but the steep grade was a challenge for the trains. So the Spiral Tunnels were born, and you can read all about how they work here.
Trails still pass through here to this day and visitors are welcome to visit one of the two viewpoints 7.4 km east of Field you can see the Lower Spiral Tunnel viewpoint and 2.3 km up the Yoho Valley Road you'll find the Upper Spiral Tunnel lookout. 25-30 trains pass through a day, but there is no set schedule so you'll just have to try your luck!
---
Things to do Beyond Banff
---
119. Camp at Floe Lake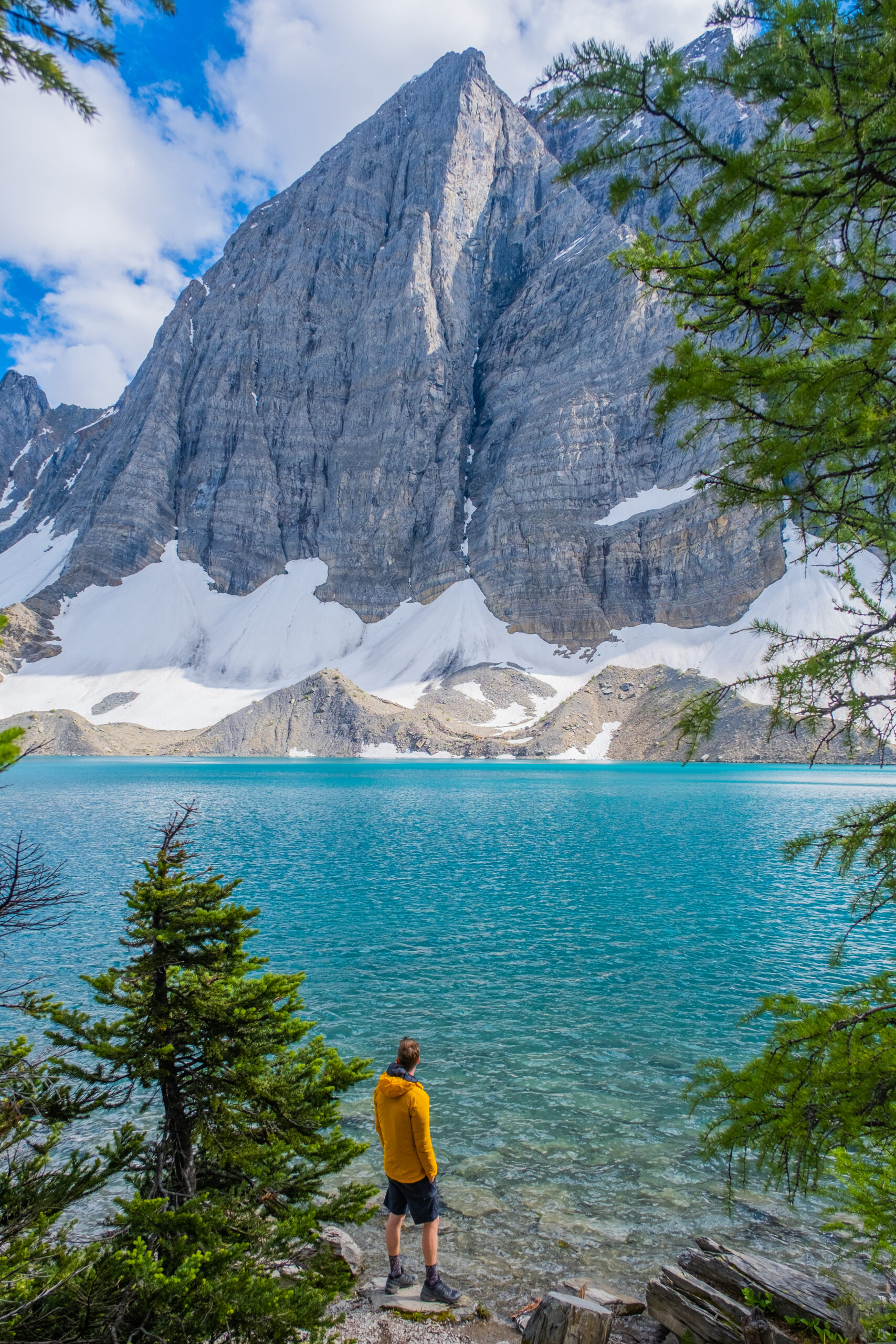 Floe Lake is a lake in Kootenay National Park, not too far from Castle Junction in Banff. It's one of the most photogenic lakes in the Rockies as Foster Peak and surrounding peaks surround the lake. It's a popular place to camp for a few days as there are some gorgeous campsites right on the lake. It takes 10 km to get to Floe Lake, making for an awesome 20 km trail run if you only have a few hours.
---
120. Check Out Marble Canyon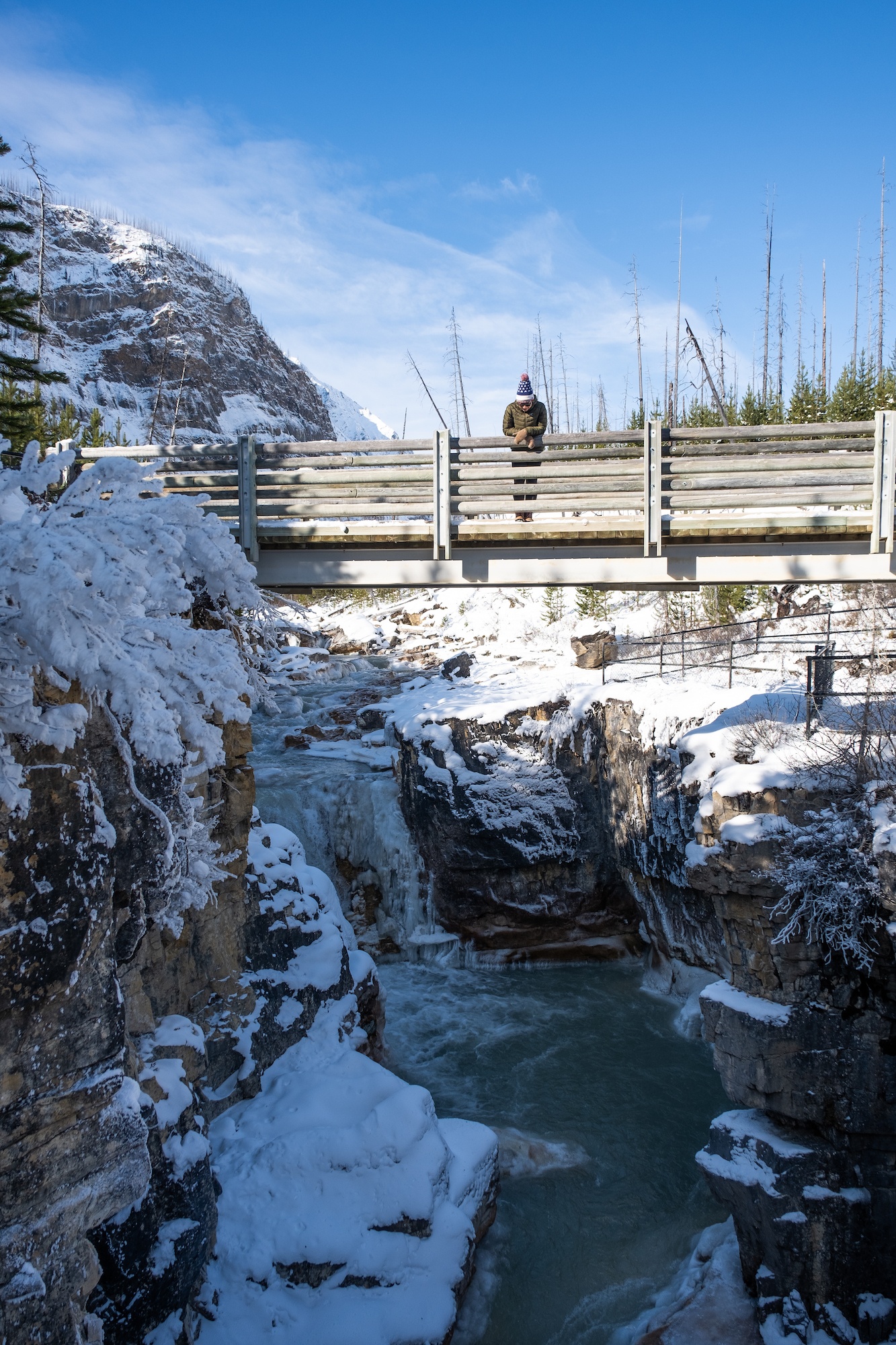 Marble Canyon is nearby to Floe Lake and is also located in Kootenay National Park. This is a stunning canyon surrounding Tokumm Creek just above its confluence with the Vermilion River. It's a very easy and short hike on well-maintained trails to see the canyon.
---
121. Spend a Day Shredding at Marmot Basin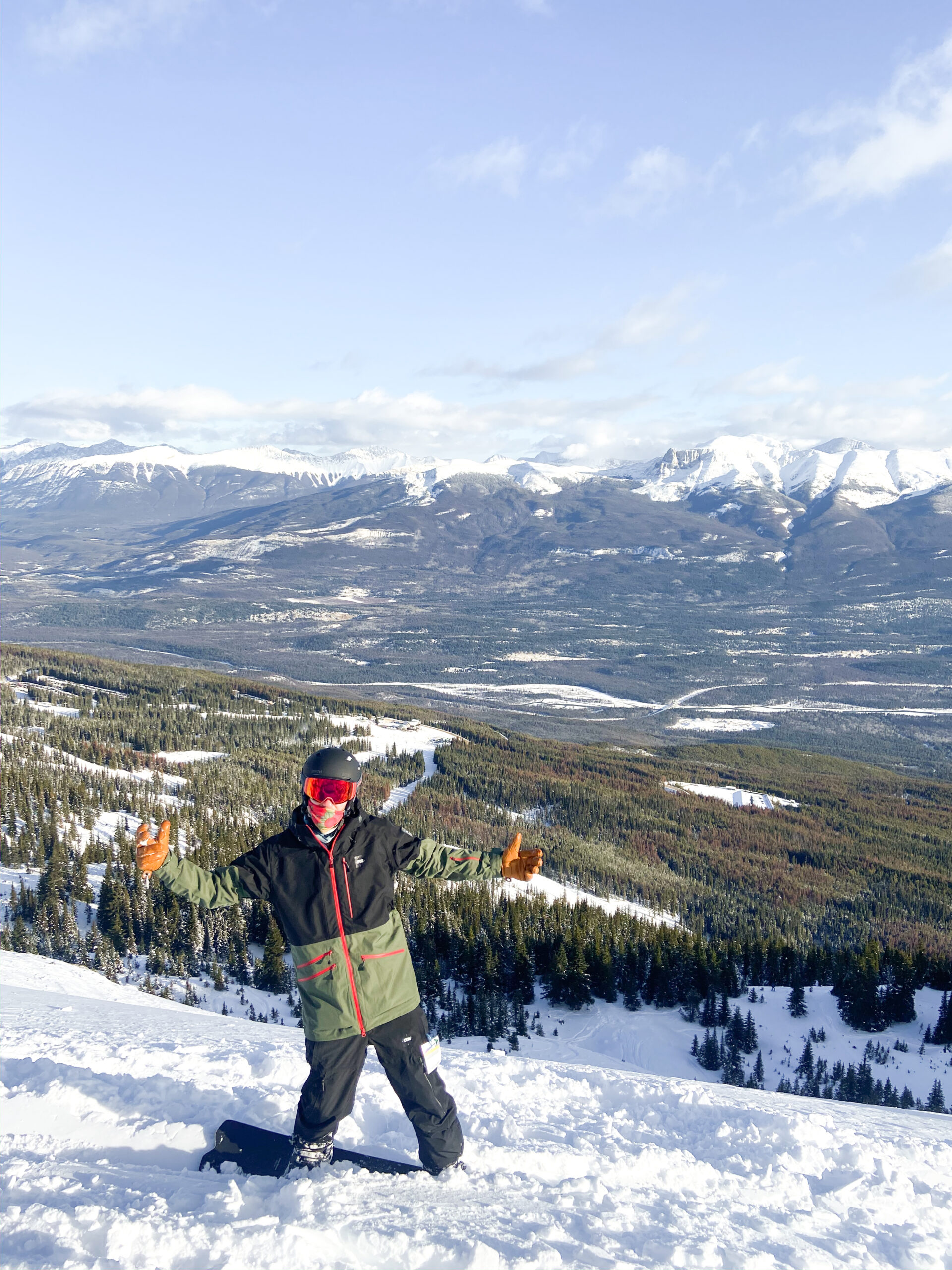 Marmot Basin in Jasper is one of the best ski resorts in the Canadian Rockies. It may not get all the hype that Banff Sunshine gets, but I assure you it's a wonderful mountain that sees far fewer crowds. If you're in Jasper in the winter you have to stop by for at least a day.
---
122. Hike into BC and See Mount Assiniboine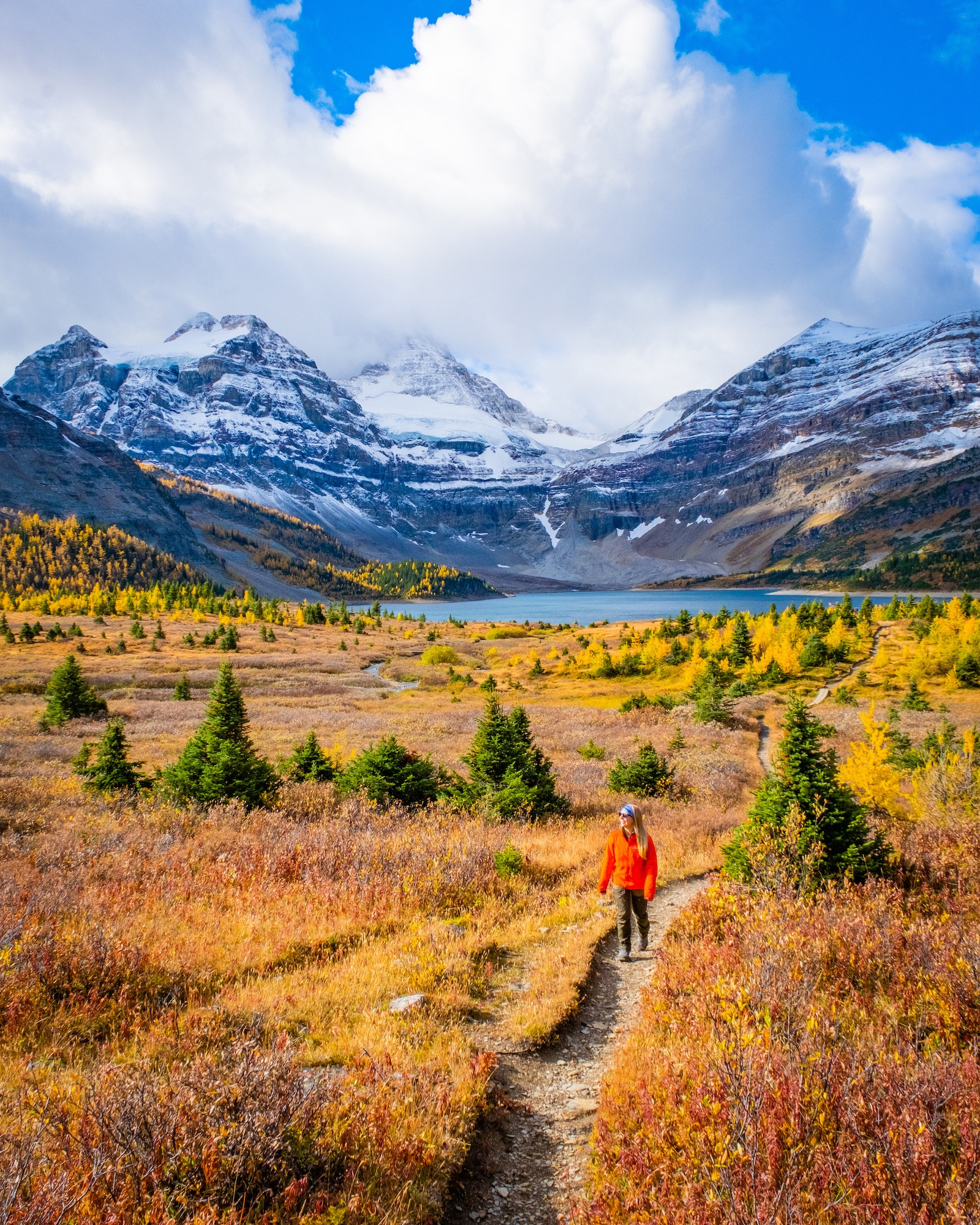 Mount Assiniboine can be seen from various points in Banff, but for the best views of it you're going to have to do a multi-day hike in Mount Assiniboine Provincial Park. Mount Assiniboine is an icon of the Canadian Rockies. The breathtaking mountain is often referred to as "The Matterhorn of the Rockies," and it's easy to understand why it received the name.
---
123. Check Out the Winter Wonderland at Athabasca Falls
If you're driving from Banff to Jasper along the Icefields Parkway a popular stop to make is at Athabasca Falls. In the summer it's beautiful, yet very crowded. However, in the winter it's likely you'll be the only one visiting these falls covered in snow and ice.
---
124. Ice Skate on Patricia Lake
Skating in Jasper is one of the best things to do in Jasper in the winter. There are a few lakes that are fantastic to skate on as they transition to solid ice come November and December. One of my favorites is Patricia Lake. It's quiet and a local favorite.
---
125. Walk Across the Bridge to Pyramid Island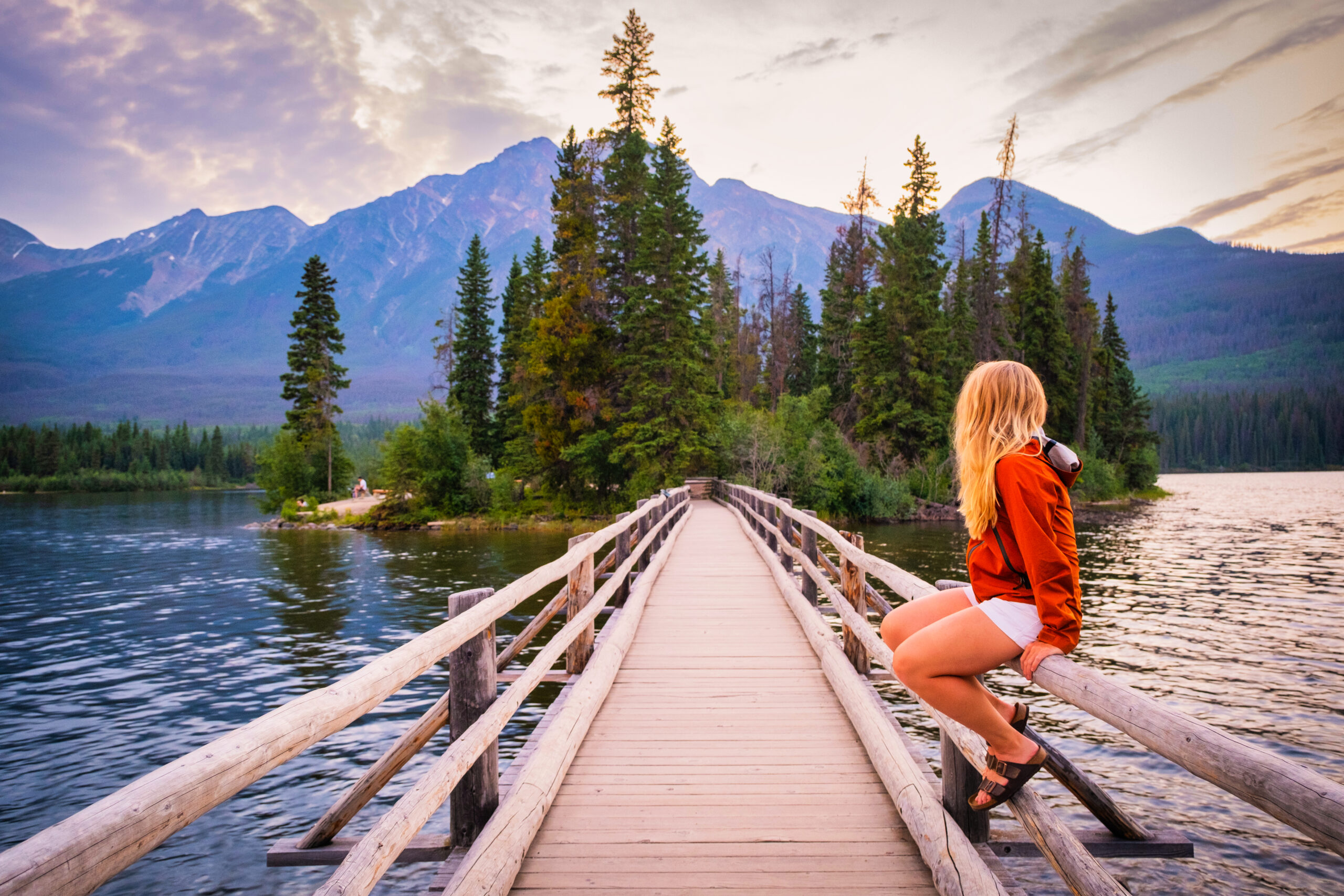 Pyramid Lake is right next to Patricia Lake and is another fantastic spot to visit in both the summer and winter. During all seasons you can walk across the pedestrian bridge to the historic Pyramid Island for a leisurely walk filled with great views of Pyramid Mountain up ahead. Make sure to check out Pyramid Lake Resort nearby for an awesome lunch or even to stay overnight.
---
126. Spot a Moose on Maligne Lake Road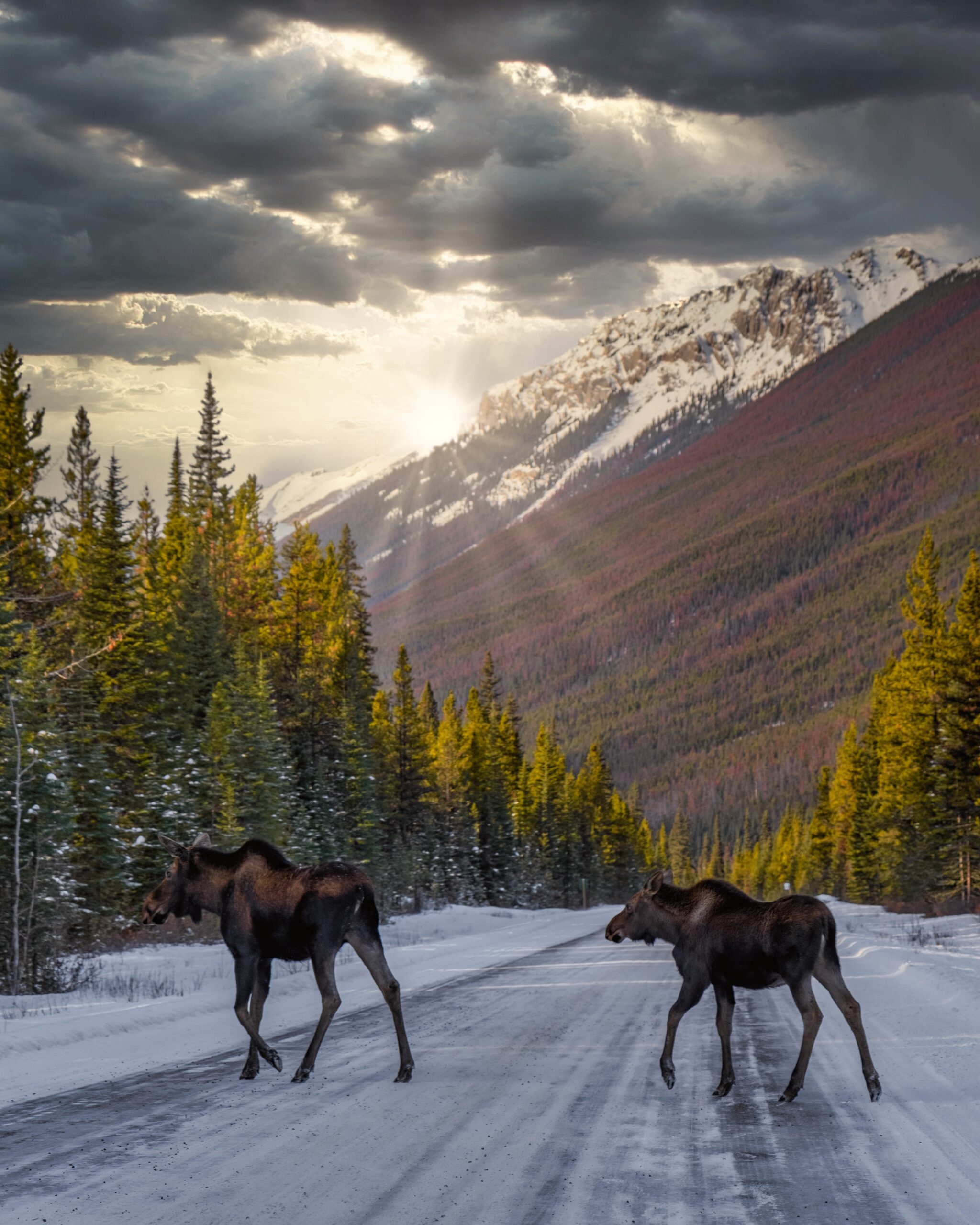 The drive along Maligne Lake road winds through the mountains and above creeks to make for one of the best road trips in the Canadian Rockies. You also stand your best chance at seeing some classic Canadian wildlife here so keep your eye out for moose, goats, and bighorn sheep!
---
127. Canoe to Spirit Island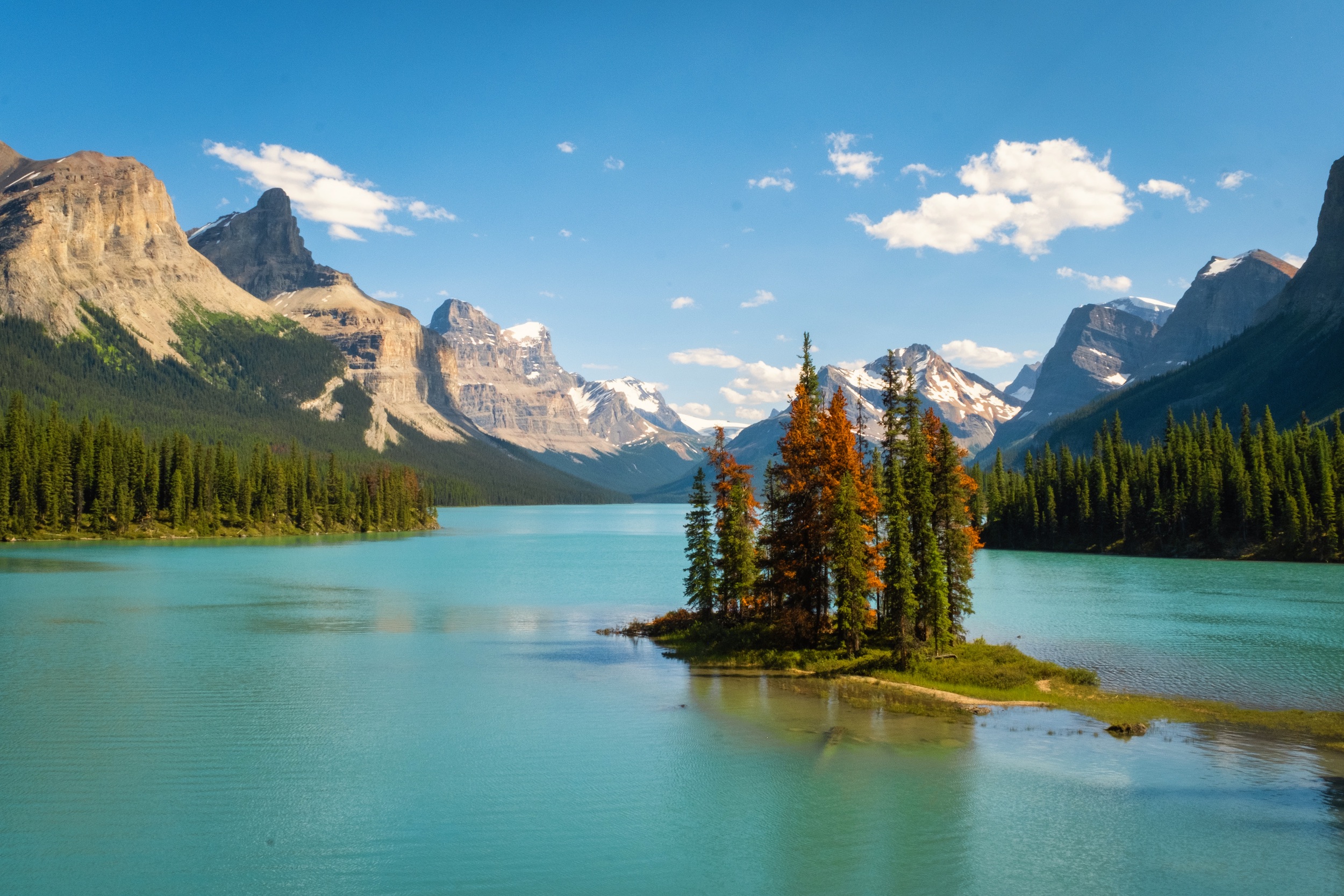 If you make it to Maligne Lake in the summer and have a few days to spare consider heading to Spirit Island. Spirit Island is a small peninsula island that sits 14 kilometers up the lake. The small island is now world-famous for its resplendent scene that is treasured around the world.
It feels more like the landscape of a dream than reality. You can take a quick tour with Pursuit to get to Spirit Island for an hour, or if you're really dedicated you can canoe the 14 km and camp overnight there (advanced permits required).
---
128. See the Disappearing Lake
Medicine Lake in Jasper is actually called the "disappearing lake" amongst many people as the water from the summer literally "drains" out through sinkholes in the bottom, traveling through a cave system and resurfacing downstream. We couldn't believe it when we saw it either! But it's truly a unique phenomenon.
---
129. Do a Multi Day Hike on the Berg Lake Trail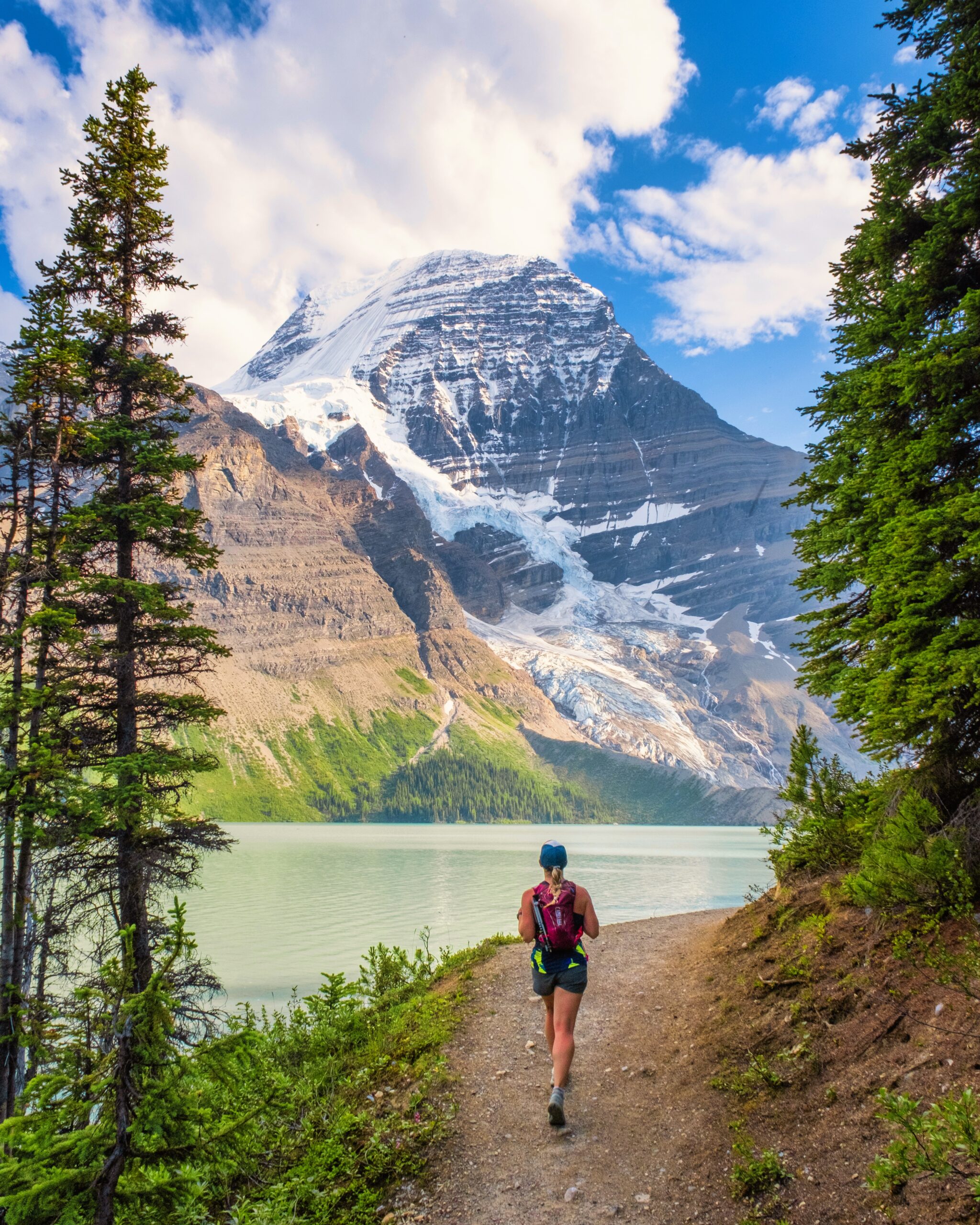 The Berg Lake Trail is easily one of the best multi-day hikes in the Canadian Rockies. Winding hikers through streams, lakes, waterfalls, and rivers leading up to Mount Robson it's certainly one you'll always remember. It's best done as a multi-day hike as out and back is 40km, but if you are a solid trail runner it can easily be done in a day!
---
130. Head to Waterton National Park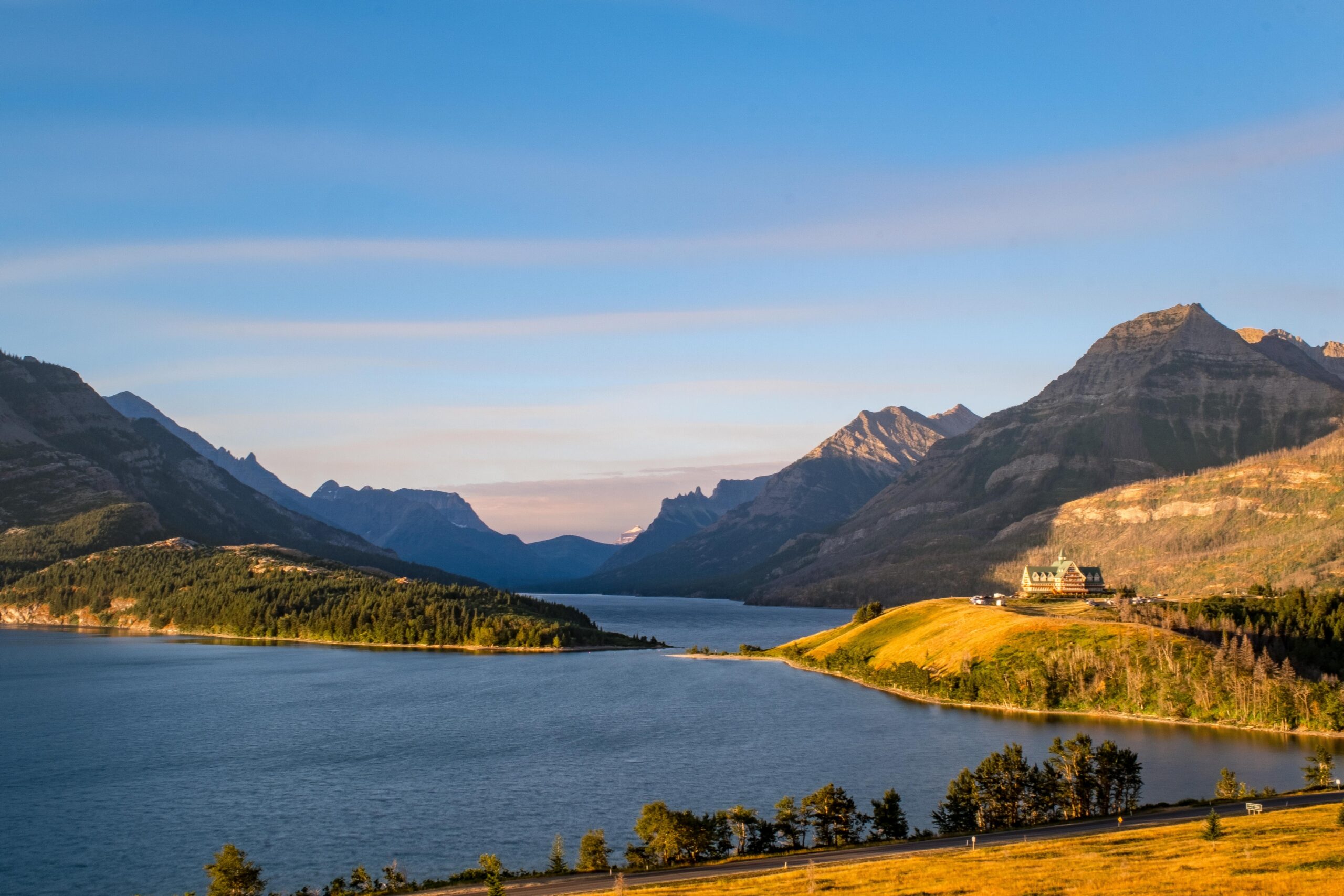 There is a lot to do in Waterton National Park, especially in the summer! Waterton is at the foothills of the Canadian Rockies and borders Glacier National Park in Montana. There are some stunning hikes here like the Crypt Lake Trail and Bear's Hump to enjoy. You can always stay at the famous of Prince of Wales Hotel too!