Revelstoke is one of the most amazing towns to visit in Canada. Not only does the area have world-class powder skiing, but you can also find mountain bike trails, hiking, and any summer adventure you want. After you are done with these activities, you'll need an awesome Airbnb in Revelstoke, or Revelstoke cabin to relax at.
So we've narrowed down our favorite guesthouses and VRBOs in this quaint little town. Suited for couples, families, or large groups of friends!
---
Luxury Mountain-Side Lodge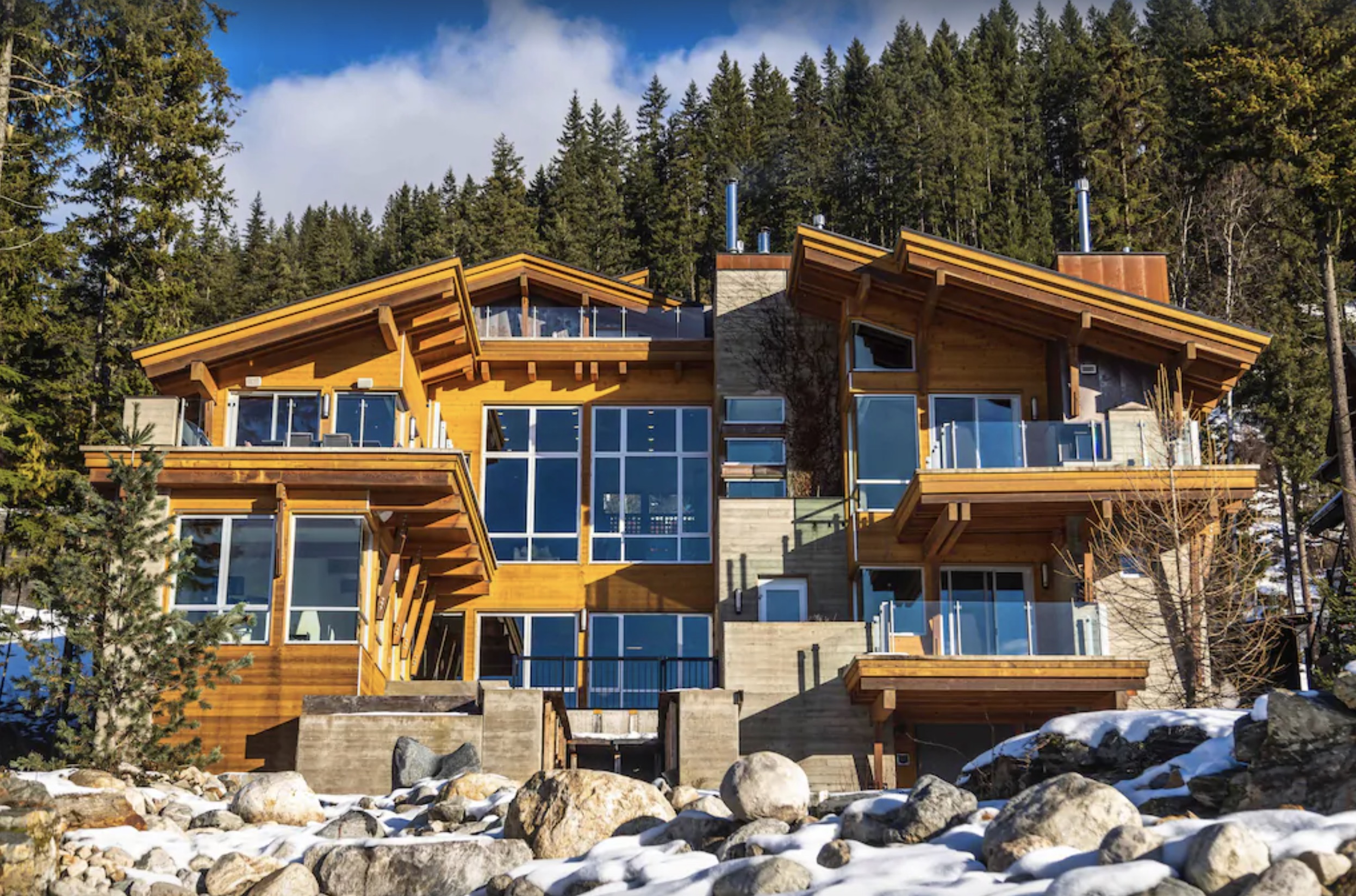 Beds: 10
Guests: 4
Superhost: Yes
Price: $2500 CAD/night
This is an awesome chalet on Revelstoke Mountain Resort, making it ski in ski out at Revy. If you have a big group and want to really ball out on your ski holiday look no further than here.
Inside this Revelstoke chalet are 4 modern luxury bedrooms, 3 bath plus 2 half baths. On top of that are a games room, outdoor hot tub, large screen TV, and floor-to-ceiling windows with unobstructed views of Mount Begbie. All of this makes this a great lounging spot for frosty winter evenings or warm summer nights after a long day of being outdoors. Private chef available on request.
---
Lux Downtown Condo
Beds

: 3

Guests: 6
Superhost: Yes
Price: $186 CAD/night (2-night minimum)
This beautiful downtown Revelstoke condo is perfect for larger families or friends looking for something a little fancier. The condo has two bedrooms, a pull-out couch, and sleeps six in total. It has a full kitchen, full bathroom, and a large main area ideal for groups who want to mingle. The covered deck has stunning mountain views.
Being right in the heart of downtown, there are pubs, restaurants, shops and info centres all within walking distance. Meanwhile, the Revelstoke Mountain Resort is less than 10 minutes away by car, so you don't have to choose between a day on the slopes or a night on the town.
---
Basecamp Resorts | Micro Suite Apartment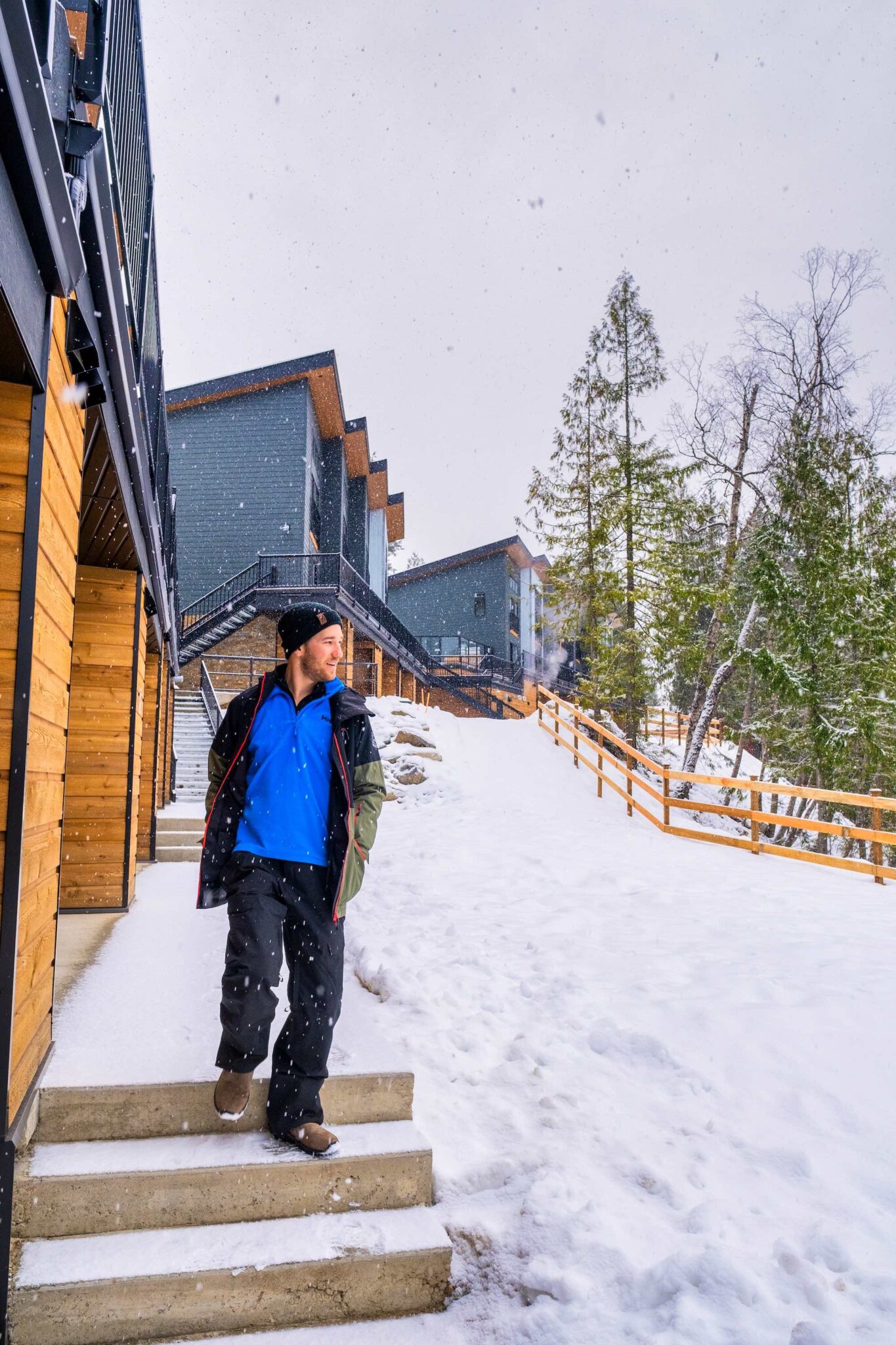 Beds

: 1

Guests: 2
Superhost: No
Price: $215 CAD/night
This is a small micro-suite unit perfect for a couple. Within the 500 square feet of space, there is a queen-sized bed, fully-equipped kitchen, small eating area, and bathroom. The interior is sleek and modern, and it may be small but it's perfect for cozy evenings together.
The unit is part of Basecamp Resorts, which is a boutique hotel and newly built in Revelstoke. It's only a few minutes' walk to downtown, a 15-minute shuttle ride to the main ski resort, and close to many nature trails in the area, including several that run along the Columbia River. The shared hot tubs are a perfect way to unwind in the evenings, particularly as the snow falls during the frosty winter months. We absolutely loved our time staying at Basecamp Resorts!
---
Deluxe Apartment Suite at Boulder Mountain Resort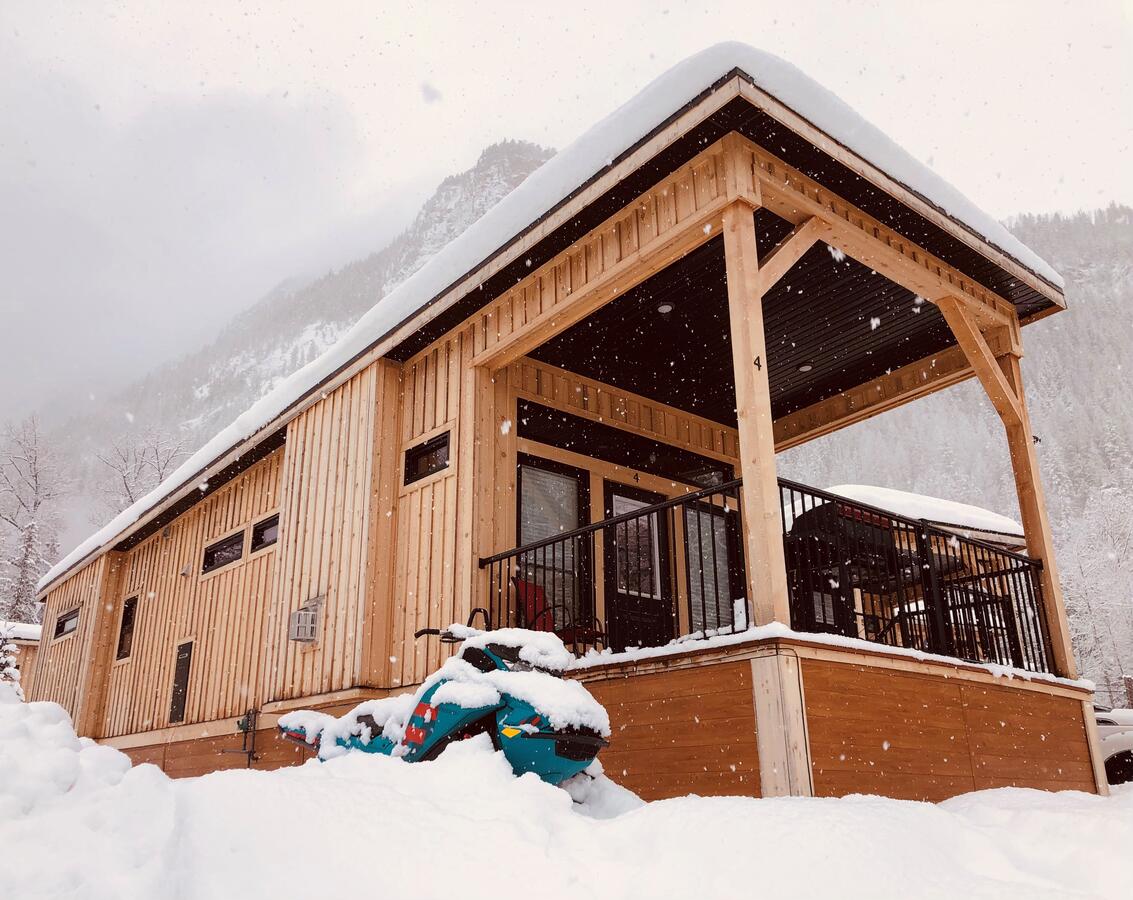 Beds

: 2

Guests: 4
Superhost: Yes
Price: $241 CAD/night
Modern meets rustic in this beautifully designed two-bedroom apartment. Suitable for groups of up to four, this is a bright and airy apartment suite located at Boulder Mountain Resort, just across the river from Revelstoke. This is the top floor suite of a lodge and includes a full kitchen, full bath, and plenty of space to relax at home in the large living room.
Downtown Revelstoke, as well as nearby ski resorts, are only a few minutes away by car, and the area is full of hiking and mountain bike trails. There is ski equipment storage on-site, laundry services, and even boot dryers. At the end of the day when you've shed all your gear, relax in the covered outdoor hot tub.
---
Beds

: 6

Guests: 12
Superhost: Yes
Price: $394 CAD/night (2-night minimum)
If there was ever a Revelstoke cabin you wouldn't want to leave, it's this one. Ideal for very large groups of up to 12, this is great for two families traveling together or big friend groups taking a ski trip. There are six beds across four bedrooms and the living room. The main living room area boasts incredibly large windows to take in the misty treetop view, complete with outdoor deck.
The house is entirely at your disposal, including chef's kitchen and laundry services. It is slightly secluded without being too far from the city. There is WiFi, a home entertainment system, and multiple bathrooms. In the wintertime, the hot tub is ideal for a soak after a long day of skiing; the resort is only a short drive away.
---
Amazing Downtown Studio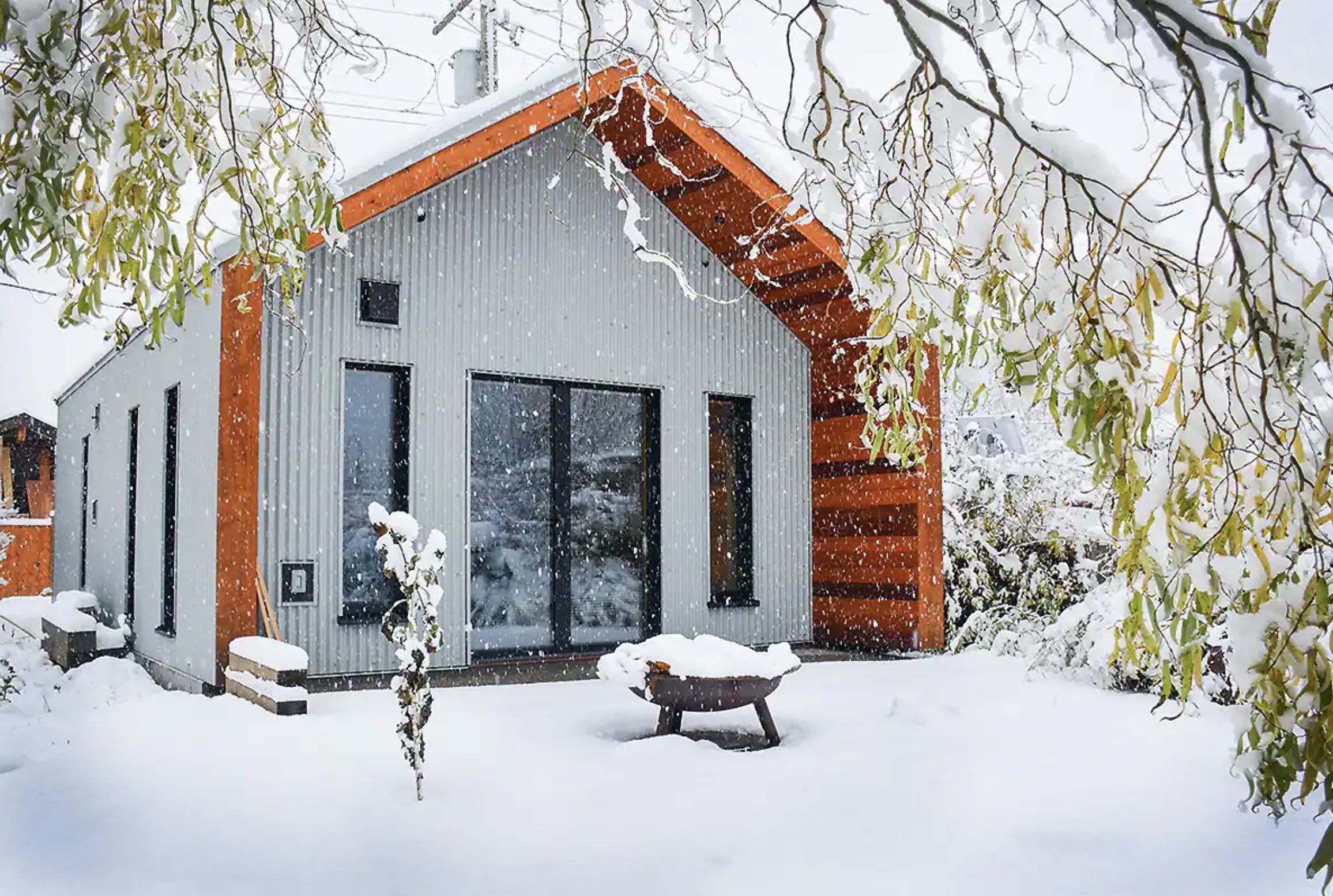 Beds

: 1

Guests: 2
Superhost: Yes
Price: $150 CAD/night (2-night minimum)
This is a unique open layout studio cabin in BC with excellent ambiance, thanks to an abundance of natural light. It's small and a no-pets stay, so ideal for a couple with no children (or furry friends). Located in a quiet neighborhood in the city centre of Revelstoke, this is the perfect place for younger couples who want to be close to the city scene without being too far from the mountains.
The inside is wood-panelled to give that rustic feel, alongside modern touches like a white-tiled bathroom, soft lighting perfect for evening relaxation, and nearly floor-to-ceiling windows to let in the light. If you're looking for an Airbnb in Revelstoke that combines comfort with touches of luxury, this is perfect.
---
Selkirk Suite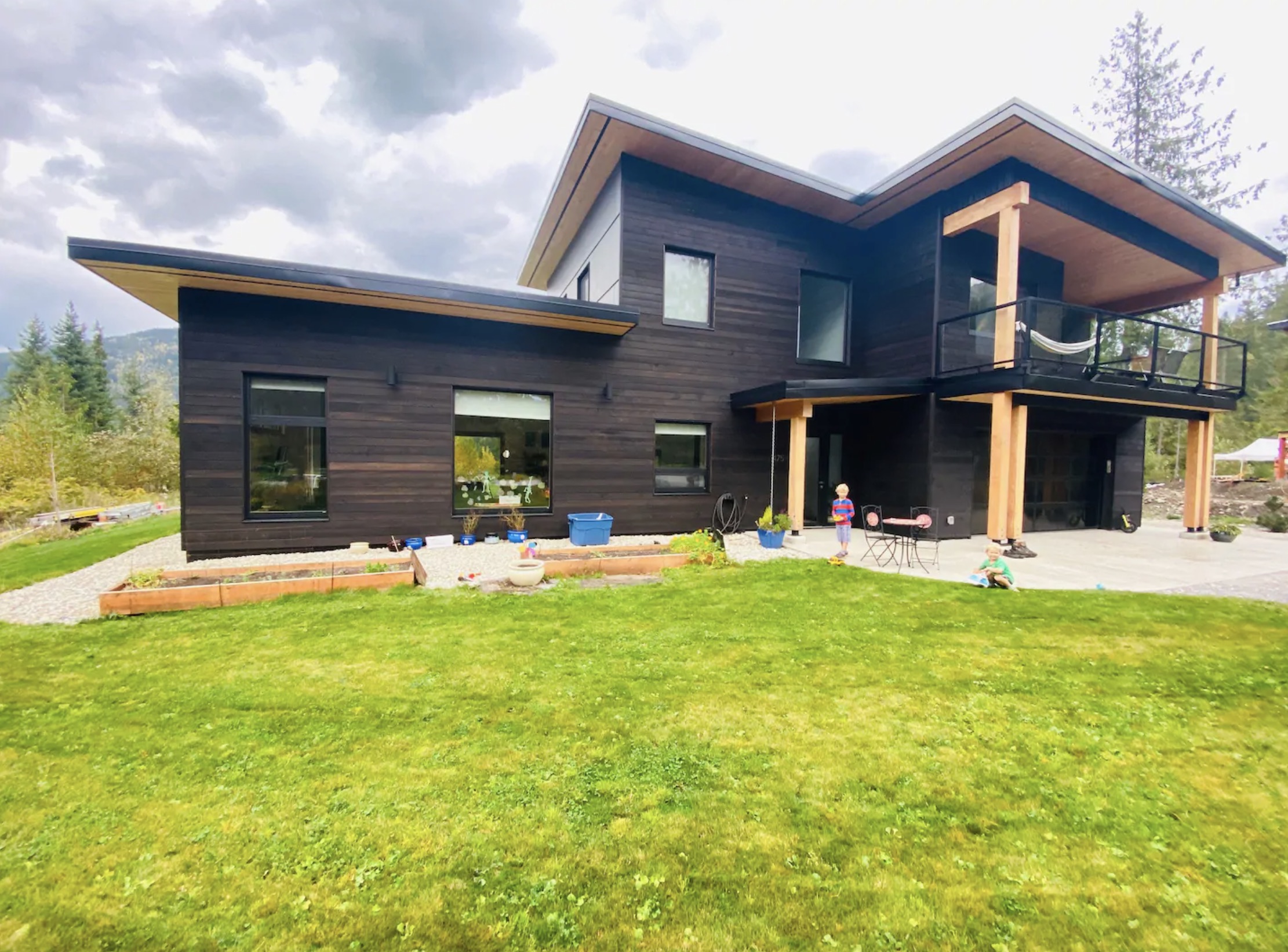 Beds

: 2

Guests: 4
Superhost: Yes
Price: $153 CAD/night (2-night minimum)
Located right at the base of Revelstoke Mountain Resort, this 2-bedroom Airbnb in Revelstoke is perfect for friends, couples, or small families. The unit is close to all the activities run on the mountain, like snowmobiling, skiing and snowboarding, snowshoeing, and more.
The unit itself is about 500 square feet, with one queen bedroom and a pull out couch for additional guests. There are beautiful vaulted ceilings throughout and a fully-equipped kitchen with gas range. Due to the small space, it isn't pet-friendly. It's a very new space, having been built in 2019, so the unit is well appointed with new appliances. The newly installed hot tub overlooks the river, so you can get the most out of your evening relaxation.
---
Revelstoke Cabin
Beds

:

1
Guests: 6
Superhost: Yes
Price: $200 CAD/night (2-night minimum)
If you're looking for a cute and cozy Revelstoke cabin look no further than here.
Nestled amongst the pines and built from dove-tail log construction these cabins all have kitchenettes and are super comfortable in both the winter and summer. I love that each suite has a hot tub to soak in after a day out on the slopes or mountain biking.
---
The Downtown Hive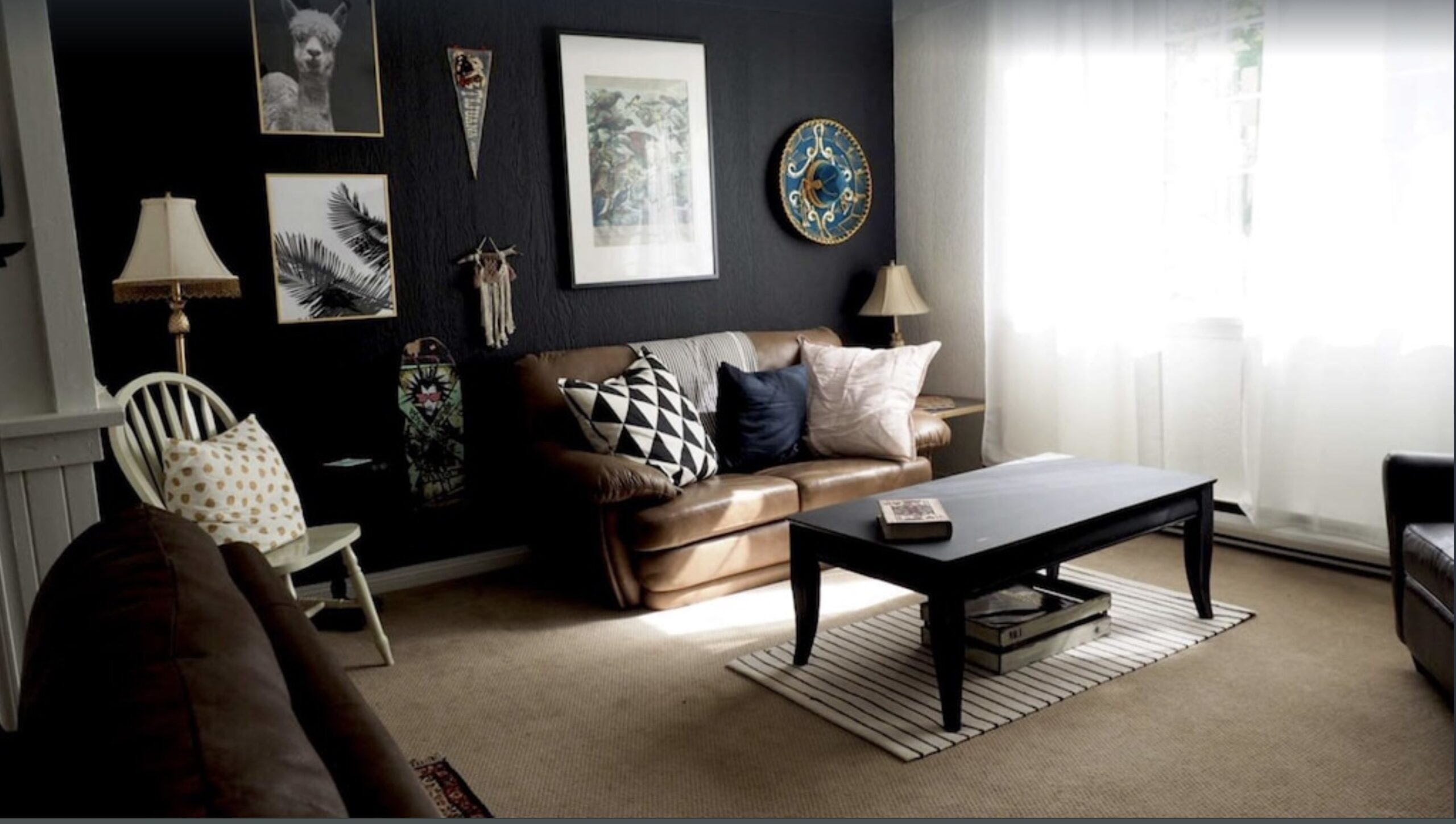 Beds

: 3

Guests: 5
Superhost: Yes
Price: $178 CAD/night (2-night minimum)
This cool condo is located in the heart of downtown Revelstoke, so you're always within walking distance of bars, restaurants, shops, and cafés, as well as the shuttle to the ski hills. This is a pet-friendly Airbnb ideal for larger families or groups of up to five, and the place is stylishly decorated for a fun and unique place to stay. You'll definitely want to take photos of the cool dark walls and contrasting white decor.
Features include a vintage wood-burning stove, comfortable seating areas ideal for lounging, washer/dryer, outdoor BBQ, and an indoor fireplace — really, all you could ask from a cozy Revelstoke mountain getaway.
---
Mountainside Luxury Retreat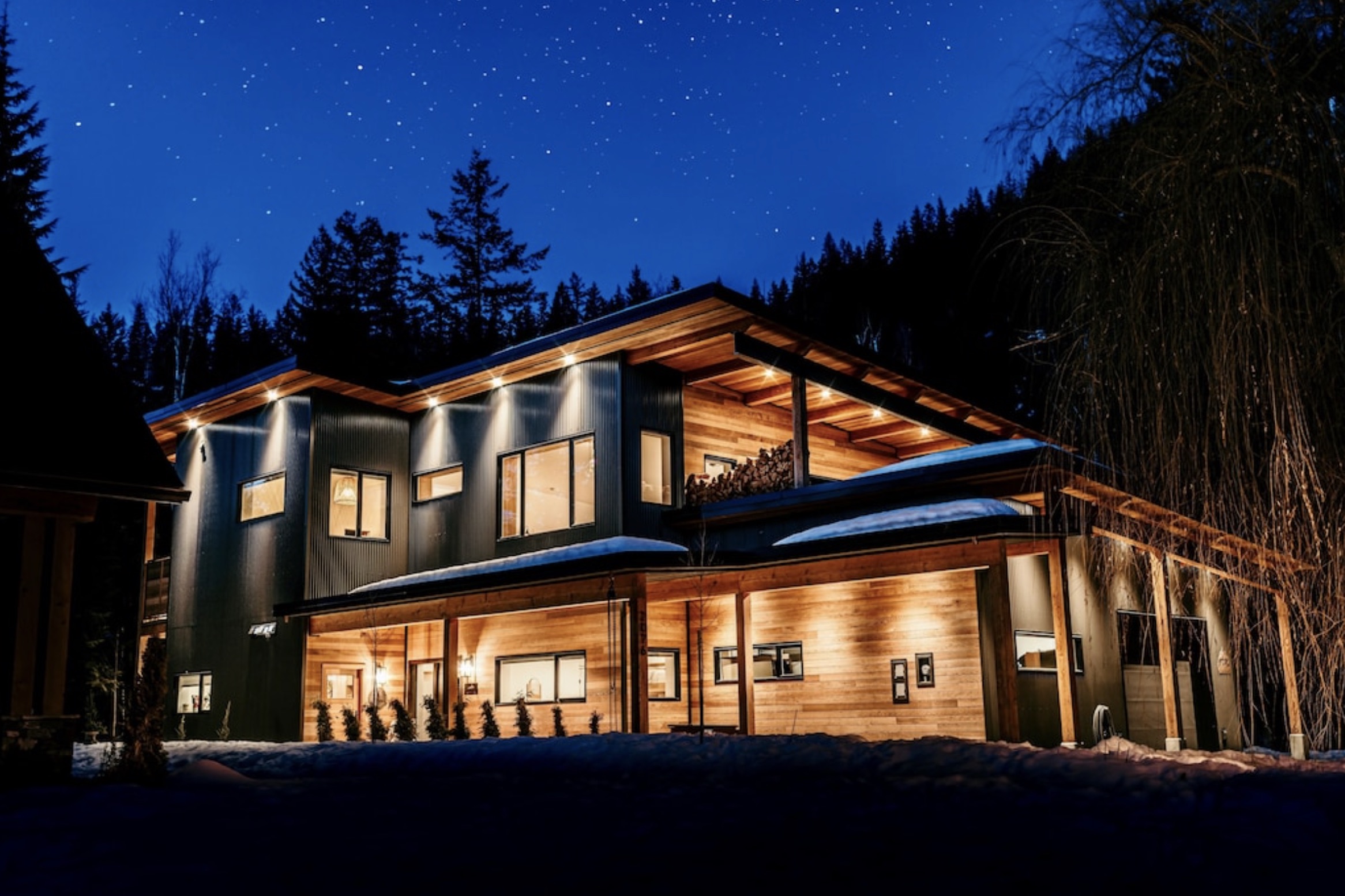 Beds

:

4
Guests: 11
Superhost: Yes
Price: $660 CAD/night (2-night minimum)
This is a great option for groups who plan to ski a lot at Revelstoke Mountain Resort. The house is huge with 13′ high ceilings in the living room and large mountains that overlook the mountains. Equipped with a 65″ television it's the perfect place to unwind after a long day skiing.
Guest will enjoy a BBQ, hot tub, back patio, 13′ double rain showers, and bathrobes. This place is luxurious folks!
For those wanting a full catered holiday in Revelstoke you can also request a private chef, yoga classes, and massages.
---
The Revy Den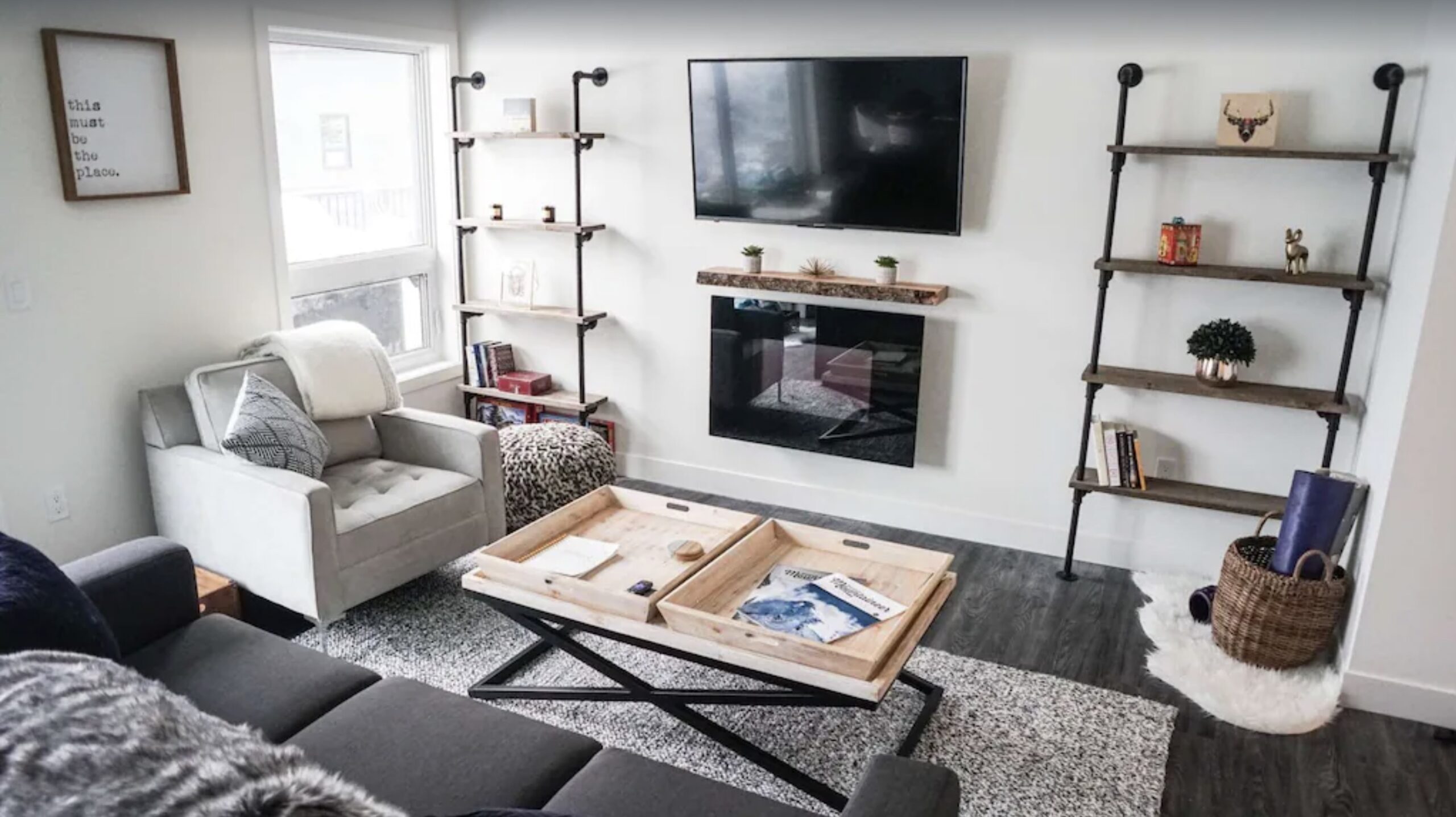 Beds: 3
Guests: 6
Superhost: Yes
Price: $309 CAD/night (3-night minimum)
This is a beautiful luxury condo suitable for up to six guests. It is located at the base of Revelstoke Mountain Resort, making it ideally situated if you plan to spend most of your time on the slopes. There is an open-concept dining and living area, two queen bedrooms, and a large pull-out couch for additional guests. The entire condo features sleek and modern design and decor, perfect for returning home and relaxing in the evenings.
It wouldn't be an Airbnb in Revelstoke without the other good stuff: a private outdoor patio, hot tub, indoor fireplace, and heated floors (the best feeling after a snowy day spent outside) so don't miss out on this beautiful rental if you and your family or friends are planning a trip to Revelstoke.
---
Brown Bear Suite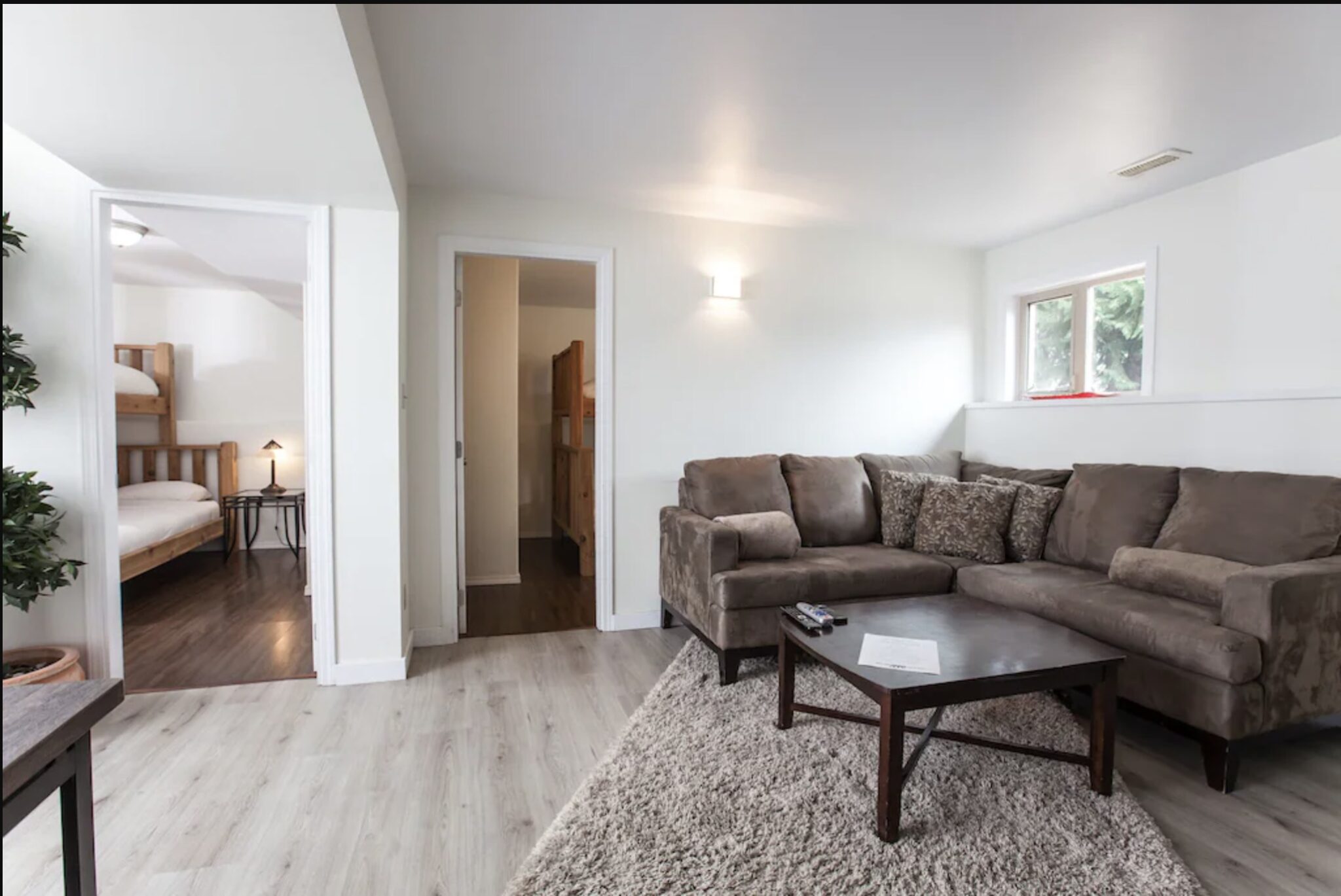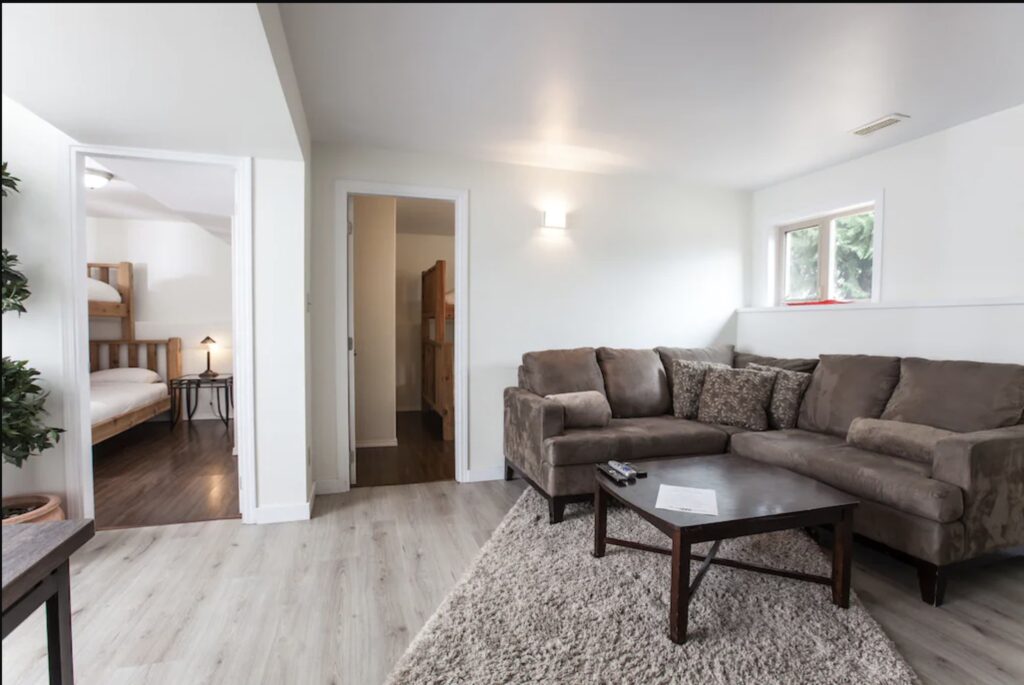 Beds: 4
Guests: 6
Superhost: No
Price: $278 CAD/night (2-night minimum)
The Brown Bear Suite is a large, 800 square foot two-bedroom suite perfect for groups of up to six. It's situated just west of Revelstoke, only about a 10-minute drive from the heart of downtown. Not far from the fun downtown activities, close to the ski hills, and still ideally located for tranquil relaxation.
The suite has a full kitchen, BBQ, six-person private outdoor hot tub, and bright, clean interiors. The decor is modern and minimal, and cleaning services are available upon request. Some dogs are considered at an extra cost, so if you plan to travel with your furry friends it's worth asking the host.
---
Sweet Sauna Dreams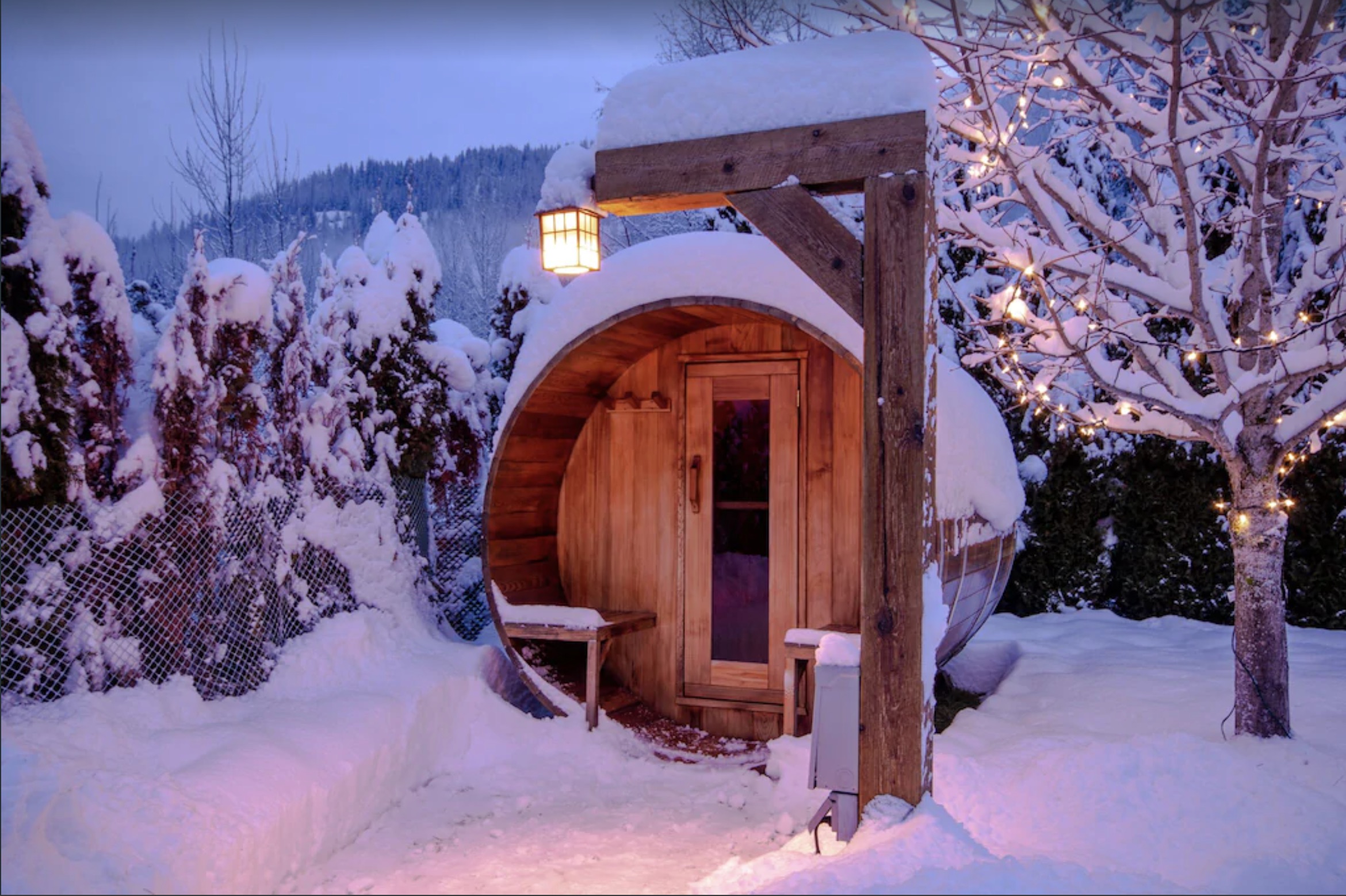 Beds

: 4

Guests: 8
Superhost: Yes
Price: $600 CAD/night
This beautiful wooden paradise with modern decor makes it a welcoming place to come back to after a day of exploring all the things to do in Revelstoke.
This Revelstoke VRBO is ideal for groups as it can house eight people comfortably for a ski holiday or for a summer holiday in Revy. Although I think it's best in the winter as some of the amenities include a beautiful sauna and hot tub. Also the Ski Resort Shuttle stops just steps away from the front door, ensuring you get first tracks on a powder day.
---
Powder Cabin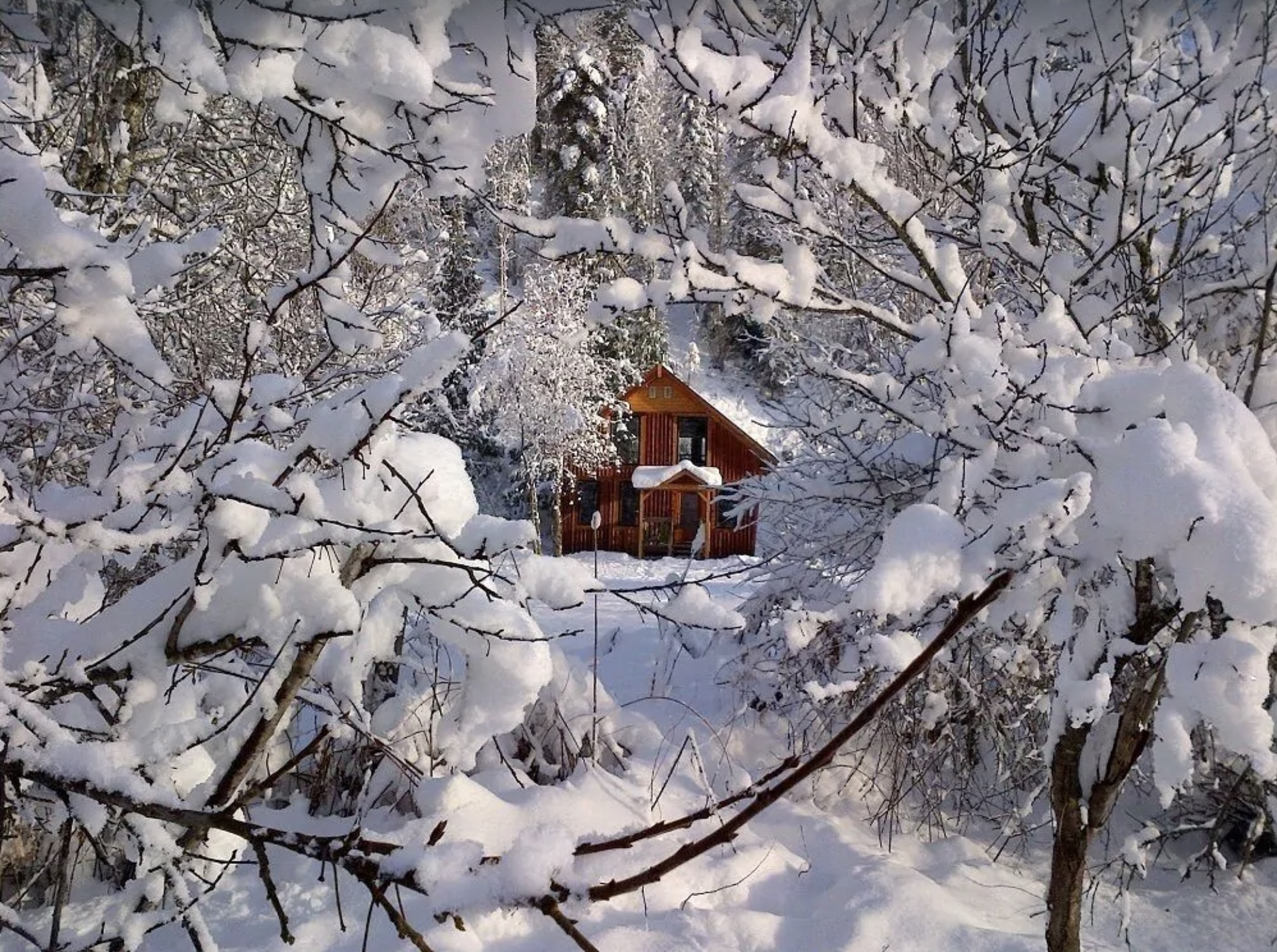 Beds: 4
Guests: 8
Superhost: Yes
Price: $250 CAD/night (5-night minimum)
This entire-home Airbnb rental has all the charm and feel of a little cottage in the mountains but is conveniently located just steps from Revelstoke Mountain Resort and only steps away from the gondola. It's one of the only rentals at Revelstoke Mountain Resort on this list. This is a character home that has been renovated for maximum comfort. There are two full kitchens, three bedrooms with queen-sized beds (and a set of bunk beds if you're traveling with kids), a sunroom with chairs and a comfortable living area with couches to lounge on.
This home is optimal for large families or friends vacationing together, and thanks to the large social areas, it's a great place to gather with loved ones on your trip to Revelstoke.
---
Snowshoe Pete's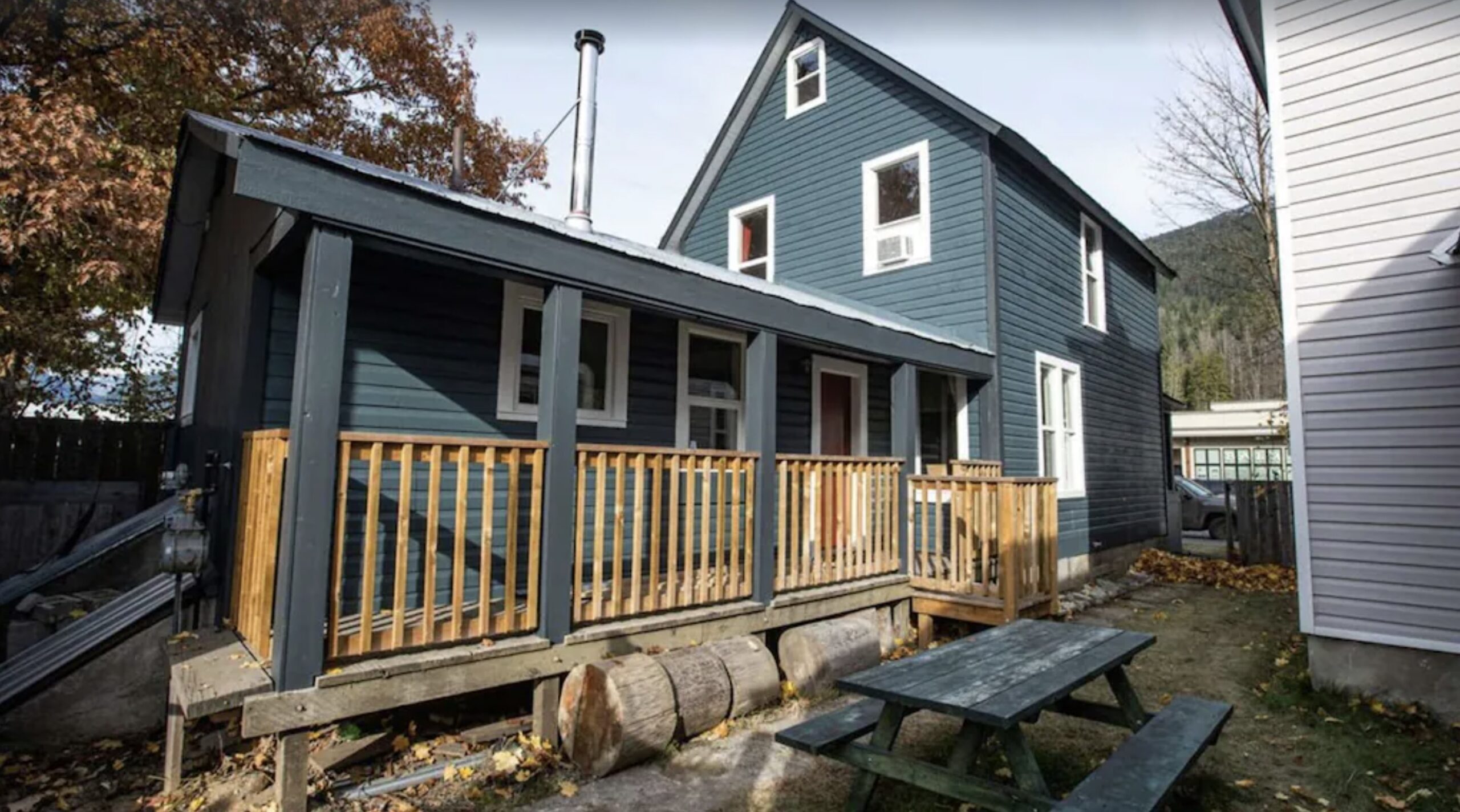 Beds: 4
Guests: 6
Superhost: Yes
Price: $257 CAD/night (2-night minimum)
With a name like that, how could you not stay here? And Snowshoe Pete's is as fun as it sounds. This is a heritage home painted a fun teal, and the inside is a mishmash of bright colours with homey and rustic touches, like exposed wood beams and fun wall decor. Overall, this quaint Revelstoke Airbnb has a warm and inviting vintage feel.
Located on the outskirts of downtown, it's close to the city buzz but far enough away to feel quiet and relaxing. The kitchen is well-stocked to be able to cook up whatever you need, and there are an array of cookbooks if you need inspiration. The house rental includes WiFi, a wood-burning stove, dishwasher, laundry, and even a few baby needs.