If you have ever wanted to experience the ocean views and Rocky Mountains of western Canada, the drive from Vancouver to Jasper has both!
A drive from Vancouver to Jasper, from the ocean to the Rocky Mountains, will take you through the very scenic Canadian province of British Columbia (they don't call it beautiful BC for nothing!) and into neighboring Alberta. Read on to learn about travel options for this trip, as well as some stops to make along the way!
---
How to Travel Between Vancouver and Jasper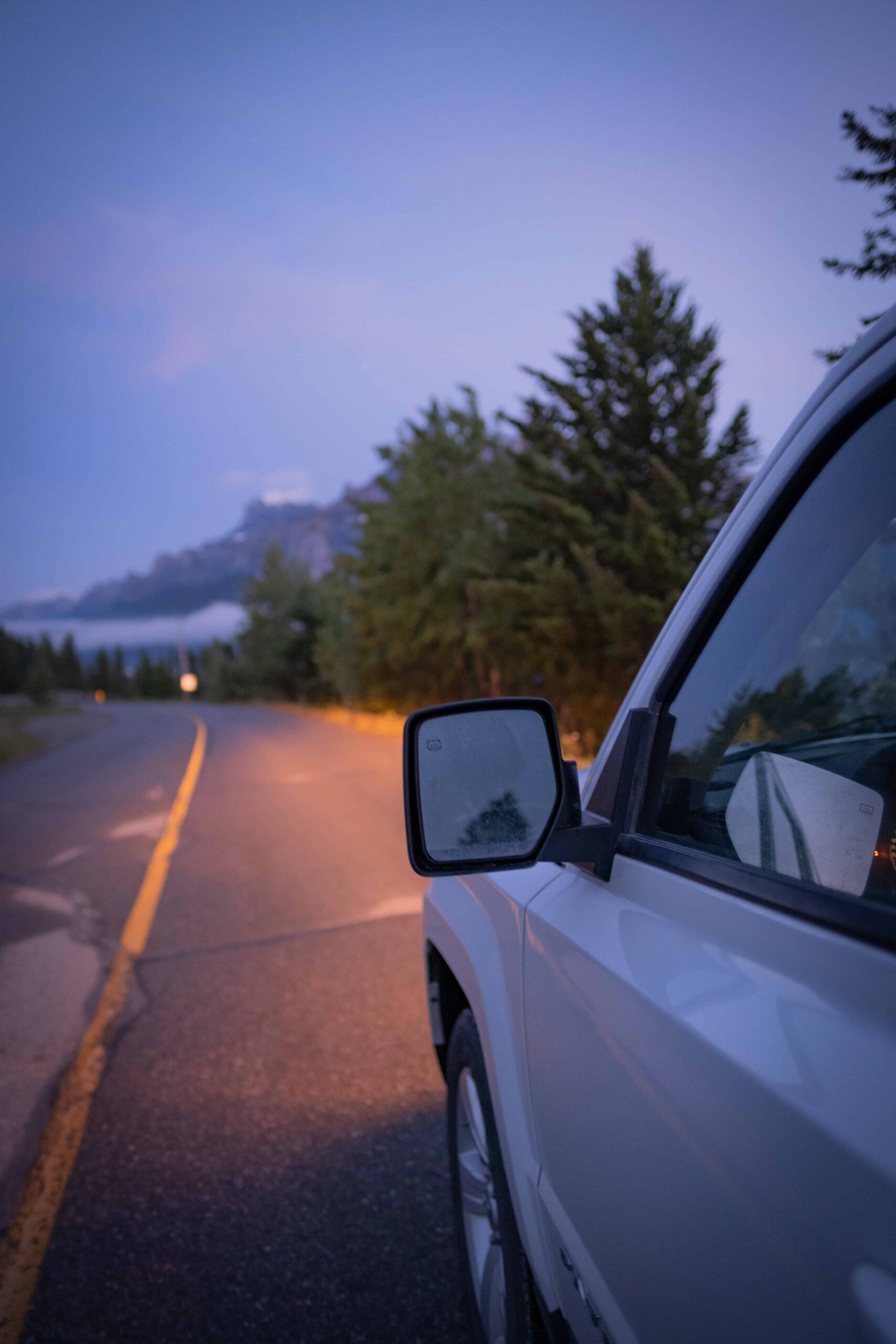 By Car: The easiest way to travel between Vancouver and Jasper is by car. This will allow you the flexibility to choose which stops to make along the way and you can take as many days as you'd like to complete the trip. You can rent a car in Vancouver and drop it off in Jasper (or vice versa), often for an additional fee. Avis, Budget, Hertz, and National Car Rental are the car rental companies operating in Jasper. However if you are flying out of Edmonton or Calgary, it's best to drop off in those locations.
By Train: The Rocky Mountaineer offers scenic train journeys between Vancouver and Jasper (among other destinations in the Rockies). The trip directly between Vancouver and Jasper can be made in 2 days, with a one-night stop in Kamloops. Via Rail is another option, with two trains running between Vancouver and Jasper per week.
By Air: In order to travel from Vancouver to Jasper by air, you must fly from Vancouver into either Calgary or Edmonton and drive to Jasper from there. Both Air Canada and WestJet offer frequent flights between Vancouver and these two cities, and the driving time from either Calgary or Edmonton to Jasper will take around 4 hours.
---
The Best Routes Between Vancouver and Jasper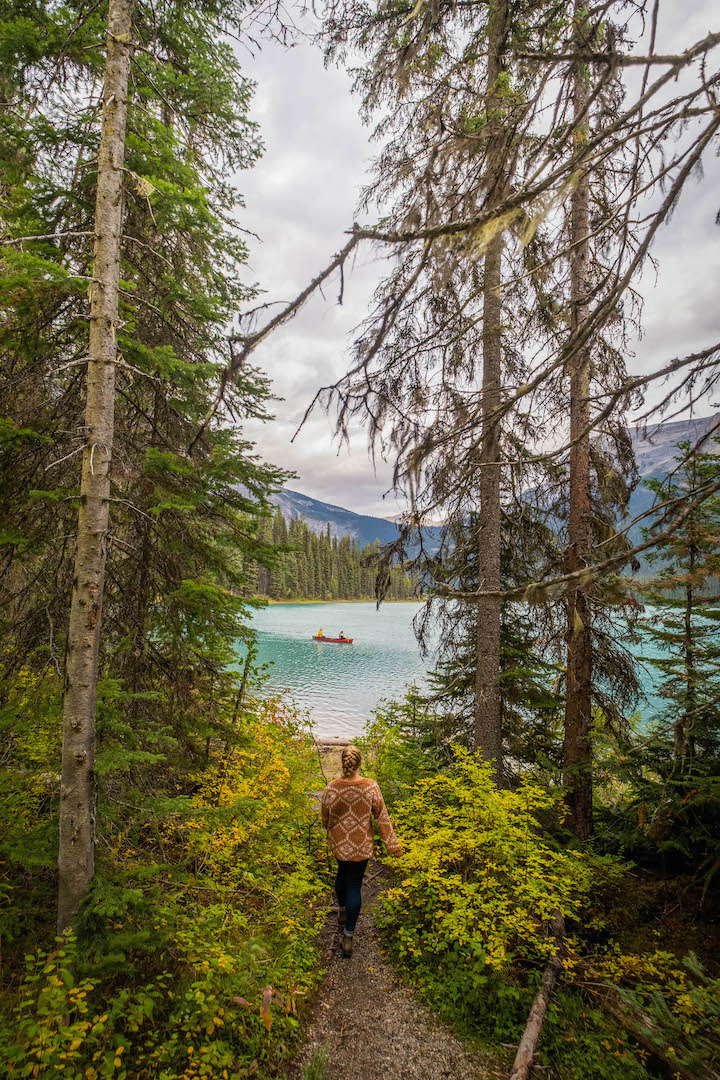 Fastest Route (9 hours): The fastest route from Vancouver to Jasper is along the Trans-Canada Highway (Highway 1) from Vancouver to Hope, onto Highway 5 (also known as the Coquihalla Highway) through Kamloops and beyond before turning onto Highway 16 near Valemount and Mount Robson Provincial Park. However, this is the quickest route, though we don't think it's the most scenic, and you may find that you miss many of the must-see stops between Vancouver and Jasper (particularly the Icefields Parkway).
Scenic Route (13 hours – Highway 99 Route, including Icefields Parkway): This scenic route from Vancouver travels through Whistler and on to Pemberton and Cache Creek along Highway 99. This will take you along Duffy Lake Road, a scenic but sometimes tricky road to drive in adverse conditions. You will then connect with the Trans-Canada Highway (Highway 1) and follow it through Revelstoke, Glacier National Park, and Golden. Past Golden you will get on Highway 93N in Lake Louise and travel north towards Jasper. This route is quite long – but the most scenic.
Alternate Scenic Route (11.5 hours – Highway 5 Route, including Icefields Parkway): From Vancouver, follow the Trans-Canada Highway (Highway 1) from Vancouver to Hope, onto Highway 5 (also known as the Coquihalla Highway) through Kamloops and then back onto Highway 1 through Revelstoke, Glacier National Park, and Golden and hop on the Icefields Parkway in Lake Louise.
Okanagan Detour (12 hours): From the Highway 5 Route, it is also possible to take Highway 97 detour to visit the Okanagan Region of British Columbia. This will take you towards Lake Okanagan and through the cities of Kelowna and Vernon.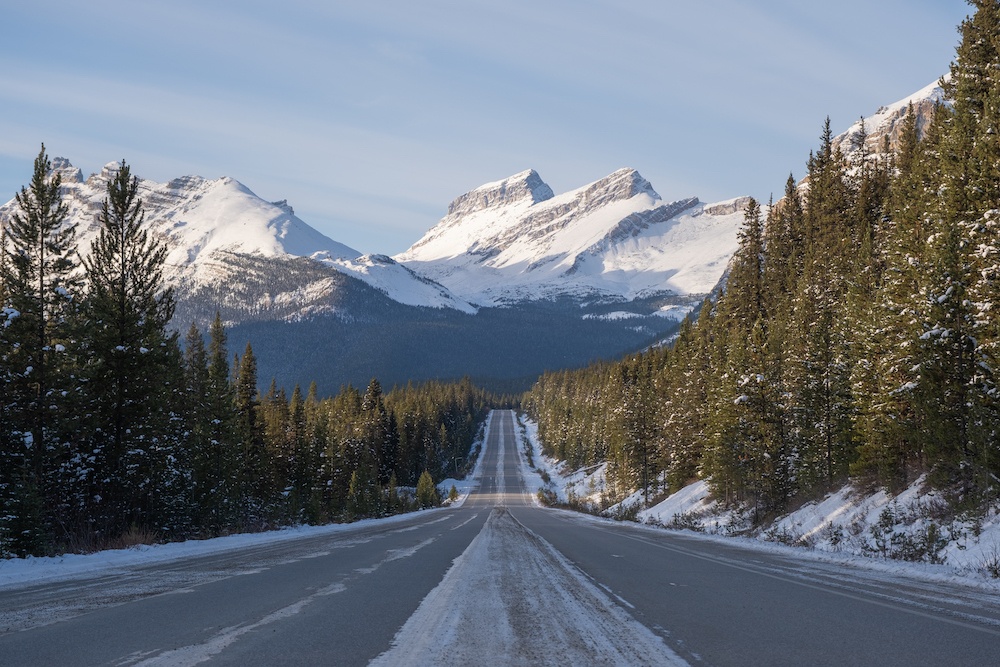 Ultimately, there are a number of routes that will take you from Vancouver to Jasper, though it depends on if you want the long and extremely scenic route, or the quickest but less dramatic route.
We recommend studying a map and determining which stops you'd like to make in order to help you decide on your desired route.
This article will focus on the two scenic routes, along with details about the Okanagan (Highway 97) Detour.
---
Can You Do the Vancouver to Jasper Drive in One Day?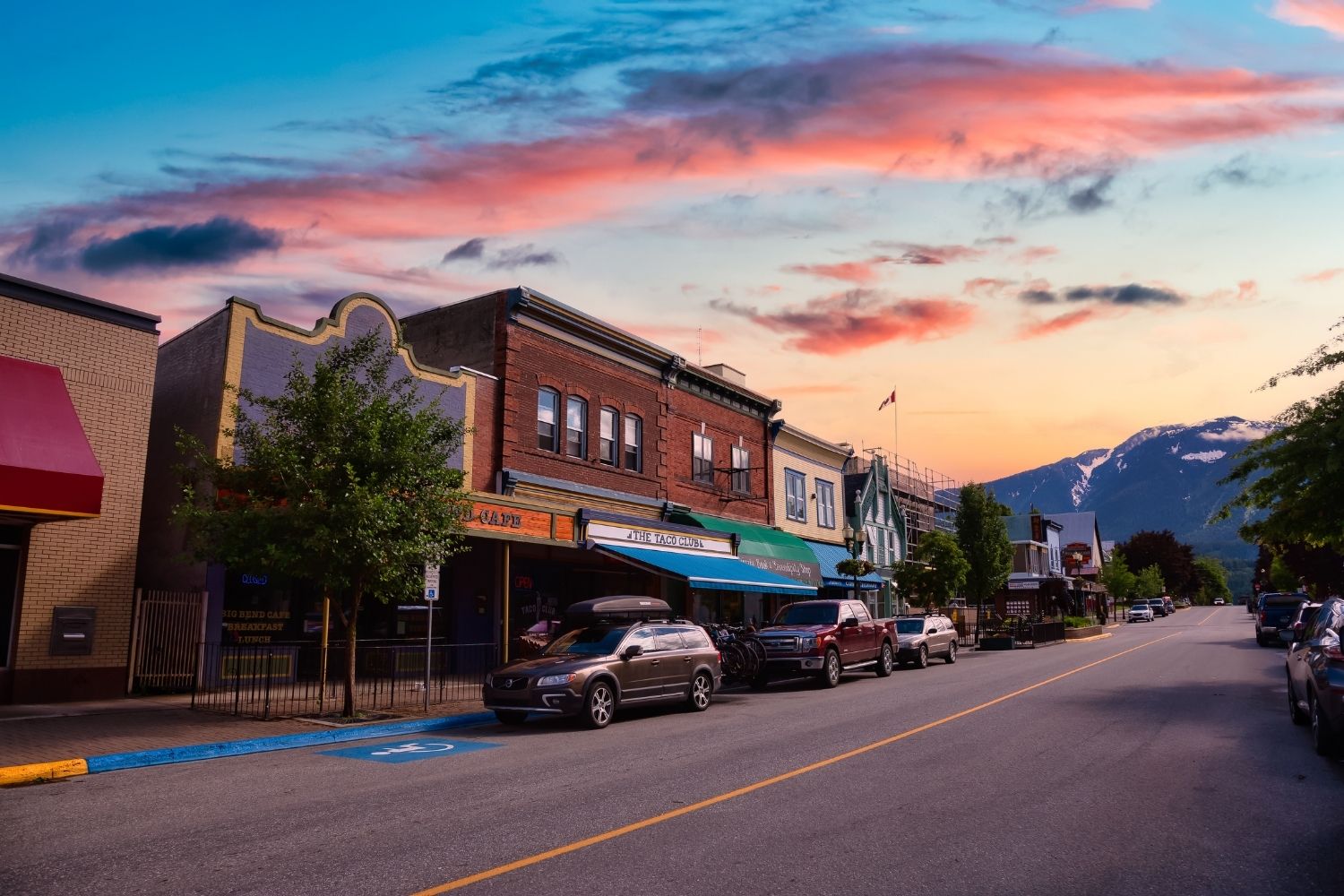 Yes – the Vancouver to Jasper drive can be done in one day. However, you will not have all the time that you may like to make stops and do any sightseeing along the way. It would be a long day of driving and require an early start with just a few stops.
Allowing for at least two days might be a better option. This will allow you to enjoy many of the stops along the way and break up the driving, though you really will benefit from taking three days to drive the scenic route between Vancouver and Jasper.
You could plan your overnight stays depending on which route you select and where you'd like to spend your time. We always recommend Revelstoke as a great half way base for Vancouver to Banff road trips.
---
Driving from Vancouver to Jasper in Winter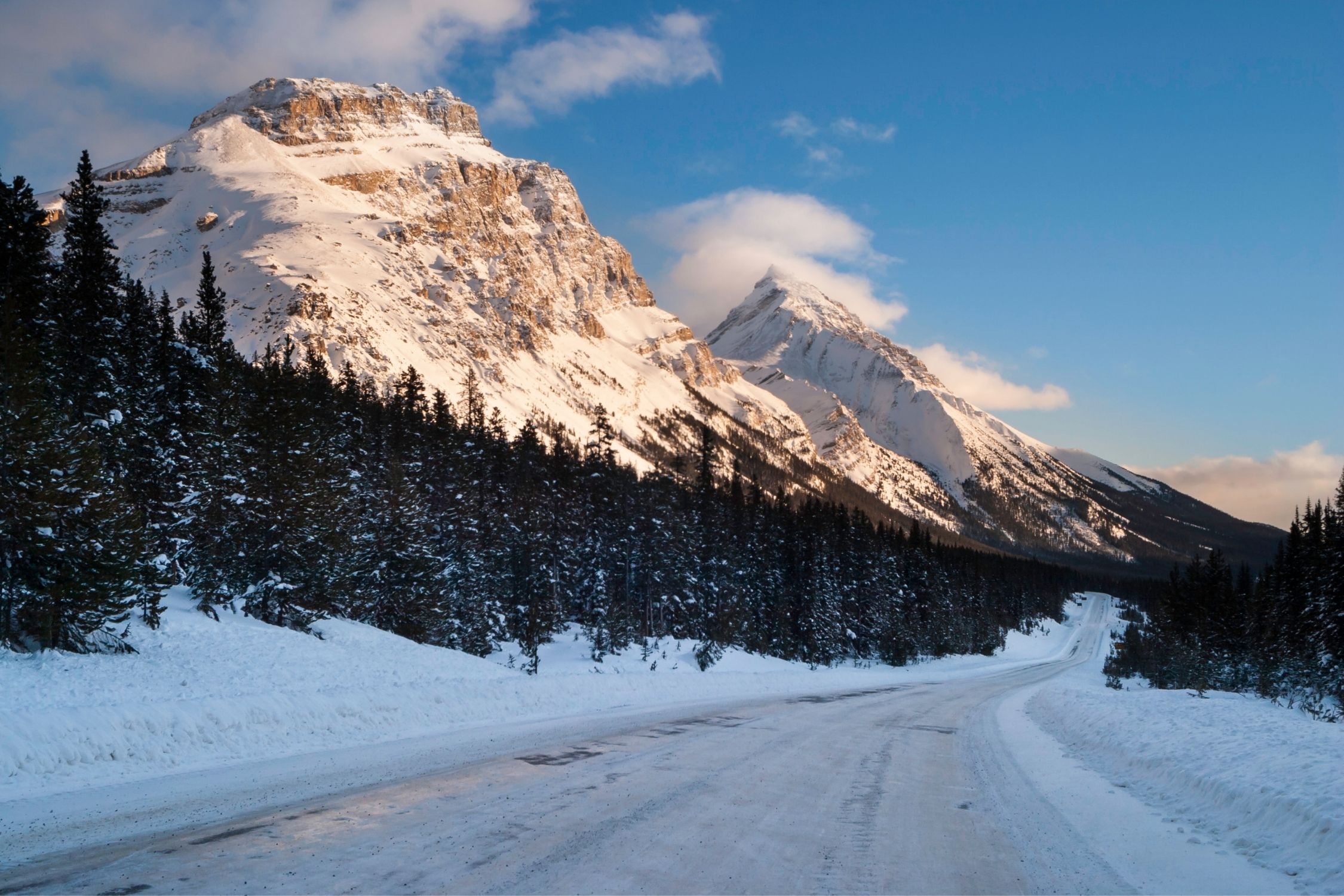 Winter driving in Western Canada, especially through the mountains, can be treacherous. If you are planning to drive in the winter, it is important to take your time and have the flexibility in your schedule to stop if needed due to poor weather and driving conditions.
Many roads in BC and some routes in Alberta require winter tires or chains from October 1st to April 30th. Also note that some areas along the route will not have cell service, so it is important to be prepared with all of your travel essentials in case of emergency.
---
Important Things to Note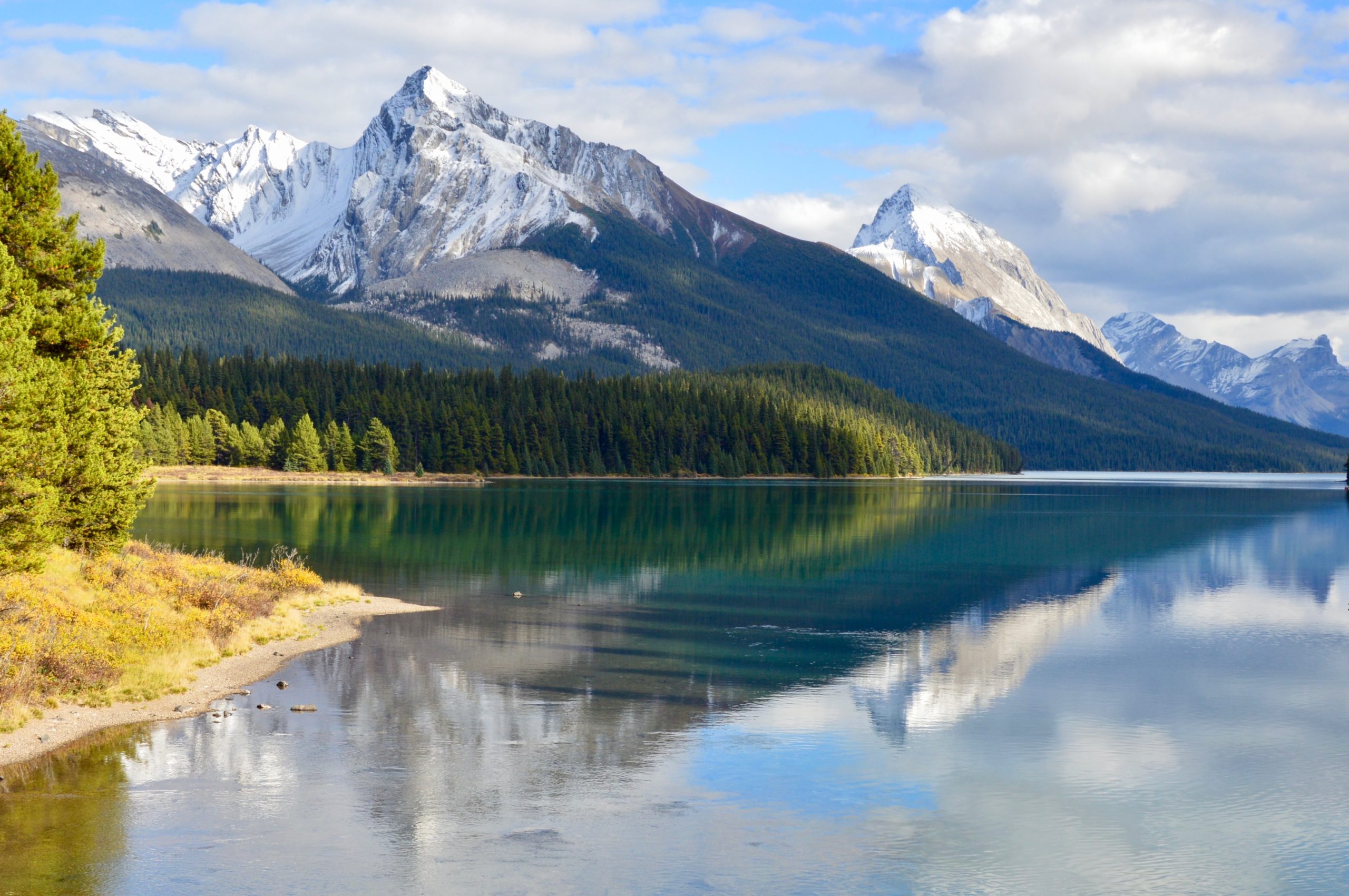 If you plan to stop for any sightseeing in a national park such as Banff National Park or Jasper National Park, you will need a Parks Canada Pass. Read more on how to get one here.
It is important to watch for wildlife on the route from Vancouver to Jasper, especially during the summer months.
Do not rely on having cell service for the entirety of the drive between Vancouver and Jasper, especially along the Icefields Parkway, from Pemberton to Cache Creek, and from Revelstoke to Golden. Plan accordingly and ensure you have access to an offline map.
Stay up-to-date on road conditions on DriveBC and 511 Alberta.
---
Best Stops to Make on the Vancouver to Jasper Drive
---
Vancouver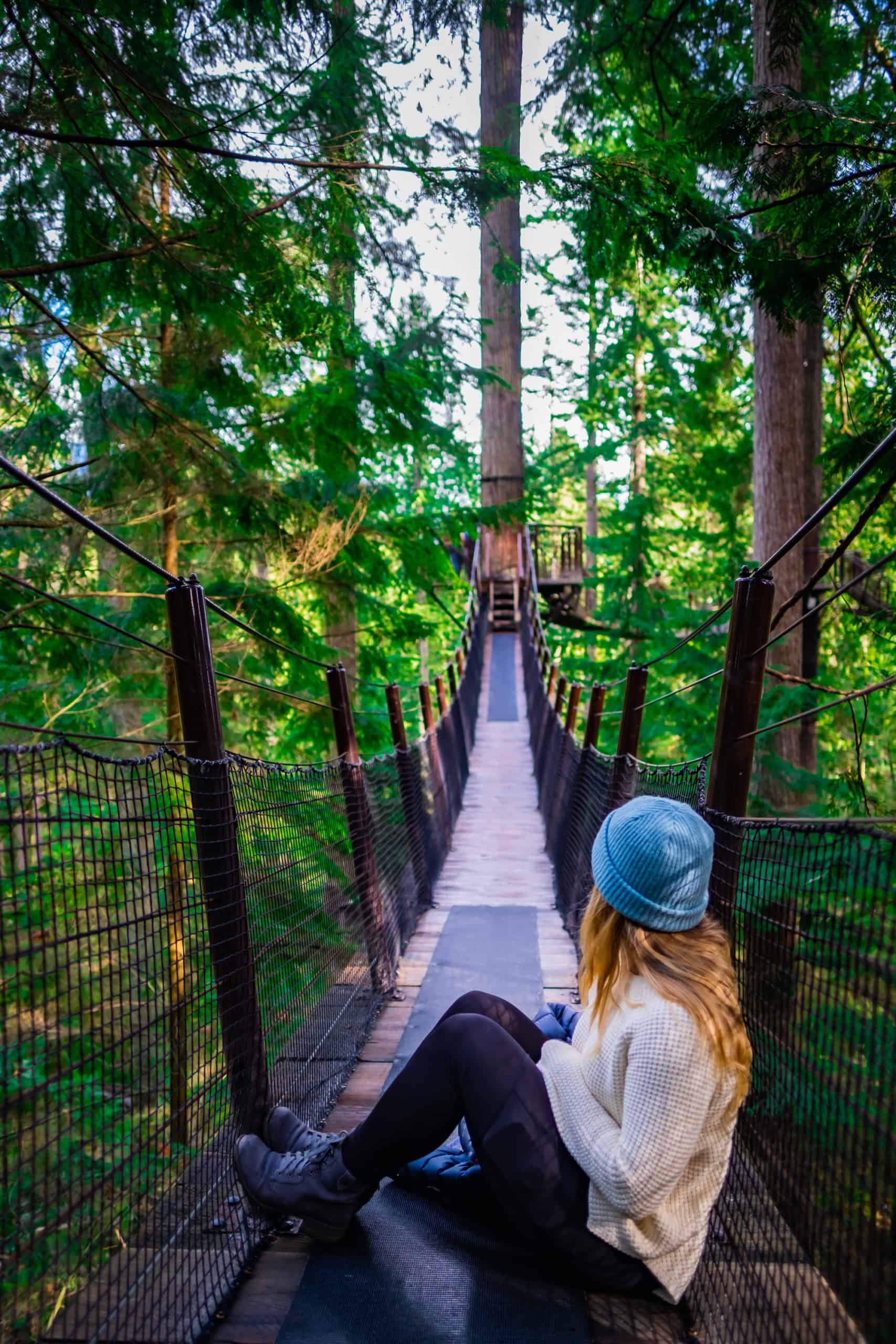 With its waterfront location and views of the surrounding mountains, Vancouver is arguably the most beautiful metropolitan city in Canada. There is a wide range of things to see and do in Vancouver, and you could easily spend two days exploring the city before heading to Jasper.
Some of the best outdoor activities in Vancouver include:
Stanley Park Seawall: This beautiful path is frequented by walkers, runners, and cyclists, and is easily accessed by those staying in the downtown area. Enjoy gorgeous ocean views along the paved path, and if you have the time, explore the 400-hectare Stanley Park itself.
Climb Grouse Mountain: Located in North Vancouver, this hike is often referred to as 'Mother Nature's Stairmaster'. If you can make it up the steep 2.5km climb with 800m of elevation gain, you will be rewarded with beautiful views of the surrounding area. Note that downhill hiking is not permitted – you must ride the gondola on your descent.
Capilano Suspension Bridge Park: This family-friendly attraction in North Vancouver offers a 450 ft suspension bridge, along with a treetop walk within the surroundings of an old-growth rainforest. If you are staying in Downtown Vancouver, you can catch a free shuttle to the park at Canada Place.
There are, of course, a wide variety of activities and attractions in Vancouver. Why not visit the Vancouver Aquarium (located in Stanley Park), take in a game or concert at BC Place, or check out Granville Island? If you have never visited the city before (or even if you have!), exploring Vancouver is well worth your time.
---
Vancouver to Jasper – Highway 99 Route
---
Shannon Falls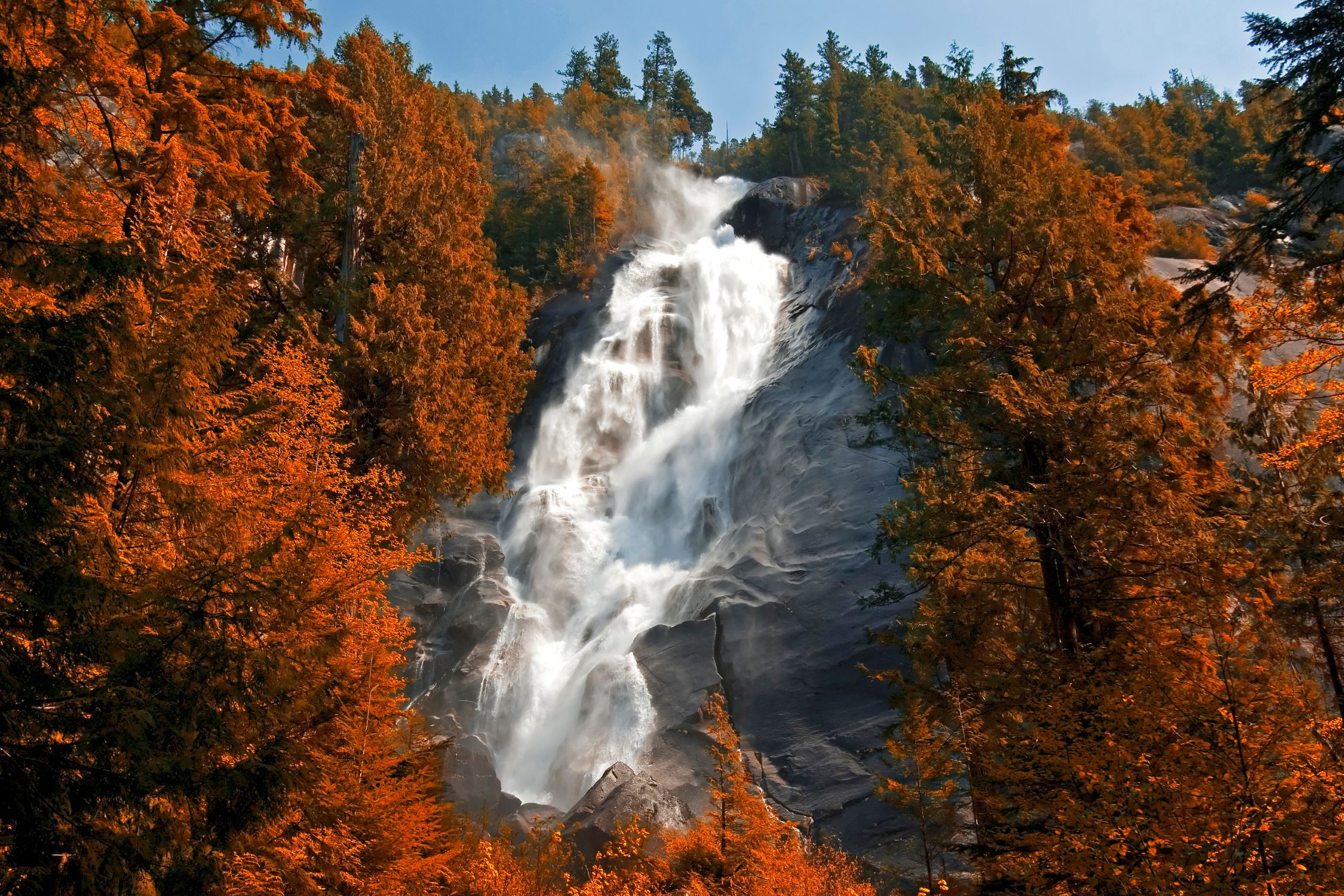 Located just off the Sea-to-Sky Highway approximately 58 kilometers north of Vancouver, Shannon Falls is one of the most beautiful waterfalls in BC. A view of Shannon Falls can be reached following a short and easy hike. The Shannon Falls viewpoint is a great way to kick off your road trip!
---
Squamish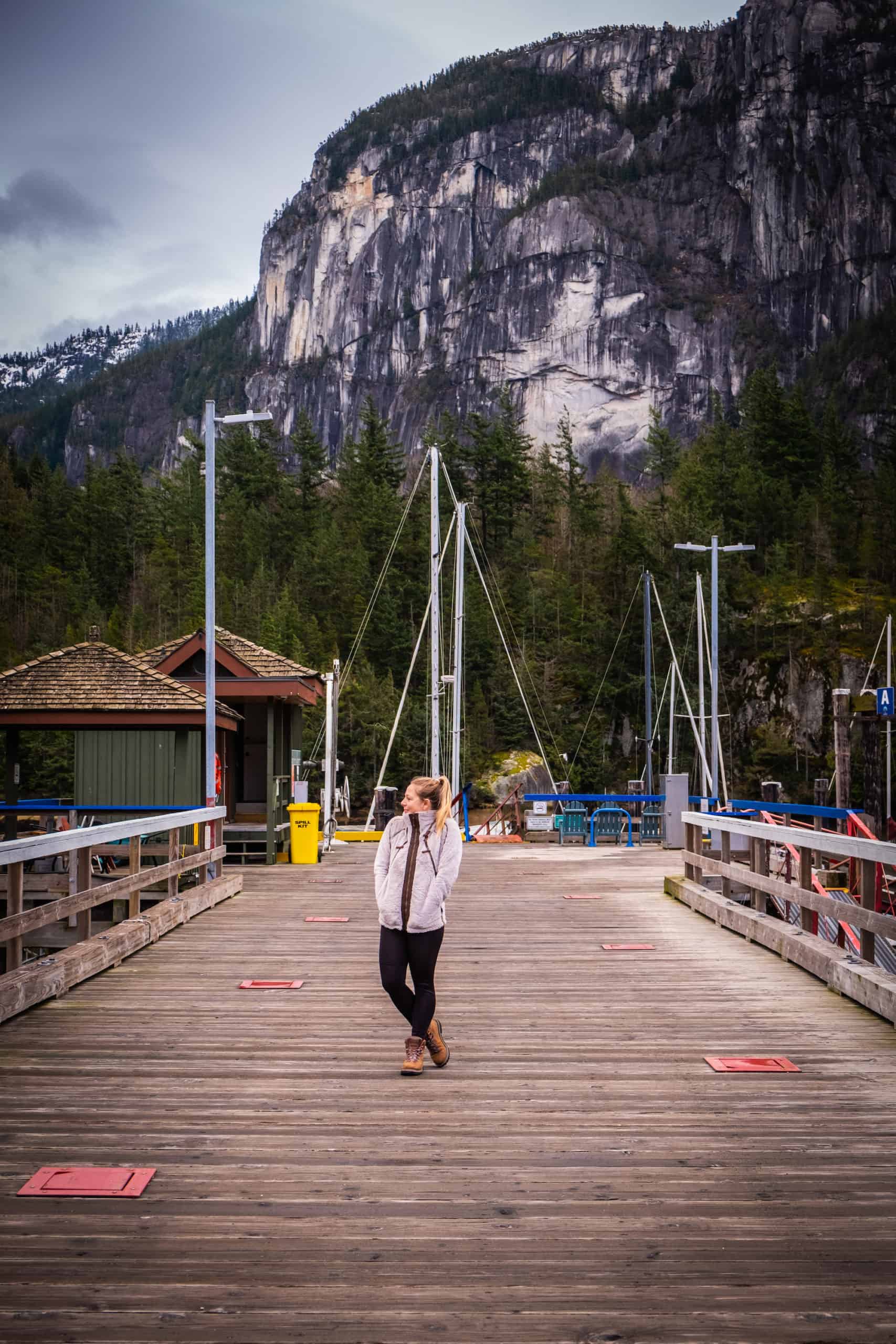 A popular location with climbers and outdoor enthusiasts, the town of Squamish is located along the Sea-to-Sky Highway. The Sea-to-Sky Highway route refers to the 163km journey between Vancouver and Pemberton (north of Whistler). You could easily spend a few days here hiking, biking, climbing, and taking in the scenery.
About 4 kilometers south of the town of Squamish you can ride the Sea-to-Sky Gondola for stunning views of Howe Sound and surrounding mountains. The area is surrounded by provincial parks, and the impressive Stawamus Chief granite dome is a notable landmark of the town.
---
Whistler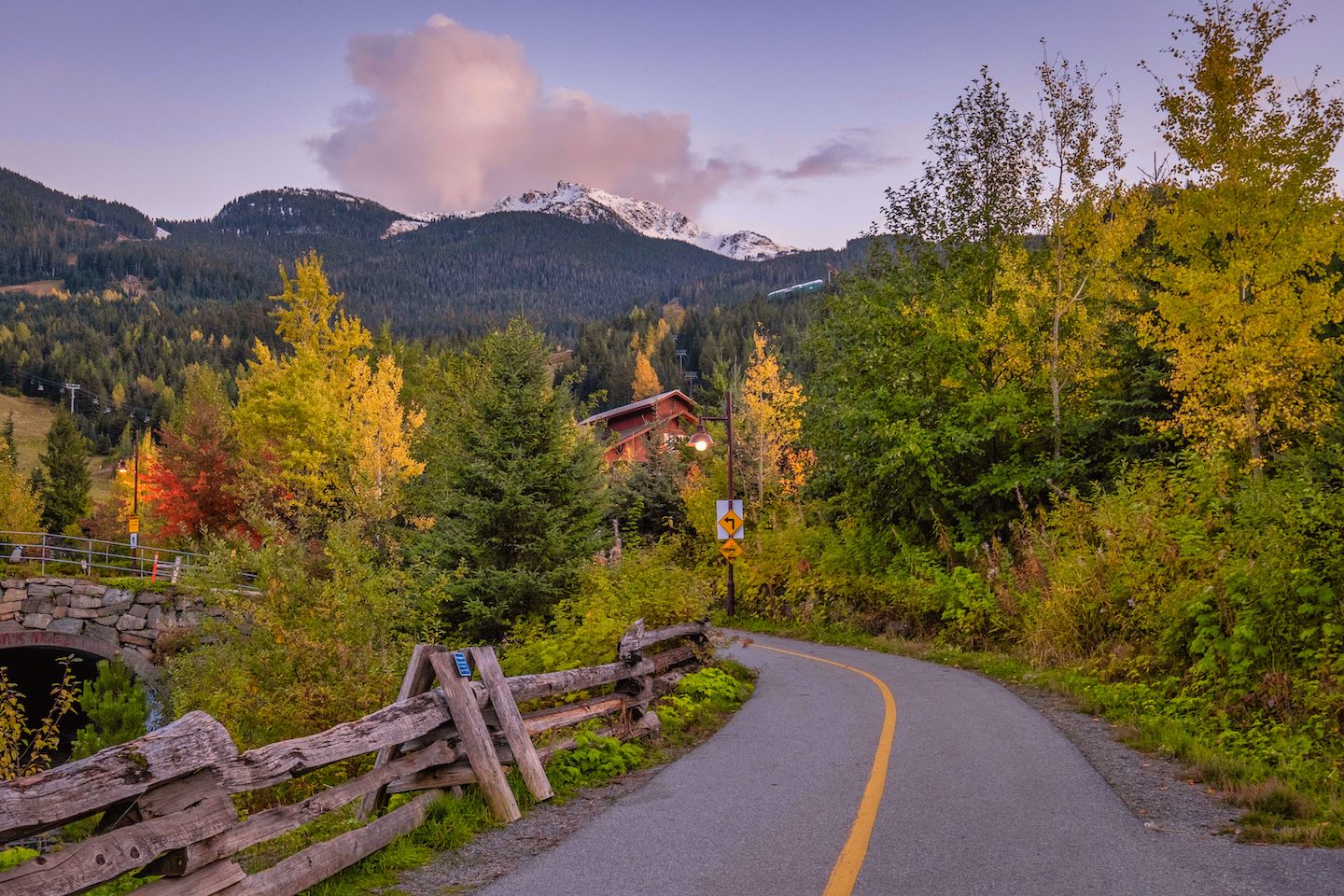 Less than two hours from Vancouver, Whistler is a must-see stop with a variety of activities for any outdoor adventure lover. In the winter, visit the world-class ski resort at Whistler Blackcomb; in the summer, enjoy the numerous mountain biking and hiking trails and check out Nita Lake, Green Lake, or Alpha Lake!
If you have extra time as you make your way from Vancouver to Jasper, staying in Whistler for a night or two is a great option.
---
Joffre Lakes Provincial Park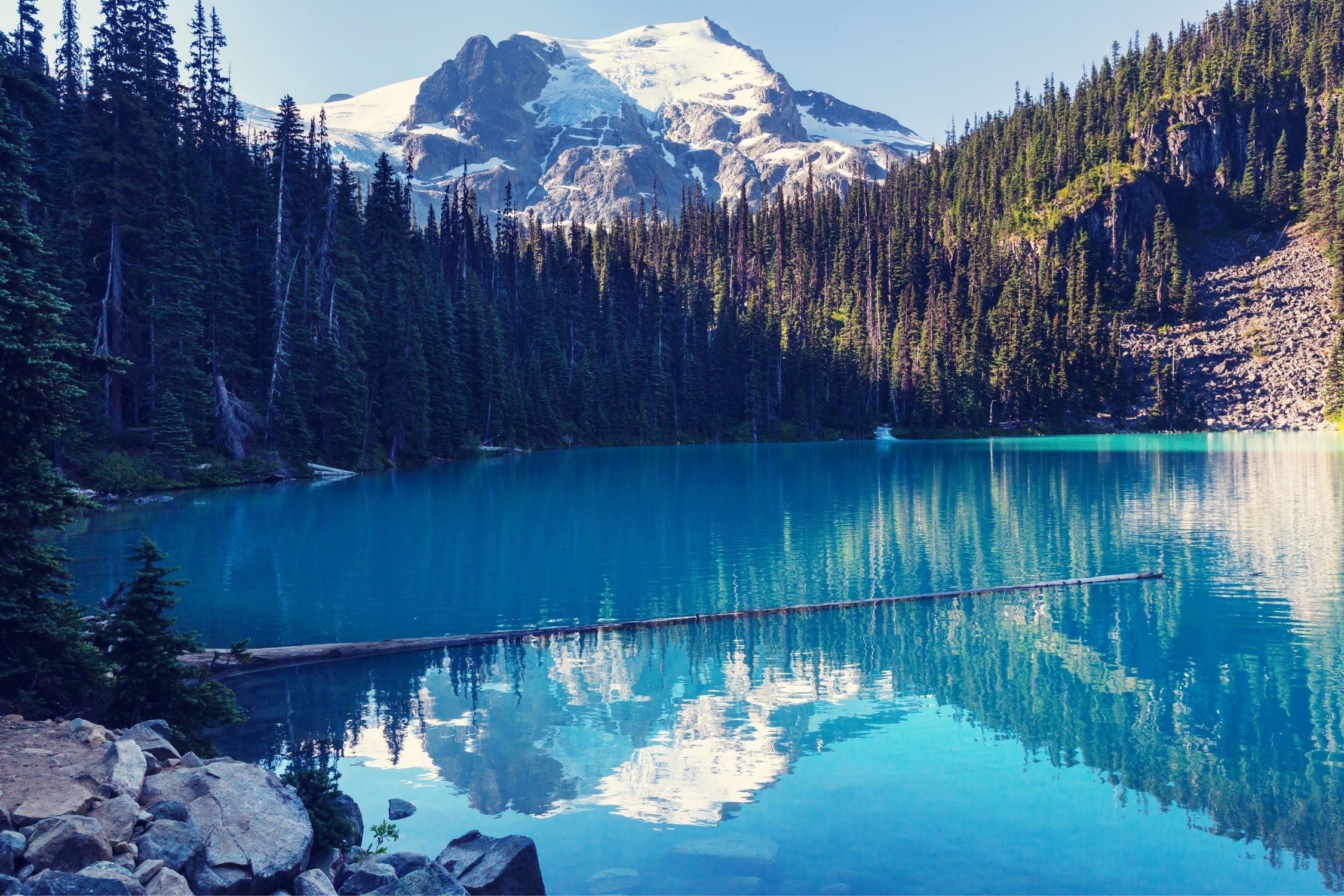 Popular among hikers and located along the Sea-to-Sky Highway, Joffre Lakes Provincial Park is a great stop for those looking to check out the scenic glacial blue water of three mountain lakes.
Lower, Middle, and Upper Joffre Lakes can be accessed via day hike, or you can book a backcountry camping reservation and spend more time in the area.
---
Vancouver to Jasper – Okanagan Detour (Highway 5 & 97 route)
---
If you are choosing to take Highway 1 and then Highway 5 out of Vancouver towards Kamloops, taking a brief detour to the Okanagan region of British Columbia is a great option. Here you will find numerous wineries, the beautiful Lake Okanagan, and many other outdoor activities.
---
Kelowna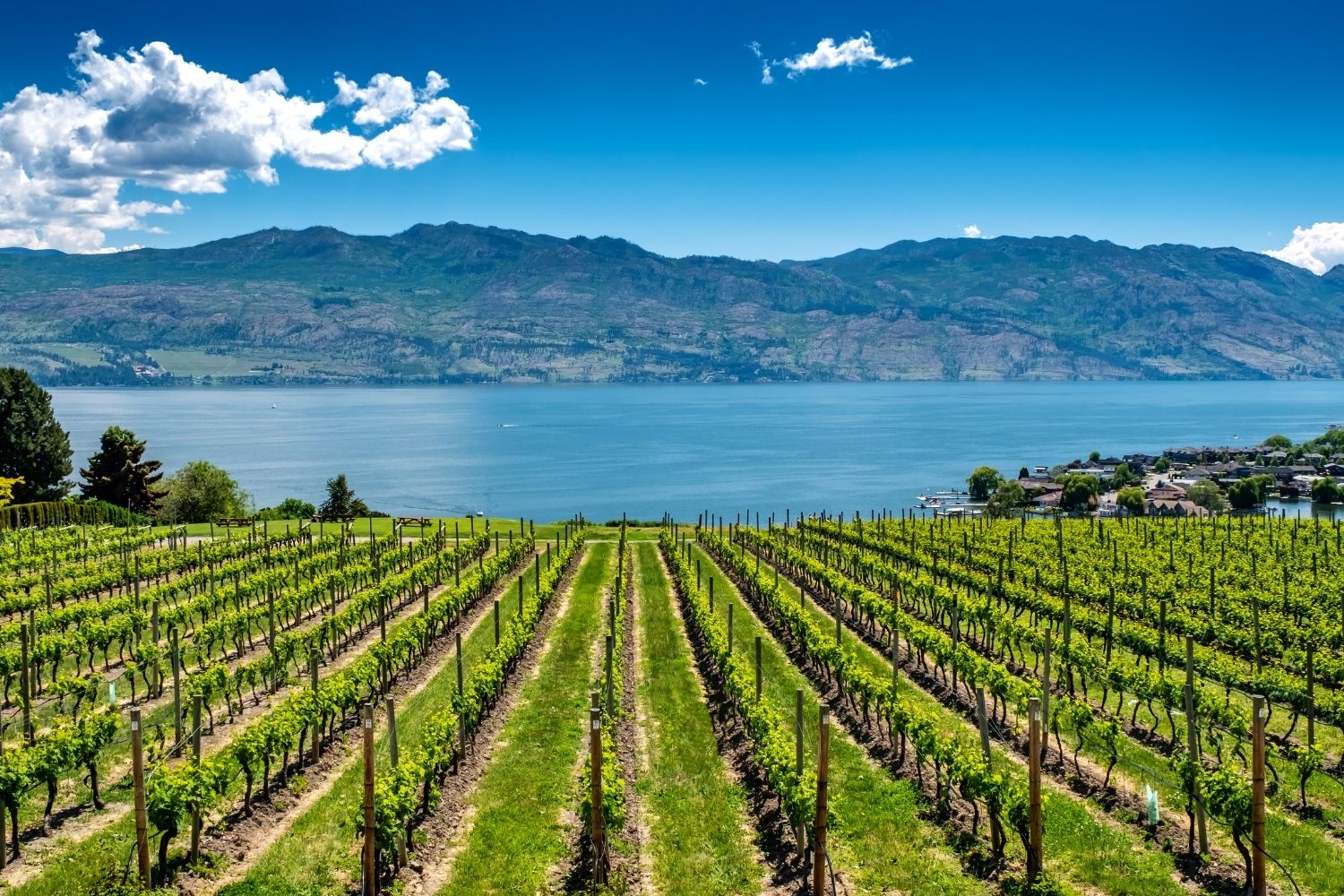 Kelowna is located in the Okanagan Valley along the shores of Lake Okanagan The area is filled with picturesque orchards, vineyards, and it is known for its beaches and lake life.
The popular Myra Canyon Trestles is a series of 18 trestle bridges high above the canyon, converted from a railway route into a trail that is used for hiking or biking. This is just one of the many things to do in Kelowna; you could easily spend a day enjoying the sunshine, wineries, amazing Kelowna restaurants, and outdoor activities!
---
Vernon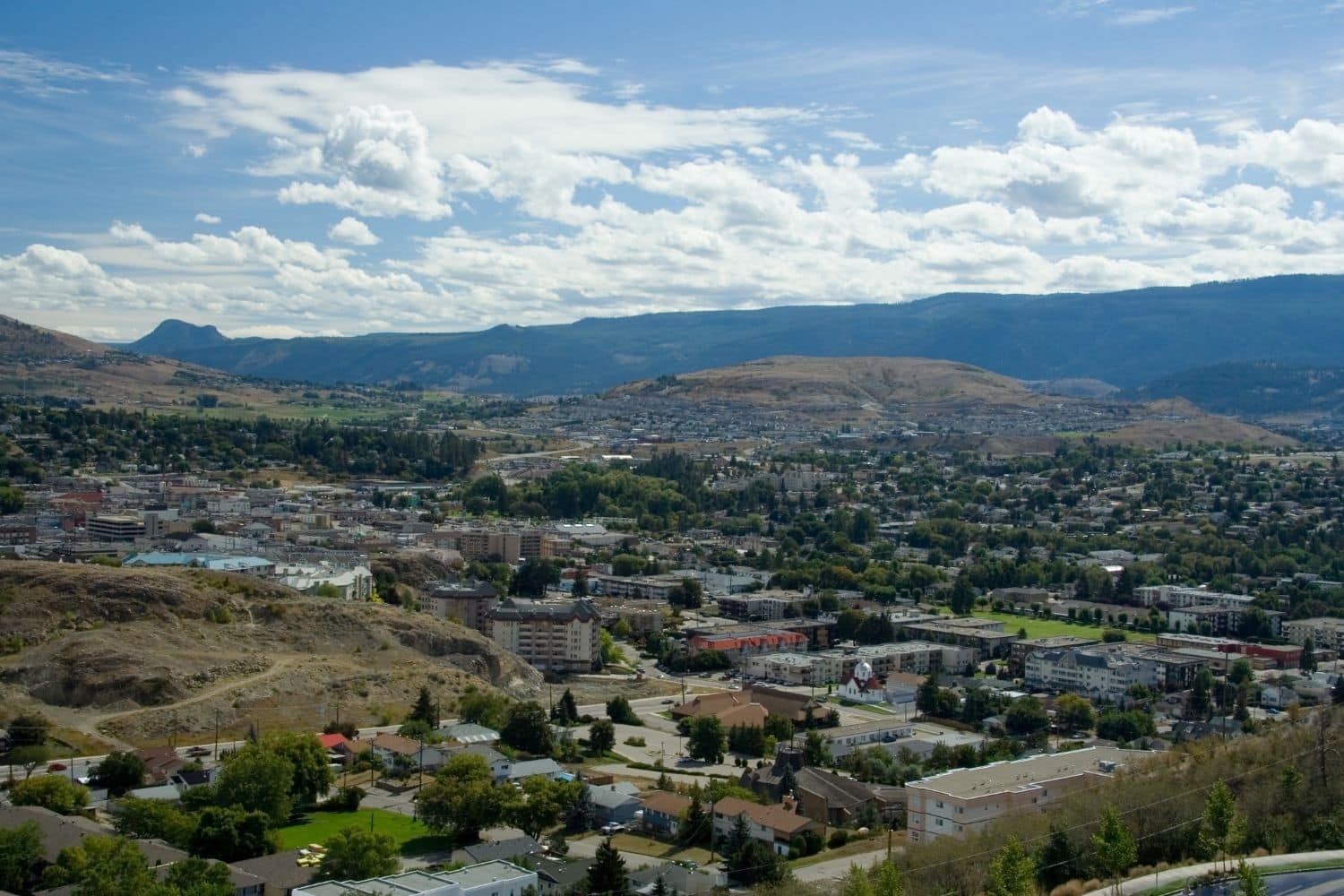 The town of Vernon is located at the north end of Lake Okanagan as you make your way back to the Trans-Canada highway past Kelowna.
Here you can check out the beaches (try Kal Beach at Lake Kalamalka), the family-friendly Davison Orchards (do not leave without buying some delicious BC peaches!), or hit the links at Predator Ridge golf course.
---
Vancouver to Jasper – Highway 1 from Kamloops
---
The stops listed below can be found along both scenic routes (via Highway 99 or Highway 5), as these locations are found after you pass through Kamloops and back onto Highway 1.
---
Revelstoke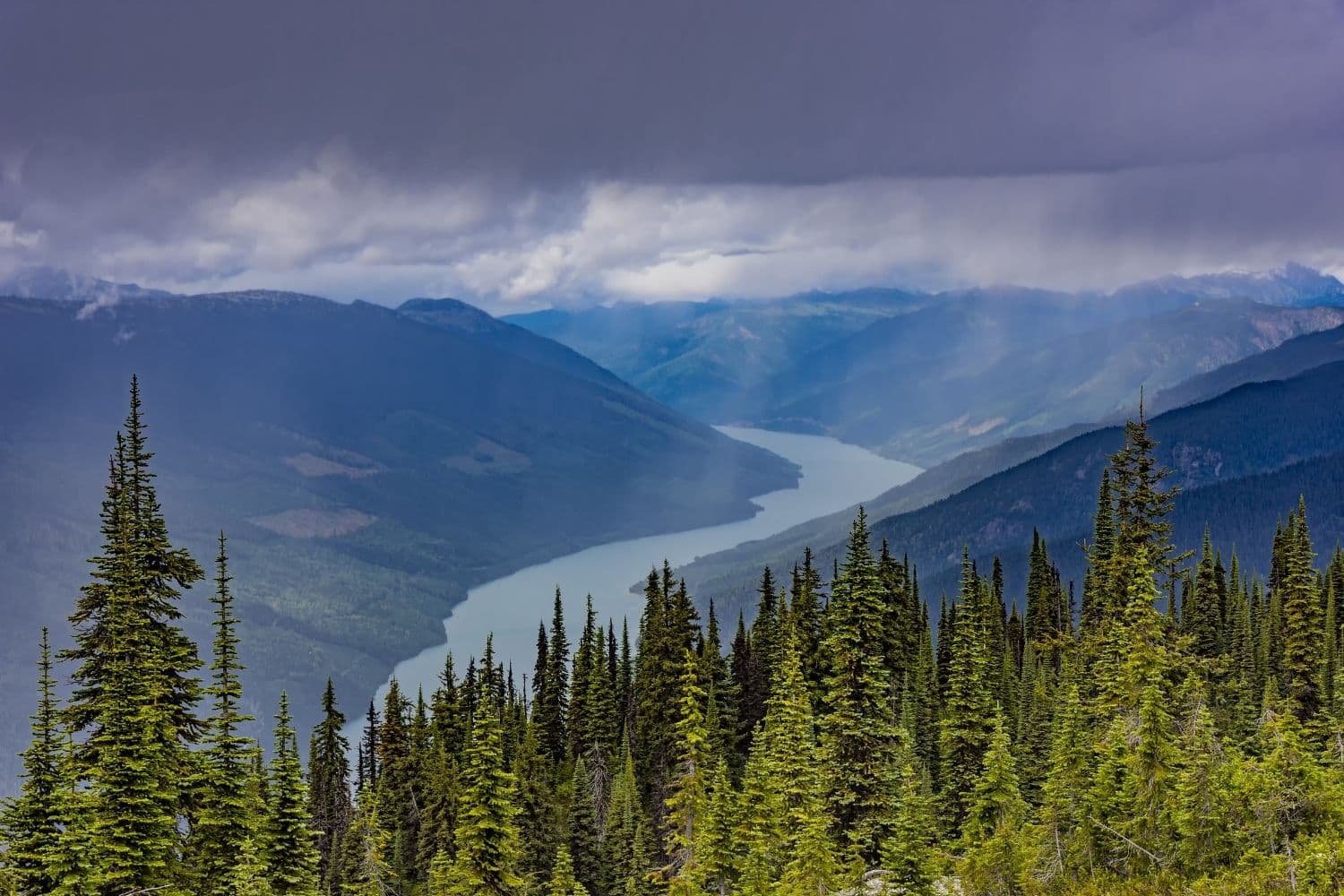 A popular winter destination known for its skiing and snowboarding, Revelstoke offers a variety of things to do year-round. Located along the Trans-Canada Highway, this small town is a great place to stop for a bite to eat, to stretch your legs, or you could even choose to stay longer and explore the area.
---
Glacier National Park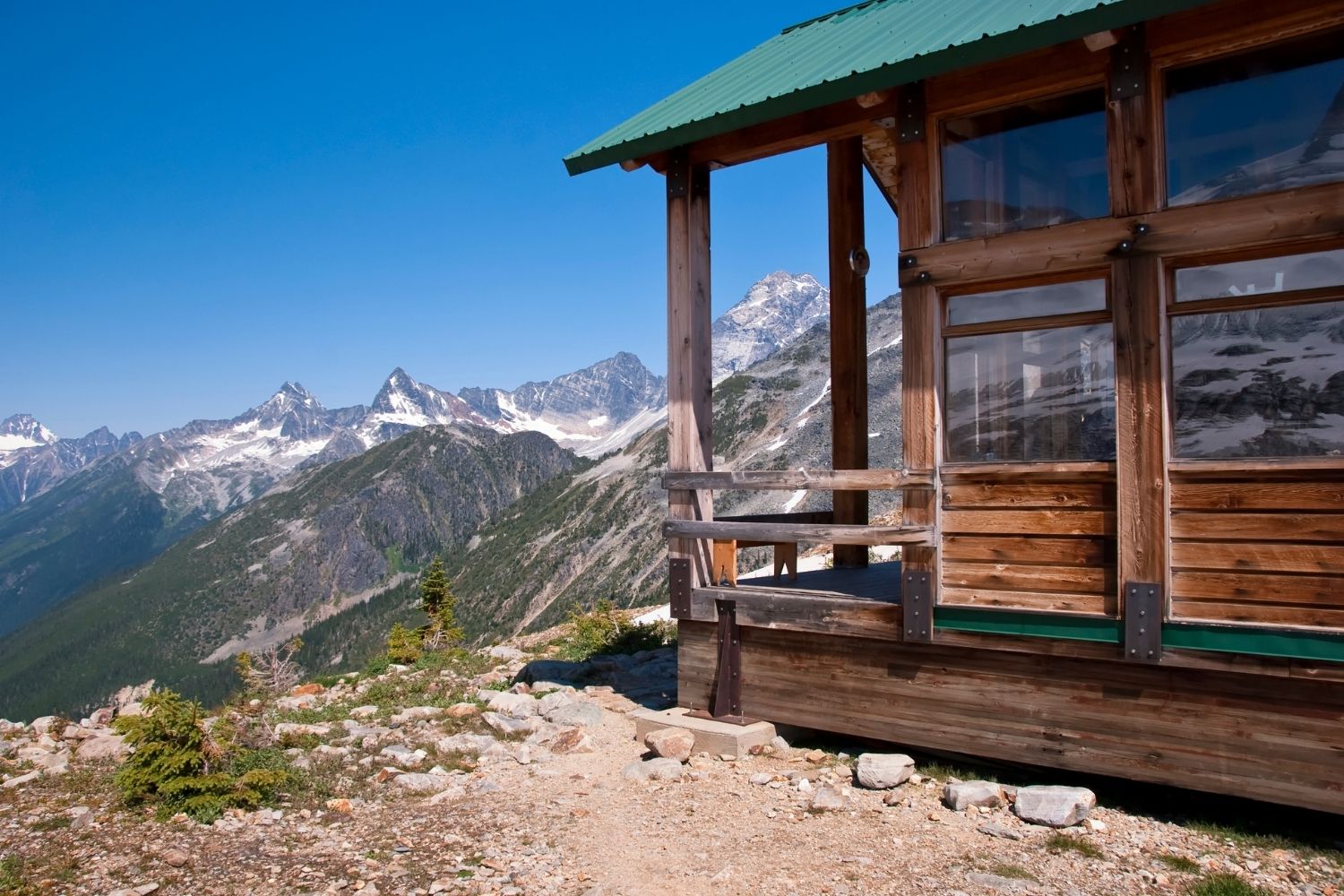 Located in Rogers Pass in the Selkirk Range, Glacier National Park is home to beautiful mountain views and is often overlooked for the more popular locations of Banff and Jasper National Park.
In the summer, you can enjoy hikes with varying levels of difficulty, from family-friendly to more challenging backcountry trips. In the winter, backcountry skiing is a popular activity.
---
Golden
The town of Golden is a popular stop for visitors driving along the Trans-Canada Highway. Here you will find a variety of things to do including the Golden Skybridge, whitewater rafting on the Kicking Horse River, or ATV tours.
Because Golden is located outside of the nearby national parks, there are less limitations on activities that tourists can access here. You can find our list of epic things to do in Golden here.
---
Emerald Lake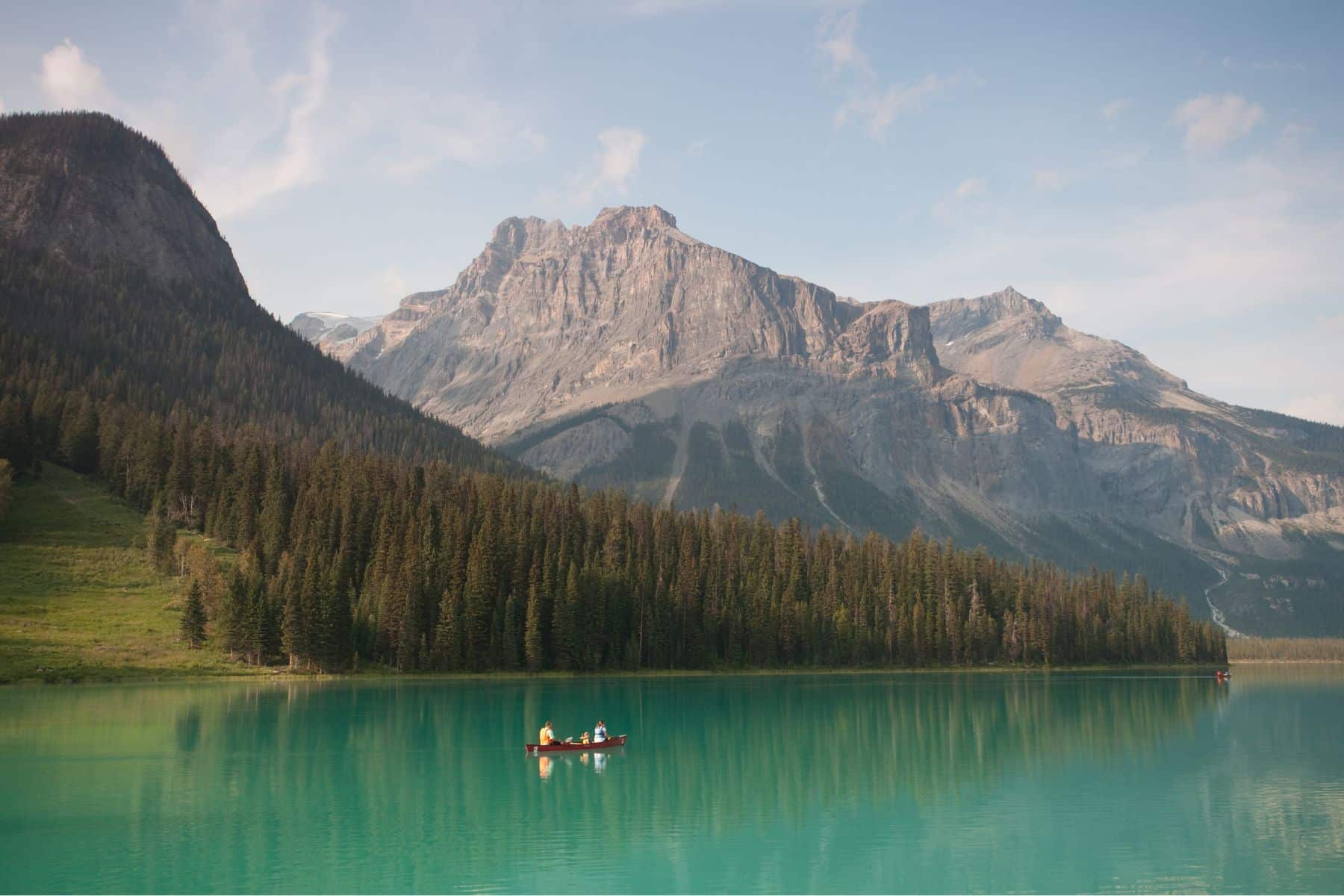 Emerald Lake is located in Yoho National Park, and as its name states, the lake is a stunning emerald color. Access to the BC lake can be found just a few kilometers off the Trans-Canada highway near the BC/Alberta border.
In the summer, you can stretch your legs along the easy lakeshore trail or rent a canoe to paddle on the lake. You will likely find that Emerald Lake is significantly less crowded than the nearby Lake Louise and nice reprieve from the crowds of Moraine and Lake Louise in the summer, though it is far from quiet.
---
Takakkaw Falls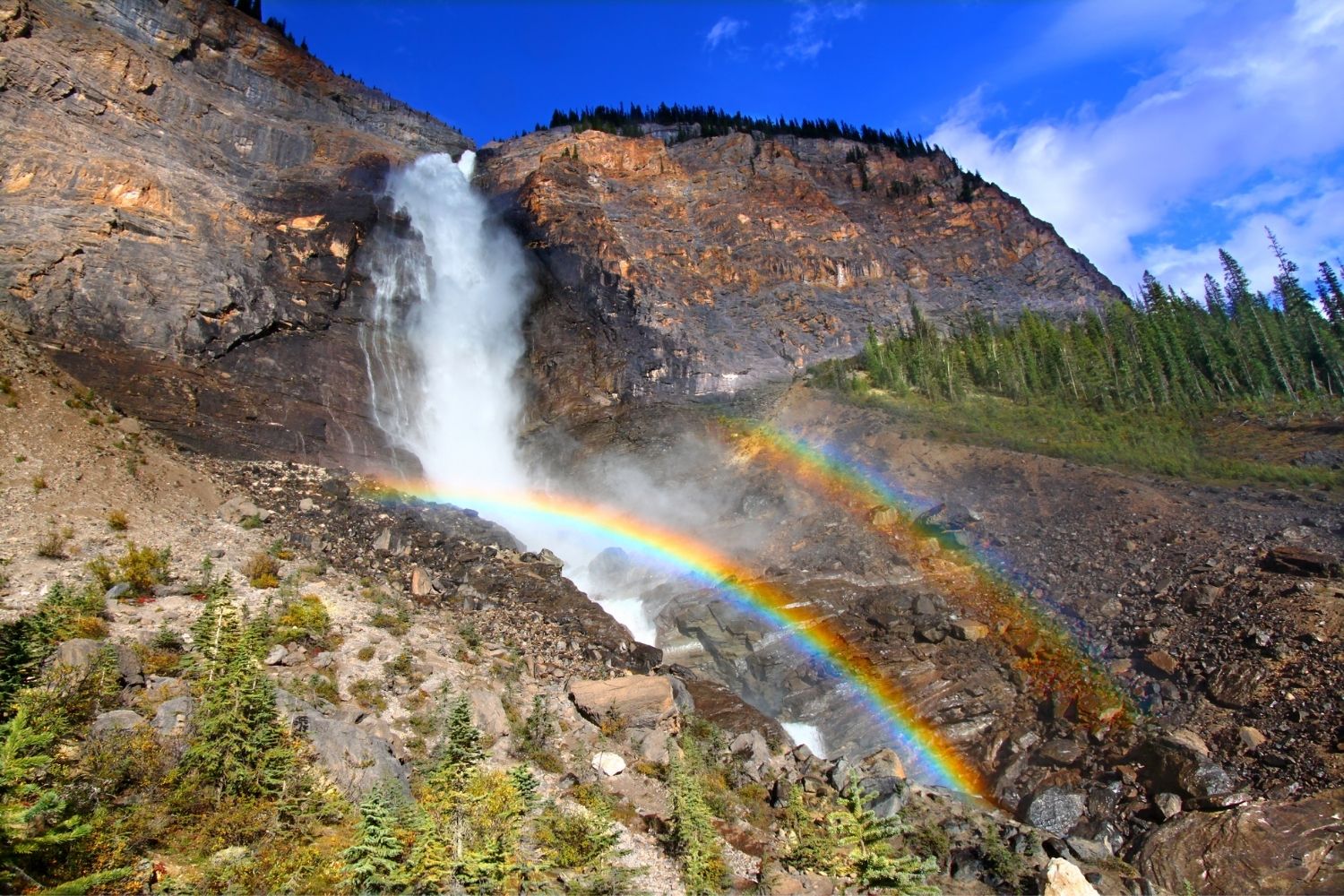 An easy 30 minute hike will get you an up-close view of Takakkaw Falls, the second-tallest waterfall in Canada. Located near Emerald Lake and the town of Field, this is a worthwhile stop as you make your way to Jasper.
While you can technically view the falls from the parking area, the short 1.4km roundtrip hike is worth the effort for getting a better view.
---
Lake Louise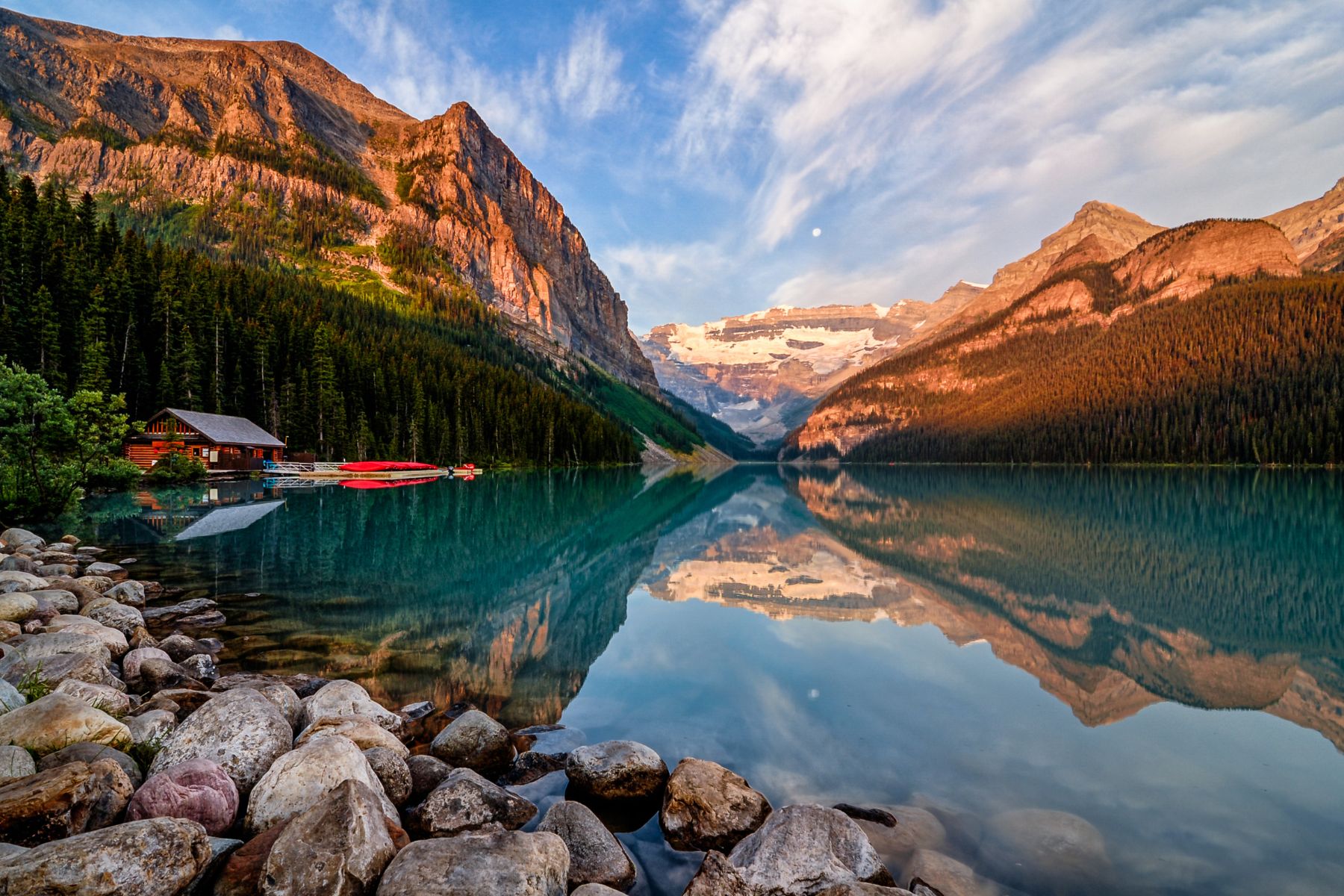 Any visit to the Canadian Rockies should include a visit to Lake Louise. Because of its (rightful!) popularity, parking at the lake can be a challenge in the summer months; it's best to plan ahead if you know when you'd like to visit so that you can take advantage of the Park and Ride shuttle.
There are numerous hikes in the area surrounding Lake Louise, or you can spend time strolling the lakeshore or canoeing on the lake itself. In the winter, you can ice skate on the frozen lake or enjoy a hot chocolate at the Fairmont Chateau Lake Louise.
---
Moraine Lake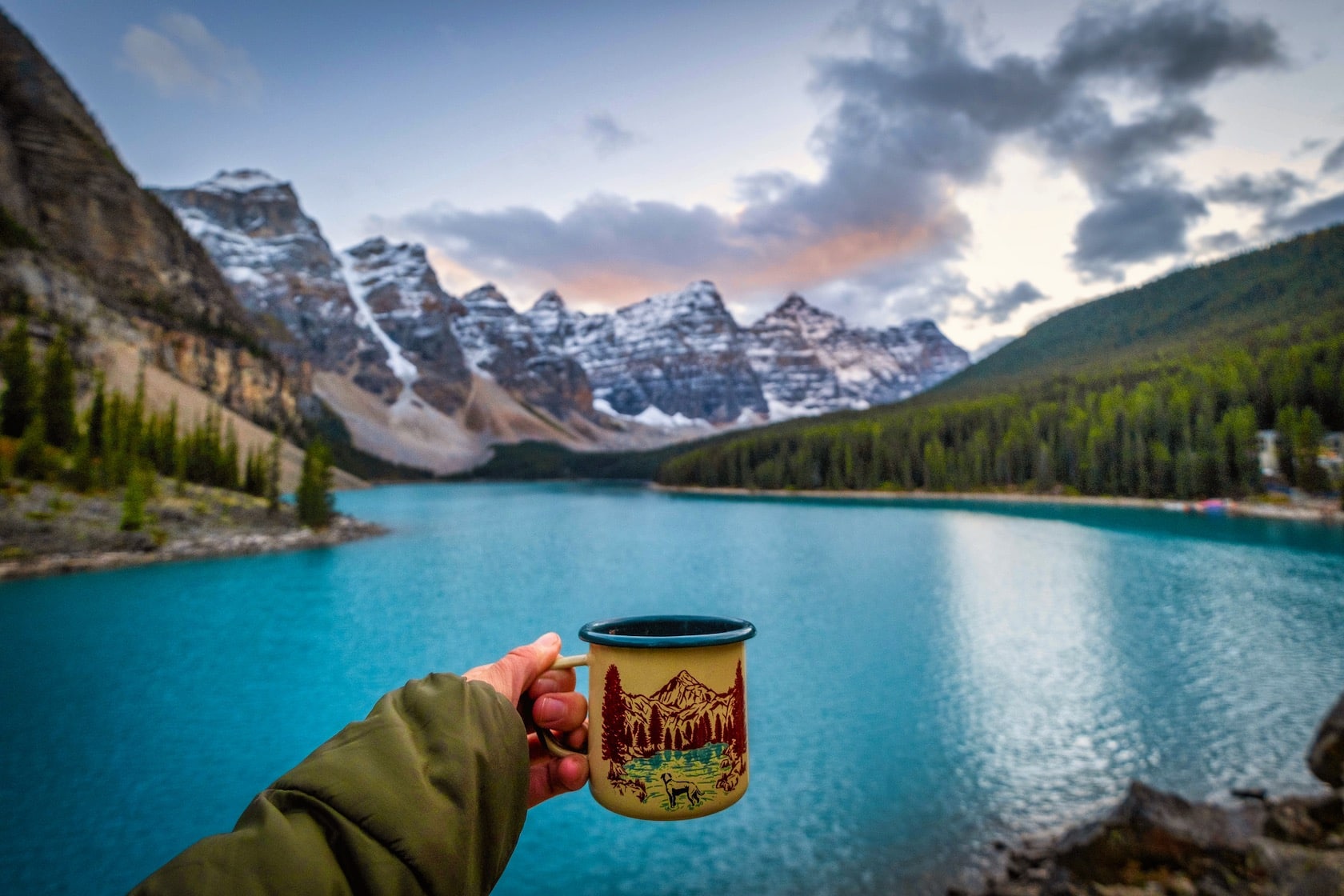 Moraine Lake is another must-see destination in Banff National Park. Views of the stunning turquoise waters of this Banff lake take my breath away no matter how many times I visit. You can rent a canoe to paddle along the lake or enjoy one of the many surrounding hikes (Larch Valley is an immensely popular hike in the fall!)
However, personal vehicles are no longer permitted along the road to Moraine Lake. Visiting this location takes a little effort and planning, but it is well worth it. It is very close to Lake Louise, so you could visit both spots in the same day.
---
Icefields Parkway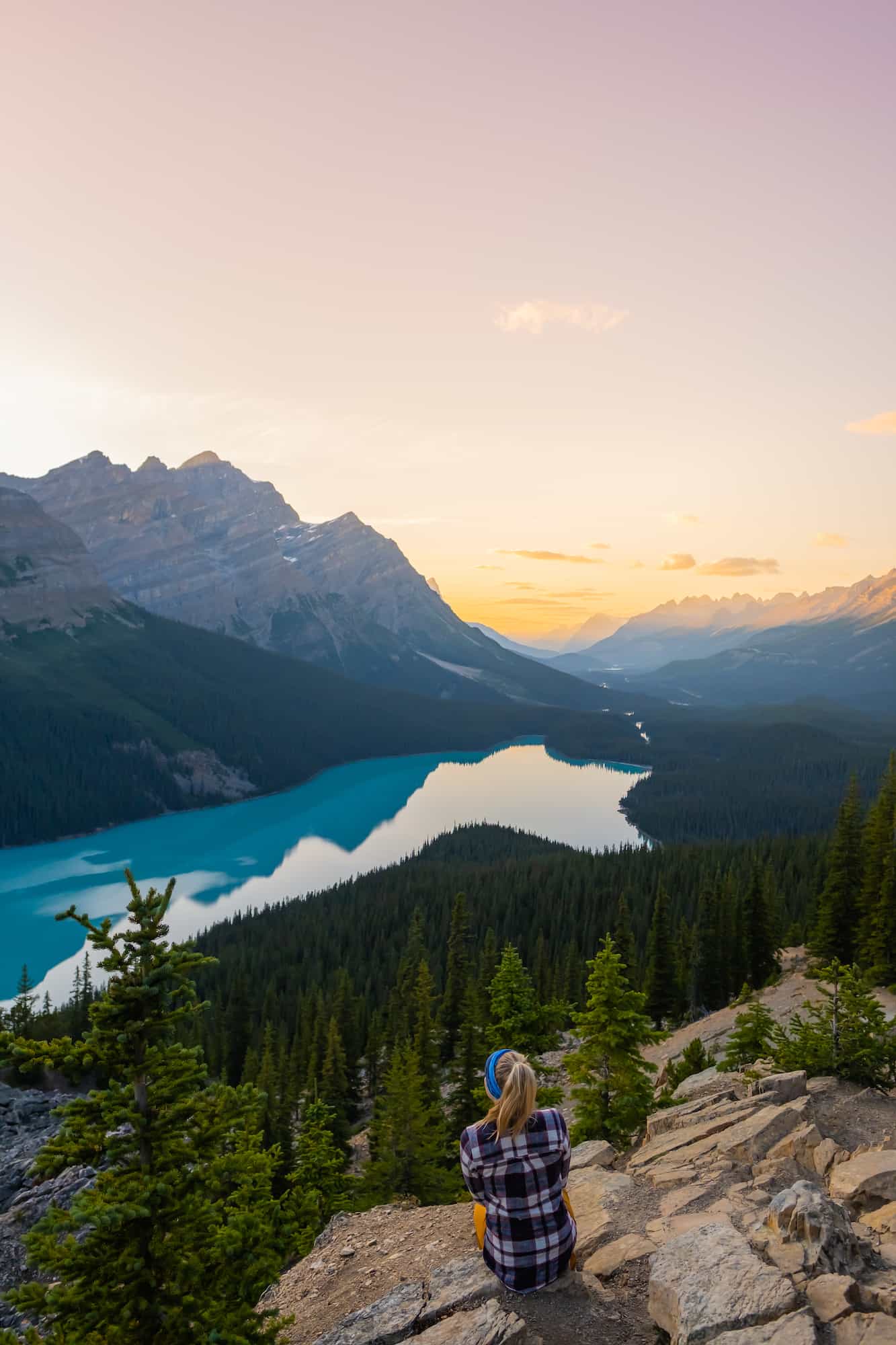 The Icefields Parkway is a must-see route on the way to (or from!) Jasper. There are numerous stops to make along the Icefields Parkway (Highway 93) and you could (and should) take an entire day to enjoy the drive. A few of my favorites include:
Peyto Lake: The view of Peyto Lake is one of the best in the Canadian Rockies. You can reach the viewpoint after a short 10-minute walk from the parking lot.
Parker Ridge Hike: This moderate hike will give you views of the impressive Saskatchewan Glacier and may take around 2-3 hours to complete. The elevation gain is steady but nothing too challenging – a great way to break up the driving and stretch your legs!
Athabasca Falls: One of the many impressive waterfalls along the Icefields Parkway, Athabasca Falls is located close to the town of Jasper, and may be one of the last stops on your journey.
---
Jasper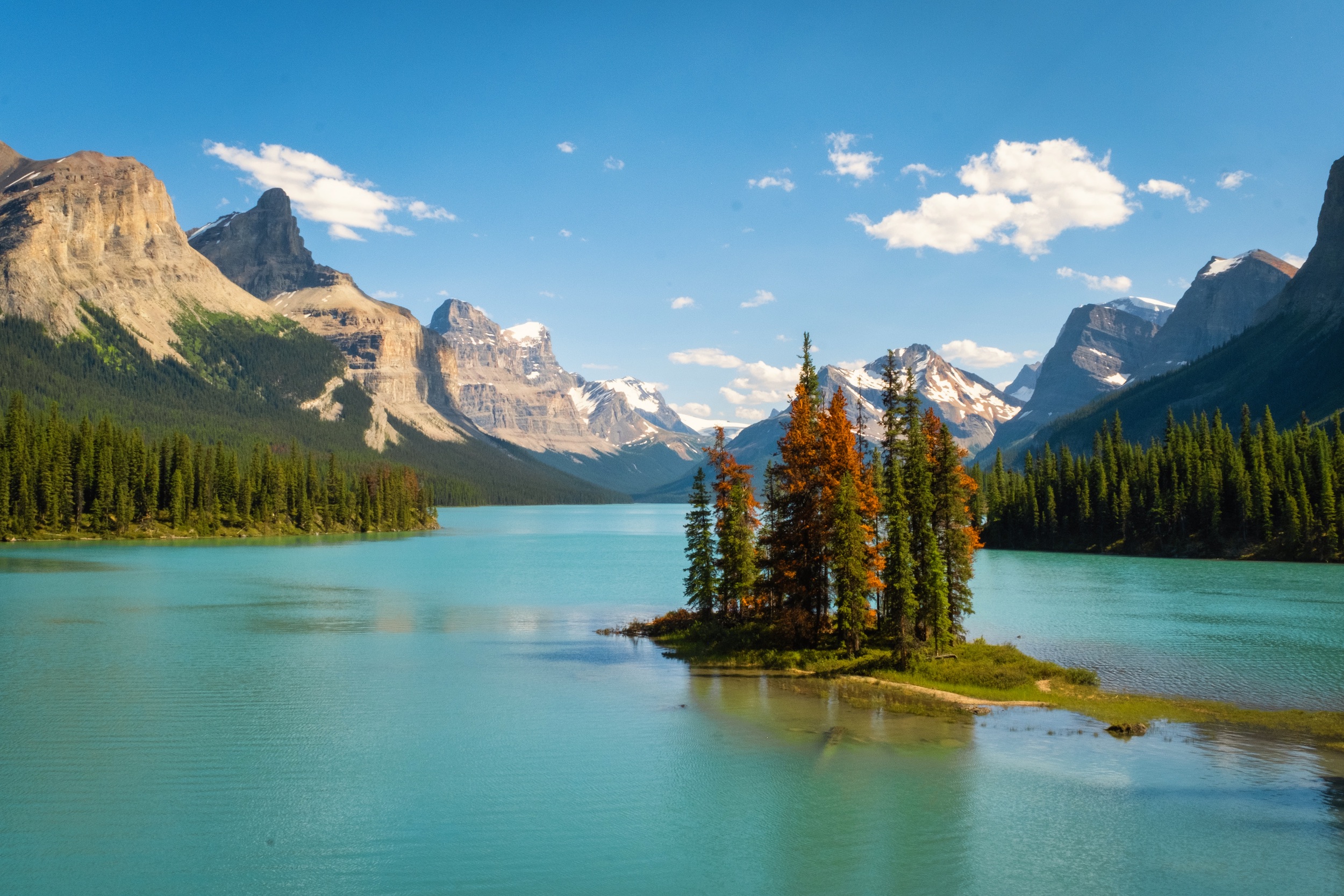 You've made it to Jasper! Jasper National Park is one of the loveliest locations in the Canadian Rockies and it has its own unique character that makes it distinct from nearby Banff National Park. You will find lots of things to do in Jasper, but here are a few things to do to get you started!
Maligne Lake / Spirit Island: Book a boat ride along Maligne Lake to view Spirit Island. This location is sacred to Indigenous Peoples so you will not be able to set foot on Spirit Island; however, the lakeshore platform offers great opportunities for photography and viewing.
Edith Cavell Meadows trail: A moderate trail rewards hikers with views of alpine meadows, Mount Edith Cavell, and Angel Glacier. Note that Cavell Road is only open in late June until early October each year.
Valley of the Five Lakes: An easy family-friendly Jasper hike, this trail will get you up close to five serene lakes in varying shades of jade and blue.
---
Where to Stay in Jasper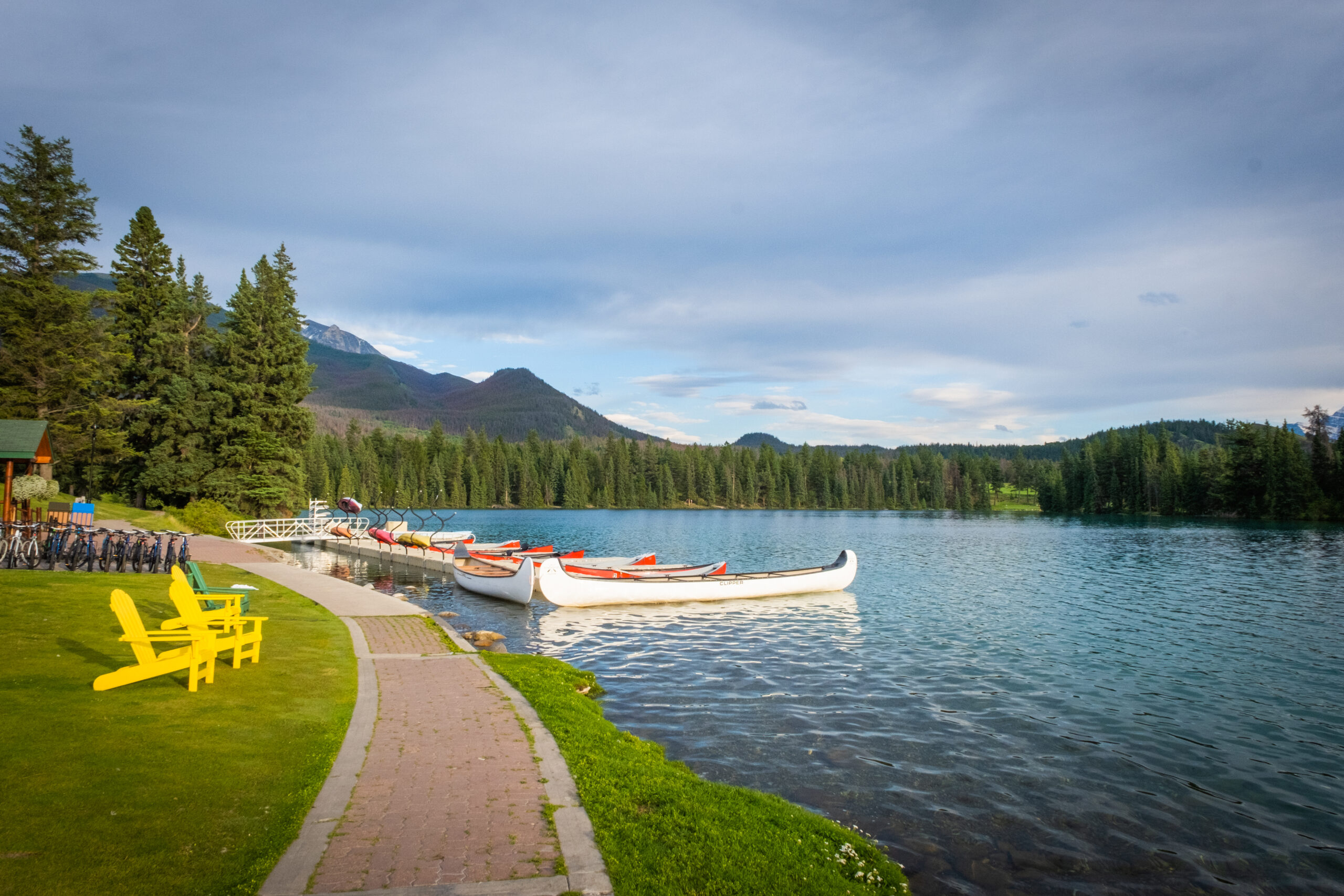 Fairmont Jasper Park Lodge: One of the best places to stay in Jasper, this accommodation is located along Lac Beauvert, where you can enjoy lakeshore views and even rent a canoe, kayak, or paddle board.
Pyramid Lake Resort: Located just outside of the Jasper townsite, this resort offers chalet-style accommodation along the popular Pyramid Lake.
Jasper Inn and Suites: If you're looking for accommodation in the heart of Jasper town, Jasper Inn and Suites is a great option. The hotel is within close proximity to Jasper shops and restaurants.
---
Where to Stay in Vancouver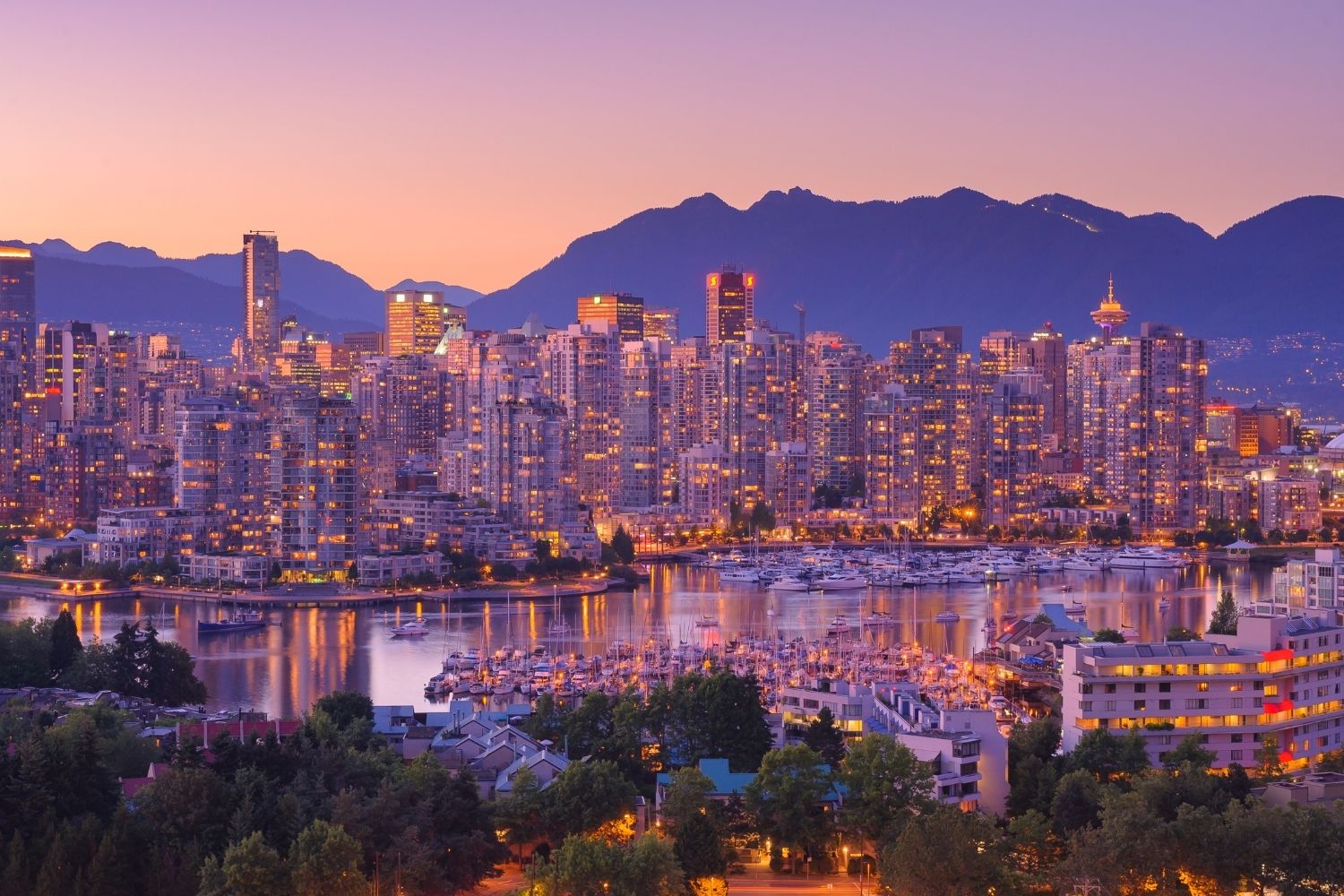 Fairmont Pacific Rim: A luxurious option, this hotel is near the waterfront and has one of the best locations in downtown Vancouver. Enjoy the view from the rooftop pool or relax at the hotel spa. You can find a number of world-class restaurants in the area, as well as easy access to Canada Place.
St. Regis Hotel: Located near Gastown and the Vancouver Art Gallery, this accommodation is within walking distance from many of the attractions in downtown Vancouver.
EXchange Hotel Vancouver: This boutique hotel is located in the former Vancouver Stock Exchange building and offers stylish and elegant rooms in the heart of Vancouver.
---
Hopefully this route guide helped you to plan your trip between Vancouver and Jasper! Enjoy your travels!