Bear's Hump is one of the best things to do in Waterton National Park. It's a great Canadian Rockies hike as almost anyone can make it up to Bear's Hump and get incredible views over the park. On a clear day, you can easily see Montana from here. It's a beautiful, short, and easy hike that any visitor to Waterton should do.
Located right in town, it's easily doable in under an hour – meaning you can complete your days in Waterton with plenty of other things to do. Here's how to hike Bear's Hump in Waterton National Park!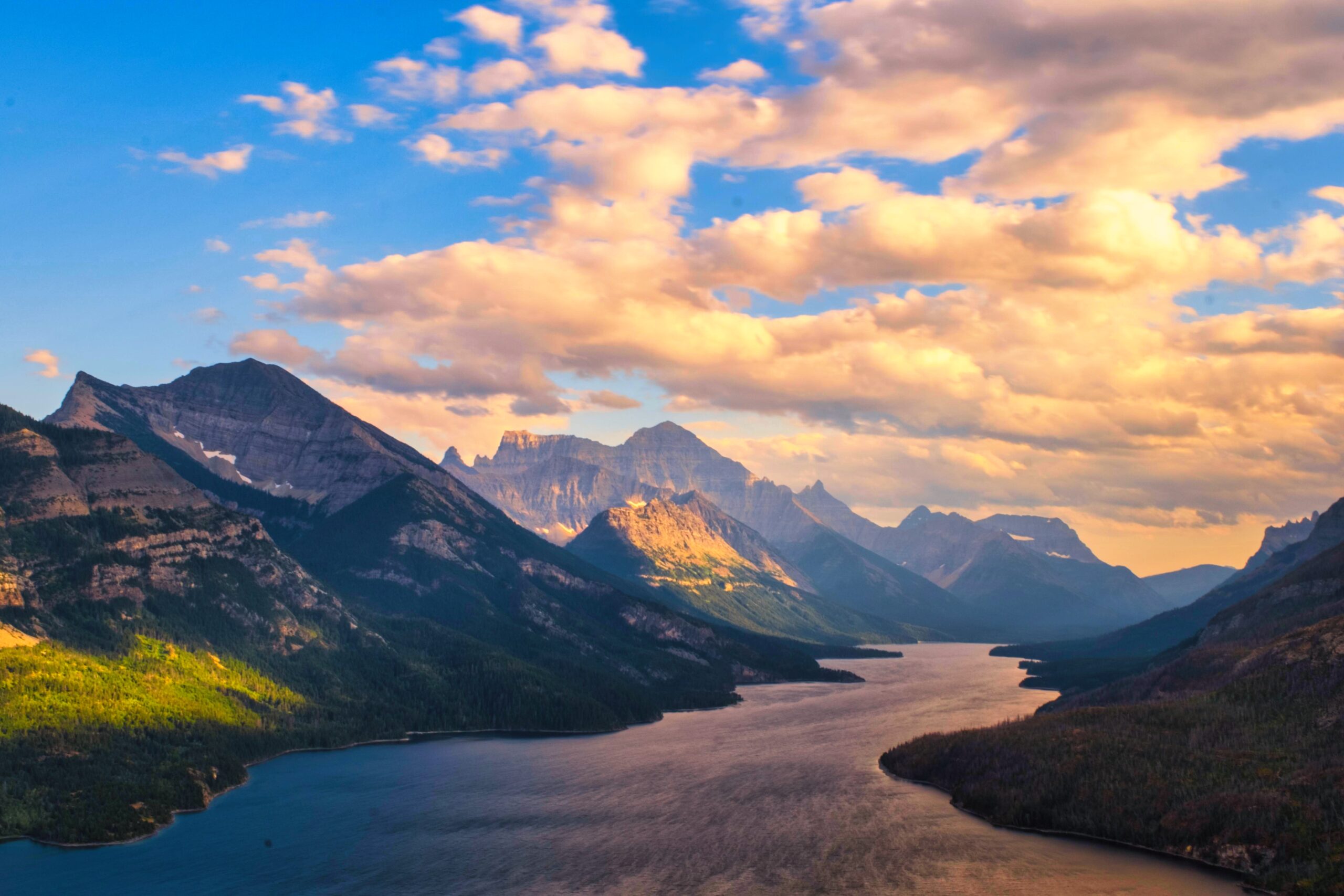 ---
Bears Hump Key Information
---
Bears Hump Facts
Length: 2.3km
Duration: 30 minutes to 2 hours
Elevation Gain: 214 meters
Difficulty: Easy
Scrambling Involved? No
Best Time To Go: May-October
Parking: Bear's Hump trailhead across from the Prince of Wales hotel.
---
Bears Hump Route Description

---
You have a couple options for starting your Bear's Hump hike. As we were staying at one of the best Waterton hotels (the Prince of Wales), we parked our car here and walked across the street to the start of the trailhead to begin our hike. Bear's Hump is also an easy walk from town if you are staying there.
If not, there is a car park at the trailhead, but note that it is not large, and it may be full on the weekend. If this is the case, please don't attempt to park on the side of Highway 5 – not only will this block traffic, but you'll probably get ticketed.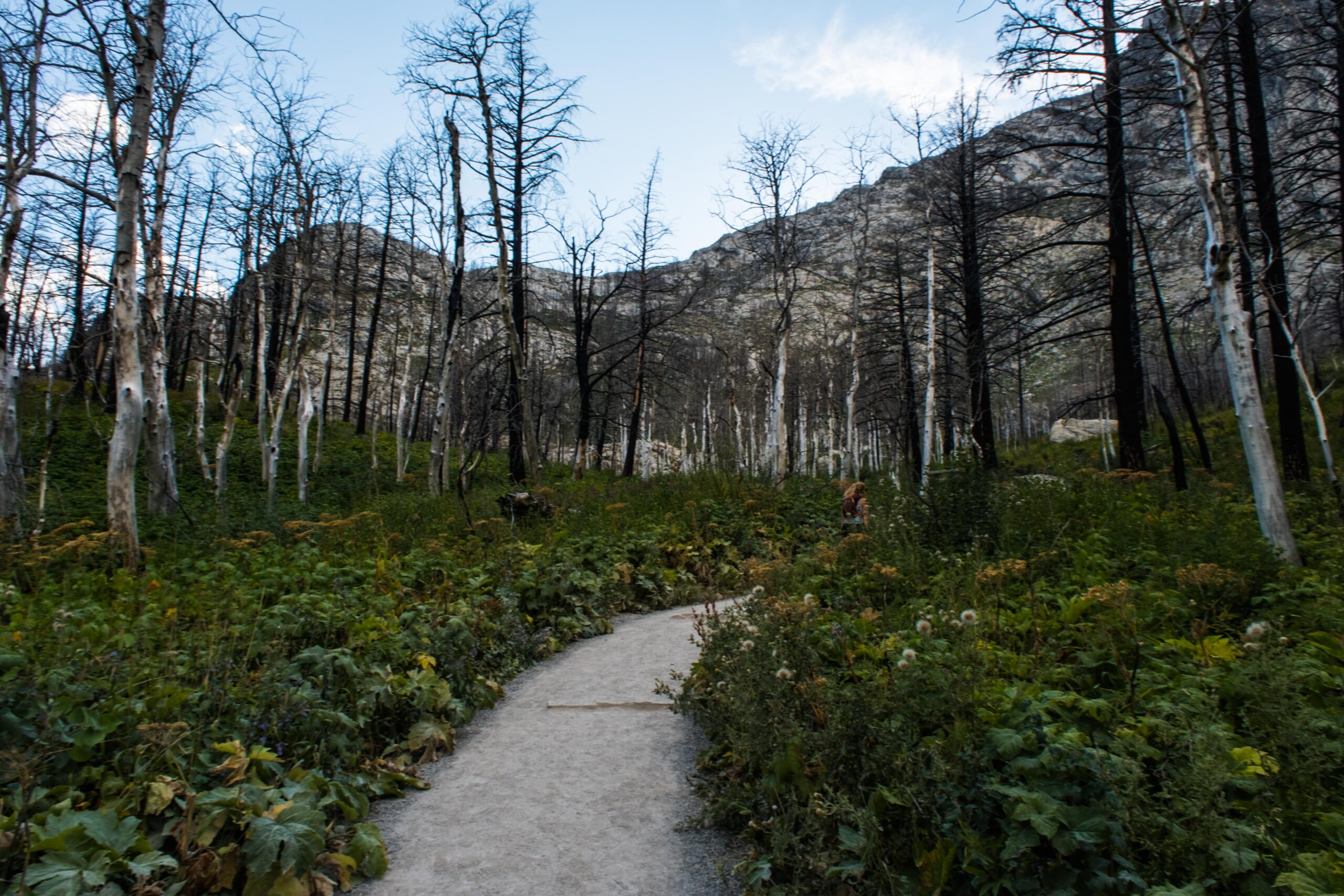 The whole hike up to Bear's Hump is on a well-maintained trail. There are "stairs" throughout this trail held up by wooden beams, making the climb up and down easier. There's absolutely no way to get off trail on this hike, but you will gain elevation quickly in a series of switchbacks. Don't worry though – there are numerous benches throughout the hike to take a breather at.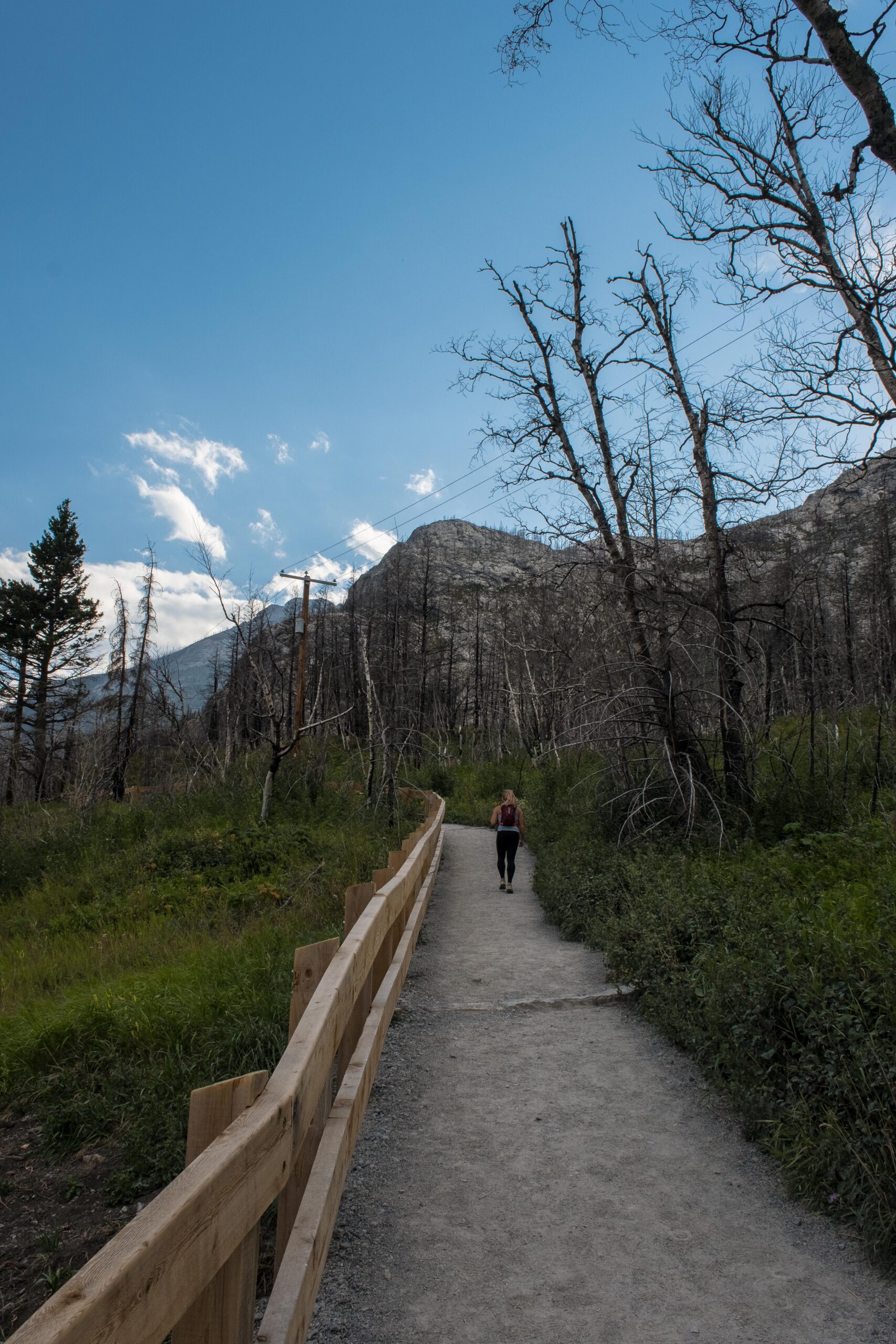 This hike is moderately strenuous depending on your fitness ability, but thankfully it's only 1.4 km up, making it one you get put behind you quickly. Within an hour, you'll reach the top of Bear's Hump and be able to take in the vistas surrounding you.
The views over the Waterton townsite and everything around Waterton Lakes are incredible. 99% of people will stop here, but it is possible to continue your ascent up to Mount Crandell behind – though this is rated a difficult in Alan Kane's book, so should only be attempted by serious scramblers.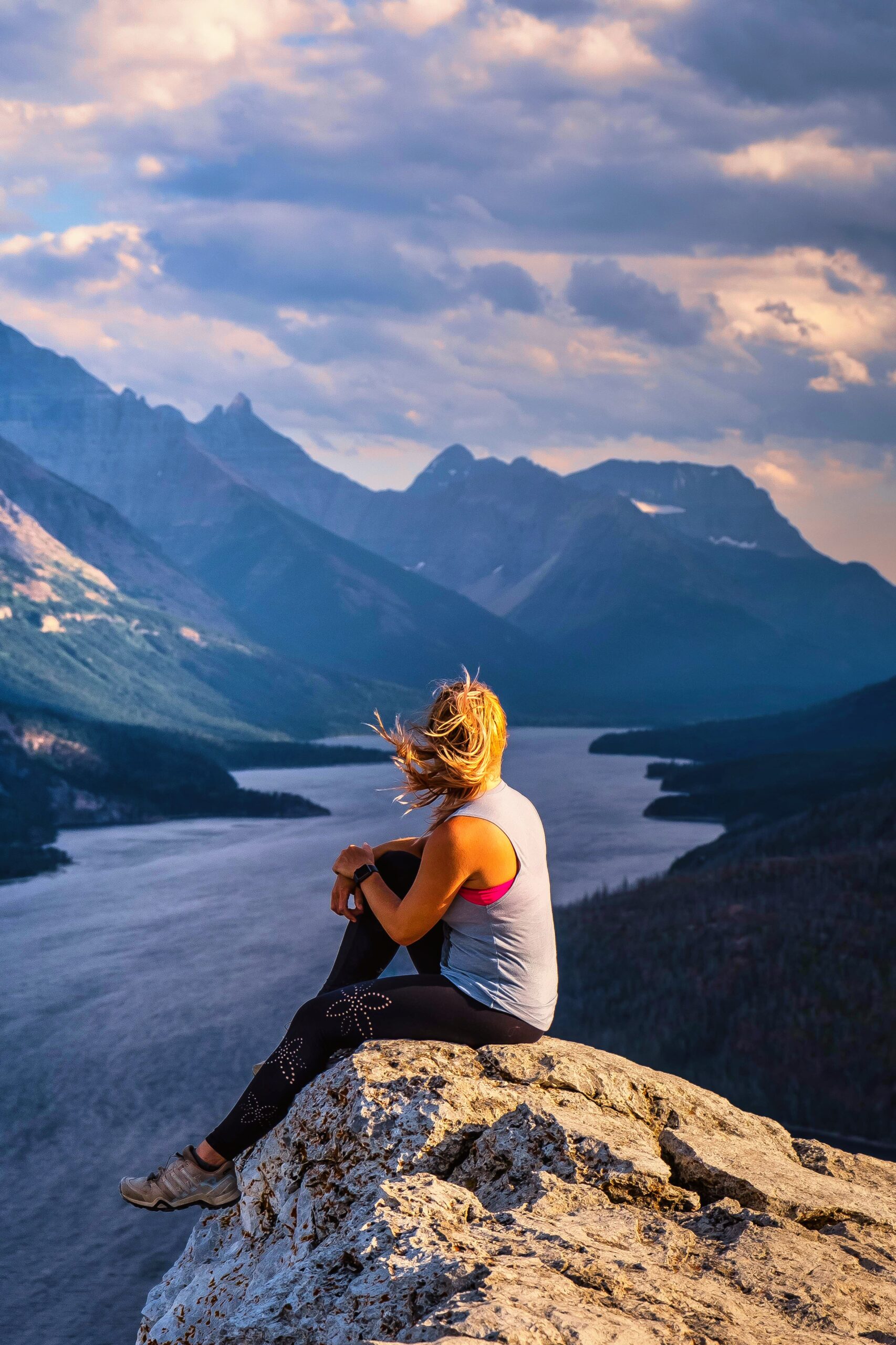 From the uppermost point, you get astonishing views of the Prince of Wales Hotel and the narrows that separate the Upper and Middle Waterton Lake. You'll find a large rock situated perfectly for hikers to pose over Waterton.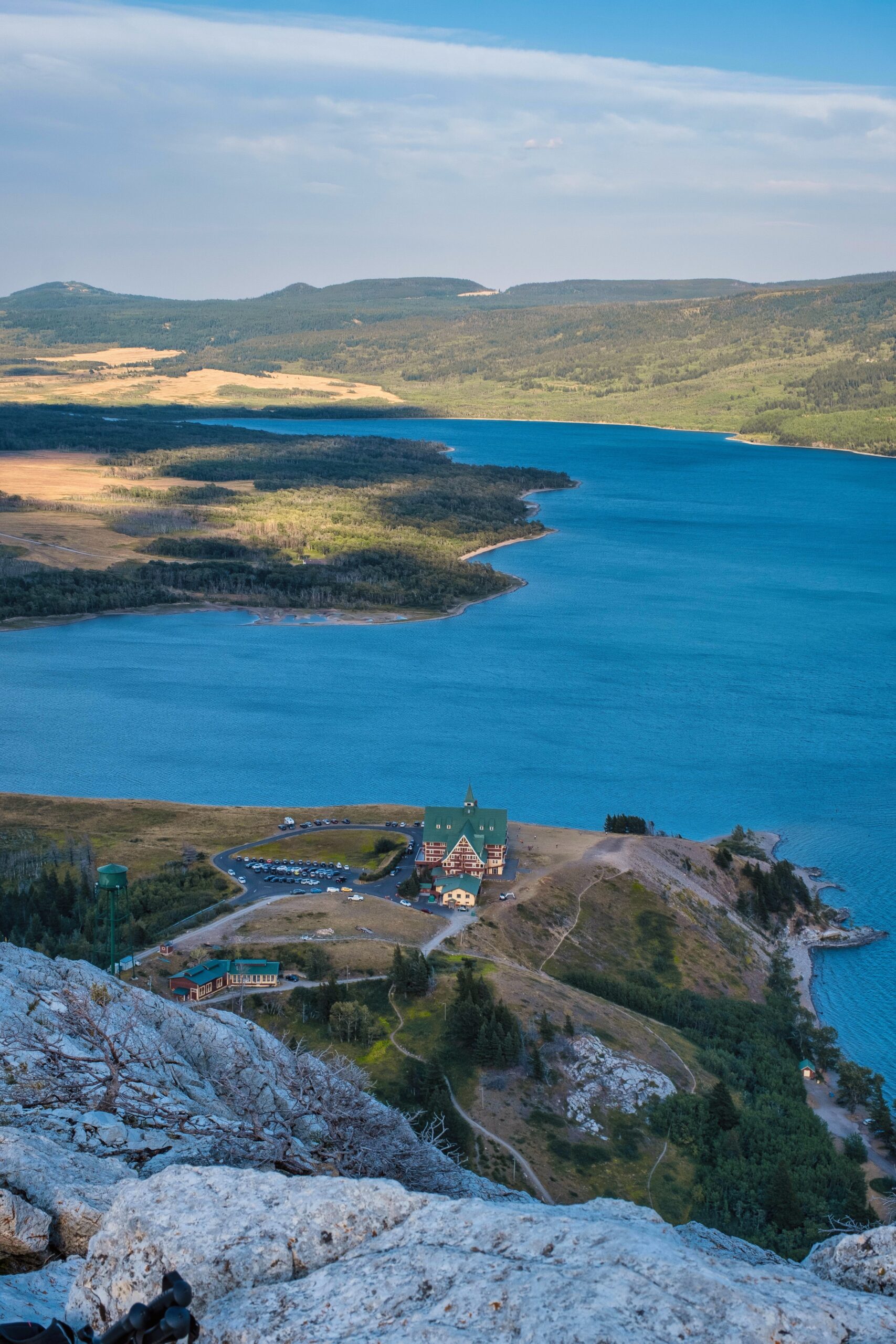 Waterton is one of the windiest places in Canada so once you have been blown around a bit or ready for lunch descend the same way you came.
---
How Hard is Bear's Hump Hike?
---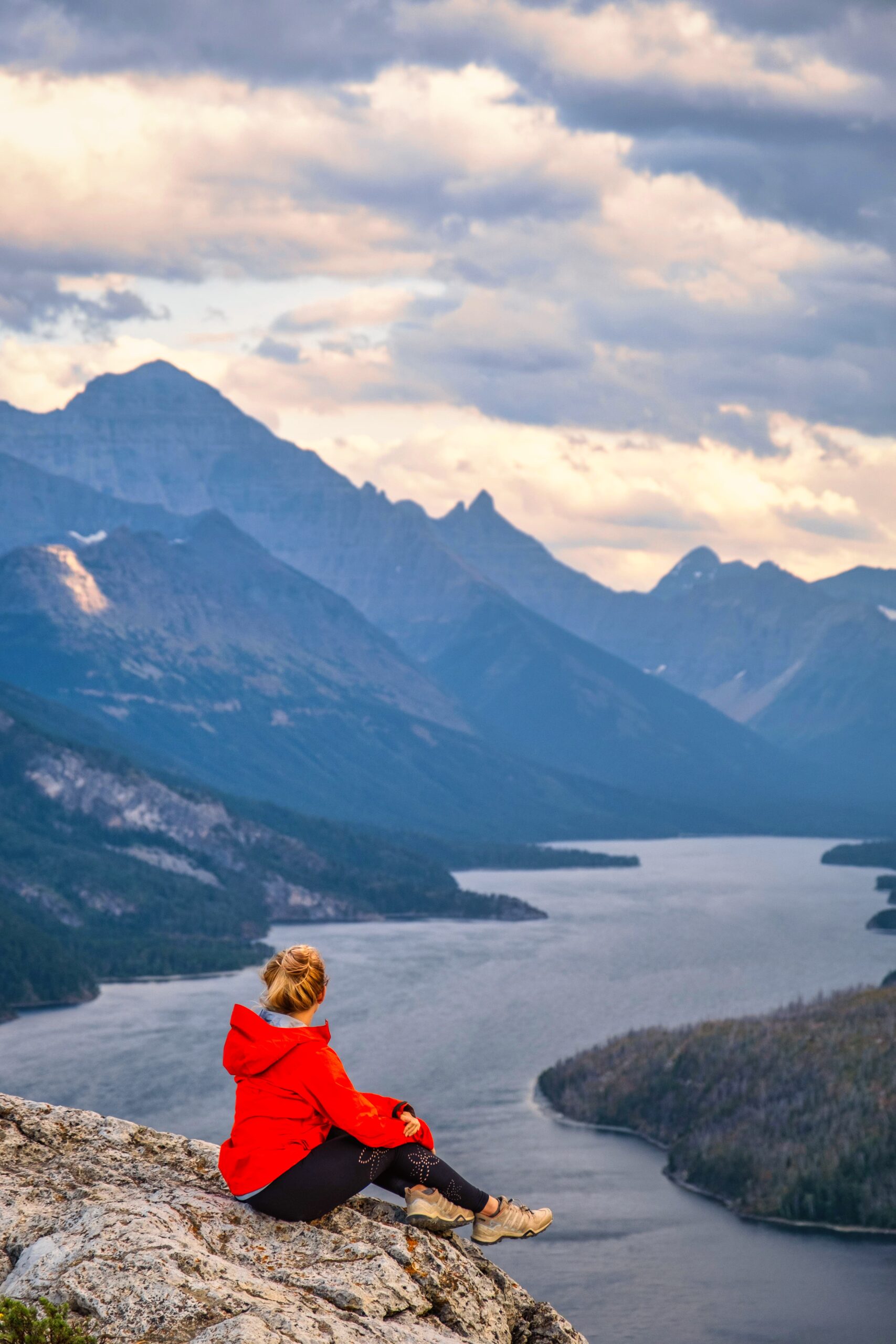 The Bear's Hump hike in Waterton National Park is one of the easiest I've come across in all of my adventures in the Canadian Rockies. If you've completed Tunnel Mountain in Banff you can expect Bear's Hump to be easier than that.
It's a great hike for beginner hikers as there is nothing scary or sketchy about it. The trail is well maintained for all ages to complete.
---
Bear's Hump Hike Duration
---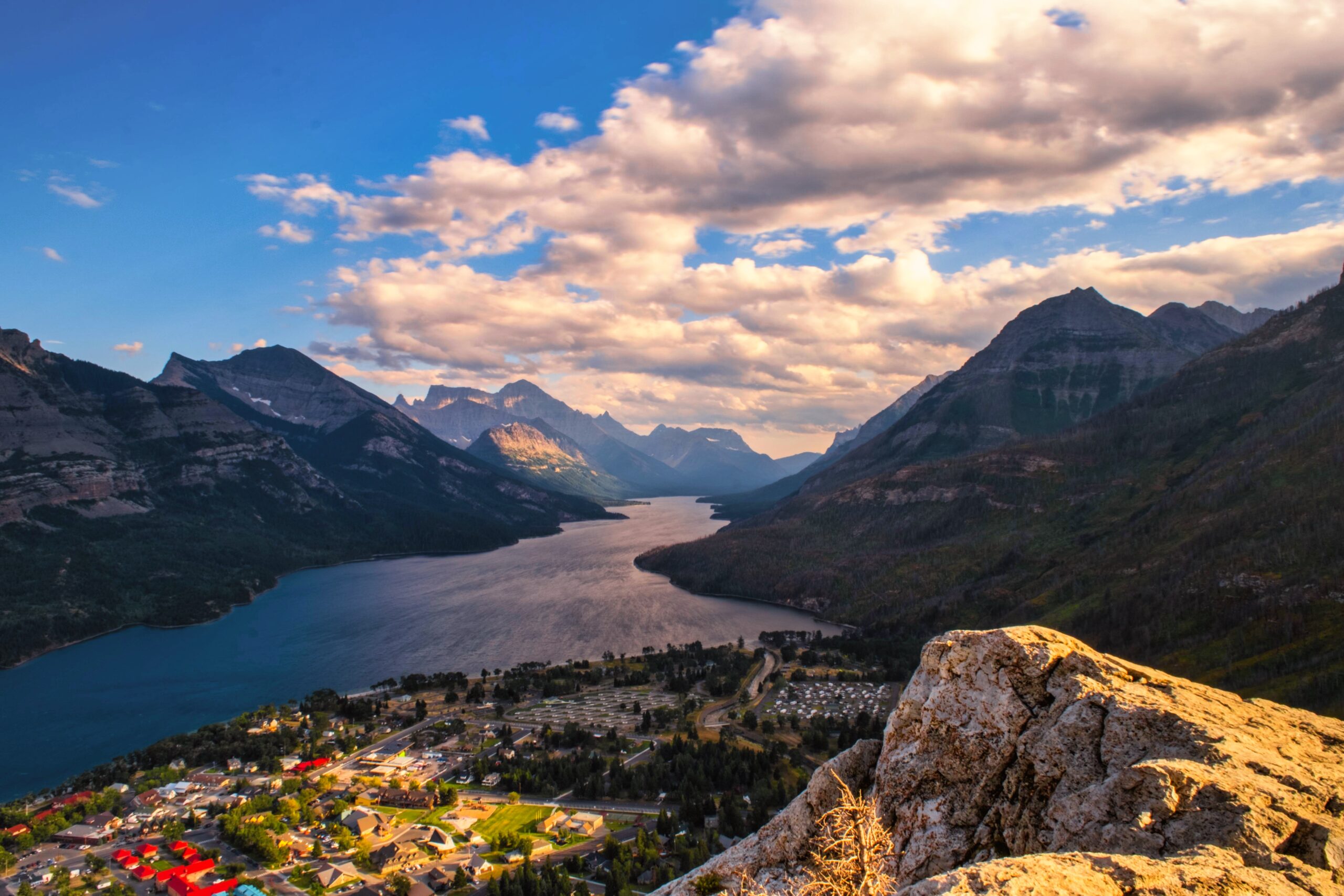 At just over 200 meters and less than 3km you can expect Bear's Hump to take you less than an hour up and 30 minutes down, depending on your pace. It's also a great trail to trail run in under 30 minutes round trip or you can consider heading up to Bears Hump on a clear night to see the stars.
---
When Can You Hike Bear's Hump?
---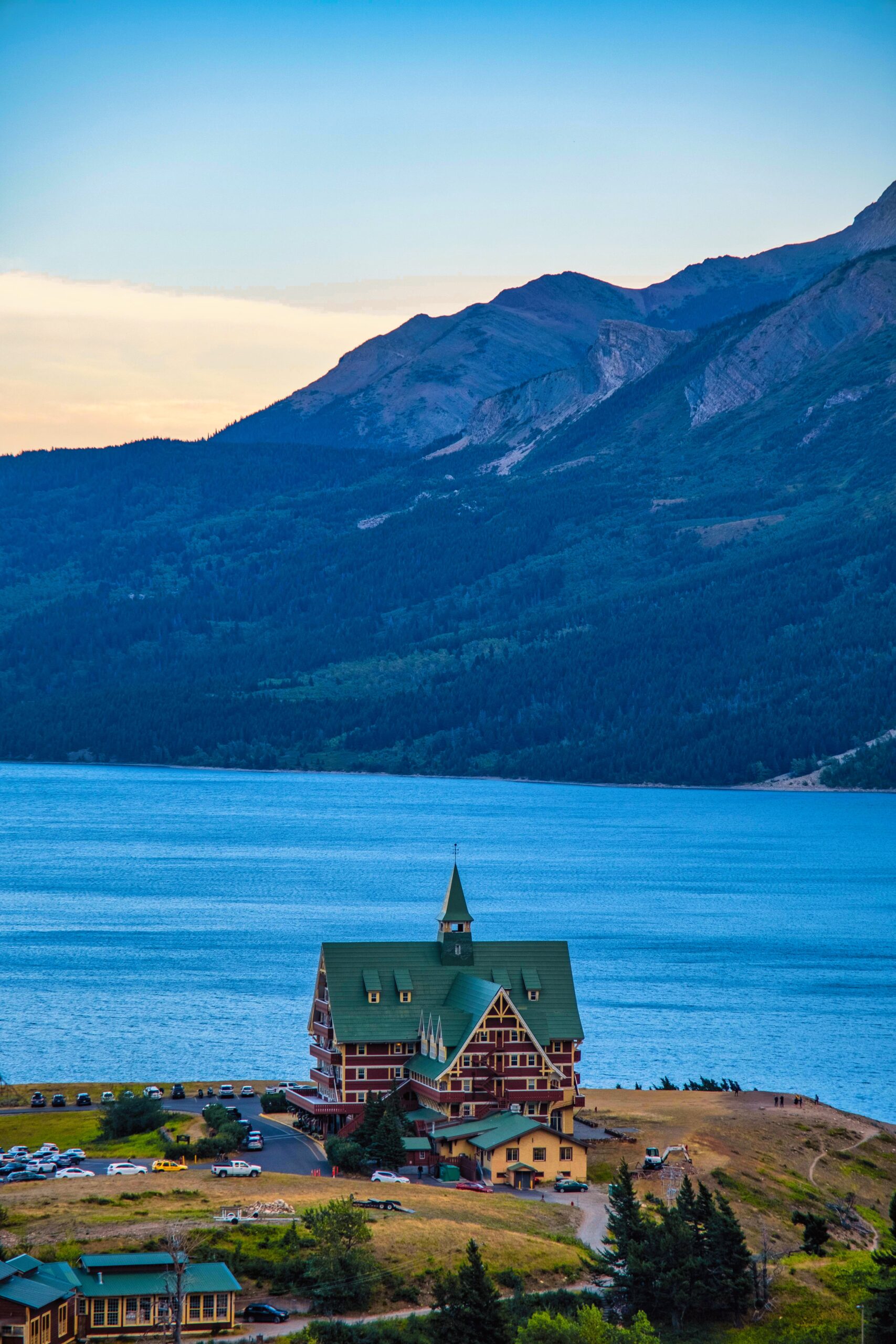 Being low elevation Bear's Hump is usually clear of snow in May and is good to hike snow-free until October. If you want to hike Bears' Hump in the winter make sure to bring poles and microspikes.
---
Should You Bring Dogs & Kids up Bear's Hump?
---
Absolutely! Kids and pets will love this family friendly hike. After you've completed Bear's Hump you're ready for the Crypt Lake Trail!
---
Advice on Hikes in the Canadian Rockies
---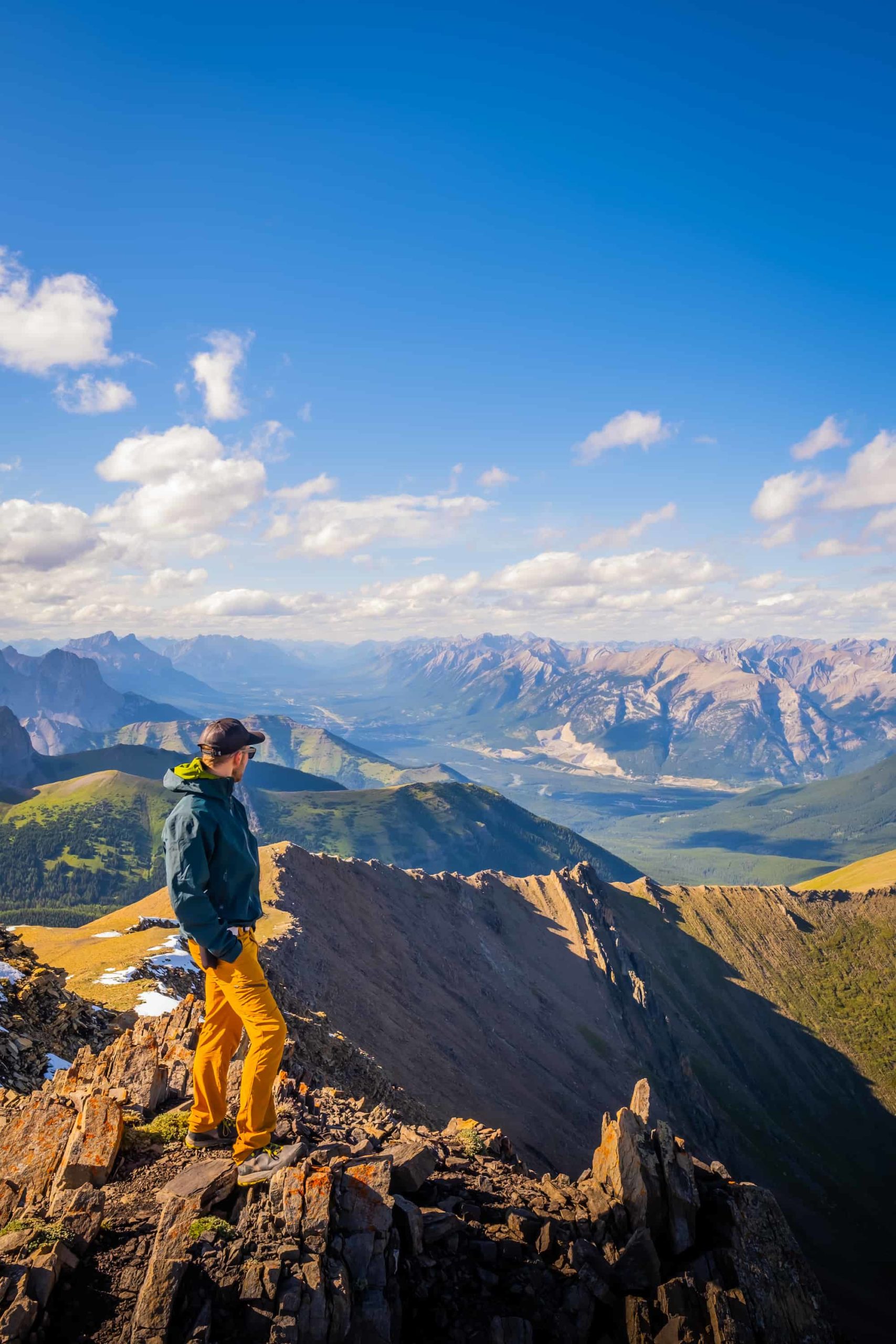 If this is your first time hiking in the Rockies take a conservative approach. Pick an adequate hike for your fitness, plan for plenty of time, pack water and food, and don't be afraid to turn around. If you want to learn more about what to wear hiking we have a great post.
For long hikes, set a turn around time at the departure. Any time we set out for an objective I determine a time at which we need to turn around in order to arrive at the parking lot or campsite by dark. I would recommend not hiking in the dark as it's easy to get lost and it's not fun in bear country.
On that note, always carry bear spray if you plan to hike in the park. We carry ours in the neighborhood and bears have been known to stroll through town and busy parking lots. Always practice wildlife awareness when you're on a trail, and please give animals space.
In regards to times keep in mind your mountain fitness — different than the gym. The low end of the times in this post is a constant fast pace uphill with little to no breaks and a brisk pace downhill. Most hikers should plan for a middle of the road time with the estimated duration.
It's also super important to know that there are limitations and to come prepared. These are very serious mountains and it easy to get in well over your head with life-threatening consequences.
Lastly, a GPS tracker could save your life – it's one of those backpacking essentials I like to have on me just in case I need to hit SOS. Alltrails is our favorite app to have on a hike. It shows the correct trail way, elevation, and other hiker reviews. We paid the subscription fee so that we could download all the data we need to our phones. Best $2.50 (per month) ever spent!
---
What to Wear On a Hike?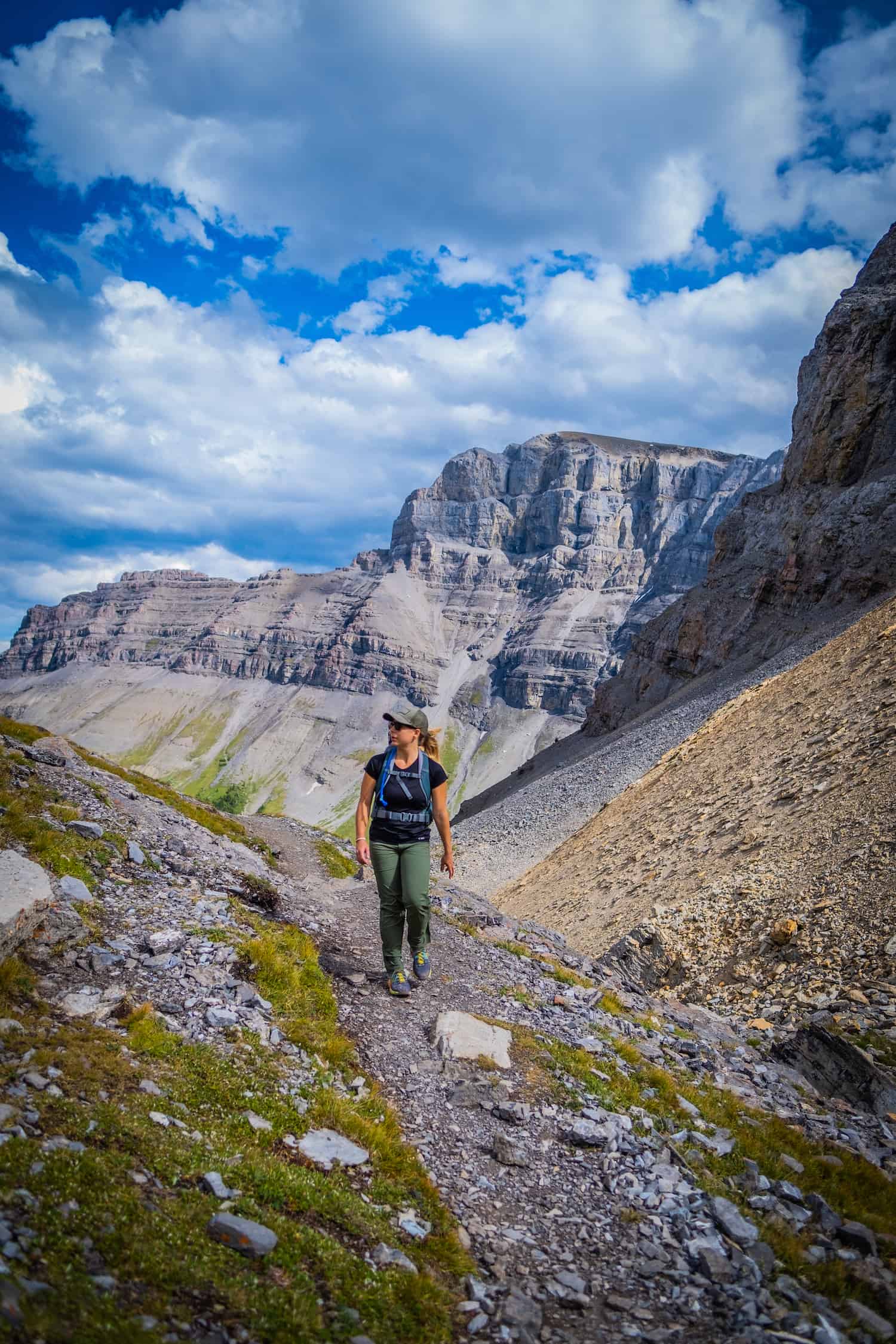 The most basic principle of what to wear hiking is layering. Anyone that has spent time in wilderness or mountains can speak to the fact your temperature can fluctuate a lot on a hike. You can easily start off cool at the base of the mountain and get hot as soon as you begin moving.
The goal of hiking clothing is to help regulate your body temperature, element protection, and moisture management. Temperature management is best done through a layering system if you want to learn more about what to pack for a day hike or what to wear on a hike, you can see our full post!  Here are the best hiking clothes for men and the best hiking clothes for women.
---
Looking for Other Great Canadian Rocky Hikes?
---