On your first trip to Banff, or Canada, for that matter make check out some of these Banff food staples.
While it's tough to consider this "local food" or Canadian there are some classic staples in Banff to try while visiting. Here are our favorite Banff foods to make sure and eat while here.
See More:
---
Awesome Foods to Try in Banff
---
Fondue
There are a plethora of restaurants around Banff that serve up this classic mountain dish originating from Switzerland. In part, this is because of the Swiss influence on the Canadian Rockies. It all stems from the first mountaineering death in 1896 that occurred near Lake Louise. Afterward, the Canadian Pacific Railway hired several Swiss Mountaineers to help develop tourism and guide guests in the Canadian Rockies.
Over time more Swiss mountaineers would follow and help guide early mountaineers and guests as they continued to explore the Canadian Rockies. Along with their knowledge in accessing these amazing peaks, their culture bled over and its impact can still be seen to this day in Banff National Park.
For those that don't know fondue is a mixture of melted cheeses served in a large communal pot. Patrons will then traditionally dip bread in the fondue, but many places offer more exciting options like vegetables to dip. Be warned it's a very rich flavor and packed full of calories, but who cares you need to reenergize after exploring the Rockies.
---
Poutine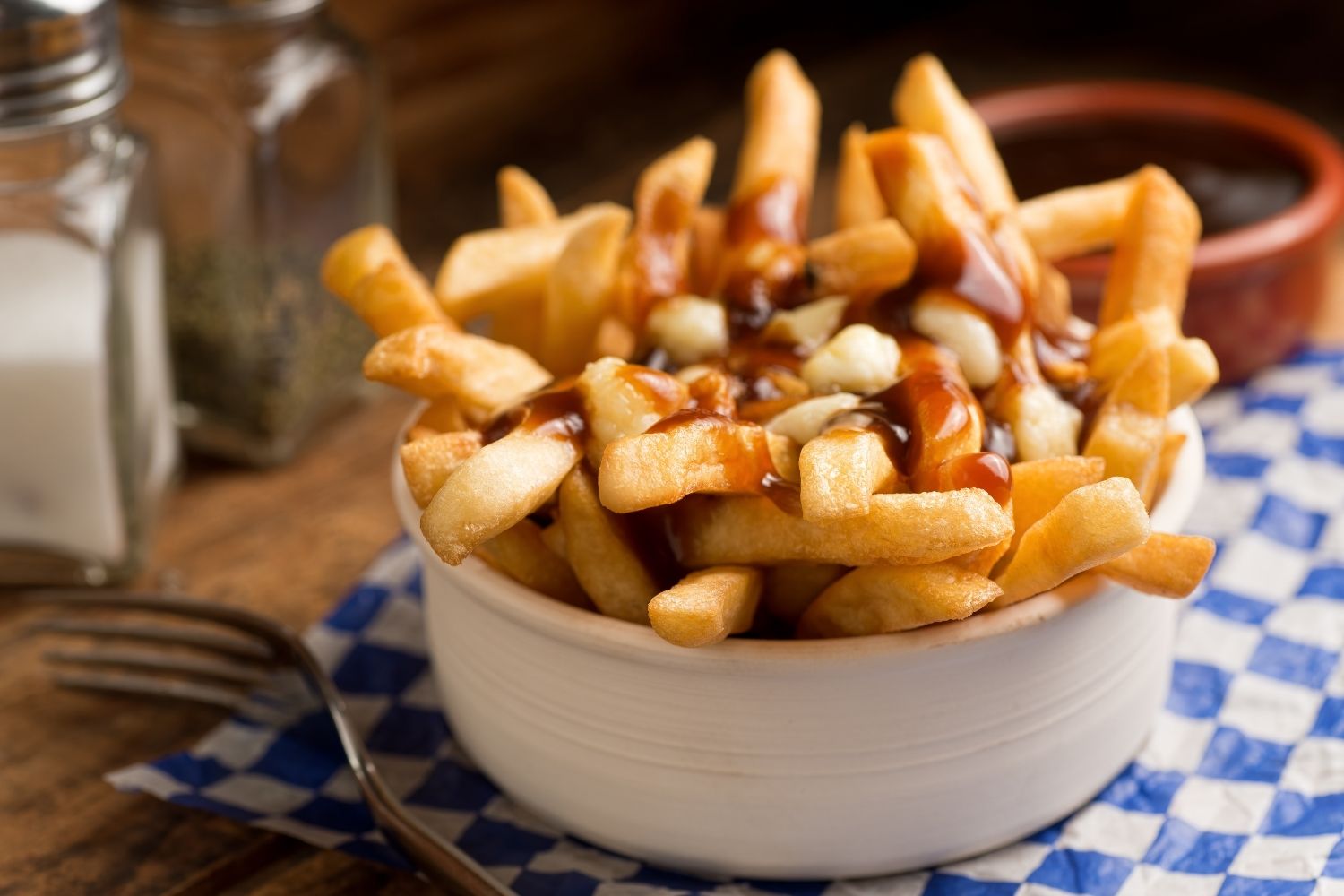 Along with maple syrup, this is possibly nothing more Canadian than poutine. It's the ultimate savory late-night dish that's become ubiquitous with Canada. The origins of the dish are up for debate, but it at least credited as a Quebecois dish. It consists of french fries, gravy, and cheese curds. You'll find this dish all over the town of Banff and it's most common in the bars.
---
Beavertail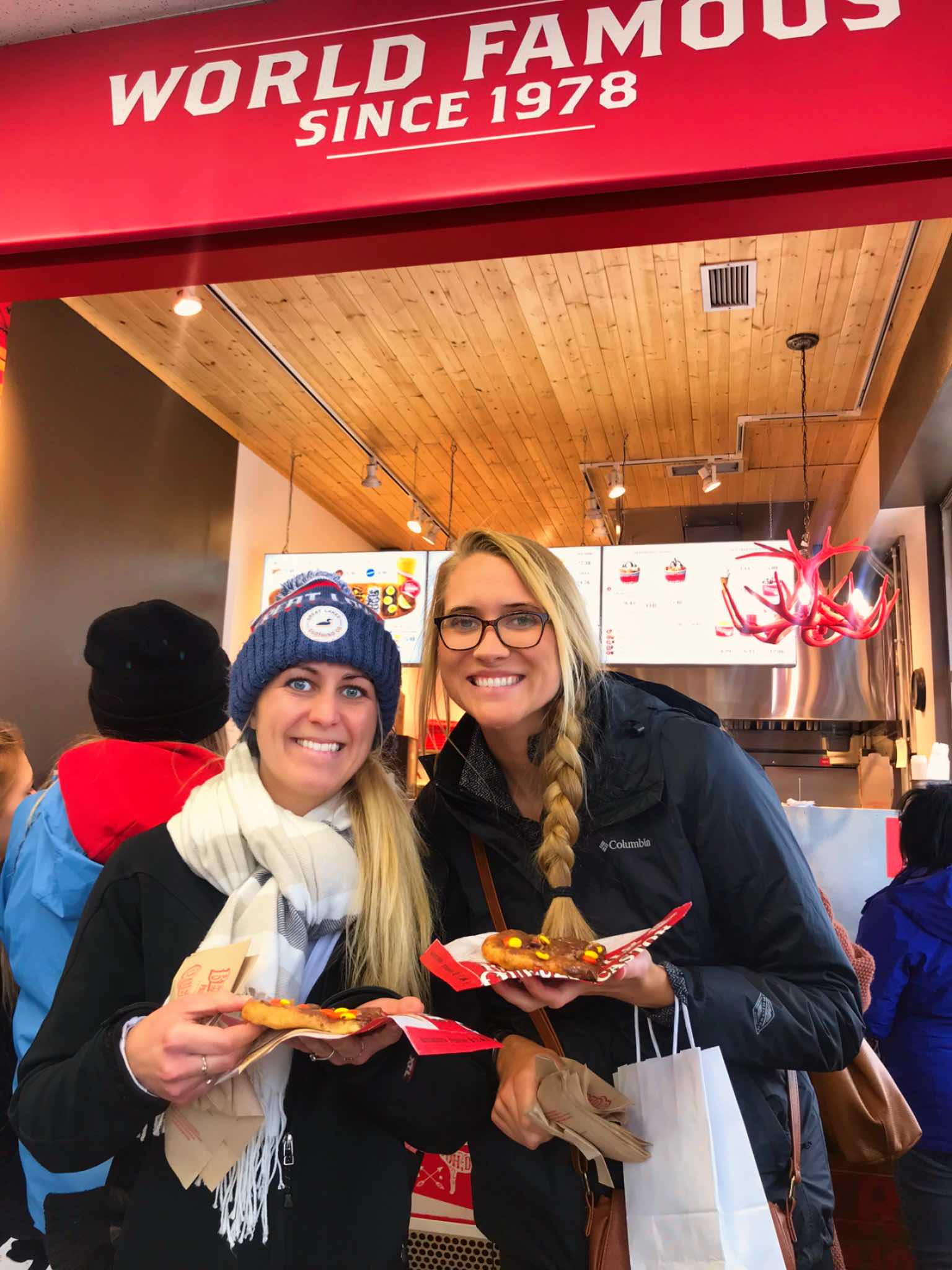 A beavertail is right up there with poutine as a quintessential Canadian food item. Of course, it's not some beautiful culinary feat as it comes from a chain that can be found throughout Canada. However, the crispy, spongey, and sweet fried "beavertails" are delicious.
The novelty of having a beavertail is not lost on visitors and the two shops on Banff Ave. frequently have a line around the corner. It's tough to blame anyone as they're devilishly sweet and warm so on a cold evening they hit the spot while walking around the town. It's pretty much a funnel cake brushed with butter and topped with cinnamon sugar. There are also a variety of different toppings if you feel like mixing it up.
Even if it comes from a chain this is a pretty fun food to try in Banff.
---
Cowboy BBQ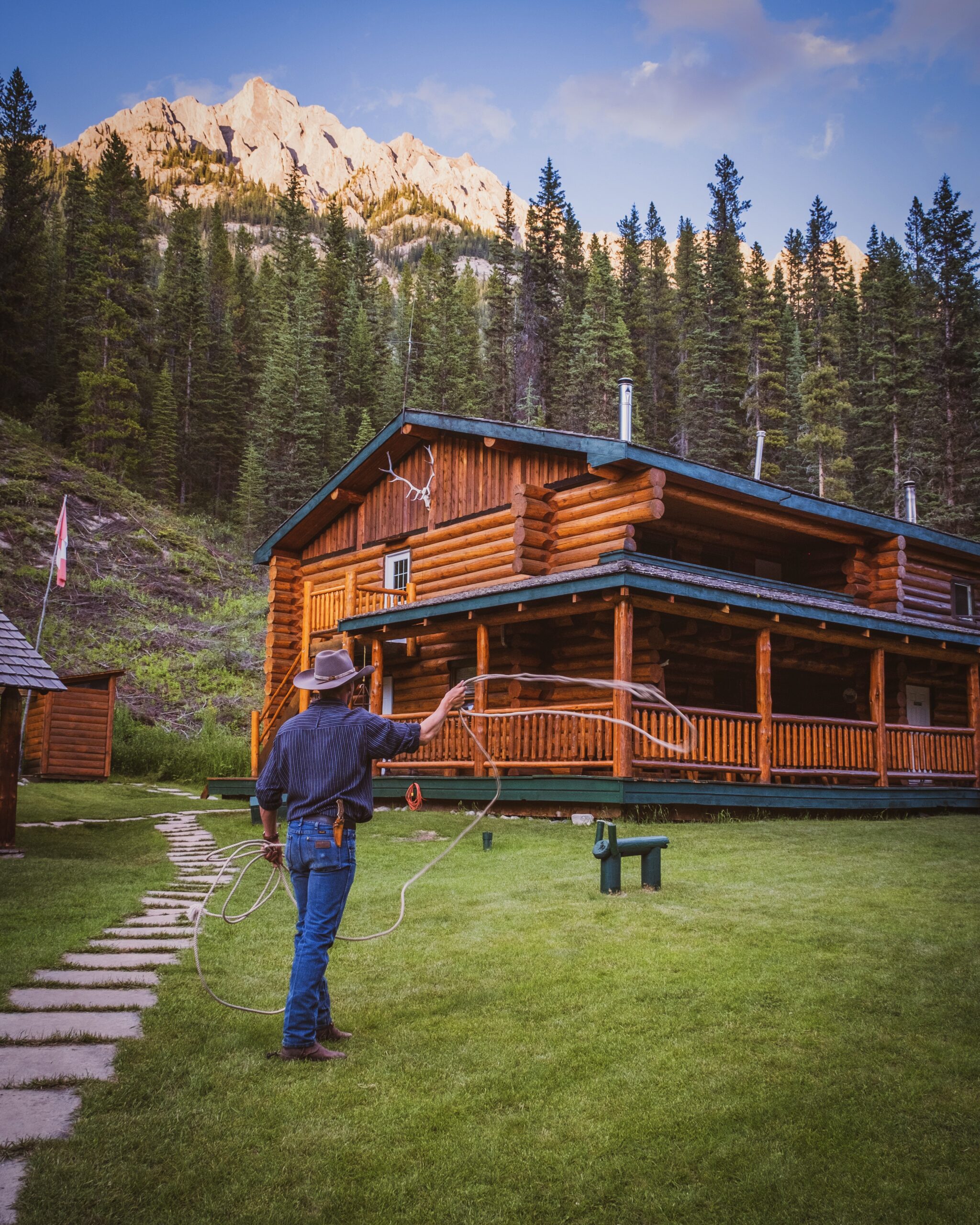 For an awesome activity and a fun meal try a Cowboy BBQ. It's one of those "Banff foods" that taste so much better in the mountains. It's a tour that takes to the trail on horseback around Banff before arriving at a cowboy BBQ. Expect an evening with cowboy beans, cornbread, steak, and live entertainment around a campfire.
Banff Trail Riders offer the tour and it's appropriate for even beginner riders. It's one of the most quintessential ways to explore Banff and an activity that's been popular with visitors to park since its earliest days.
---
Wild Game
With its rich ranching and exploration history, the concept of wild game is still prevalent in Alberta. Many Albertans enjoy elk and deer hunting when in season, not in the park, and you'll find a wild range of restaurants that serve wild game in Banff. The two classic options for meat in Banff are elk and bison.
I personally enjoy elk a bit more as I'm a fan of the taste of wild game like venison or duck which is similar to elk. While Bison is a more mild red meat that you'll find very similar to traditional beef. Chef's in town make all manner of dishes using these meats that range from tartare to burgers, or steaks.
If you want some weird options for meat you can head to The Grizzly House that serves meat options like ostrich and crocodile, although very far from anything local.
---
Salmon / Trout
Try some trout or salmon from the neighboring province of British Columbia. While you won't get it locally since the wildlife are all protected in the park great local fish can be sourced not far from Banff. You'll find the great sourced fish in a plethora of restaurants in Banff. I'm a big fan of pan-seared trout which you can find at The Bison.
---
A Caeser At Park Distillery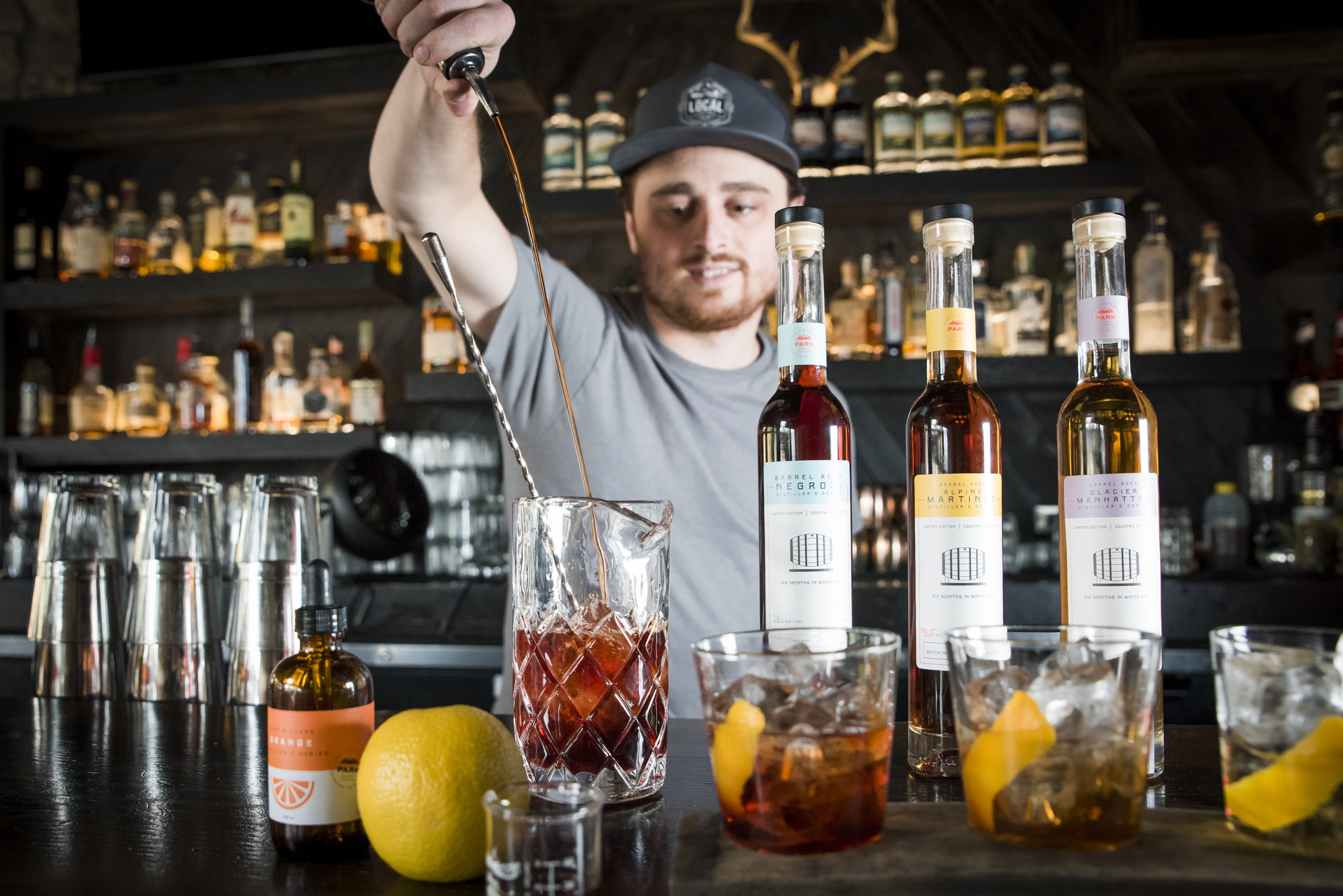 With a prime location on Banff Ave, it's tough to miss the local distillery as it's a classic bar in Banff. Park Distillery is where we take friends and family to eat when they're in town. Park Distillery has quickly made a name for itself in town for their spirits such as Gin and Vodka distilled with Rocky Mountain water. We love the modern mountain interior and they have large garage doors to open up the restaurant to fresh mountain air in the summer months.
It's a popular spot and draws a crowd so expect to wait in peak summer or call ahead for reservations. If you're looking for a classic try their Parkway Caesar made with chili vodka at brunch. A caesar is the Canadian equivalent of a bloody mary which is tomato juice, lemon, Worcestershire sauce, and hot sauce. They also offer distillery tours every day if you're looking to learn more. Take a bottle of one of their spirits home for a gift or souvenir, perhaps both.
---
Steak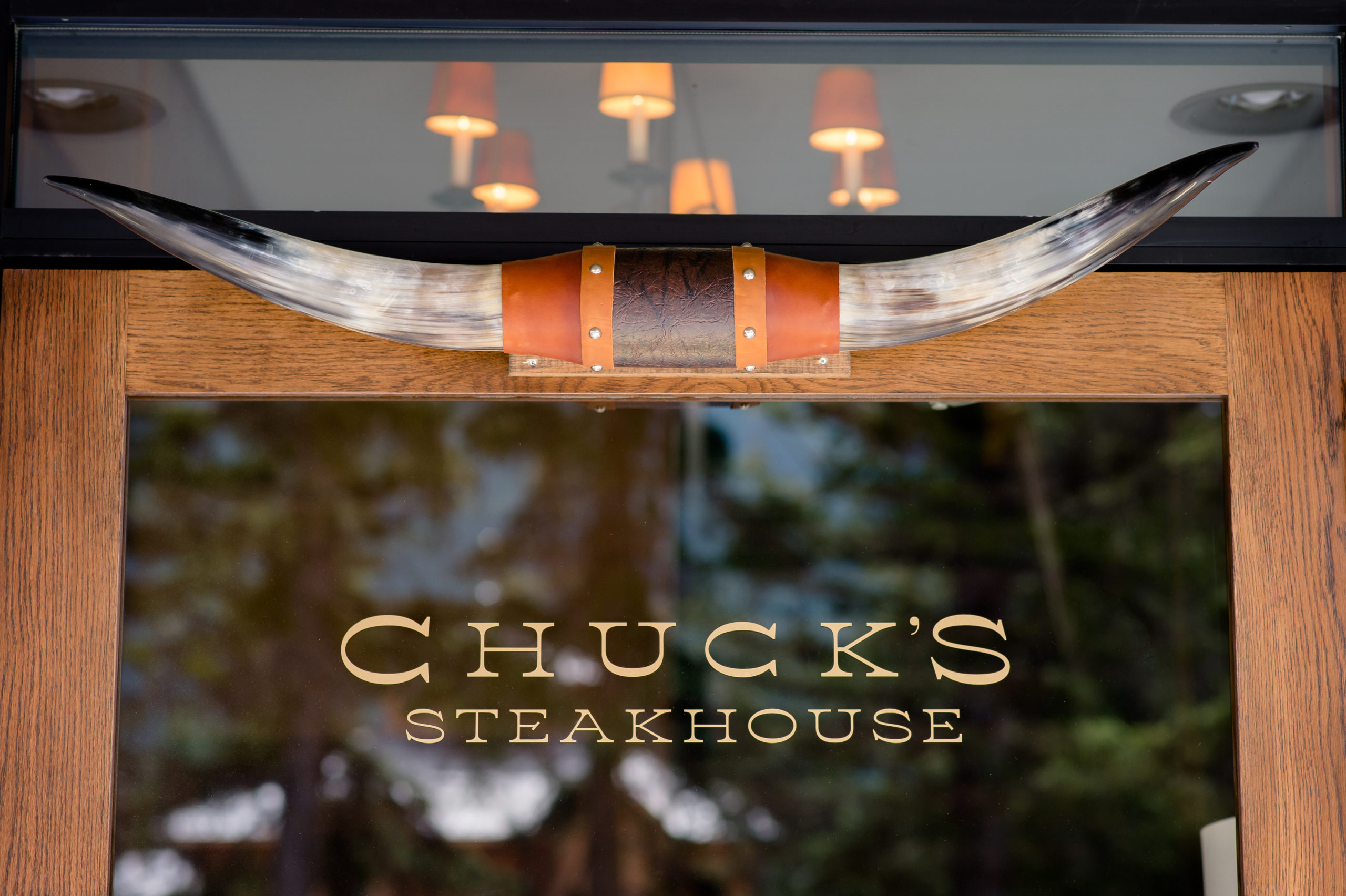 While steak is far from revolutionary, the beef industry and cowboys have long been a staple of Alberta. Calgary even hosts the largest rodeo in the world every summer called the Calgary Stampede. Head to one of Banff's many great steakhouses and order some local Albertan raised beef. If you're looking for suggestions two of the most famous are Chuck's Steakhouse and Saltlik.