If you are looking for the best things to do in Banff, we have you covered! We visited this little mountain town a few years back and fell in love so much that we decided to move to the Canadian Rockies and eventually start this entire Banff website.
There's really nowhere quite as remarkable as Banff National Park. Whether it's winter or summer in Banff, there is so much to do in Banff it's impossible to get bored. We could spend a lifetime exploring these spectacular mountains.
The mountains provide an endless playground, so there is little mystery as to why millions choose to visit each year. Hopefully, this guide will give you the information to choose the best things to do in Banff for you and your travel companions.
---
Best Things To Do In Banff National Park
---
Relax on Lake Minnewanka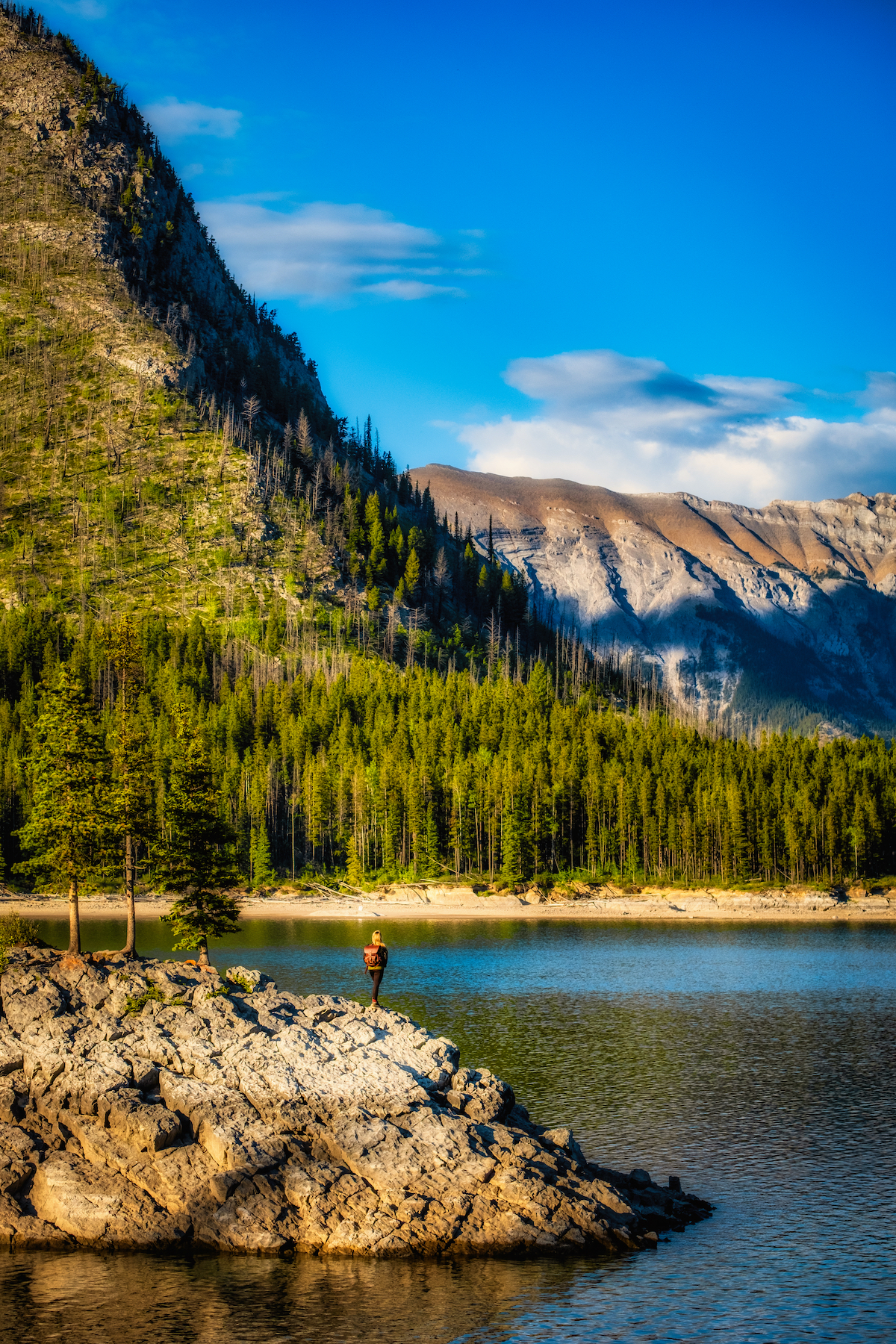 One of the top things to do in Banff National Park is to stroll along or take a boat ride on Lake Minnewanka. Lake Minnewanka is a beautiful Banff lake that is just a ten-minute drive away from the town of Banff.
This man-made lake is 21 km long and 142 meters deep and helps power Banff with hydroelectric power. You can also hop on the popular boat cruises that take you to the lake's start called the Devil's Gap.
In the summer, it's a busy place to hike, picnic, and go canoeing, and in the winter it's a sight to behold where you can typically ice skate.
The mountains towering over Lake Minnewanka are awe-inspiring all year round. Oh yea, and there's also a Canadian resort ghost town under the lake!
See it from the water and book a Cruise! Lake Minnewanka Cruise
---
Take Photos at Two Jack Lake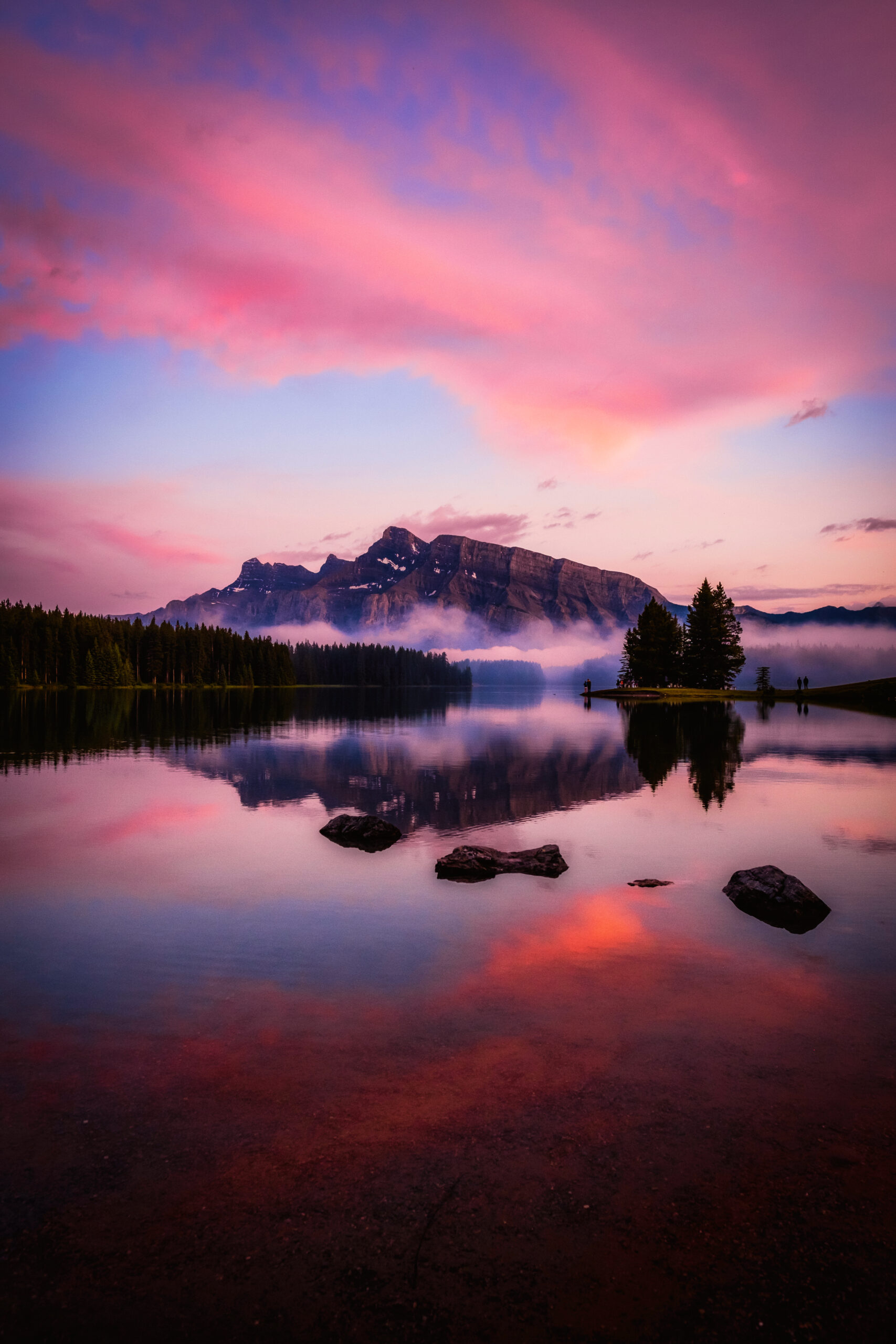 Just a five-minute drive away from Lake Minnewanka is Two Jack Lake. It's another fantastic lake with Mount Rundle Views. Two Jack is one of the most photographed lakes in the Canadian Rockies due to its proximity to Banff.
It's also a popular spot with visitors and locals alike to go for a kayak out or even go for a swim. It's one of the most scenic views in Banff National Park and always makes for a great photograph, especially when the evening light hits Mt. Rundle.
In the winter, it's possible to arrive here with a tripod and be all by yourself. There's also a campsite right on Two Jack Lake which is one of the most popular in Banff.
---
Go For a Bike Ride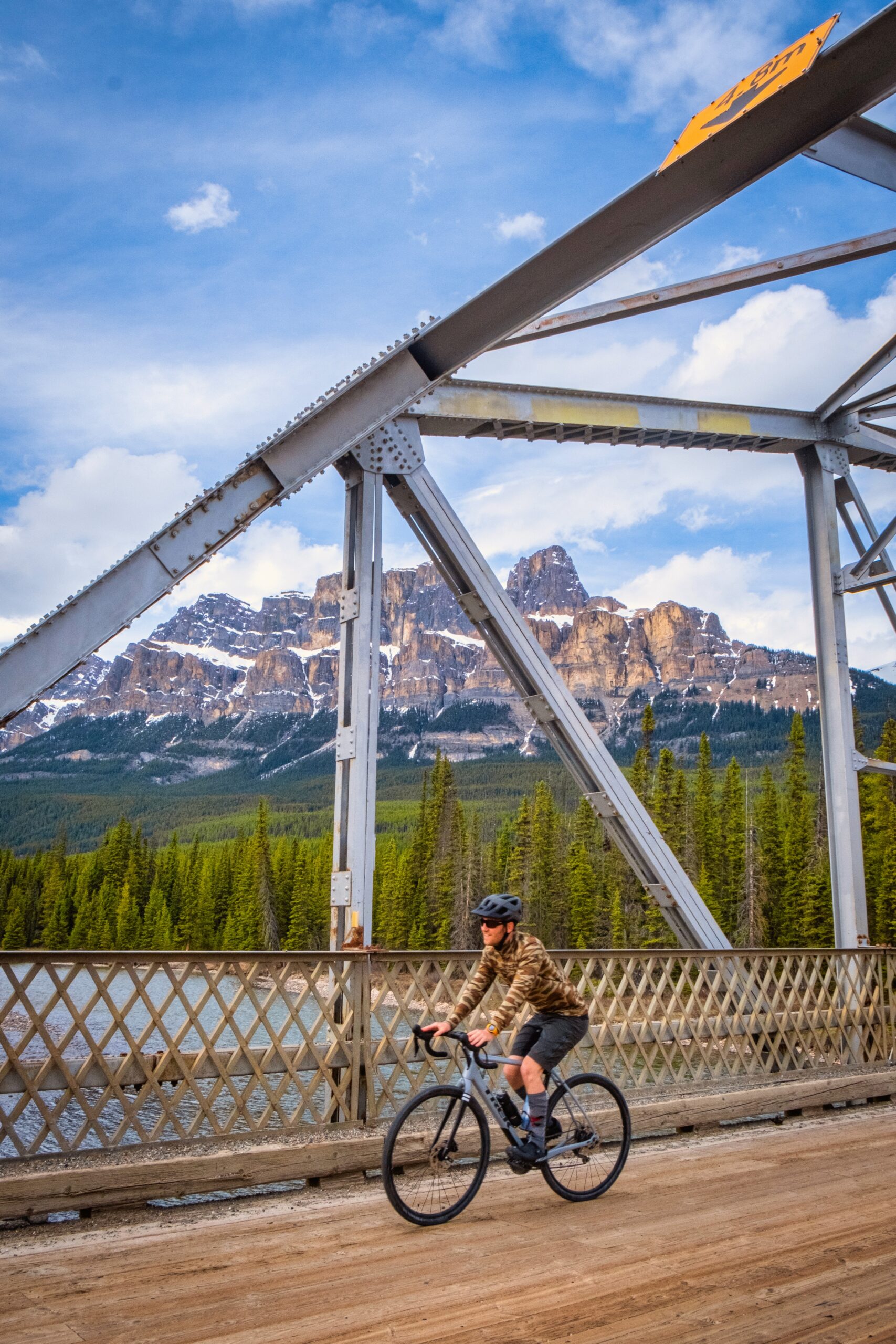 If there is a style of biking you enjoy, you'll find an abundance of scenic places to get on a bike in Banff. It doesn't matter your skill level either, as there truly is everything in the area. Head up the Bow Valley Parkway to Lake Louise on a road bike for one of the best rides of your life.
Or head over to Canmore's Nordic Center for some thrilling mountain bike trails, or take to the wild and explore some of the park's amazing trails.
If all of that sounds like too much, hop on the Legacy Trail (a paved trail that takes you between Banff and Canmore) and ride to Canmore for some beers at the Grizzly Paw Brewery. Or just rent some simple cruisers and enjoy the scenery around the town of Banff, like Bow Falls or Vermilion Lakes.
---
Drive the Bow Valley Parkway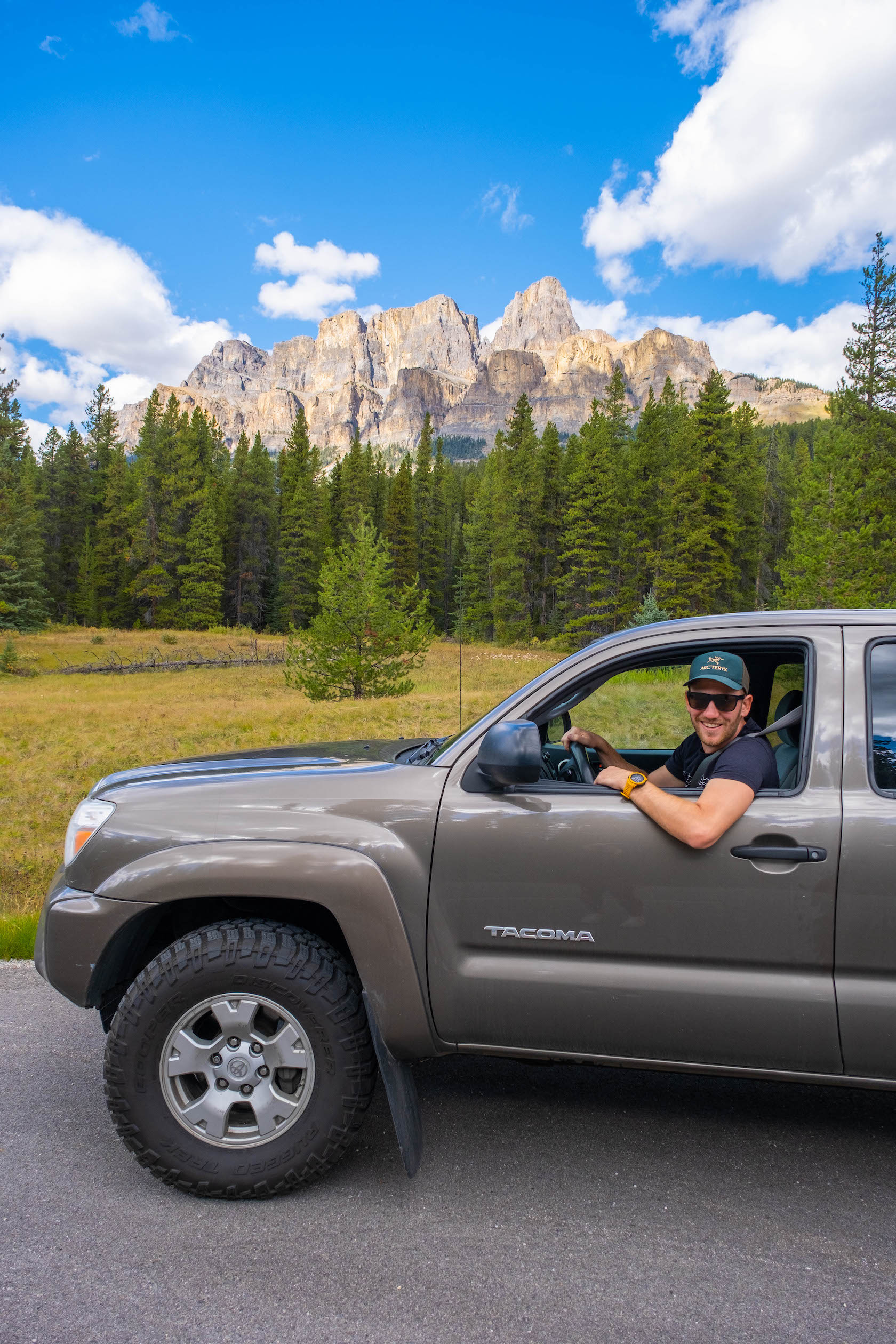 Speaking of The Bow Valley Parkway, or the 1A, is a road that every visitor to Banff National Park should drive on at least once. Before the Trans Canada, the Bow Valley Parkway was the original road linking Banff and Lake Louise in the early 1900s.
Now it's a road primarily used for sightseeing and outdoor recreation, and is a great alternative to the Trans-Canada when connecting Banff to Lake Louise. Driving the Bow Valley Parkway is all about seeing the sights and enjoying the views, meaning it's much slower than the highway. Some of the best sights are Morant's Curve and Storm Mountain Lookout!
10 Awesome Bow Valley Parkway Stops (Driving Banff to Lake Louise)
---
Catch Sunset at Vermilion Lakes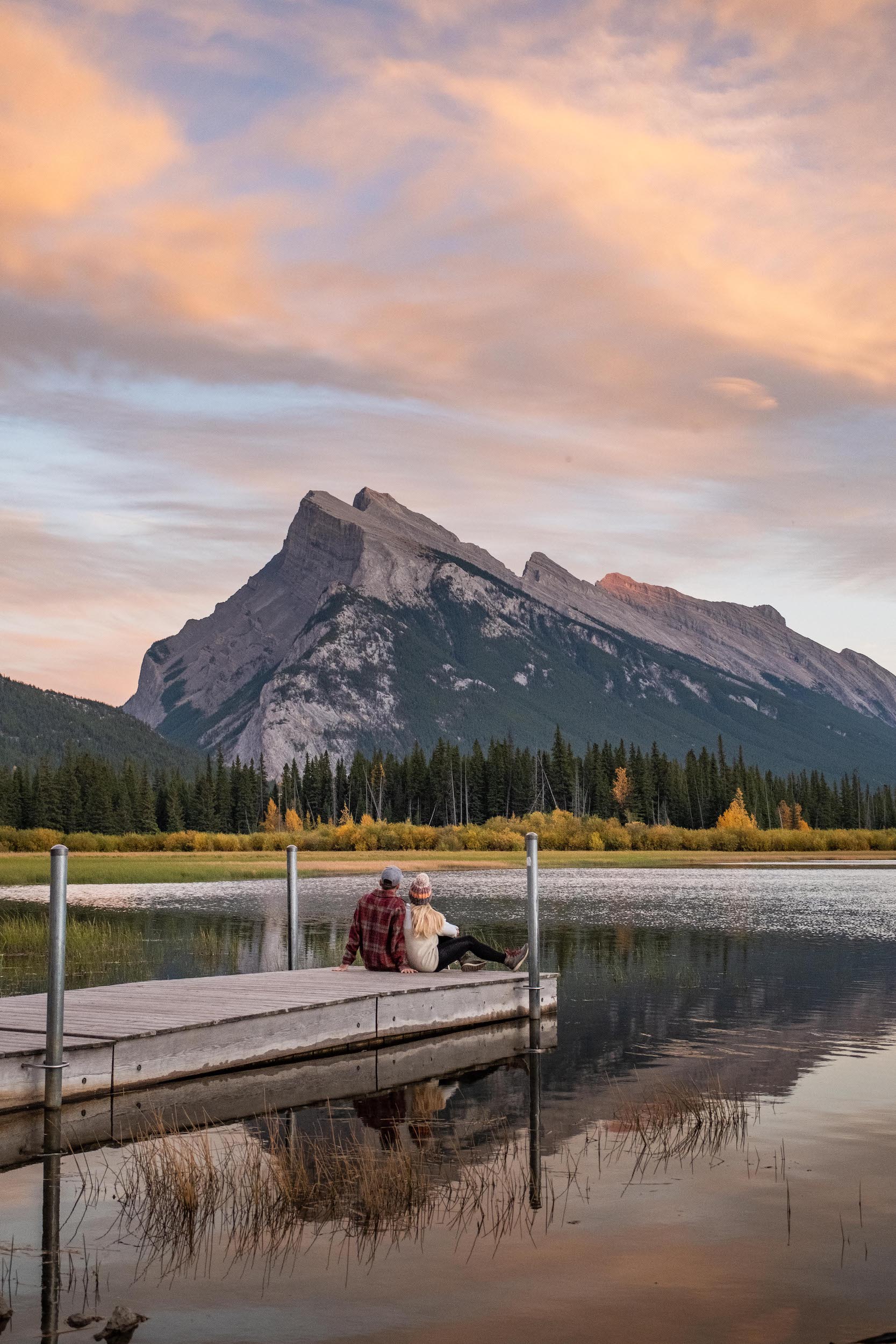 A great Banff summer and winter excursion is to enjoy Vermilion Lakes. Vermilion Lakes is one of my favorite places to go to Banff for both sunrise and sunset.
Mount Rundle, arguably the most famous mountain in the whole park, towers over the lake, creating an epic backdrop any time of the year. It's the perfect place to come early morning and enjoy your coffee or travel for sunset with a bottle of wine.
You can also take a canoe, kayak, or paddleboard out here and enjoy the water. The lakes are pretty calm even on a windy day, and they are home to a plethora of birdlife. If we're ever in town in the evening, this is where we'll head to catch the sunset. See you there!
---
Walk Around Johnston Canyon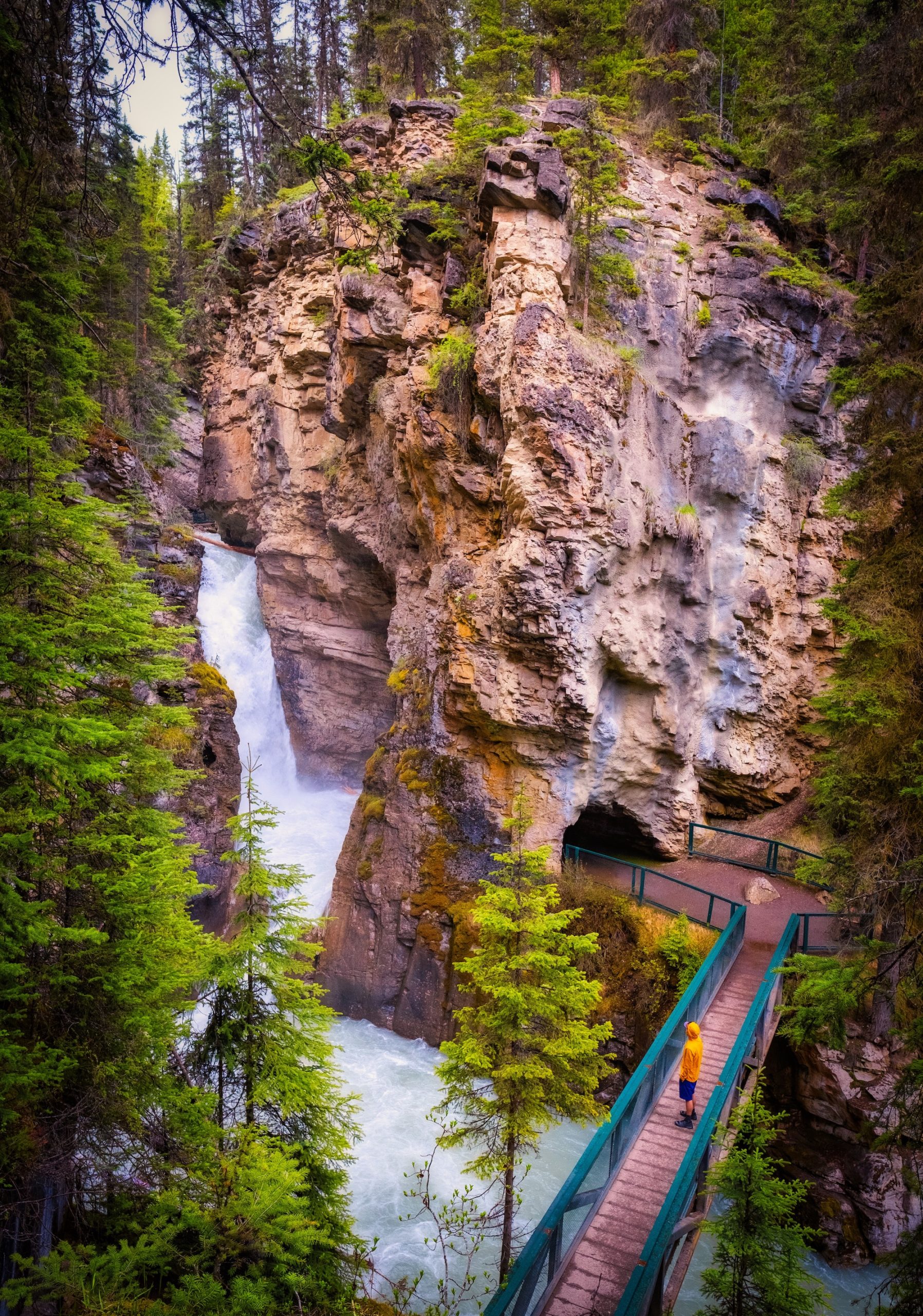 Johnston Canyon is one of the top attractions in Banff year-round and can attract a crowd. We love the hike more in the winter due to the summer crowds, but there is good reason to visit in the summer.
A summer hike is visceral as the roaring water reverberates through the canyon and into your chest. As a hiker, you get up close and personal with the canyon thanks to a series of suspended walkways. Along the way, hikers catch scenic glimpses of the mountains, multiple waterfalls, and a chance to spot wildlife.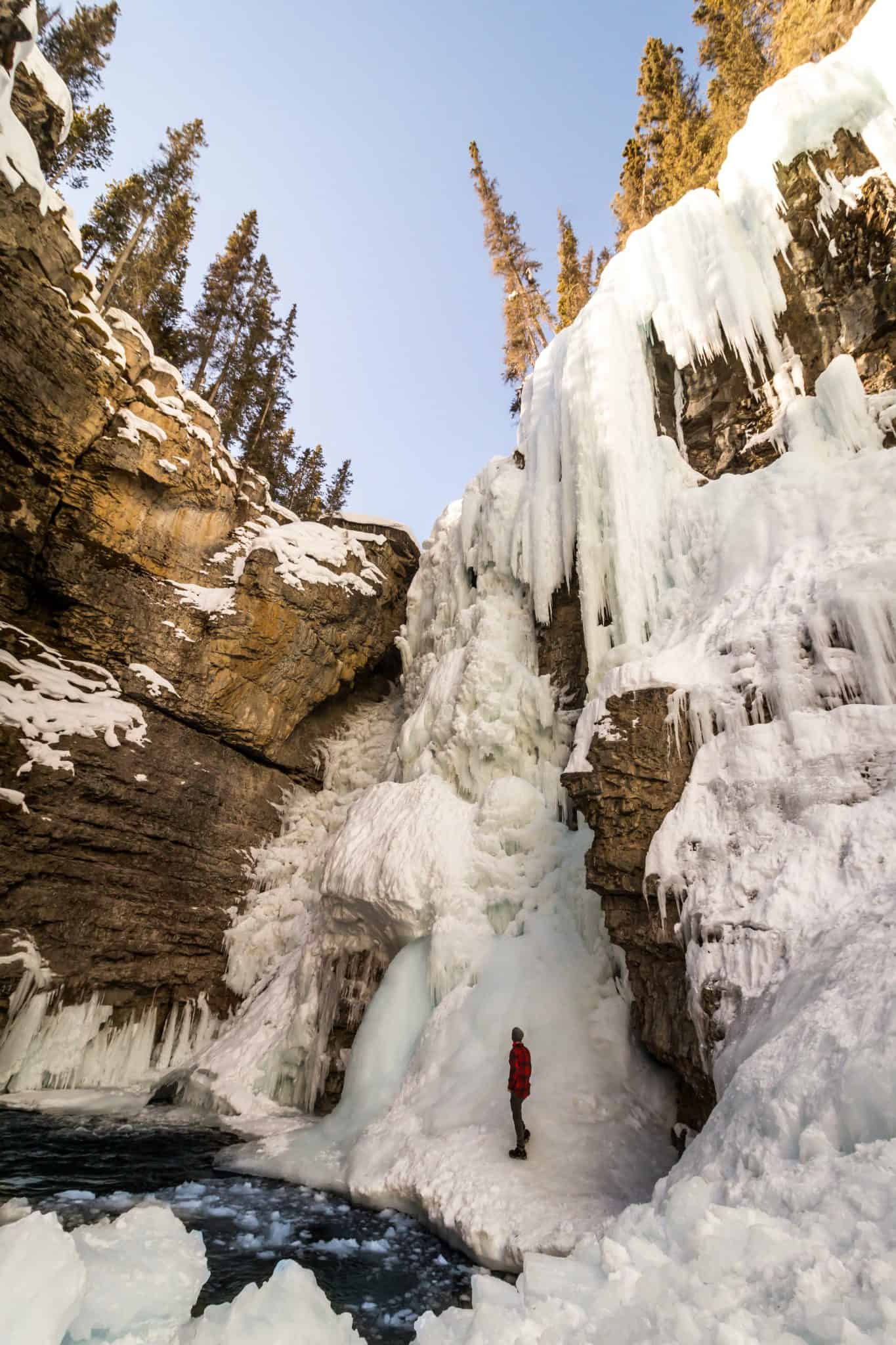 The waterfalls are locked away in a huge swath of ice in the winter. If you've never seen a frozen waterfall, hiking Johnston Canyon is a wonderful opportunity to do so. The trail along Johnston Canyon is open year-round unless noted by Parks Canada.
We suggest renting or buying microspikes in town if you visit Banff in the winter or early spring. Although the trail is well managed, it can get icy, and having them is better than slipping everywhere on the trail – ours were very handy! No matter the season, it's an easy hike along a well-maintained trail suitable for all ages. For an extended hike, continue on to the Ink Pots.
Tour Option: eBike and Hike To Johnston Canyon
---
Walk on Athabasca Glacier via the Ice Explorer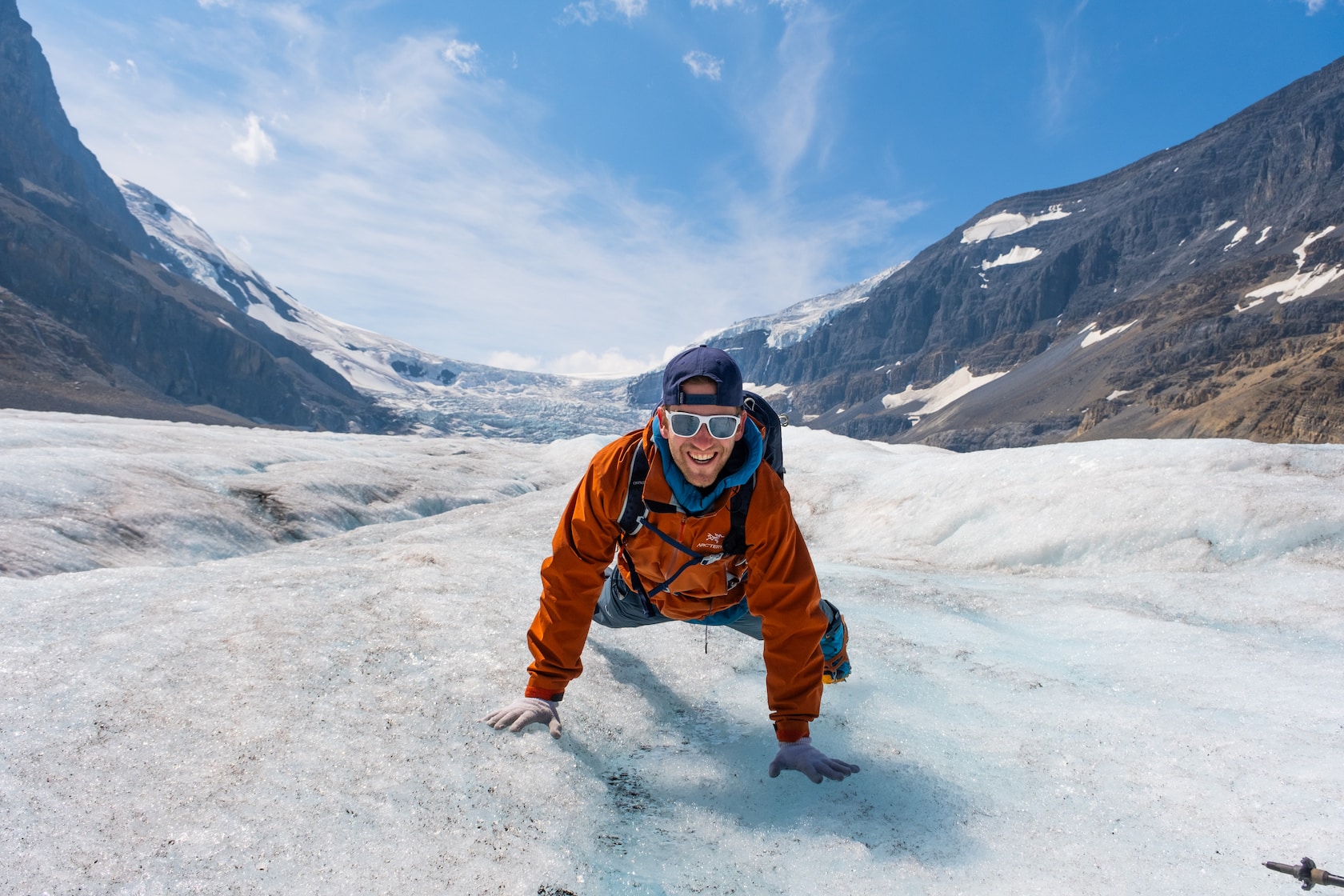 Get up close to a Glacier with the Ice Explorer at the Columbia Icefield Discovery Center. Here you can get some history around the beautiful Athabasca Glacier and experience the fun without much physical effort.
The glacier experience is on the border of Banff and Jasper and is best done when driving between Banff and Jasper on the Icefields Parkway. Once here, you take these massive vehicles with wheels taller than a person onto the center of the Athabasca Glacier.
We're a little mixed on the experience as the glacier has seen an extreme level of retreating, that's a direct effect of global warming, but it is a great way to get up close to a glacier if you have never seen one.
There are also ice walk experiences you can book! Everything you need to know is noted here!
Athabasca Glacier Tours To Book
---
Walk on the Glacier Skywalk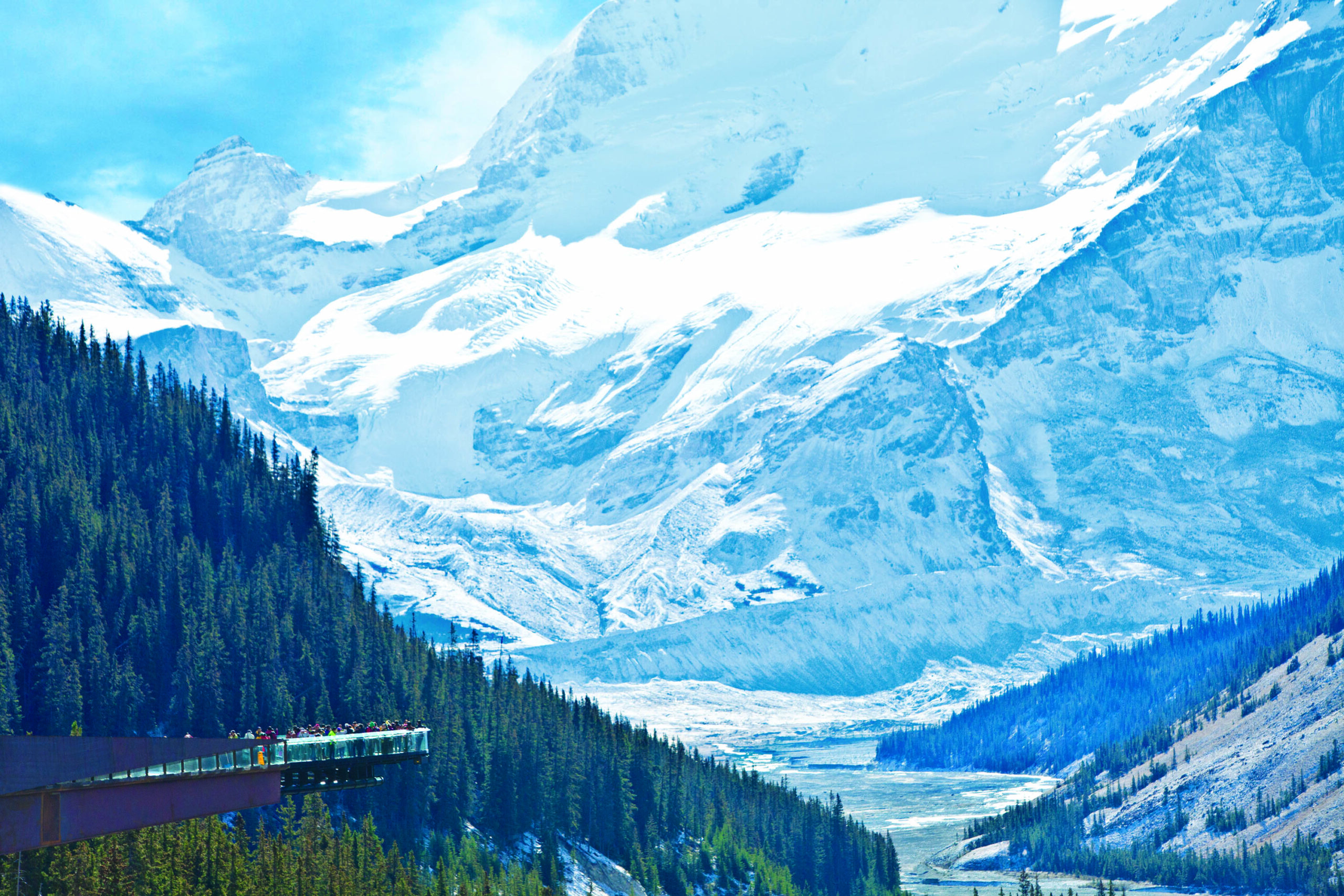 If you're already at Athabasca Glacier, you may as well continue a couple of kilometers down the road to the Glacier Skywalk; even though it's technically in Jasper, it can be a fun thing to add on to your Banff itinerary.
Here you can step out on a cliff edge walk, see the glaciers around you, and have views out of the Sunwapta Valley.
The Columbia Icefield Skywalk has views of wildlife, waterfalls, and fossils. It's a fun, family-friendly thing to do in Banff. However, in my opinion, you can get the same experience by going on a beautiful hike in Banff National Park for free.
---
Climb Mount Athabasca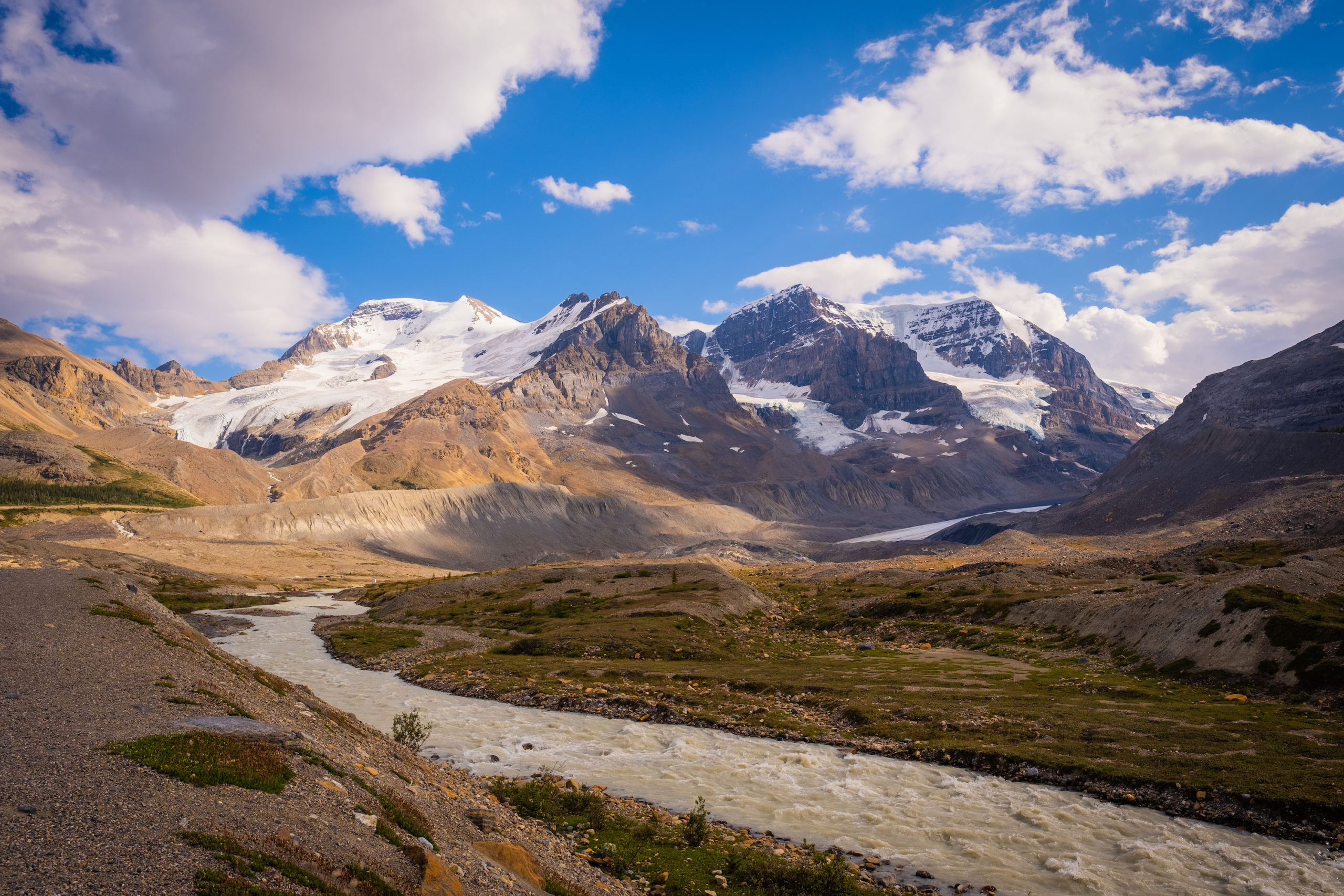 If you have plenty of time in the Canadian Rockies and really want an extreme experience you can summit Mount Athabasca. Mount Athabasca looms over one of the most popular attractions on the famed Icefields Parkway, but only a few get to see the view from the top.
To reach the summit requires a long hike to a technical glacier crossing and then up an exposed face or couloir. The views are breathtaking in more ways than one. You can spot countless glaciers, icefields, and many of Alberta's highest peaks from the top.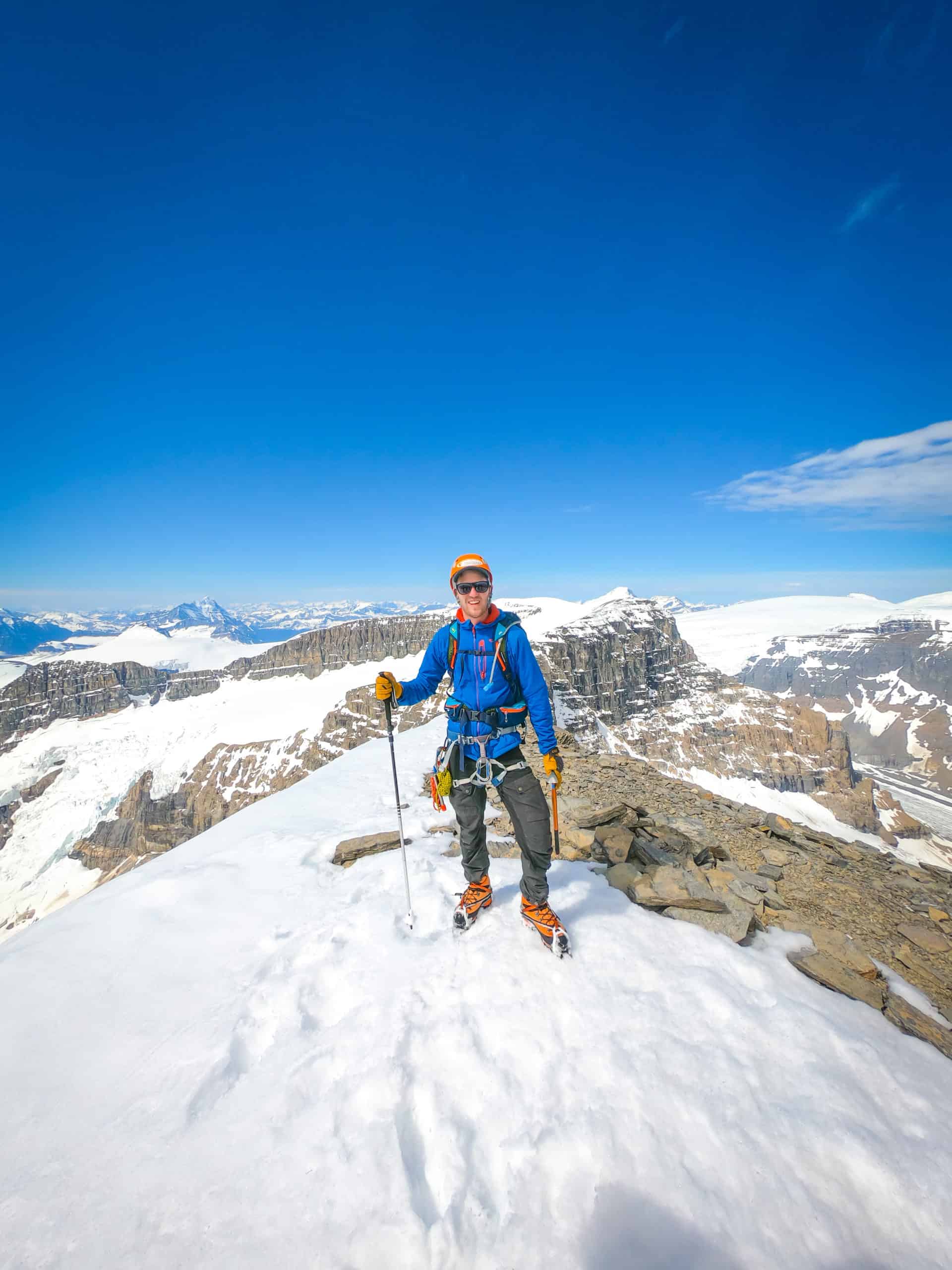 The peak is one of many in the Canadian Rockies, famous for reaching an altitude of 11,000 feet. Many climbers in the Rockies have the lifetime goal of summiting all 54 (58) of the peaks, and they are considered classic mountaineering objectives. At 11,453 feet in elevation with a massive glacier and convenient location, Athabasca proves to be a tremendous first "11,000er."
You cannot attempt this on your own without mountaineering and glacier travel experience; it is a serious mountain. We did a three-day mountaineering course with Yamnuska and summited on the third day – the experience was epic. This is probably not for everyone, but definitely one of the more adventurous things to do in Banff. It's also a great introduction for those interested in mountaineering.
---
Buffalo Nations Museum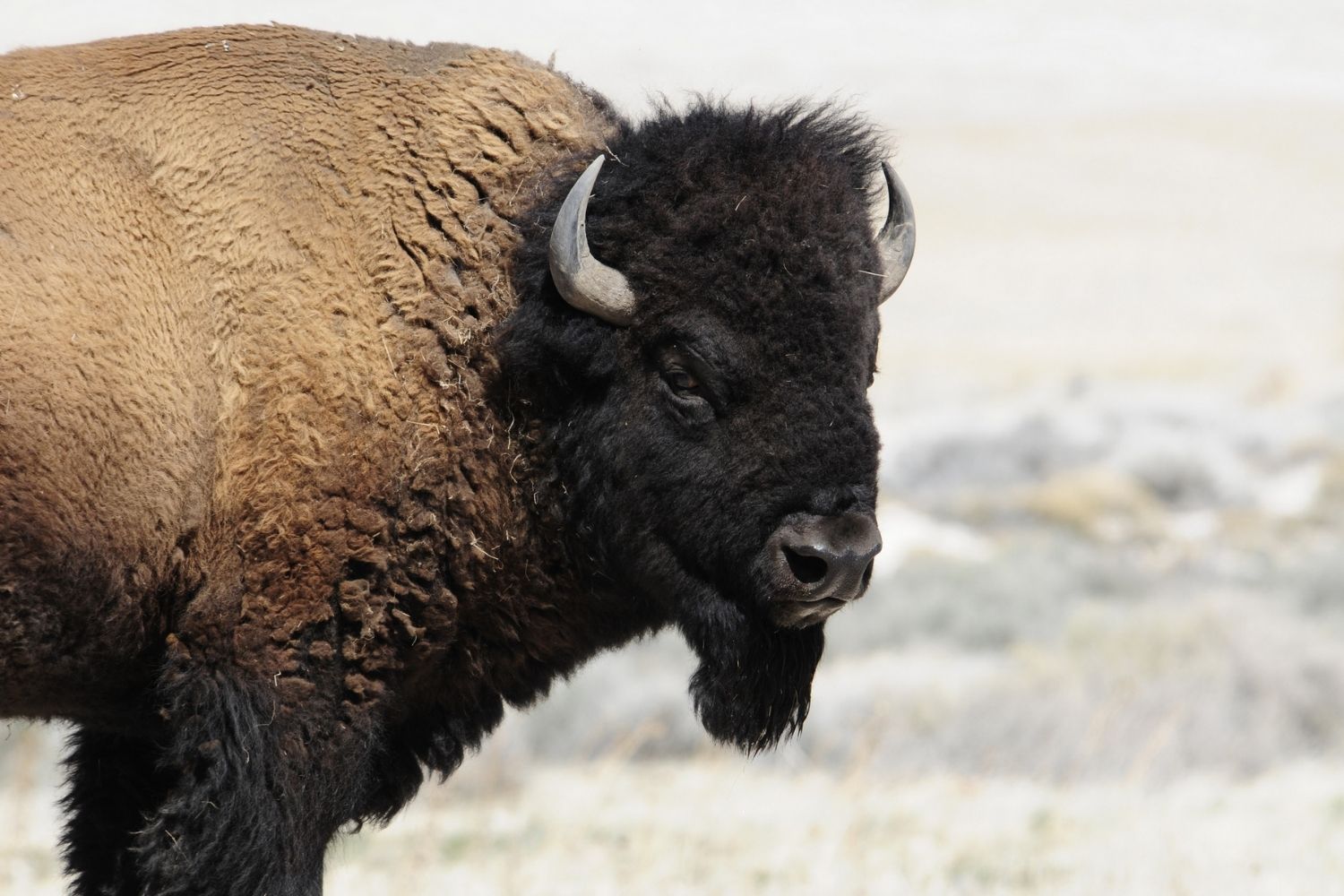 If you want to learn a bit more about the traditional and contemporary lives of the Indigenous Peoples of Canada, pay a visit to the Buffalo Nations Museum.
This log fortress on the Bow River will immerse you into a time when native people followed the great buffalo herds, traveled on horseback, and held elaborate ceremonies full of song and dance.
---
Open Top Touring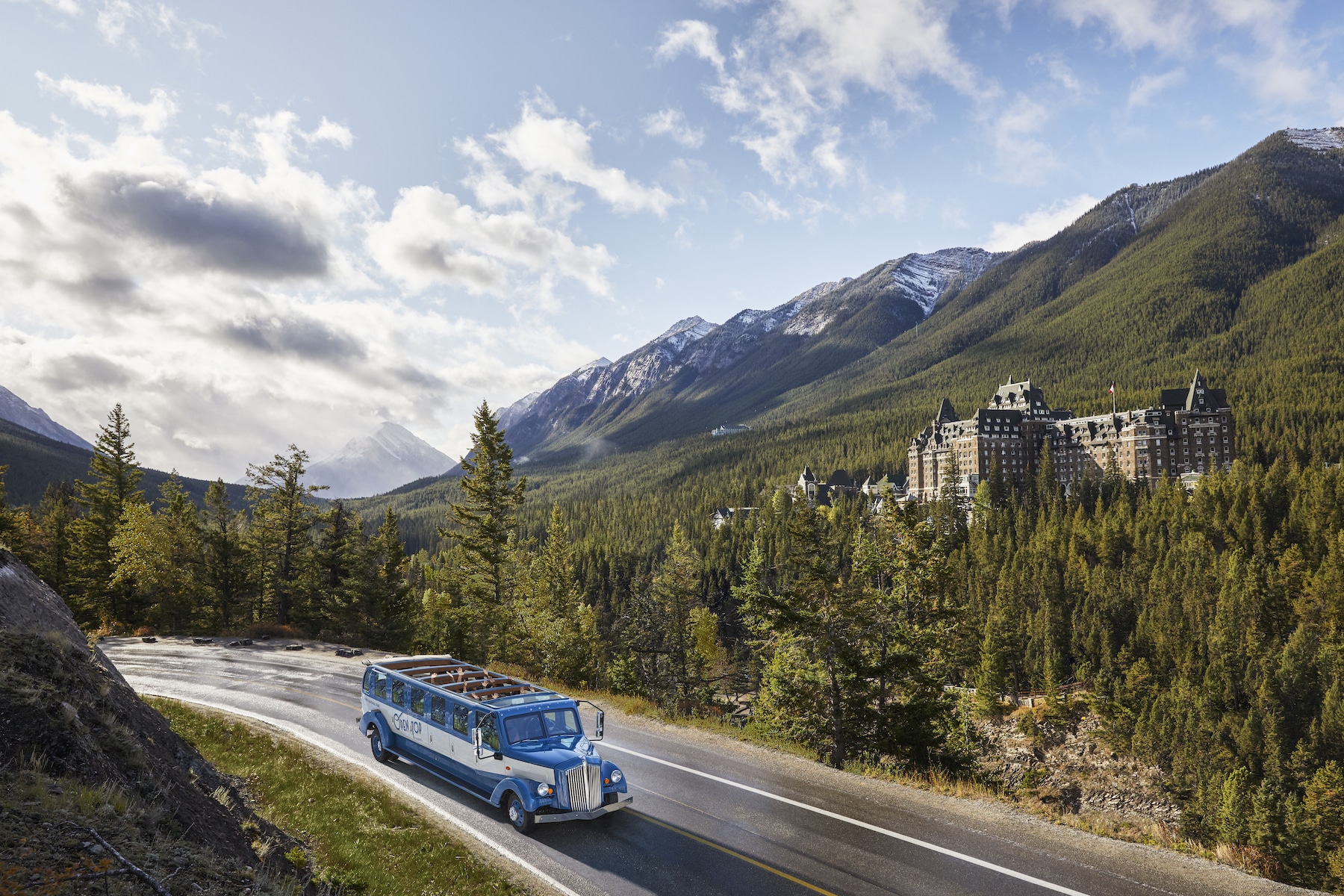 One of the newest experiences in Banff is taking a vintage tour! Pursuit Collection is now booking their Open Top Touring tour which allows visitors to roam the streets of Banff in style. A 1930s vintage automobile takes visitors to sights like Surprise Corner, Vermilion Viewpoint, Tunnel Mountain and Mount Norquay Viewpoint.
The vehicle is open glass and has a great canvas top roof so you get to enjoy the views with storyteller guides in period costume the whole time, telling stories from 1938 to today. It's great for small groups and wedding parties!
Banff Open Top Tours Honest Review
---
Canoe on Lake Louise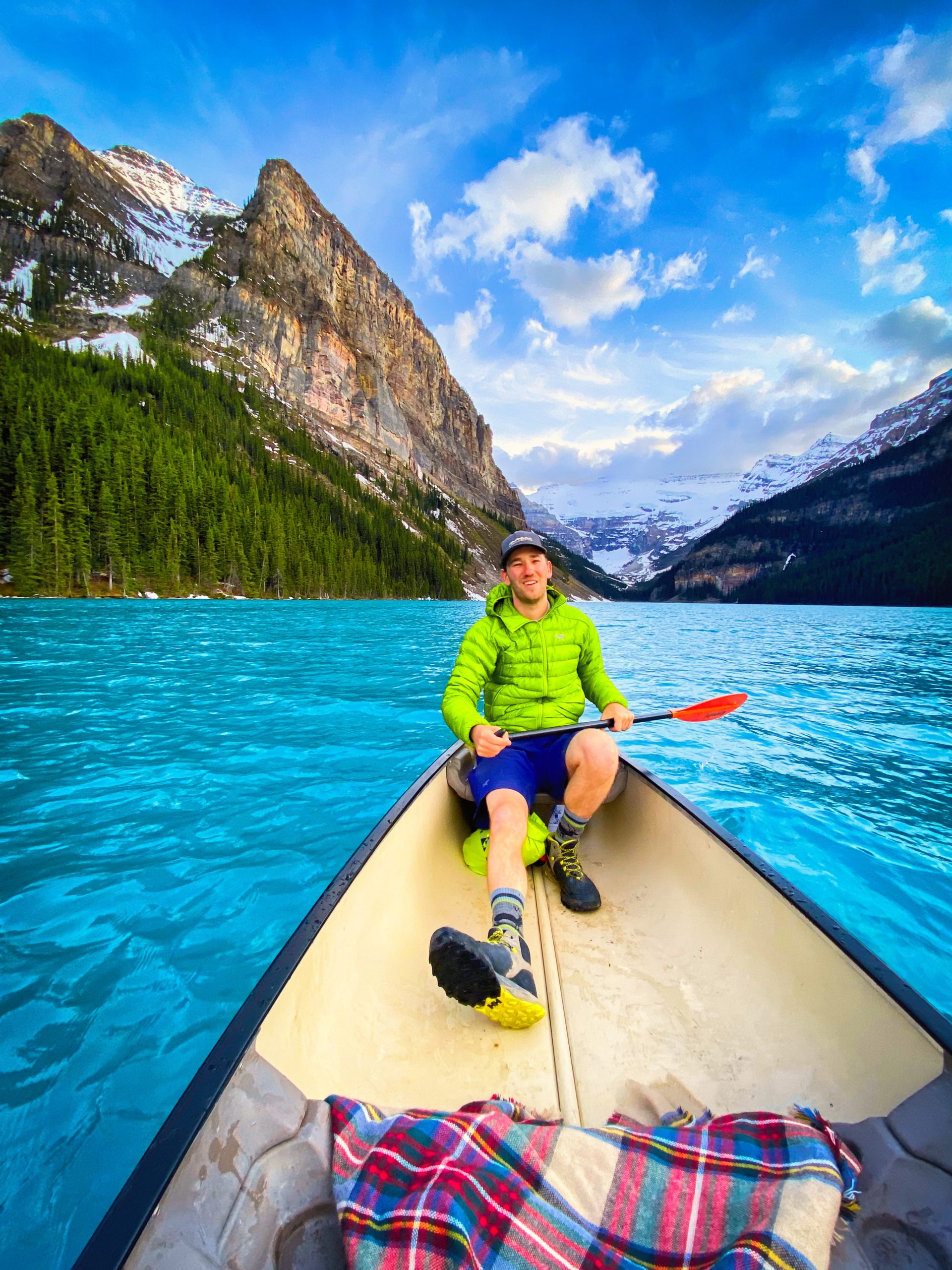 Lake Louise is an iconic lake that millions from around the world flock to Banff to see. It is certainly a highlight of any trip to Canada. Lake Louise, while not AS scenic as the famous Moraine Lake, is still pretty darn mesmerizing.
Lake Louise is glacial fed and sparkles bright turquoise blue under the sun. The mountains rising up around it provide the perfect backdrop to any photo.
Lake Louise is frozen solid from late October to early June, but you can take a canoe out in the summer and enjoy the fresh air. During the winter, you can walk out on the lake, go for sleigh rides, and go ice skating.
---
Enjoy Moraine Lake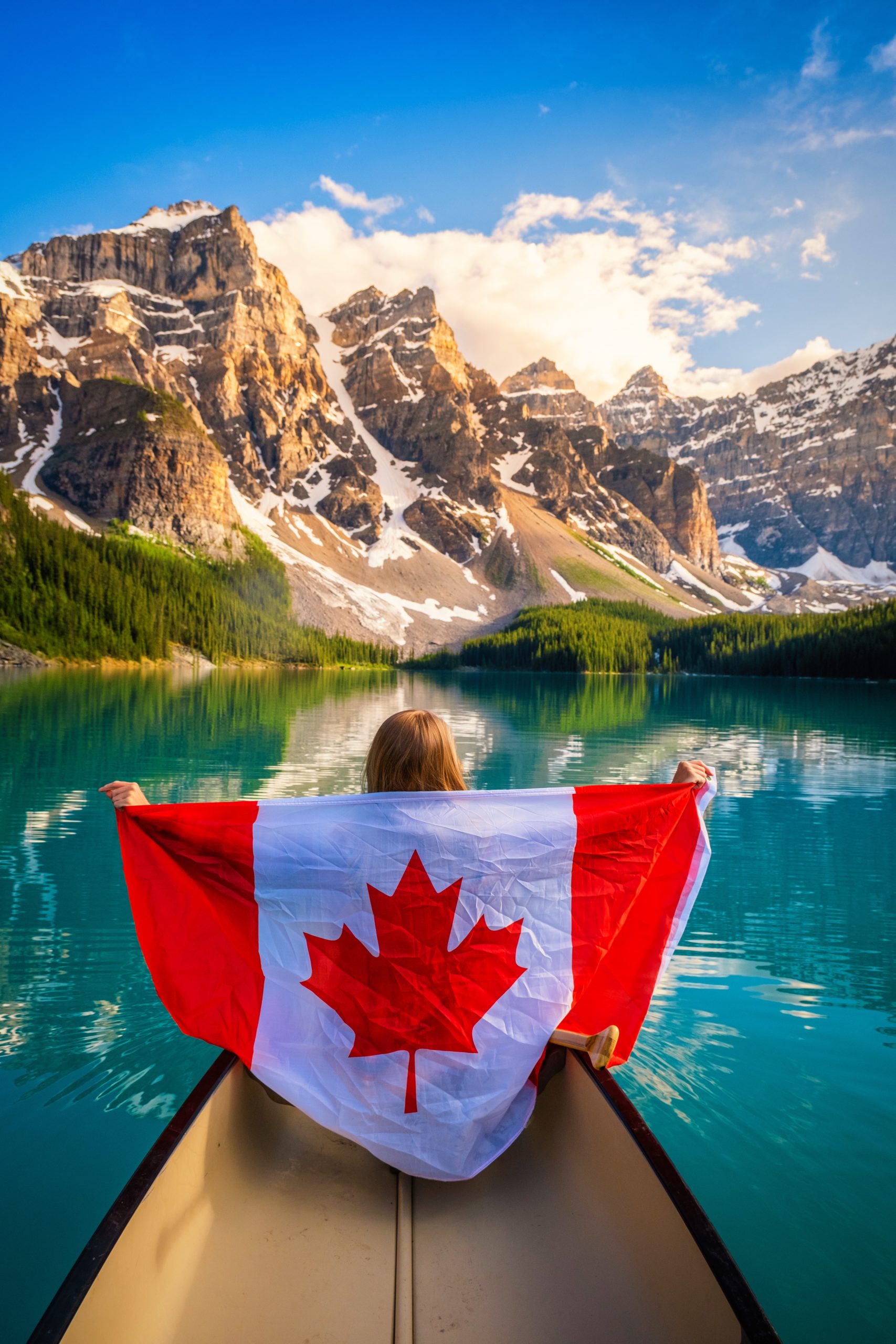 Moraine Lake is one of the most popular things to do in Banff and arguably the most popular sight to see in all of Canada. This iconic lake is the picturesque picture of Canada (seriously, just Google image "Canada" and see what comes up). With the ten peaks rising high over the glacier waters Lake Moraine is certainly one of the most amazing Banff attractions to see.
Moraine Lake is about an hour's drive away from Banff town and only twenty minutes further than Lake Louise. It's easily the most popular destination in the park, and Parks Canada has even introduced new measures on how to access the famous lake as parking is no longer allowed for personal vehicles. We recommend taking the Parks Canada Park & Ride shuttle which must be reserved in advance. We break down all the details for getting to Moraine Lake here.
If you think you're going to make your visit to Moraine Lake quiet and easier by visiting in the off-season, you may want to think again. Moraine Lake Road closes between (approximately) October 10 to late May/early June. The road gets covered in snow, and the avalanche risk is high.
All About Moraine Lake
---
Hike Around Moraine Lake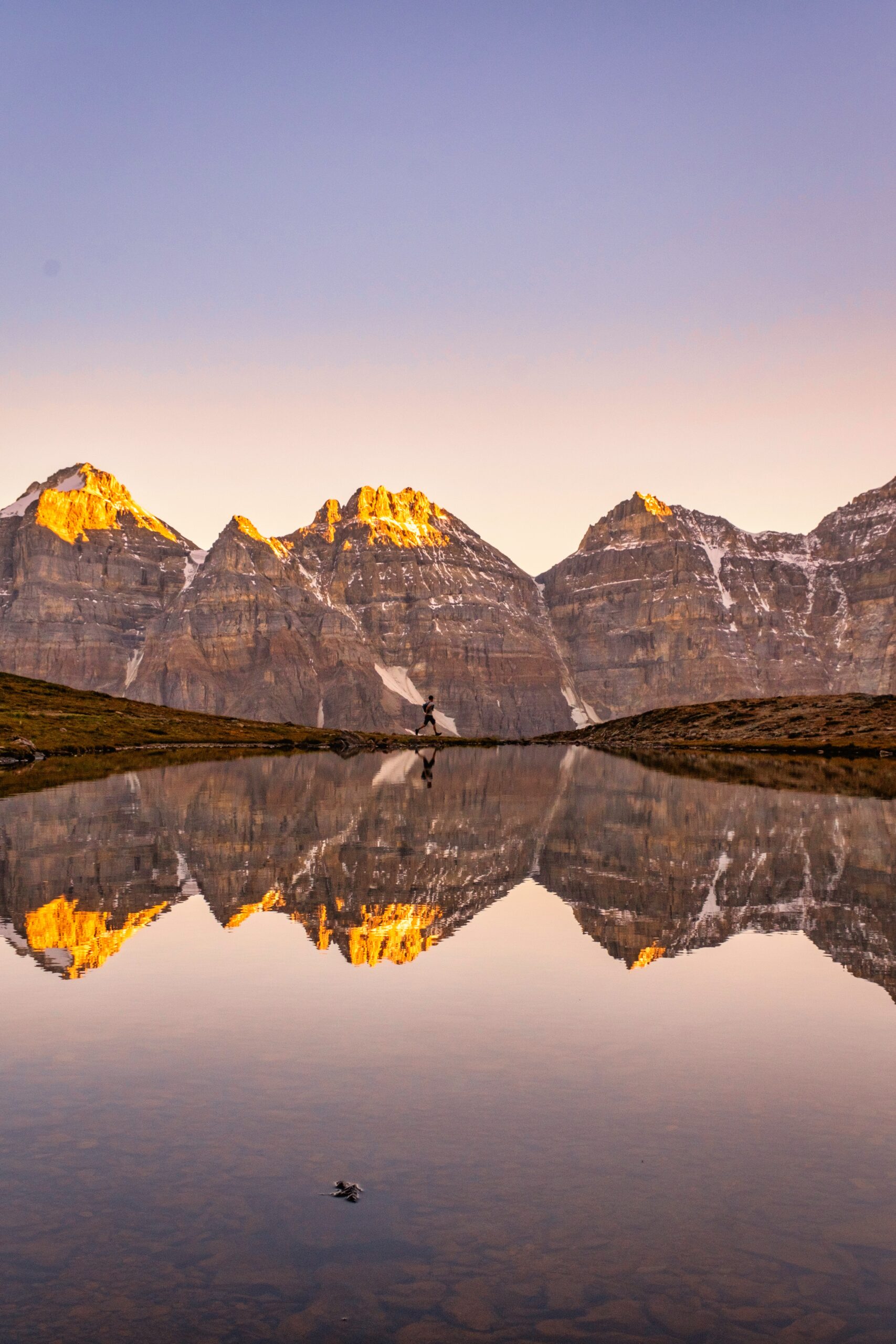 I'd say 90% of the people that head to Moraine Lake stay for an hour or so, take photos, and leave. But there is so much more to do at Moraine Lake than this. If you want an easy activity, you can rent a canoe, but the more adventurous should consider a few of the hikes around Moraine Lake.
The easiest one is the Consolation Lakes. This follows the path up the Lake Moraine rockpile and into the valley. This hike is only 6km roundtrip and has a 60m elevation gain.
However, the classic hike is Sentinel Pass, a 12 km moderate hike (732m elevation) that guarantees tremendous views (pictured above). The Tower of Babel scramble and Eiffel Peak scrambles are much harder and should be reserved for experienced hikers, but provide epic views over Moraine Lake.
---
Drive the Icefields Parkway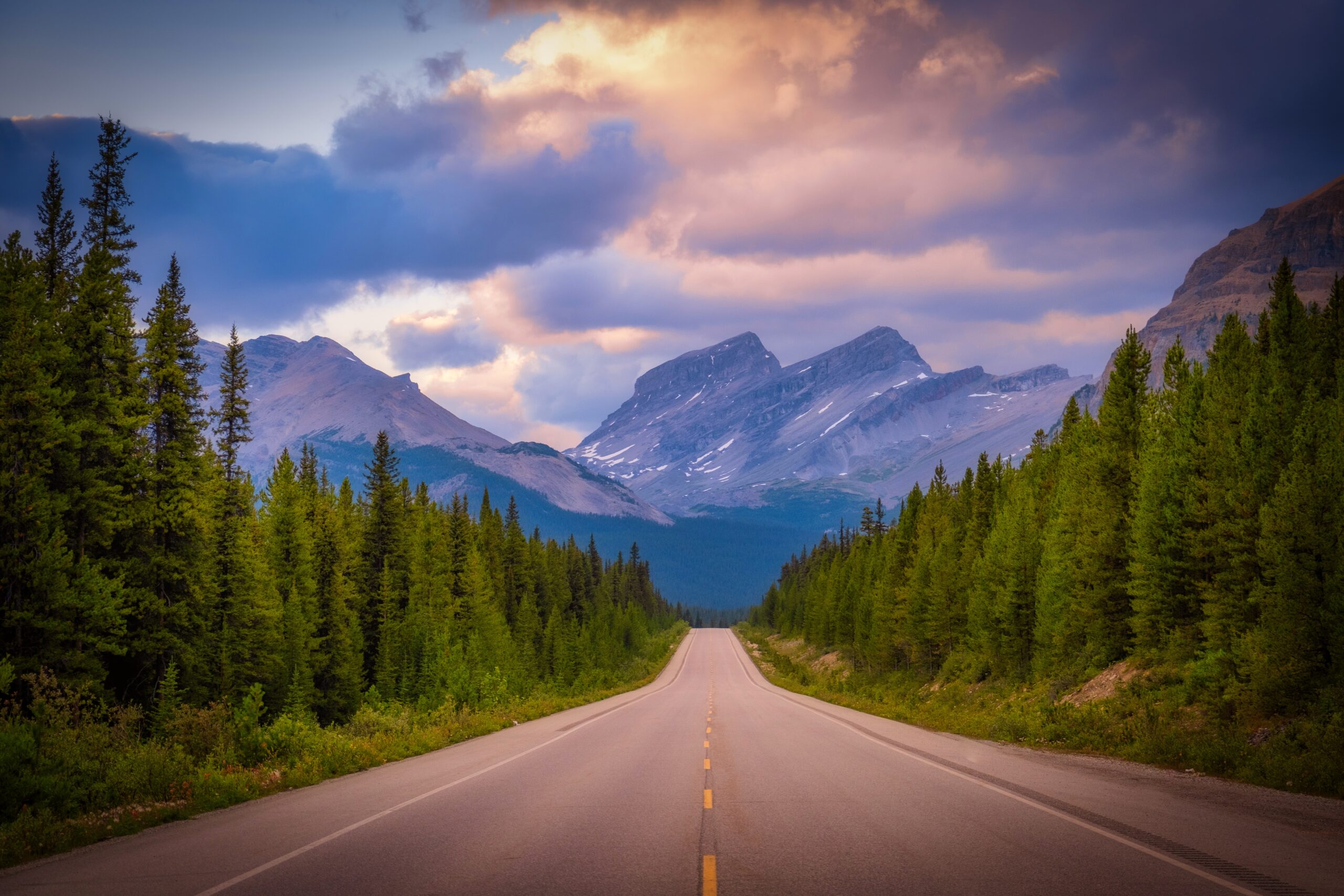 The Icefields Parkway is one of the most beautiful road trips you can take in the entire world and has many Banff must sees. The Icefields Parkway (Highway 93 North) connects Lake Louise with Jasper in Jasper National Park.
The drive itself is stunning, but there are so many pull-offs along the way. Bow Lake, Peyto Lake, and Herbert Lake are just to name a few.
This drive is amazing both in the winter and summer, but be warned if you do it in the winter to allow extra time and know how to drive in the winter- roads can be icy! To make the most of driving the Icefields Parkway, I would start early (6 am) before the crowds and allocate at least two days.
---
Morning Walk at Johnson Lake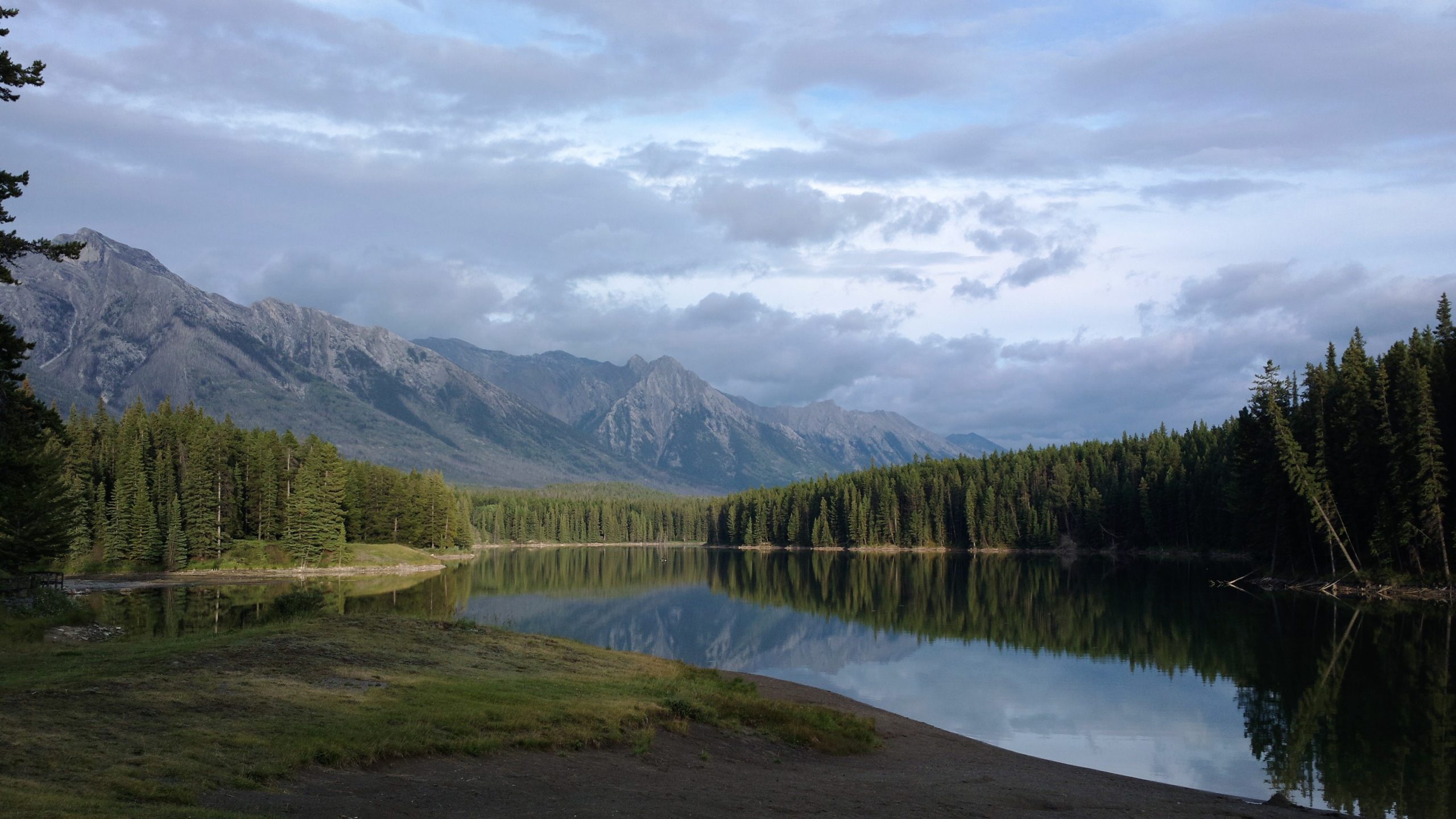 Johnson Lake is one of our favorite lakes to enjoy because it's often overlooked by the more popular Two Jack Lake and Lake Minnewanka, and therefore very quiet.
Take a nice stroll around Johnson Lake and enjoy the mountain scenery. It's a straightforward hike that is an even elevation and makes for a great evening or morning walk. The Johnson Lake loop is not too far from Banff town and very close to Two Jack Lake campsite.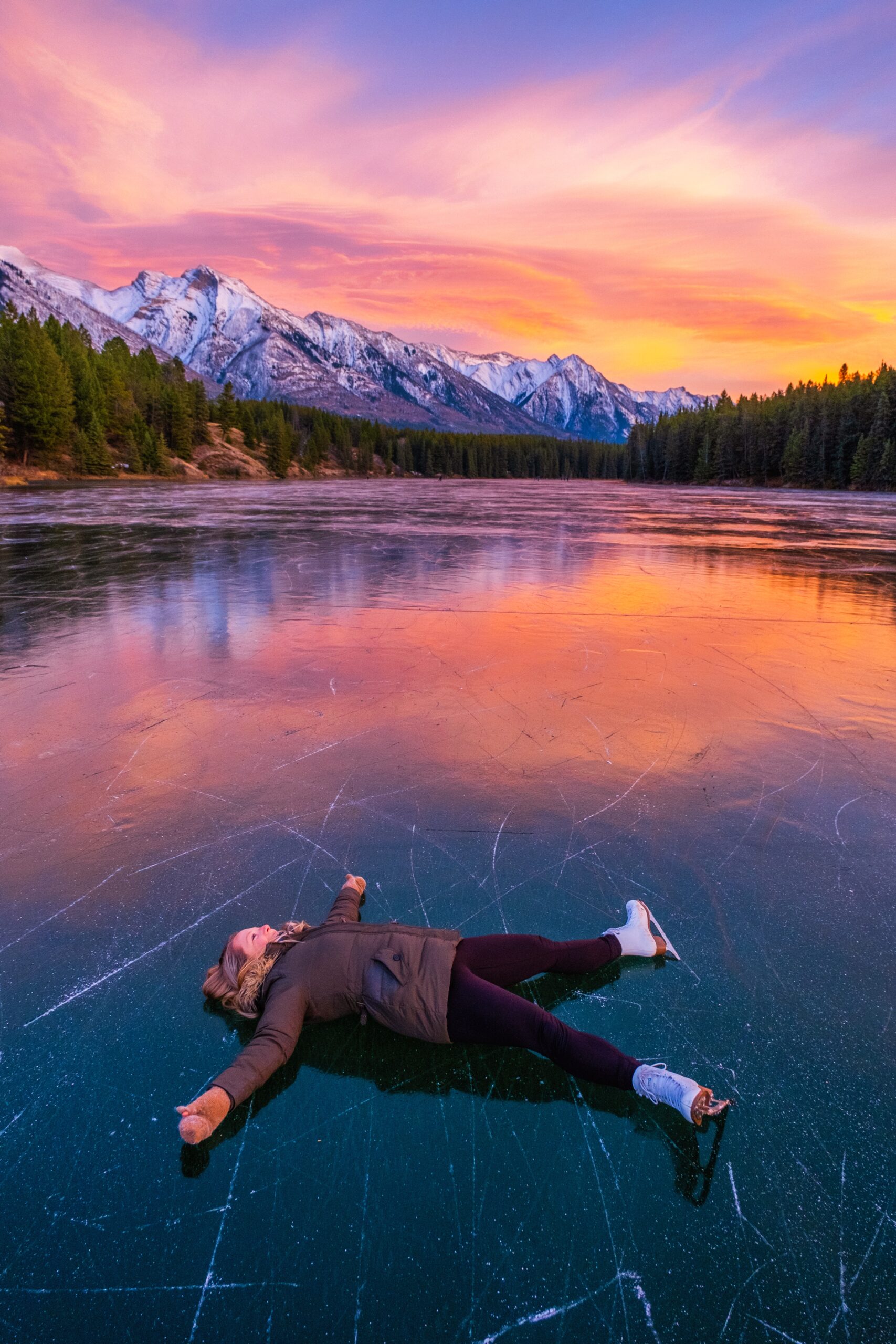 The trail works its way through the forest and offers some astounding views out over the lake back to Cascade Mountain looming high above. The lake is tranquil and a great place to go stand up paddleboarding or even take a swim if you're brave enough. Keep an eye out for a rope swing!
In the winter, it's a fantastic lake in Banff to ice skate on!
---
Hike Healy Pass (+ Extension to Egypt Lakes)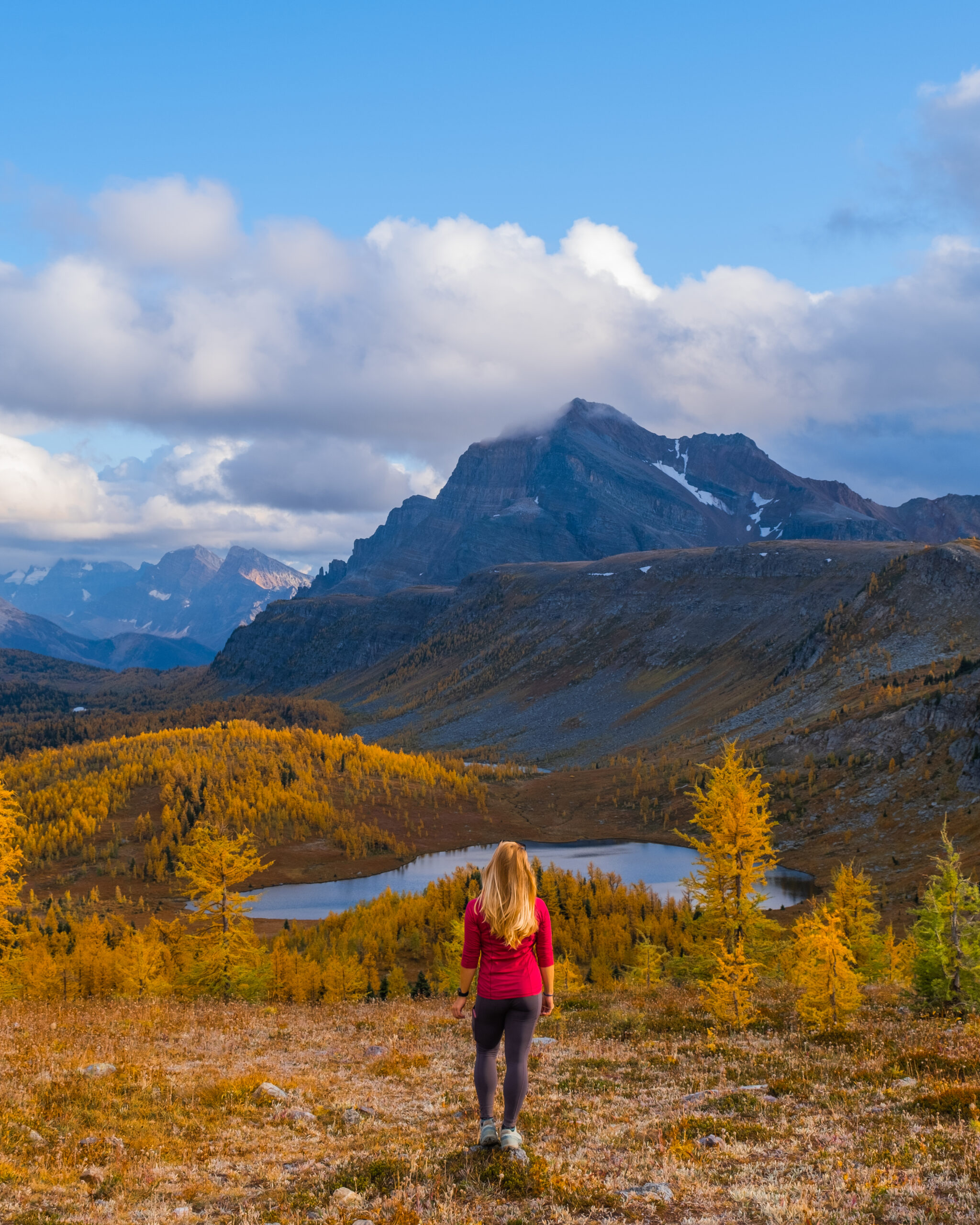 One of the best hikes in Banff is Healy Pass. It has two peak seasons for hiking: mid-summer when the wildflowers are in full bloom and in late September when the larch trees have turned a golden hue (photo above).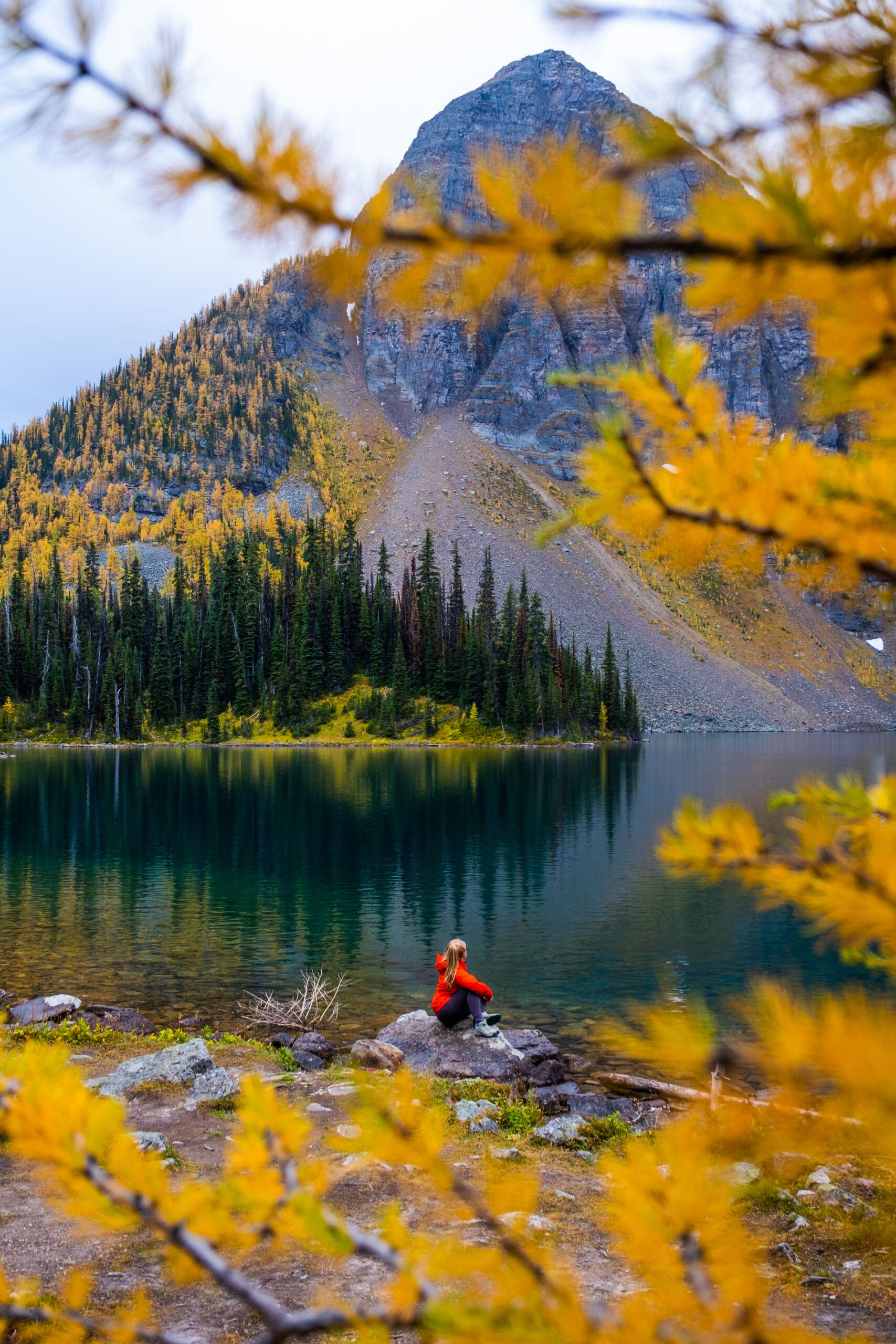 At 20.9 km and 890 meters of gain, the Healy Pass hike is not a short one, and you should expect it to take you a full day. It's also often done as an overnight trip, but it's well worth the effort, I promise. If you have the extra energy keep hiking to Egypt Lake for an extra long, but epic day.
---
Enjoy Castle Mountain Views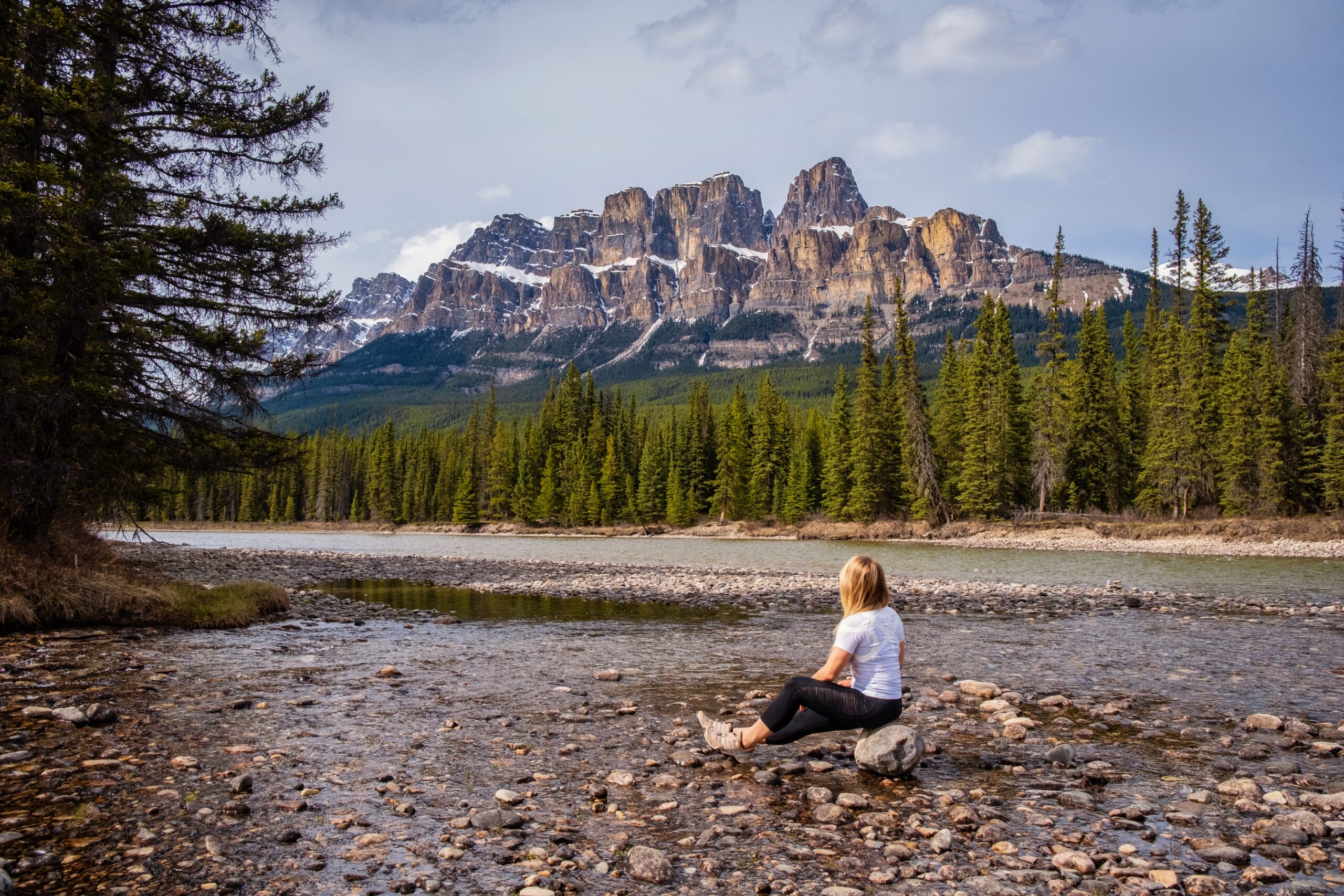 Castle Mountain is like a shining star that rules over the park, standing tall for everyone to see as they drive down the Trans Canada. It's worth stopping off at Castle Junction to admire the views by the Bow River and hang out for a few.
There's also a small Airbnb in Banff (Castle Mountain Chalets) if you want to stay here to enjoy the views longer.
---
Become a Cowboy on the Western Frontier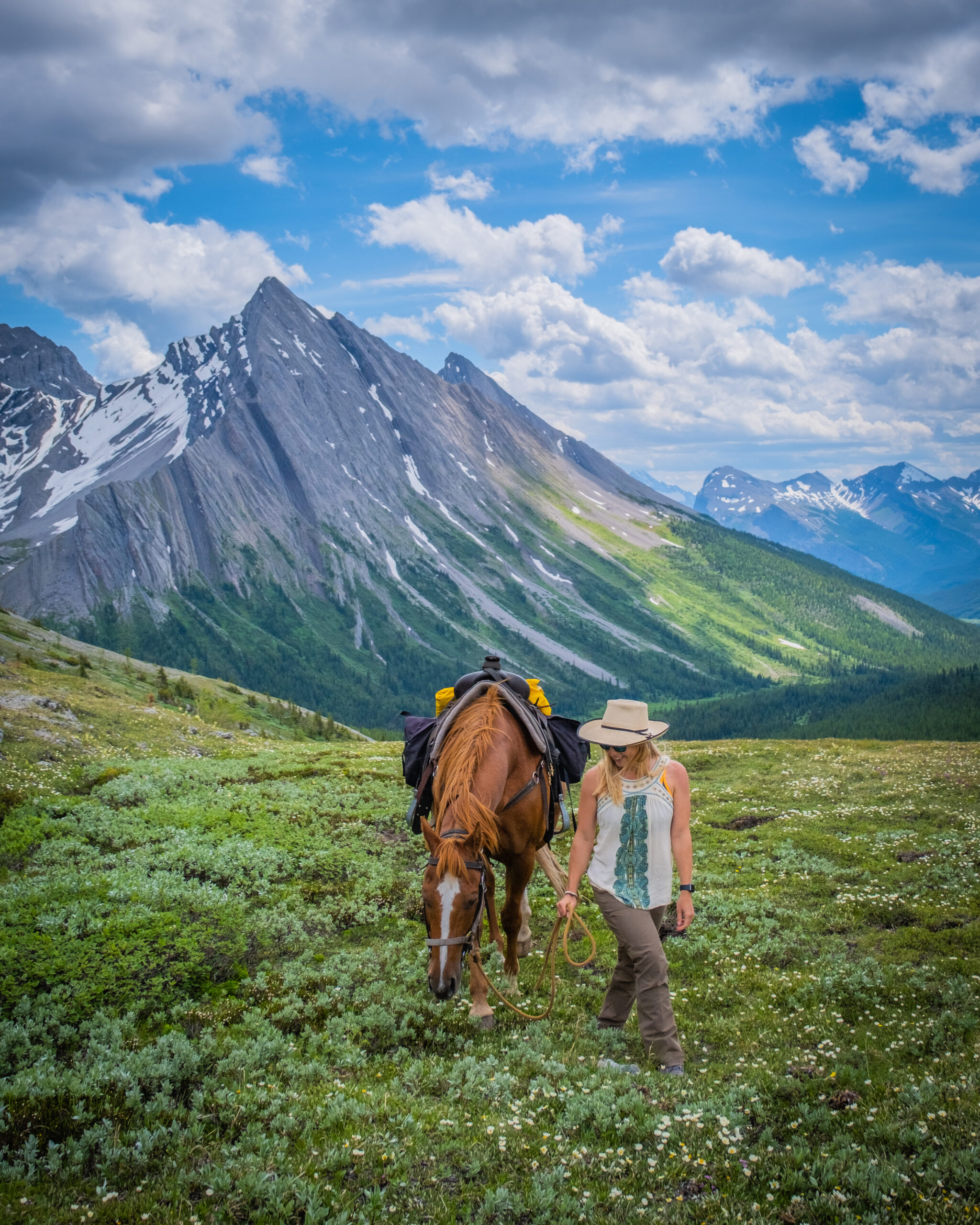 Have you ever watched City Slickers, Yellowstone, Heartland, or any western movie or show where cowboys and cowgirls saddle up their horse and ride deep into the wilderness and longed for that to be you? I can tell you I sure have. Did you know you can live out that dream in Banff National Park?
Banff Trail Riders offer a backcountry horseback experience in the summer, bringing guests deep into the backcountry for almost a week. You may have seen the backcountry before, but I bet never like this via horseback! See the full details of our epic trip here.
---
Enjoy the Town of Banff Via Horseback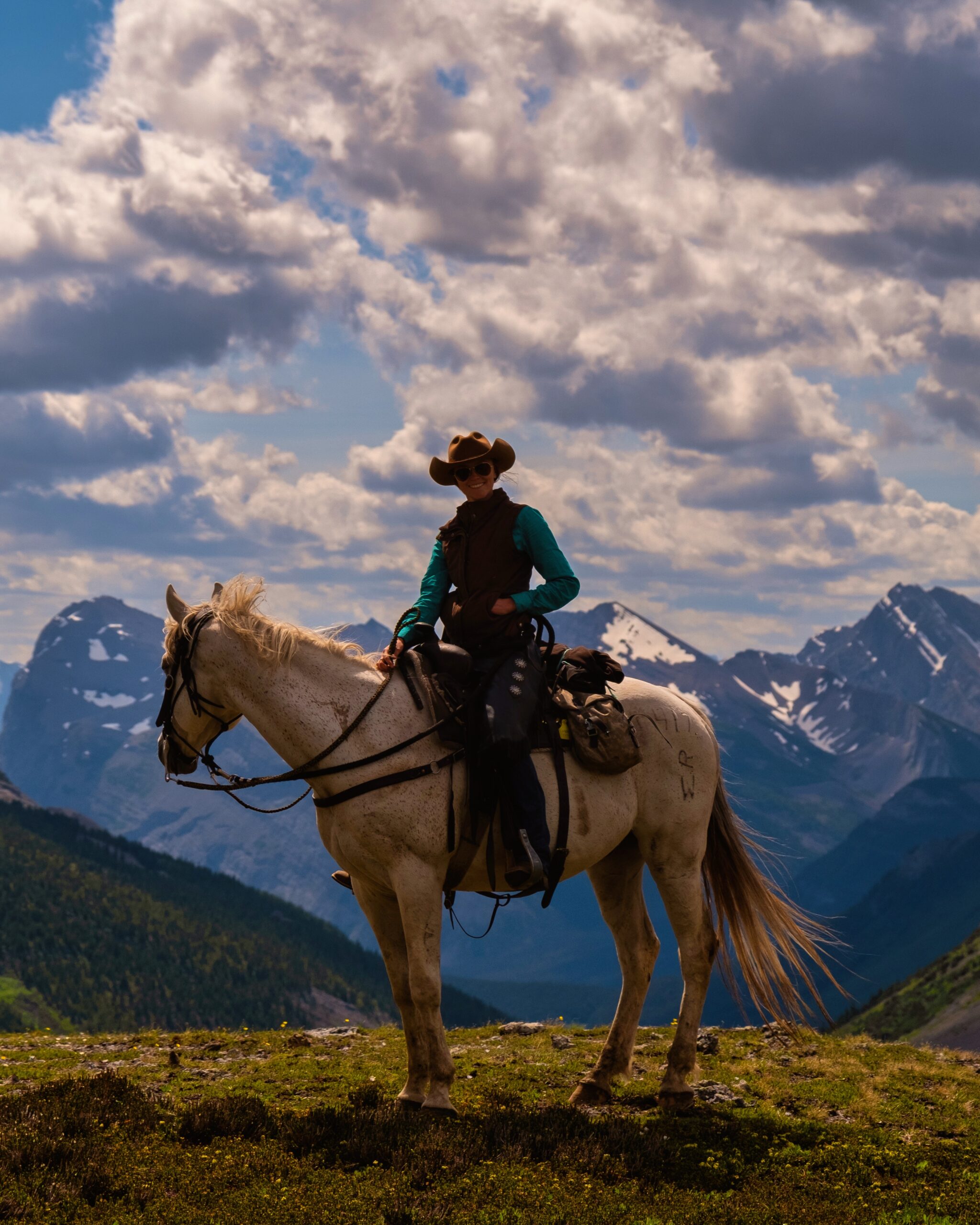 If you don't have time for an overnight trip, Banff Trail Riders also offer visitors the chance to see Banff on horseback for just a few hours. It's a great alternative to the overnight trip I mentioned above and will give you the desire to return. Seriously give it a go! It's another one of the best things to do in Banff!
---
Taste the Gin at Park Distillery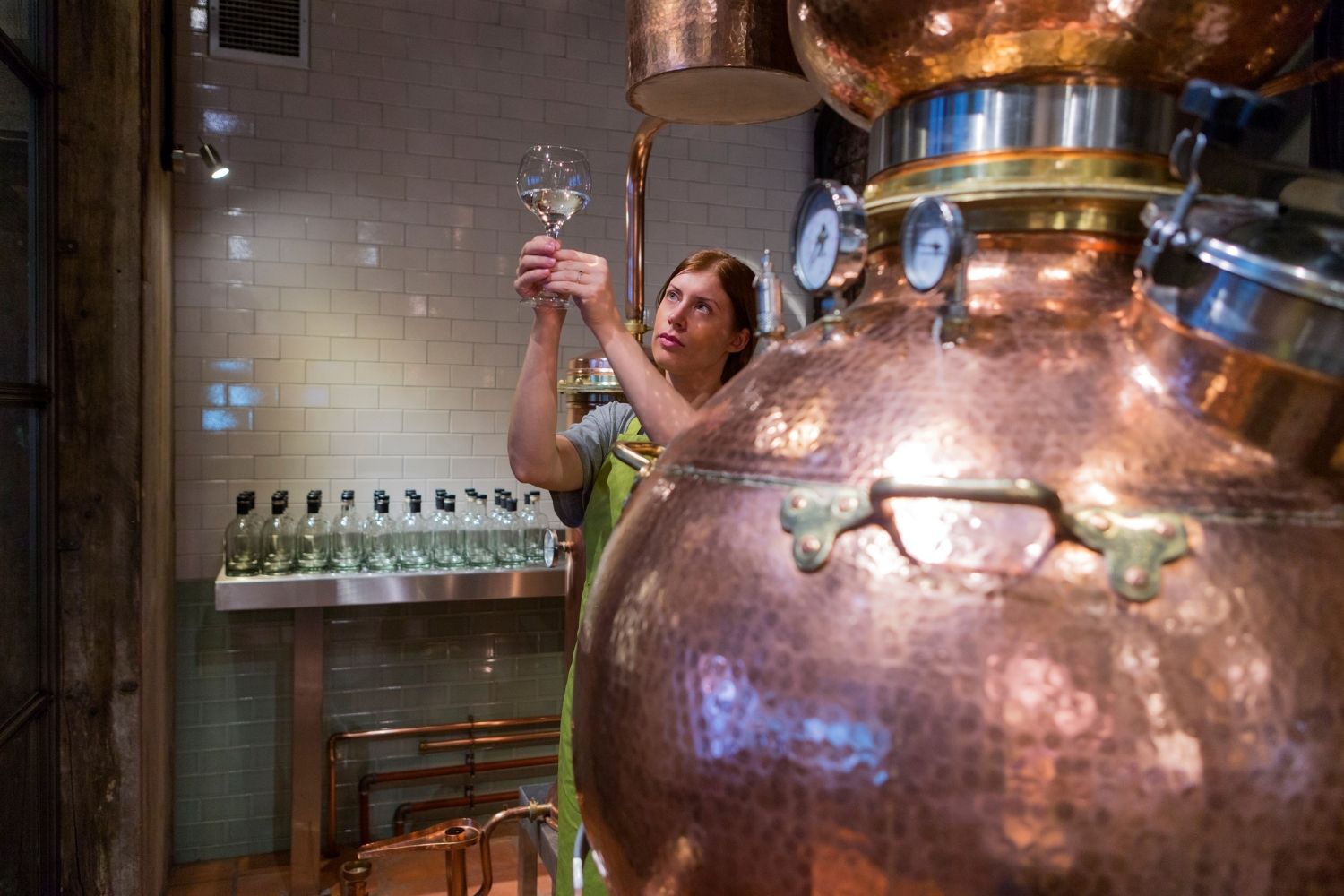 The Park Disterilly is a hip restaurant and distillery in the town of Banff. It's great for lunch and dinner and gets busy in the summer as it's one of the best restaurants in Banff. This gin distillery has won multiple awards and has some delicious cocktails.
I mean, what can you expect from a place where the water comes from glaciers? It's the perfect place to come with friends after a day out hiking or on the ski hill. They do daily free distillery tours (call to check times).
---
Enjoy a Beer at Banff Ave Brewery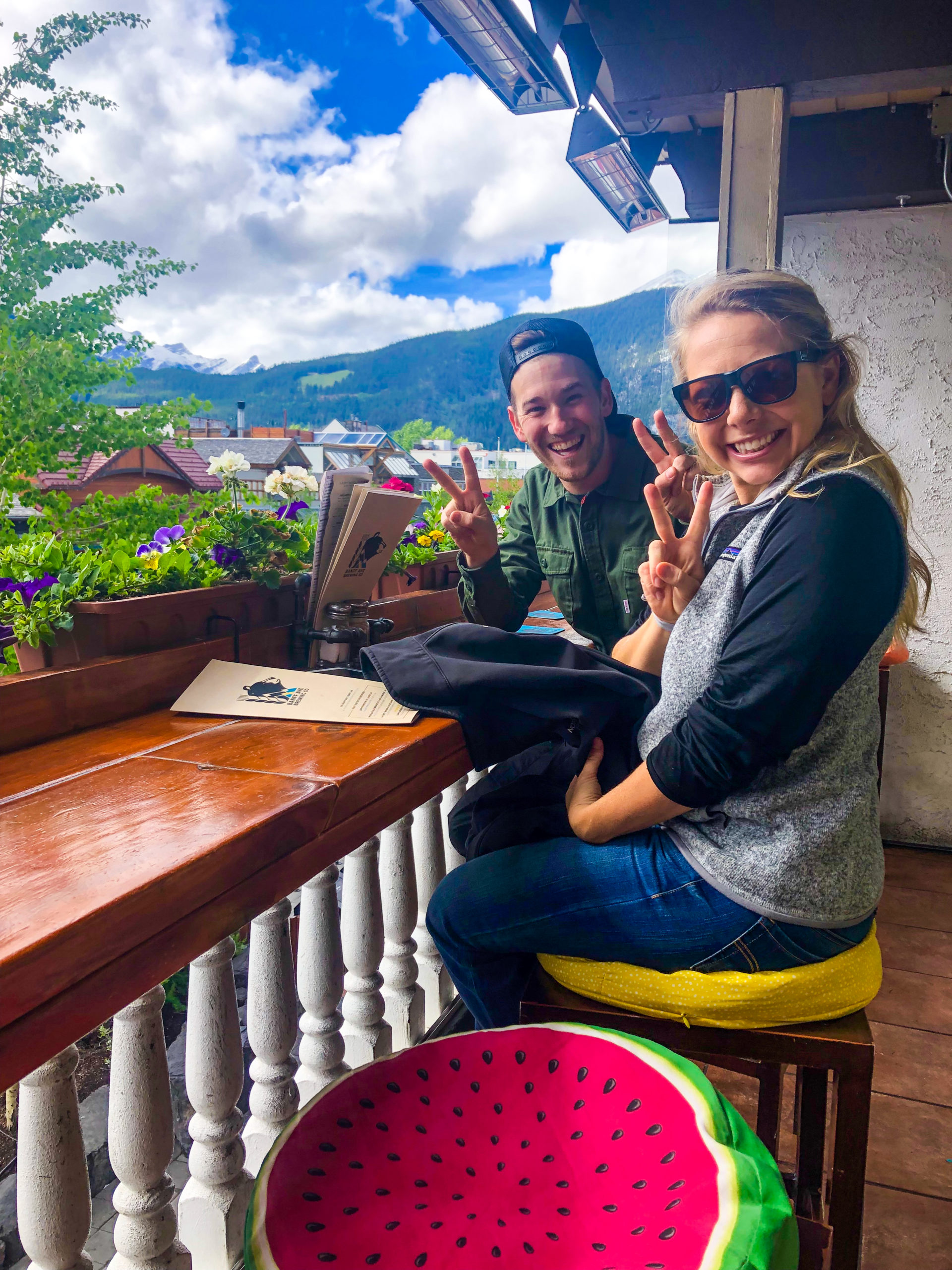 If you're not much a gin person, then go down the street to Banff Ave Brewery. This Banff brewery was opened by the same crew who opened the Jasper Brewing Co (Canada's first National Park Brewery) after great success.
Located on Banff Avenue, this two-story restaurant and bar serve up delicious food and great beer. It's well worth a stop for anyone visiting Banff. Try to get a seat outside in the summer and watch life go by! Warning, the deck space is pretty limited, so you're lucky if you snag a seat on the weekend.
Another great brewery in Banff is Three Bears Brewery, and if you find yourself in Canmore check out Grizzly Paw Brewery or Canmore Brewing Company.
---
Have a Picnic by the River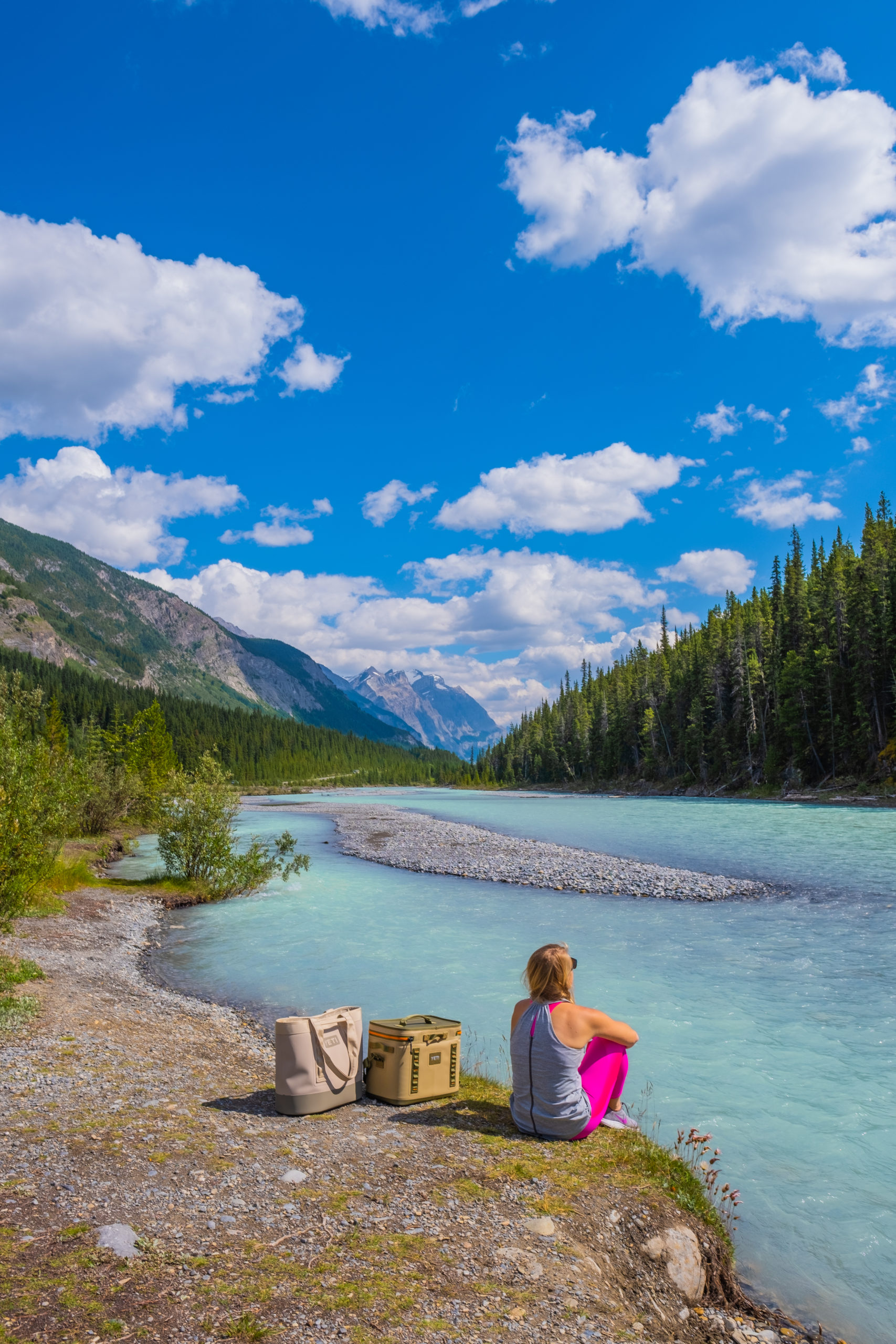 A holiday to Banff is not a cheap one. Banff is a tourist town, and prices are higher than many other places in Canada. If you go out to eat for every meal, you'll put a huge dent in your wallet.
I recommend grabbing some bread and cheese and a cooler and enjoy a picnic lunch (just remember to leave no trace). There are so many lakes and rivers to pull off by in the summer and enjoy a meal in the mountains.
If you really want to save money on your food try venturing to Save On Foods or Safeway in Canmore, where prices are more normal grocery store prices rather than the IGA in Banff (though truly getting groceries in Calgary is the cheapest option). Some of the best picnic spots in Banff are:
Cascade Ponds
Waterfowl Lakes
Mt Norquay Viewpoint
Along the Bow River
How to Visit Banff on a Budget.
---
Enjoy Waterfowl Lakes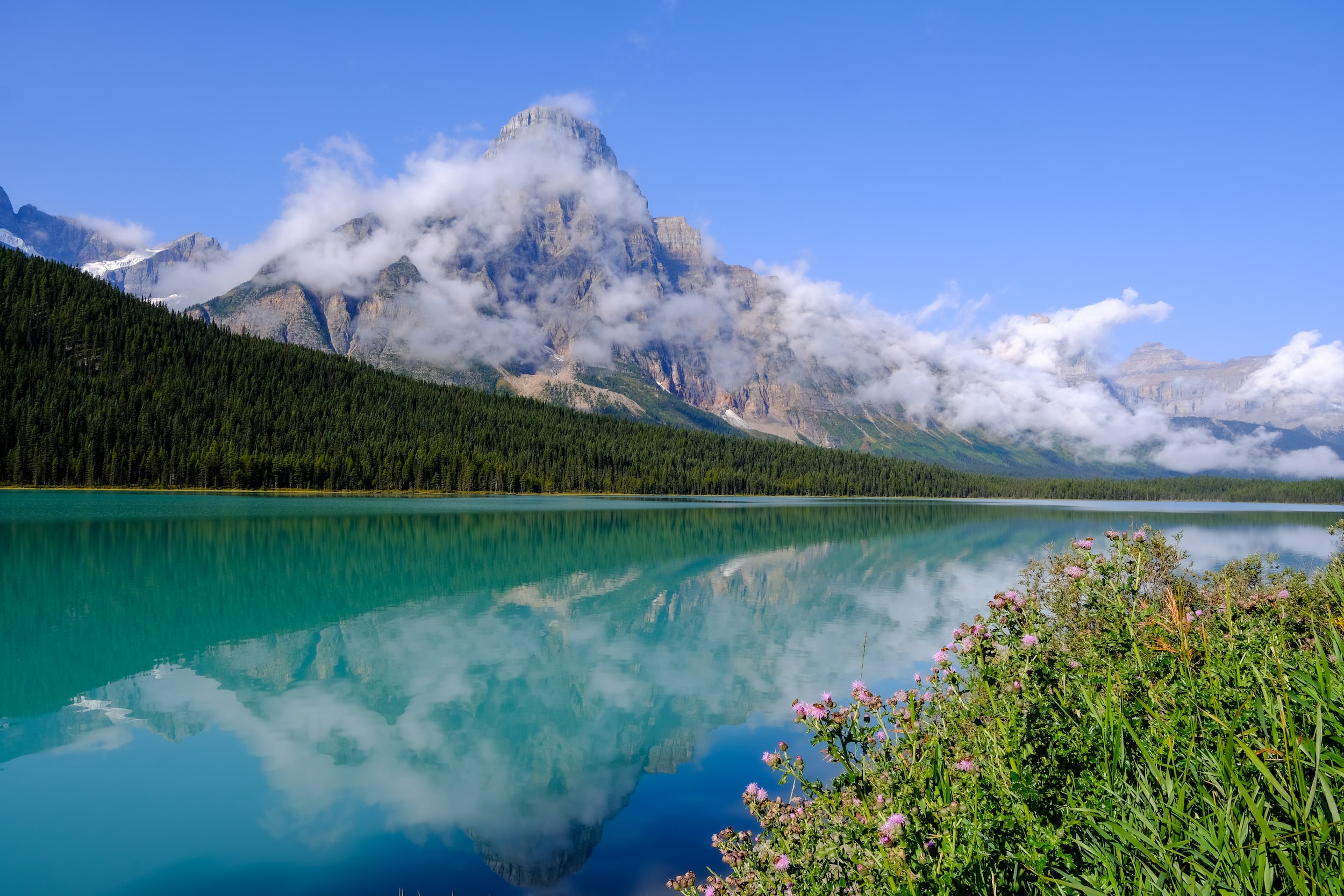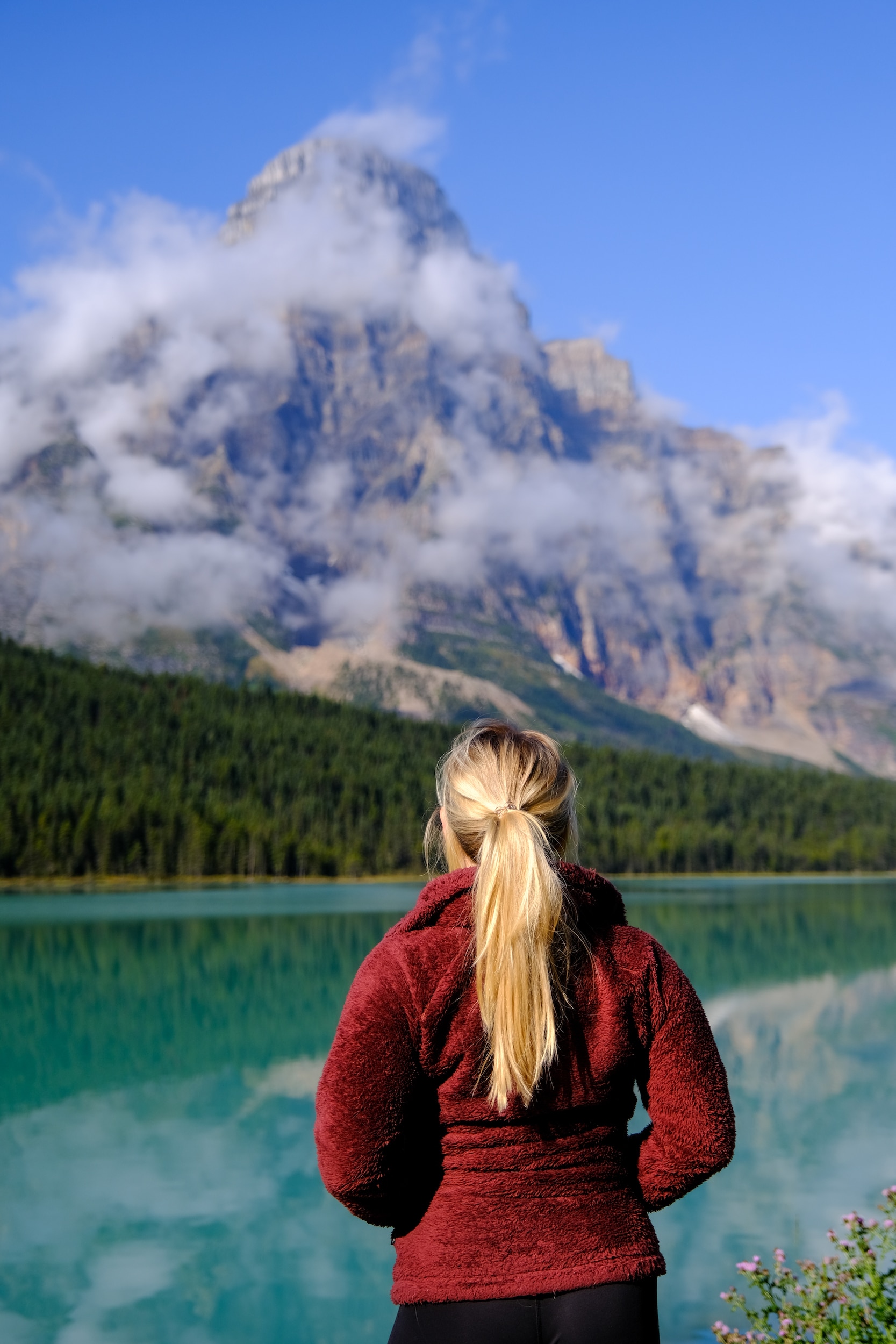 One of the best places to see in Banff that not many visitors think about are the Waterfowl Lakes. Waterfowl Lakes sit along the West side of the Icefields Parkway about 57kms north of Lake Louise. They are accessible right from the Icefields Parkway and are truly a beautiful sight to take in.
These are among some of the best lakes in Banff. Being Glacial fed, you can expect them to be bright turquoise blue in the summer, and you can snowshoe across them in the winter. If you have time, consider the short hike to Chephren Lake as well.
---
Climb Cascade Mountain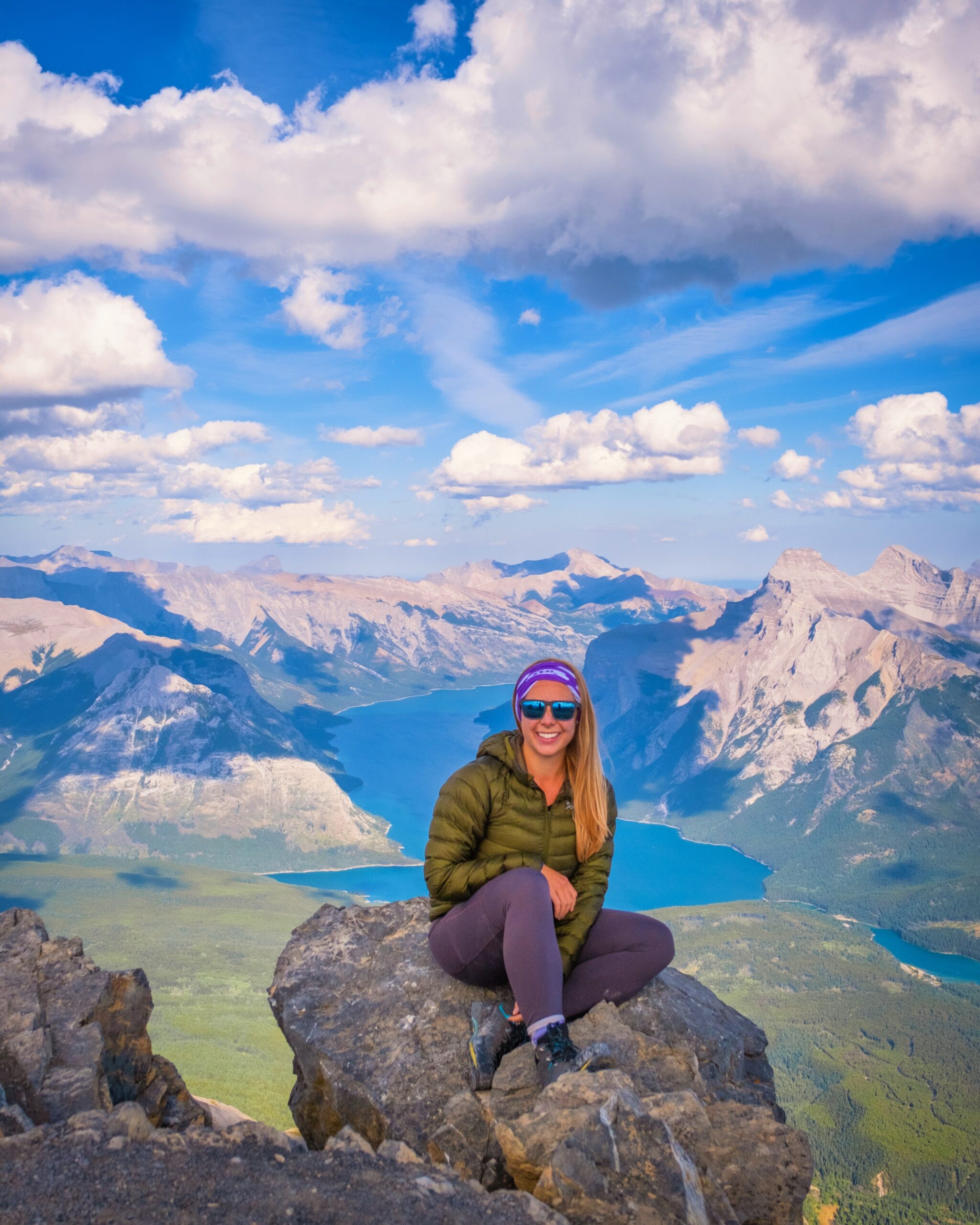 Cascade Mountain towers over the town of Banff and has been on every postcard of Banff National Park for years. It's beautiful to look at, but you don't just have to stop there!
Did you know you can actually climb Cascade Mountain? It will require serious work and a long 20km day with 1600 meters of gain, but the rewards are fantastic views over Lake Minnewanka and the glory of saying you summited Cascade!
It's not the most exciting hike you can do in Banff, but it is easily accessible from the town if you don't want to venture far and want a big day out.
---
Drive The Smith Dorrien Highway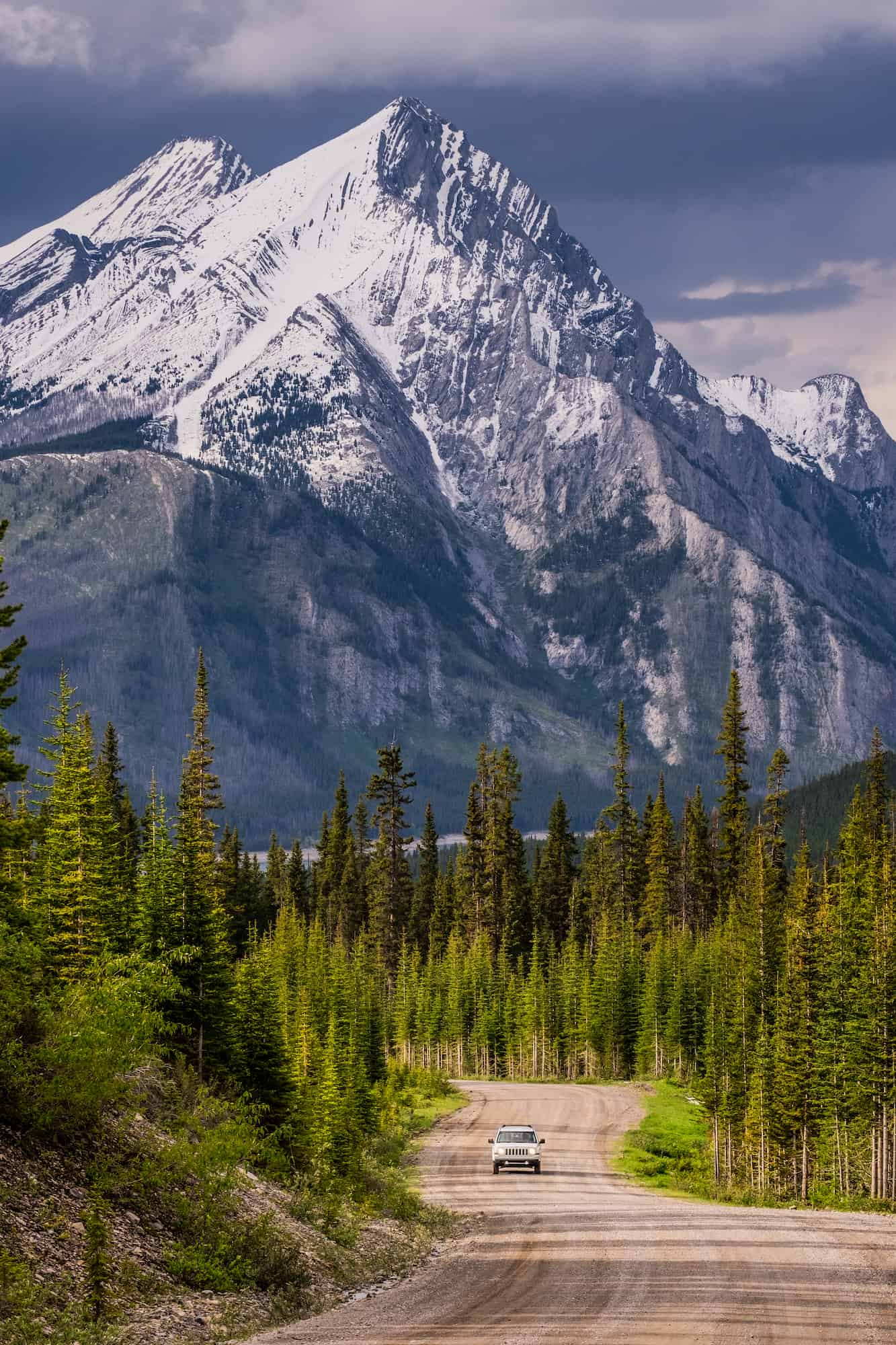 The Smith Dorrien Highway is not in Banff, but instead a gravel/dirt road that crosses Kananaskis Country. It's just south of the town of Banff and can be reached from the town of Canmore.
The gravel road is flanked by some spectacular mountains and offers a great chance to spot more wildlife. We've even seen moose on more than one occasion near the Mt Engadine Lodge.
It's a gorgeous drive and one of our favorite parts of the Canadian Rockies. Just keep in mind it's not a good road for a sedan or small rental car as it's heavily corrugated with plenty of loose rock.
---
Take a Hike in Kananaskis Country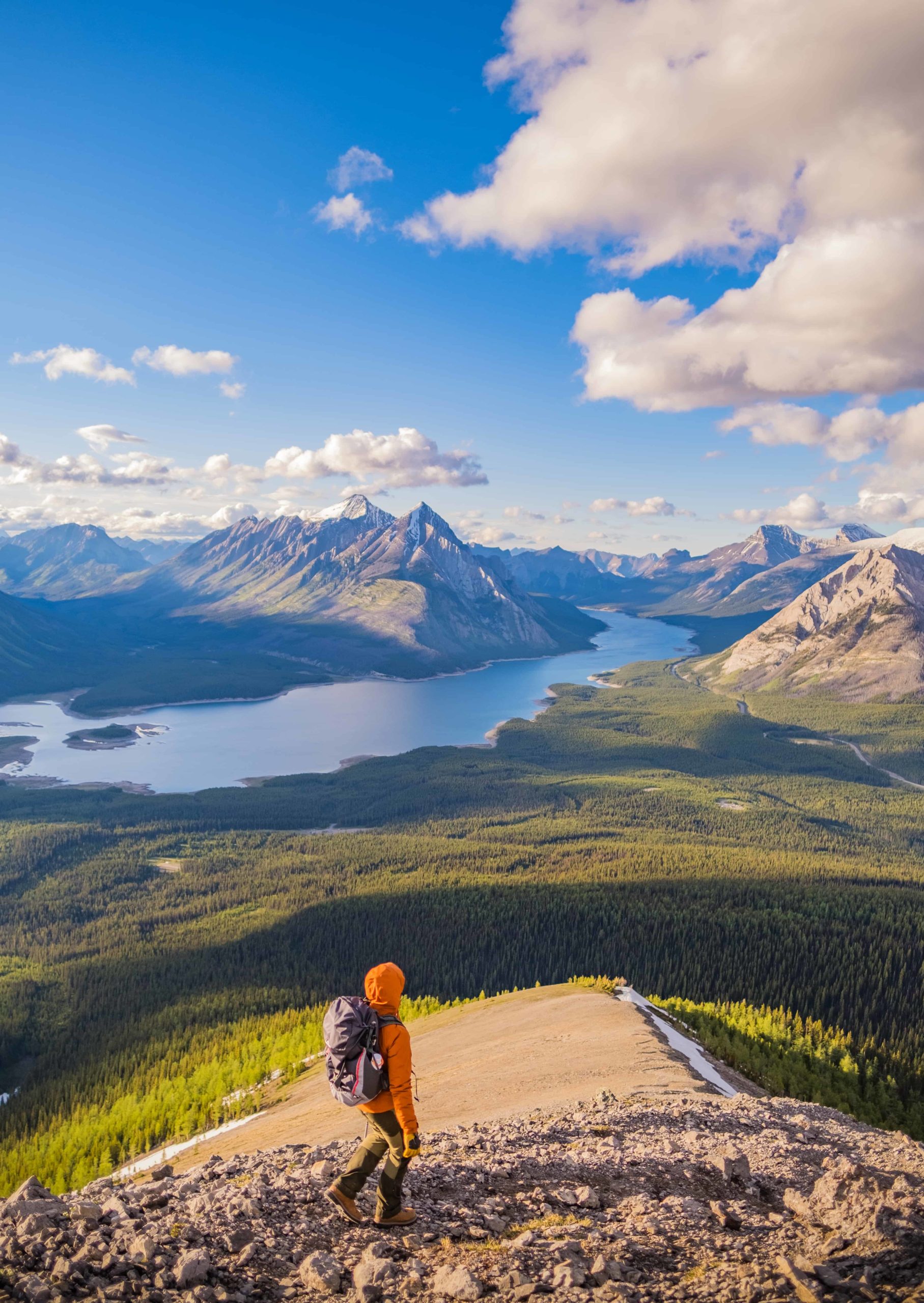 There are so many more great hikes in the Kananaskis Country Provincial Park it's a wonder why Banff gets all the glory. The provincial park is home to some of our all-time favorite hikes and scrambles in the region.
If you want to find some headspace on less crowded trails, it's a great place to go for a hike. To learn more, we've got a post on our favorite hikes in Kananaskis Country and our favorite easy hikes in Kananaskis.
(Psst try Tent Ridge, Sarrail Ridge, or Windtower)
---
Lake Agnes Teahouse Trek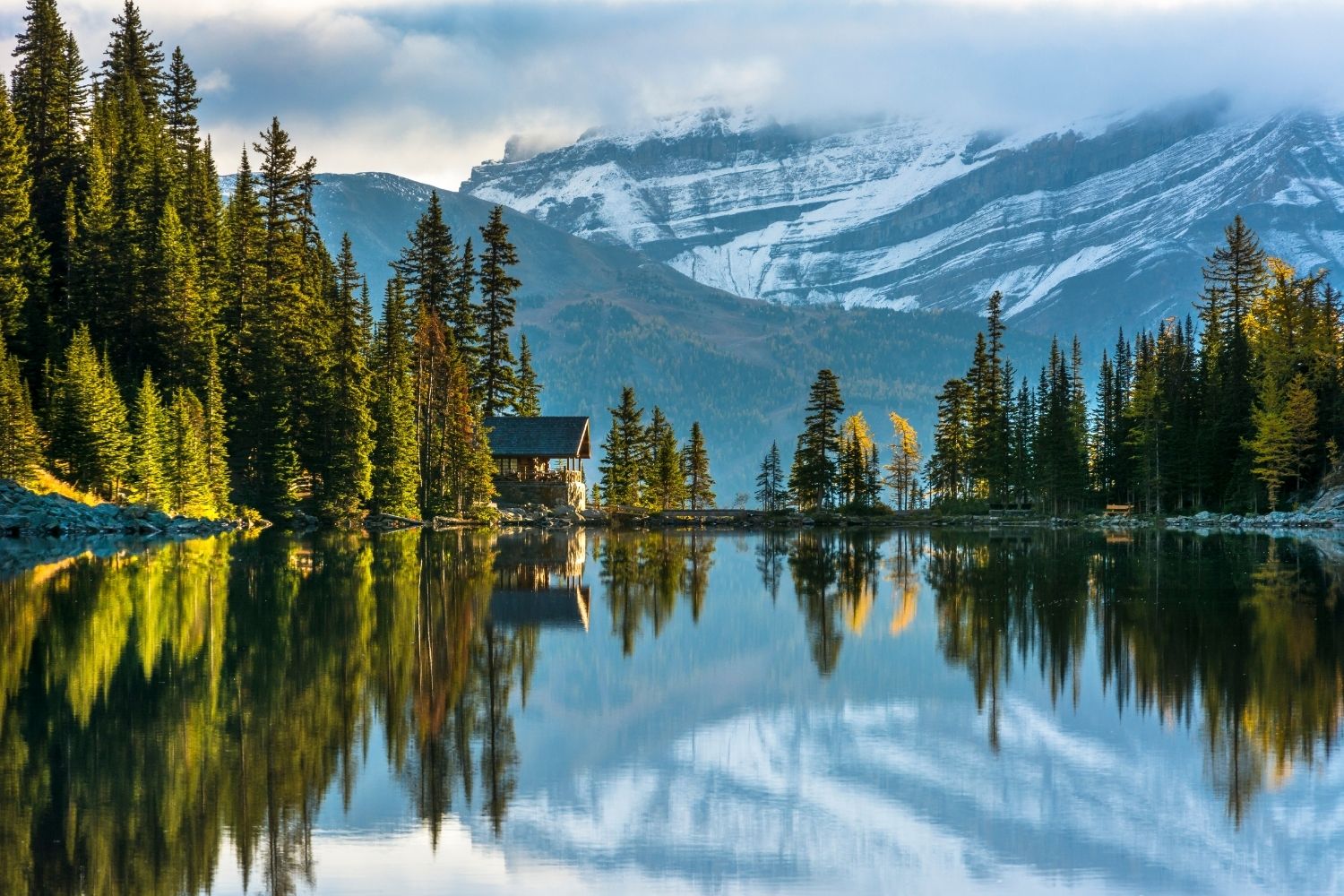 The Lake Agnes Teahouse trek is a popular thing to do in Banff for visitors to Lake Louise. This is an easy to moderate hike above Lake Louise that is suitable for most visitors to Banff. When you reach the top of the 7.6 kilometers (round trip) heavily trafficked out and back trail, you'll find a historic teahouse and stunning Lake Agnes.
This is an easy hike that can be done in under 2 hours and is an iconic thing to do in Banff. However, be warned it is a busy one! To escape the crowds (and get better views), keep climbing to the Little Beehive, Big Beehive, Mt. St. Piran, or Devils Thumb.
If you're an experienced scrambler, you can keep going past to summit Mount Niblock (moderate scramble) or Mount Whyte (extremely difficult!).
---
Soak in the Banff Hot Springs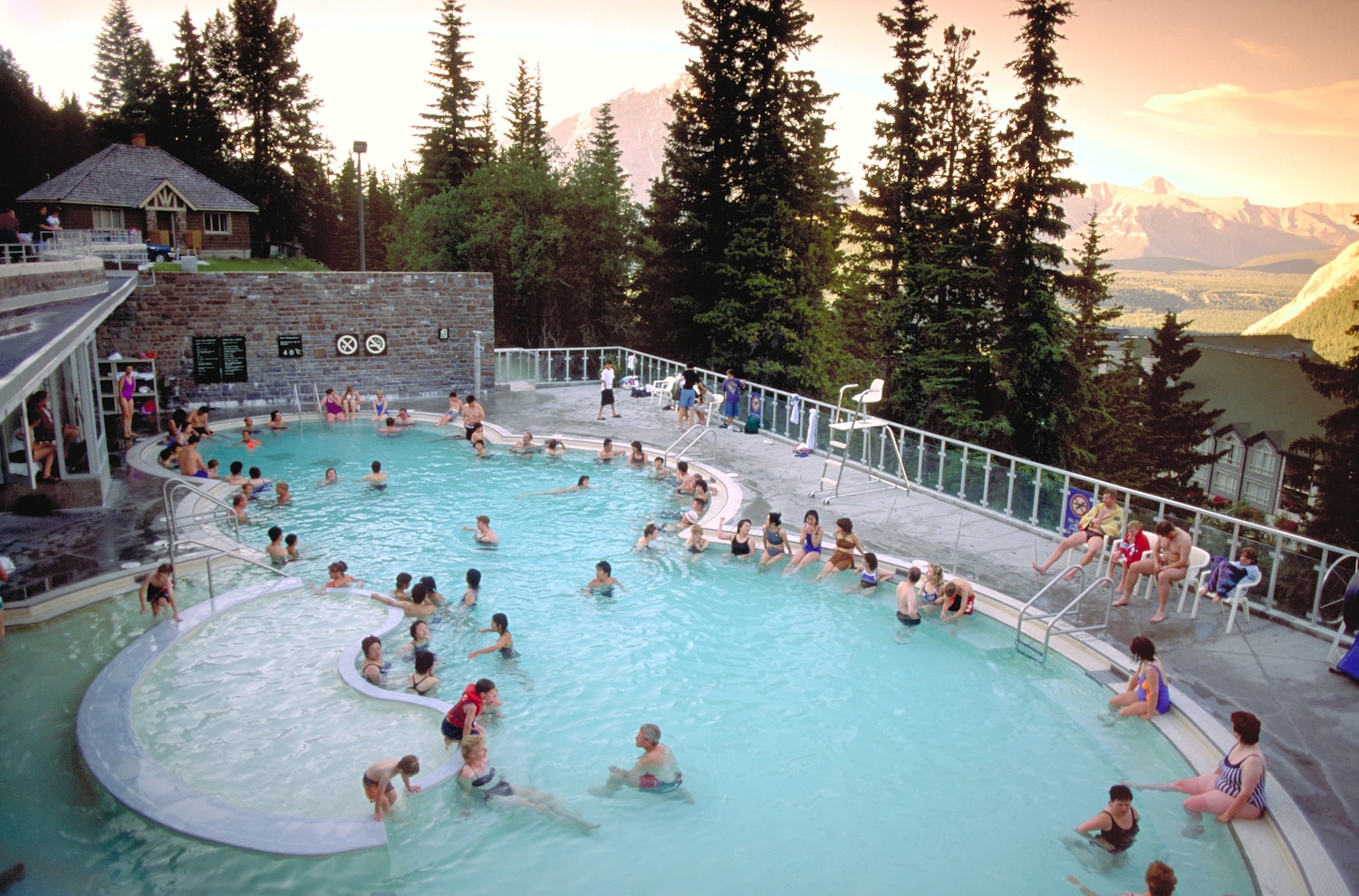 Enjoying hot water in the cool air is one of the top Banff winter activities to enjoy. Don't let the frigid Canadian temperatures detract you because there are plenty of ways to warm up around Banff. Just outside of Banff town lies the Banff Upper Hot Springs, easily one of the best places to visit in Banff and among the best hot springs in Alberta.
The Banff Upper Hot Springs water is geothermal, coming from the earth's crust 3 km down and makes for one of the best places to relax those stiff muscles after a ski day.
Just be warned, afternoons can draw a crowd, so head there in the morning for a more quiet experience. How much are the Banff Hot Springs? Don't worry – it won't break the bank at just over $16.
---
Mt Norquay Via Ferrata

Want to get into the mountains, but have the safety of harnesses and a mountain guide? Mt. Norquay's Via Ferrata is the perfect thing to do for those looking for a real adventure in the Canadian Rockies.
So, what is a Via Ferrata? It's a hiking trail that combines the elements of hiking and climbing along a path with safety features that allow hikers to get around otherwise inaccessible sections with the help of secured ladders, ramps and cables. Essentially, you are secured to a steel cable via your harness so you can move safely on the trail that is more likened to an obstacle course.
The Mount Norquay Via Ferrata is the only one in Banff National Park. Four different routes vary in length, price, and difficulty. Perfect for any visitor in Banff, with many different options for families too.
---
Stroll Through the Cascade of Time Garden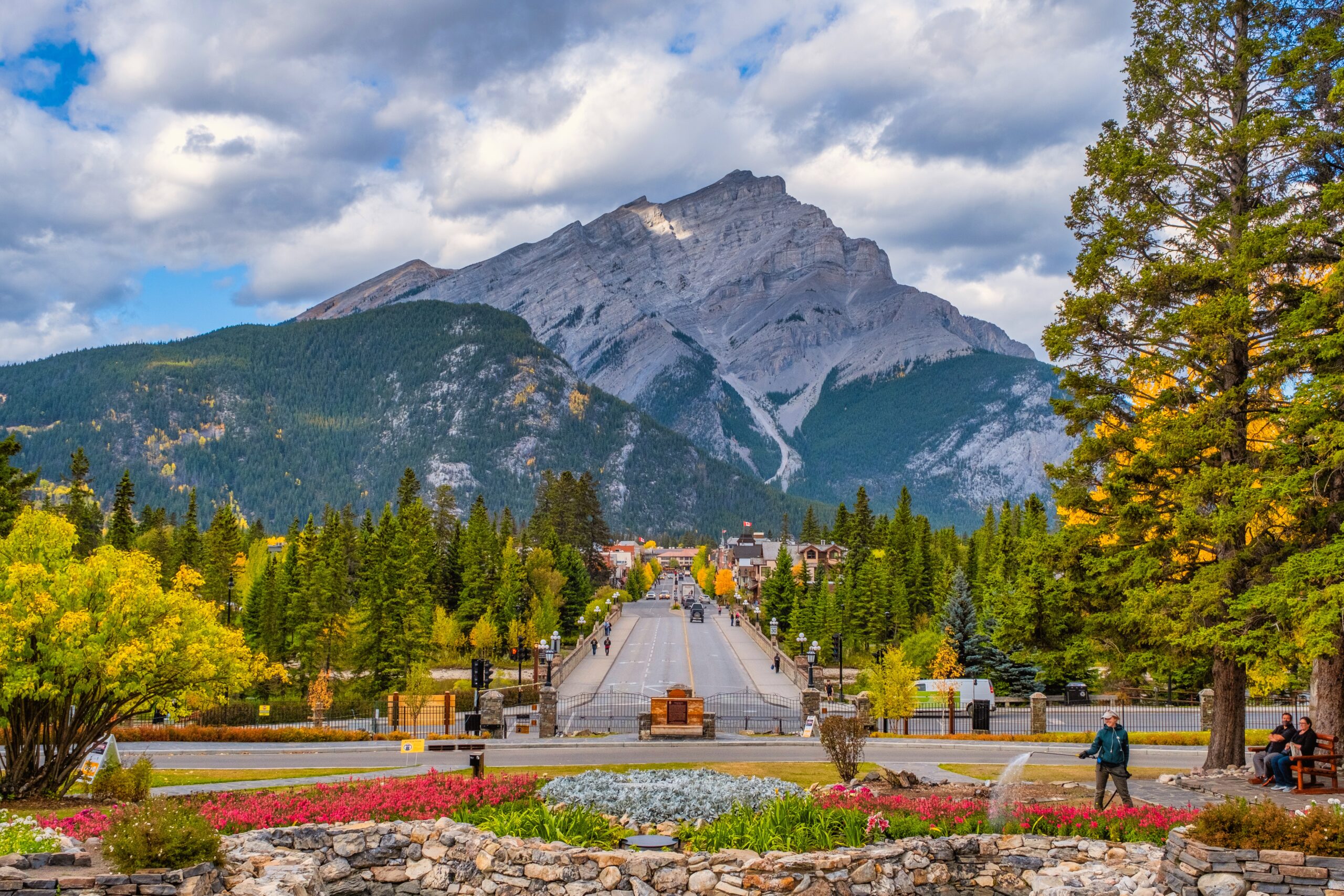 The Cascade of Time Garden is one of the best places to visit in Banff when you want to enjoy a cup of coffee or tea while you stroll through the beautiful garden.
It's located behind Park Canada's building right at the end of Banff Ave. From the garden, you get great views of Mt. Rundle and Cascade. This should go without saying, but please don't pick the flowers.
---
Have a BBQ at Cascade Ponds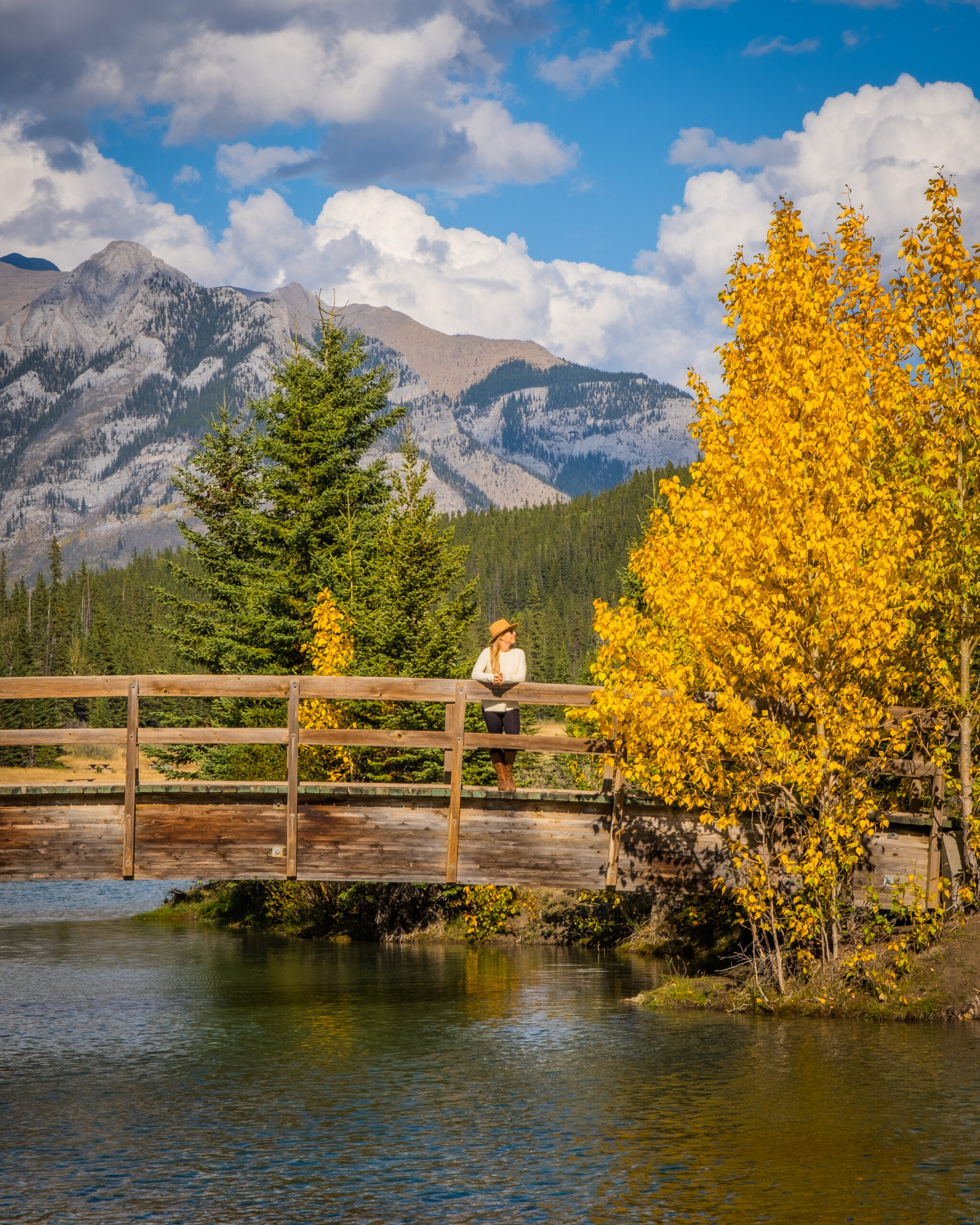 Cascade Ponds are one of my favorite places to head to in Banff when I just want to chill and enjoy my surroundings. Located right off the Trans-Canada, well before you reach Two Jack Lake or Lake Minnewanka, you'll come across Cascade Ponds. They are easily seen from the highway, but you could miss them if you don't know what you are looking for.
Cascade Ponds are a series of ponds that lie right under Cascade Mountain. There are plenty of picnic benches and firepits here to enjoy a picnic. I like coming here on a sunny day and having a bbq with the provided bbq pits.
Just bring your beer and snacks, and you're good to go (remember to pick up after yourself and leave no trace). If you visit in the summer, you can see Cascade Waterfall coming from Cascade Mountain too!
---
Climb Sulphur Mountain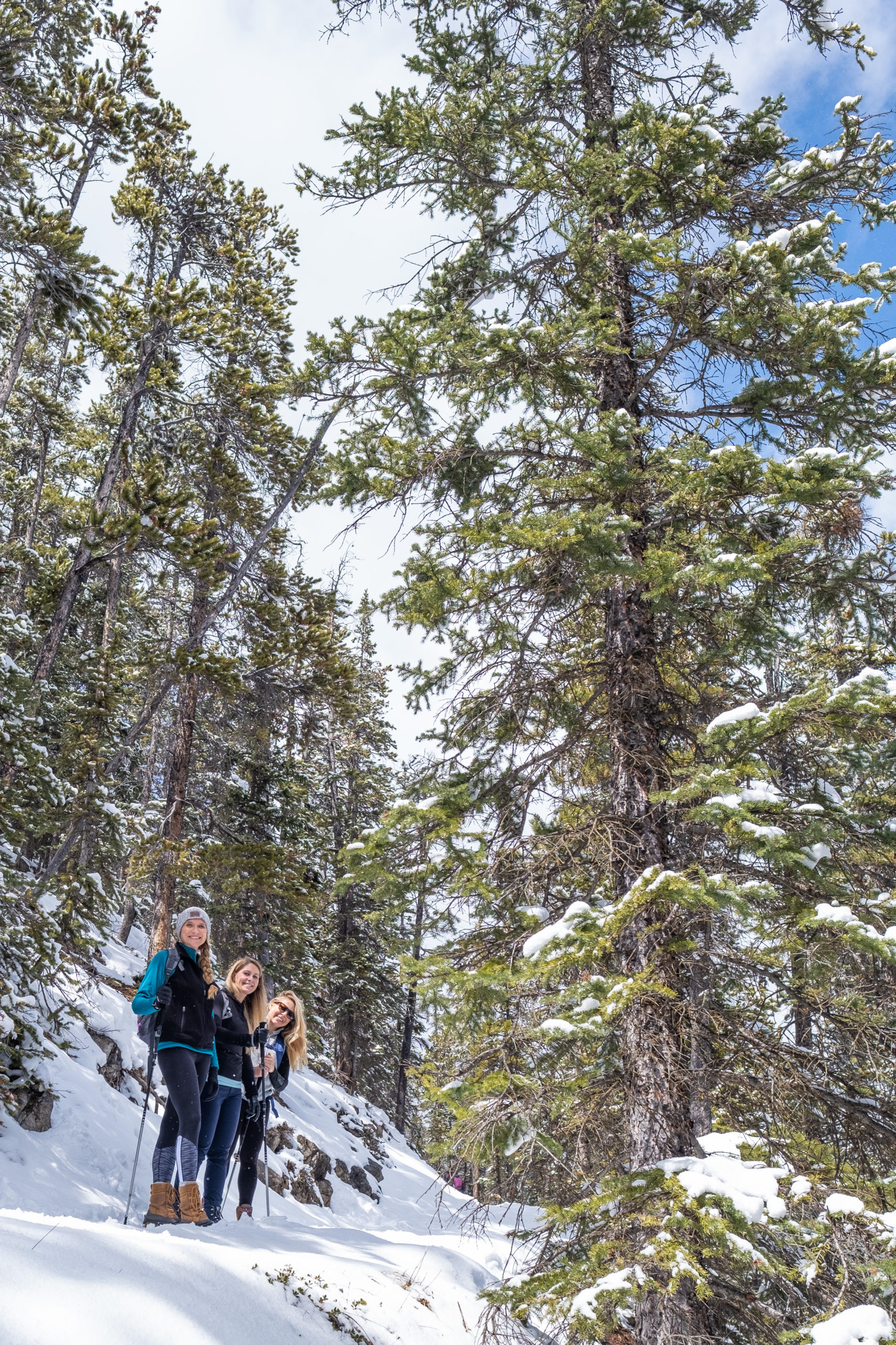 Still wondering what to do in Banff in the summer or winter? How about you climb a mountain just outside of town. Sulphur Mountain is easily one of the most popular hikes in Banff National Park. It's a beautiful hike up that provides visitors with astonishing views over the Bow Valley.
Due to its proximity to Banff town, and the fact that you can take the Banff Gondola up to the peak instead of sweating it out on the trail means that Sulphur Mountain becomes very busy at the top! However, the trail is enjoyable and will leave you with a sense of reward once you get to the top!
In the winter, a pair of microspikes and some hiking poles will help you tackle the trail up in no time.
---
Head Up the Banff Gondola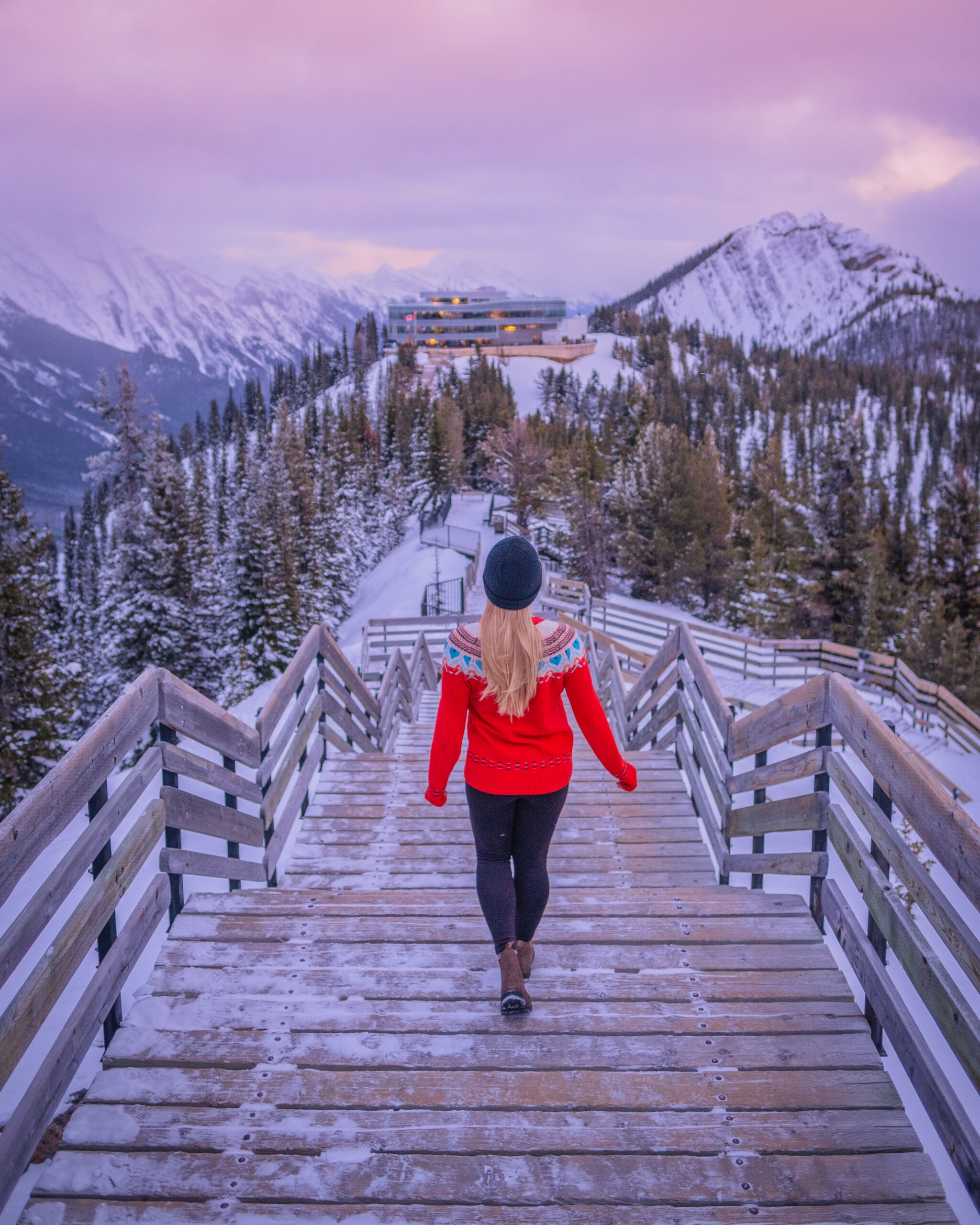 The Banff Gondola is there for you if you want to get those amazing mountain range views from the top of Sulphur Mountain without the climb up or down that I just mentioned. The gondola runs year-round and provides the chance to relax and hang over the trees.
It's not a cheap experience at over $60 Round trip. In my opinion, the gondola is great for those that are not physically able to do the hike. This may mean people with disabilities, the elderly, or large families.
If you are able, I highly recommend hiking up Sulphur Mountain. It's not a hard climb and doable all year round. The beautiful view will feel much more rewarding! Either way, you can't travel to Banff and not take in the views from Sulphur Mountain. It's one of the top Banff activities to do!
---
Hike to Helen Lake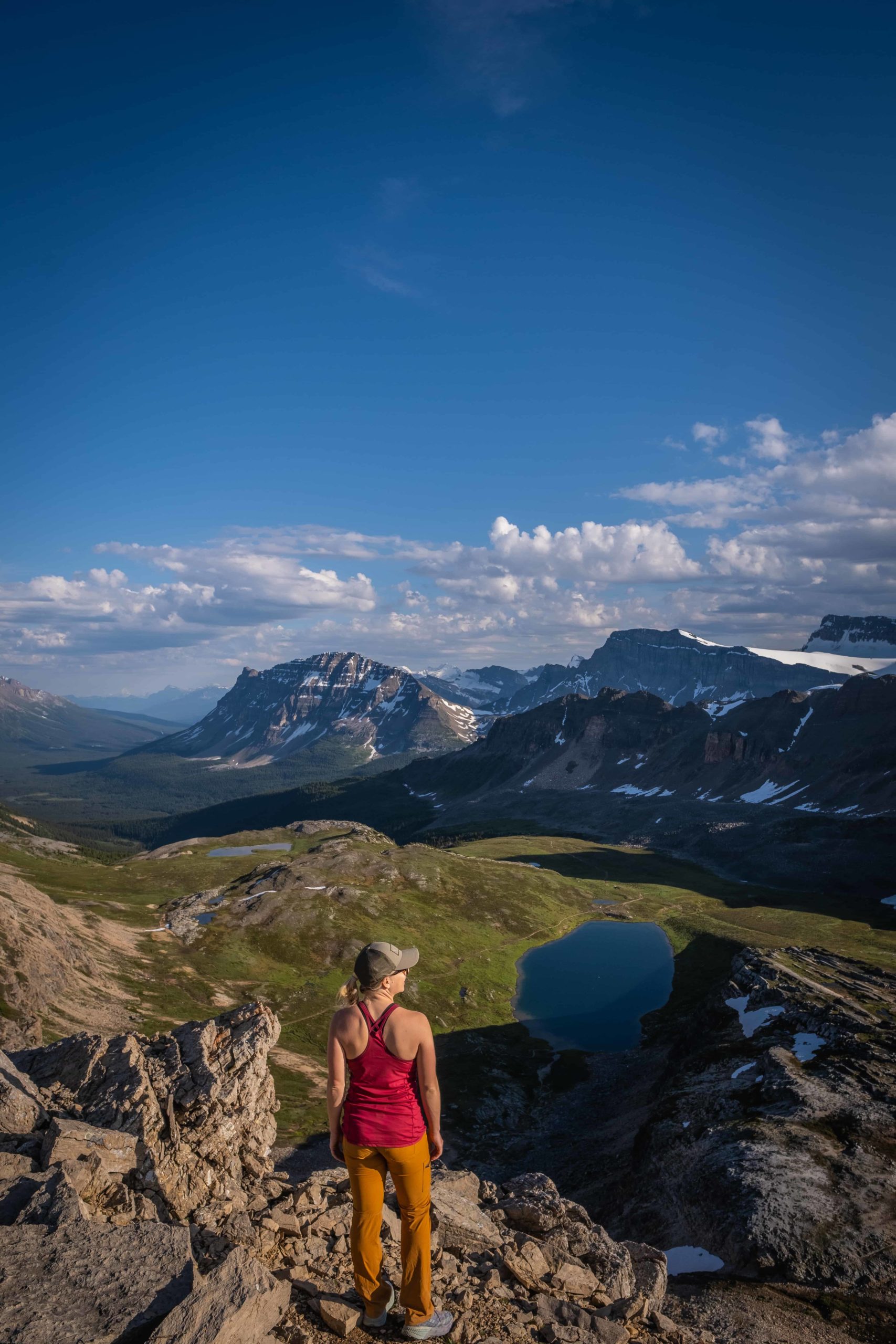 Helen Lake is a beautiful lake along the Icefields Parkway. It's far less popular than nearby Moraine Lake or Lake Louise. While the water is not glacier-fed bright blue, it's just as beautiful and much quieter.
To get to Helen Lake, you must hike in on a moderate trail for 6km (one way). The trail is well maintained and absolutely stunning, with views of mountains and blooming wildflowers everywhere! Bring lunch here and enjoy the views.
---
Scramble Cirque Peak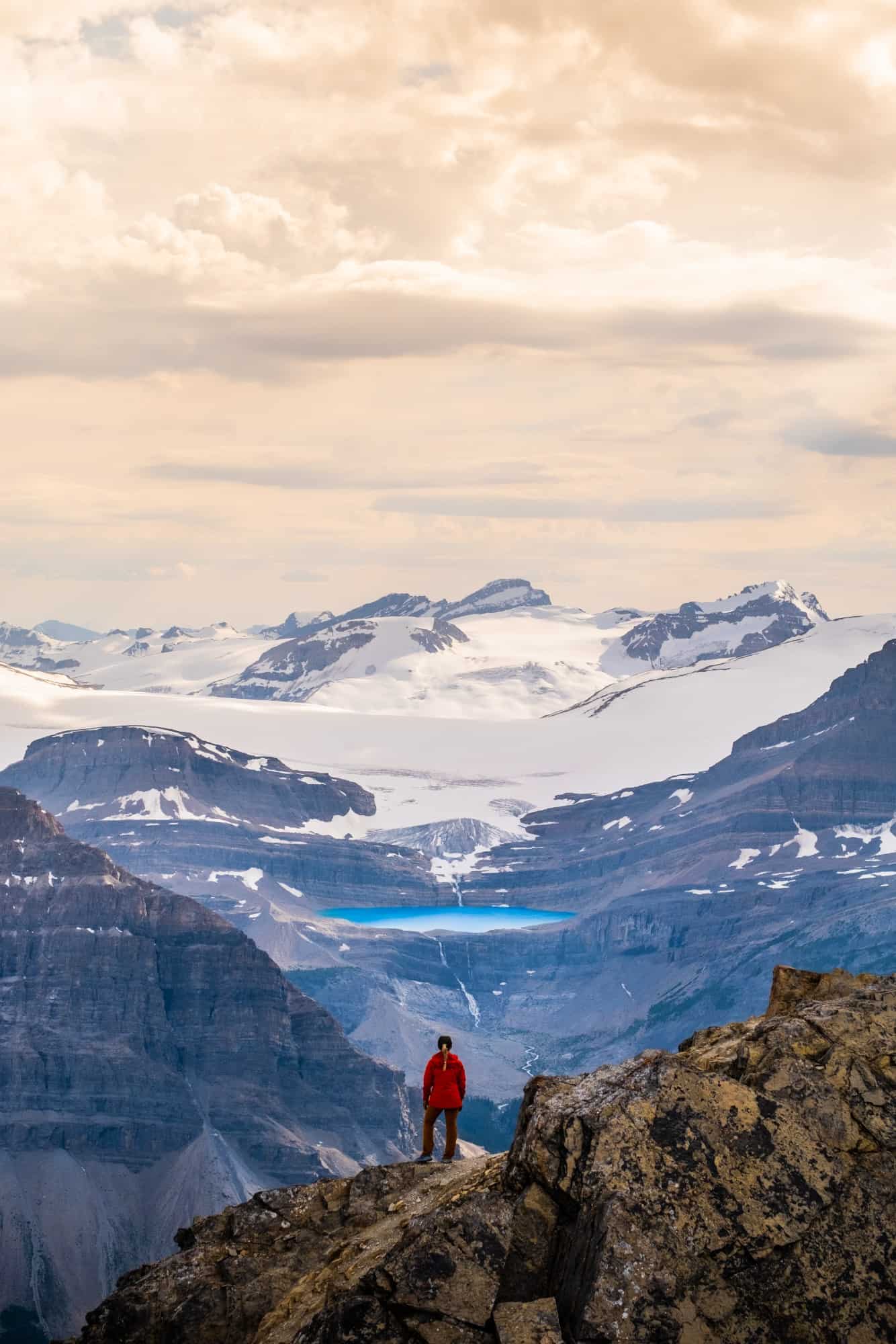 Want more of a challenge past Helen Lake? Keep going once you reach the lake up to Cirque Peak. This is an amazing (yet difficult) hike that provides absolutely amazing views (some say the best in Banff).
It's a tough steep climb, especially towards the top where there is some scrambling involved, and some of it can get a little sketchy, so this should only be attempted by seasoned hikers.
You'll likely find 50 or so marmots along the way. You can try asking them for directions if you get lost, but they probably won't be much help and will just give you a whistle instead!
When you reach the summit, enjoy the views and crack a beer – you did it! This whole circuit (Helen Lake+Cirque Peak) took us five hours roundtrip, but we are on the faster side of hikers. I would allocate at least 7-8 for this trip.
---
Go for a Swim in Herbert Lake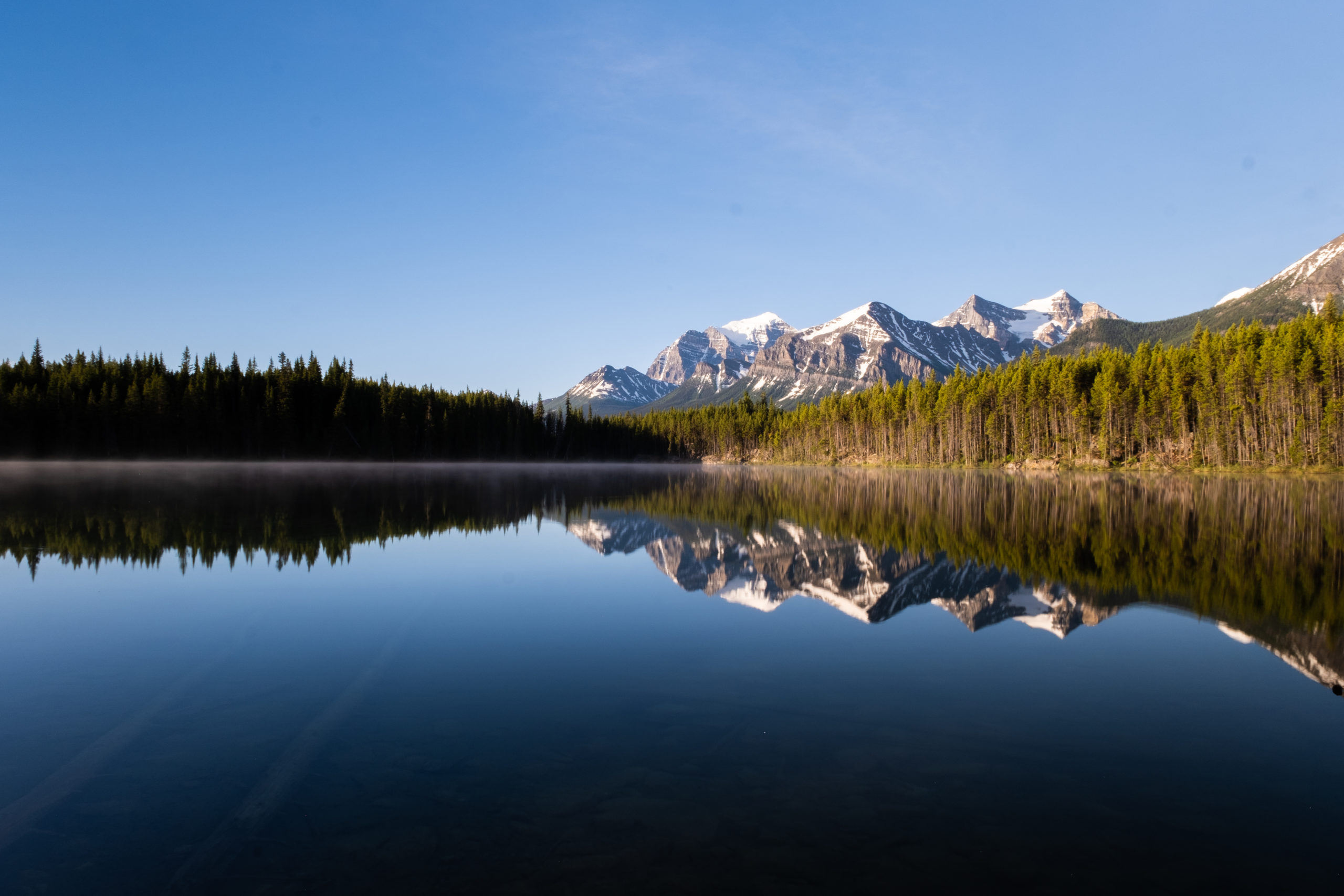 Herbert Lake is a small Banff lake just off the Icefields Parkway not long after you pass the park gates leaving Lake Louise and the TransCanada highway.
Its location and the fact that it's not considered a major highlight in Banff means the lake remains relatively quiet throughout the summer. I love heading here in the morning to watch the sun rise over Mount Temple. It's a small lake to paddle on, and there's even a hidden diving board if you want to take a dip and can handle the cold temps!
---
Stay in a Banff Cabin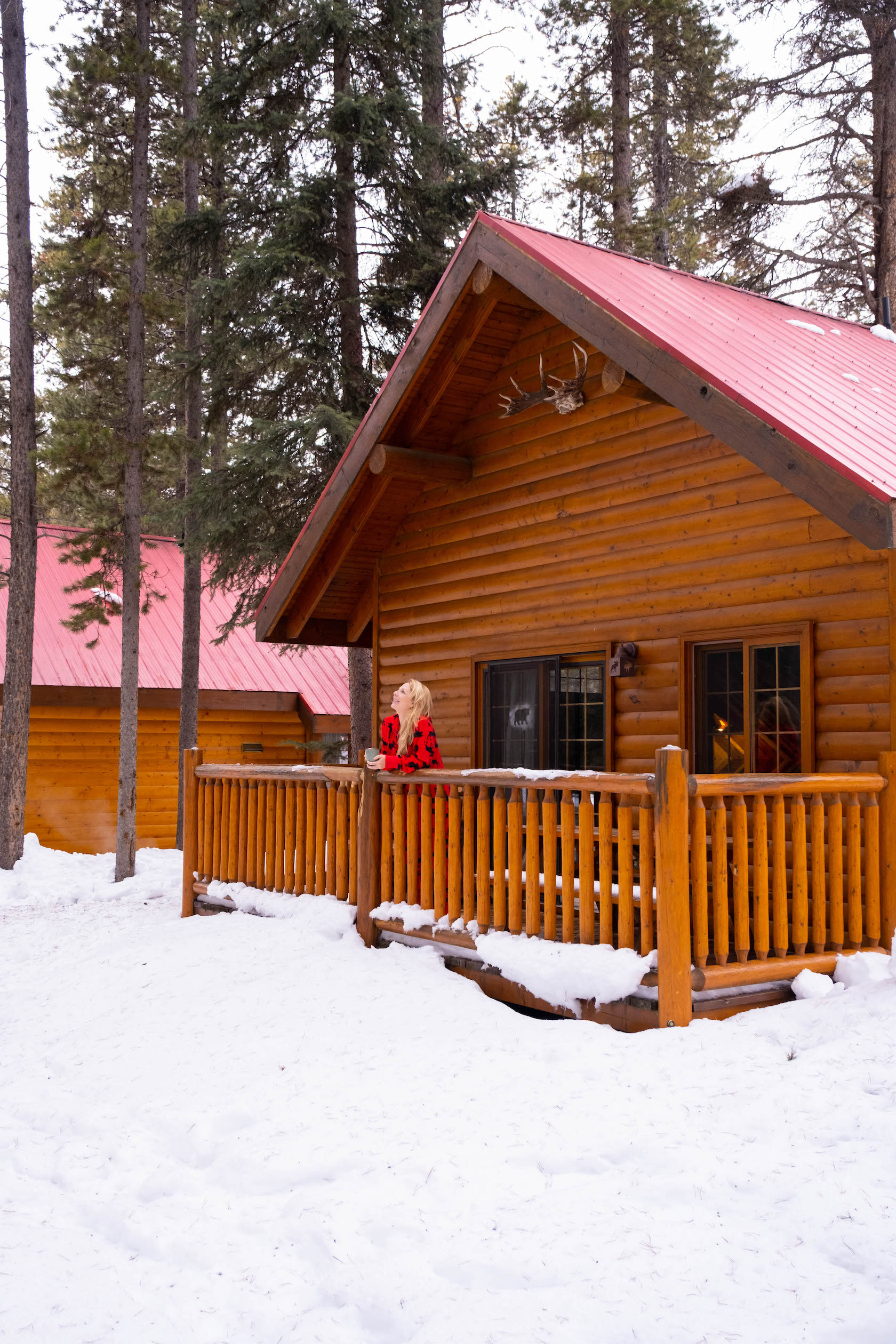 If you are looking for somewhere unique to stay in Banff consider booking a Banff cabin. There aren't many in the park, but the ones that are on offer are like something out of a movie. My favorite cabin experience in all of Alberta can be had at Baker Creek Mountain Resort off the Bow Valley Parkway.
Castle Mountain Chalets, Johnston Canyon Bungalows, and Storm Mountain Lodge also offer a great log cabin experience.
---
Head Up a Sightseeing Chairlift/Gondola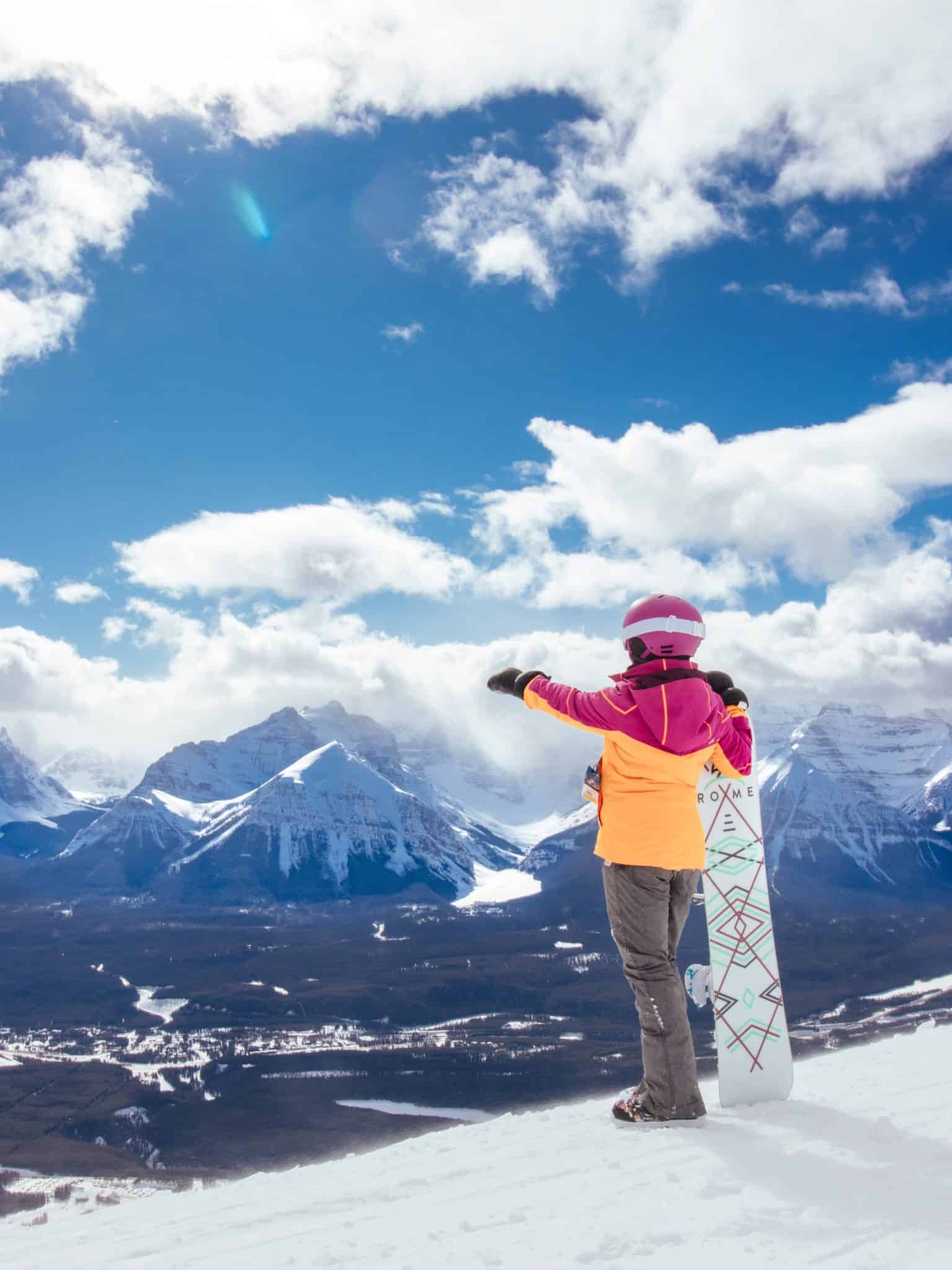 There are a few sightseeing chairlifts and gondolas in Banff. The Banff Gondola already mentioned, The Mount Norquay Sightseeing Chairlift, the Sunshine Gondola, and the Lake Louise Summer Gondola.
They are similar experiences, but provide different views. Mount Norquay, for example, looks over Mount Rundle and Downtown Banff, while the Lake Louise Gondola brings you to the top of one of the most epic vistas in the park and out to Victoria Glacier. You can also easily see Lake Louise, Mount Temple, and if you look hard, the Ten Peaks.
ULTIMATE Banff Gondola Comparison Guide: Which is Best?
---
Larch March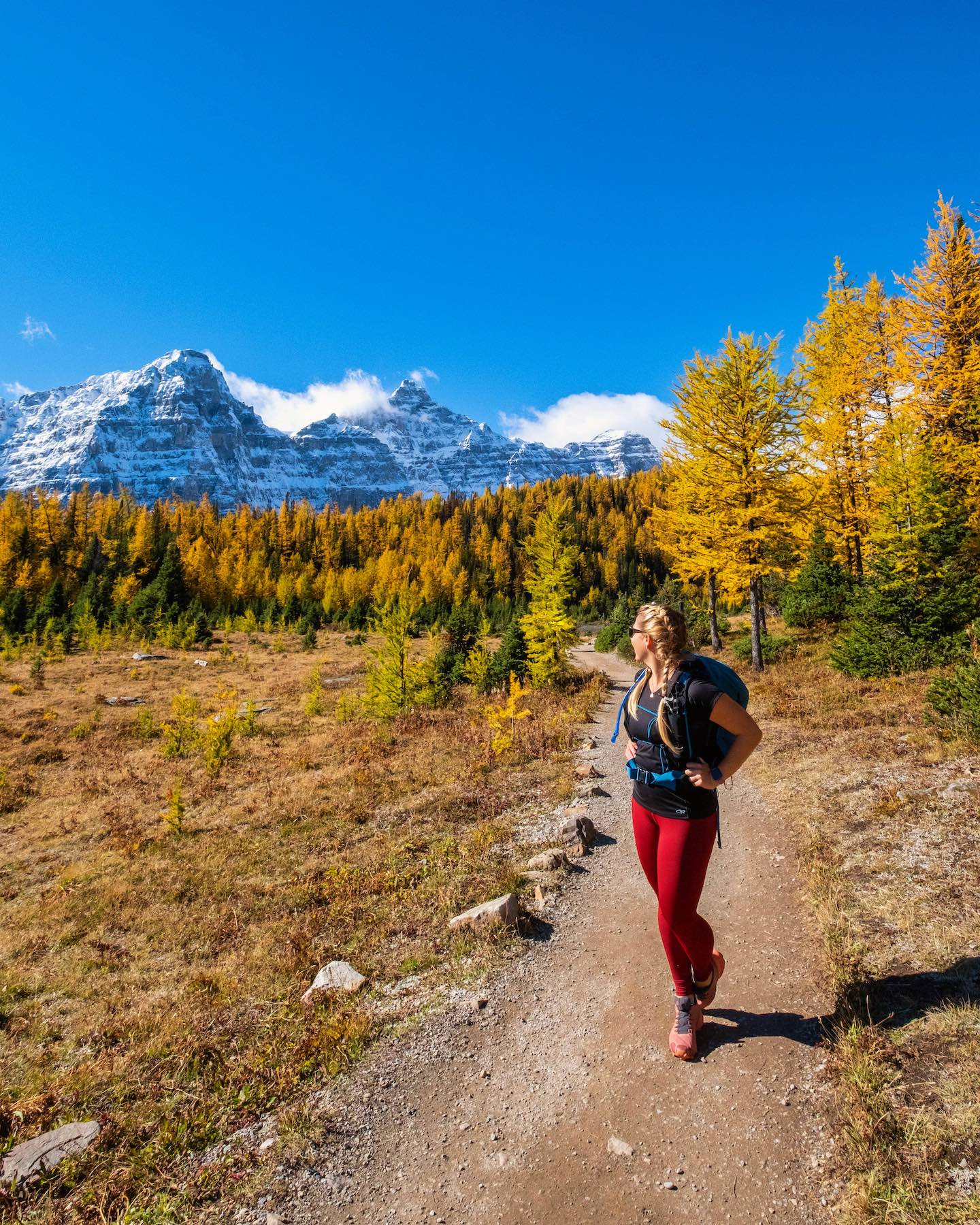 "Larch March" is likely a term you haven't heard before. It refers to a season in Banff when the larch trees turn golden, and everyone in Alberta goes out hiking. If you happen to be in Banff during mid/late September to early October getting out on a larch hike is essential.
So what is a larch? Larches are conifers that are native to cooler temperatures. Although they are conifers, they are deciduous that lose their needles in the autumn. Right before they lose their needles, they turn a golden color for a few short weeks creating a fantastic scenic landscape that people flock from around the world to see.
It's a stunning time in the Rockies, and my absolute favorite season! A few of my recommended larch hikes are Saddleback Pass, Devil's Thumb, and Arnica Lake!
17 Unreal Alberta Larch Hikes
---
Complete the Beehive Circuit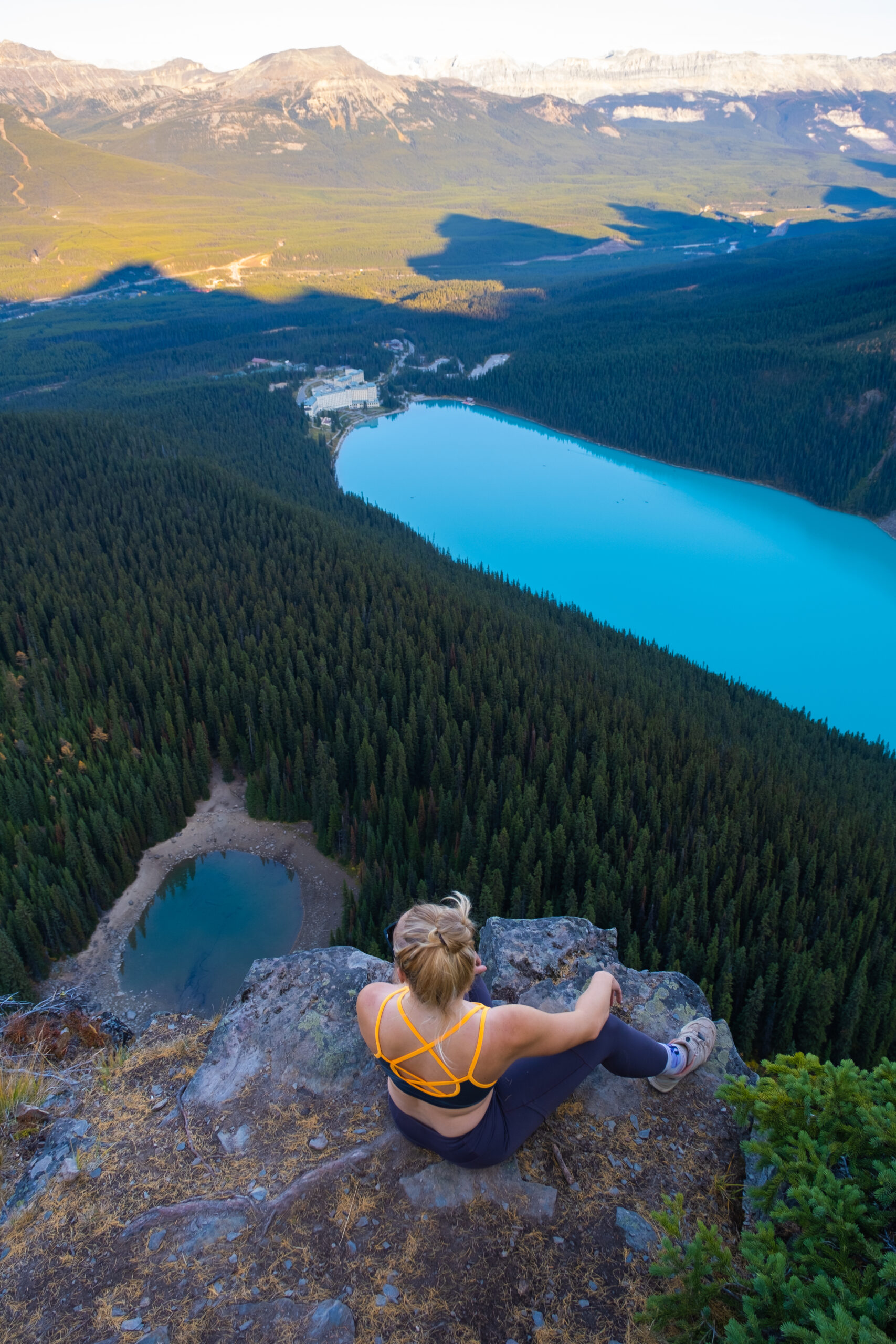 One of my favorite hikes in Banff involves two epic viewpoints. The Beehive Circuit refers to the Little Beehive and Big Beehive in the Lake Louise area. Both are moderate hikes that provide a different viewpoint over Lake Louise.
The Little Beehive hike is 9km in distance with 535 meters of elevation gain, while the Big Beehive is slightly more difficult. To hike the Big Beehive will involve hiking 10.3 km and 647 meters of gain. We highly recommend hiking both for different vantage points. If you are a strong hiker and want more, try scrambling up Devil's Thumb!
Little Beehive Hike & Big Beehive Hike – Trail Guide to the Epic Beehive Circuit
---
Chase the Northern Lights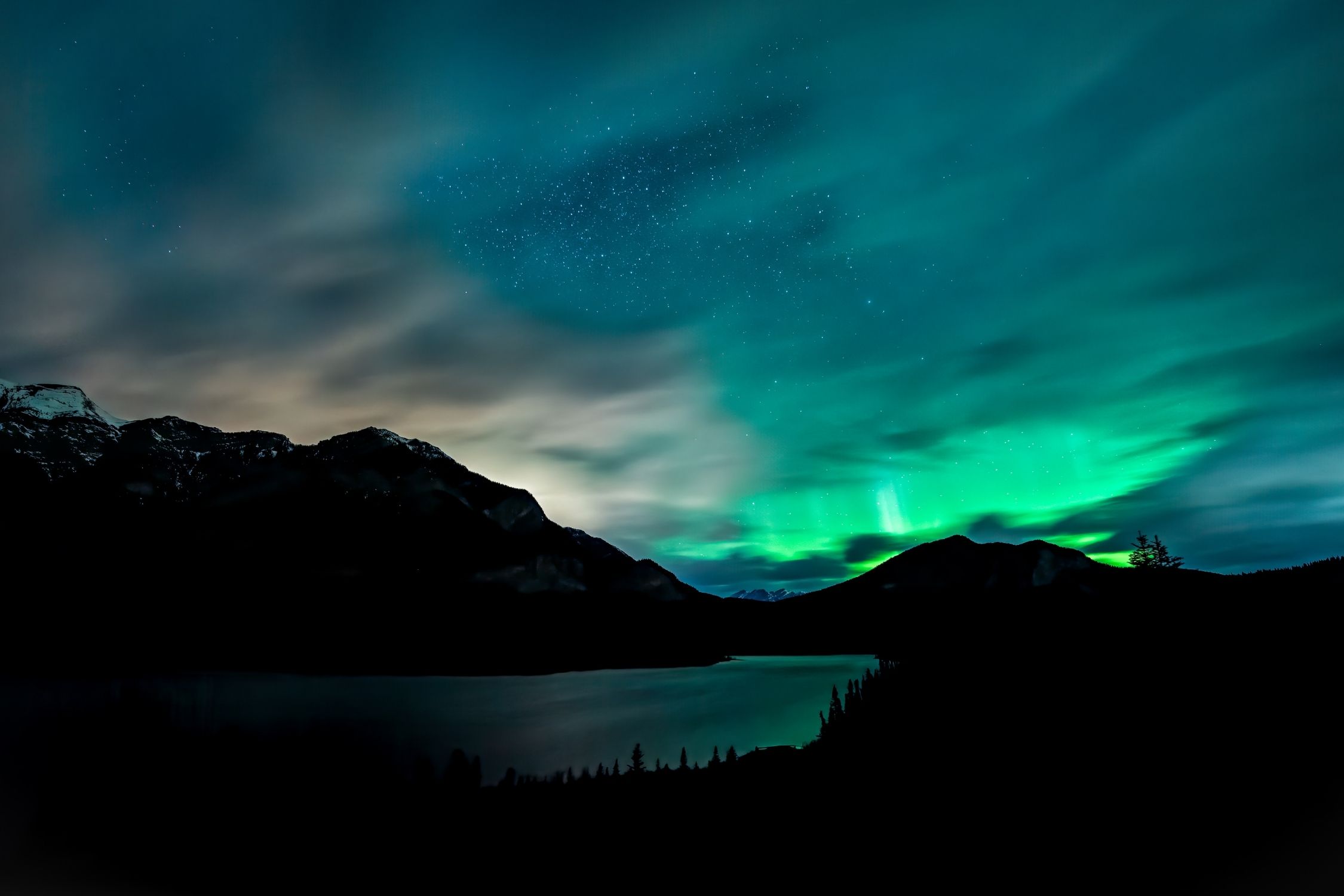 It is possible to see the northern lights in Banff! Though timing them is all about luck! However if you do manage to see them shine over the Rockies you are in for the night of your life.
Though the northern lights can make an appearance any time of year your best chance at seeing them is between October and April when the night sky is darkest.
We recommend downloading an app and watching the KP index. Look for a clear night and a new moon – and don't plan on getting any sleep! Oh and hope that lady luck on your side, we see the aurora in the Rockies just 1-3 times per year.
How To See The Northern Lights in Banff
---
Take in the Views from the Red Parks Canada Chairs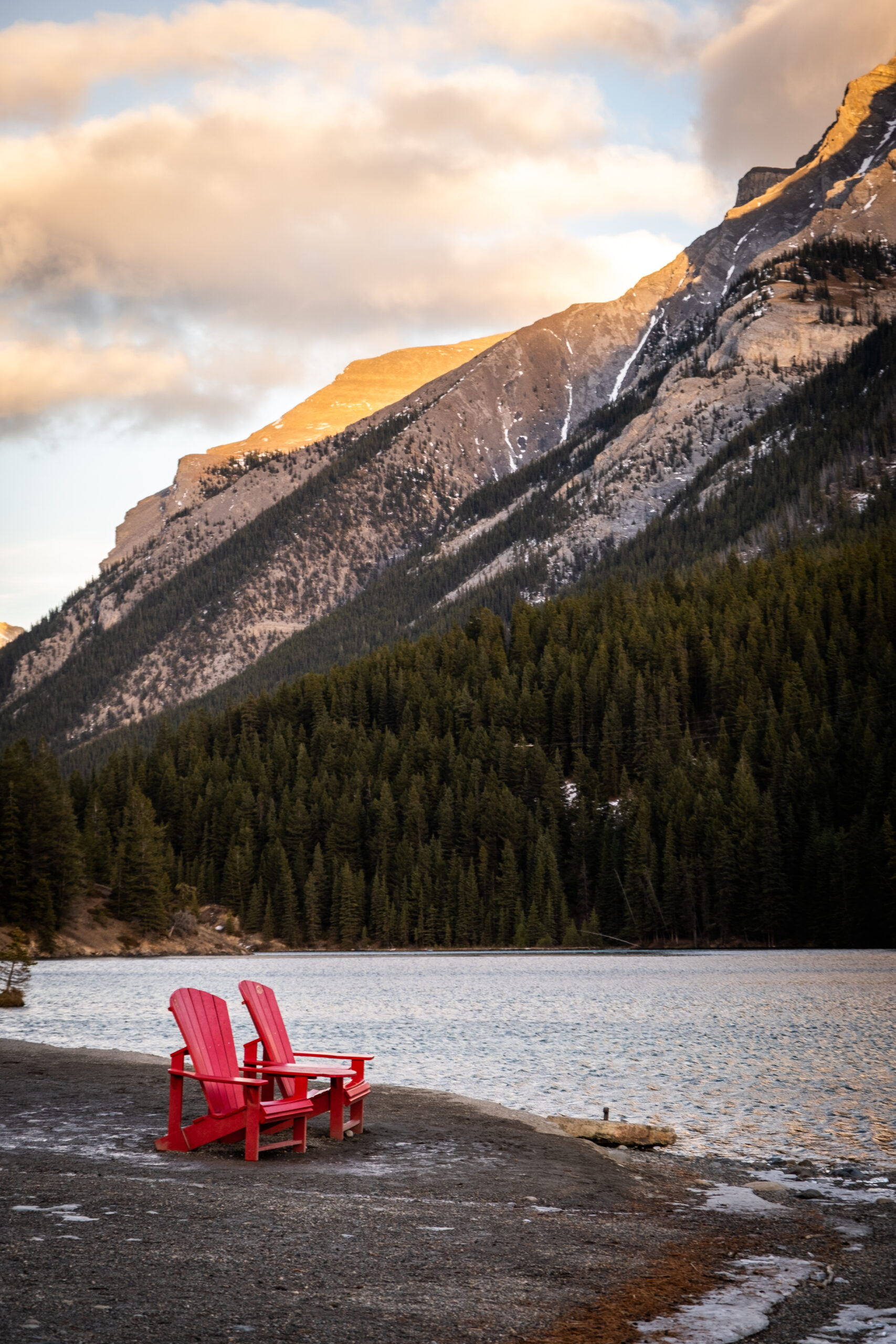 There are over 200 red Adirondack chairs that Parks Canada has placed in peaceful and always breathtaking locations across Canada.
Some are easy to spot, while others require a bit of an adventure. There are plenty of red chairs around Banff National Park (especially on Lake Minnewanka Road).
---
See Peyto Lake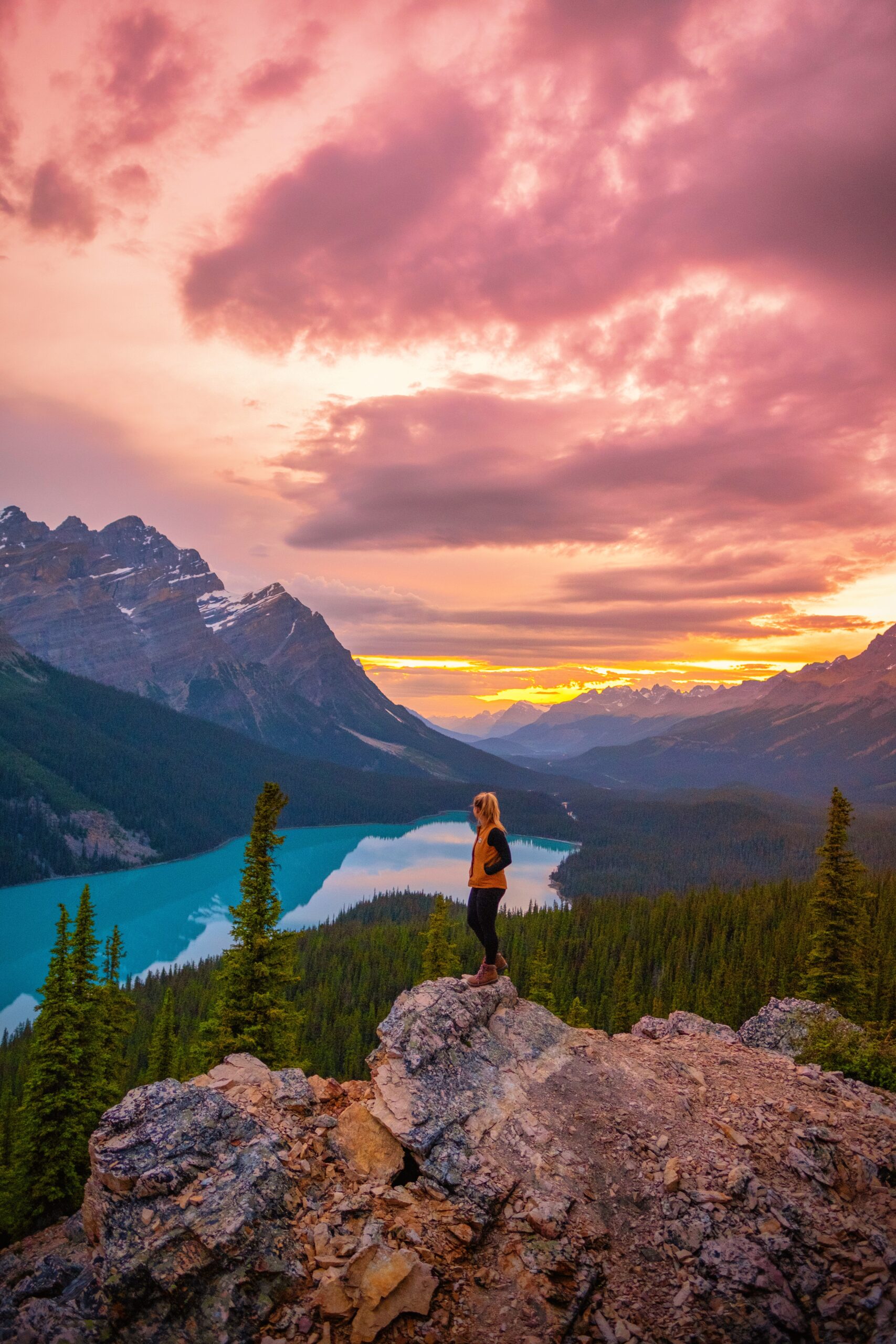 Peyto Lake (PEE-toh) is a glacier-fed lake in Banff National Park. This is probably the third most popular lake to visit in Banff, after Louise and Moraine. The reason is its unique "fox head" like shape and absolutely mind-blowingly blue water.
Peyto Lake is easily accessible from the Icefields Parkway. To get a great view, all you have to do is to park and hike up an easy 10-minute path to the viewpoint. It's the perfect place to come and enjoy the stellar Banff National Park views in both winter and summer.
Things To Know Before Visiting Peyto Lake
---
Relax at Bow Lake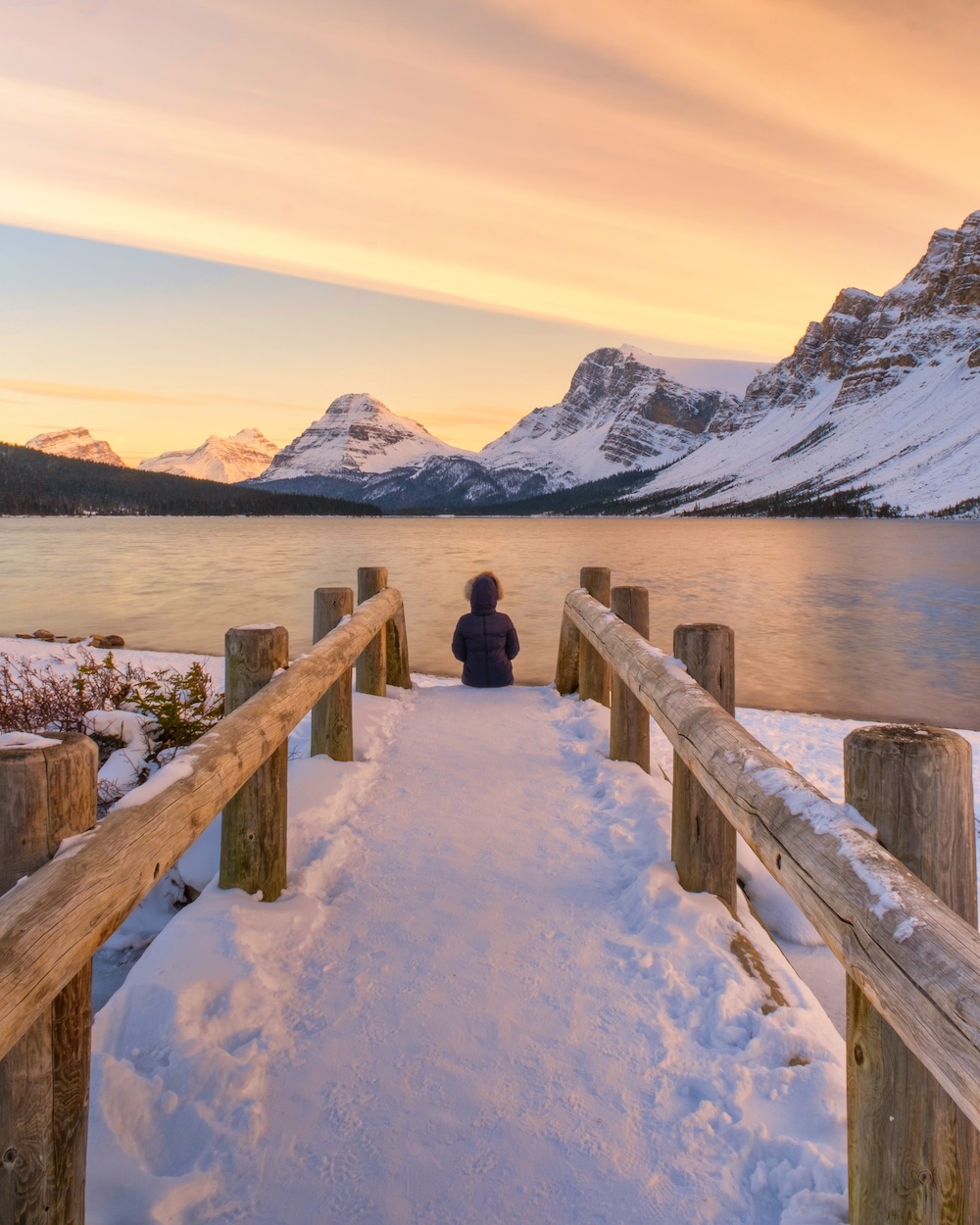 Right before you get to Peyto Lake, you'll spot Bow Lake on your left (if driving from Lake Louise). Bow Lake is one of the larger lakes on the Icefields Parkway and lies south of the Bow Summit. It's a beautiful lake to stop by and take in the surroundings, but it's even better when you can get out on the water.
We love to take our inflatable Stand Up Paddleboards around Banff so that we can pull over and take them out for a paddle.
---
Get Those Mount Rundle Views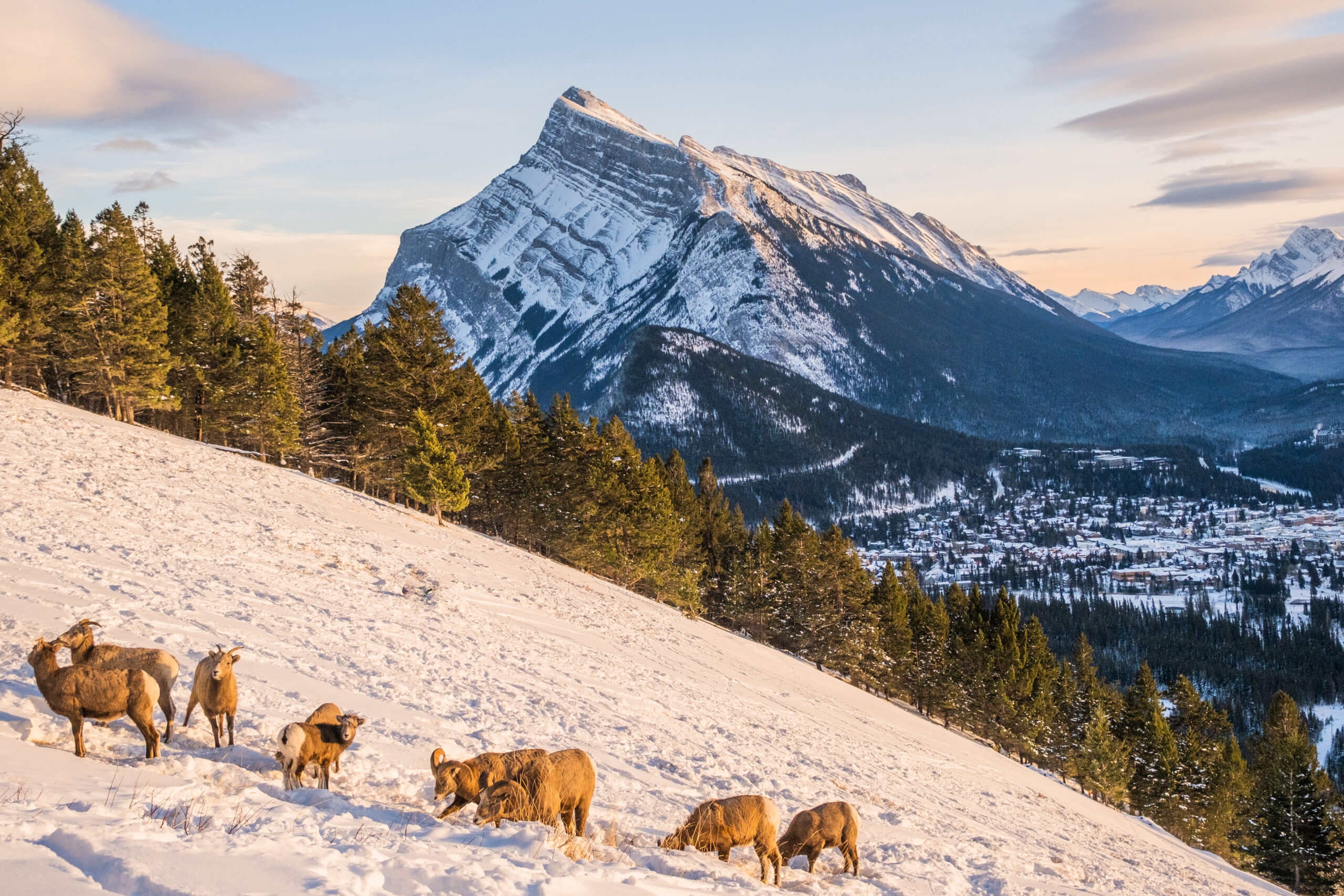 Mount Rundle is one of the most famous mountains in all of Canada and a top sight to see in Banff year-round. It's an icon of Banff and will make you feel incredibly small at any time of day.
As mentioned before, Mount Rundle is best seen at sunrise and sunset. Besides Vermilion Lakes, my most favorite spot to see Mountain Rundle is the Mount Norquay Lookout. Pictured above!
---
Stand Up Paddleboard Around Banff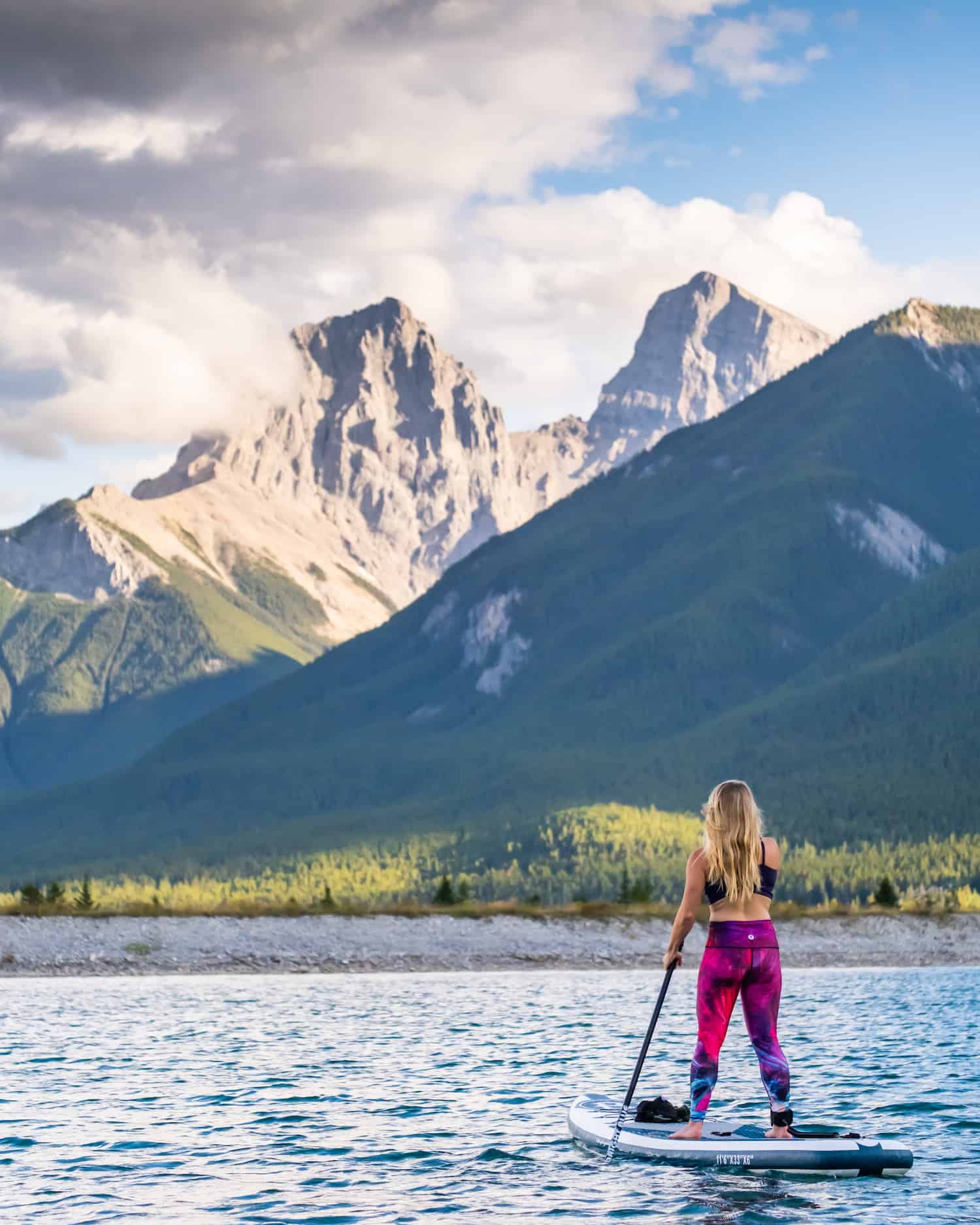 The lakes around Banff National Park are a prime place to go for a SUP or stand-up paddleboard in the summer months once they unthaw.
It's one of our favorite ways to relax in the park, and we often find ourselves alone on the water. What's great is you don't have to own one yourself as you're able to rent them from several locations in town.
Banff Canoe Club is our preferred place to rent paddleboards, but if you plan on doing a lot of stand up paddleboarding you may want to consider purchasing one. We bought ours off Amazon for $500 and it was a great investment. We use them more than we care to admit!
Tour Option: Intro to Stand Up Paddleboarding, Banff National Park
---
Spot the Banff Wildlife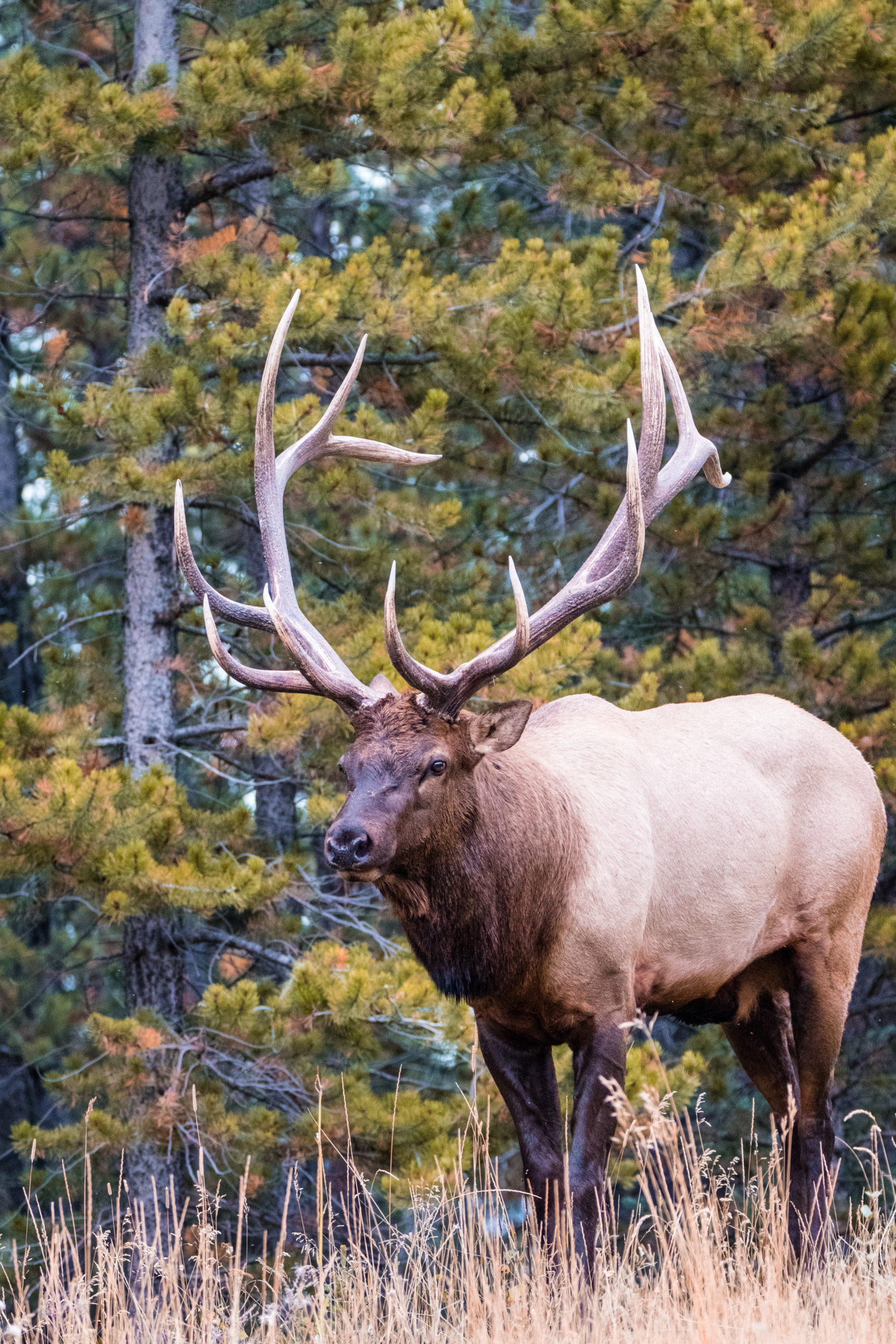 Banff wildlife is active all the time. Apart from bears, you'll find moose, elk, deer, owls, foxes, wolves, and coyotes here all year round. In the summer, you may catch a glance of a black or brown bear (hike with bear spray always).
I love spotting these animals all around the Bow Valley. Please remember, if you want to take photos of wildlife, to do so safely and make sure you are out of the way of traffic and don't get too close to any wildlife.
The general rule is that if you make them move, you are too close. For almost guaranteed sightings of wildlife, I would recommend heading up the Spray Valley Road just outside of Banff in Kananaskis Country. However, if you are really adamant about seeing wildlife, we recommend booking a guided wildlife tour so you can see the animals safely and responsibly.
---
Hike C Level Cirque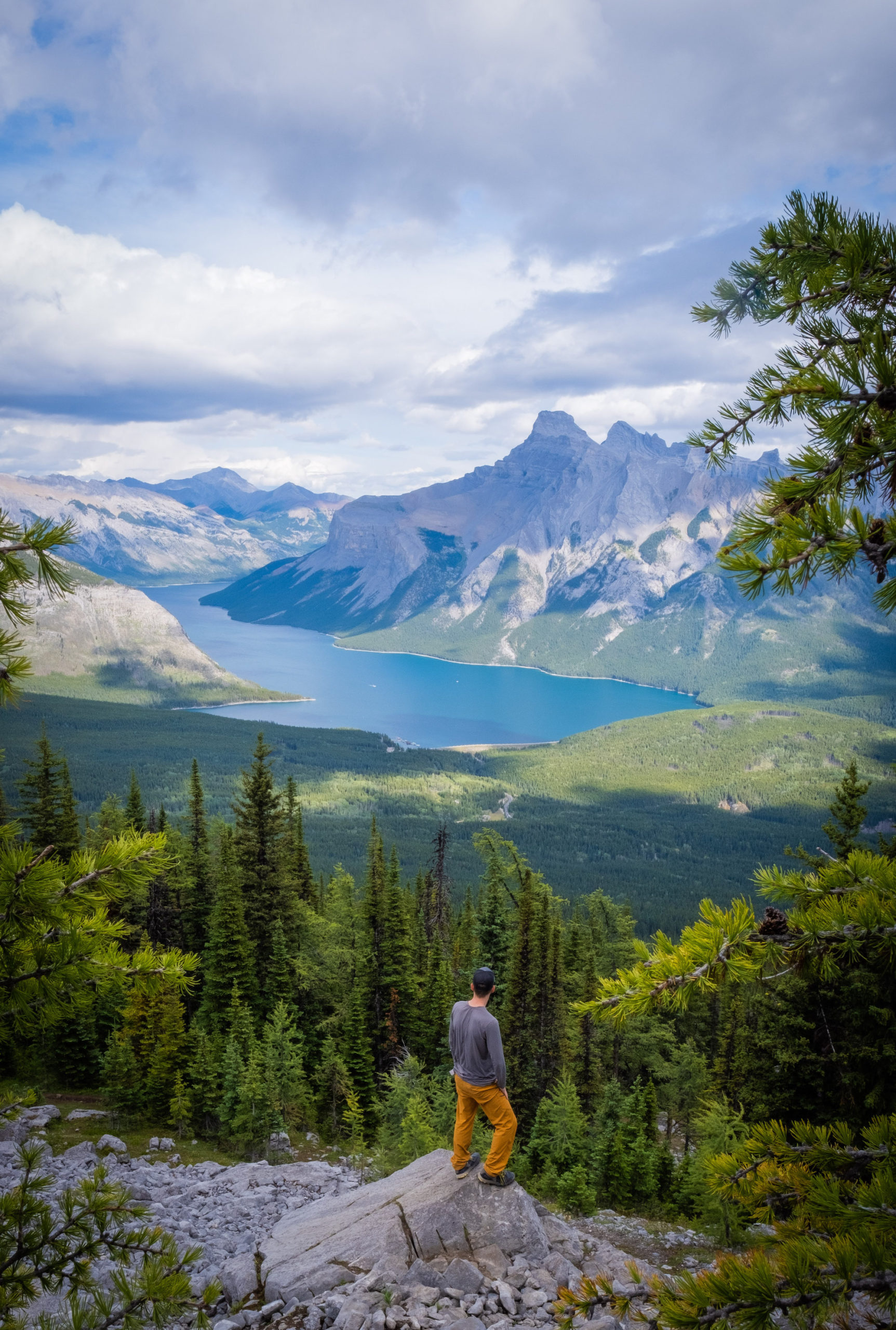 A short but rewarding hike near Banff is C Level Cirque. C Level Cirque starts near Lake Minnewanka and Two Jack Lake; it's a steady incline to the amphitheater, which should only take about 45 minutes.
You can stop here, but the views over Lake Minnewanka start when you climb higher. Follow the trail around the amphitheater and up for about 45 more minutes until you reach the rock wall.
I love doing this hike when I am short on time, as you can get it done in under three hours. This is a 9 km out and back trail, with over 750 meters of gain, and can get very busy on weekends in the summer.
---
Enjoy the Town of Banff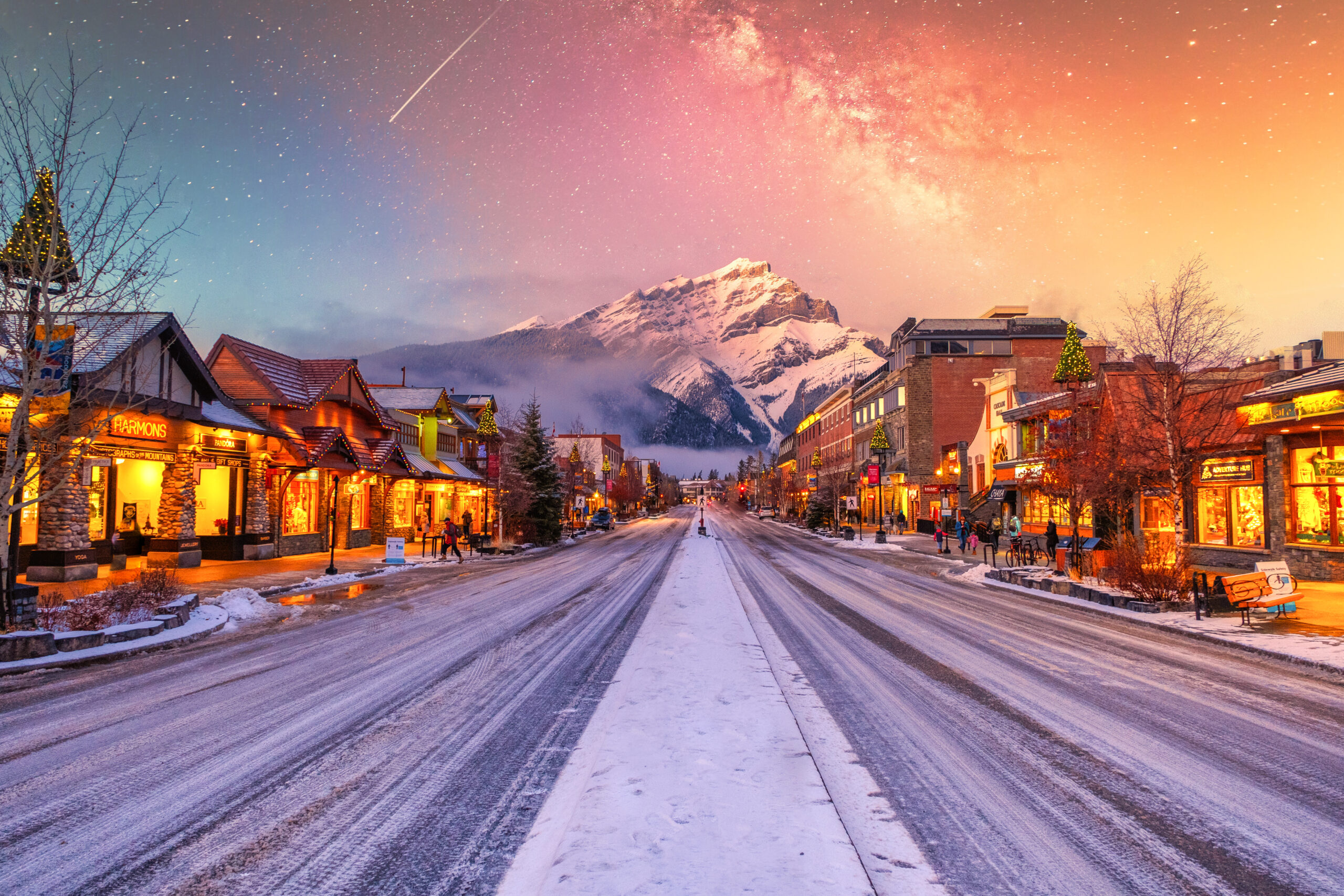 What is there to do in Downtown Banff? Plenty! If you want a day of shopping, cappuccinos, and breweries, stay in the Banff downtown area and venture right out from your hotel. Banff Ave has tons of restaurants, cafes, boutique shops, and cheesy souvenir stores to entertain all.
During the summer season the Town of Banff will close its main street to vehicles in the downtown core between Wolf and Buffalo streets, and the adjacent sections of Caribou Street. Between May 19 to October 13th, this section of Banff Avenue will be exclusive to pedestrians, cyclists and skateboarders.
---
Climb Mount Bourgeau
Mount Bourgeau is a 2,931-metre (9,616 ft) tall mountain in the heart of Banff National Park. It's easily accessible from the Town of Banff and Canmore. Only a 10-15 minute drive to the parking area from Downtown Banff, which makes it one of the best things to do in Banff.
Mount Bourgeau is a fairly easy hike with no scrambling involved and provides amazing views over Banff. The only issue is it's 21 km, so prepare for a full day out if you plan to summit Bourgeau.
Nevertheless, if you want a full-on fulfilling hike in Banff, and to say you've summited a mountain in the Canadian Rockies, summiting Bourgeau is easily attainable for the reasonably fit. Even if you don't want to summit Bourgeau you can still hike to Harvey Pass for stellar views.
---
Check Out Bow Falls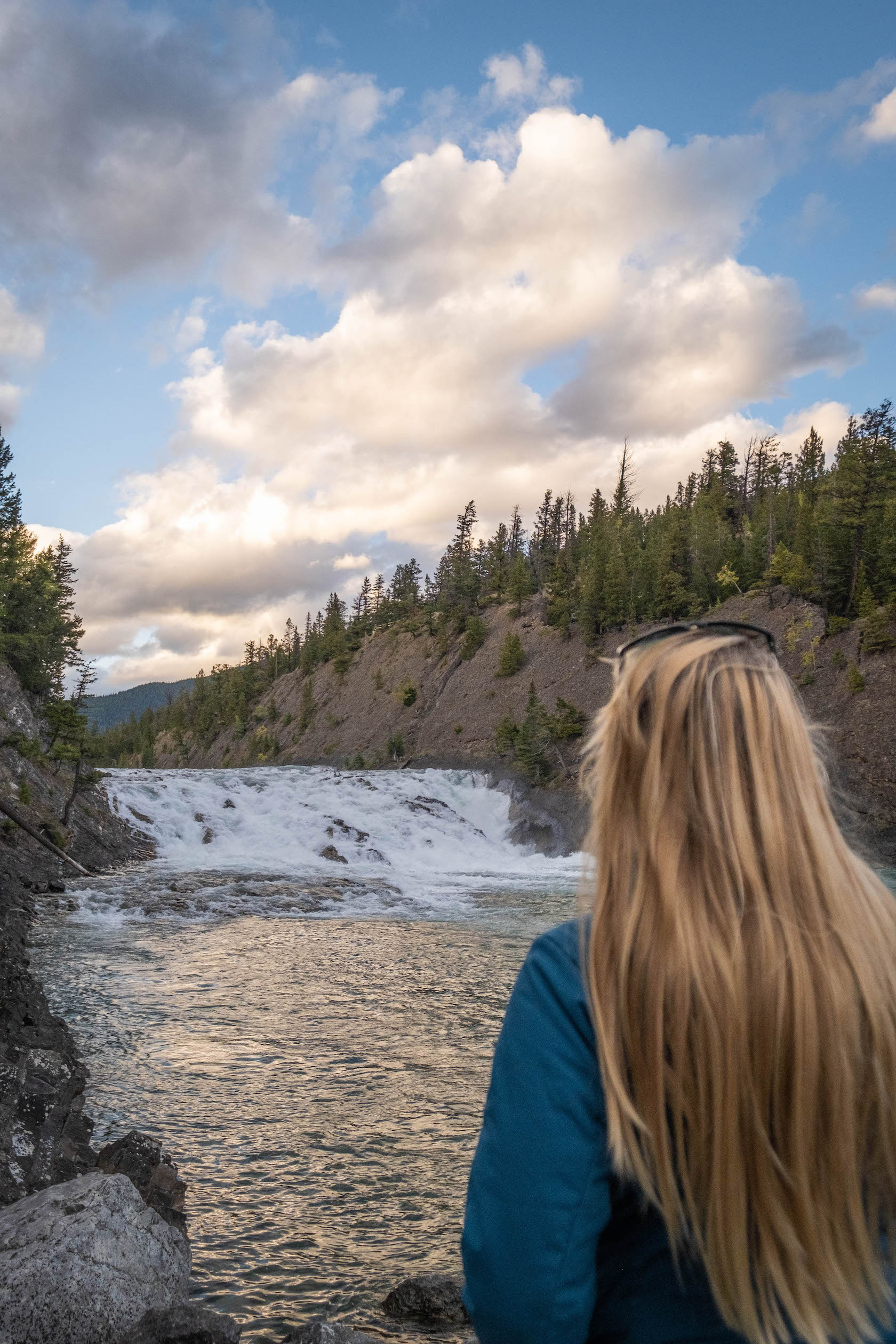 Bow Falls are a must-see waterfall when in Banff. They are only a short walk away from the town and take you into magnificent nature. They are fantastic in the summer, but I personally love visiting in the winter.
Depending on when in the winter you go to see them, they may be frozen, but we've been lucky and seen the beauty of them half in ice and half water. There are nice walkways for visitors so they can view safely.
Be warned it's one of the most popular things to do near Banff downtown, so there can be quite the crowd here. Regardless, it's a fantastic Banff family activity to enjoy!
---
Lake Minnewanka Loop Rd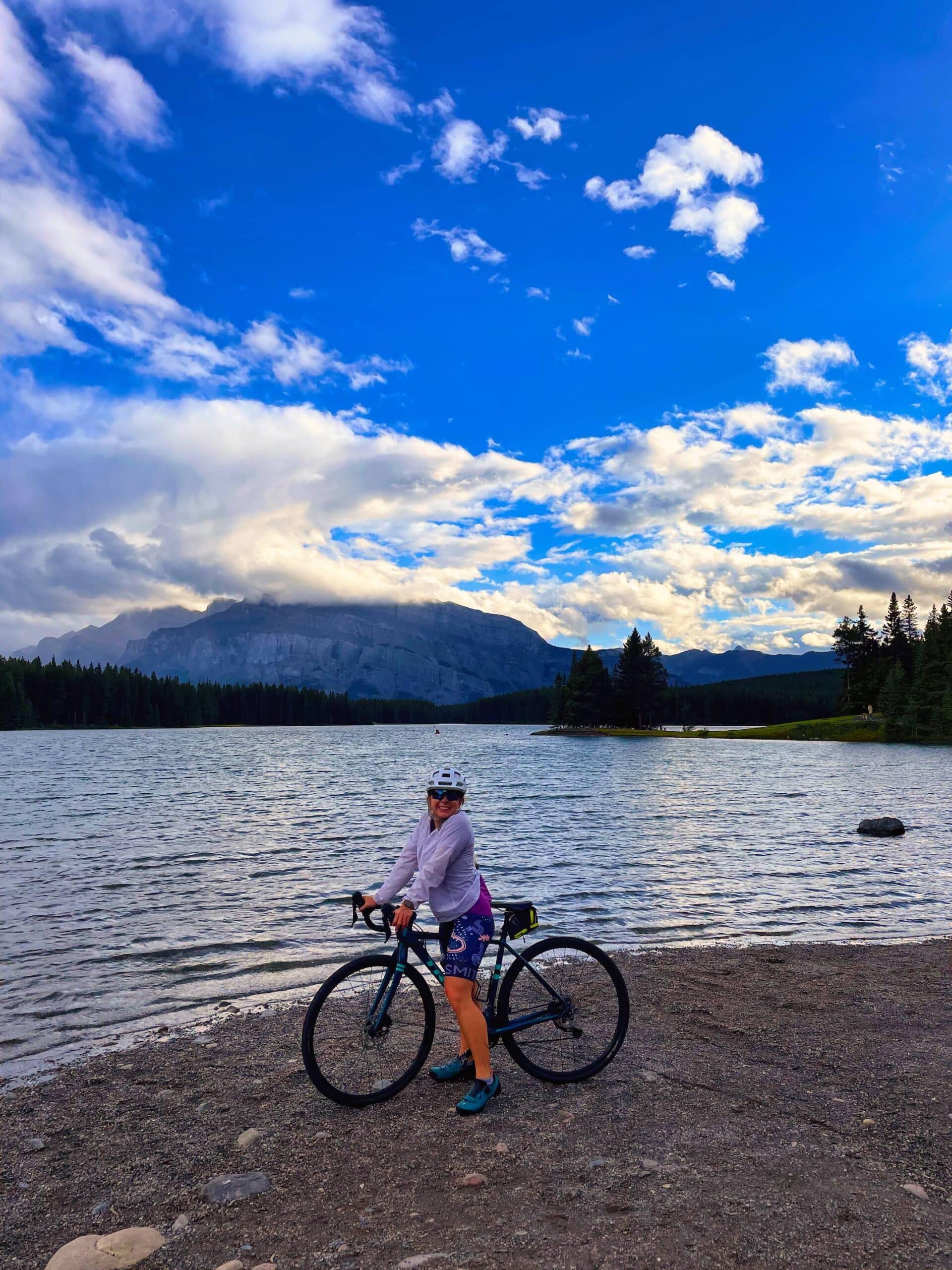 I've mentioned Lake Minnewanka, Two Jack Lake, Johnson Lake, and Cascade Ponds throughout this list of things to do in Banff. You can visit them all at different times, but it's best to plan for a half day out driving the Lake Minnewanka Loop Rd and checking them out one after the other. You can drive the road, or cycle the loop if you are up for a bit of uphill biking!
---
Ski/Snowboard Big Mountain Terrain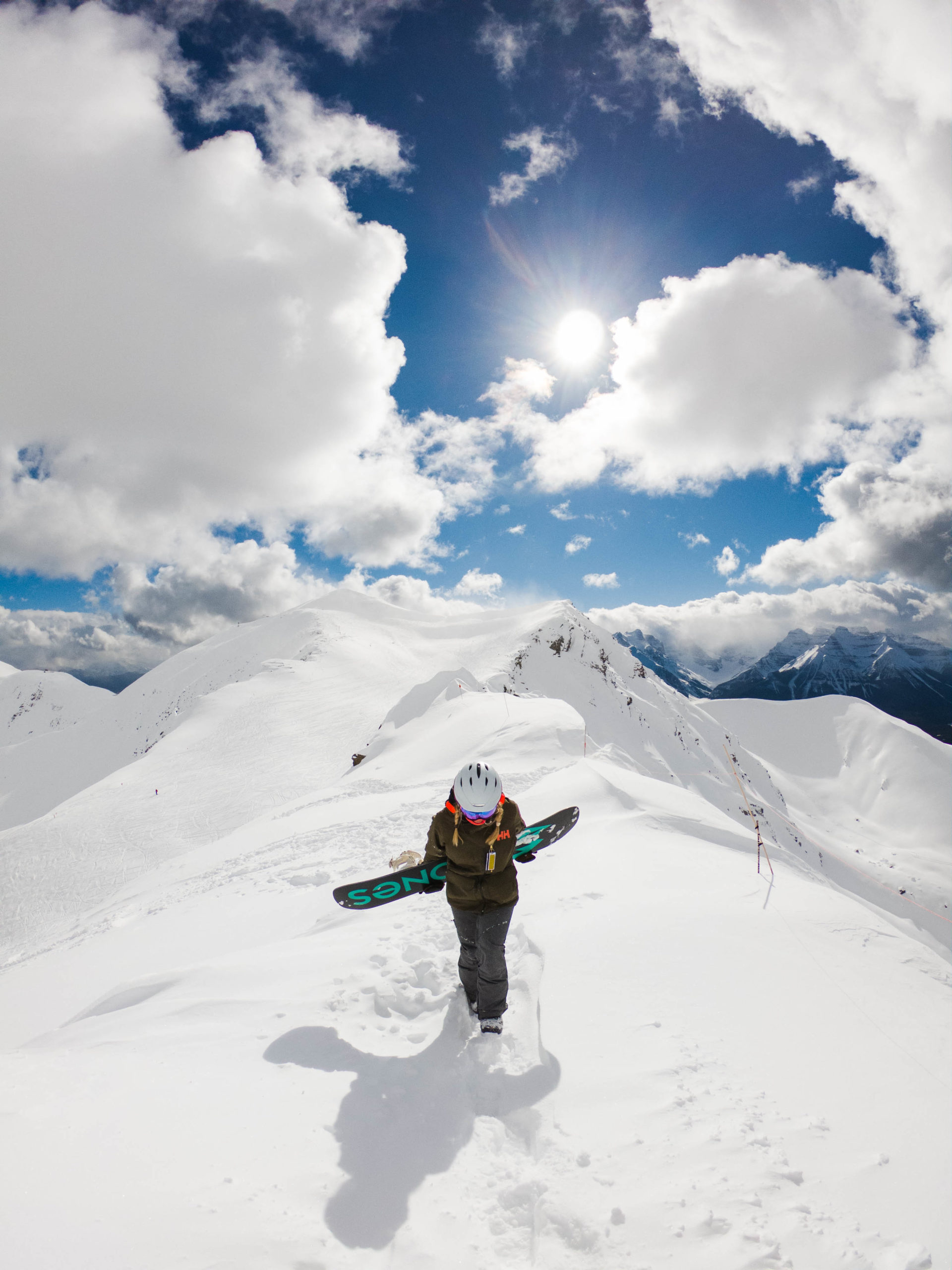 The ski culture in North America has its roots in the Canadian Rockies, with Skoki Lodge, the first ski hut in North America located here.
Now there are three ski resorts in the Banff National Park and one in the neighboring Provincial Park, Kananaskis, along with a bunch of other great mountains within a couple hours' drive. The region has it all in terms of ski – whether that's a groomer, big mountain resort, backcountry, and even heli-skiing.
The resorts within the park comprise a group called the SkiBig3. You have Lake Louise, Banff Sunshine Village, and Mt. Norquay, which are all great ski resorts.
Skiing or snowboarding here is one of the best things to do in Banff in the winter. You also have one of the longest seasons in North America, with chairs spinning from November to May.
---
Banff Sunshine Village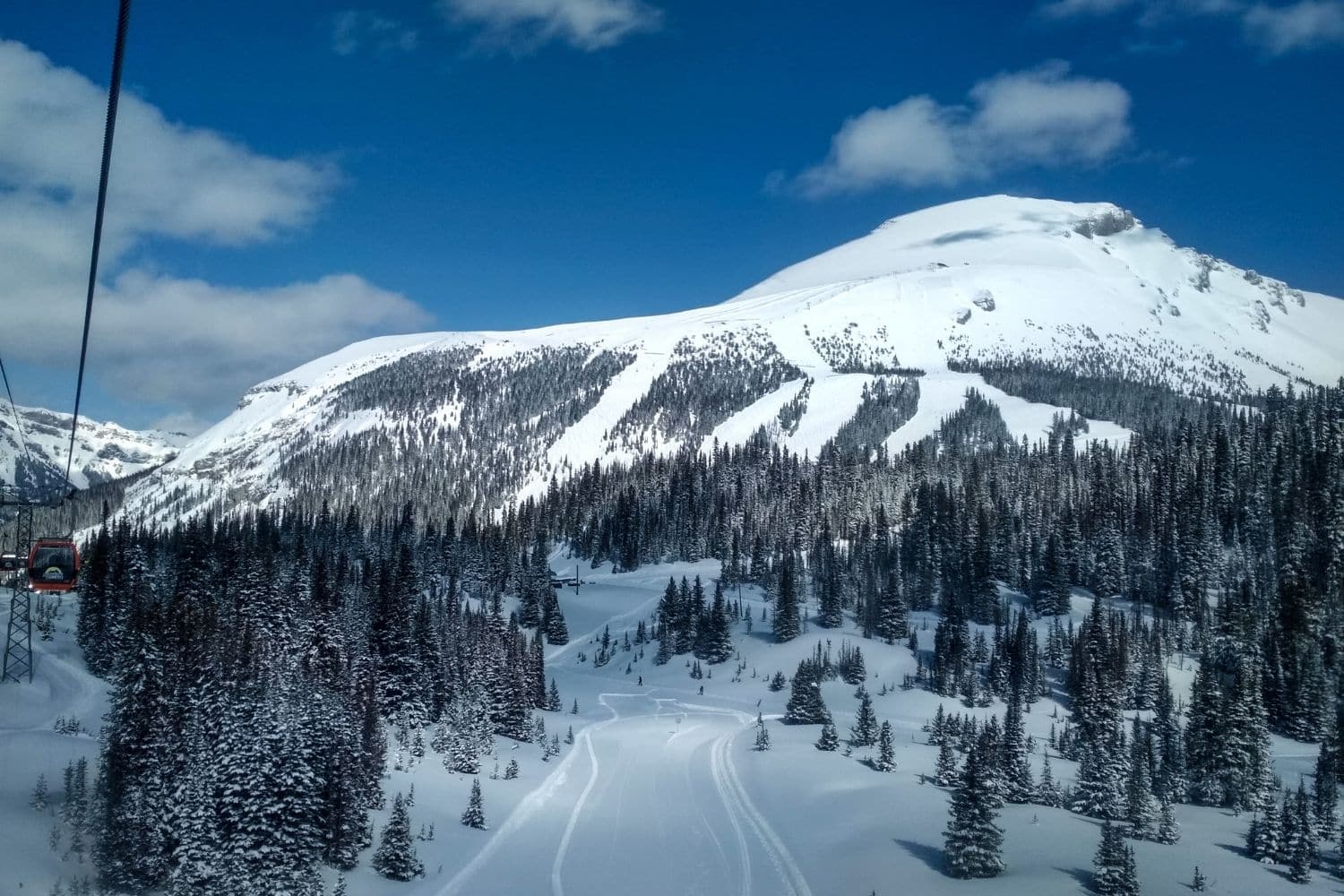 Banff Sunshine is a mountain that truly offers something to everyone, from professionals right down to beginners. You can easily find yourself smack dab in freeride terrain that would be considered out-of-bounds in other resorts. If you want to find a mountain with some seriously humbling terrain in-bounds, then Banff Sunshine is the place to head.
When you first arrive in the parking lot, the mountain does not look like much as the base is simply a gondola station and one restaurant. In fact, to reach the true resort base guests must take a 15-minute gondola that delivers them into a sprawling resort that looks like it belongs in the Alps, not North America. It's only a fifteen-minute drive from Banff and generally has great snow conditions.
Banff Sunshine contains two expert-only areas that require all riders and skiers to sign out with the ski patrol and carry an avalanche kit. Delirium Dive and Wild West areas feature massive cliff features, chutes, and some seriously steep terrain. Don't let the expert terrain detract you from visiting the resort as it also has a plethora of groomed beginner and intermediate runs. The resort has something for everyone, and the base area makes for a perfect central point to meet after skiing the surrounding peaks.
Runs/Skiable Terrain: 145 runs • 3,300 acres
Favorite Runs: World Cup Downhill, Bunkers, The Shoulder, Wildside, Rolling Thunder, Tin Can Alley
---
Lake Louise Ski Resort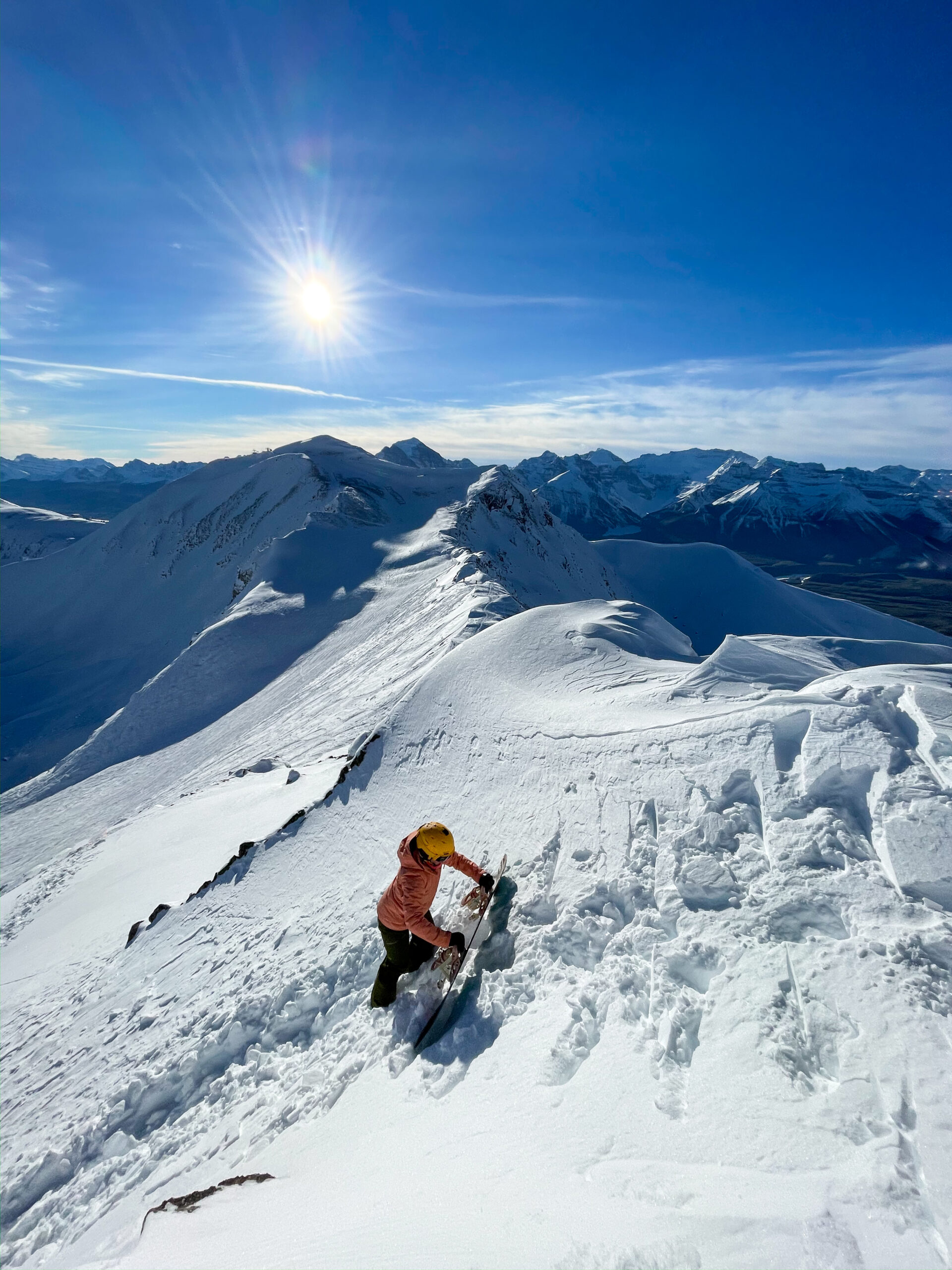 There is arguably no ski resort in the world with a better view than Lake Louise Ski Resort. In between runs screaming down groomers or tackling a big mountain bowl Banff National Park provides you with fresh air and stunning landscapes. We have visited ski resorts worldwide, and the views from Lake Louise are hands down the best. Lake Louise is what we consider our home mountain, and we've skied almost every inch of it.
It also happens to be one of the largest ski resorts in North America, with 4,200 acres covering four mountain faces. They also have plans and approval from Canada Parks to expand, so we'll see what the future holds. The terrain at Lake Louise varies between beautiful groomers, challenging steeps, and expert-level chutes. The longest run here stretches for nearly five miles so start working out your leg muscles now.
The big difference between Lake Louise and Sunshine Village is the layout. Lake Louise is easy to navigate with longer runs, and the views are way better. The downside of Lake Louise is it's forty minutes from Banff.
Runs/Skiable Terrain: 145 • 4,200 acres
Favorite Runs: Jerry's Jungle, Pika, Eagle Flight, Upper Boomerang, Swedes, Brown Shirt First
---
Mt. Norquay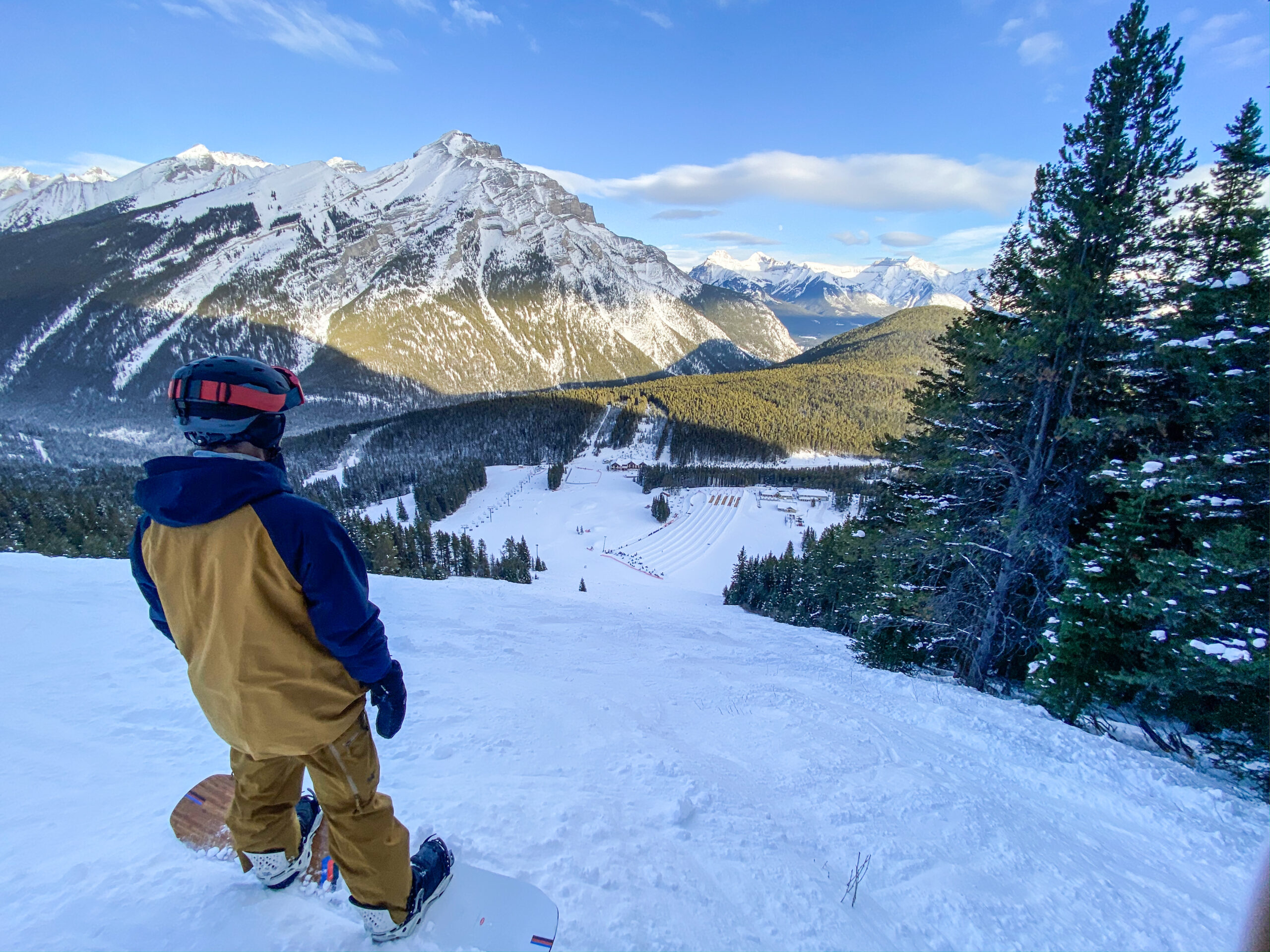 Mt Norquay is the most digestible of resorts here and the least imposing for beginners/intermediates. It's only a 10-minute drive from the town of Banff, making it a great option to go get some runs in and still have time in town.
The resort has been in operation since 1926 and offers many activities asides from snowboard and ski. It's also the only mountain that offers night skiing in the area and is relatively small in comparison to the other resorts of SkiBig3.
While Lake Louise and Banff Sunshine can draw a decent crowd (still few lines) Mt. Norquay is a quiet mountain. You'll have a hard time finding crowds here, and it's the perfect place to learn how to ski with a good ski school and affordable lift ticket. They also offer snowshoe hikes, tubing, and child care. The biggest plus to Mt. Norquay for us is the proximity to the town of Banff, only a 10-minute drive.
However, truthfully we like to consider it the ugly cousin to the other two ski resorts. The terrain is limited, and its aspect towards the sun often results in icy runs that aren't fun. That being said, they have a well-known ski school that has been teaching people to ski people for decades. It's also a lot cheaper than Lake Louise or Banff Sunshine Village.
Runs/Skiable Terrain: 60 • 72 acres
Favorite Runs: Constellation, Norquay 90 Glades, and Lone Pine.
---
Go Dog Sledding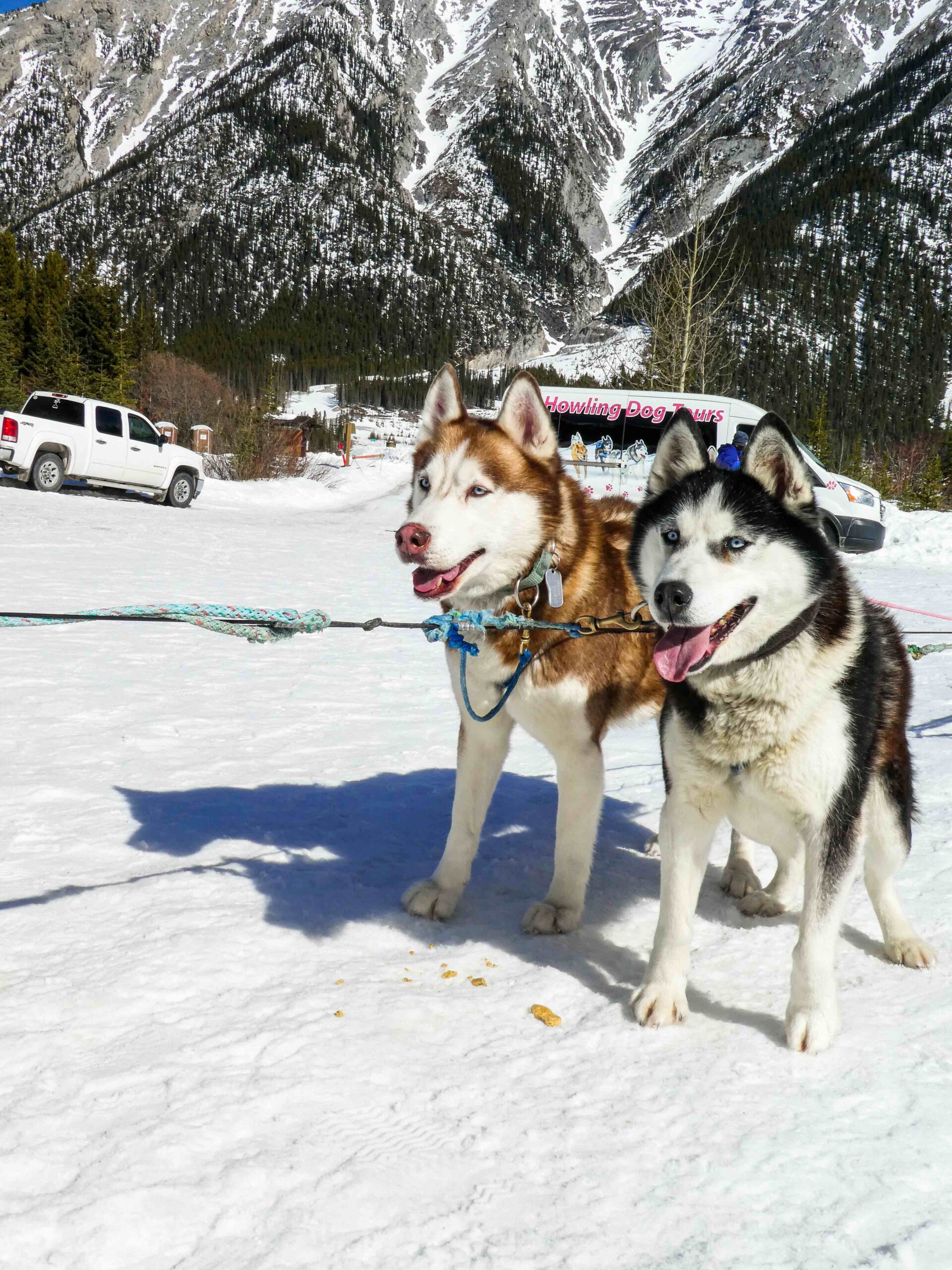 Kingmik Dog Sled Tours runs dog sledding adventures at Lake Louise and Howling Dog Tours runs them in Canmore. We've dog sledded five separate times around the world, and it's always an amazing experience.
What I particularly love is how quiet the ride is, with only the sound of the dog team's steps against the snow.
---
Find the Hidden Box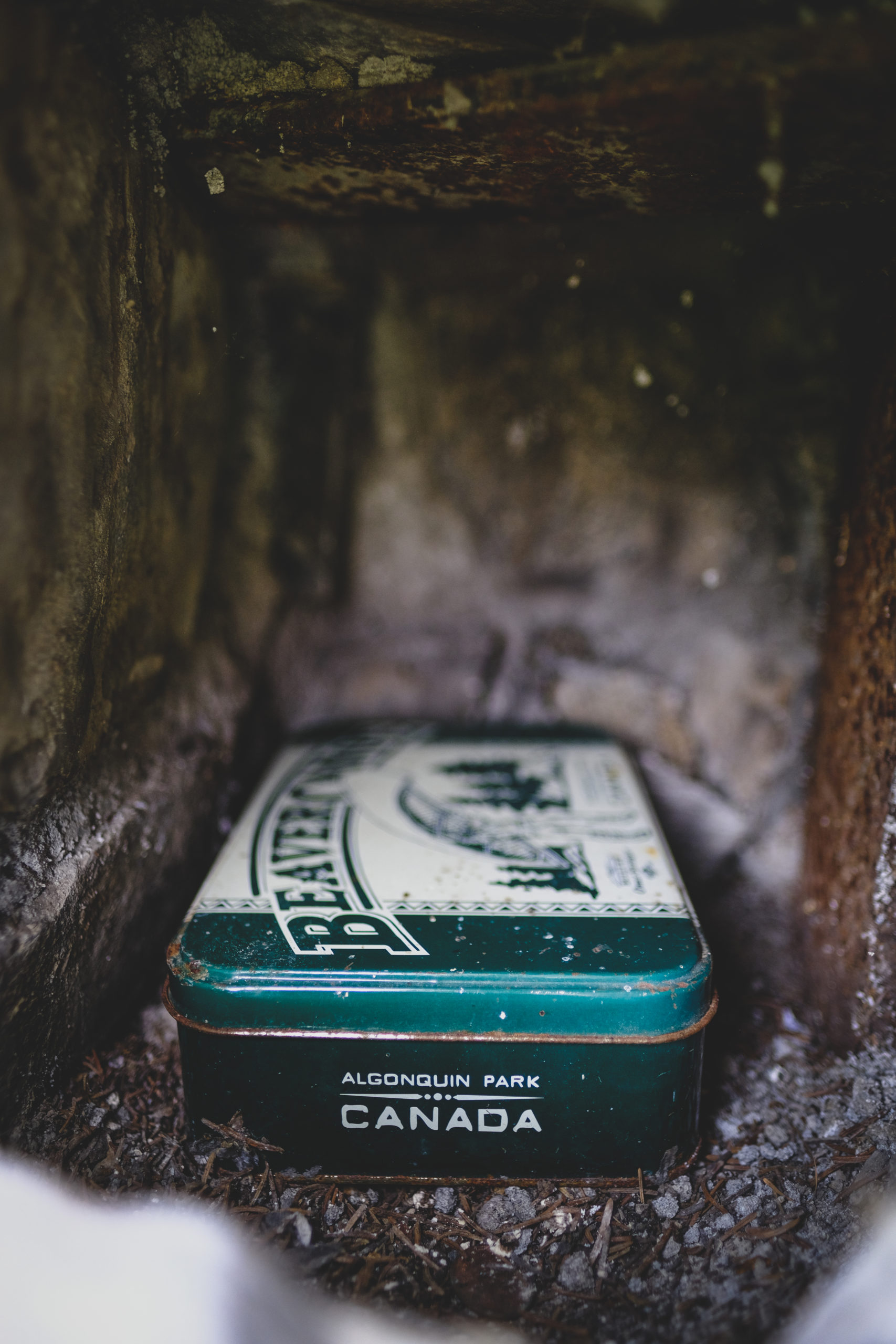 If you're up for one of those interesting Banff activities that requires a bit of a treasure hunt, this one is for you. This is a secret most locals don't even know about, but somewhere in Banff near the Cascade Gardens lies an old cigar tin from the 1950s.
It now holds a number of postcards and handwritten notes. Sorry we swore absolute secrecy about the location with our Parks Canada friends, so we won't be giving any hints away. Good luck!
---
Relax in Nature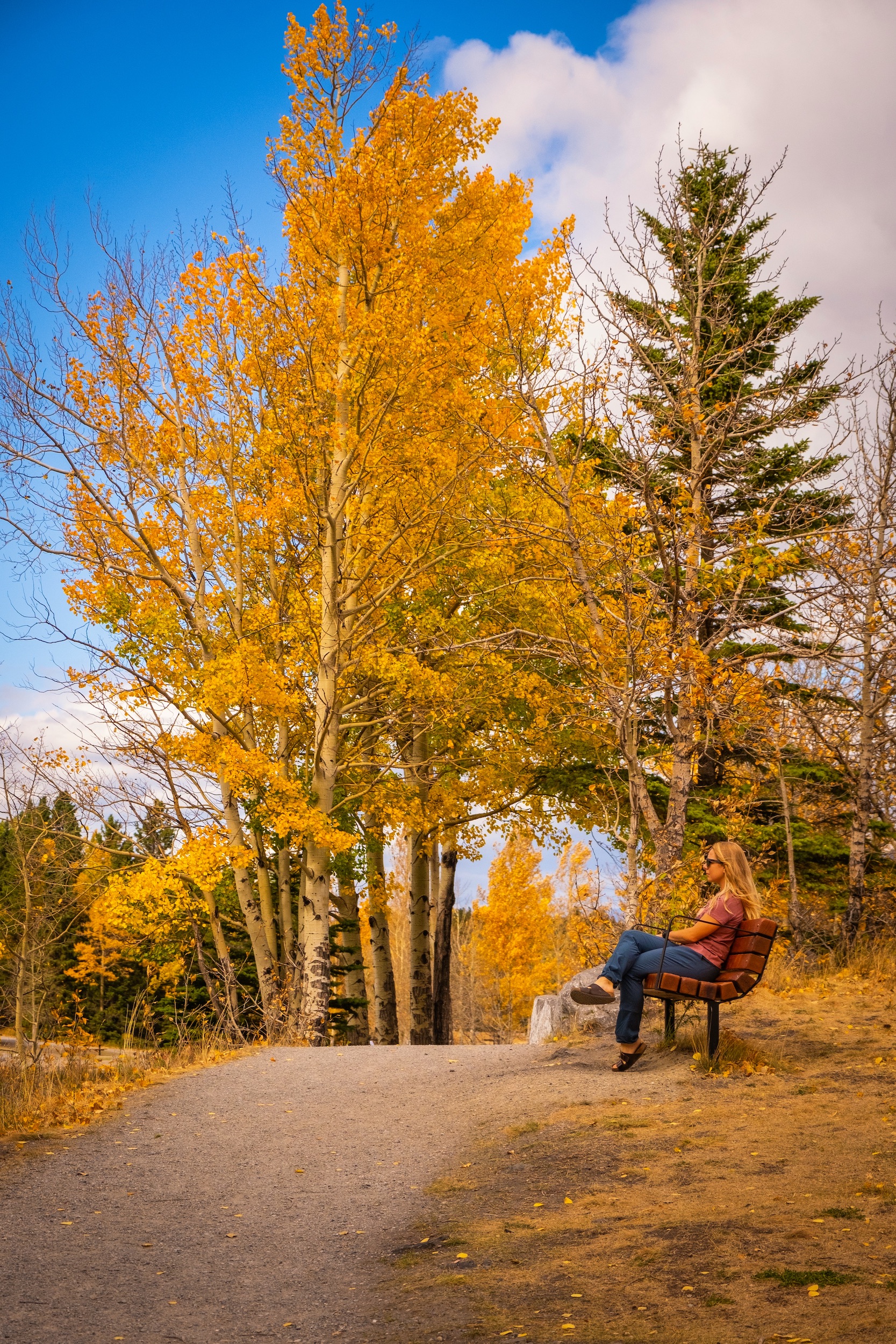 We have an addiction to the post excitement high we receive in the mountains. After flying down a mountain on our snowboard or a hike, nothing beats the feeling of calming our nerves in nature. There are countless ways you can relax, whether it be by a hot tub, on a bench, by a fire, or watching the sunset over the frost-tipped mountains.
Just kick back with the one you love and let the calming effect of Banff National Park wash over you. Some of my favorite places to just relax are Quarry Lake, the Vermilion Lakes docks, Cascade Ponds, and Castle Junction.
---
Cross Into Yoho National Park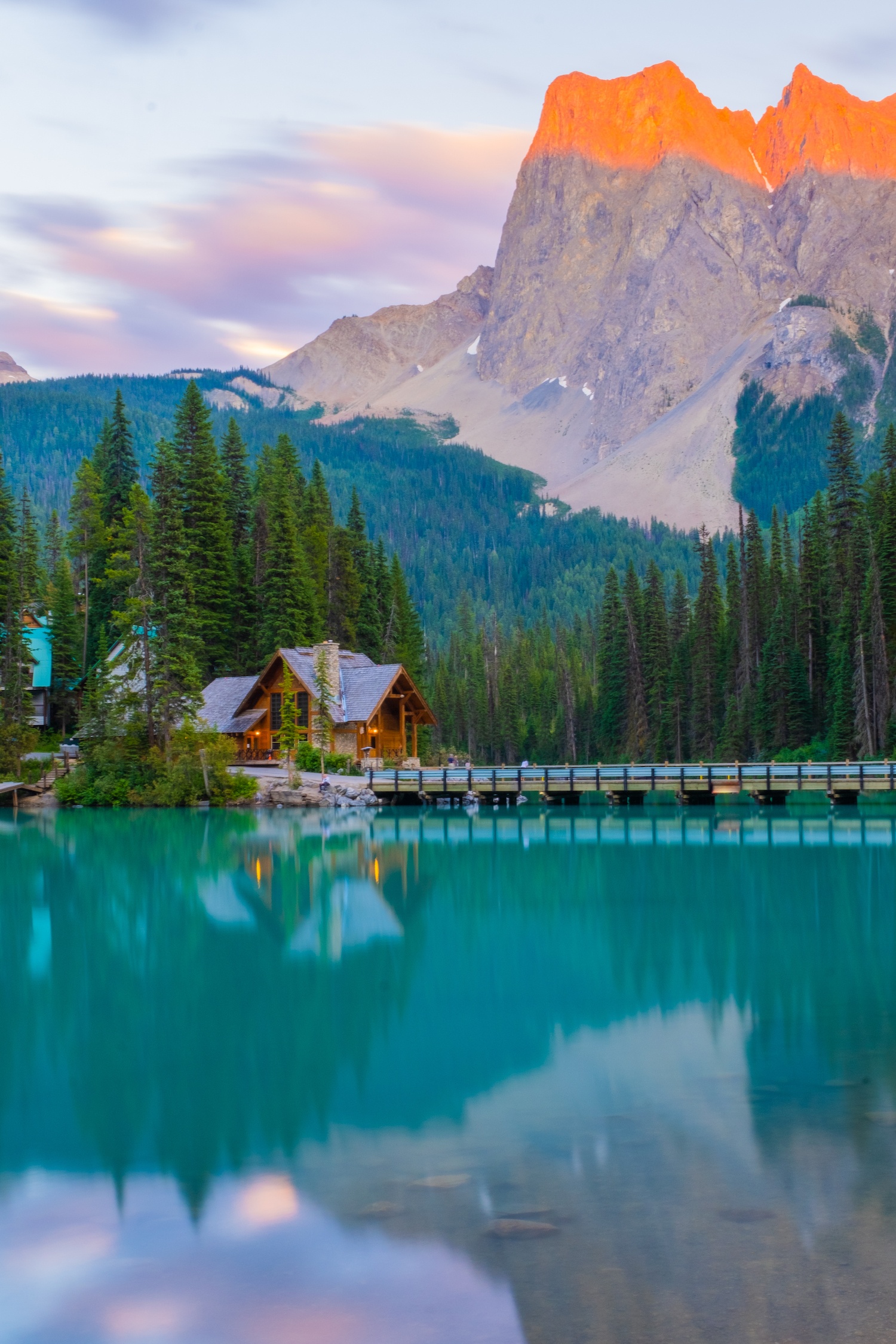 Yoho National Park is the much less heard about sister to Banff National Park. Less than an hour's drive from the Town of Banff will bring you to this beautiful park in British Columbia.
Home to sites like the magnificent Takakkaw Falls, Wapta Falls, and Emerald Lake, Yoho definitely deserves a few days of exploration. This might not technically be one of the best things to do in Banff National Park, but given it's so close, you should put it on your list! If you are looking for an epic hike in Yoho, don't miss the Iceline Trail!
---
Ice Skate on the Frozen Lakes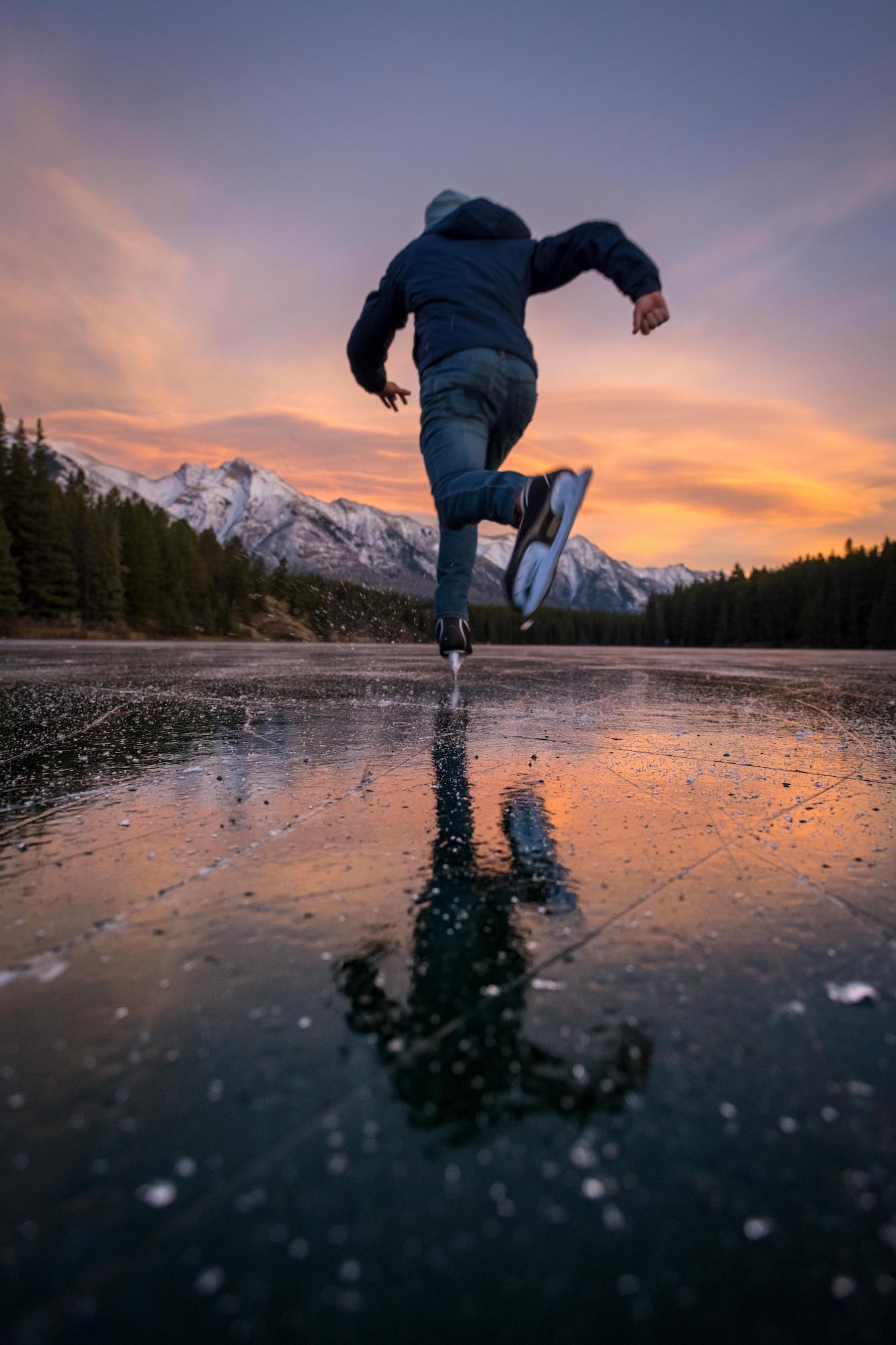 Ice skating in Banff is a highlight for not just visitors to Banff but those that live in the Bow Valley. The Canadian Rockies have some of the best wild skating in the world! When the lakes freeze here, they create some of the world's most beautiful ice rinks. Imagine skating on clear ice among all these giant mountains.
We chase the ice during the months of November and December when the lakes freeze, but the snow hasn't fallen quite yet. Some of the best lakes to ice skate on in Banff are Lake Minnewanka, Johnson Lake, and Lake Louise, but there are plenty of others! See our favorite spots in ice skate in the Canadian Rockies here.
If you're visiting Banff in the winter, don't miss ice skating, it's seriously one of the best things to do in Banff, Canada.
---
Head to Canmore!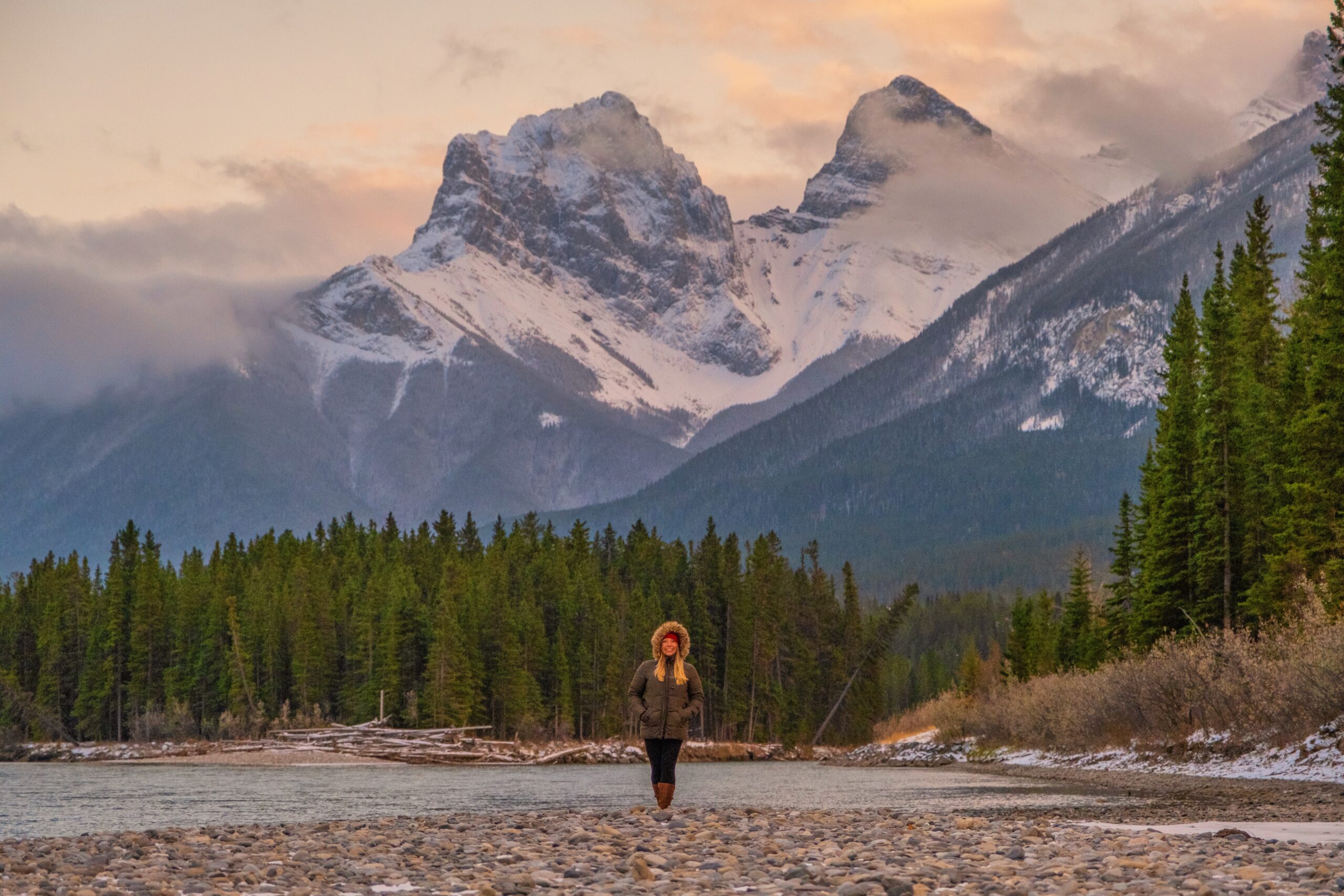 Okay, this isn't really a thing to do in Banff, as Canmore is a 15-minute drive away. We may be biased to our home base, but we think Canmore is the bee's knees. It's also where we spend a lot of our time in the Canadian Rockies.
Canmore is another mountain town just outside of Banff National Park. It's not nearly as touristy or popular as Banff, making it much more enjoyable.
You can walk down the main street here without fighting through crowds, and there are plenty of great restaurants, bars, and shops to venture into. The views are just as amazing as well. Make sure to check out The Three Sisters!
---
Spend a Winter in Banff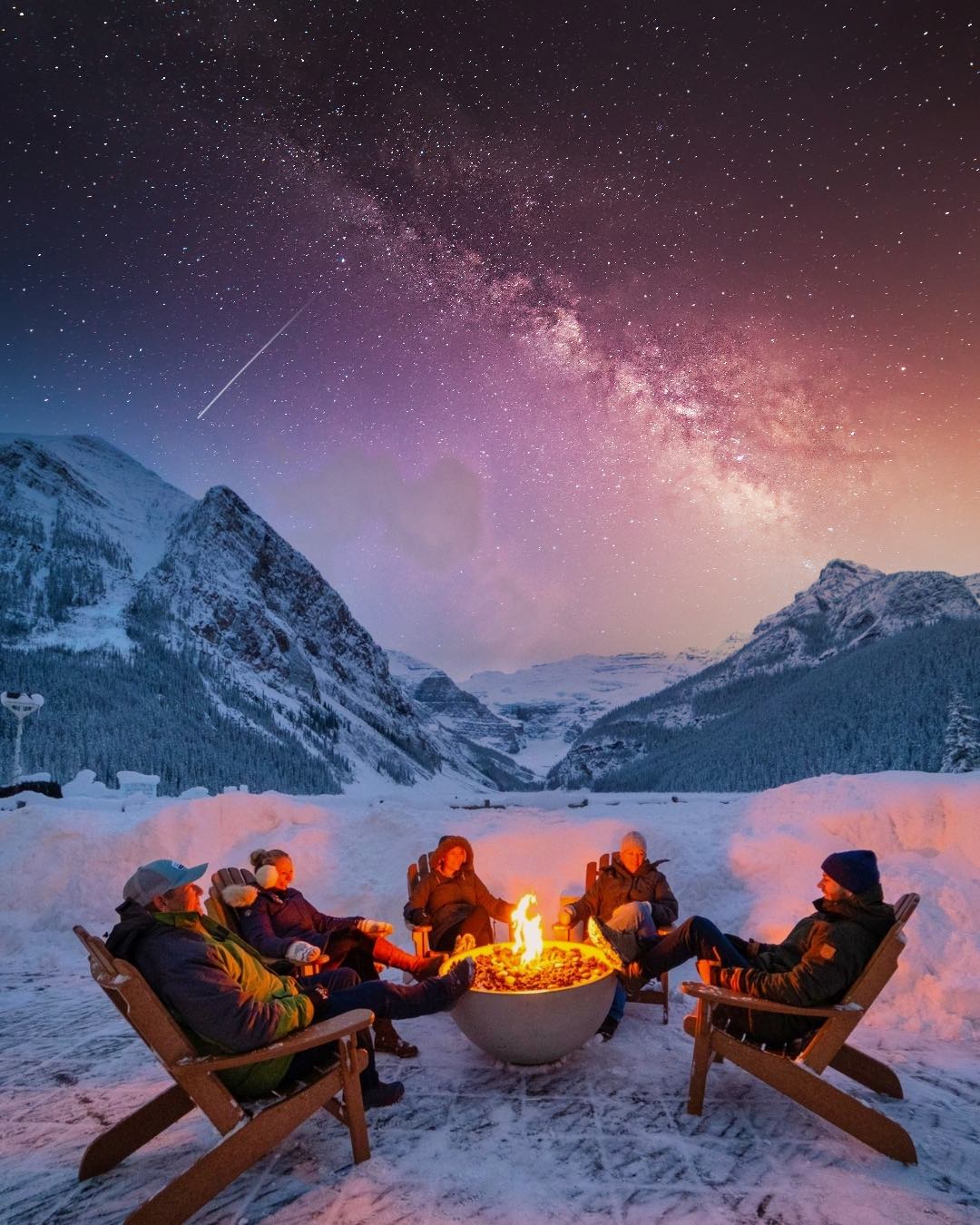 Banff is not just great in the summer but perfect for an entire winter vacation, especially around Christmas. Seriously, it's a winter wonderland here come November and December, and the winter will last well into April, and even May.
---
Our Favorite Tours and Excursions in Banff
---
What to do in Banff When it Rains (or is Smoky)?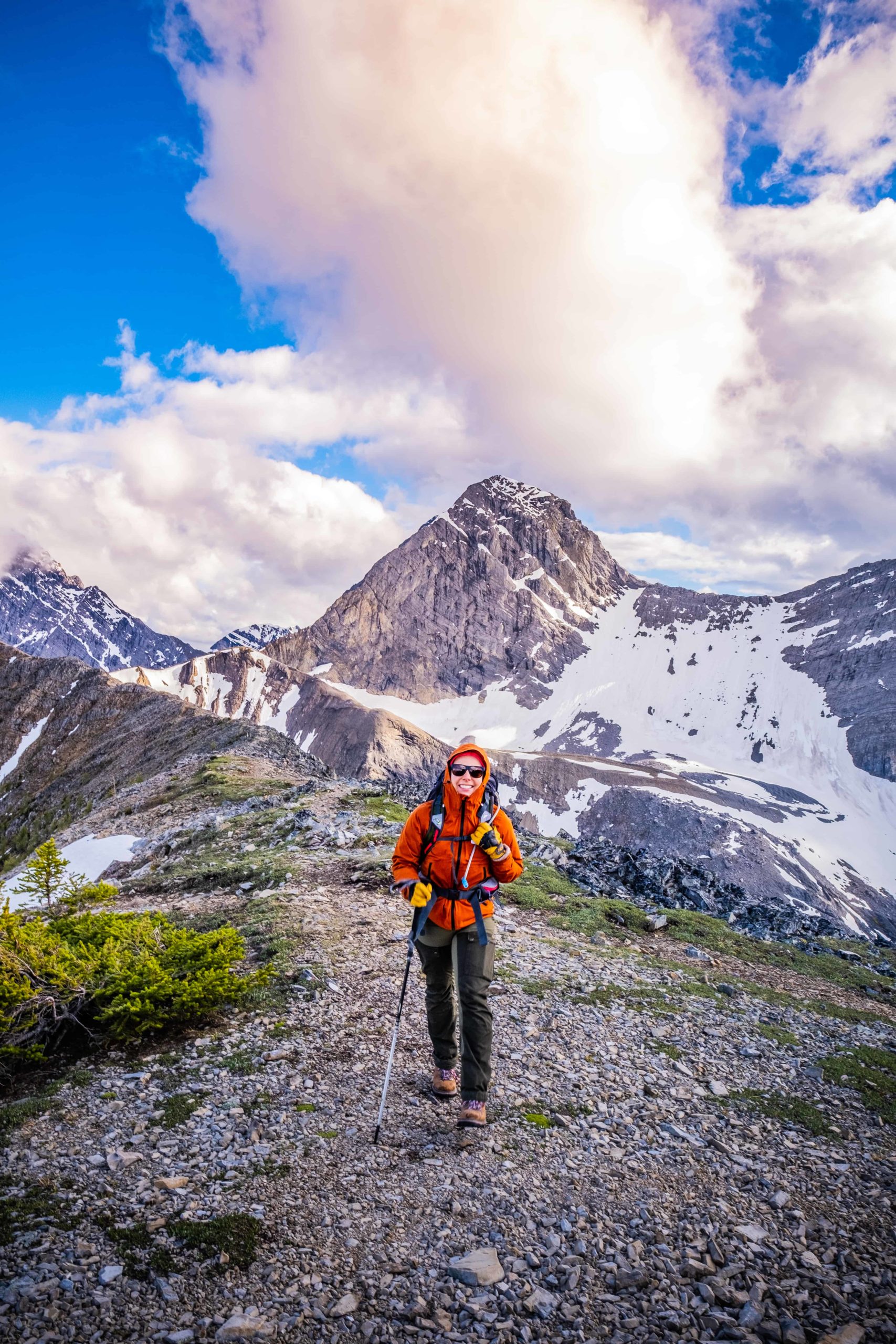 First off, I would not let the rain deter you from doing things in Banff. You are in the mountains and should prepare for all types of weather. If it's just drizzling or sprinkling, you can probably expect it to not last forever. You can get four seasons in Banff in just one day.
Also the weatherman never quite gets it right here in the mountains, so if that Apple Weather app shows you it's going to rain the entire time on your trip, don't fret too much as it's often not very accurate.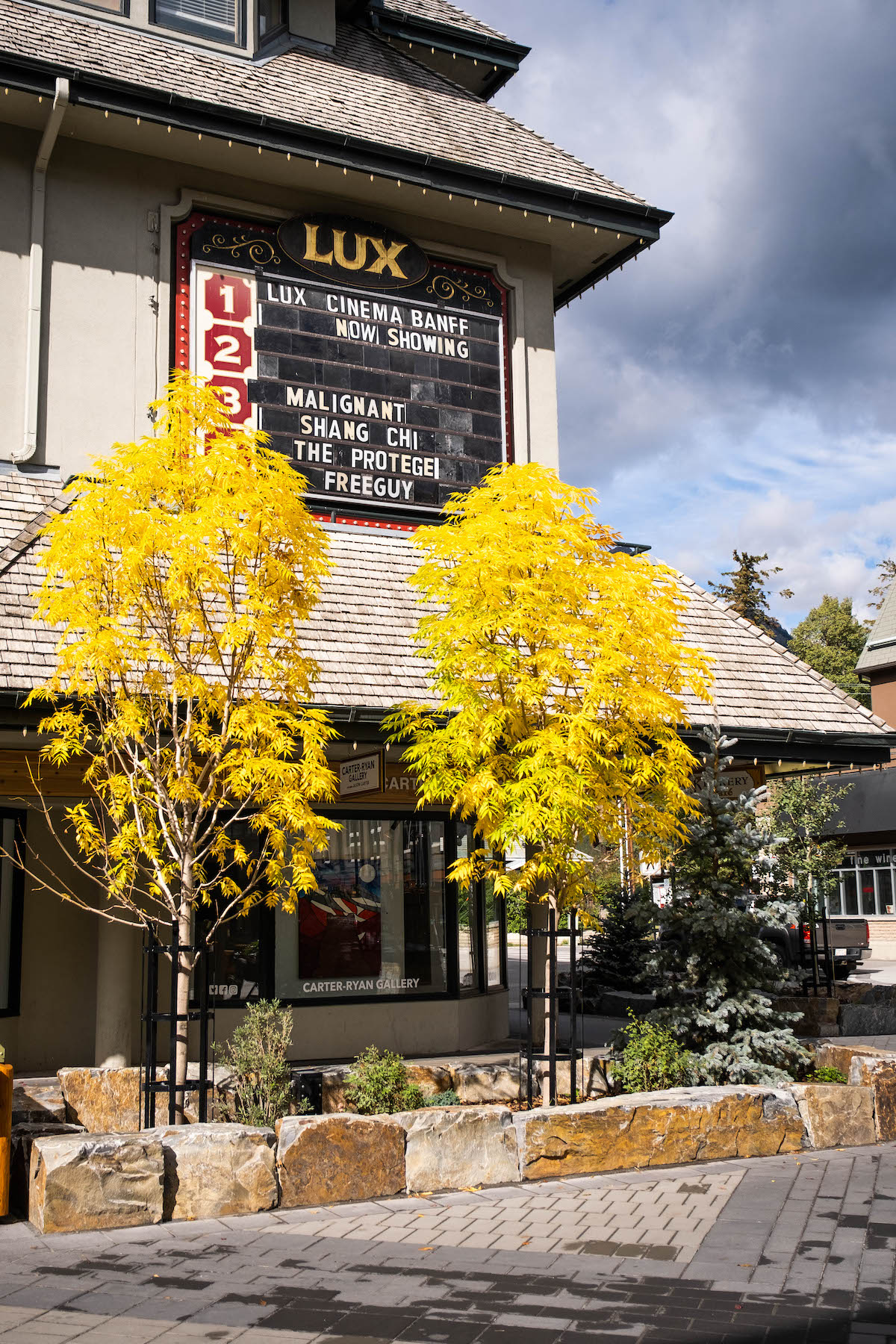 However, if it's absolutely pouring in Banff, I understand not wanting to be outside! If there have been wildfires in the area, it's totally understandable to not want to adventure too much outside as well as the smoke will certainly affect your trip. So these things are great if you're looking for things to do Banff when there is smoke or rain:
---
BANFF ITINERARY
Learn how to put all these things to do in Banff together in our article:
---
Best Things to Do in Banff Map
---
The Best Places to Stay in Banff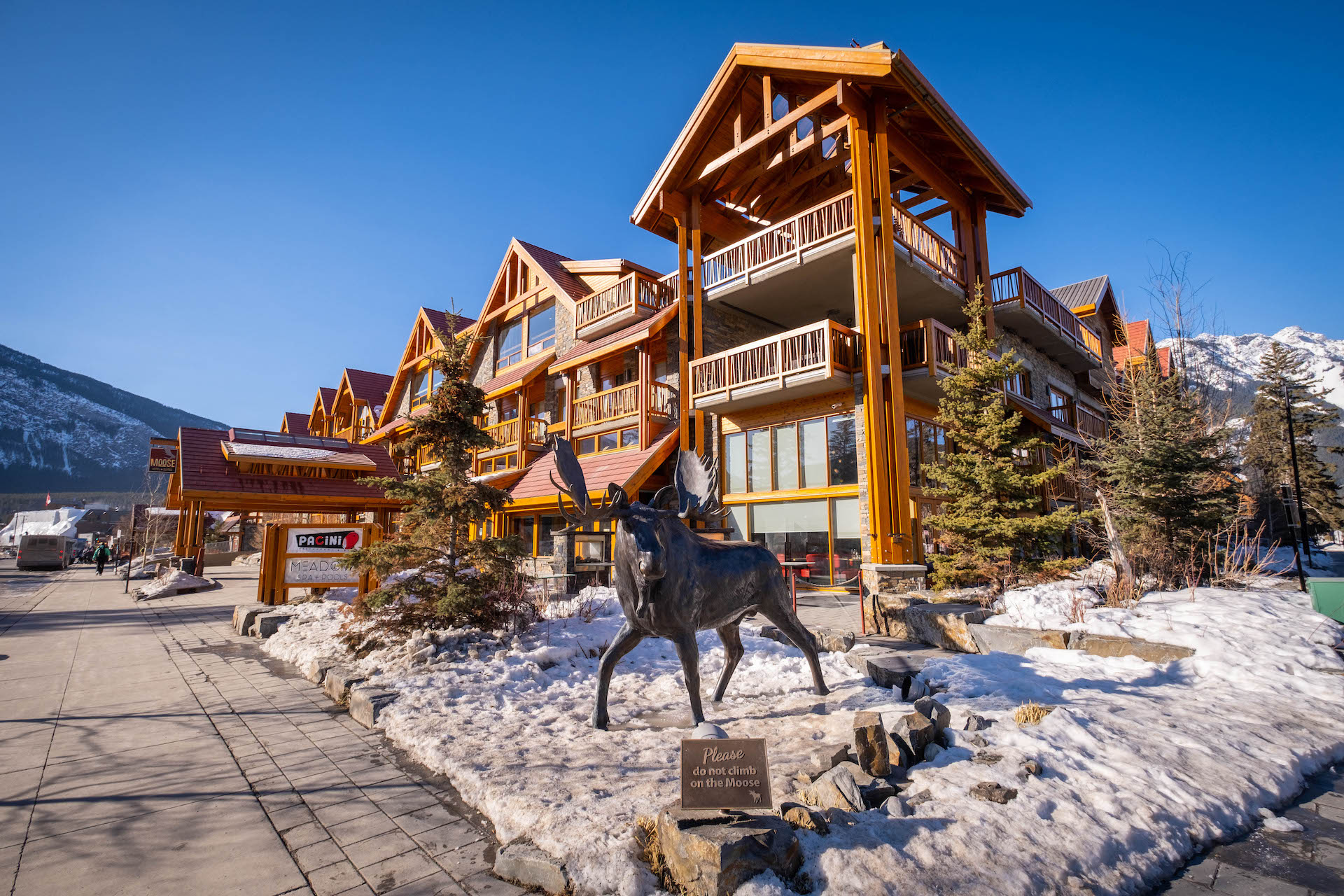 So you've got what to do in Banff covered, now let's talk about accommodation. For a small mountain town, Banff actually has quite a few great places to stay. From luxury to basic, here are our favorite places to stay in Banff.
---
Where Are The Best Places to Eat in Banff?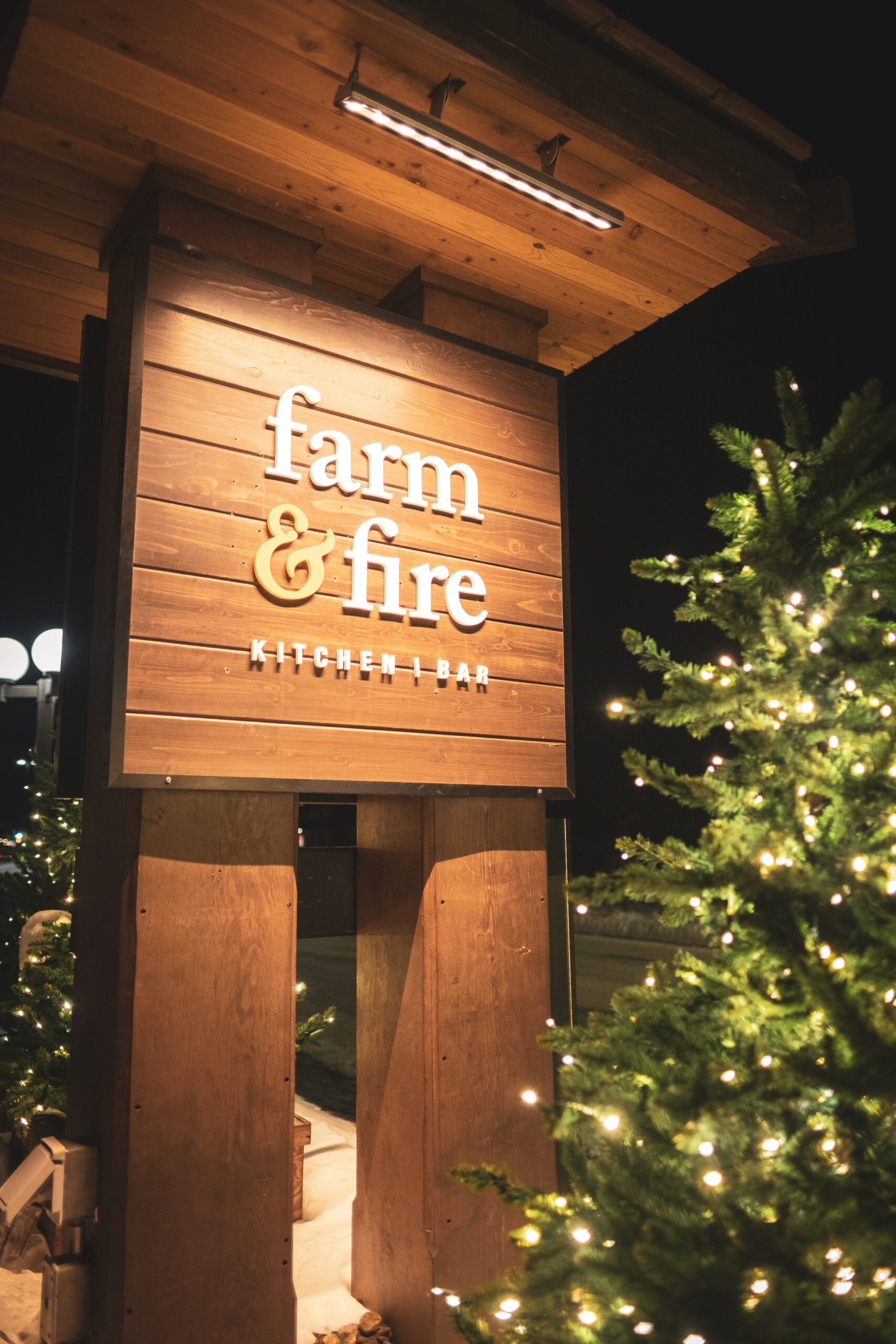 Farm & Fire: Farm & Fire is one of our favorite restaurants in Banff. Located right on Banff Ave, it's an easy place to head on any type of day. Their food is delicious, affordable and all sourced from local Canadian Farmers. No matter what you get here, it's going to be delicious.
The Bison: Our favorite restaurant in Banff with a great atmosphere and high-quality farm to table food. They have a seasonal menu and won several national awards in Canada for exceptional service. It's well known as the best spot in Banff for brunch on Sundays. The menu is more varied than several other restaurants in Banff with a wide range of options like vegan or vegetarian.
Eden: Experience fine dining with incredible views at Eden in the Rimrock Hotel. The restaurant serves up some of the best food in the province let alone Banff, as it is the only Five-Diamond Restaurant in all of Western Canada. The modern French restaurant serves up playful and delicious dishes that leave a lasting impact much like the views.
Magpie & Stump: This is a local hotspot and serves up delicious Mexican dishes. Mexican food has long been my favorite cuisines so they get the nod for my favorite restaurant in Banff. The interior is rustic and you get a Mexicana cantina vibe the moment you set foot inside. Order a hearty burrito and pair it with a Cerveza for a tasty apres-ski or snowshoe meal.
---
A Few Banff Travel Tips To Know Before You Visit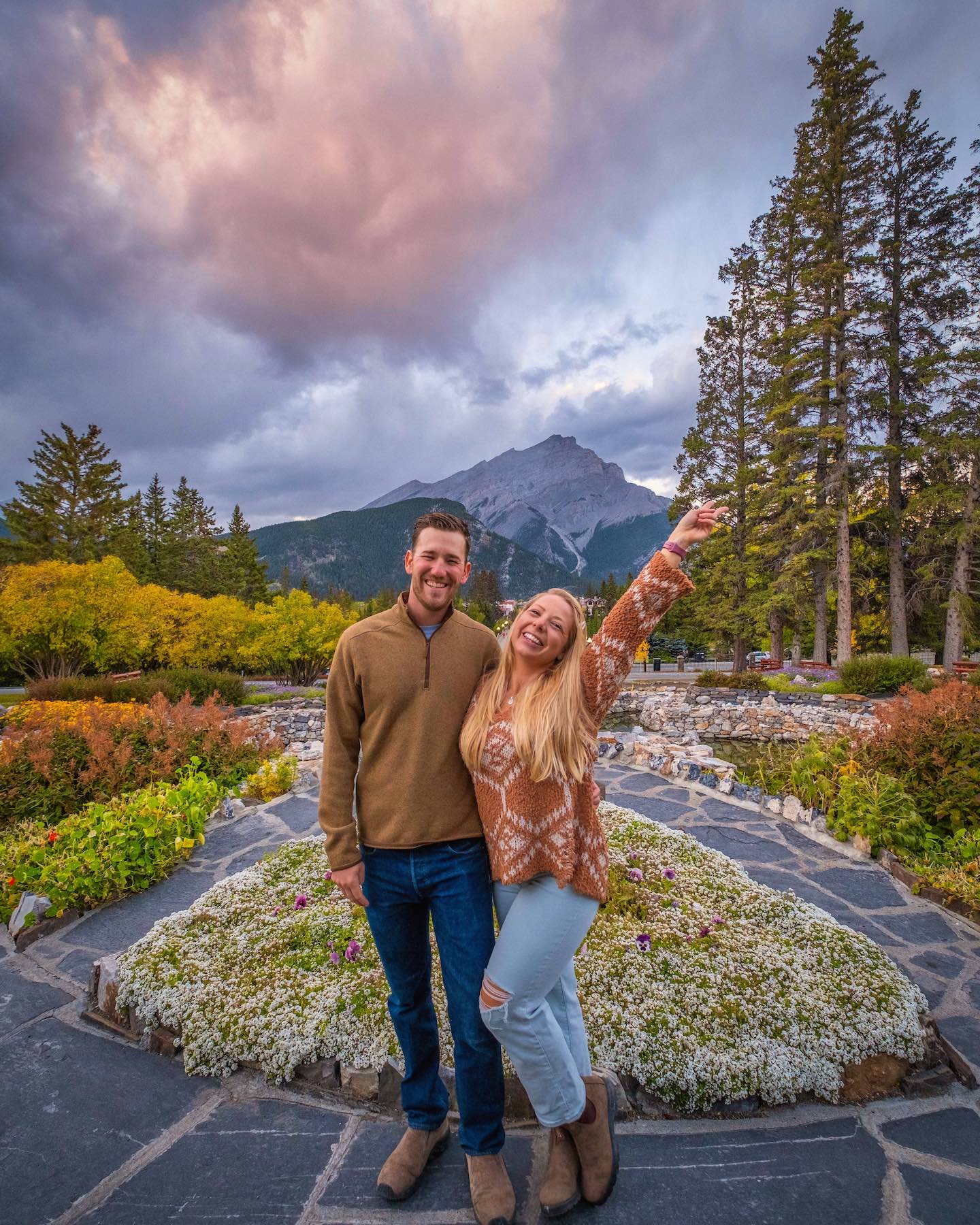 If you plan to do any hiking (including the hikes mentioned on this list), download AllTrails first. Alltrails gives you the latest review of a hike, as well as all the logistical information you may need. If you pay for AllTrails Pro, you'll also be able to download offline trail maps to your phone. It's not the end all be all of the hiking, and it isn't always 100%, but it is a great starter for planning hikes in the Rockies.
It's also suggested to grab a topography map from the outdoor store if you'll be in Banff for a while.
Consider Renting a Car
Being in North America, your options for transport are limited. Most visitors to Banff will rent a car in Calgary as this is the easiest way to get around. Renting a car in Banff ensures that you can get to where you want to go on your own schedule.
Depending on the season of your travel, car rentals in Calgary can be quite affordable. We've rented with Enterprise for less than $35 CAD a day in the winter. However, expect prices to rise significantly during periods of high demand like July and August.
In the winter, it's best to get a car with winter tires, so make sure to check with your car rental agency. If you do decide to drive from Alberta into BC, these winter tires are mandatory! You can see road conditions here, which are super helpful between November and late April.
Check Rental Prices Here!
Dress for the Mountains
If I had a dollar for every time I saw a visitor wearing poor mountain clothes, I would have, like $500. Please come to Banff dressed for mountain weather. That means packable down jackets and hats even in the summer.
The weather here can change at a moment's notice, and you don't want to be underdressed. It's essential to pack layers, thermals, and hiking boots. Yes, hiking boots or shoes. If you plan to go hiking while visiting Banff, please do not show up in Converse shoes.
It will not only make you uncomfortable and look foolish when on a mountain, but it can be potentially dangerous if you attempt a mountain hike you are not prepared for. You can find my entire list of things to pack for Banff here.
---
How Many Days in Banff is Enough?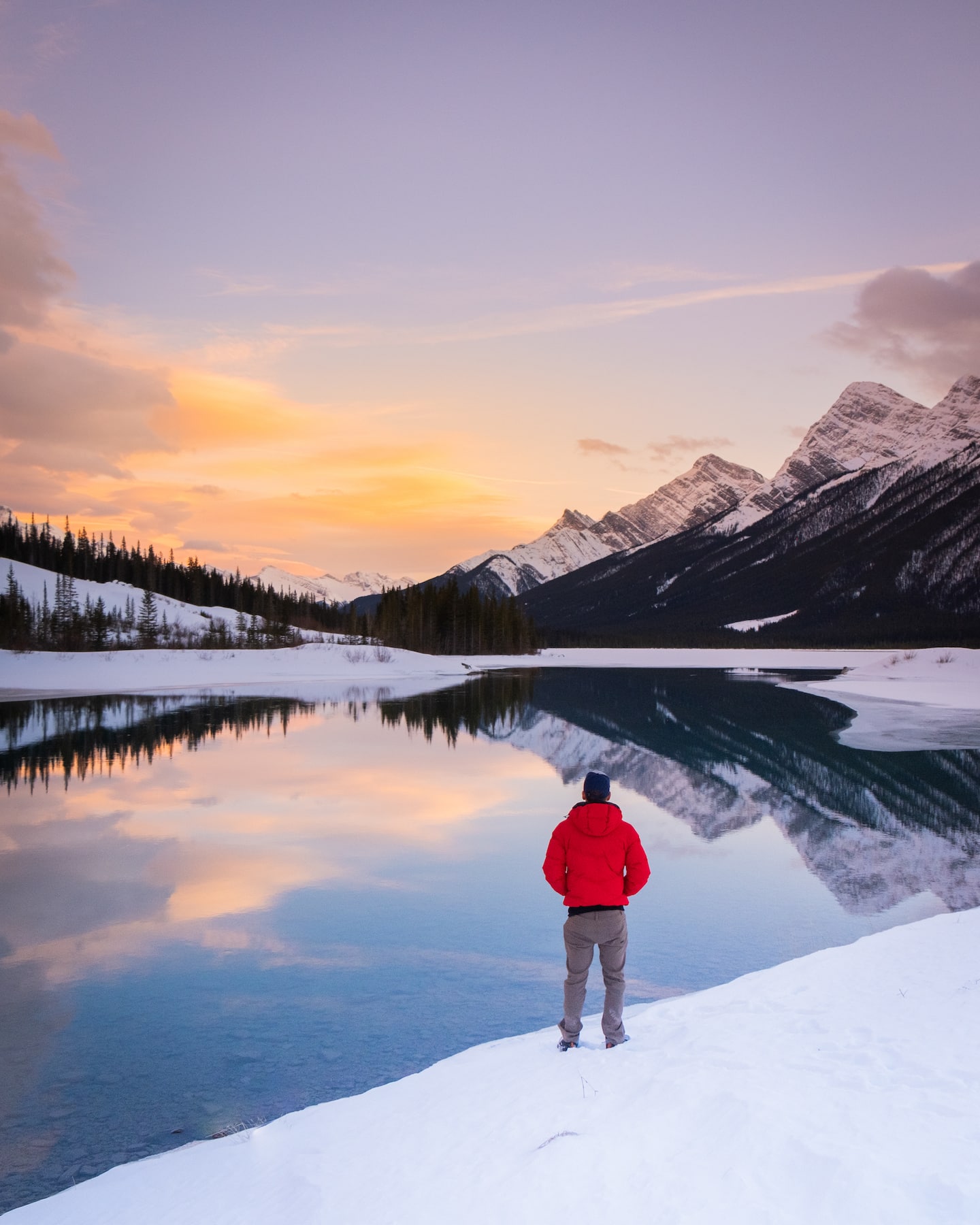 You could spend weeks to months here and never feel like you've had enough time in Banff! But in general, I would say planning at least a week would be an ideal amount of time to spend in Banff. If you have an entire week, that would be the perfect opportunity to see both Banff and Jasper.
With 4-5 days, you'll be able to hit many of the major Banff attractions and even go on a few hikes, though you will 100% leave wanting more.
---
How Much Does it Cost to Go to Banff?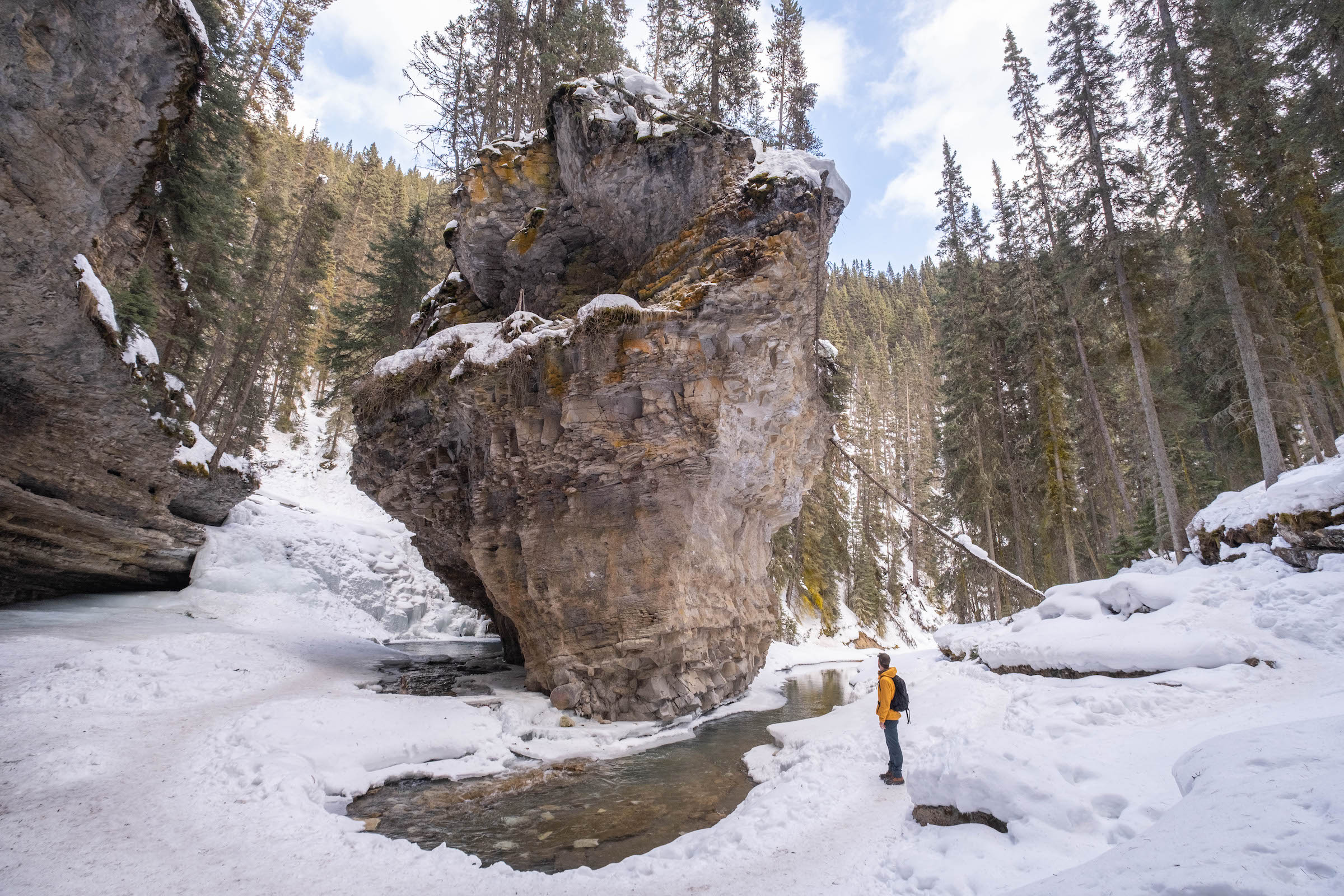 Banff is not a cheap place to visit, and daily costs will vary greatly depending on what type of accommodation you stay in, the food you eat, and the Banff activities you participate in.
However in general, one can expect to easily spend more than $150 CAD per person per day in the summer, and slightly less during the winter months. This is if you're a budget traveler. Of course if you work hard you can spend less, but it definitely won't take much effort to spend a lot more than $150 a person a day. It all depends on your group size, hotel booking, season traveling, restaurant choices, etc.
If you decide to camp, cook all your meals in, and hike instead of taking part in the Banff attractions and tours, you'll be able to save. Additionally, you'll be able to score cheaper rates on accommodation and car rentals if you visit during the shoulder and off-season months (March, April, May, October, and November).
---
Is Banff Better in the Summer or Winter?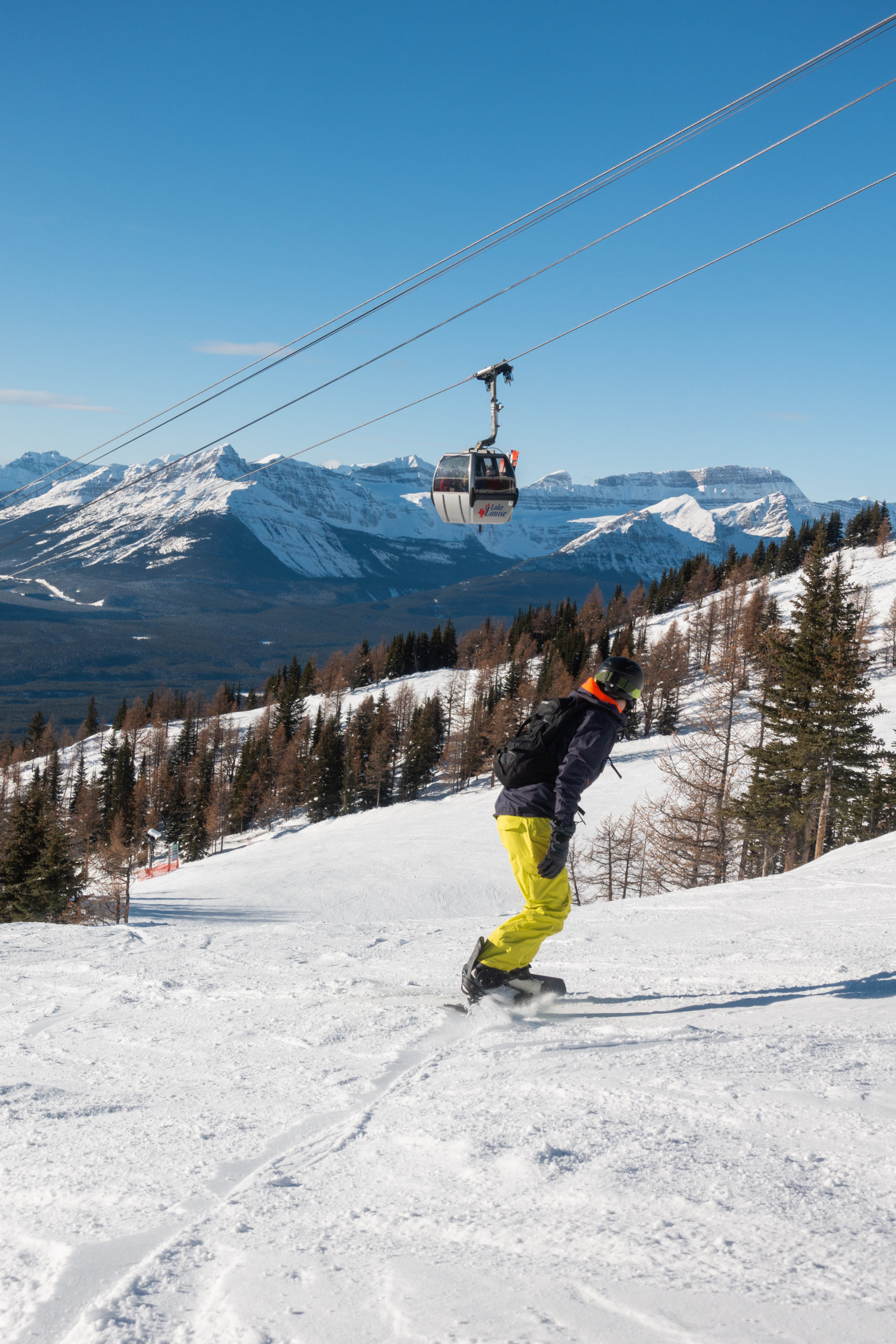 I love Banff during both the summer and winter. Summer in Banff is hard to beat as the views are amazing and hikes are endless.
If you love winter sports, you'll love Banff in the winter. Lake Louise Ski Resort and Banff Sunshine have mind-blowing terrain and exceptional views. There's also great cross country ski trails, ice skating, and snowshoeing opportunities.
---
A Brief History of Banff National Park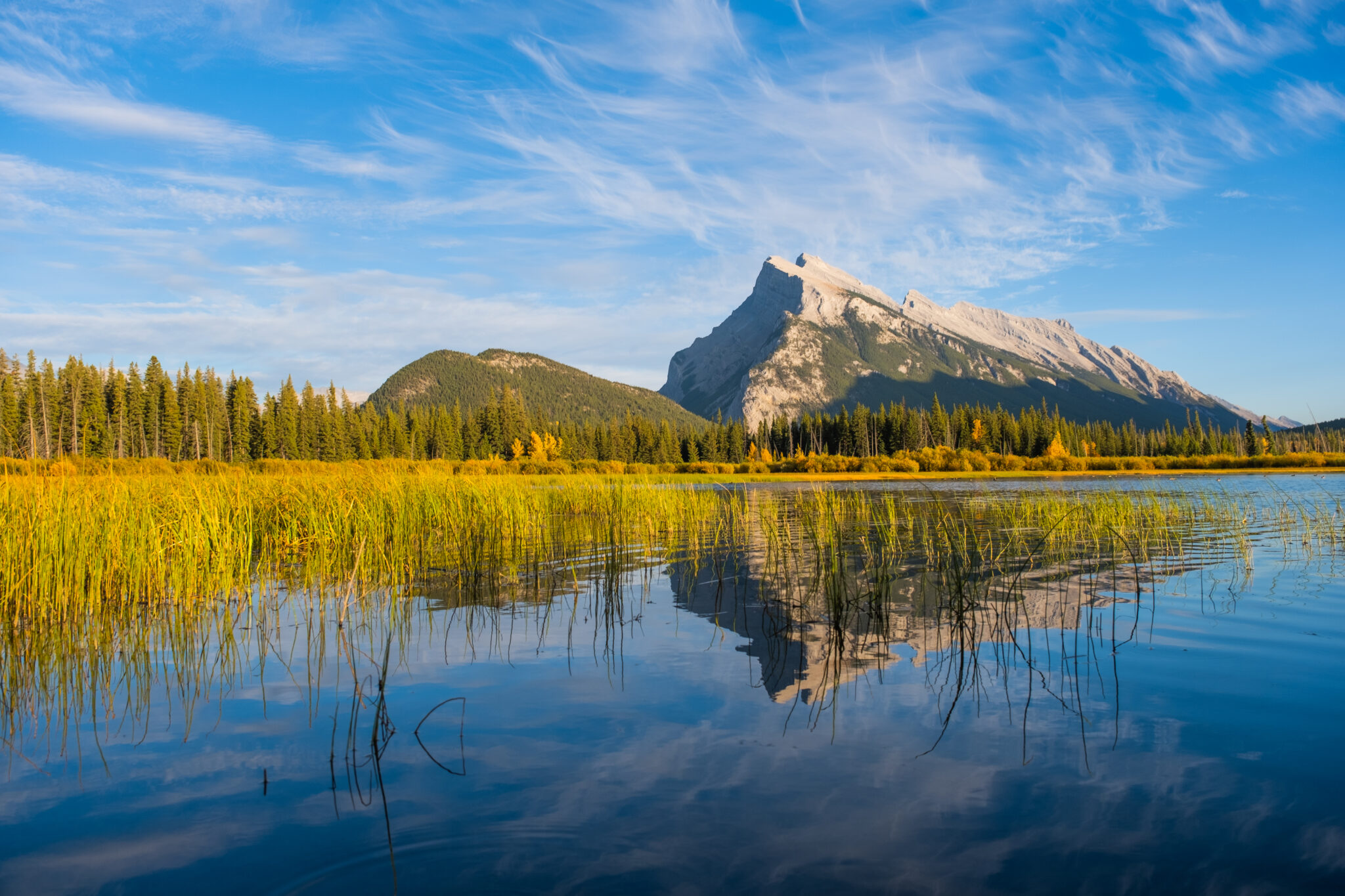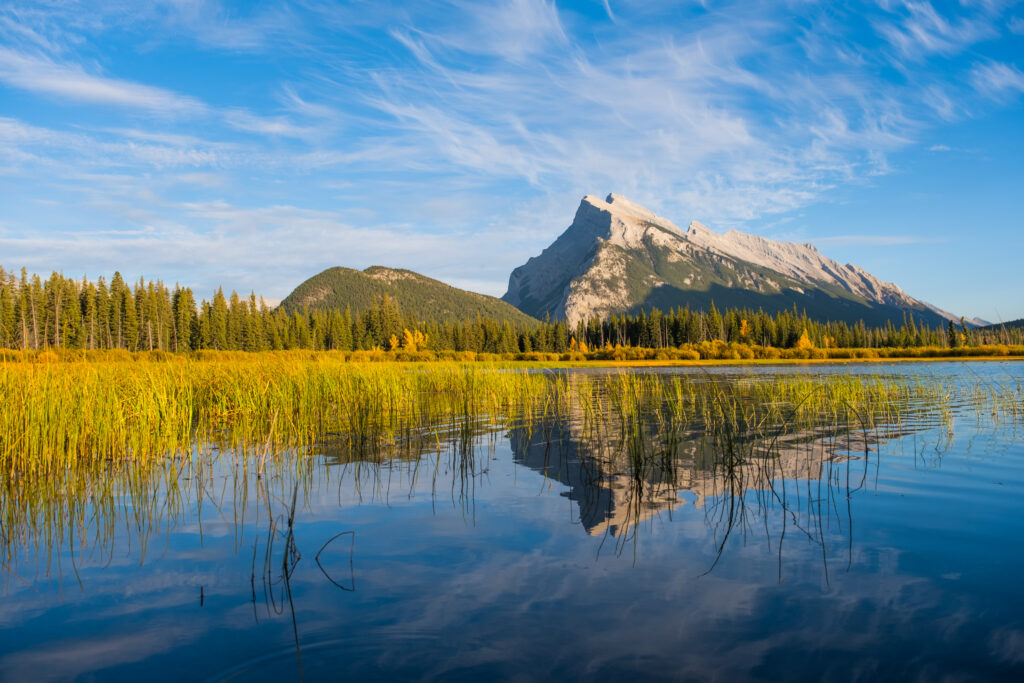 Banff National Park was Canada's first national park and actually one of the first national parks formed in all of North America. Banff dates back to 1883 when railway workers discovered a natural hot spring at the base of Sulphur Mountain. Prime Minister Macdonald set aside a preserve of 26 square kilometers in 1885 around the Banff Hot Springs.
Two years later, in 1887, Canada's first national park would be established. The park expanded to 674 square kilometers and was named the Rocky Mountains Park.
The park was renamed Banff National Park in 1930 under the National Park Act. Wondering what it was named after? The Canadian Pacific Railway president named it after his Scottish homeland, Banffshire.
It's important to note that both Banff and Lake Louise are located on the traditional lands of Treaty 7 Territory. This land is comprised of the Stoney Nakoda Nations of Wesley, Chiniki, and Bearspaw; three Nations of the Blackfoot Confederacy: the Pikani, Kainai, and Siksika; and the Tsuu T'ina of the Dene people.
---
Where is Banff National Park?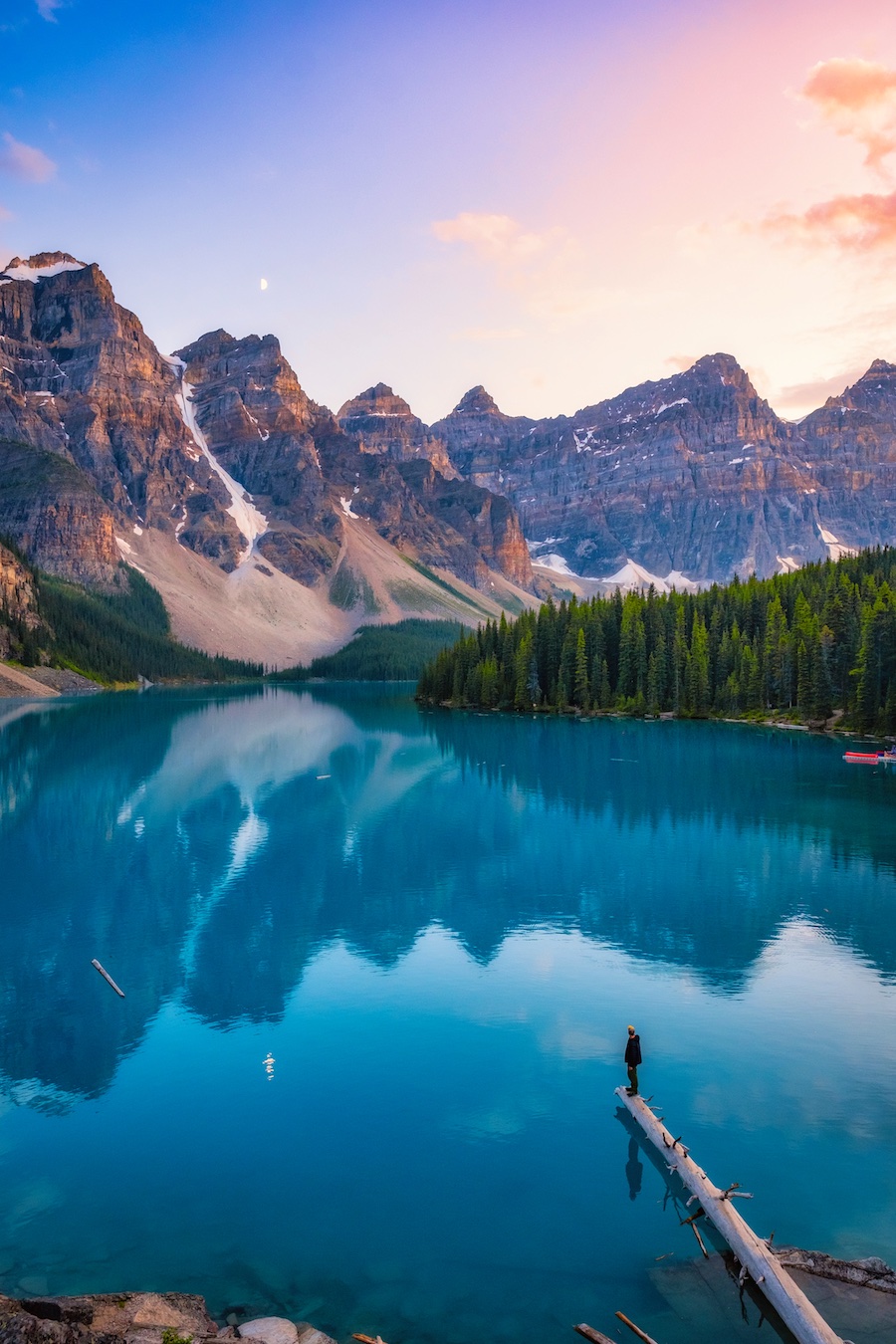 Banff National Park is huge and makes up a large portion of the Canadian Rocky Mountains. The Town of Banff is 126 km west of Calgary, with the Trans Canada taking you almost all the way there from the city.
The Town of Banff sits at almost 1400 meters, making it the highest town in Canada. If you want to stop by the tourist information center, you can find information at the Banff Visitor Centre, located at 224 Banff Ave.
---
Weather in Banff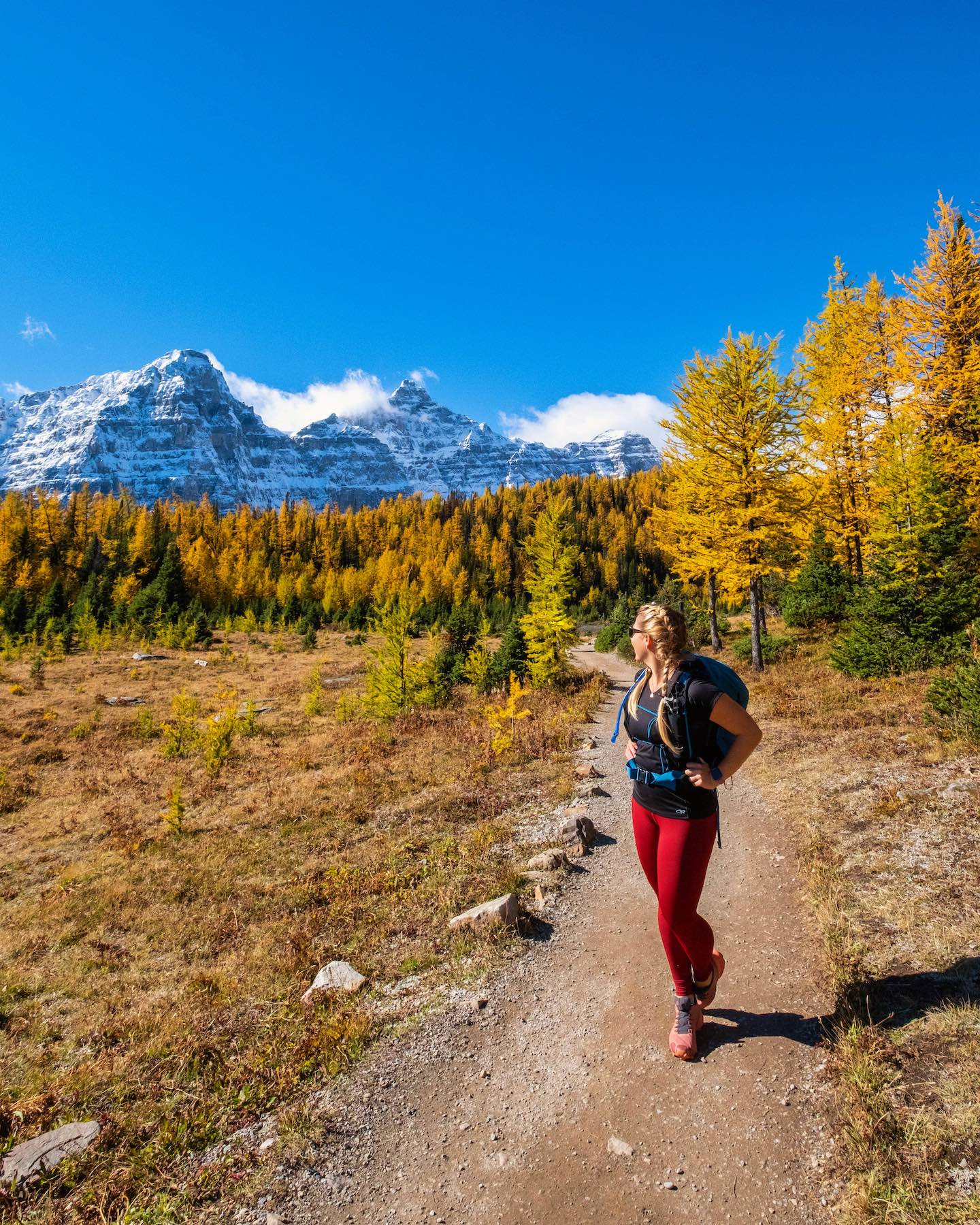 The weather in Banff varies greatly depending on the time of year. It never gets crazy hot in Banff, unless there is a freak Alberta heatwave. However, it does get very cold in Banff, possibly some of the coldest temperatures you've ever experienced. We'll break down the weather in Banff into four parts.
Winter weather in Banff: Winter in Banff feels like it lasts for over half the year. From November to mid April you can expect it to be pretty wintery, and for there to be plenty of snow. During this time you'll want to dress warm as temperatures can fluctuate between -30°C and 10°C, with some of the coldest temperatures hitting in January and February.
Spring weather in Banff: Spring finally rolls around in the Canadian Rockies come mid April, and stays pretty springlike until late June, well after the rest of North America is experiencing summer. During the spring months you should be prepared for anything. Bring your down jacket, but also be optimistic for some shorts and sandals.
Summer weather in Banff: Summer feels like the shortest season in the Rockies, but when you get that ideal summer weather in Banff, there truly is nowhere better to be. The best summer months are July and August and during these months temperatures float around 25°C. However you still need to pack a jacket, as temperatures plummet at night.
Fall weather in Banff: Fall is a magical time of year in Banff. September and October are fall months, with the highlight peaking in late September when the larch tree needles turn golden. We call this season "larch season." Larch season only lasts 2-3 weeks, but it is a wonderful time when the park is awash with yellow!
---
How to Get to Banff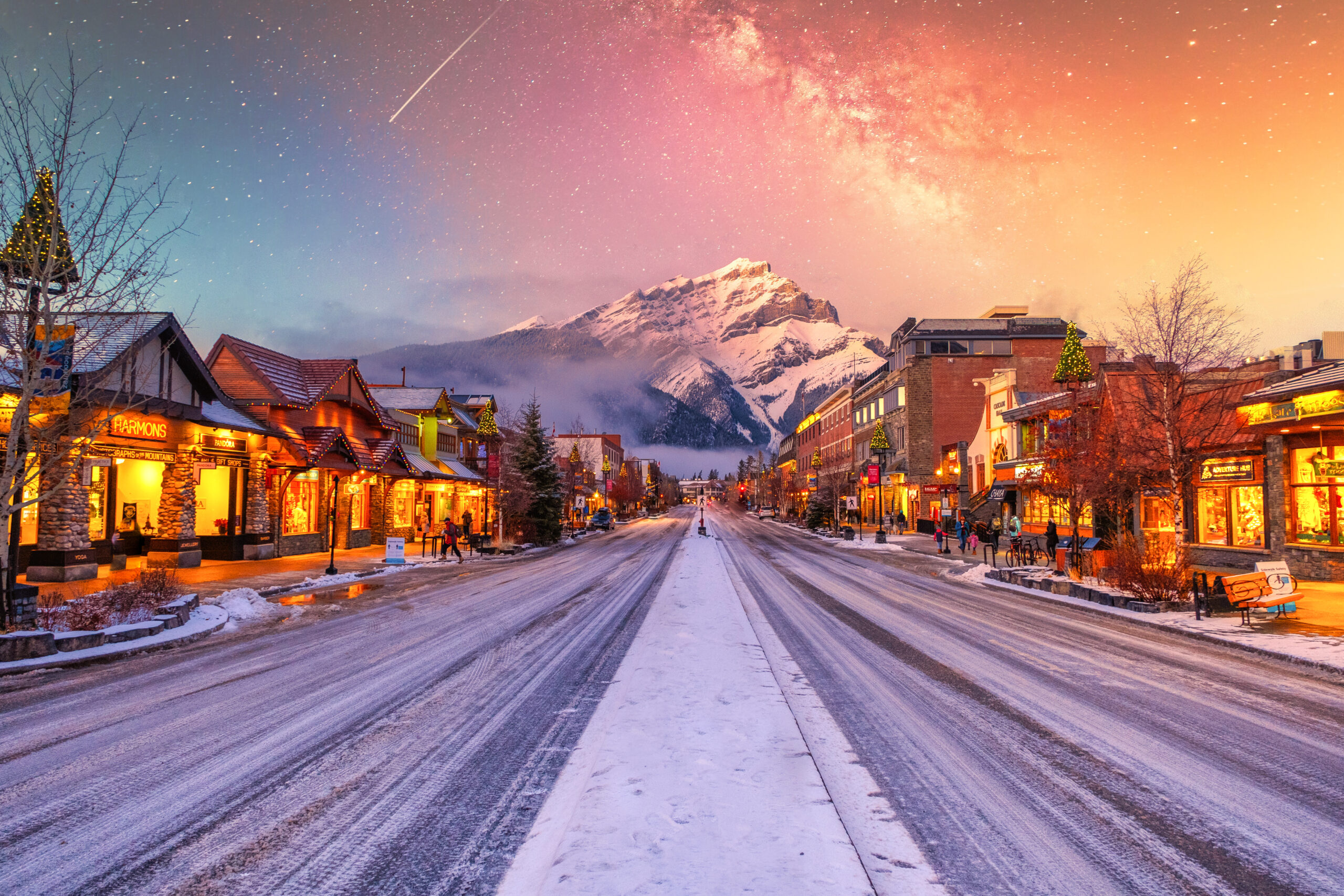 There are many ways to get to Banff. It's most easily accessible from Calgary as there aren't any direct flights to Banff, and Calgary International Airport (YYC) is a great international airport. However, Banff can also be reached by driving along the Icefields Parkway from Jasper or driving from Edmonton.
Getting to Banff By Car
The easiest way to get to Banff is by having your own car. This will also make traveling around the park much easier. Whether or not if you're driving from elsewhere in Canada or the US with your own car or renting one, you will love the freedom of your own set of wheels in Banff.
If visiting Banff in the winter, it's best to get a car with winter tires, so make sure to check with your car rental agency. Just because it's January does not mean you'll automatically get winter tires on your rental.
If you do decide to drive from Alberta into BC, these winter tires are mandatory! You can see road conditions in Alberta here, which are super helpful between November and late April. Don't underestimate winter driving in Canada; it can get treacherous, especially in the mountains and even on the Trans Canada.
Driving from Calgary to Banff: Banff is 128.6 km west of Calgary. The quickest and easiest way to get from Calgary to Banff is on the Trans-Canada Hwy/AB-1 W. You can also get there on the 1A which is the more scenic route but will also take about 20 minutes longer.
Driving from Jasper to Banff: Banff is 288.3 km south of Jasper and will take about 3.5 hours of driving along the stunning Icefields Parkway. Though it will probably take longer because there are so many wonderful stops along the route. I would plan for the drive to take all day with plenty of photo stops. This road can be particularly difficult to drive in the winter and drivers should have proper winter driving experience.
Driving from Edmonton to Banff: Banff is 389km from the Edmonton International Airport along the AB-2 S and Trans-Canada Hwy/AB-1 W and will take drivers about four hours to complete.
Driving from Vancouver to Banff: Driving from Vancouver to Banff is a long one, but we've done it a few times and it can be done in a day. 850 km will take about nine hours with no stops, but realistically you should plan on the drive to take you at least 11 hours. Kamloops makes a great halfway stop off point, but we've also stopped in Revelstoke before to break up the drive.
Getting to Banff By Bus
We understand you may not feel comfortable driving in Canada, and that's okay! There are other options to get to and from Banff and around the town. However, they are limited, so keep that in mind. To get from YYC to Banff, the Banff Airporter is a good option and costs $146 (CAD) round trip. There's also the Brewster Express that connects Calgary to Banff, Kananaskis, and Canmore. You can check ticket prices here.
Getting to Banff By Train
There aren't many passenger train routes to Banff, but it's also possible to take the scenic Rocky Mountaineer to Banff if coming from Vancouver or Kamloops.
---
Transport Around Banff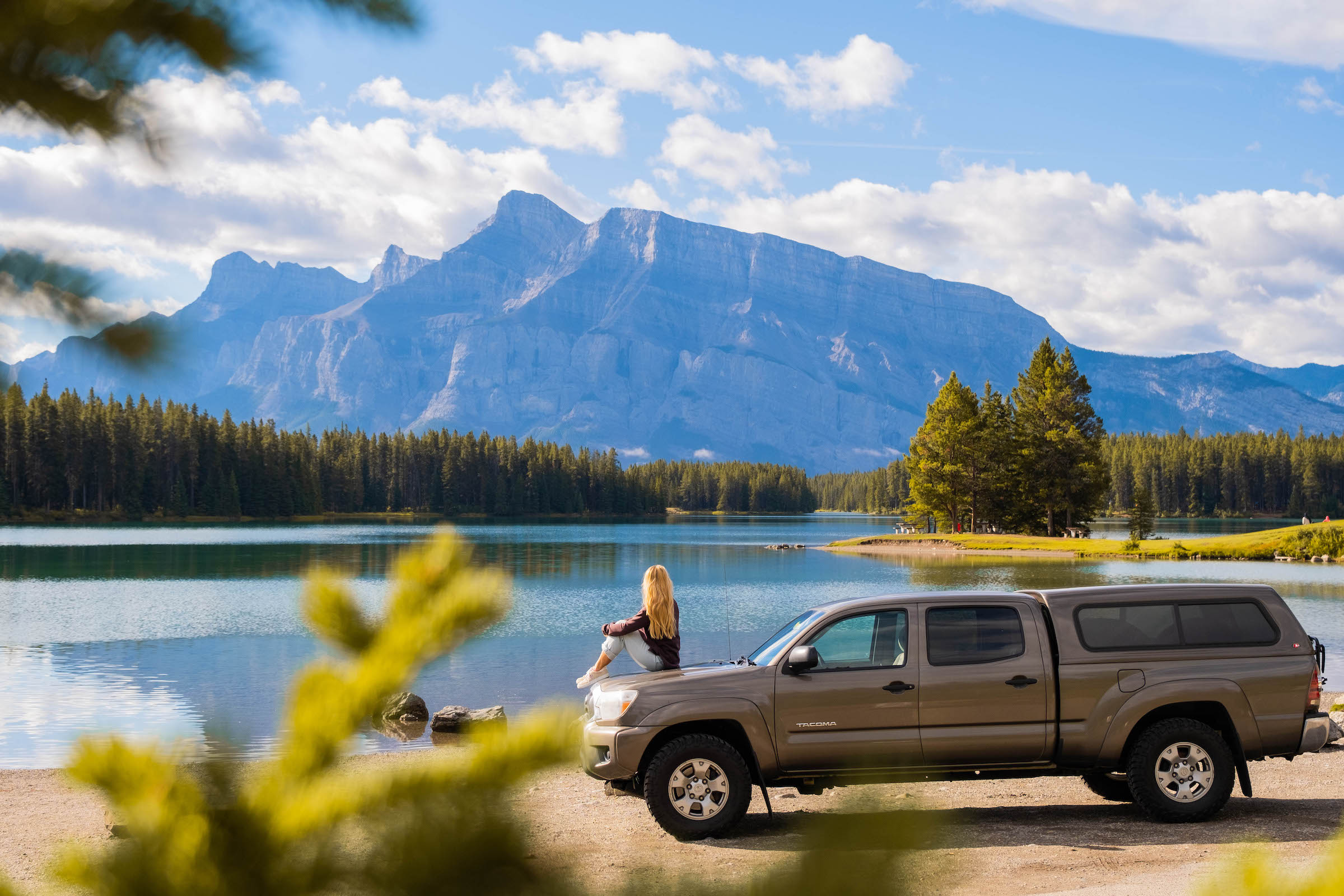 Once in Banff, there are a few ways to get around if you don't have your own car. The Roam bus system is a great way to reduce emissions. It operates year-round and will also take you between Banff and Canmore. We use it frequently to get from our home to Banff.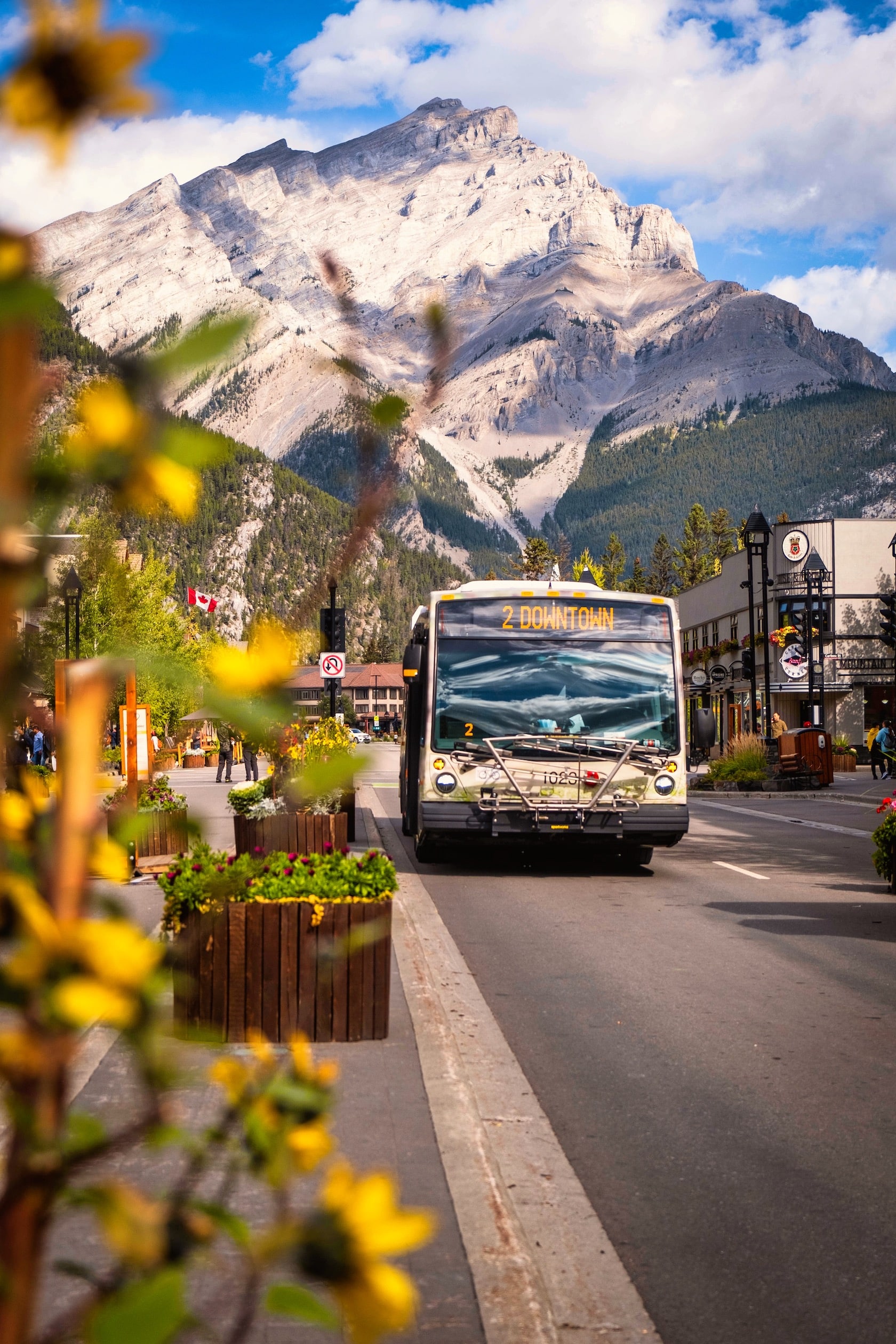 Best Ways to Explore Banff
Walking: Downtown Banff is extremely walkable as it is only 4-square-kilometers in area, with plenty of pedestrian sidewalks. This is the easiest way to get around the Town of Banff. During the summer season the Town of Banff will close its main street to vehicles in the downtown core between Wolf and Buffalo streets, and the adjacent sections of Caribou Street. Between May 19 to October 13th, this section of Banff Avenue will be exclusive to pedestrians, cyclists and skateboarders.
Rental Car: Having a rental car is the best way to ensure you will get to all you want to get to on your own schedule. You can pick up a rental car right from the Calgary Airport, Downtown Calgary, or there are a select few enterprise locations in both Banff and Canmore.
Roam Transit: The Roam Transit will get you between Banff, Canmore, and Lake Louise at an inexpensive price year long. Roam Public Transit also connects with many major attractions in Banff National Park. See their full route and price information here.
Park Shuttles: Some Banff attractions have shuttles to transport you around. Expect this from the Cave and Basin, Banff Gondola, to Lake Louise, and from Lake Louise to Lake Moraine. As well as to Banff Sunshine, Banff Norquay, and Banff Lake Louise Ski Resort in the winter. See all the details here.
Taxi: There are only a handful of taxis in Banff and Canmore, and they are not the cheapest option. However they are a great alternative if you are stuck in a bind. If going from Banff to Canmore expect a taxi to charge around $70.
By Bike: One of my absolute favorite ways to get around Banff is by bike. If you are driving in I would highly recommend bringing bikes to explore the park. Banff Adventures and Banff Cycles also rent mountain bikes, e-bikes, and cruisers during the summer. Bike rentals include a helmet, lock, and trail map. Both Banff and Canmore are becoming more and more bike-friendly by the day.
Banff Parking: Parking in the town of Banff can be challenging during peak summer months. There are a few free places to park in Banff, like the Train Station Public Parking Lot for up to 9 hours, but many lots are now pay parking only. Check out the Banff parking website to see where is available when you are visiting.
How to Visit Banff Without a Car
---
Get a Parks Canada Pass to Visit Banff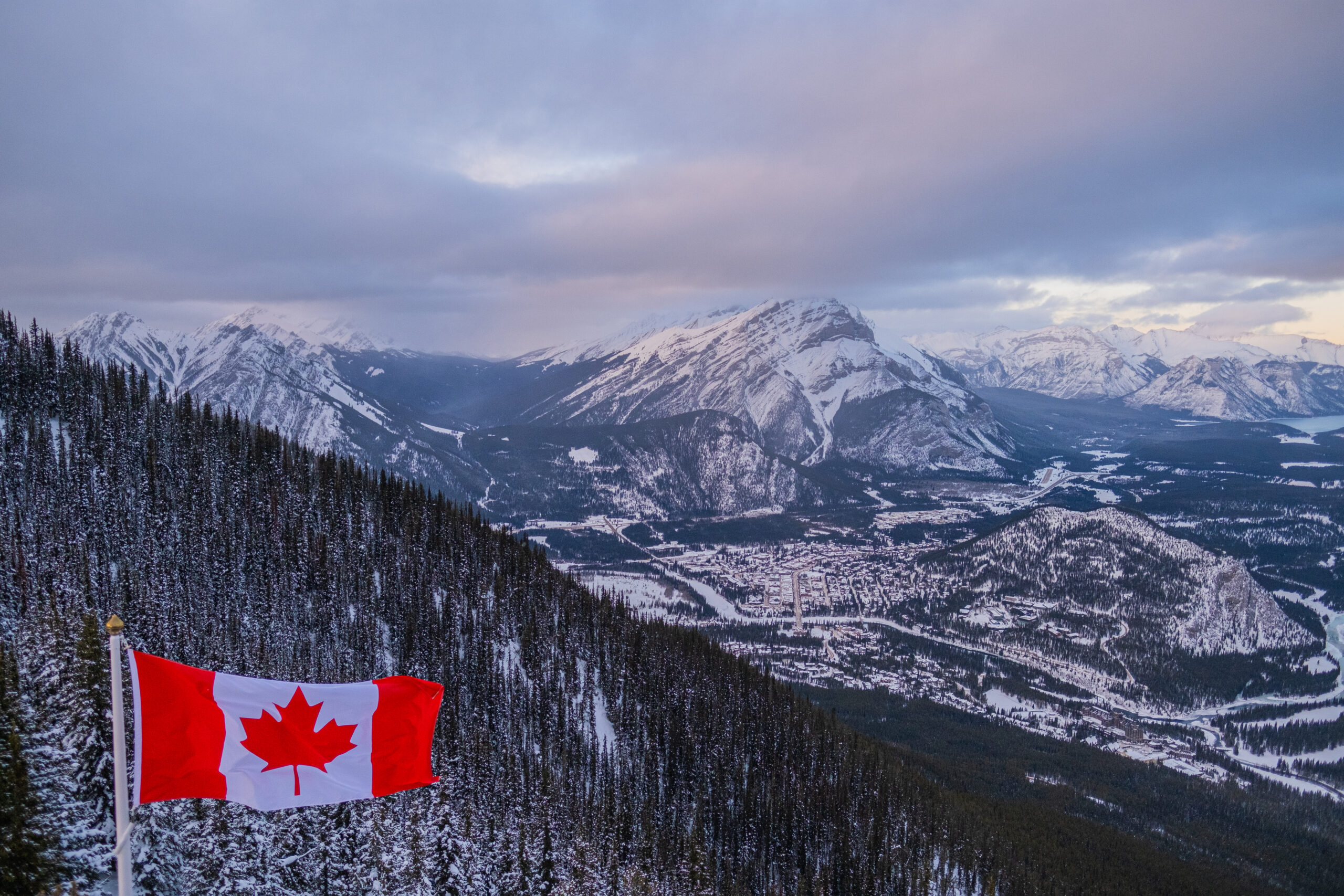 You can purchase a Parks Canada pass at any park gate; you need a Parks Canada pass to visit Banff. Yes, Parks Canada employees do check, and you can get a ticket. If coming from Calgary, you'll hit a Parks Canada gate right after Canmore along the Trans-Canada Highway.
If you already have a Parks Canada pass, you can stick to the right lanes and keep driving past the gates. The lineup to purchase a Parks Canada pass at these gates can get long on a nice summer day, so I recommend purchasing in advance. Though you don't have to purchase in advance, and the most I've ever seen the car line up to purchase tickets in the summer is perhaps 15 minutes – so don't worry if you didn't get your Parks Pass beforehand. Parks Canada pass prices are as follows:
Adult: $10.50
Senior: $9.00
Youth (up to 17): Free
Family/group of 7 people: $21.00
Day passes expire at 4 pm the following day.
Or you can buy the Discover Parks Canada in advance online. If you're staying in Banff for more than a few days, I highly recommend a Discovery Pass. A Parks Canada Discovery Pass which gets you entrance to all Parks Canada destinations for the year is only $145.25 for a family.
Again, day passes are $10.50 per person, so depending on how many days you are staying and if you have plans to go elsewhere like Waterton or Jasper, you may want to consider the Discover Pass. Discovery Pass fees are as follows:
Adult: $72.25/year
Senior: $61.75/year
Family: $145.25/year
All you need to know about purchasing a Banff Park Pass
---
Where to Go Beyond Banff?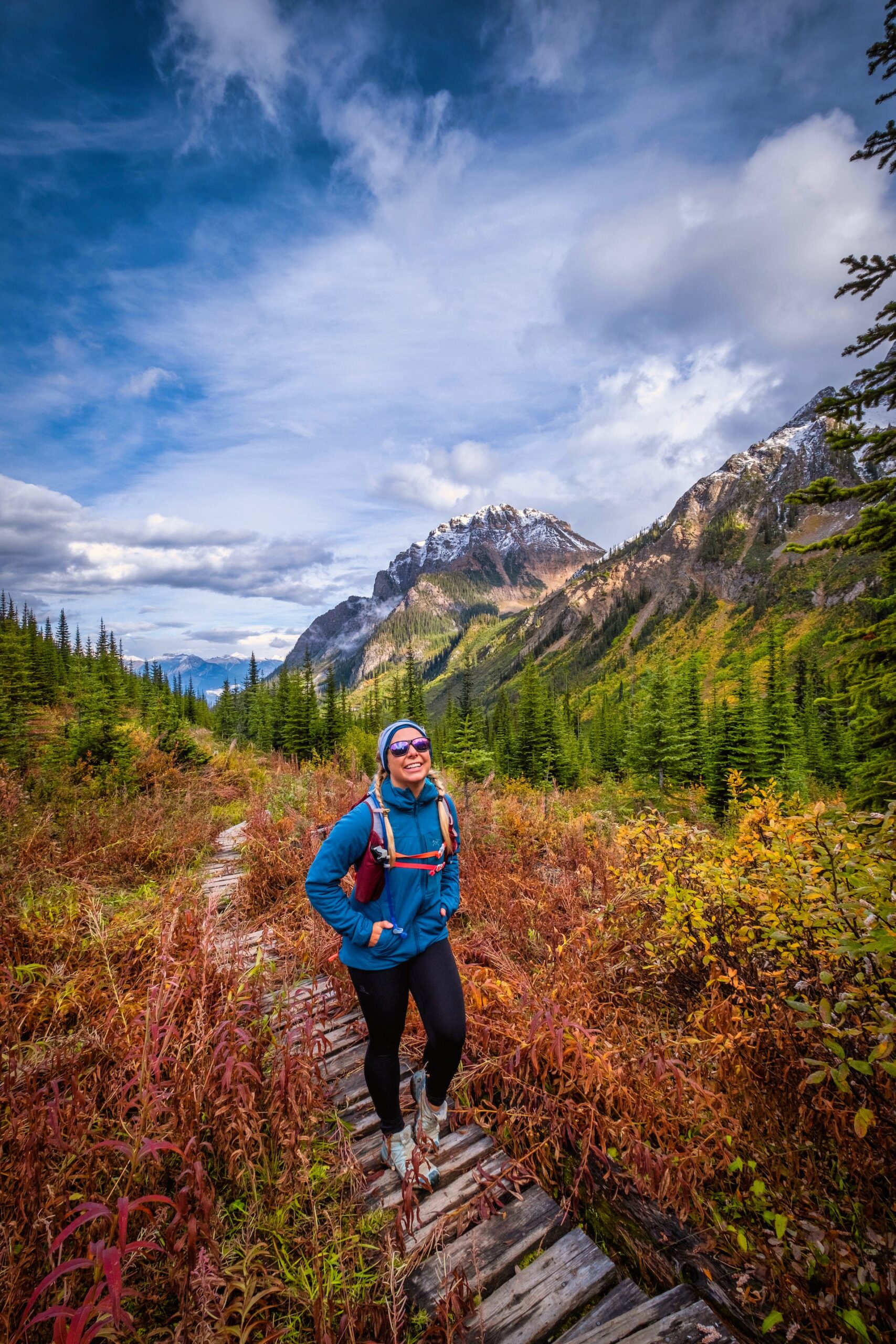 This is just a list of things to do in Banff, but there is a lot to explore in this area of the world! If you are on an extended trip in Western Canada, there are some other amazing mountain destinations, all within a short reach from Banff. The following destinations are less than a four-hour drive from Banff, and won't disappoint!
---
Hopefully, this helped you determine what Banff activities you'll want to do.
If you have any other questions about the best things to do in Banff leave a comment or see our Canadian Rockies travel guide for more articles about photography spots, lakes, hikes, and everything else.
---
↓ Join the community ↓
The Banff Blog Facebook Group is your headquarters for the Canadian Rockies' travel advice and information. Including hike info and off-season travel information. You can also meet new adventure buddies.